Sigma 200-500mm f/2.8
© 2008 KenRockwell.com. All rights reserved.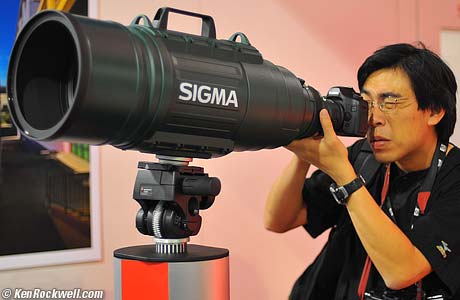 Sigma 200-500 f/2.8 as seen at PMA 2008. enlarge.
I'd order it from Adorama for Nikon, Canon, or Sigma. It helps me keep adding this site when you get yours from those links, too.
More Nikon Reviews More Canon Reviews
March 2008
Intro Specs Performance Recommendations
I first saw this as a balsa wood mock-up at PMA 2007 in Las Vegas. Sigma showed this working 200-500mm f/2.8 at the PMA 2008 show, also in Las Vegas, in January 2008.
This is a hulkingly huge show-off lens. It's big because it's fast: f/2.8 even at 500mm; the world's fastest 500mm lens for conventional photography. I remember the good old days of the 1960s through early 1990s when Nikon used to be the one announcing optical breakthroughs.
This 200-500mm comes with a dedicated 2x teleconverter to make it into a 400-1,000mm f5.6 AF.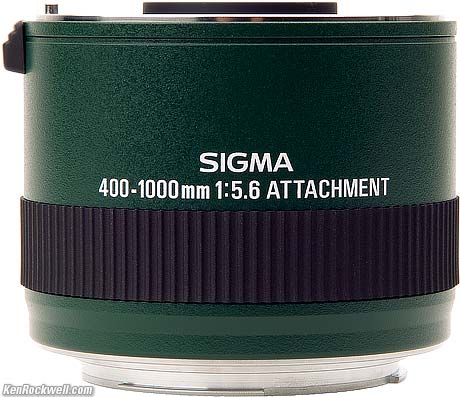 Sigma dedicated, and color-coordinated, teleconverter.
Specifications back to top
Intro Specs Performance Recommendations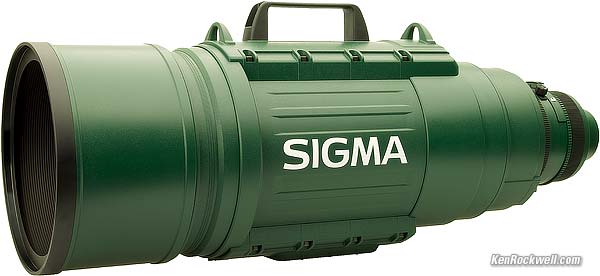 Sigma 200-500mm f/2.8. enlarge.
Optics: 17 elements in 13 groups. An element of SLD glass and three others of ELD glass do the same thing as ED glass in Nikon and UD glass in Canon.
Maximum Reproduction Ratio: 1:7.7.
Diaphragm: 9 blades. Stops down to f/22.
Close Focus Distances: 7 feet (2m) at 200mm, 15 feet (5m) at 500mm. With teleconverter, 7 feet (2m) at 400mm and 15 feet (5m) at 1,000mm.
Focus Limiter Ranges: Three: No limit, 15 feet (5m) - infinity and 30 feet (10m) - infinity.
Filters: 72mm filters go into a slot holder, including rotating polarizers.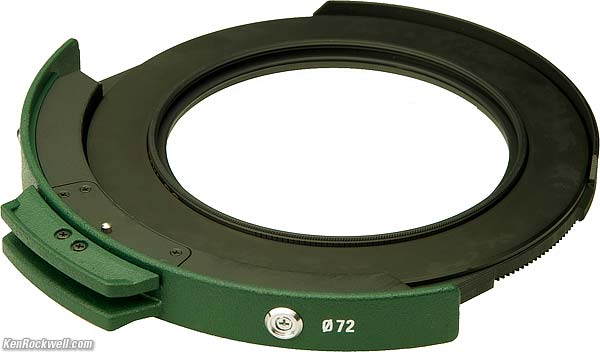 Sigma 200-500mm filter holder.
Size: 9.3" diameter x 28.6" long (236 x 726mm).
Weight: 34.6 pounds (15.7 kg).
Power: Dedicated BP-21 battery. I presume when it dies, the lens dies.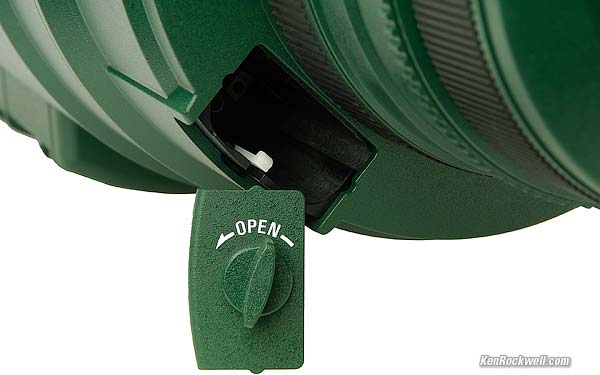 Sigma 200-500mm battery compartment cover.
Fits: Nikon AFS G, Canon EOS and Sigma cameras.
Price: $25,000.
Delivery: 4-6 weeks, as of March 2008.
Performance back to top
Intro Specs Performance Recommendations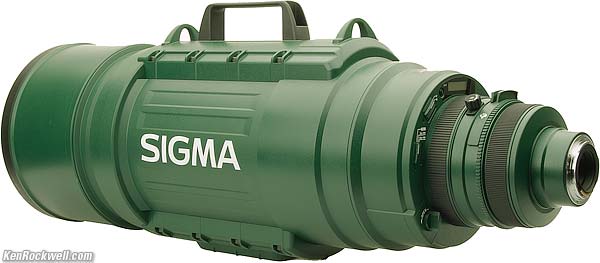 Sigma 200-500mm f/2.8. enlarge.
Much like the huge $250,000 100x zooms we use in TV to cover football, this Sigma focuses and zooms electrically. It runs off its own internal rechargeable battery.
This is a pain, because focus and zooming are slow – not fast like spinning a zoom ring. Like point-and-shoots, you move the zoom control ring, and the lens slowly follows with a motor.
This 200-500mm has an LCD to show you battery state, focal length and focus distance.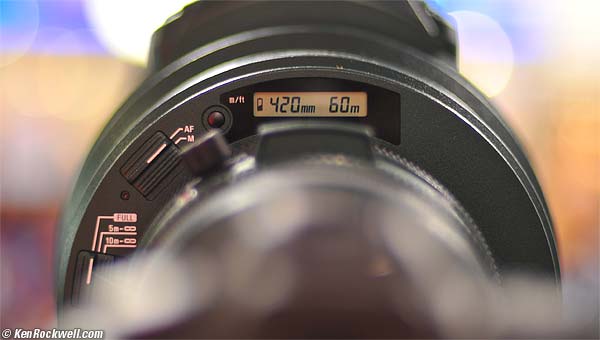 Sigma 200-500mm control panel. (seen from camera position.)
Recommendations back to top
Intro Specs Performance Recommendations
I wouldn't want to have to carry this thing around. If you do, you'll need either one bad-ass monopod or a serious teleproduction mount and fluid head; not a photography tripod. Think something like a $10,000 Sachtler support system, which can weigh as much as this lens.
No, I don't know how to mount this lens to any sort of support; I wouldn't trust a single 1/4" or 3/8" thread.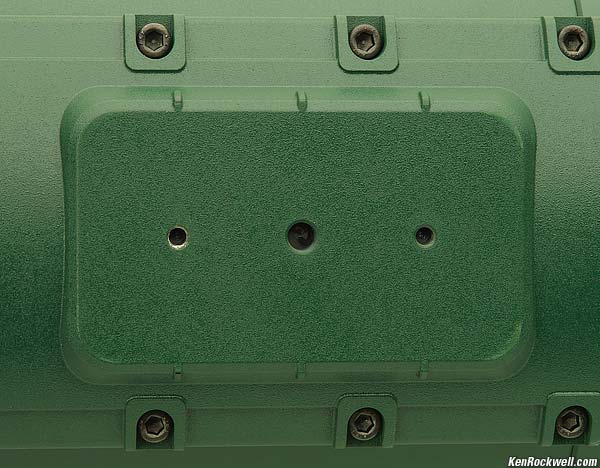 Bottom plate, Sigma 200-500mm.
I know the Nikon 200-400mm f/4 AF-s works great, has VR and zooms much faster (and directly), while this Sigma zooms electrically. The Nikon costs $20,000 less and weighs 27.4 pounds less than this Sigma, but is a stop slower and a little less long. Sigma has a habit of making lenses that out-spec Nikon on paper, which as experienced photographers know, doesn't make them better-performing lenses.
You men know who you are. You don't need my two cents worth on this one. I have not seen a shipping sample, which for all I know are only made to order, so I can't comment on the real performance. I've only jockeyed around a sample at a trade show.
PLUG
If you find this as helpful as a book you might have had to buy or a workshop you may have had to take, feel free to help me continue helping everyone.
Thanks for reading!
Ken