Nikon 24mm PC-E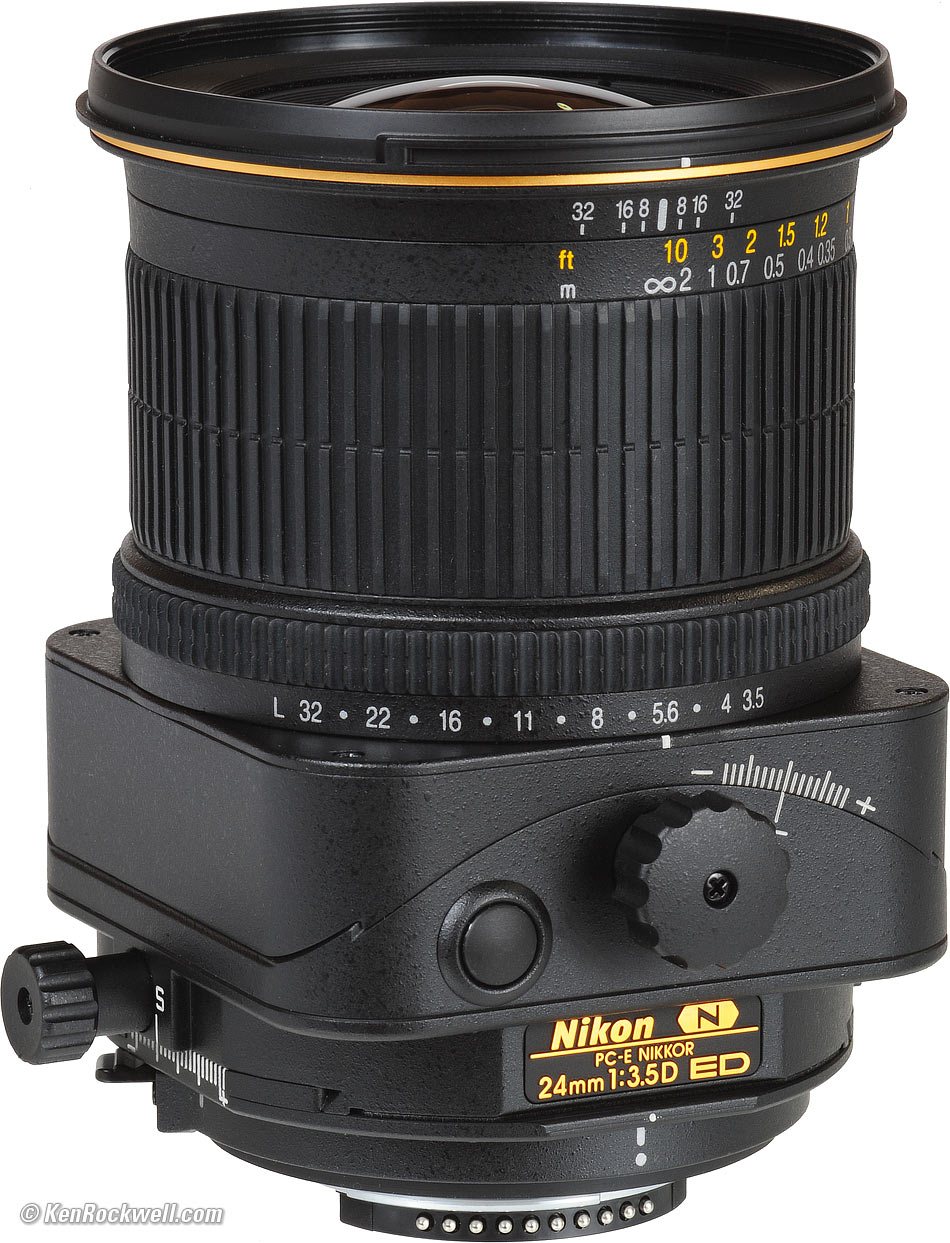 Nikon 24mm f/3.5 PC-E (77mm filters, 25.9 oz./734g, 0.7'/0.21m close-focus, about $2,200). enlarge. I got mine at Adorama; I'd also get it at Amazon or at B&H. It helps me keep adding to this site when you get yours from any of these links, thanks!
April 2017 Nikon Reviews Nikon Lenses   PC-E Lenses   Nikon Flash All Reviews
Why and How to Use Tilt and Shift
Top Intro Specifications Performance Recommendations
The Nikon 24mm PC-E is a very specialized $1,850 wide-angle tilt-shift lens ideally for the Nikon D3.
"PC" stands for perspective control and "E" stands for electronic diaphragm. Actually, Perspective Control is a misnomer, since the only way to change perspective is to move the camera somewhere else. Nikon is trying to say that you can shift this lens to keep parallel lines from converging, not really change perspective. Nikon should call it tilt-shift, but Canon does that.
Why Tilt and Shift? (click for a separate article)
PC lenses are intended only for very seasoned photographers. To get the most of this lens, you need to be familiar with view camera movements and work on a tripod. See Steve Simmon's "Using the View Camera" if you're not familiar with the use of tilting and shifting.
The reason for PC-E lenses is to save time from setting up a view camera with a digital, 120 or 4x5" film back. If you're not already familiar with the view camera or if you're still trying to understand basics like white balance and exposure compensation, stay as far away from these PC-E lens as you can!
Nikon says this is the first of three new PC-E lenses, with the next two due for announcement around August 20th, 2008. See the prototypes of the 45mm f/2.8 PC-E and 85mm f/2.8 PC-E.
If you're still with me, these PC-E lenses are a huge step forward from Nikon's legacy PC lenses because they are the first from Nikon to tilt. Also, if you're dextrous, the electronic diaphragm and well-designed mechanics of this Nikon 24 PC-E allow you to shoot hand-held with tilt and shift using your AEL button!
Terminology
I'll say rise/fall and left/right shift interchangeably. This lens can only do one at a time: you have to press the release lock, dangerously close to the camera's lens mount release button, and rotate it to do one or the other.
I'll also use the words swings and tilts interchangeably. Likewise, you need to rotate the lens to alternate between these.
Relationship between Shift and Tilt
Unlike a real view camera, the Nikon 24mm PC can tilt in only one axis at a time, and it can shift in only one axis at a time. If you shift up or down, you can't shift left or right. You can shift and rotate to get the shift you need, but that's about as pleasant as 1950's slang suggests.
Unlike any used $150 view camera, the relationship between tilts and shifts is fixed in this $1,900 lens. As shipped, you get left/right swing and vertical rise/fall. You can rotate the lens 90 degrees either way to get front tilt, but now your vertical shift becomes left-right shift.
If you tilt up or down, you can't swing left or right. If you rotate the entire lens assembly to change the angle of tilt, you also alter the line in which it will shift.
As shipped, the 24mm PC is set the wrong way for landscape and tablescape photography. You can't get tilt at the same time as rise/fall — you only get swing.
Landscape photographers will need to send their 24mm PCs to Nikon service and pay to have the angles shifted 90 degrees to make these adjustments move in the same (parallel) direction. After doing this, you get rise/fall with tilt, but not swing.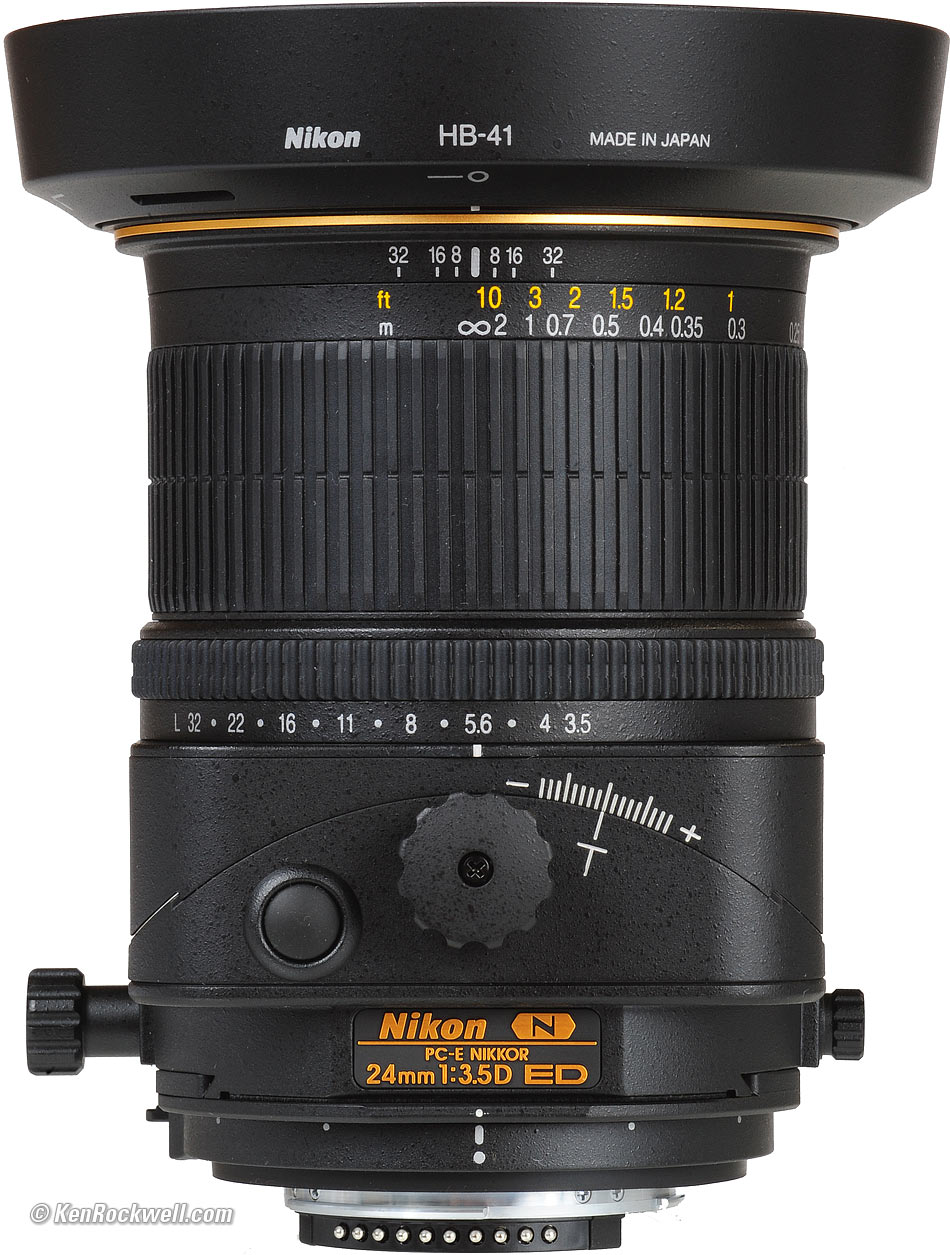 Nikon 24mm PC with HB-41 hood. enlarge.
Shift Range
Unlike previous 35mm and 28mm PC lenses, this new 24mm PC may be shifted the full 11.5mm in any direction. The 28mm PC shifted 28mm up or down, but was rated for only 8mm side-to-side.
Canon 1991
This lens and electronic diaphragm technology is brand new for Nikon, but Canon has been making the same thing, the Canon 24mm TS-E, since 1991. The Canon version costs $800 less.
With Canon you can get a full-frame Canon 5D for less than half the cost of the Nikon D3, and the Canon 24mm TS-E is compatible with all Canon autofocus cameras, while this Nikon 24mm PC-E isn't compatible with much.
Compatibility
The only camera on which this lens works perfectly is the Nikon D3. With other cameras, including the D300, parts of the camera interfere with some parts of tilting and shifting.
Except for the D3 and D300, the diaphragm is utterly manual. You must open and close the diaphragm using the rubberized push button to the left of the swing knob shown above.
With the manual diaphragm, you must close it to meter. Then you lock or set the exposure, and then you may open it to compose and adjust the lens. Then you need to close it again to shoot. Want to recheck focus? You have to open it, and remember to close it again to meter and shoot. You only can meter before making lens tilts and shifts. Sound complex? It is.
The diaphragm doesn't work at all on older AF cameras or any manual focus camera. If your camera can autofocus with AF-S lenses, you most likely can use the diaphragm manually. On cameras that can't drive an AF-S lens, the diaphragm stays locked wherever it was when it came off the last camera.
Nikon says it won't work with any of the F/N90X series, F/N90 series, F/N70, F/N60D, F/N55, F/N50D, F-401/N4004 series, F-801/N8008 series, F-601/N6006, F-601M/N6000, F3AF, F-501N2020, PRONEA S or any manual focus cameras. It makes an image and moves around on these cameras, but the diaphragm stays locked so you can't stop down or open up the lens.
For details, see Nikon 24mm PC-E Compatibility where I tested it extensively on a zillion cameras.
What about the classic 28mm PC?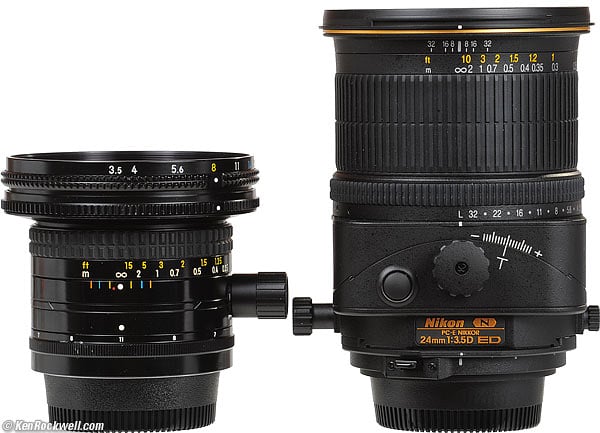 Nikon 28mm f/3.5 PC and 24mm f/3.5 PC-E.
These two lenses are from two completely different worlds. They don't compete against each other.
The 28mm PC is completely manual and mechanical, with no coupling of anything to the camera. It has a hard infinity focus stop and is ideal for use on the manual-focus film cameras for which it was designed.
The 28mm PC works fine on the D3 and other digital cameras, however you must remember to open and close the diaphragm for every shot. You only can expose manually, unless you use stop-down metering and AEL before you shift on something like an F3 before you shift. This takes a lot of fingers.
The 28 PC has a very precise worm-gear shift adjustment that never needs a lock as does the 24mm PC-E.
The 28mm PC rotates in any direction, but only shifts outwards from zero. The 24mm PC only rotates 180 degrees, but the shift slides in either direction from zero. The 24mm PC-E shifts more like a real view camera, especially if you need to adjust the shift right around the zero. On the other hand, since the 24mm PC-E only rotates 180 degrees and the 28mm PC can spin around like that kid's head in The Exorcist, sometimes it's easier to set up the 28mm PC.
The 28 PC has no tilts; only shifts. Shifts today are just as easily corrected in Photoshop, while the improved focus from the tilts of the 24mm PC-E can only be done with a tilt lens in-camera. This is what made the 28 PC obsolete.
The 24mm PC-E meter-couples intelligently to modern AF and digital cameras. On the D3 you get automatic exposure (using the AE-lock before shifting) and fully automatic diaphragm operation.
These are equally sharp in the center on my D3.
If I shift both lenses their maximum to the side (11.5mm for the 24mm PC-E and 11mm for the 28mm PC), the 24mm PC-E is sharper at larger apertures. Considering that the 28mm PC-E is only rated for 8mm, not 11mm, of shift sideways, I'd say this is quite a good showing for the old 28mm PC. The 28 PC gets softer at the farthest edge of its image circle beyond where it's rated to work. Stop down, and the 28PC works better than it should.
If you only need shift and stop down each lens, I find them equally sharp on a D3. In fact, depending on the mood of your D3 and whether or not it corrects for lateral color fringes, I've seen the 28mm PC give slightly better results when my D3 corrected the LCA from the 28mm PC and not from the 24mm PC-E.
Don't fret sharpness: the reason you get either of these is to tilt and shift, of which the 28mm PC only shifts. Likewise, it's easy to use the 24mm PC-E on my D3, but a pain with the old mechanical 28mm PC.
Comparing the 28mm PC to this 24mm PC-E is like comparing a handgun to a personal computer. There isn't much in common. The 28mm PC, like a handgun, is simple and effective, but totally mechanical, manual and very much a hands-on operation. The 24mm PC-E can do much more with much more electronic automation.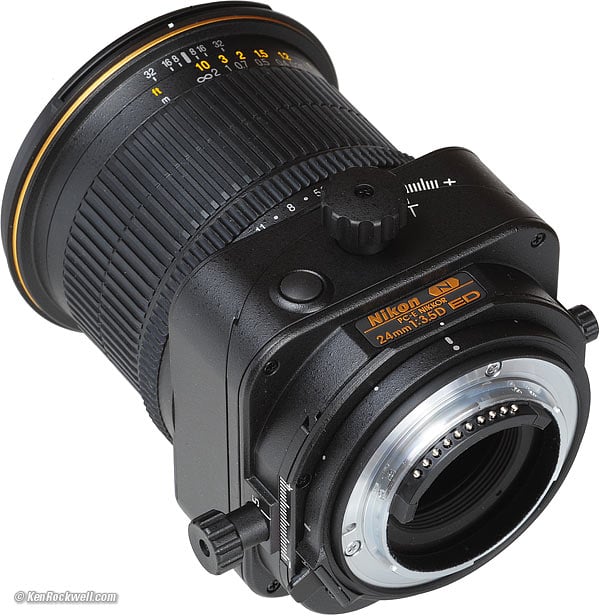 Nikon 24mm PC-E. Rise/fall control on left, swing knob on top. The whole thing rotates in 30 degree clicks as marked on the rear-most part of the barrel. The rotation index is just under the golden "3.5D" mark on the identity plate.
Top Intro Specifications Performance Recommendations
Name
Nikon calls this the Nikon PC-E NIKKOR 24mm f/3.5D ED.
Nikon revived the "E" designation to refer to electronic diaphragm control, which is how Canon has been doing it since the 1980s. Nikon copied Canon's electronic aperture control because Nikon's mechanical linkages are just too hard to wrangle around when the lens rotates and shifts! Nikon's older PC lenses had simple manual pre-set diaphragms.
Nikon first used the "E" designation for its cheaper Series-E manual focus lenses of the 1980s.
Focal Length
24mm.
Used on a DX camera it gives angles of view similar to what a 36mm lens would give on an FX or 35mm film camera. See also Crop Factor.
Optics
13 elements in 10 groups. It's a very complex design, with 3 Extra-low Dispersion (ED) elements and 3 three aspherical elements. It's got Nikon's standard Super Integrated multicoating and also Nikon's newest Nano Crystal Coat.
Tilt
+/- 8.5 degrees.
Shift
+/- 11.5 mm.
The Nikon 24mm PC shifts close to the mount, behind the tilt adjustment.
Rotation
+/- 90 degrees, with click stops every 30 degrees. This rotation allows us to select the plane in which we are tilting or direction in which we are shifting.
The classic PC lenses allowed unlimited 360 degree spins, while this PC-E locks with any more than + or - 90 degree rotation. If you need to go to + or - 95 degrees, you need to spin the whole thing around 85 degrees in the other direction and reverse your swing and reverse your tilt. Unrestricted rotation would break off the internal wires, something the older PC lenses never had.

Nikon 24mm PC-E Focus Ring.
Focus
Manual only.
Focus Distance Scale
Yes.
Depth-of Field Scale
Yes.
Infra-Red Focus Index
No.
Hard Infinity-Focus Stop
No.
This is so you can get perfect focus even with weird shifts.
Filter Thread
77mm plastic. Doesn't rotate.
Picture Angle
84 degrees on FX and film, unshifted.
Up to 101 degrees shifted.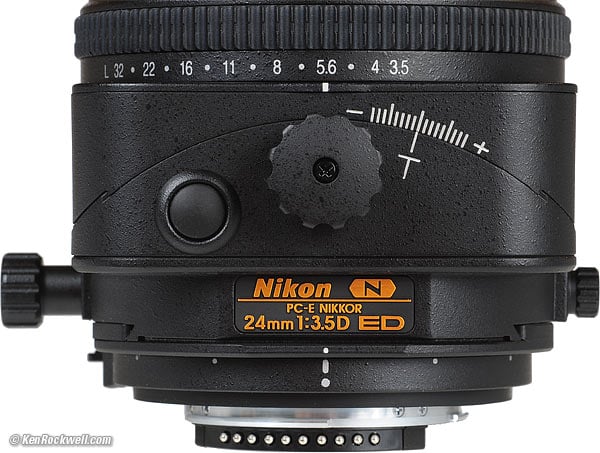 Nikon 24mm PC-E aperture ring, swing control, stop-down button and rise/fall knobs.
Diaphragm
Electronic.
9 blades, rounded.
Stops down to f/32.
Unlike every other Nikon lens made since the 1930s, it seems only to operate in half stops, not continuously.
Close Focus
0.7 feet (0.21m), which is very close!
Maximum Reproduction Ratio
1:2.7, which is macro.
Size
4.25" extension from flange x 3.25" diameter (108 x 82.5 mm), measured.
The widest thing is the the aperture ring.
Weight
25.878 oz.(733.6g), measured.
Nikon specifies 25.7 oz. (730 g).
Case
CL-1120 pouch, included.
Hood
HB-41 plastic bayonet, included.
Made in Japan. (HB-41 hood slightly limits lens coverage.)
Nikon Product Number
2168.
Announced
28 January 2008.
Shipping
Since March 2008.
Price, USA
$2,200, April 2017
$1,8500, April 2008
$1,929 USA MSRP (two grand - not $1,299) at introduction, January 2008.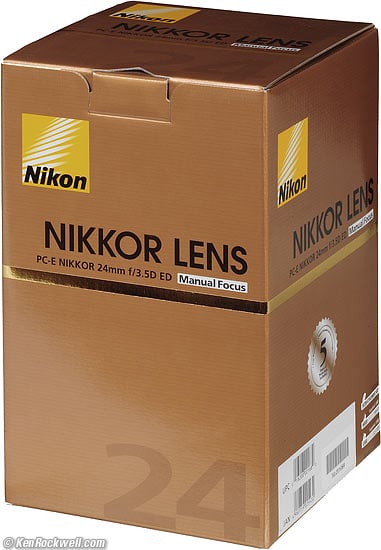 Nikon 24mm PC-E box. "Manual Focus" is highlighted.
Top Intro Specifications Performance Recommendations
Overall Color Fringes Diaphragm Distortion
Overall back to Performance back to Top
The drag and feel of all the adjustments (focus, aperture, rise and tilt) is just perfect. Someone did their homework. Everything is easy to move and it stays put.
Movements
Presuming you're a pro familiar with view-camera movements, you'll be impressed with how well everything works. The geared movements just work great. The scales are engraved.
You can't see a D3 focus screen with as much precision as a 4x5" ground glass, but I certainly can see enough to make adjustments fast and easy.
There are locks for swing/tilt and another for rise/fall. They're more drag settings than locks. You have to get on them for stiffer motion; these little "L" knobs don't do much.
In the field, it works very well. Everything just feels right: the adjustments move with just the right amount of effort, and the zero clicks are firm.
Be careful: the rotation unlock button is dangerously close to camera's lens mount release button, meaning if you're not careful you'll unmount and drop your $2,000 lens when you think you're simply adjusting it.
Focus
Focus is manual only.
Unlike other 24mm lenses, it focuses really close; down to macro range. This will be fun for in-your-face shots.
Focus is tight and precise. It's not likely to drift. It's perfectly geared: not too skittish and not too slow.
Focus is internal: nothing moves externally.
Aperture Ring
The rubber-covered aperture ring and very easy to move with a fingertip while looking through the lens.
Oddly, its clicked in half-stops and appears only to work in half stops, not continuously as does every other lens.
Half stops bug me. I'm used to one stop per click, not having to count "three-five, four, four-and-a-half, five-six, five-six-and-a-half, eight, eight-and-a-half ..."
Metering
Metering only works unshifted and untilted (zeroed).
If you want to shoot this hand-held, you can set the AF-L button on the D3 in such a way that you can meter straight, then lock the exposure for as long as you like to shift and shoot at the locked exposure.
Shooting at 11FPS
Not that you'd want to, but I tested it and the electronic diaphragm works perfectly flapping away at 11 frames per second on the D3 in DX mode.
Lateral Color Fringes back to Performance back to Top
Sorry, even with all the ED and aspherical elements, it's still got color fringes. Too bad, really, for a $1,900 lens intended for architecture.
The good news is that the D3 often corrects for this, but not always. With shift, it often confuses the D3's algorithms, which attempt to correct images single-endedly. The D3 doesn't know that it ought to be correcting around a point other than the center.
At worst, you'll be able to see color fringes even at screen resolution!
Here are a few hand-held snapshots, shifting the lens and pointing the camera up and down. Look at the car's sunroof.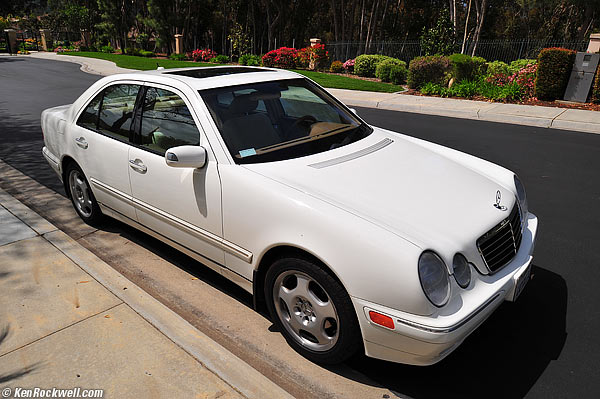 Nikon 24mm PC-E unshifted. Camera pointed at car.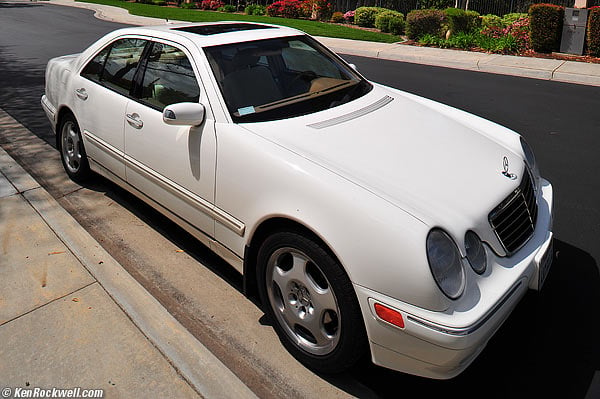 Nikon 24mm PC-E full drop. (camera pointed at horizon)
Nikon 24mm PC-E full rise. (Camera pointed at ground.)
Did you see the primary (red/cyan) chromatic aberration on sunroof, even at screen size? If not, here are crops from 100% images from my D3: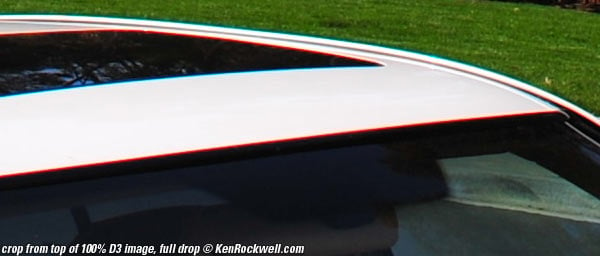 Nikon 24mm PC-E full drop. This is close to the center of the lens' axis.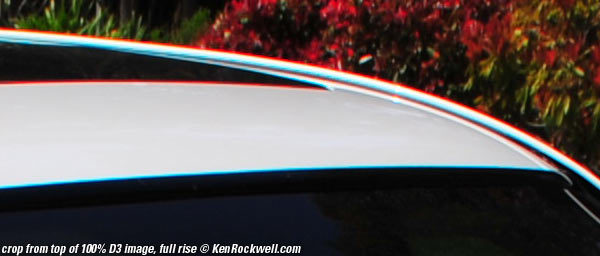 Nikon 24mm PC-E full rise. Note how the primary color fringes reversed! This is at the edge of the lens' coverage.
Diaphragm back to Performance back to Top
The diaphragm is a glorious 9-blade affair that ought to give 18-pointed sunstars.
On the D3 and D300, the diaphragm is automatic Program and Shutter-preferred auto modes work fine. For the camera to control these, set the aperture ring to "L," one click past 32.
The diaphragm has click stops at every half stop, which is weird. You cannot set more precise apertures. That's sort of OK, since with a little math and setting the shutter in thirds you can set exposure in sixth stops.
There is a rubber-covered stop down button, which on most modern AF cameras, alternately opens and closes the diaphragm. Unless you have a D3 or D300, this is the only way to open and close the diaphragm.
Distortion back to Performance back to Top
It has just a tiny bit of barrel distortion. It's simple and easy to correct in Photoshop CS2.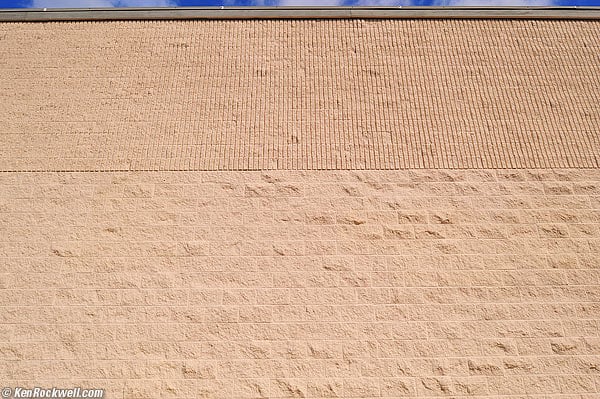 Brick Wall, Nikon 24mm PC-E, unshifted, on FX. (camera not perfectly level.)
At 30 feet (10 meters), unshifted on an FX camera, use a setting of +0.5 in Photoshop CS2's Lens Correction Filter to correct it.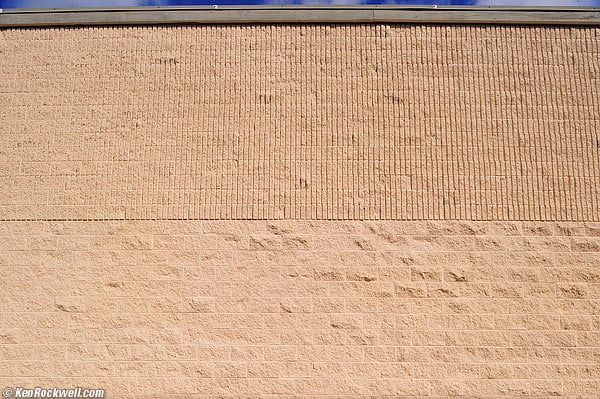 Brick Wall, Nikon 24mm PC-E, shifted 11.5mm up, on FX.
If you've shifted the lens, you'll need to increase the canvas size to one side and work accordingly so that the correction is centered about the optical axis of the lens, which is no longer the center of the image.
As an example, for a horizontal shot on a D3 with a full 11.5mm rise as shown above:
1.) Increase the canvas size to 5,546 pixels (up from 2,832) and select to grow the canvas down. (grow canvas to 4,151 pixels if shot in Medium resolution.)
2.) Now correct with +1.5 in Photoshop CS2's Lens Correction Filter.
3.) Crop back to taste.
Mechanics and Materials back to Performance back to Top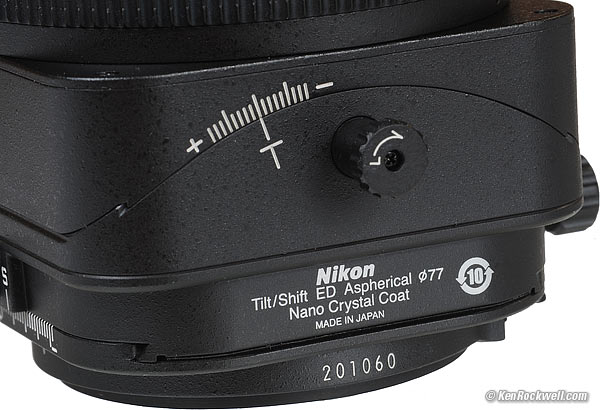 Nikon 24mm PC-E bottom: engraved scales and tilt/swing lock.
The 24mm PC has a lot of metal and engraved markings. It feels about right for a lens this expensive.
It has a plastic front filter thread and a plastic focus ring, with printed markings, which is why it weighs less than ten pounds and doesn't cost $10,000.
Filter Threads and Hood Bayonet
Plastic, no rotation.
Gold Band of Excellence
14 karat.
Depth-of-Field Scale
Printed.
Exterior Finish on Metal
Appears to be sputtered epoxy coat.
Exterior Finish on Plastic
Matches the metal. I can't see any difference looking at my pictures of the lens.
Focus Ring
Rubber-covered plastic, printed markings.
Aperture Ring
Rubber covered metal, printed markings.
Tilt-Shift Engine
Metal, engraved scales and markings. No Vernier scales. Looks like velour shift seals.
Knobs
Metal. Nikon can attach a larger shift lock knob, but the bigger knob will probably get in the way during mounting or shooting.
Identity Plate
Embossed and planed metal.
Rotation Index and Markings
Printed.
Serial Number
Engraved on bottom of barrel near mount.
Rear Moisture Gasket
Yes.
Mount
Dull chromed brass.
Panoramic Stitching back to Performance back to Top
This works very well, because you're only shifting the lens, not pointing it in different directions. You're effectively stitching different parts of the same image, not disparate images.
The diaphragm is consistent enough so the shots match just fine.
You simply can shift left and right (or up and down), or get creative and shoot shifted in more than two directions to cover even more.
Tip: Shifting simply 180 degrees between shots (9 and 3 o'clock left and right on the rotating mount) gives a dull shot with the horizon in the middle, the precise problem for which most people buy these lenses in the first place.
Try shooting with the mount rotated in the other click-stopped positions, like 8 and 4 o'clock or 7 and 5 o"clock, and you effectively are creating a pair of alternate-shifted shots with overall shift, too.
Here's how to stitch them the hard way:
Shoot
Manual exposure. AWB not a good idea, but works anyway.
Stitch
There are automated programs to do this, even inside Photoshop, however this is simple enough to do manually and allows you to select a perfect match.
I'll tell you how to do this, but I'm presuming your basic familiarity within Photoshop. If this makes no sense, you really owe it to yourself to learn layers and masks, the most important parts of Photoshop.
Here we go:
1.) Open the left image in Photoshop.
2.) On the left image, enlarge the canvas by Image > Canvas Size. Just about double the pixel sizes. On the tic-tac-toe board, click the middle box on the left, so the canvas is expanded to the right. Hit OK and you have a bigger canvas with the left image on the left.
3.) Open the right-side image. Use the Move tool (V) and drag it over the other image in roughly the same place. Feel free to crop back to eliminate most of the extra canvas space.
4.) Hit "5" to change the opacity so you can see precise layer alignment. Increase magnification to 100% and use your arrow keys to nudge the two images for a perfect match.
They won't match perfectly since the front of the lens moved, giving two different points of view, so match the farther-away objects.
Since they don't match, we're going to create a mask to select a line about which we'll cut from one image to the next. As you do this, select blank parts of the image so the mis-match is invisible.
5.) Select either layer. Hit the Make Layer Mask button (the gray Japanese flag - white dot in gray field). Use a brush tool and paint with black on the mask to eliminate the parts you're not going to use of one image. (press "D" to get default colors and "X" to make it black). Paint-out one side, and make the transition in areas without lines.
You could use the eraser tool, but when you use masks you can edit the line you're making simply by pressing "X" to turn the color with which you're painting on the mask from black to white, and back again, to move the line.
Paint with a brush with about 50% hardness to soften the transition between images. I used a round brush of 200 pixels diameter and 85% hardness. It's not critical.
6.) The hard work is done. Crop the image, flatten it (Layer > Flatten Image) and save it as you like.
Sharpness back to Performance back to Top
Center sharpness, like almost everything from Nikon, is great, even wide open. Diffraction sets in at f/16 and looks bad at f/32, of course.
On the D3
Sharpness is great on the D3.
Depending on what I'm doing, the D3 usually, but not always, compensates the color fringes.
The only way to dull the sharpness, besides stopping down too far, is to shoot wide-open and look in the two farthest corners at full shift. If you shoot with full shift, stop down to f/5.6 or f/8 and the farthest corners are perfect.
On D300
The 24mm PC-E is sharp in center at any aperture, but has visible lateral color fringes if shifted all the way.
Too bad the D300 can't compensate, possibly because the color fringes are no longer symmetrical about the center of the image.
On a D200
Lateral color fringes limit the corner sharpness, with shifts, on the D200.
You get what looks like superimposed images of different colors on top of each other in not-quite perfect registration. Stopping down doesn't change this.
Rated MTF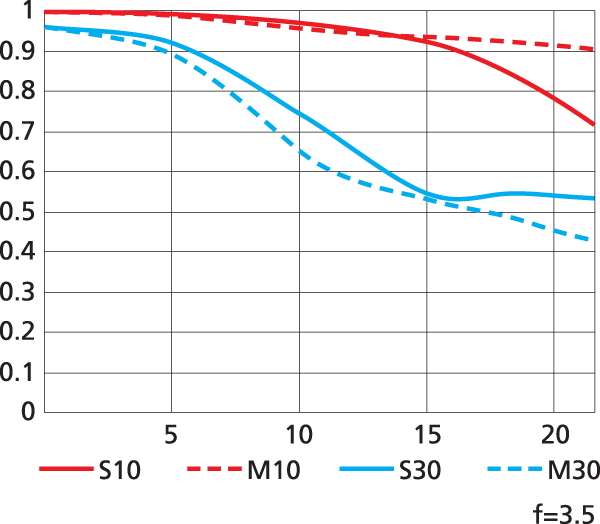 Nikon rates MTF as good wide open, but oddly, only plotted out to 21.6mm, not the full coverage of the lens. I don't know if Nikon goofed on the x-axis label, or what.
Top Intro Specifications Performance Recommendations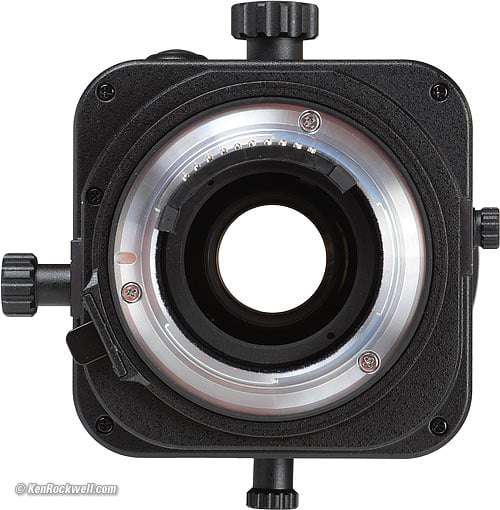 Nikon 24mm PC-E, camera's-eye view.
This reminds me of the view of a Lunar Excursion Module (LEM) coming in to dock with a Command Module. For those of you who missed the 1960s and 1970s, America's bringing men to the moon and back safely is a feat never, ever repeated by anyone except more Americans. The moon rides are still Mankind's greatest technical achievement of all time. Anyway, back to the review...
You people know who you are. If you want one, you'll be happy. If you don't really know why you need one of these, then you don't need one.
The Nikon 24mm PC-E lets you shoot interiors and exteriors the right way, and lets you shoot landscapes and wide tablescapes with ultimate sharpness right up to the camera.
As shift lenses go, it works easy and fast on the D3. Think twice for use with other cameras.
Tip: If you're a landscape photographer like me, be sure to send your 24mm PC in to Nikon service before you shoot to have the lens recombobulated by 90 degrees so you can get rise/fall and tilt at the same time. As shipped, you get swing, not tilt, with rise/fall.
Tip: Want to exaggerate the near-far distance in a landscape? For instance, would you like the flowers at your feet to look much closer than they are? I do. If so, instead of pointing your camera down without any vertical shift, shift the lens all the way down and then point the camera accordingly higher.
Tip: For the same $2,000 as this lens alone, you can buy a complete new 100 megapixel view camera system, complete with camera, lens, tripod, film holders, light meter and film scanner, for the same price. A real 4x5" camera will have far more movements and flexibility that anything from Nikon, as well as far more resolution, if you don't mind the hassle. Most professional landscape photos are made on 4x5" cameras, as you see in Arizona Highways and Outdoor Photographer magazines. See also Is It Worth It?
I got mine at Adorama; I'd also get it at Amazon or at B&H. It helps me keep adding to this site when you get yours from any of these links, thanks!
Help Me Help You
I support my growing family through this website, as crazy as it might seem.
The biggest help is when you use any of these links when you get anything. It costs you nothing, and is this site's, and thus my family's, biggest source of support. These places always have the best prices and service, which is why I've used them since before this website existed. I recommend them all personally.
If you find this page as helpful as a book you might have had to buy or a workshop you may have had to take, feel free to help me continue helping everyone.
If you've gotten your gear through one of my links or helped otherwise, you're family. It's great people like you who allow me to keep adding to this site full-time. Thanks!
If you haven't helped yet, please do, and consider helping me with a gift of $5.00.
As this page is copyrighted and formally registered, it is unlawful to make copies, especially in the form of printouts for personal use. If you wish to make a printout for personal use, you are granted one-time permission only if you PayPal me $5.00 per printout or part thereof. Thank you!
Thanks for reading!
Mr. & Mrs. Ken Rockwell, Ryan and Katie.