Nikon 85mm f/2.8 PC-E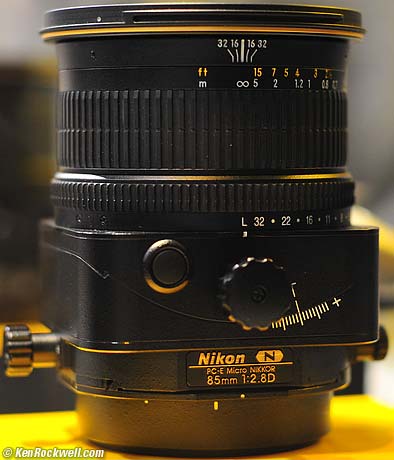 Nikon 85mm f/2.8 PC-E. enlarge. I'd order this from Adorama, Ritz or Amazon. It helps me keep adding to this site when you get yours from these links, too.
April 2017 Nikon Reviews Nikon Lenses PC-E Lenses Nikon Flash All Reviews
The Nikon 85mm PC-E is a short telephoto version of the 24mm PC-E. For all the practical issues and much greater depth, please see my 24mm PC-E review.
Compatibility: This lens uses an electronic diaphragm which is new for Nikon, even though Canon has been doing it this way since the 1980s. Therefore the diaphragm is only fully compatible with the D300, D700 and D3. Earlier cameras require manual operation, or don't work at all. With anything other than the D3, there often is mechanical interference which limits the lens' ability to shift and swing.
See my explicit 24mm PC-E Compatibility page for more details. This 85mm uses the same mount and electronics, so it all should be the same.
Specifications
Optics: 6 elements in 5 groups. No aspherical elements, no ED elements, but one is nano-crystal coated.
Diaphragm: 9-blade electronic, rounded. Stops down to f/32.
Shift: ± 11.5mm.
Tilt: ± 8.5.º
Close Focus: 1.3 feet (0.39m).
Maximum Reproduction Ratio: 1:2 (half life-size).
Size: 3.2" diameter by 4.2" extension from flange (83.5 x 107mm).
Weight: 22.4 oz. (635 g).
Includes: HB-22 plastic bayonet hood and lens pouch CL-1120.
Shown as prototype: January, 2008 at PMA 2008 in Las Vegas, Nevada.
Announced: 01 July 2008.
Price: $1,739 in 2008.
Available: August 2008.
More Information: Nikon, Japan.
Performance
Based on what I saw with the 24mm PC-E and Nikon's MTF data, optical performance should be exemplary.
See my explicit 24mm PC-E Review for all the details; this is merely an 85mm version of the 24mm PC-E.
This 85mm PC-E lens has the same optics as 1999's 85mm f/2.8 PC (non-E) lens. The only difference appears to be the vanity "nano crystal" coating and the new electronic diaphragm. THus, if you have an older camera, get the earlier version for better compatibility.
The real question is mechanical and electronic compatibility with your camera. Of the hundreds of Nikon camera models, it really only works properly on the D3. Its movements interfere mechanically with other cameras, and the diaphragm only works properly on the D300, D700 and D3. See 24mm PC-E Compatibility for details, which should apply to this 85mm lens.
Recommendations
This is a very special purpose lens for people too lazy to haul out a view camera, or too cheap to spring for a real digital back for that view camera like the Phase One.
You people already know who you are. I'll expand this page when I get my hands on this lens; for now, read my 24mm PC-E review , all of which should apply to this otherwise identical 85mm lens.
Personally, I'd get the 24mm among Nikon's three 24mm, 45mm and 85mm PC-E lenses.
Canon has already been making an almost identical 90mm f/2.8 TS-E lens for many years. It sells for only $1,200 and is available from stock. Use it on the Canon 5D and you can shoot today and save a lot of money over this Nikon 85mm and D3.
Help Me Help You
I support my growing family through this website, as crazy as it might seem.
The biggest help is when you use any of these links when you get anything. It costs you nothing, and is this site's, and thus my family's, biggest source of support. These places always have the best prices and service, which is why I've used them since before this website existed. I recommend them all personally.
If you find this page as helpful as a book you might have had to buy or a workshop you may have had to take, feel free to help me continue helping everyone.
If you've gotten your gear through one of my links or helped otherwise, you're family. It's great people like you who allow me to keep adding to this site full-time. Thanks!
If you haven't helped yet, please do, and consider helping me with a gift of $5.00.
As this page is copyrighted and formally registered, it is unlawful to make copies, especially in the form of printouts for personal use. If you wish to make a printout for personal use, you are granted one-time permission only if you PayPal me $5.00 per printout or part thereof. Thank you!
Thanks for reading!
Mr. & Mrs. Ken Rockwell, Ryan and Katie.