Home Donate New Search Gallery Reviews How-To Books Links Workshops About Contact
Nikon 24mm f/2.8 AI-s
(1977-today)
Intro Specs Performance Recommendations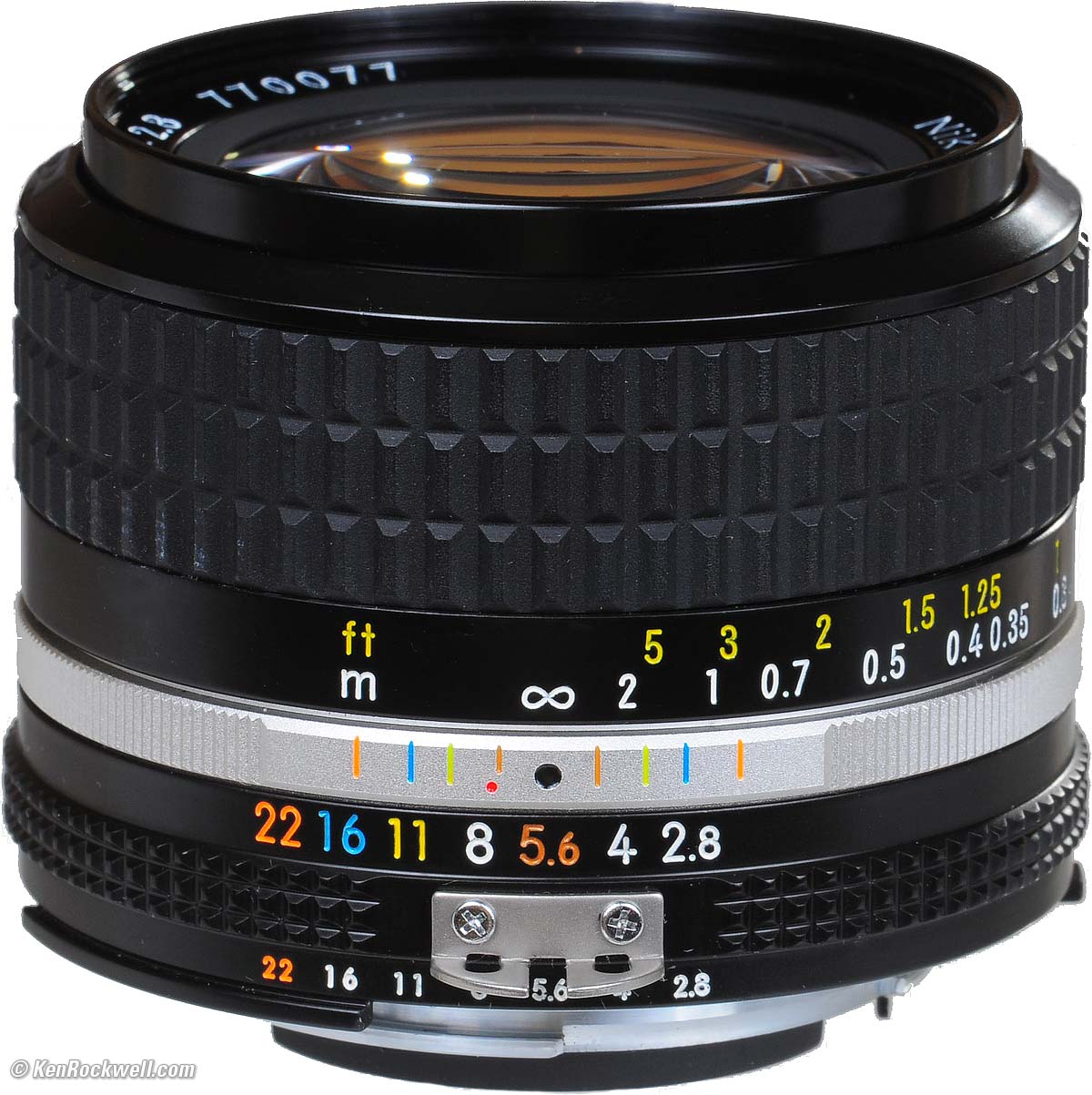 Nikon 24mm f/2.8 AI-s (FX, DX and 35mm coverage, metal 52mm filter threads, 9 oz./250g, 1'/0.3m close focus, about $540 new or about $150 used if you know How to Win at eBay). enlarge. You can still buy these brand-new at B&H Photo-Video and at Adorama, which is where I bought mine back in 1984 (I've forgotten which of the two I used back then), as well as new at Amazon and used at Amazon.
August 2017 Nikon Reviews Nikon Lenses All Reviews
Sharpness Comparison to all other 24mm lenses August 2010
Nikon 24mm f/2.8 AF-D (same optics in a plastic poackage.)
Introduction top
Intro Specs Performance Recommendations
This used to be a very popular lens. It's sharp, compact and very well made. As most Nikon AI-s lenses of its era it is a masterpiece of mechanical construction.
How good is it? Today in 2013, Nikon stil makes it. Back in the 1980s, it was the lens with which Galen Rowell made many of his most iconic images. Why> Because it's small and sharp. Galen rprefered this to the faster 24mm f/2 because Galen felt that the f/2 version had more flare.
Today, Nikon also makes these same great oprics in a cheaper plastic mout as the Nikon 24mm f/2.8 AF-D.
This manual-focus Nikon 24mm f/2.8 AI-s works great with most Nikon cameras, 35mm and digital.
It works flawlessly with every manual focus Nikon ever made, from the original Nikon F of 1959 through the FM3a and today's FM-10.
On the D4, D800, D800E, D600, D3X, D3s, D3, D7100, D7000, D700, D300, D200, D2 and F6, use the "Non-CPU Lens Data" menu option to set 24mm and f/2.8 to get full color matrix metering, EXIF data and finder read-out of set aperture. It works great in aperture-preferred as well as manual modes on these cameras.
It works perfectly on every professional 35mm camera (F, F2, F3, F4, F5, F6), and adds Matrix metering on the FA, F4 and F6.
The meters of cheaper digital (D90, D5100 and below) and cheaper film cameras (N80 and below) will not couple (or work at all) with this lens, so you'll be on your own guessing exposure using the rear LCD or an external meter, or get a tiny Gossen Digisix meter and hotshoe adapter, or the free Pocket Light Meter app to meter manually.
See Nikon Lens Compatibility for details on your camera. Read down the "AI, AI-s" column for this lens.
Specifications top
Intro Specs Performance Recommendations
It has close-range correction (CRC) and has the usual Nikon barrel distortion.
It focuses to one foot or 0.3m.
It has a seven-bladed diaphragm stopping down to f/22.
It has nine elements in nine groups.
Filter thread is 52mm.
It is 2.2" (57mm) long by 2.5" (63mm) around and weighs 9 oz. (250g).
August 2017: $540 new or about $150 used.
Performance top
Intro Specs Performance Recommendations
It has the usual Nikon wide-angle performance: great performance all over when stopped down and great in the center at all apertures.
It has the usual light falloff and fuzziness due to coma in the corners at full aperture that improves a stop or two down.
Once stopped down a couple of stops it's great.
I find the Minolta MD Rokkor-X 24mm f/2.8 (55mm filter thread) is superior due to lower distortion and less coma wide open. The Minolta lens also has CRC.
Recommendations top
Intro Specs Performance Recommendations
If you want an inexpensive high-performance manual-focus 24mm lens, go for it!
Nikon still sells them brand-new in 2017.
© Ken Rockwell. All rights reserved. Tous droits réservés. Alle Rechte vorbehalten.
Help Me Help You
I support my growing family through this website, as crazy as it might seem.
The biggest help is when you use any of these links when you get anything. It costs you nothing, and is this site's, and thus my family's, biggest source of support. These places always have the best prices and service, which is why I've used them since before this website existed. I recommend them all personally.
If you find this page as helpful as a book you might have had to buy or a workshop you may have had to take, feel free to help me continue helping everyone.
If you've gotten your gear through one of my links or helped otherwise, you're family. It's great people like you who allow me to keep adding to this site full-time. Thanks!
If you haven't helped yet, please do, and consider helping me with a gift of $5.00.
As this page is copyrighted and formally registered, it is unlawful to make copies, especially in the form of printouts for personal use. If you wish to make a printout for personal use, you are granted one-time permission only if you PayPal me $5.00 per printout or part thereof. Thank you!
Thanks for reading!
Mr. & Mrs. Ken Rockwell, Ryan and Katie.