Home Donate New Search Gallery Reviews How-To Books Links Workshops About Contact
Nikon 35mm f/2.8
NIKKOR AI (1979-2005)
© 2014 KenRockwell.com. All rights reserved.
Intro Specifications Performance Recommendations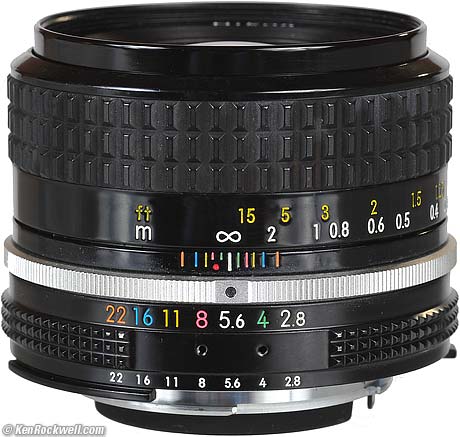 Nikon Nikkor 35mm f/2.8 AI (FX, DX and 35mm coverage, 52mm filters, 8.3 oz./235g, 3'/1 m close focus, about $125 used). I'd get it at this link directly to them at eBay (see How to Win at eBay).
February 2014 Nikon Reviews Nikon Lenses All Reviews
Introduction top
Intro Specifications Performance Recommendations
The Nikon Nikkor 35mm f/2.8 is probably the least expensive lens in Nikon's line, along with the slowest 50mm, at any given point in time.
It's an FX lens which works great on FX and DX digital cameras and of course on 35mm.
I got this one for $25 in 2007, used, and it works fantastically well on my Nikon D3. See my Nikon Professional Normal Zoom Comparison for exhaustive side-by-side image examples.
Compatibility
This manual-focus Nikon 35mm f/2.8 AI works great with most Nikon cameras, 35mm and digital.
It works flawlessly with every manual focus Nikon ever made, from the original Nikon F of 1959 through the FM3a and today's FM-10.
On the D4, Df, D800, D800E, D600, D610, D3X, D3s, D3, D7100, D7000, D700, D300, D200, D2 and F6, use the "Non-CPU Lens Data" menu option to set 35mm and f/2.8 to get full color matrix metering, EXIF data and finder read-out of set aperture. It works great in aperture-preferred as well as manual modes on these cameras.
It works perfectly on every professional 35mm camera (F, F2, F3, F4, F5, F6), and adds Matrix metering on the FA, F4 and F6.
The meters of cheaper digital (D90, D5100 and below) and cheaper film cameras (N80 and below) will not couple (or work at all) with this lens, so you'll be on your own guessing exposure using the rear LCD or an external meter, or get a tiny Gossen Digisix meter and hotshoe adapter, or the free Pocket Light Meter app to meter manually.
See Nikon Lens Compatibility for details on your camera. Read down the "AI, AI-s" column for this lens.
History
Nikon has been making 35mm f/2.8 lenses since 1959. There are many mechanical and cosmetic variations, but only four optical versions. I'm discussing the optical variations here; there are far more cosmetic variation of each optical version.
1979-2005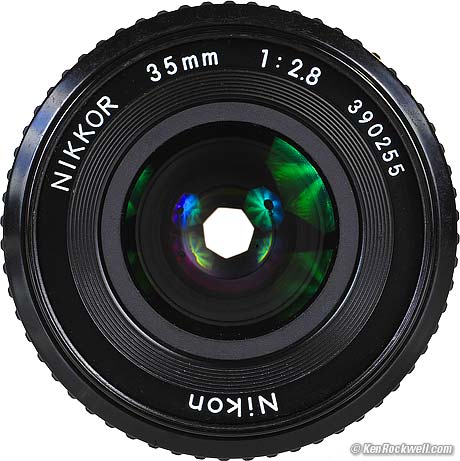 Nikkor 35mm f/2.8 AI.
This sample is the fourth, newest and simplest 5 element optical design.
This AI version of this optical design was made from 1979 through 1981, while an AI-s version was made through 1989 and sold new through 2005.
Since both this and the earlier 1974-1979 optical design came in AI versions, the best way to identify which is which is that this newest version has a color-coded depth of field scale raised to be flush with the focus scale. The older AI version has the color-coded scale on the same barrel over which the focus ring rotates.
Serial numbers are the easiest give-away between the third and fourth optical AI versions. This newer AI version starts at serial number 350000 and ran through about 500000. The older AI version had larger serial numbers running in the 800000s.
All the AI-s versions are the same newest optical formula as the one tested here.
1974-1979
The third version has 6 elements in 6 groups.
Nikon simply calls these Nikkor 35mm f/2.8.
These came both non-AI and AI.
1962-1974
The second version, called Nikkor-S 35mm f/2.8, has 7 elements in 6 groups.
They all are F mount, meaning not AI unless they were converted.
I've got one of these I'll be testing, too. It works very well, but has a lot of ghosts if pointed into the sun due to its more complex design and less efficient coatings.
1959-1962
The first version has seven elements in 5 groups.
Nikon called this the Nikkor-S 3.5cm.
They all are F mount, meaning not AI unless they were converted.
Specifications top
Intro Specifications Performance Recommendations
Name
Nikon calls this the Nikon Nikkor 35mm f/2.8 AI.
Optics
5 elements in 5 groups.
Spherical design.
Multi coated.
Focal Length
35mm.
Used on a DX camera it gives an angle of view similar to what a 50mm lens gives on an FX or 35mm camera. See also Crop Factor.
Close Focus
1 foot (0.3 meters).
Weight
8.302 oz. (235.4g), actual measured weight.
Nikon specified 8.4 oz. (240g).
Price, USA
February 2014: about $125 used if you know How to Win at eBay.
December 2007: $25 used.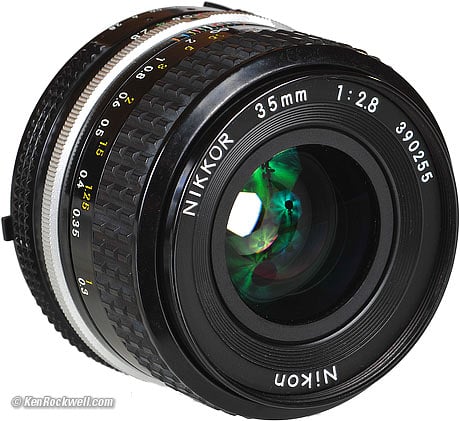 Nikkor 35mm f/2.8 AI.
Performance top
Intro Specifications Performance Recommendations
Overall
Performance is great. It has much lower distortion than a zoom, it's bright and easy to focus, and super sharp.
See my Nikon Professional Normal Zoom Comparison for exhaustive side-by-side image examples.
Focus
A Nikon hallmark for decades, focus is fast and easy. There is no play and it flicks with a single finger.
The precision with which manual focus Nikkor lenses operate is one of the reasons I converted from Minolta to Nikon instead of Canon in 1983, and have never looked back.
Sharpness
It's sharp! It's sharp and contrasty in the center, even wide open.
It's a little softer in the far corners of FX at f/2.8, but not by much. Stop down and it's better, and perfect at f/11.
The interesting thing about this 35mm f/2.8 AI is how sharp it is how far out to the corners. The last few millimeters take some stopping down, but if you stay out of those last few millimeters, it's sharp and contrasty even wide open quite a ways out.
On a DX camera it's probably just about perfect, even in the corners of the DX frame.
Coma
There is a little coma in the FX corners at f/2.8, much improved at f/4 and gone by f/5.6.
This is a little better than most other Nikon fixed wide angles.
Lateral Color Fringes
None, on my D3 which corrects them.
This helps make the images really pop, especially with bold graphic elements.
Distortion
The distortion is among the lowest I've seen on Nikon wide angle lenses and zooms. It's almost invisible, and requires deliberate effort and a straight edge on my monitor to see it.
Distortion appears to be at a minimum at about 2 meters (7 feet), and increases at closer distances.
Plug these figures into Photoshop's lens distortion filter to correct the distortion. These aren't facts or specifications, they are the results of my research that requires a lot of data collection and computation.
| | |
| --- | --- |
| | |
| 50' (15m) | +0.5 |
| 15' (5m) | +0.4 |
| 10' (3m) | +0.2 |
| 7' (2m) | +0.1 |
| 3' (1m) | +1.1 |
© 2014 KenRockwell.com
Flare and Ghosts
There are two green ghosts of you have the sun in or a little out of your image. On is just a little bit closer to the center of the image than the light source itself, and the other, more visible ghost is on the other side of the light source if you draw an imaginary line through the center of the image.
The ghost takes on the size and shape of the diaphragm. Therefore it becomes smaller and brighter as one stops down.
Light Falloff (Corner Darkening)
Falloff is mild, even wide open. As typical for Nikon manual focus lenses, it's much less stopped down a stop to f/4, and completely gone at f/5.6.
Exposure
My diaphragm appears properly calibrated.
Oddly, I seem to get underexposure in dim light requiring about +1 to +2 exposure compensation as the light gets darker.
Its no big deal since compensating exposure has always been a part of photography, but darned if I can figure this one out right now.
It's fine in daylight, but then again, I usually dial in -0.7 with my other lenses and shoot this 35mm f/2.8 straight.
Sunstars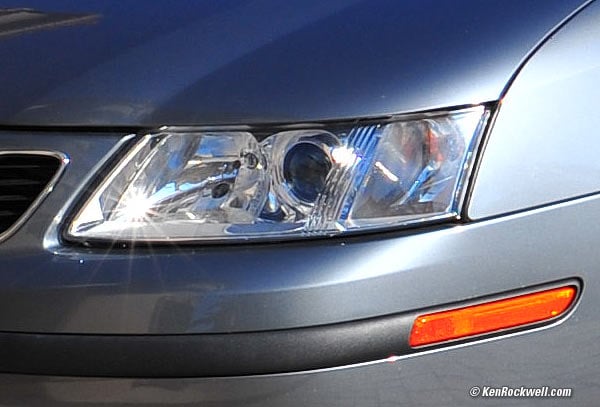 35mm f/2.8 AI at f/8. Crop from D3 image at 100% (43" or 1.1m wide print!).
The 7-bladed diaphragm gives magnificent and uniform 14-pointed stars on brilliant points of light.
This is a crop from a much larger image at 100% on a 12 MP FX D3.
Sunstars become more prominent as the light sources become more brilliant and the lens is stopped down further.
Bokeh
Bokeh is fairly organic and pleasant.
Mechanics
Nikon's manual focus lenses have been the world standard for decades against which all other lenses are judged. I prefer the manual focus feel to any LEICA lens I've ever held.
For $25, I have another 25-year-old lens which looks and feels as if it just came from the factory.
Filter Threads
Metal.
Focus ring
Metal covered with waffle-pattern rubber.
Barrel
Metal.
Aperture Control Ring
Metal.
Markings
Engraved and filled with paint.
Internals
Metal.
Lens Mount
Metal.
Serial Number
Engraved and filled with paint on front identification ring.
Made In
Japan.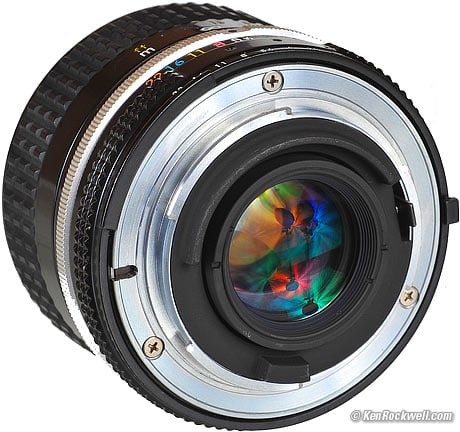 Nikkor 35mm f/2.8 AI.
Recommendations top
Intro Specifications Performance Recommendations
Want a great, cheap lens for FX digital cameras and film? This is it, except as of 2014 its price has gone way up from 2007 when no one wanted FX lenses because Nikon had yet to ship its first FX camera.
Want a lens with distortion so low it's perfect for graphics, architecture and things requiring straight lines to stay straight? This 35mm f/2.8 AI is especially good.
I wouldn't bother with it for DX cameras. For DX cameras, get the 35mm f/1.8 DX instead.
Help me help you top
I support my growing family through this website, as crazy as it might seem.
The biggest help is when you use any of these links when you get anything, regardless of the country in which you live. It costs you nothing, and is this site's, and thus my family's, biggest source of support. These places have the best prices and service, which is why I've used them since before this website existed. I recommend them all personally.
If you find this page as helpful as a book you might have had to buy or a workshop you may have had to take, feel free to help me continue helping everyone.
If you've gotten your gear through one of my links or helped otherwise, you're family. It's great people like you who allow me to keep adding to this site full-time. Thanks!
If you haven't helped yet, please do, and consider helping me with a gift of $5.00.
As this page is copyrighted and formally registered, it is unlawful to make copies, especially in the form of printouts for personal use. If you wish to make a printout for personal use, you are granted one-time permission only if you PayPal me $5.00 per printout or part thereof. Thank you!
Thanks for reading!
Mr. & Mrs. Ken Rockwell, Ryan and Katie.
Home Donate New Search Gallery Reviews How-To Books Links Workshops About Contact