May 2008's Updates RSS
all © 2008 KenRockwell.com. All rights reserved.

I get my goodies at Ritz, Amazon, Adorama. It helps me
keep adding to this site when you get yours from those links, too.
NEW: Baby Katie Rockwell and Baby Ryan Rockwell.
Nikon D3 D60 D300 60mm 24mm PC 16-85mm VR
Canon XSi 1Ds Mk III 14mm II 18-55mm IS 55-250mm IS
Recommended Cameras Nikon Reviews Canon Reviews
30 May 2008, Friday
(for you baby-haters, feel free to chat amongst yourselves at DP Review instead today. Today I was busy bringing a new baby home from the hospital and into the studio.)
I spent all of Tuesday shooting twenty different 105mm, 180mm, 200mm and zoom lenses, including the 70-200mm VR and teleconverters and just about everything else in Nikon's catalog from today and the past 40 years, against each other on the D300/D3X for an upcoming "which is really sharpest where it counts" comparison. We'll settle "which is the sharpest telephoto lens" question once and for all.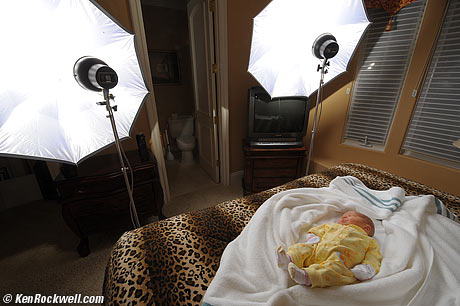 Heh heh, mom left baby Katie Rockwell asleep, right in the middle of my studio!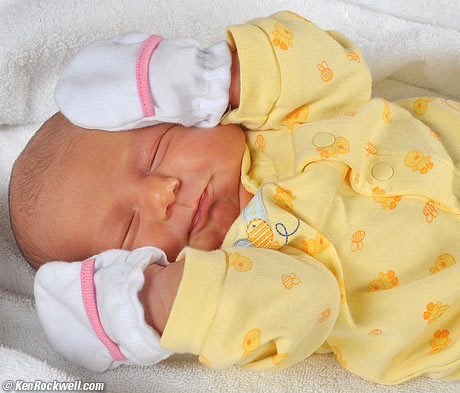 Sleeping Baby.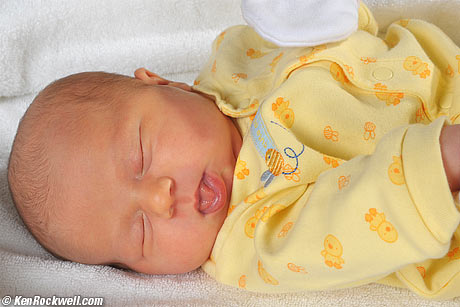 And that's what she thinks of the strobes!
(Three: Nikon D3, three Novatron Strobes with power pack set to 250 W/s total, f/20 at ISO 200, NEUTRAL and +1 Saturation picture control, white-card preset WB. Shot of interior: 14-24mm AF-S at 14mm, baby: 70-180mm Micro at 78mm and 105mm)
28 May 2008, Wednesday
Dad and Katie Rockwell.
NEW: Baby Katie Renée Rockwell born 2:45:10 PM PDT in La Jolla, California. She's 8 pounds, 10.3 oz (3.920 kg), 19-1/2" (50cm).
Here's a WAV sound file from the D3.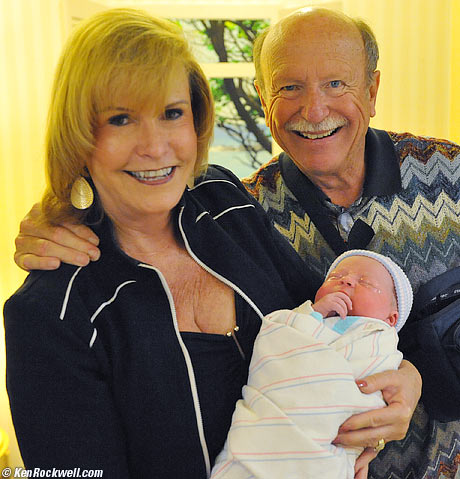 Katie with her grandparents Noni and Pops.
27 May 2008, Tuesday
(For those of you wondering where my real work is today, I'm diligently updating my TC-14E, TC-17E, TC-20E and 70-200mm VR reviews.)
26 May 2008, Memorial Day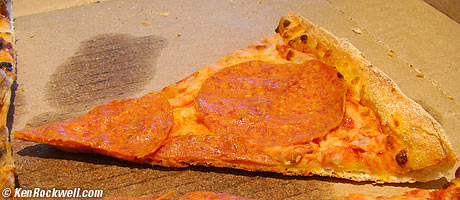 This is what most people accept as pizza: Dominos, delivered last night here in San Diego. This is what Dominos dares to call "Brooklyn" pizza.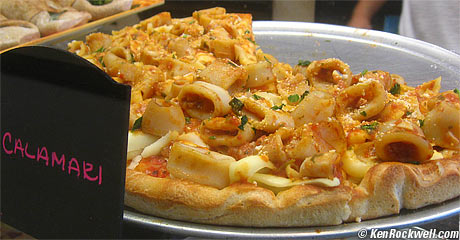 This is real, live, pizza in New York when I was there last summer. This particular one was at Villa Monte in Old Bethpage, Long Island. You'll find this sort of thing in every pizzeria, along with about 27 other kinds of hand-made pizzas and other delicacies. In most of New York and Long Island, you'll find a real pizzeria on every block. If what you want isn't waiting for you fresh by-the-slice, they'll make anything else you want. Here's a closer look: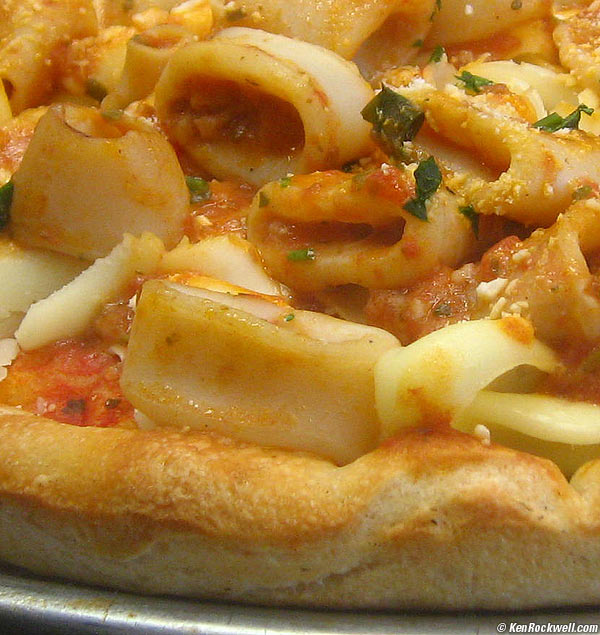 New York Pizza with Calamari. This was just a grab shot through the glass counter with my Canon SD700.
Hey, it's a holiday, and I wanted to see if I could show the difference in photos.
Last night I was particularly underwhelmed by the flat thing brought over by Dominos in a pizza box. It would have fit better in a large envelope; the inch-thick box is just for show. Not that I didn't enjoy it, but I realized that it's too bad that this pathetic excuse for a pizza is accepted by most people. It made me appreciate the irreproducible magic which is real pizza.
I opened the Dominos box and thought "What is this thing?" It was flat and two-dimensional, as if it were a color Xerox of a real pizza. It's as different from real pizza as the real Tuscany is from suburban housing tracts stealing the name. (Tuscany, Siena and Firenze need to register themselves as trademarks!)
If real pizza is a live symphony of delight, this Domino's thing was like a sauced-up wino mumbling into a kazoo. Then I recalled how Dominos dared take the name "Brooklyn" in vain. Ghastly.
Corporate America usually spits out products people want, so it's our own fault for buying this stuff. Two small pizzas cost us about $30, delivered. Ridiculous. I remember as a kid in New York how we would see national ads for places like Dominos, and ask ourselves "would anyone really eat that crap?" Now I know.
Real pizza comes from pizzerias. No two pizzerias are alike. Every pizzeria uses different ingredients and recipes. The owners work there. Half the time, they really are from Italy (I asked at Monte in Old Bethpage, and they're from Napoli.) The dough and sauce are made fresh everyday. Every crust is hand-tossed. The cheese often isn't made on-site, but the sausage often is.
The New York Times wrote about this two years ago. It's a great read!
Italian people: please move to San Diego. We need you! You'll love the sunny beaches and beautiful women, so please come on out!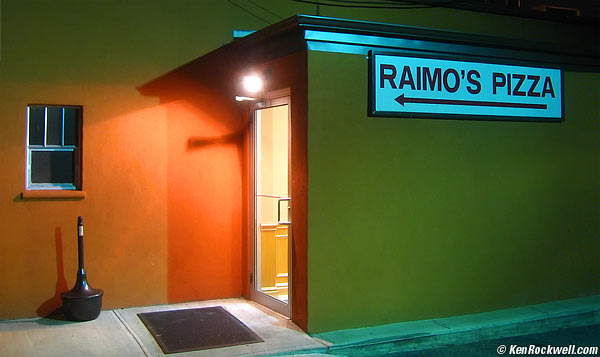 Raimo's Pizza, Plainview, Long Island, New York (Summer 2007, shot with my Canon SD700, VIVID mode as usual.)
One of the reasons I moved to sunny California from New York was for San Diego's extraordinary Mexican food. It never dawned on me that there could be no pizza. Sure, we have our own sort of pizza in California, but nothing as fanatical as we have in New York and other pizza-dedicated parts of the USA like Chicago and of course Italia.
25 May 2008, Sunday
I just read PDN's May 2008 Photo Annual, where there are at least 400 hand-picked examples of the best professional photography from every category from advertising to journalism to sports to stock. Look in the corners, and every single shot has fuzzy corners, or more likely, deliberately darkened, white or otherwise detail-free corners.
You don't put details in your corners. It distracts the viewer and weakens your image.
Corner Sharpness. Just get over it.
24 May 2008, Saturday
Pardon my irrelevance, but when it comes to toughness, Casio watches can't be beat, especially by overpriced Swiss watches that bloat their prices to pay for ads in glossy magazines and sponsoring expensive sports that have nothing to do with making me a better watch.
I just looked at my logbook, and realized that the $8 Casio F-30 I found over six years ago is still running perfectly. That's not too exciting, until you realize that it's only rated as "water resistant" (not intended for use in the water) and that I found it twisted in kelp in the surf on Torrey Pines beach. For all I know it fell off the wrist of a Japanese surfer in Bali and floated its way across the Pacific, and it was probably at least few years old when it was lost.
Let's not even mention that this crummy Casio keeps far better time, has a far more advanced design, incorporates far more precision manufacturing, and most importantly, is far more legible than 99% of watches priced over $5,000. Not bad for under eight bucks, new, and the $8 Casio is smart enough to know that June only has 30 days.
We need Casio to make us a camera this tough. How about a Casio G-Shock Exilm?
22 May 2008, Thursday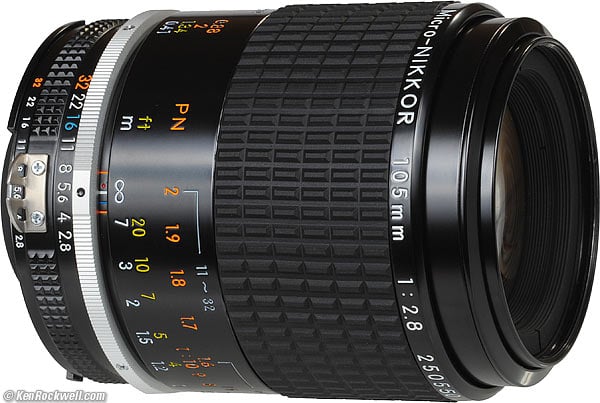 Nikon Micro-NIKKOR 105mm f/2.8 AI-s. World's sharpest lens?
New: Lens Sharpness. I should have written this one back when I started this site in 1999. This is a basic need-to-know article that was fueled by new photographers' constant worrying about sharpness.
You've got to be kidding: Someone just paid over $4,000 for a Nikon 28mm f/1.4 AF-D on eBay. This is crazy, especially since I'm predicting that any day now Nikon will introduce modern AF-S replacements for the old fast, fixed AF-D lenses, possibly on August 20th.
This shows all the usual aspects of well-done sales:
1.) Anyone could have bought all the 28mm f/1.4s they wanted at $1,659, brand new, back when I published my glowing review back in 1999 through about 2005, but when Nikon discontinued them because no one was paying such a crazy price, the "take it away close" makes otherwise reasonable people pay three times as much for used ones.
2.) Auction fever makes people pay too much, and eBay milks this for billions of dollars in profits each year, just for listing the items! To incite auction fever properly, the seller was shrewd enough to list it with a starting bid of 99¢. Innocent people bid early at $11, and it went on from there all week, building momentum for a fantastic record close. People who are chicken and list with high opening bids or reserves don't get these high prices, since the early bidding never happens to provide kindling for a hot auction.
Then again, there is nothing on Earth that does what the 28/1.4 AF does on Nikon cameras today, so God speed to the winner. (Canon sells more advanced 35mm and 24mm f/1.4 lenses, on rebate, brand new today for about $1,000 each.)
21 May 2008, Wednesday
New: Full Reviews of the Canon SD770, SD790 and SD890. I prefer the mid-priced model, the SD790, or honestly, the bargain-priced SD750, both for their larger LCDs.
Laurels: Hats off to FedEx for delivering all the photo gear I send out for service.
The Tokina 150-500mm lens I sent out yesterday afternoon at 4:30PM, via FedEx Ground, was already delivered this morning at 10:22 AM!
Today I have a 20-pound scanner to send out (I'm returning an Epson 4990 I borrowed so hopefully I can borrow a V500 or V700 to try next), and this huge box only cost $7.50 to ship via ground. Fed Ed Ground usually gets there the next day if it's within a few hundred miles.
Sign up for an account online and you get some sort of discount over walk-in rates, you print the labels online, stick these to the box in the clear sticky envelopes you get for free at FedEx, and drop the boxes on the counter at FedEx or hand them to your local delivery guy, no waiting.
This way you never have to wait in line for anything, and you can enter your recipients' email address so they get messages letting them know what to expect when. This all makes me look like a pro, and costs very little.
I shipped a lens to a photographer in Australia on a Tuesday afternoon, it flew through customs and was in his hands before the end of the week — and Australia is a day ahead of us.
Hint: FedEx are pros at logistics, but not at making websites. You need to disable your popup blockers, know to enter phone numbers in the form of "1231231234" (no spaces or punctuation), and their site doesn't work at all unless you use the same brand of computer as the guy who wrote their website. I have to log in, then log out and re-login checking the "low bandwidth" option to get their site to work.
19 May 2008, Monday
New: Canon Instant Rebates good today through 19 July 2008. "Instant" rebate means an instant discount when you buy it. You don't have to cut up your boxes. You don't have to mail anything in. You don't have to wait 8 weeks and hope it shows up. You get the amount deducted as you buy it.
On rebate now are:
Canon 5D: $300 off. Yay! The 5D is sharper than Nikon's D3, for a fraction of the price. The 5D is the best digital landscape camera there is for under $8,000, and with rebate, it's only $1,900! The 5D wipes the D300, as well as the D3, for tripod use. I bought my own 5D in 2006 when Canon offered a rebate.
Canon 16-35mm f/2.8 L II: $100 off. Likewise, I bought my 16-35mm II earlier this year with a similar rebate. The 16-35mm is far more practical than Nikon's 14-24mm because I can use filters, like grads.
Canon 70-200mm f/4 L IS: $75 off. I got mine the last time they were on rebate, too. As I showed last week, this lens on a 5D, for less than $3,000 for camera and lens, smokes a Nikon D3 and 70-200mm VR for landscapes, and the Nikon combo costs almost $7,000!
Canon 17-40mm L: $50 off. This is among the best buys in photography, since for $650 you get optics equal to what costs over a grand from any other similar lens from Canon or Nikon. I bought mine back before Canon had the 16-35 II since the 17-40 is better than Canon's first 16-35, and bought the 16-35 II because the 16-35 II is wider and a hair better than the 17-40mm.
Canon 100-400mm L: $100 off. This is the one lens to take to Africa. My pal Paul Renner has been using this lens to earn his living for years in Africa.
Canon 100mm Macro: $35 off. This is an amazingly good lens, and also focuses about ten times faster and surer than Nikon's macro lenses, which cost more.
Canon 70-200mm f/2.8 L IS: $125 off. This giant is for guys who don't worry about carrying ten tons of glass around with them. The f/4 IS version, also on rebate, is every bit as good except one stop less fast.
Canon 85mm f/1.2: $125 off. This is the sharpest ultrafast lens I've ever used. Nikon's 85mm f/1.4 AF-D is 15 years behind this lens.
Canon 50mm f/1.2 L: $100 off. Like Canons's 85mm f/1.2, Canon's 50mm f/1.2 is 30 years ahead of Nikon's 58mm f/1.2 Noct (so old it was already discontinued ten years ago) and 20 years ahead of Nikon's 50mm f/1.4 AF-D that I use daily. Nikon is decades behind Canon; none of Nikon's fast lenses can autofocus on Nikon's newest camera, the D60! Nikon owes us big time.
Canon 35mm f/1.4: Again, Canon is way ahead of Nikon. Nikon's newest 35mm f/1.4 is still manual focus and has the same design as it did when it came out back in 1969! Nikon had a great 28mm f/1.4 AF-D back in 1993, but discontinued it in 2005. Nikon is decades behind Canon for fast lenses.
Canon 40D: $200 off, $70 off the 17-55mm f/2.8 and $30 off the 60mm EF-S macro. Also $15 off the 28-90mm III, $30 off the 580 EX II flash and $15 off the 430EX flash.
Unlike the last Nikon rebates, which were the old fashioned hoping-you-don't-really-ever-mail-them-in kind, not only are these Canon rebates up-front, they are also on Canon's very best items.
Specifically, if I had less than $10,000 to spend for a digital camera system for landscape shooting, the system I really did use in Yosemite this past fall was my 5D, the 16-35 II and the 70-200/4 IS. Today, you can have these all for $4,275, much less than a single Nikon D3 body which isn't as sharp anyway. If you aren't as addicted to 16mm as I am, go for the 17-40mm instead, and the complete 5D/17-40/70-200 package only costs $3,575, brand-spanking new. (I don't bother with mid-range-lenses when I'm shooting landscapes.)
The Nikon D3 is a wonderful camera, but it's a professional news, sports, kids and action camera. You're paying two or three times the price of a 5D for speed and professional toughness, not image quality. If your subjects hold still or you use a tripod, the 5D may only be built to amateur standards (get a load of the plastic function dial), but gives images at least as good as the D3 for serious work. If I was taking one or the other backpacking, I wouldn't be hauling around a big D3!
Marc Adamus is the poster child for landscapes with the 5D. Look at his work and enjoy!
16 May 2008, Friday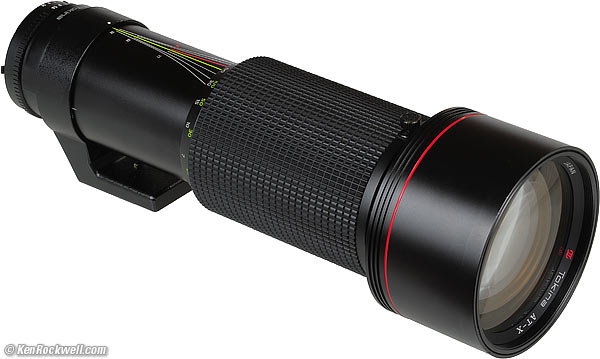 NEW: Tokina 150-500mm Review.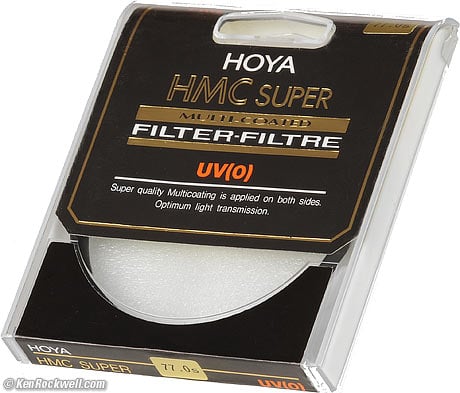 NEW: Hoya Filters Deciphered.
You people who know Flickr: Who is this guy? He's not me. Is he a fan, another guy named Ken Rockwell, or what?
15 May 2008, Thursday
NEW: Nikon 105mm FX Corner Sharpness Comparison.
NEW: Nikon 200mm FX Corner Sharpness Comparison. Here's eight different lenses run against each other. Yes, the 70-200mm VR is the worst, but so what - the corners are unimportant compared to the center and AF and VR and everything else. If you worry about sharpness in the last millimeters of the corners for things that are flat and hold still, use the 80-400mm VR instead, or shoot a Canon 5D which wipes the D3 off the chart at less than one-half the price, or shoot a 4x5" like real landscape photographers. Comparisons at 105mm and 400mm coming soon.
Nikon D3 observation: I added what happens when card two fills in the backup mode.
14 May 2008, Wednesday
Nikon 70-200mm f/2.8 VR on D3: I'm still working on this, however as I thought, my mailbag is overflowing with testimonials from full-time professionals who have nothing but praise for the 70-200VR, on the D3 and every other camera. In fact, not only do pros shoot it in the pouring rain, they shoot it in dim concerts as well as for news and sports. Some even have had other photographers and newspapers asking what lens they used to get such great shots!
Real pros don't have websites. People with too much time on their hands have websites since they're not out shooting. This is why I caution everyone not to believe anything they read on the Internet unless they know the author personally.
13 May 2008, Tuesday
Nikon 70-200mm f/2.8 VR on D3: I'm running this one through the battery. Yes, if you use it wrong (look too close in the corners at 200mm) it is softer on the D3, but no worse than my 80-200mm f/2.8 AF-S. By corners, only the last 3mm are softer; the sides are perfect. This takes a while to characterize; today I ran it through the studio and distortion characterization. The only complaints I'm hearing are from people who read the Internet too much; everyone who earns a real living shooting this 70-200mm VR lens loves it. It's great if you use it properly shooting pictures rather than test charts. More coming, and duh, Nikon's MTF chart clearly shows the far-corner smearing some people can see on FX, for those who know how to read MTF charts.
Nikon D3X Accessories: Adorama's already selling underwater housings for it. I suspect that Adorama and SanDisk are simply doing as I do, and writing everything today in anticipation of the D3X, to save us from re-writing pages.
12 May 2008, Monday
First Look: Nikon 70-200mm f/2.8 VR on the D3. It works great. Who started the rumor about it not? Yes, there's falloff (darker corners) wide open, but it's the same as the older 80-200/2.8 lenses. This VR sucker is as sharp as I thought it would be, and VR works, too.
It works very well with the TC-17e, but isn't as sharp with the TC-20e. AF works great on the D3 with any of these combinations. The 70-200mm is the best all-around pro tele zoom Nikon has made; why would it have problems? I think the same idiot who rumored that Nikon's D3 would only have a 1.1x sensor is involved here.
I wouldn't carry around a heavy lens like the 70-200mm VR all day, but compared to a plastic lens like the 70-300mm VR (which I'd be more likely to carry around), get your hands on a 70-200 VR and you'll feel what I mean about quality. The 70-200 VR is a metal and optical jewel. Much more to come.
D3X News: SanDisk announces that the D3X is UDMA compliant. Read it before SanDisk pulls it.
Coming Soon: Thanks to you, my esteemed readers, I'm working on a full report for the Nikon 70-200 VR on the D3, as well as with the TC-17e and TC-20e.
Help me out:
1.) Do y'all really want me to try it with the TC-14e? If so, does anyone have one to loan me to try with it while I have a 70-200 VR handy?
2.) While I'm at it, I just might (or might not) show some sharpness comparisons to whatever else the dogs drag in at the time. I think it might be fun to compare to 105mm and 180mm fixed lenses, and another 80-200mm/2.8 zoom.
I'm contemplating comparing it to some of these lenses out of curiosity:
85mm f/1.4 AF and 85mm f/2 AI-s (at 85mm)
100mm f/2.8 E, 105mm f/2.8 AF, 105mm f/2.5 and 105mm f/2.8 AI-s Micro (at 105mm)
135/2 DC and 135/2.8 AI-s (at 135mm)
180mm f/2.8 ED AI-s, 180mm f/2.8 AF and 70-180mm AF Micro (at 180mm)
200mm f/4 AI and 200mm f/4 Q (at 200mm).
80-400mm VR (vs 70-200 with TC).
I have no other 80-200/2.8s handy other than an AF-S. Does anyone really care about a head-to-head with the current 80-200mm f/2.8 AF-D or older 80-200mm f/2.8 AF lenses? If so, anyone have any to loan me? I do have access to an original manual focus 80-200mm f/2.8 AI-s; does anyone care about comparing it?
I can't possibly do it all, but for the time during which I have access to a 70-200mm VR, are there other lenses optically against which you'd really like me to compare it, and if it's other 80-200/2.8 zooms, do you have samples for me?
Caution: Optical lens-vs-lens tests don't mean much. As Nikon tells us all in its Nikon School classes, all lenses are about as sharp when used properly. Nikon told us that the only reason to pay thousands for the 28mm f/1.4 over the 28mm f/2.8 is only if you need to shoot it at f/2; the lenses are as sharp otherwise and thousands of my tests confirm that. Likewise, I don't plan to spend too much time squinting at lens-vs-lens tests; the reason to pick an 80-200 AF-D ($800) or a 70-200mm VR ($1,800) is if you need instant manual focus override or VR, not for any significant difference in optical performance.
THANKS! Ken.
D300 and D3 trick: A reader points out that in MENU > SHOOTING > SET PICTURE CONTROL there's a trick whereby if you press the checkerboard button, you'll get a graph plotting contrast and saturation of all of your programmed Picture Controls. This has always been called out as "Grid" at the bottom of the pIcture Control menu.
It's not a particularly useful feature because I use ADR, which means the contrast is altered frame-by frame, so there is no user input for contrast. Even though the graph plots contrast, the settings have no contrast values to be plotted. The only productive thing about the graph plotting the preset contrast values, which are ignored under ADR, is that it does tell me how they are set if I were to disable ADR.
This is identical for the D3 and D300, which are 99.9% the same camera firmware and operation-wise.
11 May 2008, Mothers' Day
Ryan Drinking. (snapped with Canon SD770)
Photographic Scherzo: As I keep saying, having expensive tools doesn't mean you know what to do with them. (Don't worry, mom only feeds the dogs fresh, filtered and purified water.)
09 May 2008, Friday
SD Card Deal: Adorama has a 4GB SanDisk SD card on sale for $59.95. It has a built-in flip-over USB plug, so there's no need to carry a card reader. There's a $30 mail-in-rebate going on through June 29th, so its half that price after the rebate. Check it out. It's a Ducati edition, for you motorcycle fans.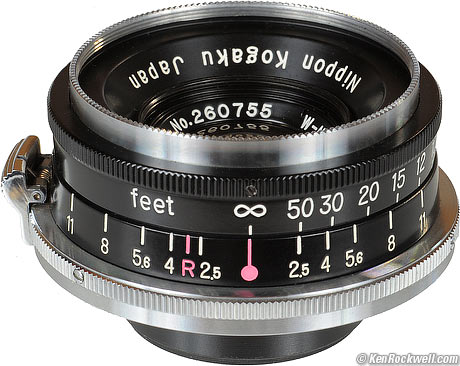 NEW: Nikon W-NIKKOR·C 3.5cm f/2.5 Review. An excellent fifty year old lens.
King of Practical Landscape DSLRs: A reader asked which among the Canon 5D, Canon 40D, or Nikon D300 had the best image quality. EASY! The Canon 5D is way better than any of them, in fact, the 5D even better than the Nikon D3 for landscapes (it's sharper). The 5D is a bargain today because it's been out a couple of years. Yes, maybe a replacement will arrive some day, but that doesn't change the fact that the 5D is the best digital landscape camera on Earth today short of the $8,000 1Ds Mk III. Nikon makes no pro landscape camera; that's the unavailable D3X. The D3 is a sports and news camera optimized for speed.
Discovery: I just found where Mac OS 10.4.11 hid the keyboard viewer, which is the live guide that lets us find all the special characters, like ∞. It used to be obvious. I also found how to make it obvious again:
1.) Go to the top left blue apple, and choose System Preferences.
2.) Click International.
3.) Check "Keyboard Viewer" and be sure "Show input menu in menu bar" is checked.
Now a little patriotic American flag appears up by your clock.
Now all you have to do when you want to know where to find" π" is to click the flag and choose Keyboard Viewer. Of course we Mac folks all know where to find the common stuff like © and é, so we rarely need the keyboard viewer. I'm only looking for it because I'm trying to find a raised period (a very short dash) so I can type W-NIKKOR·C properly for my next review. Actually, I had to use the Character Palette to find it, but I did. Yay!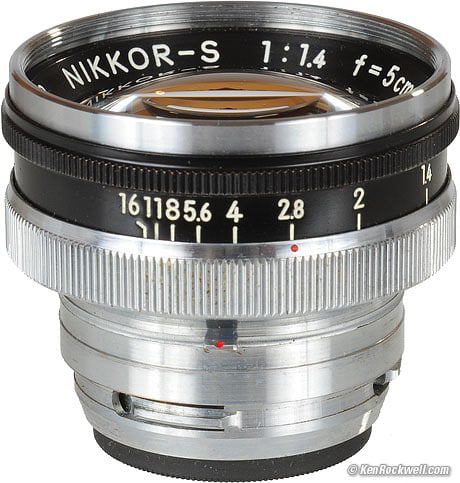 NEW: Nikon NIKKOR-S 5cm f/1.4 Review. A fifty year old lens. Sorry, no new digital cameras today, and no word on the SPX digital, either.
07 May 2008, Wednesday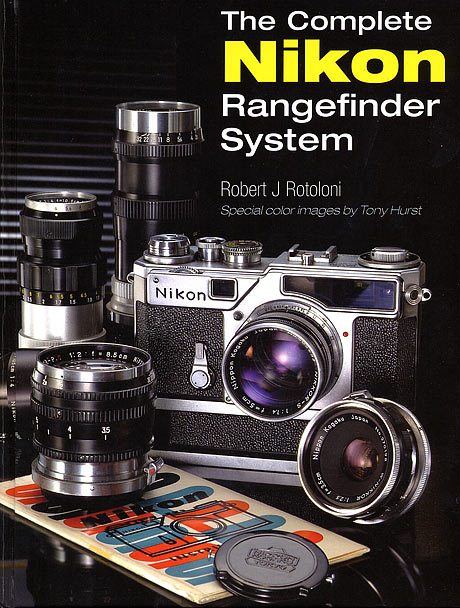 "The Complete Nikon Rangefinder System" by Robert Rotoloni
NEW BOOK REVIEW: The Nikon Rangefinder System by Robert Rotoloni. It's for rangefinder collectors, and I got a kick out of it.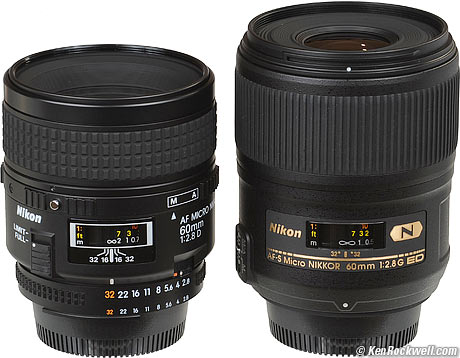 Nikon 60mm AF-D and 60mm AF-S.
NEW: Nikon 60mm AF-S vs. 60mm AF-D. A comparison. I also added falloff data at 1:10, 1:3 and 1:1 to each of the lenses' individual reviews.
06 May 2008, Tuesday
NEW: Photographing Musical Performances.
05 May 2008, Monday
Summer Bargain: For you cheapskates, McDonalds (at least the one I visited today) again has their huge 42 oz (1.2 litre) sodas available for 69¢. In other words, while most people pay more for reasonably-sized sodas, order the "Bladder Buster" family-size and you'll pay less than for a normal sized drink! Even if you pour most of it out, you'll still save money. If you don't see it on the menu or the promo poster on the window, ask for it anyway. You may be pleasantly surprised.
Observation: Casio isn't allowing any legitimate dealer to sell the 60 frame-per-second EX-F1 online. Adorama has it in stock at about $999.95, but you have to phone (888) 876-1580 to get it. Their SKU is ICSEXF1B.
02 May 2008, Friday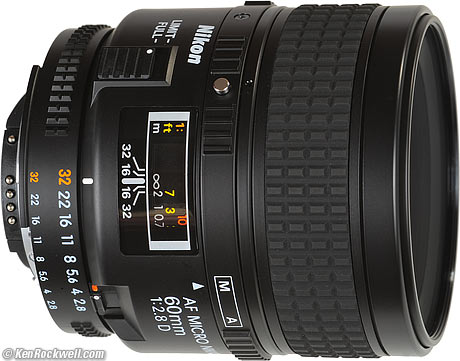 NEW: Nikon 60mm f/2.8 AF-D Micro-Nikkor Review. It's now updated with illustrations and actual tests and comparisons to the 60mm f/2.8 AF-S.
Next week I'll be writing a knock-down, drag-out comparison page between the two 60mm micro lenses.
01 May 2008, Lei Day!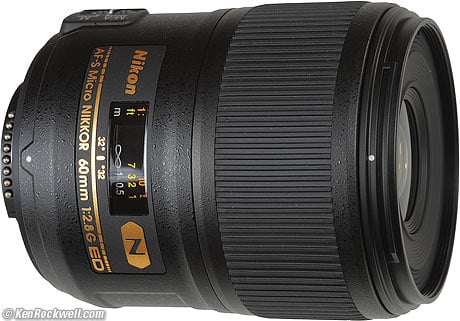 NEW: Nikon 60mm f/2.8 AF-S Micro-Nikkor Review. It's now updated with illustrations and actual tests and comparisons to the 60mm f/2.8 AF-D.
What Was New in:
December 2007: Loads of details about the Nikon D3, D300, 14-24mm and 24-70mm, much of which still isn't on the individual review pages.
November 2007: First hands-on details about the Nikon D3, D300, 14-24mm and 24-70mm, much of which still isn't on the individual review pages.
August 2007 (Loads of new Nikons and Canons)
2006 November - December (includes birth of Ryan Rockwell)
2006 October - November (includes photos from a trip to NY)