November's Updates RSS
all © 2008 KenRockwell.com. All rights reserved.

I get my goodies at Ritz, Amazon, Adorama. It helps me keep adding
to this site when you get yours from those links, thanks! Ken.
30 November 2008, Sunday
Nikon FG
Many thanks to a reader who anonymously sent me a Nikon FG from the 1980s for my retirement ranch, customized with a rewind crank made out of a nickel.
I haven't gotten to shooting it yet, but my kid Ryan loves winding it and snapping the shutter repeatedly. He always grabs it when he comes in my office to look for toys.
Nikon D40 One-Day Price Dip Yesterday
I and some eagle-eyed readers noticed the D40 at Amazon and Adorama dropped yesterday to $410, but it's back up today to about $445 today. Wow, you have to keep your eyes peeled. The Canon SD880 today is cheaper than it was last week, down to not much more than $250 today.
I love my D40 more than any other digital SLR, and I paid the full $600 at introduction back in 2006. 25,000 shots later, my D40 is still cranking out great images. The D3, D700 and D300 and etc. are too darn big to want to carry around most of the time, and have slow 1/250 flash sync.
Using my D40 this Thanksgiving, I forgot how important fast (1/500) flash sync is for daylight fill, as I needed for my Christmas card photos and of the Nissan 350Z.
Pros (and even I) know the most important technical thing to a photo is lighting, and that fast sync helps, while pixels and high ISOs are just sales features not particularly relevant (NPR) to most good photography.
Long live the Nikon D40, the world's best camera for the money (or per ounce), although being two years old, it's due for replacement any time. I hope whatever replaces it will be as good, but more than likely, the resolution will creep up a little and the sync speed fall down a lot, which would be bad.
Mac High Performance Guide
Check out Lloyd's latest work at MacPerformanceGuide.com. It seems like a much better than average tech site, with everything we need to know about getting and setting up our Macs for photography, explained in plain English.
All we need to do now is petition Lloyd to buy a MacBook with the solid-state drive and test it to let us know if it does anything differently than a regular hard drive.
For Sale: Grandma's Unused Nissan 350Z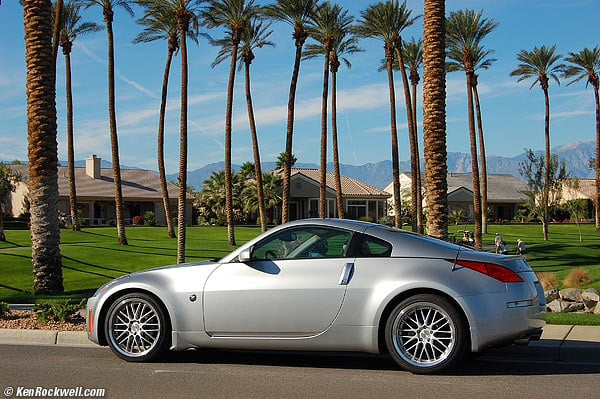 Baby Ryan's grandma Noni never uses her spare car out at her golf house in Palm Desert, California, so if you want an essentially new a 2004 Nissan 350Z (only 8,445 miles), have a look at my photos and information about it.
I shot these photos with my Nikon D40, included 18-55mm kit lens and SB-400 flash for daylight fill. All these shots are shown exactly as shot; the colors and exposure etc. are exactly as the JPGs came out of my D40. If you're still curious, I also posted full-resolution images from the D40.
We were out visiting grandma for Thanksgiving, and the only reason I bothered to bring as much as my D40 was because I shot our Christmas card photos with it. As always, the D40 is the camera to get if you're only getting one.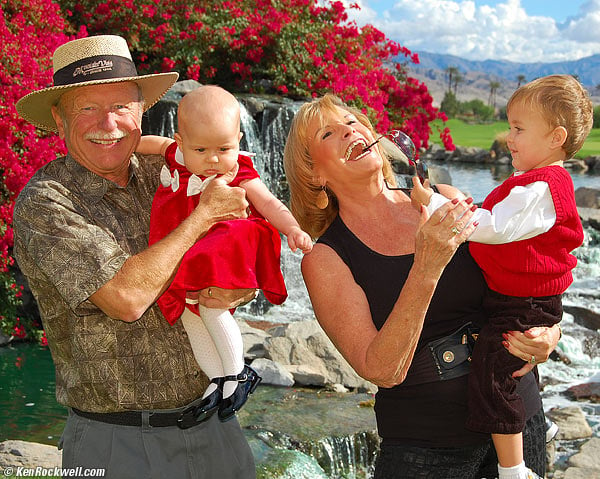 Christmas card photo: kids and their grandparents.
I shot this with my two-year-old Nikon D40 and 18-55mm lens at 46mm, my SB-400 flash at manual half-power with a Roscoe 1/2 CTO gel taped over it (to make the fill light warmer), and set the exposure manually at 1/500 at f/7.1. I used manual settings to keep things from wandering around from shot-to-shot, and also to make it easier if I need to cut and paste faces for the best expressions.
This shot is exactly what came out of the D40 with no color or other tweaks.
29 November 2008, Saturday
Nikon D3X Mis-Announced!
Nikon mis-announced the Nikon D3X via print (Nikon Pro) in the UK:
24.5 MP FX, ISO 50 - 6,400, 5 FPS (7 FPS in DX crop).
This is typical marketing: Nikon and Canon always fuel a leak to get the buzz going a few days to a week before formal announcement.
More.
Canon FD 85mm f/1.2 L
I got one to try for a detailed review later (sorry, no photo yet).
This 1980s FD manual focus lens is completely different from today's EF 85mm f/1.2 L for Canon's EOS (AF) cameras. It only works on Canon's old manual focus film cameras.
It really is sharp wide-open, as claimed.
The FD 85mm f/1.2 L has some barrel distortion.
The biggest gotcha with this 1980s manual focus FD lens (I'm not talking about today's EF 85mm f/1.2 L) is that except for astronomy where you focus at the infinity stop, I don't know that any manual focus Canon body has enough precision to get consistently in-focus results at f/1.2 for real subjects. Depth-of-field is nonexistent at f/1.2, so good luck using the microprism, split-image or ground glass. On a T70, I got different results with each focus aid!
Canon's modern EF 85mm f/1.2 L gives much better results because Canon's AF system is more precise than those of its manual-focus cameras.
For manual focus, I prefer the Nikon 85mm f/1.4 AI-s, which is as sharp, and doesn't have the distortion. I can get consistently excellent results on Nikon's AF cameras like the F6 and D3x because they offer precise electronic manual focus with the older lenses, while Canon's recent cameras can't use these FD lenses for anything.
The best application for this manual focus FD 85mm f/1.2 L is astronomy. It works fine for other uses, just that you can't really get the full benefit of f/1.2 for terrestrial use because it's tough to get precise focus.
Canon FD 50mm f/1.2 L
I also will have a full review (and photo) one of these days. This 1980s FD manual focus lens is completely different from today's EF 50mm f/1.2 L for Canon's EOS (AF) cameras. It only works on Canon's old manual focus film cameras.
This old manual-focus lens is a winner. It's super-sharp, even wide-open at f/1.2. It has more technology in it than any Nikon 50mm or 58mm lens, ever. Nikon made an aspherical 58mm f/1.2 NOCT-Nikkor, but discontinued it. This Canon not only is aspherical like the NOCT- Nikkor, it also has floating elements, which Nikon doesn't. (I haven't tried the newest Nikon 50mm AFS just yet, but it's still a traditional spherical, not advanced aspherical, design.)
This FD 50mm f/1.2 L has a little bit of barrel distortion.
The Canon FD 50mm f/1.2 L is about the same size and weight as their pedestrian FD 50mm f/1.4 lens, and smaller than today's EF 50mm AF lenses.
If you can find one of these oldies, pick it up before collectors jack up the price as they have done for the Nikon 58mm NOCT. The Nikon 58mm NOCT sells for $2,000 - $4,000 used, while I got this Canon FD 50mm f/1.2 L for about $300 via eBay.
Old-West Style Shootout in Palm Desert
We were visiting Ryan and Katie's grandma Noni in Palm Desert, California yesterday. Palm Desert is next to Palm Springs and about a two hour's drive east of Los Angeles or San Diego.
We had enjoyed an early lunch at Burger Time just off I-10 and Washington (they have great WiFi for the iPod Touch: it's just free and no need for old-fashioned passwords) and were going to head back to the Toys R Us to return a jumpy thing we had bought for Katie. We changed our minds, figuring she really did like it, and decided not to hit the Toys R Us on our way home.
As we drove home, we heard on the news that we missed the shootout. At exactly the same time we would have been there (11:30AM), two couples walked in, and the two men settled their score the old fashioned way: with a shootout.
As we read the news, everyone won: Each guy made his point (killed the other guy) and no one else was hurt. We missed the commotion, and since we didn't return the jumper, little Katie loved jumping in her new jumpy thing before bed last night. Yay!
For those of you from more placid areas outside the Western USA, this might seem a bit violent, but this is one of the ways in which disagreements have been resolved for a long time.
While we're on the topic of grandma Noni and Palm Desert, she has an unused Nissan 350Z for sale. She got it as a gift from another couple who didn't drive it either, and likewise, it's sat in her garage in her second home in Palm Desert and rarely driven it. Its a few years old and only has about 8,700 miles.
In retrospect, I wish we had gone. I've always got a camera with me, so I would have gotten some real news shots in the 90 seconds before the sheriff's department arrived and taped everything off. Heck, I'd have had the time to rearrange the bodies for a better composition and left before it got messy with busy-body media. All the traditional media ever gets are boring shots of parking lots outside after it's been taped off, which isn't news; by then, it's history. (Of course it would have been tougher explaining, after the sheriffs looked at the security camera tapes, that I really was just re-arranging for a clearer photo, but heck, that's what real newsmen have always done.)
For you in the media and still hovering around long after the real news has left, that store uses FRS walkie-talkie channel 3 for internal communication. My wife and I discovered that quite humorously by accident as we pulled up a few days before and heard the checkers chatting on the walkie talkies looking for our jumper order which we had phoned in. We use the same sort of walkie-talkies to talk between our two cars.
Nikon D40 Deals
The Nikon D40, the world's best camera for the dollar, is now selling brand-new for only $445, and refurbished for only $375.
Each of these prices includes the excellent 18-55mm II AF-S ED lens, also one of my favorites.
Recommended Cameras
I completely re-wrote my Recommended Cameras page for the holidays.
Gift Idea for You and Everyone
I updated my Apple iPod Touch recommendation.
Nikon D90
Nikon's new D90, Nikon's best DX camera (better than the old D300 for a fraction of the price), has dropped to under $900 for the body only. It was $1,000 when it came out earlier this fall.
Rare Nikon lenses available used
Adorama has a used Nikon 58mm f/1.2 NOCT-Nikkor available for $1,999 (about a grand less than they sell for on eBay), and B&H has a Nikon 7.5mm f/5.6 fisheye available for $1,499.
The Noct is a great manual focus lens for use on the D700 and D3, especially for astronomy, while the 7.5mm is a weird lens useful only on pro film cameras like the F4 with full time mirror lockups.
If you want to see what either of these will do on your camera (the 58mm works on every digital and film Nikon), see Nikon Lens Compatibility. Read from the "AI" column for the 58mm f/1.2, and the "Invasive Fisheye" column for the 7.5mm.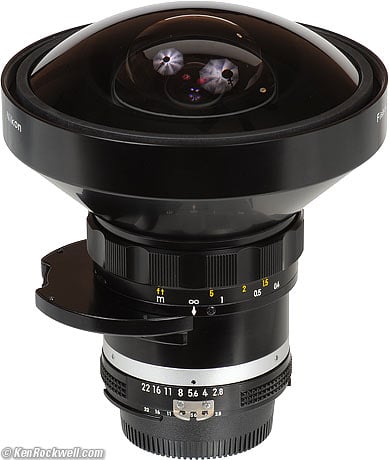 Nikon 8mm f/2.8 fisheye.
Adorama also has a Nikon 8mm f/2.8 AI-S circular fisheye for $1,799, but Adorama often does. (My photo above is of the identical older AI version). The 8mm fisheye works on all Nikons, giving a circle on full-frame and film, and a cool semi-circle on DX.
27 November 2008, Thursday
D3X announce date
Now the rumors are saying 01 December 2008. Wake me when it's real.
Color
Nice colors! enlarge.
Shot at Legoland, Nikon F6, Velvia 50, roll 27, shot 19 (EXIF data), NCPS process and scan, Nikkor 18mm f/2.8 AF-D, shifted program to 1/100 and f/9, Nikon A2 (mild warming) filter. Exactly as scanned, although I cropped some off the top of this verical shot.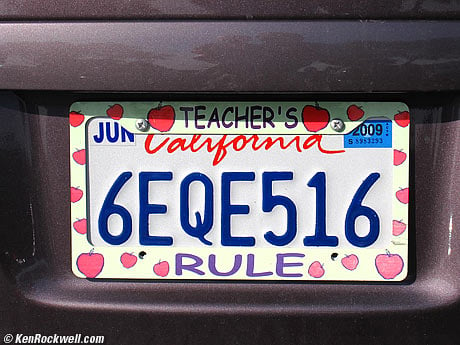 If teachers ruled, we wouldn't see errors like this on license plate frames. Teacher's rule: an apostrophe usually denotes possession, not pluralization. This error has become all too rampant among those who speak only "simplified English." It's still a very cute frame. (snapped with Canon SD880 always in my pocket.)
This misuse has a formal name: The greengrocers' apostrophe. Wow, educated people who speak English actually have names for the weird things done by people who speak only simplified English.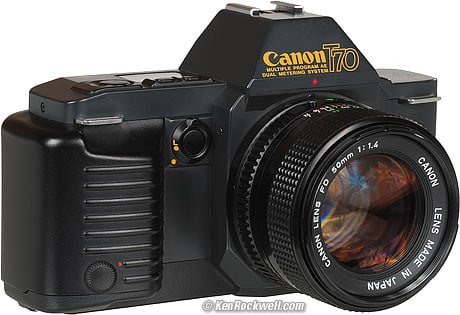 Canon T70.
Update: I added to and updated my Canon T70 Review. To my pleasant surprise, it works just great for serious use with Fuji Velvia.
I also discovered that with all the Canon FD equipment I've been given (or bought cheap) to review, that most of it is broken or not really up to testing Canon's better FD lenses. For instance, the beautiful F1n I bought cheap is flaky and needs an overhaul (do any of you have any suggested repair places?).
If anyone has a nice Canon T90 to sell me cheaply, which I believe was Canon's best manual focus FD camera, please let me know. The T70 is nice for actual shooting, but its lack of Av mode or a shutter that works in 1/3 stops makes it tough to test lenses at specific apertures. The fact that most of my Canon FD bodies, including this T70, seem to have their focus a little out of adjustment isn't helping me either.
Thanks!
26 November 2008, Wednesday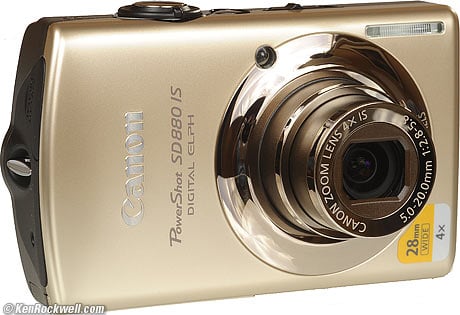 Canon SD880.
NEW: Canon SD880 Review.
The SD880 is the best digital pocket camera I've ever used, period.
What makes it special are its lack of wide-angle distortion (less than the G10), an extra-wide lens (just like the G10), huge 3" screen (looks the same as the G10), and especially its vastly improved handing over other excellent Canon compact cameras, especially over the G10.
The SD880 becomes my new top pick for anyone wanting a go-everywhere digital, and as I showed with my New Mexico photos, the SD880 is probably the only digital camera you'd need, leaving your bulky DSLR at home.
Want to know what else makes the SD880 uniquely superb? Look at the controls: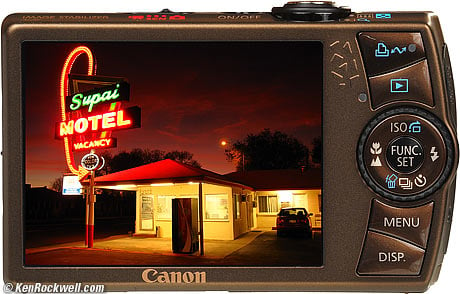 Backside, Canon SD880. enlarge.
You can do everything with just one hand! Unlike the G10 and all the other Canons, you can draw it from your pocket and shoot it without having to look at the camera.
Its four main buttons are easy to find by feel, and it also has an excellent scroll wheel. It responds quickly, making it an easy favorite.
National Geographic Subscriptions
Here's where you can subscribe for $15 a year, less than caffeine addicts spend on their habits in a week. I usually wait for the junk-mail offers, but here's the good link online. The link I posted to Amazon last week was higher priced.
24 November 2008, Monday
Geekdom
This has nothing to do with photography, but armchair geeks who misconstrue sensor performance as relevant to creating images are going to jizz all over DxO's independent ratings of digital camera capture abilities.
DxO calls this "sensor" ranking, but as I've actually helped people design digital cameras, we know all too well that a naked sensor can't do anything: you only can rate it as part of the camera system in which it lives.
When DxO says sensor ranking, they really mean the sensor as embodied in the camera the are ranking. Maybe this is a subtle point, but for folks who design cameras, an obvious one.
19 November 2008, Wednesday
National Geographic Magazine
December's issue just arrived. I just flipping through the front section loaded with ads, and I counted fifteen pages of magnificent showcase photos and pages loaded with general photo suggestions and tips.
Even if you don't find the body of the magazine as inspiring as I do, I find National Geographic far more helpful for photography than any dedicated photography magazine.
Lets face it: which has better pictures? I subscribe to a lot of photo and regular magazines, but if had to pick one, National Geographic would probably be it. They do it the way it's supposed to be done.
D3X Sighting
A reader writes that the JC Penney at the Mall of Louisiana in Baton Rouge was using a Nikon D3X at the portrait studio.
This reader went there for Christmas photos of his kids.
He asked, and the photographer said that the D3X arrived a few days ago.
I'm nowhere near Louisiana today, but if you are, sneak in and give me a report. I'm unsure if someone got their signals crossed (most likely), or if Nikon has ` them to JC Penney.
Photo Greeting Cards for 99¢
Adorama's lab is making these, if you don't get them made at JC Penney's photo department after looking for the D3X.
Canon SD880 Gallery
NEW: Prefacing my eventual review, here's a gallery of photos I made in the past two weeks with a Canon SD880.
35th Anniversary
It was November 17th, 1973 that I bought my first serious camera, a Minolta SR-1.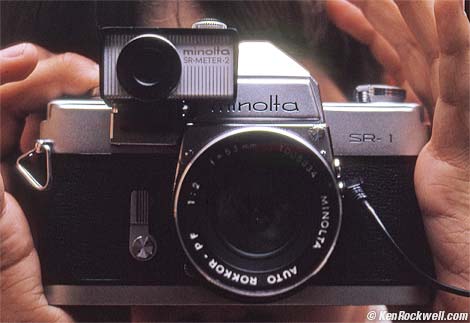 Self Portrait. (1974, shot in mirror and printed in reverse.)
I bought it used for $75 from Mark Fishman at Morton Village Camera in Plainview, Long Island, New York on Old Country Road, across from the library. It came with a 53mm (yes, 53mm) Auto-Rokkor PF f/2 lens. I was 11 years old. I loaded it with a roll of Kodachrome-X, and started shooting.
This shot was made at 7:45 PM, Thursday, Thanksgiving evening, 22 November, 1973. I met my wife exactly thirty years to the hour after I made this shot. Weird!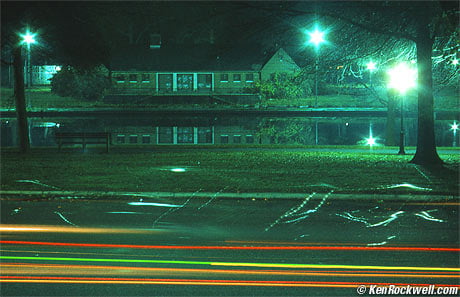 Rosedale, New York, 1973. enlarge. (the lines are reflections from passing cars.)
Exposure: 30 seconds at f/5.6, computed from Kodak's technical data in their books. Infinity focus. Kodachrome-X (ASA 64), processed by Kodak, Fairlawn, NJ.
This was frame 21. Frame 6 was a shot off my black-and-white TV of Richard Nixon giving a speech, hee hee.
Even as a kid I wrote down the technical data on paper for all my shots. When I finished the roll a month later, I copied them on to the slide mount, where these notes reside today. If I had made a technical mistake, I would have been able to correct it next time. 35 years later, the data is still on the slides.
I had been shooting my parent's borrowed 1950's 2-1/4" TLR cameras before that, and had been hoodwinked into believing that the 35mm Minolta was a step up. It was because it has an integrated light meter, but I bet you if I fire up mom's Richohflex with my tiny clip-on Gossen Digisix light meter, that the results still far surpass 35mm film, and thus anything digital.
Some things never change, and history does repeat itself.
Remember digital LED watches of the 1970s, and those stupid digital speedometers in 1980s cars? People got tired of them after a decade, and went back to analog hands.
Sure, digital cameras were popular in the beginning of the 2000s, but will anyone still be using them in 2018? We'll see. I'm wearing a 21-jewel automatic Mondaine mechanical watch right now. It cost me $167 in 1996 at a gift shop in Schiphol airport in Amsterdam. I haven't set it for days, and it's still accurate to within a few seconds.
LIFE Photos at Google
Google has cataloged a zillion photos from LIFE's library, back to the very dawn of photography in the 1860s. Check it out at http://images.google.com/hosted/life
Update on Kodachrome Processing
Three readers write that Kodachrome run by Dwayne's Photo looks great.
All three also write that the scans look awful, so save your $5 and look to have them scanned elsewhere.
If you drop your film in any Kodak drop box and mark it KODACHROME, it may also get there.
My film from New Mexico is still at NCPS, and when I get it back, I'll share what I got. I'm hoping its bitchin,' since I shot it all on manual-focus equipment with fixed lenses, all at least 25 years old.
18 November 2008, Tuesday
Wino Clothing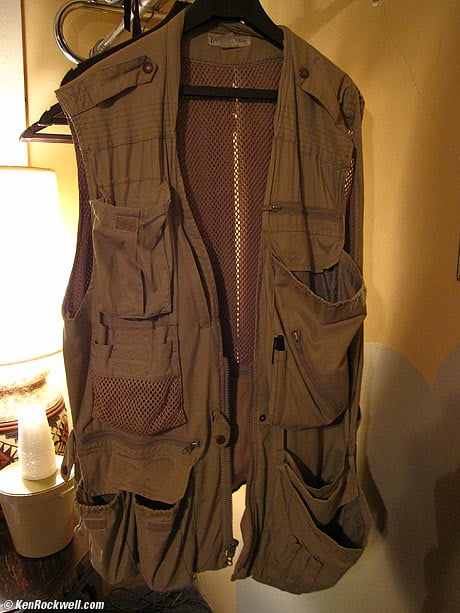 Clothing discarded by a wino. (snapped with Canon SD880)
Want to see another reason I prefer a photo vest to the backpacks popular today with amateurs?
See that nasty thing in the picture, which looks like a wino (bum) cast it aside?
I saw the same thing, and thought it was intriguing how it looks like an empty fisherman's vest.
When I wear it, people presume I'm either a lost fisherman, or most often, a bum. They leave me alone, and don't come up and start asking stupid questions like "what are you doing?" or "for whom are you shooting?"
Not only to people leave me alone, but when I hang it up, people stay away.
It looks empty, but in fact there is several thousand dollars worth of photo gear in those pockets! Cool. We call this "security through obscurity," or as Monty Python put it, the art of not being seen.
I bought this particular vest at chain store Banana Republic back in 1995. I like it because its got big pockets, enough to swallow even my 4x5" setup.
Great Pano Site
Anyone, especially with the free software that comes with every Canon camera, can do 360 degree panoramics, but who wants to see more dull panoramas made at tripod level?
Check out AZChoppercam.com, where one guy makes panoramics and QTVRs, shot from a helicopter. Now we can see things we haven't already seen ourselves.
Carry Less
I added an important observation to my Carry Less article:
Trying to be prepared for everything makes you prepared for nothing.
Carry too much junk, and you'll be too pooped to enjoy what you're doing. If photography isn't fun, why do it?
I had so much more fun leaving my DSLRs at home these past two weeks, and instead shooting a small, light, Nikon FA and a few fixed lenses, that it might be contagious.
When I was packing light for the trip, I picked up my D3, and said "no way am I hauling this thing all over New Mexico." Likewise, the D300 was too darn heavy, and who wants to squint through that crummy little finder for a week or two, when any old film camera has better? Even the F6 was too heavy for something that was going to be around my neck 15/7.
Kodachrome Processing
Dwayne's Photo still develops all the Kodachrome you can send them, for just $9.00 roll. Throw in another five bucks, and they'll put it on CD. (I've never tried them myself.)
Kodak also still makes all the Kodachrome you want to buy, in Super 8 and 35mm sizes. Personally, I've shot Velvia since 1990 instead. KR (ASA 64) still comes in both pro PKR and regular KR versions. It never left!
Additions
I added quite a few sections to the end of How to Make Great Photos, and some minor things to my Nikon FA, Nikon FE, Camera Bags reviews.
I also added quite a few things to the Logisitcal Superiority section of Why We Love FIlm.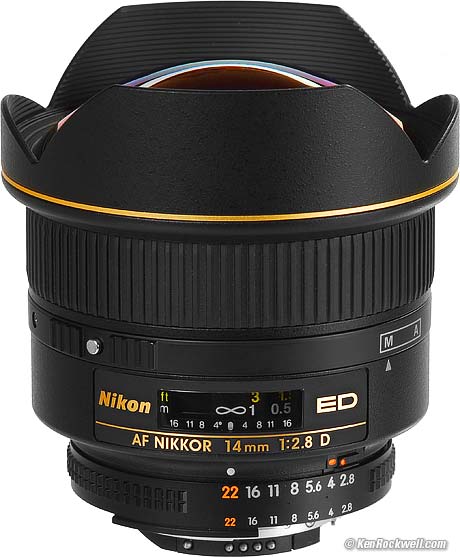 Nikon 14mm f/2.8 AF-D.
Nikon 14mm Lens
I added some small updates to my review of the Nikon 14mm, mostly addressing use on film and manual-focus cameras.
Good news: it used to sell for about $1,500 ever since its introduction in 1999, and today I see it's dropped to about only $1,350.
I used it these past two weeks shooting in New Mexico, instead of the newer 14-24mm zoom, because I prefer the projection of this fixed lens over the bulging distortion of the 14-24mm, and that I can use filters with this fixed lens, which I can't with the zoom.
In addition to filtration, the fact that this fixed 14mm weighs twelve ounces (333g) less than the hulking 14-24mm made my choice easy!
Is Digital Doomed?
When I compared film to digital in the past it was always 4x5" or 120 film to digital SLRs, and film was always way, way better.
I ignored 35mm film, since it has always been just an amateur (and sports and news) format.
Now that I discovered that even 35mm film, scanned along with developing at NCPS, is better than digital, and add to that that 35mm cameras are much, much easier to shoot than larger formats or even than DSLRs, now I know why so many people are turning back to film. DSLRs may go the way that people thought film was going! (NCPS also works by mail, so you can use them from anywhere on earth with a mailbox.)
Let's face it we're almost out of this decade already, and I think by 2010 that the only people still pushing digital cameras might be those stores and manufacturers with something to sell you.
I haven't even started writing about how emancipating it was not to have to lug a laptop and all its support BS, not have to worship the PC all night, and how much more fun it is shooting with a huge, brilliant viewfinder and no distractions from monkey-man LCDs.
All the time most people waste in the field on digital distraction was instead channeled into making more photos. The sublime pleasure of seeing what I got has been deferred to whenever I feel like picking up my film and seeing it on my light table, where I can enjoy it in peace.
Why is it that the only reason most people give for using digital cameras is that you can "erase the bad pictures, for free?"
It seems digital cameras are all about the freedom to make pictures that suck.
I don't know about you, but I prefer to make good photos. I don't take them when I already know they're going to suck. That's why film shooters make better pictures: we only take the good ones!
Maybe I'm just cranky because my Canon 5D Mark II hasn't shipped yet, or maybe I really did enjoy carrying far less junk and having far more fun while shooting.
I did read the 5D Mark II users manual, and sadly, I didn't see anything significantly new. It looks like more of the same crummy ergonomics, unlike Nikon, where each new camera adds a few new, and very significant, little tweaks to usability. I'm still hoping I'm wrong, but the new 5D looks like more of the old 5D, in which case, buying the old 5D for just $2,000 might make a lot more sense than $2,700 on the new 5D. We'll see; the new LCD alone probably makes the new one worth it.
Gesture
The expression on your subject is everything. Want to see great examples of photos where the gesture makes the photo? Go look on the walls of any Buca di Beppo chain restaurant.
17 November 2008, Monday
What's Rockwell doing?
Now that I'm back from two weeks in New Mexico, I'm busy deleting about 1,000 emails, processing my film, and then I hope to post some great shots.
The Canon SD880 was the only digital camera I used, and I think, based on how well it handles and has its buttons placed, is Canon's best-ever compact camera. Yes, I prefer it to the G10, since the images are at least as good, and it fits in my pocket, and it can be shot with just one hand.
Sorry if anyone took Friday's shot of the oncoming semi the wrong way (wow — I didn't even notice the pun), but honestly, when I saw that thing coming right for me, I really did think I might have been a goner for a moment until I figured it out.
Many, many thanks to those of you who care enough to care about me, and I'm very sorry if anyone took any offense to it.
Card Deals
Adorama's got big rebates on 133x SanDisk CF cards:
2GB: $4.95 after rebate
4GB: $7.95 after rebate
8GB: $9.95 after rebate.
These are only for stock-on-hand; no backorders once they fly out of there.
Rumor
Nikon 17-35mm f/2.8 AF-s.
Internet rumors are circulating that Nikon's 17-35mm lens is going out of production, which would be bad because it's Nikon's only current FX and film wide zoom that can take filters, like graduated ND.
Luckily it's in stock most places. If a D700 is in your future, the 17-35mm is much more practical than the oddball 14-24mm, and if you're shooting film, the 14-24mm is nearly useless specifically because it can't take any filters. It works, but as film shooters know, filters are mandatory most of the time either for color balance in color, or contrast in B&W.
Forget this for DX digital, but if there's any truth to this (there often isn't), think about grabbing a 17-35mm now if you haven't already.
14 November 2008, Friday
Where's Rockwell?
Kingman, Arizona (AP): Arizona officials examined the wreckage of the car owned by Ken Rockwell, found wrecked along with 10 other cars in a freak-head on collision on eastbound I-40 earlier today, and discovered this as the last image on his camera's memory card: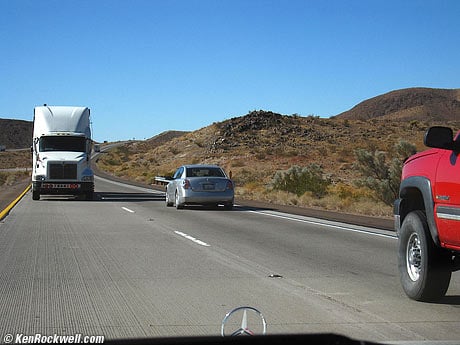 Dead man's last shot (semi on wrong side of interstate!)
Apparently the semi truck jumped a median, and as Rockwell's last parting shot, Rockwell was able to fire off a few into the opposing truck immediately before his demise. Rockwell was returning from a photo outing in New Mexico the past week. This was found on an intact 4GB card in a Canon SD880.
Remember the photo they found in a camera in the rubble of the demolished World Trade Center, with the photo of the tourist on the observation deck with a plane headed right for him? Same idea, but this photo is real.
Rockwell Prank
La Jolla, California (AP): California officials report Ken Rockwell was found alive and well at his home in La Jolla, California after staging a fiery publicity stunt along Arizona's highways.
When asked about the prank, Rockwell replied: "It's obvious: just look at the tail lights on the front of the semi: it's being towed in reverse in the hammer lane! Any moron could have made that shot parked in perfect safety as the trailer passed by." (or stopped in traffic.)
Rockwell Reality
Just kidding, although I really did just get back from a week shooting in New Mexico with one of Dave Wyman's photo tours. I have a ton of photos to add next week. Here's a sample: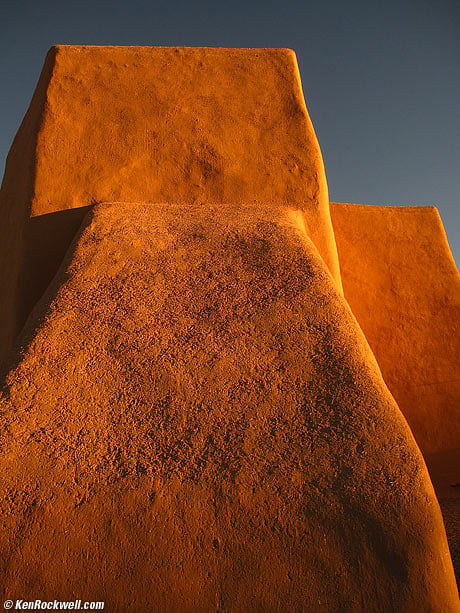 Rancho de Taos, New Mexico. (exactly as shot, Canon SD880)
I really did snap this with aCanon SD880 the only digital camera I bothered to take with me for over a week of serious shooting.
I shot everything else on Velvia 50 on a Nikon FA or FE and any of Nikon's 14mm f/2.8 AF-D, 20mm f/2.8 AI-s, 28mm f/2 AI-s, 50mm f/1.4 AI-s, 85mm f/2 AI-s or 200mm f/4 AI lenses. It was great not carrying a big ugly DSLR for a change. I had a blast shooting a lightweight film camera and fast, fixed focal length lenses for a very pleasant change.
One of the other emancipating things was that I didn't bother to bring a laptop computer, and that also meant I didn't have to bring along a power strip, backup drives, power supplies, card readers, cables, cables and more cables and chargers. I pity people still laboring with digital; there's so much junk to carry along with the heavy cameras and lenses, and then you have to charge them each night. I had enough backup battery power for my film cameras in my wallet (six A76 cells) to last twenty years!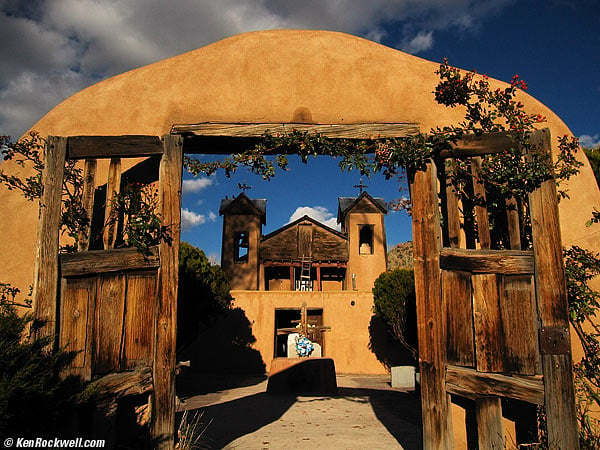 Chimayo, New Mexico. (exactly as shot, Canon SD880)
I got to sleep at 9PM each night since there was no computer BS to deal with. I got up at 5:30AM, refreshed and ready to shoot with my lightweight rig. This is the life!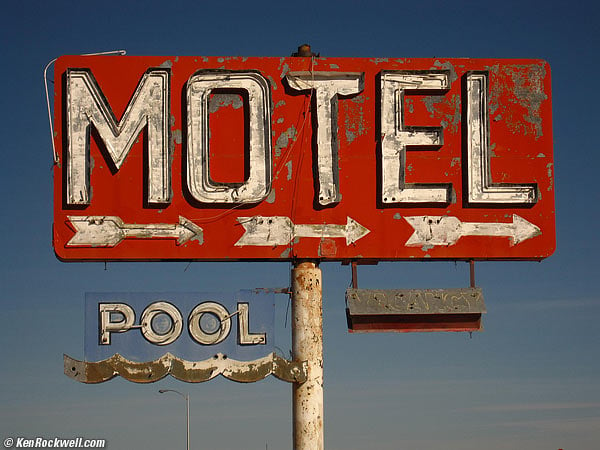 Yucca, Arizona. (exactly as shot this morning,Canon SD880)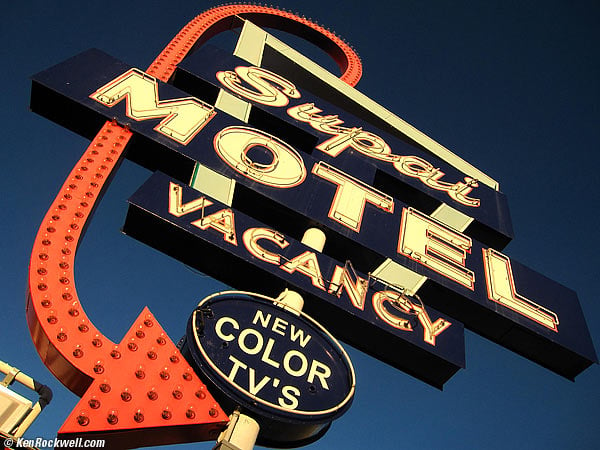 Supai Motel. (exactly as shot this morning, Canon SD880)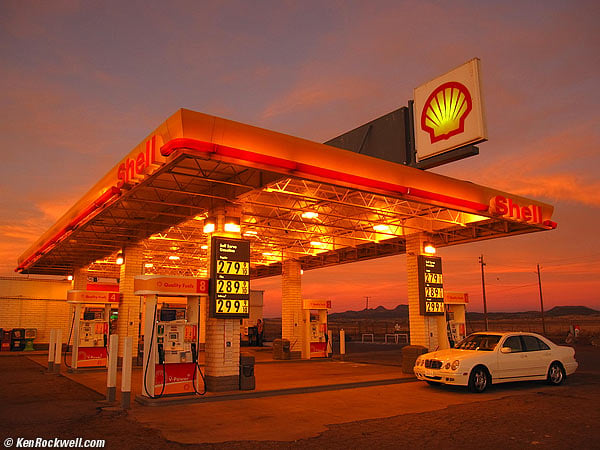 Shell Station, Seligman, Arizona. (exactly as shot last night, Canon SD880)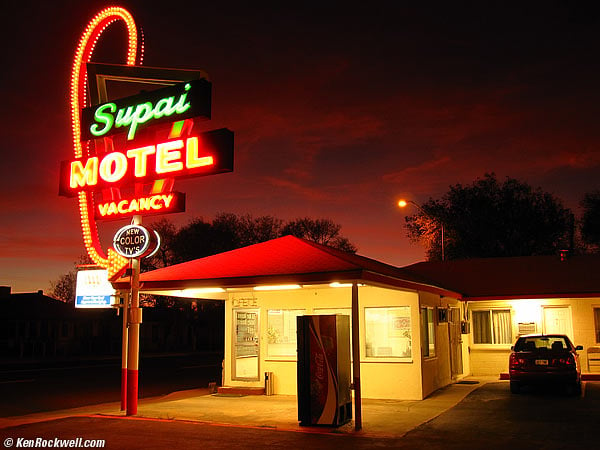 Supai Motel. (exactly as shot last night, Canon SD880)
This is just some of what I shot in the last 24 hours with this pocket camera. More to come. I shot the good stuff on film.
05 November 2008, Wednesday
I have a Canon SD880 in my pocket to run through the laundry — whoops — wringer for a detailed review. Let's see if I can crank out any snaps like I with the G10 last month.
The great thing about taking a couple of weeks to review compact cameras like the G10 and SD880 are that their prices have already dropped about $25 by the time I get to printing the review. The G10 has dropped to $475, down from $499 at introduction and down from $485 last week when I published the review. The SD880 already has fallen to $259, and I thought it was a great camera at $289 last week.
Heck; that's news: this digital stuff gets cheaper every other day! Of course that's also why they're worthless when you're done with them in a few years. Digital cameras are perishable, just like milk and eggs. Use them before their (confidential) expiration dates. Scarier, digital cameras usually contain lead, mercury and lithium and all sorts of other dangerous materials which make them illegal to throw away in most countries. Unlike rotten eggs, you're stuck with your digital camera if you don't dump it soon enough.
Oh well, no other digital news today. Thank goodness!
The Canon 5D Mark II still doesn't exist: there are no production models available for sale; mine has been on order since September. Ditto for the Nikon D3X, which hasn't even been announced, much less orderable.
With that, I've been updating and homologating my Why We Love Film article. I've added things like an example of why noise reduction makes digital cameras look sucky.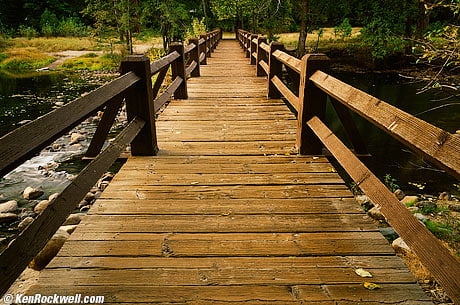 Bridge across Merced River. enlarge.
I'm just messing with you; this is a shot from 35mm film last month in Yosemite Valley, made on Velvia in a tiny Contax G2 with a Zeiss 28mm lens and most likely an 85A (strong warming) filter.
03 November 2008, Monday
Nikon D700 SALE!!
Adorama has the Nikon D700, which is Nikon's best digital camera ever for portraits, weddings, nature and landscapes, on rebate for just $2,520. Maybe the Canon 5D Mark II has Nikon scared? I sure hope so!
Adorama also has the D700 kit with the sucky 24-120mm VR on special for $3,200. Personally, I'd get the D700 and a 50mm f/1.4 or other lens before I got that 24-120mm VR.
Adorama has a D300 body with 16-85mm lens on sale for $2,150, and with the 18-200mm VR for $2,150.
The Economy Keeps Getting Better and Better
Even though the middle class, a product of the industrial revolution of the late 1800s, has been going away since the 1970s (and today is mostly being replaced by the same technological revolution which created it), more and more people are getting filthy rich than ever.
What makes America great is that any American's success is limited only by his imagination. Any moron can get rich; you don't have to know someone in the Politburo, but you do have to apply yourself on your own initiative.
This article points out that even though there are more and more rich guys buying mega-yachts than ever before in the history of mankind, that there aren't enough crew to man them. This is causing rich guys a real problem, but as a captain from Florida writes me, if you like to be around girls in bikinis all day on multi-million-dollar yachts, and get paid handsomely for it, look into a career as a yacht captain. A captain is the guy who sails the boat for the rich guy who owns it.
"Megaships continue to be built faster than they can be staffed," says the Miami Herald.
Digital photography is booming because these same guys think nothing of ordering the whole set of Nikon or Canon's most expensive digital gear at one pop. A guy who drops $10,000,000 on a toy boat won't blink at dropping $35,000 for a D3 and some lenses. Nikon and Canon are doing great because of this, but all because rich guys buy this stuff just because it's easy, doesn't mean you have to.
Why No Nikon F6 Photos?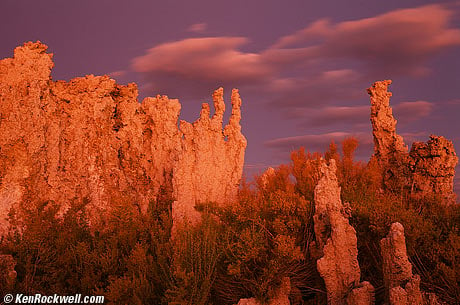 Tufa under Pinatubian Light. enlarge.
A reader asks why, if the Nikon F6 is the best 35mm camera in all of history, do I have almost no photos made with it on this site?
Simple: I only discovered the great NCPS trick of great scans at the same time as film developing last month, and I was shooting a Contax G2 last month. Maybe this month I'll shoot some on the F6.
The Tufa shot? Made with a Contax G2 a few weeks ago, 45mm lens, 15 second auto exposure, Velvia 50, run and scanned at NCPS. The images here are exactly as I got back from NCPS, resized of course (the scans are 48MB as opened in Photoshop, heh heh.)
Look at the bigger image. See how the tufa stands in front of the sky, as if it's three-dimensional? That's because I shot film, and film scans use no noise reduction as do digital cameras. Digital noise reduction often tries to paint (smudge) over the texture of the tufa. Since there is no NR in this shot, the texture of the tufa stands out in front of the dull sky. The clouds moved during the exposure, which is why they seem blurred left-to-right.
Oh yes, digital capture probably would have had all sorts of other fits with an exposure this long, but with film, its a non-issue. With digital, I may have had to stand there like a dork waiting for a second 15-second blank (subtractive NR) exposure. With film, I just looked like my usual dorky self and moved on after this shot.
Pinatubian (tm) light is a phrase I invented to describe the weird magenta cast the sky takes on about 15 minutes before or after sunrise or sunset, caused by volcanic ash high in the atmosphere. I was at South Tufa, made these shots with a tripod, and when the magenta faded, ran back to stash the tripod before the sun came up. I needed the tripod in the dark, but ditched it since it would have gotten in the way with the sun up. The magenta color went away, giving me 15 minutes to hide it before anyone saw me.
Film Processing and Scanning by NCPS
I've been using NCPS to run my film, and scan it all at the same time. It's eliminated what had been the huge block between film and digital all these years. I drop off my film, and a few hours later, the files are in my computer. Done, and all without any need for expensive full-frame digital cameras.
Turns out that so many people had so many questions about the service, that NCPS has putt up an FAQ Page (PDF) for your questions. Remember, NCPS is a lab, not a website.
Holy guacamole, I just read the PDF, and hadn't realized I could be shooting real silver black-and-white, and they'll process and scan that, too, for less than the cost of slides! Where did I put that TMax 100? Digital cameras be darned!
Fuji QuickSnap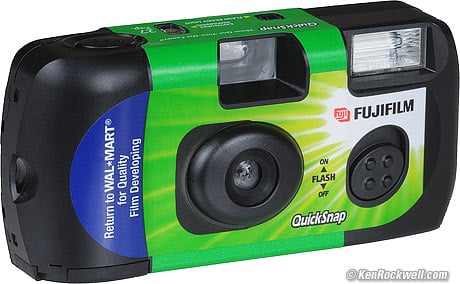 Fuji QuickSnap.
NEW: Fuji QuickSnap Review. Laugh all you want, but the QuickSnap has a lot of things it does better than much more expensive cameras, like having a far better finder, and no shutter or flash delays, and having a smoother shutter release for sharper pictures.
More importantly, if you've gotten bored, befuddled, or otherwise disenchanted with with all the irrelevant computer crap that seems to have replaced actually taking pictures, grab a QuickSnap. It will get you back to the reason you started photography in the first place. Shoot with a QuickSnap, and all the fun and excitement of when we all first started photography is back again!
Using a QuickSnap also taught me again how the only thing that really matters in an image are the fundamental basics of color and composition. If you see well enough to get good photos on a QuickSnap, you're ready to try a fancier camera if you want.
If you can't create compelling photos on a QuickSnap, then you still need to learn the basics. Once you get those down, move on, but I wouldn't spend money on cameras until you've mastered the QuickSnap.
If I ever become a photo teacher, you kids are all getting one of these on your desk the first day. When you get good enough to see well enough to get good photos on a QuickSnap, only then will you graduate to more complex cameras (and then, only if you want to).
I'm very serious. Photography is only about seeing cool things and taking their pictures. Seeing is the hard part; taking of the picture is a trivial afterthought.
Too many hobbyists find it easier to skip trying to grasp the difficult and abstract seeing part, and instead jump ahead to worrying only about the easy and relatively insignificant technical part. Sadly, being a technical master still won't get you good pictures, but a kid with a QuickSnap and a decent eye will.
If you can see, you'll get good shots on a QuickSnap. If you haven't (either consciously or unconsciously) mastered gesture, balance, humor, color, tone, impact, harmony, rhythm, positive and negative space and all the other real parts that form the fundamentals of every photograph, any good shots you get are pure luck. You'll get boring pictures no matter how much you spend on camera gear, so I'm always stressing learning to see. Pack a QuickSnap, and go take an art class.
NEW (kind of): Why We Love Film. This is my rant from last week, turned into its own article. Now that it's so easy to get digital results from film, is it time for you to dump digital, too? Let's be honest with ourselves: wouldn't you rather be out taking pictures than jerking mouse around in front of a screen? I know I would!
For people prejudiced against film, there is nothing new digital today. The D3X is still unannounced, and the Canon 5D Mark II still hasn't hit the shelves, so I figured it was time to talk about photography, instead of cameras, for a change. Salut!
02 November 2008, Sunday
Reset all your camera clocks NOW!
All my iPods and Macs and Casio Waveceptor watches did this automatically hours ago, but every single one of my digital and date-back film cameras needs to be reset to standard time manually.
Not only do I now have to go find every digital camera, including my old Canon A70 and Nikon D70 and update their clocks, I also have to reset the date backs in every film camera, like the F6, N75QD, 35Ti and 28Ti.
Be vigilant about this. I always forget at least one of my cameras, and it might not be until three months from now until I discover that I forgot to reset it!
(Our piece-of-crap Dell/Windows computer reset itself erroneously a week ago, what junk.)
What Was New in:
The end of September, 2008 (Photokina)
The beginning of September, 2008
December 2007: Loads of details about the Nikon D3, D300, 14-24mm and 24-70mm, much of which still isn't on the individual review pages.
November 2007: First hands-on details about the Nikon D3, D300, 14-24mm and 24-70mm, much of which still isn't on the individual review pages.
August 2007 (Loads of new Nikons and Canons)
2006 November - December (includes birth of Ryan Rockwell)
2006 October - November (includes photos from a trip to NY)
Home Search Gallery How-To Books Links Workshops About Contact