Home Donate New Search Gallery How-To Books Links Workshops About Contact
Nikon 18mm f/2.8 AF-D
FX NIKKOR (1994-2006)
© 2009-2012 KenRockwell.com
Introduction Specs Performance Recommendations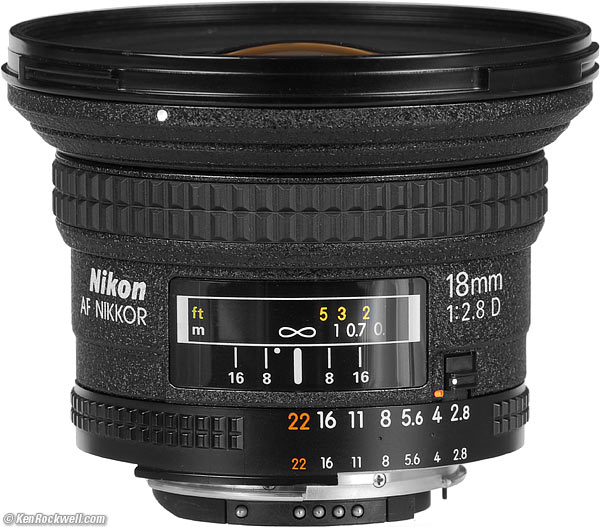 Nikon 18mm f/2.8 AF-D (FX, DX and 35mm coverage, 77mm filters, 13.3 oz/376g, abiout $800 used). enlarge. I got this one at this direct link to it at eBay (see How to Win at eBay), and it's also available at Amazon. This free website's biggest source of support is when you use those and these links when you get anything, regardless of the country in which you live. Thanks! Ken.
June 2012, August 2009 More Nikon Reviews Nikon Lenses All Reviews
Sharpness Comparison to all other 18mm lenses 11 August 2010
Ideal Uses: Perfect for use on FX digital and film.
Not for: I wouldn't bother with this on a DX camera. I'd use any DX lens, like the 18-55mm kit lens, instead. This lens will not autofocus with the cheapest D40, D40x, D60, D3000 or D5000, but so what: use the kit lens instead for 18mm on DX.
| | |
| --- | --- |
| Optics: | |
| Mechanics: | |
| Ergonomics: | |
| Usefulness: | |
| Availability: | |
| Overall: | |
Introduction top
Introduction Specs Performance Recommendations
This Nikon 18mm f/2.8 AF-D lens is very rare because it has always been so expensive. Few people bought it when new. It cost over $1,000 in its day, and it wasn't much different in performance than the 20mm f/2.8 AF-D which did pretty much the same thing in a smaller, lighter, less tough package for less than half the price. The 20mm is available to this day, while the 18mm was discontinued in 2006 from lack of interest.
Nikon only sold 7,000 of these 18mm lenses, while it's sold close to 100,000 of the 20mm AF — so far. Zooms are even more popular: Nikon sold 50,000 of the 20-35mm, 125,000 of the 17-35mm as of 2009, 110,000 of the 18-35mm and 75,000 of the 14-24mm, so far.
This 18mm excels at being the widest possible Nikon autofocus lens in the smallest, toughest package. All the Nikon wide zooms are much bigger and heavier.
This 18mm is expensive because it's a tough, pro lens and even uses an aspherical element, a first in its day along with the incomparable Nikon 28mm f/1.4 AF-D. The 28mm has a precision ground aspherical element, while this 18mm merely has a molded one.
Sadly, optical performance is nothing special, about the same as the 20mm AF. Unlike the less expensive 20mm, this 18mm comes in a nice fitted tubular case with an HB-8 hood.
When using this 18mm AF lens, be sure to keep your fingers away from the focus ring, which turns anytime the camera attempts to autofocus. There is no way to disengage it.
The 18mm f/2.8 AF-D has the same build and styling as the 28mm F/1.4D AF, 20-35mm f/2.8D AF and 85mm f/1.4D AF, which means a nice metal filter thread. The only plastic is the AF window and the aperture ring.
Compatibility back to intro back to top
The 18mm f/2.8 AF-D works great with almost every film and digital Nikon camera made since 1977. If you have a coupling prong added to the diaphragm ring, it's perfect with every Nikon back to the original Nikon F of 1959.
The only incompatibility is that it will not autofocus with the cheapest D40, D40x, D60, D3000 or D5000, but if you focus manually, everything else works great. These cameras have in-finder focus confirmation dots to help you.
See Nikon Lens Compatibility for details on your camera. Read down the "AF, AF-D (screw)" column for this lens.
Specifications top
Introduction Specs Performance Recommendations
Name
Nikon calls this the Nikon AF Nikkor 18mm f/2.8D.
AF: Auto Focus.
D: The lens tells the camera the distance to the subject, which helps the exposure meter, especially with on-camera flash.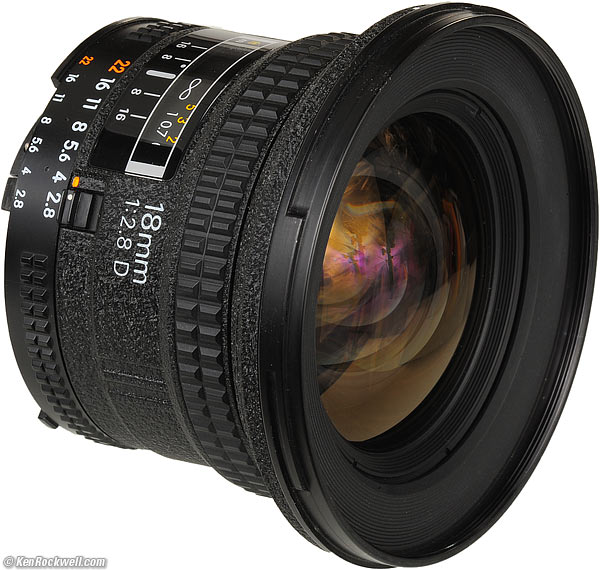 Nikon 18/2.8. enlarge.
Optics
13 elements in 10 groups. One is a molded aspheric.
RF: Rear focusing.
It's multicoated, which Nikon calls Nikon Integrated Coating.
Diaphragm
7 straight blades.
Stops down to f/22.
Close Focus
0.85 feet (10 inches or 0.25m).
Maximum Reproduction Ratio
1:9.1
Hard Infinity Focus Stop?
Yes.
This is great for astronomy; just turn to the stop and you have fixed laboratory-perfect focus all night.
Focus Scale
Yes.
Depth-of-Field Scale
Yes.
Infra-Red Focus Index
Yes: White dot in depth-of-field scale.
Aperture Ring
Yes, plastic.
Full-stop clicks.
Filter Thread
77mm, metal.
Does not rotate or move, ever.
Size
3.231" diameter x 2.276" extension from flange (82.09 x 57.81 mm), measured.
Nikon specifies 3.23" (82mm) diameter by 2.28" (58mm) extension from flange, or 2.70" (68.5mm) overall.
Weight
Serial number starting in 2: 13.380 oz. (379.3 g), measured.
Serial number starting in 4: 13.280 oz. (376.5g), measured.
Nikon specifies 13.4 oz. (380g), never having updated its specification when it lightened the lens.
Hood
HB-8 plastic bayonet, included.
These are impossible to find used. They are the same hood as the 20-35mm f/2.8 AF-D.
Case
CL-17, included.
Made in
Japan.
Teleconverters
TC-200/201 and TC-14A, but why?
Introduced
April 1994.
Nikon Product Number
1911.
Performance top
Introduction Specs Performance Recommendations
Performance is certainly usable, but unfortunately for the price, almost identical to or slightly worse than the smaller and less expensive 20mm f/2.8 AF.
That's why I put this 18mm lens in Nikon's 10 Worst Lenses: because it works well enough, but really ought to be better for the price.
If you're looking in the corners closely for sharpness, you need to get the 14-24mm or 16-35mm VR instead for FX cameras.
Autofocus
AF speed is very fast.
One full turn of the AF screw focuses the lens from infinity to 1.5.' Whew, that's fast!
Color Balance
Color balance was a point or two cooler than the 20/2.8, probably not enough to ever notice.
Distortion
Distortion is complex. Here's the horizon on FX:
Distortion of the horizon on FX. enlarge.
Photoshop CS2's lens distortion filter is of no use to correct this complex distortion on FX, however on DX you can correct the barrel distortion with these figures:
| | | |
| --- | --- | --- |
| | | |
| ∞ | 0.0** | +3.0* |
| 10' (3m) | | +3.0* |
© 2009 KenRockwell.com. All rights reserved.
* Minor waviness remains.
** Significant waviness remains.
Ergonomics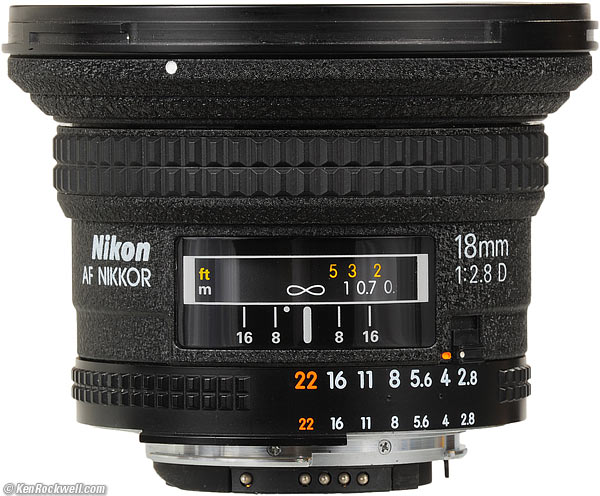 Nikon 18mm f/2.8. enlarge.
This is a very standard lens with no surprises.
Be sure to keep your hand off the focus ring during autofocus.
Manual focus feels nicer than most AF lenses, but be sure to set your camera to M before turning the ring.
Falloff (darkened corners) back to performance back to top
Falloff on FX is plenty wide open, and not a problem stopped down.
It won't be an issue at all on DX (see crop factor).
I've exaggerated this by shooting a gray field and placing these on a gray background.
Nikon 18mm f/2.8D falloff on FX and film at infinity.
© 2009 KenRockwell.com. All rights reserved.
Filters, use with
There is no vignetting on FX with one filter.
Forget trying to use two filters at the same time.
Any vignetting gets worse at f/16.
Any vignetting gets a tiny bit worse at closer focus distances.
Flare and Ghosts
It has lots of little ghosts; worse than the 20/2.8 AF.
You need to use the obnoxious hood included, unlike with the 20mm AF whose hood you don't need.
Focus Breathing
As you pull focus in and out, the barrel distortion gets stronger as you pull in focus.
Mechanics and Construction
Rear, Nikon 18 2.8. enlarge.
Filter Threads and Hood Bayonet
Black painted aluminum on first version, black anodized on later (s/n starting with 4). The bayonet seems precision cast on earlier models and machined on latter models, unless the paint is hiding the machining marks on the earlier models. I could be wrong and they all may be one way or another, but I do know they are all metal.
Focus Ring
Rubber-covered metal.
Barrel
Plastic and metal, black crinkle-coat paint.
Aperture Ring
Plastic.
Markings
Paint.
Switches
One sliding plastic aperture ring lock.
Mount
Dull chromed brass.
Internals
I see metal.
Noises when shaken
One klunk on early version (s/n starting in 2) and maybe one slight click on latter version (s/n starting in 4).
Serial Number
Burnt into bottom rear of plastic aperture ring.
Made in
Japan.
Sharpness
It is a bit sharper than the 20/2.8 AF wide open, but never gets perfectly sharp in the corners at any aperture.
The only SLR lens significantly better than all these is Nikon's newest 16-35mm and 14-24mm. The 14-24mm weighs three times as much and can't use filters for creative effects or for protection.
If you really need a sharp 18mm lens, also consider the the LEICA 18mm or Zeiss 18mm for LEICA M rangefinder cameras.
Recommendations top
Introduction Specs Performance Recommendations
Get one of these if toughness and light weight are important. I'm all about light weight, thus this lens is a favorite. It's the lightest 18mm f/2.8 lens ever made by Nikon.
If you want the same optical performance for less money, get a 20mm f/2.8 AF instead. The 20/2.8 has better ghost performance and the same sharpness and distortion performance as this far more expensive 18/2.8D AF. I still prefer this tougher 18mm for it's wider view and standard 77mm filter size.
If you want to spend a more money and get better performance, get the 17-35mm f/2.8D AF-S (almost as tough mechanically and better optically) or the 16-35mm VR (plastic, but best optically).
If youve found the time, effort and expense I endure to share all this information for free, this free website's biggest source of support is when you use these links, and especially these links directly to it at eBay (see How to Win at eBay) and to it at Amazon, when you get anything, regardless of the country in which you live.
Thanks!
Ken.
More Information
Here's the link to where Adorama used to sell it new.
Help me help you top
I support my growing family through this website, as crazy as it might seem.
The biggest help is when you use any of these links to Adorama, Amazon, eBay, Ritz, Calumet, J&R and ScanCafe when you get anything, regardless of the country in which you live. It costs you nothing, and is this site's, and thus my family's, biggest source of support. These places have the best prices and service, which is why I've used them since before this website existed. I recommend them all personally.
If you find this page as helpful as a book you might have had to buy or a workshop you may have had to take, feel free to help me continue helping everyone.
If you've gotten your gear through one of my links or helped otherwise, you're family. It's great people like you who allow me to keep adding to this site full-time. Thanks!
If you haven't helped yet, please do, and consider helping me with a gift of $5.00.
As this page is copyrighted and formally registered, it is unlawful to make copies, especially in the form of printouts for personal use. If you wish to make a printout for personal use, you are granted one-time permission only if you PayPal me $5.00 per printout or part thereof. Thank you!
Thanks for reading!
Mr. & Mrs. Ken Rockwell, Ryan and Katie.
Home Donate New Search Gallery Reviews How-To Books Links Workshops About Contact