Home Donate New Search Gallery Reviews How-To Books Links Workshops About Contact
Nikon 85mm f/1.4
NIKKOR AI-s (1981-2006)
Intro Specs Performance Compared Recommendations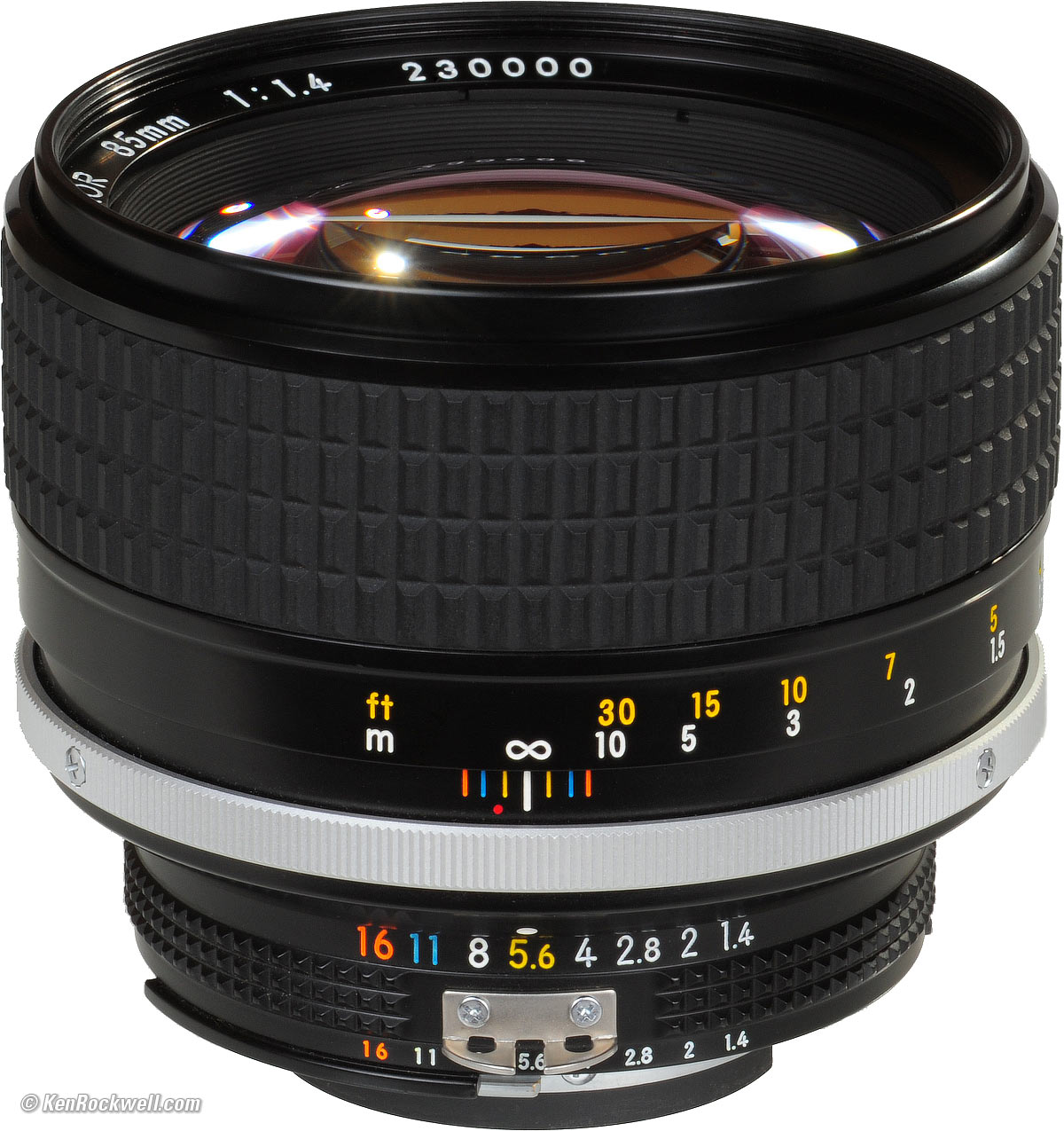 Nikon 85mm f/1.4 AI-s (FX, DX and 35mm coverage, 72mm filters, 21.5 oz/609g., 3'/0.85m close focus, about $800 used). enlarge. I got this one at this direct link to it at eBay (see How to Win at eBay).
This ad-free website's biggest source of support is when you use those or any of these links to approved sources when you get anything, regardless of the country in which you live. Buy only from the approved sources I use myself for the best prices, service, return policies and selection. Thanks for helping me help you! Ken.
August 2016 Nikon Reviews Nikon Lenses All Reviews
Nikon 85mm f/1.4 AF-D (1995-2010)
Nikon 85mm f/1.4 G (2010-)
85mm Lens Specifications Compared 23 June 2009
85mm Lens Central Sharpness Comparison 23 June 2009
85mm Lens Corner Sharpness Comparison 23 June 2009
| | |
| --- | --- |
| Optics: | |
| Ergonomics: | (manual focus) |
| Usefulness: | |
| Availability: | (used only, about $600) |
| Overall: | |
Ideal Uses: Low light, astronomy, throwing backgrounds out of focus, and landscape photos that demand the sharpest possible 85mm lens. Many photographers love the 85mm f/1.4 as their favorite short portrait lens.
Not for: As a manual focus lens, I wouldn't use it for sports, kids or action since it's too hard to track focus by hand. It's not for throwing in a pants pocket; it's as big as a softball and weighs almost a pound and a half (675g) fully deployed.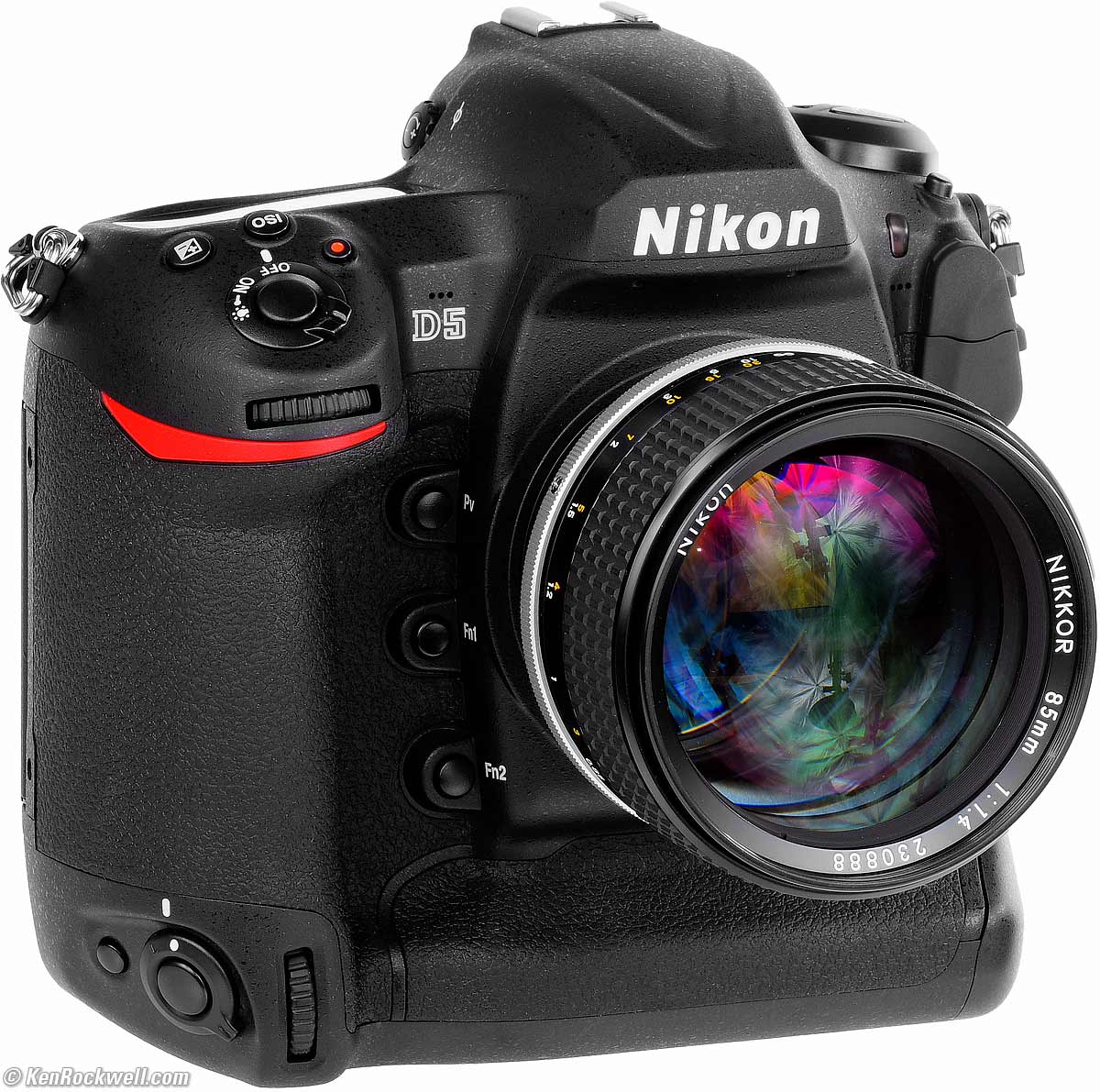 Nikon D5 with 85mm f/1.4 AI-s. bigger.
Intro Specs Performance Compared Recommendations
This Nikon 85mm f/1.4 is one of Nikon's Ten Best Lenses.
This is a professional lens for use on FX and 35mm cameras. Unless I specifically call it out, I'm not talking about DX cameras like the D7000, D300 or D200 in this review.
For some photographers, this manual focus Nikkor 85mm f/1.4 AI-s is their favorite Nikon lens of all time.
The 85mm f/1.4 AI-s is big, bright, sharp, fast, and has a fantastic ability to turn otherwise distracting backgrounds into soft washes of color.
This world's-first 85mm f/1.4 works great on all of Nikon's newest FX cameras, especially the D4 and D800, remembering of course that it's manual focus.
This is the most precise and well-built 85mm f/1.4 lens ever made by anyone. Not even LEICA has never made an 85mm f/1.4.
If you want ultimate sharpness at f/1.4, the newest Nikon 85mm f/1.4 G (2010-) is sharper, and if you're really counting your pixels on the D800 at the largest apertures, the crummy little plastic 85mm f/1.8 G is even a bit sharper.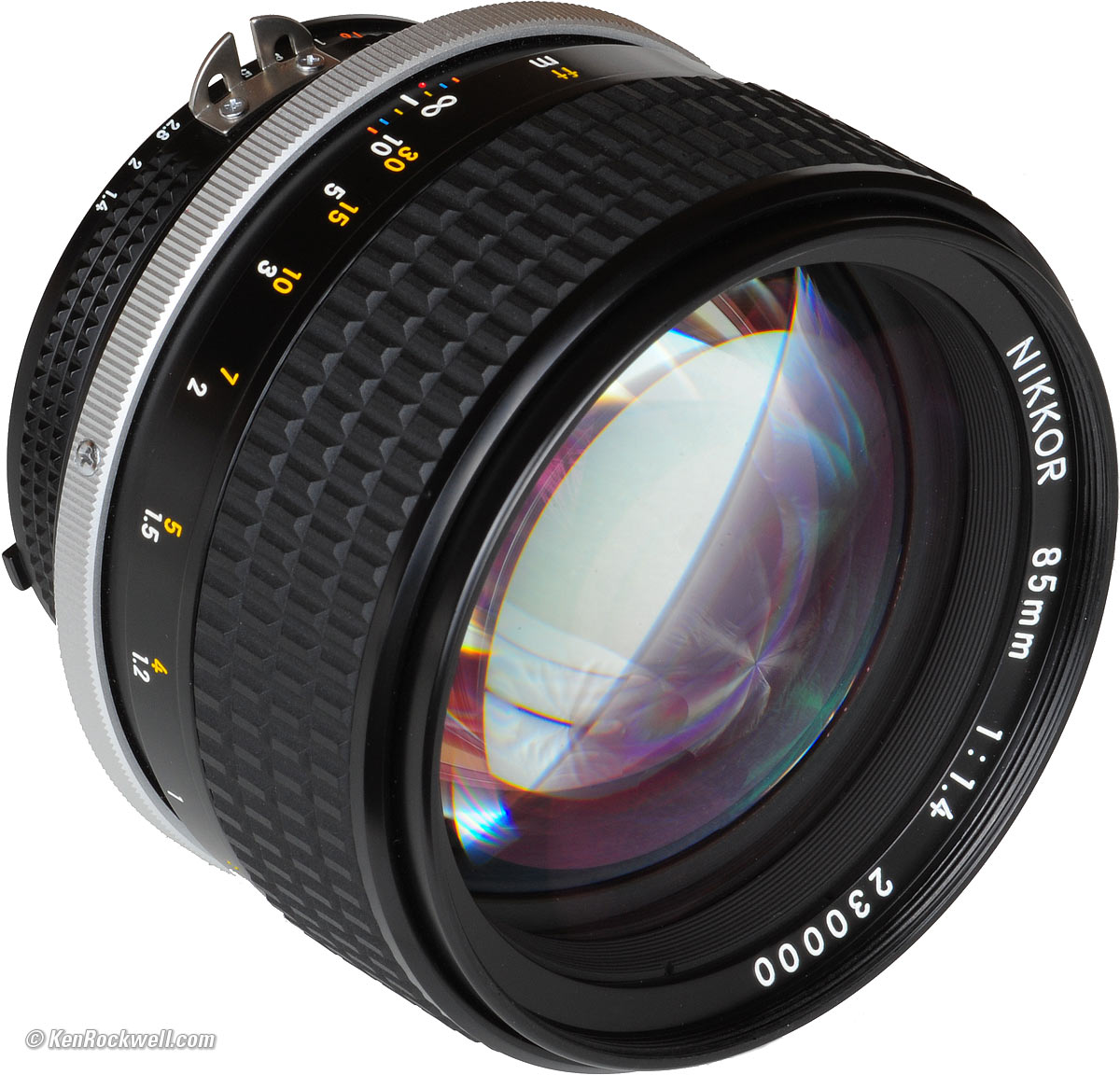 Nikon 85mm f/1.4 AI-s. enlarge.
Compatibility
The manual-focus 85mm f/1.4 AI-s works great with most Nikon cameras, film and digital.
On the D4, D800, D3, D700, D300, D200, D2 and F6, use the "Non-CPU Lens Data" menu option to set 85mm and f/1.4 to get full matrix metering, EXIF data and finder read-out of set aperture. It works great in aperture-preferred as well as manual modes on these cameras.
The meters of cheaper digital (D80 and below) and cheaper film cameras (N80 and below) will not couple (or work at all) with this lens, so you'll be on your own guessing exposure using the rear LCD or an external meter.
It works perfectly every professional film camera (F, F2, F3, F4, F5, F6), and adds Matrix metering on the FA, F4 and F6.
It works flawlessly with every manual focus Nikon ever made, from the F of 1959 through the FM3a and today's FM-10.
See Nikon Lens Compatibility for details on your camera. Read down the "AI, AI-s" column for this lens.
History
1980
Nikon tickled us with their first mentions of this f/1.4 lens.
1981 September
Nikon formally introduces the 85mm f/1.4 as an AI-s lens. There was never an AI version.
1995 November
The completely different autofocus 85mm f/1.4 D lens is introduced. This manual focus 85mm f/1.4 AI-s is not discontinued.
2005 December
Ten years after the introduction of the autofocus version, not many of these manual-focus lenses were being sold, especially since the price was the same as the AF version, about $1,000. Since no one was buying it new after 24 years, Nikon stopped making the 85mm f/1.4 AI-s.
2010 August
The new 85mm f/1.4 AF-S replaces the 85/1.4 AF-D.
Production
Nikon made about 70,000 of these f/1.4 manual focus lenses. Nikon's only made about 30,000 of the AF version — so far.
Pricing
Price,
new*

Corrected for
inflation, 2008

1986

$415

$820

1987

$445

$850

1991

$575

$915

1992

$600

$925

1996

$830

$1,150

1997

$900

$1,215

2000

$970

$1,225

2005

$1,000

$1,110

2008

-

$400 - $800 used

2012

-

$550 - $1,700 used, $800 typical

2016

-

$400 - $750 used, $600 typical
*at full NYC discount. Very few people bought their lenses this inexpensively back then.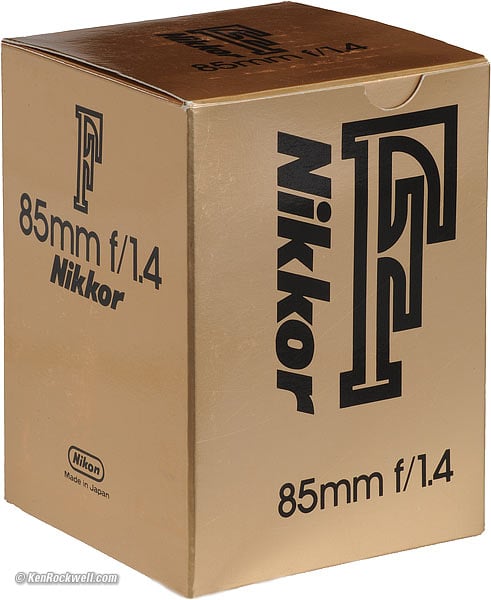 Gold Box, Nikkor 85/1.4 AI-s.
Specifications with commentary back to top
Intro Specs Performance Compared Recommendations
Optics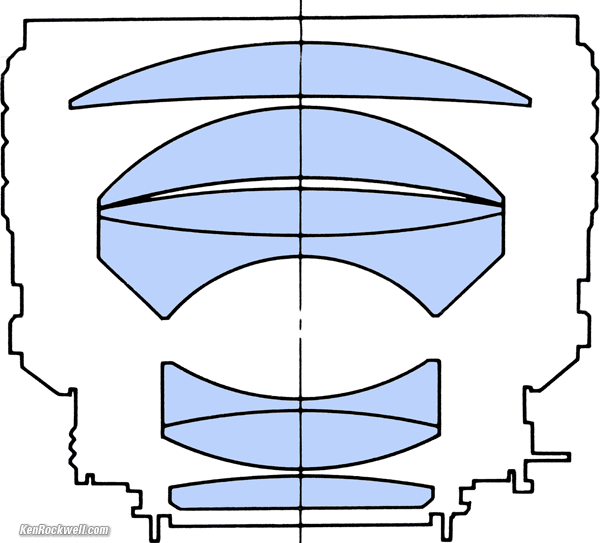 Internal diagram, Nikon 85/1.4 AI-s.
7 elements in 5 groups.
Modified Gauss-type design with floating elements.
Nikon calls the floating element system "CRC," for close-range correction. This means this lens optimizes its design for perfect performance as you focus at any distance.
It's multicoated, which Nikon calls Nikon Integrated Coating.
Actual (design) Focal Length
85.0mm.
Close Focus
2.8 feet (0.85m).
Maximum Reproduction Ratio
1:7.9.
Hard Infinity Focus Stop?
Yes!
This is great for astronomy; just turn to the stop and you have fixed laboratory-perfect focus all night.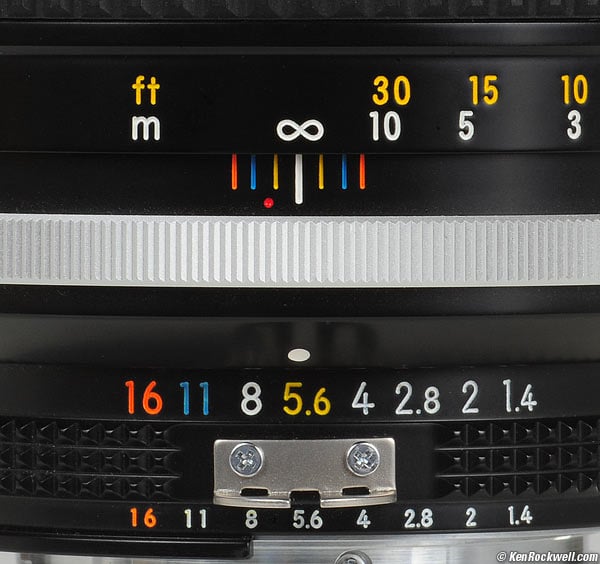 Controls, Nikon Nikkor 85mm f/1.4s.
Depth-of-Field Scale
Yes.
Infra-Red Focus Index
Yes, red dot near depth-of-field scale.
Diaphragm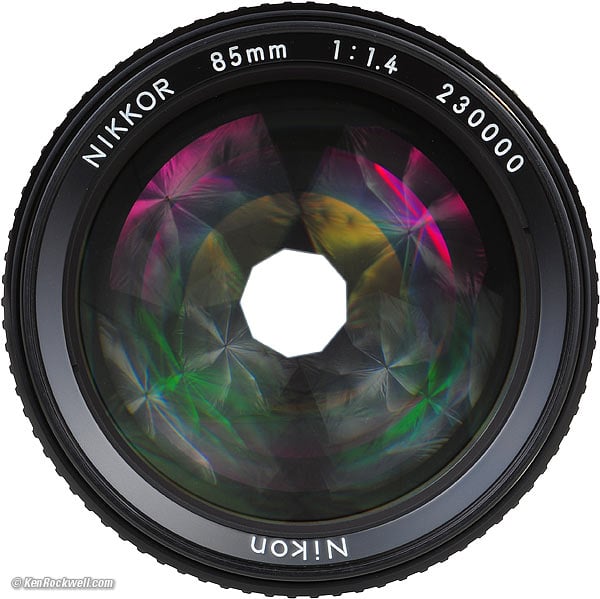 Nikon 85mm f/1.4 at f/5.6. (It's a huge light-sucking hole at f/1.4)
9 straight blades.
Stops down to f/16.
Aperture Ring
Yes.
Filter Thread
72mm.
Metal.
Does not rotate.
Size
Nikon specifies 64.5mm extension from flange (72.5mm overall) by 80.5mm diameter.
Weights (measured)
Lens alone: 21.485 oz. (609.1g).
With contemporary caps (no hood): 22.360 oz. (633.9g).
With hood (no caps): 22.897 oz. (649.1g).
With contemporary caps and hood: 23.770 oz. (673.9g).
Hood alone (with painted markings): 1.410 oz. (39.9g).
Nikon specifies 620g.
For comparison, the AF-D lens (naked) weighs 18.490 oz. (524.1 g). This manual focus lens is about the same size, but weighs 3 oz. (85g) more than the AF version.
Hood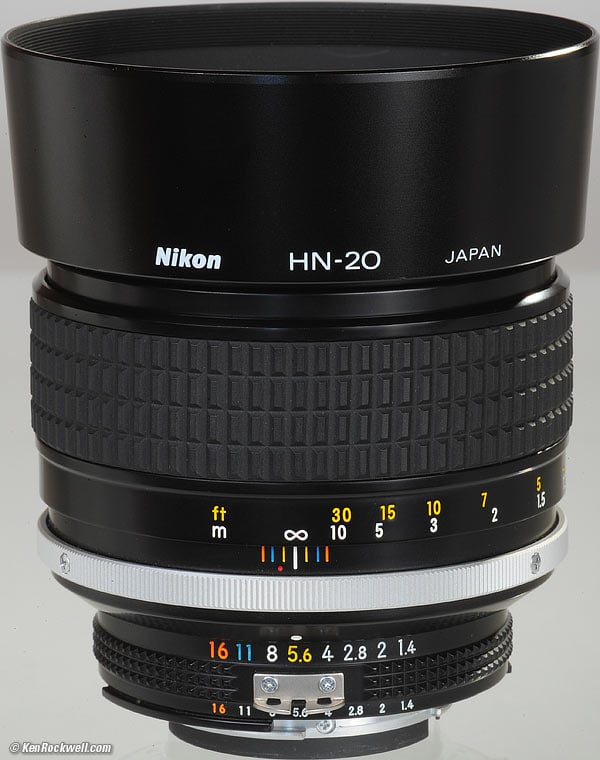 Nikon 85 1.4 AI-s with HN-20 hood.
HN-20 metal screw-in, included.
Older hoods are spun anodized aluminum with engraved markings, newer ones are matte anodized with painted markings.
Case
Optional CL-17, CL-34A or pouch #62.
Teleconverters
TC-200/201 and TC-14A.
Nikon warns of potential "uneven exposure" at high shutter speeds or apertures smaller than f/11, but after reading these warnings for 30 years I still have no idea what they're talking about.
Packaging
Gold-foil box, two pieces of engineered machined foam, each made from two cemented sections.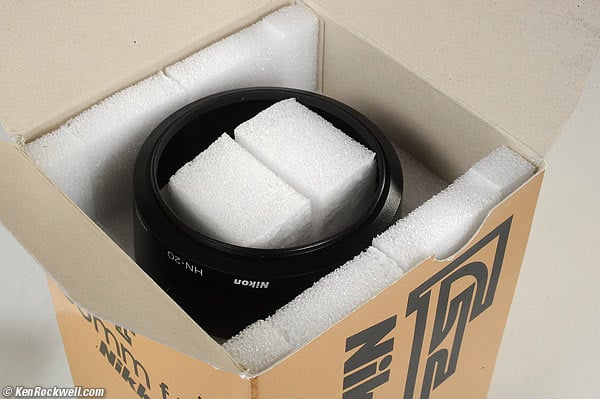 Nikon 85mm f/1.4 AI-s packaging design.
The hood cleverly sits on top, covered by top half of the instruction manual and warranty papers. (the other half of the paperwork slips down the side of the box.
It's easy to unpack. Pull out the papers, lift out the hood, then grab the big square foam knob in the center and slide the box down and away from the foam.
Performance back to top
Intro Specs Performance Compared Recommendations
Overall Focus Bokeh Color Coma Distortion Falloff
Filters Ghosts Hood Lateral Color Fringes Mechanics
Sharpness Spherochromatism Sunstars Comparisons
Overall performance top
The 85mm f/1.4 AI-s is among Nikon's finest lenses ever. I'm really digging to find anything to discuss.
Focus performance top
Manual focus is a dream, even with this big chunky lens.
Focus is as smooth as silk, perfectly damped with no play.
With all this weight, and the fact that focus is racking the entire lens in and out, it takes about a finger and a half to adjust it. The lighter f/2 and f/1.8 manual focus lenses can be focused with one finger, but this f/1.4 really takes two delicate fingers.
The D4, D800, D3, F4, F6 and most professional AF cameras have three very precise electronic manual focus indicators. I find even on my D3, whose focus screen isn't optimized for a lens this fast, that just eyeballing the ground glass works great, too.
Manual focus on the Nikon D800 is also fast, easy and accurate using the electronic indicators, even at f/1.4.
Be very careful if attempting to use this lens on a amateur DX camera like the D300 or D200. The electronic "Focus Confirmation" systems (the green dot in the finder's lower left) stays lit over too broad a range of focus to ensure perfect focus at large apertures.
In other words, the one-dot focus light of the D300 will stay on, even if you're a little out of focus. At f/1.4, "a little out" may as well be all the way out. The ground-glass of the amateur cameras are also optimized for brighter images with slow lenses. Therefore, if you tweak the depth-of-field preview, you'll discover that the D300's finder really is only showing you what you'll see at f/3.5!
Here's the problem on cheaper AF cameras: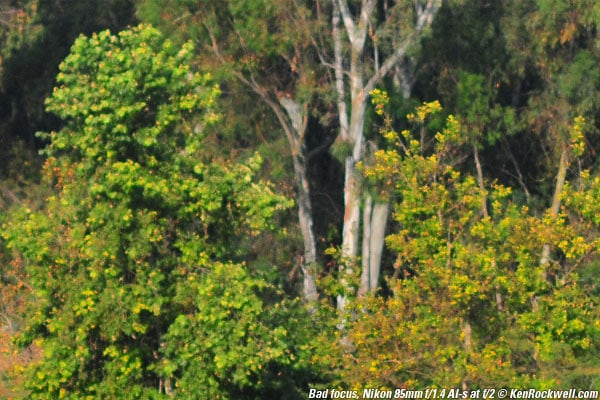 Roll mouse over to compare. If you have no mouse, here's the good-focus version: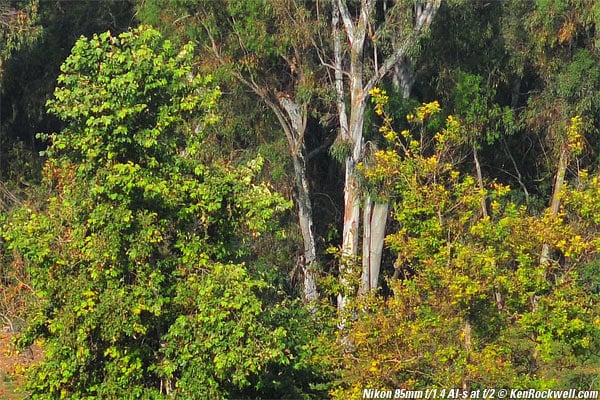 Good focus. (what you see if you roll your mouse-over above)
Even though the first of these images looks horrible. the D300's Focus OK dot was lit for each of them. The effect would be even worse at f/1.4; this is at f/2.
These aren't crops from images at 100%, either. These are only crops from the center of D300 images at 50%. A full-size print at this size would be only about 14x21" (35x50cm)
Therefore, when I use this lens on an amateur camera at large apertures, I make several shots as I pull the focus slowly through the range over which the dot stays lit.
This is another reason to stick with the D4, D800, D3, D700, F4 and F6: they all have three-position focus indicators which work great. I think also the D2 series has this, and maybe even the D1 series.
Bokeh performance top
Bokeh is the character of out of focus areas, not simply how far out of focus they are. Every 85mm f/1.4 lens throws backgrounds very far out of focus at f/1.4.
That said, this 85mm f/1.4 has a very nice character to its bokeh. Blur circles from f/2 and smaller have wonderfully soft edges, so the backgrounds fade away without distraction.
Because the blur-circle edges are so pleasingly soft, I can't see the nonagonal shape of the diaphragm. Even stopped down, blur circles remain as soft circles, not nonagons
At f/1.4 the blur circles have soft edges, but can look a little like rolled-condoms, with the blur-circle having edges edges brighter than their centers. The blur circles are soft, but these brighter edges might become a little distracting. They are always organic, never hard. You might want to play around with f/2 and f/1.4 to see which effect you prefer at which distances.
Color Rendition performance top
The color rendition of this f/1.4 manual focus lens matches the multicoated manual focus f/1.8 and manual focus f/2 AI-s lenses.
Oddly, I find the autofocus f/1.4 version a little cooler than the manual focus lenses.
Coma performance top
Coma is weird smeared blobs that appear around bright points of light in the corners. They happen with fast and wide lenses at large apertures. Coma goes away as stopped down, and tends not to be seen in slower and tele lenses. Coma is an artifact of spherical aberration.
I'll let you see it for yourself.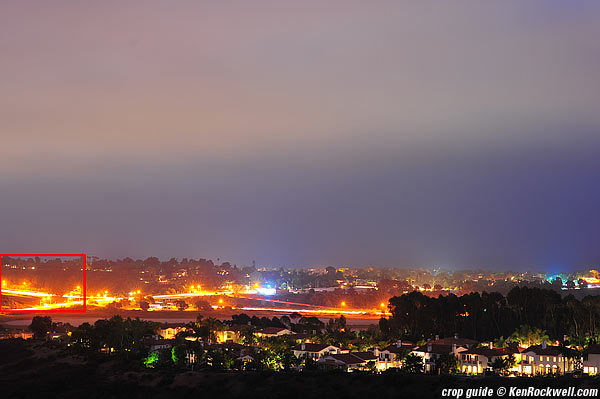 Full-Frame FX Guide Image. Crops are the red box on lower left.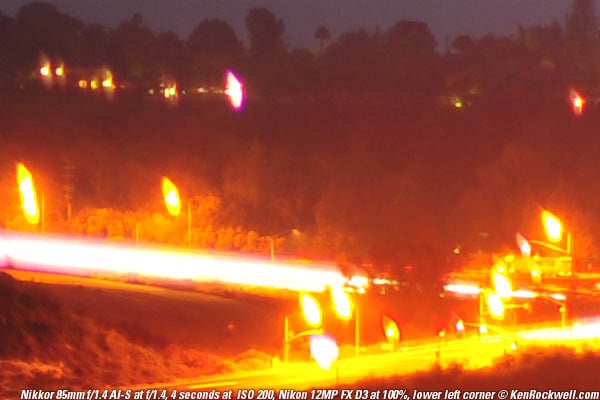 At f/1.4.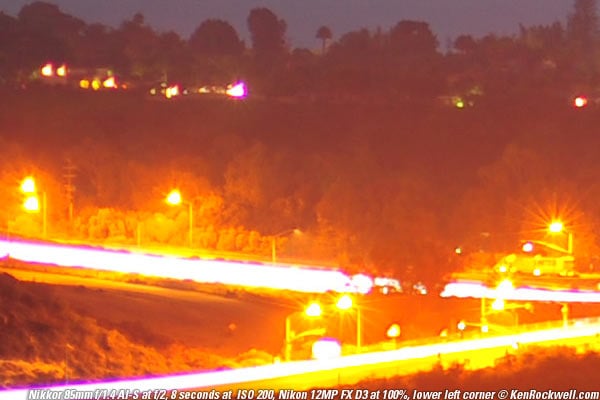 At f/2.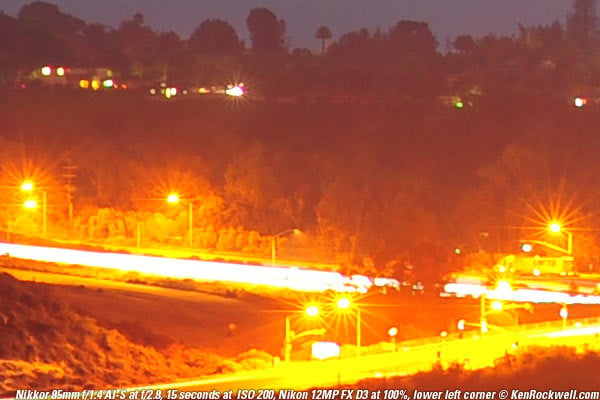 At f/2.8.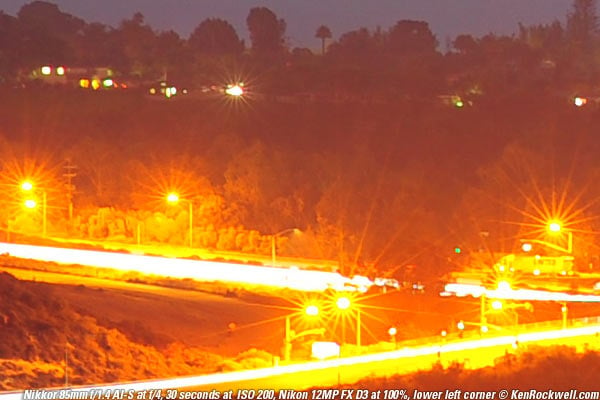 At f/4.
The Nikon 85mm f/1.4 AI-s has some coma at f/1.4 on the full FX frame, and it's gone by f/2. If you want the best compromise of exquisite quality with the shortest exposures, I'd use f/2 if depth-of-field isn't an issue.
It doesn't have any coma on a DX camera, since these DX cameras have small sensors that don't use any of the edges of the lens' image. (see crop factor.)
The only better lens of which I know is Canon's 85mm f/1.2 L Aspherical, which is excellent even at f/1.2, but has no hard infinity focus stop, making focus iffier for astronomy.
Distortion performance top
The 85mm f/1.4 has no visible distortion.
If you deliberately try to look for it, it has just the slightest barrel distortion on FX which can be completely eliminated by plugging these figures into Photoshop CS2's lens distortion filter. These aren't facts or specifications, they are the results of my research that requires hours of photography and calculations on the resulting data.
| | |
| --- | --- |
| | |
| ∞ | 0.0 |
| 30' (10m) | TBD |
| 10' (3m) | +0.4 |
| 3' (1m) | +0.4 |
© 2012 KenRockwell.com. All rights reserved.
Falloff (darkened corners) performance top
Falloff on FX is moderate to minor at f/1.4, and negligible from f/2. This is excellent, and much better than the newer autofocus 85mm f/1.4 D. I doubt anyone would see any falloff on DX.
I've exaggerated this by shooting a gray field and placing these on a gray background.
Nikon 85mm f/1.4 AI-s falloff on film and FX at infinity.
Filters, Use with performance top
The filter ring doesn't move.
The 72mm thread is bigger than the glass of this short telephoto lens. There is no problem with vignetting, even with combinations of thick filters.
Filters can cause slight ghosts with digital cameras.
Ghosts performance top
I see no ghosts in the 85mm f/1.4 AI-s.
There are some mild ghost images if you use an uncoated filter on a digital camera.
These ghosts are a superimposed, dimmer, 180º inverted version of the main image. If you see them, you'll see them as dim, sharp points of light 180º opposite the real points of light.
This effect is worst wide-open, and reduces at smaller apertures, so I'd not worry in the daytime, even with an uncoated filter.
These is no problem if not using a filter.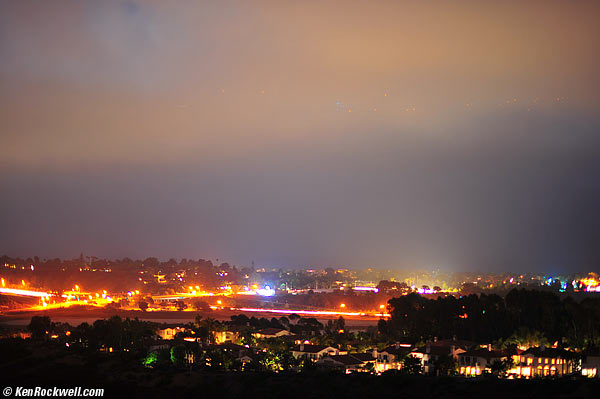 Filter ghosts, worst case: the very light dots in the upper right mirror the lights on lower left. D3, B+W 010 (UV) filter, f/1.4 at 4 seconds.
This is as bad as it gets. The B+W filter I used isn't coated, even if it claims to be. This is a very mild ghosting, and is nearly invisible here. It's much less by f/4 with a 30 second exposure.
There are no ghosts with no filter.
Hood
performance
top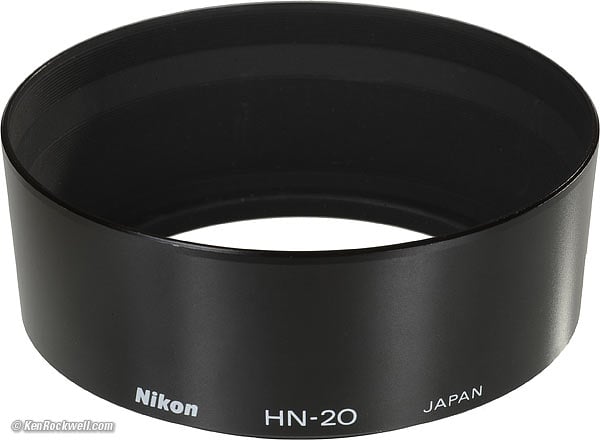 Nikon HN-20 hood.
The hood is included.What makes it so tough is that it's not stamped, but a solid hunk of machined billet aluminum. If you can see the slightly lighter gray band inside in the photo above, that's the transition to where the hood gets very thick throughout most of its length. Only the front edge is as thin as you think; most of it is much thicker. It's stepped this way to make it super-durable in heavy newspaper use, and helps increase efficiency slightly.
The interior has Nikon's usual directional ribbing that sucks up light, not cheaper glued-on fuzz. Look though it from each direction, and you'll see the insides are much darker as viewed from the lens' point of view.
Lateral Color Fringes performance top
There are no lateral color fringes on the D800, D300 or D3, which would correct them if the 85mm f/1.4 AI-S had any.
There is some Spherochromatism, so you might see color fringes on highlights if you're not in perfect focus, but that's a different aberration.
Mechanics performance top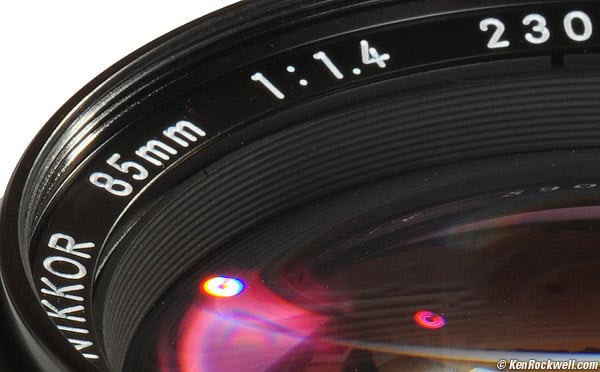 Engraved metal - everywhere!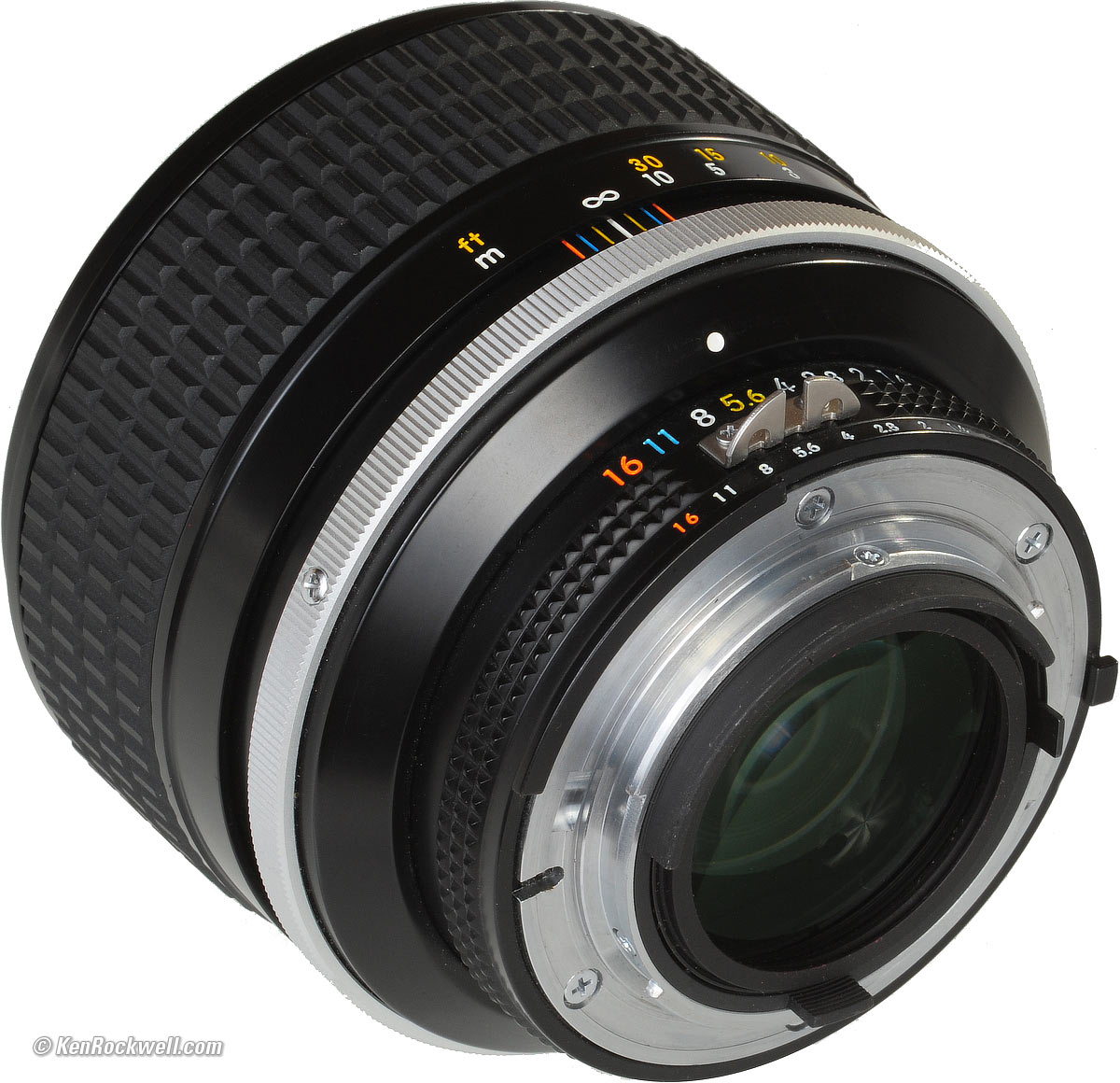 Nikon 85mm f/1.4 AI-s. enlarge
Like all Nikkor manual focus AI-s lenses, the Nikon 85mm f/1.4 AI-s is built to the highest mechanical standards of any lens ever made.
Barrel Exterior
Anodized and enameled aluminum.
Filter Threads
Anodized aluminum.
Hood
Threaded anodized aluminum, extra-thick.
Focus Ring
Metal, rubber covered.
Focus Helicoids
Feels like brass: smooth and silky with no play or need for damping grease.
Depth-of-Field Scale
Engraved into barrel and filled with different colors of paint.
Internals
Metal.
Aperture Ring
Cast aluminum, anodized and enameled. Engraved markings filled with different colors of paint coded to the depth-of-field scale.
Mount
Dull-chromed brass.
Markings
Engraved into the metal and filled with paint.
Identity and Serial Number
On front of lens inside filter ring, engraved into the metal and filled with paint.
Weather seal at mount
No.
Noises When Shaken
Mild clicking from the diaphragm blades and actuation system.
Quality
Made in Japan.
Sharpness performance top
Warning 1: Image sharpness depends more on you than your lens.
Warning 2: Lens sharpness doesn't mean much to good photographers.
As tested on the Nikon D800, 36 MP FX
With those caveats, it's sharp but has less contrast at f/1.4 from spherical aberration.
It improves greatly at f/2. At f/2, it's super sharp and contrasty in the center at 36 MP by f/2, improving only slightly at f/2.8 and f/4. It's so sharp that it's already dulling from diffraction at f/5.6.
The corners are softer at f/1.4 from coma. They aren't much different at f/2, and improve greatly at f/2.8. They get even better at f/4 and f/5.6.
Better than any zoom or autofocus lens, the ultra-tight mechanical tolerances of this rock-solid manual focus lens ensure that one always get great sharpness from side-to-side, since everything is always perfectly aligned without slop.
As tested on the Nikon D3, 12 MP FX
With those caveats, the 85mm f/1.4 AI-s is among the sharpest lenses I've used. If you're looking at the output from a 12 MP FX camera like the D3 at 100%, this manual focus lens is better than the autofocus 85mm f/1.4 D.
At f/1.4
The 85mm f/1.4 AI-s is sharp all over, but spherical aberration lowers the local contrast a little, as if there's a tiny bit of haze. The image is sharp, just not as contrasty. The corners are almost as sharp, but a little darker from falloff. Even if the corners aren't quite as sharp as the center at f/1.4, the corners are still sharper than any other 50mm or 85mm f/1.4 lens that I've ever used.
At f/2
Contrast is back up and falloff is gone, so it's sharp and contrasty all over. The farthest sides can be a little softer, but only if you're deliberately shooting test charts at infinity and looking too hard. The corners are still sharper than any of the other 85mm lenses at f/2.
At f/2.8
The 85mm f/1.4 is really on its game by f/2.8. It's completely sharp edge-to-edge, even if you're looking too hard.
At f/4
The 85mm f/1.4 is a tiny bit sharper at f/4 than at f/2.8, but f/2.8 is so good you're only going to see this with deliberate comparison tests. It can't possibly, and doesn't, get any sharper stopped down further until diffraction sets in around f/16.
For 100% crop examples, see Coma, above for corners, and see Sunstars, next, for central sharpness. These night-time shots exaggerate any lens imperfections; if you loot anything other than the point light sources you'll see sharp images, even in these huge blow-ups, even wide open. The biggest limitation will be your depth-of-field and your own skill.
Spherochromatism performance top
Like the 135mm f/2 DC and most fast, long lenses, there is a slightly odd color component to the 85mm f/1.4 AI-s' bokeh.
Bright objects behind the subject can have slight green-cyan fringes, and objects in front of the subject can have slight red-magenta fringes.
This is because the spherical aberration issues which define the cones of confusion, and thus the bokeh, also vary by wavelength. This is called spherochromatism.
Sunstars performance top
With its straight 9-bladed diaphragm, the 85mm f/1.4 makes magnificent 18-pointed sunstars on bright points of light.
Since even I wouldn't point this fast long lens at the sun, the images in which you can get these stars are night photos, in which street lights and other point sources can bloom into a star.
With the great sharpness and precision of this lens as well as its diaphragm, If you're looking closely you can get sunstars even at f/2!
These are crops from 100% images that would print 40" (1m) wide at this magnification. The images are from the same as the guide image above under Coma, except these are from the lower center.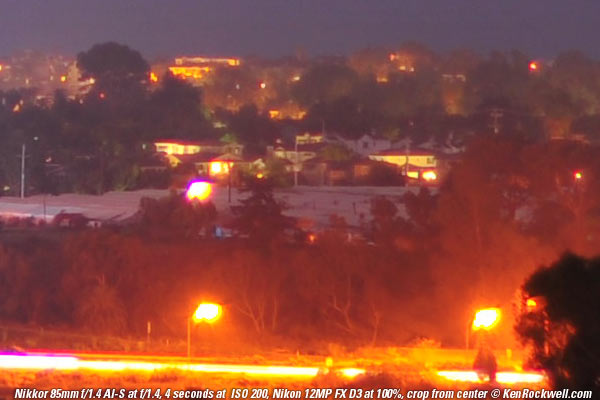 At f/1.4: No stars, and there shouldn't be.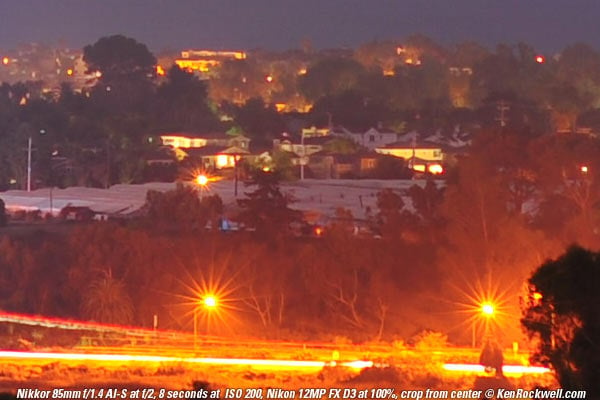 At f/2: Stars, but you'll only see them under these large (40" (1m)-wide print) examples.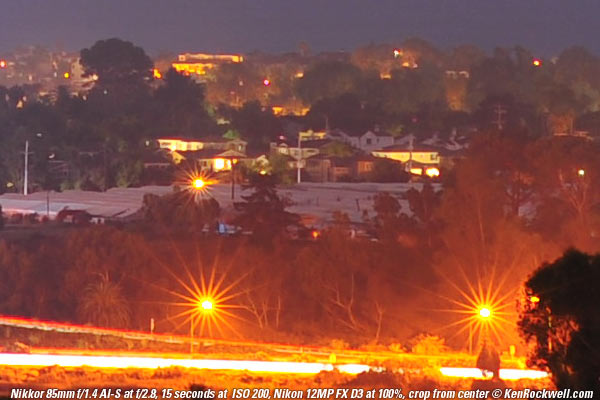 At f/2.8.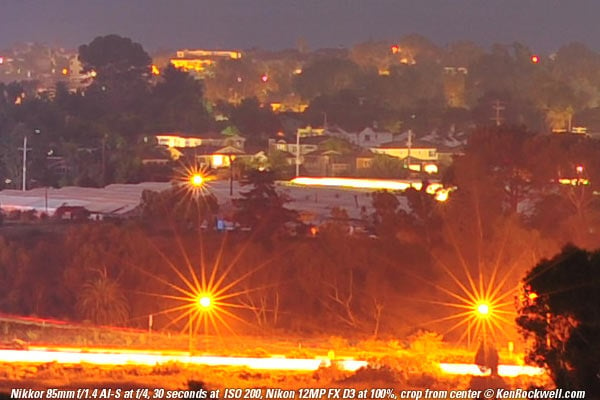 At f/4.
Compared to other 85mm lenses top
Intro Specs Performance Compared Recommendations

Nikon 85/1.8 K, Nikon 85/2 AI-s, Nikon 85/1.4 AI-s, Nikon 85/1.8D, Nikon 85/1.4D and Vivitar 85/1.4. enlarge (actual size at 106 DPI).
See:
NEW: 85mm Lens Specifications Compared 23 June 2009
NEW: 85mm Lens Central Sharpness Comparison 23 June 2009
NEW: 85mm Lens Corner Sharpness Comparison 23 June 2009
I compared it directly to the autofocus 85mm f/1.4D, manual focus 85mm f/2 AI-s and manual focus 85mm f/1.8 AI-upgraded. I had no 85mm f/1.8 AF handy, which is another day's work since the 85mm f/1.8 AF is probably the most practical 85mm going today
All these lenses are superb for any sort of photography. If you split hairs and pixels, this manual focus 85mm f/1.4 AI-s easily has the best optics of the four 85mm lenses I compared directly.
This 85mm f/1.4 AI-s is slightly sharper than the f/1.4 AF and f/2 AI-s version. The 85mm f/1.8 manual focus is inferior. These differences are slight, and most visible at large apertures and in the corners, where good photographers aren't worrying about sharpness.
This f/1.4 AI-s version also has the least amount of falloff (corner darkening) among these four lenses.
The 9-blade diaphragm of this 85/1.4 AI-s gives the best sunstars of any 85mm lens, along with the 85mm f/1.8 D.
Compared to Zeiss
I also have not yet tried the third-party Zeiss-branded 85mm f/1.4. It will be an interesting comparison, since Zeiss extracts a premium price, the same as either of the genuine f/1.4 Nikkors.
The Zeiss doesn't feel as nice in hand with its slippery metal focus ring.
The Zeiss-branded lens is much simpler. It has only 6, not 7, elements and lacks the Nikkor's close-range-correction (CRC) system. To quote Zeiss, the Zeiss lens is only "optimized for medium to longer distances," while Nikon's CRC automatically corrects the Nikkor lens' design for optimum performance at every distance.
Recommendations back to top
Intro Specs Performance Compared Recommendations
The 85mm f/1.4 AI-s is is a manual-focus only lens. It's a Nikon icon.
It's sharper than the 85mm f/1.4 D, the 85mm f/1.8 D and all other manual-focus 85mm lenses.
The newest 85/1.4 G and cheap 85/1.8 G are sharper, but not as well built.
This 85/1.4 AI-s has a spectacular 9-blade diaphragm, better than any current or past lens, and as good as the 85mm f/1.8 D.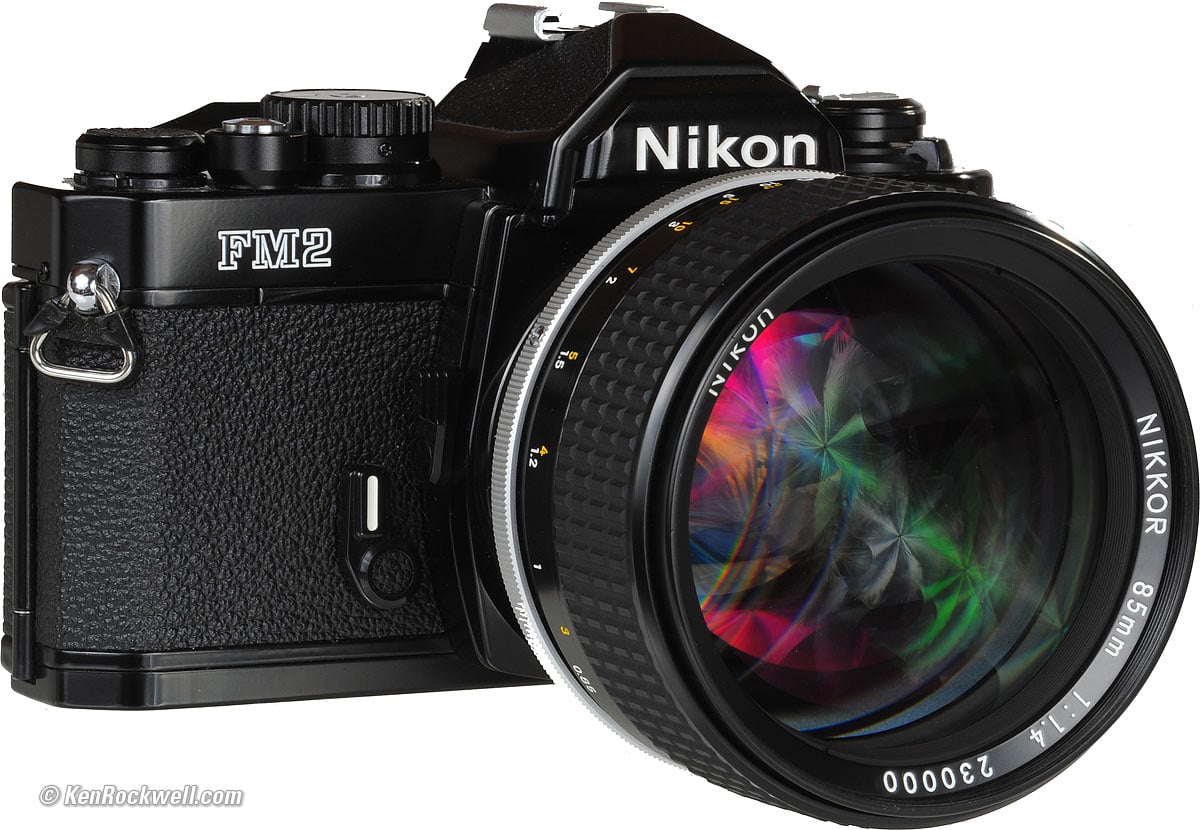 Nikon 85mm f/1.4 on an FM-2. enlarge.
Deployment
The very best protective filter is the 72mm Hoya multicoated HD3 UV which uses hardened glass and repels dirt and fingerprints, and is also multicoated.
For less money, the B+W 72mm 010 is an excellent filter, as are the multicoated version and the basic multicoated Hoya filters, but the Hoya HD3 is the toughest and the best.
Filters last a lifetime, so you may as well get the best. The Hoya HD3 stays cleaner than the others since it repels oil and dirt.
© Ken Rockwell. All rights reserved. Tous droits réservés. Alle Rechte vorbehalten.
Help Me Help You
I support my growing family through this website, as crazy as it might seem.
The biggest help is when you use any of these links when you get anything. It costs you nothing, and is this site's, and thus my family's, biggest source of support. eBay is always a gamble (see How to Win at eBay), but all the other places always have the best prices and service, which is why I've used them since before this website existed. I recommend them all personally.
If you find this page as helpful as a book you might have had to buy or a workshop you may have had to take, feel free to help me continue helping everyone.
If you've gotten your gear through one of my links or helped otherwise, you're family. It's great people like you who allow me to keep adding to this site full-time. Thanks!
If you haven't helped yet, please do, and consider helping me with a gift of $5.00.
As this page is copyrighted and formally registered, it is unlawful to make copies, especially in the form of printouts for personal use. If you wish to make a printout for personal use, you are granted one-time permission only if you PayPal me $5.00 per printout or part thereof. Thank you!
Thanks for reading!
Mr. & Mrs. Ken Rockwell, Ryan and Katie.