Home Donate New Search Gallery Reviews How-To Books Links Workshops About Contact
Nikon 8mm f/2.8
Fisheye-NIKKOR (1970-1997)
Specifications Performance Usage Recommendations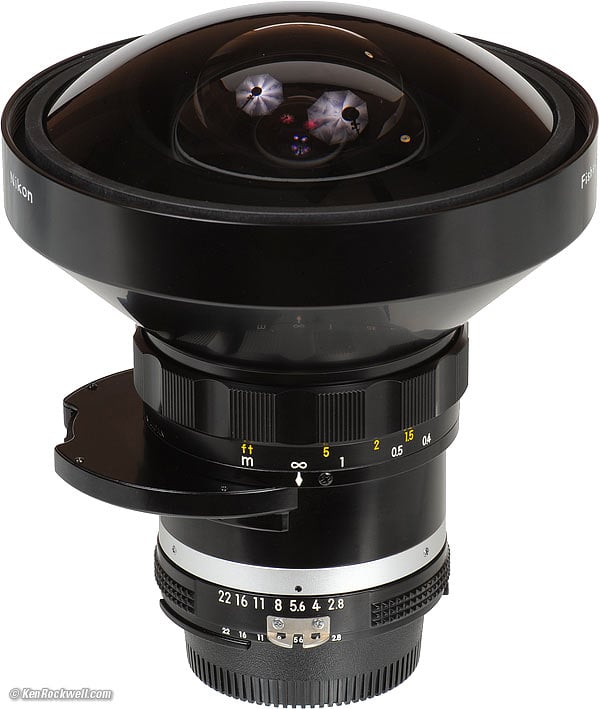 Nikon 8mm f/2.8 AI Fisheye. (FX, DX and 35mm coverage, filters in internal turret, 38.1 oz./1,081g, 1'/0.3m close-focus, about $1,800 used.) enlarge. I got this one at this direct link to it at eBay (see How to Win at eBay).
This ad-free website's biggest source of support is when you use those or any of these links to approved sources when you get anything, regardless of the country in which you live. Buy only from the approved sources I use myself for the best prices, service, return policies and selection. Thanks for helping me help you! Ken.
September 2015 Nikon Reviews Nikon Lenses All Reviews
Introduction top
Specifications Performance Usage Recommendations
Images Sizes Compatibility History
This 8mm f/2.8 has been Nikon's standard circular fisheye lens since 1970. They haven't been sold new since 1997, which is no problem since the world has enough used ones to go around for a very long time.
This is a big fat lens that looks like a kid's arm holding a grapefruit. Knock the front element into anything and the lens is trashed because any marks on the front element will be in focus.
This is a weird lens for people with special needs. Most people will be much better off with different lenses that cost much less. I explain these at Buying Recommendations.
There are three almost identical versions: the first non-AI version made from 1970-1977, the AI made from 1977-1982, and the AI-s made from 1982-1997.
Image Sizes back to introduction back to top
The Nikon 8mm f/2.8 makes a circular image 23.2mm in diameter.
The whole circle fits neatly inside FX digital and on film.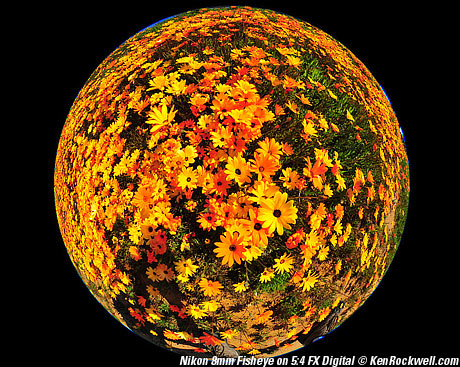 Circular image on FX digital, 5:4 mode.
On DX digital you lose the top and bottom of the circle, but retain the left and right sides.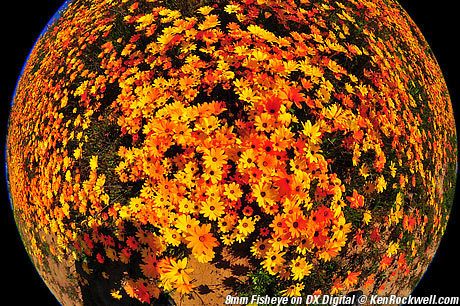 Image on DX digital.
Compatibility back to introduction back to top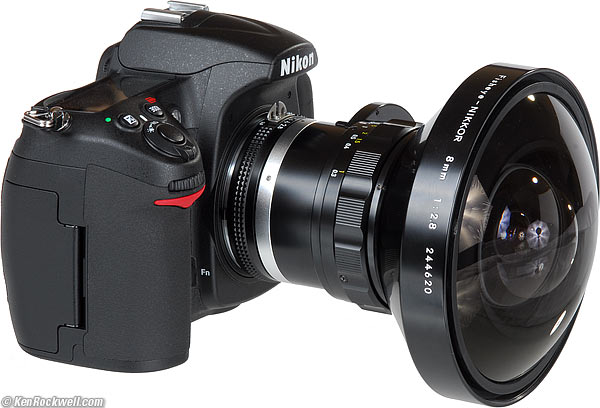 Nikon 8mm f/2.8 AI-s dwarfing a Nikon D300.
Be sure to get an AI or AI-s version, or if you get the first non-AI version, be sure that it's been updated to AI.
If you have an AI or AI-s lens, use the "Non-CPU Lens Data" menu option of the D3, D300, D200, D2 and F6 to set 8mm and f/2.8 for full matrix metering, EXIF data and finder read-out of set aperture. It works great in aperture-preferred as well as manual exposure modes on these cameras.
The AI and AI-s work perfectly every professional film camera (Nikon F, F2, F3, F4, F5, F6), and adds Matrix metering on the FA, F4 and F6.
The 8mm fisheye oddly isn't really compatible with the FE, FE2 or EM. Since the sides of the image are black, you can't see the meter in these cameras! To test your own camera, put on the lens cap and see if you can still see the meter. On most cameras you can.
The meters of cheaper digital (D80 and below) and cheaper film cameras (N80 and below) will not couple (or work at all) with any version of this lens, so you'll be on your own guessing exposure using the rear LCD or an external meter.
If you get a non-AI version, it won't even mount properly on most modern film or digital cameras. It will work great with pre-1977 film cameras, and will work on the Nikon F, F2, F3 and F4. The F5 and F6 can be modified to work with non-AI lenses.
See Nikon Lens Compatibility for more details on your camera. Read down the "AI, AI-s" column for this lens. If you have a non-AI version, read from the "Pre-AI" column.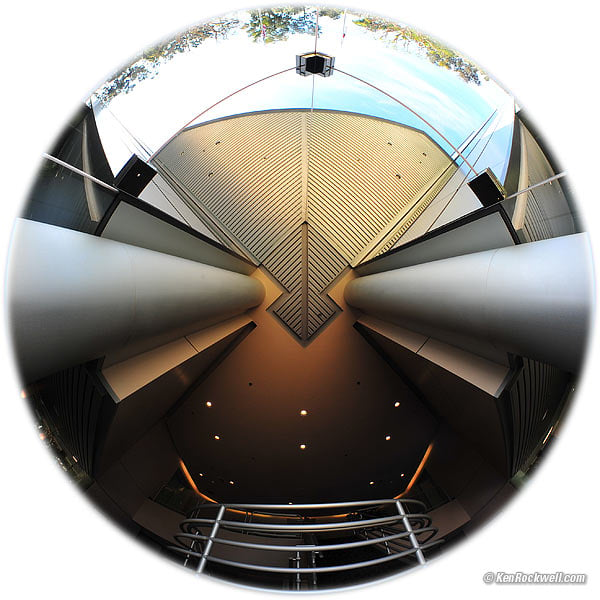 Nikon 8mm f/2.8 AI shot on a Nikon D3 with white background.
History and Production Quantities
back to introduction back to top
1962-1965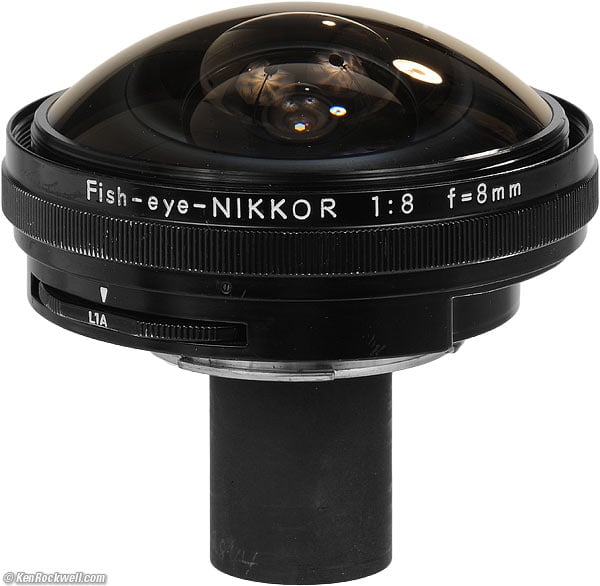 Nikon 8mm f/8.
Nikon's first 35mm-format fisheye was the completely different, and much smaller, 8mm f/8.
It required mirror-lockup and therefore offered no through the lens composition, focus, metering, or anything — but it works great with Live View today.
It had a 24mm image circle, which was a great idea for science, but a bad idea for photography because slide mounts and enlarger film holders cut off the tops and bottoms of the image circles.
Nikon made about 1,500 of the 8mm f/8 fisheyes.
1966-1970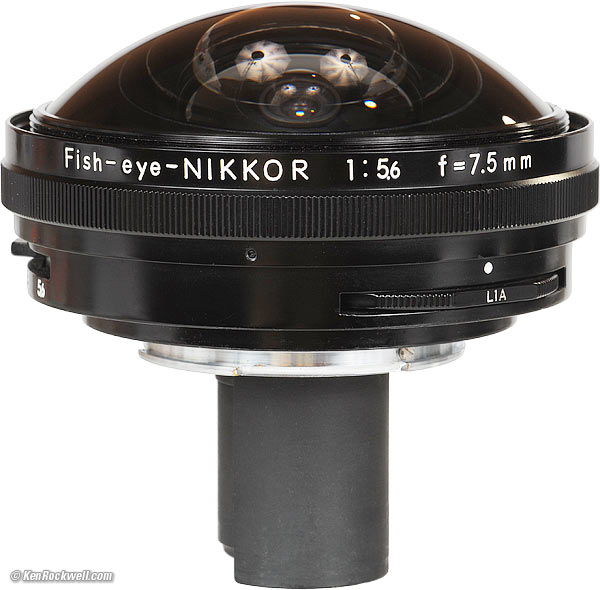 Nikon 7.5mm f/5.6 (1966-1970).
The 7.5mm f/5.6 fisheye replaces the 8mm. It is a stop faster, and its slightly smaller 23mm image circle fits better into slide mounts and negative holders. It is still requires mirror lockup, so it's also a pain to use for most photography.
Nikon made about 2,500 7.5mm fisheyes.
1970-1997
This far more practical, but far bigger, 8mm f/2.8 replaced the previous mirror-up versions.
Nikon made close to 10,000 of these in three versions.
Nikon has not made any circular fisheyes since 1997; the world has enough to go around. Nikon has also made 220 degree 6mm fisheyes, 10mm orthographic projection and other fisheyes I won't cover here — yet.
Specifications top
Introduction Specifications Performance Usage Recommendations
Name Optics Focus Filters Size Weight Front Cap
Case Serial Numbers Prices The Three Versions
Name back to specifications back to top
Nikon calls the pre-AI and AI versions the Nikon "Fisheye-Nikkor Auto f/2.8 8mm." Nikon calls the AI-s version the Nikon "Fisheye-Nikkor 8mm f/2.8."
The older one is marked "Auto," referring to the automatic diaphragm (they all are auto, but as of 1982 it wasn't new technology anymore). Nikon also reversed the "8mm" and "1:2.8" markings on the outside of the AI-s version. More of this baloney is explained at The Three Versions.
Optics back to specifications back to top
Nikon 8mm f/2.8 cross-section (all versions).
Formula
10 elements in 8 groups. It focuses by moving the rear group (RF).
Coatings
AI and AI-s versions I've examined are single coated, with only a couple of surfaces multicoated. Nikon specifies that the AI and AI-s are multicoated. Details at coatings at The Three Versions.
Actual (Design) Focal Length
8.0mm.
Angle of View
180°
Diaphragm
7 conventional blades stopping down to f/22.
Front Nodal Point Position
Per Nikon, H is 132.0mm in front of the image plane, or 85.5mm ahead of the mounting flange. It's also 21.8mm behind the front flange, or 42.5mm behind the front apex of the glass.
In actuality, it moves away from the image plane as seen from progressively larger angles. At r = 90 degrees, the front nodal point is sitting right on the front edge of the front lens barrel (the field stop).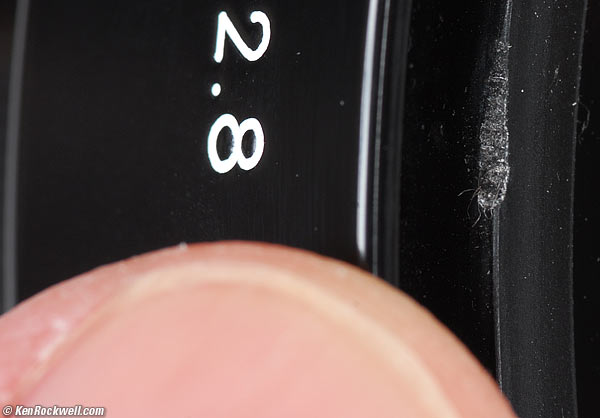 Technician Damage, Field Stop of a Nikon 8mm f/2.8.
Field Stop: The flat black piece that holds in the front element is also what defines the sharp black edge of the image. If someone leaves technician tracks on that part, it actually slightly changes the shape of your image.
In this case, the tool mark made the field stop stick out just a little bit more at the site of the damage. The images made by this sample of lens now have a very slight chunk taken out them.
Focus back to specifications back to top
Close Focus Distance: 1 foot (0.3m).
Maximum Reproduction Ratio: 1:19.7.
Hard Infinity Focus Stop? Yes.
Focus Distance Scale? Yes.
Depth-of Field Scale? no.
Infra-Red Focus Index? no.
Filters back to specifications back to top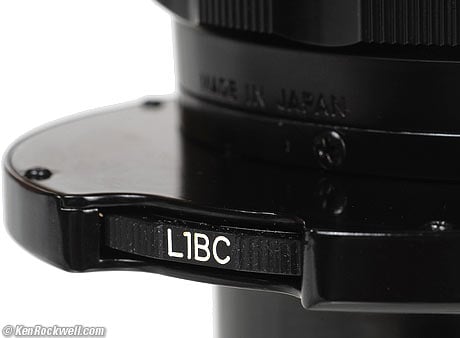 Nikon 8mm f/2.8 Filter Turret.
There are five built-in filters on a turret that sticks out on the left side. The turret reminds me of the National Geographic pictures of people with plates jammed in their lips!
The only difference is the non-AI version has an L1A skylight filter, while the AI and AI-s versions have a slightly stronger L1Bc skylight filter.
The pre-AI version has L1A, Y48, Y52, 056 & R60 filters.
The AI and AI-s versions have L1Bc, Y48, Y52, O56 and R60 filters.
All these filters are for film. The L1Bc (or L1A) filter is for color film, and the rest are for black and white film. None of them is particularly relevant for color film or for digital. For color film, I'd replace these with NC (or L37c), A2, A6, A12 and FLD.
For digital just leave it at L1Bc or L1A.
For B/W digital, you're usually better off shooting in color (L1Bc or L1A filter) and converting later, or setting the camera to shoot in B/W and have the camera apply a filter in its menus.
Filter Factors
Daylight Filter Factor, Stops (time)

Tungsten Filter Factor, Stops (time)

Film Type

L1A
L1Bc

Skylight

0 (1x)

0 (1x)

Color and B/W

Y48

Medium Yellow

2/3 (1.7x)

1/4 (1.2x)

B/W

Y52

Deep Yellow

1 (2x)

1/2 (1.4x)

B/W

O56

Orange

1-3/4 (3.5x)

1 (2x)

B/W

R60

Red

2-2/3 (6x)

2-1/3 (5x)

B/W
Size (AI-s version measured) back to specifications back to top
Liability (the distance the glass protrudes from the front of the barrel): 20.7mm.
Diameter: 4.843" (123.02mm).
Length (extensions from mounting flange; add 46.5mm for extension from image plane):
To end of front cap: 5.462" (138.72mm).
To tip of protruding front element: 5.039" (128.0mm).
To end of front barrel: 4.224" (107.3 mm).
Nikon specifies 4.8" (123mm) diameter, 5.0" (128mm) extension from flange and 5.5" (139mm) overall.
Weight back to specifications back to top
Measured Values

non-AI

AI

AI-s

Naked lens

38.138 oz.
(1,081.2g)

38.135 oz.
(1,081.1g)

Front cap only

3.136 oz.
(88.9g)

3.090 oz.
(87.6g)

With both caps

41.591 oz.
(1,179.1g)

41.545 oz.
(1,177.75g)
Nikon Specifies*

non-AI

AI

AI-s

Lens alone

35.3 oz.
(1,000g)

38.8 oz.
(1,100g)

38.8 oz.
(1,100g)
*You'll see different number different figures from Nikon for the various versions; Nikon's data isn't always consistent.
Front Cap back to specifications back to top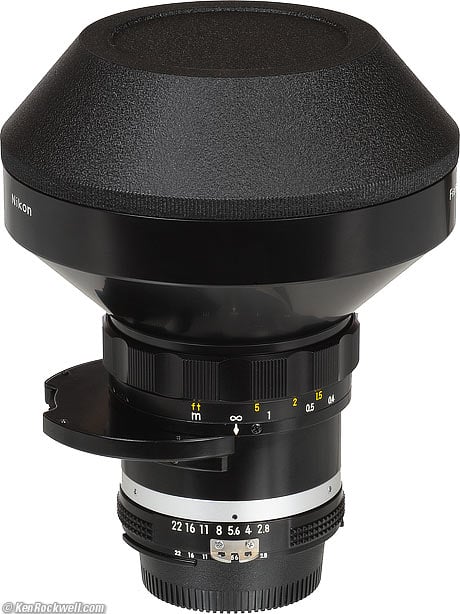 Nikon 8mm f/2.8 AI with Crinkle-Finish Front Cap.
The front cap is a huge chunk of solid billet aluminum that screws into the 120mm diameter, 1.0mm pitch threads of the front of the fisheye. The part number for a replacement cap might be 109-00-232.
The interior of the cap is shiny black anodization.
The exterior of the non-AI versions are also shiny black anodization, while the exteriors of the AI and AI-s versions are crinkle-finish as shown above.
This exotic front cap has a rubber bumper to prevent front element damage when attaching it.
Because the cap is aluminum just like the lens barrel, when you have a nice new lens and cap, there is often enough stiction between that the cap "spins" inside the threads and makes a horrendous racket. It also slows things down since you can't get it to glide on or off. This is much worse than the smooth action of the brass cap of the earlier 7.5mm fisheye lens. Some dry lube might fix this, but I'm not going to grease anyone's 8mm f/2.8 fisheye to try.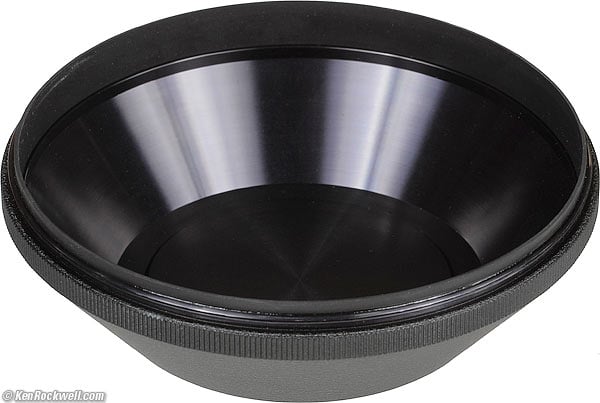 Nikon 8mm f/2.8 Front Cap.
Case back to specifications back to top
The 8mm f/2.8 comes in a CL-11 black fake-leather case with red fuzz inside. There is a big piece of fuzz-covered foam in the bottom to provide the springiness that supports the lens snugly when the case is closed.
The fisheye lens goes in front-first. You should see the small end when you open the case. The fat front sits on the bottom fuzz-covered foam.
This kind of fake leather dries up and starts falling apart after about three decades.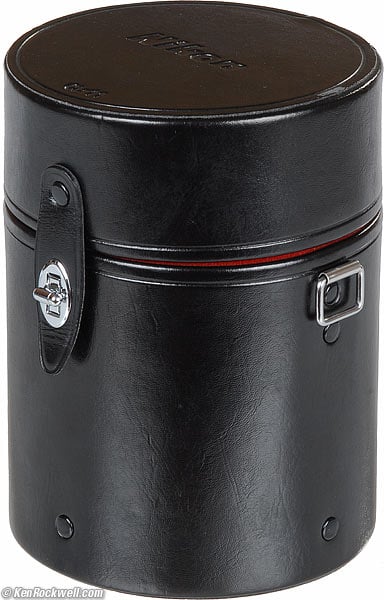 Nikon CL-11 Case for 8mm f/2.8.
Serial Numbers back to specifications back to top
See Roland Vink's authoritative work.
Price back to specifications back to top
corrected for inflation, 2008

1977

$770

$2,700

1986

$650

$1,250

1987

$735

$1,380

1991

$1,200

$1,880

1992

$1,250

$1,900

1996

$1,900

$2,585

2008
(used)

$1,500 - 2,500

2010
(used)

looks unchanged fro 2009
The Three Versions back to specifications back to top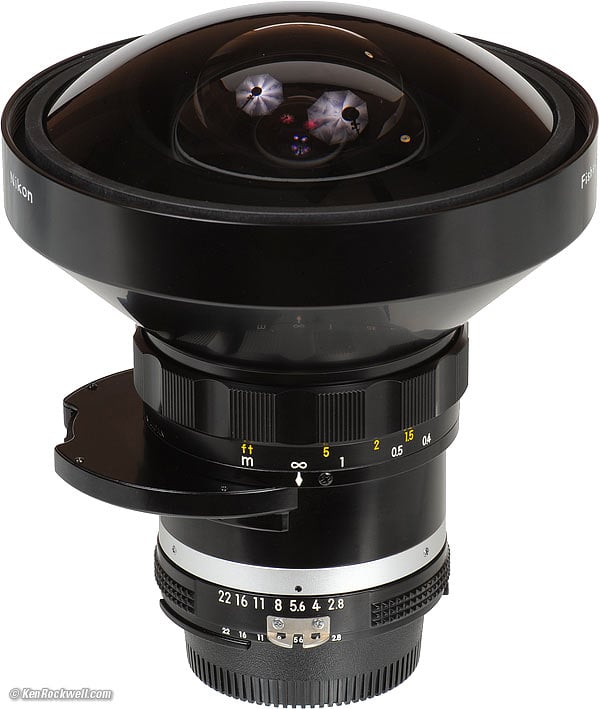 Nikon 8mm f/2.8 AI.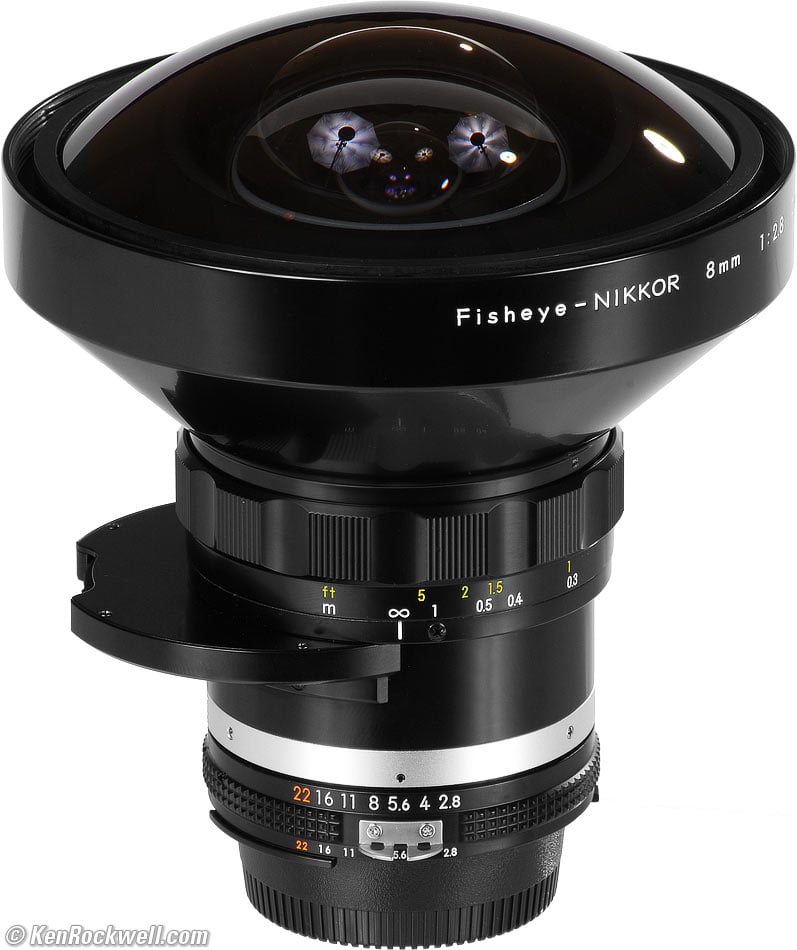 Nikon 8mm f/2.8 AI-s. bigger.

Non AI, AI and AI-s
The first non-AI version was made from 1970-1977.
The AI was made from 1977-1982.
The AI-s was made from 1982-1997.
So long as you have an AI or AI-s, or an AI-converted version, you're good to go for all modern cameras.
Optics
The optics are the same in all versions.
Focus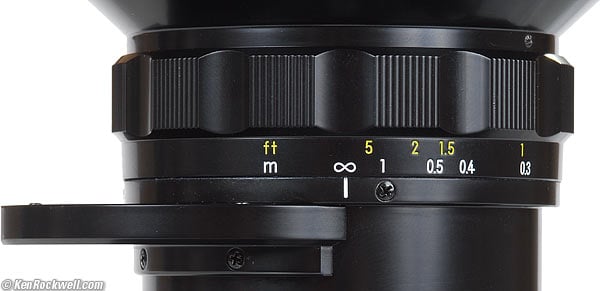 Focus Ring, Nikon 8mm f/2.8 AI-s. (screw at upper right has technician tracks.)
The pre-AI and AI versions focus from infinity to 1 foot (0.3m) with 90 degrees of focus-ring rotation.
Nikon shortened the amount of rotation needed on the AI-s version, which only requires 60 degrees.
The pre-AI and AI are a little more precise, and the AI-s is a little faster. Honestly I never noticed the difference shooting both of them until I noticed the photo above is different from the AI version I had in my hand.
Nikon changed the focus ring of the 1982 AI-s version, but they left it fluted-metal instead of also updating it to modern rubber.
The reason Nikon kept the all-metal focus ring is because the focus is deliberately stiff. When shooting a fisheye, you set it and forget it. You don't focus it for each shot, and you certainly don't want to knock it accidentally. It's stiff enough that after years of use that the rubber might fall off, unlike other Nikkors which can be focused with the touch of one fingertip.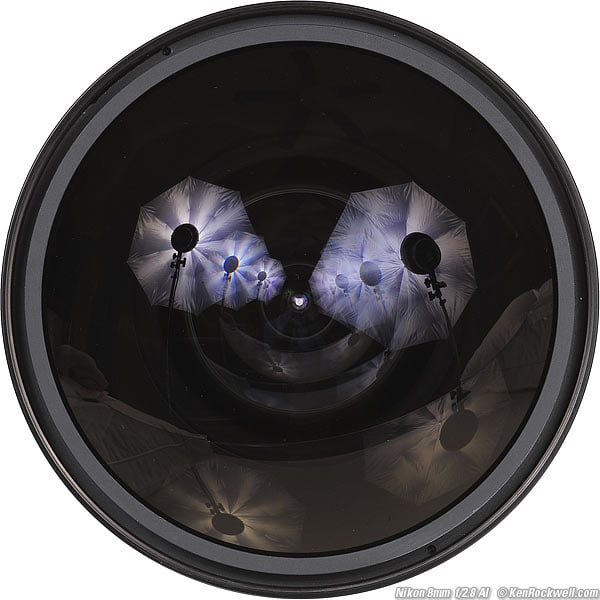 Front of Nikon 8mm f/2.8 AI. Roll mouse over to see AI-s version.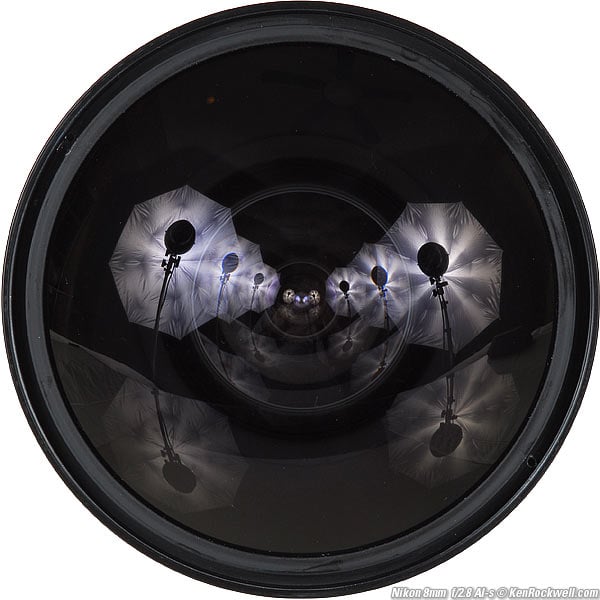 Nikon 8mm f/2.8 AI-s.
I can't see any differences between the AI and AI-s version's coatings. These two shots were made in two different years, and they look the same. See the difference in the black field-stop? That's a change in lighting, not the lenses. Likewise, the reflections in the glass differ from the lighting, not the coatings.
Multicoated lenses would have much darker reflections of other colors like deep red or green, not simple blue and amber.
I've never seen one that appears to be fully multicoated. Even the AI-s versions I've seen still have a highly reflective outer surface and are mostly single-coated. I suspect Nikon kept the outer element single-coated to make it more durable for the many inevitable cleanings it will receive.
Per Nikon's fold-out lens brochure of February 1978 introducing AI lenses, Nikon says the AI version has Nikon's multi-layer integrated coating. Apocryphal Internet data suggests that only the AI-s is multicoated, but the AI-s and AI coatings look the same to me. I had a fisheye lens designer peer at an AI version, and he confirmed that it looks single coated with just a couple of multicoated surfaces.
From the samples I've examined, both the AI and AI-s have the same coatings. I don't know if the non-AI has different coatings.
Exterior Differences
Except for the usual differences among pre-AI, AI and AI-s lenses numbered 1 ~ 4 below, the exteriors are almost identical.
1.) Non-AI version has only one row of numbers on aperture ring, AI and AI-s have a second row of smaller digits. (A chop-shop conversion to AI would have only one row of numbers, and possibly a glued-on second row.)
2.) AI and AI-s have coupling prongs with two extra holes in them.
3.) AI-s version has both f/22 markings in orange on the aperture ring.
4.) AI-s version has an additional cutaway from the rear mount just above the locking cutout, as seen at about 8 o'clock on the mount in the AI-s photo below.
5.) AI and AI-s versions have an L1Bc skylight filter instead of the L1A of the pre-AI.
6.) Front cap exterior is shiny black anodize on non-AI version; crinkle-coat paint on AI and AI-s versions.
7.) AI version has a diamond-shaped focus index, while the AI-s version has straight line.
8.) AI-s version says "Fisheye-NIKKOR 8mm 1:2.8 2#####," while AI and pre-AI versions say "Fisheye-Nikkor Auto 1:2.8 f=8mm 2#####." The earliest pre-AI versions said "Nippon Kogaku Japan No.2#####."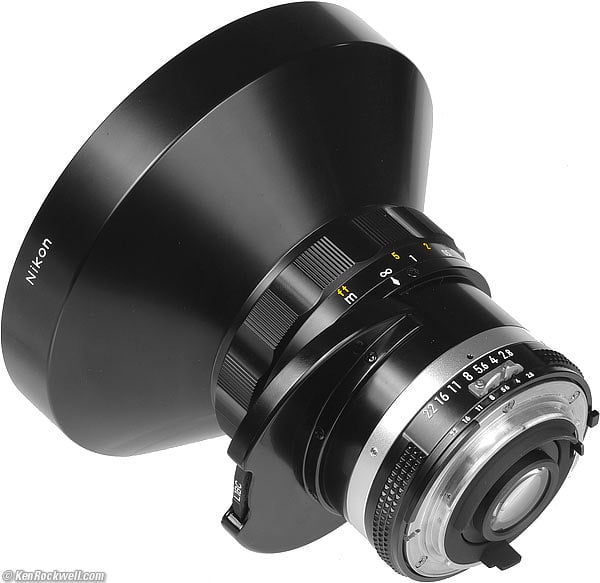 Nikon 8mm f/2.8 AI.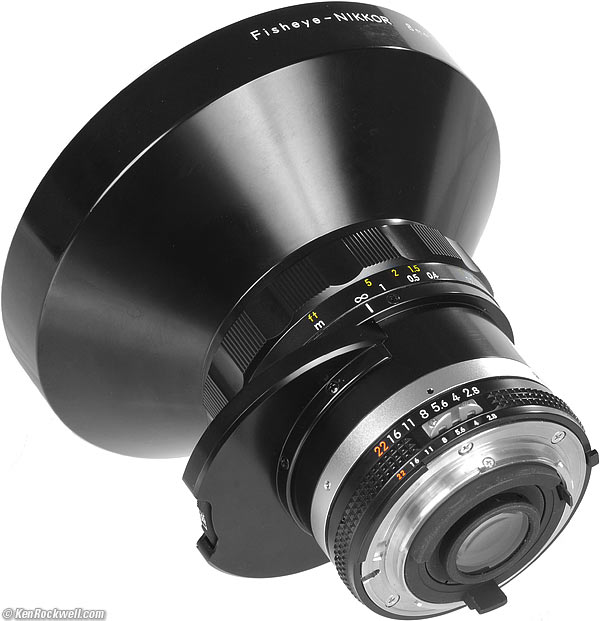 Nikon 8mm f/2.8 AI-s.
Performance top
Introduction Specifications Performance Usage Recommendations
Overall Focus Color Falloff Ghosts Lateral Color Fringes
Mechanics Projection Sharpness Sunstars VR
Overall back to Performance back to top
This is a big solid hunk of glass and metal for people with special needs. It only makes a circle in the middle of FX or film, or a semi-circle on DX.
People who use these lenses are usually using them to play digitally to create things like QTVRs, which this 180 degree circular lens allows you to do with fewer shots than other lenses.
Very few people have any use for this exotic, expensive and easy-to-damage 8mm f/2.8 fisheye lens. Most people, including myself, really want the far more practical and inexpensive fisheyes discussed in Buying Recommendations.
The optics of this 8mm are excellent. The front cap is my biggest beef. As I explained under Front Cap, it doesn't glide on or off smoothly; it spins inside the threads! Therefore it's a pain to take it on and off, which I do for each shot since it's easy to trash this lens with one wrong move while uncapped.
Focusing and Curvature of Field
back to Performance back to top
It focuses by moving the rear elements. Nothing except for the focus ring moves externally. Look at the back of the lens and you'll see the rear group move as you focus.
The image circle grows slightly as you focus more closely.
Focus is manual, and deliberately stiff so it doesn't get knocked accidentally. You focus once, and tend to leave it alone all day. This is why Nikon never added a rubber ring for grip: it's stiff enough that a rubber ring probably would wear off after years of professional abuse.
The field curves very slightly away from the subject at the sides, so at large apertures with subjects at infinity you may wish to focus slightly more closely to bring the periphery into better focus. At f/2.8, I get the best overall result (for subjects completely at infinity) is setting the fisheye to 5 feet or 1m. This sharpens the sides a bit; of course the very sharpest center at infinity is had by setting the 8mm lens to infinity.
Color Rendition back to Performance back to top
Color seems neutral and matches my modern Nikkors.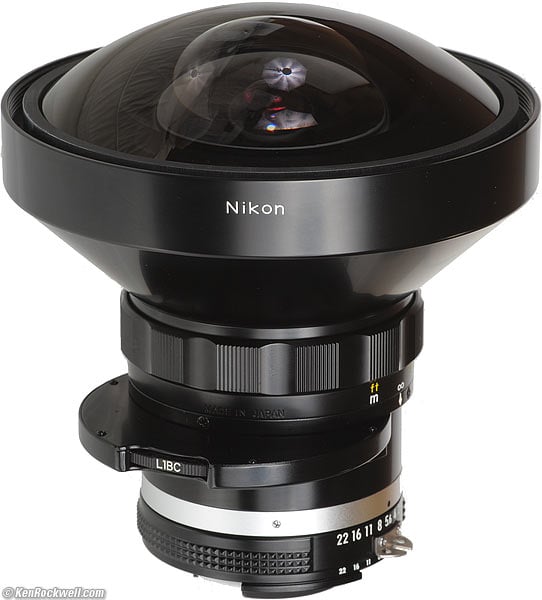 Nikon 8mm f/2.8 AI.
Falloff (darkened periphery) back to Performance back to top
There isn't any visible falloff.
The only way to see a slightly hotter center at f/2.8 is to shoot the sky at several apertures and flick between the images on-screen. If you do this, you can see the center get slightly hotter and the side slightly darker at f/2.8 as compared to f/4. I mean slightly; shown me an image by itself and it perfectly well illuminated. Our eyes can see slight changes between images when alternated on-screen that aren't visible standing by themselves.
What does change with aperture is the sharpness of the outer edge. Since the field stop is the front of the lens barrel, smaller apertures put that in sharper focus and make the transition to black sharper.
Less-sharp outer edges mean slightly more apparent falloff before the images goes black, but again only visible if you're comparing otherwise identical shots.
At large magnifications, you'll see the image edge turn cyan, then blue, just before it goes black. This is more obvious at larger apertures, where the edge is softer.
Flare and Ghosts back to Performance back to top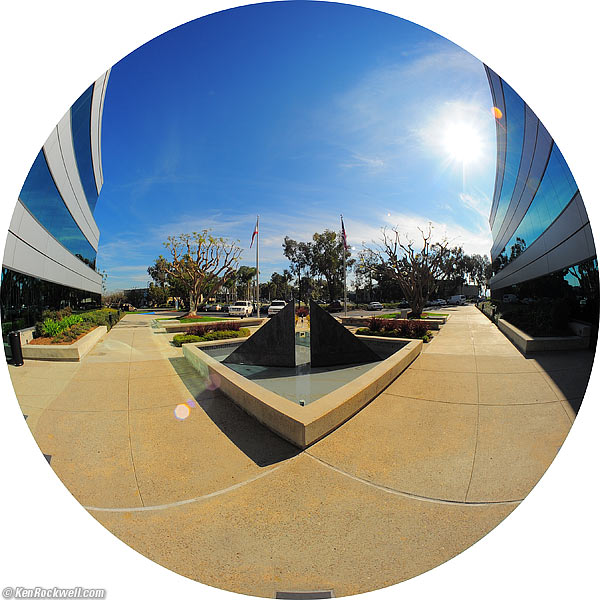 Nikon 8mm f/2.8 AI shot at f/8 on a D3.
Like most modern lenses, flare (an overall veiling) is never a problem.
Fisheyes almost always have the sun in the image, or shining into the front element from behind.
There is usually one ghost (a light spot) opposite the sun. You can see the ghost on the lower left above. These vary greatly with the position of the sun.
I see no differences between the AI and AI-s versions.
If the sun is outside the image and you forget to block it, you'll get two or three tiny spots about a third of the way out from the center. Shame on you; these are your fault for not blocking the sun with your hand.
Lateral Color Fringes back to Performance back to top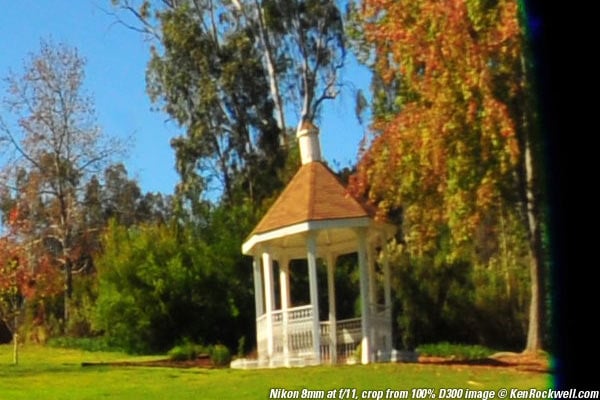 No fringes at 100% on a D300. Roll mouse over to see on a D200.
There are none when used on the D3 and D300, which correct color fringes automatically.
There are a moderate amount of fringes when used on a D200 or other older digital cameras. If this bugs you, buy a D300 or D3.
These color fringes are not particularly visible on Fuji Velvia 50.
Mechanics back to Performance back to top
This is a big, expensive hunk of precision. Even the focus ring is solid metal with engraved markings covered in many layers of fine finish.
It's solid, but delicate. Even the slightest abrasion of the bulbous front element will render this lens valueless, since front-element marks come into focus when stopped down!
Barrel Exterior: Enameled anodized aluminum.
Front Cap: Billet aluminum.
Mount: Dull-chromed brass.
Markings: Engraved and filled with paint.
Serial Number: Engraved and filled with paint.
Noises: slight rattle, sounds like an aperture linkage.
Projection back to Performance back to top
Fisheyes distort differently from each other.
Ideally they have a perfect r = fθ projection, but in reality, they often distort from this and squish the edges more than the center. This means just about nothing for photography, but means everything for photogrammetry, which is measuring things with photographs, as well as using software to rectify images.
The user's manual suggests that the actual image circle is 23.2mm in diameter, and that's what I measure on a D300 at 4,195 pixels diameter. On a D3, I measure 2,724 pixels in diameter. The edge is never perfectly sharp; it's a fast fade through cyan and then blue to black. I measured at the cyan/blue transition at f/11 at infinity.
Here's Nikon's projection data:
Image
Radius
(mm)

delta
theta,
deg.

0

0

3.58

0.5

3.58

3.59

1.0

7.17

3.59

1.5

10.76

3.60

2.0

14.36

3.62

2.5

17.98

3.64

3.0

21.62

3.65

3.5

25.27

3.68

4.0

28.95

3.71

4.5

32.66

3.74

5.0

36.40

3.77

5.5

40.17

3.81

6.0

43.98

3.85

6.5

47.83

3.90

7.0

51.73

3.94

7.5

55.67

4.00

8.0

59.67

4.05

8.5

63.72

4.12

9.0

67.84

4.19

9.5

72.03

4.28

10.0

76.31

4.38

10.5

80.69

4.52

11.0

85.21

4.76

11.5

89.97
The r = fθ projection of this 8mm f/2.8 isn't as linear as the older mirror-lockup fisheyes, but it's still more linear than newer fisheyes like the Sunex 5.6mm f/5.6.
Sharpness back to Performance back to top
The 8mm f/2.8 is very sharp. It has far more resolution than can be captured by the D3. You get much better definition used on a D300 or a D3X. I haven't tried, but it ought to be a winner on full-frame Canon with an adapter.
You get much sharper images on the D300 than the D200 or older cameras because the 8mm is sharp enough to make good use of the higher resolutions, and because the D3 and D300 fix color fringes.
It's sharp in the center, but has lower contrast at f/2.8. It's periphery is blurry at f/2.8 on digital, but not very obvious on Velvia 50.
The center is perfect by f/4.
You can shoot all day at f/5.6 and get great results.
The periphery gets sharper as stopped down, being the sharpest at f/11 and f/16 at the farthest edge. Diffraction blurs everything at f/22.
I usually shoot it at f/11 for the best results.
Sunstars back to Performance back to top
You have to stop way down for sunstars; at least to f/11. You saw a weak example at Ghosts above.
The 7-bladed diaphragm begets 14-pointed sunstars.
Vibration Reduction back to performance back to top
The 8mm f/2.8 was invented long before electronic image stabilization, however, its super-short focal length and large rotational inertia enables sharp images at very slow hand-held speeds.
I always get sharp shots at 1/8, and often get sharp shots at 1/4 second.
By "sharp shots" I mean perfect tripod-equivalent sharpness when viewed at 100%, as shot by me on a D3. For most uses, one can use much slower speeds. See Why VR Matters for more.
This and the moderately fast f/2.8 aperture make this Nikon's most sensitive lens for hand-holding in the dark along with the exotic 28mm f/1.4 AF-D. The short 8mm focal length hides hand blur two stops better than 28mm, and if I shot them against each other, the huge rotational inertia of this fisheye probably lets it work better than the 28mm f/1.4. (The 58mm f/1.2 Noct and 50mm f/1.2 are a stop worse; their longer focal lengths magnify hand movement.)
Here are my test results:
| | | | | | | | | | |
| --- | --- | --- | --- | --- | --- | --- | --- | --- | --- |
| | 2 s | 1 | 1/2 | 1/4 | 1/8 | 1/15 | 1/30 | 1/60 | 1/125 |
| % Sharp Shots | 0 | 15 | 30 | 50 | 100 | 100 | 100 | 100 | 100 |
Your figures will vary depending on how steady you are.
Usage top
Introduction Specifications Performance Usage Recommendations
Safety Digital Projection White Backgrounds
180 Degree Cylindrical Panoramas Eclipse the Sun Flash
Safety First back to usage back to top
I always keep my cap on unless I'm shooting. I wish someone made a faster-draw cap, but they don't.
It is easy to bang the front element on anything by carrying a camera with this lens around your neck. One nick to the front element and you've trashed your lens, since anything on the front element will be in focus at most apertures.
Digital Projection back to usage back to top
Most digital projectors have a 4:3 aspect ratio (shape). To get the largest possible on-screen image, you must match this aspect ratio, otherwise the projector, or the computer driving that projector, usually inserts black borders to make the image fit.
DX Cameras
DX shots are a little too wide, a 3:2 aspect ratio.
In Photoshop, use the Rectangular Marquee tool. Set it to Fixed Aspect Ratio and use 4 and 3 for width and height. Drag the tool to select the complete height of the image and use Image > Crop to crop off the extra sides.
Save the image and project away.
FX Cameras
If you've shot in full DX mode, do exactly as you would in DX above.
If you've shot in 5:4 as I do, you need to use Image > Canvas Size in Photoshop to expand the sides. Be sure to select black as the background color.
White Backgrounds back to usage back to top
In the old days of slide shows, circular fisheye images were projected as circles against inky black backgrounds. Transparencies glowed on art directors' light tables. Black backgrounds are also perfect for digital projection.
For the internet and email, where one usually has white backgrounds, black rectangles look stupid.
For instance, do you prefer: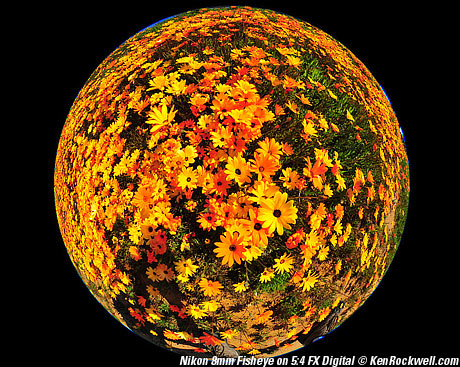 or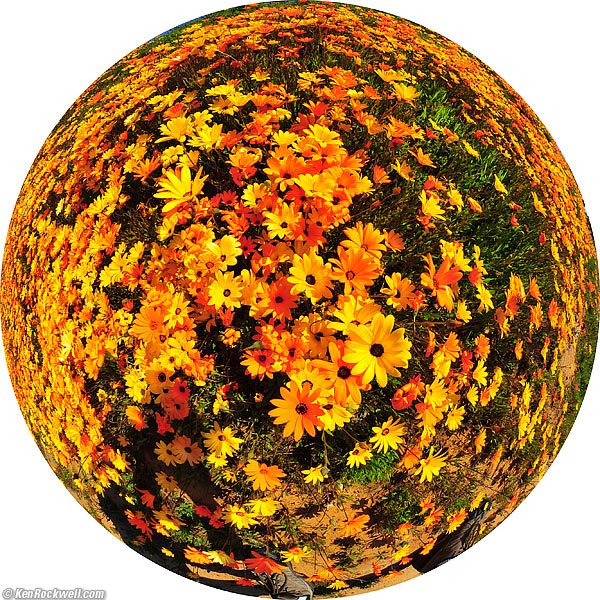 8mm Fisheye Image on FX with White Background.
At first I selected the black background and replaced it with white, but that's a bad idea since the white encroached into the image in dark areas.
Far better is to draw a circular selection around it and delete the rest. I'm going to presume a basic understanding of Photoshop, other wise this would take me ten times as much space to write.
For a D3 image shot in 5:4, Large image size:
1.) Use the elliptical marquee tool. Put the cursor at 100,100 pixels (I use rulers set in pixels) and drag to 2,800, 2,800 pixels. Hold the Shift key to ensure that the ellipse is a perfect circle.
Drag and nudge the circular selection so it fits perfectly.
Since the image size can change slightly with focus distance, expand or contract it with Select > Modify > (expand or contract) in increments of 5 ~ 15 pixels.
For a softer edge, soften it with Select > Feather and use about 10 pixels.
Use Select > Inverse to select everything except your circular image.
Hit your Delete key to erase everything else, leaving a blank background.
Use Image > Trim to give a perfect circle inside a perfect square.
Instant 180 Degree Cylindrical Panoramas
This is the best use I can fathom for this 8mm fisheye. One hand-held shot, a few clicks in Photoshop, and you have a complete 180 degree cylindrical panorama perfect for real estate use. You don't need any idiotic panorama heads, tripods or stitching, unless you want more than 180 degrees. The toughest thing is to keep everything level if you're shooting hand-held as I do.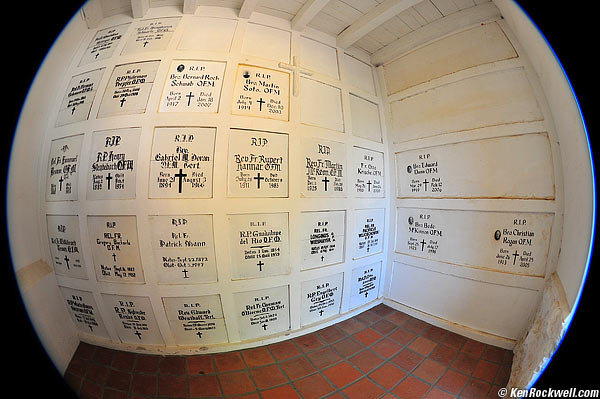 Crypt, DX camera. Roll mouse over to see effect of the Hemi plug-in.
Used on a DX camera, the Fisheye Hemi filter pulls the corners out into a perfect cylindrical panorama with no stitching needed! Use Fisheye Hemi's "Circle" option.
Since the Nikkor 8mm has better projection than the Sigma 8mm for which Fisheye Hemi's "Circle" setting was calibrated, the filter is more accurate for architectural use if you slightly enlarge the canvas before running the filter. See the Tweaks section of my Fisheye Hemi Review for pixel-by-pixel details.
Eclipse the Sun back to usage back to top
For decades, Nikon has suggested using a 3" (75mm) diameter plate on a rod to block the sun. I've never tried this.
Flash, Use with back to usage back to top
Except for a slight shadow at the bottom on full-frame, an SB-600 with its flip-down wide panel lights up a small room very well. You get away with this because the walls to either side are probably closer to you than the center, which compensates for the falloff of the flash at the sides. On DX, you won't see the shadow.
To avoid a shadow, bounce the flash and pray, since the ceiling also is in your shot on full-frame.
Forget your built-in flash.
Recommendations top
Introduction Specifications Performance Usage Recommendations
This is among Nikon's least useful lenses for photography. Circular fisheye lenses are for people with special needs, not for the general picture-taking public.
If you want a fisheye, I find fisheyes that fill the complete rectangular frame far more useful than a dorky circle in the middle of a sea of black. I'd get the Nikon 10.5mm Fisheye for DX cameras, or the Nikon 16mm AF-D Fisheye for film or FX cameras, long before I wanted one of these goofy, huge and delicate 8mm lenses. Of course not only are the 10.5mm and 16mm far more useful and durable, they cost only a fraction as much.
If you want the very best quality in a full-frame rectangular fisheye, the Canon 15mm Fisheye is superior to any of the Nikons, and is the least expensive fisheye out there! Use it on a full-frame Canon for images far better than the Nikon 16mm on a D3.
If you're stitching images, the 16mm fisheyes require more images, but give double the angular resolution (four times the number of pixels) than using images from 8mm fisheyes.
As of 2008, if you're crazy enough to want a circular image, honestly I found the Sunex 5.6mm f/5.6 used on a D300 to give images of identical overall quality to this exotic 8mm used on a D3.
When the D3X hits, this 8mm lens will work brilliantly because it has far more resolution than the D3 can capture, but for today, don't go out of your way for it if all you want are circles.
I like the panoramic feel of the images as shot directly on a D300. It's weird, but I kind of like them, and with Fisheye Hemi, I can stretch them back out into more useful rectangles and cylindrical panoramas that might be ideal for distortion-free interior photography.
Acknowledgment
Many thanks to Ian Hobday of Osaka, Japan for his help with this review.
© Ken Rockwell. All rights reserved. Tous droits réservés. Alle Rechte vorbehalten.
Help me help you top
I support my growing family through this website, as crazy as it might seem.
The biggest help is when you use any of these links to approved sources when you get anything, regardless of the country in which you live. It costs you nothing, and is this site's, and thus my family's, biggest source of support. These places have the best prices and service, which is why I've used them since before this website existed. I recommend them all personally.
If you find this page as helpful as a book you might have had to buy or a workshop you may have had to take, feel free to help me continue helping everyone.
If you've gotten your gear through one of my links or helped otherwise, you're family. It's great people like you who allow me to keep adding to this site full-time. Thanks!
If you haven't helped yet, please do, and consider helping me with a gift of $5.00.
As this page is copyrighted and formally registered, it is unlawful to make copies, especially in the form of printouts for personal use. If you wish to make a printout for personal use, you are granted one-time permission only if you PayPal me $5.00 per printout or part thereof. Thank you!
Thanks for reading!
Mr. & Mrs. Ken Rockwell, Ryan and Katie.
Home Donate New Search Gallery Reviews How-To Books Links Workshops About Contact