What was new in the beginning of September 2008 RSS
all © 2008 KenRockwell.com. All rights reserved.

I get my goodies at Ritz, Amazon, Adorama. It helps me keep adding
to this site when you get yours from those links, thanks! Ken.
21 September 2008, Sunday
Does anyone still read print?
Sitting here on a lazy Sunday afternoon reading my pile of magazines, I finished off Popular Photography and Outdoor Photographer in a few page flips. Where is the "Photo" part of these magazines? Pop used to feature big gravure sections by famous photographers back in the good old days, but not today.
I saw a few nice photos, but I saw far more articles and ads about computers, software and forgettable digital cameras than I saw anything about photography.
The funniest thing about print is that the production cycle is about three months, meaning that printed magazines are completely useless for reading about the digital products about which they talk almost exclusively today.
These October 2008 issues were talking about the Nikon D700 as if it was brand new (things change so fast that the D700 was off my plate a month ago), and both magazines were still talking about the old Canon 5D as if were still current news.
Then I cracked open Arizona Highways and National Geographic. Ahh! These magazines still do it like they used to, but better!
Want to see real photography, well reproduced? National Geographic built their own huge gravure printing plant about a decade ago so that they could print the best possible photographic quality in huge quantities, and have complete control over the process.
Each issue of National Geographic is a work of art. It's printed with an entirely different process than your junk mail and other magazines, which is why the pages stick together with static electricity. I remember the huge difference in quality between the same photo of a dead gorilla being hauled out of the jungle as reproduced in National Geographic, and the same photo in another photo magazine I read on another lazy Sunday.
Not only are the photos in National Geographic among the world's best and most inspiring work by the world's best photographers of almost every genre, the vivid and subtle colors, and whites, grays and blacks, are the most vivid you'll see on paper.
Want to be inspired? Want to see the worlds' best photography? Spend less than you'd spend on a memory card and enjoy a subscription to either or both of these. Arizona Highways doesn't even have advertisements, and heck, if you participate in Arizona Highway's free photo contest, you might win more free stuff! Arizona Highways has also been back up to its usual world-class reproduction standards these past few months.
Am I imagining this?
The lens release button on the front of my D3 appears to be coming off!
I may be crazy, but it was sticky, and when I look at it, I can see some air between it and the body as it appears to be moving out and away from the body.
Has anyone else seen this? No big deal since every D3 ever made is still under warranty, but it is weird.
Have I upgraded?
A reader asked if I had "upgraded" to Expression Media, the current iteration of iView. I chuckled. I have a free "upgrade" path, and my answer is a firm NO.
I use iView 3.1.3 to manage, sort, organize and select my zillions of images and graphics. I've been using it in various versions since at least the dawn of the millennium. I've been using it since it was only available only for Mac.
iView was bought-out by Microsoft a couple of years ago. Because of grave concerns over professionalism, security and productivity, I don't use Microsoft products.
Why would I want to downgrade to a Microsoft product? iView works perfectly as version 3.1.3 on both my PowerPC and Intel Macs. Undoubtedly if I were to take the pusher's "free" upgrade path, I'd be forever addicted to needing constant costly upgrades for no reason other than to stuff Microsoft's coffers and keep my Mac bogged down with programmers' mung.
I don't use Lightroom, I don't use iPhoto, I don't use Picassa, I don't use Bridge, I don't use Aperture, I don't use Photo Mechanic (but many pros do) and I don't use BreezeBrowser. I use iView to see what I got. Nothing works even h alf as well when it comes to speed and flexibility to show me what I got, and how I want to see it.
Once I've selected an image out of thousands shot every month, I'll format it in Photoshop CS2 if it needs it, otherwise, the camera-original JPG goes out.
My time really is money, because that's how I get paid (I'm not on anyone's salary). I'll spend lots of money to save even one minute a day, but I can't spend time changing hardware or software unless there is a proven improvement to productivity. When it comes to time logged on my Mac, I am not a hobbyist and cannot fool around experimenting.
35mm Film vs. Digital
When doing film vs. digital comparison, I prefer to compare like to like, and compare larger formats of film, as shot by most pros, to the DSLRs used by most pros. 35mm film is an amateur format, so I've never bothered to compare.
I was shooting a 1956 Kodak Retina IIIc on Friday, and out of curiosity had some automated 5,035 x 3,339 pixel scans made at the local minilab. Just for laughs, since these scans looked so good, I shot the same thing with my D3 to compare.
The 1956 camera, with its fixed 50mm f/2 Schneider Retina-Xenar on Fuji Velvia 50 and a good automated scan, has better resolution than Nikon's state-of-the-art digital.
Hee hee! One day I'll have to shoot a modern camera and have a real scan made from 35mm, which will be much better, and maybe I'll even compare to the curent state-of the-art in 35mm digital, which is Canon, and is also better than Nikon.
Digital is easier and cleaner, but even 35mm film shot on a 52-year-old camera still has more sharpness and resolution. The Retina camera and its meter both work without batteries.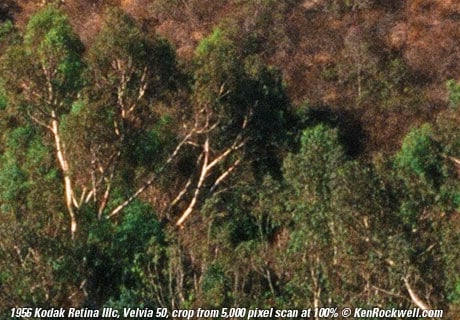 Roll mouse over to see how far we've come in over 50 years.
The Retina camera cost me $75, complete with working meter. So it goes. Film: The Immortal Medium of the Masters. Digital: Profit center for large foreign corporations.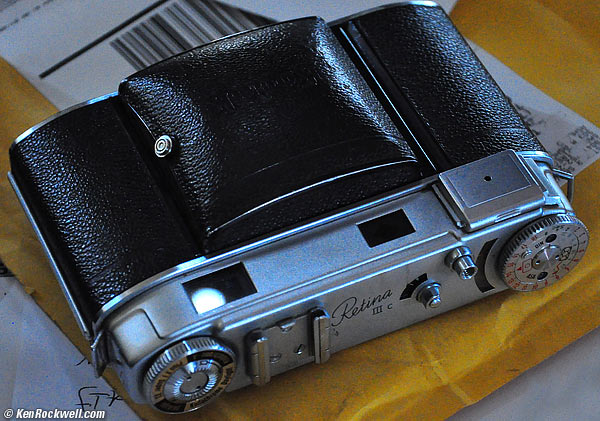 Kodak Retina IIIc.
Rumor Mill
Nikon MX. The rumors circulate around a square image sensor, so just as Ansel preferred, one didn't have to jack the camera around to shoot what would be cropped vertical or horizontal. Resolution hovers around 100 MP.
What's coming out is a Nikon 6x6 cm film camera that takes 120 and 220 film. This format has been around for over 100 years. I prefer the Mamiya 6 for shooting it; the klunky Hasselblads and TLRs are a pain.
While I'm here, the correct words are vertical and horizontal. Back in the late 1980s, some kludgy microsoft software misused the words "portrait" and "landscape" to refer to horizontal and vertical, since MS didn't realize that portraits and landscapes each come both vertical and horizontal. When I first saw this mistake, I wandered into my graphic art department (thank you Pat Neill and Robin Shimasaki) and asked them the correct words, which are vertical and horizontal. They were also astounded that anyone could be so dense as to try to use words that refer to subject matter to classify orientation!
19 September 2008, Friday
Rumor Mill
Nikon MX. Although development of an FX-format SPX rangefinder is underway, the guys making the rumors are misunderstanding Nikon's "BIG" announcement for WPPI, the wedding and portrait guys. Nikon's BIG announcement is a new wide-format printer for these guys, who still sell prints.
Of course if a new camera with a fatter sensor comes out, I'll be all over it, and if it retains Nikon's world-leading usability, my D3 is headed for the big blue bin at Goodwill. Screw the D3X if I can get a bigger sensor, and get to buy all new lenses again.
Nikon D90.
Update: I've updated the D90 Review with my latest findings, including examples of distortion correction. The D90's meter works great; it has nothing in common with the D80.
Another nail in raw's coffin: I almost forgot to add in my Nikon Camera Generations piece, that Gen 2 cameras are using the increased in-camera processing horsepower to do many tricks not available when shooting raw.
Most, if not all, raw software will throw you back into Gen 1 quality, even when shooting a Gen 2 camera. It's not 2006 anymore. Most raw software does not do any of the clever things, like ADR, expanded color controls or totally automatic lens corrections, that are done in-camera with Gen 2 cameras. Camera-brand software probably duplicates what's done in-camera, but use any other, and you're on your own.
Pros Use Mac: Not news to pros, but maybe news to the many amateurs coming from office jobs and who now dabble in digital photography on Windows, is that of course Microsoft's advertising and graphics are created by professional graphic designers — on Mac. Likewise, Microsoft's annual report and other things are usually handled by professionals, who also do them on Mac.
Folks who've only gotten into digital these past five or ten years hate hearing this, but ever since the 1970s, graphics pros and full-time career professional photographers have always used Apple. DOS and Windows are popular with people who work dull office jobs, but there's no reason that creative professional would have any reason to downgrade to Windows, since we'd get far less done.
It's just like Nikon's PR photos for the D3, which left in the EXIF data that they were shot on the correct tool for the job: the Phase One P45s.
Pros use the right tool for the job, and rarely the tool being advertised if it's not up to it.
People tend to forget that browsing websites, making speadsheets, writing text documents, sending eMail and running basic Photoshop or Lightroom don't require much of a computer. If you're a consumer of information, Windows will do.
Creating content is a very different story. I bang on my Mac 14 hours a day, with 13 professional programs open at the same time and all crunching away on a zillion different things. I can't afford the wasted time that stepping backwards into a clumsy, barely functional operating system like Windows would cost me. Its just not a tool for creative professionals in any field.
Did you know Apple even won a Grammy Award for its contributions to music production, and a television Emmy Awards for inventing Firewire and for Final Cut Pro? Windows just gets in the way, while Apple invents new things that let us use our computers for things that used to take studios that cost $800 an hour to rent.
Another funny thing is every time I try to help by sharing what I've learned after upgrading to Apple in 2000, that I get hate mail from people still stuck on windows, and nothing but thanks from people who took my advice and stepped up to Apple.
18 September 2008, Thursday
San Diego Locals: Photo Club Meeting in PB at 7PM Tonight!
NEW: Nikon D90, D3, D300 and D200 ISO 3,200 Comparison. The D90 outperforms the old D300!
NEW: Nikon D90, D3, D300 and D200 Sharpness Comparison. The D90, D3 and D300 match perfectly.
New: Added a section on Generations of Nikon DSLRs. Camera companies try to keep people confused and worrying about trivia like ISO, bit depth and megapixels, so when Nikon makes a significant, but subtle, advance, few people notice.
The D3, D700, D300 and D90 all are Generation 2 cameras, and because of that, will usually make images far superior to any of Nikon's Gen 1 cameras, like the old D2Xs.
Nikon D90: Now that I've had my hands on the D90, it's is as excellent as expected for a Gen 2 camera.
The D90 has the same image quality, flexibility and wonderful LCD as the year-old D300, all wrapped up in a plastic body similar to the old D80. The D90 even has a rear multi-selector far superior to the old D300.
The only thing I miss is the menu option to get full zoom-in when hitting the OK button, and a potentially serious design flaw where you no longer can transfer files directly from the D90 via USB. You now either have to use a card reader, or have to install Nikon's software on your computer to be able to see the D90. No longer will the D90 pop up as if it's an external hard drive, as do all the other Nikons.
As a professional, I am not allowed to install any Nikon software on my computer because it usually is too buggy, so I cannot transfer files from the D90 directly through the Finder. Apple's Image Transfer and lots of other software will work, but paramount to any traveling photographer is to have a camera which simply pops up as an external drive on any computer to which its attached, with no need to install or carry software CDs. In the past, Nikon software has bunged up my system because it's so sloppily written. I now use my D40 as an SD card reader, since I have no other SD card reader to use with the D90! Chances are that many computers can read the D90 with whatever software they have, but the gotcha is that you have to do it through dedicated software, not the computer's OS.
Just as the D80 was the D200 in a plastic body, the D90 is the D300 in a plastic body. With Nikon's tight Picture Controls, when set the same, images from the D300 and D90 are identical when shown split-screen on my 30" monitor!
Would I buy a D90? YES!
Get the year-old D300 if you want macho-man metal, get the D3 for sports, get the 5D Mark II for landscapes, get the D700 for weddings and shooting in available darkness, and get the D40 if you just want great pictures.
Get the D90 if you want the best compromise of just about everything for an inexpensive price. The D90 is Nikon's least expensive Gen 2 camera, and offers all the benefits of the other, older and more expensive Gen 2 cameras.
If money matters, the D40 still is the king, but if you don't mind spending double, the huge jump between Gen 1 and Gen 2 for knowledgeable users makes the D90 worthwhile for most serious amateurs over the D40.
I was only positive about the D80 for the six months between its introduction and the introduction of the D40, which did the same thing for half the price. Today, the D90 is a completely different animal from the D80; the only thing similar is the price and feel of the plastic.
17 September 2008, Wednesday
Canon Deal: Adorama is giving away the Canon 30D, brand-new for $699.95, a screaming deal since they were over $1,000 when new in 2006. The 30D is about 90% of the newest 50D, for a fraction of the price. If you're printing huge, like 5 feet (1.5m) wide, get a 5D Mark II, but you want a camera that was as hot as it got just 24 months ago, I'd get a 30D if Canon was my thing.
I know full-time pros who earn their livings with the Canon 20D, so don't complain to me if the 30D isn't good enough for you. New digital cameras are for the rich, not for the practical.
Nikon Deal: The Nikon 70-200mm f/2.8 VR is in stock this morning at B&H for $1,629.95. It's usually hard to find in stock, and when it is, often overpriced except at Adorama.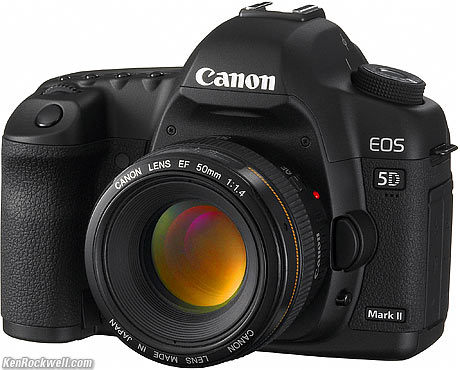 Canon EOS 5D Mark II.
New: Canon 5D Mk II, exactly as predicted.
Canon EF 24mm f/1.4L II.
New: Canon 24mm f/1.4 L II, not expected. Hey Nikon: Canon is on at least their third 24mm f/1.4, and Nikon discontinued their only autofocus f/1.4 wide angle two years ago with no replacement. What gives? Is Nikon still in the pro lens business?
News: Canon to make More SLR lenses in Taiwan.
News: Canon Develops New Lens Coating, similar to Nikon's Nano-Crystal Coat.
Deal: A used Nikon 300mm f/2 AI-s is in stock at B&H. A 300mm f/2 will work great on the D700, D3, D300, D200 and etc., although you're paying a huge premium over a 300mm f/2.8, since you can get the current AF-S VR version for half the price of the older f/2 manual focus lens.
16 September 2008, Tuesday
Deal: Adorama's lab is offering 8x10" prints for 99¢ from today through Thursday the 25th.
Today is the 100th Anniversary of General Motors, and in the spirit of celebration, let me offer you: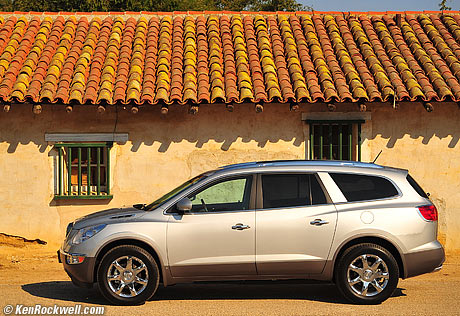 2009 Buick Enclave CXL in San Miguel.
New: 2009 Buick Enclave CXL Review.
New: GM OnStar Review.
New: XM Radio Review.
For those of you who don't drive, I'll also be having a slew of follow-on articles about my photo trip made in the Enclave, and of course a full hands-on Nikon D90 review hopefully completed this week.
News: Did you know that last week I was broadcasting this website from my 800 MHz 12" Apple iBook, Apple's cheapest model from back in 2003, which I still use every day?
Apple keeps growing like crazy, while Windows slowly fades into history.
An Apple Store just opened up in North Coastal San Diego (Encinitas) last month, another is opening up in North Inland San Diego (Escondido) this month, and I even saw one in San Luis Obispo last week, right in the middle of town. If you're still cursing at Windows, it's time to walk over to your local Apple Store and make the ultimate, and final, upgrade.
With Apple, you don't need to buy new hardware unless you want to. There are no manufacturer-planted viruses to cripple older machines and no deliberate software and OS incompatibilities to make you have to buy new stuff next year just to keep it running.
Apple just works, and no one pays me to say that. Apple keeps gaining market share because Apple builds its products not only to work flawlessly today, but always to work for our best long-term interests, not for Apple's immediate profit. It costs a lot less to use an Apple for five years than to save $100 on a Windows PC you have to replace and upgrade every other year, but Dell loves it when you think they cost less, heh heh. Windows runs better on Mac hardware anyway, so consumer ignorance is golden as far as PC makers are concerned.
15 September 2008, Monday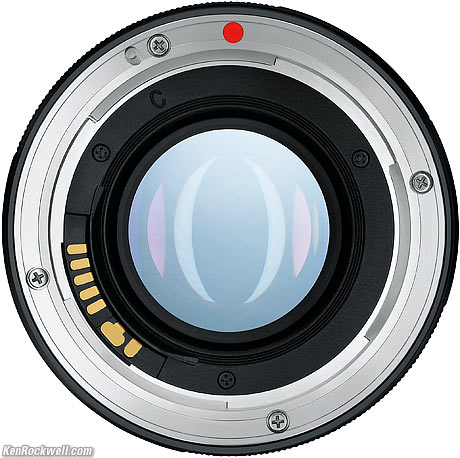 The back of the Zeiss 50mm, complete with EOS electronic contacts!
News: Zeiss Manual-Focus Lenses for Canon.
12 September 2008, Friday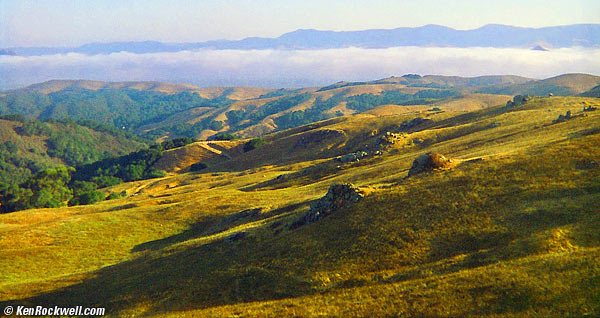 Central California, 8AM, Thursday morning.
Snapshot made on 10-year old expired film in a toy plastic "Time Magazine Genuine 35mmm Camera" bought at a thrift store for $2.00. Looks like it works; I can't wait to try some unexpired film and see how much better it looks The amazing part is that its Kinetic Optical Color Lens is sharp!
Reality: I thoroughly enjoyed shooting this week along California's central coast with my compact 28-70mm f/3.5-4.5 AF-D on my D3 in the daytime.
I also realized that, embarrassingly enough, I also own an expensive 24-70mm f/2.8 AF-S, and thought it would be illuminating if I shared why I preferred to take the cheap old used zoom, instead of Nikon's state-of-the-art, that I could have grabbed just as easily.
I left my $1,700 lens in the safe deposit box while I grabbed the lens that cost me less than $100 used at Adorama instead. To make this even more clear, I own both, could have brought either, and preferred the cheap lens. Why is this?
The answer is simple: who wants to carry that big thing? The pictures are the same from the old zoom, and it focuses more closely than the f/2.8, so why would anyone ever grab a big midrange zoom? I have no idea.
No one who actually shoots really cares about sharpness at f/2.8 in the corners. Those guys are all locked up in office jobs all day. When it got dark, I was shooting the 14-24mm and 50mm f/1.4 under moonlight, hand-held. The slow f/2.8 midrange lens doesn't do anything for me in low light compared to a wider lens, which can be shot at slower speeds without blur, or a much faster 50mm lens.
In daylight and indoors, the lightweight 28-70mm f/3.5-4.5 AF-D was all I needed. I also grabbed the smaller 28-70mm for its excellent close-focus abilities, since I also needed to make close up shots inside the Buick Enclave I borrowed to review as part of this week's photo trip.
Sure, the f/2.8 zoom is a little sharper if I was going to make 20 x 30" (50x75cm) prints and look in the corners with a loupe at f/3.5, but I don't print that big, and for shots I might want that big, I stopped down to at least f/5.6 and they're fine.
I'm back now, and also got my hands on a D90. I'll let you know next week how good it is, along with me writing up reviews on the Nikon SP rangefinder I shot this week, too.
10 September 2008, Wednesday
Imponderables: As Creationists love to point out to us scientists, if we descended from monkeys and apes, then why do we still have monkeys and apes?
Likewise, if consumer cameras have had light meters since about the late 1950s, then why do we still have hand-held light meters? As the Creationists also correctly point out, because they were created, not evolved.
Simple: because monkeys are cute, and because pro cameras, like 4x5s, still don't have built-in light meters.
Since light meter makers still make meters, they try to sell them to everyone. My pal Steve Cirone uses an incident meter for his bird shots because in-camera meters don't do incident readings (unless you use something over your lens).
The funny part is watching all the baloney that meter makers use to sell meters to people who don't need them, who are most people.
In-camera meters replaced hand-held meters by the 1970s. In camera, through-the-lens (TTL) meters are superior because they take all factors, like filters, angles of view and lens transmission, into account. There is nothing similar to Nikon's infallible 3D color Matrix meter in any hand-held meter.
I write this because I had to chuckle at a Sekonic ad I just saw. Sekonic is trying to push a complicated meter system (L-758dr) that supposedly works with your camera and computer to completely eliminate any ability of a photographer to ever understand what they are doing ever again.
Supposedly this system lets you jack things around so the meter can let you know exactly when your highlights and shadows are beyond your camera's range.
That sounds great, and it is important for shooting film, and why I use a Pentax spot meter with my film cameras which lack meters, but digital cameras already have a free tool that lets you see even more than any meter. It's called the LCD. Look at your picture, and it's obvious what's OK or not. If you lack the ability to look at a picture and determine this, you should try a different hobby, or you can look at histograms.
What's funnier (or sadder depending on your perspective) is that Sekonic's complicated idea won't work anymore with modern digital cameras.
Now that the current generation of digital SLRs incorporate Adaptive Dynamic Range functions, there is no way that an external meter can predict what the camera will do for each kind of subject. Sure, you could turn off ADR and get crummier pictures, or just not bother with this latest complication from Sekonic and just look at your LCD.
I've always wondered who buys complex light meters. The Sekonic, not even counting the computers, has at least nine buttons and a scroll wheel. My Pentax spot meter has only one button. Ansel used a Pentax spot meter. When you use a simple meter, you'll understand light much better. With experience, the Pentax is so simple that you'll already know the reading for many conditions before using it!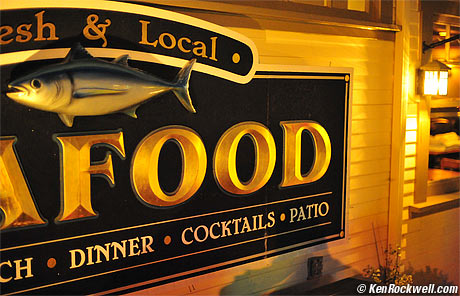 Dorn's. D3, 50mm f/1.4 AF-D.
Carry Systems: I just don't get bags and backpacks. Why do people wish these curses on themselves?
Yesterday I was out trying to shoot a Nikon SP rangefinder system, while carrying a D3 to use as a lightmeter. I loaded the SP system and a few of its tiny lenses into a sling backpack (just one shoulder strap) sent to me by a generous reader to try.
Yikes! With an SP and D3 around my neck, I nearly strangled myself trying to spin around the backpack to get inside it.
Once I had it so I could get into it (this particular LowePro bag is designed to be swung around and then to offer easy access), I still couldn't figure out how to get lenses easily without worrying about dropping half the contents on the ground. I had to wrestle it so that the insides faced up.
Maybe I'll figure it out today, but it does speak well for digital where I can put one zoom (14-24mm) on-camera, and drop another (tele) in a big pocket, and be gone for a day's shooting.
I still prefer a pocketed fisherman's vest for carrying equipment in the field, since I can reach in and get whatever I need. I can carry a complete 4x5" system, much less any smaller format, in one big vest. Last October on the Yosemite outing, I carried a full Nikon F6 film system and lenses, and a full Canon 5D digital system and lenses, in one vest.
If I carry a bag, I still prefer a waist pack, where I can get to things without having to set a bag on the ground or drop things out of it. I have no idea how people wrestle with rectangular bags or conventional backpacks. I usually just use my shorts or jacket pockets.
Camera bags went out with fixed lenses. With zooms, you don't need a bag of prime lenses.
I had no idea how heavy an SP system can get. The lenses are tiny, but they are all brass and solid glass. Put a few of them in a small bag, and it's a weapon.
Hopefully I'll have better luck with the sling bag today. I'm still trying to get the "hang" of it.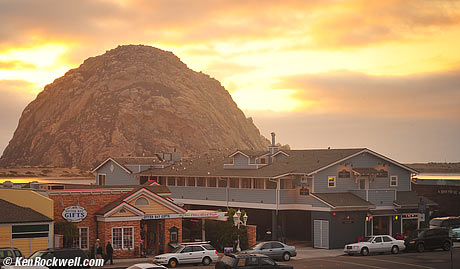 ADR, helped by a dirty Tiffen ND 0.6 grad filter. D3, 28-70mm f/3.5-4.5.
Tricks: Breathing on the filter lowered the contrast when shot against the light, and setting the camera to Shade WB made everything a nice warm orange instead of the actual dull gray.
Nikon's ADR Rules: I really impressed myself with the value of Nikon's Auto Dynamic Range system a few days ago when I was shooting film tests to calibrate the ISO of a D3 against an SP loaded with Fuji Velvia 50.
I make comparison tests so I know how the film looks compared to images on the D3's LCD, and at what effective relative ISOs. Many cameras perform differently than their rated ISOs suggest. This way I know if I add exactly two stops (plus filter factors) to the D3 at ISO 200 to shoot Velvia 50, or if a different rating is needed.
I made my tests, then realized that the ADR function goes off on its own and changes effective ISOs without telling us. I always shoot with the D3's ADR set to Normal. I went back and shot some more with ADR off so I'd have another comparison.
Wow, I had forgotten how important ADR is to getting great images right out of the camera.
With ADR off, the images were the usual ho-hum stuff. With ADR ON, the images took on their usual painterly quality. By painterly, I mean how painters look at a scene, and render it how it looks to the eye, instead of the usual photographic rendition where shadows all fade to black and highlights wash to white.
If you don't have ADR turned on in your D60, D90, D300, D700 or D3, you're missing 3/4 of what your camera can do. It's that important, and no, you can't see any of this on charts or graphs. You just have to go shoot and look for yourself. I set my first Nikon with ADR to ADR on shot number 10, and have never taken it off, so I forgot how not using ADR can suck so bad.
Now I feel sorry for myself shooting film. Film has no ADR. Rats; film is stuck back in the days where my chromes will look as they do unless I have them masked, or get lucky with lighting.
08 September 2008, Monday
Coming Soon: Cosina (aka Voigtländer) 21mm f/4 rangefinder lens review. It works great, better than the fixed Nikkor SLR lenses! (works on film cameras only, unless you want to waste it on the under-sized sensor of an M8 or are waiting for the Nikon SPX FX digital rangefinder.)
Coming Soon: Leica Minilux review.
Coming Soon: An article on The Great Raw Conspiracy. I finally figured out why otherwise reasonable people are mislead into shooting raw: because big corporations make money from it.
Because it makes them money, they spend marketing dollars in the usual subtle ways to make people think they need it.
Software companies have nothing to sell you if you shoot real pictures, like scanned film and JPGs, but when they get you addicted to raw, just like multi-billion dollar drug and beverage companies getting you addicted to Ambien, cocaine or caffeine, you'll always be writing checks to software companies (or camera makers who want to sell you software) to stay up-to-date each time you buy a new camera.
Film is cheap. A roll of ASA 10 Kodachrome ran about $6.49 in 1938, which was a lot of money back then. A roll of Fuji Velvia 50 only runs about $6.19 today, which barely buys you a cup of coffee, and it's far less addictive. A 36-exposure roll of Kodachrome or Velvia has always cost about $6.49, ever since I started shooting in 1973.
Film prices have stayed the same for seventy years, while inflation soars. $6.49 back in 1938 was equivalent to $100.00 today!
Coming soon: I kid you not, someone loaned me a brand-new 2009 Buick Enclave CXL to review!
Coming Soon: I have a D90 on its way to me, too, in case you still shoot digital.
Hitler dislikes digital: See him on Youtube. This may not be as funny to people who don't work in Hollywood, but I'm sure you'll get the drift. Hint: When making a movie, drivers bring the film into Hollywood each night for developing and making overnight video transfers (telecine) so that the next day the director can see what they shot yesterday. The "Red" is a digital camera trying to pitch itself for use in Hollywood on which to shoot feature films.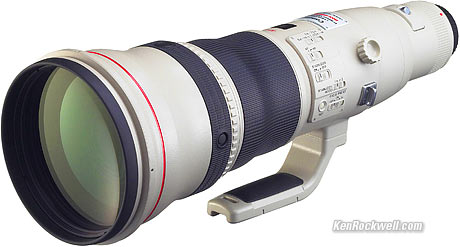 Canon EF 800mm f/5.6L IS.
Canon 800mm f/5.6: Adorama appears to have it in stock, and Amazon expects it September 13th. It ought to work perfectly with the Canon EOS Rebel G.
07 September 2008, Sunday
Rumor: Is this the new Canon 5D Mk II? What is it?
Update: I just updated my Raw vs. JPG page with a practical warning. Steve Cirone is telling me that many people are showing up to his workshops with new cameras, shooting raw, but forgetting that they need special new software and updates that may not even exist yet, and then can't see their shots on their laptops during the workshop!
06 September 2008, Saturday
NEW: My native African friend Paul Renner has a new website with not only his Africa photos, but also his safaris if you'd like to go photograph in Africa with a photographer who was born and raised there. Paul really knows his way around animals, and of course he speaks Swahili. Check out his photos at RennerSafaris.com. Paul is the only other photographer whose work hangs in my own home – so there!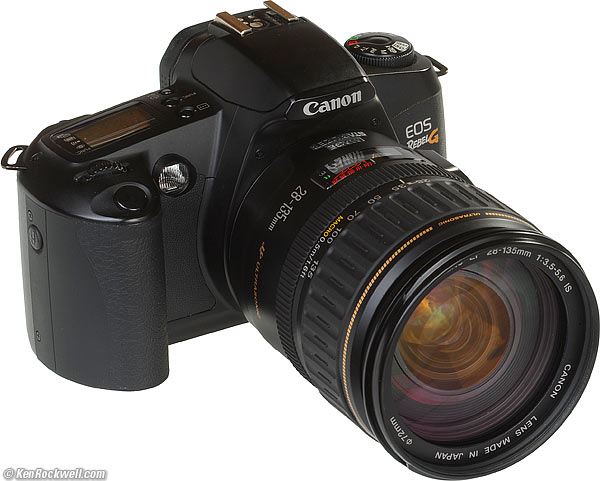 Canon EOS Rebel G with 28-135mm IS.
NEW: Canon EOS Rebel G Review. It's great plastic Canon camera, compatible with all Canon EF and IS lenses, for about $35 used.
05 September 2008, Friday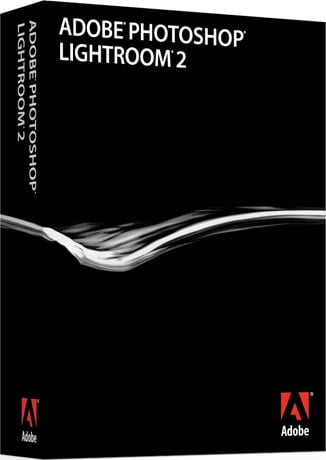 NEW: Adobe Photoshop Lightroom 2 Review. It's greatly improved over Lightroom 1, and its new local image adjustments graduate Lightroom 2 to being a great program for serious photographers. Lightroom 2 makes it easy to do burning and dodging the right way, which still requires adjustment layer masks in Photoshop CS. If you don't understand adjustment layer masks and do understand how important burning and dodging is to creating expressive images, Lightroom can give you better results than CS!
NEW: Understanding Basic Lens Specifications. What do millimeters mean?
Amazon Credit Terms: I see Amazon offering what looks like free 24-month financing on many digital cameras if you sign up for and use an Amazon Store Card
. Be careful when it comes to credit cards: credit-card debt is slavery.
Flew under my bike radar: Ever since I moved to California's eternal springtime weather in 1985, I've spent all my time riding my bicycle and paying little attention to motorcycling. Who wants to ride in 65 degree or 75 degree (20ºC) weather under a helmet and leathers? Little did I know that a completely new American motorcycle maker sprung up 10 years ago, Victory. Also little did I know that their modern, 4-valve, fuel-injected air-cooled V-twins are their own completely new design, not old motors bought from HD. The last I checked into this market, the fake Indian brand was going away. Way to go, Victory!
04 September 2008, Thursday
Coming Soon: I'm also working on an article on
(That just gets you to eBay, not yet to my article.)
03 September 2008, Wednesday
Wow: The Nikon D40, with a great lens, is down to just under $450 at Amazon.
02 September 2008, Tuesday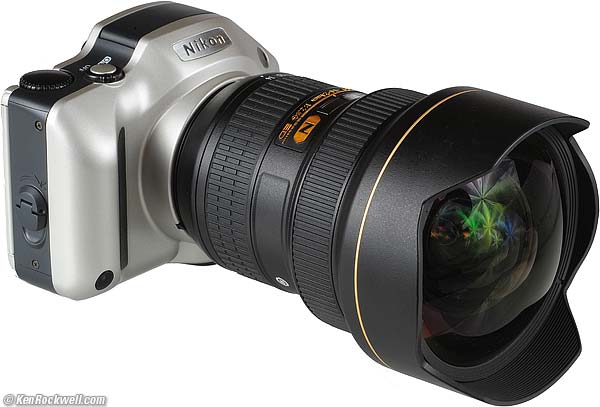 Nikon Pronea S and 14-24mm f/2.8 AF-S.
NEW: The Awesome Nikon Pronea S.
NEW: Nikon IX Lenses.
NEW: A $25 camera outdoes a $5,000 Nikon D3! I kid you not; I was updating my baby Katie's website, and this hit me like a ton of truth!
Wow: Adorama sells original $3 replacement cases for the superb $17 Nikon ML-L3 IR remote for the cheaper Nikon cameras.
01 September 2008, Monday (USA: Labor Day)
NEW: The Amateur Photo System (APS). A blast from the very recent past to remind you never to ignore your BS detector.
NEW: How to Carry Less. What lens did I bring to shoot on FX at Legoland on Friday? My plastic Nikon 28-200mm G, and that was it.
I saw other guys carrying so much gear that they wore a backpack, a shoulder bag, and made their wife carry their third bag, and they just weren't having any fun in the park with their family, much less making any pictures.
I realized that these folks probably don't get out shooting much, so I figured it was time to write about how taking less gear lets you take more pictures
What Was New in:
December 2007: Loads of details about the Nikon D3, D300, 14-24mm and 24-70mm, much of which still isn't on the individual review pages.
November 2007: First hands-on details about the Nikon D3, D300, 14-24mm and 24-70mm, much of which still isn't on the individual review pages.
August 2007 (Loads of new Nikons and Canons)
2006 November - December (includes birth of Ryan Rockwell)
2006 October - November (includes photos from a trip to NY)