Nikon 28-200mm G
(2003-2006)
© 2008 KenRockwell.com. All Rights Reserved.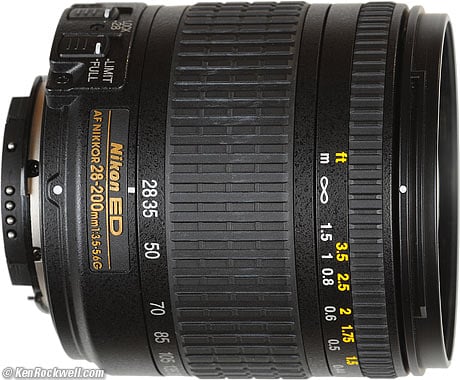 Nikon 28-200mm f/3.5-5.6 AF-G. enlarge. The biggest source of support for this free website is when you use these links, especially this link directly to it at eBay (see How to Win at eBay), Amazon or Adorama when you get anything. Thank you! Ken.
Intro Specs Performance Recommendations
This Nikon 28-200mm AF-G is the best do-everything lens for the Nikon D3. It is sharp, agile, and just does everything. This is the the tiniest 28-200 ever, and seems sharper than the far more expensive 24-120mm VR.
This review only addresses this 28-200mm AF-G lens as used on the full-frame FX format. For DX, this 28-200mm works great, but the 18-200mm DX VR is far more versatile on DX cameras.
No, this 28-200 G has no VR, but with the extreme high-ISO performance of the D3, it doesn't need it. This is more of a daylight lens; I use a fixed 50mm in the dark.
This is a G series lens, meaning Nikon gelded (removed) the aperture ring to save money, so it won't work on manual focus cameras as does the older 28-200mm AF-D.
This 28-200mm G lens almost all plastic, including the lens mount. It's very well made, but don't ever pick up a D3 by grabbing this lens. You may break the lens off the camera and drop your D3!
History
This tiny do-everything gem was introduced at PMA in March 2003 for use on Nikon's low-end and mid-line SLR film cameras. It replaced the bigger, heavier, tougher and more expensive 28-200mm AF-D, which didn't focus very close.
No one bought low-end film SLRs in 2003, so this optical masterpiece went unnoticed until the introduction of the FX-format Nikon D3 in 2007, almost two years after this lens was discontinued for lack of interest in 2006.
It became available in October 2003 and sold for about $300 new. I paid $160 for a used one in 2008. Nikon made about 60,000 of these.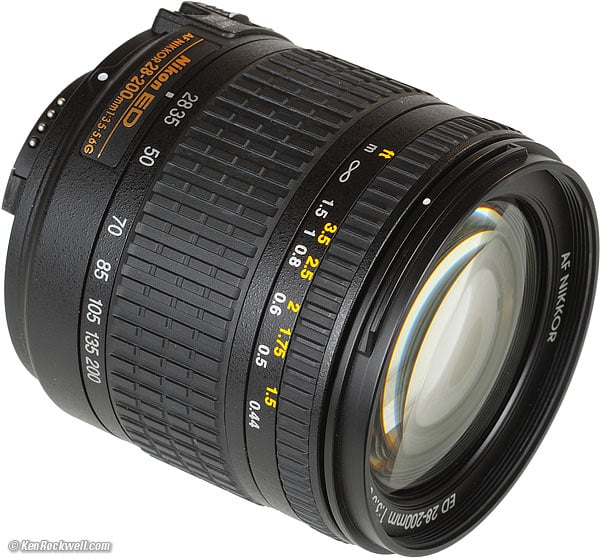 Nikon 28-200mm G.
Specifications with commentary back to top
Intro Specs Performance Recommendations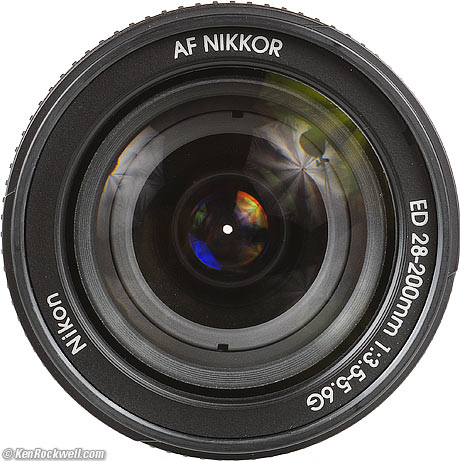 Nikon 28-200mm G at 28mm and f/22.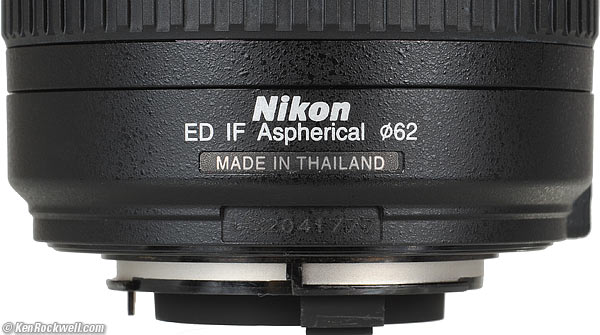 Nikon 28-200mm G bottom.
Name: Nikon calls this the Nikon AF Zoom-Nikkor 28-200mm f/3.5-5.6G IF-ED.
Optics: 12 elements in 11 groups. 3 aspherical elements, 3 ED glass elements, Nikon SIC Super Integrated Multicoating. Internal Focusing (IF).
Diaphragm: 7-blade rounded. Stops down to f/22-36.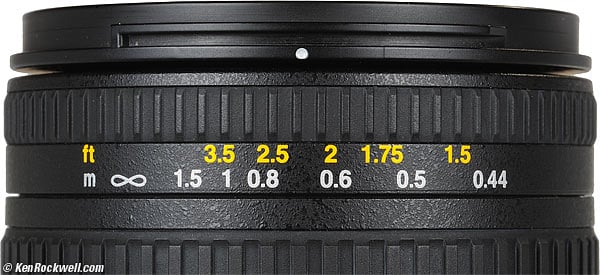 Nikon 28-200mm G Focus Ring.
Close Focus: 1.4 feet (0.44m), which is excellent!
Distance Scale? Yes, but no index mark. I doubt the index would remain steady as zoomed.
Depth-of Field Scale? no.
Infra-Red Focus Index? no.
Instant Manual Focus Override? NO.
Maximum Reproduction Ratio: 1:3.2, which is excellent.
Filter Thread: 62mm, plastic. Doesn't rotate, ever.
Size: 2.796" extension from flange by 2.739" diameter (69.57 x 71.00mm), measured, at 28mm. Extends 4.948" (125.68mm) from flange when set to 200mm. Doesn't change with focus. Nikon specifies 2.7" (69.5mm) diameter by 2.8" (71mm) long.
Weight: 12.765 oz. (361.9g), measured. Nikon specifies 13 oz. (360g).
Colors: Professional black or nasty silver paint.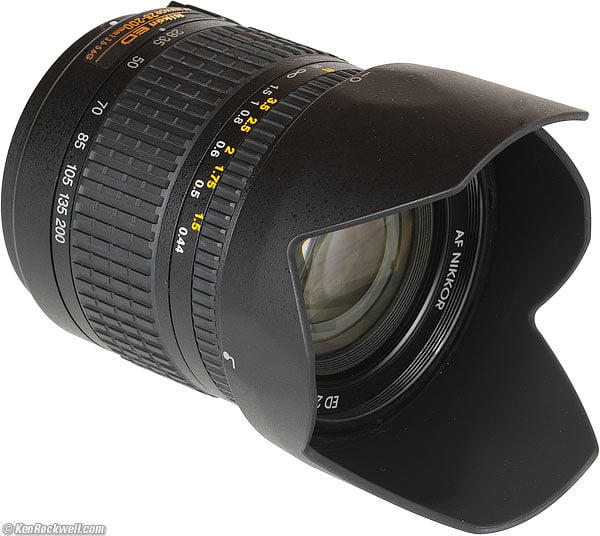 Nikon 28-200mm G with HB-30 Hood.
Hood: HB-30 plastic bayonet, included.
Announced: March 2003.
Available: October 2003.
Discontinued: January 2006.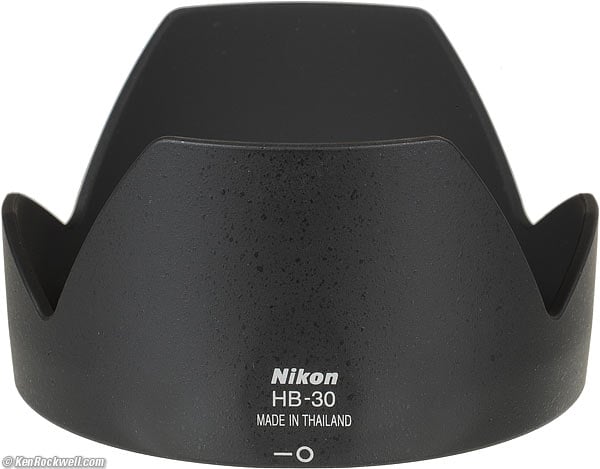 Included HB-30 Hood.
Performance back to top
Intro Specs Performance Recommendations
AF Bokeh Color Color Fringes Distortion
Falloff Ghosts Macro Maximum Aperture
Mechanics Sharpness Usage Zooming
It works great, if you can forget about the dinky plastic.
It focuses very close, zooms easily, is super sharp and never gets in the way of a great photograph.
It has a lot of distortion, so be prepared to pay for your convenience by running distortion-critical images through Photoshop. If you want to make mural-sized blowups and peer at the corners through a microscope, stop down to about f/11.
Focusing back to Performance back to top
Autofocus
AF is slower than most lenses due to the gearing and extended close-focus range. There is a focus limiter switch, which will help keep the lens from crankning all the way in to 1.4 feet if you don't need it to. If the focus is at the wrong end of the range, many cameras might hang up until the lens is broght at least into some deal of focus manually. If this is a problem, use the focus limiter and the problem goes away.
It won't autofocus on the D40, D40x or D60, but will autofocus on all other AF film and digital cameras.
One full turn of the AF screw gets you from infinity to 10 feet.
It's slower than most wide and normal lenses, but about the same or faster than most teles. Since AF speed matters more for teles, I have no problems with the AF speed. If I do; the 28-80mm G lens is instantaneous.
Manual Focus
You have to move a switch on your camera to get to manual focus mode.
Manual focus is skittish (too fast) at the long end, and just fine at the wide end. This is typical for a zoom with such an extended range.
Bokeh back to Performance back to top
Bokeh is fairly poor for the background at all focal lengths, but duh, it's a slow lens, not an f/2 or even an f/2.8, so bokeh doesn't mean much.
Color Rendition back to Performance back to top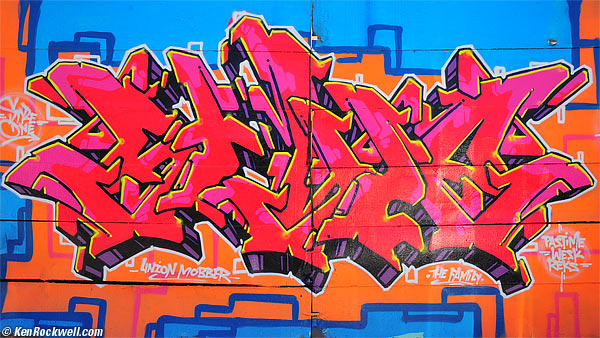 Barrio Logan, in the shade. Seems colorful enough to me.
As expected with a modern multicoated lens, I see no difference in color rendition between this 28-200mm AF-G and my other modern Nikkor lenses.
Distortion back to Performance back to top
As expected for an inexpensive, large-ratio zoom lens, there are boatloads of pincushion distortion when shot on FX digital or film. Distortion is low on DX digital.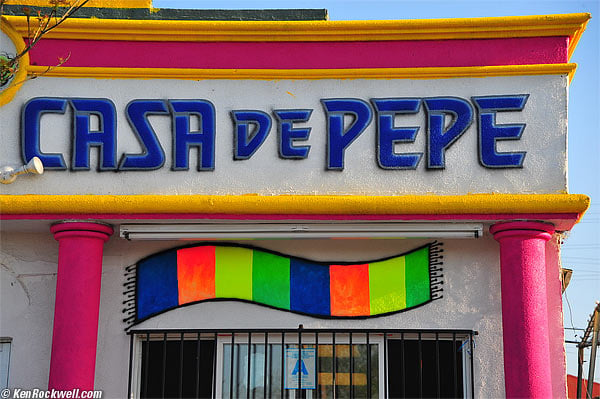 Casa de Pepe, Barrio Logan. (roll mouse over)
This is as shot at 105mm. Casa de Pepe looks like a Chinese restaurant from the distortion! Roll your mouse over to see how it looks after the correction below.
If you have Photoshop CS2, it's trivial to correct this distortion by plugging these figures into Photoshop CS2's lens distortion filter. These aren't facts or specifications, they are the results of my research that requires hours of specialized tests and calculations on the resulting data.
| | | |
| --- | --- | --- |
| | | |
| 28mm | +1.0* | +1.5 |
| 35mm | -2.0* | 0.0 |
| 50mm | -3.2 | -1.0 |
| 70mm | -5.0 | -2.0 |
| 85mm | -5.4 | -2.0 |
| 105mm | -5.4 | -2.2 |
| 135mm | -5.4 | -2.1 |
| 200mm | -5.0 | -2.0 |
© 2008 KenRockwell.com
* Second-order waviness remains, about +/- a few pixels on 12 MP FX.
Falloff (darkened corners) back to Performance back to top
Except at 28mm and f/3.5, there isn't any falloff noticeable in real photos. Falloff seems to be the least at 50mm, where most shots are shot anyway.
I can exaggerate it shooting gray fields on a gray background thusly:
| | | | |
| --- | --- | --- | --- |
| | | f/5.6 | f/8 |
| | | | |
| 50mm | | | |
| | | | |
| | | | |
Ghosting back to Performance back to top
I see almost none, which is excellent. Point it right at the sun and you get a couple of small ghosts and that's about it. This is outstanding considering the zoom range and complexity of this lens.
Lateral Color Fringes back to Performance back to top
There is some lateral chromatic aberration (corner color fringes) on the older DX cameras, but I can't see any on my D3 which corrects these automatically.
Macro back to Performance back to top
This 28-200mm focuses very close: up to 1.4 feet (44cm) at every focal length.
There are no corny old macro modes or switches; this lens focuses continuously from infinity to very closely all at once.
The maximum reproduction ratio of 1:3.2 means you can fill the FX frame with something as small as 3 x 4.5," or fill the DX frame with something as small as 2 x 3."
Maximum Aperture back to Performance back to top
| | |
| --- | --- |
| 28mm | f/3.5 |
| 35mm | f/3.8 |
| 50mm | f/4.5 |
| 70mm | f/5 |
| 85mm | f/5.3 |
| 105mm | f/5.6 |
| 135mm | f/5.6 |
| 200mm | f/5.6 |
Mechanics back to Performance back to top
Everything: Plastic. (Metal focus drive screw and a conductive plastic ring is in the mount for electrical continuity.)
Focus and Zoom Rings: Rubber-covered plastic.
Markings: Printed.
Serial Number: Laser-engraved on bottom of barrel near mount.
Sharpness back to Performance back to top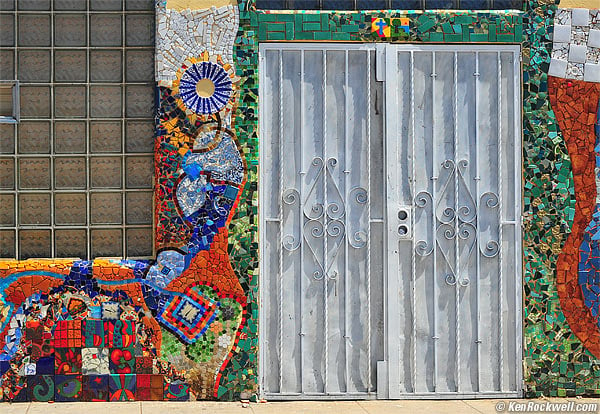 Barrio Logan. Sharp enough that screen perforations can cause aliasing!
Sharpness is much better than I expected. It's sharp! As technology improves, Nikon's cheap lenses get better and better. Used properly, it's surprisingly sharp and doesn't have any lateral color fringing. It looks great!
It's always sharp in the center (where you need it sharp) at every setting.
Used improperly, which is looking at test targets in focus in the far corners at the ends of the zoom range on a $5,000 full-frame D3 digital camera at full aperture, yes, it's not quite as sharp as lenses that costs ten times as much. If you're splitting pixels for wall-sized murals, stop down to f/8-11 at most settings and f/11-16 at the 200mm end for excellent results.
When I travel I don't carry heavy lenses. I usually take my big 14-24mm which I love, and this 28-200mm G for everything else. I usually shoot at 14mm on FX; most people don't need anything wider than 28mm.
Usage back to Performance back to top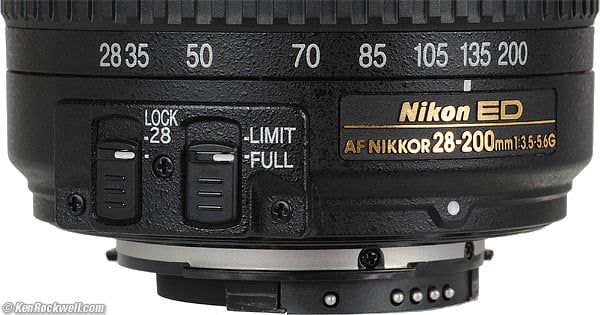 Control Surfaces: Nikon 28-200mm G.
This is a well made lens, even if it is mostly plastic. In the old days of fixed lenses I would have a cow about the plastic lens mount bayonet, but today with this huge zoom range you won't be changing lenses 5 times a minute like I used to with a bag full of fixed lenses. I used to carry a 16 mm fisheye, 17 mm, 24 mm, 35 mm, 50 mm, 85 mm and 200 mm lenses. This replaces five of them.
It's tight and just a blast to use.
It has a lock to keep the lens set at 28mm so it doesn't get an erection from gravity to extend to 200mm while being toted around. This switch is marked LOCK 28.
A focus range limiter switch keeps the lens from focusing closer than two feet. This helps save the AF system from hunting all over at telephoto settings. This switch is marked LIMIT and FULL. You could just as accurately relabel the two positions as NORMAL and MACRO if you prefer. Since it takes just as long to focus between one foot and two feet as it takes to focus from two feet to infinity this is a way to speed up your focusing unless you're really focusing that close.
Zooming back to Performance back to top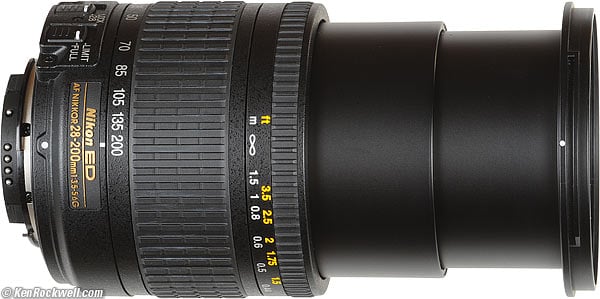 Nikon 28-200mm G at 200mm.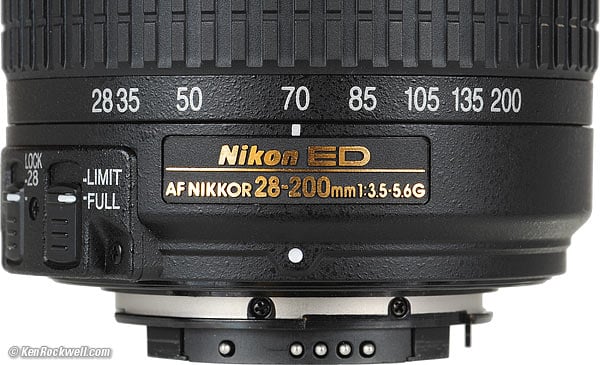 Nikon 28-200mm G Zoom Ring.
It's quite nice, except that the zoom ring turns in the opposite direction from most other Nikon zooms. Boy, is this stupid.
Zooming is by rotating a ring. The lens gets longer as you zoom to longer focal lengths. The filter never rotates.
It is moderately linear, with some congestion at the long and short end. In other words, it's easy to settle to an exact framing in the middle of the zoom range from about 35 - 105mm. From 28 - 35 mm and from about 135 - 200 mm you have to be a little more careful.
Recommendations back to top
Intro Specs Performance Recommendations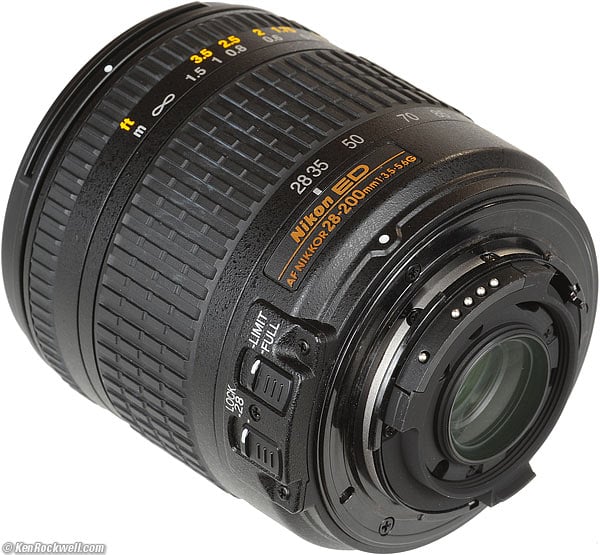 Nikon 28-200mm G.
This is a great lens for its intended purpose, which is a light-duty do-everything lens for film and FX digital. (Use the 18-200mm VR instead for DX cameras; it's far more versatile on them.)
Be careful if you use this on a pro camera, since the lens is far more delicate than the camera.
More Information: See also Nikon's press release.
PLUG
If you find this as helpful as a book you might have had to buy or a workshop you may have had to take, feel free to help me continue helping everyone.
Thanks for reading!
Ken
Home Search Gallery How-To Books Links Workshops About Contact