Home Donate New Search Gallery Reviews How-To Books Links Workshops About Contact
Canon EOS Rebel G
35mm SLR (1996-1999)
© 2008-2012 KenRockwell.com. All rights reserved.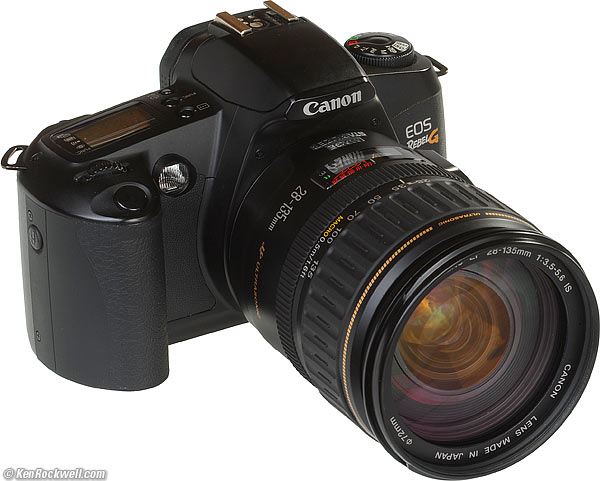 Canon EOS Rebel G (14.1 oz./400g with batteries, about $35 used) with 28-135mm IS. enlarge. This free website's biggest source of support is when you use these links, especially this link directly to them at eBay (see How to Win at eBay), when you get anything, regardless of the country in which you live. Thanks! Ken.
August 2012, September 2008 More Canon Reviews Canon Lenses All Reviews
How to Shoot Digitally with the Rebel G
Introduction top
Intro Specs Performance Usage Recommendations
The Canon EOS Rebel G is a perfectly competent, all-plastic 35mm SLR film camera that works with all Canon autofocus (EOS) lenses. It's a plastic camera with a plastic lens mount and a mirror prism, so it weighs nothing!
The Rebel G works great with IS lenses, and everything except Canon's EF-S lenses for small-format digital cameras (or the ancient FD lenses for manual focus cameras that went obsolete in 1986).
It first winds the film to the end, and then shoots the frames in reverse order. Its frame counter always shows you the frames remaining as it counts backwards.
All the hot lenses you buy for your 1D X and 5D Mark III, like the 14mm II, fisheyes and super-teles, all are 100% compatible — and you can buy a Rebel G body for one-half of one percent of the cost of a 1DS Mk III body.
The Rebel G was an inexpensive film camera. Its advantage is that it weighs nothing and works great. It shoots in all exposure modes and has a modern evaluative metering system.
Pop on a pro lens like the 16-35mm f/2.8 L II, and the package is still light enough to throw around your neck all day.
The Rebel G feels like a toy, but it's beauty is that it doesn't weigh anything. It's an easy camera to knock around all day, and brings back great results, even on Fuji Velvia 50 slide film.
The only gotha is that the finder is a super-light penta-mirror type, so the finder isn't quite as big, sharp or as contrasty as a pro film camera. If I shot this camera all day, every day I'd want a better finder for my convenience, but as a knock around camera, it's great.
This EOS Rebel G replaced the EOS Rebel XS (EOS 500 or EOS Kiss) which was introduced in September 1993. The 1993 EOS Rebel XS should not be confused with the Digital Rebel XS that was introduced in August 2008.
The EOS Rebel 2000 (EOS 300 or EOS Kiss III) replaced this EOS Rebel G in April, 1999.
Specifications top
Intro Specs Performance Usage Recommendations
Name
Americas: EOS Rebel G
Japan: New EOS Kiss.
Rest of world: EOS 500N.
AF Sensors
3.
AF Assist light
Yes.
Finder
Mirror-prism.
0.7x magnification with 50mm lens.
90% coverage.
18.5mm eye relief.
Meter
Evaluative.
Averaging and PArtial available in other modes.
Rated LV 2-20 with f/1.4 lens.
ISO Range
ISO 25-5,000 (DX).
ISO 6-6,400 manually.
Shutter
1/2,000 - 30 seconds and Bulb in half-stops.
Fastest Shutter Speed with Flash (sync)
1/90.
(there is a trick FP mode with some flashes.)
Frame Rate
1 FPS.
Built-in Flash
Guide Number 39/12 (feet/meters at ISO 100).
Covers 28mm lens.
Cable Release Socket
NO.
You have to buy an expensive RS-60E3 cord.
Date Imprint
Available if you paid extra for the Quartz Date version.
Power
Two CR123A (DL123A) batteries.
Rated 85 24-exposure rolls without flash, 35 rolls with 50% flash, and 17 rolls with 100% flash, all at 68ºF (20ºC).
The date back, if you get it, uses a CR2025.
Colors
Pro black or gag-me silver paint.
Size
5.7 x 3.6 x 2.4" (145.7 x 92 x 61.9mm), WHD.
Weight
14.1 oz (400g) with batteries.
13.05 oz. (370g), naked and stripped of batteries.
Price
59,000 Yen (body only) at introduction in 1996.
Introduced
September 1996.
Replaced
By the Rebel 2000 in 1999.
Accessories:
GR-80TP Grip, which unfolds as a mini tripod.
EP-EX15 eyepiece extender makes the eyepiece poke out further and adds 15mm to the eye relief, but reduces the size of the finder image to 0.5x.
E Diopters.
RS-60E3 dedicated cable release.
BP-8 External AA Battery Pack.
EX Series flashes (speedlites).
EH8-L (Rebel G and small lens) and EH-8LL (with longer lens) never-ready cases.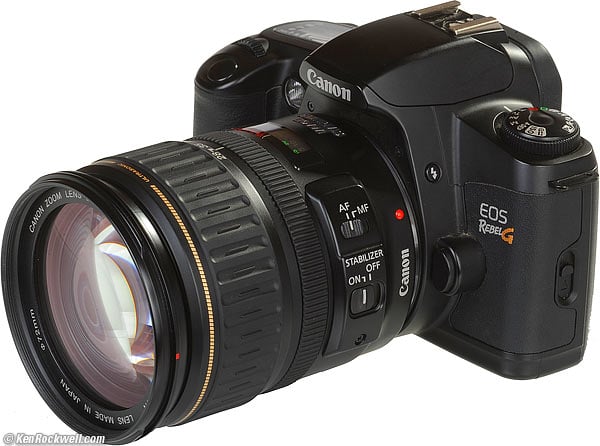 Canon EOS Rebel G with 28-135mm IS. enlarge.
Performance top
Intro Specs Performance Usage Recommendations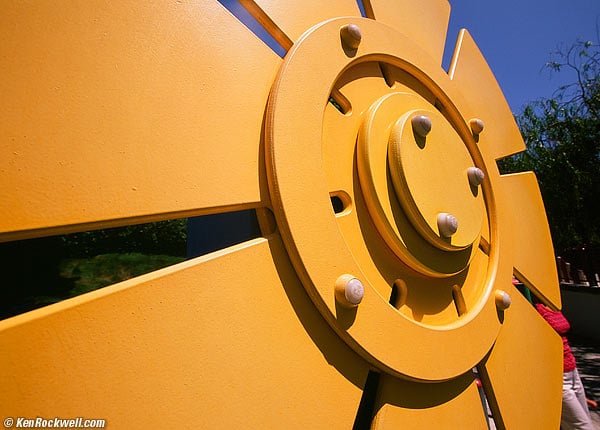 Sunflower, Legoland. EOS Rebel G, 16-35mm II at 16mm, Tiffen 812 filter, Fuji Velvia 50.
Ergonomics
The Rebel G is easy to use. I had no manual and had no problems.
There is no depth-of-field preview, probably the only feature I missed.
The eyepiece blind, used to prevent the meter form being fooled if you use the camera on a tripod and don't have your eye on the finder, is a flexible rubber cover that should be attached to the strap. Personally, I prefer to use my thumb anyway.
The top command dial is entirely fitting for a cheap camera. The embarrassing part is that the same skinny, hard plastic dial is used in the $8,000 1Ds Mk III, instead of a nice rubber one.
Autofocus
AF just works. I left it in the auto-select mode, and all my shots were great.
Considering that the three AF sensors are all pretty close to the center, I see no reason to use the Rebel G's manual selection ability.
Exposure
Exposure is very good. Even with shots deliberately designed to confuse the meter, it gave OK results, although maybe a half to a full stop different from what I'd get from the infallible Color Matrix meter of the Nikon F6.
When you ignore the slight errors on tough shots, my Fuji Velvia 50 slides were all great, day and night, even using the built-in flash for fill. The Rebel G works perfectly for shots with direct sunlight or blinding reflections shining into the camera.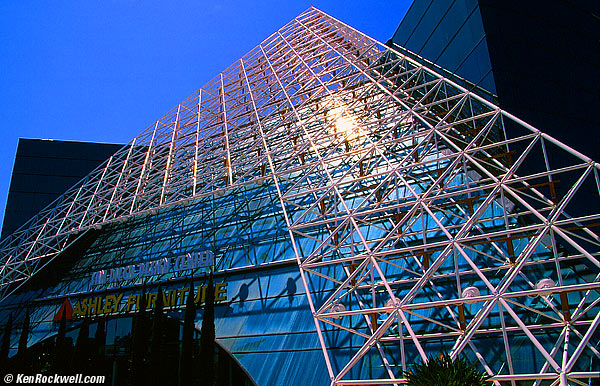 Pyramid, Miramar, San Diego. EOS Rebel G, 28-135mm IS, Tiffen 81C filter, Fuji Velvia 50, and a reflection off the glass that's blinded many people. The Rebel G ignored the reflection and gave a perfect slide.
Exposure for 30 second shots at night was also just fine.
It's easy to run out of range with ISO 50 film and the built-in flash. Anything beyond about 5 feet with a slow lens like the 28-135mm f/3.5-5.6 IS was underexposed. I recall no warnings from the camera that the flash exposure may have been low; my Nikons tell me when I've made a shot that might turn out too dark with a rapidly blinking flash bolt.
As a cheap camera, the Rebel G only sets and indicates to half, not third stops. So what?
Built-in Flash
No news here: it works, but doesn't have much range with ISO 50 film and slow zooms.
It uses no preflashes as digital cameras use, so you won't see it go off because the mirror flips up at the instant of exposure.
Large lenses like the 16-35mm II will cast shadows.
Finder
The finder is what you'd expect from a cheap SLR. It's much better than the puny finders of Canon's 1.6x digital cameras, but not as sharp as the full-frame digital and better film SLRs.
This is acceptable for the price, but if I peered through this finder al day, every day, I'd want a better one.
The advantage of the mirror, not solid glass prism, used in the finder of the Rebel G is that the camera weighs almost nothing.
The digital =display at the bottom is better than Canon's best digital cameras. I find the display of the 1Ds Mk III too dim, while the more primitive display in the Rebel G is fat enough and bright enough to be legible in any light.
The Rebel G's finder doesn't show that much, but it shows all I need, like shutter, aperture, bar graph and flash ready.
The three AF zones don't light up. There are three indicators in the bottom digital display that tell you which are active.
The finder's digital displays are nice, fat, light green numbers on a medium dark green background.
Finder Framing Accuracy
As expected, my mounted slides included a little bit more than shown in the finder. I prefer this to my Nikon F6, which shows more in the finder than I get on my slides.
I can just shoot with the Rebel G, but with my F6 I have to remember to leave a little breathing room around my subject so I don't lose parts of my picture. Advantage: Rebel G!
Homage to Christo. EOS Rebel G, 16-35mm II at 16mm, Tiffen 812 filter, Fuji Velvia 50.
Usage top
Intro Specs Performance Usage Recommendations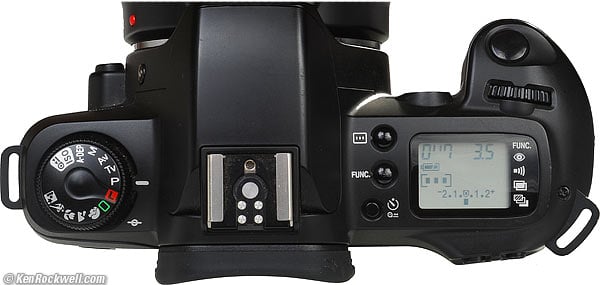 Canon EOS Rebel G with 28-135mm IS. enlarge.
The Rebel G is easy to figure out.
The few functions are set by pressing the FUNC button on top and looking at the right of the LCD. You can set Red Eye mode, the beeper, multiple exposures and bracketing. It's so easy and well thought out it was obvious even without the User's Manual.
The top LCD isn't illuminated, but it is big and clear. I had no problems reading it, but bring a small flashlight (or pop open your cell phone) if you want to read it for night shots outdoors.
Power Switch
There is power switch. OFF is the red L position of the big top dial. ON is any other position.
Feel free to leave the Rebel G in any position all day; it goes to sleep and wakes up instantly as needed. I only use the L position when putting it away in a case where the shutter might get pressed accidentally.
Film Loading
The roll winds ahead when first loaded. The counter starts at about 37, and counts down the number of shots remaining.
After you shoot shot #1, the last shot, the film quickly winds the leader in the cassette and the finder display shuts off and the camera stops working. The top LCD blinks the film icon to let you know it's time to pull out the film.
You can dry fire the Rebel G, but only after you've removed the dead roll.
Images are shot with the usual orientation; the 35mm cassette loads on the left like most cameras.
You can check that the film's ISO was read correctly by the DX system by spinning the knob to ISO, which is also where you can set a different ISO if you want to screw up your shots.
Shooting Modes
As expected the Green Box Auto mode is the same as Program, except that the full-auto Green Box mode locks out many settings like exposure compensation and program shift.
I shoot in Program.
Program shift resets after the Rebel G meter times-out. You can unshift the program by shifting it back to normal, or letting the meter time-out or change the exposure mode dial.
Exposure Lock (*) stays locked like the jaws of a pit-bull until you change modes, take a picture, turn off the camera or let the meter time-out.
Exposure Metering
You're always in Evaluative, which is a smart multi-segment copy of Nikon's Matrix meter.
The Rebel G stays in evaluative when you use exposure compensation.
The only way out of Evaluative is to select Manual exposure mode, which gives you an Averaging meter.
To get the heavily central-weighted "partial" meter, press the exposure lock (*) button by your right thumb. You can check this by pointing the Rebel G either at a very bright white in direct sunlight or at a solitary light at night. When you tap the exposure lock button you'll see the exposure settings change a lot.
Autofocus Settings
The Rebel G selects its three sensors automatically by default.
To pick just one sensor, press the top [ - - - ] button and spin the dial.
There's no obvious way to select ONE SHOT (focus and lock) or AI SERVO (keep tracking) modes. The Rebel G selects these for us based on the exposure mode! For instance, sports id AI SERVO (tracking) and portrait is ONE SHOT (focus and lock), etc.
In P, you get ONE SHOT if your subject is still and you get a lock dot in about a second. If your subject is moving and the Rebel G can't lock in a second or so, it keeps hunting and tracking with the dot off. THis is what my Rebel G does, which disagrees with the Owners Manual.
Flash Sync
You can only change this by changing the exposure mode. Unlike Nikons, you can't change the sync by itself.
You get normal sync (1/90 shutter speed only) in Program and Green Box Auto modes.
You have to choose Manual, Av, Tv or some of the scene modes to get Slow Sync.
High Speed FP Flash Sync
To get flash sync above 1/90, press the "H-Bolt" button on your flash (THe 220EX has such a button), then use any of the M, Av or Tv exposure modes to set faster shutter speeds.
The P and manu of the other modes won't work; use M, Av or Tv.
If it's working, you'll see an "H-bolt" icon in your finder. You won't see this icon and the camera won't be using this mode if the shutter speed is 1/90 or slower.
Very Low Light
The Rebel G exposes and meters out to 30 seconds, like most modern cameras. It works great for night shots.
If you are in light so dark that it needs more than a 30 second exposure, the digital display will blink in the finder. There is no bar-graph indication of by how much you'll be underexposed as you have with most Nikons.
Infra Red FIlm
Forget it; the Rebel G uses IR sensors for film advance, which saves the complexity of another geared roller, but will fog IR film.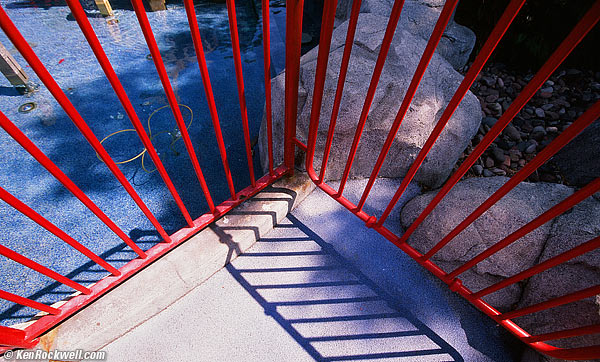 Cage. EOS Rebel G, 16-35mm II at 16mm, Tiffen 812 filter, Fuji Velvia 50.
Midroll Rewind
Select the film rewind icon on the top dial and hold the self timer button for at least one second.
Recommendations top
Intro Specs Performance Usage Recommendations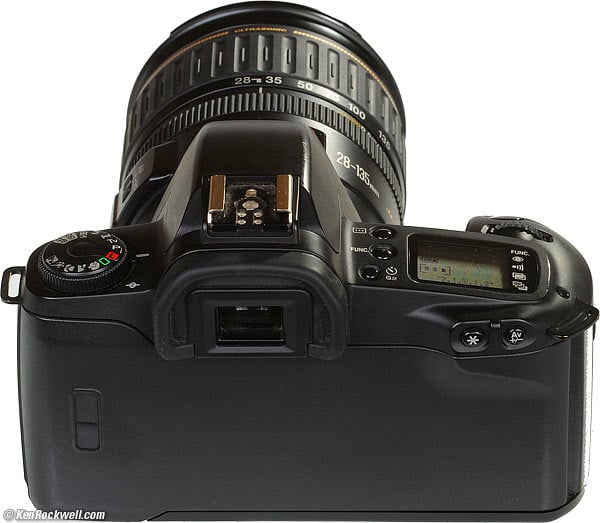 Canon EOS Rebel G with 28-135mm IS. enlarge.
Want a fun, cheap, film camera what works perfectly with all your newest (and oldest) Canon EF (EOS and AF) lenses? Drop $45 on one of these and you'll have no complaints.
Probably the best kick-around lens is Canon's 28-135mm IS, which if you play your cards right, you can get for cheap as part of a kit with many new Canon DSLRs. It beats me why Canon is giving these full-frame lenses away with their 1.6x cameras, and personally I bought a 28-135 IS from a friend who got his 40D as a kit with it and didn't want it.
More Information:
Canon USA EOS Rebel G User's Manual (click "Drivers" tab)
Product History from the Canon Camera Museum
Acknowledgement: Many thanks to Tularosa, New Mexico, Municipal Judge Tim Flores for allowing me access to this Rebel G.
Help me help you top
I support my growing family through this website, as crazy as it might seem.
The biggest help is when you use any of these links to Adorama, Amazon, eBay, Ritz, Calumet, J&R and ScanCafe when you get anything, regardless of the country in which you live. It costs you nothing, and is this site's, and thus my family's, biggest source of support. These places have the best prices and service, which is why I've used them since before this website existed. I recommend them all personally.
If you find this page as helpful as a book you might have had to buy or a workshop you may have had to take, feel free to help me continue helping everyone.
If you've gotten your gear through one of my links or helped otherwise, you're family. It's great people like you who allow me to keep adding to this site full-time. Thanks!
If you haven't helped yet, please do, and consider helping me with a gift of $5.00.
As this page is copyrighted and formally registered, it is unlawful to make copies, especially in the form of printouts for personal use. If you wish to make a printout for personal use, you are granted one-time permission only if you PayPal me $5.00 per printout or part thereof. Thank you!
Thanks for reading!
Mr. & Mrs. Ken Rockwell, Ryan and Katie.
Home Donate New Search Gallery Reviews How-To Books Links Workshops About Contact