What was new in August 2008 RSS
all © 2008 KenRockwell.com. All rights reserved.

I get my goodies at Ritz, Amazon, Adorama. It helps me keep adding
to this site when you get yours from those links, thanks! Ken.
29 August 2008, Friday
Slack Attack! Today I goofed off at the end of a very busy week and we took Ryan to Legoland, located about 40 minutes north of San Diego (2 hours south of Los Angeles).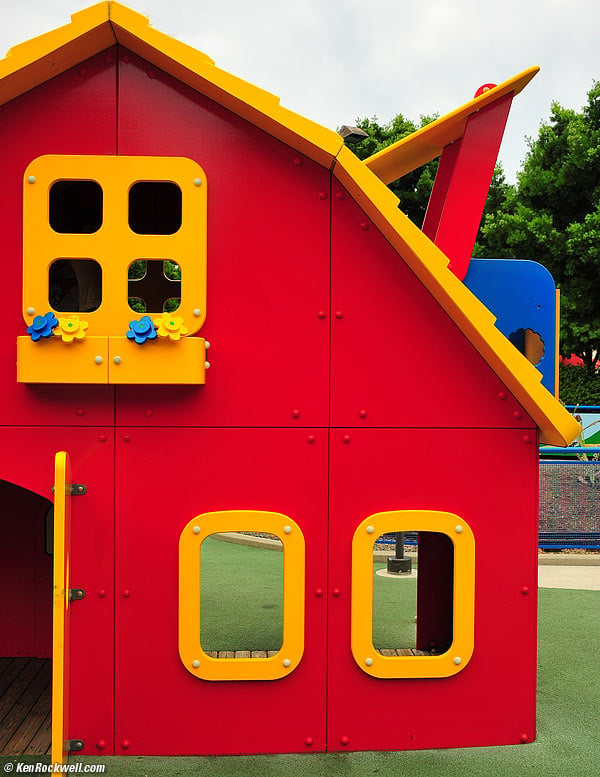 Legoland is loaded with primary colors.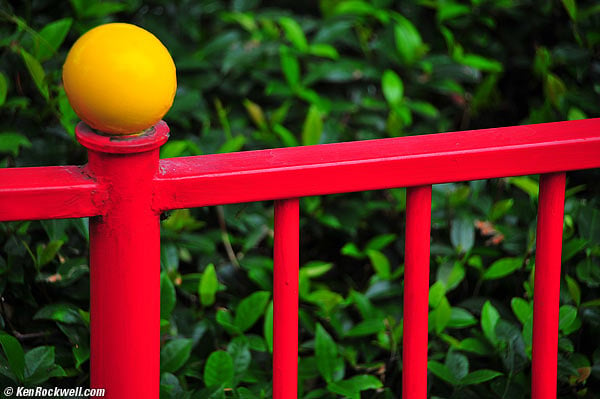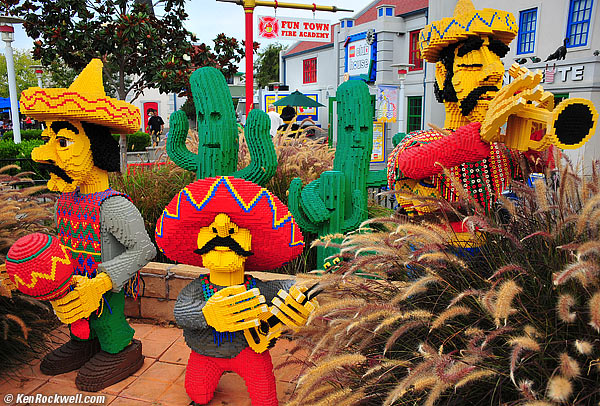 México! Got pixels? Everything is made of Lego blocks.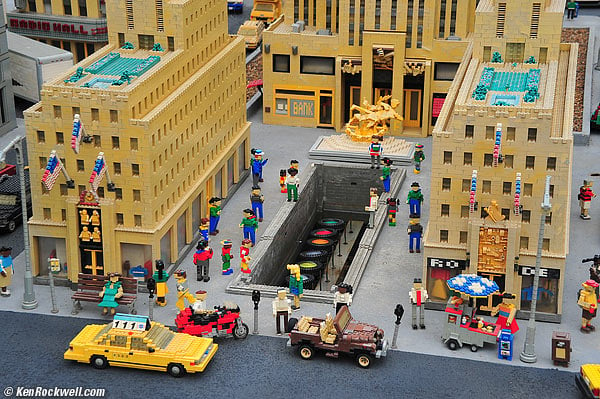 Rockefeller Center. Nikon House used to be in the front of the building on the left. Nikon House was the first place that I ever got to see a Nikon 13mm f/5.6 lens. THis was back in the 1970s, and I never saw one again for 30 years until I got to play with another this January for an upcoming review. For all I know, it could have been the same sample of lens.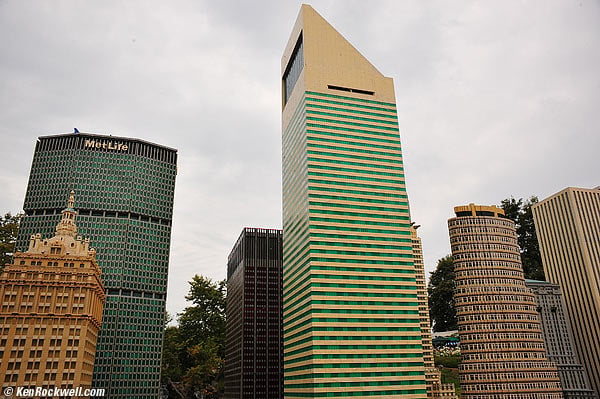 Downtown Manhattan, all without leaving San Diego.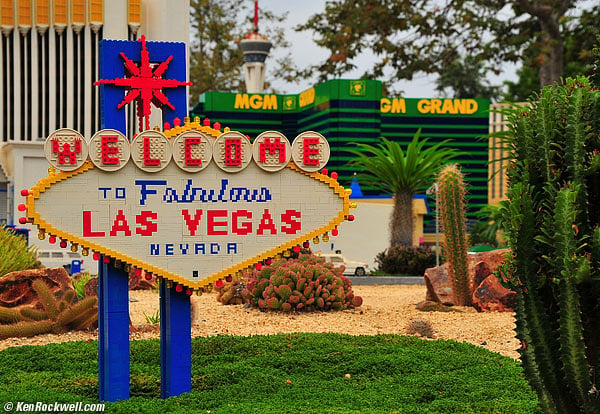 Now we're in Las Vegas!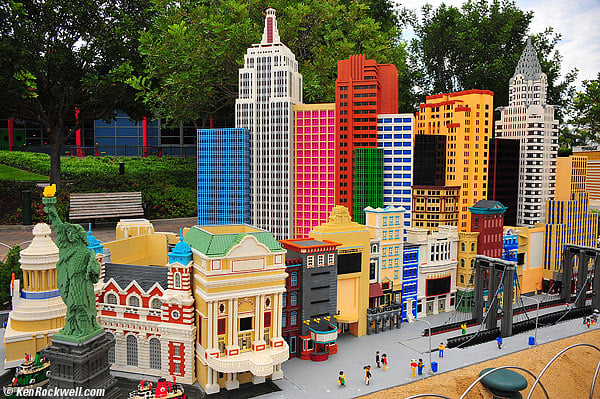 Wow, now we're back in New York, NY in Las Vegas.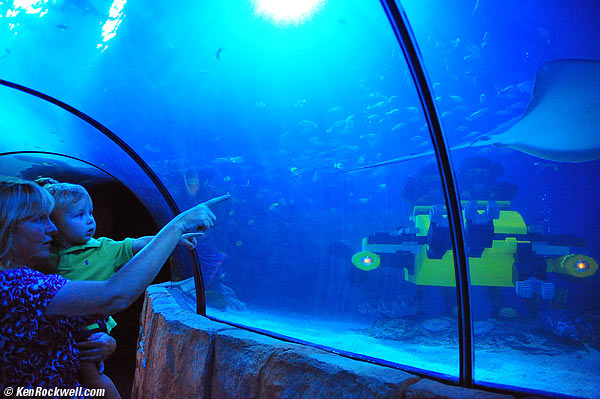 Legoland's new Sea Life Aquarium, which just opened this month. Everything is super-clean without the wear on the Plexiglas though which you have to shoot elsewhere. THis shot has good gesture, and the for other shots I made (not shown here) I adjusted the WB much redder to compensate for the blue of the water.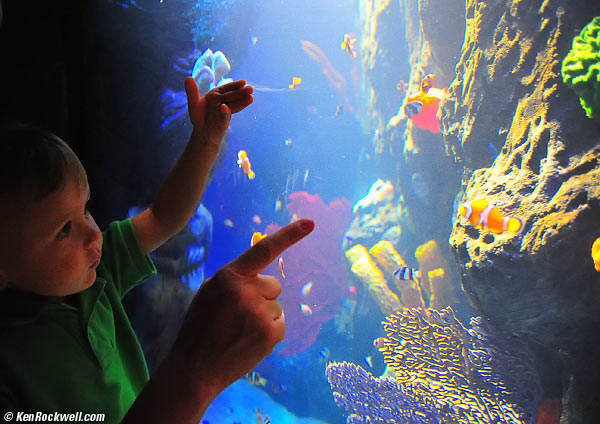 (All: Nikon D3, 28-200mm G, Program auto, Auto WB and Auto ISO.)
Compared to Sea World yesterday, Legoland is a treat. Legoland is clean, relaxed and uncrowded, especially compared to Sea World yesterday. Sea World has bigger fish and is a San Diego staple (you're not a real San Diegan unless you've worked at Sea World as a kid), but Legoland is a lot more pleasant.
28 August 2008, Thursday
Photographic Reality: Digital cameras are a rich man's sport. Let's be serious: I'm supposed to drop another $1,000 on a new D90 just because it does movies, as if my D80 (or D40) from last week suddenly isn't good enough anymore?
When it comes to photos, or anything in life, it's the man, not the tools. Just see the article about a Man Who Used a Barbie Fishing Rod for a Record Catch!
Want to know what was around my neck yesterday after I wrote the D90 review? A cheap Canon Rebel G film camera I got in for review. Now that's a camera!
After working each of the past days and nights from 5AM in the morning to 1AM at night (and sleeping on the floor in our hallway because the wife forgot and locked me out), I played hooky today and took the family to Sea World. Did I bring a big lens? NO WAY! I brought a 50mm f/1.4 and a crappy plastic 70-300mm G ($119.95 brand new). Why didn't I bring the 70-300 VR, 80-400mm VR or an 80-200mm f/2.8? Simple: I didn't want to carry it around all day, and with digital, high ISOs look great and eliminate the need for fast lenses or VR in the daytime. The 70-300 fit in my spare pocket, and I was good to go.
I snapped these in VIVID Picture Control with +3 saturation. These are all shot with the 70-300mm G, so I shifted my Program exposure mode a stop to the right (on the rear dial) to choose higher shutter speeds to eliminate motion blur. When you shift the rear dial to change the f/stop combinations used on any Nikon in Program, it shows as P* on the top LCD.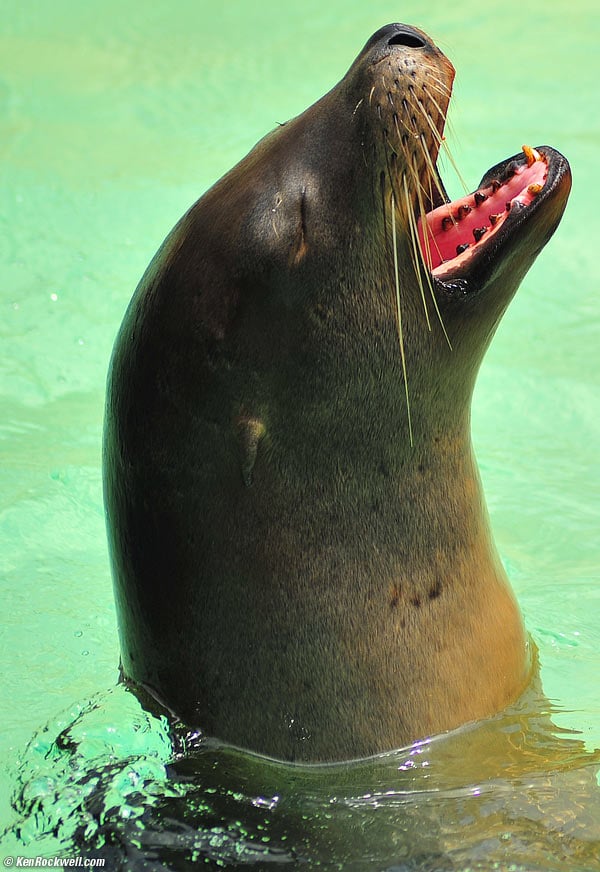 Seal. D3, 70-300G at 240mm, P* mode 1/500 @ f/5.6, Auto ISO chose ISO 200.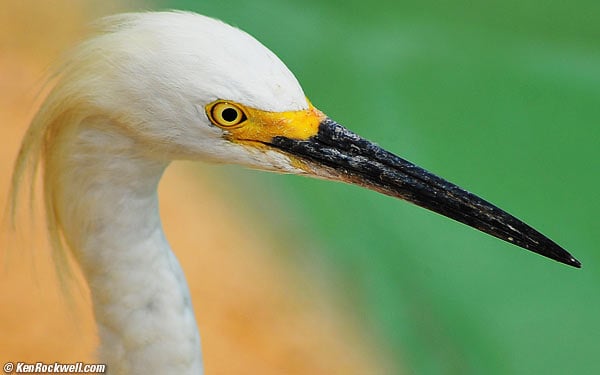 Egret. D3, 70-300G at 240mm, P* mode 1/1,000 @ f/8, Auto ISO chose ISO 200.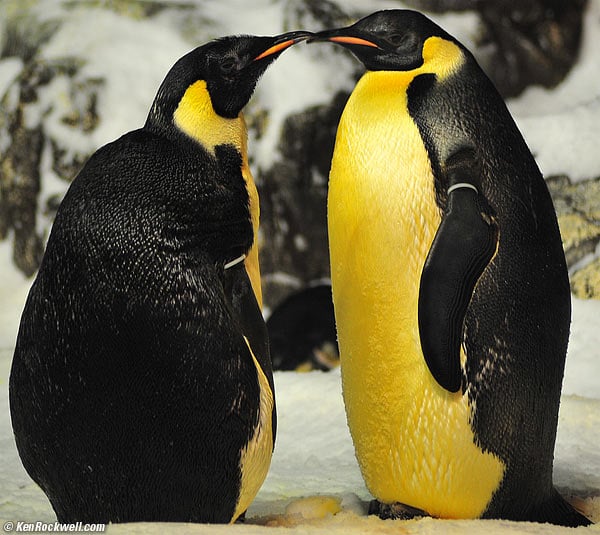 Cuddly Penguins. D3, 70-300G at 240mm, P* 1/125 @ f/5, Auto ISO chose ISO 1,600.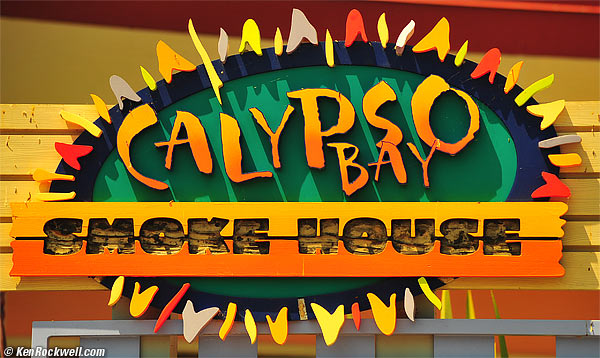 Calypso. D3, 70-300G at 180mm, P* mode 1/500 @ f/5.6, Auto ISO chose ISO 200.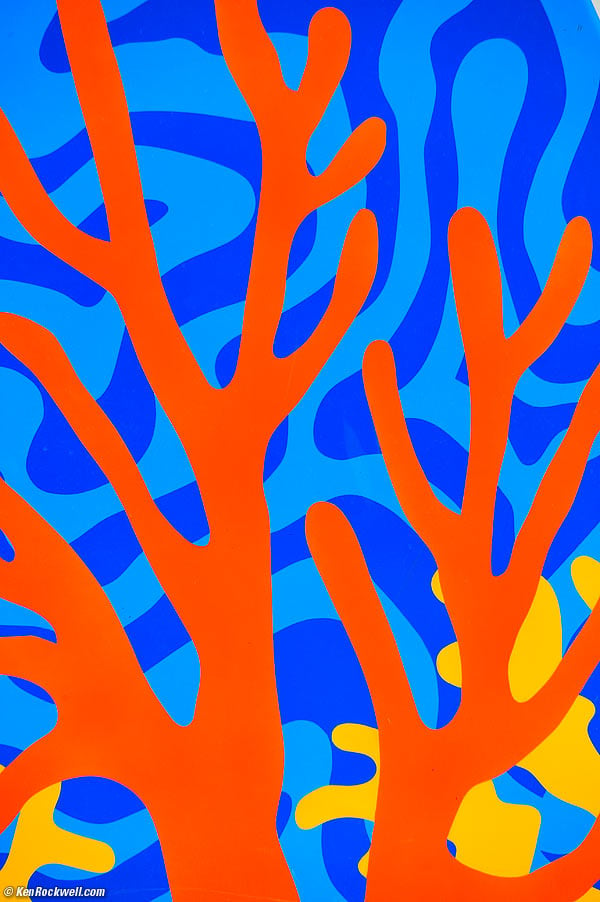 Sea Antlers. D3, 70-300G at 180mm, P* Mode 1/1,000 @ f/8, Auto ISO chose ISO 200.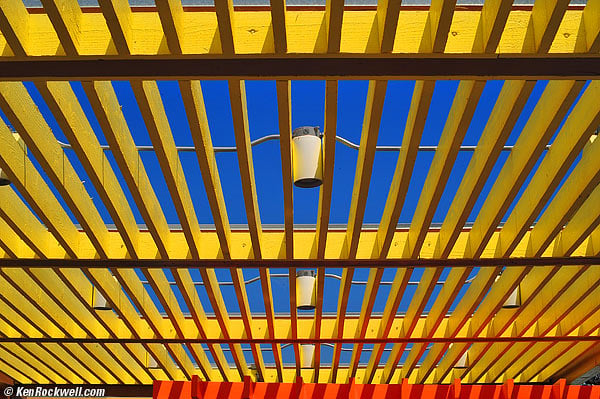 Lattices. D3, 70-300G at 70mm, P* mode 1/250 @ f/16, Auto ISO chose ISO 200.
These were all shot in JPG, so I pulled them straight out of my camera and right onto this page before I got to doing anything else. Easy. The D3 doesn't weigh anything when you put the right lens on it, like the 50mm I usually use, or a plastic lens like the 70-300mm G.
I'm a crummy hooky player. I'm back, posting photos, and working again on the D90 review.
The funny thing about yesterday's news, the Nikon D90, is that there isn't much more to say until real shipping product arrives. Previews of prototypes don't mean anything, since by definition a prototype is different from shipping samples representative of what you and I will actually receive.
For instance, this early proof-of-concept prototype had integrated WiFi access, just like the iPod Touch: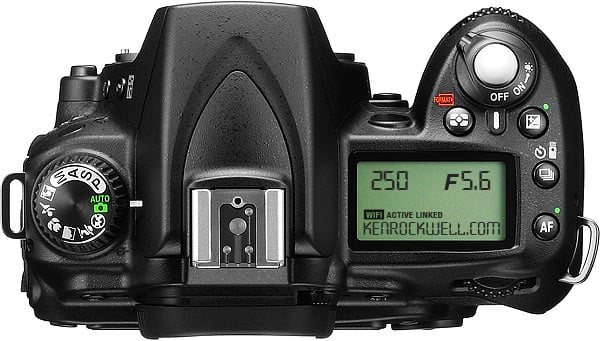 Nikon D90 prototype.
This prototype photo is also an example of what you should be doing on your computer. Wasting time trying to make poorly-shot raw images look as good as a properly shot JPG is a waste of your time. Using Photoshop to hack together fun, but fake, graphics on a blank LCD is creating something that could only have been created with Photoshop (or ink and Mylar). I had to use special fonts and layers and masks to create the WiFi icon, and had to be careful with type colors, of which I used four values to make everything look natural.
27 August 2008, Wednesday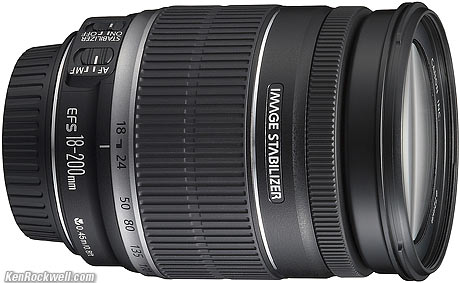 Canon EF-S 18-200mm f/3.5-5.6 IS.
NEW: Canon 18-200mm IS.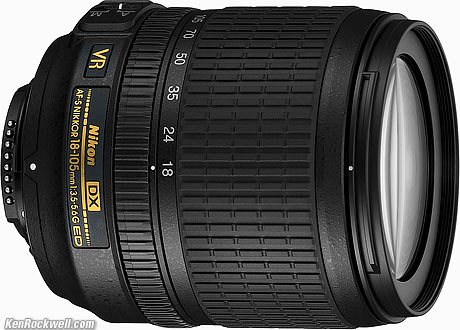 Nikon 18-105mm f/3.5-5.6G DX VR ED ABC XYZ.
NEW: Nikon 18-105mm VR DX.
NEW: Unlimited 11 x 14" prints for $1.99 at Adorama's lab, good through Sunday, 31 August 2008.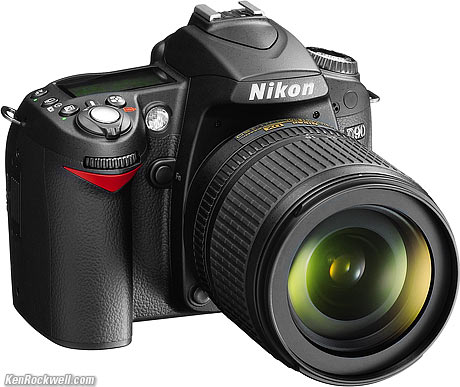 Nikon D90.
NEW: Nikon D90. Nikon's newest, with HD video!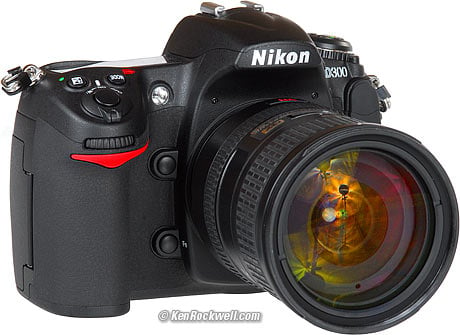 Nikon D300.
NEW: Nikon D300 User's Guide. My own guide to the D300, thankfully completed just hours before Nikon took the D90 public.
Now that it's written, if everyone who's been asking for it will chip in a few bucks, it will make my effort all worthwhile. I already know how to use the D300, so spending all the time to write guidebooks isn't exciting compared to actual shooting or reviewing weirder things like the Nikon 28Ti. Thanks! Ken.
26 August 2008, Tuesday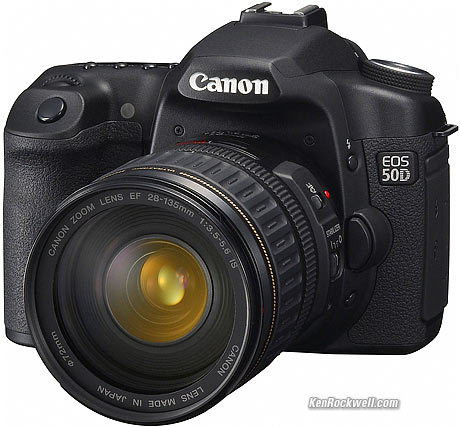 Canon EOS 50D.
NEW: Canon 50D: 15 MP, 1.6x sensor, 6 FPS, beautiful 640x480 3" LCD, $1,399. October 2008.
NEW: Canon 18-200mm IS.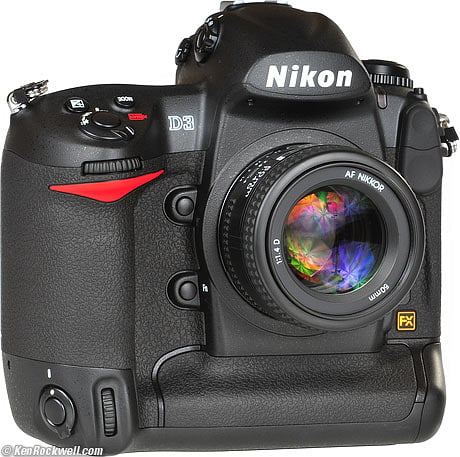 Nikon D3.
NEW: Nikon D3 User's Guide. My own guide to the D3.
If nothing new gets announced from Nikon or Canon today, I can get cracking on my D300 User's Guide.
Every year, this is the week for the new fall product introductions, so I may get sideswiped.
25 August 2008, Monday
Steve Cirone is doing another nature photography workshop in San Diego this Saturday and Sunday, 30 & 31 August 2008, each running all day and starting at 7AM.
I think he's offering $100 off if you mention me, so be sure to check with him for all the details.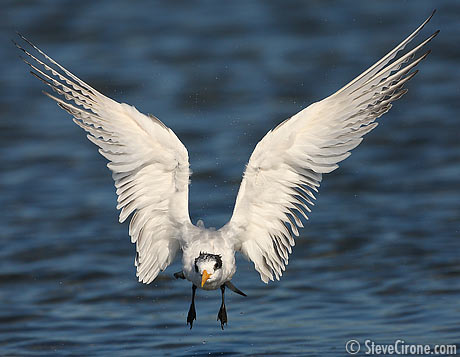 One of Steve's many zillions of recent shots. enlarge.
22 August 2008, Friday
Rumors: The Canon 50D starts to leak. It's the season for new cameras, so we'll see what's officially announced next week.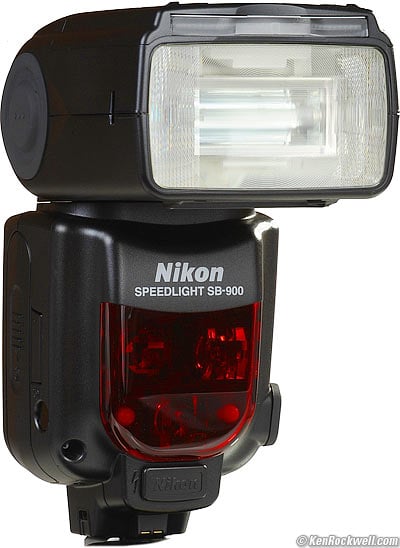 Nikon SB-900.
NEW: Nikon SB-900 Review. It's not any better than the SB-600. The $470 SB-900 has a tough-to-read screen and a blizzard of menus, while the $185 SB-600 works just as well, does the same thing, and is much easier to set and read.
The SB-900 is for gadget junkies, full-time paparazzi and wedding pros, not most people.
21 August 2008, Thursday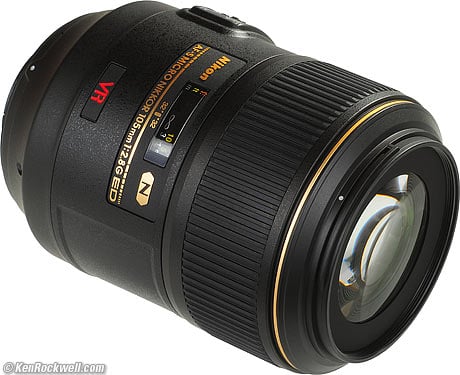 Nikon AF-S 105mm f/2.8 G VR.
NEW: Nikon 105mm VR Review. It works great, and is a bargain for what you get.
20 August 2008, Wednesday
D3 Durability: I just crossed 40,000 shots, and it and its battery run like new.
Added a section on compatibility with PC-E lenses to my Nikon D700 review.
Added sections on PC-E lenses and Nano-Crystal Coating to my redone Nikon Lens Technology page.
19 August 2008, Tuesday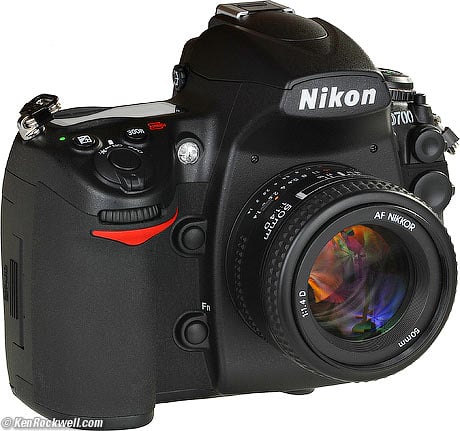 Nikon D700.
NEW: Nikon D700 User's Guide. The world's first (and humbly best) guide to using the Nikon D700. Better yet, the best costs less: it's free to read all you want, and only $5.00 per copy if you'd like to print it and haven't helped me already (free to supporters). Thanks! Ken.
D700 Battery life: I got about 600 shots on my 1st charge, including a lot of fiddling in menus. Honestly, the D700 is the best thing Nikon's ever made. My D3 feels klunky by comparison, especially without the option to use the FUNC button to hit Picture Controls. Then again, I was just shooting in my studio, mostly in the D3's 5:4 mode. With any luck, the D3X will incorporate the D700's newfound flexibility.
D300 User's Guide: Some book publishers sent me other people's D300 user guides to review. I was hoping to find a good one to which I could refer you to save me from having to write my own, but no. They sucked — hard.
They weren't written by people who knew the cameras, and were just color versions of the manufacturers' free manuals. These glossy guidebooks tried to explain things with circular definitions. For instance, they told you the meter selector selected between various modes like Matrix and spot, told you again that the Matrix position selected Matrix and the spot position selected spot.
They never told you why or how you'd want to use these meters, or even what they were, but they spent a page telling you why you'd want to set the clock. We need guides for that? Rats; now I understood why people liked my user's guides.
Now that I'm warmed up after writing the D700 User's Guide, give me a week to knock out the D300 and D3 user's guides for which you've all been patiently waiting (unless Nikon brings the D90 public or Canon unleashes a new 5D later tomorrow night or this week as planned, in which case, I'll be a few days later for your D300 guides).
18 August 2008, Monday
I can't believe the Chinese are stupid enough to use Windows: Gizmodo.
Free Mac Trick: My baby Ryan discovered another Mac secret: hold the CONTROL key and scroll your mouse up and down to zoom the screen! This works everywhere on your Mac; it's a basic part of the operating system. Need to see details on a crappy website that lacks big images? Need to see the fine print? Try this! No, there is no more detail added, but if you work two feet away from your screen as I do, it's helpful and free.
Nikon D90: Expected this week, kitted with an 18-105 VR lens. I'll keep you posted as real news breaks.
It's always the right time to upgrade to Mac: As I keep telling you, if I didn't use Mac, I'd never have the time between crashes and virus recovery to do this website. If you're serious about digital photography, and unless you're a hacker who can jockey Windows computers, please do yourself a favor and by any Mac and you'll get so much more done so much faster with no problems.
Which Mac? Any of them, even in the cheapest configuration, will run circles around any WIndows PC I've used. I bought Apple's cheapest iMac in its cheapest configuration for my wife, and it simply screams when I run anything, even Aperture, on it.
Consumer Reports, in their September 2008 "Biggest Online Blunders" issue, points out that millions of new PCs have to be bought each year to replace windows PCs that were destroyed by viruses and other problems, while Macs simply don't have them.
Heck, I still use my 5-year-old Apple iBook every day, and it was the cheapest laptop they made back in 2003. Of course many sillier people smugly thought I was an idiot while they paid a little less for garbagy windows laptops lacking features like Firewire back in 2003, but I bet you few, if any, of those people hasn't had to replace it at least once by now. They've paid more, and have gotten so much less. I'd buy a new laptop in a second if I needed it, but I don't. My 5-year old Apple works great.
The best comment is September 2008's Reader's Digest's snippet on "13 things your computer guy won't tell you." One of those 13 truths simply is "Buy a Mac." As the professional computer guys admitted, if you did, it would put them out of a lot of work.
Every time I share my advice on how to get more done by upgrading to Mac, I get hate mail from all the people who make their money from your computer problems. Sure, if you profit personally from computer problems and know how to fix them, do the wrong thing and get a Windows computer.
As everyone who upgrades to Mac tells me, they simply had no idea that all the crap they took for granted as being "part of computers" simply went away with Mac. All those weekend radio talk shows about computer problems? All those problems are Windows problems, not computer problems.
15 August 2008, Friday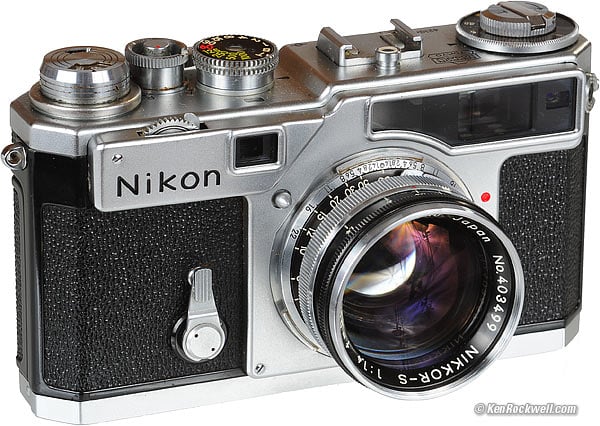 Nikon SP, before Pete. It came back cleaner.
Classic Nikon Repair: I lucked out, and a reader referred me to the best Nikon repair guy who specializes in the Nikon F and similar Nikons: Pete Smith.
I sent him a 80-200mm f/4.5 lens from 1970 for updating to AI (I provided the part), and I also sent him a 1956 Nikon SP rangefinder for cleaning.
Holy cow! The 38-year old 80-200mm zoom works great, sharper in some ways for tripod-huggers than the 70-200mm VR. It was that sharp, but didn't really work on my D3, D300 or D700 until it was updated to AI.
The real surprise was the 52-year old rangefinder camera. When I got it the viewfinder was dim, orange, hazy and fuzzy. I couldn't see the rangefinder dot unless I really worked at it. Online reviews said this was what an SP did, and that its finder was never that great. I sent it to Pete to see what he could clean out.
Yikes! I almost dropped it from surprise when I got it back. The viewfinder is now as big, crisp, clear and 3D as my Mamiya 7. It's better, in fact, because the SP viewfinder is life-sized by design. You can focus and compose with both eyes open. Now the SP is a real camera and I guess I'm going go have to shoot and review it.
Pete was also able to fix the screwed-up diaphragm of the 5cm f/1.4 lens which had had its blades get rearranged.
Pete fixes cameras, not websites, so he has no website. You can find him at:
Pete Smith (2014 update: Pete passed away. Today I send eveything to Gus.)
Photocamera Repair, Inc.
Silver Oaks Plaza
3095 So. Military Trail #16
Lake Worth FL 33463
(561) 433-8434
Fax (561) 433-8320
NikonSmith@AOL.com
His specialty is the Nikon F and similar Nikons. I'll be sending him some of my FTn meter heads, since he's one of the few if, any guys, left who know and repair these. For digital camera repair, I send those straight to Nikon, but for ancient stuff, it's Pete. I still have some of my midrange Nikons (c. 1980) out; I'll let you know how it goes when they return from other places.
2GB SD Card Deal: Adorama has SanDisk 2GB Ultra II cards for $17.95 each, but you'll see that if you add 2 to your cart that they are only $16.00 each, and if you add 3, then only $14.00 each.
New Link: I just added Edward P. Richards to my Links page. He's a B/W Master from Louisiana.
Sometimes even real photographers read the Internet: I'm complimented that someone who actually is a real photographer had kind things to say about my writing. Yay! (a note to you slackers who still have jobs: this link contains some great photography, so if you worry about what your boss thinks of you wasting his time screwing off, you might want to wait until this weekend to enjoy it.)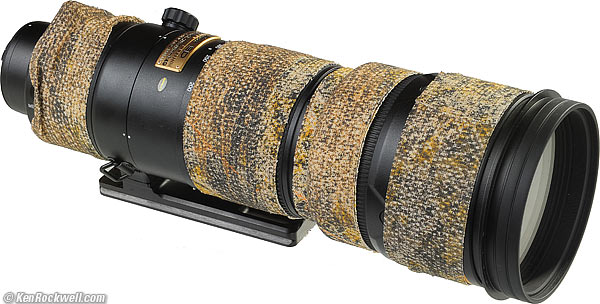 Camo Nikon 200-400mm VR.
I was loaned a Nikon 200-400mm VR to review last week by an American sportsman who uses camo bandage tape for grip. I added detailed photos, especially of the many electronic controls, to my Nikon 200-400mm VR Review.
MAC CRASH! HA HA!!!
The Quad G5 Mac on which I write this website, and do most of my digital photography, crashed for the very first time since I bought it over 2-1/2 years ago. I beat on it 14 hours a day, 356 days a year, with 10 applications open all the time.
I was in the middle of sorting out this morning's baby pictures, and I got the dark curtain.
No big deal, I turned it back on, and started right back where I left off. I didn't lose anyting, not that I'd care if I did; I duplicate an exact working copy of my entire hard drive every day with Super Duper. I didn't lose anything on which I was working in Photoshop because I always practice standard security procedures of saving (or uploading) anything on which I'm working every minute or so.
It took me longer to write this blurb than it did for me to turn my Mac back on.
When you work on Mac, one crash every several years makes the news. I actually enjoyed it, it didn't cost me any lost work, and it let me feel some pity for the sorry hoards still handicapped by working on Windows.
Heck, the kid's pictures are already up. Time to get back to work.
14 August 2008, Thursday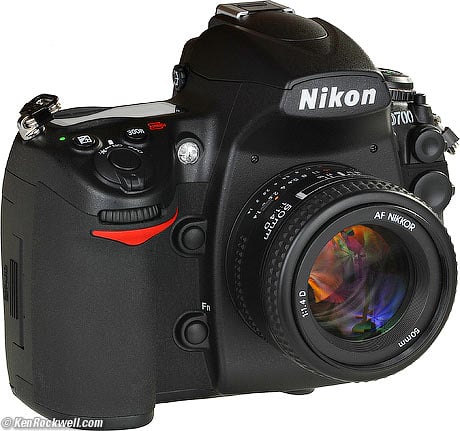 Nikon D700.
NEW: Nikon D700 Review. I shoot 5,000 frames on my D3 every month. I got a D700, and except for the cheaper finder screen, lack of audio recording and the 4:5 aspect ratio, I don't see anything missing or different on the D700.
In fact, the D700 actually improves on the ergonomics of the D3. Whoo hoo!
The D700 really is a D3 in a smaller package. Unless you're a full-time sports shooter, forget the D3 and get a D700. Of course in good light, the D300 technically looks as good if you don't need FX for the ultra-ultra wide angles I love or low-light capability.
NEW: Nikon D3, D700 and D300 Sharpness Shootout. I've never seen three cameras match so closely. They are identical.
NEW: $1,000 off the Nikon D700. The D700 is so good it ought to replace the D3 for many people who use the D3, so if you follow my secret plan (explicitly detailed for the whole world at that page), you can earn a $1,000 cash profit by buying a D700, and then the D3X will only cost you $2,000, total. Follow the plan and plan to win.
13 August 2008, Wednesday
D700 Update: I have one, and as you can see below, am working with it. The great news is that it borrows mostly from the D3 and not the D300. There are a couple of things the D700 can't do, like the professional 5:4 aspect ratio and mask the finder, but the D700 also does some things my D3 can't do, like set the INFO panel to pop up on the rear 3" LCD instantly whenever I hit the power-switch illuminator. The D700 also adds a great AUTO mode to ADR.
If you're wondering if you ought to get a D700, yes!, go get one. If you've got a D3 there's no reason to throw it away, but if you don't have a D3, the D700 is just about as good for just about everything.
The D3 is still faster and tougher for full-time pros and newsmen, but for weekend wedding shooters and amateurs, the D700 is it.
Serious amateurs can kiss those squinty little finders and plasticy DX lenses of DX cameras goodbye forever! It's been a silly past few years.
NEW: Nikon D3, D700 and D300 ISO 3,200 Shootout. The D700 is the same as the D3, and the D300 sucks (at ISO 3,200).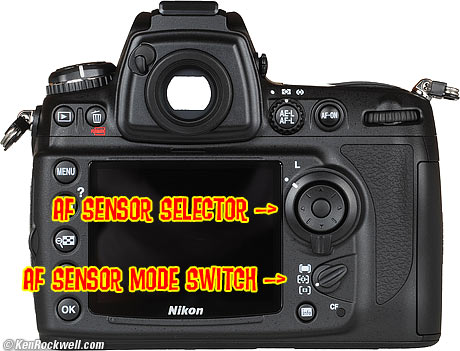 Nikon D700 AF Controls.
NEW: Nikon D700 AF Settings.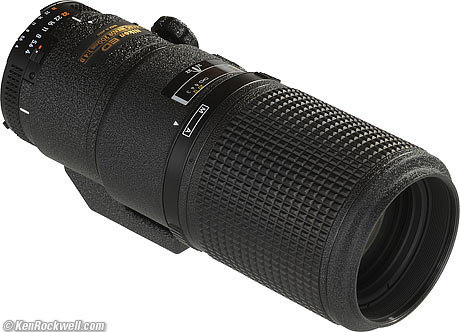 Nikon 200mm f/4 ED-IF Micro.
NEW: Nikon 200mm AF Micro. The sharpest 200mm I've ever used. This is also one for tripod-huggers who don't understand the 70-200mm VR.
NEW: Nikon Cheapskate Lenses. Just bought a D700, want the best possible optics but are out of cash? These older lenses will deliver the quality and speed you deserve for your FX camera, for next to nothing. Their optical performance far exceeds the newest 24-120 VR.
11 August 2008, Monday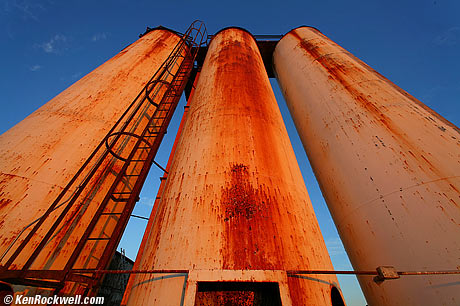 Three Stacks. Canon 5D, 14mm f/2.8L.
NEW: How to Use Ultrawide Lenses.
New Home Page: Most of you folks bookmark this page, and I used to, too. I cleaned all the junk off my Home page a couple of weeks ago, so now I find it handier since this page is just 1-click away, and all the other stuff is easier to find. Check it out if you haven't recently.
My Nikon D700 arrived Friday, but to tell you a secret, I was having too much fun this weekend shooting a Nikon FA on Velvia 50. I didn't get to opening the D700 box until today!
8• 8• 8, Friday: China's Happy Luck Day
Nikon D300 Firmware Updates: My D300, one of the very first ever shipped, has always been fine. Some people wrote me asking about battery problems, which I've never seen.
For the few people who have had problems, I've learned that this was fixed by Nikon's free firmware updates back in February.
My D3 still is running on the crummy recalled first firmware update. It works great. Like a lot of people who shoot all day, I'm too busy shooting (up to about 40,000 shots so far) to bother twiddling with the newer firmware update that came out last month.
Funny thing is that it takes me more time to write this paragraph than it does to update my own firmware. See what I do for you people? Now that I just mentioned that, let me take a few minutes and try it.
Weird, my D3 wakes up in Manual mode at 1/260 at f/16 each time I updated each half of the firmware. A green-button reset fixes that.
It works great. In addition to the usual "Image Comment," there are new, additional "copyright info" spots where more data can be added. There still is no © symbol, but now I have my website, name and email address in the metadata of every image I make. I guess Nikon develops using windows PCs, while we Mac users have the © and ¢ and degree º symbols right in front of our faces (opt+g, opt+$ and opt+0, etc.). Only the hackers know where to find these on windows; when I used windows, I'd just copy and past those symbols from other documents rather than alt-del-opt 0131 on my laptop.
07 August 2008, Thursday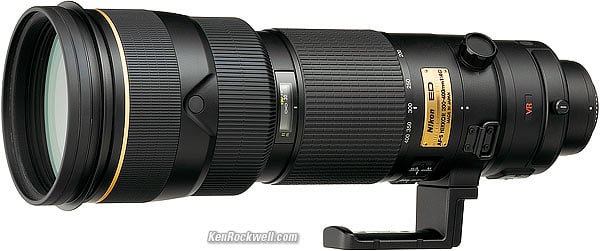 Nikon 200-400mm f/4 VR.
NEW: Nikon 200-400mm VR Review. A reader loaned me one of these (no kidding), so now I've written a complete review.
His lens was mummy-wrapped in camo bandage tape, so I didn't use it as a model to illustrate the review.
06 August 2008, Wednesday
Spiffy Graphics! I've improved my already cutting-edge graphic design when Will Fastie of Maryland made me some real graphics to replace my lame asterisks ( * * * ) that I've been using at the tops of my most recent reviews.
I had been planning to make some 1 - 5 star graphics to stick in my reviews when ever I got the proverbial "round tuit."
Will used cameras instead of stars.
I was sending him back some ideas for changes, and thought heck, so I just did new ones myself in Photoshop.
I impressed myself at how clearly my little group of graphics can pretty much say it all for a lens. Even better, have a look at how I so clearly can bifurcate a review to cover all the various kinds of people who might have different opinions. People compliment me on my no-BS style, and I think the stars at the top of my 70-200mm VR and 24-120mm VR reviews are classic.
16 GB SanDisk CF Card on Rebate: $69.95 after the rebate here at Adorama. I may get one of these to sit in the backup slot of my D3 so I can use my fast Extreme IV card for actual shooting again.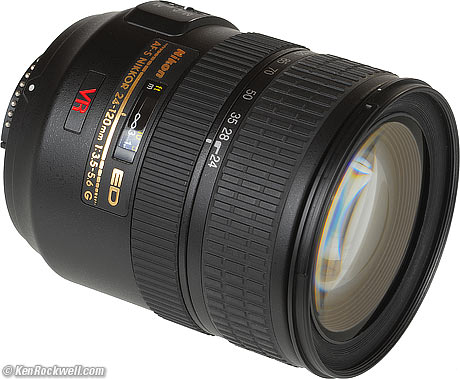 Nikon 24-120mm VR.
NEW: Nikon 24-120mm VR Review. My review, on film, had been up since 2003. I just completely rewrote the review including use on the D3 and D700.
05 August 2008, Tuesday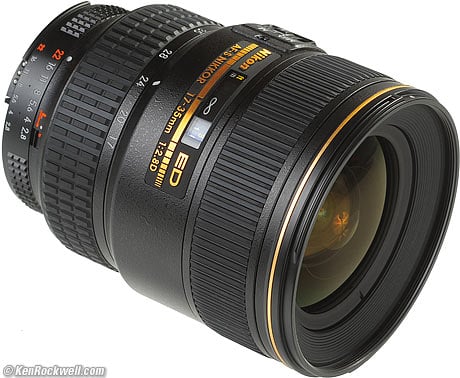 NEW: Nikon 17-35mm Review. My review, on film, has been up since 2001. I just completely rewrote the review including use on the D3 and D700.
Even though equipment hounds (and ultra-ultra wide addicts like myself) love the macho-man 14-24mm, the 17-35mm is the better lens for most photography, especially because it can use filters, like grads. Very, very few people know how to use an ultra-wide lens properly, so very few people have any need for the 14mm end I love so much.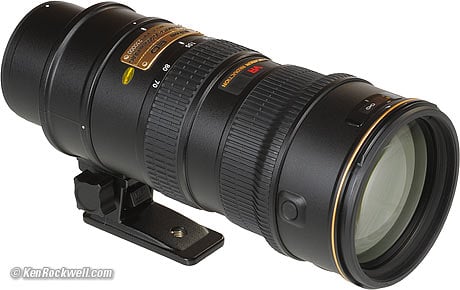 Conspiracy Ended: The Nikon 70-200 VR is in stock again at Amazon, but the price seems a bit high.
04 August 2008, Monday
NEW: ZTS MBT-1 Battery Tester. Finally, a battery tester that works!
03 August 2008, Sunday
Nikon D3 Bargains: I love mine, for which I paid full price back in 2007, but even better today, Adorama, B&H Photo Video, J&R and Amazon are selling it for close to $4,540 (click their links to see their prices and order one; you have to put it in your cart at Adorama and B&H to see their lower prices).
A D3 for $4,550 is a lot better than a D3 for $5,000, in fact, if the gap between D700 and D3 is only $1,500, sounds like it's time for the D3 for everyone!
01 August 2008, Friday
Where do I get and store all this gear? I don't! People loan most of it to me. I don't actually have all this stuff; no one could. For instance, the 80-200mm f/2.8, Leica Minilux Zoom and Canon 1Ds Mk III were loaned to me by their owners (my readers), and I shipped them all back to them as well this week.
$500 Nikon D3 buffer upgrade. I couldn't' care less, but for people who insist on shooting 14-bit NEF at 9 FPS, here you go.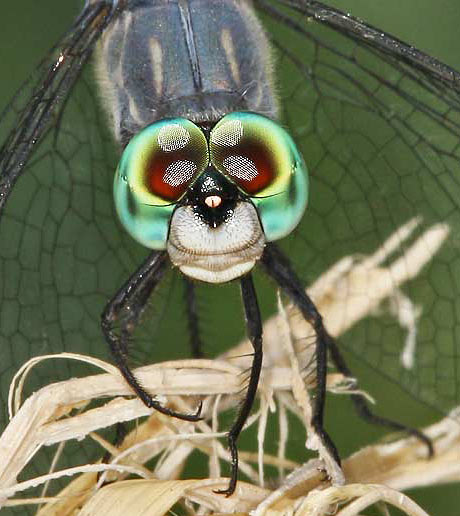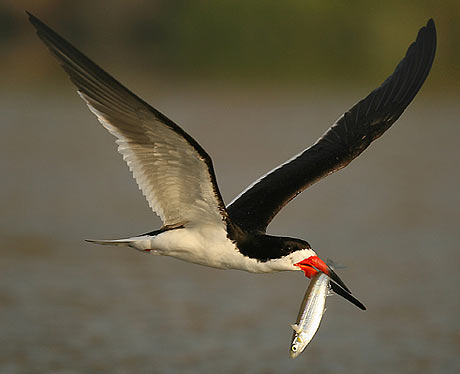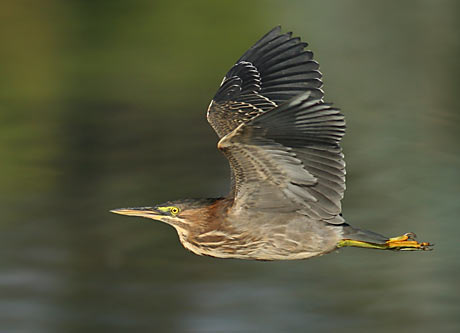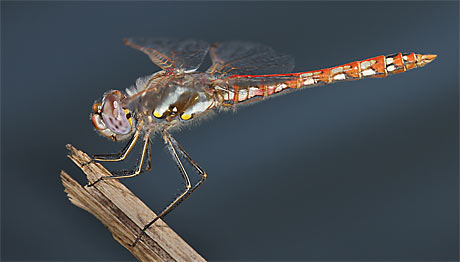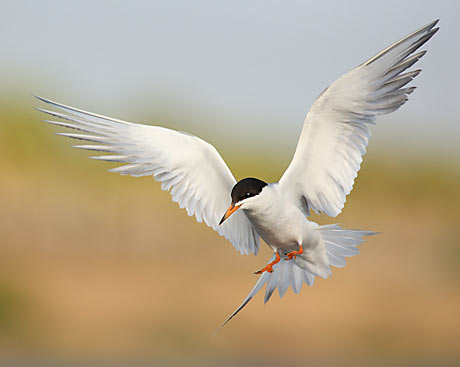 Expert nature photographer, Steve Cirone, still has a few openings for his instructional nature photography tour this Saturday, August 2nd, in San Diego. Steve is an excellent instructor and will limit this workshop to no more than 8 people. His previous workshop sold out.
The August 2nd workshop will run from 7am to dusk. So, for only $285 you'll get a whole day's worth of instruction from San Diego's premier nature photographer.
From 7am to 9am, he'll teach you in the field how to take great photographs of foraging and flying birds at a local lake. From 9-12, he'll instruct you on techniques to photograph the many species of dragonflies he has discovered. You'll come away with some great bird and dragonfly pictures.
After a lunch break which includes a brief program by Steve, and image-sharing among the participants, you'll regroup at a local ocean intertidal zone. Steve will teach you how to make beautiful images of subjects such as terns, marbled godwits, dowitchers, egrets, willets, and many others.
He'll cover camera and lens settings that work best for birds, along with how to approach your subjects without scaring them off, and how to optimize your exposures and posing and light angles.
Steve has been teaching and creating cutting edge award-winning wildlife photographs in Southern California for decades, so he knows his stuff. Click here to register for his workshop, or phone him at (858) 761-1020.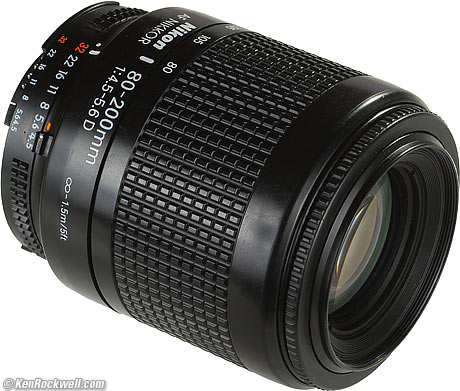 NEW: Nikon 80-200mm f/4.5-5.6 D AF Review. Surprisingly decent optics in a dinky plastic lens.
New Link: Gerald Hill Black & White master.
What Was New in:
December 2007: Loads of details about the Nikon D3, D300, 14-24mm and 24-70mm, much of which still isn't on the individual review pages.
November 2007: First hands-on details about the Nikon D3, D300, 14-24mm and 24-70mm, much of which still isn't on the individual review pages.
August 2007 (Loads of new Nikons and Canons)
2006 November - December (includes birth of Ryan Rockwell)
2006 October - November (includes photos from a trip to NY)