Home New Search Gallery How-To Books Links Workshops About Contact
LEICA Minilux Zoom
(1998-?)
© 2008 KenRockwell.com. All rights reserved.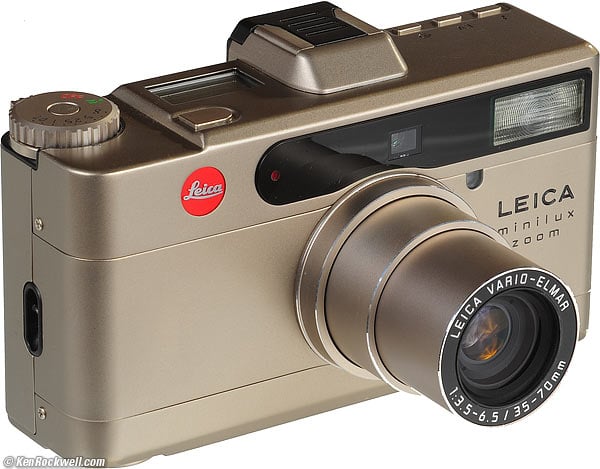 Leica Minilux Zoom. enlarge. Adorama often sells these used right here, and you always can find them at eBay here. It helps me keep adding to this site when you get yours through these links, thanks! Ken.
July 2008 Minilux 40mm More Leica Reviews
How to Shoot Digitally with the Minilux Zoom
Introduction top
Intro Specs Performance Usage Recommendations
The Leica Minilux Zoom is a very basic point-and-shoot for rich people. It doesn't work any better than any other point-and-shoot, and is worse than advanced point-and-shoots like the Nikon 35Ti or Konica Hexar. If you want great results, any plastic SLR like a Nikon N55 works better.
The fixed-lens Minilux is far better than this zoom.
Leicas aren't for people who work. This Leica is for people rich enough to hire photographers and buy fine art, not for photographers themselves.
If you want to distinguish yourself among others as a person of distinction, carrying this Leica does the best job.
It has only the most basic features. It lacks almost everything that a photographer would want in a serious, but portable, camera. I'd consider one of these for my mom since prices are reasonable today (2008), but I'd not get one for myself except as a wonderful objet d'art.
The first thing that hits you when picking it up is how heavy and solid it is. Even the screw-in battery cover weighs a ton.
It feels great picking it up, but as a simple, non-ergonomically designed rectangular brick, it doesn't fit well for in-hand for shooting. The shutter button isn't where you want it; it's a little too far in. When I handed it to my wife to make a photo of me, she also put her finger on the top of the dial, where the shutter should have been. My wife's comment? "This camera is retarded." The Nikon 35Ti is a little better, and the Hexar is a lot better.
It has only one strap hole for a dainty wrist band. There are are no lugs for a shoulder strap. Unless you want to dangle it from your wrist, you'll need to stuff it in a big pocket (or if you're a lady, in a purse). I'd carry this in a pocket of my hiking shorts, but be careful: it weighs a pound and kept pulling down my pants.
Please forgive my cranky attitude throughout this review, but neither this Leica, the Nikon 35Ti or Konica Hexar, to which I'll often refer in this review, do everything I want for serious photography. I have a comparison photo of all three at the bottom under Recommendations.
Crappy Viewfinder
Once you pick it up, you quickly see my biggest complaint: the viewfinder is awful. It's half the size of the finder of the 35Ti or Hexar, and much smaller than the finder of a disposable camera! It's a joke!
The finder is just an 0.33x magnification rectangular hole with a couple of almost invisible hairlines for parallax and focus area. It's just a tiny peephole with no other indications or internal lighting. There are no frame lines: it's just a rectangle like a disposable camera, but smaller.
The framing is inaccurate. Much more is in the picture than shown in the 83% finder.
There are green and red LEDs next to the finder which you see out of the corner of your eye while pressing the shutter.
A tiny finder like this is good for being able to see the overall composition when creating art, but it's so small that one cannot see if your subject is smiling. I have to compose with both eyes open, one to see the framing in the finder, and the other to see the subject's expression. Good luck!
The Minilux Zoom is a joy to behold and touch, but the tiny finder is probably why people who buy these usually leave them at home. You'll find zillions of used ones for sale, and almost all of them are still in the original box.
Lens Cap
There is no sliding lens cover. You have to attach and remove the lens cap manually every time. If you forget and leave it on, there is no indication (except for a slight blockage of the bottom of the finder) and your pictures will come out black.
Versions
Leica offered two versions of Minilux back in the 1990s. Each sold for about $700 new. The Minilux has a fixed 40mm f/2.4 lens, and the Minilux Zoom tested here has a 35-70mm f/3.5-6.5 zoom.
The fixed-lens Minilux is far better. Both lenses are sharp, but the Minilux exposes and focuses afar better than this zoom.
Who Really Makes It
While "designed by Leica," each is made in Japan in an unknown factory. Depending on where I read this, the inside is actually a Panasonic or Minolta point-and-shoot with a lens and outer casing designed by Leica.
Contrast this to the 35Ti or Hexar, which really are made by Nikon or Konica.
Prices
| | | |
| --- | --- | --- |
| | New, 1990s* | Used, 2008 |
| | $650 | $250-$350 |
| Minilux Zoom | $750 | $250-$350 |
* At full NYC discount. List and retail prices were higher.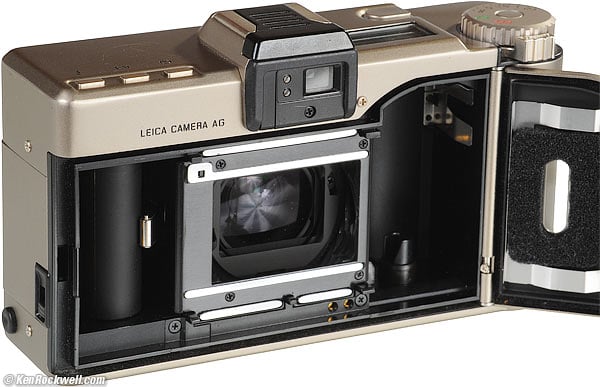 Open Back, Leica Minilux Zoom. enlarge.
Specifications with commentary top
Intro Specs Performance Usage Recommendations
Lens: 35-70mm f/3.5-6.5. 7 elements, 6 groups. Multicoated. Flat UV filter seems to be permanently attached in front, unless the front surface just happens to be flat.
AF: Active IR.
Close Focus: 2.3 feet (0.7m).
Finder: Tiny 0.33x magnification at wide, 0.57x at tele. Covers only 83% of image.
Diaphragm: None. Shutter blades serve as diaphragm.
Shutter: 1 - 1/250 second. T and B, not to exceed 99 seconds.
Meter: Center-weighted. Sensor is a hole in the body next to the lens.
Exposure Modes: Program auto only.
Exposure Indications: None.
Flash: Built-in.
Flash Range: only six feet at the tele setting at ISO 100! (12 feet at the wide setting.)
Flash Modes: Auto, ON, Off, Redeye, Slow Sync.
Size: 4.936 x 2.884 x 2.039" (125.38 x 73.25 x 51.80mm), WHD, measured, closed with cap.
Weight: 14.695 oz. (416.6g), measured with cap, battery, and 36-exposure load of Fuji Velvia 50 but without case and without strap. Nikon 35Ti measures 14.320 oz (406.05g) with all this and with case and with wrist strap. The Konica Hexar Silver, with all this (except a 24-exp roll of print film) and a shoulder strap, filter and billet aluminum cap, measures 23.160 oz. (656.5g)
Power: One CR123A lithium. These are great; these sell for under $2 each at BatteryJunction.com and you always can keep a couple of spares in the key holder pocket of your Levi jeans.
Packaging: Inner curved white couture box, slid inside an outer rectangular white corrugated box.
Part Number: Minilux Zoom: 18 036. (Minilux 40mm f/2.4: 18 006.)
Leica CF Compact Flash
Warning! The user's manual cautions that taking a flash picture of a moving train, car, bike, bus or truck will cause it to crash and kill many people, since the driver might be blinded.
GN: 65 feet (20 meters) at ISO 100.
Recycle Time: Rated as 5 seconds with alkalines. Measured as 6 seconds to the ready light. Much faster, even instant, recycling if used on other cameras in its own Auto modes at closer distances.
Range (Minilux Zoom, ISO 100): 10 feet (3m) at Tele, 18 feet (5.7m) at Wide.
Range (Auto mode): to 23 feet (7.1m) in Auto 1 or 12 feet (3.5m) in Auto 2.
Power: 2 AA cells, alkaline or Ni-MH. Lithium is prohibited since they might ignite the flash.
Part Number: 18 541.
Performance top
Intro Specs Performance Usage Recommendations
The Minilux Zoom has a slow, limited range zoom and no advanced features. It has only primitive center-weighted metering. It has no advanced Matrix metering as does the Nikon 35TI and 28Ti, so you'll often need to use exposure lock or compensation.
Like every point-and-shoot, it takes a moment for tiny motors to open everything when turned on, and has to be turned off after each shot to put back in your pocket. This gets in the way, although you can leave the power switch on and the lens stays out. If you do this, it wakes right back up when you tap the shutter, but you can't put it in your pocket this way.
Ergonomics
It's easy to shoot with just one hand, so long as you don't need to set any of the flash or exposure compensation controls. There aren't any other controls about which to worry.
Power, zoom, focus and shooting are all done with just two fingers. Bravo!
The frame counter doesn't show with power off. The Konica Hexar doesn't show this either, but the Nikon 35Ti does.
There is always a fraction of a second delay until the shutter fires with flash, even if you've pre-loaded everything properly with a half-press of the shutter.
There is no way to read the ISO as read from the film's DX coding, or set it manually. You just have to trust it.
The top LCD looks great because it's custom for Leica and uses their fonts. Unfortunately it's supposed to light up automatically as needed, but doesn't. I have to put my finger over the light meter to trick it into turning on. The problem is that it turns on based on what's in front of the camera, not on how much light is hitting the top of the camera.
The green finder LED blinks to let you know the shutter speed is slow, and blinks a little faster to let you know you're too close to focus. The bad part is that the two blink rates are so similar that you'll have to guess which is which based on conditions.
Close Focus
Close focus isn't close enough. I can't even hold it out to make a self-portrait. Since it can't focus any closer than 2.3 feet (0.7m), it locks up and just doesn't shoot at closer distances.
The close focus is a little better in the Konica Hexar (2 feet or 0.6m), but the Nikon 35Ti focuses to 1.3 feet (0.4m).
Unlike the Nikon and Konica, there is no indication of focused distance. If you need some sort of confirmation that it's focused at a set distance, set it manually on the dial.
Bokeh
Bokeh, at full aperture, is fair at the wide end.
Closed down, the combined shutter/diaphragm effectively creates a blurred aperture, which if bokeh was an issue at smaller openings, is probably wonderful.
Dry fire the camera and look through an open back to see this.
Temporal Bokeh
This is abstract, so if I'm not making sense, just skip ahead.
At slower shutter speeds, the Leica Minilux Zoom acts like most other cameras, which means that motion blur looks like wiggly line segments. Something that's blurred has an obvious start and stop.
Mathematicians call this a rectangular distribution or windowing: the shutter opens from 0% to 100% instantly, stays open for a period, and closes again instantly.
At faster speeds, the primitive combined shutter/diaphragm doesn't open and close instantly as do most normal shutters.
Instead, in brighter light the Minilux Zoom has an almost Gaussian temporal distribution. The camera opens gradually, then immediately starts closing gradually.
Anything that has blur won't have sharp cutoffs on each side of a blur line. Motion blur will look far more natural, with soft starts and stops to any blur.
This is nice, and something you can't get from anything other than point-and-shoot cameras with combined aperture/shutter blades like this and the Olympus XA-2!
AF Accuracy
AF is accurate when it works.
The bad part is that it doesn't always work, and the only way you know is when you get your film back.
Close subjects are usually fine, unless they are very shiny, like a stainless-steel BBQ.
Distant subjects are the problem. The Minilux Zoom uses active AF, meaning it shoots out an IR beam and looks to see where the beam hits the subject, just like almost all film point-and-shoots.
If the subject is very far away, the camera can't see any return from the beam and has to guess. The problem is that it tends to guess about 20 meters (50 feet), which often means that distant landscapes won't be in focus.
If you know your subject is at infinity, set it that way manually, and be sure to unset it before the next shot.
Evenness of Illumination
At the wide end (35mm), the image center is hotter than the sides and corners. This looks bad when compared to the results from an SLR; it looks more like a junk camera when the center is much brighter than the rest of the image.
It's better at the longer settings.
Use this to creative effect.
Distortion
The best thing about the Minilux Zoom's optics are that its lens has very little distortion. I couldn't see any distortion in any part of the zoom range, which is among the best zooms I've seen. The worst example is in the shot below, shot at the wide end, which still looks pretty good as far as distortion goes.
Exposure is another story.
Exposure Accuracy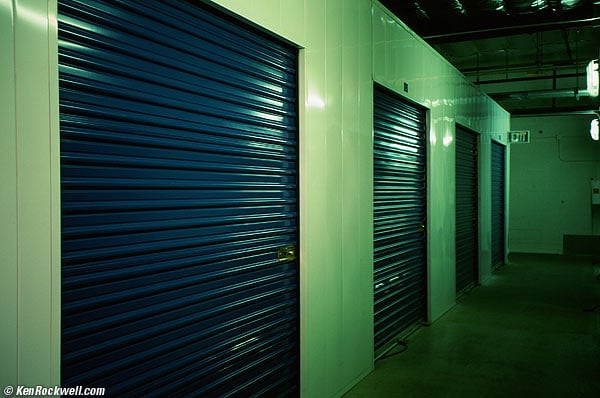 Hand-held on Velvia 50. Typical crappy exposure.
Exposure accuracy is poor compared to other cameras. It's about what I'd expect from a below average point-and-shoot. It's poor because it's not simply a consistent error. Some images are over and others are under, and it will take a lot of experience to learn when and where it does this and be able to compensate for it ahead of time. It's more than simply following the Zone System for light or dark objects.
Unlike with an SLR (or even a Nikonos IV), on which I can get 37 perfect slides on a 36-exposure roll, I only got 12 out of 38 on my first roll with this Leica. I got 35 out of 37 with my first roll in an N90s, for instance, and these were under tougher circumstances including time exposures at night.
To get great results on slide film, you'll need to shoot a lot and develop a second sense of how and where to preset exposure compensation. I doubt anyone with this ability to work around light meter foibles would be using a camera like this, which means 99.9% of the people using the Minilux zoom are in for iffy exposures.
From what I see, most people who shot Leicas shoot print film, for which this isn't that important. If you shoot prints, and if the dark and shadow parts of your pictures are muddy or gray instead of sharp and black, you're getting underexposure.
Flash exposure is even worse. It will cheerfully underexposes a good percentage indoor flash shots, even if they're in range. Be careful: flash range is often only a couple of feet.
Fill-flash is also iffy. At the close focus distance in daylight at ISO 50, it overexposed.
Lens Sharpness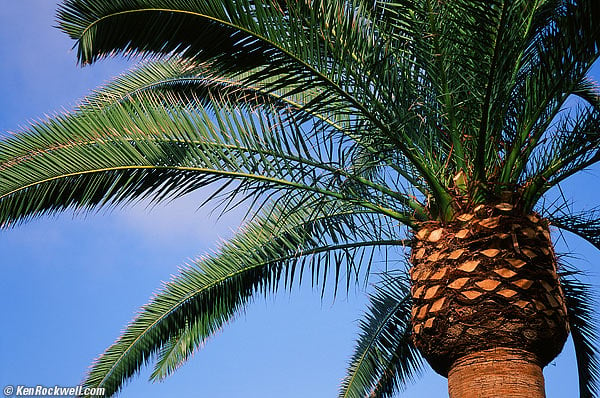 Palm. Fuji Velvia 50. enlarge.
Lens sharpness doesn't matter if the focus, exposure or color is off.
If you get those right, the lens is almost as sharp as SLR lenses. I compared it directly to a Nikon 35mm f/2D, but a significant percentage of the Leica's shots weren't precisely focused. The Nikkor lens on an F4 SLR was always in perfect focus with perfect exposure, and was sharper in the corners.
The 35Ti is far better, since it never misses focus or exposure. The 35Ti and the Hexar both read-back focus distance, so you know as you shoot if focus is in the ballpark.
Lens Cap
What was Leica thinking when they forgot to put a little sliding door to cap the lens automatically like every other point-and-shoot? Even the Nikon 35Ti and 28Ti have solid titanium doors that slide over the lens when its retracted.
Leica was thinking about warranty issues. Sliding doors (and retracting lenses) are the first things to break in any camera. It's so common that I don't mention in my reviews that many of my Casio, Canon, Fuji and every camera with one of these eventually break.
What happens is that crud eventually accumulates, and the little leaves of these covers get stuck halfway open. When they won't open all the way, you have to bang on them or send the camera out for a repair that usually costs more than the camera.
It's a pain to have to deploy a lens cap with this Leica, but I don't fault them for skipping the stupid little lens blind all together. Of course the motorized lens will die just like on all the other cameras, but at least without the blind there's one less thing to break.
Color Rendition and Filters
Awful. There are no filter threads, so the only way to use filters is to hold them in front of the lens and hope the light meter on the body sees through the filter and not your finger. Since there is no exposure readout, there is no way to tell.
As a film camera, filters are mandatory to get the right colors. Even the master photographic artists who brag that they create their work "without filters" parenthetically explain "except for normal filters needed to balance the prevailing light conditions."
I shoot thorough an A2, 81A or 812 filter all the time to get the look I want from Fuji Velvia 50. With no filters, the results are too cool for me.
The Nikon 35Ti and 28Ti can't use filters either, but the Konica Hexar can. Even Nikon's first L35AF takes filters, but if you want to do serious photography, it's not easy with this Leica.
Finder
Hideous. It's tiny and cramped. If more people looked through the finder before they bought these, far fewer of them would have been sold.
It is one-half as wide (one-quarter the area) as the finders of either the Nikon 35Ti or Konica Hexar.
Flash
Recycling is slow. Its rated for 6 seconds, and in actual use, I found myself having to wait for the red LED to stop blinking to be ready for the next shot. Only the cheapest point-and-shoot digital cameras today are this bad. Even inexpensive digital point-and-shoot cameras recycle much faster.
External Flash
There is an external flash shoe, but wait — there are no exposure controls on the Minilux Zoom! Sure you can pop on any flash, but God bless you if you figure out how to set the exposure for anything other than the dedicated Leica CF Compact Flash.
The internal flash shuts off when a flash is slid in the shoe. The included black plastic hot shoe cover has a special cut-out on the right so that it doesn't cancel the built-in flash.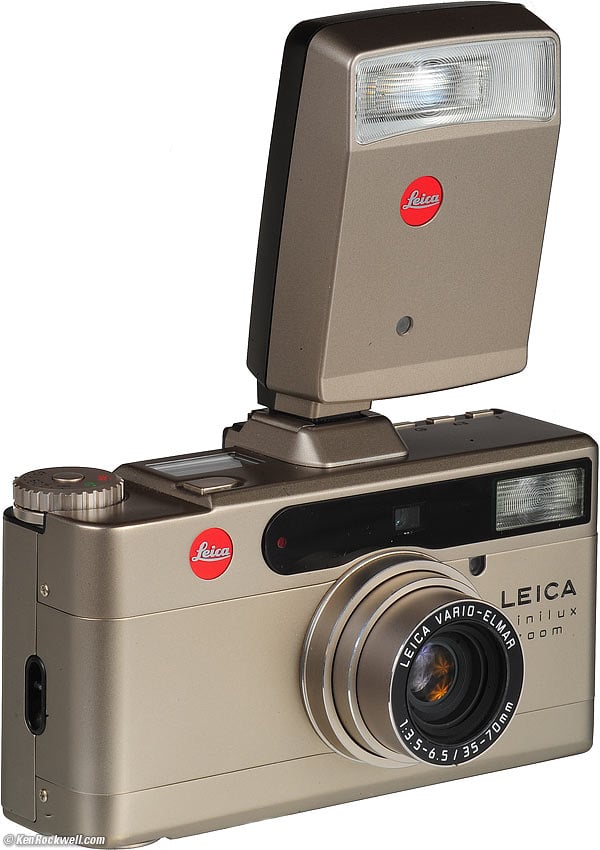 Leica Minilux Zoom with Leica CF Compact Flash. enlarge.
I borrowed the little dedicated flash along with this Minilux Zoom. I didn't bother to try it, since the camera already has a flash.
When inserted, the bigger flash cancels the built-in flash. The camera makes the external flash fire at full-power for every shot regardless of the setting on the back of the external flash. The Minilux expose accordingly. The cameras's red finder LED supposedly follows the state of the external flash.
There is no red-eye mode with the external flash. If you have it set, it cancels.
If you consider the added size with the separate flash, it becomes bigger than a real full-featured camera, like a Nikon N55 or D40.
Worse, there's no elegant way to carry the Minilux Zoom with the flash attached. There's the dainty wrist strap; but do you want this whole thing hanging off your wrist?
To put it back in a large pocket, I'll still have to take the two pieces apart, and reassemble them to shoot. There is no shoulder strap.
If I need more flash power, I'll grab a more serious camera.
Don't take this as a complaint; the 35Ti simply has no option other than its built-in flash. Only the Hexar can use a real external flash of any kind, since it has both a hot shoe and clever exposure controls.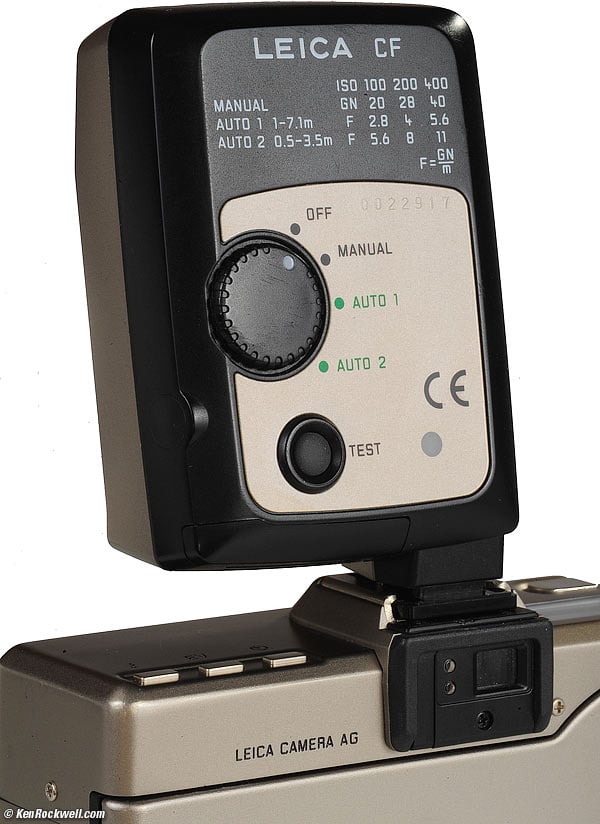 Leica Compact Flash CF 18 541.
The CF flash itself is excellent. It's tiny, efficient and works well. I'd use the flash in its Auto modes on other cameras. It recycles very fast in either Auto mode.
It runs on 2 AA cells. Be careful: the battery cover can get lost because it is not tethered to the flash.
Recycling, from a full-power manual blast, takes just under 5 seconds with fresh alkaline cells. With alkaline cells testing at 40% on the MBT-1, the ready light takes 30s to come on, but the flash still works well even if the light isn't on yet.
Recycling is faster in Auto mode at less than full power, in fact, recycling is often instant.
Ni-MH cells testing at 100% take 6.5s to recycle, while other Ni-MH cells testing at 80% take 10-13s to recycle from a full-power dump.
I measure GN 40 feet (12 meters) at ISO 100.
It weighs 4.220 oz (119.7g) with two alkaline AA cells, or only 2.505 oz. (71.0g) empty as manufacturers usually specify things.
Zooming
Zooming is by switch and motor. Unlike digital point-and-shoots, I can get at least 30 different focal length settings for exact framing. This is great!
Mechanics
It feels like a recent Contax: solid, precise Japanese manufacturing.
The lens, just like the Nikon 35Ti, wiggles back and fourth if you try it. This is normal.
I didn't have a data back to try, but from the images of its LCD in the manual, it seems to use the same LCD as both the Konica Hexar and the Nikon N75 QD.
Lens Cap
Did you leave your cap on? You have to use an old-fashioned lens cap with the Minilux Zoom! If you leave it on, you'll get black pictures and have no way of knowing about it until you get your film back. The Minilux zoom doesn't an have automatic lens cover like the Minilux and every other point and shoot.
The cap is very special with tiny inside grabbers. Lose it, and you'll be buying another from Leica.
One saving grace is that since the cap is actually much bigger than the lens element, you'll see a slight occultation at the bottom of the tiny finder. If you're observant, this will let you know to remove the cap.
Having a mom who's a flying instructor, we paint these "sucker caps" DayGlo orange so it's obvious to our subject if we've left it attached.
Durability
It's covered in titanium, but it's painted. With wear, you'll wear down the paint to the somewhat silverier bare metal below.
There's no lens barrier to break, but the lens still is motorized and has to pop in and out for just about any shot. This is the weakest part of every point-and-shoot.
Apocrypha suggest that these die early and often with E02 shutter errors. If this happens to you, your camera is dead until it can be serviced for money. I'm unsure if these errors are the common errors caused by cameras trying to open inside a pocket, which blocks the extension of the lens.
I haven't tried it for any length of time, however the mode dial seems as if it easily will get knocked when carried in a pocket, which will turn on the Leica all by itself. This could be bad if these errors are caused by blocked lenses trying to extend inside a pocket.
Low Light
Forget it. The zoom lens is a slow f/3.5 at the wide end, and a dismally dark f/6.5 at the long end. For low light, you want the f/2.4 fixed 40mm lens of the Minilux or the f/2 lens of the Konica Hexar.
Exposures run to only 1 second, beyond which the Leica gives up and shows "B," for bulb. "B" means you may hold the shutter button for a while for a longer exposure, and the LCD will count seconds for you, but that you have to guess at the exposure! Even in B, the Leica stops the exposure after 99 seconds.
Time Exposures
The "T," or time, mode is a nice touch, however it stops any time exposures after 99 seconds.
The green light near the finder window stays on to let you know the shutter is open. It flashes or not the whole time depending on what it was doing when the shutter opened, so expect it to be flashing slowly meaning low light. Fast flashing means bad focus.
The top LCD counts seconds. The top LCD lights (or not) depending on the light at the time you open the shutter.
You cannot zoom while the shutter is open; sorry, no zoom pops for you!
There's no way to control the aperture. If you're at either end of the zoom range you know the f/stop (f/3.5 or f/6.5), but since it varies by two stops across its range and you have no other indication, forget trying to guess the exposure for dim light.
Dry Firing
The Leica Minilux Zoom dry-fires just fine with the back open.
Upside-Down Pictures
The Leica runs film upside down, with the 35mm film cassette on the right and pulling film to the left.
Frames number in the usual way, but your slide imprints will be backwards compared to most 35mm cameras.
Rewind
Rewind takes 45 seconds for a 36-exposure load of Fuji Velvia 50, which is forever if you're waiting to change rolls for the next shot.
The frame counter counts backwards very slowly as it rewinds.
Economy
I got 38 frames on a 36 exposure roll of Fuji Velvia 50, yippee!
Shoot enough rolls, and the extra frame beyond the industry standard of 37 frames will make this Leica pay for itself.
Usage top
Intro Specs Performance Usage Recommendations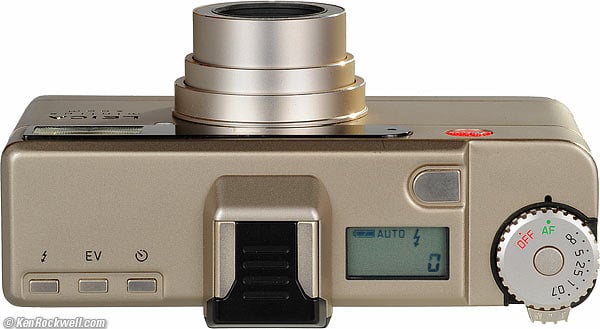 Top, Leica Minilux Zoom. enlarge.
The Leica Minilux Zoom is easy to use. If you're a photographer, skip the useless user's manual and just go. Everything is obvious and just works.
Exposure and focus lock with a half-press of the shutter. Green LED means GO. Slow blinking green LED means slow shutter. Red LED means flash is going to fire. Fast blinking red LED means flash is charging. Easy.
A unique thing about this Leica is that there are no menus, no custom functions, and no secret decoder rings needed to figure it out, as you need with the Nikon 35Ti and Konica Hexar. If you're a photographer, everything you need is in the three buttons under your left thumb. These settings thankfully cancel every time you turn off the camera.
The Minilux zoom is not an advanced camera. The only confusing thing about using it was that I presumed it had some advanced features for which I needed to read the manual. Nope, it's simple 1980s point-and-shoot technology, which is too bad considering it was sold in the 1990s, but this means you use it just like a 1970's Canon Sure Shot.
The lack of controls is emancipating: nothing to set means nothing to worry about except making a great photo.
Flash Bolt: Keep pressing to cycle through the flash modes. The double-bolt symbol on the LCD is German for red-eye reduction. The smaller bolt to the left of the bigger bolt (blitz) means a red-eye "preflash."
EV: Obvious again, keep pressing it to cycle among various exposure compensation values. It goes in half-stops between +2 and -2. Trick: Also obvious to skilled photographers, you'll see a "T" pop up in the rotation. This is Time, or that the shutter stays open until you press the shutter again. Use this for time exposures without needing Leica's expensive remote.
Self-Timer: Tap it, and the Minilux Zoom starts counting down. Tap it again (or turn off the camera) to cancel.
The user's manual is a little like the Minilux itself. It's a heavy, solid brick. It's printed on exquisite clay-coated art paper, and weighs a ton for its tiny size. Watch it sit on a table: the manual doesn't dog-ear or curl; it just sits flat. It's weird once you pay attention to this. Also like the camera, it doesn't say very much.
The single useful thing you'll learn from the manual, beside the specs, are that you can program any of the settings of the three control buttons to become the default power-on settings. All you have to do is hold the button in for 3 seconds as you arrive at your preferred setting, and once it starts blinking, it is now set as your default. This is how you program the Minilux never to use flash unless you tell it, for instance. To return to Leica's default values, you have to find the default values and set them this same way.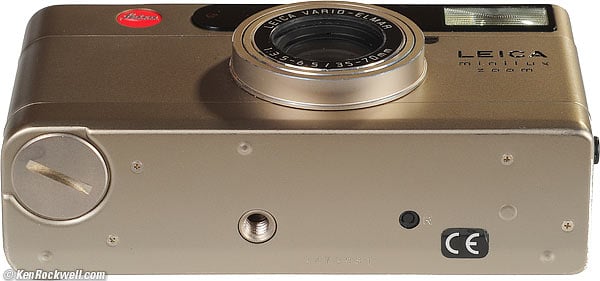 Bottom, Leica Minilux Zoom. enlarge.
Recommendations top
Intro Specs Performance Usage Recommendations
Forget this camera. Get the fixed-lens Minilux instead.
This Leica best serves its owner as an article of distinction. If you want to differentiate yourself as an individual of entitlement, culture, stature, discernment, attainment, achievement and discriminating taste for the finer things, dangling this gem around your wrist says far more than any Rolex. Everyone has a Rolex, and most are fake anyway. Leicas are the genuine article, and anyone toting a premium film camera gets far more attention from the cognoscenti than any common hack with a digital camera. Film is the eternal medium of the masters.
This Leica isn't that good for taking pictures, but who cares. People who own Leicas clearly don't have to trouble with their own picture taking; they buy and collect photography done by others. This Leica is a memory-maker for those who make the world turn, not a tool for those who merely make pictures.
The Leica Minilux Zoom is a rich person's point-and-shoot. It was a premium one-time-use vacation camera for the elite in the 1990s. It offers no more controls than the simplest point-and-shoot. Today, the price is right used, so if you want one, by all means, get one.
The Minilux Zoom is for most people. I'd want to look at the fixed-lens Minilux first for myself.
If I was going to shoot the Minilux Zoom more, I'd stick with print film and set the EV to +1.0, and hold down the control so it blinked and stayed that way with power on and power off. With +1 EV, the underexposure issues are fixed, and the slight overexposure that would result in many frames simply becomes invisible with print film.
Versus the 35Ti and the Hexar
I've made constant references to these throughout the review; circle back if you've skipped ahead just for a comparison.

Leica Minilux Zoom, Nikon 35Ti and Konica Hexar Silver.
Roll over to awaken. enlarge.
For serious photography, I prefer the Nikon 35Ti and 28Ti for shooting Fuji Velvia 50 for art and landscapes, and the Konica Hexar for photographing people quickly on print film.
The Nikon 35Ti and 28Ti have superb lenses and far more advanced metering for use with slide film in any conditions. They can't take filters either, and also take time to have their motors stick out the lens every time you want to shoot or put it away. Neither the Leica or Nikon can be left on all day like an SLR, ready to shoot at any instant. They turn off after a few minutes.
The Konica Hexar is a serious camera for candid photographers shooting negative film of any kind, including infra-red. Unlike the Leica or Nikon, it can accept screw-in filters and can be left on all day, always ready for a shot at any instant. The Hexar works far faster and more quietly then the Leica or the Nikon, but its meter is not up to my standards for use with slide film.
I have access to a Hexar and a 35Ti for review, but not a 28Ti or a fixed-lens Minilux. I'd love to borrow either of them for another review, and I have reviews of the 35Ti and Hexar coming.
PLUG
I support my growing family through this website.
If you find this as helpful as a book you might have had to buy or a workshop you may have had to take, feel free to help me continue helping everyone.
If you've gotten your gear through one of my links or helped otherwise, you're family. It's great people like you who allow me to keep adding to this site full-time. Thanks!
If you haven't helped yet, please do, and consider helping me with a gift of $5.00.
The biggest help is to use these links to Adorama, Amazon, B&H, Calumet, Ritz, J&R and when you get your goodies. It costs you nothing and is a huge help to me. eBay is always a gamble, but all the other places have the best prices and service, which is why I've used them since before this website existed. I recommend them all personally.
Thanks for reading!
Ken
Home New Search Gallery How-To Books Links Workshops About Contact