Home Donate Search Gallery How-To Books Links Workshops About Contact
Late July 2009's Updates
RSS: live daily
all © 2009 KenRockwell.com. All rights reserved.

Apollo commemoration starts at bottom. See also 10-15 July 1969 (prelaunch countdown), 16-19 July 1969 (launch), 20-22 July 1969 (Lunar landing) and 23-27 July 1969 (triumphant return).
31 July 2009, Friday
The Nikon FM Rules!
I'm still astounded at how so much great gear that's easy to use goes unloved, while people mortgage themselves to buy the latest digital cameras that no one can figure out.
The Nikon D3000 has built-in guide help. Wow! You now can take the camera away from your eye and spend seven clicks in the GUIDE mode trying to figure out how to open your aperture, before you even get to do it. This was the example Nikon offered and I shared in my review yesterday.
With the Canon AE-1 Program I also reviewed yesterday before the D3000 got announced, all you do is keep your eye on your subject and move the top dial a click or two from Program to 1/1,000, 1/500 or 1/250 shutter speed, which gives a larger aperture, all with your eye still looking through the finder.
In the beginning, cameras had eleven adjustments you needed to make, just to take a picture. The front and rear standards of view cameras each adjusted in four dimensions each, for a total of 8 adjustments, and you still had to set the focus, aperture and shutter speed manually.
Simpler cameras using roll film were developed for less experienced photographers. They had no adjustments on the film back or lens front standard. These simple cameras were called Hasselblads and Leicas in the first half of the 20th century, and later came as Nikons and Canons.
These simple cameras had only three settings: aperture, shutter speed, and focus. That's easy: just three settings! Cameras made since the 1970s have even told you exactly where to set each of these three settings! You turned the lens until it looked in focus, and the meter told you which way to turn the aperture and shutter speed dials for perfect exposure.
As if this wasn't easy enough, the 1980s brought us cameras that could set the aperture and shutter speeds for us, and the latter half of the 1980s brought us cameras that focused themselves.
Done. Time to go make pictures.
Even back in the 1960s and early 1970s when you had to make the settings yourself, you only had three and the cameras all told you exactly where to set them.
Fast forward to today, where even the simplest digital camera has dozens of menu settings. A DSLR probably has at least a hundred menu and function options, and instead of telling you where to set each of its adjustments, throws SAT questions at you like "Compression: Lossy or Lossless?" or "Adaptive D-Lighting: Off, Default, Auto, ON or Normal?" and leaves you on your own to figure it out.
So anyway, after writing up the D3000 yesterday, I was overjoyed when I got a box from Berlin with a Nikon FM in it for the Retirement Ranch from Guido Steenkamp. He moved up to Leica some years ago, so the FM, with little to no resale value, went unused. I'm sure I'll put it to good use.
Thank you Guido!
Even if the mechanical Nikon FM has a whopping three manual settings needed to take each picture, it tells me where to set each one, and three is a whole lot less than 300 options. It runs for years on 40¢ worth of batteries. I usually prefer shooting with the Nikon FE which sets the shutter for me, or the Nikon FA which sets both shutter and aperture for me, but the FM is still a classic good for decades of more great photos.
An advantage of the older Nikons is that their focus screens are optimized for fast lenses like f/1.2 and f/1.4, so you can see the really shallow depth-of-field and actual bokeh of these lenses through the finder. Newer cameras, like the FM2 and DSLRs, are optimized for slower zoom lenses, which makes their finders much brighter with slow lenses, but unable to show you the shallower depth of field of which faster lenses are capable. Think I'm kidding? Press the depth-of-field button to stop an f/1.4 lens down to f/2 or 2.8 on most modern cameras and you will see no difference in depth of field or brightness!
HDR that doesn't suck
Wow! Just like most photography, most HDR images suck because most people are too busy thinking about cameras and technique to think about the picture.
For the first time in a long time, here's a site, StuckinCustoms.com, that's loaded with great images, which just happen to use HDR.
These are great images because they are made with vision and imagination, not because they're HDR.
When it comes to the HDR, based on the look of the images, like all the good HDR I've seen, they appear to have been constructed manually with layers and masks emphasizing and deemphasizing points deliberately.
The HDR that sucks is always made with automated software. The problem is that software has no clue of what you want to show and how you want the viewers' eyes to move about the image.
To do HDR properly, you must manually select which of the various images shows at each point, attracting the eye to the lighter parts and darkening the areas that are less important.
This is just like burning and dodging to lighten and darken areas of the image to lead the eye around. It's what made Ansel Adams such a master: the printing.
30 July 2009, Thursday
Gelded lenses on the Nikon FA: I just tried a trick, and got a 24-70mm f/2.8 AF-S to work in program and shutter-priority modes on the FA.
I added the results to Nikon Lens Compatibility, and to give you the specifics:
With G lenses on an FA, set the FA to Program mode, in which case it works only at full aperture. This is great for available light or slow lenses like the 28-200mm f/3.5-5.6G, but stupid with fast lenses in bright light.
If you trick the FA by moving the aperture-ring feeler a bit, the FA will then use the G lens just fine in Program and shutter-priority modes, but it will read "F - -" instead of the chosen aperture, because the G lenses lack the lug to tell the FA the absolute maximum aperture.
Because of this, the FA also only works in center-weighted, not Matrix, meter mode.
If you insist, try sticking a nubbin on your G lens to move the aperture ring feeler as if you had a real AI lens on your FA, and all ought to be fine, lack of Matrix meter notwithstanding, for Program and shutter-priority modes.
New Book: Spending a few grand on a new camera won't make you a better photographer, and it certainly won't make your pictures any better, but dropping $29 into this new book just might: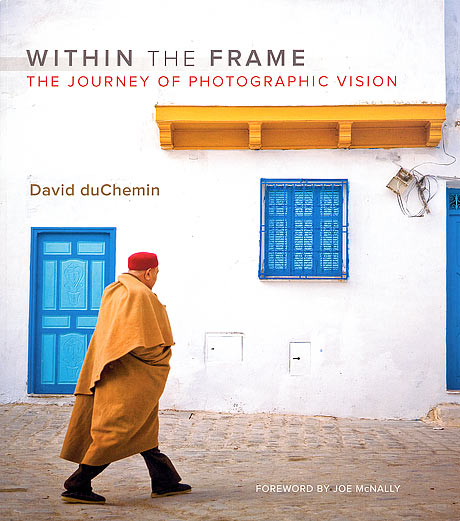 Within the Frame: The Journey of Photographic Vision is David duChemin's book written for travel and people photographers, and is one of the best books I've read about how to see and make great photos.
It's written from a humanitarian photojournalist perspective, and its wisdom applies to every sort of photography of people and places.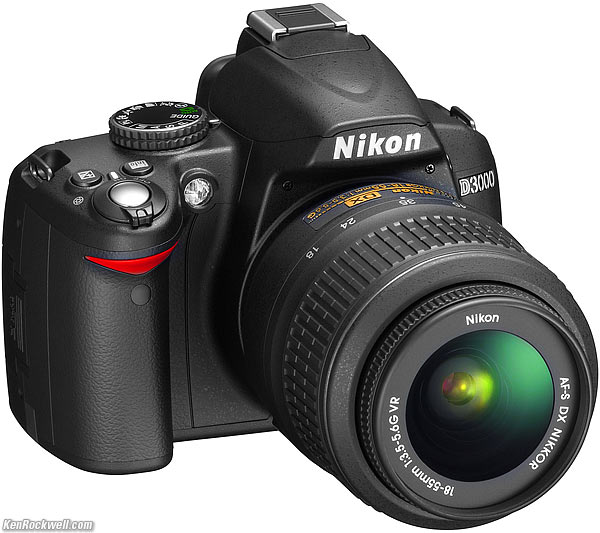 Nikon D3000.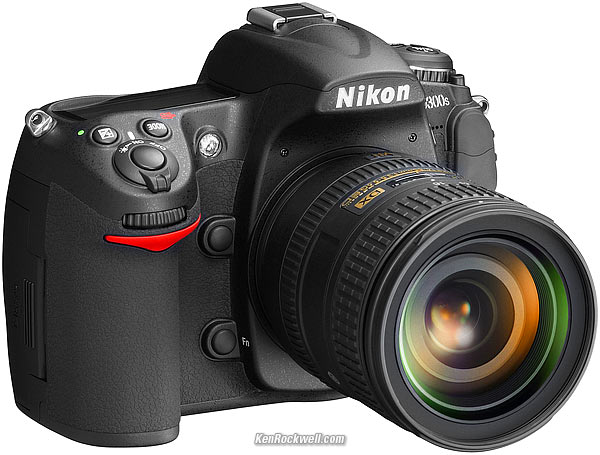 Nikon D300s and and 16-85mm VR.
NEW: My intelligence and G2 was dead-on: Nikon has a new D300s, D3000, a new version of the world's favorite 18-200mm, and a new version of the pro-s standard 70-200mm VR.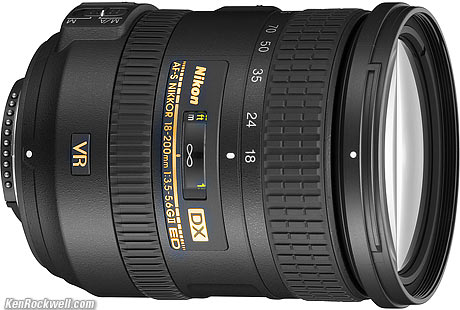 Nikon 18-200mm VR II.
NEW: Nikon 18-200mm VR II. Exactly the same as the original 18-200mm VR lens, with the addition of a zoom lock and $150 to the price.
Warning: Both 18-200mm VR lenses use the same VR-II technology, so you'll see the original lens sold in many places as the "VR-II." THe only real way to tell what you're getting is that the newer version has a zoom lock switch.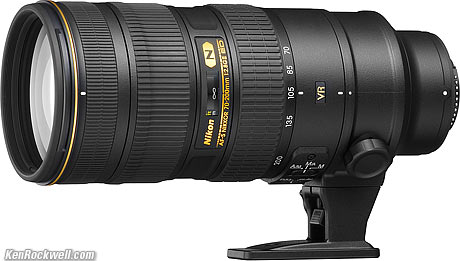 Nikon 70-200mm VR II.
NEW: Nikon 70-200mm VR II. A completely new design, even heavier and $500 more expensive than last-year's model.
DEAL: The full-frame D700 seems to be on sale at Amazon for only $2,350. I'd get that long before spending $1,800 on a new DX D300s.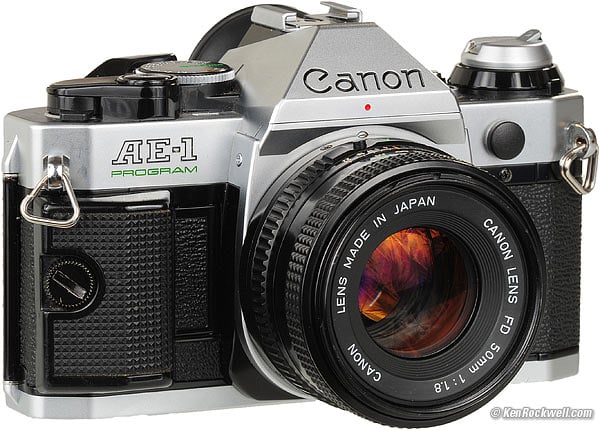 Canon AE-1 Program.
NEW: Canon AE-1 Program Review.
This is Photography!
In the time I can figure out how to turn on a DSLR, format my card, set WB and ISO, set my image parameters like saturation and contrast, set my image format and file and image size, and set my exposure mode, I can fire off a roll of 39 perfect shots on a 36-exposure roll of RealRaw media in an AE-1 Program.
Yahoo!
Not only have I made 39 great photos in that time, even with that much time spent jacking around a DSLR, I still wouldn't be able to get the DSLR's multipoint autofocus system set properly to take any pictures.
Geeze, I am so tired of using cameras with too many features crammed in for no reason other than to get in the way and make older cameras obsolete.
I'm serious: go try an AE-1 Program or the EOS 620 below, and see if you don't start getting more pictures faster than with DSLRs.
29 July 2009, Wednesday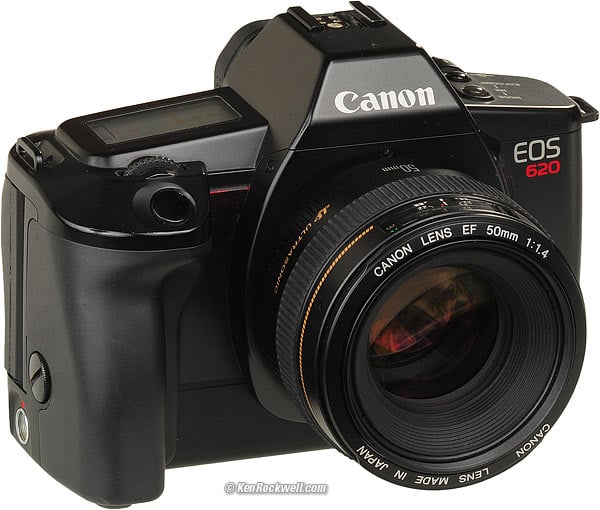 Canon EOS 620.
EXCLUSIVE NEW REVIEW: Canon EOS 620 Review; the dawn of a new era in photography.
As far as I know, there are no complete reviews of this camera anywhere on the Internet.
28 July 2009, Tuesday
NEW PHOTO TOUR: Dave Wyman has a new tour of Point Reyes coming up Sunday 30 August through Wednesday 02 September 2009. Call or mail Dave from the trips' page for registration and more questions.
I'll officially there to teach, too, so if you want instruction, you may also consider this a workshop.
A tour is a trip intended for knowledgeable photographers to go out and get great photos, while workshops focus more on staying in one place (or indoors) and talking instead. We're heading out to make pictures as a tour, but of course I'll teach on some of the evenings and you can ask all the questions you want any time.
The dates for the annual October Yosemite and Bodie trips are now posted on my workshops page. These two annual trips fill up fast each year, so if you want to come, be sure to register today.
I've been out with Dave a lot this year: Route 66 in February, Volcano Country in April 2009, and Monterey last month.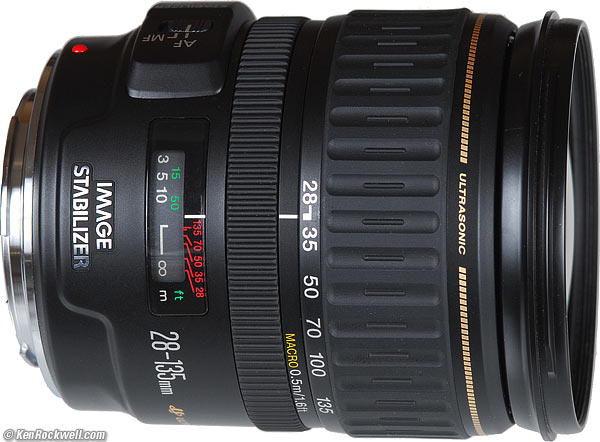 Canon 28-135mm IS.
NEW: Canon 28-135mm IS Review.
News: Free Nikon D2X available at an intersection near you! Apparently they're used in NYC and Texas and everywhere, too.
News: Thank you, readers and California Governor Arnold Schwarzenegger, the People's Governor!
Governor Arnold Schwarzenegger saved this, and many other websites, when he vowed to veto the language of proposed, but tabled, California AB 178 (Skinner) as it had leaked back into the proposed California budget.
Governor Arnold Schwarzenegger has just signed California's state government budget, and this language is nowhere to be found. Therefore, I can get back to reviews and articles as usual. Hooray!
The language our Governor vetoed was originally introduced as AB178 which had been tabled, but whose language had been included in the state government's proposed budget anyway.
This language would have required every website that sells into California, like Adorama, Amazon, B&H etc. to collect sales tax, but only if they also supported free sites like this. All these sites would need to do to avoid having to collect sales tax is simply to stop supporting sites like mine.
And that's exactly what they went on record as promising to do, and some did preemptively. Overstiock.com actually fired everyone like me 4 weeks ago! (I don't use Overstock.)
When wise Governor Schwarzenegger heard that, along with all the letters you readers and I had sent him, he said No Way! to the AB178 language, and vowed to veto it.
Now that the budget has finally been signed, that language isn't there, and I can get back to work.
Thank you everyone!
The problem with AB178, whose sponsor is still pushing for it even harder now that Governor Schwarzenegger has ditched it today, is that if passed, it won't collect any taxes because the sites that would have to collect and remit it simply would stop supporting people like me. This will result in no taxes collected, but worse, I go away and no longer pay any income taxes either. AB178 is the classic definition of stupid: it hurts everyone and helps no one.
AB178 can still come back and kill me. AB178's author, Berkeley Democrat Nancy Skinner, is still pitching support for it because it makes her look good to her local constituents, who include small local retailers. She pitches it as if it will collect more sales taxes, which is fine if it worked, but horrible because it won't and will send my family to the poor house instead.
As our wise Governor has seen, all this bill will do is put people out of business and families like mine out on the street. Hooray for democracy! Our voices have been heard!
Many thanks to all of you who called and wrote your local legislators and our Governor, because it through your support that our message was heard.
Thank you!
27 July 2009, Monday
Leading equipment-related cause of bad photos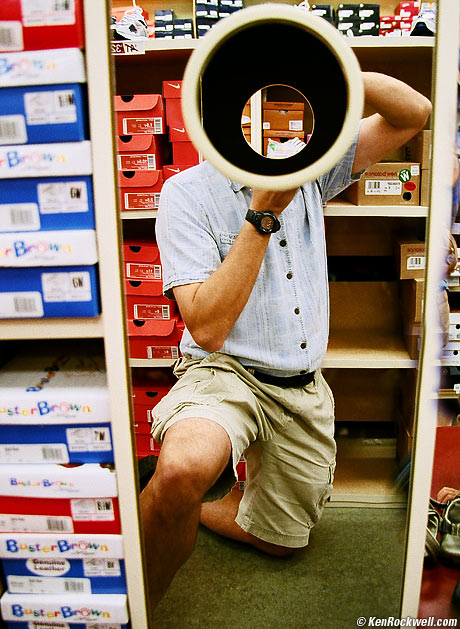 Not using your head — or a lack of imagination.
The only thing that really matters for good photos is paying attention. You have to feel your composition. Your gear is irrelevant.
Was Mozart a genius because he wrote for small orchestras? No.
If you write music for small orchestras, will it make you a genius? No.
Small orchestras is what they had 200 years ago when Mozart wrote, so Mozart wrote for them.
So why do people think that buying the same camera as Ansel Adams (view camera, Hasselblad and Contax), Henri Cartier-Bresson (Leica), Salgado (Leica then Pentax 645 now Canon) or whoever will make them geniuses, too?
Genius has nothing to do with the tools. These people all used whatever was at their disposal at the time.
If Mozart wrote music for banjo, people would still be enjoying it today. The genius would still be there.
If Ansel used a K1000, if Henri Cartier-Bresson used an AE-1 Program, or if Salgado uses a Quicksnap, the genius would still be there, too.
Sorry for the scary image above. I snapped it of a mirrored garbage can with a Canon EOS620 (exclusive review coming hopefully later this week) and a Canon 28-135mm IS lens under nasty fluorescent light in a shoe store.
27 July 1969: Astronauts back in Texas
Back on 24 July 1969, American heroes Armstrong, Collins and Aldrin splashed down from the moon in the middle of the Pacific Ocean. They were hauled aboard the USS Hornet, and sealed inside quarantine and lauded by Whittier High School Alumni President Richard Nixon just after recovery while on the ship.
The USS Hornet recovery ship sailed for a couple of days to reach Ford Island, Pearl Harbor, Honolulu, Hawaii, at which point they were loaded onto a cargo plane, still inside the motorhome, and flown to Texas.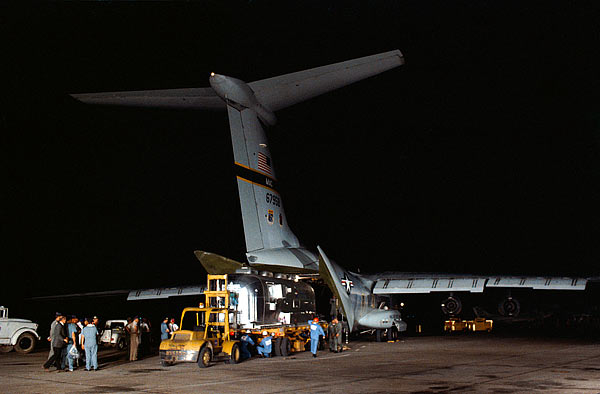 A C-141 unloading before dawn at Ellington Air Force Base, Houston. bigger.
What's coming out the back of this giant cargo plane? It's big and shiny.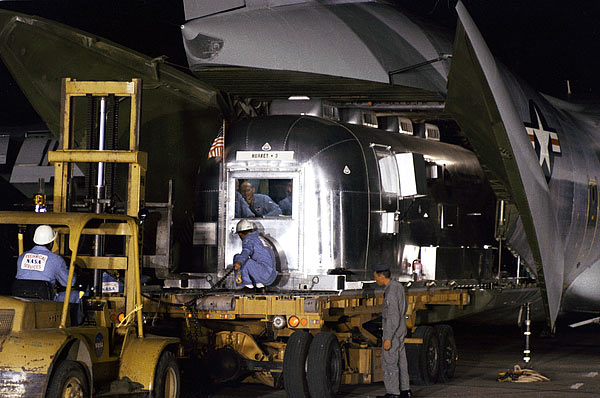 A motorhome, with people in it, come out of the C-141! bigger.
Only in America! We used an airplane to fly a motorhome from Hawaii to Texas with the three Apollo 11 crewmen inside.
Here we see it being unloaded from a USAF C-141 transport at Ellington Air Force Base very early Sunday, 27 July 1969, after a flight from Hawaii.
Once off the plane, their family and friends saw them for the first time since they left Earth.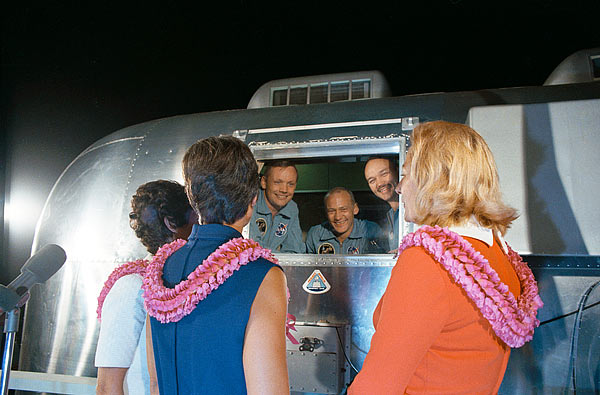 Armstrong, Aldrin and Collins see their wives for the first time since leaving earth. bigger.
The wives are (left to right) Mrs. Pat Collins, Mrs. Jan Armstrong, and Mrs. Joan Aldrin.
They were under quarantine, so of course they couldn't get out, no one was getting in, and no one was opening the door. Thus they had a telephone rigged-up so at least they could talk through the glass.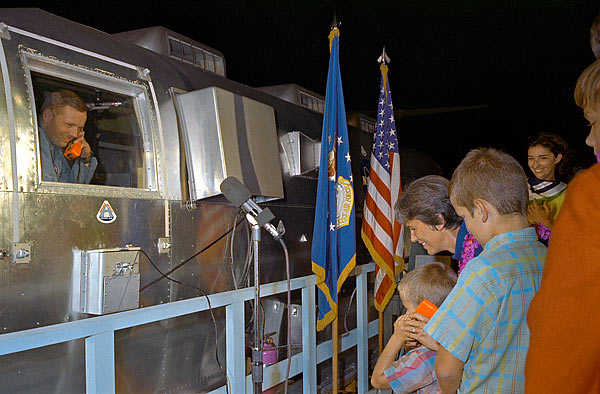 Neil Armstrong greets his son Mark, on telephone intercom system, while his wife Jan and another son Eric look on. bigger.
The three pilots had just arrived in the early morning, still inside their motorhome-based Mobile Quarantine Facility (MQF) at Ellington Air Force Base.
They stayed in the Airstream MQF until they arrived at and are confined at the Crew Reception Area of the Lunar Receiving Laboratory at the Manned Spacecraft Center (MSC) across town in Houston.
The crew will be released from quarantine on 11 August, 1969, after a total of 21 days since they lifted off the surface of the Moon.
24 July 2009, Friday
Nikon usually announces their new cameras for the season in August, so any day now we might see anything from a D700x, to a D300s or D3000 come out.
No one knows until it comes out, and anyone who does know isn't telling.
Since every DSLR now includes video which looks bad and opens your sensor to dirt (DSLR sensors hide behind a shutter except the instant you snap a photo, or open them for minutes instead for movies), I'll bet you a D300s, if it comes out, is probably the same old obsolete D300, with movies. Boring, I prefer the D90.
A D700x would be a D700 with the D3x sensor. Predictable, and excellent.
A D3000 could be anything, most likely a very smart DSLR slotted in under the D5000 in D60 territory.
9:21:13 AM PDT (12:21 PM EDT, 16:21 UT): Separation
Our guys are hurtling towards Earth from the Moon at 36,194 feet per second, or 7 miles per second, or 24,678 MPH (40,000 kph). This is is twenty times as fast as a speeding high-powered rifle bullet, and almost forty times the speed of sound.
The Command Module separates from the Service Module, since the SM is no longer needed, and more importantly, we don't want it landing on top of the Command Module with our guys still in it.
9:36:34 AM PDT (12:36 PM EDT, 16:36 UT): Re-Entry
The Command Module enters the Earth's atmosphere 400,000 feet above the Earth, still flying at 25,000 MPH.
Friction starts to slow them, and it heats the bottom of the CM hotter than a torch.
The guys could easily have fried to death.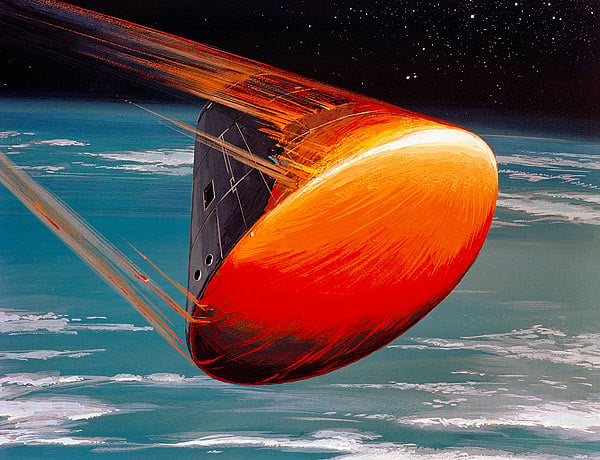 Command Module reentering Earth's atmosphere. bigger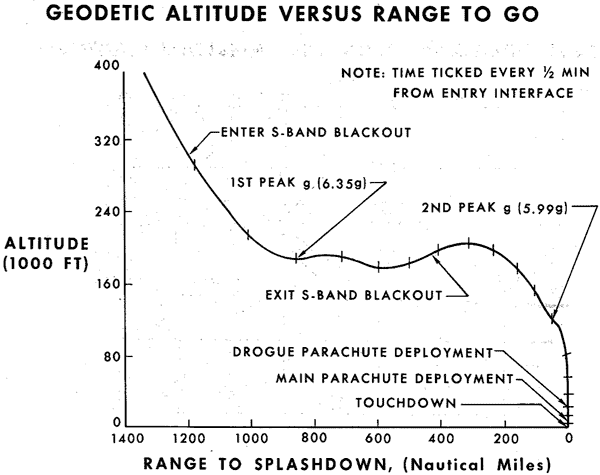 Depending on weather and exactly where they wanted to land, they can change how far downrange they hit the water by changing the angle at which they enter the atmosphere: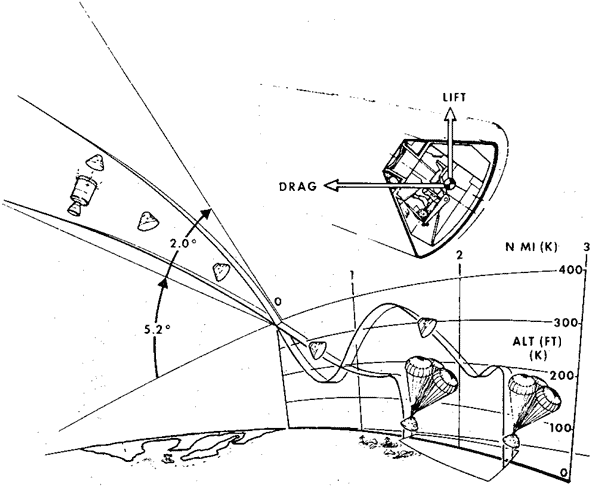 They are going so fast that they can't just pop out a parachute. It would instantly be ripped to shreds.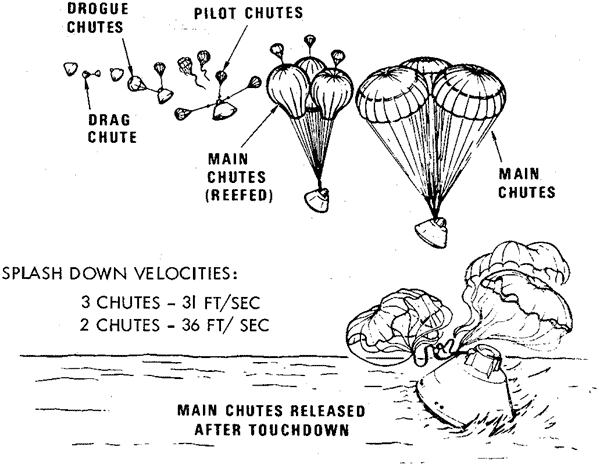 There are three sets of smaller parachutes that have to come out in sequence to help slow the Command Module enough for the next chute.
Even when the main chutes come out, they are reefed to keep them from opening all the way until things have slowed down enough.
Try designing this at home or without live experimentation. Good luck! Get it wrong, and if any part of the chutes don't work, or just fold over themselves, the guys hit the water at 300 MPH and are crushed instantly like hitting concrete.
Let's think about this another way. Try dropping yourself in a metal tub from a height of 75 miles (400,000 feet or 125 km), while already going 25,000 MPH. You'll go sideways 1,400 miles (2,300 km) in the process of falling those 75 miles. You'll be flying so fast that air friction will burn you alive, just as it does to falling stars. You're going to fall from 75 miles (and cover 1,400 miles over the ocean) in just 14 minutes.
Getting back from the moon is at least as hard as getting there. (PS - We had no way to make a real 1/6G test flight for the LEM ascent stage. For all we knew, it might have gotten stuck on the moon!)
9:50:35 AM PDT (12:50: PM EDT, 16:50 UT): Splashdown
Apollo 11 splashed down in the Pacific Ocean fourteen minutes after entering the Earth's atmosphere after a mission elapsed time of 195 hrs, 18 mins, 35 secs.
The splashdown point was 13 deg 19 min N, 169 deg 9 min W, 400 miles SSW of Wake Island and 24 km (15 mi) from the recovery ship USS Hornet. Not a bad shot for landing from the moon!
They were floating around on their own for an hour until the helicopter made it to them. I'm happy we were able to find them out there, I don't think they had radios, and GPS won't be put into space until the 1970s. For all I know, they probably used LORAN as invented by my dad.
Film of helicopter arrival and frogman dropping into the sea.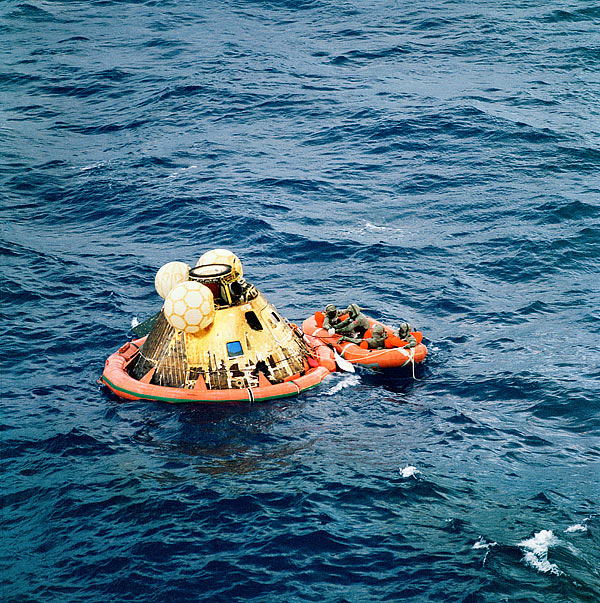 Note the floatation device around the Command module. bigger. After we lost a previous Command Module into the ocean when it tipped and sank, on this mission we took precautions. (Photo: Milt Putnam, NASA.)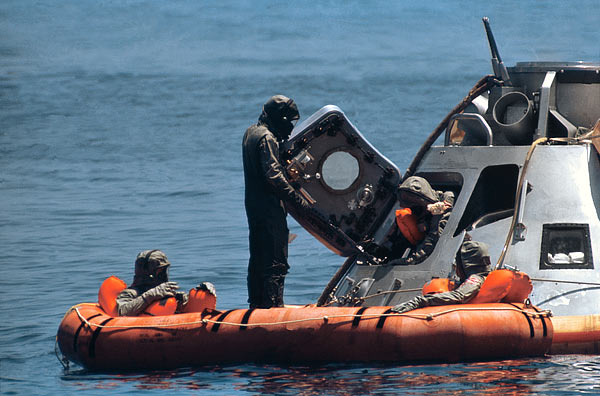 A shot from training before the mission. bigger. One of the astronauts is getting out and the other two are sitting down in the raft. You can tell this is from training; the Command Module is clean!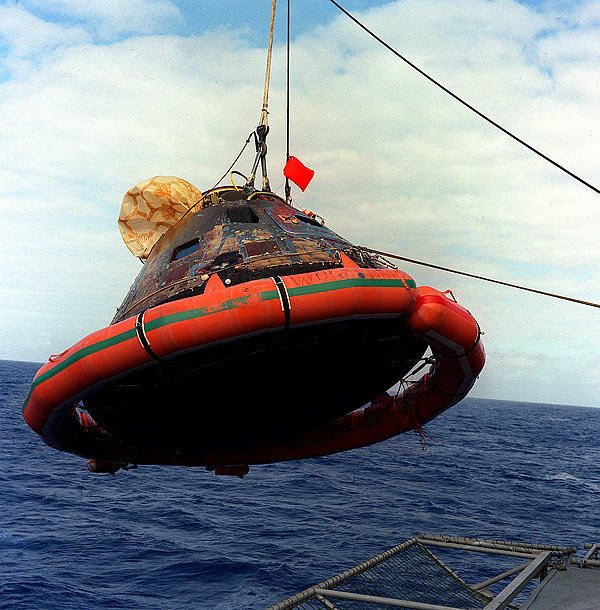 Hoisting the CM onto the USS Hornet. bigger.
So now all the astronauts do is go home to glory, right?
Wrong!
Look more closely at what they are wearing. They look like space suits, but they are on Earth.
These are space suits, in a way. They are biological isolation garments (BIG)!
What?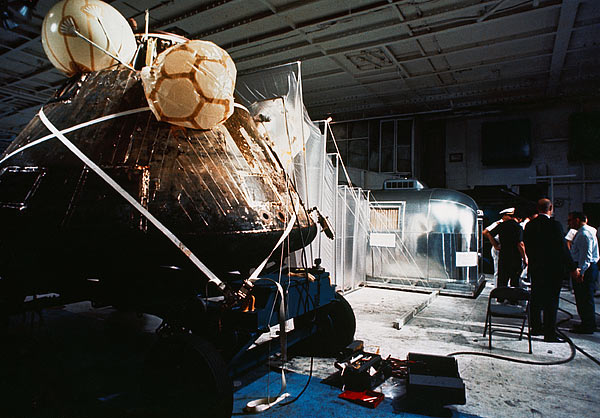 Plastic sheeting connecting the recovered capsule to — a motorhome?? bigger.
Back on the Hornet, the guys have to walk from the capsule through the sealed plastic sheeting into a Mobile Quarantine Facility (MQF).
What?
We weren't stupid.
No one had ever been to the moon.
No one had ever gotten any Moon rocks or dirt back to earth, either.
This was the first time that anyone, or anything, had ever been brought back to Earth from the Moon.
We had no idea if any of this was poisonous, or if there were any pathogens, diseases, viruses or anything that could be harmful to us.
What if the moon was covered with whatever wiped out a civilization that used to live there? What if it were covered with some strange compound that was harmful to life?
We had no way to know. We immediately scrubbed the guys down with disinfectant and suited them up, right out there in the ocean, and when we got them back (they never left the capsule), we inserted them into a sealed quarantine. For all we knew, they could have brought back something that could have wiped out all of Earth.
If they had caught anything, we had them in quarantine and could watch them die alone together, and hopefully whatever it was would not get out. Not to be morbid, but there were thousands of ways to get killed on this trip. Remember Grissom, White and Chaffee who were fried alive in Apollo I only 30 months before.
The men of Apollo XI, seasoned military fighter and test pilots, knew the risks, gladly took them, and won.
Once they made it to the MQF, President Nixon just happened to be aboard to welcome them back to Earth personally.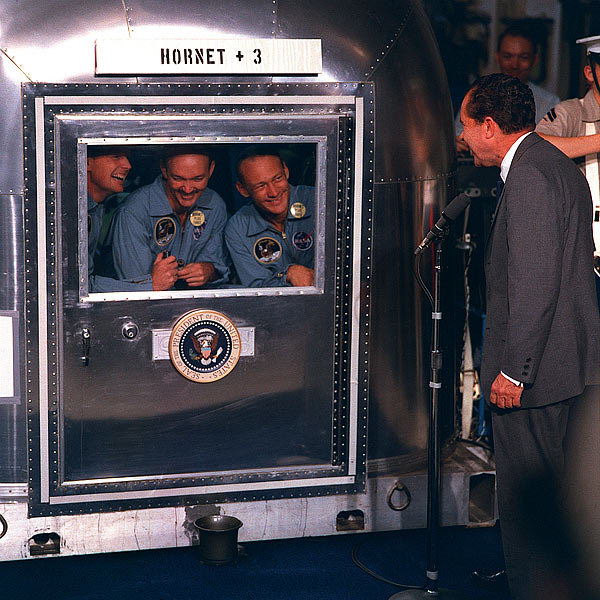 (left to right) Neil A. Armstrong, commander; Michael Collins, command module pilot; Edwin E. Aldrin Jr., lunar module pilot; and United States President Richard M. Nixon (a graduate of Whittier High School). bigger.
See the original movie footage.
After they finish with Nixon, the USS Hornet sets sail, with the contained astronauts, for Ford Island, Pearl Harbor, Honolulu, Hawaii.
Here's how everything gets back. Some of this data from NASA's original Apollo 11 press kit, distributed a week or two before liftoff. I left those words unchanged.
Lunar Samples: Next Day Air
Two helicopters will carry lunar samples from the recovery ship to Johnston Island (a tiny island only big enough for a runway, about 700 miles SW of Hawaii) where they will be put aboard a C-141 and flown directly to Houston and the Lunar Receiving Laboratory (LRL).
This includes the film, lunar samples, data tapes and biological samples from the astronauts.
The samples should arrive at Ellington Air Force Base at about 27 hours after recovery and received in the LRL at about 9 or 10 a.m. CDT, July 25.
Spacecraft: Shipped by sea and air
The spacecraft is scheduled to be brought aboard the recovery ship about two hours after recovery. About 55 hours after recovery the ship is expected to arrive in Hawaii. The spacecraft will be deactivated in Hawaii (Ford Island) between 55 and 127 hours after recovery. At 130 hours it is scheduled to be loaded on a C-133 for return to Ellington AFB. Estimated time of arrival at the LRL is on July 29, 140 hours after
recovery.

Crew: Shipped by sea and air
The flight crew is expected to enter the Mobile Quarantine Facility (MQF) on the recovery ship about 90 minutes after splash-down. The ship is expected to arrive in Hawaii at recovery plus 55 hours and the Mobile Quarantine Facility will be transferred to a C-141 aircraft at recovery plus 57 hours.
The aircraft will land at Ellington AFB at recovery plus 65 hours and the MQF will arrive at the LRL about two hours later (July 27).
The three crewmen will remain in the MQF until they arrive at the Manned Spacecraft Center's (MSC) Lunar Receiving Laboratory (LRL) at the Lyndon B. Johnson Space Center (Building 37) in Houston, Texas, only after which do they get to sit in a different sealed area.
It will take two and a half days to sail the Hornet to Honolulu, after which the astronauts will fly, still sealed in a motorhome, to Texas. Only in America! I'll have photos as it happens on Monday.
(Images: NASA.)
23 July 1969
The astronauts are sleeping a lot, and flying back to the Earth for splashdown tomorrow.
23 July 2009, Thursday
The Speed Demon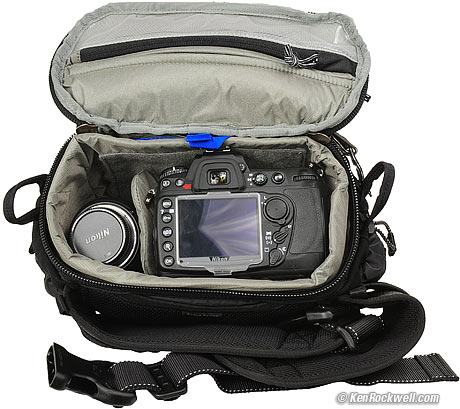 Speed Demon and D300.
After all these months, my Think Tank Speed Demon is still comfy to wear all day.
What makes the Speed Demon so much better than all the other waist bags I've worn is that its so much more comfortable to wear all day. Specifically:
1.) The wide belt makes the bag feel like it's not there. It doesn't dig-in; it just floats.
2.) The belt doesn't wiggle loose. It's stayed where I set it months ago, while every other belt bag needs me to tighten its belt every few hours.
Think Tank has some new multi-media bags optimized for shooting video and audio out of SLRs (click "Multimedia.") I don't understand them, but for those of you who do, these could be awesome.
High-Rez from 645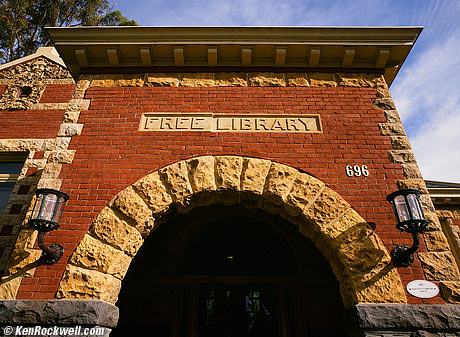 I was asked, so here's a higher-rez version of this file from 645 film.
This was shot with a Contax 645, Zeiss Distagon T* 35mm f/3.5 (21mm equivalent on 35mm film) with 95mm Schneider 81-One filter, hand-held at 1/90 at f/8 (aperture-priority auto), ISO 50 Fuji Velvia. (details.)
This file is what I got from NCPS, with minor distortion correction in Photoshop CS4's Lens Distortion filter.
I could have pushed more sharpening to impress the innocent, and I could have used a noise filter to suck out the grain, but I didn't. As it is, the distortion filter I used robs sharpness since each pixel gets remapped to arbitrary sub-pixel locations. This isn't a problem with digital capture since each pixel is softened from the Bayer interpolation (dSLRs don't really have the resolution they claim), but on film, it can be a problem.
This is typical of what you can pull off medium format film. Of course depth-of-field is limited; that's why the corners get softer, and film flatness can be an issue, which is why I just got a vacuum back for my 645 I didn't use here. Focus is in the center.
Of course if I scanned it at higher reslution than 2400 DPI I'f get a lot more. I don't need to scan higher; I've got a 17MP file here equal, to about a 35MP digital capture (after Bayer).
It doesn't look half bad. Color is great, it's sharp and clean all over. Zeiss makes no junk; just look at the light bulbs on either side or the sign on the lower right. Try that with a 21mm lens on a 5D Mark II; it's not happening.
A Contax 645 costs about as much as a D90.
For those of you who have to try to break things, if you pull my online JPG into PS and try to make my shadows gray (which is dumb because I want those shadows black, not HDR gray), you'll see an Italian restaurant table cloth pattern. That's a combination of the online JPG compression, the shadow noise from the cheap, automated scan and the fact that I rotated the scan slightly in Photoshop CS4's Lens Distortion filter to correct for my inadvertent Dutching. I never saw it until a pixel-splitter wrote to ask about it.
This isn't a problem with film; it's a problem with digital. Print optically from the film, or project it, and these problems don't exisit.
Black is black. That is the artist's intent. Why would you want it gray?
If I wanted that shadow to be lighter, I would have used a reflector or a remote flash. Dicking with it in Photoshop is never the way to make a photo better.
Film versus Digital Resolution
Erwin Puts shows, much better than I have, that ISO 100 film is much better than a digital Leica M8.
Film is probably even better than he shows, because I don't think he took crop factor into account. If he did, he would have had the film looking 33% better, since the M8's 1.33x crop factor demands that he should have used a 33% shorter lens on the digital M8, or stand 33% farther away with the same lens, to get the same picture (field of view) on each.
The supremacy of film's resolution is so obvious to me that I've never gotten around to comparing it properly, which requires looking at the film as optically printed, as Puts did.
Every other comparison, including my own, has been comparing digital capture to scans of film. Scanning film loses most of its resolution, and gives digital the unfair advantage of being compared in its native format: digits.
If you compare pictures (prints) instead of digital files, film pulls way ahead of digital capture.
I'm very serious about this. I prefer shooting to testing. I've looked at film through my research microscopes, but since I have no scope camera, I've never been able to show you just how superior film's, even 35mm film's, resolution is compared to digital capture.
Bravo Erwin!
This is another reason I love digital capture: it's technical quality has reset our expectations so low that even 35mm film looks fantastic by comparison. I used to shoot much larger formats, but today I can slum it with a lightweight Minolta CLE or Canon AE-1 Program and get results that wipe out the D3X.
If you're a little richer than I am, you don't have to settle for a Canon AE-1 Program or other garage-sale finds. You can get the state-of-the-art Nikon F6, the world's best 35mm camera, for just $2,500 brand-spanking-new at B&H. The F6 costs only a third of of a D3X, and outperforms it both in speed (8FPS full-frame) as well as resolution and color range, pallet, delineation and depth. Demand for the F6 is so high that they are very hard to find in stock.
I thought I'd been slacking, but I just realized that I have four new galleries posted of photos I've made on 35mm film from this year alone: Death Valley (January 2009), Route 66 (February 2009), Volcano Country (May 2009) and Monterey (June 2009).
I can't get these colors on digital, sorry; I need Velvia. I never used to post this much when I shot digital; I had so many shots I never got to sorting out the few good ones and posting them.
Today's Changing Face of Photo Gear
When I saw a Panasonic ad on the back cover of Pop Photo, I realized (duh) that we're hitting another major change in the game.
In another decade, we'll look back on the brands that I consider to be photography, and few of them will still be around.
When I read photo magazines from the 1950s, everything was completely different. Nikon, Canon, Pentax and Minolta weren't heard from, while the brands that were players were gone by the 1980s when these brands came in.
In the 50's all you'd read about was Graflex, Ektar, Busch Pressman, Leica, Kodak, Agfa, Ansco and Brownies. None of these brands were serious players by the 1980s. Kodak and Leica were still around, but not serious players as top contenders for actual purchase by a majority of photographers.
To me, I'm still in the mode that the serious players in photography are names like Canon, Nikon, Minolta, Contax, Olympus, Fuji, Mamiya and Pentax. These were they players of the 1980s and 1990s, but we're almost in the 2010s today.
It's apparent that many of these names are going away (or have already gone away), to be replaced by the names of electronics and software companies instead. Today's players add Adobe, Panasonic, Samsung and Sony, while Minolta and Contax are already history.
Darwin said that the key to surviving is the ability to adapt. Nikon and Canon lead in digital, and Fuji film and cameras are also a serious player. Hasselblad still has the pro studio market, even though I think Hasselblad no longer makes cameras, with Fuji making all their hottest lenses and cameras.
Mamiya, Olympus and Pentax are on shaky ground. Either they can adapt to today's market, or they'll perish, to be replaced by the Sonys and Panasonics of the world.
So? Just thought I'd mention that what most of us have considered as photography is about to be encapsulated as its own period of history. What comes out of this shakeup is anyone's guess, and as businessmen need to know but often forget, who wins is who makes what we want to buy, not who makes what they want to sell us.
Of course film is alive, well, and growing among serious photographers. Sure, non-photographers, who take the majority of photos, have left film for digital and now cell phone cameras, but the serious film market is growing.
Why?
Among other things, because you can still figure out a film camera. I write the friggin guide books, and even I can't figure out all the menus on today's digital cameras.
In the good old days, you set focus, aperture, shutter speed, and you were done. That's three settings.
Things got even better in the 1970s when cameras would set shutter speed (Nikon), or aperture (Canon) automatically. You're down to two settings before you can shoot.
Things got great in the 1980s, when you set the focus, and cameras would set aperture and shutter speed for you (P, pro mode). Now you're down to one setting, focus, before you can shoot.
In the 1980s, cameras learned to focus themselves (AF), and we were at the peak. You could concentrate on your photo, and just take it. You had to make no settings before you shot. There was nothing between you and a great photo.
Ever since we got custom functions in 1990s, cameras have been getting much worse. Camera makers keep adding more stuff we don't need in attempts to sell more cameras. This crap gets in the way of taking pictures.
Today, there are so many menus and features that no one can figure it out to take a picture. Give me a break!
I couldn't find my D40 last night, so I had to grab my D3 from the studio instead, and I had to go though twenty button pushes to get my D3 from studio strobe mode to shooting my kids in available light, and I know how to use setting banks.
Hey — hold on — what's easier and faster to set: three settings (focus, aperture and shutter), or thirty-five pointless menu and custom settings? Cameras of the 1950s shot faster than today's!
With a Canon AE-1 Program (1981-), you just shoot. It's what been around my neck these past weeks.
Now that the Japanese have put video in SLRs, it's only getting worse. In a few years, no one will be able to take a picture. Que the Quicksnap!
This is another reason the D40 is a top choice of pros: you can set the menus up to your liking, displaying only the items that matter to you. You do this in the CSM/Setup Menu option in the SETUP Menu. Other Nikons don't do this as well; the Recent Items or My Menu menus don't work as well and don't allow access to everything as does the D40.
This is another reason I upgraded back to film for my serious work last year. It's so much faster and easier to shoot, as well as costing less, being easier to carry in the field, and of course, the results look much better. Digital looks better for people, but when the light hits and you want bold, Velvia has been the King since 1990.
Film's faster, too. When you're in the field shooting, how fast can you get back to a computer to download and backup to CD? With film, I drop the C-41 at Costco, have a hot dog or grab lunch someplace else, and when I get back in an hour or less, my film is processed and already backed-up on CD. Today I don't even ask for prints; it costs under $5 a roll for develop and scan to CD at Costco. (I shoot slides for serious work and send them to NCPS, print film can be done at Costco, and there is a Costco everywhere open 7 days a week.)
Oyster
After I mentioned Oyster yesterday, they mentioned me on their blog.
22 July 2009: Wednesday
Travel Photos
Check out Oyster.com, a very serous hotel review website that's loaded with real photos, not the usual junk found at other wishy-washy sites.
They are fanatics: they have reviewers that work for Oyster.com full-time, and they outfit each with a ton of Nikon gear. (They wrote me to thank me for all my reviews, which they found very helpful.)
Oyster trained their reporters, who came to them experienced mostly as writers, to take the photos. A few or the reporters had some photo experience before they were hired, but most were total neophytes.
Oyster has about 50,000 photos on the site already; they've taken four times that.
They geocode nearly all of the photos taken outdoors, and use almost twenty of these.
Oyster owns own D700s, D90s and D40s as well as a D3, Mamiya 7II (the world's best camera, period, and of course still made today), the LEICA M7, and even the Canon 5D Mark II.

They have nineteen D700s, and use it as their primary camera.
They own well over 100 Nikon lenses. They use primes extensively, but also own some zooms. The lenses and other gear in their basic reporter's kit (I wouldn't want to carry all this:) is:
D700 body (Oyster has 19 of them)
20mm F2.8 (13 of them)
35mm F2 (13)
50mm F1.4D (13)
85mm F1.8 (8, and a few 85mm F1.4D, too)
24-85mm F2.8-4.5 (13)
16mm Fisheye (13)
70-300mm zoom (9)
SB400 flash (13)
SB800 flash (now the SB900, total 11)
GPS (22)
Several 8GB SanDisk Extreme III cards
Oyster.com currently has 10 full time reporters and are expanding that to 20 so they will be buying a lot more Nikon equipment (and some Canon's 5D Mark IIs as well, because the shutter is quieter than the D700.
Margo
Check out Margo's blog. It has some good stuff about the Lumix GH1, for tose of you who shoot it.
Mamiya 6
Mamiya 6 and 50mm lens.
I updated my Mamiya 6 page to modern standards. It's the same information, with a cleaner layout and a new photo.
Of course I was too silly to update the Mamiya 7 page, which is the current model I actually use and that you can buy new today.
Nikon 80-200mm f/2.8 Lenses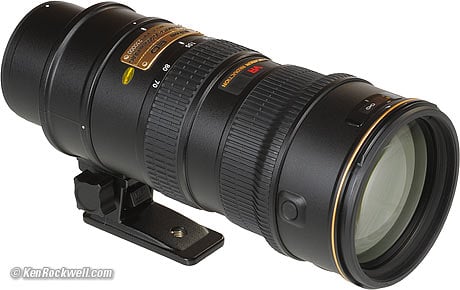 Nikon 70-200mm VR, the latest model.
I just updated my Nikon 80-200mm f/2.8 Comparison, where I explain the variations between the seven different version of this made over the past thirty years.
Many thanks to Eric Jaakkola, who sent me a photo of the 1993-1997 original AF-D version.
All I need now is a real photo of the 1978 prototype, and it will be complete. Since the prototype doesn't really count, and I do have a photo of the incomparable and super-rare original 80-200mm f/2.8 ED AIS manual focus zoom, I'll call it a day.
Apple Blasting Towards the Moon
As more and more people see how great Apple products just work, compared to everything else from electronics companies that never really get the products to make any sense and expect we customers to figure them out, Apple continues to grow and reported record third-quarter earnings yesterday.
Apple stock keeps skyrocketing, up almost 80% this year. The best keep getting better, while other companies that worry more about their own profits, instead of their customers, quietly fade away.
Apple even cut prices last month. It knocked $100 off the older iPhone 3G, and the price of most MacBooks dropped 10%.
Apple keeps winning because it sticks to its credo of doing everything with only one thought in mind: improving the experience for all of us who use Apple products.
Mac sales are up 4% over last year.
iPhone sales are up 626%!!!! I know, I can't go anyplace and not see half of everyone with an iPhone. I mean, duh, no one can figure out how to use any of the features of most phones; I was in a Verizon store and no one could figure out how to get the Internet on a phone, even when the instructions were right on the store display!
Get anything from Apple, and it just goes. It all goes. As more people get iPhones and are astounded at having an electronics product that actually goes, they get Macs, and vice-versa. It's all made of the same stuff.
Apple's COO Tim Cook points out that Apple's goal is not to build the most computers, but to build the best computers. And they do, which is why Mac has ourgrown the market in a staggering 18 out of the last 19 quarters.
More: Apple's press release.
Nikon Brochures
Nikon has all its printed brochures available here as PDFs.
What Was New in:
The end of September, 2008 (Photokina)
The beginning of September, 2008
December 2007: Loads of details about the Nikon D3, D300, 14-24mm and 24-70mm, much of which still isn't on the individual review pages.
November 2007: First hands-on details about the Nikon D3, D300, 14-24mm and 24-70mm, much of which still isn't on the individual review pages.
August 2007 (Loads of new Nikons and Canons)
2006 November - December (includes birth of Ryan Rockwell)
2006 October - November (includes photos from a trip to NY)
Help me help you top
I support my growing family through this website, as crazy as it might seem.
If you find this as helpful as a book you might have had to buy or a workshop you may have had to take, feel free to help me continue helping everyone.
If you've gotten your gear through one of my links or helped otherwise, you're family. It's great people like you who allow me to keep adding to this site full-time. Thanks!
If you haven't helped yet, please do, and consider helping me with a gift of $5.00.
The biggest help is to use these links to Adorama, Amazon, Calumet, Ritz, J&R and when you get your goodies. It costs you nothing and is a huge help to me. eBay is always a gamble, but all the other places have the best prices and service, which is why I've used them since before this website existed. I recommend them all personally.
Thanks for reading!
Ken
Home Donate New Search Gallery How-To Books Links Workshops About Contact