Home Donate Search Gallery How-To Books Links Workshops About Contact
June 2009's Updates
RSS: live daily
all © 2009 KenRockwell.com. All rights reserved.

29 June 2009, Monday
Canon SD880
Canon comes out with great cameras faster than I can write about them.
My favorite Canon SD880, which came out in October, seems to be hard to find today, so you folks are asking for suggested replacements. As I write this, I'm playing with the tinier than tiny Canon SD780 IS.
The great news is that Canon makes all its compact Powershot cameras out of the same stuff. Regardless of which model you get, you get a superb camera with great handling.
When selecting among them, all you really need to know is the size of the screen, the zoom range, and it you prefer AA batteries or rechargeables. Pixels are irrelevant (I pull fantastic 12x18" prints from 3MP Canon point-and-shoots).
All of us prefer the rechargeable batteries, but for people who almost never use a camera, like my mom, Canon's AA-battery models (model numbers which start with an "A") are better ideas.
All Canon Powershots all operate the same way. Pick one up, and you already know how to use it.
I updated Recommended Cameras with new suggestions.
Nikon D40
The Nikon D40, my first pick when I photograph my own kids or go on vacation, is alive and well.
People have been writing me for at least a year with scare stories that "their dealer told them it was discontinued" or whatever, but of course! Your dealer probably wants to sell you something more expensive.
You can believe this, or order all you want from Amazon, who as I write this, asks only $423 for a new D40 with the 18-55mm lens.
I love the D40's uniquely fast 1/500 sync speed that lets me get better fill-flash shots in daylight than other cameras.
The D40 will eventually go the way of the SD880, so get them now while you can. I doubt any replacement will have 1/500 sync or be as inexpensive. Use the money you save when getting a D40 to get the great SB-400 flash and a 35mm f/1.8 lens, and you're more than set for less than the price of most other cameras!
Canon T1i and 18-200mm IS
I have a Canon T1i DSLR and 18-200mm IS in my hands, and they are pretty darn nice! If you're in Canon and considering these, the answer is YES!
It's quiet, refined, and Canon has made huge improvements in most of the issues about which I complained in the past.
The 3" LCD is as good as Nikon's now: big, bright, accurate and super-sharp (but you still can't fill the screen when zoomed), and the control interface is way improved over earlier Canon DSLRs, much as the 5D Mark II is worlds ahead of earlier Canons.
Autofocus is nearly instantaneous, a Canon hallmark, and the 18-200mm lens works great, too. The Canon 18-200mm lacks the instant manual-focus override of Nikon's 18-200mm VR.
Of course I'm planning a full review. If you're considering a T1i and you're already in the Canon system; get it! If not, I still prefer my Nikon D40, but that's largely from familiarity and my hang-ups about sync speed for daylight fill. I can't get good fill form the T1i more than a few feet away with its tiny built-in flash, while my D40 and SB-400 flash work as far as I need it to, for less money combined. More to come.
26 June 2009, Friday
AB178
To those of you who've written our California legislators and Governor opposing the AB178 language in the budget bill, I thank you all.
They've gotten the message clearly, so that hopefully they'll make the right decisions.
At this stage, thank you, fair readers, as you've done as much as you can. Any more letters would become more of an annoyance than a help.
Thank you!
We're still not out of the water by any means, but for now we have to see what happens.
D40 iPhone and iPod App Coming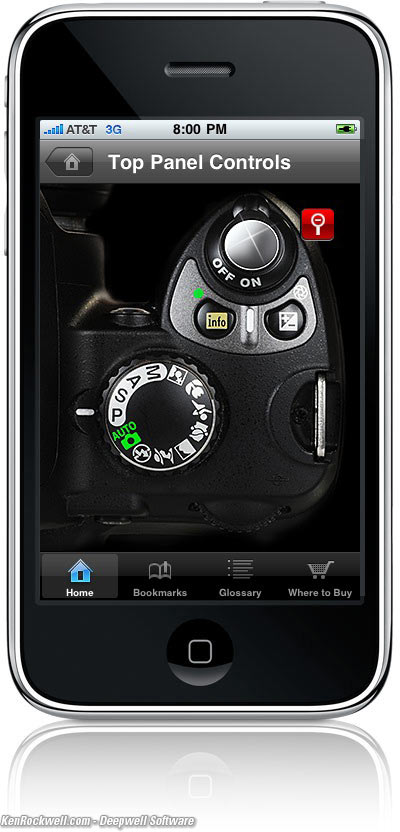 My D40 users guide should be available from the iTunes Store next week.
I'll let you know as I know more, or just search for me.
Deepwell (the developer) and I plan to work on the D90 next, and then probably the D700.
RSS Feed Update
For those of you getting too many updates, try this feed instead, which should only send about once a day.
I update this page continuously throughout the day live, so the regular feed sends too much to some people.
Thanks Vince!
25 June 2009, Thursday
Outdoor Photographer Rules!
My July 2009 issue just came in the Monkey Mail (what we call it from a Disney show; Ryan goes ooh-ooh aah-aah when we pick it up).
Cover: Photo of Delicate Arch by Art Wolfe.
Page 10: Ad for Velvia 50.
Page 11: Another ad for Velvia 50.
Page12: Explanation of how Art Wolfe shot that cover on Velvia.
Film is coming back in such spades that my local lab, NCPS, just had to buy another scanning station just to keep up with the growing demand.
Sure, Kodachrome died, but that's because all the pros moved to Velvia in 1990 and have never switched.
If things keep growing like this, and camera makers miss the mark for new models, demand for film gear is going to be so strong in a few years that Pentax K1000s will be selling for about $650 ~ $725, Canon AE-1s will go for about $950 ~ $1,100, and the AE-1 Program, which goes for about $50 today (up from $35 last month) will fetch $1,450 ~ $1,575.
Husband for sale
Check out this ad from Toronto, Canada.
Canon SD780
I was walking through Wal-Mart on Sunday and noticed how tiny is the $250 Canon SD780 IS. This never comes across browsing it on the Internet; in person, it's a new generation of tiny!
The SD780 is exactly the size of a credit card. Exactly means exactly the same height and width, not "approximately" as Casio's first credit-card cameras that were a little bigger. The SD780 is a little taller than a business card, but narrower!
I'm trying to figure out how to show this in the studio: maybe put it behind a credit card, which will completely hide the SD780 due to perspective.
It comes in stealth black, and its corners are all rounded for great comfort.
More great news is that the SD780 has 12MP and 720p/30 HD video and everything we expect in Canon point-and-shoots, just smaller! Video is better than the garbage that comes out of a Nikon D90.
The SD780's 2.5" LCD is sharp and accurate, and the SD780 even figured out a way to squeeze in an optical viewfinder if you want to use it.
24 June 2009, Wednesday
NEW: My friend Karl Grobl makes it to Town & Country magazine. Oddly, photographer Kenro Izo, master of Angkor Wat, is the founder of a hospital in Cambodia, which Karl has documented. Angkor Wat is on the cover of National Geographic this month.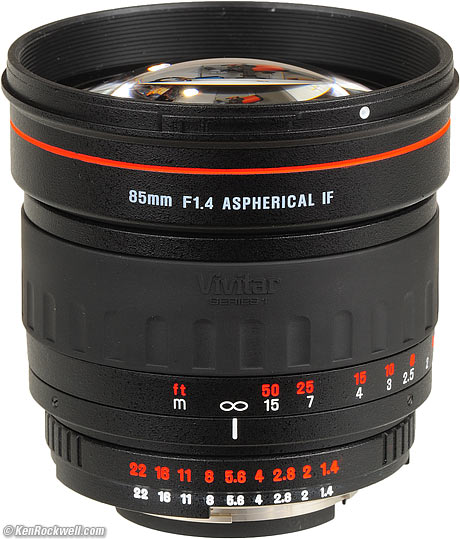 Vivitar Series 1 85mm f/1.4.
NEW: Vivitar 85mm f/1.4 Series 1 Review. A new manual focus FX lens from Vivitar.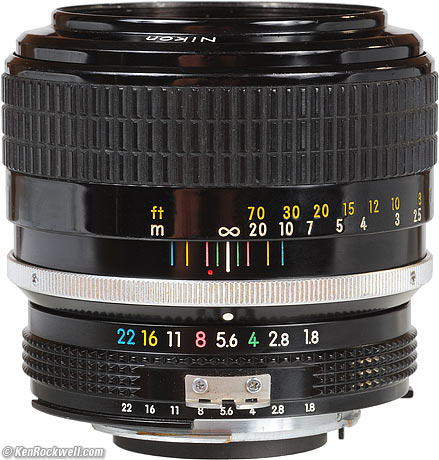 Nikon 85mm f/1.8 K.
NEW: Nikon 85mm f/1.8 Review. An old manual focus FX lens from Nikon.
NEW: 85mm Lens Specifications Compared.
NEW: 85mm Lens Central Sharpness Comparison.
NEW: 85mm Lens Corner Sharpness Comparison.
22 June 2009, Monday
Kodak today announced that it's given up on Kodachrome after 74 years.
It's not Kodak's fault; it's ours.
Kodak also posted a tribute to Kodachrome.
Everything else you read online are simply re-writes of these postings from Kodak.
I gave up on Kodachrome in 1990 when I tried my first roll of Fuji Velvia, which I immediately started shooting and still shoot to this day. Most photographers did this; Kodachrome only hung on these past 19 years because of inertia from amateurs who thought it was "the" pro film, which it stopped being in 1990.
Why is Velvia better? Because Velvia gives us those nice, bright colors far better than Kodachrome ever did. My first roll of Velvia gave me the look I had always sought, but never gotten, from Kodachrome.
Kodachrome has color cross-over problems in highlights that give us the greens of summer — but in what should be our puffy white clouds! With Velvia, all the world sees our sunny day as it should be: sunny with white, not green-tinged, clouds.
Look at the characteristic curves in the tech data, page 3: the green curve drops too fast and hits the blue curve at the bottom, meaning whites shift towards green just before they wash out completely to white. I don't know about you, but Fuji films give us white highlights, not greenish ones.
These color shifts were acceptable in 1935, but not in 1990. Kodachrome was the standard in professional color photography through the 1980s because printers ("color separators") knew how to correct for this and eliminate the problem in print, but guys like me who projected their slides were, and still are, always stuck with slightly green-fringed highlights. Only because these color problems were corrected in printing was Kodachrome used professionally; otherwise, it looked pretty bad.
Kodachrome remained the pro staple for so many years because pressmen knew how to make it look good everywhere it was printed, which they didn't know how to do as well for other films that Kodak would introduce and then discontinue the next year, like Lumiere. Because Kodachrome stayed the same from decade to decade, pressmen know how to make it sing.
Kodachrome also started to develop problems with pinholes in the shadows in the late 1980s, so when Velvia came out, we all upgraded immediately.
19 June 2009, Friday
85mm f/1.4 Bargain Alert
Some people whine that when I find a deal and let everyone know, that the price jumps, so here's a tip: The new $350 Vivitar 85mm f/1.4 manual-focus lens is pretty good!
Its optics are about the same as Nikon's 85mm f/1.4 AF-D and 85mm f/1.4 AI-s, for less than one-third the price. (of course if you can find a used 85mm f/1.4 AI-s for a reasonable price, go for it.)
More later, but my first test shots show that this could be your lens for a bargain fast short tele, especially for portraits. This Korean-made Vivitar Series1 lens is the world's only aspherical 85mm f/1.4 of which I know. No Nikon 85mm is aspherical, nor is the Zeiss 85mm f/1.4.
This Vivitar has all the right AI-s contacts, so it gives matrix metering in the F4 and FA, too.
These manual lenses work great on the D200 and better, since on the D200, D300, D3, D700 and etc. you get full matrix metering, EXIF data and aperture-preferred auto exposure. (see Nikon Lens Compatibility and look in the AI, Ai-s column for details with your camera.)
I'm playing with the Nikon version; it also comes in Canon, Pentax and Sony/Minolta.
It's a full-frame lens for serious digital and film shooting. More coming as I get my teeth into it; It's 6:45PM Friday night and I'm going home.
July 20th Approaches
July 20th is both the 40th anniversary of Man's greatest achievement, landing men safely on the Moon, and also the deadline for entries into the National Wildlife Federation's 39th annual photo contest.
Sure, the NWF contest is loaded with big prizes, but just as important, the NWF contest brings out the world's best nature and wildlife photography.
Be sure to get your submissions in, and be sure to join the NWF which includes a subscription to their extraordinary National Wildlife magazine. Of course Ranger Rick is awesome, too.
My insect photographer friends point out that Ranger Rick has such high standards that it's actually more difficult to get your bug photos published in Ranger Rick than it is to get published in National Geographic. So there.
For those of you who like to Flickr, the NWF also does much smaller bi-monthly photo challenges on Flickr.
Volcano Country Photo Tour
Trip leader Dave Wyman just posted his photos from April's Volcano Country tour.
Deal
Adorama has the Datacolor Spyder 2 Express on sale for $56. I had no idea these had become so inexpensive.
If you don't own a monitor calibrator, you need one of these. I'm still using the version I got 5 years ago.
I don't bother with any color management, but I do calibrate all of my monitors when I get them.
Once calibrated, I've never seen an LCD drift as CRTs used to do.
Once calibrated, your computer screen should match the LCD of your Nikon, and then match your prints if you print at on real photo paper at a place like Price Club.
More at Color Management is for Wimps.
18 June 2009, Thursday
I love my D40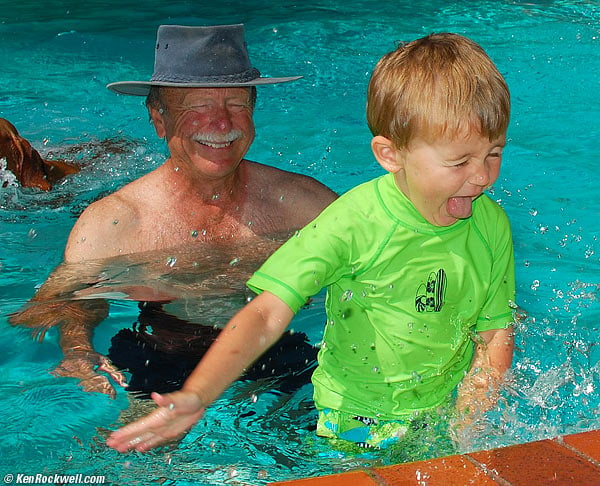 Ryan at his grandparents. bigger. Shot with Nikon D40, Nikon SB-400 flash, Nikon 35mm f/1.8 AF-S, P mode chose 1/500 at f/13, -0.7 exposure compensation, Auto ISO chose ISO 200, Auto -3 WB. P Mode goes to 1/500 with flash if the light is bright enough, as it is outdoors, or conceivably if you shift the program.
I love my D40 and its 1/500 sync.
I can pound out snap after snap in daylight, stop the action, and the fast 1/500 shutter speed lets me use larger apertures so I can use less flash power, leading to faster recycling, so I can shoot more frames faster and still balance flash light to daylight.
If I had a D3X, I'd be stuck at 1/250 sync. I'd have to shoot at f/18, leading to softer images from diffraction, and flash recycling times would be double what they were, if I even had enough flash power from my SB-400. With the D3X, I might have had to have brought an even heavier flash, but I still wouldn't have been able to stop the splashing, and if I used a trick FP mode that even I can't figure out, the recycling time would be glacial.
How do I get the flash and colors to look so great? I use my same standard settings as always. What you see is what I got out of my D40. Nikon's TTL balanced Matrix fill-flash exposure control has been extraordinary for decades.
Without flash, Pops' face would be black in deep shadow, and baby Ryan and the water droplets wouldn't be highlighted as they are.
Scotland Photo Workshops
Photographic genius Bruce Percy is now offering workshops in Scotland.
I've never met Bruce, but look at his work. I've admired it for years.
If I was going to take a workshop from someone, I'd be sure that I like his work.
Any moron can spew out technical data, but that doesn't help you make better pictures. I'm surprised at the number of guys who offer reviews online and are giving workshops all the time, but have nothing decent in their portfolios, if they even share one.
Bruce's stuff is magnificent.
Magic Tree Photo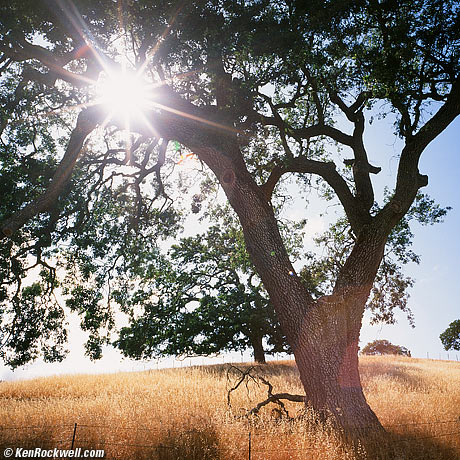 Carmel Valley, California. enlarge.
I was asked about this tree photo from Tuesday.
The sun is directly behind the tree. How did I keep detail in the trunk and branches?
Simple: I pointed the camera down and away from the sun, I looked at the auto shutter speed indication, set that on the manual exposure dial, then pointed the camera back up to shoot my photo. Lens flare helped lighten the trunk, too.
Film is sooooo easy to shoot. Try it.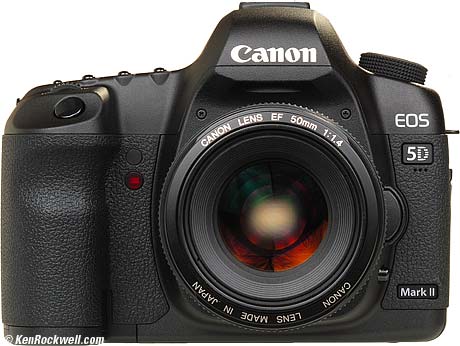 Canon 5D Mk II with 50mm f/1.4.
Canon 5D Mk II body in stock! These sell out in hours, so if you want the best DSLR made by Canon regardless of price, now is the time.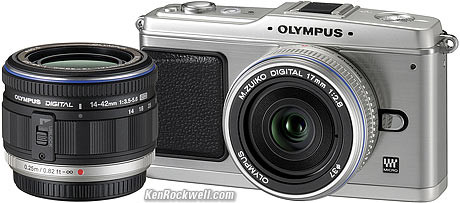 Olympus PEN E-P1.
NEW: Olympus PEN EP-1.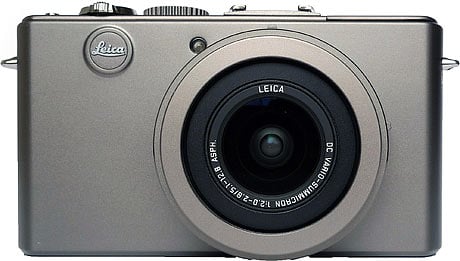 Leica D-LUX 4.
NEW: Leica D-LUX 4.
Concrete Messiah
I dropped my Canon SD880 a few feet onto concrete. It worked for one more shot, then stopped since the case popped partway open.
I was going to toss it, but I asked Gus at OC Camera, who said "let me look at it," and lo and behold, he opened it up, cleaned it out, put it back together, and it works fine. Yay!
I needed a shot of a Coke billboard I saw up close, which had a great example of awful Photoshop masking: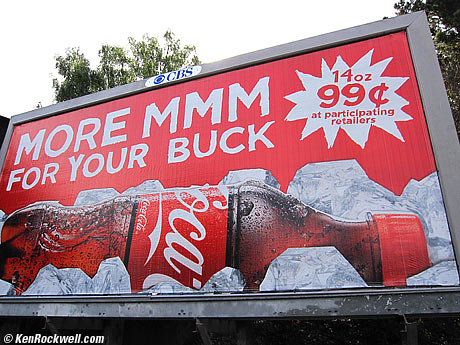 Billboard.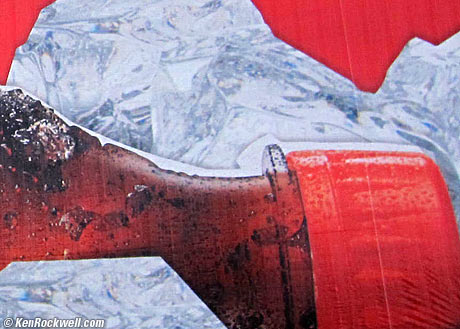 Close-up of sloppy masking.
Geeze, I spend more time masking my shots I present to you folks in my product reviews than Coke does when they rent a billboard for probably at least $10,000 month.
17 June 2009, Wednesday
Monterey Trip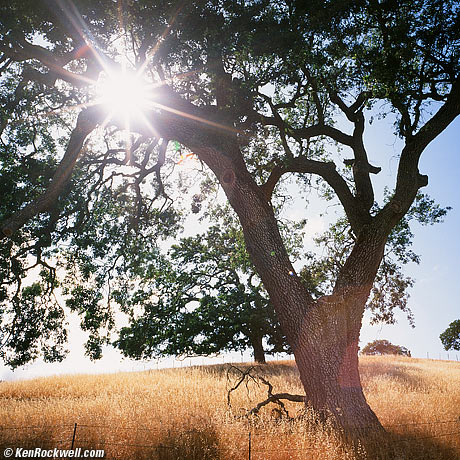 Carmel Valley, California. enlarge.
Wyman may already have gotten his stuff up days ago, but I just got my film back from my lab (NCPS) scanned and ready to go, and I think one or two snaps might have come out, heh heh.
This snap was made with a Minolta CLE (just back from overhaul at OC Camera), a Voigtländer 21mm f/4 lens with B+W 39mm MRC 81A filter on what else — Fuji Velvia 50. This snap is exactly what I got back from NCPS, sized and branded.
The sun is directly behind the tree. How did I keep detail in the trunk and branches? Simple: I pointed the CLE down and away from the sun, looked at the auto shutter speed indication, set that on the manual exposure dial, then pointed the camera back up to shoot my photo. Lens flare helped lighten the trunk, too.
What's not obvious is just how forgettably small and light the Minolta CLE system I used was. The camera and three lenses weighed only 2 pounds (900g)! For comparison, the complete Minolta CLE system weighed the same as one naked Nikon 24-70mm f/2.8 zoom, and costs less! So much for digital.
I carried the complete CLE system, 39mm filters, spare batteries and 10 rolls of film in a tiny Kata Ergo-Tech Format-Q neoprene waist bag. It's so light I kept freaking out, thinking I lost the camera, and the whole thing was still around my waist and neck!
I also brought a Contax 645, hee hee hee! The Contax had less flare and a less exciting sunstar, so in this case, the CLE shot rules.
The small Think Tank Speed Demon bag weighs more empty than the CLE system! I carried the extra Contax 645 lenses in the Speed Demon; it can't carry the Contax 645 at the same time, just two lenses and extras.
I only carried one system at a time: the Contax when I was serious, and the CLE when I was lazy.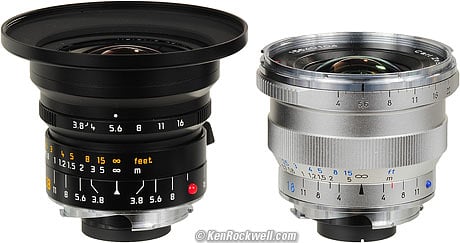 Leica 18mm f/3.8 and Zeiss 18mm f/4.
NEW: Leica 18mm and Zeiss 18mm Comparison Test.
16 June 2009, Tuesday
NEW: Nikon D300s. (forecast)
Leica vs. Zeiss 18mm lenses
I'm sitting here trying to see any difference between test photos made with the Leica 18mm f/3.8 and the Zeiss 18mm f4 lenses.
I'll be darned if I can see anything beyond the Zeiss being a bit warmer and the Leica being a bit cooler in color balance.
Everything else I'm seeing is so subtle that in some comparison shots the Zeiss is slightly sharper, and in the next pair, the Leica is slightly sharper.
D3X Price Erosion
The D3X is now $7,300 at Adorama (put it in your cart to see). I'm not biting, even though it is easily the world's highest overall performance DSLR ever created.
Dave Wyman's Monterey Photos
Dave Wyman, photo trip leader extraordinaire, already had photos from our Monterey trip posted before I got home from the trip.
Dave was working on them on his MacBook while I offered him a ride for part of the trip, and then I stayed an extra night in San Luis Obispo while Dave was already home.
15 June 2009, Monday
10th Anniversary of the Practical DSLR
The Nikon D1: Introduced 15 June 1999.
We take DSLRs for granted today, but 10 years ago, on 15 June 1999, the world's first practical DSLR was announced: The Nikon D1. They started shipping that fall.
Digital cameras have been around since Kodak's first experiments in 1973.
Throughout the 1990s Nikon, Kodak and Fuji lashed together various very expensive Frankensteinian combobulations that didn't work very well, where they'd take a nice camera like the F4 and jam digital electronics up its butt and expect you to wear a hard drive around your waist, or have ten pounds of hardware bolted to the bottom, and charge you $25,000 for the privilege of 1.3MP images.
Those cameras were not practical.
The Nikon D1, whose first formal announcement, with model name and specifications, went out on 15 June 1999, was the first DSLR that:
1.) was designed as a dedicated DSLR,
2.) offered reasonable image quality (2.7MP)
3.) was affordable by individuals ($5,000), not large organizations ($25,000).
Of course D1s sell used for about $75 today, but if you follow my advice and put your money into lenses, the 17-35mm f/2.8 AF-S was announced the same day. My 17-35mm still sells used for more than I paid for it new back then, and is still the first choice of pro journalists (the 14-24mm is too delicate and too heavy). Never deny yourself the lenses you need, but go easy on buying cameras if you don't have to.
More at Nikon DSLR History - read backwards.
09 June 2009, Tuesday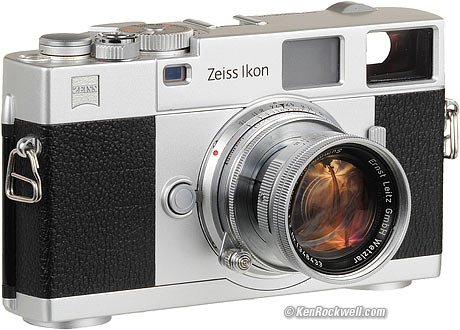 Zeiss Ikon.
NEW: Zeiss Ikon Review.
NEW: Leica M7 Compared to Zeiss Ikon and Minolta CLE.
08 June 2009, Monday
Apple hears our pleas - Yay!
Now all Macs have Firewire, as always. Gone are the 13" MacBooks with only USB, replaced by the new 13" MacBook Pro with, of course, Firewire 800.
The 13" Macbook Pro has:
13" LED-backlit 1280 x 800 glossy screen
4.5 pounds (2kg).
Backlit keyboard
Firewire 800 (completely compatible with Firewire 400)
SD card slot (Yay!)
USB, Bluetooth, Ethernet and WiFi, of course.
7 hour battery, if you're dreaming (real-world use tends to get less, but 7 is almost twice what last month's Apples claimed).
Of course the less expensive, but heavier (5 pounds / 2.3 kg.) white plastic 13" MacBook still has Firewire 400, too.
Personally, my laptop is a 12" 800MHz G4 iBook from 2004, which has worked perfectly for me over the past 5-1/2 years. If it's not broken, why replace it? My 12" iBook is still smaller than any current Mac laptop with Firewire, and weighs the same 5 pounds as the plastic 13" MacBook.
Canon SD880
A reader asked what I think about the newer Canon SD960 as compared to last year's Canon SD880 that I own and love.
A fast look at the specs shows me that the 960 has the same lens, but a smaller LCD and fewer buttons, so the SD880 still wins. Since the SD880 costs less, as I foretold last year, the SD880 is the camera to buy and hoard, at least for taking still pictures.
It is uncannily good when it comes to how well it shoots in the real world because of its elegant control layout.
05 June 2009, Friday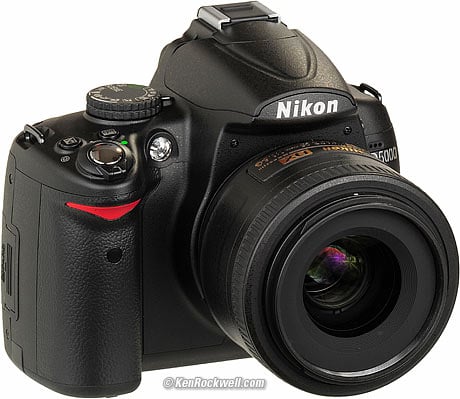 Nikon D5000.
NEW: Nikon D5000 User's Guide.
I got ahead of the game this time and just wrote one for you.
HOLY COW!!! The Nikon D5000 is the World's Quietest Camera!
While writing the users guide, I found a secret advance mode hidden under all the other advance modes on another page of the INFO screen's menu system.
It its quiet mode, D5000 just happens to be the quietest Nikon SLR or rangefinder camera ever.
Here's the kicker: the D5000 in Quiet mode is even slightly quieter than a Leica M7 or Nikon SP cloth-shuttered rangefinder camera, making the D5000 a fantastic choice for newsmen who use the LEICA in delicate situations.
Since the D5000 costs less than an M8.2, I just saved you over $5,000, and you can share all the lenses between your D3 and D5000, saving even more money over the LEICA for pro newspaper use!
Check this out
Six bucks gets you a microfiber lens cloth that doubles as an 18% gray card. What will they think of next?
03 June 2009, Wednesday
NEW: Nikon D5000 AF Settings.
NEW: Nikon D5000 Review.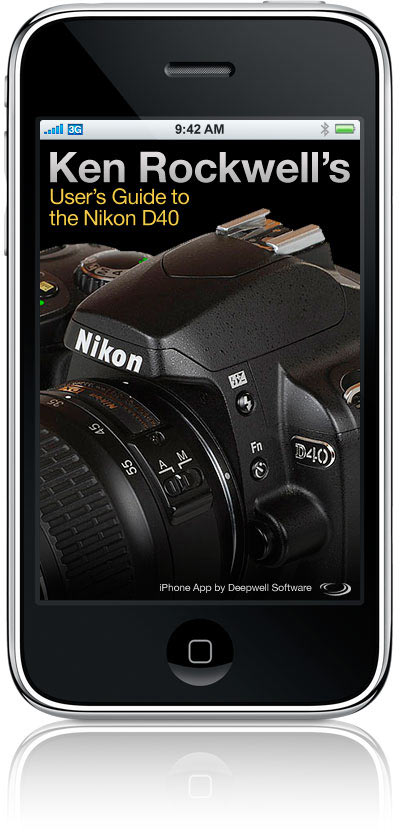 Coming Soon: A D40 users guide formatted as an app for the iPhone and iPod touch.
After we crank out the D40 guide, I think the D90 iPhone/iPod app will be next.
I've been trying to make excuse not to write a D5000 guide, but may I presume you folks want that, too, in my usual online format?
Thanks! Ken.
Aloha Nalu!
Here in sunny San Diego, photographers spend good parts of their lives trying to get decent photos from inside the green room (inside the tube of a wave). Most people get zillions of photos of green mush, just foam, and that's it. I know that's all I've ever gotten underwater.
Getting a clean shot in the green room is good enough, but getting one with good light at the same time is almost unheard of.
Lo and behold, Hawaiian photographer Clark Little has a whole website full of these shots.
If I ever made any shots that good of something this sacred, I think I'd just give up photography and call it a life.
02 June 2009, Tuesday
Nikon 13mm for sale
Tom Leighton just put up photos of his Nikon 13mm f/5.6 on which he's accepting bids up through (I think) tonight.
I've only seen a lens like this twice in my life; and Tom even has his box and instructions for his lens, of which he's the original owner.
If you want it, go for it, not that I know Tom. A reader found this and referred me to it, and I know some of you are interested.
My review of a sample I tested is at Nikon 13mm Review. Note how close the serial numbers are; Nikon made very, very few of these.
RUMOR: Nikon AF-S Nikkor 10-18mm f/4 G ED N
A fan just sent me leaked photos of this full-frame ultra-ultra-wide lens. I have no idea if it's the usual photoshopped baloney, but from what I saw, I'll believe it, just as I believe space aliens were responsible for all the stone work we saw about 1,500 - 1,00 years ago on earth.
If true, it will reassert Nikon's dominance in 35mm camera optics, which they lost to canon some time back in the 1990s.
Free Bogen Webinar

Bogen is having a free webinar called "A Budget Safari – Wildlife Photography at Your Local Zoo" from 11 AM - Noon PDT (2:00 p.m. to 3:00 p.m. EDT) on Friday, 19 June 2009.
Wildlife Conservation Society (WCS) Staff Photographer Julie Larsen Maher, and David Fisher, Bogen's Gitzo, Metz, Gossen and Litepanels Product Manager, will discuss the best practices, gear, and times to visit when shooting wildlife at a local zoo.

Topics Include:

- The best practices for shooting through fences, wires, and glass partitions
- Selecting the best gear for a day trip
- The best times to visit when shooting at a local zoo
- How to develop a unique perspective when capturing wildlife

Viewers will be automatically entered in a chance to win one of three National Geographic Walkabout Medium Satchels — wow! Winners will be announced at the end of the webinar, so you have to watch the whole thing to win, heh heh. A free recorded version of the webinar will also be available to registered participants within 24 hours of the event. Winners must be US residents.

Registration and more information about the free Bogen Café webinar.

More about the Bogen Café and upcoming Bogen webinars.
01 June 2009, Monday
New Workshops
I'll be on but Dave Wyman's new photo tour to California's Steinbeck Country, running Friday through Sunday, June 12-14 2009. I'm unsure what Dave has available for openings; check with him. I'll be teaching along with Dave.
I also just learned the dates for Jay Maisel's Workshops in New York City. They are:
14-18 September 2009
12-16 October 2009
16-20 November 2009
I won't be at Jay's workshops; Dave Wyman and I plan to be doing a couple of workshops in Bodie and Yosemite in October, and more elsewhere in November, for which I don't yet have exact dates.
DEAL: Adorama has refurbished Canon 24mm TS-E Tilt-Shift lenses available, cheap. These usually sell out fast!
Video: The video from the D5000 and D90 suck compared to a camcorder or point-and-shoot, but Canon is moving ahead and tomorrow should have a free firmware update to add manual exposure control for pro video shooting with the 5D Mark II.
Check it out: ChrisGuillebeau. It seems like there is a ton of great stuff there, like How to Accomplish Anything, but sadly, I have too little time to read the Internet. I wish I still had an office job where I could afford to do that on other people's time.
He seems to have a ton of cool stuff to read, let me know if you think so. I only glanced and thought it worth some time later.
Delicate Repairs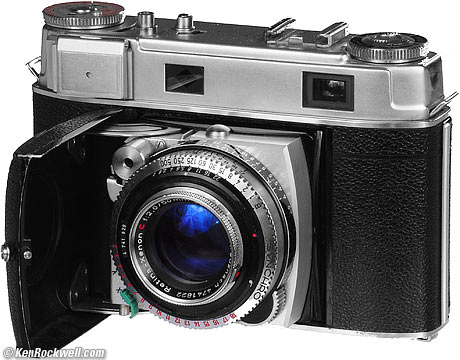 Kodak Retina IIIc (before overhaul). bigger.
I've now had my 1956 Kodak Retina IIIc overhauled by Gus at OC Camera.
It came back like new!
All I thought it needed was a small tweak to get the rangefinder dialed-in just a hair, since I thought it was working fine otherwise (still sharper than a D3!), but Gus discovered that the real problem was that the lens assembly was a little loose.
Gus went through it and did everything it needed. He also cleaned it, and it came back an entirely different camera. Instead of the klunky focus feel that stopped just short of infinity, it now feels like a Leica. I'm serious: the focus feel has exactly the same perfectly smooth travel, no play and the same tension as every Leica lens.
The coolest thing about Gus' repairs is that he leaves no tracks. Plenty of us can open cameras and screw things up, but not only does Gus actually fix things, he gets in and gets out and there's no way of telling that anyone has ever opened the camera.
If a camera ever shows "technician tracks" on screw heads, that doesn't mean it was serviced: it means it was abused.
Gus also went through my Kodak Hawkeye Brownie (1950s) and cleaned all the haze out of it. It's like the 1950s, all over again!
Even crazier, Paul Racicot sent me his dad's (Thomas Racicot's) 9cm f/4 Sun Sola lens and finder, which from what I can see, is an uncoated 1940s ("Made in Occupied Japan") off-brand that just happens to fit Leica. It was full of internal crud and looked like a hundred generations of spiders had left webs inside. It was really creepy, but it came back from a cleaning from Gus looking, well, like it did in the late 1940s.
As some of you may remember, I was looking for a place to work on the Retina. It turned out that the closest suggestion was New Zealand. Others I asked to work on it freaked out, since repair people have to shoulder the burden of fixing anything they break in the course of repairs, so they shy away from cameras for which parts aren't readily available.
Gus seems to get more excited about working on things the older, crazier and tougher they are to repair.
Now don't go telling everyone about this because he'll get so busy fixing everyone else's cameras that I'll never be able to get anything worked on again, but if you've got something nice that needs attention, Gus is your guy.
He's still waiting for parts for the overhaul of a 1950s Leica IIIf Paul Racicot also sent me, and I also dropped my 1954 Agfa Super Isolette with Gus to get the focus working again. The Super Isolette, a folding 120 rangefinder, is another camera that no one in San Diego (at least that I asked) wanted to touch for fear of breaking it.
Thanks Gus!
What Was New in:
The end of September, 2008 (Photokina)
The beginning of September, 2008
December 2007: Loads of details about the Nikon D3, D300, 14-24mm and 24-70mm, much of which still isn't on the individual review pages.
November 2007: First hands-on details about the Nikon D3, D300, 14-24mm and 24-70mm, much of which still isn't on the individual review pages.
August 2007 (Loads of new Nikons and Canons)
2006 November - December (includes birth of Ryan Rockwell)
2006 October - November (includes photos from a trip to NY)
Home Donate New Search Gallery How-To Books Links Workshops About Contact