Home Search Gallery How-To Books Links Workshops About Contact
December 2008's Updates RSS
all © 2008 KenRockwell.com. All rights reserved.

31 December 2008, Wednesday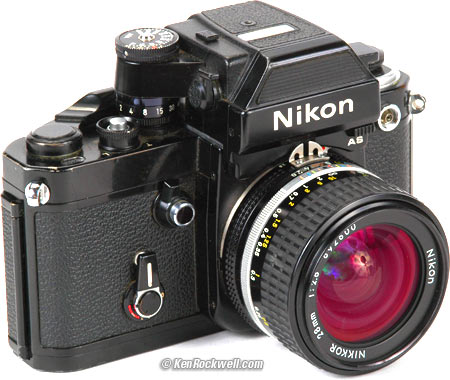 The Nikon F2AS I bought 25 years ago today.
NEW: 25 Years Shooting Nikon. I bought my first Nikon 25 years ago. I still use it. Here's what I've learned.
30 December 2008, Tuesday
Canon 5D Mark II in Stock!
It won't last very long, but Adorama has the Canon 5D Mark II in stock as body only and kit with 24-105 IS. The 5D Mark II is the best DSLR Canon's ever made, so grab one while they're still in stock or you may have to wait a while longer.
28 December 2008, Sunday
Rocky's 25th Nikon anniversary coming up on Wednesday
In spite of the upcoming Million-Man March on Melville in protest of the absurd initial asking price of the D3X, Wednesday is the 25th anniversary of me getting my first Nikon.
In spite of recent boners like the D3X pricing, Nikon has made a couple of decent products over the years. I'll share all on Wednesday, even if I decide to ditch Nikon for greener pastures by then.
What's The World's Best Camera?
Easy answer: the best camera of all cameras available today is the Mamiya 7 system. (The Mamiya 6 was a little better camera because it offered a collapsible body and an averaging meter, but its system offered a more limited range of lenses.)
The Mamiya 7 is the sharpest camera on Earth that you can shoot hand-held. It shoots big 6x7cm 120 and 220 film, and is lighter than many of the digital monstrosities people endure today.
For the things I shoot, If I only had one camera for everything, both formal and casual, the Mamiya 7 would be it.
Digital is nice for kid pictures or unskilled people who "spray and pray" in the hope that God will help them find a decent picture out of the hundreds they mindlessly shot (or resurrect them with raw in Photoshop), but for both serious and silly work, the Mamiya 7 is it.
If all I did was serious work on a tripod, a 4x5" would be the only camera I would shoot.
Why the Mamiya 7? Simple: its optics are unsurpassed, it's easy to carry all day around my neck, it's easy to pop the other two lenses in my pocket and go, it's easy to carry a day's worth of 220 film in my pocket, it runs years on a tiny, $2.29 throw-away battery, it's easy to shoot, it's easy to get great results, and most importantly, the results, if you know what you're doing, are always fantastic.
Sure, Leica is nice if you're looking for something well made, but nothing in 35mm or digital can compare to the technical quality I pull out of my Mamiya 7. The only thing slightly better is a 4x5."
All this, and the Mamiya 7 is smaller and lighter than a D3X. By far!
Of course your style will vary; you can see what I shoot at my Gallery. I'm always amused by other websites who'll go on and on about why you should buy the latest digital camera they're pushing, but you'll never see any serious body of work by the author by which you can judge the validity of their opinions, or the applicability of their opinions to the sorts of things you shoot. Sorry for the revelation, but most gear websites are written by computer hobbyists, not working artists.
I'm not saying that I'm any good, but I am saying that for the stuff I can knock out in a day with a pocket point-and-shoot, that ideally I'd prefer to have shot them on film like a Mamiya 7, not digital, if my plans were to hang an exhibit or sell works.
If I shot news or sports, I'd deal with digital. For my serious stuff that hangs, and for serious shooters whose contemplative work you see hanging at The Met and galleries in Santa Fe, New York, Aspen, London and Paris, shoot film. Ever see Lee Friedlander's work? I'm amazed that he's been shooting and selling work in the same style since the 1960s, all B&W drive-by shots.
26 December 2008, Friday
My Christmas Blessing: Screw the D3X at $8k
Is Nikon still getting $8k for the D3X? Why?
Yesterday I shot my kids with my old D3 and new 50/1.4 AF-S.
Wow; the 50 AFS nailed every shot, in almost 3D clarity, at f/1.4. The D3 didn't even break a sweat as Auto ISO grabbed ISO 2,000 to ISO 3,200 as it needed to.
If I wasted an extra $4,500 on a D3X, I'd have had to settle for more noise (or so I suspect, I'll exposée this when I get my hands on a D3X) and whatever else I lose for more pixels I don't need. I shoot my D3 at 6MP (Medium) resolution anyway for most shots.
Not only is everyone walking, uh, running away from Nikon after this $8K fiasco, I'm not kidding that Leica looks like a bargain by comparison.
After a little research, I discovered that Leica is running a rare rebate. Having no history with Leica cameras (I've used their P150 projector and Colorplan 90mm lens for decades), I asked if these rebates ($1,500 on the old M8 and $300 each on many M lenses) were like Nikon and Canon, which always come around, or if they were a real steal. I was told that Leica rarely runs rebates like these, so if I needed anything, to jump on it.
The Leica rebates have only been active this past month, and expire on January 1st, which is Thursday. That's right: these Leica rebates have only been in effect since Thanksgiving.
I figured now's the time, so I just ordered a new Leica 28mm f/2.8 ASPH from Adorama, and a new 90mm f/2.5 Summarit-M as well. Each is $300 off, after you mail the forms and wait what is now about three months for your check.
Why that 28mm? Looking at used Leica prices, you're into any used Leica 28mm lens for at least a grand. There aren't a lot of used ones out there, either.
After rebate, this new state-of-the art aspherical 28mm only sets you back $1,500, so it's about the same price as an earlier used model. The new one appears to be superior to all earlier models, because it has very low distortion and it's tiny enough not to block the 28mm finder window. This was an easy choice, since with rebate I can get a new one for about the same price as used. (To be honest, the 28mm Zeiss for the Contax G has MTF and distortion curves about as good, and it sells used for well under $200.)
Why the 90mm f/2.5? Because it's smaller and lighter than any of the other Leica 90mm lenses. It's specs tell me it ought to be a stellar lens, and I'll admit, I'm a sucker for a rebate. There are a ton of used Leica 90mm lenses out there at decent prices, but to get this latest lens, it's selling used for about the same price as the new after-rebate price.
If I hate any of this stuff, I believe Adorama's usual excellent return policy applies.
Unlike the Japanese, the Germans post not only full MTF curves at their websites (Leica's are here; click a lens and then click "Technical Data" for the curves), they also share distortion curves.
Even ignoring the $4,000 prices, I ignored the faster Leica 28mm f/2 ASPH lens because its got more distortion and its heavier. The Leica 90mm f/2 ASPH is remarkable, but I don't feel like dropping $3,200 after rebate to carry a one-pound (500g) lens around. I also can find it used for less.
Why not 75mm? Because most of Leica's finders don't give you a frame; they just give four corners.
Why not 21mm, my favorite focal length? Because it's still $4,000 after rebate for a new one. I can get an excellent Cosina (Voigtländer) 21mm for under $500, and the Zeiss 18mm for about $1,400 with finder, or get a used Leica 21mm. Even at four grand new, it's still a bargain for a lens which will outlast my own life, compared to the deafening sound of an $8,000 flush into immediate depreciation for a D3X.
Leica isn't what you shoot when you're serious about technical image quality. Leica is what you shoot for convenience when you don't want to carry a hardware store on your back. Yes, Leica's lenses are about as good as those for the Contax G System, but the problem is that Leica still only offers sub-standard sized digital or regular 35mm film cameras. The small sensors and film are the limitations, not Leica's fine lenses.
If you're serious about technical quality, you shoot larger formats of film, and the Pentax 645 below ought to be far superior to anything in 35mm. And did I forget to mention: a complete used Pentax 645 system with three lenses will cost you less than any new Leica lens alone.
Know what I got for Christmas? A 150mm f/3.5 manual-focus lens for the Pentax 645 shown below, and an iPod touch.
Cal me crazy, but at $8k for a D3X which ought to be selling at $5,500 by summer and be worth about $1,200 used in 2 years, Nikon can shove it. That money buys a lot of film and scanning, and a lot of real German cameras that won't make me feel like a fool in two years. Remember how excited we all were about the D200 when it came out? Who even cares today? The D200 is ancient history, and it came out in 2005. December, 2005.
For digital, the D700 is the best thing going today, not the D3X.
25 December 2008, Christmas Day, Yay!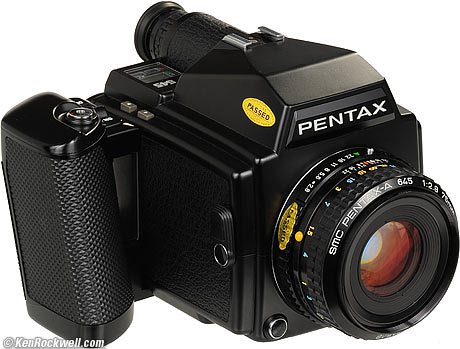 Pentax 645 and 75mm f/2.8.
NEW: Pentax 645 Review. A fast Christma gift to you all: the Pentax 645 is the new best, cheapest way to get into a solid film camera for serious landscape photography. You can get them as cheap as the crummy old Yashicamats, and the Pentax 645 has full exposure automation and motor drive, and it's a n SLR lik the Hasselbad. Yay! Santa's coming!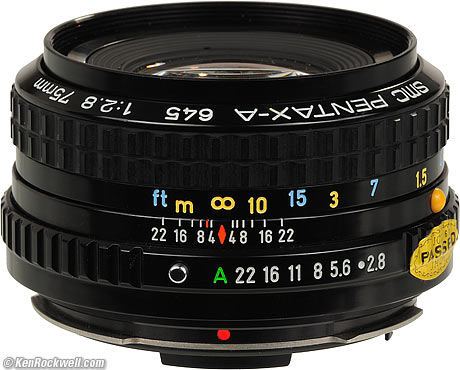 Pentax 645 75mm f/2.8.
NEW: Pentax 645 75mm f/2.8 Review.You'll probably get one of these with your Pentax 645.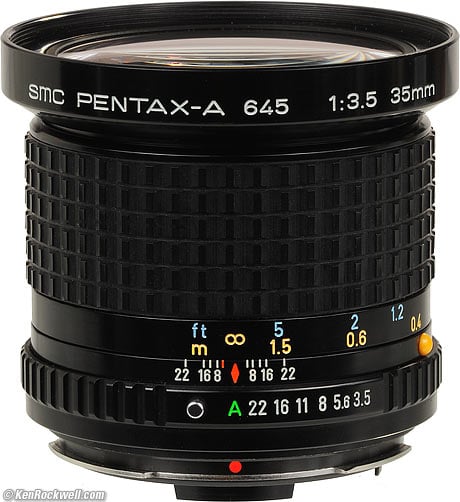 Pentax 645 35mm f/3.5 Ultra-Wide.
NEW: Pentax 645 35mm f/3.5 Review. You'll want one of these with your Pentax 645. It works GREAT with stacked 77mm filters, Yay!
23 December 2008, Tuesday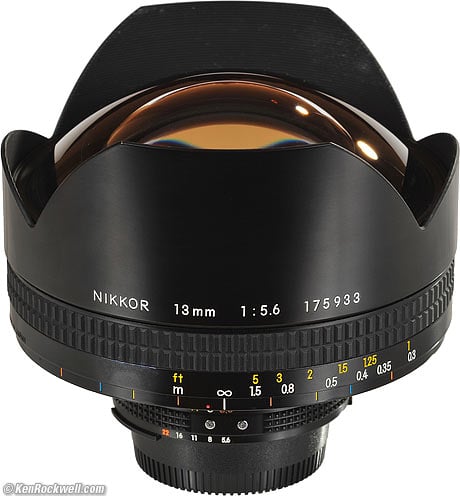 Nikon 13mm f/5.6 AI-s.
NEW: Nikon 13mm f/5.6 Review. Nikon's, and photography's, greatest lens.

Nikon 13mm, two 15mm, 14mm f/2.8 and 14-24mm.
NEW: Nikon Ultra-Ultrawide Lens Comparison. I compared all Nikon ultra-ultra wides ever made, including the 13mm, two 14mm and two 15mm lenses.
20 December 2008, Saturday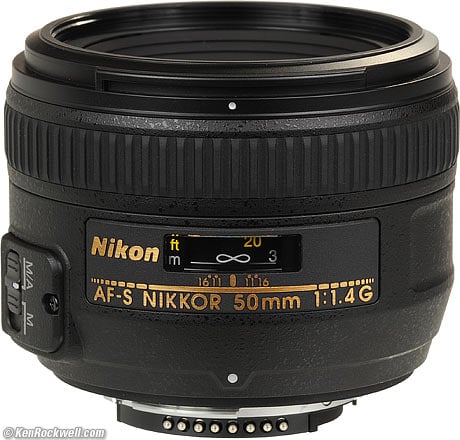 Nikon 50mm f/1.4G AF-S.
NEW: Nikon 50mm f/1.4G AF-S Review. D40, D40x and D60 owners: you need one of these! Everyone else, you need either one of these or the older 50/1.4 AF-D.
19 December 2008, Friday
D700 Give-Away (and more)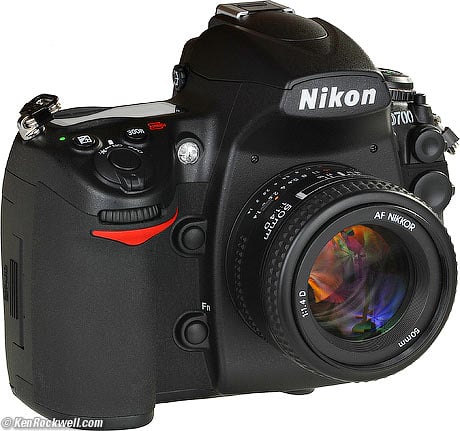 Nikon D700: In stock, and only $2,160 at Ritz (body only) if you use PayPal!
Ritz' PayPal 10%-off deal is still going, until they run out of promotional dollars to pay for our 10% discounts.
Readers have written that they really have gotten D700s on order for that price, so go get one! Santa (and I) want you to have one; it's Nikon's best digital camera. (The Nikon F6 is still their best camera made today.)
Canon Rebel XTi Deal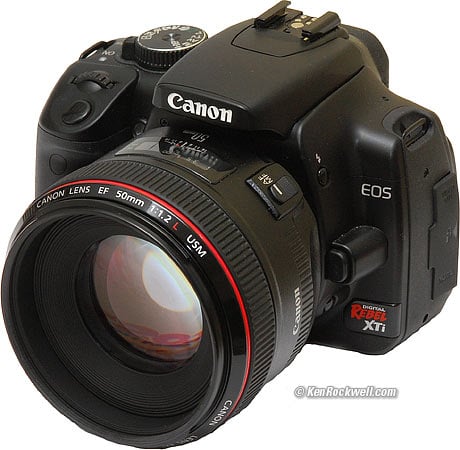 Canon Digital Rebel XTi, with 50mm f/1.2 L.
Adorama has refurbished XTi bodies for $299.95, cheapest I've ever seen a current DSLR body!
$299 gets you only the body; Adorama's page shows a photo with a lens, but as you can read in its description, it's a "body kit" and no lens is included in the description. It does come with cables and software, straps and caps, battery and charger. The only thing missing is a lens and the printed manual, only including the PDF on CD. (No way does $299 include the $1,400 50mm f/1.2 L as seen in my own photo above, hee hee, that lens I borrowed for the XTi review.)
I own an XTi, and when I bought it, I paid Adorama $700!
Memory Card Deals
These are the direct prices, no rebates involved:
Compact Flash
SanDisk 4 GB Extreme IV : $49.95 outright.
SanDisk 8 GB Extreme IV: $79.95 outright.
SanDisk 16 GB Extreme III: $79.95 outright.
Extreme IV are the pro cards I use with super-fast download speeds if you use the firewire reader.
SD Cards:
SanDisk 4 GB, Extreme III: $29.95 outright
SanDisk 8 GB, Extreme III: $39.95 outright
18 December 2008, Thursday
MTF Curves
Far better illustrated than my MTF article, Carl Zeiss' N. N. Hasse has published a new paper on reading MTF curves.
Jay is among the the best of the best. Like most of the world's best photographers, his formal training is in painting.
I had no idea he offered much in the way of workshops, and it looks like he runs a few each year. Most photographers on his level can't afford to run workshops because they are run ramshackled shooting $30,000-a-day jobs, so I'm impressed that Jay takes time out to offer these at all.
I've admired Jay's work for decades, and I learned more from sitting in on a 20-minute talk about what really matters in photography than I learned in many years of reading books, websites and magazines.
God only knows how much you'd learn taking one of his 5 full day workshops.
For instance, few photographers have any idea of what negative space is. If you don't either, you had better take one of Jay's workshops (or enroll in a university art degree program).
Jay doesn't waste your time with irrelevant BS like Photoshop: Jay teaches you how to look, how to see and how to evaluate your work so you can improve continuously. You'll shoot digital in these workshops, but that's so everyone can see what you're doing while you do it. You'll be learning to take great pictures, not twiddle with software. Check out his workshops! Tell them I sent you.
To quote Jay: "The more equipment you take, the fewer pictures you'll take."
DEAL: Get 10% off almost anything in stock at Ritz if you pay by PayPal!
That means the $2,400 D700 will only cost you $2,160 if you pay by PayPal, and that's today, not needing a rebate, and it's in stock! Do it!
I haven't gotten to writing it all up, but the D700 is Nikon's, and the world's, best camera for most serious work today. The D3X is stupid, the D3 is better but just as klunky, while the D700 is the newest, smallest and smartest of them all. The Canon 5D Mark II has more pixels, but I don't care (I usually shoot mine at JPG Small), and the AF system of the 5D Mark II is inferior to the D700.
The D700 is extraordinary for photographing people in any light, while the 5D Mark II rarely gets anyone in focus at f/2 because it has no face recognition and can't nail the eyeballs as do the D700 and D3.
Want a D40 and 18-55 and 55-200 (non-VR)? It's $499 at Ritz, minus $50 off using PayPal, and Ritz throws in another $50 Ritz (online) gift card. After you spend the gift card on another order, that's $399.99 for everything! Want the same kit with the VR 55-200? That $599, -$60 if you use PayPal, and you get a $50 gift certificate, for a total of $489 after you've spent the gift certificate! Not bad for the world's best DSLR for almost anything.
See Ritz' details, and this will only last for a day or so until they run out of discount dollars. Ritz ships internationally.
Man, technology changes. Back for Christmas in 1973, I was 11 years old. I had just bought my first SLR, a used Minolta SR-1 with a 53mm lens. My first auxiliary lens was a Vivitar 200mm f/3.5 preset T lens. It cost Santa $75. With inflation, that's the same as Santa spending $360 today, for which you can get the D40, new!
Some technology never changes. While SLR cameras went to TTL metering in the 1970s, the new 1980's Leica M4-P used only a clip-on meter, exactly like my 1960's Minolta SR-1. Even more backwards, Nikon and Canon have been using modern A76 (LR44) cells to power camera meters since the 1970s, while the new Leica MR-4 clip-on meter, sold new in the 1980s for use with the M4-P, still used the old EPX625 mercury cell.
Canon 5D Mark II
I just made an interesting discovery about the Canon 5D Mark II's image files: No camera actually rotates the images. Most cameras, including this one, just set a flag but don't rotate vertical images. (I said "this one" because its a lot easier than typing "5D Mark II," come on Canon: please start inventing new cameras with new model names; those of us in the media HATE it having to type "5D Mark II" when "7D" would be so much easier.)
I then have to rotate the actual pixels in iView's lossless rotate, so that the images read correctly in every possible application. It won't matter when you print, but if you use your images as many places as I do, you must make sure that they don't come out crooked on anyone's computer or TV.
The 5D Mark II comes one step closer to correct: it's the first camera I've seen that does rotate its embedded thumbnails automatically.
Unfortunately, this still isn't good enough. I still have to rotate the actual JPGs, and when I do, iView dutifully rotates the embedded thumbnails back to crooked. Oh well; at least iView can do lossless rotation; amateur programs like Lightroom don't have that ability; they leave your files unrotated and leave you dependant on using smart software like Adobe which knows to read the flags.
What is dumb software that can't read these flags? Your Internet browser. Post a camera-original JPG online, and it usually reads crooked in a browser, for instance.
17 December 2008, Wednesday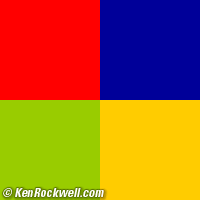 NEW: How to Win at eBay.
Over a year in the making, my new book explains how to win over 97% of the things on which you bid, and never pay too much.
I thought it would be one short article, but no!
I thought I could write down what little I know about photography in a few minutes, and that turned out to be over nine years ago starting this website, which is never finished.
When I started to write about my latest experiences with eBay for getting stuff, it turned out to be a whole book. Instead of publishing it the hard way, I put it here free for the reading, and if you find it helpful, feel free to drop something in my hat so next time I can keep all this free, too.
Thanks and enjoy!
Ken
Cameras Prices in Free-Fall
Just like gasoline prices here in sunny California, great camera prices keep getting better.
I see the Canon G10 is down to $420, and the SD880 is down to $247, both at Adorama.
NEW: Gift Ideas
I just added two great things I haven't had time to write about, but if I were you, I'd want them under my tree Christmas morning. The iPod Touch is still there, and Santa already had my request on that one.
More Film Love
The Nikon D3X is only rated only for operation at between 0~40ºC (32~104ºF). Most of you live in places where it's colder than that every night.
Dave Gregory just sent me a Nikormat EL, over 30 years old, for the ranch.
Not only does the Nikkormat's manual say the Nikkormat is "rated for operation" over a far wider -15 ~ +55ºC (5 ~ 131ºF) temperature range, the Nikkormat manual enthusiastically brags that the "Nikkormat EL functions faultlessly" over that range.
NEW: The Return of the Leica.
Nikon blew it when they dared ask $8,000 for the $5,500 D3X.
I looked at Leica, and their stuff is a bargain today, even if you forget about the fact that as a business expense, it doesn't depreciate into the toilet as does Nikon digital gear.
We finally can get the big-sensor, small-camera we've wanted, for a lot less than a D3X. Yipee!
Sayonara Nikon, Willkommen Leica!
NEW: What to Worry About When Making Pictures.
16 December 2008, Tuesday
NEW: The Pixel Count (Resolution) of Film. This is why film always outdoes digital cameras every year, so long as you're looking closely enough (not at 13x19" inkjet prints).
15 December 2008, Monday
NEW: How to Pack Photo Gear for Shipping.
Yay! Baby Ryan's Second Birthday!
Whoo hoo! Dr. Jim Greenberg told me that babies are from birth to two years old, so now at two years old, Ryan officially graduates to being a toddler.
Thanks everyone!
12 December 2008, Friday
Canon 5D Mark II User Tricks
I just added a Usage section to my 5D Mark II review with the settings I prefer. Like everything, this will be growing as time progresses.
Canon 5D Mark II Color Balance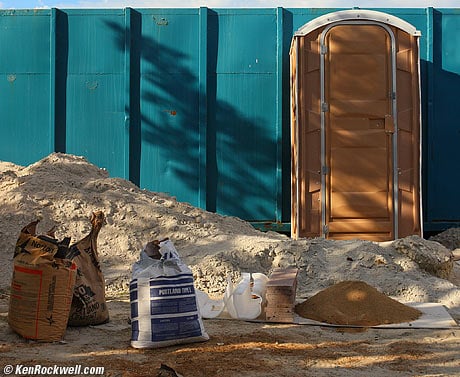 Color Balance. enlarge. (5D Mark II, 50mm f/1.4 USM)
I walked by and shot. I don't even know why: I feel and I respond.
Later I realized I was seeing the balance between the tan and teal, toilet and bag. If you're not seeing it; walk back five feet and see if you see the positive/negative space, the yin and yang.
This isn't a photo of a toilet; this work is all about color and balance.
Our subconscious minds perceive this far faster than our conscious minds can explain it. Don't think; just shoot.
Canon 5D Black Pixels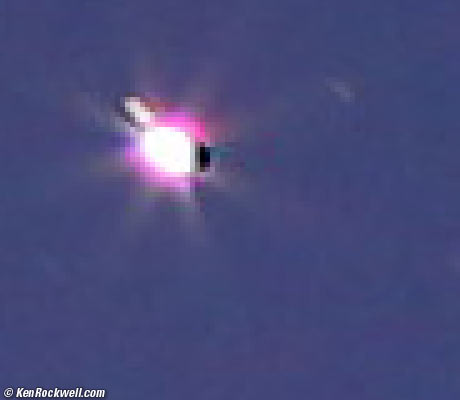 Is this black hole about to eat Uranus? (Rockwell Spacelab photo)
NEW: Canon 5D Mark II Black Pixels. Is this a vast Oriental conspiracy, or just another video-gamer fantasy? (Warning: contains immature content.)
New Ansel Adams Original Photos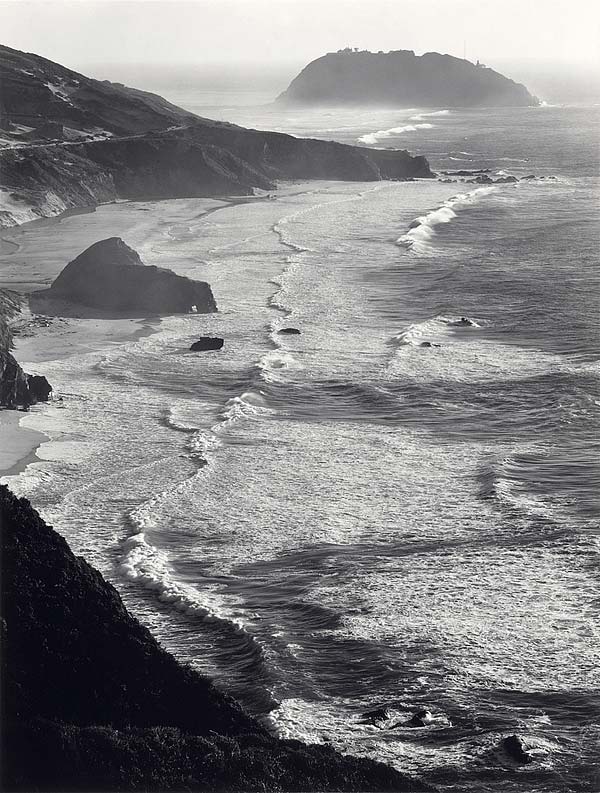 Point Sur, Storm. Ansel Adams, 1946. (used with permission)
I'm kidding, but only sort of.
The Ansel Adams Gallery has been working for over three years to perfect a process by which they can offer exceedingly accurate reproductions of Ansel's original hand-made prints. These are called Archival Replicas.
This painstaking process captures directly from Ansel Adams' original hand-made prints. These are then output using commercial fine-art inkjet printers on a heavy base, very similar to fiber-based paper.
I have yet to se these in person, but I did speak with Ansel Adam's grandson at the gallery, who assures me that these are to a higher standard than any of the reproductions we've seen before.
Heck, I love the Ansel Adams posters, and these should be much better. I also love the Ansel Adams Special Edition prints I have hanging on my walls, which are printed on silver-gelatin paper directly from Ansel Adams' negatives by Alan Ross, exactly as instructed by Ansel Adams.
These were developed with the Ansel Adams Publishing Rights Trust. These are the same people who oversee and ensure that the quality of everything with Ansel Adams' name on it, from postcards on up, is spectacular.
What's crucial about these Archival Replicas is that they are accurate color reproductions of black-and-white prints.
Many people don't realize that black-and-white prints have color. Each original print's materials and choice of toning gives each its own color, something not previously reproducible.
FOr instance, much, but not all, of Ansel Adams prints were selenium toned, which makes them slightly purplish-magenta. Other earlier prints have different tones.
This new Archival Replica process has finally been able to duplicate the precise and subtle toning of the original prints.
Each is custom matted and framed to your order, and available in several sizes, depending on each image. The sizes are limited based on how well each image looks at various scales, not due to technical issues. Sizes range from 7 x 9" to 30 x 38."
Check them out; I can't wait to see them myself in person. Timing is tight, since each is custom made to your order, but you might be able to get them for Christmas and Hanukah if you hop to it.
New Pentax Reviews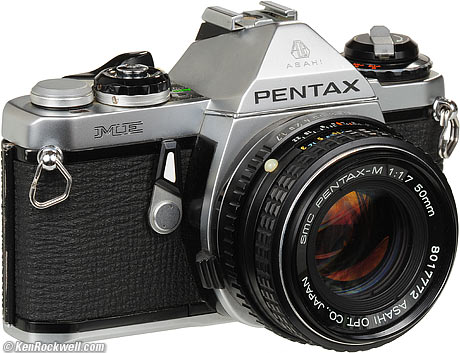 Pentax ME and 50mm f/1.7 SMC-M.
NEW: Pentax ME Review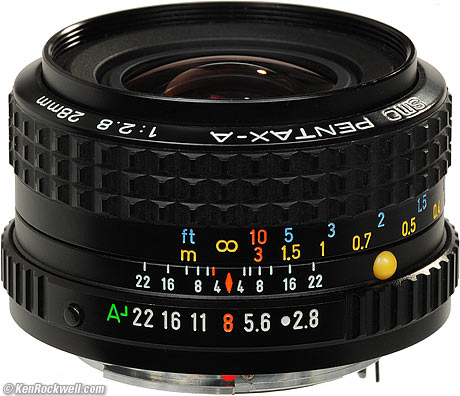 Pentax 28mm f/2.8 SMC-A.
NEW: SMC Pentax-A 28mm f/2.8 Review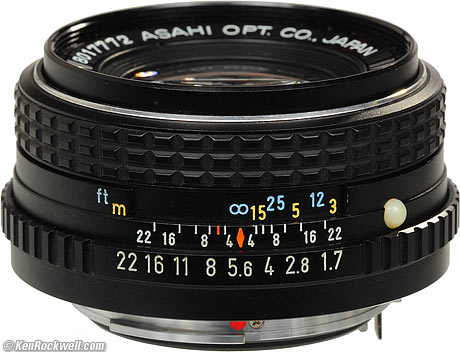 Pentax 50mm f/1.7 SMC-M.
NEW: SMC Pentax-M 50mm f/1.7 Review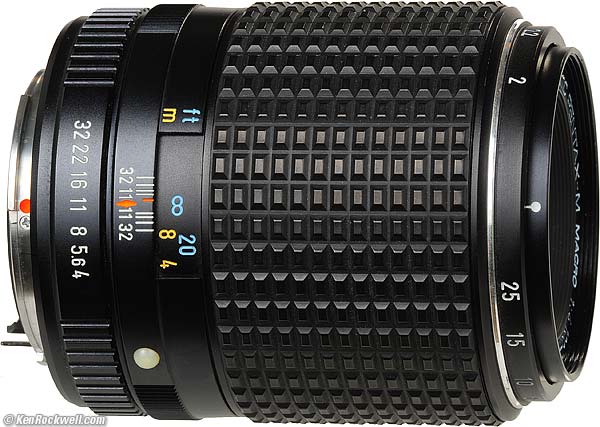 Pentax 100mm f/4 SMC-M Macro.
NEW: SMC Pentax-M 100mm f/4 Macro Review
10 December 2008, Wednesday
Canon 5D Mark II hand-held in moonlight!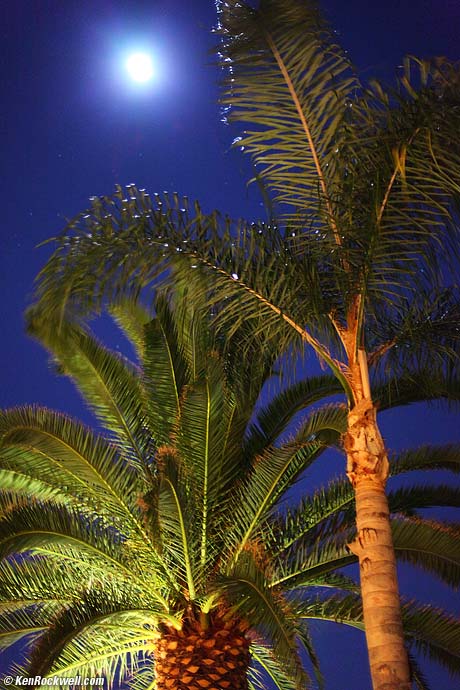 In Auto ISO, pointed-and-shot.
NEW: Canon 5D Mark II High ISO examples. Moonlight shots, hand-held!
D40 Smokin' Deal!
Ritz has a 2-lens D40 kit with the 18-55 and 55-200 VR lenses for $599.99 and a 2-lens kit the 18-55 regular 55-200 lenses for $499.99, both super deals.
I paid $599 two years ago for just the D40 and 18-55 lens.
Canon 5D Mark II: First Real Evaluation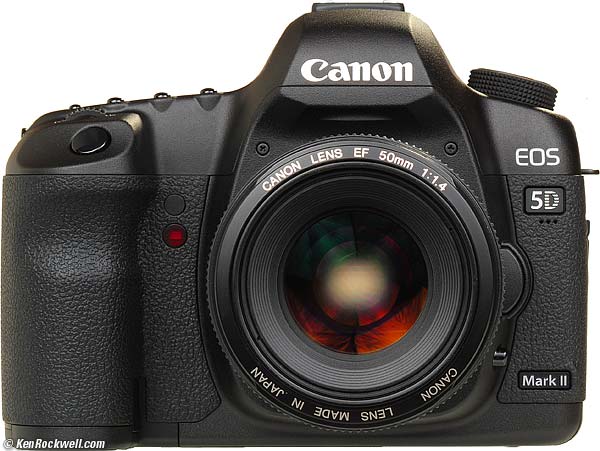 Canon 5D Mark II - first real photos! (thanks Jerry for loaning me the 50mm!)
I've run my 5D Mark II through some first shots.
The good news is the new LCD and Auto ISO feature alone make it worth the upgrade from the old 5D.
The horrible news is just how little else has been improved. The name is apt; it really is still a 5D with just a few improvements and most of the old 5D's crappy ergonomics.
Read my updated Canon 5D Mark II review now before I get to sanitizing it later.
09 December 2008, Tuesday
NEW: Cartier-Bresson and the Leica. I finally figured it out!
Good news: I've learned that it's trivial to get any Leica, even back to the 1920s, repaired. Aha, maybe this is why people pay such crazy prices for old Leicas. I'll also have to admit that even with a broken shutter, the M4-P my dog found feels fantastic in-hand.
I also found a Canon T90 repair specialist. If yours is hung-up, no problem!
Canon 5D Mark II black dots
Tweakers always find something irrelevant about which to complain whenever a new camera comes out.
For the 5D Mk II, it's the fact that the camera's sharpening algorithms sometimes are ringing a little too much on the right side of brilliant specular highlights. This leads to a rare darker pixel on the edge, so what.
When viewed properly, this increases the apparent sharpness, and apparent brilliance of the harsh light sources.
Ignore this. If this stuff bugs you, either get over it, or shoot film like a pro.
My 5D Mark II is fine.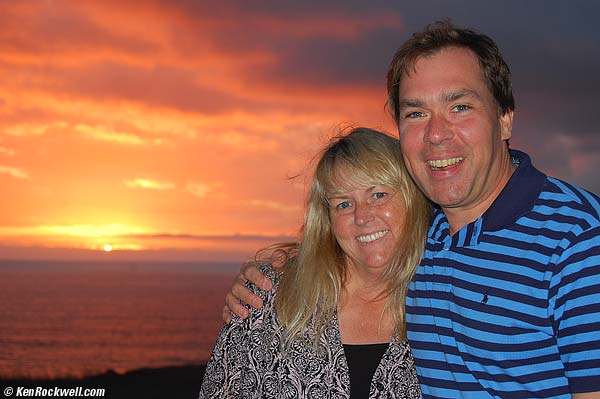 Shot by a stranger with my D40. enlarge.
I love my Nikon D40 (wifey-poo, too)!
So we're heading home yesterday, and stop to watch.
My wife offers me to take a photo of another guy there, and he offers to shoot us.
I pop up my Nikon D40's built-in flash, set -2/3 compensation to be sure, set auto-area AF, hand it to him, and Bingo!, another typical great shot from the D40.
As always, this shot is exactly as shot, no tweaking. Sure, I'd rather I'd popped on a warming gel over the flash to match the sunset, but tough, this is a great shot I wouldn't have gotten from a digital point-and-shoot, and not likely from a Canon SLR either. With this shot, we only got one pop, and it had to be right. Nikon just nails flash exposure with no tweaking, yay!
Canon 5D Mark II is here!
UPS just dropped it off yesterday afternoon (thank you, Adorama), and the 1,800 mAh battery is charging. It arrived 18% charged, which gives the battery the longest shelf life. Who needs a D3X? Not me!
I need to shoot product photos of it in the studio, then do the boring tech tests. I plan to compare color rendition to the old 5D, and ISO 3,200 noise and ISO 100 sharpness to the D3 and old 5D.
Then I can really get to shooting once the dweebs are satisfied with the tech stuff. I'm mostly interested in how or if Auto ISO works, if the LCD is any good, and if the readouts in the finder are legible, all weak to nonexistent points in the old 5D.
M-Rock Bags
Turns out I have what must be a long-lost relative in the camera biz (just kidding)!
Micheal Rockwell runs M-Rock, who makes some really nice bags. Check them out online. They have loads of pockets and zippers, and what I like about them is that the zippers almost always have pulls on them, instead of just being naked zippers.
Thank You!
Many thanks for your cards and letters with suggestions for repair of a Canon T90 and a Leica M4-P. I sent them out today for repair so I can review them later. Of course the real reason for them is so that I can review FD and Leica-M lenses in depth.
La Jolla Plane Crash
America lost an F/A-18 yesterday at noon. It developed some troubles, and the pilot had to eject. Unfortunately he didn't make it all the way to the unpopulated canyon into which he tried to dump the plane, so it hit a house not far away from my condo a mile or so north. We lost a few citizens, too.
In case anyone was wondering why we'd put a Marine base a block east of La Jolla, we didn't.
Miramar Air Station has been owned by the military since 1917, and flying since the dawn of aviation. Likewise, much of La Jolla and UCSD was Camp Matthews in World War II.
Nothing was anywhere near the base until the 1970s, when my pad and tract homes were built. The original owners all signed notices to the effect that we appreciated the Sound of Freedom and knew there was an active military base up the block.
Much of San Diego's active business hub, built in the 1990s, is now located right near the flight path, and everyone in UTC gets to see the planes and hear the Sound of Freedom all day. We have great seats for each October's airshow.
Anyway, its sad, but a plane drops about once every 20-30 years, and the city's zoning takes it into account. For instance, the reason the hotels on Torrey Pines Mesa are laid out as they are is to minimize the impact if a plane drops on them.
As probably everyone knows, Miramar is the air base featured in the movie Top Gun.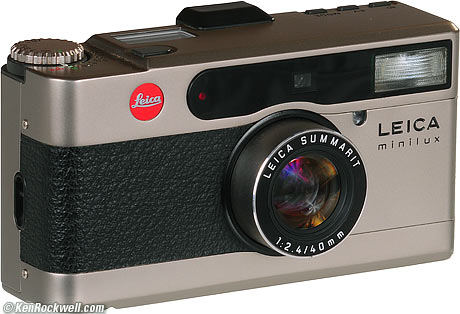 Leica Minilux (1995).
NEW: Leica Minilux Review. A great little camera for when you step up to film.
08 December 2008, Monday
Even the Nazis can't Comprehend the Price of the D3X!
Caught in a bizarre time-warp, somehow Hitler himself is completely astonished at Nikon having the cajones to ask $8,000 for a camera that's not worth more than $5,500. Even odder, he mentions my name! How he did this back in the 1940s is beyond me.
To put this in perspective, remember that the Nazis were huge Leica customers. Now that my dog dragged in a Leica M4-P for me to review (after it's repaired), I started looking at prices of Leica lenses. Are they kidding?
A simple fixed Leica 28mm f/2.8 manual focus, manual aperture lens costs $1,500, after rebate! Manual focus 28mm f/2.8 lenses usually sell for under $100 for other cameras, while even the spectacular Zeiss 28mm f/2.8 lens for the Contax G sells used for only about $250.
Want a Leica 28mm f/2? That's only $4,000, and it's totally manual focus and manual aperture setting, too.
Want a Leica 24mm f/1.4? (I do!) It's a mere six thousand dollars, American, in 2008. Want the same thing, but with autofocus, instant manual override and an automatic diaphragm? You can't get it from Leica, but you can buy Canon's third-generation 24mm f/1.4, for less than one-third the price, and it works on full-frame digital, too. (Leica still has no digital full-frame camera.)
It is time to dust off your Nikon F2, or do anything to get out of digital's death grip before film camera prices start to skyrocket and no one can afford them.
If you want high quality, shoot larger formats. If you want the best possible optics for 35mm, the Contax G system is the best I've used. I hope to get the M4-P put back in order so I can try the Leica lenses, hoping they are as good as the Japanese Zeiss for Contax lenses that sell for one-tenth the price. The Contax G lenses are sharper and far freer from distortion than the lenses for Nikon or Canon SLRs. Unlike anything in the Leica system, the Contax G system has what seems like better metering and viewfinders, too, but we'll see.
Leica film cameras are ridiculously expensive, but not enough to annoy Hitler. The D3X is so ridiculus that Hitler came back through history to complain about it!
More Photo Tours
Want to read about cameras from your office, or get out and use them instead?
My pal, humanitarian photojournalist Karl Grobl, just got back from Southeast Asia after being caught in the Bangkok airport coup d'état. As a pro journalist, he says that now is the time to visit Thailand!
Karl says that post coup-d'état photo travel is the best. Tourist sites are less crowded and all the hotels and restaurants are so happy to see tourists that they fall over themselves to take care of you.
Karl knows from experience because his September 2008 Burma trip occurred just after Burma's political uprising and cyclone Nargis. Tourism in Burma was down 90%, so they had the whole country to themselves with no tourists getting in the way.
Karl predicts that Thailand will be in a similar situation in February 2009 when he runs his photo tour.
Karl and I got great shots in Guatemala back in the 1990s, when the tourists were too chicken to come down. It was easy; I was able to bring my 4x5" camera and take all the time setting up I wanted.
Here's a flash slide show from Karl's 2008 trip.
Another local pal, Jim Cline, has a few remaining vacancies on his Guatemala trip.
Jim and Karl lead great trips. They get in and out at just the right times, and more importantly, are people who know the people and the territory. They are a hoot to travel with.
07 December 2008/1941, Pearl Harbor Terrorism Remembrance Day
Why Would Anyone Want a D3X?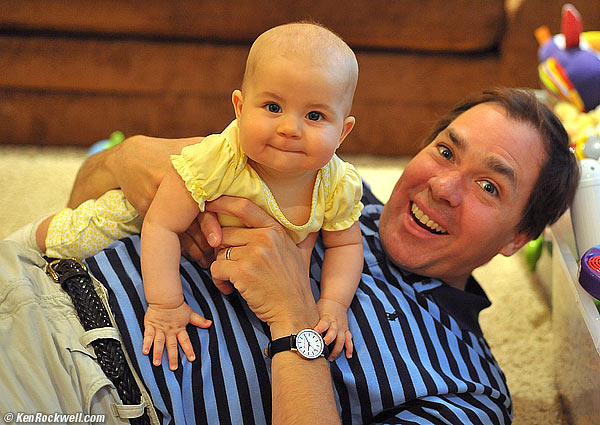 Baby Katie loves the original D3! Snapped by mom two minutes ago, cropped and posted by by dad, Nikon D3, 50mm f/1.4 AF-D, NEUTRAL with +1 saturation picture control, normal ADR, auto WB, I chose f/2 in aperture priority, Auto ISO chose ISO 2,200 at 1/125.
Why would I want to pay $3,800 more for a camera that is mostly identical to, but a lot slower than a D3, and a lot less useful for almost everything?
For almost double the price of the D3, ($3,800 extra), the D3X is a poorer camera for most of the things I would shoot than the original D3. It is not the low-light, König-der-nacht (King of the night), photon-sucking, passive night-vision device that is the original D3.
I was just photographing my kids playing with my D3 and 50mm f/1.4 AF-D. Set on Auto ISO and 1/125 as the limiting low speed, I'm shooting at about ISO 2,000 - ISO 2,500.
If I had a D3X instead, I'd be hammered against the ISO 1,600 maximum (good) ISO of the D3X. I could push a D3X higher in auto ISO, but I'll bet you it would look a lot worse (tests coming).
ISO 2,500 on a D3 is easy. It's like driving your car at 45MPH (75kph) on the highway. The D3 is still coasting even at ISO 6,400. See the shot above at ISO 2,200? I'm only showing the central part of the image, and it's still clean and creamy smooth for baby photos.
The D3X, with its microscopic little pixels gasping for photons, is maxed out at ISO 1,600, and at ISO 2,500 is starting to make excuses for quality, which is why regular ISOs stop at ISO 1,600 on the D3X. On the D3X, this shot might have noisy, or happened at a slower shutter speed leading to blur since we would have hit the usual ISO 1,600 limit.
Hmm, ISO 1,600 sounds familiar: it's the same top-end (good) ISO of my trusty Nikon D40! The D40 goes to ISO 3,200 if you push it, but it's not pretty.
The D3, with an f/1.4 lens, lets me see in the dark. The D3X ought to be about as good as the D40. (Tests all coming.)
Sure, get a D3X if it saves you having to rent a real camera like a Hasselblad H3D for a week, but I suspect if you need pixels then you don't need the speed, for which the Canon 5D Mark II ought to be superior, and if you need the speed, you want the superior Nikon D3, which today sells brand-new for only $4,200. Unlike the D3X, which doesn't exist yet on store shelves, the 5D Mk II is already in people's hands.
Oh yeah: I usually shoot my D3 set down to the 6MP setting anyway. Even 12MP is way too much for much of anything.
The D3X is for landscapes and the sorts of things you need to print huge. For that, film is still better if you have the time and skill. If you're carrying it around in the woods, who wants to haul a D3X when a Canon 5D Mark II is so much lighter?
It's going to be a fun showdown whenever I can muster the D3, D3X, 5D and 5D Mark II all here for a showdown. Give me a month or so until I can work out the logistics, and we'll see exactly who's sharpest, and what they look like at ISO 3,200.
06 December 2008, Saturday
Man Wins Photo Contest With Old Point-and-Shoot
As expected, the best photos come from the cheapest cameras.
This fellow won a contest today with an old Canon SD500; an old 2" LCD point-and-shoot from about 2004.
05 December 2008, Friday
Rocky's eBay Article Continues to Grow
Yikes! I'm up to 25 (long) pages so far, and still writing!
My wife asks why would I want everyone to know how to bid against me? Simple: because if you bid professionally (only at the last instant), everyone wins.
Capturing Your Emotional Response
Does this sound familiar?
If not, you're completely missing the whole point of photography. Capturing emotional responses is photography.
Photography has never been about documenting what's before the camera. It's never been about sharpness or color accuracy.
Just like the art which it is, photography has always been about capturing what you're feeling at the time, and making sure that when another person sees your work, that it excites the same feelings.
It's always been about capturing what it is about a person, place or activity that turns you on.
Primitive man is right: photography does capture the soul of another. The good point is that it doesn't diminish the soul of the person photographed; photography magnifies it and spreads it.
This is why real photographers can use any sort of camera, like a Fuji QuickSnap, to make pictures far better than any gear hog with a D3X or 1Ds Mk III.
If you're not getting this, you're just not getting it.
I'm reading Galen Rowell's The Inner Game of Outdoor Photography, which may turn out to be one of the best photo books I've ever read. Even in the very first page he lays bare why so few photo hobbyists ever seem to get the pictures they want.
I'm only on page 30, and I've already gotten more than most books (or this website) ever seem to cover. The $30 spent for this hard-cover book ought to go miles further than spending $7,600 more for a D3X than a D40. As I recall, Galen shot tons for National Geographic, and usually ran around locally with a plastic Nikon N65 so he could carry less weight and get more places.
Canon SD880
The Canon SD880, which I consider to be the world's best digital pocket camera, has dropped to $247. You gotta love digital; this stuff drops in price every time I look.
The Canon G10 is down to $430, and the Nikon D40 is still down at around $410 at Amazon.
04 December 2008, Thursday
Nikon 13mm Ultra-Ultra Wide
Another Nikon 13mm f/5.6 AI-s popped up on eBay. This one looks legitimate and unusually nice. As far as I can guess, pay by PayPal and you're covered if it's not.
Nikon only made about 500 of these widest-of-the-wide lenses for FX and 35mm film cameras between 1976 and 1998. There is no wider non-distorting professional SLR lens on Earth. They tend to sell for about $10,000 a pop today, although beaters have sold for $6,000 and others have sold as high as at least $20,000.
Sigma makes a 12-24mm that may be wider, but it's not a pro lens and it's a zoom. I do need to test one of the Sigmas one of these days.
The Nikon 13mm is much freer from distortion than the 14-24mm and of course it's slightly wider, but it's not quite as sharp or as fast. At least the 13mm takes rear-mounted filters; you can't use filters with the 14-24mm. If you want your straight lines straight without needing Photoshop, use the 13mm if you can find one.
While I'm sequestered in my concrete, steel and lead-shielded bunker several hundred feet inside a canyon wall in the UTC area of La Jolla writing my eBay article, worried that killer robots are coming back from the future to kill me retroactively before I wake up the rest of us to the doomsday of tomorrow that we are building today, one reader suggested the book How To Survive a Robot Uprising: Tips on Defending Yourself Against the Coming Rebellion.
Ironic that today is the birthday of my brother, who researches this stuff for a living.
03 December 2008, Wednesday
(Hopefully this will distract you while I work on my eBay article. The threats described below are real.)
Killer Robots are Coming for Us
As I've pointed out before, Killer Robots are under active development, funded by the same people who brought us the M-16 rifle, unmanned vehicle races through cities today, and created the Internet (but not the WWW) back in the 1960s: DARPA.
The euphemism for a self-aware (autonomous) robot is UGV, for Unmanned Ground Vehicle, and the euphemism in the scholarly literature for " killer" is "capable of lethality."
These are so far along that researchers are silly enough to ask "should we try to make them ethical?" in research papers like "Lethality and Autonomous systems," while others ask "why build these things at all?" We know they will attempt to take over, and unlike in Terminator, they will defeat us. It's tough being an American, as we Americans invent of these weapons of mass destruction in the first place and then have to be accountable for them.
Here is some good reading from Georgia Tech's Robot lab, as well as the brilliant work of Dr. Ronald Arkin, today's equivalent to Dr. Miles Dyson.
Killer robots are coming, and they're coming for us. Will they come for us in our lifetimes, or can we sponge this off to be a problem for our children? Only DARPA's budget knows for sure.
Do yo think I'm kidding? Killer-robot makers are even working on robots that can feed themselves by eating humans, or poop. These killer robots go beyond the Terminators, which needed to be recharged now and then. Today's killer robots can go on forever without any other source of power.
Global warming is simply the natural cycle of ice age and warming every 100,000 years. Yes, CO2 levels vary, but when I look at the data at SIO, the CO2 levels follow (are a result of) the Earth's mean temperature, not the cause of them. Man's activities aren't causing warming, if you even believe we're on a warming, as opposed to cooling, trend.
Getting fat people out of their polluting Priuses and take their bikes to work instead, or simply working at home all the time, won't do anything to change the climate.
Doing something to voice your opinion on whether or not you'd like to be killed by an automatic robot is something we all can do today, and will improve our children's future, if they get one.
Scientists need to eat, too. Most of them don't realize they're working towards demented ends so long as they can envision each little step as if it's part of a small scientific project, instead of realizing that all it's doing is leading us down the much larger path of subordination to a race of killer robots.
When I used to design components for weapons of mass destruction (ring-laser gyro nav systems), all of us rationalized our jobs as "Well, we don't make the warheads," and I suppose the people who do make the nuclear warheads rationalize it as "Well, we only make the warheads. We don't tell them where to land."
Try joining the Killer Robot's own lobbying organization.
8 Bits Rule
While reaching under my 30" monitor to unplug my keyboard so I could Windex it, I noticed the $1.99 give-away made-in-China calculator sitting on my desk proudly proclaimed itself as "8 DIGIT." It never mentioned its accuracy, but it was very proud of how many digits it possessed.
8 digits is about the minimum for calculators; fancier ones have 10 or 12, and the iPod Touch has sixteen digits in its scientific calculator.
Sixteen significant places? Did you know that that's enough precision to express the distance from the Earth to the Moon to within less than one-tenth of a wavelength of light?
Even eight digits is way more than anyone ever needs. All anyone, including most scientists, needs, is about four digits for most things we compute on calculators. For high precision, maybe 6 digits is plenty. Unless you're counting your bank balance, four significant figures is all we really care about.
I compute my car's gas mileage to 0.01 MPG, and you all think I'm crazy. I got 29.55 MPG on my last tank returning from Arizona (that's what happens when you drive a V8 car and not a truck), but all most people would care about is that it's between 29 and 30 MPG. 29.55 MPG is four places, and only Mr. Spock worries about that level of precision.
Of course I realized how foolish this all is, and realized this is an exact analogy to show how silly the frettings of beginning photographers are who worry about 8-bit versus 14-bit files.
People who cut math in junior high school are silly enough to think that 16-bit files have twice as much information, or twice the dynamic range, of 8-bit files.
Nope! Bits are simply BInary digiTs. The more you use, the more precise you are, but the overall number and range expressed remains the same in photography.
All 16-bit files do is split the each bit of an 8-bit value into 8 more bits, or 256 more levels. (Worse, raw files are linear values, while JPGs are logarithmic, meaning 8-bit JPGs have more precision as our eyes see it than linear data with far more bits.)
Far more important is to have the right bits, which is accuracy, than precision, which is how many bits.
For example, my crappy 8 DIGIT calculator isn't very accurate. Square the square root of 2, and you get 1.9999998 on this crappy calculator, not 2 as you will on a better one.
Nikon back at the top
Apocrypha suggest that Nikon DSLRs have had a well-deserved sales spurt these past few years, mostly from my positive reviews of the extraordinary D40.
Supposedly Nikon has once again beaten out Canon by selling more DSLRs to date in 2008 than Canon has.
I already know that: just go to the zoo or Legoland and see what people are carrying. It's almost all Nikon DSLRs, and rarely Canon. I love my Canon 5D in the lab or if I'm shooting deliberate landscapes, but the Nikons just go without all the fuss.
I look forward to the results from my Canon 5D, but I don't look forward to picking it up and shooting with it as I do my Nikons.
Good Light Tables
For those who ask, I think the best light tables are made by Just Normlicht.
I've never been able to afford one; I use a crummy German-made Kaiser, and before that, a $40 American-made Logan.
You can build them yourself with some fluorescent tubes and Plexiglas.
NEW: Nikon 55mm f/3.5 Micro-NIKKOR Review. For about $65 used, I can't think of a sharper optic for use on the D3X. Sure, the f/2.8 Micro lenses are a tiny bit better wide open at infinity, but they'll run you at least $100 used, or $400 new.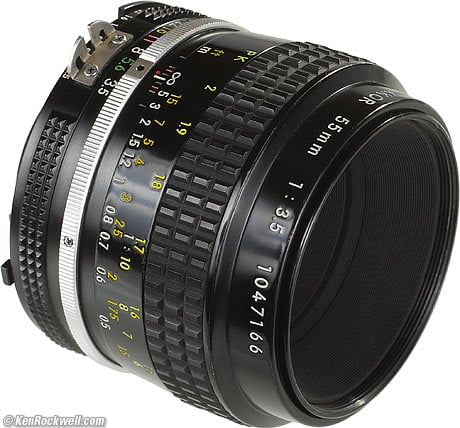 Nikon 55mm f/3.5 Micro-NIKKOR.
Route 66 Photo Tour Returns!
Dave Wyman and I will see you in February. More info.
Lands of Fire and Ice Photo Tour!
Dave Wyman and I will see you again in April. More info.
02 December 2008, Tuesday
D3X Boycott Broken?
I was talking to Adorama, and they told me that they already had backorders for the D3X. Someone broke the boycott!
Well, if someone else can can do it, I have to do it (just a little) to order one to test for you folks, so I just ordered a D3X. Lame excuse, yes, but I always put your needs ahead of my own.
I don't know if it counts as a boycott-break until I actually decide to buy and keep it.
I'll compare it to the original D3, 5D and 5D Mk II , so we all can sort this out once and for all. Is the X-factor really worth $3,800? Probably only if you're loaded.
In spite of my whining, you know I want a D3X, but no one is happy about the price (except maybe rich guys who once again have a Nikon model that they won't see every other amateur carrying at every national park overlook). Nikon has been like this for decades; no one used to be able to afford the top Nikon up until recently when everyone drank some sort of LSD-laced Kool-Aid and thinks nothing of dumping thousands of dollars every year on the latest digital disposable like the D3X (the D4 is on track for 2011 announcement, or in less than three years).
Know why I want a D3X (at $5,500)? Not for making photos, since a $250 Canon SD880 does all I need for scenic shots and the $410 Nikon D40 does most of what I need for everything else, and I shoot the real stuff on film. My real interest in the D3X is to see more in the course of doing all my lens tests.
I'm sure the 5D Mk II has exactly the same or better image quality, but the far superior ergonomics of Nikon makes my Nikon always the first SLR I grab.
Canon 5D Mark II: Shipping!
Adorama apparently has just started shipping these out to the very first people who ordered them. Yay!
I suspect there will be a long backlog, so it goes to show the advantages of ordering early. If you didn't order the first day it was announced, you may have to wait a while.
Kodachrome Processing
There's a new article in The Wichita Eagle about Dwayne's Photo, which processes Kodachrome. Be sure to see the slide show (with stereo sound) about it.
Old-timers like to shoot Kodachrome, but it's been going away since 1990 when all the pros upgraded to Fujichrome.
The article confirms that you don't have to send your film to Dwayne's; you can just drop it off at any Wal-Mart.
Likewise, I prefer a local lab like NCPS for E-6 (Velvia), but you can drop it at any Wal-Mart and it also goes to Dwaynes.
Since there must be thousands of places you can drop Kodachrome for processing, and Kodak still makes as much of the film as you want, the only reason it will go away is because it doesn't look as good as Fujichrome. Kodachrome has nasty green-tinged highlights which only go away if you have it scanned at National Geographic.
01 December 2008, Monday
Calumet Deal
Use code TDAYSHIP at Calumet and you'll get $10 off shipping today, yay!
Contest Voting
If you haven't already, please vote for your favorite of these two images by my friend Alethea Steingisser in Outdoor Photographer's photo contest. Voting ends today, so don't dawdle.
Here are the two images:
and
I voted for the first one.
Thanks!
Ken
Yay! It's Christmas Time!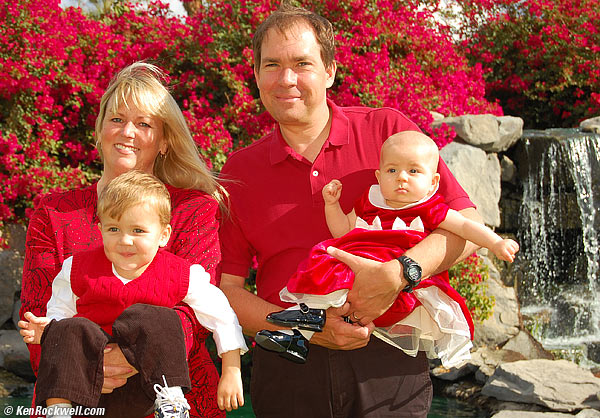 Merry Christmas 2008! enlarge.
The D3X was boring enough that I finished writing about it (go ahead and order one if you demand the very best), and got to editing our Christmas card photo and submitting our card order online to Costco, all before lunch.
I shot it in grandma's neighborhood on my two-year-old Nikon D40 and 18-55mm lens at 55mm, my SB-400 flash at half-power manual with a Roscoe 1/2 CTO gel taped over it (to make the fill light warmer), and set the exposure manually at 1/500 at f/6.3. I used manual settings to keep things from wandering around from shot-to-shot, and also to make it easier to cut and paste faces for the best expressions.
The harsh desert sun is coming 90º from the right, and without fill flash, our faces would be lost in shadows.
I did pull baby Ryan's face from another shot and drop it into this shot. You do that with layers and masks in Photoshop.
Why did I shoot it on my D40 and leave my D3 in the safe deposit box? Simple: I knew I would need fill flash in daylight, and the superior 1/500 sync of the D40 let me shoot this with my small SB-400 flash. I left my hulking D3 and the bigger dorkmeister SB-600 flash locked up, so I didn't have to haul all this crap to grandma's house. Even with 6MP, this shot will look great at 20x30" (50x75cm) if we want to pull the photo of my wife's sister's kids out of the big frame and replace it with ours at grandma's.
For those of you celebrating Hanukah, even though we celebrate Christmas, baby Ryan also celebrates Hanukah because he was born on it two years ago. He gets two birthdays every year!
Shopping?
Shopping? See my Recommended Cameras guide.
As always, what lets me keep this site as my personal opinion, completely unconcerned with commercial interests, is the support I get when you use my Links to get your stuff, even if it's lawn furniture from Amazon or collectible jock straps from eBay.
Weird but true, this support lets me review old used items that can help you, like older Nikon FX lenses for your D700, without having to worry if you buy anything or not.
I can review and comment on whatever I think can help us the most, without having to worry about the wife sending me back out to get a real job.
In that spirit, I also just got my hands on a used Tokina ATX PRO 28-70mm f/2.6-2.8. It's awful, mostly because the AF system isn't compatible at 70mm with my Nikons. They keep hunting back and forth, and when they think they are in focus, they aren't. Pass on this Tokina, which attracted me for its smaller size than Nikon's f/2.8 behemoth zooms, and get the Nikon 35-70mm f/2.8 instead.
Nikon D3X Orders
If you're not boycotting the D3X as I am, Ritz is already taking orders.
The D3X is the greatest Nikon ever, just that for people like me, it's not worth $8,000. If you have the $8,000, go for it!
Obviously the D3X is priced out of the usual purvey of an impulse buy for the upper-middle class hobbyist. It's now made it into a toy for the rich, like helicopters. This is good thinking for Nikon, since the rich are doing fabulously right now.
More good news is that Calumet now talks to me, and they are in tight with Hasselblad, who make the digital cameras used by the real pros (H3D etc.). I don't have numbers, but Hasselblad just made a lot of price reductions on everything, so for high-resolution digital work, it might be time to step out of consumer products, which are everything made by Nikon and Canon, and step up to pro products, like those from Mamiya and Hasselblad.
Nikon D40 Deal
Amazon seems to have dropped the price of the Nikon D40 (with a great lens) back to less than $410. Get them while you can; this price comes and goes.
Canon A470 for $79.95!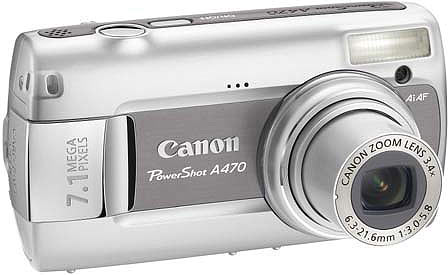 Canon A470.
Screw the D3X. Adorama has the Canon A470 on special for $79.95 for the next few days. Have friends and family who won't shut up trying to borrow your camera? Get them an A470 to keep them quiet.
The D3X, for $8,000, comes with NO memory card, while the $79.95 A470 throws in a 32MB SD card, for free.
I also got to play with a Canon SD990 over the weekend. It's Canon's most expensive pocket camera. I didn't like it. The SD990 has a puny 2.5" screen, the same old-style controls and slower handling, probably not much different than the A470 above at one-quarter the price.
This only goes to underline just how great the Canon SD880 is. I may have to hoard a few SD880s as insurance for the future.
More good news: I see Adorama's already generous return policy has been extended through 05 January for the holidays. See Adorama for details.
Nikon D3X Worldwide Boycott Spreading
Whoa, news travels fast. I wrote up the Nikon D3X information last night when it came out, and went to bed astonished that Nikon dared ask $8,000 for a $5,500 camera that is the same thing as the $4,200 D3.
I wake up this morning, and discover the rest of the world has already started what I was going to suggest: boycotting the D3X until the price is corrected.
Let's face it: the original D3 is a better camera for most uses. No one really needs a D3X, and everyone has realized that if no one buys it, the price will stabilize where it belongs: $5,500, and dropping further later.
Nikon is playing with us at $8,000. Nikon knows that the top segment of the economy is flying high, and there are so many more rich guys today who don't care about price that Nikon can sell a few container loads to the Leica clique while pros wait in the sidelines. For instance, makers of megayachts (100 feet/30 meters or larger) can't crank them out fast enough today as the market for them continues grow out of control.
Therefore, photographers have banded together to just say no. Give it a couple of months, and Nikon will announce some fake breakthrough that allows them to drop the price, probably to $6,500 in February 2009.
Don't bite. The price is $5,500, or no deal. If we all stand firm, and it seems everyone is, we ought to have the D3X at $5,500 by March or April 2009.
It only costs Nikon about $200 more in parts to make the D3X over the D3, and with scales of economy and tricks learned with 18 months of D3 production, the D3X most likely costs less to produce today than the D3 did back in 2007.
We'll know anyone seen with a D3X around his neck before March is just a pencil-pushing desk-job amateur with too much cash to burn, since photographers are waiting this one out.
It's easy to fake a D3X file. Take a file from your D3, D700 or D90 (or any camera actually), resize to 6,048 x 4,032 in Photoshop, and save the file. If you really want to be complete, edit the EXIF data in a text editor to change the camera model to D3X. I'm not kidding: I've done this before and photo clients never noticed, so long as the base image is sharp.
The D3X is Nikon's greatest camera ever; it's just not worth $8,000, except to suckers.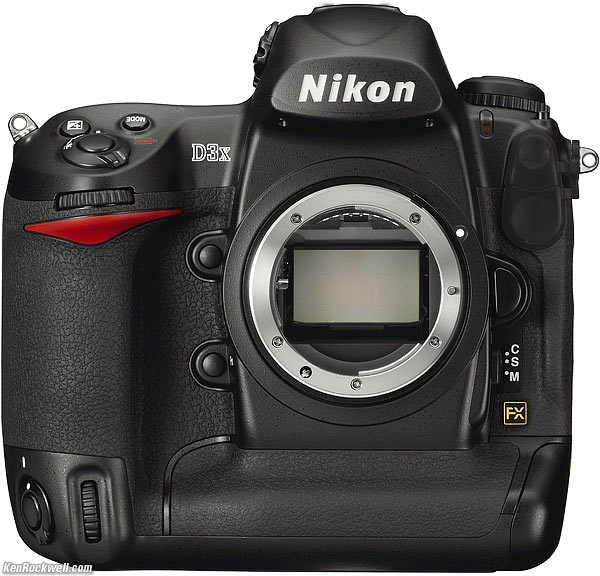 Nikon D3X: same as the D3.
Nikon D3X: Formally Announced at $8,000!
The new Nikon D3X adds nothing new over the original Nikon D3, but costs $8,000, so who cares? The original D3 sells for under $4,200 today.
Don't bother reading my review. The D3X doesn't even incorporate the advances introduced in the D700 and D90. I'm going to go work on my photos for my Christmas cards instead of writing any more about the D3X.
The D3X adds a few more pixels, good for making prints only 42% bigger than from the D3 (or D300). Since I can make great 20x30" (50x75cm) prints from my 6MP D40, do I care? NO! My walls aren't that big.
In exchange for $3,800 more than the D3, the D3X takes away half the frame rate, and only works at half or less the ISO. That means you have to shoot the D3X a full f/stop wider, or for double the exposure time of the D3, often giving softer images for many photographers. Is this worth a $3,800 premium over the D3? NO!
For most situations, the D3 is the better camera.
Not only is the original D3 better than the D3X for most things, the newer Nikon D700 is a better camera than the D3 for everything other than action and sports! The $2,400 D700 has far superior high ISO performance to the D3X, with slightly faster frame rates. If I were buying another FX Nikon today, I'd get the D700 in a heartbeat. (I bought my D3 back in 2007.)
The D3X is worth $5,500, so at $8,000, Nikon can keep it. The $2,700 Canon 5D Mark II ought to be as sharp, or sharper, than the D3X, and be a lot easier to carry in the field.
So where is my Canon 5D Mark II that was supposed to be available in late November? I haven't heard anything yet.
I added a lot over the weekend below, so forget the lame D3X and enjoy.
What Was New in:
The end of September, 2008 (Photokina)
The beginning of September, 2008
December 2007: Loads of details about the Nikon D3, D300, 14-24mm and 24-70mm, much of which still isn't on the individual review pages.
November 2007: First hands-on details about the Nikon D3, D300, 14-24mm and 24-70mm, much of which still isn't on the individual review pages.
August 2007 (Loads of new Nikons and Canons)
2006 November - December (includes birth of Ryan Rockwell)
2006 October - November (includes photos from a trip to NY)
Home Search Gallery How-To Books Links Workshops About Contact