See also 10-15 July 1969 (prelaunch countdown), 16-19 July 1969 (launch), 20-22 July 1969 (Lunar landing) and 23-27 July 1969 (triumphant return).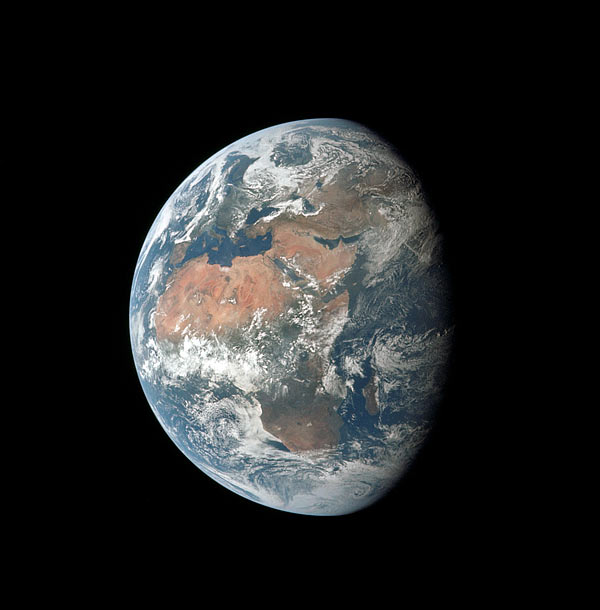 Earth as seen from Apollo XI. bigger. (photo: NASA.)
This snap was made in the middle of Apollo XI's three-day translunar coast on 17 July 1969. They were already 113,000 miles away.
As of this morning, our astronauts are coming to the end of their translunar coast. They've been hurtling at about 3,600 MPH, or about 1 mile per second, for the past three days towards the moon.
They also made some color TV transmissions we all watched. I got to watch them with my dad on the Heathkit color TV we built together; most people who didn't have engineers as dads were still watching TV in B&W into the 1970s. In the 1960s, if you bought a pre-made color TV, it cost about one-third the price of a new car!
Back to the translunar injection made three days ago. This is what set this flight apart from simply orbiting the earth. Earth orbits are good for show, but don't get you anywhere.
The 5-1/2 minute translunar injection (TLI) burn is what took these guys out of Earth orbit and onto their flight towards the moon. This TLI burn is what sets manned space flight apart from shuttle missions that don't go anywhere. A shuttle mission is like the shuttle that gets you from your car to the airport terminal. It's important, but it's not flight. You have to leave Earth's orbit to get anywhere, which is what makes the TLI burn that blew them out of Earth's orbit and on to the Moon three days ago so important.
The TLI burn forced them into their seats at about 1.3 Gs, or about 30% stronger than a hot rod can accelerate. A Camry or Taurus only does half of a G of acceleration. Even if a Hemi 'Cuda (or E55 AMG) can pull a full G (limited by tire adhesion), cars only pull their maximum acceleration in 1st gear, or only for a couple of seconds to up to about 40 MPH. To go 0-60 MPH (0-100 kph), you're pulling a lot less Gs at 60 MPH or at the end of the quarter.
When Apollo XI fired its TLI burn, these guys got slammed into their seats at 1.3Gs for over five continuous minutes! That's what pulled them to 3,600 MPH.
Anyway, after the past three days coasting at 3,600 MPH, today at 10:21:50 AM PDT (1:21PM EDT or 17:21:50 UT), Apollo XI turned around and fired its main engine for just over 6 continuous minutes (357.5 seconds) while pointing away from the moon so that they could slow down and enter lunar orbit. How powerful is this braking effect? About 1.2 Gs, or about 30% stronger than the brakes on your car, and they put up with this for six minutes to slow down. Imagine going so fast you had to lay on your brakes as hard as you can for six minutes to haul it down! They were flying! (they pulled a lot more Gs as they blasted from the ground into orbit.)
After they slowed down, they made another 17 second burn to perfect and circularize their lunar orbit.
It is hilarious to read all of the in-cabin conversations that are part of the mission transcript, which are copied down from the in-cabin voice recorders. Much to my surprise, Armstrong, Aldrin and Collins had little to no training in the photography they needed to do, and pretty much are guessing about everything other than flying. Ditto for running the video and radios: these guys are not engineers or scientists who do shuttle service; the men of Apollo are military pilots.
The transcripts are loaded with these guys losing the Hasselblad (it floats around on its own in the tiny cabin) and them guessing about magazines, dark slides, f/stops and even the zoom settings on their movie camera. We have to give them credit on the photos: they had no light meters and no viewfinders: they just guessed at exposure and pointed it in the general direction and hoped their best.
Back to being pilots. The transcripts are loaded with confusions about everything not directly related to flying the ship, even confused at times with navigation or whining about navigation equipment.
You'll see no confusion when it came to how to fly, with little to no discussion or mention of it. They just flew.
These guys know how to fly. That's why they were chosen. Since they know how to fly, they didn't need to talk about it; they just did it.
After coasting at one mile per second for the past three days, and then slowing themselves and putting themselves into orbit around the moon while also shooting movies, setting up TV, broadcast remotes, taking still photos, talking on the radio (which required constant fiddling to get the right antennas, frequencies and ground stations), without any discussion amongst themselves after they got themselves in orbit, they discovered that they arrived exactly where they intended — to within about 0.2 miles after coasting 250,000 miles.
That's incredibly precise flying.
As we'll see tomorrow, it is Armstrong's incredible piloting abilities which made this mission a success, and without which we wouldn't have landed and would have had to go around and come back on the next mission instead.
Back to photography. What sets those who know from those who don't is how much they talk about it. It's the Two Kinds of Photographers: there are those who know, and those who just talk about it.
The pilots flying to the moon didn't need to talk about flying; they just did it. It is such second nature to them that it doesn't warrant discussion, just as adults don't talk much about their own potty training
The best way to spot a guy who doesn't know his stuff is that he'll be going off all day long about pixels, HDR, BSP, ISOs, pan-focus, stitching, millimeters and f/stops, while the gal or guy who knows his stuff just shoots. People who know how to shoot spend their time talking about how they got someplace, what they did, or what went on, but not about gear or technique. Technique has to be easy; if you get caught up in it, you'll never really be able to crank out good photos on a regular basis.
The way you learn your stuff, as pilots say, is stick-time. You can spend all the time you want talking about something, but you need to get out there behind the stick and fly. The more you shoot and see what you get, the more you'll learn what to adjust when, and soon you'll be shooting while paying all of your attention to your pictures where it counts, and not wasting attention on equipment or technique.
This is where digital is a huge help. If you can keep your hands off the menus (which makes digital far worse than film when you're learning), you can see what you got as you get it and learn fast, if you realize that the only controls you should be learning are how to lighten or darken a picture (the +/- button) and color, which is the WB button.
Master these two buttons, and you've mastered 90% of your technique. Don't let yourself get distracted by all the other BS and menus and settings until you can nail the basics. If you get side tracked by HDR and pixels you'll never master photography, which is the color and exposure I mentioned, along with lighting and composition.
All day you should dream about SEX to become a better photographer. Forget pixels and ISOs.
18 July 2009, Saturday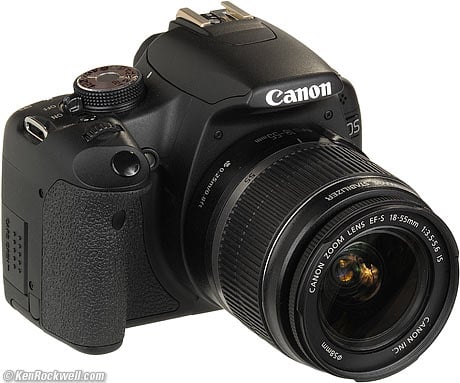 Canon Digital Rebel T1i and 18-55mm IS.
NEW: Canon Digital Rebel T1i Review.
Canon 18-200mm IS.
NEW: Canon 18-200mm IS Review.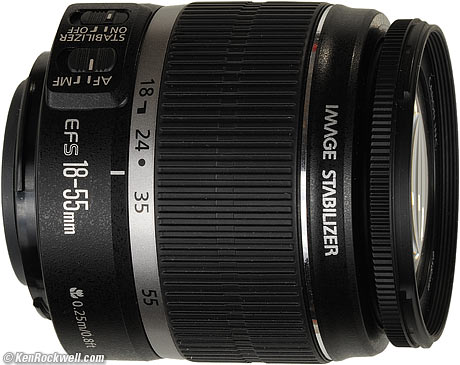 Canon 18-55mm IS.
NEW: Canon 18-55mm IS Review.
17 July 2009, Friday: Translunar Coast
Today Neil A. Armstrong, Michael Collins and Buzz Aldrin are in translunar coast aboard Apollo 11.
This means that they are hurtling towards the moon under inertia without any need for additional power.
Today, after a day of coasting since yesterday's launch, transposition and translunar injection, Apollo XI made a 3-second burn as a mid-course trajectory correction.
They'll keep coasting all weekend until it's time to fire rockets again to slow down and enter lunar orbit on 19 July 1969.
Lens Reviews
One cranky reader said space exploration was nice, but how about some lens reviews?
In case you forgot, the USA's Advanced Research Projects Agency (ARPA) was tasked in 1969 to invent a data networking system that would be resistant to atomic attack. It could automatically re-route data around any points that got hit. The automatic re-routing was critical, since this network was being designed to carry data critical to the world's freedom in case the USA came under atomic attack.
This was done concurrent to the Apollo project.
What was this 1969 data network called? ARPAnet, of course. It was only used by the military in the beginning, and then scholars in the 1970s and 1980s who had the gear to address it. With the creation of the 'net browser so that ordinary folks could navigate it, the world was finally able to navigate this network and find what they needed via HTML links.
ARPAnet was later called DARPAnet, and today it most commonly is referred to as the Internet. It's the same thing.
If it wasn't for Apollo era this research, we'd have no free lens reviews every day over the Internet, and we all would have to go buy magazines each month and hope something of interest got reviewed.
Our conquest of the Moon showed us that anything is possible. It is what inspires all people to the curiosity which results in new cameras, and new lens reviews.
That said, I have three new reviews on my launch pad I expect to finish for you today, and thank the Apollo project and America's unbounded curiosity for bringing us the Internet.