Home Donate New Search Gallery How-To Books Links Workshops About Contact
Canon SD780 Ultracompact
33-100mm 3x IS zoom, 12MP, 2.5" LCD
© 2009 KenRockwell.com. All rights reserved.
Introduction Specs Performance Usage Recommendations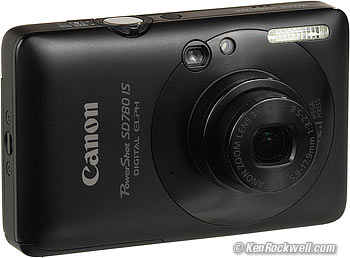 Canon SD780 IS (IXUS 100 IS) in black, actual size on most computer screens (4.577oz/129.8g with card and batteries). enlarge. The SD780 comes in professional black, ugly silver, obnoxious red and gold. I'd get mine at Adorama (that link gets you to all the colors), Amazon in professional black, gold, red or silver. Ritz has it, too. It helps me keep adding this site when you get yours from any of these links, thanks! Ken.
July 2009 More Canon Reviews
September 2009: The newer Canon SD940 adds a bigger screen and wider and longer-range lens in the same tiny package.
Introduction top
Intro Specs Performance Usage Recommendations
The Canon SD780 is a lot smaller than you think.
I never realized how tiny it was until I saw one in person; it's a fraction of the size of "full size" compact cameras like the pocket-sized SD880 IS.
The SD780 is the same size as a credit card, 3-3/8 x 2-1/8:"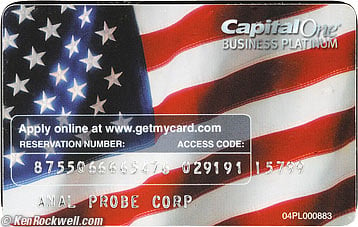 The Canon SD780 hiding behind a credit card (actual size).
The SD780 is even smaller than it's published dimensions suggest because it has no protrusions, and because all of its edges and corners are rounded. It slips into a pocket and disappears from the lack of hard edges. The SD780 is so small and comfortable to carry in a pocket that I keep freaking out, thinking I lost it!

Top, about actual size. enlarge.
The SD780 is less than 3/4" (18.5mm) thick, at its thickest.
The SD780 does the same things in the same way as every other Canon Powershot compact cameras. Its just smaller!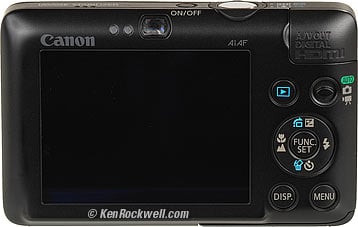 Rear, Canon SD780 (about actual size). enlarge.
Because there are no protrusions, it looks cool and disappears in your pocket, but if can be more difficult to use because the buttons aren't easy to find by feel. There is also no scroll wheel, as some of the newest Canon Powershots have.
THe SD780 is almost all metal. It is a solid, precise little bricklet.
It even has an optical zoom viewfinder!

Bottom, about actual size. enlarge.
The SD780 makes HD 720p movies with mono sound, and is almost all metal. Movies look much better than from Nikon DSLRs like the D90 because motion flows better, the vertical lines don't wiggle like Jello when panning, and everything stays in focus.
Audio quality with movies is voice grade: no low frequencies and a lot of fast time-constant AGC (dynamic limiting or auto level control), but plenty of high frequencies and transients are recorded well. The AGC sucks up everything in-between louder sections.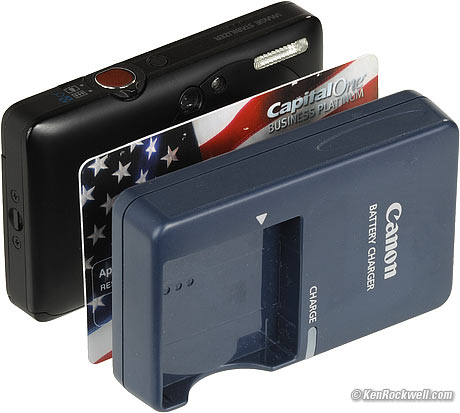 Canon SD780, a credit card, CB-2LV G charger and NB-4L battery, about actual size. enlarge.
If you add its tiny charger, the SD780 camera, SD card, battery and charger weigh just 6.6 ounces (187g) total, and require no cords or anything more to operate indefinitely anyplace on earth.
Wouldn't you really rather just carry this around the world instead of any other camera, charger, cords and cables?
Compared to other Canon compacts
The SD780 does the same stuff just as well. It has the same control layout as every other Powershot, not the newer, better layout of the SD880 IS and SD970 IS.
The SD780 is so small and smooth that it's harder to feel and push the controls, but once I got used to it, I much prefer to carry the smaller size.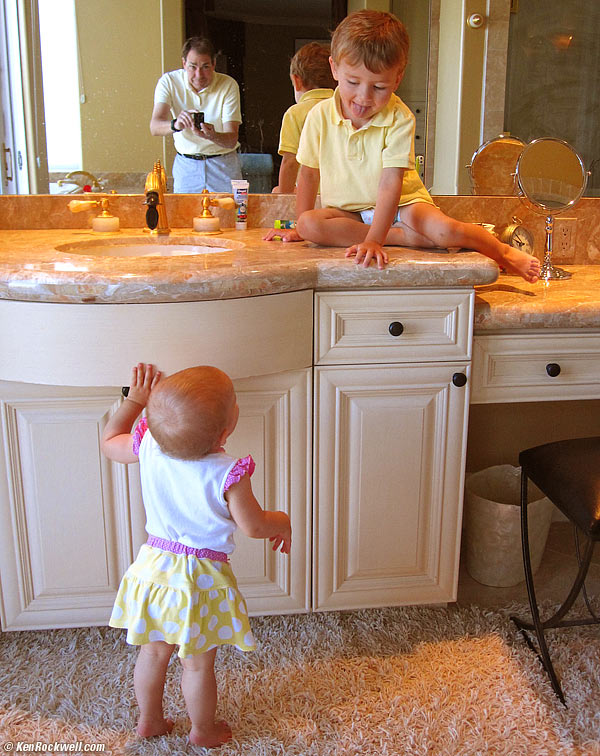 Why you keep an SD780 in your pocket: kids playing! (SD780, Auto ISO chose ISO 250, 1/40 at f/3.2, widest zoom setting.
Specifications top
Intro Specs Performance Usage Recommendations
Lens
5.9-17.9mm f/3.2-5.8
35mm film equivalent: 33-100mm
Resolution
12MP: an even 4,000 x 3,000 pixels.
Also settable to 8MP (3,264 x 2,448), 5MP (2,592 x 1,944), 2MP (1,600 x 1,200) and 640 x 480.
There's also 16:9 cropped 9MP mode at 4,000 x 2,248 pixels.
ISO
Auto ISO from ISO 80 ~ 400 by default.
No Auto HI setting.
Manual settings of 80, 100, 200, 400, 800 and 1,600.
Also runs at ISO 3,200 mode at low resolution in a hidden mode (see Usage).
LCD
2.5"
Anti-reflection coated.
Size
Measured, including protrusions:
2.153 x 3.441 x 0.725 inches, Height x Width x Thickness.
54.66 x 87.41 x 18.43 millimeters, Height x Width x Thickness.
Weight
4.577oz. (129.8g), measured with SD card and battery.
(The SD880 weighs 6.315 oz. (179.0g) under the same conditions, or 1-3/4 oz. (49g) more, or over 35% more than the SD780!)
CB-2LV G Charger: 2.020 oz. (57.3g).
Complete world travel ensemble: SD780 camera, SD card, battery and charger: 6.605 oz. (187.2g) total.
Power
Canon flat NB-4L lithium-ion battery.
3.7V, 760 mAh.
Charger
Excellent folding-plug charger included, at least in the USA.
100~240V, 50~60 cycles lets it be used anyplace on earth (or space) with nothing more than a passive plug adapter. Some countries may get the same thing with a detachable cord instead.
Introduced
Spring 2009.
Made in
Japan.
Price
$225, July 2009, USA.
Performance top
Intro Specs Performance Usage Recommendations
The Canon SD780 performs as well as every other Canon Powershot, which is excellently.
it does all the crazy things of larger Canons, like time exposures out to 15 seconds, long-exposure NR, HD movies and panoramic assist modes, and more. It just hides some of them a little deeper than other Canon cameras since it ha no room for as many exterior buttons.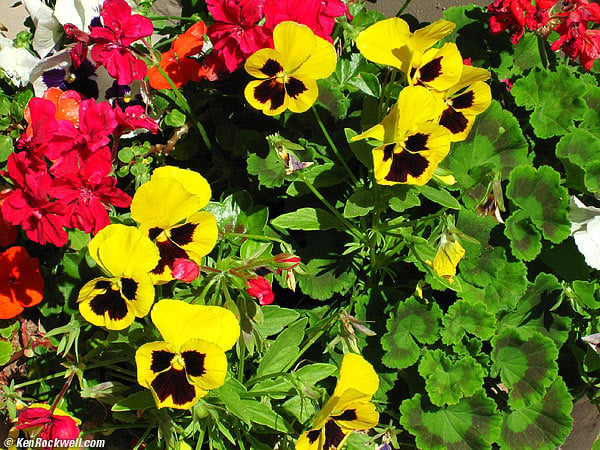 Colors right out of the SD780. camera-original © file, (5MP setting).
Ergonomics
The SD780 is the same as other traditional Canon Powershots.
It's more difficult to use by feel because all the buttons and controls are flush to the camera, making them hard to feel.
An improvement is that the frame advance mode stays set where you last left it the last time you used the camera. Other Canons, like the SD880, always reset to single shot, and I always have to set them back to continuous each time I turn them on. With the SD780, all I have to do is hold the shutter down for multiple shots since I selected continuous mode a month ago.
Exposure
It's the same as all the other Canon compacts.
I usually dial in -2/3 stops outdoors, but may have to use anything between -2 stops and +0.3 stops depending on conditions. This is normal.
Lens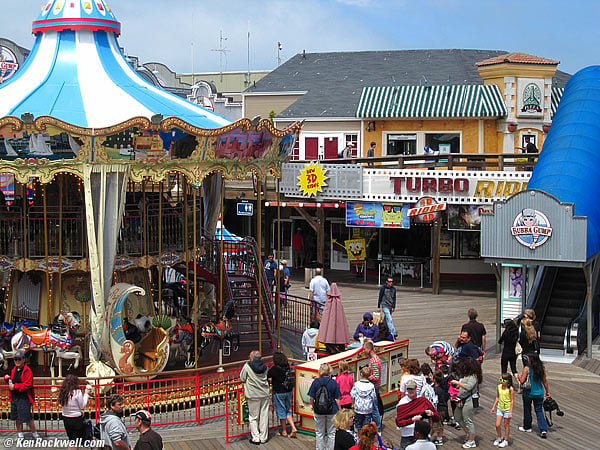 Pier 39, San Francisco. camera-original © 12MP file.
Sharpness is the same as every other compact: sufficient. It's the same as my other compacts, with just a tiny bit less sharpness in the far corners at the widest setting.
The biggest flaw in all compacts is that their tiny sensors demand a lot of noise reduction even in daylight, which means that subtler textures are smeared over in firmware, regardless of how good the lens. On all compact cameras (not DSLRs), the sharp edges remain while subtler details get sucked away in firmware.
Distortion is the same as I'd expect: some barrel at the widest setting (set +2.2 in Photoshop's Lens Distortion Tool to correct completely), gradually becoming distortionless at the tele setting.
The microscopic lens of the SD780 is more than up to 12MP duty. It's the tiny sensor of this class of camera, which includes the G10, which is the limitation. The G10 is a little better, but not by much, and certainly not enough to want to haul a G10 instead.
LCD
The 2.5" LCD is smaller than I'd like, compared to "big" compacts like the SD880 with its fantastic 3" screen.
No whining from me: look at the back of the camera; a bigger 3" screen won't fit.
It's anti reflection coated, meaning blacks are black even outdoors. It doesn't seem to have the magic anti-thumbprint screen coating of the SD880.
The SD780's LCD is easy to see off-axis for composing high and low shots. In fact, it's better at this than most laptop computers' LCDs!
Movies
Video is very good, much better than the crud from Nikon DSLRs.
You cannot zoom while rolling.
Audio is mono and lacks any low end, but is very clear for voice and effects. It pumps the levels up and down very quickly to keep about the same recorded level regardless of the actual sound level, making it poor for serious audio.
Panoramic Stitching Assist mode
I explain where to find this mode under Usage.
Canon's excellent Photostitch software comes with the SD780.
High ISOs
Like all compacts, high ISOs look crappy. Even ISO 80 is noisy compared to an SLR. If you need high ISOs, just buy a real SLR like the Nikon D40 or Canon Digital Rebel XS.
There is an ISO 3,200 mode in the SCN selections, and it's nasty. There doesn't seem to be much noise reduction, so the frame rate is really high in repeating mode. There isn't much image left, though. It's all pretty mushy, and limited to an image size of only 1600 x 1200 pixels.
I explain where to find this mode under Usage.
Auto ISO control
The Canon SD780 has very smart auto ISO, which is the default position. It increases the ISO based not only on the lighting, but also on the setting of the zoom control.
Smart new folder creation
Like many Canon compacts, I set it to make a new folder every day at 2AM.
This way each day's photos are in their own folder, making it a breeze to organize when I return from a week of shooting.
Flash
Flash recycles much faster than I thought it would. I never had to wait for it.
If I was really pounding out the flash shots, after about a dozen or so as fast as the flash recycled, the SD780 seemed to wait a bit longer between shots, probably to keep it from overheating.
Fill flash doesn't work very well, typical for compact digital cameras. The exposure compensation control doesn't work with flash, so good luck!
Indoor White Balances
WB usually works great under indoor tungsten light.
Fluorescents still beg for manual settings on white cards.
Data
Like other Canons, JPGs are optimally compressed, with file sizes varying automatically with the subject's sharpness and complexity.
Image Rotation
Auto rotation works great, on both shooting and on playback.
Power
I got about 300 shots and movies before I saw my fist LOW BATT warning.
The battery gauge seems good because it has multiple segments, but its poor because it wavers.
The gauge was teetering between 100% and 80%, and then suddenly started reading WARNING (20%). At that point, I charged the battery.
I don't have enough experience to say of the gauge is poor (little notice of impending battery death), or if the Lo Batt warnings were false.
Survivability
The SD780 has the usual weak point: a lens and lens cover which has to extend and retract every time you go to take a picture. This is what wears out first.
Usage top
Intro Specs Performance Usage Recommendations
Colors
I prefer the Vivid color setting. To set it, press FUNC, click two down to OFF, and click one right to V.
Playback
To play, hold the play ([>]) button for a second. The lens doesn't need to extend.
The LCD is bright enough, but if you want it to be even brighter, hold the DISP button a few seconds to brighten the display!
ISO 3,200, Panoramic and other modes
The SD780 has all the crazy modes of every other Canon. It just hides them better than the other cameras.
On most Canons, you hit FUNC SET, go up or down if necessary to get to P, and click left and right to find them all.
Not on the SD780.
On the SD780, you only see six modes at a time. The trick is that the sixth mode on the far right is actually selectable to all the other crazy settings, but its sure easy to forget that.
Once understood, this is very handy because you can program the sixth spot to be a mode you'll actually use, and the others don't get in the way.
To set the sixth spot to your choice of about 14 other modes:
1.) Hit FUNC SET.
2.) Click up or down to highlight P in red.
3.) Click to the far right, highlighting the last entry of little icons.
4.) Hit DISP.
5.) Click left or right to select your preferred function.
Hit FUNC SET to return to taking pictures in this new mode.
To return to the normal P mode, repeat steps 1-2, and hit FUNC SET again to return.
Once set, this is much easier than it seems.
Clock mode
What time is it? When the SD780 is on, simply hold the FUNC SET button for a few seconds and the LCD turns into an animated clock!
If this isn't enough to make you giggle like a Japanese school girl, rotate the SD780 vertically and you'll see the display change to include the date, too!
Setting time zones while traveling
The Time Zone menu is one above the Date/Time menu in the hammer and sickle menu.
When you get to Time Zone, the highlighted top line is where you select one or the other using SET; avoid going down, which is where you set each one.
Recommendations top
Intro Specs Performance Usage Recommendations
The SD780 is the smallest good camera I've ever used. I'd suggest it as a first choice for a pocket tag-along digital camera.
As a main camera, I prefer a full-sized, wider-angle compact like the SD880, but that's just me.
The SD780 is much smaller than specifications suggest because its corners are all rounded. It disappears anyplace you carry it.
If you're shooting action, events, kids or people, no compact is fast enough to catch them. Get a real SLR like the Nikon D40 or Canon Digital Rebel XS instead.
Help me help you top
I support my growing family through this website, as crazy as it might seem.
If you find this as helpful as a book you might have had to buy or a workshop you may have had to take, feel free to help me continue helping everyone.
If you've gotten your gear through one of my links or helped otherwise, you're family. It's great people like you who allow me to keep adding to this site full-time. Thanks!
If you haven't helped yet, please do, and consider helping me with a gift of $5.00.
The biggest help is to use these links to Adorama, Amazon, Calumet, Ritz, J&R and when you get your goodies. It costs you nothing and is a huge help to me. eBay is always a gamble, but all the other places have the best prices and service, which is why I've used them since before this website existed. I recommend them all personally.
Thanks for reading!
Ken
Home Donate New Search Gallery How-To Books Links Workshops About Contact