Home Donate Search Gallery How-To Books Links Workshops About Contact
Audust 2009's Updates
RSS: live daily
all © 2009 KenRockwell.com. All rights reserved.

28 August 2009, Friday
What about Nikon?
In case some wonder what/where/when I mention Nikon lately, you'll see plenty of Nikon D40 shots of my kids, and all my product shots are shot in the studio with my D3, 200mm Micro and Novatron strobes.
It's one thing to talk about or review a camera, and another thing to produce work with it.
A Visit to NYC and B&H
I owe you all a lot of photos from my NYC trip, as well as a detailed review of the Adorama store I also visited.
For now, I'm sure you'll get a kick out of the eight-minute video B&H made when I visited them.
Tokina 11-16mm
Tokina tells me that they just got in a shipment of the 11-16mm f/2.8, so it ought to be getting out to dealers if you've been trying to find one.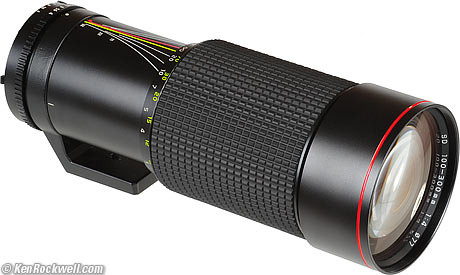 Tokina 100-300mm f/4 AT-X SD.
NEW: Tokina 100-300mm f/4 AT-X Review.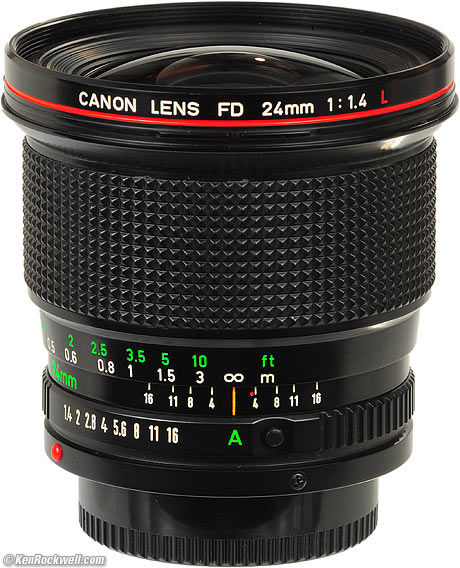 Canon FD 24mm f/1.4 L.
NEW: Canon FD 24mm f/1.4 L Review.
When I was in New York City last week, I noticed that Adorama had one of these in stock, which is unusual because they are nearly impossible to find.
27 August 2009, Thursday
Readers' Challenge Results
I asked what camera y'all would like me to shoot as a second camera behind a Contax 645 on an upcoming photo tour.
The votes are (from a short list I offered, as well as write-in ballots):
Nikon F6 19 votes
Nikon FE 12 votes
Nikon F4 6 votes
Nikon FM, Nikon 80 and Canon AE1 Program tied at 4 votes each.
The Canon 110 ED, Canon T90, Nikon N75 and Leica M3 got 3 votes each.

The Canon EOS620, Nikon N90s, Minolta CLE and Nikon F3 tied with 2 votes each.
The Nikon 8008, Nikon 6006 and Leica M7 each got one vote.
As write-ins, the Nikon FA, Contax G2, Tachihara 4x5 and Nikon Pronea each got a vote. In this case, I shot the Nikon FA and Contax G2 extensively last fall and haven't gotten to sharing the results yet. I'll have to think about the Pronea. I have a whole gallery of 4x5 shots; and 4x5 will be too slow to keep up with our group.
Cameras that got no votes are the Nikon 4004, Nikon N55, N65, and the Leica M9. What's hilarious is that only one of you got the joke: there is no Leica M9 — yet. The world is bubbling over knowing that "9/9/9" is Leica for "yes, yes, yes!" for the M9, rumored to be Leica's first full-frame digital camera.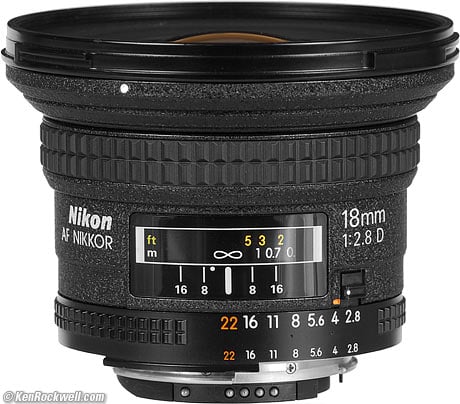 Nikon 18mm f/2.8.
NEW: Nikon 18mm f/2.8 Review.
Adorama Rules!
I always plan ahead and order the week before I need anything, since it takes a week for ground shipping from New York City to California.
I was thinking I might take a Canon EOS620 shooting this weekend, and if I did, that I'd want to shoot my Canon 16-35mm f/2.8 L II lens with it. The 16-35 II takes an oversized 82mm filter, and when I shoot film, I shoot Velvia through an 81A filter to get the look I want.
I needed to find an 82mm 81A filter.
Adorama had it in stock, but ordering yesterday wouldn't get it here for this weekend.
Lo and behold, I paid for overnight shipping yesterday, and the filter is now sitting here on my desk at 10AM today. Not only do I have it in my hand at the right price, it saved me from having to run out and try to find one at retail, which was not happening.
Nikon 80-400mm VR Update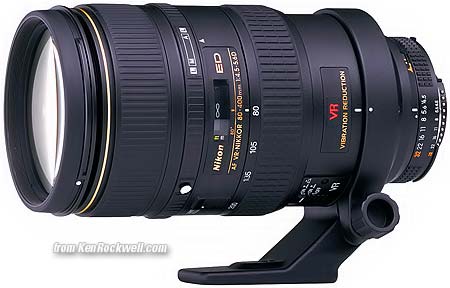 Nikon 80-400mm VR
I mildly updated my Nikon 80-400mm VR Review for FX.
Suggested FX Lenses
A reader asked, and along with my DX Dream Team article, I also have a list of Suggested Nikon FX Lenses.
26 August 2009, Wednesday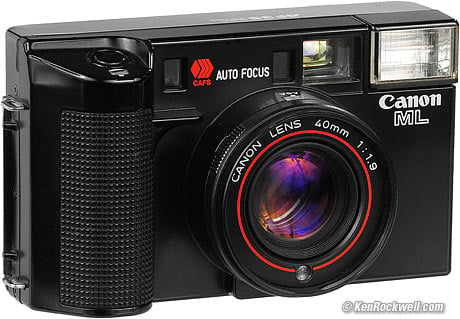 Canon AF35ML Super Sure Shot.
NEW: Canon AF35ML Super Sure Shot Review. A super-fast f/1.9 lens!
Geeks Get It Right
Golly, a nerd rag actually got it!
25 August 2009, Tuesday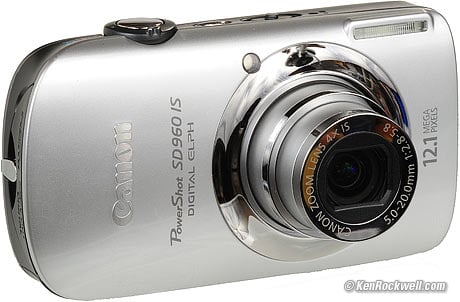 Canon SD960 IS.
NEW: Canon SD960 IS Review.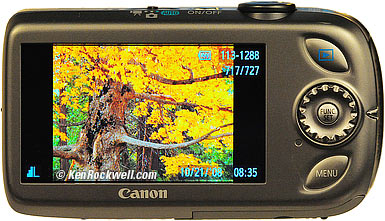 Tiny image on chopped (shortened) LCD.
NEW: The Curse of the Chopped LCD.
24 August 2009, Monday
Nikon D90 iPhone App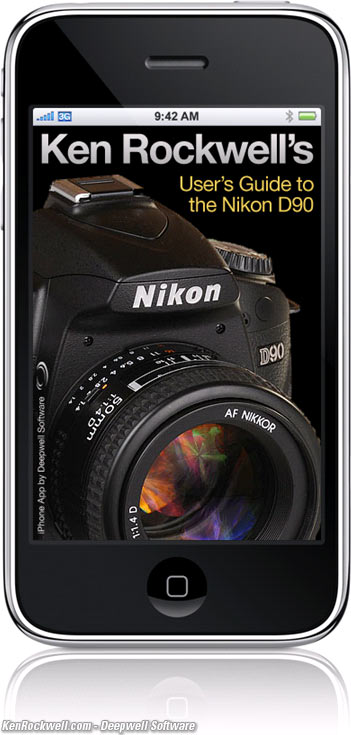 Nikon D90 Users Guide App
NEW: Nikon D90 Users Guide iPhone App. This is a new version of my online D90 Users Guide for the iPhone and iPod Touch. This way you can have it all in your pocket without needing access to the Internet. This guide also includes an expanded section on setting the D90 AF System for everything you might want to shoot.
I wrote my online guides myself.
The D90 iPhone App took a team of four guys about a month to write, so it's much slicker than the online version.
Update: I updated my Nikon 70-300mm VR Review to include FX and film. I originally wrote it back when the lens came out, which was before the invention of FX.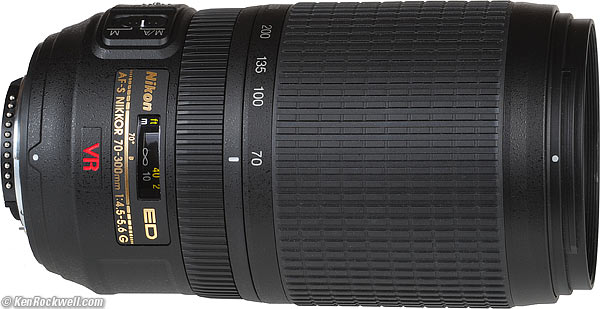 Nikon 70-300mm VR.
Tribute to the D700: down to $2,300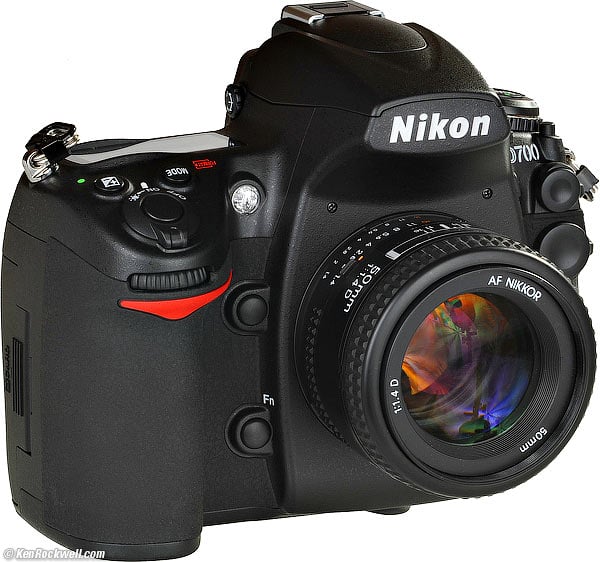 Nikon D700.
While I'm mentioning FX and we're all waiting for the D700X to take our money in exchange for more pixels that no one needs, let me take my hat off for a moment to reiterate how the Nikon D700 is the best Nikon camera there is for portraits and nature photography. Even if you blow $7,000 plus on the D3X, the D700 still weighs less and handles faster due to its newer and smarter control layout and firmware.
Personally I use a D3 in the studio, but the only reason I have a D3 instead of the D700 is because I bought the D3 the day it came out, while the newer, smarter D700 didn't come out until a year later. I'll be darned if I'm going to admit my foolishness and replace my D3, and I do love the D3's professional 5:4 crop mode I use all the time.
Seeing how the D700 has been out a whole year and how it's price is only $2,300 in-stock at Amazon today, down from $3,000 at introduction last summer, you can't go wrong.
Tribute to the 5D Mark II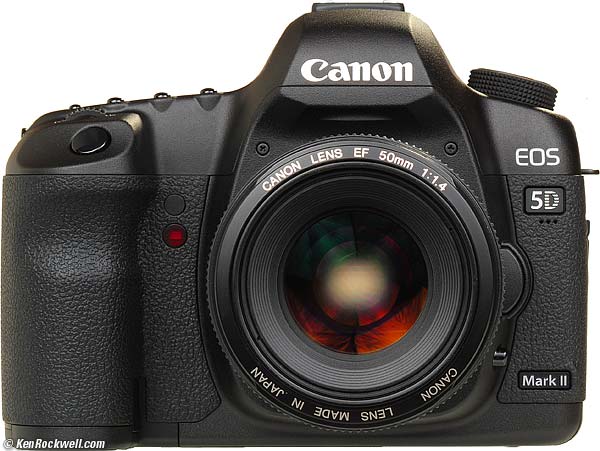 Canon 5D Mark II.
For Canon shooters, the 5D Mark II is still the best camera made by Canon. By comparison, the old 1Ds Mk III has slightly lower image quality (per Canon's 5D Mk II press release) and a crummy LCD.
The old 5D had better sharpness than today's D700 and D3, and today's 5D Mark II has even more pixels and sharpness, giving the same sharpness as the $8,000 Nikon D3X!
The image quality of the Canon 5D Mark II is unbeaten, which is why it's price is still at $2,700 as it was at introduction a year ago. I prefer the controls and handling of the Nikon, as do most other pro shooters (including those who shoot Canon), but if you count all your pixels, the 5D Mark II is the best thing there is short of the D3X.
The 5D Mark II also gives spectacularly sharp results set at its Medium and Small image sizes, which is where I shoot my 5D Mark II. I find setting it to Medium gives 95% of the same sharpness as the 21 MP setting, with smaller file size, thanks to the fact that Bayer Interpolation isn't adding much sharpness if you bother with the 21MP setting. The Medium (11MP) setting gives about the same level of detail, and is almost three-dimensional when seen at 100% compared to an 11MP camera like the D700.
I don't need all these pixels, which is why I prefer the Nikon's handling, but for pixel hounds, the 5D Mark II is the prince, just short of the King D3X.
Even though the 5D Mark II is a pain to shoot all day compared to Nikon, the results are worth it.
21 August 2009, Friday
Nikon Wireless Strobes
I wrote an article on how to use the Nikon i-TTL system a few years ago. A reader asked me to mention it again.
I haven't updated it in a few years with newer models of flash and camera, so don't worry if I missed the newer bodies.
Back home — for now

1,700 email messages.
I'm back from two weeks in Yellowstone and New York.
I've been working and publishing this site from my Apple 800MHz G4 12" iBook these past two weeks. Not bad for Apple's bottom-of-the-line laptop from 2003! I doubt any Windows machines that old even work anymore, much less work well enough to do everything I need to do to run and publish a website these past two weeks on the road.
Of course just like every time I go away, I've got nearly 2,000 email messages, and those are real messages after all the junk was thrown away.
Think 1,700 real messages from people expecting a reply is manageable? If I had a big enough monitor, my inbox would be a list 24 feet (over 7 meters) long!
This is why I can't possibly communicate via email, especially when you realize that my wife and kids expect to see me a little before I run out again.
I have a couple of reviews I'd like to complete next week (fat chance), as well as post galleries of all the shots I made in Yellowstone and New York. Wish me luck!
20 August 2009, Thursday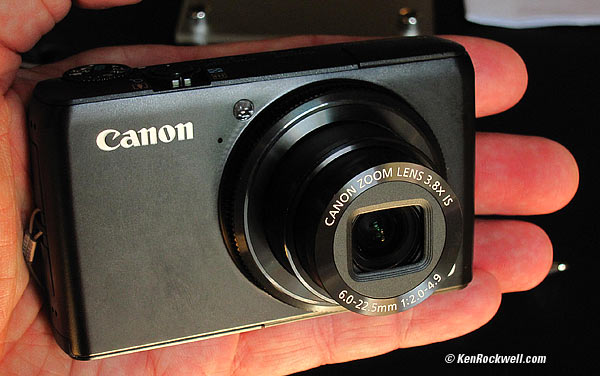 The incomparable Canon S90.
NEW: World's best compact digital: The new Canon S90.
Compact line-up
I haven't even gotten to explaining how the Canon G11 seems like an all-around downgrade from the Canon G10. In that sprit, let me list the compact digital cameras I'd want to take with me for a week or two of serious shooting out in the field as my only camera. I mean only camera; I've been shooting for the past week and a half in New York with a borrowed Canon SD960 and my only complaint is the newer, poorer menu system. I have no problem making great shots, and it's always in my pocket. Why would I want to carry a DSLR with me when a compact does the same thing, so long as the subjects hold still?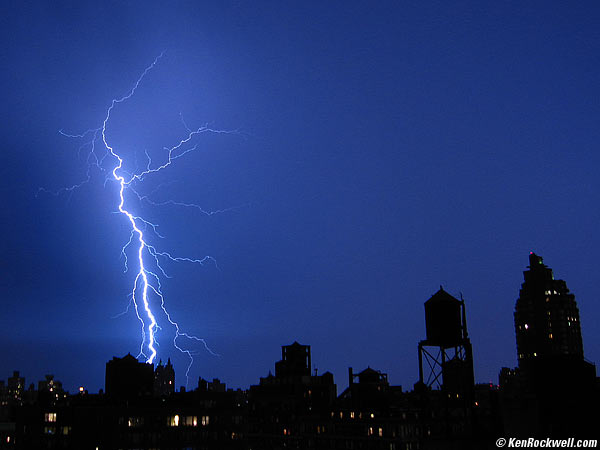 Manhattan, Tuesday night. bigger. Snapped with hand-held Canon SD960 braced on sill.
This wasn't a lucky shot; I got quite a few of them. I set the camera to manual ISO 80 and held the shutter down so it kept shooting. This gave the optimum exposure at its one-second maximum exposure time. I caught the bolts as they happened. Auto WB set itself to the prevailing tungsten light, so the lightning came out a vivid blue.
This stuff is easy when you know your way around a compact camera.
That's the sad thing about DSLRs: they are becoming so complex that no one can figure them out, and if you can, by the time you're done fiddling, the storm's over.
If I had taken a D3 on this trip, I'm sure it would have been left elsewhere, and not with me in my pocket as we came back from dinner when this freak storm hit.
First Choice: Canon S90. As you can read at its review, the S90 is the photographer's compact because it gives us the controls we need to make more, better pictures in less time than menu-driven cameras.
Second Choice: Canon SD880. I like it so much I bought two just in case I lost one! It's that good, but sadly, no longer available new.
Third choice: It's a coin flip: maybe a Nikon D40 or a lesser Canon like the Canon SD960 I've been borrowing this past week in New York. SD960 image quality is top-notch just like the SD880, but the SD960 has a much smaller chopped LCD and far inferior control menu system.
Fourth Choice: Canon G10. The G10 is a nice camera, but the cameras above are better, for less money, less less size and less weight. Honestly, I'd never use a G10; I prefer any smaller Powershot like the SD780.
Last Choice (at least of cameras mentioned right here): Canon G11. Let me get this right: the new G11 a smaller LCD than the G10, in the same oversized and overweight body as the G10? I've also tried the new G11 in-person, and it has the same slower, klunkier interface as does the G10 compared to a good Powershot like the discontinued SD880 and new S90.
18 August 2009, Tuesday
Digital Purple
Reds are easy to get with digital cameras, so long as you watch the exposure and aren't too picky about how red you want your reds.
Purple and violet are another story.
I'm a big fan of yellow, orange and red, and they're easy on digital.
Thank goodness I don't do purple, since it never looks right in digital (or film).
If you're a purple and violet kind of shooter, check out Tribeca labs for some software which claims to make real violets and purples out of what you get with digital cameras. I've seen this software work great in demos, but have never tried it myself since I don't work with violet, fuchsia or purple.
I'm serious: I work with warm and cool and sometimes green; magentas and pinks aren't my thing.
17 August 2009, Monday
Ferrari and fire truck red
A reader asks why he can't get a vivid red-red out of his digital camera. The red he wants is deep, bright red, but the red he gets is always too orange or yellow.
There are at least two reasons for this:
1.) If you overexpose, even slightly, red turns to orange and then to yellow as it washes out to white. Be sure you're looking at RGB, not one-color histograms, and be sure the red channel isn't blown out. Many cameras do blow out the reds unless you keep and eye on them and dial in some negative (darker) exposure compensation with your +/- button.
2.) Digital displays can't reproduce deep, bright red-reds. The sRGB space only goes to an orange red, so the closest thing is a dimmer orange-red displayed in its place. Maybe OLED displays will resolve this in the future, but they only go up to 9" diagonal today.
Sure, you'll think you're seeing a deep red red if all you do is work behind a computer display all day, but even if you shoot Adobe RGB, digital displays can't make a deep red red, just a dimmer orange-red.
This has always been a problem in TV for Coca Cola, since the red primary of the NTSC color space and sRGB space (CCIR Rec. 601 and Rec. 709, also used for HDTV) is that same orange-red we see in digital, not the deep, bright red red that you see in red cars and deep red LEDs. Coke ads never really reproduce their can; it's just close enough.
In case you thought HDTV was an improvement, sRGB and HDTV use Rec. 709 color space which is actually more restricted in green than old-fashioned NTSC TV's Rec. 601 color space. NTSC was designed around actually green phosphor which was never able to be made efficient enough for monitors used outside of a very dark room, so when sRGB and Rec. 709 was standardized, we compromised for a less vivid, but commercially more common, green phosphor.
Likewise, I've never gotten these reds on inkjet prints, even with Adobe RGB workflows. I've only seen these reds on Cibachrome prints direct from transparencies.
How do you work around this? Easy: Shoot film, especially Kodachrome or Fuji Velvia, each of which easily reproduces those deep red reds. If you think I'm kidding, go try some, and when you look at it on the light table, you'll know immediately one of the strong reasons I prefer transparency film for color photography. Print film is nothing magical, but slides can make colors you don't get on digital displays.
Everyone, especially people paid by camera companies or advertising, thinks I'm crazy. When I show any of these people a transparency projected or on a light table, the difference becomes obvious. Film is about what you get on film, not what you get after you downgrade (scan) it to digital.
This is easy to see for yourself: shoot some Velvia, send it to NCPS, and look at the film when it comes back.
I shoot film because it looks better. Film doesn't necessarily look better after you scan it and look at the scan; film looks better for what I shoot because transparency film viewed directly looks better than anything reproducible on digital displays or on prints.
Most of the shots in my Gallery are from 4x5" film, and the galleries I've posted this year from Death Valley (January 2009), Route 66 (February 2009), Volcano Country (April 2009), and Monterey (June 2009) are all from film. These look OK online, but the original film looks worlds better when you look at it directly on a light table. The scans are nowhere near as bright, vivid and dynamic as the originals. With digital cameras, you have no originals; you have files, but not images.
Film: there is no substitute.
16 August 2009, Sunday
Yellowstone
I added some more snaps of the springs and of the free Canon photo workshop to my Yellowstone snaps.
15 August 2009, Saturday
Bayport Fly-In
For all you pilots, this weekend is the Antique Airplane Club of Greater New York's Bayport Aerodrome Fly-In.
I'm going to check it out with my mom today, who's been flying since the 1950's.
In case you hadn't guessed, I've been on travel in New York while the Mrs. holds down the fort at home with the babies. She's an angel — a real angel.
Adorama
I've been getting my stuff from Adorama since my first visit back in the the 1970s. I last saw them in-person in New York City in November 2005, when I went to the PDN Photo Expo show.
I dropped in to Adorama on Wednesday, and got a royal welcome. I was honored; I've always gone there just to get stuff, but on Tuesday, they were looking forward to showing me around. Whoo hoo!
I got to see Adorama's Manhattan retail store, and saw how everything is built around having every walk-in customer get one-on-one help for everything. They have everything out on display; you'll see LEICA point-and-shoots in the same tethered display as the Canon, Nikon and other point-and-shoots. We don't see LEICAs sitting out for everyone to walk by and touch at retail in California.
Adorama's NYC retail store has doubled or tripled in size since 2005.
I got extra lucky, and got an oh-my-gosh white-glove tour of Adorama's humongous warehouse and shipping facility, just outside of Manhattan.
I've never seen a real photo gear warehouse before. The store has a lot, but the warehouse is a couple of orders of magnitude bigger and loaded to the brim with everything imaginable in unimaginable quantities. This warehouse is the location from which our orders get picked, packed and shipped. You can believe that there are a lot of guys picking orders and a lot more guys packing them as fast as they can and shipping them out, filing up tractor-trailer trucks as fast as they can.
Adorama's retail store is nice, but their real forté is online orders, which as I saw in the warehouse, flies out of there literally in truck loads.
Then I went back to Manhattan and got to see Adorama's print lab.
Want real black-and-white prints from digital files? No problem!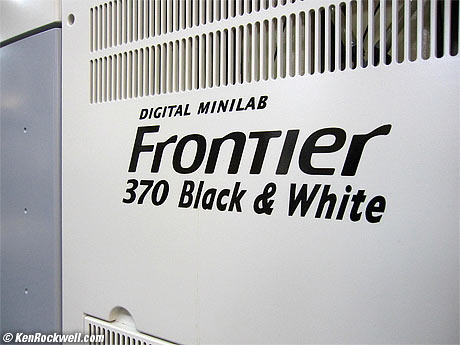 Fuji Frontier 370 B&W Printer.
I don't know if its online just yet, but Adorama's lab now has a printer that writes to real chemically-processed silver B&W paper. Want real B/W prints without your own darkroom? No problem!
Heh heh, I had no idea that they also make hardcover photo books, and made them by hand upstairs.
Adorama makes their photo books on real Fuji Crystal Archive chemically-processed photo paper, not crappy inkjets. They are unique in that every page is a centerfold: they use a unique binding method so that each pair of pages opens flat. This paper uses a special extra-thin backing so that when opposing pages are glued back-to-back they are the right thickness. They use is a Swiss-made binding machine to assemble all the pages to each other, and a few other machines to print, cut, build and attach the covers.
Tuesday night, I arrived at The New Yorker Hotel at dusk.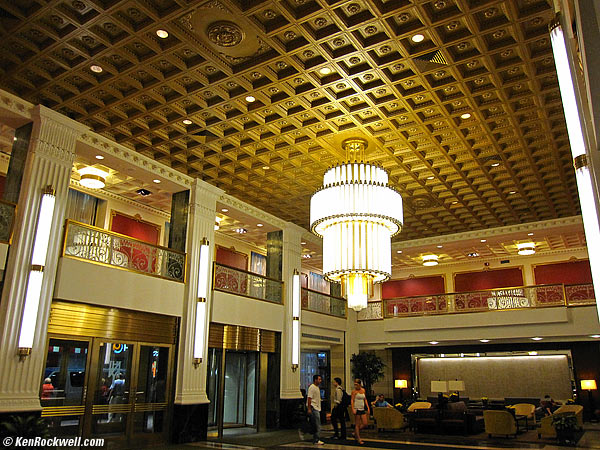 New Yorker Hotel lobby. bigger. Auto ISO 320, IS on, 1/40 at f/2.8, 5mm (wide), auto WB, hand-held Canon SD960.
I had a room with an absolutely killer view. Here's what I got to look at all night: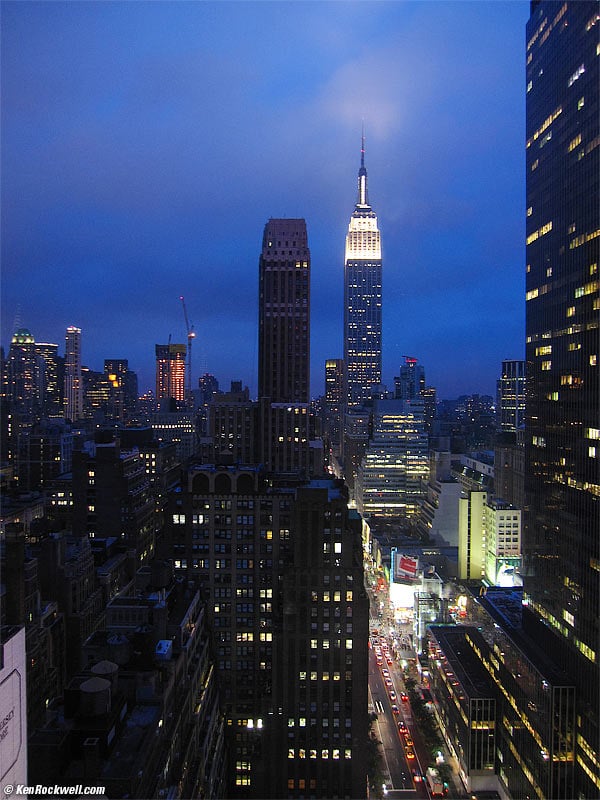 Empire State Building, New York City. bigger. Manually-set ISO 80, IS turned off, braced on a window sill with no tripod, 0.6 seconds at f/2.8, 5mm, auto WB, hand-held Canon SD960.
In case I didn't like that view, it was a corner room, so I had this view out the other window: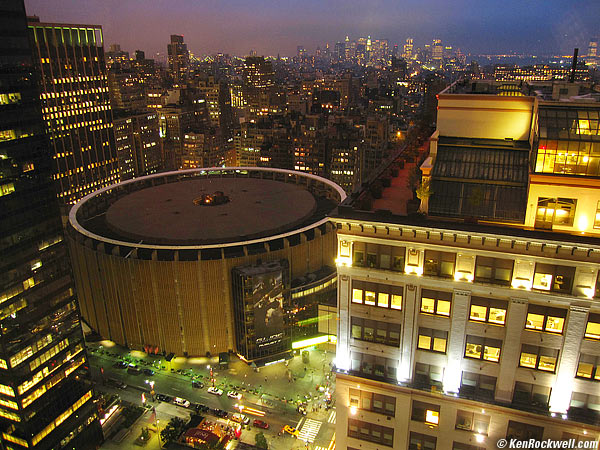 Madison Square Garden, New York City. bigger. Manually set to ISO 80, IS off, braced on a window sill with no tripod, 1 second at f/2.8, 5mm, cloudy WB, hand-held Canon SD960.
The people who made the reservations for me were embarrassed that they put me at such a cheap place, having heard it was nasty. Hee hee, I obviously loved the place and my only regret is that I should have brought my binoculars.
I had to make these shots the moment I walked in the door. As it got later I lost the light in the sky and in the shadows. More at Timing.
B&H Photo Video
The next day, Thursday, I visited B&H Photo Video.
Again, I got the white-glove tour, a big change from my first visit over 30 years ago. Back in the 1970s I bought stuff from them, but didn't get any tours. Just like Adorama in the 1970s, I used to get fast service and any bizarre photo item in stock at the best price back then, just like today, but without the tours.
Yes, B&H has the world's largest retail photo store, at least in the free world. Heck, it is also twice the size as it was back in 2005, and it was the world's biggest back then, too. We knew that, but in case you've never seen it, they're so big they even have things like used Canon EF 1,200mm f/5.6 L lenses on display: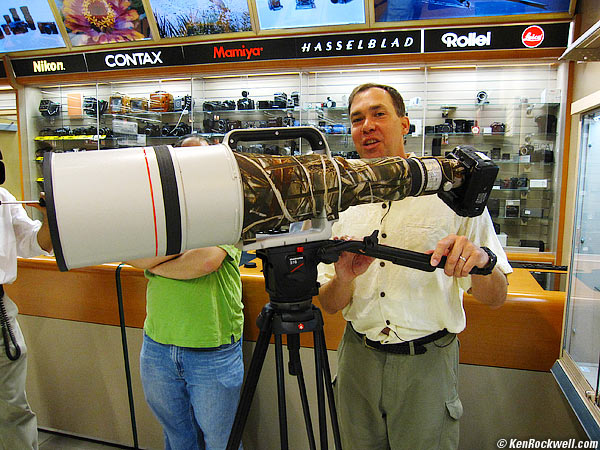 Rockwell and the Canon EF 1,200mm f/5.6 L. (snap with Canon SD960.)
The wire coming out of my belly-button is the mic for some videos they were shooting. Again, a little different than my first visit.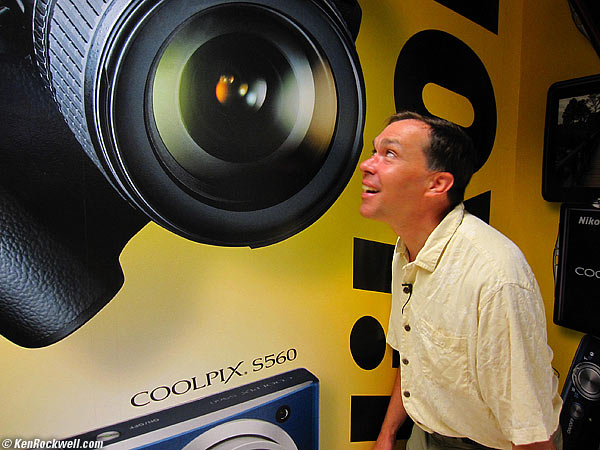 Wow, B&H has some big Nikons, too! (snap with Canon SD960.)
Film? You want film?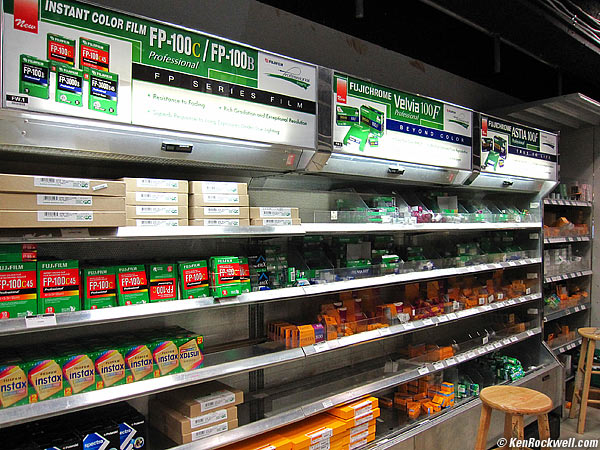 They got your film right here! No problem in NYC! (snap with Canon SD960.)
Big deal. Film is easy to find. How about some real B&W photo paper?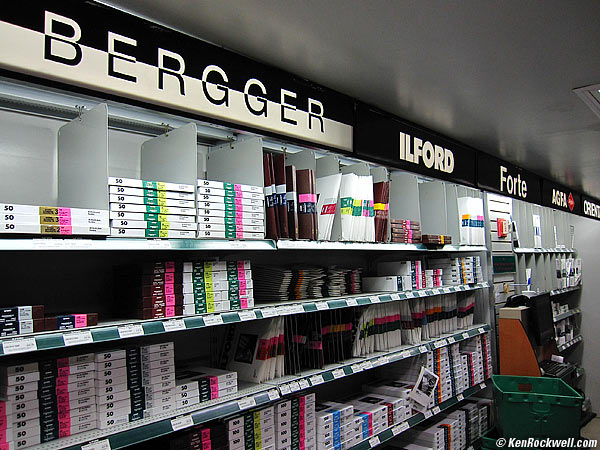 B&W photo paper at retail. (snap with Canon SD960.)
So? Paper doesn't do much without chemicals.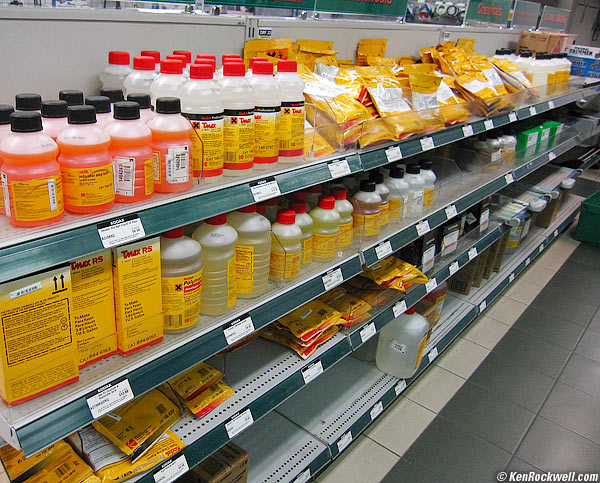 Photo chemicals at retail. (snap with Canon SD960.)
There's a lot more than this. There must have been a few more aisles of chemicals and darkroom gear. This is NYC and shelf space is at a premium; if this stuff wasn't selling to serious New York artists, it wouldn't be on the sales floor.
Magazines never talk about film or real darkrooms because there isn't much or any advertising money in it. In the case of B&H, they are all about supporting pro photographers, who of course shoot film.
After seeing their Manhattan store, B&H gave me a tour of their top-secret warehouse, which again had more photo gear than I ever thought had been manufactured in all of recorded history. I'm not at liberty to tell you how tall the piles of exotic lenses and cameras went. Let's just say the B&H warehouse has very tall ceilings, and I had no idea any of this stuff was sold by anyone in anywhere near these quantities. You want Canon EF 200mm f/2 L IS, EF 300mm f/2.8 L IS, 400mm f/4 DO L IS, EF 500mm f/4 L IS or Canon EF 600mm f/4 L IS lenses? Let me assure you B&H has more than an ample quantity in stock and ready to ship. They had everything else, too. (I didn't look for the new, lightweight, 800mm f/5.6 L IS; B&H has a huge warehouse.) Most of these huge lenses also ship for free from B&H; click those links to see stock.
Did I say film? B&H had piles of Nikon N80, Nikon F100 and Nikon F6 all in-stock, too. (click those links to see stock.) Don't try to tell me the Nikon F6 is out of production; it wasn't in-stock a few days ago, and I saw a pile of them on Thursday, all with sequential serial numbers. Their website was updated with that info when I got home to double check, Good job! The only stores who tell you this stuff is out of production are lesser stores who want to sell you more expensive and quickly obsolete DSLRs instead.
B&H also lists the F100 and F6 as "top sellers." Of course B&H's warehouse had a zillion times more kinds of film than was in the retail store, again in massive quantities in every format. Heck, they even had Velvia 50 in 8 x 10" in-stock! Their warehouse is way too big to see everything.
Adorama and B&H
I was astounded that for whatever reason, it was on this trip that I just happened to luck into warehouse tours of both Adorama and B&H.
Normally these areas are strictly off-limits to everyone, including people who work at the stores.
I am very grateful for the chance to have seen more gear than I have ever seen in my entire life.
What continued to impress me is how each of them is far more concerned with keeping you and I as happy customers for decades, instead of just trying to close a sale today. The camera stores that used to work short-term (like used-car dealers) have gone (or are going) out of business, while the really great dealers like these guys continue to double in size. It's sad that so few dealers (or salespeople) of anything take the long view. Keeping the customers' own long-term best interests in mind is the only way any business stays in business and grows, and Adorama and B&H are shining examples of this. As I said, I know, because I've been shopping each of them for over 30 years. I've seen how they've grown, and how they've always treated us right. That's why they've grown, and lesser stores became history.
B&H offered to let me keep the Canon EF 1,200mm f/5.6 L, but since it doesn't have IS and it's way too big for any use I might have, I respectfully declined their gracious offer.
So after all that running around, did I buy anything? Yes! I found DL223 batteries on sale in the used section for $2.49, so I snapped up three of them for the Ricoh 35mm point-and-shoot camera I found at a thrift shop. DL223s are hard to find, although all the gift shops in Yellowstone had them for $12.95 each.
I got to meet the owners of each in person. Was I lucky or what this week?
I later realized that both of these behemoths are family-owned, and still run by the same men who founded each back in the 1970s. Both of these stores, Adorama and B&H, are still run by these founders who ensure that each does what's in the customer's interests, not their own, which ultimately works out best for everyone. Some things never change; in this way, each is still the same almost-anything always-in-stock store I first shopped in the 1970s. Bravo!
Clik Elite Bags
I also got hold of a Click Elite bag recently. I haven't had the chance to load it up, since I'm traveling with only a Canon SD960 IS (I see no need to carry heavy SLRs on vacation, since I shoot subjects that don't move).
I got a Clik Elite Medium Nature Photographer's bag. What strikes me as unique compared to nerd (camera-only) backpacks is that only half the bag is for cameras. The rest is for other things, like food, water, clothes, or whatever else you're carrying out into the boonies.
I'm not a fan of camera backpacks, but this thing is a backpack that serves as a backpack for rigorous outdoor fun, and also holds a serious camera system.
If you plan to tote six bodies and ten lenses for no good reason, we know you're not going anywhere and you can make due with a nerd (camera-only) backpack, but if you're a hiker, biker, climber or otherwise really get out there, check out the Clik Elite bags. They are very well made, with what appear to be zippers sealed against the elements.
14 August 2009, Friday
Hans Christian Ørsted
Is electrical history weird or what?
On Tuesday I visited Tesla's Wardenclyffe Lab in Shoreham, Long Island, New York.
In case anyone wants to own and preserve history, it's for sale (third listing down). Here's the flyer, site map and locator map.
I'm told it's already somewhat in contract, however interested buyers should still contact the broker, John O'Hara at (631) 366-0571 for information. I called and asked, and even though it's a former Agfa photo material plant, none of the gear is still there so buying it won't also let you start making your own paper and film (rats).
This is weird enough, but when I woke up yesterday in the New Yorker Hotel in Manhattan and walked up the block to visit B&H (after visiting Adorama all day on Tuesday), what did I see on the hotel building, about 15 feet (5 meters) up in the air? Have a look: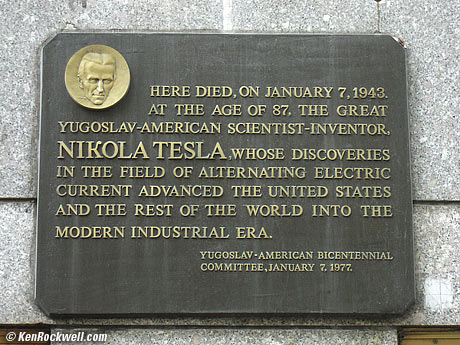 As seen on the New Yorker Hotel. Tesla switched-off in room 3327.
Weird. It's like the ghost of Tesla is following me on this trip.
I got home at midnight last night, and I get up this morning to see a tribute to Hans Christian Ørsted on Google.
As every electronic engineer knows, Tesla invented half of what we take for granted in electricity, especially AC power and motors, and Hans Christian Ørsted, born this day in 1777, is the man who first discovered that electric currents generate magnetic fields, without which wouldn't have Tesla's motors.
Without motors and solenoids, we'd have no digital SLRs, no Canon EOS lenses, and not much of anything. We'd still be in mud huts. We wouldn't even have mechanical cameras, since electric motors have been used in manufacturing everything for over a hundred years. Do you think lens polishers were spun by hand?
Manual-focus electronic cameras of the 1970s and 1980s were loaded with motors, magnets and solenoids, and autofocus and digital cameras today have even more.
Heck, we can also consider Ørsted the inventor of the aluminum tripod. Ørsted is the first man to create aluminum.
The Oersted, the unit of magnetizing field strength (also called magnetic field strength), is named after Ørsted.
As all engineers know, you calculate the magnetic flux density by multiplying the magnetic field, in Oersteds, by the magnetic permeability of the medium (= one for a vacuum), which gives you the flux density in Gauss. Divide Gauss by 10,000 and you get Teslas. (A Tesla is ten thousand Gauss.) A Tesla is how we specify magnets used in places like speakers, camera shutters and MRI machines.
Who is Gauss? Gauss is one of the world's greatest mathematicians. So? He invented the math behind bell curves, called Gaussian distributions, which is the shape of the convolutional kernel of Photoshop's Gaussian blur. Gauss also invented a design for a telescope objective, and an American later took two of those, inverted one, and this double Gauss design has been the design of almost all 50mm SLR and rangefinder lenses for many decades.
Too much to be simple coincidence. I'm being haunted by the ghost of Tesla! Serves me right for checking out his lab. Cool.
11 August 2009, Tuesday
Yellowstone National Park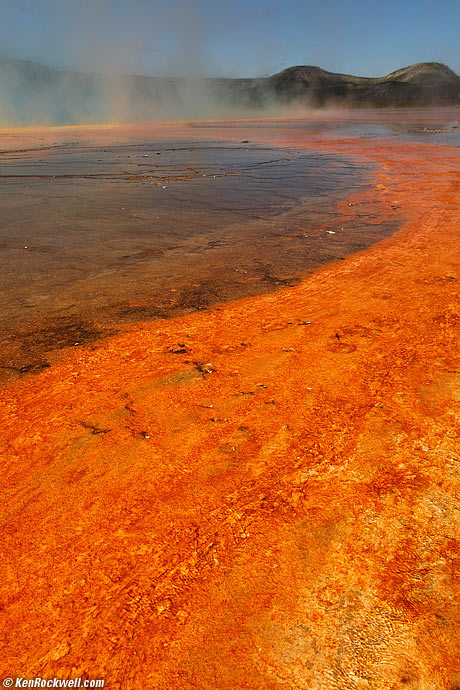 Grand Prismatic Spring.
NEW: I posted some snaps from Friday morning in Yellowstone.
Nikola Tesla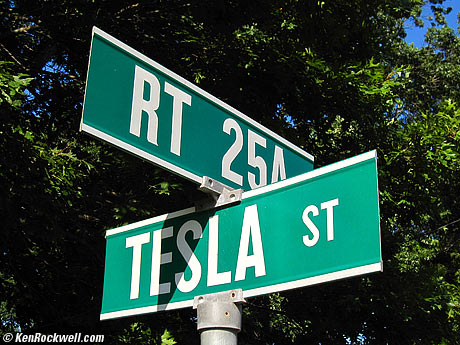 Tesla Street in Shoreham. bigger.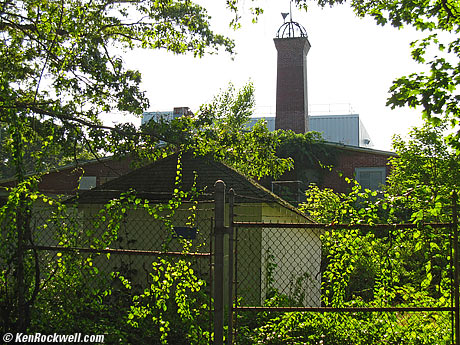 Tesla's Lab (with the smokestack). bigger.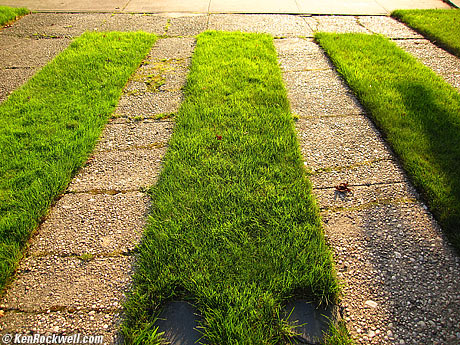 Driveway, my Parents' House. bigger. (3 snaps: Canon SD960)
Yes, we went to go see Tesla's lab, and it's still there. It's for sale, too, if you want to own history. Of course it's behind a fence, and you can see it barely through the fence.
10 August 2009, Monday
Yellowstone National Park
When I mentioned last Tuesday that Canon was giving free photo workshops in several national parks, I read the info at that link and noticed that George Lepp was slated to be in Yellowstone this past weekend, so since you all know I can't resist FREE, I had to go check it out. I made over 1,000 snaps in the park this weekend, and I'll share some if I ever get them sorted out.
No kidding: Canon actually brought tons of of Canon DSLRs and lenses to borrow, and a bunch of us got a couple of hours of free workshop with George Lepp. Not bad!
It also turns out that Canon brought a whole lot more gear than I could imagine: everything up to the 5D Mark II and lenses from fisheye and 14mm through the 50mm f/1.2 and 85mm f/1.2 through the 300mm f/2.8 and 500mm f/4.
Canon also has a parks photo contest running through September, with a free 5D Mark II and a lens to the winner. See it at the link.
Tesla
Nikola Tesla had a lab in Shoreham, Long Island, New York about 100 years ago, where he developed AC power and a few other things like radio and huge Tesla coils. It's also called Wardenclyffe Tower.
To my amazement, the building and base of Tesla's tower are still there, right next to the firehouse on Tesla Street, so I'm going to check it out.
Fact is always stranger than fiction: AGFA photo now owns it, since they made film and paper there up through the 1990s, and is now trying to sell it, while others prefer this place be preserved. The NY Times had an article on this earlier this year.
I can't wait to see it. It had been used to make photo paper since 1939!
06 August 2009, Thursday
Baby Panda!!!
Yay! We just had a baby panda born at the the San Diego Zoo yesterday.
Want to know the real reason I convinced my bosses back in 1999 to pay for my home high-speed Internet connection?
So that I could watch the Panda Cam during working hours, as I suggest you all do, too. That's another beauty of working from home, as I did in those days.
Even better, when the San Diego Zoo held a first birthday celebration a year later, you'd better believe I ditched work to go to the zoo, at least for a little while. All of San Diego turned up, mostly to score free panda antenna balls.
That previous baby panda, Hua Mei, was born on 21 August, 1999. I started this website in October 1999, obviously after I had secured a fast connection from which to work. It's amazing how things turn out.
The new baby panda won't be named for 100 days, and no one except its panda mom has seen it since it was born. The zookeepers may have to wait a week before they can sneak in to examine it, so for now, the Panda Cam is all we have. Thank goodness for photography!
05 August 2009, Wednesday
Think Tank Wired-Up Bags
Think Tank has a new series of bags designed for reporters who need to carry A/V great as well as their camera.
I have a Wired-Up 20 sitting here, which is a slightly taller version of the Wired-Up 10.
They are waist or shoulder bags; I wear then as a waist pack.
They've got loads of little pockets. The three most obvious sections are one, with a zipper and magnetic latch, on the front, a fat main compartment that's happy to swallow everything up to a camera and another 70-200/2.8, and a flat rear section for more accessories. The flat rear compartment isn't really for a laptop; my 12" iBook just barely doesn't fit, and I don't know if I'd want a laptop getting bent like that in a waist pack behind my cameras.
When worn around the waist, it's easy to get at everything from the top with both your hands free.
Here's the wired-up part: it has little slots here and there so you can get mic cables strung between sections, or from inside the bag to outside the bag while it's zipped closed. It also has little "mic hands" to hold mics for you, and a headphone hook, and a zilion little conveniances like another slick cable bag with a transparent window.
SPIE Paper
For those of you in San Diego today at the Society of Photo-Optical Instrumentation Engineers (SPIE) conference, today I'll be presenting this technical paper.
Yesterday I presented this one.
The SPIE is the professional organization to which the lens designers belong.
New Nikon Compacts
The only place I found links to order the newest Nikon compacts is at B&H Photo-Video, if you're interested:
Order a black S70 (OLED screen). (probably ships September)
Order a black S1000pj (built-in projector). (Probably ships end of August.)
No, I haven't seen any of them in person yet.
04 August 2009, Tuesday
Nikon 70-200mm VR II AF Lock Buttons — Not!
I can't see any AF lock buttons on the new 70-200mm VR II, and I'm getting a sinking feeling that Nikon removed this critical feature.
It seems like a terrible downgrade if the the AF lock buttons are gone, but then again, maybe AF performance with the new lens has improved so much since the 1990s, when AF lock buttons were invented, that they aren't needed anymore.
Often when buttons and knobs go away its because they are no longer needed, just as TVs haven't had horizontal and vertical hold controls since the 1980s because digital sync circuits mean that TV pictures haven't rolled or teared since the 1980s.
I have no idea what this foretells until I get my hands on one of the new lenses. I'm also not a sports photographer, so we'll really want to get their opinion on the new 70-200 VR II after they run it through its paces. The 70-200 VR is such a critical lens to sports photography, heck, that and the D3 are the reason sports pros have been coming back to Nikon for the first time since the early 1990s, that I doubt Nikon would screw up here.
If you want to save $500, the original 70-200mm VR, that is usually very hard to find, seems to be in stock at all of Adorama, J&R, B&H Photo-Video and Amazon as I write this.
Four more new Nikons
Nikon today announced four more new point-and-shoot cameras, in addition to last week's D300s, D3000, 18-200mm VR II and 70-200mm VR II.
This week's latest news, straight from Nikon to save you having to make 47 clicks elsewhere to read the same thing, is:
NEW COOLPIX S70 FEATURES SUPERIOR STYLING AND OLED TOUCH-SCREEN INTERFACE
Built on the success of Nikon's previous touch-screen models, the COOLPIX S70 features Nikon's newly developed 3.5-inch Clear Color Display and a new generation of touch-screen controls that offer an enhanced shooting and playback experience. In addition to its photographic technology and stylish dual-texture design, the S70 captures stunning HD video at 1280 x 720 pixels (720p).
New to the COOLPIX line, OLED technology offers the benefits of vivid color reproduction, sharp contrast and the absence of afterimages. The capacitive touch-screen provides an immediate response at the lightest touch of the display for a fun and intuitive feel to every camera operation. For example, using the Touch Shutter feature, users can have a completely "button-free" experience and focus on and photograph a subject by simply touching it on the camera's display. The touch-screen also makes viewing and retouching images more fun and efficient. With the swipe of a finger, users can scroll through images and use a pinching motion with two fingers to zoom in or out on displayed images, switching between thumbnail and full screen views. Additional new touch-screen controls include on-screen sliders for adjusting brightness and Scene Effect Adjustment, which offers controls specific to the scene mode in use.
The COOLPIX S70 features 12.1 megapixels; a 5x wide-angle Zoom-NIKKOR lens; ISO 6,400; 5-way VR Image Stabilization System; Subject Tracking; Scene Auto Selector Mode; Nikon's Smart Portrait System and an ultra-stylish design.
The S70 will be available in September 2009 for $399.95 MSRP in a choice of colors and textures including Red & Red, Champagne & Beige, Black & Black, or Champagne & Light Brown.
Rocky's analysis: 28-140mm lens - Yahoo! f/3.9-5.8 - Poo!
Forget ultra-high ISOs; Nikon also says that ISO 6,400 looks so noisy that it only works at 3MP (2048 x 1536) and below.
The OLED display replaces the old LCDs that digital camera used to use. OK, all other digital cameras still use LCDs, and good riddance. Leica's $26,000 S2 uses a much smaller OLED for a data display, but even the LEICA still uses an old-fashioned LCD for it's image display. OLEDs are brighter and contrastier than anything else, but the real reason you all will grow to need them is that they are much more color accurate then LCDs or plasma. OLEDs are the future of television, just that they are expensive today; Sony gets $2,500 for a 9" display.
I might want an S70: nice lens range, potentially out-of-this world screen, and it comes in black.
More S70 info direct from Nikon.
Order a black S70. (Probably ships in September.)
NEW COOLPIX S1000pj FEATURES WORLD'S FIRST BUILT-IN PROJECTOR, YOUR PERSONAL THEATER ON THE GO
Providing consumers with new exciting ways to share images, the COOLPIX S1000pj transforms photo-sharing into a multimedia experience. With the touch of a button, users can project images and videos as large as 40 inches, and with the camera's unique slideshow function, playback pictures with music, effects and creative transitions. Additional features of the S1000pj include: 12.1 megapixels; a 5x wide-angle Zoom-NIKKOR glass lens; ISO from 64-6400: a 2.7-inch wide-angle LCD Display; 5-way VR Image Stabilization System; Subject Tracking; Scene Auto Selector Mode; Nikon's Smart Portrait System and movie mode.
The COOLPIX S1000pj will be available in Matte Black, in September 2009, for $429.95 MSRP.
Rocky's analysis: Built-in projector? That beats Dick Tracy's 2-way wrist TV! ISO 6,400 again is so noisy it's limited to 3MP, which is all you can pull off a tiny sensor.
More S1000pj info direct from Nikon.
Order a black S1000pj (built-in projector). (Probably ships end of August.)
NEW COOLPIX S640 IS SLEEK, FAST AND FULLY-LOADED WITH ENHANCED SPEED CAPABILITIES
For consumers who never want to miss a moment, the all-new COOLPIX S640 is Nikon's performance leader in the S-Series lineup. High performance features include ultra-fast auto-focus, the fastest start up time in its class of a mere 0.7 seconds and short shutter release time lag. Additional features of the S640 include: a slim, stylish all metal body; 12.2 megapixels; a 5x Wide Angle NIKKOR lens; ISO from 100-6400 at full resolution; a 2.7-inch Clear Color LCD Display; 4-way VR Image Stabilization System; Subject Tracking; Scene Auto Selector Mode; Nikon's Smart Portrait System and movie mode.
The COOLPIX S640 will be available in September 2009 for $249.95 MSRP and will be offered in various colors including: Calm Black, Velour Red, Precious Pink and Pearl White.
Rocky's analysis: Nikon weasel-words "fastest AF" with "in its class." Nikon defines that class as pocket cameras with 5x zooms and VR, which is a class with very slow AF. It won't do anything as well as a D40 can if you're shooting action. No compact does.
More S640 info direct from Nikon.
NEW COOLPIX S570 OFFERS ADVANCED TECHNOLOGIES AT AN ECONOMICAL PRICE POINT
Where style meets simplicity, the new COOLPIX S570 is ideal for entry-level consumers looking for a carefree shooting experience. The S570 features 12.0 megapixels; a 5x wide-angle Zoom-NIKKOR glass lens; ISO 3200 at full resolution; a bright 2.7-inch LCD Display; 4-way VR Image Stabilization System; Scene Auto Selector Mode; Nikon's Smart Portrait System and movie mode.
The COOLPIX S570 will be available in September 2009, for $199.95 MSRP and will be offered in various colors including Black, Red, Blue and Pink.
Rocky's analysis: Wow! Glass lens! Does this mean the others are plastic? No, it means Nikon is spewing out FUD to imply that other similar cameras use plastic. Big deal; plastic is good: it's how Nikon gets the fantastic performance of it's current hybrid aspherical lenses.
More S570 info direct from Nikon.
Rocky's summary analysis: Honestly, I don't know Nikon point-and-shoots. I do know OLEDs are the future, so I want to see the screen on the S70. The fact that it's also big — 3.5" — is very intriguing. I'm also intrigued by the projector in the S1000pj. I doubt its very bright: the tiny battery would explode in about 10 seconds if the bulb sucked anywhere near as much power as a full-sized projector.
SPIE Paper
For those of you in San Diego today at the Society of Photo-Optical Instrumentation Engineers (SPIE) conference, I'll be presenting this technical paper. Tomorrow I'll be presenting this one.
The SPIE is the professional organization to which the lens designers belong.
Canon Photography in the Parks
Believe it or not, for the past few years, Canon has been giving free photo workshops in several national parks.
Canon brings full-time professional instructors, lots of Canon DSLRs and lenses to borrow, and if you get in, you get a couple of hours of very serious instruction from some very seasoned photographers, and the opportunity to play with the latest Canon gear, all free!
They'll be in Yellowstone the first part of August, and in Acadia at the end of August. If you're going to be there, check it out.
Canon also has a free photo contest based around the Canon Photography in the Parks program, with info at those links.
Review your Work to Carry Less
When I shoot scenic stuff out in the field, I use all the lenses I've brought.
When I look at the images I show, most of them are made with my widest lenses.
After realizing that, it dawned on me that I snap away all day, but the winners are made with wide lenses.
Thus I learned to carry not a big tele zoom, but just a small fixed 90mm or 85mm lens, and be done.
I learned this back in film days.
Today, especially with EXIF data, why not look at the images you show as your winners, and you too may discover that even though you use everything you brought, only some of your gear is what cranks out what your best shots.
If this is the case, consider leaving the other stuff at home. That's what I do, and it helps focus me into making more of the shots I like. I still have more than enough gear with me; I just don't bring way too much as I used to.
For kid photos, I find just my D40 and 35/1.8 is all I ever need. The 35/1.8 lets my D40 see in the dark better than a D700 and a slower zoom. Not bad for a $199 lens!
03 August 2009, Monday
Nikon 70-200mm VR
Adorama has the original model 70-200 VR in-stock, for $500 less than the new version II, which won't even start shipping until November for $2,400. If you want one, now may be the time to get the original while you still can. They were always very hard to find in stock.
Never deny yourself the lenses you want. Whatever 70-200 you get today, you'll be using it 10 years from now with God knows what kind of camera. Whatever cameras you buy today will be just about worthless.
When the Nikon 28mm f/1.4 came out in 1993, the people who hemmed and hawed about paying $1,200 for it had the Nikon F4, or N90s, as the hottest camera alive on which to use it. They had only one AF sensor and shot film, and you can get an F4 today for a couple of hundred dollars, or the N90 for under a hundred, if you want one.
15 years ago, no one had any idea that digital would be practical, much less standard, but people waited on lists for months to plop down $2,000 for an F4 or $950 for an N90, while today people give them away.
If you had put that same money into a pro lens, it would still be making fantastic images on your D3X today, and if you got the 28/1.4 back when you could, it would be worth $4,000 today used because Nikon no longer makes anything that good.
The lesson is always to invest your money in lenses. They will be useful for decades in the future with whatever camera you have. We have no idea what cameras will come out tomorrow, but it's a very good bet that whatever lenses you have will be very useful.
Money spent on cameras is spent, not invested. You'll never see that money again.
If you're limited on funds, put $2,400 into the new 70-200 VR II, not a D700. For all we know, the D700 will go obsolete tonight if Nikon announces the D700X as I suspect they just might, but your 70-200mm VR lens will still be a hot lens 10 years from now.
Pay $500 for a lens you don't really want today, and you'll still wind up spending $1,200 a year from now on the lens you want, so you're out $500 and a year's usage of the lens you really wanted and would up buying anyway.
I bought an 80-200/2.8 AF-S 10 years ago, and it still works great. I've had no need or desire to buy either of the 70-200 VRs because I already have the 80-200 AFS, which is also worth more used today than I paid new in 1999.
As Ansel Adams noted long before I was born, money spent on good lenses is always a good investment.
Changing White Balance in JPG Files
A reader wrote that he shot JPG + raw so he could fix the occasional file with the wrong exposure or WB setting. He found it handy to open the occasional raw file when he needed it, and otherwise deleted them.
I replied that I find it too much time wasted waiting even a few seconds for any raw file to open, and especially too much time wasted installing whatever buggy Nikon software I would need to open that one raw file properly. Other brands of software never open raw files with exactly the same secret color matrix coefficients and therefore result in colors slightly different from the JPGs.
I won't shoot even one raw file. Some people think I do, but the last time I shot a raw file was a Canon raw file to compare sharpness in the 5D Mark II (Canon software is fine), and the last time I shot any Nikon NEFs was back in 2005 when I needed to make some tests to see if I could see any difference in image quality. Nope, I showed myself that JPG is indistinguishable from raw, at least in Nikon, and have never bothered again.
I found that after I spent an hour massaging a raw file in cases of harsh light and high dynamic range, that the results weren't any better than a properly shot JPG right out of camera. That was the last time I shot any raw for myself for anything other than a comparison, and that was back in 2005.
See How to Change the WB of a JPG and Changing the ISO of a JPG.
I do this in Photoshop CS4, but Lightroom actually does these changes better. I'm too lazy to fire up Lightroom since I'm already working in CS4 all day.
01 August 2009, Saturday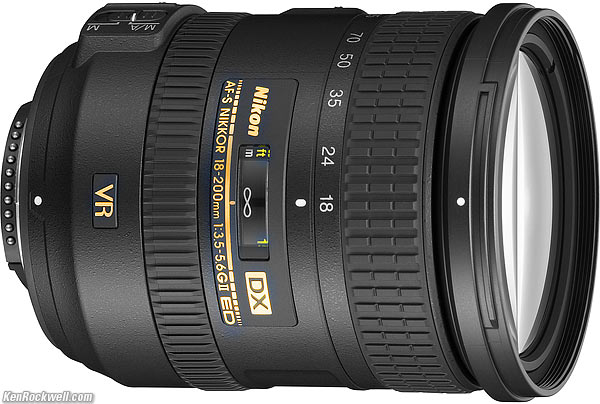 Nikon 18-200mm VR II.
NEW: Nikon 18-200mm VR II. Exactly the same as the original 18-200mm VR lens, with the addition of a zoom lock and $150 to the price.
Warning: Both 18-200mm VR lenses use the same VR-II technology, so you'll see the original lens sold in many places as the "VR-II." The only real way to tell what you're getting is that the newer version has a zoom lock switch.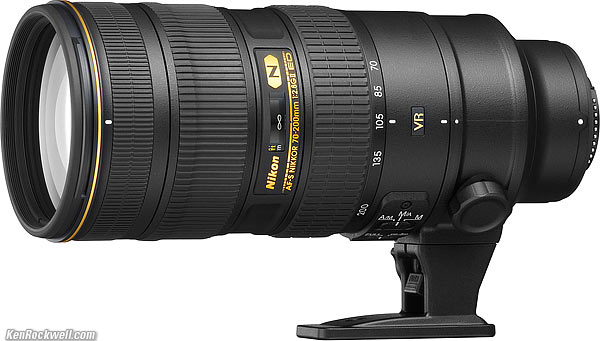 Nikon 70-200mm VR II.
NEW: Nikon 70-200mm VR II. A completely new design, even heavier and $500 more expensive than last-year's model.
What Was New in:
The end of September, 2008 (Photokina)
The beginning of September, 2008
December 2007: Loads of details about the Nikon D3, D300, 14-24mm and 24-70mm, much of which still isn't on the individual review pages.
November 2007: First hands-on details about the Nikon D3, D300, 14-24mm and 24-70mm, much of which still isn't on the individual review pages.
August 2007 (Loads of new Nikons and Canons)
2006 November - December (includes birth of Ryan Rockwell)
2006 October - November (includes photos from a trip to NY)
Help me help you top
I support my growing family through this website, as crazy as it might seem.
If you find this as helpful as a book you might have had to buy or a workshop you may have had to take, feel free to help me continue helping everyone.
If you've gotten your gear through one of my links or helped otherwise, you're family. It's great people like you who allow me to keep adding to this site full-time. Thanks!
If you haven't helped yet, please do, and consider helping me with a gift of $5.00.
The biggest help is to use these links to Adorama, Amazon, Calumet, Ritz, J&R and when you get your goodies. It costs you nothing and is a huge help to me. eBay is always a gamble, but all the other places have the best prices and service, which is why I've used them since before this website existed. I recommend them all personally.
Thanks for reading!
Ken
Home Donate New Search Gallery How-To Books Links Workshops About Contact