Home Donate New Search Gallery Reviews How-To Books Links Workshops About Contact
Tokina 11-16mm
DX/1.6x/APS Ultrawide
© 2010-2013 KenRockwell.com. All rights reserved.
Intro Specs Performance Recommendations

Tokina 11-16mm f/2.8 AT-X (77mm filters, 19.3 oz./548g, DX and APS-C coverage olny, about $720). enlarge. This website's biggest source of support is when you use these links, especially these links directly to it Adorama for Nikon or Adorama for Canon. If they're out of stock (they are hard to get), try B&H for Nikon, B&H for Canon, J&R for Nikon, J&R for Canon, all mounts at Amazon, or here at eBay (see How to Win at eBay), when you get anything, regardless of the country in which you live. Thank you! Ken.
May 2013 Tokina Nikon Canon Zeiss Fuji Sony LEICA All Reviews
NEW: Tokina 11-16mm f/2.8 II Review. Same thing, with a built-in autofocus motor for cheaper Nikon DSLRs. For about the same price, I'd get the II model instead so you'll never have to worry about camera compatibility.
Intro Specs Performance Recommendations
The Tokina 11-16mm f/2.8 AT-X is the best ultrawide zoom available for Nikon DX cameras, better than even Nikon's more expensive 12-24mm AF-S DX.
If you want an ultrawide zoom for your Nikon DX DSLR, this is my top suggestion as of 2008. (For the D40, D40x or D60, you still need the Nikkor 12-24mm for autofocus, and for Canon, I'd get the excellent Canon 10-22mm.)
This Tokina 11-16mm is the world's fastest and sharpest ultrawide lens for small format digital cameras (Nikon DX and Canon 1.6x). Considering its bargain price of under $600, its the world's best ultrawide lens for digital SLRs.
It is very well made. Its distortion is much easier to correct than the Nikkor's.
If you haven't actually shot with these lenses, you'd think this Tokina competes with Nikon's 12-24mm f/4, Canon's 10-22mm f/3.5-4.5, Sigma's 10-20mm f/4-5.6, Tamron's 11-18mm f/4.5-5.6 and Tokina's own 12-24mm f/4. (Tamron announced work on a 10-24mm f/3.5-4.5, in January 2008, but it doesn't exist.) I compared all of the older lenses back in 2005 in my Digital Wide Zoom Comparison.
Having shot all these, there isn't any real competition for Nikon cameras. This 11-16mm is superior, even to Nikon's own lens, and this Tokina is one of the least expensive. Feel free to read the other 95% of this review, however the details below only are interesting to 5% of my readers.
Use on Film and FX
None of these lenses is supposed to work on film, Nikon FX or Canon full-frame.
Here's a secret: take off the filter and hood and and this Tokina 11-16mm works reasonably well as wide as 15mm, if you don't mind softer corners wide-open, on film and FX. Shoot in the Nikon D3's 5:4 mode and you're good as wide as 13mm! It also works fine on my F4 film camera: I tried it on Fuji Velvia 50!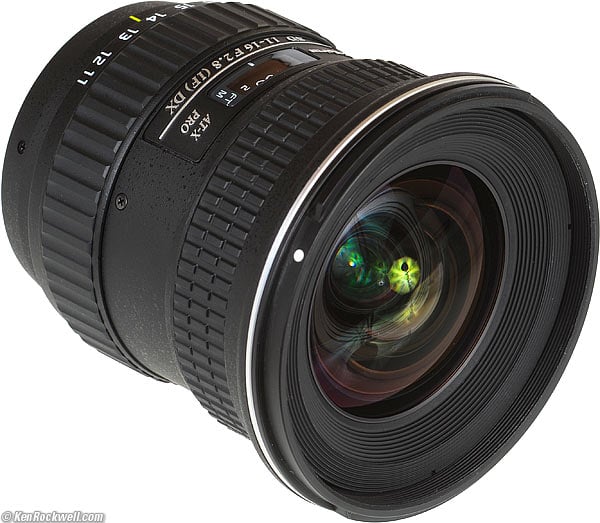 Tokina 11-16mm.
Specifications back to top
Intro Specs Performance Recommendations
Name
Tokina calls this the Tokina AT-X Pro SD 11-16mm f/2.8 (IF) DX.
AT-X: Tokina's best lenses: "Advanced Technology - Extra."
Pro: One may switch between auto and manual focus simply by pushing the focus ring forward or back.
SD: Super-low Dispersion glass, the same as Nikon's ED and Canon's UD.
IF: Internal Focusing. Nothing moves on the outside as you focus.
DX: Only works properly on DX, not FX or full-frame, formats.
Tokina's Model Number
AT-X 116 PRO DX.
Optics
13 elements in 11 groups. Aspherical element, multicoated.
Closest Focus
1 foot (0.3m).
Maximum Reproduction Ratio
1:11.6.
Diaphragm
9 blades stopping down to f/22.
Filter Thread
77mm, plastic.
Never moves with either zoom or focus.
Size
3.521" extension from flange by 3.313" diameter (89.43 x 84.15mm), measured in Nikon mount.
Tokina specifies 89.5 x 84mm.
Weight
19.315 oz. (547.5g), measured in Nikon mount. (Tokina specifies 570g.)
Case
None.
Hood
BH-77A, included.
Announced
16 November 2007.
Available
Since March 2008 in Japan, since June 2008 in USA.
Price, USA
May 2013: $569.
September 2012: $720.
July 2012: $600 on special.
November 2011: $720.
September 2011: $660.
April 2011: $660.
November 2010: $600.
April 2008: $570 US. 69,800 Yen (about $700 US) on the streets of Japan. (90,000 Yen list price.)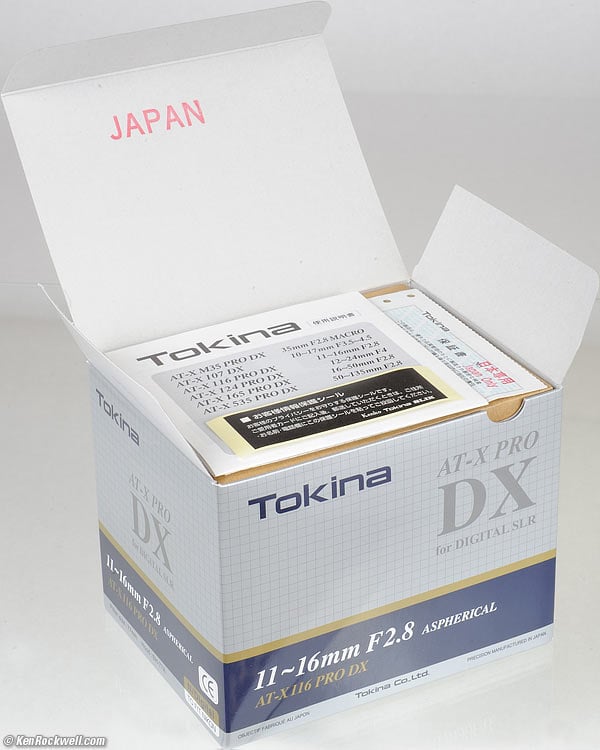 Tokina 11-16mm box, in Japan.
Performance back to top
Intro Specs Performance Recommendations
AF Color Distortion Exposure Filters
Flare Flash Color Fringes Caps Mechanics
Use on D3 Sharpness Sunstars Zooming
Compared to 12-24mm Compared to 14-24mm to all 14mm
Overall
Performance is excellent. It works and feels great. The zoom range is very limited, not a problem for ultra-wide aficionados like me since I usually only shoot this at 11mm.
Autofocus back to performance back to top
Compatibility
This Tokina 11-16mm is perfectly compatible with all the Nikon DSLRs on which I tried it (D70, D40, D200, D300 and D3), and probably all of them, period.
The only gotcha is that you must focus manually on the D40, D40x or D60, even though they still meter and expose perfectly. (The more expensive AF-S Nikon 12-24mm works perfectly with these newest cheap cameras.)
No problem; with the D40, D40x and D60, pull the focus ring towards you to get manual focus, then turn the focus ring and look for the focus confirmation dot. Focus is never critical with ultrawide lenses - the biggest problem is accidentally knocking it to the 1 foot setting and not noticing.
I also tried it on the F6, F100, F4, N75, N70 and N55. It worked perfectly, although you'll get black corners wider than 15mm. I actually shot Velvia in the F4; it works fine at 16mm.
Speed
Like all ultrawide lenses, autofocus is very fast. One full turn of the AF screw pulls focus from infinity to 3.5 feet (1.1m).
Manual Focus
Perfect. Just pull the focus ring towards you, with no need to move any switches on the lens or camera.
The focus ring rotates in the same direction as camera brand lenses.
Color Rendition back to performance back to top
This Tokina looks identical to my Nikkor 12-24mm.
Distortion back to performance back to top
It has barrel distortion at the shortest end, flattening out at the longer end.
The great news is that the distortion is very simple and easy to correct with Photoshop CS2's lens distortion filter. This is far better than my Nikon 12-24mm, whose complex distortion has always required fancier tools like DxO.
Plug these figures into Photoshop CS2's lens distortion filter to correct the distortion. These aren't facts or specifications, they are the results of my research that requires hours of photography and calculations on the resulting data.
| | | | | |
| --- | --- | --- | --- | --- |
| | | | | |
| 11mm | +4.3 | +4.0 | +6 | |
| 12mm | +3.2 | +4.0 | +5.5 | |
| 13mm | +3.0 | | +4.0 | +9.0** |
| 14mm | +2.2 | +2.0 | | +7.7* |
| 15mm | +1.0 | | | +5.5 |
| 16mm | +1.1 | +0.5 | +2.0 | +5.0 |
© 2008 KenRockwell.com
** Serious vignetting; OK if you're cropping to 5:4 or to a square.
* Slight vignetting.
Exposure Variation back to performance back to top
I get even exposures with my Nikkor 12-24mm at every setting.
With this Tokina 11-16mm, I seem to get lighter exposures at the longer end of the zoom range. No big deal, we all have different preferences. This is one of the things every photographer needs to set to his own liking on his own gear.
Falloff (darkened corners) back to performance back to top
I've never seen any falloff in real pictures made with this Tokina lens.
I've exaggerated the falloff by shooting a gray field and then placing these shots over a flat gray background.
| | | | |
| --- | --- | --- | --- |
| | f/2.8 | f/4 | f/5.6 |
| | | | |
| 13mm | | | |
| | | | |
Filters, use with back to performance back to top
On Nikon DX
Standard 77mm filters work great, so long as they are about 6.6mm or thinner (not counting the rear threads). My fat Tiffen filters work fine.
Nikon's own filters are already very thin, typically 4.8mm in 77mm size. The standard-thickness Hoya Super HMC 77mm UV is only 4.9mm thick, and also no problem at all with vignetting.
If you're on a budget, don't bother with expensive thin-mount filters. If you're loaded, go for it since it gets close at the widest setting.
My 7.2mm thick (extension from lens) traditional-mount circular Hoya polarizer and 7.0mm thick Tiffen rotating grad ND work fine, but you will lose just a tiny bit of the corners at small apertures. Zoom to 11.2mm or more and you're fine.
There is very little variation as you focus.
Avoid using a polarizer, because with lenses this wide you'll more likely get a dark band across your sky than a dark sky. This is because sky polarization differs as you look across the sky, and wide lenses see a huge swath of sky.
If you want to use two stacked thick filters (14.7mm thick, excluding rear threads), zoom to at least 13mm and you're fine.
On Canon 1.6x
You'll have no problems at all with one thick filter, even in a fat rotating mount, on Canon, since the smaller Canon sensor sees a slightly smaller area than Nikon DX.
On Film or FX
If you're a hacker using this lens on FX or film, forget filters: you'll get even more vignetting.
Flare and Ghosts back to performance back to top
The Tokina 11-16mm is just a tiny bit worse than the Nikon 12-24mm, if you compare them directly to each other.
Without the other for comparison, they are identical. I'd not know which was which shooting one at a time — except that the Tokina can have a distinctive sharp green line of flare which appears drawn from the light source towards the center of the image at 11mm.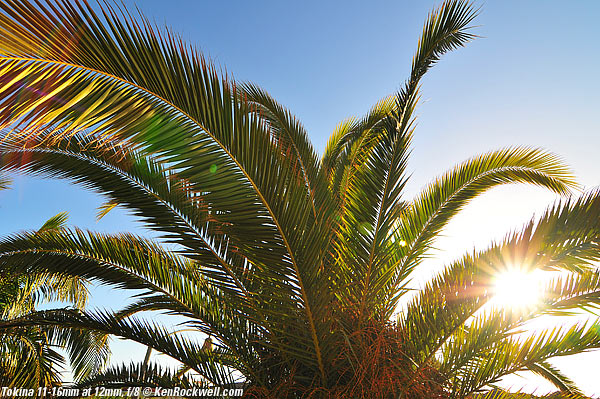 Ghost comparison at 12mm and f/8. Roll mouse over to compare.
I never use hoods. Like all lenses, judicious use of you left hand solves these problems if you can shade the sun.
If shooting into the sun without ghosts is important to you, the Nikkor is better, but I prefer the sunstars of this Tokina.
Flash back to performance back to top
Exposure
On my Nikon D300, the distance was properly coupled for correct fill-flash exposure. You can try this yourself by changing the focus from near to far, and you'll see the flash exposure of a close object reduces as you focus more closely.
Shadows
Look out: you're going to get a big, fat shadow on the bottom of your pictures if you use a built-in flash. This is because the camera casts a shadow, and this lens is so wide it can see down far enough to see the shadow.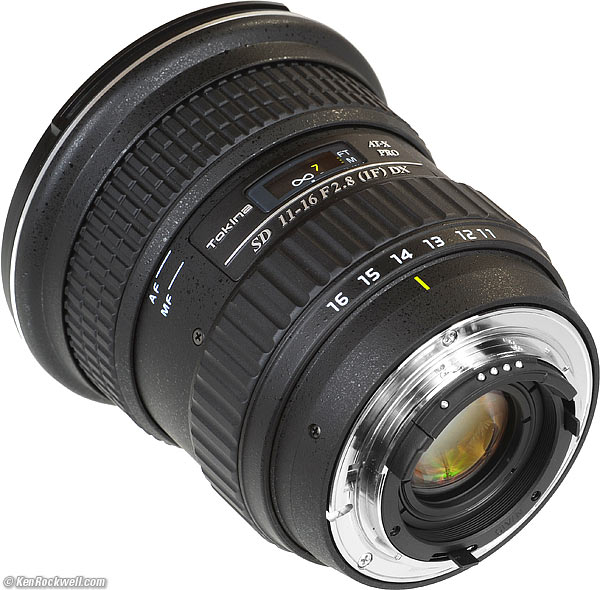 Tokina 11-16mm.
Lateral Color Fringes (secondary lateral chromatic aberration)
back to performance back to top
On a D300
None. The D300 corrects automatically.
On the D3
None. The D3 corrects automatically, in both DX and FX modes.
On a D200
There is very minor green-magenta fringing at all focal lengths. It is the same as the Nikkor 12-24mm.
The older (pre-2007 introduction) cameras can't correct this automatically.
Lens Caps back to performance back to top
The front cap is fine, but not as nice as an original Nikon. I'd use a real 77mm Nikon cap and save the Tokina cap for resale. You can see the Tokina front cap here.
The Tokina rear caps are usually pretty good, although the loaner I have showed up with a pretty crappy cap which I suspect isn't original Tokina. In any case, leave it in the box for resale and buy a real Nikon rear cap for $8. I use real Nikon caps for compatibility with the rest of my system, and to keep the originals clean for resale with the lens in 10 years. That's just me.
Mechanics back to performance back to top
Tokina's AT-X lenses are tough. Unlike the dinky Tamrons and dumpy Sigmas, Tokina's lenses feel like real lenses. They feel even tougher and seem to have more metal and meat than the Nikon 12-24mm.
Filter Threads and Hood Bayonet
Plastic.
Focus Ring
Metal, rubber covered.
Mid- and Aft-Barrel Exteriors
Plastic.
Focus Distance Window
Plastic.
Zoom Ring
Plastic.
Ass-Gasket (rear dust seal)
No.
Mount
Bright-chromed, seems like brass underneath.
The bright chrome feels weird sliding-in when mounting.
Nikon uses dull chrome.
Internals
Looks and feels like all metal.
Markings
Painted.
Identity Plate
Seems like raised and planed aluminum.
Graphics Color
Silver and white (not gold).
Serial Number
Sticker.
Made in
Japan.
Use on the D3 back to performance back to top
Auto-DX Image Size Switching
It doesn't work. You have to switch it manually in MENU > Shooting > Image size > DX.
Sorry, this Tokina lens is not designed by Nikon, not sold by Nikon and not supported by Nikon. This is one thing that doesn't work as it does with a genuine Nikon Nikkor lens.
Use in FX Format
Go right ahead and try it.
It works much better than it has any right to. Be sure to use it naked (no filter) to eliminate any vignetting.
These examples look worse than they are: I didn't hold the D3 perfectly level, so it exaggerates the distortion. The distortion corrects easily in Photoshop CS2's lens distortion filter
Crop these to a square and the vignetting becomes academic.
Sharpness back to performance back to top
The Tokina 11-16mm is the sharpest ultrawide I've ever used on a DX Nikon. It's sharper than my Nikkor 12-24mm!
Performance doesn't vary with focal length, which is unusual, and also makes it much simpler to describe.
On a D300
The Tokina 11-16mm is always sharp in the center, even wide-open.
The corners are softer at f/2.8, but not enough to notice in the situations in which I'd be shooting at f/2.8. I only can see it doing something stupid like shooting test charts at infinity in broad daylight at f/2.8.
The corners improve greatly at f/4, which is how this Tokina smokes the Nikon lens at f/4.
By f/5.6 the corners are perfect.
Compared to Nikkor 12-24mm f/4 AF-S DX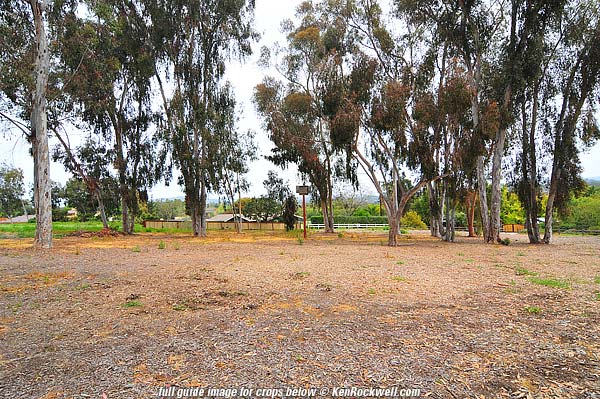 Guide Image at 12mm from which the crops below are taken.
Crops from 100% images as shot on my D300. If you printed the entire image at this high magnification, it would be 40" (1m) wide!
| | |
| --- | --- |
| Center | Center |
| Top Right Corner | Top Right Corner |
| Right | Right |
| Bottom Left Corner | Bottom Left Corner |
| Left | Left |
It's amazing how much sharper the Tokina is than the Nikkor. At the normal (smaller) apertures at which a smart person would shoot this, the differences become much more subtle. These were shot on a tripod, and I even left the Kenko UV filter on the loaned Tokina.
The amazing part is how much sharper the Tokina is everywhere. I wouldn't expect all the corners, near and far, to be so universally better, but they are.
The results were the same at 16mm, so I didn't bother to present them. The one shortcoming of the Tokina is its very limited zoom range: it only goes to 16mm.
The Tokina is equally sharp at other zoom settings. It's sharper still, especially in the corners, at f/5.6. It's softer in the corners at f/2.8, but so what, the Nikkor doesn't even go there, and when smart people use f/2.8 in dim light, the corners are black anyway.
The scary thing is that this isn't a fluke. This was repeatable on different days with different subjects.
It's remarkable how much better the Tokina is with real, 3D subjects at all points in the image. Normally when I do these comparisons I don't present examples because it's not as easy to show with just one example image.
Caveat: You'll see this only if you're printing really, really big and only shooting at large apertures! I went to great length to make these differences obvious in the examples above; I wouldn't see them in normal shooting.
Sunstars back to performance back to top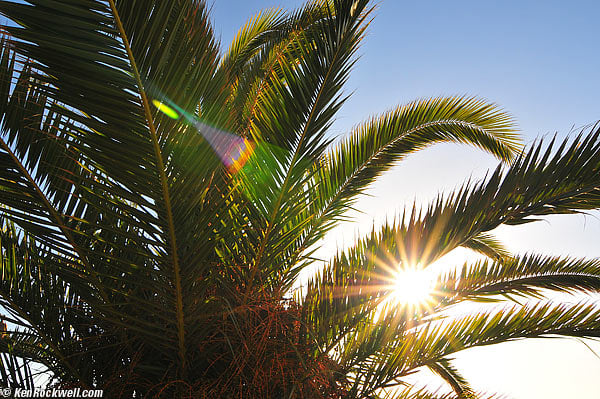 Tokina 11-16mm sunstar at 16mm, f/16.
Sunstars are star patterns that happen on brilliant points of light. They'll happen on the sun, or of light sources at night. They are caused by the diaphragm.
Since this Tokina 11-16mm has a 9-bladed diaphragm, you'll get magnificent 18-pointed sunstars. They are more pronounced as the light source gets brighter and as you stop down.
Zooming back to performance back to top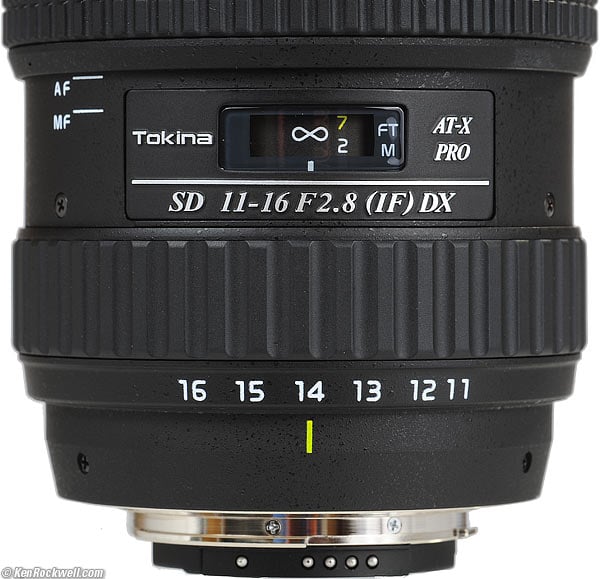 Tokina 11-16mm focus and zoom controls.
Ease of use
The Tokina is a joy to use. Its limited zoom range is well spread out on the zoom ring, making it easy to set precise composition. The short zoom range is calibrated at a lazy 6 cm/octave.
The zoom ring feels great, and since the zoom range is so limited, also easy to rack from one end to the other.
Zoom Range
The zoom range is so small you almost could consider this a fixed-focal length lens.
16mm is only 45% longer than 11mm. Geometrically (logarithmically or percentage-wise), 11-16mm is only half the zoom range of a 12-24mm lens. For some people, the range from 16mm to 24mm may be significant.
I compared the zoom range to full-frame lenses on my D3. Tokina is telling the truth: 11mm has the same field of view as my 14-24mm lens set to 17mm on my D3, and the 16mm end of the Tokina covers the same field as a 25mm lens on my D3.
Nikon cheats a little with their 12-24mm: the widest end of the 12-24mm really only covers the same as a 20mm lens on my D3. I have to set this Tokina to about 12.2mm to see the same as the Nikkor at its 12mm stop.
Each of these comparisons below was made on a tripod. I moved it back for the longer shots. Ignore shifts in color; the light is always changing.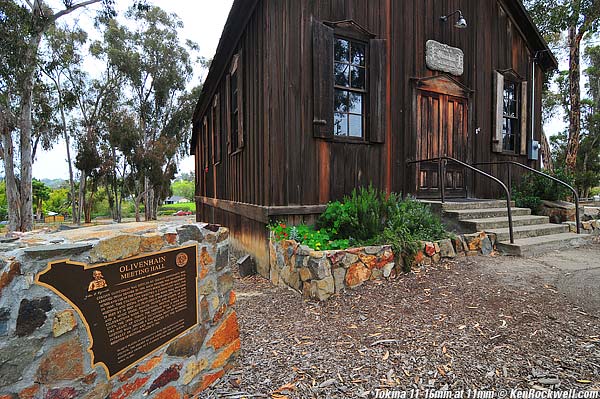 Widest field of view compared to Nikkor 12-24mm (mouse-over).
I could have exaggerated this difference if I had moved closer so that the composition didn't fit the Nikon.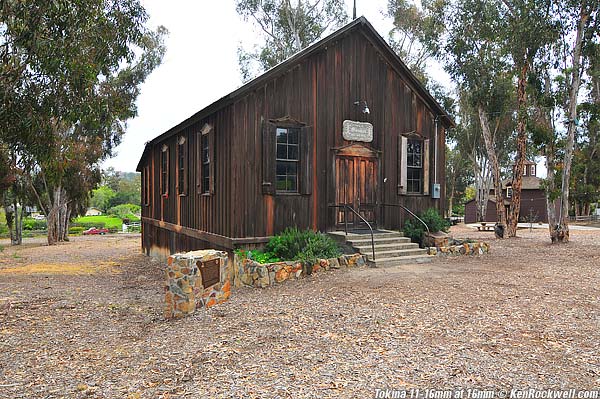 Narrowest field of view compared to Nikkor 12-24mm (mouse-over).
Yes, there is a 50% difference at the long end of each lens. This may be important to you.
Compared to the Nikon Nikkor 12-24mm f/4
back to performance back to top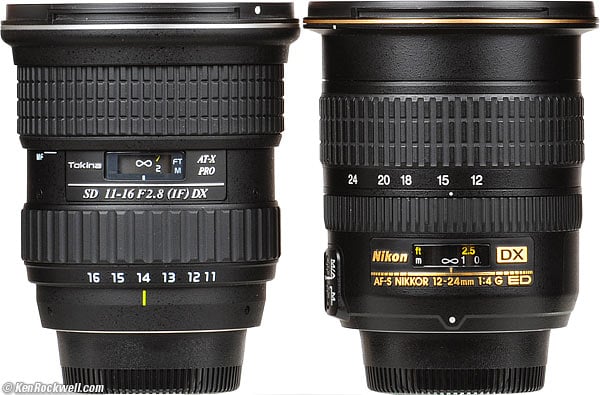 Tokina 11-16mm f/2.8 and Nikon Nikkor 12-24mm f/4.
I've been comparing this Tokina 11-16mm to the Nikon 12-24mm f/4 AF-S throughout this review. Here are some tallied summaries.
| | | |
| --- | --- | --- |
| | Tokina 11-16mm | |
| Distortion | Simple, easy to correct | Complex, difficult to correct |
| Sharpness | excellent | almost excellent |
| Wide end | wider | not quite as wide |
| Longer end | still wide (16mm) | near-normal (24mm) |
| Diaphragm | 9 blades | 7 blades |
| AF with cheapest DSLRs? | No | Yes |
| Zoom range | limited | ample |
| Low-light | f/2.8 | f/4 |
| Mechanics | Tough | Tough |
| Price (April 2008) | Not cheap | $915 |
Compared to the Nikon Nikkor 14-24mm f/2.8
back to performance back to top
This Tokina 11-16mm is a completely different lens from, and intended for completely different purposes than, the hulking, two-pound, $1,600 Nikon 14-24mm f/2.8. If you're considering this Tokina, it is highly unlikely you'd be considering the Nikon 14-24mm f/2.8 for the same task.
Because of this, I have made no reference to the 14-24mm f/2.8 anywhere else in this review.
The huge 14-24mm f/2.8 is for film and FX cameras. Used on a DX camera, the 14-24mm's zoom range is wasted. The 14-24mm f/2.8's zoom range starts about where the Tokina 11-16mm's zoom range ends!
Not only is the Tokina much smaller, it covers a far better zoom range for DX cameras and can take filters compared to the 14-24mm f/2.8.
As of April 2008, the 14-24mm f/2.8 is the lens I use most often for my crazy photography — but I shoot it on a full-frame Nikon D3.
I would never bring my 14-24mm f/2.8 when I shoot my D300. On my D300 I shoot my 12-24mm f/4 DX, or if I started from scratch today, I'd much rather use this Tokina 11-16mm than the huge 14-24mm f/2.8.
I'm not even considering price, which again says "get the Tokina!" over the $1,600 14-24mm f/2.8.
Differences
Tokina 11-16mm

Format
Size and Weight

Normal

HUGE!

Price (April 2008)

rational

$1,575

Zoom range on DX

ultra-wide

wide to normal


Zoom range on FX

doesn't zoom on FX

ultra-ultra-wide to wide


Wide end

11mm: ultra-wide on DX
(equiv. to 17mm on FX)

On DX: wide
(equiv. to 21mm on FX)
On FX: ultra-ultra wide
(14mm on FX)

Longer end

16mm

24mm

Use with filters?

Easy

No way José!

AF with cheapest DSLRs?

No

Yes

Mechanics

Tough

Tougher

Sharpness

excellent

beyond excellent
Similarities
| | | |
| --- | --- | --- |
| | Tokina 11-16mm | |
| Distortion | Simple, easy to correct | Simple, easy to correct |
| Diaphragm | 9 blades | 9 blades |
| Low-light | f/2.8 | f/2.8 |
Here's a weird truth: I compared this Tokina 11-16mm shot on a D300 to the 14-24mm shot on a D3 in FX mode, and the sharpness is the same except for the far corners wide-open!
What?
Simple: the D3 and D300 have the same resolution and the same sharpness when compared with perfect lenses. The 14-24mm is sharper in the far corners at f/2.8 on the D300 than the Tokina, however, the D3 doesn't have enough linear resolution to see the extra sharpness of the 14-24mm. They look the same when shot against each other this way (ignoring the last few millimeters of the corners) because we're really just comparing the limits of each camera, which are about the same.
Shooting the 14-24mm on the D3X will be another story.
back to performance back to top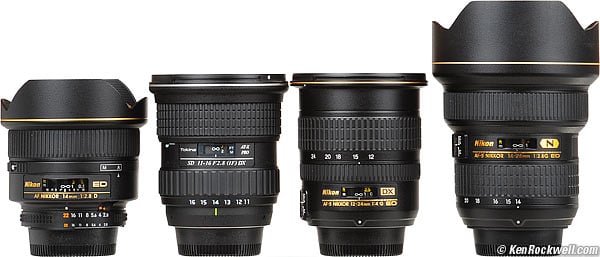 Nikon 14mm f/2.8, Tokina 11-16mm, 12-24mm f/4 and 14-24mm f/2.8. enlarge.
Let's compare the sharpness of the Tokina 11-16mm (DX only) to these:
Nikon 14-24mm f/2.8 AF-S ($1,600, FX and DX)
Nikon 14mm f/2.8 AF-D ($1,300, FX and DX)
12-24mm f/4 DX ($920, DX only)
There's no visible sharpness difference between these in real pictures.
If I use these lenses improperly in three different ways at the same time, I can exaggerate the differences enough to see.
Misuse #1: Shot at f/4 in broad daylight. At a normal daylight aperture, like f/8 or f/11, these differences go away.
Misuse #2: Showing only crops from large 40" (1m) wide images on the screen as if they were the only images that mattered. Would you ever print this big? If you did, would any reasonable person other than a hacker look at them this close?
Misuse #3: I'm showing only the far left edge. The centers of these images looked the same. Very few images have important details on the edges. Good photographers keep the details away from the edges to keep our eyes from wandering off the print!
I had to do all three things wrong at the same time in order to show this. If I only did two of these things wrong, all four lenses would look as sharp!
Here are crops from 100% images from the far left edge of my D300:
Yes, the Nikon 14-24mm f/2.8 AF-S is slightly sharper than the Tokina in this abusive test. I own the 14-24mm f/2.8, and no, I would not use my 14-24mm to shoot with my D300. The 14-24mm is too heavy, can't use filters and doesn't go as wide as the 11-16mm or 12-24mm f/4 DX. I'd make far better pictures, and save over a pound of weight, with the DX lenses because I can use filters and go wider.
Forget the Nikon 14mm f/2.8 AF-D for use on DX today. It is an excellent lens for film and FX, but has the same disadvantages as the 14-24mm f/2.8. I put it in here since I needed a fourth 14mm lens to fill in the squares above.
Recommendations back to top
Intro Specs Performance Recommendations
For Nikon, I'd get the newer Tokina 11-16mm f/2.8 II, since it's the same thing but more likely to be compatible with more cameras.
Thanks to a generous reader who loaned me this lens, which he bought in person in Japan, got my hands on this sample back in April 2008 before we could get it in the USA.
This Tokina 11-16mm lens sets a new standard for speed and sharpness in small-format digital SLR lenses. It's also the fastest ultrawide available for small format digital SLRs.
Its only disadvantages are the potential for incompatibility with present or future features of Canon and Nikon bodies, and the fact that its zoom range is so restricted that you almost should consider it a fixed-focal length lens.
I don't mind the limited zoom range. I almost always shoot these lenses stuck on their widest settings, and only shoot at the longer end when I'm too lazy to put on a longer lens.
Never worry about "missing" a few millimeters of range between this Tokina's longest 16mm and the 18mm common for most midrange zooms. Just walk forward or back half a step.
I'd order a Hoya Super HMC 77mm UV to protect this lens, which at only 4.9mm thick isn't a problem for vignetting on DX or Canon 1.6x. At about $53, it's the best UV filter of which I know at any price. Feel free to go whole-hog and spring $65 for the fancier Hoya Digital Multi-Coat 77mm Protector if you insist.
Nikon
If you're on a budget or if you want the sharpest ultra-wide lens for your DX Nikon, get this Tokina 11-16mm. It's better than the more expensive (and longer zoom range) Nikkor 12-24mm.
If you need autofocus on your D40, D40x or D60, you need either the Nikkor 12-24mm or the Sigma 10-20mm HSM. I wouldn't worry; AF isn't critical with ultra wide lenses.
If you want the sharpest results, use a Nikon D300 body.
If you really, really need sharpness, ditch your Nikon DX camera and step up to the superior full-frame Canon 5D for the same price as the D300. Use the excellent and inexpensive Canon 17-40mm f/4 L (or 16-35mm f/2.8 L II) on it. You'll get a larger zoom range and much higher sharpness for not much more money. The Nikon D3 and 14-24mm f/2.8 are as good technically as the 5D, but three times as expensive.
Canon
If you shoot Canon, get the Canon 10-22mm, since it doesn't cost much more and has a much wider and longer zoom range. I have not compared its sharpness, however the Canon's distortion control is superior.
How to get one
I'd order mine from Adorama (for Nikon) and Adorama (for Canon) and wait.
If you live in the USA as I do, don't try to jump the gun and find a gray-market or other import through screwy channels. Wait a few weeks and they may arrive as soon as May if we're lucky.
More Information: Tokina's press release (in Japanese).
Help me help you top
I support my growing family through this website, as crazy as it might seem.
The biggest help is when you use any of these links to Adorama, Amazon, eBay, B&H, Ritz, Calumet, J&R and ScanCafe when you get anything. It costs you nothing, and is this site's, and thus my family's, biggest source of support. eBay is always a gamble, but all the other places always have the best prices and service, which is why I've used them since before this website existed. I recommend them all personally.
If you find this page as helpful as a book you might have had to buy or a workshop you may have had to take, feel free to help me continue helping everyone.
If you've gotten your gear through one of my links or helped otherwise, you're family. It's great people like you who allow me to keep adding to this site full-time. Thanks!
If you haven't helped yet, please do, and consider helping me with a gift of $5.00.
As this page is copyrighted and formally registered, it is unlawful to make copies, especially in the form of printouts for personal use. If you wish to make a printout for personal use, you are granted one-time permission only if you PayPal me $5.00 per printout or part thereof. Thank you!
Thanks for reading!
Mr. & Mrs. Ken Rockwell, Ryan and Katie.
Home Donate New Search Gallery Reviews How-To Books Links Workshops About Contact