Home Donate Search Gallery How-To Books Links Workshops About Contact
May 2010's Updates
< back to the newest news
all © 2010 KenRockwell.com. All rights reserved.

12 May 2010, Wednesday
Help Wanted
NCPS is getting so busy that they need another film scanner technician.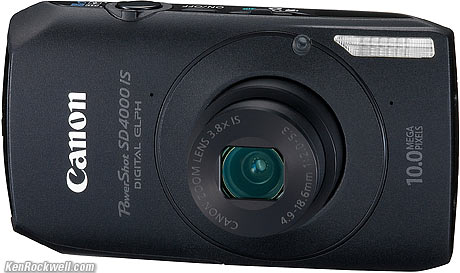 Canon SD4000.
NEW: Canon SD4000IS.
Canon's latest micro-compact.
10 May 2010, Monday
NEW: Why Fixed Lenses Take Better Pictures.
Why did it take me 40 years to figure this out?
08 May 2010, Saturday
Photo Book Deal
Ritz Pix is having a special on photo books. Use the secret code of KENROCKS25 and you should get an extra 25% off photo books.
Ritz Pix is a way you can upload photos, and pick them up right away at your local Ritz, Wolf, Kit's, Inkley's or Proex store. It sure beats inkjets.
A reader asked why I don't bother reviewing inkjet printers. Simple: they went obsolete around 2003. Ever since, I stick my memory card in the machine or upload to Costco, and I get real photos printed on real, light-sensitive, chemically dark-processed photo paper, as fast as I can.
Inkjet prints fade (Rockwell's law: if they have to tell you they're archival, that's because you know they aren't), and even if they were archival, they don't look anything like a real glossy print.
I use Costco because my wife's a member, so I get in free and they are close. There are a lot more Ritz stores than Costcos, so if one's local, try the Ritz Pix service. If you prefer, of course they'll mail you your prints.
No, I can't vouch for the printer at your local Ritz store, but all the Ritz' I've seen have $250,000 Fuji Frontier machines. You can't beat that quality with a $10,000 inkjet printer, much less a $1,000 inkjet printer.
LEICA M9 In Stock!
As I check this, the LEICA M9 is in stock at Amazon in black, for $6,995.
Even if you hate it, last I checked, they sell used on eBay for about $1,000 more, due to their scarcity.
I suspect these will sell-out fast.
07 May 2010, Friday
Secret Digital Nikonos
As you can see in the press release, our SEALs could be packing Nikonos SLRs modified to digital by Kodak for recon work.
Also note the nice clean pair of Canon IS binoculars in his hands.
Odd is that the Canon and Nikon logos are so clearly presented. Even I black-out my camera logos with black tape so I'm less visible, so I find it curious that this PR photo has guys in camouflage face paint, with perfectly clear logos. Even more curious is if these PR photos are pitching brand preference so clearly, then why would Canon and Nikon be on the same page?
Truth is stranger than fiction, but this is all a PR game. I have no idea what they're really trying to get across.
06 May 2010, Thursday
Canon vs Nikon
When Canon completely changed their lens mount from FD to EF in 1987, they completely screwed every pro who shot Canon, since they would have to rebuy everything all over again. When you're a pro, your investment is lenses, which stay the same as you update and replace bodies.
When Canon went autofocus, Canon's FD mount was a kludge. They trashed it, and started over from scratch. This begat the EF (Electronic Focus) lenses and the EOS (Electro-Optical System, also a subliminal cue for "Eros) mount, which we have today.
The designed-for AF and electronics Canon mount is superior to the Nikon F mount, which dates from 1959. Nikon's AF-S lenses, like Nikon's 24mm f/1.4, are only starting to get electromechanically where Canon was 20 years ago, because Canon started with a clean-sheet design for their new lens mount.
So how did Canon win the pro market in the 1990s?
Simple: even though Canon screwed pros in 1987 by trashing the FD mount, Canon wasn't a pro camera back then. Very few pros shot it. Duh, pros shot Nikon. Canon only lost the pro market when they went to the EOS mount, which they didn't have anyway.
Thus when pros finally accepted AF in the 1990s, Canon was way ahead of Nikon's klunky mechanical AF system, and Canon won away the bulk of the pro market, most of whom had never even shot the FD cameras.
By taking a big chance and redesigning their lens mount from scratch, Canon positioned itself to win back the market they never had. By owning the pro market, the hobbyists and the rest of the market follows.
Personally I prefer the Nikon AF system because it's a little slower, but more accurate a larger percentage of the time, but for news and sports, which is what digital and 35mm is all about, there's a reason Canon is so big.
RIP: Jim Marshall
Jim Marshall passed away on 24 March, 2010. Jim was best known for his decades of work gracing the Rolling Stone.
Canon 5D Mark II Noise
While much cleaner than any 35mm film, now that I've been piddling with the 5D Mark II, amazing is that it's got visible noise. The old 5D never did, nor does the Nikon D3. These other full-frame cameras always look delicious at normal ISOs, while the 5D Mark II has a noise character more like a D300.
Sadly as expected, adding more pixels to have to share the same light means more noise.
I was wondering if I really was seeing noise in the shadows of the 5D Mark II at ISO 200 in broad daylight, and yes, I do. Worse, darker details get smeared.
If you shoot with D+ (highlight recovery, or "Highlight Tone Priority" in Japanese, MENU > CFNs > C.Fn II: Image > 3), then you start at ISO 200 in broad daylight. At ISO 200, you've got noise.
Force the 5D Mark II to ISO 50, and the noise goes away. It's worse at ISO 100, as expected.
Oddly, the High ISO Noise Reduction menu option (MENU > CFNs > C.Fn II: Image > 2 High ISO NR) applies to all ISOs.
So yes, turning that NR option off or on has a small effect on shadow noise, but for every improvement in noise, it also smudges over shadow details.
Here's an experiment for you: go shoot a nice sunny scene with some part of the image as foliage or textured concrete in shade, and a flat darker mid-toned area. Shoot at ISO 50, 100 and 200, and try it with NR set to Standard and to Disable.
I see differences at each ISO.
With NR Enabled, I see less noise, but the details in darker foliage or concrete are smudged over! Even when set to Disable, NR is still working, and smudges shadow details at higher ISOs more than it does at lower ISOs.
Automatic Lighting Optimizer (MENU > CFNs > C.Fn II: Image > 4) doesn't change the noise, but it can lighten the shadows which will make the noise more obvious. Likewise, Highlight tone priority (D+) doesn't increase the noise, but it defaults to a minimum ISO of ISO 200, which is much noisier than ISO 100 or ISO 50.
The difference in the shadows between ISO 50 and ISO 200 is remarkable. ISO 200 looks fine, until you see what the 5D Mark II does at ISO 50. Once you've seen them both, it's like a blurry veil has been lifted from the shadows at ISO 50. At ISO 200, the shadows, even with NR OFF, still have NR blurring applied to them, while at ISO 50, they are suddenly filled with clean detail that was missing at ISO 200. ISO 50 lets you hit the sensor with four times as much light as ISO 200, which fills the shadows with clean detail.
Shooting the 5D Mark II at ISO 50 versus ISO 200 is like suddenly getting a larger-format camera: it's just cleaner and clearer.
The moral of this story? Shoot at ISO 50 with NR Disabled for the technically best results. Leave the Automatic Lighting Optimizer ON; it doesn't affect the noise but gives better pictures in bad light.
Now someone in the back has his hand up asking "But doesn't ISO 50 lose highlight detail?" Go try for yourself, I see little to no difference, and in fact, for what highlight detail you may lose, you get it back with higher highlight contrast. If you know How to Get Great Highlights and Shadows, it doesn't matter.
The super-high resolution of the 5D Mark II demands the best lenses. Since it has none of Nikon's ability to correct lateral color fringes, you'll see even more limitations of your lens' designs. If you're shooting normal or wide zooms, except for the 24-105 L, go try a 50mm f/1.8 and see what you've been missing. Can your zoom do this? (a 7MB JPG directly from the camera.) The 50/1.8 is worlds better than the 24-70mm f/2.8 L, if you're looking too closely.
DEAL: Adorama's Slinger Bag for $29.95.
This bag is a classic; the immortal Herbert Keppler wrote it up; heck, I think he may have helped design it!
05 May 2010, Wednesday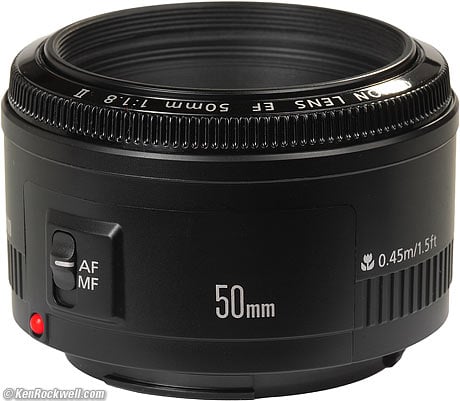 Canon 50mm f/1.8.
NEW: Canon 50mm f/1.8 Review.
Canon's cheapest lens is one of their best!
5D Mark II and 50/1.8 II in no light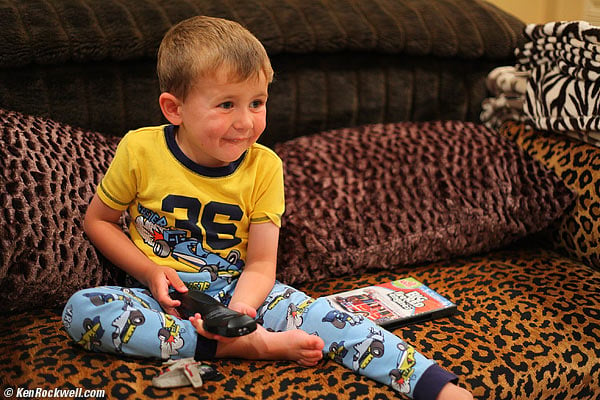 Ryan Changing Batteries. D-size.
I shot this with a Canon 5D Mark II, the Canon 50mm f/1.8 II, ambient tungsten light, f/1.8 at 1/40 hand-held, A3 2,500K WB, Standard picture with +2 saturation, shadow tweak turned on, ISO 1,600.
In case you were nosy, I ordered a Canon 50mm f/1.8 II in my overnight order yesterday.
Playing with it in the dark on a Canon 5D Mark II, I now realize why Canon's smallest lens is its biggest secret. It works GREAT!
In fact, this $99 plastic lens gives sharper results than the 50mm f/1.4 USM I've used, especially in no light. The f/1.4 is soft at f/1.4, and worse, I rarely get in-focus results with it.
The 50mm f/1.8 II weighs less, costs less, and is sharper in practice because it autofocuses more accurately.
Do what you want to try to hate the plastic-mount made-in-Malaysia 50mm f/1.8 II, but when you look at the images, you'll be convinced.
Also impressive was how I managed to get great color right out of the 5D Mk II in dim home lighting. I set 2,500K WB and +2 saturation in its Standard picture mode, and Bingo!, what you see is exactly what came out of the camera as a JPG.
I could never have made this shot with Canon's 24-105mm L IS because it's only f/4. At f/4 instead of f/1.8, I would have needed grainy ISO 8,000, or a 1/8 second shutter speed for which Ryan would not have held still.
In cars, there's no replacement for displacement, and in low-light photography of things that move, there's no replacement for fast lenses.
04 May 2010, Tuesday
Wow — Fast Shipping!
I placed an order at 5PM last night (New York time), selected overnight shipping, and lo and behold, my new gear was on my doorstep this morning here in California, 3,000 miles away.
Goodness gracious!
Apparently, if you get your order in by about 5PM, Adorama is still picking and packing, and the big UPS trucks are still making pickups, so the next day, your stuff can arrive. I'm told 5PM is about the cutoff.
Of course the earlier in the day the better, but if you push it as I did yesterday afternoon, my stuff's already here!
As soon as I move my family back into my mom's basement on Long Island, regular UPS is usually next day, but out here in California, I had to pay for next-day service. I'm just kidding, but NY is sure more convenient for all the gear I have to ship and return than California (all the stores and US offices on Canon, Nikon and etc. are al within about 5 miles of my mom's house!)
I'm amazed. I go to bed, and almost as soon as I get up, it's here already. Wow!
Contax 645 Sighting
I somehow saw part of a poker competition on NBC TV (has network TV really come this far — down?), and one of the interstitial pieces showed a proof-sheet of head shots.
I recognized it instantly: looking at the edge numbers, they were from Fuji Velvia ("RVP"), along with the shooting data imprinted by the Contax 645.
Of course those frames most likely weren't really how the head shots were shot, but simply used as a graphic device by the designers to add an air of authenticity to the graphics.
I don't watch TV, but in any case, it's the first broadcast I've seen of the edge imprints from a Contax 645, which is still a very popular camera in the studio for both film and high-end digital.
03 May 2010, Monday
Amazing Raw Converter
I never realized it, but Apple's free Preview application (on all Macs) not only opens most raw files; if you go to TOOLS, you can edit, resize and save changes to them!
I'm not even mentioning Apple's iPhoto, which pretty much can do everything Photoshop can do, also usually free.
That all said, I'm looking forward to playing with CS5, one of the few pieces of software I will review.
Polaroid Never Left
If you're in Phoenix
Don't miss the Ansel Adams exhibit at the Phoenix Art Museum.
Especially don't miss the pages in a display case showing, among other things, a two-page list of the topics covered in a two-week photography class Ansel gave.
The first nine days out of ten covered what really matters, like composition, previsualizing, framing images by looking through rectangular cut-outs in cardboard, and so forth.
Only on the last day did some discussion come in on some technical items.
Today, with all the automation available, this should be cut down to a few minutes out of a few weeks.
Let's face it: people are too hung up on technology for its own sake, especially today.
When I teach, I only need to spend about 10 minutes covering white balance and exposure compensation (the basics of running a camera), and you're all set. The rest of the technical stuff about which too many people waste too much time should even be imagined until you've mastered the seeing part of photography.
Once-in-a-Lifetime Photo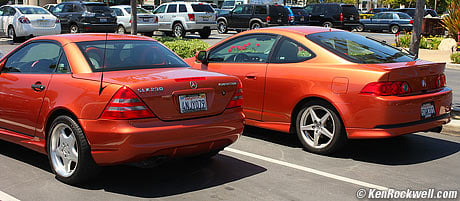 Do you see anything odd here? bigger.
Call me weird, but when was the last time since the 1960s that you saw two different cars from two different continents (Mercedes and Honda) parked next to each other that were matching metallic orange?
Always carry a camera. (Shot with 5D Mark II and Canon 50/2.5).
Nik Summit: 13-16 May 2010
For those of you looking for an excuse to come to San Diego, check out the Nik Summit.
It's $600, and includes a lot of field sessions with big-name photographers (not me), here in sunny San Diego.
Lexar 600x 32GB CF Cards
My goodness, I just got one of the newest Lexar 600x 32GB CF cards to try, and it really works!
I have no idea why you'd want 32GB on a card, but I don't shoot video, either.
In any case, the 600x 32GB card works smashingly well in a 5D Mark II, storing about 10,000 LARGE NORMAL JPGs, and with the high-speed in a firewire reader, downloads much faster than any SD card.
10,000 shots means about ten full battery charges. It would take anyone quite a while to shoot that much; you could shoot for a year with that card if you really wanted to procrastinate about downloading.
Canon 5D Mark II: Reborn!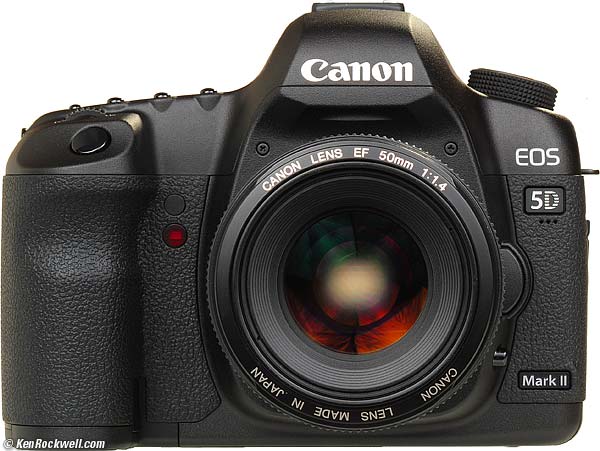 Canon 5D Mark II and 50mm f/1.4 USM.
Aha!
Enough has finally come together for me to love the 5D Mark II.
When it came out in 2008, I wasn't that excited because it still carried a lot of 5D ergonomic baggage, and for crying out loud, the menus took a few moments to respond to inputs, and the viewfinder display LCD actually had a delay in responding to manual aperture changes. This drove me crazy.
When it tried a 5D Mark II in December 2008 when they first shipped, the AF system, when used with the 50mm f/1.4 USM wasn't good enough to get the quality I take for granted with the Nikon D3 and old 50mm f/1.4 AF-D. My low-light shots of Ryan's 2nd birthday on the 5D Mk II were out of focus enough to be too soft, so I never even published them. Thus, I didn't give the 5D Mark II much attention.
Today, with the newest 2.0.4 firmware, Canon quietly worked out the bugs in the user interface, so the rear and finder LCDs now respond instantly to inputs. Yay!
I don't know that the AF at f/1.4 with the EF 50mm is any more accurate for wiggly kids, but I do know that the AF is dead-nuts on with the Canon EF Compact-Macro 50mm f/2.5.
The 5D Mark II, with that 50mm f/2.5, works like a champ. f/2.5 is faster than any Canon or Nikon SLR zoom, ever, and at ISO 3,200, works fine in daylight or dim light. f/2.5 gives a lot more depth-of-field than f/1.4, too, and the Canon 50/2.5 weighs next to nothing, and focuses super-close, super-fast.
The 5D Mark II and 50/2.5 is about the only lens I might need for anything, and on the 5D Mark II, probably outperforms the LEICA M9. The last time I did a run-off, I used the EF 50mm f/1.4 versus a 1964 LEICA SUMMILUX; armed with this EF 50mm Macro, the 5D Mark II ought to be as good as the LEICA M9. (at 28mm LEICA still wins, but that's another story until Canon's wide lenses catch up.)
Another Aha! is that the 5D Mark II weighs so much less than a D3, or even much less than the Nikon D700, and has about as many pixels as both Nikons combined.
Hmmm, the 5D Mark II is starting to look like a real winner! No wonder it's so popular.
Another big tip is that I turned off the automatic LCD brightness control. That Auto control is nice because it turns it up in direct sunlight, and turns it way down at night, so in those special conditions it shines, but most of the time, it's always varying up and down and driving me nuts.
By fixing the brightness, it's a whole 'nother camera: better!
I set the MY MENU Menu to include LCD brightness, so in direct sunlight I can turn it up to BURN and see it clearly, and shooting at night, I can turn it down so my exposures look right. Whoo hoo!
Looks like I'll have to be writing a 5D Mark II guide one of these days.
Now if someone could only petition Canon to let the scroll wheel and zoom controls work on Image Review without requiting us to hit the PLAY button first, we'd really have a winner. In any case, the fact that the full-frame 21MP 5D Mark II weighs less than even a Nikon D300 makes it a very powerful tool for outdoor nature, landscape and travel photos — but you Canon shooters have known that for years. Heck, even the old 5D outperforms the image quality of the D3 and D700; I showed that a year ago.
The only technically distressing thing is if I have both D+ Highlight-fixing turned on at the same time as shadow optimization. If I do, it brings up noise in the shadows, even in broad daylight, just like the small-format Nikon D300. I never see that on my D3.
A key to this is that the Canon 50mm f/2.5 Macro is so good that it really lets the 5D Mark II make use of all its resolution. You need a very good lens to excite all 22MP.
Also the three dedicated camera-state memories of the 5D Marl II (the C1, C2 and C3 positions of the dial) are fantastic. UNlike Nikon's bogus Settings and Shootings memory banks, each of which remembers 45% of the cameras settings, the C1, C2 and C3 positions on the 5D Mark II remember everything.
Having kids now, I want one setting for them, and another for landscapes. I'll be out shooting, and suddenly need a kid picture. These C settings let me save everything: resolution, file types, focus modes, white balance settings, color parameters, nd they all change instantly as I dial one. The 5D Mark II even saves every setting of every color profile together as each of those C settings, so if you have a bunch of different portrait profiles and different landscape profiles, each all come up as fast as you can twist the knob.
On my Nikons, it takes twelve button pushes to swap both the settings bank and the shooting bank, and there are still 10% of the settings not recalled that have to be set manually, so it's a pain photographing family and scenic stuff at the same time.
For Sale: The Tools of a Pro.
My pal, humanitarian photojournalist Karl Grobl, the guy who suggested I start this website back in 1999, is selling the gear he has used for the past six years.
Sure, it works great after all this real pro use, but the reason to get it is more to own a piece of history and support Karl's humanitarian work than just to buy another professional camera system. Karl's cameras have been everywhere.
These tools have raised untold amounts of funds for humanitarian causes around the globe; their karmic value is unimaginable.
01 May 2010, Lei Day (my 5th Anniversary)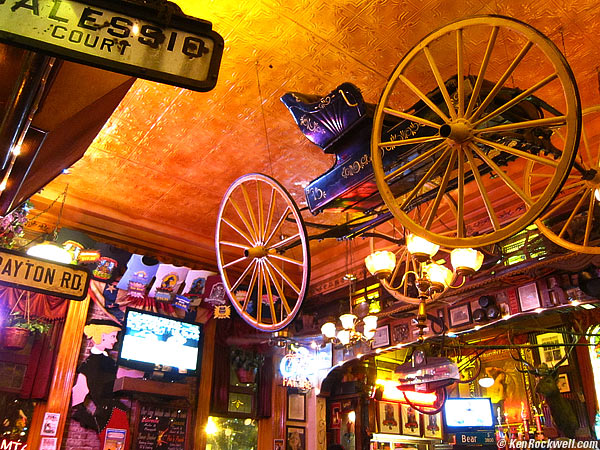 Chico, California, 19 April 2010.
NEW: Photos from California's Gold Country.
What I did last week, along with lots of "How I Did It" for those who asked.
What Was New in:
Help me help you
I support my growing family through this website, as crazy as it might seem.
If you find this as helpful as a book you might have had to buy or a workshop you may have had to take, feel free to help me continue helping everyone.
If you've gotten your gear through one of my links or helped otherwise, you're family. It's great people like you who allow me to keep adding to this site full-time. Thanks!
If you haven't helped yet, please do, and consider helping me with a gift of $5.00.
The biggest help is to use these links to Adorama, Amazon, Calumet, Ritz, J&R and when you get your goodies. It costs you nothing and is a huge help to me. eBay is always a gamble, but all the other places have the best prices and service, which is why I've used them since before this website existed. I recommend them all personally.
Thanks for reading!
Ken
Home Donate New Search Gallery How-To Books Links Workshops About Contact