Home Donate Search Gallery How-To Books Links Workshops About Contact
April 2010's Updates
< < Today's News RSS: live daily
all © 2010 KenRockwell.com. All rights reserved.

30 April 2010, Save the Frogs Day
2010 Save the Frogs Day is today!
Without red-eyed tree frogs, what would we shoot in Costa Rica?
RSS Feeders
Sorry, but I have no idea why some of you can't get the link to DuChemin's eBooks to work.
They work swell from my website.
Heck, I have no idea how anything in my RSS feed works at all, it's only by the grace of God that it works, since someone wrote it for me to take everything from this HTML page and recombobulate it automatically to go out as RSS.
Jed Clampett knows more about this HTML wizardry than I do.
29 April 2010, Thursday
Canon EF 50mm f/2.5 Compact-Macro.
NEW: Canon 50mm Macro Review.
As expected, one of Canon's oldest and least expensive 50mm lenses is also optically their best.
NEW: David DuChemin has a new eBook: Vision is Better.
I'm told if you get 5 or more titles and use the secret code ROCKWELL that you'll get 20% off.
28 April 2010, Wednesday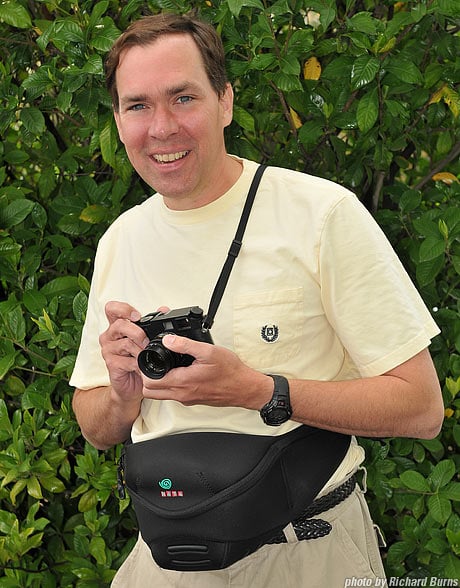 Me in Chico last Tuesday with a camera and four lenses. Photo by the amazing Richard Burns.

NEW: Assembling a System.

How to take as little as possible to accomplish as much as possible.

Look at that little camera! I forgot how tiny it is compared the the DSLRs I shoot at home and in the studio.

MacBook Pro Review

I'm glad when I asked yesterday that 90% of you said "No, thanks" to me wasting time on a computer review.

I'm impressed at how many of you saw things as I do: Macs just go, which is why we use them. There isn't anything to say, except maybe a new feature or two, but the hardware is irrelevant. We expect brilliance, and we take it for granted with Mac so we can get other stuff done, like this website.

Contrast this to multi-billion-dollar corporations which use windows, and therefore are so screwed up that they even can screw-up something as brilliantly simple as an iPod download.

My wife works for one of these huge corporations, and she's been on the phone since 2:30AM today trying to get some specialized (retard) application her company has tried to jock-strap to work in an iPod.

I'm astounded: how on Earth could they have made something which is designed to be automatic, like iPod application downloads, not work?

I suspect her company is trying some screwy work-around outside the App Store, but whatever it is, I'm saddened that huge corporations are able to waste so much of their employee's time on BS, while if they had just used Mac, that my wife, and their tech support in India, could have been working on something productive instead of babysitting some retarded download all last night.

Heck, she was screwing with this last night before we went to bed, got up at 2:30 AM to babysit it, was up all night, and as of 8:15AM when she had to go out to bring a better life to customers, it was still downloading after numerous attempts at work-arounds!

My wife is one of the smarter people there. Her less-abled colleagues got up this morning and are all still sitting at home jacking with this today, instead of being out working.

Truer than true, as I'm writing this, an automatic update of iTunes started itself on my Mac, and just worked all by itself.

Heck, the iPhone and iPod apps written for me by Deepwell automatically update whenever we write an improvement for them, too.

Just how does a multi-billion-dollar company screw up an iPod? I really don't want to know, but this is the garbage up with which windows users put. So what if a windows laptop costs $5 less, when some weeks it wastes 8 hours of your time?

So that's my MacBook Pro review. We know it just works, so we can get things done. With Apple, it's just like LEICA's statement: it's all about the user experiance, and not about the hardware.

Old Film

I just had a look at my TMY400 negatives from yesterday.

An advantage of having them scanned as they are developed at NCPS is that I had already published them from the scans before I bothered to look at the actual negatives.

Yes, as suspected, the film was given to me at the bottom of an old camera bag, and unlike my old film which lives in the freezer, this film probably came from Africa, and is very well fogged.

That's why the shadows look so dull and the grain is so bad. Most of my ASA 400 film looks grainy in 35mm, but this film fogged the shadows. With scans, it's easy to use levels and curves to restore the shadows, but I was too lazy.

27 April 2010, Tuesday

Kodak TMY400

I just looked at what came out of an old roll of Kodak 400 B&W film I shot last Saturday of my kids. I had shot the first 28 shots on the Gold Country tour, and shot the rest of the roll of my kids before I dropped it off for processing yesterday.

Of the 11 shots I made on the last 8 frames of film (36 exposures - the 28 I had shot = 8 frames left), I published 10 on my kid's websites (Katie and Ryan, look under April 24th), and frames 37, 38 and 39 came out just swell.

10 publishable frames out of 8 frames available. I can't do that on digital, but at ISO 400, digital doesn't have grains the size of Texas, either. That old Kodak TMY400 was awful, and the new finer-grained TMY400 isn't much better.

Digital makes us forget that with film, there is always noise or grain, even at ISO 50, so at ISO 400, it's a grainstorm.

I'm impressed. I never thought that anything would come out, photographing wiggly kids. Even the worst frame I didn't publish was fine; it was simply a weaker image that was better in a different frame.

I have no idea how old was this film, which I found at the bottom of a camera bag.

ASA 400 film has always looked horrible in 35mm. This is wy people shot medium and large-format, or slower films. Today, people shoot ISO 400 film in 35mm for deliberate grain effects. My D40 makes images a zillion times cleaner at ISO 400; that;s what digital is all about.

NEW: Canon AE-1 Program Digital!

See spy photos here, here, here and here.

Bravo!

Use your flash

I just got back from picking up my film at NCPS (sorry if this is starting to sound as foolish as facebook), and one of the two girls who scan all our film, Marsha, asked me to suggest to all you people that when you photograph in backlight, that you consider popping up your flash.

I do this instinctively, but sadly, many people still forget that cameras can't see into shadows as well as our eyes do.

By popping up your flash in backlight, your subjects will be vividly well exposed, instead of becoming dark blobs.

I keep suggesting this, but Marsha thought since so many people still forget, that maybe I ought to mention it again. When people forget, it makes it tough for Marsha to get you the picture qualty you expect.

At least with every Nikon SLR and DSLR made in the past 20 years, everything automatically just works great. Hit the zig-zag arrow (flash) button, and you get better results instantly than putzing with HDR.

Scan Cafe

I'm still looking forward to sending some film to ScanCafe for scanning.

ScanCafe is a service that should do excellent scanning at a very low price, but takes a while to do it.

One incentive I have to get them some film is that their prices are increasing slightly as of May 10th.

ScanCafe is excellent for sending boxes and boxes of images for scanning, since they do take a while for turn-around.

This comes to mind since I'm heading out to pick up my film from last week's Gold Country trip from my local lab, NCPS, who turns all this around in a day. I drop my film at NCPS, and go back a few hours later with my film both developed and scanned.

With ScanCafe, they are as close as my mailbox, saving me the trip, but they don't do developing.

I want to try ScanCafe as another alternative for my archives which have never been scanned, and for which I don't mind waiting.

ScanCafe can scan everything from 110, APS and 35mm through medium-format, and soon will be scanning large-format as well.

I thought they were strictly a budget-based service, but no. They currently do scanning for some large archives and catalog operations whom they've chosen not to make public, too. They have a huge professional following.

Better; even though the price increase takes effect May 10th, that means that so long as you enter your order online before May 10th, that it doesn't really matter when you send your film to them.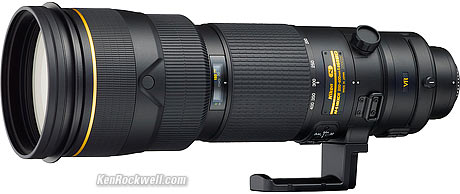 Nikon 200-400mm VR II.
NEW: Nikon 200-400mm VR II.
It's the same thing as last year's 200-400mm VR, with a slightly improved VR system.
The 200-400mm VR has always been a very popular lens, based on dollar volume.
26 April 2010, Monday
Yosemite in Spring!
Thanks to the greater-than-normal snowfall this winter, the waterfalls in Yosemite are flowing like crazy, and I just learned that award-winning leader, author and photographer Dave Wyman is leading a photo tour from Monday, May 10th through Thursday, May 13th, 2010.
Most of Yosemite's wildflowers don't pop out until late summer. What you'll have in May are intense greens, granite cliffs, reflecting pools, and waterfalls and rainbows out to !
Register with Dave Wyman, also at (323) 939-2586.
In case you were curious about Dave, he's the author of at least three books about travel and photography (Yosemite in Photographs, Backroads of Northern California and Backroads of Southern California, all so popular they've sold out), and if you want to know what he's done this month, he just won a fat cash prize in a very popular photo contest — shot on his iPhone!
Dave has been leading outdoor trips for decades.
Sadly I just had a schedule conflict, so rats, at this point, it looks like I won't be able to make it. Darn!, but you still can.
Gold Country Trip
I just got back, and my film is waiting for me at the lab.
In case you wanted to see me in action (perish the thought), here's a snap Dave grabbed last week. Do I look like a hoodlum or what? I'm wearing a watch cap my grandparents brought back for me from a Trip to Norway years ago, and I wish I could find something else as warm in case I lose it. I haven't been to Norway to shop.
Anyway, if I used a black camera body and painted my face black, I would have been invisible.
I'm even holding all my gear (three more lenses, film, filters, batteries, cable release, etc.) in a tiny bag around my waist that is invisible.
24 April 2010, Saturday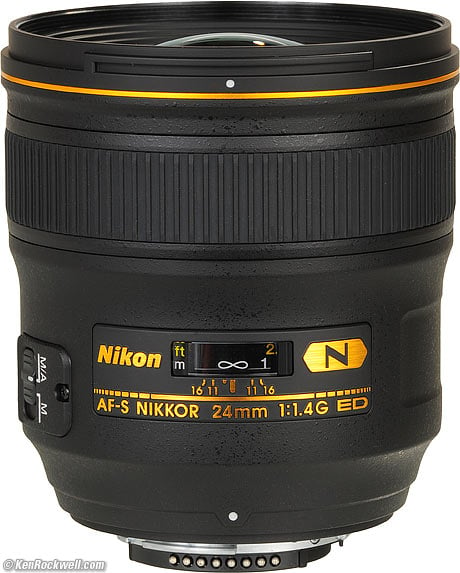 Nikon 24mm f/1.4.
NEW: Nikon 24mm f/1.4 Review.
I got one to run through the lab, and it's awesome, eclipsing both Nikon's 28mm f/1.4 AF-D as well as LEICA's $6,000 24mm f/1.4 SUMMILUX. In actual practice, it also smokes Canon's 24mm f/1.4 L II.
Although Nikon seems to have given up on DSLRs (Nikon has introduced no new DSLRs this decade), it's great to see Nikon reenter the pro field with something that matters, like this professional lens that lets us shoot hand-held in any light.
Whoo hoo!
23 April 2010, Friday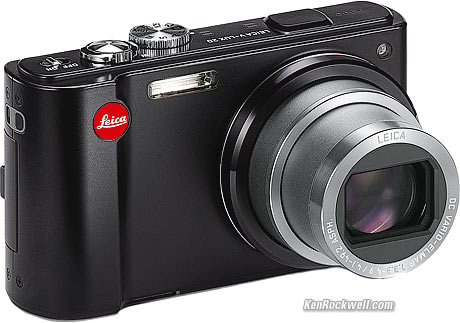 LEICA V-LUX-20.
NEW: LEICA V-LUX 20, which seems to be the Panasonic DMC-ZS7 with a LEICA sticker.
LEICA isn't about photography. To quote LEICA's promotional material:
"Leica represents a union of craftsmanship, technology and experience. It is at once an extension of art, knowledge and philosophy, providing a state-of-the-art optical experience in a precision, hand-made photographic instrument. Leica Camera has a simple mission: to provide users with an incomparable experience, an instrument that defines an unsurpassed heritage and sets a standard of excellence for the industry to meet."
Photography hasn't been the issue since the 1960s. Today, LEICA is an experience, not a camera.
22 April 2010, Thursday
Filters for the Nikon 14-24mm?
I doubt this really works at 14mm for full frame, making it a waste of time, but check out this gizmo from Lee.
Also beware: these filter holders don't shield the back of the filter, although this one tries, so you'll get reflections from behind yourself.
Observed: How much fits in a four-pound bag?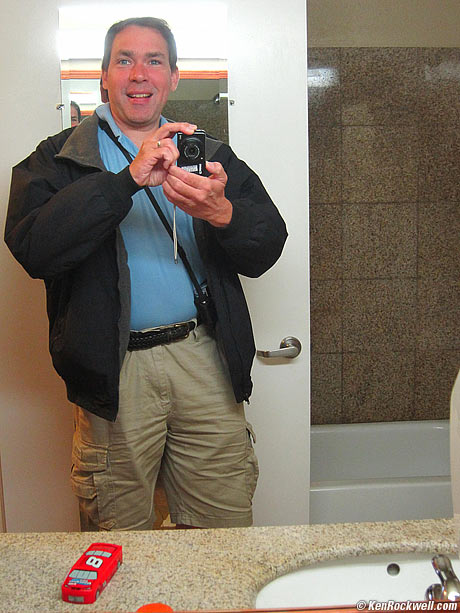 7AM this morning, room 222 at the Best Western.
When I don't update this page for a few days it usually means that I'm off in a corner working on an interesting article, but in this case, I just returned from Dave Wyman's spectacular tour of California's Gold Country.
All I brought was a camera body and a few small prime lenses, and I was set. The camera and four lenses only weighed 1,572g (55 ounces or 3.5 pounds). My entire outfit weighed the same as a Nikon D3 body with no lenses!
It all fit in my tiny waist bag, and not only was I set for anything and everything, it rode around my waist everywhere we went. I never missed anything because I left it back at at the motel or in the van when out exploring. The camera and lens itself was small, so it vanished around my neck all day, leaving the bag only carrying three extra lenses, usually weighing about 700g (25 oz. or 1.6 pounds).
I confirmed what I had expected: when I bring a bigger bag, like the excellent but still too big Think Tank Speed Demon, I always fill it up with things I won't need.
Stuff always expands to fill the space you have in your bag. Unlike air, as your gear expands to fit a bigger bag, it gets much heavier.
In my case, I used a small neoprene runner's bag, and it simply wouldn't hold any more stuff. (OK, it might have, but I didn't want to overload it.)
Because I had to slim down what I took to fit the tiny bag, I had a grand time carrying so little.
You can't fit ten pounds of gear in a four-pound bag, so all I brought was 3.5 pounds of gear. Whoo hoo!
I've learned that using smaller bags forces me to make the choices of what I'm going to cary before I leave, making the trip far more successful than bringing a bigger bag of stuff, and having to carry it all over the place all day.
In the snap above from a few hours ago, even though I took off the bag to brush my teeth, my camera was around my neck and I forgot about it.
I borrowed a LEICA M6 TTL, 21mm f/2.8, 35mm f/1.4, a 50mm f/2 and a 90mm f/4, and had more than enough wide, tele and super-fast lenses for everything. Next time I'll probably return the 35mm f/1.4 and 21mm f/2.8 and instead borrow a 28mm f/2.8 ASPH to save an additional 330g, making the entire kit weigh only 1,250g (44 oz. or 2.75 pounds)!
16 April 2010, Friday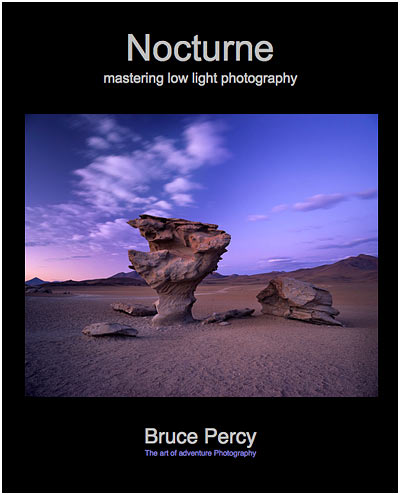 Bruce Percy: Nocturne.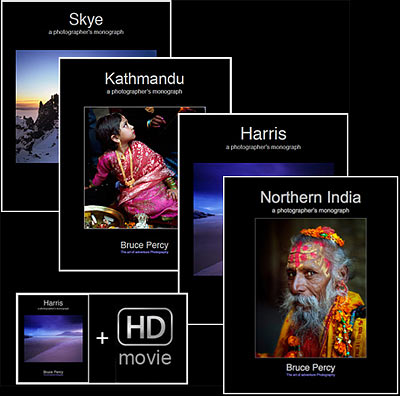 And a few more, with extra HD podcast downloads.
NEW: New Bruce Percy eBooks.
Bruce share more insights to his brilliant work.
15 April 2010, Thursday
NEW: Link to Popular Films.
Select "Sort by Top Rated" for the best results.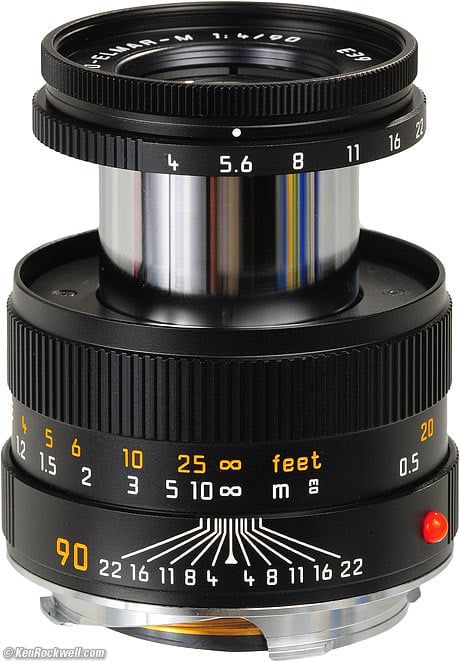 LEICA MACRO-ELMAR-M 90mm f/4.
NEU: LEICA MACRO-ELMAR-M 90mm f/4 Review.
14 April 2010, Wednesday
NEW: 2010 Reader Survey Results.
Best pro midrange zoom for a manual-focus Nikon
I'm not a fan of midrange zooms (I'd use a 50mm and be done), but if you ask, I'd use the 35-70mm f/3.5 AI-s.
See also my Nikon Pro Midrange Zoom Comparison.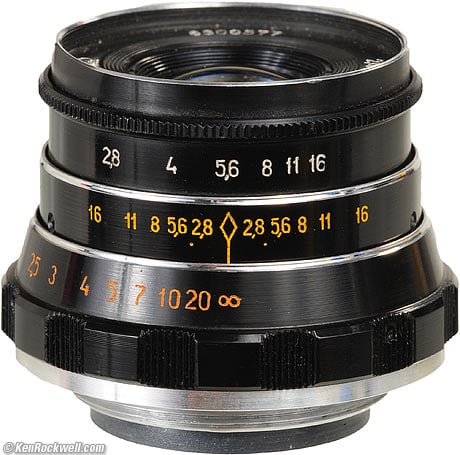 Industar 55mm f/2.8 N-61 L/D Lanthanum.
NEW: Industar 55mm f/2.8 Review.
13 April 2010, Tuesday
RSS Feed: Does it work any better now?
World's Best Radio Station
Well, my favorite, anyway, is KDB in Santa Barbara, California, to which you can listen live in stunning high-fidelity online from anywhere, free. Santa Barbara is California's photography capitol, home to Brooks Institute and probably more photographers in the community than anywhere. I'm moving there as soon as I can convince the wife, which isn't happening any time soon.
It had been tough pulling in KDB over the air, 200 miles away on 93.7 MHz FM here in La Jolla, but once I downloaded the appropriate audio plug-in, bingo!: Free hi-fi classical music all day and night.
Their online audio feed is great. There is little to no dynamic processing, and the data rate is completely transparent. It sounds better online than when I was a radio station chief engineer and pulled all my tricks to pull in clean FM signals. No noise, no monkey chatter from the SCA beating against the stereo subcarrier, no fading, no co-channel interference, no distortion, nothing but clean, live music.
Presuming you like music, they're also great because they play complete works, and when a work goes across the hour, they never interrupt for an ID until the piece is finished.
I can listen for hours and hours here as I bang away on this site, and nothing ever makes me want to change the station, which i one heck of a complement in the radio world.
NEW: Photoshop CS5 Prices, and how to order directly from Adobe.
Adobe is offering free shipping on these orders through 29 April, yay!
NEW: Qualified students and teachers can receive huge discounts on everything from Adobe.
Why Hollywood Loves Film
See also the shootout from Zacuto.
12 April 2010, Cosmonaut's Day
120 Years of Zeiss
The heck with LEICA; see This Article in Zeiss' Camera Lens News.
Also check out Zeiss' lengthy article on Depth-of-Field and Bokeh.
First manned Earth orbit
12 April 1961. Vive Yuri Alekseyevich Gagarin!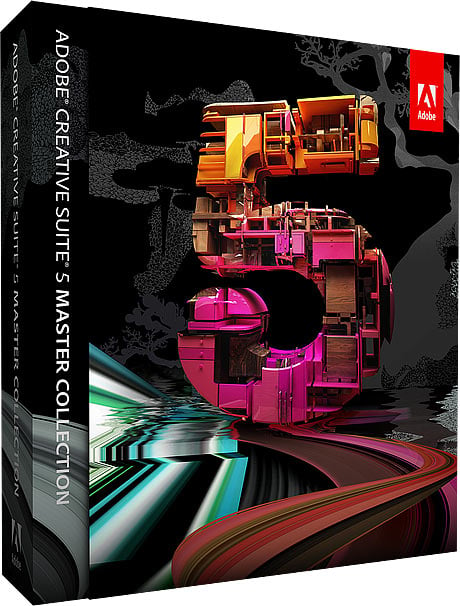 NEW: Photoshop CS5 Review.
OK, not really a review since shipping software doesn't yet exist, but at least my impartial analysis of Adobe's pitch.
10 April 2010, Saturday
DEAL: Nikon D40 Refurb for $400 at Adorama.
My favorite DSLR returns!
09 April 2010, Friday
NEW: Ausrüstungskauf. (Acquisition, in German.)
NEW: Fill-Flash.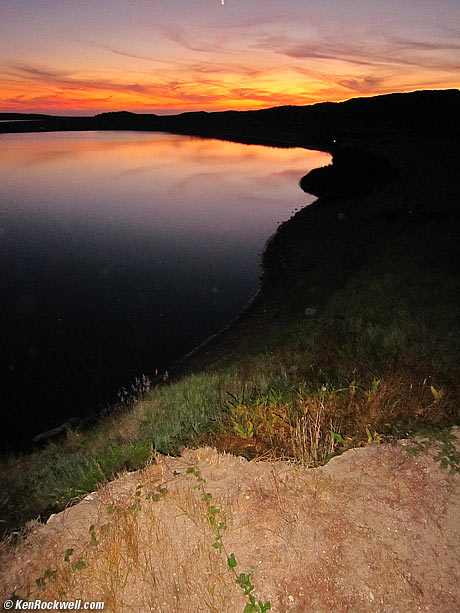 Abbot's Lagoon. Lagoonier.
5:00 AM
Yes, it's totally dark outside, it's 5 o'clock in the morning, and I'm already sitting here writing away, editing my Fill Flash article.
I've been up since 4:30AM as usual, and finally sat down and got to work.
This is normal. I'm on an early schedule dealing with New York and Europe, and bang away all day.
08 April 2010, Thursday
Henri Cartier-Bresson: The Modern Century
The new Henri Cartier-Bresson exhibit at MoMA displays 300 black-and-white prints from 1929 to 1989.
It previews today, Friday and Saturday to museum members, and opens to the public on Sunday, the 11th.
MoMA is The Museum of Modern Art in New York City, New York, USA.
High-Class Workshops
Phase-One's PODAS workshops are off and running again for 2010. Tell them I sent you if you go.
These workshops are pricey, and fancy. They pick you up at the airport, drive you around to everything, feed you, and have already made reservations and paid for your hotels. All you do is get there; everything else is included. Phase One even supplies you with the finest P65+ camera to use for the workshop; you need not bother bringing your own.
Phase One, and its workshops, are for those who have outgrown Nikon, Canon and LEICA and demand something better.
Phase One is the standard used in today's best commercial photography. If you're hiring someone for $20,000 or $30,000 a day, he's probably shooting a Phase One back on his Hasselblad or Contax.
When we were at Roy's on Route 66 the other month, a crew of about 6 was setting up all day for a serious commercial shoot for International Trucks. Lo and behold, I asked, and yes, they were using the Contax 645 Camera and a Phase One medium-format back.
Holy Moley, when I found the link to International Trucks, the shot of Roy's is in the rotation of images!
Commercial shoots are like Hollywood: fake. Big trucks don't travel Route 66 past Roy's anymore, and they don't use chase cars to shoot moving trucks, either. The camera is rigged to the truck, then a long exposure is made while the truck inches forward at walking pace.
The truck shoot was unrelated to the workshops; it's just an example of a high-dollar shoot I saw using Phase One.
I have yet to be on one of these, but as I understand them, they are luxury workshops with the emphasis on indoor learning over outdoor shooting. There is time spent indoors on the computer for those who want to learn processing, profiling and printing as well as time outdoors shooting.
I poked fun of some of the iffy results posted on their blog last year, but that's a given when results get posted without being edited first. I haven't seen anyone else's results from last year, but remember, the PODAS workshops focus more on equipment and technique than actual shooting.
If classy workshops and mastering the best gear in existence is your cup of tea, check them out, and let them know I sent you.
I'd love to go on one myself (who wouldn't), however it looks like they run close to the same times as my own workshops this year.
If you really want to learn how to see and how to shoot, as opposed to mastering equipment, Jay Maisel's Workshops are unbeaten.
NEW DEAL: Nikon Package Deals Return!
OLD: Route 66 Camera Systems.
I never actually heralded this particular page back when I published my 2010 Route 66 Gallery.
It's the explanation and analysis of how and why I shot Route 66, and why I had so much fun.
NEW: Acquisition, in Russian.
Artist Richard Misrach
I've been familiar with artist Richard Misrach's work for decades.
As I see it, he specializes in broad, empty landscapes, shot on large-format (8x10") cameras, and prints them huge.
He just attracted the attention of laypeople. How? He shot the iPad's background image.
I'm impressed that he could shoot time exposures on 8x10." He probably sticks his film to the holder with double-sided tape or similar; when I try this, the film eventually buckles due to temperature and humidity, or slides around in the holder.
Today, it looks like he's done as Ansel did, and stepped back to Medium format in later life. In any case, format doesn't matter: the message is the vision of the artist, not the medium.
So for you fans of large-format film, just pull out any iPad to show what it looks like — reduced.
New Ad
I just stuck a new ad at the bottom of the stack on the right for Bruce Percy's eBooks, which you folks seem to love.
They cover how to take better pictures.
NEW: I added film camera recommendations to my Recommended Cameras page.
07 April 2010, Wednesday
New eBook
Bruce Percy has a new one.
Pop Quiz
Quick: what's the oldest lens design in Nikon's catalog today, and how old is it?
.
.
.
.
Let's start with how old first: it is forty years old!
Which lens is it?
It's the 35mm f/1.4 AI-s, which was introduced in 1970 in Nikon F (non-AI) trim. This same optical design continues to be made today, and yes, it was Nikon's first multicoated lens back in 1970.
Nikon's list of current manual-focus lenses.
New Ad
I just stuck a new ad at the bottom of the stack on the right for David DuChemin's eBooks, which you folks seem to be gobbling up.
They cover how to take better pictures.
Canon 24-70mm f/2.8 L: Coffee Mug
Check it out. It looks pretty convincing!
YES!
As of 20 April 2010, smoking becomes illegal along Santa Barbara beaches. Even marijuana has been specifically outlawed, in case anyone forgot that it's already prohibited by federal law.
In addition to our air, this helps keep our beaches clean so we can spend less time spotting our images from the cigarette butts left by the careless.
It's not the smoking itself that's the problem, it's the litter and stray smoke that some of the less careful spewed, spoiling it for the polite smokers.
Smoking is already illegal in most of sunny California.
For those of you from out-of-state, smoking is such a crime out here that many employers, like San Diego's Qualcomm last I checked, simply won't hire smokers.
NEW: Most Popular Memory Cards.
This is a magic page that updates itself with the newest and best memory cards.
Ever since I started this site in the the 1990s, cards have updated themselves too often for me to keep track of them. I haven't been able to stay on top of what to recommend.
Now, though the magic of science and computers, we have a computer-generated (CG) page that keeps itself updated to the hottest of the hot.
Blast from the Past: 16mm Lens Comparison.
I almost forgot: the Canon 5D outdid the Nikon D700 and D3 in this test, back in 2008.
Canon's 5D Mark II is even better, but Nikon is still stuck in last-decade's performance with the D700 and D3s.
Oops!
That 16mm Lens Shootout was run in 2008 with the OLD Canon 5D, which still outperforms the best from Nikon, at least under $7,000.
Old 5Ds sell for around $1,250 used today, and have better image quality than a D700 at twice the price. Hmm. The 5D's ergonomics are unpleasant, but the images are stunning.
How about that? Still no D700x. Heck, by now, the D700x is already going obsolete, and it still hasn't hit the market. Maybe Nikon will kill it, like the Nikon MX system, and get on to something else instead.
06 April 2010, Tuesday
NEW: Zeiss Index Page.
Now you can find these from my Home page in one click.
NEW: Pro-Optic 8mm f/3.5 Review.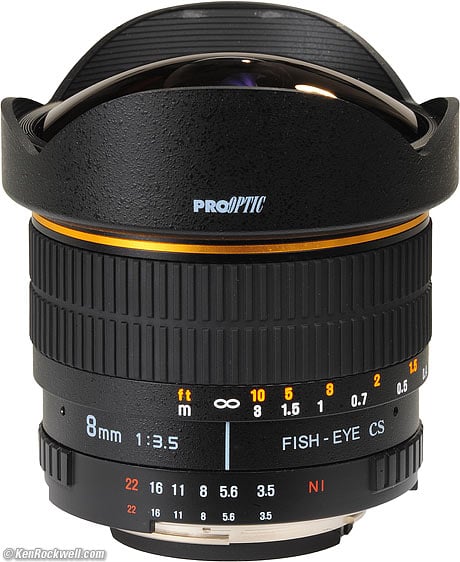 Pro-Optic 8mm f/3.5.
05 April 2010, Monday
Megabytes
As I download a weekend's worth of kid's Easter pictures from my D40, set to LARGE BASIC JPG, I only shot 100MB all weekend. Each frame is about 640kB, and looks great even at 20x30."
I then compared that in my head to one raw uncompressed .mos file from the Mamiya DM33 I was loaned: 64MB.
Whoa! Two shots on the DM33, and I've created more data to have to store, catalog, backup and warehouse for all eternity than two solid days of shooting with the D40.
I like my D40 pictures better than if I had a DM33; I actually carried my D40 all over town chasing my kids playing, which wouldn't happen with the DM33.
My SB-400 flash on the D40 balances for perfect fill flash every time; I doubt the DM3 could do that on the fly.
Let's see: 154 snaps this weekend with the DM33 instead would be 10GB instead of 100MB. Yikes!
Reader Survey
Many thanks for your replies last week.
I still need to sort through them.
Usually when I hang out a request, I get my answer in 20 minutes and I take it down.
In last week's case, I posted it, went out shooting around Anza Borrego all day, and took it down a day later. (Anza-Borrego is one of San Diego county's many different desert areas, right next to where yesterday's huge 7.2 quake hit.)
I got 835 replies, so it will take me a while to sort through them.
This is great; I'll be able to get a very good picture of what you want.
THANK YOU!
One thing I've already realized is that since I have anything I'd like to review pushed to me (a reader in South Dakota asked if he could please loan me his Nikon 200-400mm to review, for instance), that I've strayed into reviewing what's the most fun to play with, regardless of cost.
So of course I've been giving Leica loads of attention, since they make awesome stuff, and if I'm being loaned it all from individuals, of course I'll review it. Who wouldn't? Especially when you shoot film, Leica makes a ton of sense today even if you do have to pay for it, compared to paying for digital SLRs. (neither Nikon nor Leica have ever loaned me anything to review; it all comes from individuals or occasionally stores.)
Anyway, for those of us who have to work for a living, I have been working on a review of a great $290 8mm fisheye, and of course I still need to read all your mail from last week.
Thanks again!
02 April 2010, Friday
Canon S90
The best just got better: the world's best digital pocket camera, the Canon S90, sold for $430 when I bought mine last year.
Now it's selling for just $379 at Amazon and Adorama, each potentially with free shipping if you're lucky.
Film outdoes digital - again
Here's yet another well-done example showing the obvious superiority of film over digital resolution. Ignore the confusing text; just look at the pictures.
Most comparisons (including my own) never get the full resolution off the film, and thus the amount by which film exceeds digital isn't always as obvious.
This also shows something else I keep preaching: with digital, the good news is that everyone pretty much gets the performance of which the system is capable. With film, you have to be good to wring it out to it's maximum potential. Every little misalignment with film degrades the image. As we say in analog circuit design, everything matters..
That's why most people get better results most of the time with digital capture, but if you know what you're doing, you can go beyond on film, especially with color.
In this case, Herr Puts captured most of the resolution from the film. Yay!
You don't even want to know what medium-format or 4x5" looks like in comparison to 35mm film.
Reflections
Clearing out my notes on my iPod, here are some illuminating thoughts.
NEW: Acquisition.
When you get all the hardware BS and chit-chat out of the way, for the lack of any other distractions when you're out shooting, you come to the initially uncomfortable realization that you now must spend that same effort on finding a good picture.
Looking at a backlit cloud yesterday and intuitively thinking "Zone VI ½," I thought how simple and intuitive it is to set that on a LEICA M3 and LECAIMETER MR-4.
I'd simply point the camera at the cloud, press the meter button for a second, look at the needle's indication of, say, f/11, and set a stop-and-a-half wider on the lens, which is halfway between f/5.6 and f/8.
I'd take the picture, and get a perfect result.
I realized how simple photography becomes when you understand the basics, and can get to those settings on your camera.
The only settings that matter are aperture, shutter speed, and focus. Beyond that, it's all fluff.
If you can't get to these three, how will you ever take a good picture?
Sadly, today's cameras hide all the needed settings behind menus and multiple pushbuttons. Why you can do with one click on a simple camera like a Nikon FM3a becomes five minutes of fiddling with modern cameras.
To photograph that cloud, which takes one click on a simple camera, would require pulling your camera out of matrix or evaluative mode, and into center-weighted meter mode. Then you'd have to figure out how to add +1.5 stops of compensation. By the time you got done pressing buttons, the cloud would be gone.
When the basics are hidden or misunderstood, you get misled into chasing ten times more irrelevant baloney, like profiles and bit depths, and never get what you want.
It's the same as the equipment-selection paralysis of the 1970s. Human efforts are misdirected away from what will have the desired effects, and instead, directed to areas that won't.
Prints or Slides
I've never gotten the colors I want out of print film, a.k.a. C-41, Fujicolor, Reala, Kodacolor, the new Ektar, and etc.
There is no standard for printing or scanning color print film. Each kind of print film needs different printing or scanning settings, often called "channels," so you never know what you're going to get. Only one setting is correct, and the other 9,844 possible settings never give the colors I want.
Thus is why I shoot slide film, like Fujichrome, exclusively. With slide film, you get what you see on the light table, and it's easy to get the prints or scans to match because you have the slide as a reference.
With slide film, every roll matches every roll. All of your colors and precise filtration match.
That's why slides (transparencies) have been the standard for professional color photography since the 1930s through today.
Because every color print film prints differently, and because you can't look at the negative, you never really know what you're going to get. The only way to get consistent colors from print film is to find one guy who knows the colors you want, and let him print or scan all your work. If that guy retires, or the kid goes back to junior college, you're out of luck.
01 April 2010, Thursday
News at Engadget
What's up with this, fourth item under "other breaking news" towards the bottom? It talks about a new venture called App-e-ture, an app store for your digital camera.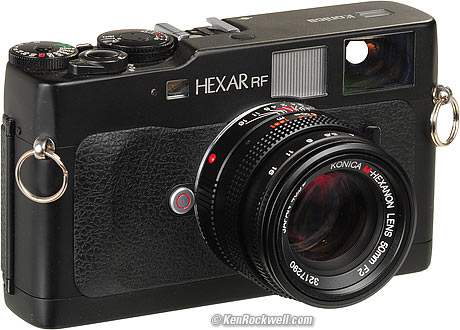 Konica Hexar RF and Konica M 50mm f/2.
NEW: Konica Hexar RF Review.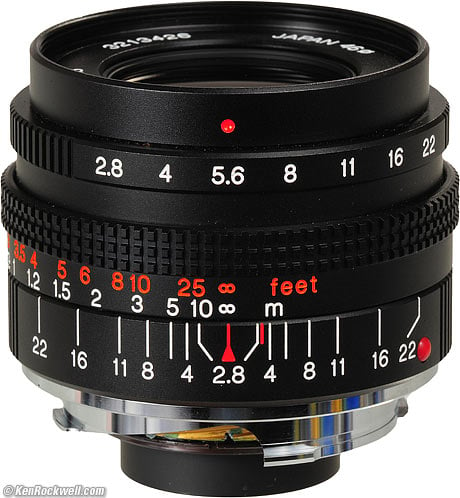 Konica M 28mm f/2.8.
NEW: Konica M 28mm f/2.8 Review.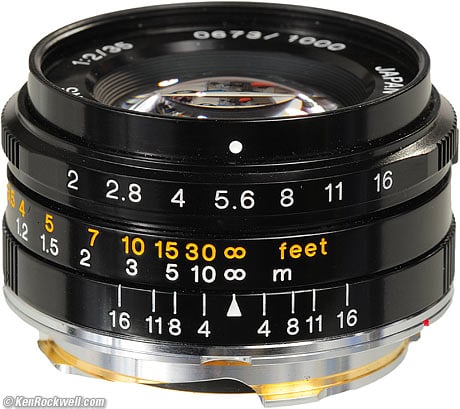 Konica UC 35mm f/2.
NEW: Konica UC 35mm f/2 Review.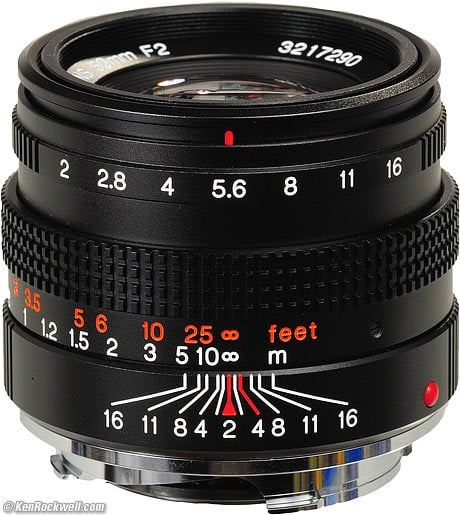 Konica M 50mm f/2.
NEW: Konica M 50mm f/2 Review.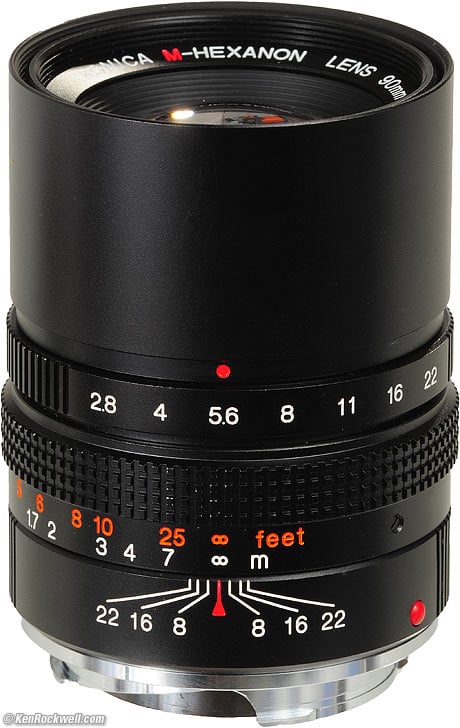 Konica M 90mm f/2.8.
NEW: Konica M 90mm f/2.8 Review.
What Was New in:
What Was New in Past Years (archive)
Help me help you
I support my growing family through this website, as crazy as it might seem.
If you find this as helpful as a book you might have had to buy or a workshop you may have had to take, feel free to help me continue helping everyone.
If you've gotten your gear through one of my links or helped otherwise, you're family. It's great people like you who allow me to keep adding to this site full-time. Thanks!
If you haven't helped yet, please do, and consider helping me with a gift of $5.00.
The biggest help is to use these links to Adorama, Amazon, Calumet, Ritz, J&R and when you get your goodies. It costs you nothing and is a huge help to me. eBay is always a gamble, but all the other places have the best prices and service, which is why I've used them since before this website existed. I recommend them all personally.
Thanks for reading!
Ken
Home Donate New Search Gallery How-To Books Links Workshops About Contact