Home Donate Search Gallery How-To Books Links Workshops About Contact
February 2010's Updates
all © 2010 KenRockwell.com. All rights reserved.

27 February 2010, Saturday
Back from the 1950s!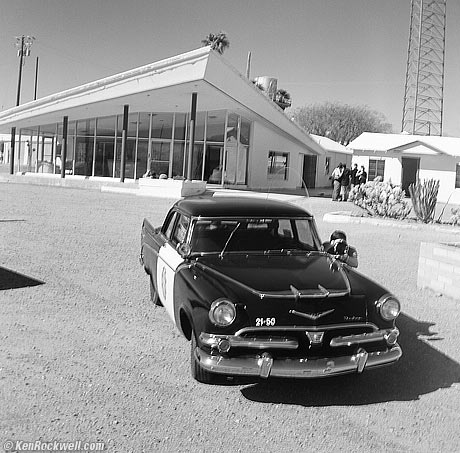 Roy's, 2010 for 1956.
NEW: Contact Sheet from 1956 on Route 66, Today!
Save the Date: Come see Los Angeles Times and Pulitzer Prize winning photojournalist Don Bartletti speak to our photo club in San Diego on March 17th. Free (I think), and worth ten times the price!
Observed: 120 years of National Geographic in a 6-DVD set.
This is certainly an easier way to store every issue from 1888 - 2008 than keeping them on your shelf.
I haven't seen them, but everything else National Geographic does has been of epic quality, so I would expect that this is the same.
The uncanny thing I see when I look at National Geographic's printed retrospectives is how great all the photos look, because National Geographic knows how to convert from film to print like no one else's business.
25 February 2010, Thursday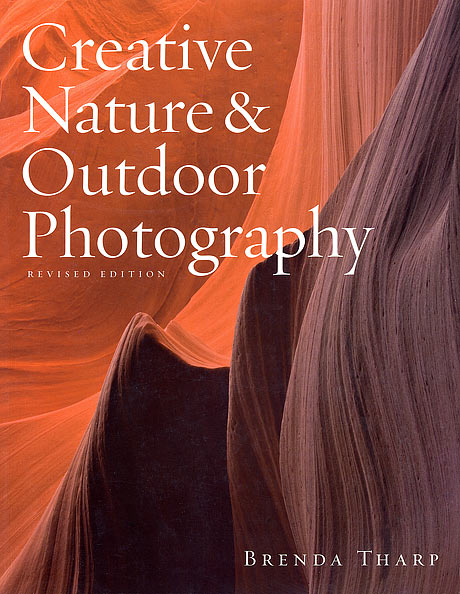 NEW BOOK: Creative Nature and Outdoor Photography by Brenda Tharpe. It was just released on Tuesday, yay!
The first edition has always been my favorite single book to recommend to people who want to learn how to take better pictures.
This new edition has been revised for digital shooters. The first edition covered the same things, but covered them from a film perspective. I still suggest the first edition for those of you upgrading to film since it covers film types and color filtration, while I recommend this new edition for everyone, especially those of you shooting digital. This new edition is even better because it approaches everything from a completely camera-agnostic perspective.
What makes these books by Brenda Tharpe stand out so far from every other book about how to take pictures is that they are the only books I've read that cover everything you need to know, like seeing light, shadow, balance, color, interpretation, texture, and everything that matters in just one book, and wastes no space on the things that only get in the way.
My only quibble is that my website was left out of the "Useful Websites" section at the end, but tough, I never claimed that anything I've done here is useful, hee hee.
Bravo, Brenda.
Old Plastic Lens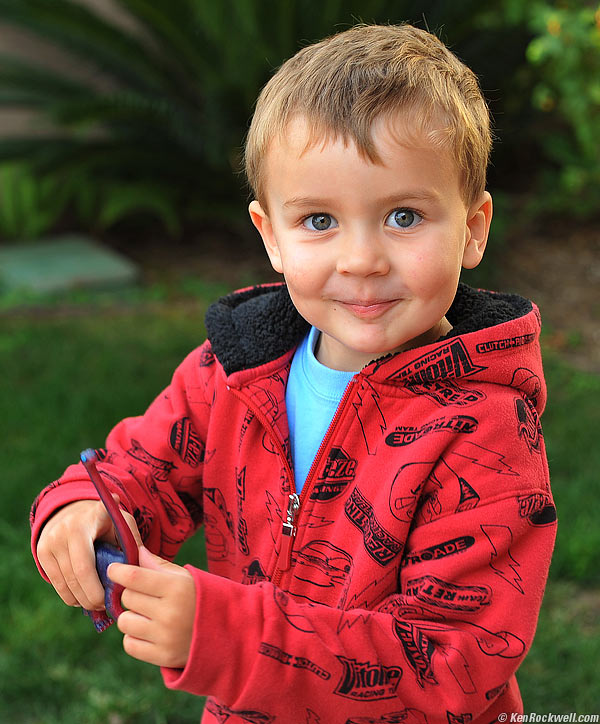 Ryan and his first new dinosaur. bigger.
Everyone was making fun of my beat-up 22-year-old Nikon AF MICRO-NIKKOR 55mm f/2.8 earlier this week as I walked around PMA with it on my Nikon D3.
People forget so quickly. The 55/2.8 is one of photography's sharpest lenses, and more than fast enough for available light shooting. So what if it's been out of production for over twenty years; it's still one of the finest autofocus FX lenses ever made for anything by anyone, even if Nikon's marketing decided to offer 60mm lenses instead today.
I shot this in program auto which chose 1/60 at f/4, Auto A3 WB, STANDARD Picture Control with +1 saturation. It was too light and too cool, so I darkened and warmed the image an RGB curves adjustment layer in Photoshop CS4.
This snap was cropped from a horizontal BASIC MEDIUM JPG.
NEW: PMA 2010 Report.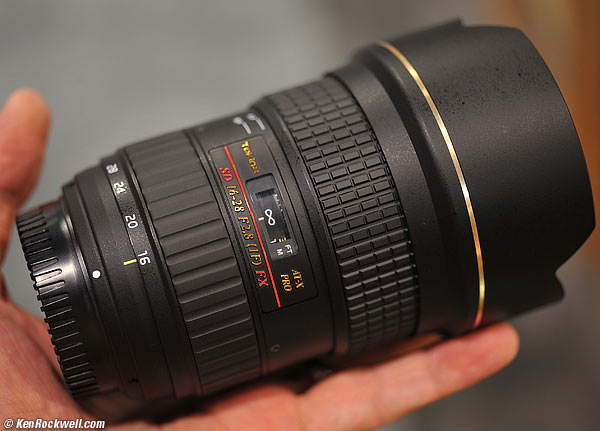 While you may have seen some of my live coverage during the show earlier this week, that one page has now grown to three pages with everything I think was interesting.
Have fun reading; it has all been re-written.
24 February 2010, Wednesday
More on ABX8 8 and SBX8 8
Here's an article from San Francisco on the impending problem.
Supporters of these bills hope that California might collect an extra $150 million in sales taxes each year from out-of-state online retailers, when they sell anything into California.
These bills redefine supporting this website as equal to having a retail store in California. (in jargon, supporting me would create nexus.) These bills use me as the hook to coerce out-of-state websites to collect these taxes.
Whether or not supporting me is the same as having a retail store in California isn't the issue. The problem is that since supporting me would be the only hook that's requiring these sites to collect and remit sales tax, all they have to do is stop paying me, and that gets them excused from collecting any sales taxes at all!
If these bills pass as law, I get fired immediately, and those sites continue to sell into California tax-free. California collects no more sales taxes than it did before, but this website loses 90% of its funding, and California loses the income taxes I used to pay.
That article from SF Gate didn't know, but as the LA Times reports, "Amazon has also said it would cancel its California contracts." That means me and this site. Heck, last summer when this came up before, Overstock.com fired everyone in California preemptively!
If one of these bills becomes law, the hoped-for $150 million won't be collected, and this site would go off-the-air as we know it. Everyone loses. Bad times.
If I had to charge for admission, I'd be so busy trying to manage subscriptions that I'd never get the time to write anything useful again. Passwords and user IDs stink. I come from from broadcasting, where we give away as much content as we can for free, and make it up on advertising, as I provide for Adorama, Amazon, Ritz, B&H, Calumet and J&R.
Ansel Adams' 108th Birthday
Ansel Adams turned 108 on February 20th.
His website has some videos commemorating it.
50,000th Anniversary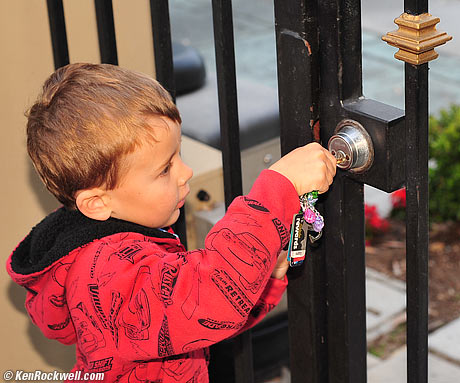 Ryan going in the back door in Sacramento. bigger.
While I'm trying to figure out how to keep this site on the air as Sacramento, California lawmakers are considering well intentioned, but disastrous, bills which would put free websites like this off the air with what has now split into two proposed bills, Ryan decided to try to walk on in and tell our lawmakers just how bad he doesn't want to have to move out of California.
ABX8 8, and now also SBX8 8, will not only put my family out in the cold, but also greatly lower our state's overall tax revenue.
Anyway, looking at file numbers and then confirming the EXIF in Graphic Converter, the frame above is shot number 50,000 out of my D3 which I got in November, 2007 and have been shooting in my studio ever since. I made this snap with a Nikon AF-NIKKOR 50mm f/1.8 lens from 1986 (worth about $25) and my SB-400 flash, with a 1/2 CTO gel on it to warm the light.
Yes, the file number is 9994, but I've set and reset the file numbers a couple of times. The camera's counter, recorded in the EXIF, is the one to believe.
When you click over each 10,000 shots, the Nikon creates a new folder.
As always, my D3 runs like new. My D40 has about 30,000 shots on it, and it also runs like new.
I always have to laugh when some people are silly enough to consider buying a used digital camera, but will be concerned about something trivial like 7,878 actuations (or even 78,000 actuations). Digital cameras are perishable, like a quart of milk; it makes no sense to buy them used. Lenses, on the other had, are forever. Digital cameras are perishable not from usage, but by almost immediate obsolescence.
The D3 is probably good for something like 150,000 or 300,000 shots, and even if something wears out, Nikon can replace whatever does for a couple of hundred dollars. There are F5s out there with over a million shots on them, still on the original hardware.
Don't worry, just shoot. I make better pictures when I shoot carefully, but today's cameras could care less about how much you use them. My Canon S90 point-and-shoot has something like 3,500 shots on it already.
The Contax 645 I got in to review a while back (and have already returned) had something like 85,000 shots on it, and it also ran fine. Heck, the Contax 645 is one of the best cameras I've ever used, and it shoots both RealRaw and digital, depending on which back you choose.
All because careful artists and hobbyists might think 5,000 shots is a lot on a camera, modern cameras are good for a lot more than we'll ever use. What does die are the lens retraction systems in point-and-shoots, not the shutters.
Back to work for me. I have to write and sign a letter with my concerns and fax it to the California Assembly Revenue and Taxation Committee trying to explain concisely why ABX8 8 and SBX8 8 will be bad for everyone.
I'm still reporting on the PMA (Photo Marketing Association) show, and for more information on these laws, see the PMA (Performance Marketing Association) website. Confusing, eh? These are two completely unrelated organizations.
21 February 2010, Sunday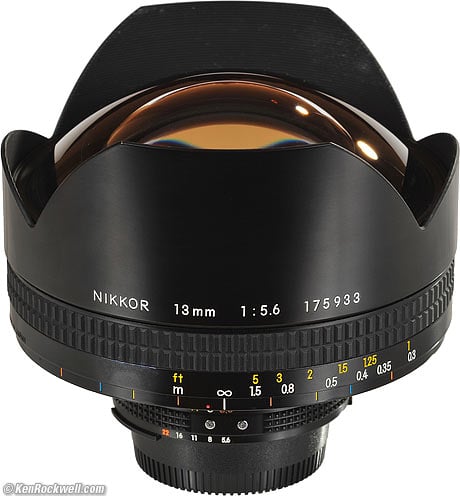 Nikon 13mm.
Observed: There's a Nikon 13mm f/5.6 available on eBay if you need one. You may have to type item number 220559396058 into eBay's search box if you can't see it otherwise.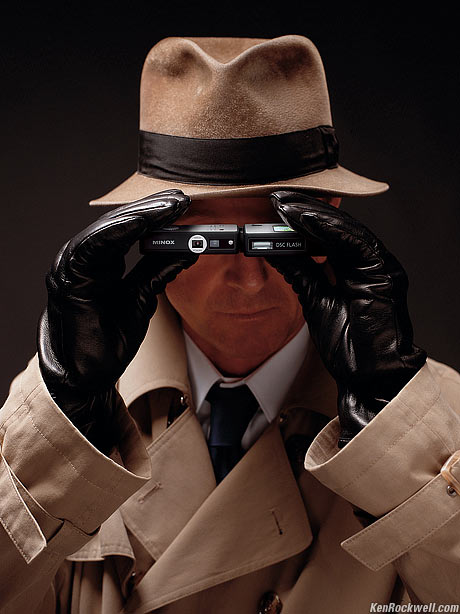 Minox Digital Spy Camera.
NEWS: Live PMA 2010 Coverage.
My annual live report, directly from Anaheim at the insiders-only trade show.
20 February 2010, Saturday
NEW: LEICA ELMARIT 90mm f/2.8 Review.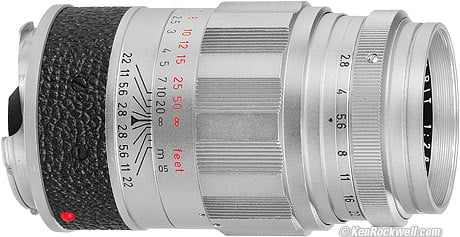 LEICA 90mm f/2.8 ELMARIT (1959-1975)
Back from the 1960s! I shot this all this week along Route 66.
19 February 2010, Friday
Photoshop's 20th Anniversary – Today!
Photoshop came out as a new product twenty years ago today in 1990.
I've been doing digital imaging for a living since the 1980s; Photoshop was something new when it came out.
See Adobe's press release here.
Amazon World-Wide
Folks in other countries ask if I could please provide links to their country's Amazon.com site so their purchases could help me, too.
It's easy: Simply use any of my links to Amazon, scroll to the very bottom of Amazon's page, click your country's site, and you're there!
Thanks! Thanks, Eh! Xshi xshi! Merci bien! Danke! Arrigato!
New Film
As thousands of photographers upgrade to film, Kodak has just released Ektar 100 color negative film in 4x5" and 8x10" sizes. They should be available in April 2010.
Good times!
18 February 2010, Thursday
The Rejuvenator!
A thousand thanks to Gus "The Rejuvenator" Lazzari and OC Camera, who rejuvenated some of the 1950s gear I took to Route 66.
Specifically, Gus and OC Camera rejuvenated a 1950s Kodak Brownie Hawkeye (flash model), which was fine, but had a foggy lens and finder. When it came back, the finder turns out to be the brightest finder of any camera I've used, due to its design. Gus and OC Camera cranked it back out looking and working like new.
They also overhauled a 1963 LEICA ELMARIT 90mm f/2.8 lens. It arrived pretty messed up, and they got it working and focusing perfectly.
The real pick of the litter is a 1963 LEICA M3 that the dog dragged in here with a sticky shutter and torqued rangefinder. It arrived looking almost new in its original case, however its shutter no longer worked due to lack of use, and the rangefinder was off. It still had its factory "L" seal, and I kid you not, Gus was able to lubricate and adjust the shutter, and precisely adjust the rangefinder, so the M3 now works magnificently, and still has its "L" seal untouched!
Bravo!
Back from the 1950s!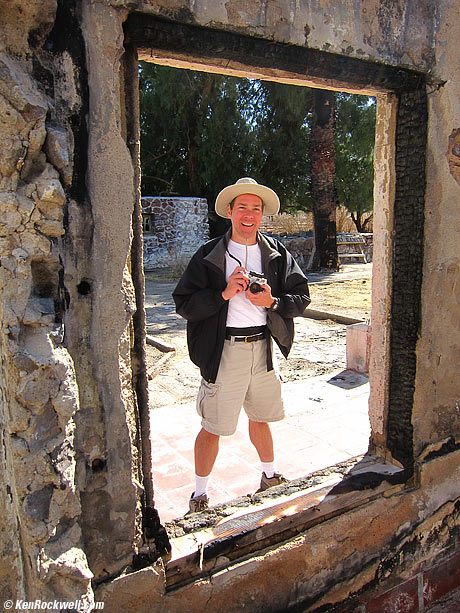 Rockwell in the Window. gaggier.
I just got back from a trip along Route 66.
Our respect for The Mother Road, and for those who have gone before, dictated we use only cameras and equipment from the 1950s. Except for my trashy modern clothes — I should have worn a suit and a fedora — it was 1950s all the way.
It would have been rude to show up with modern equipment, which both would have both spoiled the milieu of the trip, as well as have been quite offensive to the shopkeepers, restaurateurs and innkeepers along The Road. Why? A newer, say 1970s, camera says "I'm a city-slicker more interested in getting there than in enjoying the journey, and because of people like me who prefer the freeway, you've been going out of business ever since the interstate got put in. The heck with you; I don't care."
Thus I shot with a 1950s rangefinder camera, lenses and light meters, and a Kodak Brownie Hawkeye (flash model) for snapshots. What am I holding? Let's "zoom in:"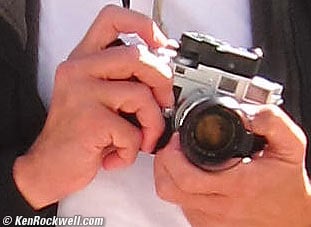 Golly!
Most people on our trip had already upgraded to film. We had one guy drive a Studebaker, and he was shooting everything from an Speed Graphic to a chrome Hasselblad, while others shot Contax 645, Mamiya 645 AF, Contax 35mm, Nikon FE, and I forget what else. Someone gave me a Minolta Maxxum 7000 which I also shot for fun when no one was looking.
I even used a real 1950s selenium-cell (solar-powered) light meter as best I could. When I needed spot readings, I reverted to a 1960s CdS meter, with a mercury battery of course. No electronics here!
I had a blast! No computers, no transistors, no battery-powered watches, no GPS, no cell phones, no problem! The only thing digital was our fingers, used to load film and press the shutter. We had nothing except good food, good fun, good friends, and most importantly, great photos without all the hassle of the electronics to which too many people allow themselves to become enslaved today.
11 February 2010, Thursday
Jay Maisel Workshops
Since Jay Maisel has sold out his three spring workshops, he's just announced dates for his fall workshops:
13-17 September 2010
18-22 October 2010
15-19 November 2010
Jay's workshops are serious workshops in New York City. I won't be there; I'll be in Yosemite and New Mexico with Dave Wyman's tours and workshops in October and November.
Available for order:
The Nikon 16-35mm f/4 VR (FX) is now orderable at these links to Adorama and Amazon.
The Nikon 24mm f/1.4 G ED N Aspherical (FX) is orderable at these links to Adorama or Amazon.
You might think that either of these is expensive ($1,260 for the 16-35mm and $2,200 for the 24mm f/1.4), but they're not. Get either of these today, and they should serve you well for the next 10 to 20 years or more. A D700 costs more than either of these, and the D700x price is doing nothing but falling, you won't even want a D700 in just five years.
When I got the 28mm f/1.4 used in 1999, its used price has quadrupled today, 12 years later, and it's still Nikon's state-of the art (you can't get the 24mm just yet).
It always pays to buy quality, while the cheapskate always pays twice to get what he really wanted. The smart money is always on lenses.
Nikon's announcement of a 24mm f/1.4 is their first post-digital lens. f/1.4 wide-angle lenses are mostly designed for RealRaw, where there is no such thing as a clean ISO 1,600. Guys like me are shooting ISO 50 films, where we need f/1.4.
NEW: LEICA SUMMICRON 90mm f/2 Review.
NEW: LEICA SUMMICRON 90mm f/2 Styles, Tabulated.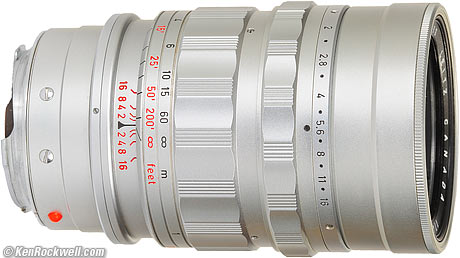 LEICA SUMMICRON 90mm f/2 (1958-1980).
With loads of new digital products coming out in the next couple of weeks, I'm trying to clear my desk and get this old stuff reviewed and returned to its owners.
10 February 2010, Wednesday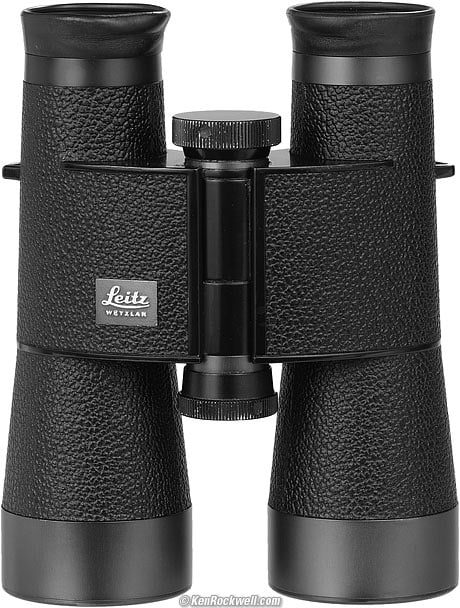 Leitz TRINOVID 10 x 40 (1963-1975).
NEW: Leitz TRINOVID 10 x 40.
Why are these 45-year-old binoculars so much better than expensive binoculars today?
These weigh a lot less and cover a wider field just as crisply as the latest binoculars that cost four to five times as much.
Let me know if anyone has the serial-number decoder, I have no idea how to date these.
09 February 2010, Tuesday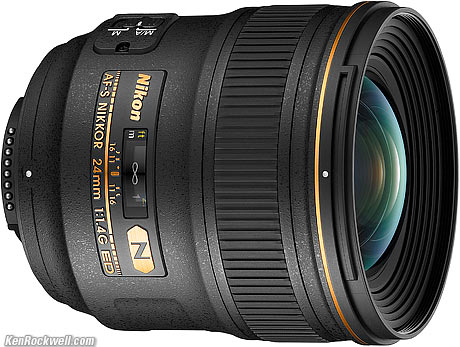 Nikon 24mm f/1.4 AF-S G.
NEW: Nikon 24mm f/1.4 AF-S.
Nikon returns to the professional market.
Now all we need is the D700x and a modern 85mm f/1.4.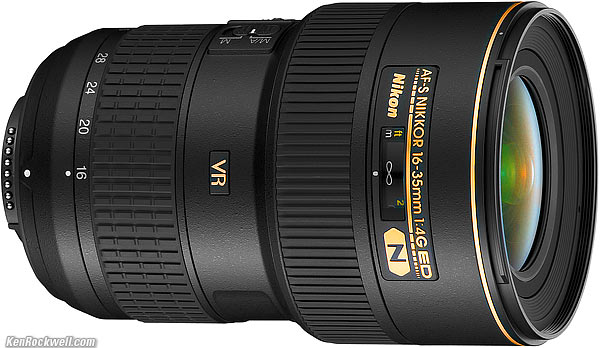 Nikon 16-35mm f/4 VR.
NEW: Nikon 16-35mm f/4 VR.
You people know who you are: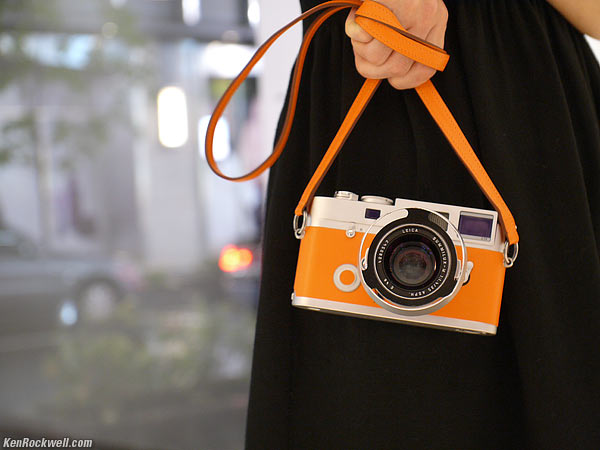 Leica M7 Edition Hermès. Vergrößern.
The Leica Man knows what he wants.
If you want an M7 Edition Hermès en orange, OC Camera in Orange County, California, (949) 347-1276, just got one in stock.
There are only 100 of these in the entire world, so go get it.
It is a special edition of the LEICA M7 and the LEICA SUMMILUX-M 35mm f/1.4, for people for whom the common versions just won't do.
08 February 2010, Monday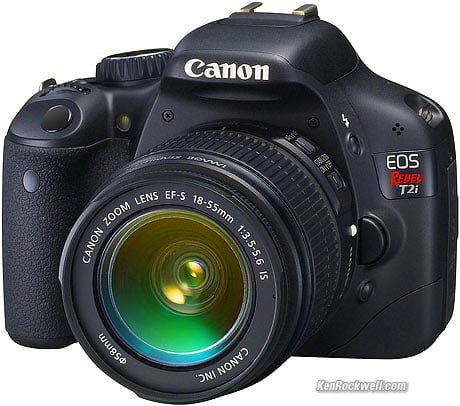 Canon T2i.
NEW: Canon T2i.
Canon also announced four new PowerShots today: the PowerShot SX210 IS, the PowerShot SD3500 IS, the PowerShot SD1400 IS and the PowerShot SD1300 IS.
Here's the news direct from Canon:

CANON U.S.A. UNVEILS FOUR NEW ADDITIONS TO AWARD-WINNING POWERSHOT DIGITAL CAMERA LINEUP

New PowerShot SX210 IS and ELPH Cameras Offer Improved Features For Increased Image Capture Control


LAKE SUCCESS, N.Y., February 8, 2010 – Canon U.S.A., Inc., a leader in digital imaging, today announced the addition of four new PowerShot Digital cameras, the PowerShot SX210 IS, PowerShot SD3500 IS, PowerShot SD1400 IS and PowerShot SD1300 IS, offering today's photographer a compelling blend of cutting-edge photo capture technology and superior styling. The new PowerShot cameras offer increased shooting flexibility in a number of settings through advancements to the Smart Auto mode while offering greater photo personalization and enhanced creativity with new Scene Modes and Image effects. The addition of Fish-eye and Miniature Effect modes help photographers add a creative element or lend a humorous look and feel when capturing images of their favorite household pet or landscape scene.

From untimely blinks and awkward smirks to hard to shoot back-lit situations, the compact PowerShot SX210 IS, PowerShot SD3500 IS and PowerShot SD1400 IS cameras offer a variety of technologies to secure the best pictures under the most challenging conditions. In addition to the Face Detection self-timer, the new Smart Shutter scene mode now has Smile and Wink self-timers where the camera looks for a wink or smile which will act as the trigger and release the camera's shutter.

The advances to Canon's Smart Auto mode increases the number of shooting scenarios where each PowerShot camera can automatically adjust to different lighting or movement levels to obtain the best image possible. In addition, Canon's Smart FE (Flash Exposure) function improves image quality by automatically adding the optimum level of flash illumination, aperture, ISO and shutter speed while the Low Light Mode features a wide ISO range (up to 6400), allowing more light to be captured creating sharper more vivid images and further enhancing the overall quality.

"The new Canon PowerShot Digital cameras are designed for consumers seeking a blend of eye-catching style and advanced image capture technology in a compact, easy-to-use form," said Yuichi Ishizuka, executive vice president and general manager, Consumer Imaging Group, Canon U.S.A. "Offering a unique blend of features and functionality including new Scene Modes, Smart FE and Smart Shutter, Canon once again brings image-taking and personal photography expression to new levels."


For users interested in expanding beyond still images, three of the four new PowerShot cameras announced today have the ability to shoot 720p High Definition (HD) video offering extraordinary resolution and clarity when capturing moments such as a child's dance recital or the latest trip to the local zoo. Also, the built-in HDMI mini-connector allows play-back of video and photos on an HDTV. With the camera tethered to a computer and the included software, movies can be uploaded directly to YouTube via the Camera Window. To further enhance a users ability to capture images and video, all of the new Canon PowerShot Digital cameras will support the high-spec SDXC memory cards with a maximum storage capacity of two terabytes (TB) in SDA standard.


Canon PowerShot SX210 IS Digital Camera
The Canon PowerShot SX210 IS is designed for the photographer seeking HD video and brilliant image quality in a stylish, compact camera. Featuring a 28mm wide-angle lens with 14x Optical Zoom and Optical Image Stabilization, the PowerShot SX210 IS allows users to capture dramatic close-ups or broad landscapes with ease, while the 14.1-Megapixel resolution ensures stunning image quality. Available in three bold color variations, black, purple and gold, additional features include a 3.0-inch wide LCD screen for improved visibility and glare reduction with enhanced Control Dial with Hints and Tips. For shooting video, the PowerShot SX210 IS has the ability to zoom optically, shoot in stereo sound and has Dynamic Mode Image Stabilization for improved image clarity. Users embracing the freedom of wireless data transfer can connect directly to PCs through Eye-Fi memory cards1. The PowerShot SX210 IS is scheduled to be available in late March for an estimated retail price of $349.99.


Canon PowerShot SD3500 IS Digital Camera
The Canon PowerShot SD3500 IS represents a significant milestone in the evolution of the ELPH series through the combination of superior image capture functionality and Canon's touch screen technology. The camera's large 3.5-inch wide LCD touch screen enables intuitive operation as users can customize their photo settings by simply dragging icons to their preferred on-screen location, then utilizing "tap" operations to switch between images during playback. A 24mm ultra-wide angle lens with 5x Optical Zoom gets more in your shot, like that family vacation at the Grand Canyon or the Empire State Building while Optical Image Stabilization ensure blur free images at full telephoto. The 14.1-Megapixel resolution delivers stunning images and the HD quality video further adds to the overall allure of this new PowerShot Digital camera. Available in three elegant color variations, black, silver and pink, the PowerShot SD3500 IS is also compatible with Eye-Fi memory cards for wireless transfer of video and photo files to PCs1. The PowerShot SD3500 IS is scheduled to be available in late February for an estimated retail price of $329.99.


Canon PowerShot SD1400 IS Digital Camera
The Canon PowerShot SD1400 IS is the ideal choice for the on-the-go, spontaneous photographer seeking outstanding performance in a super-slim camera. Measuring less than one inch in thickness, the sleek PowerShot SD1400 IS features a 28mm wide-angle lens with 4x Optical Zoom lens and Optical Image Stabilization and 14.1-Megapixel resolution for outstanding photo and HD video quality. Available in four vibrant color variations, pink, orange, silver and black, the PowerShot SD1400 IS is scheduled to be available in late February for an estimated retail price of $249.99.


Canon PowerShot SD1300 IS Digital Camera
The Canon PowerShot SD1300 IS delivers outstanding value for the consumer seeking a stylish, highly functional digital camera. The PowerShot SD1300 IS features a 28mm wide angle lens with 4x Optical Zoom lens and Optical Image Stabilization, 12.1-Megapixel resolution, and enlarged 2.7 -inch PureColor System LCD screen offering superior visibility. Available in five color variations, silver, pink, green, blue and brown, the PowerShot SD1300 IS is scheduled to be available in late February for an estimated retail price of $199.99.
05 February 2010, Friday
I Love Amazon
You have to hand it to Amazon.
I found some breakfast cereal I liked in a small market in Lee Vining the other week. I can't find that cereal at Price Club, so I made a note to myself to go to the grocery store to buy some.
Me? Retail? I don't think so. It costs me at least an hour of time to run to a store, and in that hour, I could be reviewing something else for you or playing with my kid instead.
So as I was eating my Frosted Mini Wheats on Wednesday morning with baby Katie, I pulled my brilliant iPod Touch out of my pocket, lit up Amazon.com via free wi-fi, found the cereal I wanted for 2/3 the price of retail, and wouldn't you know: Amazon gave me a deeper discount if I signed up for automatic restocking.
I kid you not. Today I got a 6-pound, one-cubic-foot UPS second-day-air package with my 4 boxes of shredded wheat, and it cost me only $13.23.
That's $13.23 total, including shipping, for four boxes of cereal. I don't know that I could ship something that big that way for for that little, much less get the cereal, which runs $5 a box a retail.
I get free rush 2nd day shipping since I subscribe to Amazon Prime, and get another 15% off for signing up for automatic restocking.
Automatic restocking, which Amazon calls "Subscribe & Save," means they keep sending it automatically as I requested, until I modify or cancel the subscription.
Lo and behold, today shows up my cereal!
It's not that the price is $13.23 delivered to my door instead of $20 for the same four boxes of the same cereal at retail.
The key point is that I never had to leave the house and waste an hour running an errand, and maybe finding it in stock, and maybe not. The boxes just showed up, and all I had to do was wave my finger around on my iPod.
The Internet has arrived.
iPad: so?
Now I know why Apple never pitched the iPod Touch as the world's most brilliant portable computer, which it is.
The iPad.
Apple is pitching the iPad as the world's greatest, but the iPad is just a bigger iPod Touch. The iPod is always in my pocket where I need it. If I'm willing to lug an iPad, I may as well take a real MacBook Pro with Firewire 800 and the abilty to do some serious work.
The thinking is clear: by keeping secret the lifetime free (wi-fi) internet capability of the iPod Touch, it kept the market open for the iPad, and also pushes people into the clunky iPhone instead. Why would people want an iPhone if they knew that the iPod Touch gets better, faster wi-fi internet, for free, forever?
I'm serious. The iPod Touch sniffs out free wi-fi anyplace it can. Walking down the streets of Manhattan last month, I found it anyplace I lit up the iPod Touch since so many people have it in their apartments.
No, you can't get wi-fi while you're driving, but you can't use it there, either. When you're standing most anyplace civilized, there is almost always a free wi-fi connection available.
The phone company doesn't want you to know that free wi-fi is a zillion times faster than the slow-as-molasses 3G and 4G networks for which they charge.
So anyway, I have no idea why I'd want to lug an iPad to do the same thing I do with my iPod Touch.
If I want to work on this site, I still need a computer, but I do use my iPod Touch for note taking and a zillion other things while in the feild.
By the way - the desktop Mac on which I create this site is now well over 4 years old, and running better than the day I got it. That's Apple for you. A 4-year old Mac is just entering the prime of its life, while most Windows machines are virus-paralyzed before they reach age 2.
The Pot Gets Sweeter
Adorama just bumped up the card they include in their $2,500 Canon 5D Mark II kit to the top-of-the-line SanDisk 16GB Extreme Pro CF card, which sells for about $215 by itself. That kit also includes a Slinger bag, all for the same price everyone else charges for just the body, and shipping is included.
How good is the 5D Mark II? As I demonstrated a year ago, even an old Canon 5D gives better image quality than a brand-new Nikon D700 or D3, and the 5D Mark II takes it up a couple of more notches from there.
Since the old Canon 5D, replaced over a year ago, swamps every DSLR Nikon has ever made with the sole exception of the D3X, that leads us to ask:
Nikon D700x Watch
The D700x is due. The x-models follow about 1 to 1.5 years behind the mother models, and the D700 was announced in August 2008.
If the D700x is go for the spring selling season, I'd expect it will be announced on or before Saturday, 20 February 2010.
Nikon should already have had the D700x designed and complete at the same time the D700 was designed. In this case, its a matter of market segmentation and timing to determine the most profitable time to introduce the D700x as not to cannibalize D3X sales. Once the D700x hits, the D3X becomes irrelevant.
Route 66 Trip!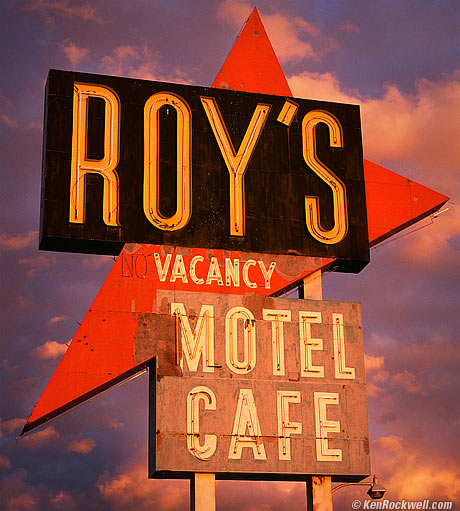 Roy's, Route 66.
I suspect that we may have an opening in our new Barstow-to-Kingman Route 66 Photo Tour, which runs late Sunday through Wednesday morning, 14-17 February 2010, if you'd like to join us.
Our other, older and more well-known annual Route 66 trip has been sold out for months; this new one going to Arizona has had a space available.
This shot of Roy's is from last year's first running of this new trip.
Photos from both of last year's trips.
On these trips, we're out all day and night shooting, with only minimal time spent indoors talking about it. You can get all the one-on-one instruction you'd like, and the important thing is that we maximize our shooting time instead of piddling around in a hotel.
Questions? Email Dave Wyman, or phone him at (323) 377-7565 in Los Angeles. I don't organize or register people; I come to instruct each year.
04 February 2010, Thursday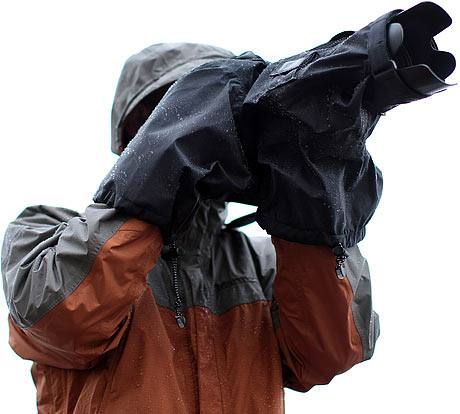 NEW: Think Tank Hydrophobia 70-200 Rain Cover.
This is one tough professional cover if you shoot in the thick of it.
02 February 2010, Tuesday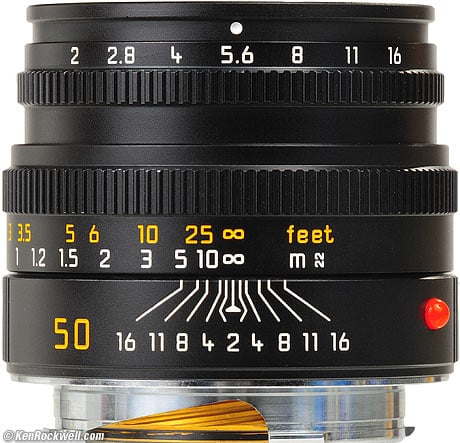 NEU: LEICA 50mm f/2 SUMMICRON-M Review.
NEU: Comparison Table of all LEICA 50mm f/2 SUMMICRON Lenses.
The world's standards for lens performance.
02 February 2010, Tuesday
Baby Party Busted!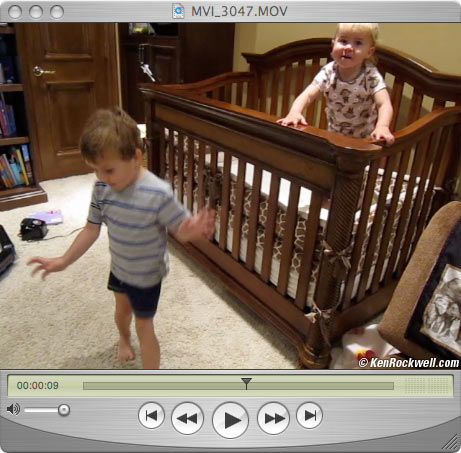 Ryan and Katie singing and dancing! (23MB .MOV video file.)
AHA!
I just went downstairs to have lunch, and I caught the babies in the act with the video mode of the Canon S90, which is always in my pocket.
It's trivial to pop this video into my iPod Touch. In Quicktime player, hit Export, chose Move to iPod, save it to the desktop, than drag that to the library in iTunes. Done.
Save the Date
The Rockwell Skunkworks has just received intel that Los Angeles Times Photojournalist and Pulitzer Prize winner Don Bartletti will be speaking to our photo club at 7PM on Wednesday, March 17th, 2010 at MoPA.
News
Magnum cleared out its closets and sold all its old prints to the guy who founded Dell computers.
It's not a big deal to photographers, since Magnum only sold a slew of old prints, not the images themselves nor any of the rights.
Since Magnum has the film originals, as well as already has scans of the images that matter, it helps Magnum make some money on what would have been thrown away as unnecessary for its business, and bring in some cash from collectors who dig these original old prints. Dell paid over $100 million for the lot, which filled up two trucks.
Magnum hasn't used any of these prints since 1998, from which time everything has gone out as digital files. These old press prints are the worn prints that physically circulated to publications so that they could be screened and printed.
Everyone wins. Yay!
Observed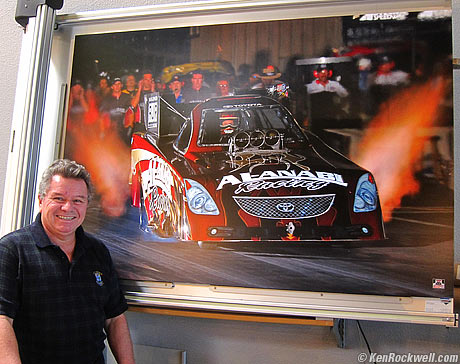 Richard Shute with a 40x60" print — from a D40. bigger.
As I dropped off my film at North Coast Photo yesterday, motorsports photographer of the year Richard Shute called me over to look at this huge 40 x 60" (100 x 150cm) print he had just made and mounted.
It's awesome. It's a whole lot more awesome in person.
Richard has been shooting cars for a living for a long time. He shoots and has shot with just about anything. He took my tip about the D40 having 1/500 sync, which he uses when shooting sports with fill flash.
He shot this with the D40, and it looks great! Richard really knows what he's doing. 6MP is more than enough for mural-sized prints if you know how to shoot (and even gigapans look awful if you don't).
Of course it's always about the photographer, and to some extent the lens, but never about the camera. Richard shot this with a Nikon 300mm f/2.8 VR, which is 100% compatible with the D40. That might seem like a expensive lens ($5,000) to shoot on a $400 camera, but no! In five years, a $5,000 lens will be worth $5,500, but a $5,000 digital camera like a D2H is now worth only about $500. The smart money always goes to lenses.
He also owns North Coast Photo. When a top photographer owns the lab, you know we're all going to get great results. He makes these huge prints right there for anyone, and they are real chemically-processed prints on Fuji Crystal Archive paper, not smeary inkjet imitations that will fade. These huge prints are new, so they're not on the online price lists yet. Phone them at (760) 931-6809 if you need more information.
01 February 2010, Monday
Video: Marc Silber's interview with Rock Photography legend Michael Zagaris
What Was New in Past Years (archive)
Help me help you top
I support my growing family through this website, as crazy as it might seem.
If you find this as helpful as a book you might have had to buy or a workshop you may have had to take, feel free to help me continue helping everyone.
If you've gotten your gear through one of my links or helped otherwise, you're family. It's great people like you who allow me to keep adding to this site full-time. Thanks!
If you haven't helped yet, please do, and consider helping me with a gift of $5.00.
The biggest help is to use these links to Adorama, Amazon, Calumet, Ritz, J&R and when you get your goodies. It costs you nothing and is a huge help to me. eBay is always a gamble, but all the other places have the best prices and service, which is why I've used them since before this website existed. I recommend them all personally.
Thanks for reading!
Ken
Home Donate New Search Gallery How-To Books Links Workshops About Contact