Home Donate Search Gallery How-To Books Links Workshops About Contact
Janury 2010's Updates

all © 2010 KenRockwell.com. All rights reserved.


29 January 2010, My Dad's 79th Birthday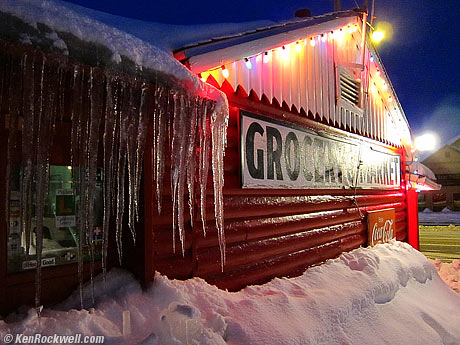 NEW: Photos from Death Valley and the Eastern Sierra.
This is what I was doing earlier this week.
28 January 2010, Thursday
California's Eastern Sierra
I just returned from a trip with my photo club.
We had loads of snow in California's Eastern Sierra, and I finally got to do something useful for a change.
Richard's Chevy Tahoe never got stuck in foot-deep snow, but at times the snow got compacted and slick, so Peter and I hopped out to break it up a little.
Here's me at the South Tufa parking lot at 6:30PM on Tuesday night: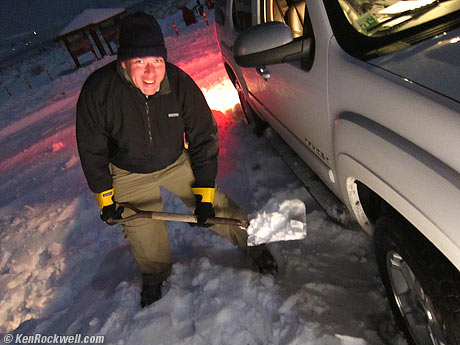 Rockwell gets useful. more useful.
I handed my Canon S90 to Peter, which automatically set itself to ISO 1,600, f/2 at 1/2 of a second, hand-held. The only light was the moon and the Tahoe's headlights reflected off Peter and the snow.
You can see the South Tufa kiosks behind me in the moonlight.
Thus the S90 shoots hand-held in moonlight, without even trying. We were busy digging. This is as it came from the S90, shot with the same settings I always use: auto ISO and Program. it wasn't even a full moon; it was only first quarter.
Point and shoot, and it works great even in moonlight with fantastic image stabilization, and great color, exposure and auto white balance.
So why would I ever need a DSLR? Only if something won't pose. The more I shoot the S90, the more impressed I get. I got some great shots these pst few days, in any kind of light.
I also brought along my Nikon F6, and a Nikon N70 (worth about $10 on eBay) that Don sent me. Thanks Don!
The N70 is a thoroughly modern Nikon SLR, complete with 8-segment 3-D matrix metering and all the clever flash tricks, and it works with all Nikon lenses from manual-focus AI to today's AF-S and G lenses. For about $10 if you buy well, an N70 does just about everything a camera should do, but since RealRaw shooters refer to spend a little more for an N90, F100 or F4, N70s are pretty much free.
I still need to write my review of the N70. Just about the only thing you don't get on the N70 is VR, and a more clumsy user interface if you like to use the Zone System. On the plus side, the N70 is solidly made and lightweight, and has an excellent, big, bright, sharp viewfinder far superior to any DX camera.
This is the way everything looked yesterday: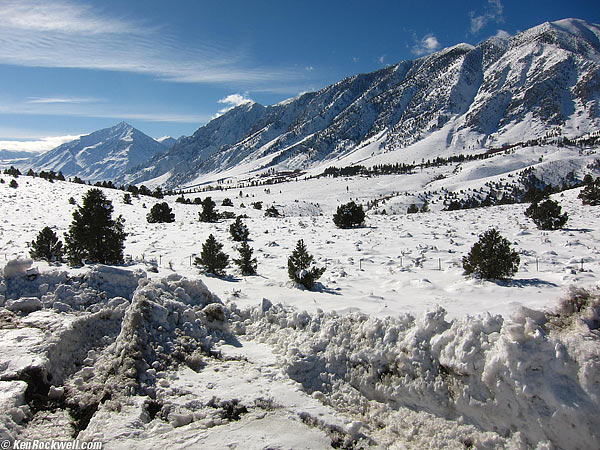 View from McGee Creek Trailer Park. original file.
26 January 2010, Tuesday
Workshops
I just updated my Workshops page for 2010.
22 January 2010, Friday
Route 66 Trip!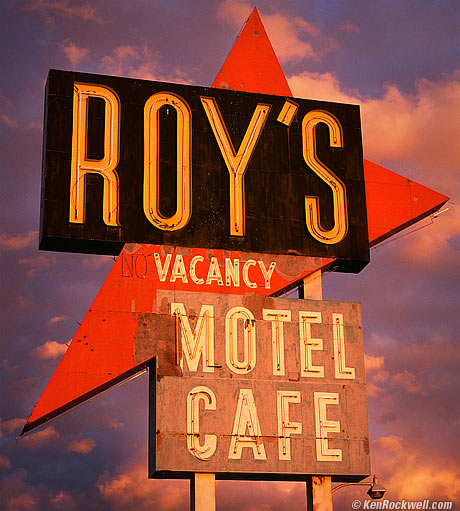 Roy's, Route 66.
Dave Wyman tells me that we still have some openings for this photo trip, which runs late Sunday through Wednesday morning, 14-17 February 2010. We'll be in Barstow, California and Kingman, Arizona.
Our well-known annual Route 66 trip has been sold out for months; this new one going to Arizona still has some space available.
Photos from both of last year's trips. This shot of Roy's is from last year's new trip, the same for which we still have openings this year.
On these trips, we're out all day and night shooting, with only minimal time spent indoors talking about it around dinner. You can get all the one-on-one instruction you'd like, and the important thing is that we maximize our shooting time instead of piddling around in a hotel.
Questions? Email Dave Wyman, or phone him at (323) 377-7565 in Los Angeles. I don't organize or register people; I come to instruct. I've been doing the original Route 66 trip with Dave for years, and was also on last year's first run of the new trip for which we have openings. People come from all over the world for these trips.
21 January 2010, Thursday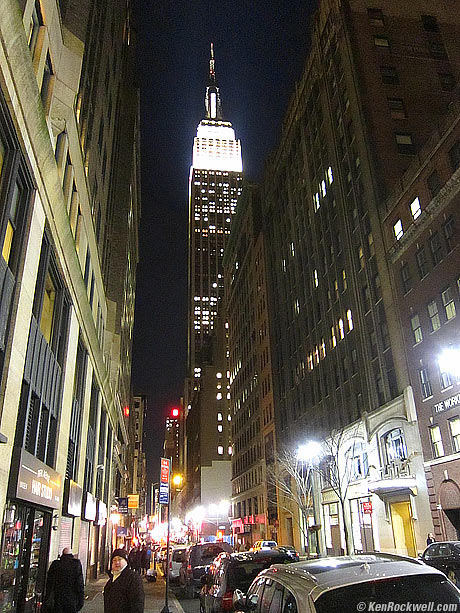 New York City (ISO 1,600 on the Canon S90, © original file.)
NEW: Photos from New York.
I popped out to New York last week to visit the big stores and big camera companies, as well as see my friends and family. Here is the photo essay, shot entirely on the Canon S90, the only camera I bothered taking.
Observed: Voigtländer 12mm f/5.6 in Leica M Mount.
Pass on this for the M9. It's useless because there is no corner-color correction available to correct for colors shifts caused in the digital sensor. For film, the fact that it seems like it can take filters finally makes it useful, unlike the original 12mm lens which can't.
20 January 2010, Wednesday
NEW: Everything New Sucks.
This is a little less positive than most of my writing, and I provide solutions for everything that sucks.
19 January 2010, Tuesday
How About That: Hmm, I had a scary thought this morning as I realized how many more people blindly flock to whole-day classes in trivia like Adobe Lightroom, but would never even consider taking an hour-long seminar in something far more critical like lighting, lights, scrims and reflectors.
18 January 2010, Monday
Observed: A Peek inside Ansel Adams' Home.
Thank you, Marc Silber.
17 January 2010, Sunday
NEW: Perfect Highlights and Shadows.
Hint: it's not your software and not your camera.
Watching movie DVDs from the 1930s with perfect highlights and shadows inspired this article.
I'm moving back into mom's basement!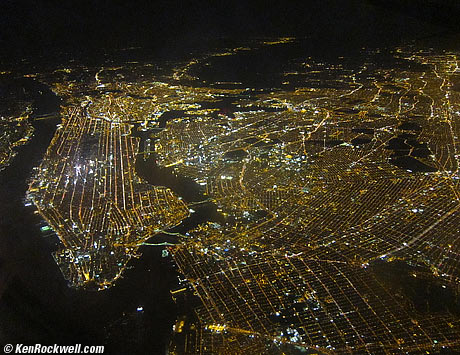 Manhattan and Queens at night. bigger. © original.
I just got back from a week visiting my family on Long Island, New York, just outside NY City. I got a ton of great shots with the Canon S90.
For all the decades I've been flying in and out of New York, I've never been able to make this shot with any other camera. The S90 is the first, and I'm astounded: this shot is sharp. The S90's f/2 lens, great high ISO performance, and great IS made it. My DSLRs have no IS with fast lenses; Nikon makes no fast lenses with IS or VR. Other compact cameras and film lack the high ISO ability.
I was lucky enough to get a tour of Phase One's New York facility, which was sort of a no-brainer as I was born and raised a mile away from their Melville US HQ. Mom's still there, and I get to sleep in the same bed as I've been sleeping since I was about 5 years old. (They had different furniture when I was born; it's still the same house.)
As we all know, Nikon USA has been in Melville, NY for decades.
As fewer people know, Canon USA is moving from Lake Success to Melville in a year or so. My dad worked for 40 years at Sperry in Lake Success, and I worked there for a couple of summers.
Of course all the big camera stores are in NY City, a short ride away.
It always makes sense when you're a kid that everything is close. It always is when you're little.
Today, I have to ask myself why all the biggest and most important camera companies in the world will have their US offices within a block of each other. Canon's new facility will be just on the other side of the expressway from Nikon. They'll all be eating lunch in the same places. Heck, Phase one seems to share a parking lot with Nikon, and they really do have snowball fights with each other.
As an adult, it makes me wonder what force of the universe has these companies across the street from each other. Honestly, they are or will be close enough to see each other out their windows.
Tamron? They're in Commack, Long Island, a few exits east on the LIE.
Schneider? Hauppauge, Long Island, another exit or two, and they actually cut and manufacture professional filters for the motion picture and pro still photography there.
Mamiya USA? Just north of NYC in Elmsford, NY.
Tiffen? Also in Hauppauge, Long Island, and they make their filters right there.
Olympus? Also in Melville, just like Nikon, Phase One, and soon, Canon.
As an adult, it makes me wonder what force just happens to have all these companies, who play competitors on TV, have offices within walking distance of each other.
Could it be that they really are owned ultimately by the same family? I mean, if I move back into mom's basement, I'll be able to walk to each and all of these places.
All I'll need is my laptop, and taxi fare if I wimp out in inclement weather. It's all too simple, and I'll be so much more effective and closer to my friends. Time to move before the big one takes out San Diego, but I doubt the wife will go for it.
FUD and airline travel
I don't often fly on public transportation.
I don't watch TV or listen to the news (it's rarely relevant and usually misleading), but from what little I pick up from my wife, airline travel is supposed to be a royal pain, especially with the new pat-downs, random (meaning always you) body searches, anal probes, and now not even being able to pee on large portions of most flights.
I flew to NYC's JFK last week, which proved that these fears, like everything else you hear on commercial media, are baloney.
Airline travel is still trivially easy, with no lines and no delays. I wait on line longer at Price Club three times a week than I ever have to wait at the airport.
I asked myself why would the media tries to scare everyone away from taking airlines, which I presume advertise on TV.
Rule one is that media does its best to keep people scared. Scared people watch more TV, making more money for media.
In the 1950s it was Communism, which was the biggest, but still impotent, threat we never faced. In the 1970s it was the phony gas crisis, and today it's other baloney like flesh-eating bacteria, global warming and economic collapse, Terrorism, carbon footprints and airline security. Every one of these fears was created to fatten someone's wallet. (Terrorism is a valid concern outside the US; that's why we've dispatched our military on humanitarian missions in Afghanistan and Iraq to bring martyrdom to as many Terrorists as possible.)
The fake gas crisis of the 1970s, when impressionable people believed as fact that we would run out of gasoline by 1979? It scared people out of the big, comfortable cars they had earned, and squeezed a generation into crummy little boxes. My family never bought into it (I was 11).
Who profited? Auto companies, who sold tons of new cars. The oil companies got to raise their prices and profits through the roof, heh heh heh.
There never was any danger of running out of gasoline. Today, almost 40 years later, we still have gasoline coming out of our ears. The same scam came and went back in the 2000s under the manufactured truth of "global warming," playing on the same profit model as the fake 1970's gas shortage. Ever notice how the solution to any manufactured global scare is always solved by having to buy something new?
Anyway, I flew to JFK, and all anyone said to me was "have a good time." No pat-downs, no probes, no pee tests, no waiting, no nothing except a relaxed, good time.
But why would TV single out public air travel? That's a real business, unlike the other pretend fears which are only abstractions. Santa Claus and the Easter Bunny are far more significant to me than any of the fears that The Man dreams up .
As we do in business, just follow the money to find out anything, like why media disses airline travel.
Then it hit me: Who pays for TV? Advertisers. Who advertises more on TV? Car companies, certainly not airlines!
I don't even watch TV, but I still see tons of car commercials. I can't remember the last time I saw an airline commercial. TV says "screw em" to the airline industry.
By creating a FUD campaign against airlines, it serves the dual purposes of keeping a scared audience watching more TV, and encouraging people to drive their cars instead of fly. Believe me, people putting miles on our cars is a significant boost to car and oil companies which do buy advertising, so screw the airlines. More money to car and oil companies means more money to spend on advertising. One hand washes the other.
I know I've been influenced to prefer driving over airlines due in part to fears planted in my head by this baloney.
Film? Cameras? No problem! If I ask for visual film inspection, no problem. All I ever get from the TSA is friendly, helpful help. (hint: if you don't, lighten up and learn how to respect others.)
The 2000s were the DSLR decade. Those days are over. DSLRs are about as relevant today as dial-up modems and SCSI-conected scanners,
The 2010s are the decade DSLRs died.
In 2019, DSLRs will still be used for sports, news and action, but the rest of us will be using far more compact Powershots, M9s or Panasonic GF-1s for digital.
How many cameras and what lenses did I carry for a week of shooting? Just a Canon S90. I wasn't shooting anything that moved, so I'm not wasting my time hauling either of my two D40s.
Not only was the Canon S90 all I needed for the week, if anything, it was too much. I didn't use half its features, and I did shoot video. I could shoot low light, no light, wide, tele, indoors, ultra-macro, movies with sound, and never needed anything else.
I wrote all this on the plane. I could have written more, but the flight to NY left early, and my return flight also arrived almost an hour early today. Good times!
15 January 2010, Friday
iPhone Photo Contest
Adorama is having an iPhone Photo Contest, with some serious prizes, and some even more serious judging by Moose Peterson, Joe McNally, Eric Meola and others.
Heck, if I ever got an iPhone, I'd probably never shoot anything else.
DEAL: Refurbished Nikon D5000 kit $524.95, with free shipping. It's refurbished by Nikon, includes the 18-55mm VR lens and has a 90 day warranty from Nikon. Would I by a refurb? When it comes from Nikon, sure.
The D5000 offers technical quality indistinguishable from the Nikon D300s, in a much lighter package. The D5000 is superior to the D300 at high ISOs.
Now that the D40 is just about impossible to find, the D5000 is the replacement. I'm no fan of the D3000.
DEAL: Refurbished Nikon D40 kit $374.95. These come and go, and if you can get one, an absolute steal.
Maybe I'm not crazy!
I thought I was nuts. I have this talent of seeing defects in things before anyone else does.
For decades, I seemed to be the only person who noticed that extreme wide angle lenses shift colors slightly at the edges. Most ultrawide lenses get a little cooler in the corners.
I'm the only one who reports on in in lens tests, as I do in my report on the Nikon 14mm and my report on the Zeiss 21mm lenses.
Lo and behold, yesterday I was learning how to use Phase One Capture One 5 PRO, and it has the ability to calibrate and correct for this problem, at least with Phase One's backs!
Phase One Capture One 5 PRO is software for professional use in converting raw files into final images. It is a few steps above Photoshop and amateur programs like Lightroom in being designed for exacting, ultra-high quality conversions.
For $400, this software is a bargain, considering that it's the same software real studio pros use with Phase One digital backs that can cost as much as a new Mercedes C-Klasse.
Warning: Items discussed below cost more than most people pay for a new car. In this discussion, "professional" means products bought by businesses, and "consumer" means products typically bought by individuals.
I also got to play with some of the Phase One digital backs for the Contax 645. Phase One also makes these backs for Mamiya, Phase One's own cameras, and Hasselblad. I kid you not: you can get Phase One backs not only for the newest Hasselblads, like the H3, but even for the traditional 500 series.
These backs are brilliant: they work just like a film back, and let me use a Contax 645, one of the world's best cameras, to shoot digital at between 25 and 60 megapixels.
How good is Phase One? When you look at the EXIF on Nikon's photos of their cameras, Nikon shoots its own product photos with Phase One backs! Clearly, Nikon doesn't chance the quality of its product photos by shooting them with consumer-grade cameras like its own D3X.
Better, you can throw a digital 645 back in your bag, and swap it out with 645 film backs. You can shoot Tri-X and Velvia for your personal work that matters, and digital for the client-of-the-week who wanted it yesterday simply by swapping to the digital back.
These backs don't have any of the menu BS that clogs consumer cameras like the Nikon D3X and Canon 1Ds Mark III. With professional gear like the Phase One backs, you just shoot. Hee hee, I can't wait to see if I can borrow one of those backs for a real review.
I've been trying not to publish a review of the Contax 645 so I have the excuse to shoot it a lot more, with the excuse that I'm "still testing" it. I shoot RealRaw, which saves me the price of a new Mercedes since I don't have to buy a digital back for it.
This sort of makes the LEICA S2 irrelevant. The LEICA S2 has no RealRaw capability, limited resolution (not even 40MP), a horribly outdated amateur 3:2 aspect ratio, and a small sensor barely bigger than 35mm.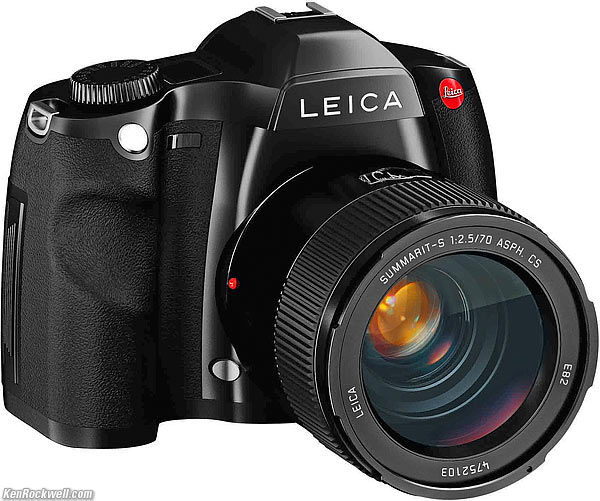 LEICA S2. bigger.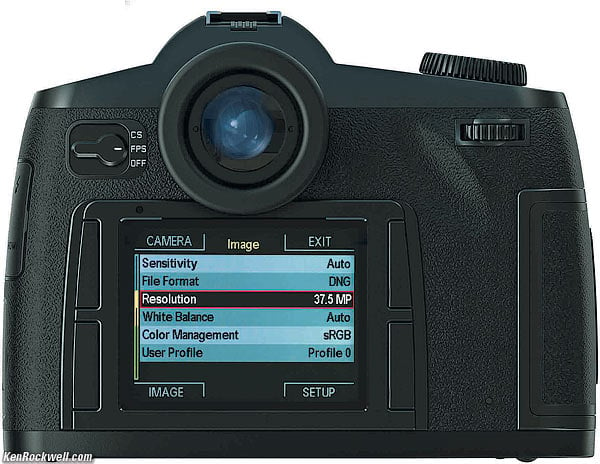 LEICA S2 back. bigger.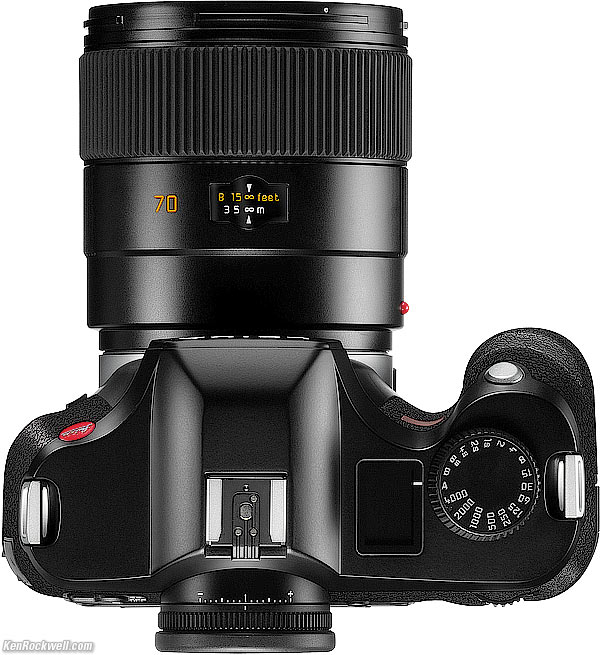 LEICA S2 top. bigger.
The S2's sensor is only 30 x 45mm, not 40.4 x 53.9mm like the Phase One P65+ sensor. The widest lens for the S2 is the 35mm, while the Contax 645 system offers a 35mm lens. A 35mm lens on Leica's smaller S2 sensor is equivalent only to a 45mm lens on the Contax 645.
The Contax 645 system offers an exotic Zeiss 350mm f/4; the longest for the S2 is only 180mm today.
The Contax 645 system sells for much less and is much easier to find than the S2 system. The S2 is new, expensive and not in stock. You can get anything you want for the Contax 645 used at this link to it at eBay, and most of it is still like new. If you're new to the Contax 645, you can find plenty of used kits with the body, finder, back, film insert, 80/2 lens and etc for about $1,400 still in their boxes, complete and ready to shoot. A beater kit with the 80mm will sell for about $999, at least over eBay. The 45mm and 140mm lenses usually go for about $650 each, bargains for autofocus Zeiss lenses.
The Contax 645 system is modular. When the Phase One digital back goes obsolete, throw it out and shoot RealRaw, or get the newest back.
The LEICA S2 is not modular. The prism, shutter body and digital sensor are all one piece. When the S2 gets digital rot, the entire S2 camera has to be thrown out just like any other DSLR. These sections are all modular on the Contax 645; if a back goes obsolete, just replace it.
The LEICA S2 lenses sell for $5,300 - $7,500 each. Contax 645 lenses sell (used) for a few hundred dollars (the 80mm f/2) to no more than $5,500 for the exotic Zeiss 350mm f/4. The S2's 35mm lens will set you back $6,000 if it ever ships, while you can get the Zeiss 35mm for the Contax for around $1,500.
Are the Leica lenses better than Zeiss, giving the S2 the same advantage the 18MP M9 has over 24MP DSLRs? I doubt it. My tests of other Leica-vs-Zeiss lenses for the same application has proven the Zeiss to be as good or better optically than Leica for a lot less money. (Rangefinder and 4x5 lenses are better than SLR lenses, but that's another day's story.)
I'll stick with an M9 over the S2. Of course when I get to play with an S2 I'll probably have a different opinion. Then again, I see no aperture ring on the S2. How am I supposed to shoot if I have to hold a button to change the aperture? That would not be LEICA. I see no shooting mode or aperture dials on the S2; the Contax 645 has dedicated controls for everything. The S2 lacks depth-of-field scales; the Contax 645 has them for precise control.
Too bad Contax doesn't make the 645 anymore, but you can get anything you want at this link to the system at eBay today, and most of it is still like new.
14 January 2010, Thursday
I've just written some of the most important articles I've ever written, and I'm still trying to figure out the best titles for them.
My titles more accurately are headlines, which means they have to be to the point, and need to fit in one short line of large text ,or as one or two words as links at the top of my pages.
I've written:
What Makes a Great Photo, which is all about learning to pay attention to the basic image design elements which are crucial to creating a winning photo. This is the very basis of all good photography, and I don't know that anyone has ever written about it for photography. Every painter knows all about these things, but sadly most photographers have been too wrapped up in technique to learn these.
If you learn What Makes a Great Photo, you'll be able to crank out great work with any sort of camera. If I can teach this, which was what I had as my new year's resolution for 2009, I will have accomplished something monumental. I don't know that What Makes a Great Photo is all that well written yet.
Writing about photography itself is a lot more difficult than reviewing gear.
FART is a method to help ensure that our photos are interesting. I'm OK on the title for this.
The Death of Photography is all about why the garbage that fills most photo hobby magazines is just garbage, and is an attempt to educate the innocent as to how to make a picture, instead of throwing tons of time and money away on things that just don't matter.
12 January 2010, Tuesday
NEW: What Makes a Great Photo.
The most important thing I've ever written. Oddly, I don't know if I wrote it well.
NEW: FARTing: A Key to Making Great Pictures.
I love to FART.
It's a great tool to teaching others to make better pictures.
This one floated out as a separate article as I wrote What Makes a Great Photo above.
DEAL: The Canon 5D Mark II, the best DSLR for nature and outdoor photography, just dropped by $200. (the D700 is king for portraits, people and weddings.)
The 5D Mark II body is now $2,499 at most places, but even better, you can get the Canon 5D Mark II body kit at Adorama for $2,439, which includes the 5D Mark II, SanDisk 16GB Extreme IV CF card and an Adorama Slinger bag for a little less than everyone else charges for just the body.
This is an even better deal than last year; the Adorama kit now includes the professional Extreme IV card, which downloads a lot faster then the amateur Extreme III card they kitted last year.
That's right: Adorama throws in a $190 card and a $60 bag (at NYC deep discount), and cuts the price $60 below what others get for the body alone.
Observed: The LEICA Man is on Flickr.
Massimo Marinucci, the genius behind The Wine Connection (featured by Apple since he can run that business from his iPhone), has loads of great photos posted all the time.
The key? An eye, and shooting film when he wants it to look good.
He was shooting modern gear yesterday, an M7, but half the time, it's from his M3 or MP, or even an M9, and sometimes with lenses from the 1930s.
10 January 2010, Sunday
NEW: How to Stop Worrying and Learn to Love Photography.
It's the same article as yesterday's Death of Photography, but it's so much better and more relevant than most of what I write that I'd mention it again.
It plays well under many different titles.
I still need to write "Why HDR Looks So Bad," but that's another day.
Thank our lucky stars, I started writing the most important thing I may ever write, which is What Makes a Good Photograph, a deceptively simple title for the most difficult-to-explain intangible thing I will ever write.
Grumpy Lives!
I thought he must have died, but thank goodness, Grumpy lives.
I preferred his reviews back in the good old days.
08 January 2010, Friday
NEW: The Death of Photography.
Will photography live to see its 200th birthday in 2025, or will those who invented it kill it first?
How much longer will we have film?
Film is a lot younger than newspapers.
Newspapers were supposed to go away when radio was invented.
Black-and-white film was supposed to go away when color was invented.
Radio, and movies, were supposed to go away when TV was invented.
Vinyl records were supposed to go away when CDs came out in 1983, 27 years ago.
Cable TV, Blockbuster and Netflix were supposed to go away back when the Internet got popular in the late 1990s.
When we lose the others, maybe I'll start worrying about film going away.
New media may replace some parts of older media, but never replaces all of it. The older media always sticks around doing what it did best.
Legoland Water Park coming in June!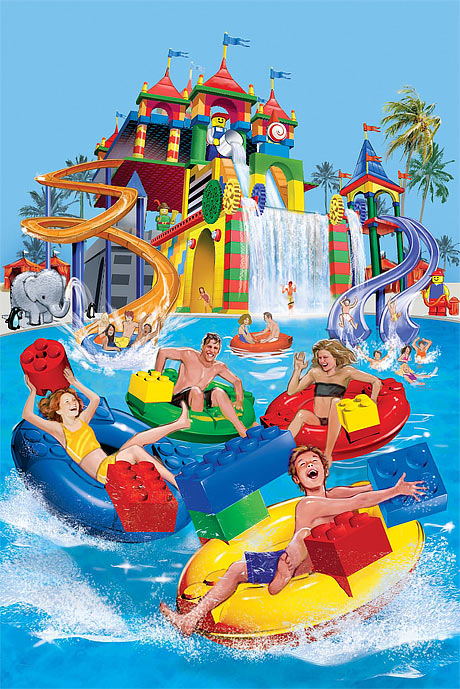 Yay! Legoland is adding a water park. Ryan had a grand time watching the doo-dah (construction) trucks working on it today. He practically jumped out of his seat with excitement.
It will be 5.5 acres at the north end of LEGOLAND California, behind Fun Town. The entrance will be located between the Factory Tour and the Adventurer's Club.
Seen above is the Build-A-Raft river, where we can float on build-it-yourself LEGO rafts. The Water Park has six-person raft slides (seen on the left in orange), single-person tube slides (seen in blue on the right), and hands-on zoo-themed toddler areas. Yay!
The Build-A-Raft river is going to be hot. It's a lazy river where we can float around on rafts, two sandy beach wading areas, and cabañas for a little R&R.
The Water Park is a $10 upgrade from the standard LEGOLAND ticket, and included for folks with annual Resort Memberships. Whoo hoo!
More at www.LEGOLANDwaterpark.com and (760) 918-LEGO. Hee hee, see you there this summer!
07 January 2010, Thursday
Technology
Check this out: I just figured out how to add boxes that load up with currently available stuff on eBay.
Will you find this helpful if I add this to my reviews of old stuff, and only old stuff you can't often find at retail?
I have no intention of putting this on reviews of new gear, but every time I review something old (or reviews of things that are now no longer available new, like the D1X), people ask me where to find these things.
You always can find anything on eBay, regardless of how unusual, old, or crazy it is.
For instance, here' s a listing of the Nikon F4s on eBay right now:
New Canon Wireless Transmitters:
WFT-E2 II A Wireless File Transmitter for the EOS-1D Mark IV.
WFT-E4 II A Wireless File Transmitter for the EOS 5D Mark II.
WFT-E5A Wireless File Transmitter for the EOS 7D.
06 January 2010, Wednesday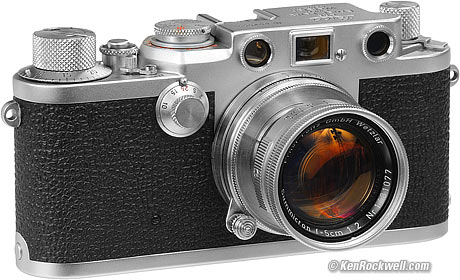 LEICA IIIf mit collapsible LEICA SUMMICRON 50mm f/2.
NEW: LEICA IIIf Review.
New decade, new deal.
Let's try to forget how many tens of thousands of dollar each of us threw at DLSRs last decade, and how little we have to show for it today.
Let's see: I burned through a D1H, D70, D80, D40, D300, D3, Rebel XTI, 5D, 5D Mark II, numerous Mavicas and point-and-shoots and I forget what else, and what is it all worth today? Worse, how about in just 5 years when the D3 and 5D Mark II are expired?
How about all the time I spent banging out reviews of all that junk? I must have ten huge 100 pages (when printed) on each of the D70 and D1X, and today, no one cares.
Compare that to the numerous pages I have up about the Nikon F100, which I wrote back in the 1990s. That work is still usefully, heck, the one guy I saw yesterday, Michael Chan, had just bought a used F100 and was having a blast with it.
So why review digital stuff, when something like the LEICA IIIf has been cranking out great pictures for sixty years, and in 2020, the camera and its review will still be as useful as it is today.
Don't worry, yes, I'll still review all the digital cameras-of-the-week, but looking back at all the hours I spent in front of my screen the last decade and what I have to show for it, digital is not the way.
This site has been on-air before consumer photographers shot digital. I've been right here since before anyone had ever received any practical DSLR, which was the Nikon D1 which first shipped around Christmas 1999. When I started this site, digital meant scanning your slides into a computer as far as serious work went, and that wasn't very serious.
Worse, want to know with what I was shooting yesterday? An uncoated LEICA ELMAR 50mm f/3.5 lens, made 76 years ago in 1934.
Know what? It works great, even on the M9.
Oh well, I'm just venting. I spend a lot of time working on all this, since I do it all by myself with no one else helping. I always like to get a rise out of people, and I guess at least a few of you will be hanging on to digital capture for at least a few more years.
Camera companies love digital, because digital cameras are thrown away and replaced every two to three years. Compare this to a real camera like the Nikon F4, which was the hottest camera of the 1980s, and still cranking out great work unstopped 25 years later. My F4 cost me only a couple of hundred bucks in its box a couple of years ago, and it's still worth at least what I paid for it. It all comes down to digital rot, and camera companies love digital rot.
The one thing that hasn't been disposable about digital so far has been lenses. Those of us with the foresight to buy decent lenses still make great use of them with digital. Many of the best lenses today in digital, like Nikon's 28mm f/1.4, were invented back in the day of the F4, and are still the hottest lenses today. Unlike digital bodies, which we change out every few years, a new pro lens lasts about 10 years as the top lens, and you easily will get 20 years of great use out of it. Even the most often updated lenses, the 70-200mm f/2.8 pro zooms, have a five year model life, and the changes are only minor.
One company has figured out how to make your lenses go obsolete so that you can't keep using the same great lenses from decade to decade.
Ricoh figured out that if they permanently attach sensors to the back of lenses, that these lenses will develop digital rot just the same as cameras, so that you'll have to keep buying new lenses every few years.
It's brilliant: Ricoh has figured out how to make lenses as disposable as digital cameras with the Ricoh GXR, and their brilliant marketing department has figured out how to get commercial websites to tout it as if it's a step forward. Swapping the sensor? No, you're going to be swapping your lenses straight into the trash in three years since they don't come off the sensor.
You really have to credit the Japanese when it comes to getting people to keep buying the same thing over again and again. With the GXR, you won't want to, or most likely be able to, use these lens-sensor systems in five years. You'll have to buy all new stuff, exactly per their genius master plan.
I'm not buying it.
When DSLRs come out with retard automatic HDR inside them, probably later this year, I'm going to shit a chimpanzee.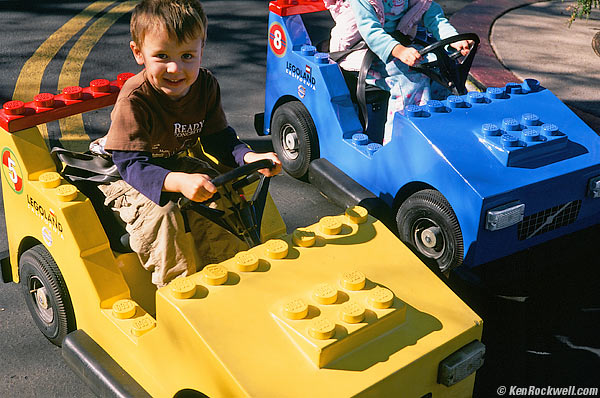 Snapped with a 1952 LEICA IIIf, 1957 LEICA SUMMICRON 50mm f/2 collapsible, 2008 B+W MRC 39mm 81A, f/5 at 1/100, 2.2 meters, 2007 Gossen Digisix meter, Fuji Velvia 50, NCPS process and scan.
This snap would have been a lot better if I used the right film for contrasty people shots, and had brought a flash.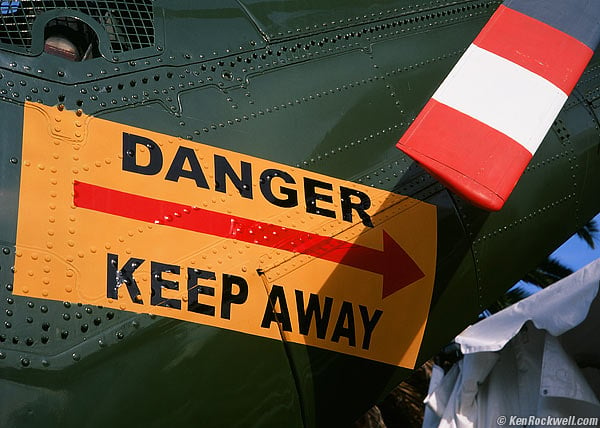 President Nixon's Helicopter. enlarge.
1952 LEICA IIIf, 1957 LEICA SUMMICRON 50mm f/2 collapsible, 2008 B+W MRC 39mm 81A, f/9.5 at 1/50, 1.7 meters, 2007 Gossen Digisix meter read LV 13••, Fuji Velvia 50, NCPS process and scan.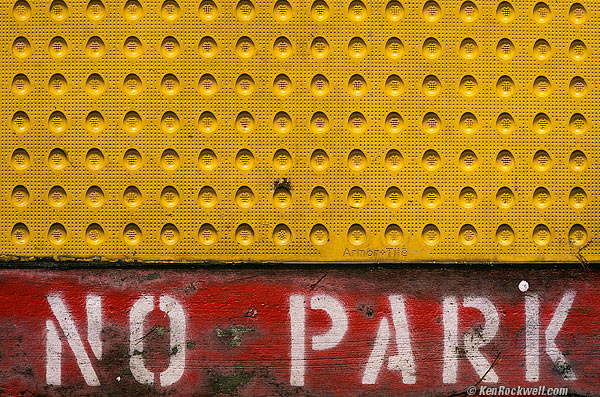 No Park. enlarge.
1952 LEICA IIIf, 1957 LEICA SUMMICRON 50mm f/2 collapsible, 2008 B+W MRC 39mm 81A, f/10 at 1/100, 1.2 meters, 2007 Gossen Digisix meter read LV 15•, Fuji Velvia 50, NCPS process and scan.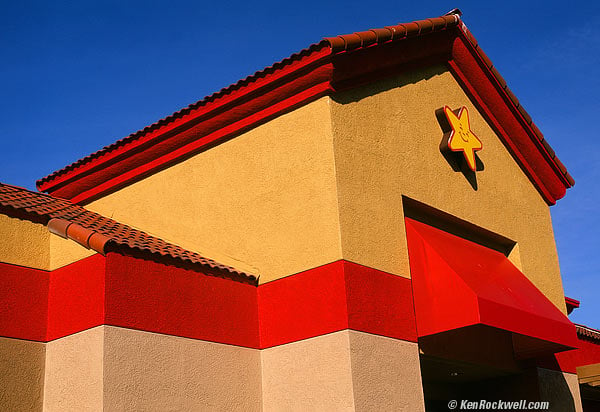 Carl's Jr. enlarge.

1952 LEICA IIIf, 1963 LEICA ELMAR 50mm f/2.8 collapsible, 2008 B+W MRC 39mm 81A, f/11 at 1/100, 50 feet, 2007 Gossen Digisix meter read LV 15-15•, Fuji Velvia 50, NCPS process and scan.

This was frame 39 on a 36-exposure roll of film. Digital doesn't even go to frame 39 or even the 37th frame; when you fill your card or your buffer, you're bonked. Worse, with digital, you pay for a 4GB card, but it only holds 3.8GB. What's up with that?

Not that these shots are any good, but I knocked them all off on one roll of film, just goofing around taking my kids to Legoland and running errands. God only knows what I could knock out if I took the IIIf someplace scenic.

For digital, I'll take a Powershot, please, like the Canon S90.

That is all.

05 January 2010, Tuesday

NEW: The Most Important New Product of the First Decade of the 2000s.

Wow, I've been on the air since the 1990s. This past decade is the first full decade I've been on-air, so I decided it was time for me to hand out an award.

I really miss Grumpy's Nikon Reviews. He was one of the few guys who said it like it is.

I sure hope I'm still here in 2010, 2020 and 2030, and with all your help, I will be. The only help I need is for you to use my free links when you get your stuff, and for the affiliate programs which support me not to go away. This way you support me for free, not advertisers. (I'll probably be underground in the family's plot in Maple Grove Cemetery in Kew Gardens, New York by 2040. Great; my final resting place for all eternity also has an URL.)

Yay! 2010! Best for the New Year!

What Was New in Past Years (archive)

Help me help you top

I support my growing family through this website, as crazy as it might seem.

If you find this as helpful as a book you might have had to buy or a workshop you may have had to take, feel free to help me continue helping everyone.

If you've gotten your gear through one of my links or helped otherwise, you're family. It's great people like you who allow me to keep adding to this site full-time. Thanks!

If you haven't helped yet, please do, and consider helping me with a gift of $5.00.

The biggest help is to use these links to Adorama, Amazon, Calumet, Ritz, J&R and when you get your goodies. It costs you nothing and is a huge help to me. eBay is always a gamble, but all the other places have the best prices and service, which is why I've used them since before this website existed. I recommend them all personally.

Thanks for reading!

Ken

Home Donate New Search Gallery How-To Books Links Workshops About Contact