Home Donate Search Gallery How-To Books Links Workshops About Contact
March 2010's Updates
all © 2010 KenRockwell.com. All rights reserved.

31 March 2010, Wednesday
Why Canon lost the war
Yesterday some friends and I made a short trip to Anza Borrego. I decided to bring some Canon FD equipment to try out.
it really made me appreciate my Nikons, like the FM3a.
I brought a Canon T90, A Canon New F-1, and a Canon AE-1 Program. I only shot the New F-1.
I also brought and shot Canon FD 17mm f/4, 24mm f/1.4 L, 50mm f/1.2 L, 85mm f/1.8, 85mm f/1.2 L and yes, Canon made a great FD 80-200mm f/4 L that focuses to about 2.7 feet at every zoom setting.
Trying to remember how to use any of this stuff was futile. I looked all over for the AE Lock button on the New F-1, and all it was was the battery check. I had to check my own Canon FD Comparison Chart to realize that Canon forgot to include AE Lock on the New F-1, so something as trivial as setting an exposure offset or locking the exposure now becomes an ordeal requiring pulling the camera from your eye and pulling the shutter dial straight-up to get unlocked from A mode and into manual metering.
Worse, I tried to figure out the T90's multi-spot mode, and without the manual, it only worked half way. The T90 has AE Lock, but it's only available in center-weighted or spot meter modes. In those modes, the meter is always locked; it can't measure continuously.
Meter modes on the New F-1? I think Canon was very proud that the New F-1 was the world's first SLR with all of averaging, center-weighted and spot meter modes, but the only way you can select one or the other is to buy and install different focus screens. Each screen locks the camera into only one mode until you change the screen again. Like anyone is going to do this while shooting?
I've already covered how Canon also required you to buy the AE Power Winder FN to get the shutter-priority AE mode to work on the New F-1!
Worse, Canon FD rear lens caps requite two hands to remove (one hand on the lens and the lens' lock release button, and the second on the cap). Attaching is just as bad: you have to stop and hope you have enough light to see the index marks on both the lens and cap because it only goes on one way.
The Canon New F-1 came out in 1981 in an attempt to win some of the pro business away from Nikon. In 1981, pros shot the F2AS, or possibly the then brand-new F3.
Geeze, these Canon FD cameras look great in the reviews of the era and on paper, but when you actually try to shoot them, they're retarded in how difficult it is to set anything, or if a needed feature is actually in there at all, like some way to illuminate the shutter-speed meter in the New F-1s AE finder. If you turn on the finder illuminator, the New F-1 can light up the aperture meter and manual shutter speed, but not the auto shutter speed finder indication. Of course you can't use the auto aperture control, which is lit, unless you also bought and attached the AE Power Winder FN.
Canon lost the great Japanese pro SLR wars of the late 1970s and early 1980s entirely because its ergonomics were so ill-conceived. Great features didn't matter, because some of the basic ones were either left out entirely, or left off unless you paid to buy more hardware. Worse, even if you bought the hardware, getting to the features was impossible during actual shooting.
The AE-1 Program is the best of the lot. It's the only one that actually just works. The AE-1 Program is one of the best cameras of all time. That's why AE-1s sold by the multi-millions. Yay!
It always comes down to ergonomics. Either a camera handles well, or it doesn't. Features and quality don't really matter if you can't figure out how to turn in on, or how to use them. This is how Apple keeps amazing us: their stuff works because it's desiged well enough so that we can fuigure it out. The Canon New F-1 has to be set to A, not ON, to turn on. Set it to S on the same switch, which is easy to do with the camera to your eye, and the self timer goes off instead. Off is unmarked on the New F-1.
Knowing they lost, Canon ate crow and redesigned their new Autofocus cameras from scratch in the 1980s, giving us the EOS series, which is a huge step up from most of the FD cameras.
As we can see, the Canon EOS system, which includes all of Canon DSLRs, is a favorite with zillons of photographers, from pro to schmo.
Thank goodness Canon stopped the FD system and started with a clean slate.
Compared to the Nikons of the same era, it became so obvious why Canon lost back then.
GOLD COUNTRY!!!
Dave Wyman says we have just one more spot open on our springtime tour and workshop exploring California's Gold Country.
We'll be out shooting for five solid days and nights, Friday night through Wednesday night, April 16-21. Fun!
See you all there, although it will be limited to just one more person; it's limited to a small group. Call or email Dave Wyman (323) 377-7565 for details and to register.
DEAL:
Refurbished Nikon D5000 kit $525, with free shipping. It's refurbished by Nikon, includes the 18-55mm VR lens and has a 90 day warranty from Nikon. Would I by a refurb? When it comes from Nikon, sure.
Why Pay for Scans?
A reader asks why do I pay a lab scan my film, instead of using the perfectly good film scanner I already own?
Simple: time = money, and my lab uses high-speed professional scanners and can do it a lot faster than I can.
It takes me at least ten to thirty minutes a slide to scan, and NCPS can develop and scan my entire roll in three hours while I'm doing something more productive.
This is one of the few reasons I started shooting digital cameras over ten years ago: it took too long to wait for scans of film. Getting film scanned was slow or very expensive, and thus a huge barrier between that film and being able to do anything with it online.
One of the many reasons I'm so gung-ho on film today is that now I can have my lab scan everything I shoot, so it's all done as I pick it up a few hours later, even with multiple rolls.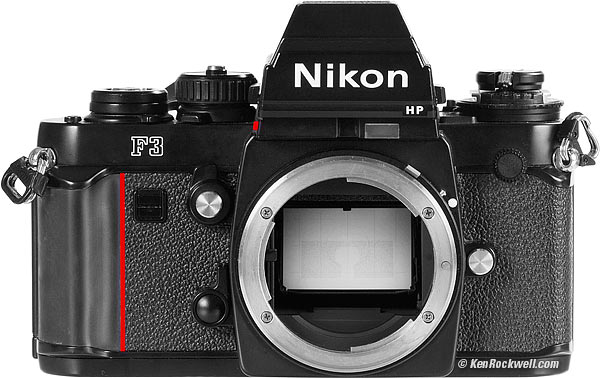 Nouveau: Le Nikon F3, en Francais.
29 March 2010, Monday
Update: Canon 5D Mark II 2.0.4 Firmware
NEW: 24p video firmware v2.0.4.
Canon has added new video formats, and 24p and 30 and 60 really are the professional pull-down rates (23.98, 29.97 and 59.94) as actually used in TV and film.
In Hollywood we know the difference between 29.97 and 30, but software and camera makers are still learning.
With Canon now deeply involved in Hollywood shooting with their DSLRs, they've also gotten the message.
24p isn't 24.00p; it's always been 23.97p.
This v2.0.4 is an update from a week ago's v2.0.3.
I updated from v1.0.7 to v2.0.4, and after copying it to a CF card, it took two minutes to update in-camera.
For reference, here are the latest versions of Canon's 5D Mark II Pocket Guide and Canon's full 5D Mark II Users Manual.
Good List of Good Equipment
Here's one shooter's list of great gear, and why he uses it.
Results: Wein 625
After a year, my Wein 625 cell finally died.
Not bad; these mercury-cell replacements work great for $4.50 each.
If you're a real cheapskate, when they die, pop their washer around a regular 675 hearing-aid cell (get them cheap at Price Club in bulk), and you're good again.
Hearing-aid batteries may not last as long.
NEW: Marketing Excellence: Noktor 50mm f/0.95.
28 March 2010, Sunday
Canon Rebates
Canon's rebates expire in a week, but look out: the big stores in NYC are closing, or closed, for their spring breaks and won't be back until after the rebates expire.
Adorama is open today and a little bit of Monday, and that's it, so if you're thinking of taking advantage of Canon's rebates, today is the time to order it, so hopefully it will ship Monday.
PS: The Canon 24-70mm f/2.8 is great; I just haven't written it up yet, and it is on rebate, too.
27 March 2010, Saturday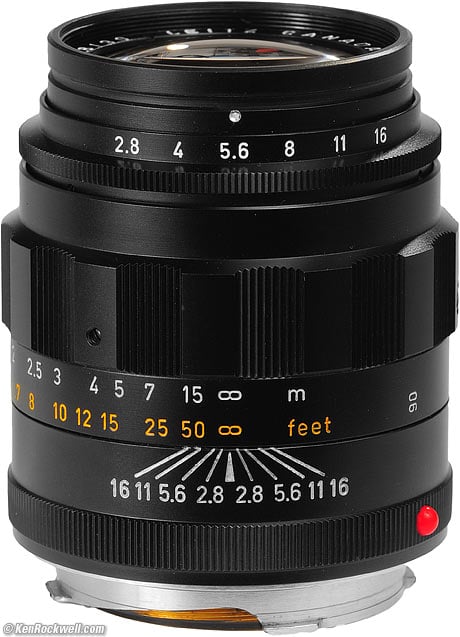 LEICA 90mm f/2.8 TELE-ELMARIT "Fat."
NEU: LEICA 90mm f/2.8 TELE-ELMARIT Review.
26 March 2010, Friday
DX or Full-Frame?
I get asked this all the time, and the answer is simple.
The real reason anyone wants FX over DX, be it in Nikon, Canon, Sony, is to get a bigger viewfinder.
DX cameras have puny little viewfinders, while FX cameras have, overall, much bigger finders so you can see what you're doing. You don't get this reading the specifications; pick up a sample of each and look for yourself.
99% of the time, the results are technically indistinguishable from each other. That's not why you get full-frame. Let's be honest: few of us use ultra-high ISOs very often, and those who do would be better served using fast (f/1.4) lenses on DX instead of using slow (f/2.8 or slower) zooms on FX cameras.
If you're wondering if its worth it to go full-frame, ask yourself if you'd prefer a finder through which you can see better. That's 80% of the reason to go full frame.
FX used to have an advantage for ultra-ultrawide lenses and fisheyes, but with the Nikon 10.5mm and $290 Pro-Optic 8mm fisheyes, and Nikon's newest 10-24mm DX, that's been solved.
NEU: LEICA SUMMILUX-M 24mm f/1.4 ASPH Review.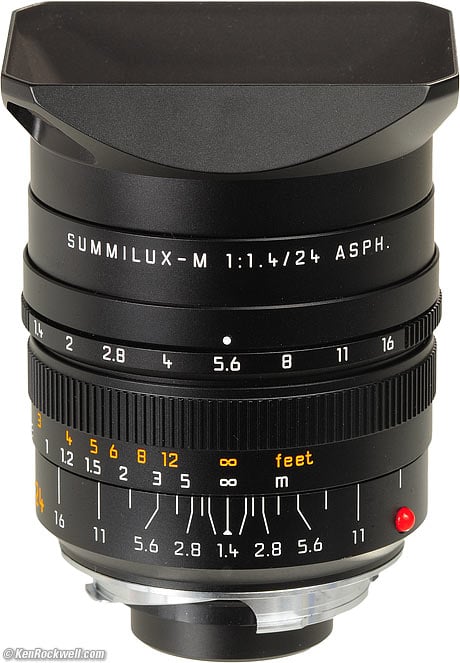 LEICA SUMMILUX-M 24mm f/1.4 ASPH.
I realize that neither myself nor 99.99% of you have any interest of budget for things like this.
Since I've already covered everything from Canon and Nikon, and 0.01% of you are still a few dozen very important people every day who are interested in this, I offer you the world's first meaningful and thorough review of the world's fastest 24mm lens for a rangefinder camera.
25 March 2010, Thursday
NEW: Zacuto's Shootout: DSLRs versus film.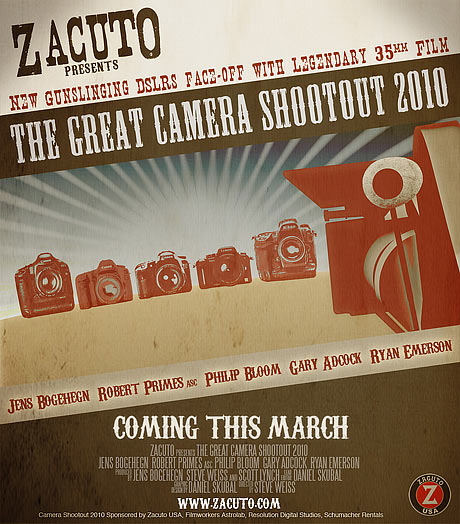 Zacuto's Shootout.
Bargain Tip
I shot my D300 this weekend, and it was fun. I was playing with the new Pro-Optic 8mm f/3.5 fisheye, which only costs $290!
Hint: It works GREAT. For a lens you're rarely going to use, it makes a lot more sense to get this than the Nikon or Canon lenses that cost twice as much.
I'll have a full review coming, and if you're considering one, you might want to get one before I go telling everyone about it and the Rockwell Effect sells it out for months.
Tomorrow Came Yesterday
Aha!
A reader read my 25 years Shooting Nikon piece from 2008, in which I referred to tomorrow.
He asked me what I did.
It ought to be painfully obvious. I really did dump digital, except for making family photos, use in the studio and running tests.
OK, I make a lot of photos of my kids and in the studio, but for the serious stuff I'll hang on gallery walls, it's been film all the way this past year. The only digital I've shot in the field, not of my kids, has been with Canon pocket cameras.
I've been shooting mostly with film on a tiny LEICA, and the funny part is that today LEICAs cost so much less than the digital gear most people prefer.
I've completely forgotten how much my neck used to hurt after a day of lugging a pro DSLR and pro zooms. With my little cameras, I'm still having a good time long after dark when everyone else has dumped their DSLRs back at the hotel.
If it's not fun, don't do it. You don't have to shoot a big SLR and big zooms all because your friends do.
I even gave a real slide show, you know, with slides, at last month's Route 66 trip. Projected directly from the same slide film that was live in my camera's gate at the time of exposure, they looked incredible compared to the dim digital projector.
Bargain Tip
I did shoot my D300 this weekend, and it was fun. I was playing with the new 8mm f/3.5 fisheye, which only costs $290!
Hint: It works GREAT. For a lens you're rarely going to use, it makes a lot more sense to get this than the Nikon or Canon lenses that cost twice as much.
I'll have a full review coming, and if you're considering one, you might want to get one before I go telling everyone about it and the Rockwell Effect sells it out for months.
Observed
Check out Nikon's list of current manual-focus lenses.
These are the perfect lenses for your FE or FM3a.
24 March 2010, Wednesday
In-Stock: Canon 70-200 f/2.8 IS L II!
Both Adorama and B&H have these in stock at these links.
The Canon 70-200mm f/2.8 IS L II is the new standard professional tele zoom for Canon, and they have been very hard to find in-stock.
Personally, I use the smaller and lighter 70-200mm f/4 IS L, but everyone else seems to want the huge f/2.8 L IS II.
Observed
Check out Bruce Percy's new eBook: "Taj Mahal."
It's only a few pages long, and these few pages are explicit discussions of what he was thinking and why he did what he did to create the photos he did at the Taj Mahal.
If you like my explicit discussions in my gallery pages, like Death Valley 2007, or like my articles like FART, you'll love Bruce Percy's new eBook.
Check out David duChemin's new eBooks.
Likewise, David duChemin has three eBooks there which cover the how and why of seeing, which is the only thing you need to know to make great photos.
Equipment becomes irrelevant when you learn these things.
NEW: LEICA 21mm f/4 SUPER-ANGULON Review.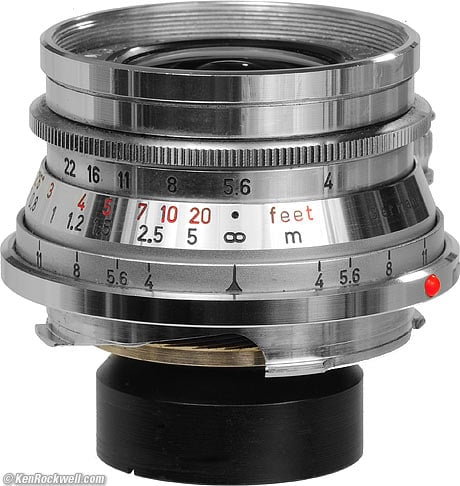 LEICA 21mm f/4 SUPER-ANGULON, twice actual size.
NEWS: Photoshop CS5 coming on Monday, 12 April 2010
You can register for the live webcast to learn everything as it's announced.
OPENING: David Fokos: Saturday, 17 April 2010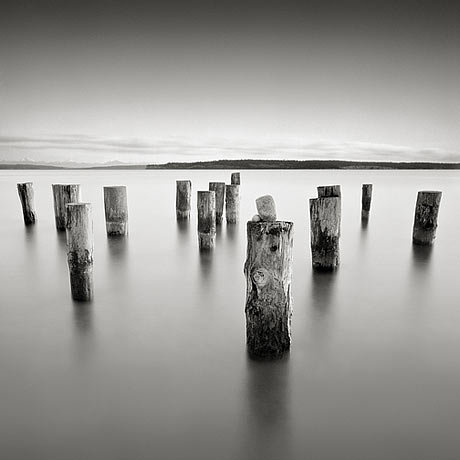 David Fokos, Balanced Stones, 2002.
David Fokos is among the greatest photographers shooting today.
His latest show will have its opening reception Saturday, April 17, from 6:30PM-8:30PM at the Ordover Gallery in Solana Beach (San Diego), California.
Ordover Gallery is at 410 S. Cedros, Solana Beach CA, (858) 720-1121.
23 March 2010, Tuesday
Flower Conditions
Hi readers,
Some of us are considering a trip, possibly in the next couple of days, to any of the Santa Rosa Plateau (near Lake Elsinore), the Poppy preserve in Lancaster, or even the Santa Barbara, SLO and Morro Bay areas.
Do any of you who live up there, or who have just been there, have any reads on the conditions? I have no idea if anything's going on, if they've peaked, or if the best is yet to come.
For those of you coming here from outside of San Diego, our yellow mustard is growing all over the place, and the Carlsbad Flower Fields about 45 minutes north of San Diego have had more flowers than anywhere outside of Holland all month.
Thanks!
Ken.
22 March 2010, Monday
IN-STOCK:
LEICA NOCTILUX-M 50mm f/0.95 ASPH and LEICA SUMMILUX-M 24mm f/1.4 ASPH, brand new!
OC Camera (949) 347-1276 just got one of each of these in, brand new. You people know who you are.
Observed: Quantum Film.
A company in the chi-chi retirement village of Palm Desert, CA, announced yet another science experiment which has produced no products, and certainly no cameras, claiming that all the limitations of film and sensors are now broken.
Big deal.
We heard the same thing 10 years ago with Foveon sensors. Nothing ever came out of them except some forgotten Sigma cameras.
Even though Foveon had potential, with its ability to see in actual color which CMOS and CCD sensors can't (CCDs and CMOS sensors use spots of different colors over every pixel to give these monochrome sensors their color sensitivity), Foveon never had enough sensitivity to make it worthwhile. The things are too darn noisy, which is why you don't find them in Canon, Nikon, Leica, Pentax, or anyone except Sigma.
Likewise, even though people reading the Internet get all excited every week when something like this gets announced, I don't.
I realize that these science projects are irrelevant to photographers until someone makes a commercially viable sensor out of it, and then that some camera company then puts that sensor into a worthwhile camera.
Only after those two big "ifs" come together does it matter to us.
Foveon sensors never made it into worthwhile cameras.
InVisage is only pitching their Quantum FIlm sensors for cell phone cameras.
Yawn. Wake me when it gets in a camera, or a good cell phone.
If I ever get an iPhone, it could be the end of this website, since I think the iPhone camera is so good that it could be the last camera I ever need.
Not to worry, I'm too cheap. I won't sign a cell-phone contract, since it seems that USA cell phone companies aren't happy unless we the customers are unhappy.
Velvia 50
As usual, the latest issue of Outdoor Photographer arrived this weekend, and as usual, the cover is shot on Velvia 50, which is Fuji's new version of original Velvia, on 6x7cm format.
Why do images shot on Velvia 50, which only came out around 2008, grace the cover, instead of images shot on digital cameras?
Is it because digitally-captured images (Canon 5D Mk II, Nikon D3X, etc.) aren't good enough for covers, or is it because outdoor photographers good enough to grace the cover don't shoot digital? You decide.
The cover has to look good to sell on the newstand, and nothing looks as good as outdoor images shot by good photographers on Velvia 50.
Maybe if your images don't look like Outdoor Photographer's covers, and if you're not shooting Velvia 50, do you think it's time to give it a try?
Thank goodness Outdoor Photographer is usually good enough to be honest about all the shots shot on Velvia 50, the world standard for serious outdoor and nature photography.
I wouldn't be encouraging you to shoot Velvia 50 if I didn't shoot it myself and believe in it so strongly.
20 March 2010, Saturday
Observed: Erwin on LEICA M9 Color.
Ignore the text and the graphs, which do a great job of obscuring the obvious.
Ignore the references to infra-red rejection and filtration. Ignore the blacks; they are fine. I have no idea what he's trying to say, and whatever it is, it's not what I'm seeing there.
Look and compare the colors, especially the skin tones, between the cameras.
Do you see any difference between the Nikon and the two Leicas?
I see a huge difference, even though of course these are shots of magazines, not actual models.
I see the Nikon as swell. I love the colors I get from my Nikons, too.
On the other hand, both Leicas (M8 and M9) add a nasty yellow tinge to the people, which is exactly what I see from my M9, and it drives me up the wall. This is exactly why I prefer my Nikons and Canons for actual shooting: the colors, which is all that matters, is so much better, to my taste at least. That's why I prefer the results from Nikon and Canon digital, even if the LEICA is technically much better.
To see my yellow examples, see Katie on 29 November and 03 October 2009. (scroll down). To see her with the Nikon D40, look at the other shots on that page, like on 13 October, and it's the difference between what I love, and what makes me cringe. (Ignore the scary Santa shot, which does the same.) The Canon S90 looks great, on 07 November.
Steve Dent's Photoshop curves help (that link is to a PSD file with the curves, not to a legible web page), but I wish the M9 could give the colors I want on its own.
I have no idea what Erwin Puts was trying to say on that page (he uses too many words), but it is a big relief for me, who heretofore had no idea if the funny colors I see out of my M9 are from having a bad sample (not likely, but an easy rationalization), or if that's just the way it is. Many thanks to Mr. Puts for taking all the time to do this. I never have the time. One thing I've been afraid to do is shoot LEICA versus Nikon versus Canon for colors; I don't really want to know.
I'm just not a good enough photographer to be able to get the colors I want out of the M9.
Funny colors from the M9 don't bother me. When I shoot Leica, I shoot film, and I love it. Leica makes only one serious digital camera, the M9, which comes in only two versions, silver or black.
Leica makes two completely different kinds of real camera, the LEICA M7 and the LEICA MP, and each of those come in your choice of colors, and then each additionally offers you your choice of three viewfinder magnifications. If that's not enough, Leica offers an a la carte program, where they'll custom-make you whatever you want, with any selection of options and colors your heart desires, at least for their real cameras. In Leica digital, there are no choices beyond silver or black; you get what you can.
NEW: LEICA 50mm f/1 NOCTILUX-M Review.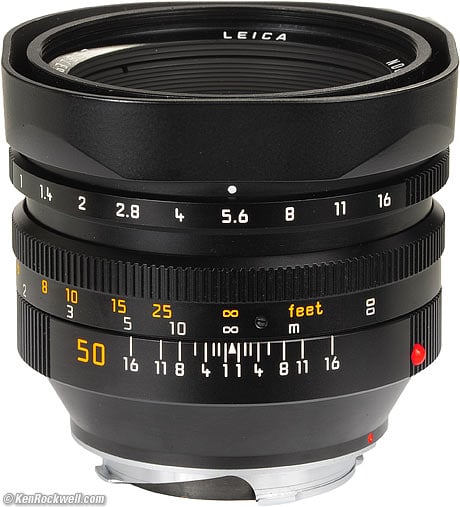 LEICA 50mm f/1 NOCTILUX-M.
19 March 2010, Friday
Canon S90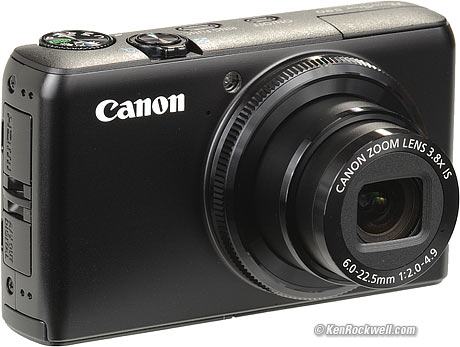 Canon S90.
Did I ever mention how much I love my Canon S90?
One of the reasons, besides the great pictures I get out of it, is the "C" mode on its dial.
When I set the "C" position to my personal standard settings (-2/3 compensation, Vivid, A3 AWB, no flash, i-contrast auto, etc.), every time I turn on the S90, it wakes up right at those settings.
No matter how much I jack around WB, flash modes, self timers, and everything for each shot, the next time I turn it on for the next shot, it's right back at my standard settings.
Unlike my DSLRs, every time I draw and fire my S90, it goes off the way I expect it to, even for fast grab shots I wasn't expecting. It's as good as my manual film cameras: no surprises between me and a great photo.
I probably could set the C positions of my 5D Mark II this way, too, but haven't investigated.
A reader asked why I only talk about Canon point-and-shoots, even though I talk about Nikon, Canon, Pentax, Leica, Mamiya, Contax and more for other cameras. It's because every Canon point-and-shoot works great and has the secret sauce inside of it to turn out awesome-looking images, and every time I try another compact, like the Nikon S70 or the Nikon S1000PJ, they just don't compare to what I get from Canon in every one of their compacts, even Canon's cheapest.
Maybe this is why Canon has outsold all the other compact cameras, combined, for years.
Whatever secret sauce Canon uses to get the color, contrasts and rendition I get at the VIVID setting of their compacts (press FUNC-SET, click down to OFF, click right to Vivid), always looks great for printing right out of the camera. I've been amazing people for at least seven years with what I pull out Canon's compacts.
If Leica had Canon's expertise, maybe the colors out of the LEICA M9 could be as good as I get out of my S90. Luckily for everyone else, I seem to be the only person who doesn't love the colors I get straight out of the M9.
18 March 2010, Thursday
Digital Archives
Earlier today I mentioned the problems people have archiving digital data.
Do you know how we do it in Hollywood, where we need to archive a film made with extensive digital graphics, called CGI? How about movies that were never shot on film, like films that are 100% digital (animation)?
It sounds crazy until you realize the economics at stake, but movies, regardless of how they were created, digital, CGI, film or whatever, are written out to three black-and-white separation negatives, and this B&W film is what's sent to the vault. If you just invested $100 million making a film, you're not going to accept color film fading your investment to vinegar in 30 years.
This way, when we need a color print in 50 years, we pull the negs, and recombine them to color.
The gotcha happens when no one checks the negs, for the sake of saving money.
Ideally, the separation negs are reassembled and everyone makes certain that they look OK today, while we can still make more from the color originals.
Studios get burnt when someone is too cheap to pay to check them, and when they need them 20 years later, only then discover something that went wrong.
Do you know the biggest reason Hollywood loses critical elements, or entire films, and has to strike new prints or DVDs from prints instead of original negatives?
Mislabeling. Yip, when you're dealing with all the tapes and film, people have to label the boxes and put them where they belong. It's easy to forget something, and then whoops, three years later, no one can find the original elements and have to work from crummy, worn out prints.
24mm SUMMILUX-M ASPH f/1.4
If any of you are looking for this hard-to-find lens, I was in at OC Camera today (Southern California's local Leica dealer at (949) 347-1276), and they have one of each of these in stock.
Better than a new lens, this lens that was bought a few months ago brand-new from OC Camera, and then its owner decided to get some different new lenses, so this is available, still in its box with the original paperwork and Leica warranty, for about a $650 discount.
There also was a 21mm f/1.4, but it sold a few hours after I mentioned it. These are hot!
Capture
When I go off about film or digital capture, "capture" means how the image or data is acquired.
After it's caught, all of them are workable and archivable and printable in a computer, since all my film is scanned at the time of development.
If I capture on film, it all goes into the same digital workflow, archive and backup plan. The only difference is less work, less expense, better-looking files and more fun with film capture.
Film capture also gives me the option of a second, parallel workflow that both gives me a second set of permanent, eternally legible backups (the film itself), as well as the freedom to edit, print and project directly from the film if I so choose.
Digital Archives
Here's the New York Times on the greater-than-expected troubles encountered in attempting to archive material created digitally.
You'll notice how the author said of using a computer to write: "My writing has got tighter and more concise because I no longer have to perform the mechanical act of re-typing endlessly." "All the time that was taken up by that mechanical act is freed to think."
It's the other way around in photography.
Cameras today have so many menus and options that they require the mechanical act of re-setting hundreds of options endlessly. With simpler cameras, my images are tighter and more concise because my time is not taken up choosing among too many options, so I'm freed to think about my photo before I take it.
Film costs less
I just ordered a few year's supply from Adorama (120 rolls 35mm and 50 rolls 220).
It cost me $1,300, and lab fees usually run about the same. To add scanning as I do, it's another $6 a roll ($12 if you want stupid-high resolution).
$1,300 for film, $1,300 for processing, and $1,300 to $2,600 for scanning.
Divided by three or four years, that's $1,300 a year for all I can shoot RealRaw, with full digital scanning and DVD backup of every single frame at the same time it's developed. There are no wasted trips back just to get single frames scanned.
With film, you don't shoot everything just to throw it away later. You only shoot what's going to look great, so you have both a higher hit ratio, and make fewer shots overall.
$1,300 a year including is a lot less than how much I lose on DSLR depreciation, and I shoot a lot of film.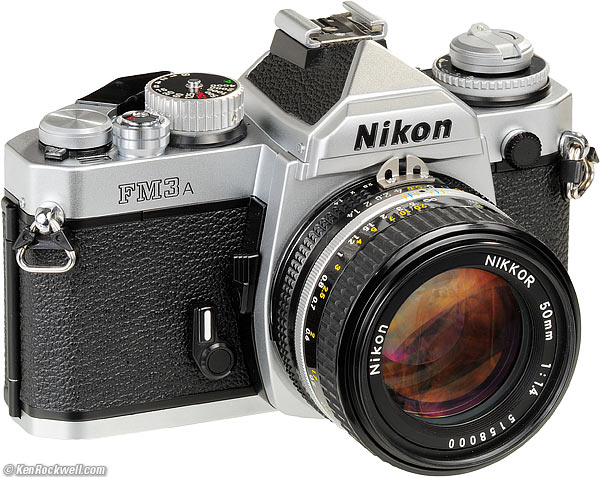 Nikon FM3a.
NEW: Nikon FM3a Review. One of Nikon's best cameras, ever.
NEW: Nikon FE and FM Family Comparison Chart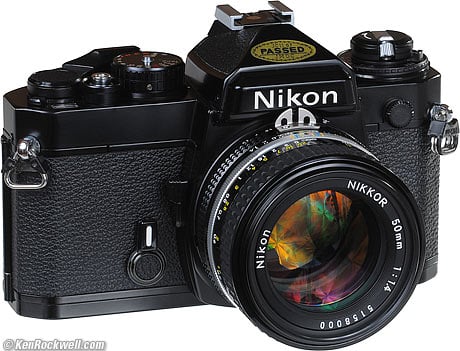 Nikon FE.
NEW: Nikon FE Users Guide.
OK, not really new, since all I did was pull it out of my existing Nikon FE Review and give it its own page. I did this for housekeeping so I refer readers to it from my Nikon FM3a review.
17 March 2010, St. Patrick's Day
I still LOVE my D40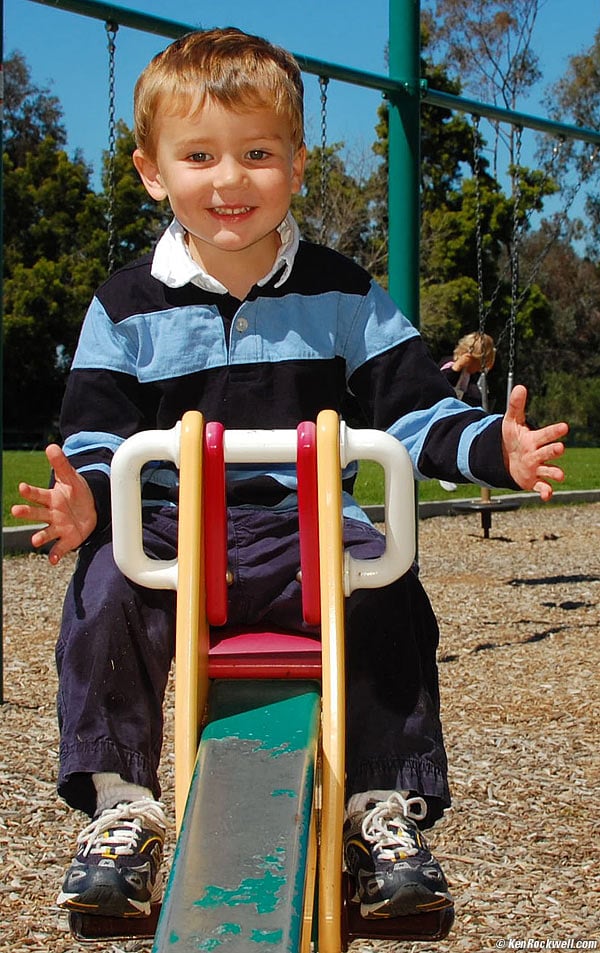 1/500 second sync fill-flash, totally automatic control as I held my D40 in one hand as I rode the see-saw. (cropped from much larger horizontal image, Nikon D40, Nikon AF-S NIKKOR 35mm f/1.8 G , Nikon SB-400 flash with velcroed-on 1/2 CTO warming gel. A D3X would have needed 1/250 and a bigger flash, resulting in softer images.)
I grabbed this shot as Ryan hit the top of the cycle, and I was at the bottom.
The golden glow on his face is from my SB-400, with a piece of orange plastic taped over it.
I hope everyone who wanted a D40 got one over the more than three years I was telling everyone how great it is.
Today, the D3000 stinks in a relative sense. It's so bad that even Popular Photography said in the most recent issue not to buy it, and to get the D90 instead. Pop even suggested Nikon made the D3000 so bad so it could sell more D5000s.
And thus the D5000 has become my top suggestion for people needing suggestions. It's sad, because the D5000 sells for so much more money, and isn't much better or worse.
The D5000 excels at technical image quality, but few people (myself included) will notice, or be able to create, much if any difference.
The D40 excels because of its 1/500 flash sync.
This became all too obvious as usual as I photographed my kids at the park this weekend. I was so stoked; 1/500 sync is very important. Without it, I'd get motion blur, and need a much bigger flash to belt out more power at the frame rates my kiddies demand.
Just Kidding — Sort of
Sorry if I get out of hand with how much I love film. Sorry if I'm too honest; no camera or software (or film) makers are paying me anything. I'm not on anyone's payroll or endorsement roster; I'm just a guy trying to share what I enjoy. If you saw what I see on my light table, you'd be shouting it, too.
I'm just kidding — sort of — as I poke fun of digital. I'm just throwing the same marketing BS back at you. I'm kidding! I like to show what it looks like when you put the same foolish spin on things — in the opposite direction.
Since I've been making my living in digital since the 1980s, there comes a time when it just starts to drive a person crazy.
I really like film, I love how it looks, I love how easy it is to shoot and then print out and work with on the computer since NCPS scans all the film at the same time it's developed. For me, film is faster, easier, more fun, looks better, and costs less.
I encourage people shooting outdoor and landscapes to try film (slide or E-6) and see how you like it.
Of course we also all shoot digital.
Like boys versus girls, or McDonalds versus the best restaurant in Provence, digital and film capture are entirely different, and each has its best application.
Jeeze, I still cover everything. Check out my Nikon 16-35mm VR review, for instance, from last week.
Unlike 5 years ago, the tide of new DSLRs has slowed, so there isn't a new one every week. I've finally been able to spend more time writing about what really matters, which is seeing. See:
Better Pictures: The Secret Composition
Simplicity FART Shadows Lighting
Adjustments It's Not Your Camera
Exposure WB and Don't Worry: Shoot.
I don't mean to make any of you folks, all of whom I love like my own family, sad when I try to talk about anything other than the same things you can read about in commercial media.
Do you really want me to write about nothing but the same digital cameras and software you can read about everywhere else?
Let's face it: the two hottest DSLRs for most of us are the Nikon D700 and the Canon 5D Mark II. Each came out two years ago, so they are pretty old news by now. The D3 I use every day? Three years old, and the D3s is 99% the same thing.
Talking too much about techy gobbledygook is what keeps most of us, myself included, from seeing better pictures. We'd all take better pictures if we used what we already have, and learned how to use it better, instead of boning-up on facts about a myriad of cameras and lenses we'll probably never shoot.
So is this page St. Patty's green, or Fuji Green? Actually, it's BBFFBB hex. This whole website is digital; there's nothing analog about it.
OK, here's some more digital: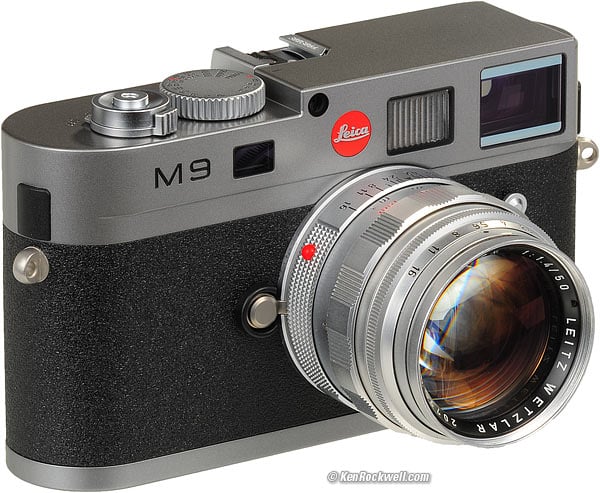 LEICA M9 mit SUMMILUX 50mm f/1.4.
NEU: LEICA M9 1.116 Firmware Update Report.
16 March 2010, Tuesday
Space Aliens Among Us

Their truth is acknowledged.
Finally, under President Obama, the USA finally recognizes the Earth's first visitors, making first contact at Roswell, New Mexico, in 1947.
Carter and Clinton worked on this, but gave up each time. Carter even went public about seeing aliens himself.
America salutes our newest visitors. Welcome!
Remembering Digital
I remember the 2000s. Every time we had to set our clocks for daylight savings time (as we did on Sunday), it would take me a month to find every digital camera and remember to reset it. Otherwise, I'd forget until months later until I discovered that all my EXIFs were an hour off.
Of course if any of you old-timers are still clinging to digital, don't forget to go back and reset every camera.
Old timers amuse me. While everyone who has upgraded to film writes me saying things like "Amazing, I had no idea how serious you were, this stuff looks GREAT," I still get the occasional hate mail from Luddites who haven't tried upgrading, and ignorantly spew rubbish like "But digital is good enough, and it's what I know, so why should I upgrade?"
Exactly. Digital is good enough, but art is never about good enough.
Shooting a digital camera is like dining at McDonalds. It's good enough and it feeds you fast, but is it what you really wanted?
Likewise, digital cameras take pictures that are good enough for most people, but if you really want them to look great, like the covers of Outdoor Photographer each month, shot film. This month's cover is funny, because it's by, and the cover mentions an article by living legend Jack Dykinga.
The cover's shot on film, but the article is trying to pander to digital camera companies who advertise, and talks about Jack Dykinga maybe shooting some digital.
The article goes on and on, and of course ends with him saying that of course he shoots film if it's for fine art. He only does the digital for corporate stuff for which digital is potentially faster, and good enough for commerce.
Digital, like McDonalds, is for when "good enough" is good enough, and if you're too busy to take the time to do it right.
Film is so simple, and it just looks better. Put your slides up on the screen or on the light table, and there's no digital projector or monitor that can compare.
The key is that you have to look at the film, not at scans of film on a monitor or a digital projector. Look at the living film projected directly from the slide or on a light table, and it's obvious.
Digital is great for the photos that don't matter. Digital is better for the pictures you're going to delete. Digital is better for shooting in worthless light that needs ISO 6,400. Digital is better for letting you shoot without thinking, and coming home with 4,395 thoughtless shots that all stink.
Film is for the photos that do matter. Film is for the photos made under glorious light that will be the shots that get thrown up on the gallery wall.
Digital looks better under most conditions — the conditions that lead to boring, ordinary photos. Film looks better when you've got the spectacular conditions that lead to great photos.
Coming Tomorrow: Come see Pulitzer laureate Don Bartletti speak in San Diego, and I think it's free.
15 March 2010, Monday
New iPhone and iPod apps!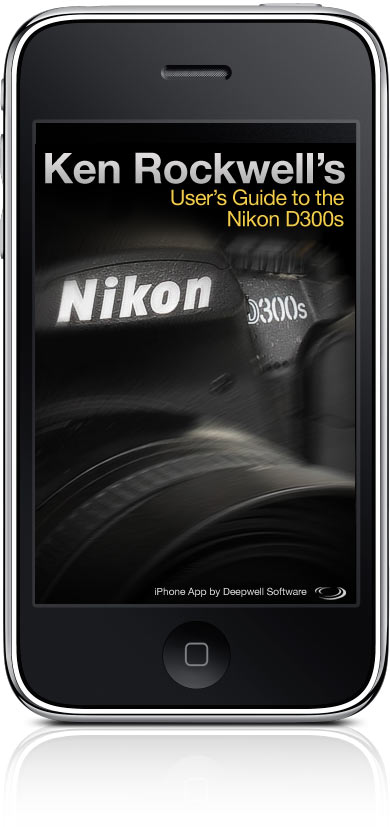 NEW: Nikon D300s User's Guide iPhone and iPod App.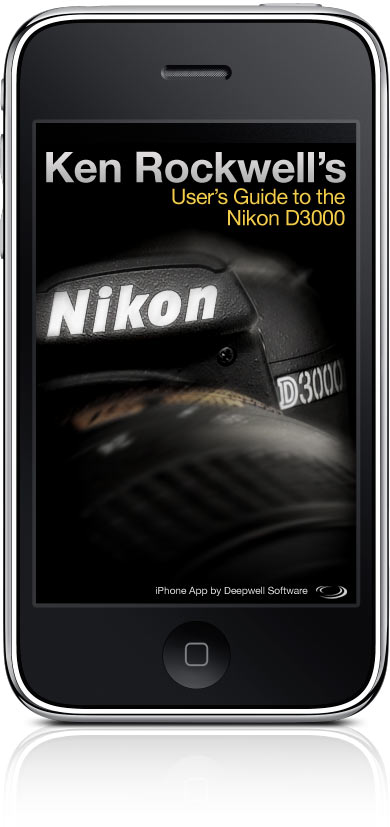 NEW: Nikon D3000 User's Guide iPhone and iPod App.
New and Free: Gibson Guitar Tuner App.
DEAL: LEICA 21mm f/1.4 SUMMILUX-M ASPH: $5,849.
For those of you looking for one of these hard to find ultra-speed ultra-wideangle lenses, Ryan and I visited OC Camera (949) 347-1276 on Saturday, and the boss tells me that he just got in one of the new LEICA SUMMILUX-M ASPH 21mm f/1.4 lenses.
If I recall correctly, it comes from a customer who bought it brand-new from this same authorized dealer three months ago, and wanted something else. Thus you have a sample of this almost impossible-to-find new lens, still in its box with all the blank paperwork, for about a $650 discount. All this, and it still has the full Leica warranty with it.
I also found it listed on eBay along with great pictures; I presume it's the same item which you can walk in and buy at retail today in Orange County, California.
Comedy
For those of you outside the USA, remember that this "Judge Joe Brown" show is comedy- and fight-themed TV show set in a pretend courtroom; it's not real. The show is for entertainment only, although Judge Joe Brown is a UCLA grad who has served as a judge elsewhere. Go Bruins!
12 March 2010, Friday
Legislative Update
Thank goodness, the ultimately ineffective and devastating ABX8 8 legislation in California has been put away for now, but it will probably be back later this year.
Many thanks for all your support, because your calls and letters were effective enough — for now — to help those who needed to know understand that it wouldn't collect any new sales taxes, but that it would put my family on the street — or in Reno.
Thank you!
NEW: Nikon 16-35mm VR Review.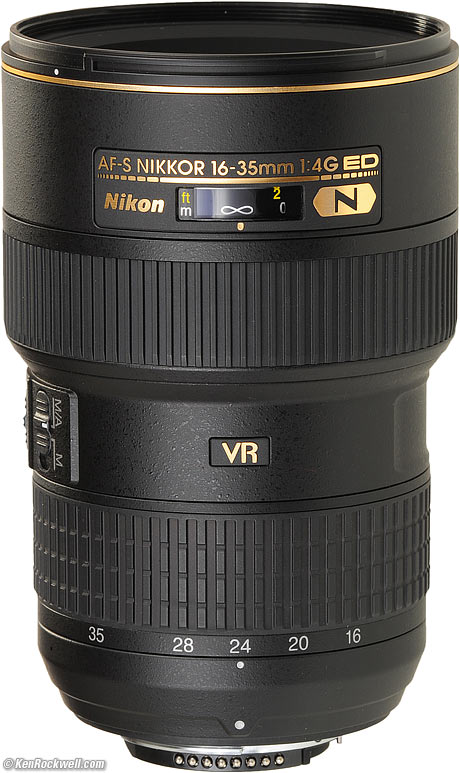 Nikon 16-35mm f/4 VR.
Wow; we have a new world standard for ultrawide zoom performance. It's even better than the 14-24mm, and way better than anything else optically.
Updated for Spring: Recommended Cameras.
Voice Over: As I was 'shopping images for my next article, I hit the wrong key as I was trying to fill an adjustment layer mask with black (shift F5). I accidentally hit something else, and my Mac started talking to me, telling me what I was doing and clicking and selecting in Photoshop!
Huh? Most people don't realize that blind people can work in Photoshop. Blind people aren't blind; they may have various disabilities, but it's not like someone left their lens caps on. They can work in Photoshop, and this helps.
Then I got curious, since I had no idea what I hit to activate this voice and couldn't turn it off. I discovered that this feature talks me through everything on my Mac; not just Photoshop. It's part of Macintosh.
Heck, Macs have also had voice control since the 1990s, just like in Star Trek where all you do is say something like "Computer: Take Safari Browser to Zörk."
I found the key: Command + F5 toggles it on and off. Here's Apple's article on it.
OK, back to work on your next article.
11 March 2010, Thursday
DEAL: Refurbished Nikon D3000 at Adorama for $399.95.
10 March 2010, Wednesday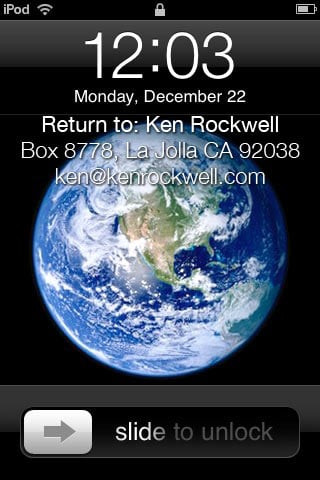 NEW: How to Recover Deleted Notes from your iPhone or iPod.
Usually you just shake the iPhone or iPod to undo, but last night Ryan erased a bunch of things from my iPod, like my list of what I'm writing about next, without asking me.
I discovered how to restore everything from the backups which iTunes keeps automatically. Yay!
Blogged: My pal, International Humanitarian Photojournalist Karl Grobl, popped up a shot for me from the streets of Hanoi yesterday.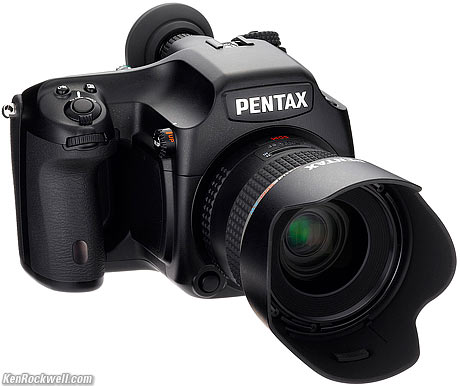 Pentax 645D.
NEW: Pentax 645D.
The first medium-format camera for under $10,000 (list price), but sadly it's only DX-medium-format (33x44mm), not full-frame medium format (41.5 x 56mm), and it looks to have crummy menu- and multi-functon-button-driven ergonomics like too many cameras today.
Japan only.
Observed: Mamiya DM22 for $8,800, with fat 36 x 48mm sensor, 22MP, and ISOs starting at a beyond-ultra-clean ISO 25.
Oh well, the $10,000 barrier only took a few hours to crumble after the Pentax DM645D was announced.
Observed: Older Mamiya ZD for $5,500, delivered.
I've never used one of these, but I never saw them for sale either in the very short period between when they first shipped, and when they were replaced. I don't know if they are any good or not, but the funny thing us that this used one is the first one I've seen offered for sale.
09 March 2010, Tuesday
NEWS: Amazon fires everyone like me in Colorado.
This is due to a new law similar to one being discussed in California, ABX8 8 and SBX8 8.
If passed in California, I get fired and this site's main sources of income go away, too. This site would cease to exist as we know it, and my family no longer has its primary source of income.
More information on my Home Page.
Observed: Popular Science Archive
We now can look at, and search, everything in past issues of Popular Science.
For instance, it's trivial to search, and then link to, Leica's advertisement for their first autofocus camera, in 1932.
Holy Cow: A New Reference Is Crowned.
Back in 2007, Nikon released the 14-24mm f/2.8 AF-S, which was the world's first ultrawide FX zoom that stayed sharp, even in the corners, even at f/2.8, even at 14mm.
It was beyond any other ultrawide Nikon or Canon SLR lens, fixed or zoom, that had ever come before. The 14-24mm AF-S was so good that it spawned an entire generation of people who went through all sorts of contortions to mount the 14-24mm on their Canon cameras, since Canon had, and still doesn't have, any ultrawide lens that can come close. Heck, people also shoot Zeiss 18mm and 21mm ultrawides on Canon for the same reason: Canon ultrawides don't measure up if you look too closely.
Now that I've had the new Nikon 16-35mm f/4 VR in my sticky little hands for a couple of days, and got out to my favorite test range in Arizona to do a shoot-out among them, I was astounded at what I saw when I finally called them up on the 30" Apple Cinema Display back at the lab.
If you split pixels, of the 16-35mm f/4 VR and 14-24mm /2.8 AF-S that I shot-off against each other at the range, the smaller, less expensive and more practical 16-35mm f/4 VR is actually a bit sharper than the old 14-24mm /2.8 AF-S!
Mind you, only if you test lenses for a living will you notice the difference between the two, but it scared the heck out of me.
For actual photography, where you're not looking at the corners at 100% as shot in daylight at full aperture, any of Nikon's other ultrawides works just as well for real-world image quality. Scarce few people, myself included, will ever notice any real differences for real subjects worth shooting at normal apertures.
08 March 2010, Monday
NEW: Nikon Ultrawide Zooms Compared.
NEW: Nikon Package Steals.
Some of these deals are so good it's as if Nikon is giving some of it away.
NEW: Canon Rebates. (buy them here)
The good news is that rebates are back, and they double when you get a Canon 5D Mark II at the same time.
The bad news for people needing just the 5D Mark II body is that Adorama's $2,500 package deal for the Canon 5D Mark II body with many extras went away. As with all deals, you have to jump on them while you can.
Nikon 16-35mm VR
Lucille's, 16mm at f/4, 1/15 sec. original © file.
I got my hot little hands on a production copy of the Nikon 16-35mm VR this weekend.
As expected, it's the sharpest Nikon wide zoom other than the 14-24mm AFS. If you're counting pixels, the new 16-35mm VR is significantly sharper on digital than any of the older 18-35mm, 20-35mm f/2.8 or 17-35mm f/2.8 AF-S.
When looking at the original file for the snap above, recognize that depth-of field at f/4 is what's limiting sharpness. My D3, just like a drunk driver, focused on the pole in the middle.
If you're just taking great pictures, the sharpness difference doesn't matter, and you should be guided by size, weight and price, at which point, the 18-35mm is about as good at half the price with half the weight.
Distortion of the 16-35mm is strong, but easy to fix at 16mm, and no big deal from 20-35mm.
The 16-35mm VR is built to solid amateur standards, the same as the 18-200mm VR and 24-120mm VR. The outside is entirely plastic. It's exterior isn't professional metal, like the 17-35mm f/2.8 AF-S and 24-70mm AF-S.
I see no mention of a 5-year USA warranty for the 16-35mm VR, to which I've become accustomed with other Nikon USA lenses.
To my pleasant surprise (talk about how low my standards have become with Nikon), the 16-35mm VR I saw from Adorama is made in Japan, not China and not Thailand.
After using it for a few days, it's clearly a winner. Full report coming, of course.
06 March 2010, Saturday
Workshops
I'm helping lead a workshop coming up in California's Gold Country in the middle of April (scroll down). Precise details are still pending.
For those of you traveling in Scotland instead of California next month, the extraordinary Bruce Percy is doing a workshop to Isle of Eigg at about the same time. People like his workshops, too.
05 March 2010, Friday
Mamiya DM33 Alternatives
If $20,000 isn't your taste for a Mamiya DM33 (I know it's not mine), also consider the similar Mamiya DM28 ($15,000 with camera and lens, or $13,000 for the back alone) or Mamiya DM22 ($10,000 for the camera and lens, or $8,000 for the back alone).
These are more or less the same thing, simply with fewer pixels and with the 645AFDIII body instead, which has the advantage of also working in RealRaw.
The 645DF body of the DM33 works a little better with the DM33 back, but has no RealRaw ability.
04 March 2010, Thursday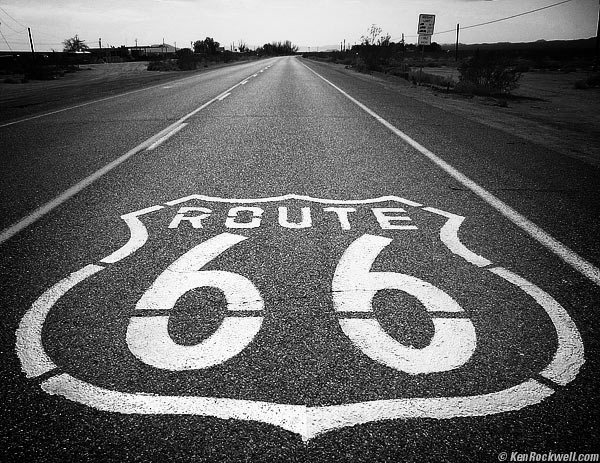 Route 66.
NEW: Photographs from Route 66.
Phooey on this digital baloney. I got better pictures, more of them, and had more fun doing it, shooting cameras from the 1950s on Route 66 the other week. I hope you enjoy them, since it took me a week to produce the web pages.
Taking the photos and having them scanned was simple. Writing all the pages and making all the links took a week, regardless of how easy and how much fun it was to shoot them.
Shooting real cameras for a change, I think I made more and better pictures than ever before. Yay!
03 March 2010, Wednesday
Medium Format Madness!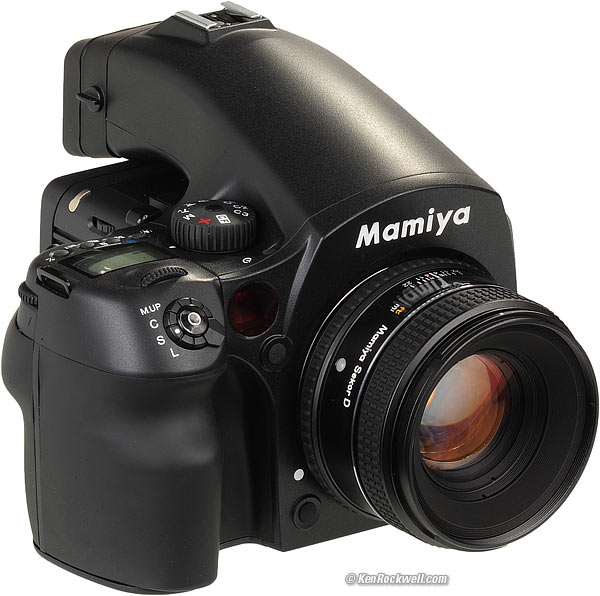 Mamiya DM33.
NEW: Mamiya DM33 Review.
NEW: Sharpness Comparison: Mamiya DM33, Canon 5D Mark II, LEICA M9 and Nikon D3.
NEW: Tonal Differentiation Comparison: Mamiya DM33, Canon 5D Mark II, LEICA M9, Nikon D3 and Canon S90.
NEW: High ISO Comparison: Mamiya DM33, Canon 5D Mark II, LEICA M9, Nikon D3 and Canon S90.
02 March 2010, Tuesday
OPINION: 28mm f/1.4 AF-D versus 24mm f/1.4 AF-S
Should one upgrade from the 28mm f/1.4 AF-D to the new 24mm f/1.4 AF-S?
I've only had limited time with the new lens and over ten years with the old lens, but from what I've seen, the new 24mm lens is at least as good as the old 28mm. Your decision will be based on if you're shooting old cameras, and simple economics.
If you're shooting manual-focus film cameras, or old moldy AF cameras like the N6006 or even the F4, stick with the AF-D.
If you're shooting recent AF or digital cameras, like the N75, F5, F6, or anything digital, by all means, get the new AF-S.
In each of these cases, the AF and aperture-selection technology is more appropriate. See Nikon Lens Compatibility and read down the appropriate columns for your camera.
For anything digital, go for the new lens. Unlike the old lens, with the new lens, just grab the ring at any time for instant manual-focus override. With the old lens, you have to rotate a switch to do the same thing!
Here's the real reason the upgrade is a no-brainer:
The 28mm f/1.4 AF-D is as much a collectors' item as a tool for pros. Therefore, it sells for $3,000 - $5,000 used today.
The new 24mm f/1.4 AF-S sells new for only $2,200.
Unless you're shooting 1990s or earlier film cameras, sell the 28mm f/1.4 AF-D, pocket $1,000, and buy a brand-new 24mm f/1.4, before everyone else gets their 24mm f/1.4s at the end of March and erodes the used price of the 28mm.
This is an easy recommendation. Nikon is paying you to make the upgrade!
01 March 2010, Monday
NEWS: SAN DIEGO COUNTY LIBRARY HOSTS PHOTOGRAPHY WORKSHOPS

I got a phone call from someone who says they just won an NEA grant, so herewith are the proceeds as sent to me to share:
:Public Will Have an Opportunity to Learn Useful Concepts of Digital Photography
In conjunction with reading The Grapes of Wrath by John Steinbeck as part of the "Big Read" national grant, the San Diego County Library will host a series of photo workshops. The workshops are designed to promote better public understanding of photography concepts and techniques. Photo workshops will be focused on teaching techniques of documenting people at work and introducing the public to telling and sharing a story via digital photos. The workshops will be led by Lisa Huber, an expert freelance photographer and graphic designer, living in Louisville, KY. The schedule of the workshops is the following:

"How to Document People at Work"
San Marcos Senior Center, 111 Richmar Ave, Saturday, March 6, 2 PM
Turk Family Center, 8804 Balboa Ave, Wednesday, March 10, 6 PM

"How to be an Armchair Photojournalist"
Lemon Grove Branch Library, 8073 Broadway, Tuesday, March 9, 4:30 PM
Rancho San Diego Branch Library, 11555 Via Rancho San Diego, Thursday, March
11, 6 PM
Del Mar Branch Library, 1309 Camino del Mar, Saturday, March 13, 10 AM
Descanso Branch Library, 9545 River Dr., Saturday, March 13, 2 PM.
In addition to teaching the public the useful and creative concepts of
digital photography, the workshops will underline the enduring theme of The
Big Read grant – work culture in the United States. The "How to Document
People at Work" will emphasize the rich American tradition of capturing
people behind their daily work activities. The first part of the workshop
will focus on examining techniques, used by Farm Security Administration
photographers to effectively and realistically capture the Great Depression
laborers. The second part of the workshop will aim to teach the public basic
operation of digital camera, composition, and techniques of photographing
people, transferring photos to the computer from camera, and more. The
techniques of operating a digital camera will be also taught in the other
workshop – "How to be an Armchair Photojournalist", where Huber will
elaborate on how to tell a story with digital photos and share them online.
The workshop will also focus on creative ways to use and display digital
photos.
Lisa Huber is a non-traditional and avid photographer. Huber received a
Bachelor of Arts in Fine Arts with an emphasis in Photography from the
University of Louisville in 1998, and a Masters in Fine Arts in Photography
from Virginia Commonwealth University in 2001. She has taught photography for
over nine years for such institutions as Jefferson County Adult Education,
Louisville Free Public Library, and Bernheim Forest. Some of her past and
present clients include Kentucky Museum and Heritage Alliance, official
Kentucky Derby Photographic Archives, and Honorable Order of Kentucky
Colonels. Huber enjoys nature photography, teaching non-traditional
photographic techniques and experiencing the world through her students'
eyes.
The workshops are free for the public. Please, note that public is advised to
bring own digital camera to be able to practice during class. For more
information, please, contact Susan Moore at (858) 694-2448."
NEWS: Mamiya DM40. top
$22,000, with 645 DF camera and 80/2.8 lens.
$20,000, back only to fit various cameras.
Available later this month.
Press release from Mamiya:
"Elmsford, NY - March 1, 2010 - Mamiya today announced the addition of the new Mamiya DM40 to its lineup of professional large-sensor DSLRs. Featuring a resolution of 40 megapixels with a peak capture rate of .8 seconds per frame and a sustained capture rate of 60 frames per minute, the Mamiya DM40 is the industry's fastest large-sensor DSLR.
The heart of the DM40 system is the new "DF" camera-core technology, developed by Mamiya, featuring two user-selectable shutter systems: leaf or focal plane. In demanding daylight situations, photographers can use predictable high speed flash synchronization to fill-in or overpower even the brightest ambient light on one of three new leaf-shuttered lenses designed by Schneider-Kreuznach and manufactured by Mamiya. The lenses - available in focal lengths of 55mm, 80mm, and 110mm - deliver an effective maximum flash sync speed of up to 1/1600th of a second. For more conventional situations, photographers can choose any one of 15 other world-class Mamiya optics, from 28mm to 300mm APO, designed for use with the cameras' focal plane shutter system.
Also newly announced, the Mamiya DM40 Digital Back will be available for those customers who wish to obtain the latest in high-speed and resolution digital capture for their existing Mamiya or large format camera. Supported cameras include: Mamiya 645AFD series, 645DF, Mamiya RZ series (via optional adapter), Mamiya RB series
(via optional adapter), and 4x5 view cameras
(via optional adapter).
Specifications
CCD: 44 x 33mm, 40 Megapixel
Largest file size: 240 MB 16 bit TIFF
ISO: 80-800
Capture rate: 0.8 sec/frame
Digital imaging user interface: 6x7cm LCD touchscreen"
OBSERVED: Nikon 13mm f/5.6 sold on eBay.
I guess the market is climbing for these, and this one is missing the CA-2 filter wallet, yikes!
You can see my full Nikon 13mm review for details on this lens.
If any of you are looking for one of these, let me know, because I might know of some people who have them in the USA, with the filter cases, and with outer cases in much better condition than that one.
What Was New in: top
What Was New in Past Years (archive)
Help me help you top
I support my growing family through this website, as crazy as it might seem.
If you find this as helpful as a book you might have had to buy or a workshop you may have had to take, feel free to help me continue helping everyone.
If you've gotten your gear through one of my links or helped otherwise, you're family. It's great people like you who allow me to keep adding to this site full-time. Thanks!
If you haven't helped yet, please do, and consider helping me with a gift of $5.00.
The biggest help is to use these links to Adorama, Amazon, Calumet, Ritz, J&R and when you get your goodies. It costs you nothing and is a huge help to me. eBay is always a gamble, but all the other places have the best prices and service, which is why I've used them since before this website existed. I recommend them all personally.
Thanks for reading!
Ken
Home Donate New Search Gallery How-To Books Links Workshops About Contact