Home Donate New Search Gallery How-To Books Links Workshops About Contact
LEICA X1
Half-Frame, 12MP P&S, $1,995
© 2011 KenRockwell.com. All rights reserved.
Intro Specs Performance Recommendations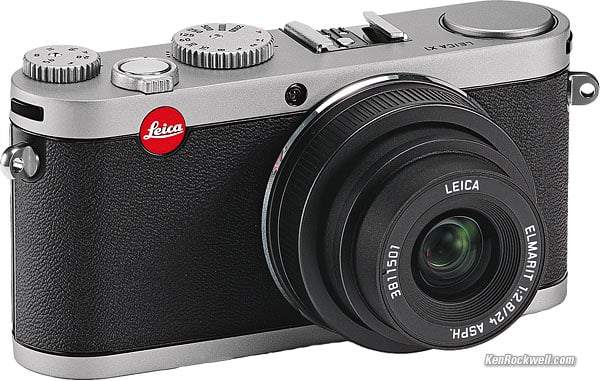 LEICA X1 18 420 (10 oz/280g). enlarge. I'd get mine online at Adorama, Amazon or Calumet, or locally in California at OC Camera (phone them at (949) 347-1276). Using any of these links to get yours is what helps me keep adding these reviews of less common cameras. Thanks! Ken.
NEU: 29 March 2011: new LEICA X1 firmware.
Far superior: LEICA M9 ünd LEICA M-Lenses.
Introduction top
Intro Specs Performance Recommendations
The LEICA X1 is a German-made digital point-and-shoot with a half-frame sensor and a fixed 24mm f/2.8 lens. It was announced along with the far superior LEICA M9 on 9/9/2009, and started shipping in in December 2009.
The LEICA X1 uses a 15.7 x 23.6 mm sensor, with which the 24mm lens gives an angle of view similar to what a 36mm lens would see on a 35mm or full-frame camera. This sensor is close to APS' 16.7 x 30.2 mm image size.
While not up to the standards of a full-frame DSLR or the LEICA M9, the little sensor of the LEICA X1 is the biggest sensor ever put in a point-and-shoot digital camera, hallelujah.
It claims to offer technical image quality similar to smaller format DSLRs (meaning not LEICA ), while the X1 should have the slow response of every other point-and-shoot, since it has no reflex system with which to speed viewing and autofocus prediction.
Its top, bottom and dials are made of aluminum, not brass as a true LEICA. The body casting is magnesium.
The lens has an image stabilizer. Other silly features like face-detection and 11-zone AF smell of foreign design input.
The X1 has the same too-short 3:2 aspect ratio of 35mm film cameras and the M9.
Specifications top
Intro Specs Performance Recommendations
Lens
Trade Name: LEICA ELMARIT 24mm f/2.8.
Optics: 8 elements in 6 groups, one aspheric element.
Close Focus: 2 feet (0.6m), 1 foot (0.3m) in macro mode.
Diaphragm: Unknown design, f/2.8 - 1/16.
AF: 1 or 11 points, normal or fast, face detection.
Sensor
Near-APS class 15.7 x 23.6 mm CMOS sensor
Professional 3:4 aspect ratio, superior to the M9.
Image Sizes
4,272 x 2,586 pixels (12MP) native, JPG and/or DNG.
Also:
3,264 x 2,160 (7MP) JPG
2,144 x 1,424 (3MP) JPG and
1,632 x 1,080 (1.8MP) JPG.
ISO
AUTO, 100, 200, 400, 800, 1,600 and 3,200.
White Balance
Auto, two gray-card manual settings, and the usual presets of direct sunlight, flash, cloudy and shade.
There is also WB trim in two axes.
Color Space
sRGB.
Image Tweaks
Standard, Vivid, Natural, B&W, Contrasty B&W.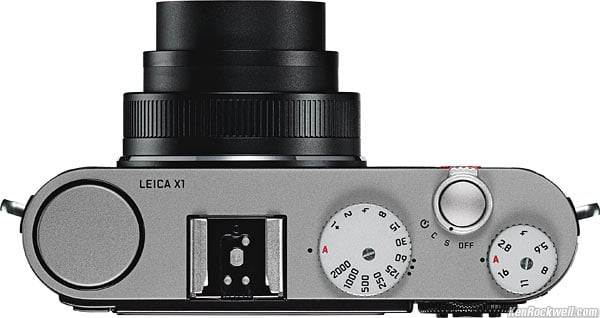 Top, LEICA X1. enlarge.
Finder
There is no finder. You use the LCD and hold the LEICA X1 at arm's length.
You can use an outboard passive finder, like the 18 707 LEICA X1 Finder, but you'll see nothing but the image through its glass with no input from the X1.
Metering and Exposure
Exposure: Program auto, Aperture priority, Shutter-priority and Manual.
Meter Patterns: Matrix, center-weighted and spot.
Shutter
Speeds
30 - 1/2,000.
Cable release
None.
Frame rate
3 fps, most likely with locked focus and exposure only.
Burst Depth
6 frames.
Self Timer
2 or 12 seconds.
Flash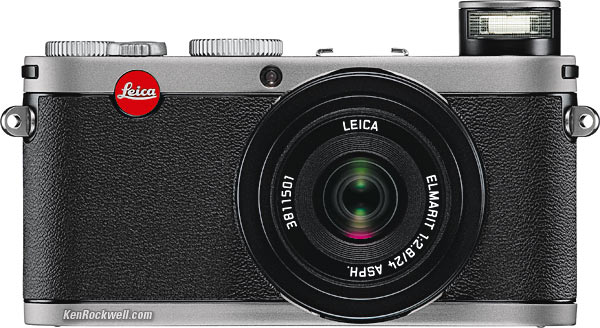 LEICA X1 with flash pod erect.
There is a little built-in flash that pops out of the top of the camera.
There is also a hot shot that works especially well with LEICA SF 24D 14 444 and LEICA SF 58 14 488 flashes.
Modes included are on, off, red-eye, first or second curtain, slow sync.
Data
File Formats
JPG Fine or Super Fine.
DNG raw.
Shoots either or both JPG and DNG at the same time.
Storage
50MB is built-in, also takes SD and SDHC cards.
Outputs
USB.
HDMI.
LCD and Playback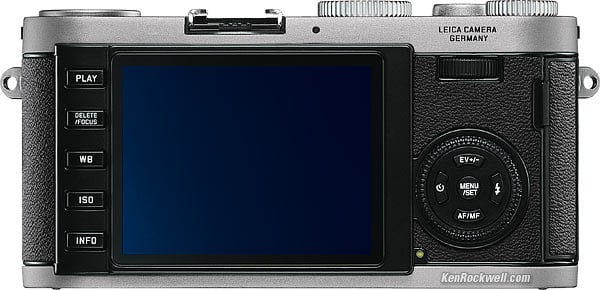 Back, LEICA X1. enlarge.
2.7" LCD, looks like it's full-height 3:4 or 2:3 ratio, not squinty 16:9.
230,000 pixels.
The larger 3" LCD of the Olympus E-P1 has the same number of pixels.
Size, Weight and Materials
Size
4.85 × 2.5 × 1.98 inches WHD.
123.19 x 63.5 x 50.29 millimeters WHD.
Weight
10 oz. (283g), rated.
Materials
Its top, bottom and dials are made of aluminum, not brass as a true LEICA.
The body casting is magnesium.
Quality
MADE IN GERMANY.
If all the guts come from the Orient as I suspect, and only final assembly of subassemblies happens in Germany, it's still marked Made in Germany.
Power and Batteries
Battery
LEICA BP-DC8 Li-ion rechargeable.
Rated
260 shots.
Charger
LEICA BP-DC8 charger.
Order Numbers
LEICA X1: 18 420 (painted silver).
Included with the LEICA X1 18 420
LEICA X1
Lens cap. Oh crap - do you mean it has an erectile lens and expects me to cap and uncap it, and not to loose the darn thing? Whoops!
BP-DC8 Battery 18 706.
BC-DC8 Charger.
Battery cover — wow!
Leather strap for carrying.
USB cable.
Adobe Lightroom 2 (download).
Optional Accessories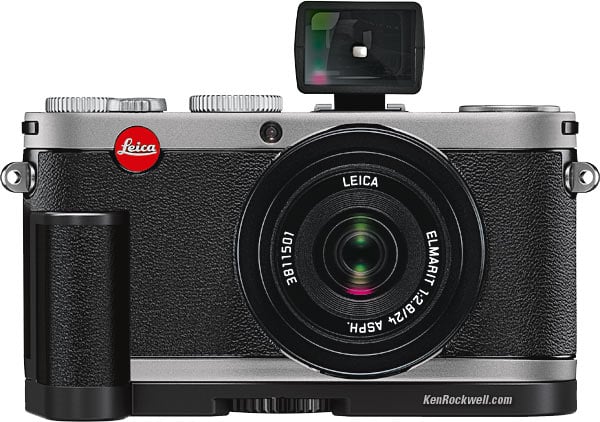 LEICA X1 18 420 with 18 712 grip and 18 707 finder.
LEICA X1 Bright Line Finder 36mm 18 707 ($350 MSRP).
LEICA X1 Hand Grip 18 712 ($160 MSRP).
LEICA X1 Transport Case 18 709 ($170 MSRP).
LEICA X1 Never-ready Case 18 710 ($225 MSRP).
LEICA X1 System Case 18 711 ($270 MSRP).
Flash LEICA SF 24D 14 444.
Flash LEICA SF 58 14 488.
Tabletop tripod 14 10.
Ball head 14 110.
Performance top
Intro Specs Performance Recommendations
How the heck should I know, I'm only reading the press information.
I expect technical quality will be excellent, but that ergonomically speed and handling will only be somewhat better than average for a point-and-shoot, meaning far slower than an SLR or the professional LEICA M9.
I love the idea of shutter and aperture dials on the top of the X1, each with an A setting. Just like the Pentax 645N of 1997, all you do is set what you want directly, and set whatever you want the X1 to figure out for you to A. If you set both to A, you get program mode. Brilliant, just as Pentax discovered
Recommendations top
Intro Specs Performance Recommendations
People who've seen it confirm that it's a ladies' camera. It's a camera for the LEICA man's companion, but probably still bigger than she wants to carry while out and about. It's bigger than a D-Lux.
The lens has to pump in and out to turn off and on, just like any other point-and-shoot, but sadly, requires you remove and stow a separate lens cap on your own. There is no automatic lens cap as on other point-and-shoots.
I do like that the LEICA X1 takes a standard neck strap; I find it easier to carry around my neck than draw from a pocket.
I am intrigued by the possibility of superior LEICA usability in the overall ergonomics and menu operation. I'll wait and see.
I'd rather shoot a LEICA MINILUX, with it's full-frame RealRaw quality and faster f/2.4 lens. I mean, really: if I'm going to buy a fixed-lens camera from Leica, I expect at least an f/2.0 lens as I can get on a Canon S90.
My digital dollars are betting on the LEICA M9. LEICA shooters never settle; they only accept the best. Instead of the fixed f/2.8 lens of the X1, I'd rather shoot my 35mm f/2.8 LEICA SUMMARON on an M9.
If you haven't tried the LEICA M9, give it a feel: it weighs a tiny fraction of the SLRs you've been humping around. The M9 is the serious photographers lightweight camera.
Help me help you top
I support my growing family through this website, as crazy as it might seem.
If you find this as helpful as a book you might have had to buy or a workshop you may have had to take, feel free to help me continue helping everyone.
If you've gotten your gear through one of my links or helped otherwise, you're family. It's great people like you who allow me to keep adding to this site full-time. Thanks!
If you haven't helped yet, please do, and consider helping me with a gift of $5.00.
The biggest help is to use these links to Adorama, Amazon, Calumet, Ritz and J&R when you get your goodies. It costs you nothing and is a huge help. These places have the best prices and service, which is why I've used them since before this website existed. I recommend them all personally.
Thanks for reading!
Ken
Home Donate New Search Gallery How-To Books Links Workshops About Contact