Current California Radiation Levels (live from La Jolla)
31 May 2011, Tuesday
NEW: Fuji X100 Specifications with Comments and Unboxing.
NEW: Fuji X100 Accessories.
30 May 2011, Memorial Day
In the service of freedom, all gave some, and some gave all.
Today we formally recognize those who gave all, but personally, I give thanks every day for everyone and anyone who's serving or served in any capacity in public safety or national defense. If these valiant folks didn't brave it out there every day, we wouldn't all be sitting here enjoying a nice springtime day at all, much less as a holiday.
The whole world would be speaking German these past 50 years, and there would be no Nikon cameras, which were created when Nikon's warmaking efforts were disbanded after WWII. Nikon had to regroup into something else, which turned out to be consumer cameras that started off with the S series in the 1940s, the best model of which was the Nikon SP, Nikon's first professional camera.
The New Standard in Reportage: The Fuji X100
NEW: Fuji X100 Sample Images and Files.
I only ordered a Fuji X100 because so many people asked me fo rmy thoughts.
I expected it to be a pale copy of a LEICA, and was fully prepared to leave its severed head posted on a stake outside my new compound in Reno to make it clear that I'm not amused by fakes.
Of course the reason I review things is to give them an honest try, and holy cow, after shooting with the X100 since mine arrived on Wednesday, I've come to realize that it's an incredible new step in photography. I know I'm going off on it like I'm one of the commercial websites who get their cameras for free, but hey, I bought this one for myself. I get no free cameras.
The X100 is for experienced photographers. That's why I love mine so much. People who do computers for a living and love gadgets may not like it as much. The key to the X100 is how well it does what's actually important to making photos. It's not a camera for people easily baffled by trying to set-up a camera, which are most people who aren't shooting full-time. It's not a pro camera; the X100 is the pro's fun weekend camera.
The biggest problem is writing my review, which will probably be ten pages and take a week, since so much about the X100 is new and better than any camera that came before, and since they are so wildly popular, it's difficult to find them and the prices are rising to meet demand.
You can order yours as I did at Adorama and wait to get the lowest price, or get it right now at a higher price through Amazon, or of course also get it right now through this direct link to them at eBay (see How to Win at eBay).
Of course, for not much more, you can get the Fuji GF670 Professional, in-stock and on special at Adorama.
Beware: just like the LEICA M9 back in 2009, the X100's firmware is not smooth and refined like the firmware in a Nikon DSLR. Unlike LEICA, the X100 makes superlative JPGs right as they are shot.
29 May 2011, Sunday
NEW: How to get all your old photos out of your archives and into your computer: ScanCafe Scanning Service Review.
NEW DEAL: ScanCafe is offering exclusively to you, my dear readers, a $40 discount to new customers. To get your discount, use code
ROCKWELL40JUN11
at ScanCafe.com.
It expires June 30th, 2011 and It's good for new customers only.
It's valid for all their regular scanning services, including their new video transfers. It is not valid for value kits, gift boxes, gift card or photo restoration services.
Have fun!
Nikon 28mm f/1.4 AF-D again
There is another rare aspherical Nikon 28mm f/1.4 AF-D for sale at eBay. If you want one of these lenses, I've bought from this store before, and service and product have always been just like new, so I'd go for it. Heck, that store is in Japan, and the items arrived in just a few days when I've used them! They sold another one a week ago.
See also see How to Win at eBay and my Nikon 28mm f/1.4 AF-D review, as well as other ones at eBay.
Also consider the newer 24mm f/1.4 AFS, bought new, if you need a super-speed wide-angle. The classic all-metal and lighter 28mm f/1.4 is hard to find.
NEWS: Fuji X100 Lens Protection
I fixed the filter problem on the Fuji X100 for under a dollar.
To use any filters with the X100 requires a not-yet-available $50 adapter.
Without this adapter, there's no filter thread, and no way to protect the lens either with a filter or with a hood. Bang the lens on anything, and your X100 is now worthless. (No one uses lens caps in the field; they are only for storing the camera.)
The lens glass comes right up to the surface of the lens barrel. There is no protection, making it hazardous to carry the X100 and use it. Just about anything against which you might bang your X100 will scratch your lens.
When you unscrew the front beauty ring, there is a male thread onto which the $50 AR-X100 adapter ring attaches. The adapter enables 49mm filters to attach.
That got me thinking, and we got lucky: although the front filter thread design design of the X100 is a product of hiring the stupider people, at least the front thread is a recessed, backwards but still standard 49mm x 0.75mm thread.
Aha!
Therefore, 49mm filters almost fit backwards. Almost means that standard 49mm filters fit backwards using the filters' front threads, but the lens won't be able to advance properly and will damage the X100 if you try to shoot with it, since close distances will make the X100 try to drive the lens through the filter.
After hemming and hawing about where to buy a special 49mm-49mm adapter, I had the genius idea that I could unscrew the retaining ring in a Tiffen 49mm filter, and then it had enough depth to allow the lens to work its entire range.
I removed the retainer and glass out of a spare Tiffen 49mm filter (look in your junk box, we all have them), screwed its front into the X100, and Voilà!, my X100 now has a reversed 49mm thread on its front. Now any regular 49mm filter fits in reverse, protects the lens and the focus mechanism from scratches, dirt, damage, dust and salt spray.
Ideally, we need a 49mm-threaded tube about 5-10mm long with a grip on its exterior, but I'll look for that later. We all have old 49mm filters in our junk boxes.
The only negative is that one always has a male 49mm thread poking out the front of the X100, which doesn't feel nice as you carry it around. Reattach the X100's original silver beauty ring over the filter's 49mm front-facing rear thread, and problem solved.
Be careful with polarizers:
1.) Good news: any standard linear or circular polarizer works perfectly. The X100 has none of the silly internal AF optics that require SLRs to use only circularly-polarized filters.
2.) Bad news: when you attach the filter via its front threads, most rotating polarizers won't rotate. No big deal, just hold them over the lens free-hand, or don't screw them in all the way.
3.) Bad news: if you use a circularly-polarized filter, it won't work facing backwards. The front of a circularly-polarized filter has to face forwards. Use a regular polarizer.
4.) Good news: unlike any real LEICA, the X100 provides through-the-lens viewing with polarizers, grads, and any kind of filter. No longer do we have to sight through the filter, and then be sure to maintain the same alignment when we attach it over the lens.
NOT NEWS: LEICA: The world's most expensive camera
So? That's not news.
An old LEICA sold for almost two million US dollars at auction, making it the world's most expensive camera. The auction house only estimated 400,000 Euros, but it sold for $1.89 million US dollars.
So? I told you LEICAs cost less: buy a real LEICA now (that means lenses or 35mm cameras, not digital), and you'll most likely be selling it for more than you paid whenever you tire of it.
Everyone knew I was an idiot when I started talking about LEICA in 2008 when Nikon overpriced the made-in-Japan Nikon D3X to more than the LEICA M9, with its made-in-USA sensor. When a better-made American product sells for less than foreign, I'll buy it.
Well, Nikon hasn't had any new FX cameras since I dropped them the last decade. Idiot I may be, but my biggest problem today is having to go back and increasing the prices in my LEICA reviews. They've all gone up about 50% in two years. If you got them back when I suggested it, you could sell them today for a fat profit. It's like real estate: you get ripped-off when you buy it, but get even more money for it when you sell it.
Better than LEICA
LEICA is the best. There is no substitute, in fact, even LEICA sadly tends to make cheaper and cheaper cameras as time goes on. Although the prices go up, the intrinsic quality and function has been slipping due to a weak market for rangefinder cameras ever ever since the highpoint of the 1954-1967 LEICA M3.
Although LEICA invented the full-frame format in 1918, I'd love it if some other manufacturer would kick LEICA out of the park and have the guts to make an even better camera.
If Fuji would simply keep their 23mm lens and provide us instead with just a hole with a LEICA M mount and a full-sized sensor, the LEICA M9 would be so dead for actual photography. (LEICAMEN would still buy them for their own sake. Bloodline matters.)
Fuji could call it the FinePix M10, and market it as "Die Zukunft der Fotografie M" ("The Future of M Photography"), and they would be right. For instance, even the X100's shutter release feels so much nicer than the notchy thing of the M9.
Sure, collectors will always pay für LEICA, but for photography, do you have any idea how great it is to just tap a lever on the Fuji X100 to see live through the lens and make the parallax go away for close shots? LEICA is fun, but since the viewfinder is in a different place than the lens, with a LEICA, you never really know what's in the picture until you see the results. The X100 is 60 years ahead of LEICA. Now if someone would take off the lens and get the junk features out of the way of the X100.
The M9 is all about using M lenses on digital. It is the world's only full-frame LEICA M, but if I could get a better body für use mit my M-lenses, I'd use it.
The X100 is 100 times more quiet than any LEICA M, but that's due to its leaf shutter. The Fujifilm FinePix M10 will still need a focal-plane shutter.
The M9 has been the world's best digital camera for almost two years, and when anyone makes a better camera. I'll be all for it. The M9 needs a smoother shutter release, a much, much quieter shutter-charge motor, and a much better finder, like the one from the LEICA M3. Live TTL viewing like the X100 is nice, but not necessary.
28 May 2011, Saturday
NEWS: OC Camera is now the USA's first and only dealer for Luigi Crescenzi's Leicatime cases. OC Camera is a walk-in retail dealer; you'll have to walk-in, phone or email them if you need anything.
More from the amazing Fuji X100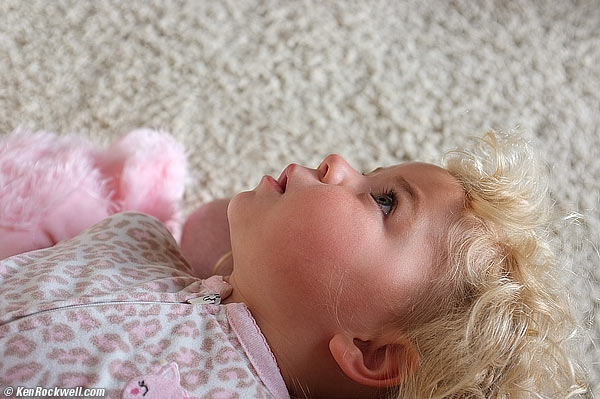 Katie, ISO 200, f/3.2 at 1/150, macro mode. (full-resolution.)
The pose isn't the point; look at the skin tones! This is in diffuse window light, and rarely looks this good with other cameras. Look at the bokeh; everything fades into softness smoothly, not coarsely as with many other lenses.
Crazier, I shot this in JPG, and look at the sharpness after I edited it a bit mostly to get rid of some fluff on Katie. Insane!
No wonder the prices are already rising on the Fuji X100. Amazon still has links to some in-stock as I write this, while Adorama is taking orders only over the phone since they are so hard to get.
I could never shoot this on the M9: it doesn't focus this close this fast.
27 May 2011, Friday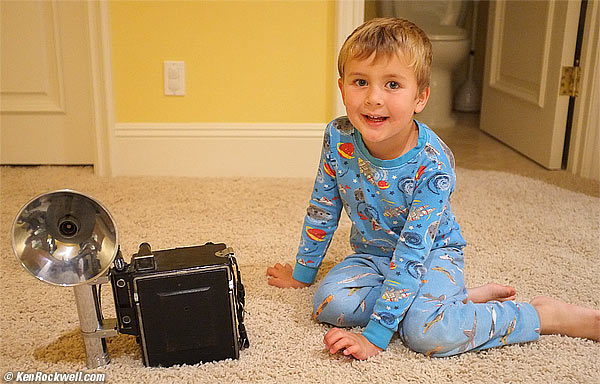 The Speed Graphic, ISO 3,200, f/2 @ 1/60. original © file.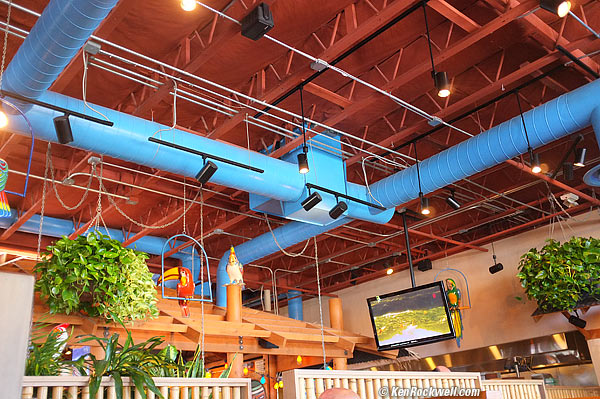 The Bird Place, X100 at ISO 2,500, f/2 at 1/125. original © file.
NEW: Fuji X100 samples at ISO 2,500 and ISO 3,200 at f/2.
Watch out for the shallow depth-of-field and the fact that everyone was moving in the shot of Ryan. Ever try to photograph kids? It's tougher than shooting ice hockey.
Notice the absence of falloff: the corners didn't get darker, even wide-open in these shots.
These are JPGs right out of the X100 in Auto WB and mixed light.
The X100 is currently backordered due to the Japanese catastrophe and the unprecedented demand for it. Thankfully the X100 is shipping again to the USA. The price may be higher, but Amazon has links to some in-stock as I write this.
NEW: How to Afford Anything — in Belarusian.
26 May 2011, Thursday
Sigma SD-1: 14 MP sub-APS-C for $6,900?
Sigma is now starting to try to sell an SD-1 DSLR with a14.7 MP sub-APS-C (23.5 x 15.7mm) sensor, for $6,900.
Reasonable people ask how in tarnation this could be, but it has a very reasonable explanation. Why else would Sigma field a sub-15 MP 1.5x crop-factor DSLR that only works with Sigma lenses for $6,900?
Sigma could care less if it doesn't sell a single SD-1, exactly like the $26,000 200-500mm f/2.8. These are called "halo" products. Companies make products like these in attempts to move their market perception up a notch.
Simply by offering a product or two at crazy prices, Sigma hopes that it gets some free publicity (as its getting here now) and that some people might make the mistake of presuming that it's good just because it's expensive. It's just like other lackluster products which suddenly get a new marketing whiz, he raises the price by three times, and suddenly people take notice and it sells more units!
Nikon used to do this when it was great; why else do you think Nikon made things like the insane 13mm f/5.6 which sold less than a thousand pieces over a few decades?
Yes, the SD-1 has a real 14.7 MP Foveon sensor, which really gives 14.7 MP instead of somewhat less real resolution than common 14.7 MP CCD or CMOS sensors do, but so what: the SD-1 only works with Sigma lenses, not professional lenses like Canon, Nikon or LEICA. Foveon sensors are sometimes sharper than CCDs or CMOS sensors with the same resolution specifications, but Foveon sensors have awful low-light performance because they stack the R, G and B sensors behind one another.
PS: Sigma often lies about resolution, tripling the 14.7 MP sensor's actual resolution from 14.7 MP to something stupid. A pixel is legally defined as a location for which all colors are defined. This is in deference to Nikon, Canon and other sensors, whose actual resolution is somewhat less than their nominal ratings, since each location is sensitive to only one color.
Resolution is meaningless; so long as you have about 3 to 6 MP, you've got plenty, and 10 MP is more than enough for anything. MP are just ways to sell more cameras to the innocent. I was on TV about this back in 2003!
Even though I doubt these sell, I just checked, and Adorama has the $26,000 200-500mm f/2.8 in-stock!
LEICA 135mm f/4 TELE-ELMAR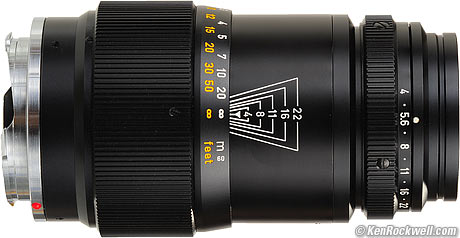 I have a 135/4 TELE-ELMAR. It's optically unexcelled and also very compact, takes standard 39mm filters and the same standard 12 575 hood as other 135mm and 90mm lenses that take 39mm filters and A42 accessories.
If you want one for your M3, M9 or any LEICA in between, there is one for sale on eBay at what seems like a great price from a dealer I love. They ship immediately, and the items arrive in the USA in just a few days.
This smaller version of the TELE-ELMAR (39mm filters) has exactly the same superior optics as the newer, bigger and heavier TELE-ELMAR-M that takes 46mm filters. The only functional difference is that LEICA needed to do something to boost sales of the 135mm, so it simply pimped-out the cosmetics to milk some more years of sales until they replaced both of these with today's 135mm f/3.4 APO-TELYT. I don't see any optical difference, and I prefer the mechanics, size and utility of the smaller original 135mm TELE-ELMAR.
See also see How to Win at eBay.
I haven't reviewed this lens yet (my newest data here) because other things, like the X100 and D5100 reviews and the D7000 users guide are ahead of it. Just know that the TELE-ELMAR's optics are perfect, and the only limitation to sharpness is sample-to-sample matching of lens and camera rangefinder focus. This applies exactly the same to the newest 135mm f/3.4 APO-TELYT, which sells for $3,300, is never in stock, and takes a bizarre, non-standard (für LEICA) 49mm filter.
If I owned the $3,300 APO-TELYT, I'd still prefer the original TELE-ELMAR for its visibly identical optical quality and much smaller size.
Get it before it's gone: Demo Sony NEX-VG10s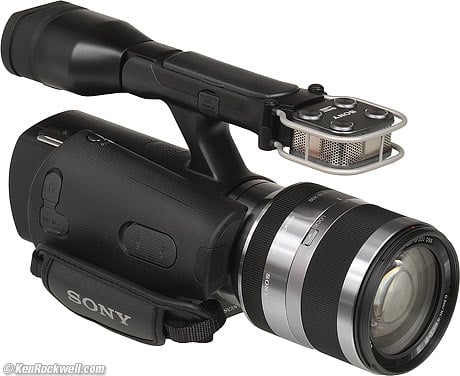 Adorama has some of the hot new $2,000 large-sensor, interchangeable-lens Sony NEX-VG10 HD camcorders available as demo/refurbished at a great price ($1,799.00), including lens.
25 May 2011, Wednesday
Fuji X100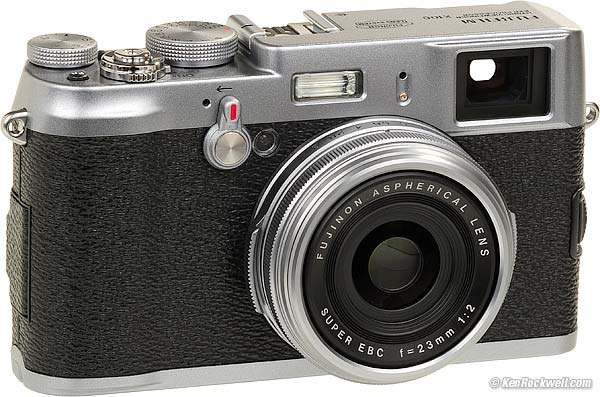 Fuji X100. bigger.
I just got my own Fuji X100.
Initial impressions are that it rules. Images are super-sharp, and look great even at ISO 800 and f/2. Here's an original © sample file at ISO 800, and here's another at ISO 200, hee hee! Both were made with flash. Be mindfull of the limited depth-of-field of each; very little is in perfect focus in either.
Its technical image quality matches DSLRs because it uses a DSLR sensor. To my surprise with a brand-new camera, its RAF raw files open just fine in Photoshop CS5 Adobe Camera Raw and Apple Aperture 3.
The permanently attached fixed lens is spectacularly sharp, even at f/2, but has pincushion distortion — but less than the LEICA 35/2 ASPH!
Fuji's original sample gallery did the X100 a great disservice, as those images were soft, low-contrast and boring compared to what I'm getting out of the X100. When I see manufacturer galleries, they always show the absolute best anyone will ever see out of a camera, but not this time.
The X100 is an amazing camera. Its optical and EVF finders are amazing. The optical finder has an electronic graticule and information displays, of course with parallax correction, and live playback.
Flash control seems marvelous, sync goes to 1/2,000.
Except for some odd quirks like hard-crashing just like the LEICA M9 did in 2009, the X100 is a winner. Too bad it's so hard to buy. I got mine from this link to it at Adorama.
The X100 is no LEICA by any means; the X100 is in its own brilliant class. As expected, it's very Japanese: way too many features, menu BS and sloppy programming getting in the way of just shooting. The X100 has all the crazy film modes and tweaks of Fuji's DSLRs. I'm hoping that once I select which of the 10,000 display modes suit me that it will be smooth.
Since the LEICA M9 makes such horrible JPGs and has such horrible auto WB and no blue/amber fine tuning, the JPGs out of the X100 are superior to the M9's JPGs, but the Canon S95 and Nikon D5100 also make far better JPGs than the M9. (Shot as DNG, the M9 wipes all of these cameras and even full-frame DSLRs off the map.)
The X100 handles pretty fast; the EVF is just about live and autofocus seems immediate, although the auto-area AF often gets confused. The X100 even has automatic eye control to switch the rear and finder LCDs on and off as you move the camera!
NEW: The Yosemite in Springtime.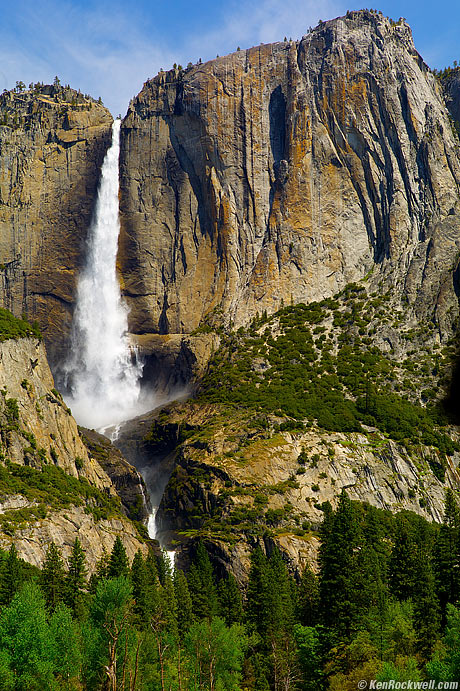 The Yosemite Falls.
What I did last week.
23 May 2011, Monday
The Yosemite!
I just got back yesterday from two of Dave Wyman's week-long photo tours of Yosemite. The falls are running like crazy after record rains. Reservoirs are about to burst at about 200% capacity!
(Our next tour is in San Diego, The Southern California Photo Express, Friday - Sunday 24-26 June 2011.)
Now all I have to do is put up a gallery for y'all.
I only made 500 shots on digital all week long. After bulking-up for the trip by eating lots of FARTing beans at my favorite Méxican restaurant last week, I paid more attention to what I was shooting instead of just firing away blindly and pretending pictures will turn out all by themselves.
NEW: Added spherochromatism examples to my LEICA SUMMICRON-M 50mm f/2 Review.
21 May 2011, Saturday
Nikon D700 in-stock
Adorama has limited stock of the Nikon D700.
The D700 has been very hard to find since Nikon's D700 plant in Sendai closed after being hit by the tsunami in March.
I hear it's reopened, but with restricted capacity.
New LEICA Book
There's a new edition of Gunter Osterloh's classic LEICA M Advanced Photo School available.
I have a couple of editions of this. The previous edition sold for hundreds of dollars used; I know, I paid that on eBay before this one came out!
Oddly, this new edition is dated to come out in June, yet I just ordered mine from Amazon , where it's in-stock at under $22 with free 2-day shipping, presuming you've got Amazon Prime as I do.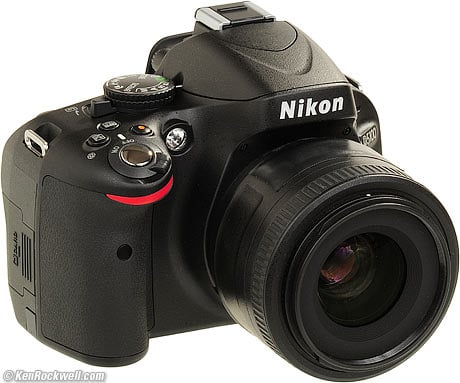 NEW: I added full-resolution sample images to my Nikon D5100 Review.
As expected, the D5100 is as good as any Nikon DSLR ever made, in a lightweight package.
If you're wondering which of the D7000 or D5100 to get, it's an easy decision. If you're an avid photographer who reads this page every day, you want the D7000, but if you just want great photos, the D5100 is more than enough camera for anyone who doesn't even want to know about ISOs and white balances.
The D5100 is essentially a D7000 sensor in a lighter, more plasticy body with a simpler AF system and fewer control buttons. The D5100 does the same thing as the D7000, just that you have to go into menus to do what the D7000 does with the flick of a knob.
17 May 2011, Tuesday
New Workshop!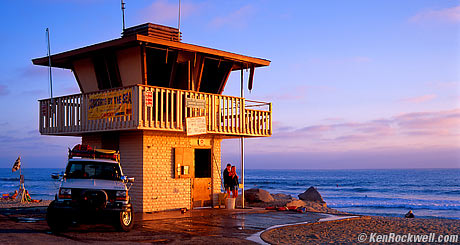 Encinitas, California.
Dave and I are leading an outing in northern San Diego, The Southern California Photo Express, Friday - Sunday 24-26 June 2011. Details
Call (323) 377-7565 or email Dave Wyman for even more information and registration.
NEWS: Nikon is making record profits.
So where are the new FX cameras? With the Sendai plant damaged, will Nikon ever make any more FX cameras, or concentrate on its computer-chip related businesses?
Just kidding.
13 May 2011, Friday
Nikon D5100
My D5100 is here!
It's great; image quality is superb, just like the D7000, I don't want to put it head to head with my professional D3, as I suspect the D5100 is probably better!
NEWS: ScanCafe is now doing video transfers from VHS, Betamax, SVHS, VHS-C, Hi 8, Digital 8, and MiniDV to DVD.
I've used ScanCafe for bulk film scanning, and they do a great job for the price. I owe you a write-up on them. (I use North Coast Photo for more serious work, or things I need this week.)
ScanCafe does more than just transfer; they take the time to add menus and chapters, stabilize the picture, manually trim the content, manually select the scenes, and even do scene-by-scene color correction and then put it all on a very slick archival DVD with special effects and interactive menus.
ScanCafe is offering a 15% discount on not just video, but also film scanning for the rest of this month if you use code:

ROCKWELL15MAY11

This discount is only for first-time customers, and not valid with other offers or for value kits, gift boxes, gift cards, or photo restoration.
Even better, once you get your old tapes transferred to DVD, it's easy to play them on your iPhone, iPad and iPod!
NEWS: As I sort of suspected, there are new Think Tank Speed Demons, Speed Racers and Speed Freaks coming out in a few weeks.
Sign-up here to be notified as soon as they are available for order in a few weeks.
Induction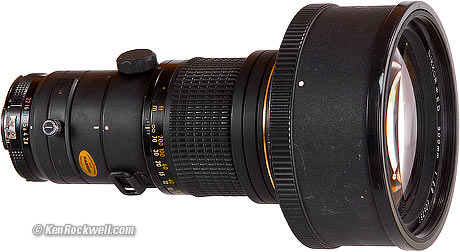 Nikon NIKKOR 300mm f/2.8 ED-IF.
I just inducted the Nikon NIKKOR 300mm f/2.8 ED-IF. into one of Nikon's 10 Best Lenses of all time.
11 May 2011, Wednesday
Film Sale: Two Rolls of HP-5+ for $3.99.
10 May 2011, Tuesday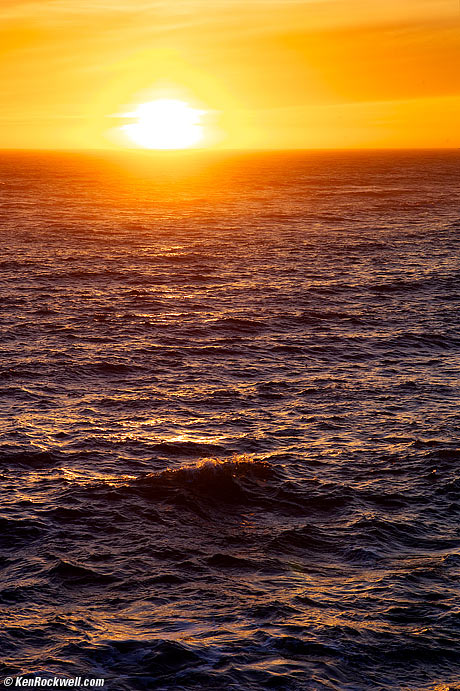 Sunset at Cambria.
NEW: Photos from California's Central Coast.
This gallery is in a new "high definition" format. I hope it fits your screens. Since you people keep getting bigger screens, I thought I'd try it and see what happens.
R.I.P. Dr. Willard S. Boyle
Canadian Dr. Willard S. Boyle, who along with George E. Smith invented the CCD at Bell Labs in 1969, has passed from this dimension.
Dr. Boyle won a quarter of the 2009 Nobel Prize in Physics for his work on the CCD.
Dr. Boyle was born in Nova Scotia, and got all his degrees from McGill, eh.
He was married for 65 years. Mrs. Boyle is still with us.
What happened to my D40?
Once I got my D7000, the D40 has sat idle. I love the 1/500 sync, but the D7000 offers so much like a twice-as-good AF system and those magic U1 and U2 modes that the D40 waits to be played with by Ryan.
The U1 and U2 modes let me pick up the D7000 after weeks of disuse, and it comes up exactly as I need it set, regardless of which kid (or me) who's been playing with it in the interim.
09 May 2011, Monday
JPG vs. raw: Who Cares?
Funny thing about me mentioning me working with DNG files last week. People write, as if they actually care if I shoot JPG or just raw.
So? Every man makes these choices for himself. Do I go over the top, through the middle or out the bottom? Hey, every man is different, and it doesn't matter to anyone else, except ourselves.
I have to shoot DNG with the LEICA M9 because its internal DSP is so bad that its JPGs look awful! Unlike advanced cameras like Nikon or Canon, LEICA is a small company with little to no DSP (digital design) ability, and has to contract it out. LEICA makes the world's best lenses and cameras, but the digital processing required to make a digital camera work and to look good is an entirely different industry from mechanics and optics.
We have to hand it to LEICA as one of the few camera companies that successfully made the jump to digital cameras. Most of the other good camera companies, like Minolta, Konica, Rollei, Contax and I forget who else, didn't survive or haven't even bothered with digital. LEICA has.
The M9 has a hard time choking out JPG files at all, taking about three seconds each to compute, and even sometimes hangs-up or looses data when I set it to JPG or DNG + JPG! What people don't realize is that all images in all digital cameras are shot in raw, and our cameras have to calculate JPGs, if needed, from the raw data. When shooting JPGs in any camera or cell phone, the raw data is thrown away as soon as the JPG is recorded to the card. My Canon S95 does a better job of this than an M9, and the S95 is much, much faster, too.
Therefore, when shooting the M9, I'm forced to shoot DNG because the M9 just can't make good JPGs by itself. Except that all this data is quickly killing my hard drive, thank goodness Aperture lets me process all this data as fast as if it were JPGs.
When I'm shooting my Nikons (D7000 for family or D3 in my studio), or my Canons, I always shoot JPG because Nikon and Canon each are large enough companies to be able to design their own internal digital processing that actually works, and more importantly, big enough to have enough resources to devote into ensuring that the internal processing makes their images look great.
LEICA's JPGs look terrible because no one, except for Apple, has figured out what special secret sauce of transfer functions and color matrix equations are needed to make the analog values that get read from the M9's made-in-Rochester, New York, USA sensor and then converted to digits by its converters look good.
The M9 works great shot in DNG-only, and these files look awesome (to me) only when processed in Aperture. They are sharp in Capture One, but the colors just don't do it for me in Capture One or Photoshop ACR. I tried both of them, and never found any settings that give me what I need, while Aperture does it right out of the box.
JPGs are standardized and look the same opened in every piece of software, but raw files are just raw data. Raw data looks slightly different in each piece of software because every piece of software uses different proprietary code to create images from this data. We can't see raw data; it has to be converted into an image first.
So that's why I shoot DNGs with the M9. The M9 is a awesome camera for the felid, but it can't do JPGs well.
Brick-and-Mortar
A reader wrote that his local camera store got cut-off by Nikon, and he was told something like "Nikon is cutting off all small local camera stores!"
I always chuckle when these stories fly by. I remember as a kid in the 1970s how a store, when they lost a line, would always disparage it by saying something like "yeah, we had a lot of returns due to low quality lately from that brand, so we stopped selling them."
Baloney!
No store gets authorized to sell anything unless they work at getting a contract offered to them by a manufacturer. A store has to earn the right to be an authorized dealer, and once they get signed-on, they have to keep earning that right.
Often stores might get a line (the right to sell one brand), but if they don't place enough orders, or don't pay the bills for the equipment they have ordered, they get terminated.
Dick-and-mortar stores (the ones with clueless, obnoxious salespeople or who lie about the products) get smaller because former customers find better stores, so of course dick-and-mortar stores get cut off as they vanish from the streets.
The key is that the better stores get bigger because they are better. A better store is a business that puts its customers' long-term interests ahead of its own. When stores only care about their gross profit this month, they make the wrong choices, and fail against competition that worries more about its customers than itself.
The worst are the big box stores. Places like Worst Buy have no sales help, readers have told me that these places cheerfully resell used returned cameras for full-price as new, and they aren't brick-and-mortar: they are located in new malls and are just tilt-up concrete. These blights are abominations, and just like cancer, they plow-over virgin land to pop-up new buildings, expand into numerous locations, and feed off potential buy-once customers who don't know any better.
Real family-owned and operated single-location brick-and-mortar stores are the best.
Most people don't realize it, but both Adorama and B&H Photo Video are family owned and operated, and their stores are made of real brick and real mortar (I've been there). Each is still owned and operated by the same man who founded each of them. Each is still a private operation, not some company selling stock and trying to make as much profit as it can each quarter for anonymous shareholders. Adorama and B&H Photo Video are smart enough to take the long-term outlook of worrying most about their customers, not shareholders, because as they've shown, if they take care of the customers, the customers will take care of them.
It's the big corporations like Worst Buy that show up in a mall, hire the least-experienced sales help they can, and do the best job of making buying a camera unpleasant for us, but profitable to their shareholders.
I've been using Adorama and B&H Photo Video since I used to walk-in to order in the 1970s, and then order by phone in the 1980s. With the Internet in the 1990s, nothing has changed. The customer is still first.
07 May 2011, Saturday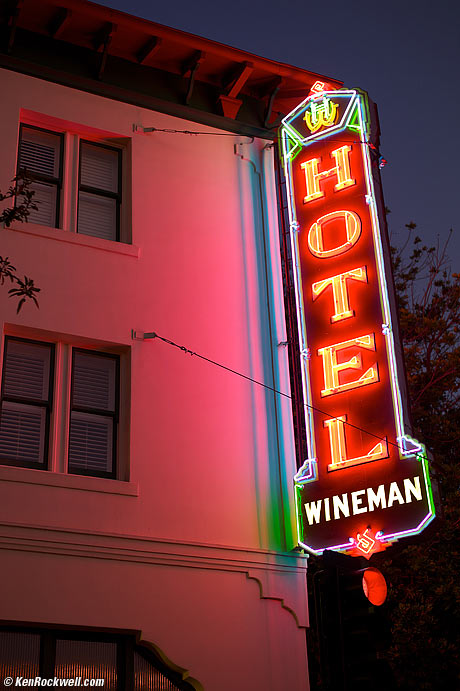 Downtown San Luis Obispo.
I finished working on my California Central Coast photos in Aperture.
I shot all DNG (raw), no JPG.
Something I realize I need to be sure to do is to save-out all my DNGs as JPGs to archive.
While it's super-easy to go back into Aperture and tweak again, let's face it: in 10 to 20 years, I have no idea if I'll still be able open anything in Aperture, much less the screwy LEICA files which turn out to be less universal than their .DNG suffix suggests.
Be sure to EXPORT > EXPORT VERSIONS as JPGs any time you wrap a project so you'll have your photos in the future.
Raw files are just that: raw, so unless you process them completely into JPGs for posterity, good luck ever seeing them as the years pass.
I'm serious. Imagine yourself suddenly 20 years from now. Where are these files? In an Aperture library folder someplace. Even if you have a version of Aperture that runs on the OS in your machine in 2031 (OS 10.37), do you think it will be able to do anything with a 20-year old library?
The key is that you've spent time getting everything just right in Aperture. Even if you have software that can open these files however you have them stored in 20 years, do you really want to go back and optimize them all again? Of course not; you just want the final images you perfected 20 years ago, and those are your exported JPGs that your pal Rockwell suggested you save before putting the whole job away and get on to the next thing.
50th Anniversary of the First American in Space: 05 May 1961
50 years ago today, the first free man ever, Alan Shepard, left this earth at 9:34 AM NY City time, which is right now as I write this.
NEW: National Wildlife Photo Contest Now Open!
The world's premiere photo contest is open again for entries this year.
Each year, the best wildlife photos I see are the winners in this contest.
The prizes are real, too: up to $5,000 cash!
NEW: Apple Mac Pro Audio Measurements.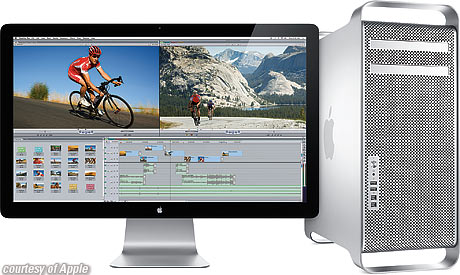 Apple Mac Pro.
Most recorded music comes through a Mac at at least a few points in the production chain, but not through the analog outputs I measured, which aren't quite as good as the iPod or iPad.
Oh well; used professionally, audio comes out as files or as digital streams fed to an external DAC that costs more than the Mac Pro.
Hey, sorry about all the measurements, but while I have an audio analyzer in my hot little hands, I wanted to proof the few audio devices I have sitting around about which I'm genuinely curious.
If you want to learn how to take better pictures, Bruce Barmbaum's book is what you should be reading. He says it so much better than I ever have here.
04 May 2011, Wednesday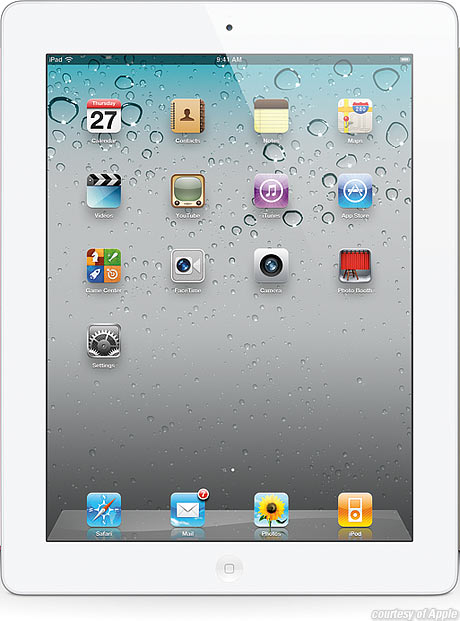 Apple iPad 2.
NEW: Apple iPad 2 Audio Measurements.
Even less distortion and noise than the original iPad, but oddly, response above 20 kHz is gone, while the other iDevices I've tested have flat audio response to 22 kHz with 44.1kHz sample-rate files.
03 May 2011, Tuesday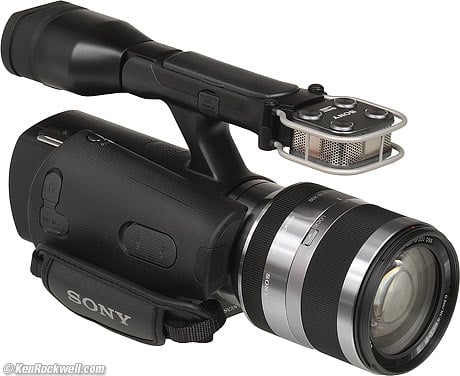 Sony NEX-VG10.
NEW: Sony NEX-VG10 Review.
Same sensor size as 35mm motion-picture film, and stands-in as a DSLR for stills. Clever!
Apple iPad.
NEW: Apple iPad Audio Measurements.
No surprises, similar to the other iDevices.
02 May 2011, Monday
Busted: Lower Than Low Prices at Amazon!
The fantastic premium leather iPad 2 Case I ordered at Amazon the other day dropped in price to only $20 in the 48 hours before I got it a moment ago.
I figured I was getting a deal at only $33 for this real leather case, since I paid $40 for the same thing for my first iPad at Christmas.
$33 is a deal, but it's on sale today for only $20! (prices change by the minute.)
It's very, very nice, presuming you love real leather. It covers the entire iPad 2, front, back and edges, and has the same magnetic magic power on/off control as Apple's thing that costs twice as much but don't cover anything but the screen and is made of plastic.
This case I got from Amazon also allows fingers to touch the sides of the screen, which you need to be able to rearrange your icons. Many cases cover the sides of the screen!
By Busted!, I mean that I looked, and discovered that Amazon doesn't offer to make good on the price drop if it drops after you order it. This makes sense, as Amazon changes prices from minute to minute, and if I really cared to pay attention, half the things I order probably drop in price before they arrive. This was the first time I actually noticed.
NEW: Think Tank Retrospective 5 in-stock!
I got lucky; mine arrived last month for my Central Coast trip, for which I owe you all the photos.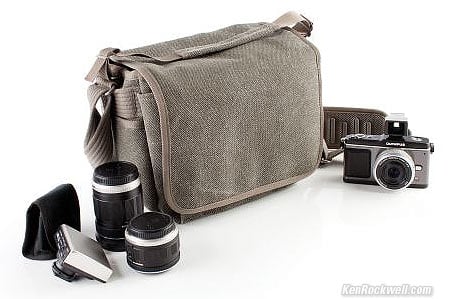 Think Tank Retrospective 5.
The Retrospective 5 is a smaller version of the huge Retrospective 10 I reviewed last year.
The Retrospective 5 is designed for rangefinder and micro 4/3 cameras, which means it works great for the cameras I shoot today, like the LEICA M9 and the NIkon D7000.
NEWS: LEICA Akademie's North American Debut
When I asked a couple of years ago, LEICA's shooting school, the LEICA Akademie, was only offered in German, in Germany.
Today, LEICA announced that it will be available in North America.
Here's the details from LEICA's information:
Leica Weekends: Our Premier Leica Akademie Events – These intensive and exciting weekends will cover the essentials of Leica photography in two full days of hands-on learning. Held in five destination cities across North America, each workshop will be led by a knowledgeable Leica instructor as well as a featured Leica photographer. From rangefinder basics to advanced techniques, this workshop is custom tailored to each host city and is the perfect opportunity to have a priceless weekend of learning, inspiration and camaraderie in the company of fellow Leica enthusiasts. The Leica Weekend Program will cost $495 with each participant receiving a $300 voucher that can be used toward the purchase of a brand new Leica serial numbered M product from any North American Leica Dealer.

The Leica M9 Shooting Experience: Spend a Day with the Masterpiece – A full day of programming enables prospective and current M9 owners to experience all the world's first full-frame digital rangefinder camera has to offer. The workshop serves as a comprehensive introduction to the incomparable M9 and its exquisite Leica M lenses. Additionally, participants will benefit from a two hour field trial, invaluable instruction on how to get the most out of Leica M9 files and instruction on basic Lightroom workflow. The Leica M9 Shooting Experience is $199 per participant with all attendees receiving a $149 voucher that can be used toward the purchase of a brand new Leica serial numbered M product from any North American Leica Dealer.

Leica Street Photography: Your Gateway to a Great Tradition! – This full day program distills the essence of distinguished M-System street photography, which dates back to the flagship line's introduction in 1954. The day's schedule of events is designed to provide inspiration to experienced M photographers and a solid introduction to the history and techniques that helped establish the esteemed photographic genre that witnessed and defined our world. The cost for attending this event is $249 with each participant receiving a $149 voucher that can be used toward the purchase of a brand new Leica serial numbered product from any North American Leica Dealer.

Leica Digital Black and White Photography: See the World in Black and White – This one-of-a-kind workshop encourages participants to explore the fascinating monochromic world of black and white photography by pre-visualizing scenes in black and white as well as exploring new ways of seeing. Participants will gain a more profound understanding of lighting, texture, contrast and tonal gradation. The program incorporates a class lecture and real world shooting experience utilizing the Leica M9 or X1 cameras and focuses on capturing images and processing with the easiest workflow. The cost for attending this event is $249 with each participant receiving a $149 voucher that can be used toward the purchase of a brand new Leica serial numbered M product from any North American Leica Dealer.

Leica Compact Camera Photography: Getting the Most from your Leica Compact Camera – Leica's portfolio of compact camera is heralded for its sleek design, superior optical performance and outstanding image quality. This workshop, aimed at everyone from beginners to experienced shooters, enables participants to get the most out of these outstanding cameras by exploring their powerful potential. Leica instructors will be on hand to explain complex concepts, review the cameras' exposure modes, scene modes and manual settings as well as answer any questions. The cost for this event is $149 per person.
What Was New in:
Help me help you
I support my growing family through this website, as crazy as it might seem.
If you find this as helpful as a book you might have had to buy or a workshop you may have had to take, feel free to help me continue helping everyone.
If you've gotten your gear through one of my links or helped otherwise, you're family. It's great people like you who allow me to keep adding to this site full-time. Thanks!
If you haven't helped yet, please do, and consider helping me with a gift of $5.00.
The biggest help is when you use any of these links to Adorama, Amazon, B&H, eBay, Ritz, Calumet and J&R when you get anything, regardless of the country in which you live. It costs you nothing, and is this site's, and thus my family's, biggest source of support. eBay is always a gamble, but all the other places always have the best prices and service, which is why I've used them since before this website existed. I recommend them all personally.
Thanks for reading!
Ken
Home Donate New Search Gallery How-To Books Links Workshops About Contact