Home Donate Search Gallery Reviews How-To Books Links Workshops About Contact
December 2010's Updates Hot Deals
all © 2010 KenRockwell.com. All rights reserved.

Nikon Canon LEICA More Reviews random Ryan Katie
Recommended Cameras How to Take Better Pictures
31 December 2010, New Year's Eve
It's Been a Great Year
2010 has been an awesome year.
Photographically, we had Nikon give us a slew of new FX lenses that completely redefine 35mm and FX photography — again.
We also had Nikon give us their best "digital" camera ever: the D7000. The D7000 raises the bar just a little bit more in real image quality over everything else that has come before.
Real image quality means how the images look, which means tone and color. Resolution and high ISO, which are also fantastic in the D7000, have little to do with real image quality. Since resolution and ISO are easy to measure, they are paraded around by the gadget-loving media and camera sellers, who are more interested in selling you and talking about cameras than in actually taking pictures.
The D7000's rendition of tone (highlight, shadow, and every gray in between) isn't anything new, but the D7000's color interpretation, especially in difficult light, is the best I've ever seen out of any "digital" camera. Color interpretation is 90% of what makes a photographic system render good or bad images, and is why I so love the images I can make with my D7000. The D7000 is also small, light, and its battery lasts for months on a charge (I last charged mine back in November), so we all got one heck of a nice new camera model from Nikon this year.
I also got an iPad from Santa, and my goodness, it's a fun toy. It's also one of the most beautiful things ever made. Even turned off, it's a beautiful work of sculpture and industrial design. Twenty or a hundred years from now, it will still be a clean, pure and beautiful work of art, a pleasure to behold and a treat to touch. Nothing personal, but if you don't get excited by beautiful things, or don't consider beauty important, you ought to consider a different hobby than photography. How a product looks is very important.
As soon as I get my SD & USB camera adapter, I'll have to see if I can find a real Dreamweaver replacement that runs on iPad, so I can make the iPad a tool from which I can write this website in its current form.
The craziest thing is the iPad's battery. Everything with a screen runs a few hours on a charge, regardless of what its maker claims. I never bothered to look at Apple's battery-life claim, since Apple lies about battery life like every other maker. I thought my iPad's battery meter was broken, since I can use it for hours and still have 80% or 90% charge left. I did a little more research, and my golly, the iPad really ought to run about 10 - 12 hours or more on a charge. No wonder I've been using it for days and not needed to charge it.
I've also managed to read the first chapter of Bruce Barnbaum's book "The Art of Photography" that Santa also brought me. (Hey, I've been goofing off at home playing with the kids this week, so reading a whole chapter is an accomplishment.) It's one heck of a good book about how to make better pictures. He is writing, in a far more mature way, the same things that I've been spouting out about FARTing and the difference between casually snapping boring shots and how to create meaningful works of art. It's probably going to be the best photo book ever written; I'll let you know as I finish it. Even if the rest of this nearly inch-thick, one-foot square masterpiece stinks, the first chapter alone is easily worth twice the $29.67 it costs at Amazon (retail price is $45!).
Bruce Barnbaum isn't trying to sell you cameras, so he's talking about how to take great pictures, not simply how to purchase equipment. The more you learn about photography, the more you know that purchasing equipment has nothing to do with taking meaningful pictures, but since buying equipment is so much easier than taking great photos, it's what we usually see discussed everywhere.
30 December 2010, Thursday
Kodachrome's Last Day
Today was the last day that the last lab on Earth, Dwayne's, accepted Kodachrome for developing.
I was interviewed by KCBS radio in San Francisco; you might hear my interview on the air.
Essentially, I explained as I have explained before that Kodachrome, introduced in the 1930s, became obsolete in the 1990s as Fuji took over the professional market. E-6 films, which look better and develop in only an hour or two, better meet the needs of professionals today. For the past 30 years, transparency films (slides) like these are mostly shot by pros and serious photographers. Since the 1980s, casual shooters have shot print film instead.
Since so few people bought Kodachrome, of course Kodak stopped making it, and thus Dwayne's stopped developing it. New films, like Kodak Ektar, continue to be developed (hee hee) because they are what people want today. Kodachrome went away for lack of sufficient interest. Remember, back when pros shot Kodachrome up through 1990, each individual pro photographer would shoot dozens, or hundreds, of rolls a day, every day. Hobbyists buying a roll or two at a time do not a viable professional film make.
I stopped shooting Kodachrome in 1990 when I upgraded to Fuji Velvia.
It was sad in the 1990s and 2000s when we all kept expecting Kodak to come out with a film that looked better than Velvia, and each of Kodak's attempts, like Lumiere and E100VS, all bombed.
Yes, I still shoot lots of Velvia, as do many serious photographers.
Bruce Barnbaum
I also got for Christmas a copy of the new edition of Bruce Barnbaum's book "The Art of Photography."
I'm astounded: the original edition's content was superb, albeit it published in a cheap, almost self-published, paperback form.
Today's new edition is still soft-cover, but immaculately printed, and it looks and feels fantastic.
Having just cracked open the new version, it says more about how to make great pictures in its first three pages than most photo books ever say at all.
29 December 2010, Wednesday
DEAL: $100 rebates on Tamron 17-50mm f/2.8 for Nikon.
DEAL: $100 rebates on Tamron 17-50mm f/2.8 for Canon.
DEAL: Amazon's End-of-Year Specials.
28 December 2010, Tuesday
DEAL: Nikon D3100 kit with 18-55VR for $599.99 at Amazon.
No Looking Back
I am so happy with my Nikon D7000. The old FX cameras are dead.
I prefer the look of low-light images I get on my lightweight, high-resolution D7000 to those of my professional D3 (aka D700).
Snapping my kids all this week under whatever dim light we happen to be celebrating, I'm getting much better pictures than I did with my D3.
It will be quite impressive to see whatever new-generation FX cameras come out next year.
My D3 still isn't in the dumpster; I prefer its large finder for manual focusing as I shoot in my studio under strobes.
I wouldn't ditch a D700 for a D7000; I'd hang onto it and wait for whatever comes next in FX, but if you're in a hurry, yes, I prefer both the ergonomics and the final images I'm getting out of my D7000.
Who's the Chump?
I am!
It's funny how sloppy are the electronics and firmware of the cottage-industry LEICA M9, compared to the mature, refined products sold by Nikon and Canon. Nikon and Canon have huge in-house design budgets and can work out all the bugs, while little Leica contracts-out much of its digital hardware and firmware design.
The M9, even though it has no autofocus, no flipping reflex mirror and not much of anything compared to a DSLR, the M9 only goes a few hundred shots on a charge, not thousands like the Nikon D7000.
Not only is the M9's battery life short, but much worse, the battery meter isn't always accurate.
This morning the M9 battery meter read 25%, and a few shots later with no warning, it was dead!
Do you have any idea how stupid it makes one feel to have a dead camera around one's neck? An M9 with a dead battery is totally useless, and when it gives no notice and suddenly leaves you dead in the middle of a shot, you feel like an idiot. Worse, it didn't even have the decency to record the last shot I made to my card!
Oh well, I always pack a spare, in this case, my iPod Touch, whose camera works just fine, and whose auto white balance works about as well as the LEICA M9's.
25 December 2010, Christmas Day
24 December 2010, Christmas Eve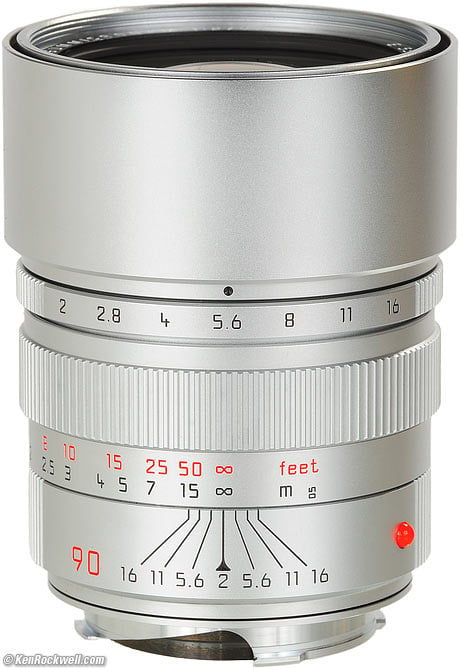 LEICA SUMMICRON-M 90mm f/2 (1980-1998).
NEW: LEICA SUMMICRON-M 90mm f/2 Review.
MADE IN CANADA.
What better for Christmas eve than a fine Canadian product, eh? Canada, oh Canada, home of Santa Claus, reindeer, candy-canes, igloos, icicles, the rare Arctic Penguin, snowflakes and pristine mountains of clean, pure wind-driven snow from which these optics are created?
Ho ho ho and a Merry Christmas to all from the North Pole!
23 December 2010, Thursday
Don't tell my wife, but she's getting this kit for Christmas. Wow, it's already dropped $30 from what I paid a few weeks ago!
Nikon D7000 kits in-stock at Adorama.
Nikon D7000 Firmware update 1.01
On Nikon's firmware update page, it never quite tells us what changed. I hope they fixed the phantom new folder creation problem. They tweaked the hot pixels that I never saw, but I don't know what else.
I had 1.00, 1.00 and 1.002. This update gets us to 1.01, 1.01.
21 December 2010, Tuesday
RIP: Don Gale
So my email inbox tells us:
It is with our deepest regrets that we are letting you know of the recent passing of Don Gale. To many of you, he was a photographer, teacher and friend. He was also a loving husband, father, grandfather, son and brother. Some of you may have only met Don in passing, at one of his presentations or trade show appearances, but to those that knew Don at all, his passing is sad news. His passions included a love of photographing nature and the outdoors and he especially enjoyed sharing that passion with his students. Early this year he was diagnosed with cancer and fought it bravely to the very end. While this was never kept secret, it was something that Don did not broadcast because he approached this situation as he did all others, with a positive attitude and a love for living in the moment.

The family has asked that in lieu of flowers, donations be made to the "Don Gale Memorial Fund," the proceeds of which will be donated to the charities that had impacted his life and were dear to his heart. He started his love of the outdoors and photography on a trip he took to the Eastern Sierra Nevada Range through the El Monte Boys & Girls Club and it's so typical that Don would want to "pay back" to this and similar organizations that help others to see the beauty around us. Checks can be made to the "Don Gale Memorial Fund" and sent to the studio address below.

Thank you for being a part of the journey that Don loved -
Photography by Don
4511 Santa Anita
El Monte, CA 91731
(626) 448-3691
e-mail: photobydon@earthlink.net
20 December 2010, Monday
NEW: Replacing Heads in Photoshop.
NEW: NPS is all about the money.
NPS, Nikon Professional Services, has for decades been Nikon's secret club for full-time pros. It offers somewhat faster repairs, and just like CPS, loans free super-telephoto lenses to its members at large sporting events to promote the brand to TV viewers. (This is the real reason Canon paints their big lenses white.) Membership is open only to real, full-time pros (100% of income from photography), and you need references from other NPS members for entry, in addition to the other usual qualifications like tear sheets.
Pros shoot for money, not for fun. Just as LEICA hasn't been about photography since the 1960s (today, LEICA's press materials describe LEICA as being about "the experience," but don't mention photography,) NPS is now all about the money. NPS now requires a buy-in of three suitably expensive lenses and two suitably expensive bodies, in addition to all the previous requirements.
NPS also now requires all sorts of sensitive information, like your credit card and UPS and FEDEX account information.
This has floored some of the pros I know, because as pros, they only own two lenses to earn their entire income!
Hobbyists often own bags full of lenses, but a pro often only has two: one beat-up wide and one beat-up tele. A pro shoots; he isn't in business to buy more equipment that would only get in the way.
When attempting to renew, members are getting a canned message requiring them to buy more new gear that says: "One of the requirements for NPS membership is the ownership of a minimal amount of current Nikon cameras and lenses. It would appear that your equipment registration was below that minimal requirement." Nikon then does at least have the decency to give them the next year free anyway, replying "In order to allow you ample time to resolve the equipment requirement we are provisionally extending your current membership until Dec 31, 2011."
In sales and in marketing, we never use the word "buy." We usually say "get," because it's softer. Nikon in this case says "update," but it really means BUY.
Nikon further says to renewing members: "Re-visit the renewal site again at this link as you update your equipment to meet this minimal requirement. Once you have fully qualified again we will automatically re-instate your membership to full status."
Interesting is to look at the list of qualifying lenses. The discontinued 28mm f/1.4D still qualifies you, but a new 50mm f/1.8D doesn't.
Nikon's best full-frame camera, the Nikon F6 is at the top of the list of qualifying professional bodies, but a D90 doesn't qualify. Quite nice is that the D7000 does qualify, but whatever pro body you own, you need to buy two to get into NPS. No problem; pros do own two bodies, one for each lens.
Funny thing is that you probably won't see much about this on chat-room websites, since the real pros who belong to NPS are too busy working to have the time to waste in chat rooms.
NEW: Angkor Photo Tour and Workshop.
My pal, KarlGrobl.com, runs all over the world shooting for a living, and also runs the occasional workshop.
This trip teaches the first week, and lets everyone get out shooting in the real world the second week. It's going to take place at the world famous Foreign Correspondents Club in Siem Reap, Cambodia, the home of Angkor Wat.
There are four sponsors, Think Tank, Spider Holster, SoundSlides and R-Strap and 4 instructors: Karl Grobl, Gavin Gough, Matt Brandon and Marco Ryan. Each are in their own right, successful, well known, experienced, photographers who love to teach and share their passion. Next time, Karl is trying to get me to come teach, but I'm already booked for 2011.
The Angkor Workshop includes a multitude of activities including lectures, one on one instruction, critiques, assignments, and exploration of all things photographic. During the course of the workshop everyone will learn new skills and techniques, then apply them in real life situations. The results will be reviewed and then you will go back out and improve your craft. Everyone will work on their own "story" and leave the workshop with a multi-media presentation of their own.
Objectives: To enjoy your photography with a group of like-minded individuals, explore, learn, apply and improve. They will help you push the limits of your ability and imagination, and you will leave this workshop a better photographer.
The workshop focus is to push yourself to the limits of your ability and imagination, to have an outstanding and unusual cultural experience and to enjoy and learn from the company of others. Working comfortably in foreign or new locations, particularly in a developing country, can take years of understanding and experience. We hope to jump start you in your environment to enable you to make the most of your location and for you to be able to concentrate on your photography.
Equipment: You'll need a Digital SLR with lenses offering a focal length from wide (24mm or wider) to telephoto (100mm or longer), a laptop or netbook computer running image viewing software such as Breeze Browser, Picasa or Photo Mechanic, and an image editing program such as Adobe Photoshop, or a combination program such as Lightroom. You will also need a copy of Soundslides software in order to produce your multimedia project. Additionally we strongly recommend a back-up device such as an external hard drive.
There will be nightly group dinners with image sharing and on at least 2 of the evenings, an instructional lecture with projection, by one of the workshop leaders. On the last night your final edit will be presented to the group during the image sharing farewell party.
18 December 2010, Saturday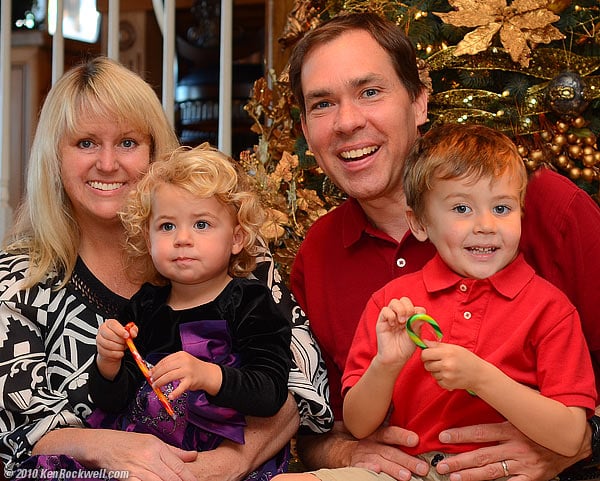 Merry Christmas from Mom, Dad, Katie and Ryan Rockwell.
Snapped with my D7000, 50mm f/1.8D and bounced SB-600 with white card taped to it. Except for removing pimples and replacing Ryan's head in Photoshop CS5, everything else is exactly as it came out of my D7000 as a BASIC JPG, STANDARD Picture Control with +2 saturation, auto WB with A2 trim. merrier.
I'm loving how my colors look out of the D7000!
Why did I replace Ryan's head? Simple: it's a standard trick to make a few shots, and pick the best smiles. With wiggly kids who have other things on their minds, we're lucky to have gotten what we did!
17 December 2010, Friday
D7000 Kit, In-Stock at Adorama and in-stock at Amazon. These sell-out fast, so hop on it.
15 December 2010, Ryan's 4th Birthday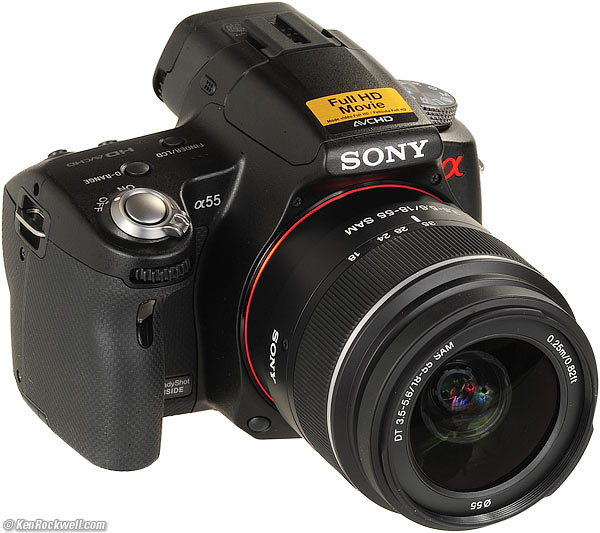 Sony A55 and 18-55mm.
NEW: Sony A33, A55 and A55V Review.
The future: a pellicle-mirror electronic viewfinder camera in a Minolta MAXXUM body!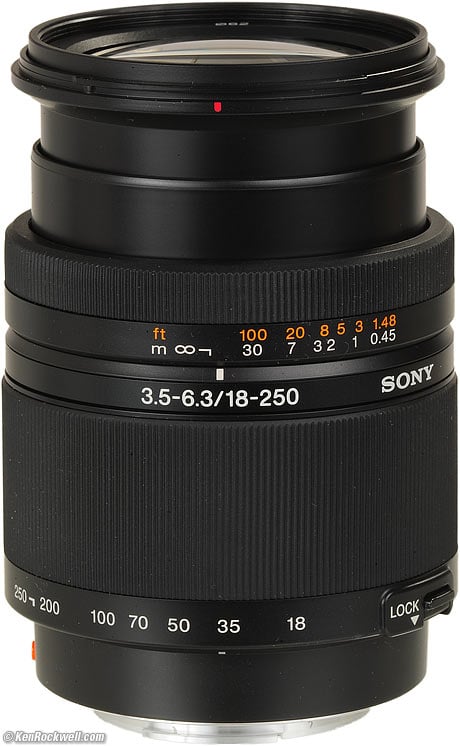 Sony 18-250mm.
NEW: Sony 18-250mm Review.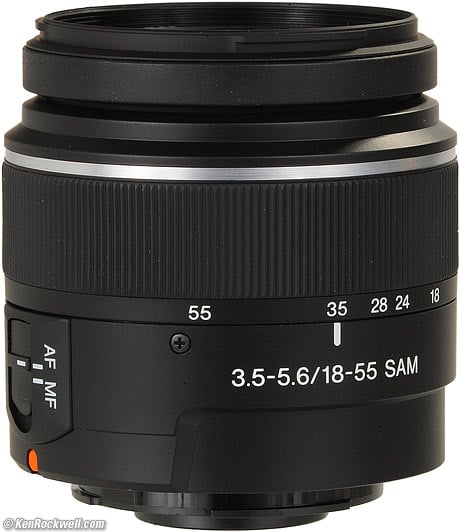 Sony 18-55mm.
NEW: Sony 18-55mm Review.
14 December 2010, Tuesday
Gear Sale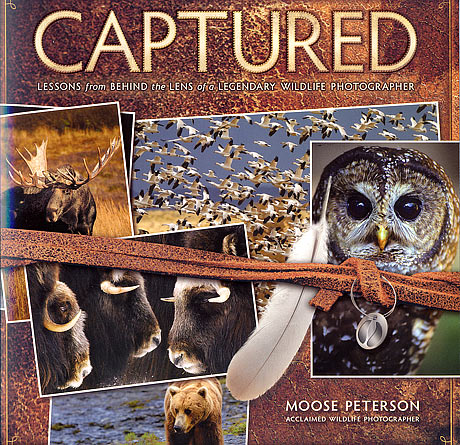 Captured!
Moose Peterson, a Nikon icon and author of the new book Captured, has a 28/1.4 AF-D, 45 PC-E and a 200/2 VR for sale.
See them here, and tell him I say Hi! if you get anything.
13 December 2010, Monday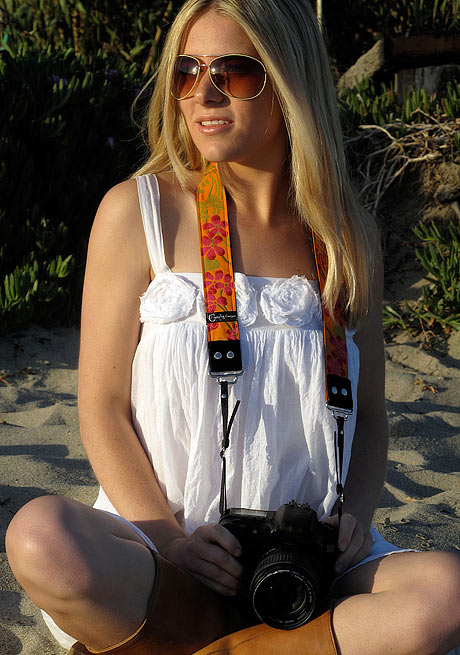 Capturing Couture Camera Straps for the Ladies. bigger.
New: A local Southern-California company, "Capturing Couture," is making custom straps in all sorts of colors, materials and patterns for the ladies, as well as some mens' designs.
You can get them at this link to all of them at Adorama.
D7000 Weekend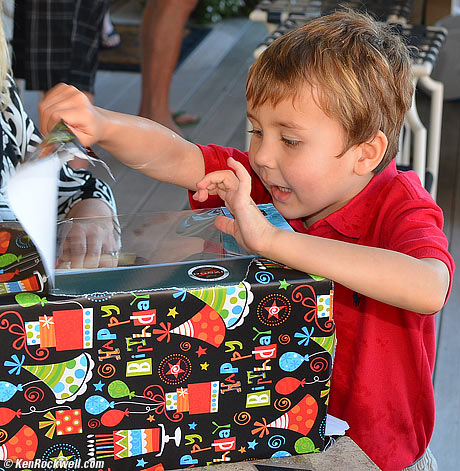 Mokey-Mole (remote control) Boat!
This weekend I shot with my D7000, and had to shoot our Christmas card photos, as well as Ryan's birthday party.
Man, it's tough being a father. It's impossible to snap pictures at the same time as being asked to read the instructions and assemble every toy the moment it's opened, and also try to eat and to make sure the other kids don't drown.
All I needed or wanted was the 35/1.8 DX and 50/1.8 D. I usually used the 50, and popped on the 35 when things got too close.
I also hauled my SB-600, since I was shooting deliberate portraits for the Christmas cards, and wanted both bounce and a kicker light from a piece of paper taped to the flash, and needed fast recycling and enough power so that Pops, a non-photographer who was snapping the pictures of us, could shoot as fast as he wanted without having to wait for a lower-power flash to recycle.
10 December 2010, Friday
1x Book 2.
NEW: 1x Photobook 2010 - In Pursuit of the Sublime.
I made 2010's book. I was in last year's, too.
Sweden-based 1x.com is among the pickiest galleries of fine photography. For the past couple of years they've culled the best, and offered them in a book.
09 December 2010, Thursday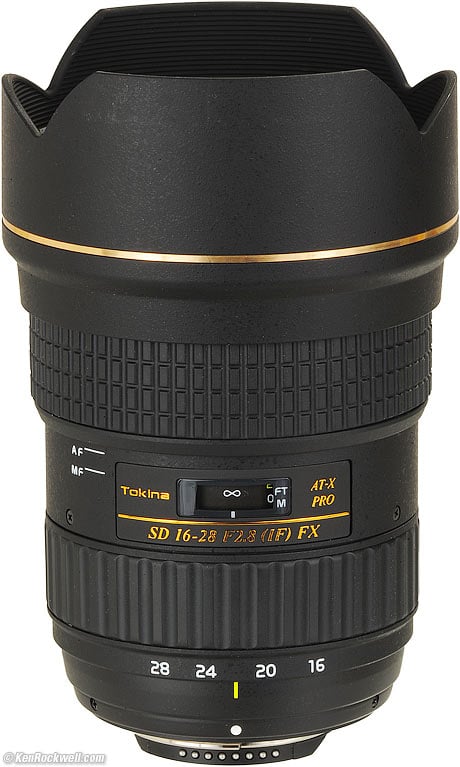 Tokina AT-X 16-28mm f/2.8 FX.
NEW: Tokina AT-X 16-28mm f/2.8 FX Review.
News: Data Verification bunko! As we all know, there is no way to verify that any image, film, print, digital or otherwise, is unaltered. Nikon and Canon tried to offer a bogus "digital signing" or "Data verification" system, and as always, these systems are cracked.
Photographs are never more believable than the people offering them. We've been doctoring photos since the 1800s.
I always laugh when people try to hire me as an expert witness to verify photos, and I have to explain just how many ways there are to alter anything and everything about any photo, undetectably.
08 December 2010, Wednesday
Exclusive Deal!
ScanCafe is offering, only to you, my beloved readers, $50 off your first regular scanning order for slides, negatives, or paper photos.
Add discount code ROCKWELLDEC when ordering.
This offer expires 12/31/2010.
ScanCafe is worth investigating for large scan orders. I use my local lab, North Coast Photo, for my day-to-day scanning.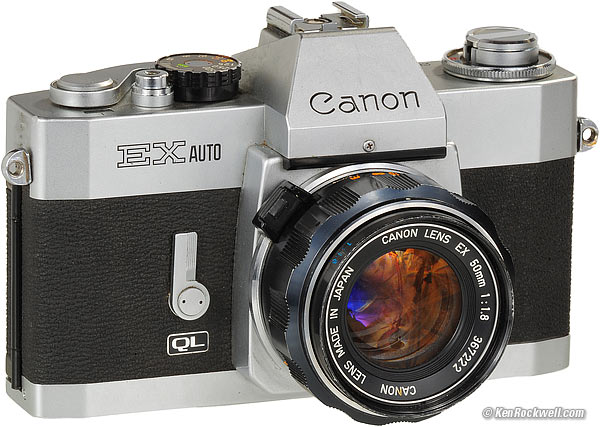 Canon EX AUTO and Canon EX 50mm f/1.8.
NEW: Canon EX AUTO Review.
A perfectly swell and perfectly simple SLR.
07 December 2010, Tuesday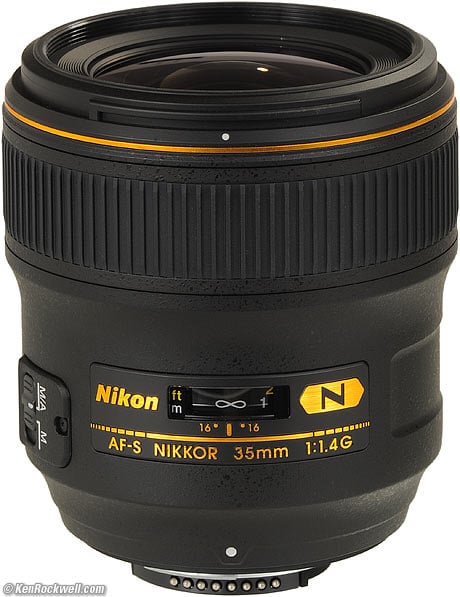 Nikon 35mm f/1.4 G.
NEW: Nikon 35mm f/1.4 G AF-S Review.
That page has been there since this lens was announced in September, and now it is updated with full performance information.
Free Christmas Card
My friend Richard regifted this card to me, and I now regift it to you. Merry Christmas!
Pearl Harbor Day
Today we remember the thousands of innocent Americans murdered – and all who served – at Pearl Harbor 69 years ago.
In the words of my three-year-old, the Japanese were "not nice" and will have to "go big time-out" because they conveniently forgot to make a formal declaration of war beforehand, which therefore defines those actions as Terrorism, but it still doesn't bring those thousands of innocent Americans back to their families.
06 December 2010, Monday
D7000 Unsharp, Dead or Hot Pixels?
People who spend more time reading about the D7000 than shooting one keep asking me this, and I keep telling them that, duh, no, my D7000 is super-sharp, and all its pixels work great.
Whenever there is any hot new product, there is always someone who figures out some way to break it, and since bad news travels 1,000 times faster than anything else on the "Internet," these defects (or not) always get blown all out of proportion.
See Apple Reliability and Canon 5D Mark Black Rings around Uranus.
I can't vouch for whatever other people are doing wrong with their D7000s that may have been purchased through questionable channels, but mine works great.
Unsharp images come from unsharp photographers, counterfeit cameras with lower-resolutions surreptitiously upsampled to 16MP, using off-brand lenses, shooting at f/11, or simply having left the Picture Controls at their default sharpening settings of 3 instead of 6.
Hot pixels are a fact of digital photography. They are excited by shooting at high temperatures or long exposures, and Heaven help you if you're using Live View on any DSLR (I don't), which heats up the sensor. I don't, and haven't seen hot pixels since the middle of the last decade.
I love conspiracies and blowing product defects out of proportion, but the biggest thing wrong with the D7000 is how it creates new folders at random for no good reason, and that the EXPOSURE MODE button was replaced with a Meter Mode button instead.
The D7000 is the best thing Nikon's ever done in digital. Everything else has so much more wrong with it than the D7000.
Love my D7000 as I do, I was shooting my Nikon F5 and Kodachrome this weekend. Man, the F5 is such a bargain for a few hundred dollars. Unlike the D7000, the F5 is the most professional camera ever made by Nikon. The F5 is a big, solid block of fast, professional precision.
03 December 2010, Friday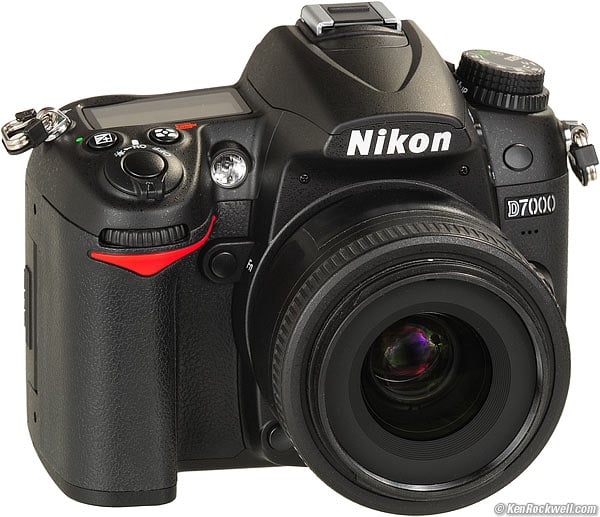 Nikon D7000 and 35/1.8 DX.
NEW: Nikon D7000 User's Guide.
Well, not really a full 75-page guide (which is coming), but explanations of all the settings I use.
If this is all too complicated, know that I'm photographing my kids today with my Nikon F5 loaded with Kodachrome 64.
New Kid Pictures!
I know how much you all love photos of my kids (hey, it's my website), and on top of that, I'm floored at how great the colors in my grab shots look from this past weekend. See Ryan's and Katie's websites.
These aren't carefully corrected studio shots; they are SMALL BASIC JPGs straight out of my D7000, usually only about 0.7 MB each, shot under whatever crappy off-color lighting was available. I know how bad was the lighting, which is why I'm impressed.
I'm not saying that these are awesome photos; they are awesome because of how much better they look under the poor conditions under which I shot them compared to what other cameras would have pulled out of the same muck.
These are shot in a lot of crappy, varied lighting, but even in dreadful light, the D7000 is pulling out smoother, sweeter skin tones than I ever can recall getting in similar situations.
This is what makes newer DSLRs better than last decade's models like the D300s: it is the subtle way in which they interpret light and color. If I was as bad as an audiophile, I'd be trying to conjure up obfuscating words to describe how subtly better these images look.
My first D1H looked hideous because its highlights blew-out at about zone VI 1/2! The D70 was worlds better because it didn't clip the beJesus out of the highlights, and each successive generation of Nikon (and everyone's) digital cameras just get better when you stand back and look at the pictures.
Digital cameras advance as much every year as cars do in 5 years. A D300s is a D300 which is a 2007 model. The D7000 is a 2010 model; that's 3 years, or 15 car-model years. So what if you can get a deal on a new D300s or D90; it's like getting a deal on a new left-over 1995 model car. Things have come a long way since Nikon's last-generation.
The cool thing is that the D7000 is just the first of Nikon's next generation. Heaven only knows how great will the next FX camera be; Nikon is going to leap-frog over whatever the failed D700x would have been.
02 December 2010, Thursday
NEW DEAL: Canon Powershot kits with free accessories.
NEW: Browsable Index of Reviews!!!
After over eleven years, I've spent the past two days creating one page from which you can browse every review.
You've always been able to Search for anything, but not browse.
Nikon D7000 and 55-200mm VR Sharpness
Here's a giraffe, shot with a D7000 in BASIC JPG mode and 55-200mm VR, and cropped from this: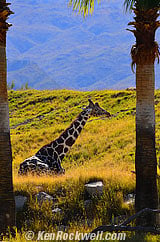 Full image.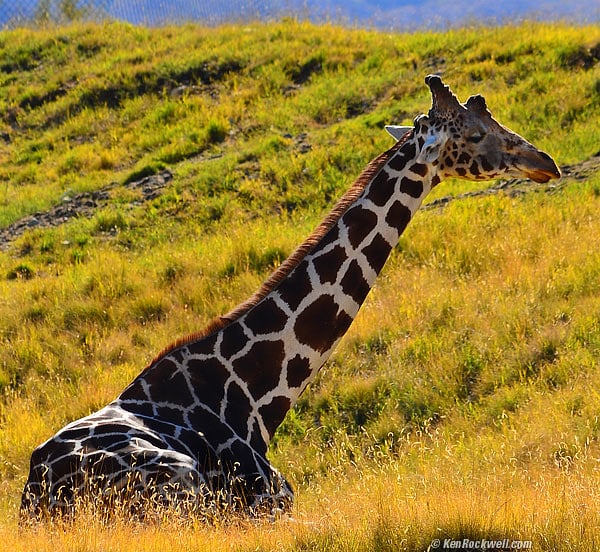 Giraffe, Tanzania, cropped. f/8 at 1/250 at 200mm. enlarge.
Not bad for a plastic-mount lens selling for $150 refurbished! The D7000's resolution allows cropping like this, and still has loads of resolution left over.
If that's not sharp enough, hold onto your eyeballs when you look at the original © BASIC JPG of this snap, made with a $120 made-in-China 50mm f/1.8 D AF: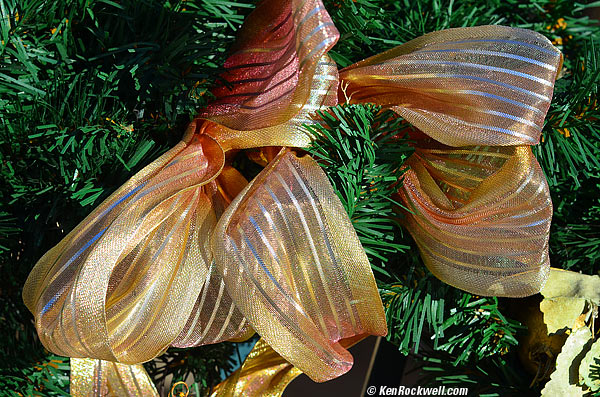 Christmas, California Desert. 50/1.8D, f/8 at 1/250, ISO 100. original © BASIC JPG.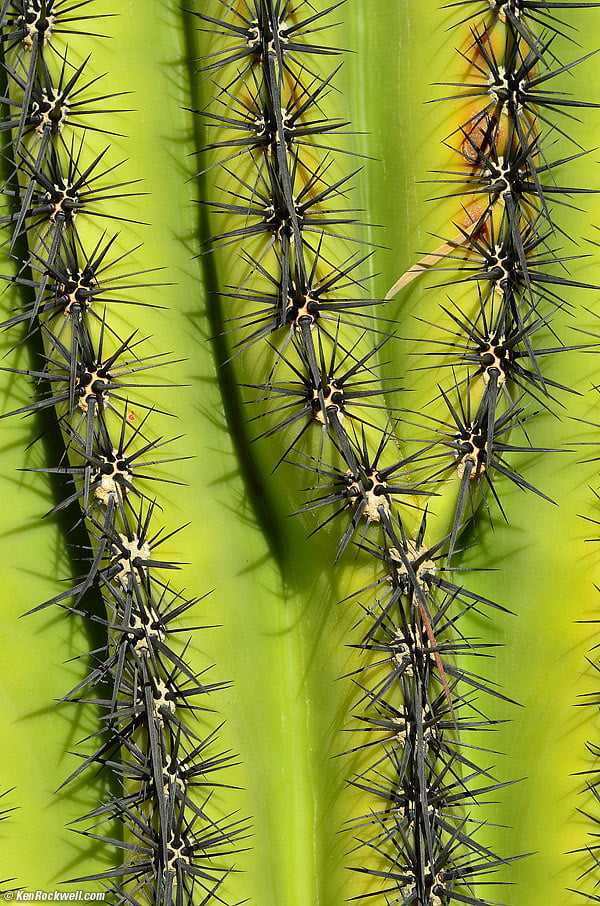 Cactus, California Desert. 50/1.8D, f/8 at 1/250, ISO 100. original © BASIC JPG.
I'm sure you raw shooters could make these sharper; this is what comes out of my D7000 as BASIC JPGs with sharpening set to 6.
NEW: Canon 5D Mark II and 7D Mode-Dial Lock Modification.
If you want, you can pay Canon $100 to add a lock button in the middle of your mode dial so that the dial doesn't move unintentionally.
I don't need that, but I do wish Nikon offered an F5-style power switch lock for my D7000. I never want to turn it off, but it often gets knocked to OFF accidentally, missing shots.
What Was New in:
Help me help you
I support my growing family through this website, as crazy as it might seem.
If you find this as helpful as a book you might have had to buy or a workshop you may have had to take, feel free to help me continue helping everyone.
If you've gotten your gear through one of my links or helped otherwise, you're family. It's great people like you who allow me to keep adding to this site full-time. Thanks!
If you haven't helped yet, please do, and consider helping me with a gift of $5.00.
The biggest help is when you use any of these links to Adorama, Amazon, B&H, eBay, Ritz, Calumet and J&R when you get anything, regardless of the country in which you live. It costs you nothing, and is this site's, and thus my family's, biggest source of support. eBay is always a gamble, but all the other places always have the best prices and service, which is why I've used them since before this website existed. I recommend them all personally.
Thanks for reading!
Ken
Home Donate New Search Gallery How-To Books Links Workshops About Contact