Home Donate Search Gallery How-To Books Links Workshops About Contact
September 2010's News Deals
RSS: daily (continuous live updates)
all © 2010 KenRockwell.com. All rights reserved.

Nikon Canon LEICA Pentax Contax Zeiss random Ryan Katie
30 September 2010, Thursday
I dropped film off at North Coast Photo, and since Ryan was with me, we had to take pictures. Ryan has a roll of spent Velvia 50 in his hand that he was dropping off.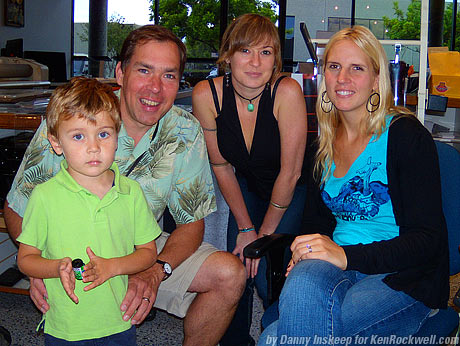 Ryan is totally excited at North Coast Photo, along with Dada, Marsha and Maggie. more excited. Photo by Danny Inskeep.
We were dropping off film since I just got back a beater LEICA M3 from an overhaul by Gus Lazzari. Whooo-eee, my beater M3 came back looking like new! Gus recovered it in black lizard, and completely cleaned, adjusted and lubricated everything, so instead of a gritty beater, it is now as smooth as silk. Gus even banged-out the dents from the inside!
Man, the M3 is so nice I am not worthy to review it. The M3 is quite likely the finest camera ever built, and you can get them for the same price as a throwaway D90.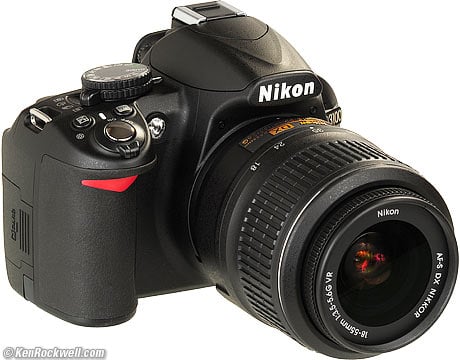 Nikon D3100.
NEW: Nikon D3100 Review.
NEW: Nikon D3100 User's Guide.
My D3100 came in. It works great. It's a huge improvement over the D3000. The D3100 really stands out as a small, light, smooth, refined and quiet camera.
Update: My 85/1.4G only arrived the other day, so I don't yet have any publishable examples of good sample images, but since you asked, I added a too-hideous-to-publish sample image shot at f/1.4. Look at how the potentially busy background is completely melted away, but please try to ignore the subject, which is too sharp for comfort. (you were warned.) It's a © 1.4 MB BASIC JPG shot through a dirty mirror.
Nikon D1X Gear: If you're cleaning house, the Williamston, Michigan Police Department's new Forensic Unit will put them to very good use. If you've got anything to donate, please contact Tim Seguin, CCSI Police Reserve Officer #25. Thanks!
29 September 2010, Wednesday
NEW: Nikon D3100, D3 and D40 High ISO Comparison.
Nikon 85mm f/1.4 G AF-S.
NEW: Nikon 85mm f/1.4 AF-S G Full Review.
Goodness gracious, I got taken off guard, not expecting anything special with this new 85/1.4.
Au contraire, it is incredible both for scientific use demanding the highest sharpness at f/1.4 throughout the entire frame, but also astounding in how it melts backgrounds into velvety smoothness.
Since the subjects are ultrasharp and the backgrounds are rendered super-soft, the images are three dimensional, bringing the subjects out of the image.
Wow!
Updated: I added distortion measurements to my Nikon 70-180mm Micro-NIKKOR review.
28 September 2010, Tuesday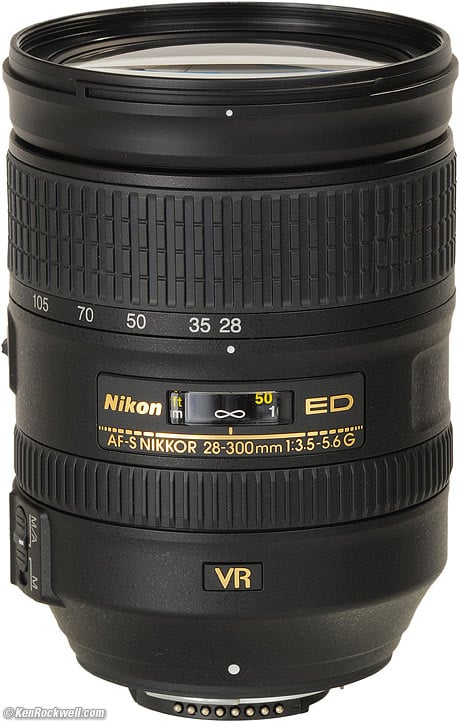 Nikon 28-300mm VR.
NEW: Nikon 28-300mm VR Full Review.
Mine arrived, and it's awesome. Whoo hoo! Nikon did it again!
With this one lens, and you can dump the rest of your bag, and your bag itself, overboard! Freedom!
Jay Maisel: Jay just added a new workshop from 13-17 December 2010, and it' s already almost sold out.
Observed: Tim Parkin in the UK shares his comparisons of different films for landscapes.
27 September 2010, Monday
Observed: Another Ken (Ken Lax) shot the same thing both as a legitimate photograph and as a "digital capture," and shares the results.
With all the discussion today, it's astounding how few people actually take the challenge to try real photography and compare it to "digital"on the same scene. They look entirely different. You can't just read about it on the Internet; you have to try for yourself and look at the results in-person.
It's not that one is better on any absolute terms; it's what looks better to you. Because they are so different, it makes far more sense to try real photography for yourself, instead of trying to simulate it in a computer, and see which you prefer. The real thing is always better than a simulation, if real photography is your goal.
Some prefer synthetic cleanliness (digital), and some prefer the ease, low cost and more exciting look of real photography.
To each their own, but don't knock either until you've given them both a good workout and made the choice yourself. Most serious photographers shoot both, depending on the application.
25 September 2010, Saturday
Nikon 28-300mm
I just knocked-off a comparison between the 28-300mm VR and the very best of Nikon's fixed lenses, and you can see the results for yourself.
I tried to make the 28-300mm look as bad as possible, and it held its own.
New Nikon Lenses in-hand
I got my actual shipping versions of the new Nikon 85/1.4G and 28-300mm VR G, both FX lenses.
The 85mm/1.4 is awesome, much better than expected. The past two 85/1.4 are also excellent, and this new 85/1.4G takes excellence to a new level. You can see some initial performance details at the reviews thus linked.
The 28-300 VR FX will also become a favorite, as it really works. It's sharp all over at every setting, but as expected, it has hellacious distortion and, of course, it only goes to 300mm at infinity. At 0.5 meters (1.6 feet), it is really a shorter focal length than marked, but still shoots very tight. For instance, at 10 feet, the 300mm setting is really only 200mm, and at 5 feet, the 300mm setting is really only 180mm. This is normal; it's an optical trick that lets it focus to 1.5 feet instead of having a 6 foot minimum focus distance, and yes, you get 300mm where you need it: at infinity.
I also have the 55-300mm DX, and have confirmed that there is no manual focus override: you have to move a switch. There is no instant override.
As expected, their professional Nikon 85/1.4G is made in Japan, including its caps, the serious amateur 28-300mm VR G, is made in Thailand, including both caps, and the common 55-300mm DX is made in Communist China, including its caps. This is how Nikon segregates its manufacturing costs.
24 September 2010, Friday
Awful iPhone App: I paid my 99¢ for LightMeter Pro. It's awful, at least on my iPod Touch 4th generation, because even though it looks like it works, it's usually a few stops off, making it worse than useless.
Oops! It also only read in full stops, which is OK because its a lot less accurate than that. It's the complete opposite of this website: it has great graphic design, but completely useless information.
23 September 2010, Thursday
NEW: 20mm Sharpness Comparison.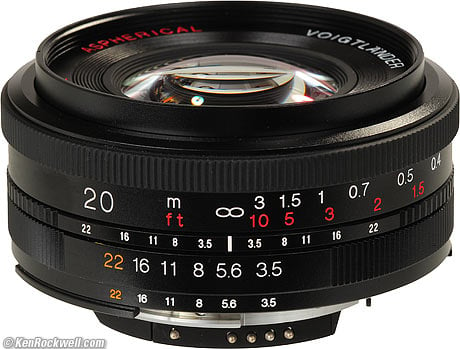 Voigtländer 20mm f/3.5 for Nikon, Canon and Pentax.
NEW: Voigtländer 20mm f/3.5 Color-Skopar Review.
A swell little lens, also too expensive.
NEW: Voigtländer Lens Review Index Page.
I also added this to my all-too-messy Home page.
22 September 2010, Wednesday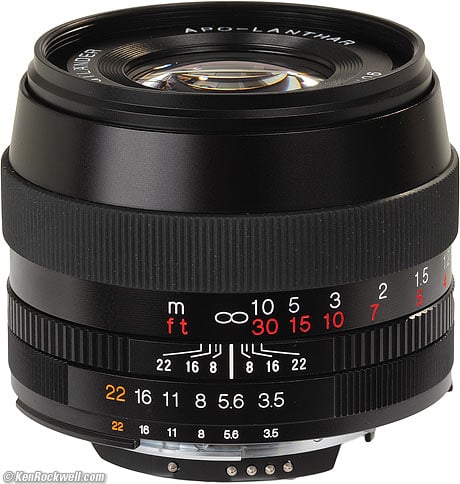 Voigtländer 90mm f/3.5 for Nikon, Canon and Pentax.
NEW: Voigtländer 90mm f/3.5 APO-Lanthar Review.
A swell lens for too much money.
NEWS: Fuji X100.
Do I care? Not really. If everything tries to imitate the greatness of the LEICA M3, then why not just shoot the real thing? You can buy a real LEICA M3 for the same price as a D90, and you have no idea how nice is the real thing until you've shot with it. The M3 is much nicer than today's LEICA M9.
If you know How to Win at eBay, my M3, case, 50mm f/2 SUMMICRON and coupled meter cost me under $950, delivered, and of course the LEICA M3's color rendition, resolution, finder clarity, finder accuracy, focus precision and most other things are far superior to an M9 for less than the price of a throw-away X100.
The LEICA M3 is a lifetime investment in perfect photography. Leica said it in the 1950s, and they are still the world's best 35mm camera today.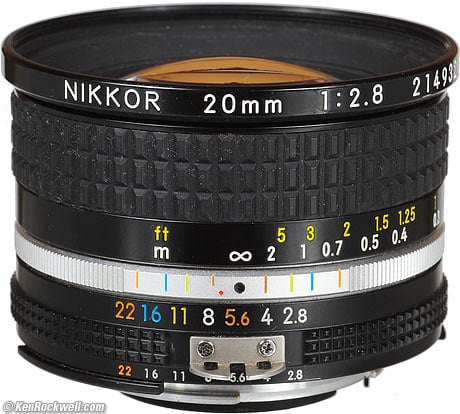 Nikon 20mm f/2.8 AI-s.
UPDATED: Nikon 20mm f/2.8 AI-s Review.
This 20mm f/2.8 is still made and sold today, along with the autofocus version.
21 September 2010, Tuesday
NEWS: Apple discontinued their professional 30" and 24" monitors yesterday in favor of their new 27" glossy consumer monitor.
The new 27" is best for consumers, with its glossy screen, built-in speakers, laptop charging cords and low price, but for people like me who demand as much monitor space as possible, the glossy new, smaller 27" monitor loses 160 pixels off the bottom, and I use every pixel. The 30" monitor has 1,600 vertical pixels, while the new 27" has only 1,440 vertical pixels.
Therefore, if you want a 30" monitor as I do, the only place I was able to get one was at Amazon, who as of this writing, has only three left.
Get them while you can, or put up with an ugly NEC or similar monitor on your desk, or pray that an even bigger professional monitor may come out some time in the future. (I hope, I hope!)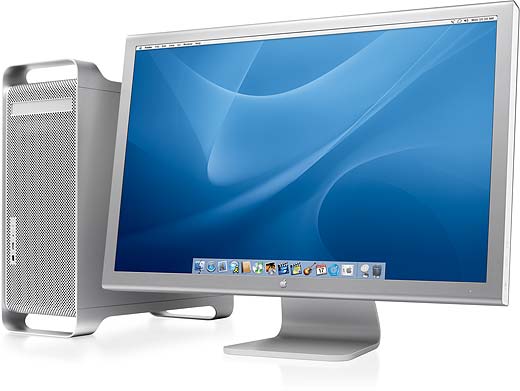 Apple 2006 Quad G5 and 30" Cinema Display.
NEW: Ten Years of Mac Dominance.
It was ten years ago today I got my first Mac, and for those ten years, I have not lost so much as one bit of data, everything I've ever done is still right on my computer where I put it for instant access. For all these ten years, I've only once bothered to buy a new computer. I get about six years on each Mac of 14-hour-a-day performance.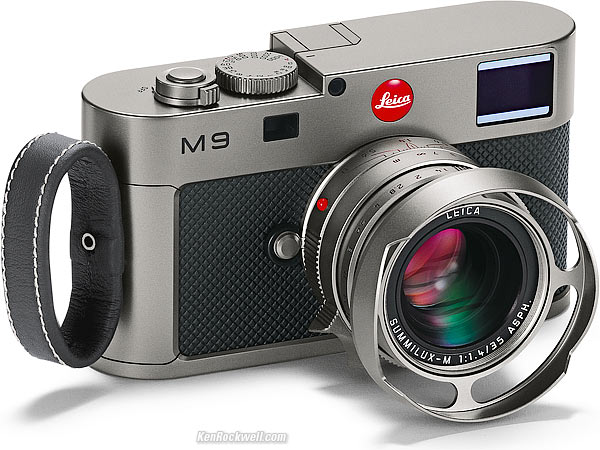 LEICA M9 Titanium.
Neue: LEICA M9 Titanium.
IN STOCK: Canon 60D at Adorama, both body-only and kit with 18-135mm IS.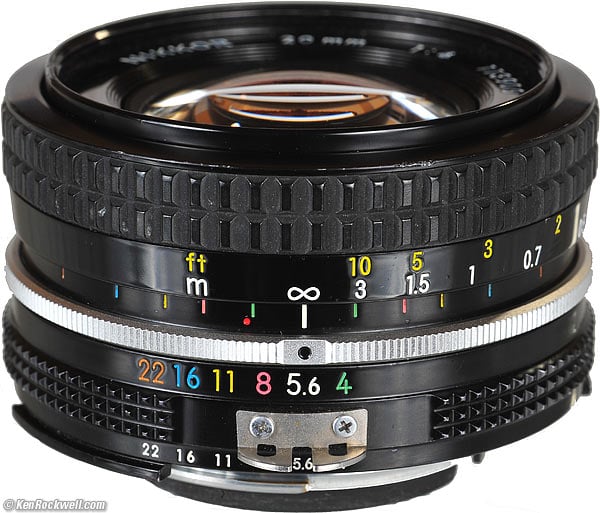 Nikon 20mm f/4 (1974-1978).
Updated: Nikon 20mm f/4 Review.
This 35-year-old lens works as well as today's newest 20mm f/2.8 AF-D; it's just a lot smaller!
This 20/4 is the smallest Nikon ultrawide lens ever made. I've had a page there for a decade; I finally updated it for the D700 etc.
20 September 2010, Monday
IN STOCK: Nikon D3100 with 18-55mm VR at Ritz for $699.99.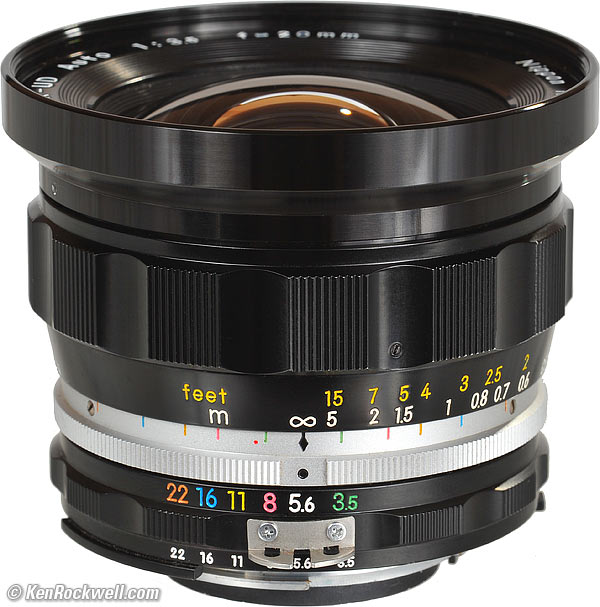 Nikon 20mm f/3.5 UD (1967-1974).
NEW: Nikon 20mm f/3.5 UD Review.
This 40-year-old lens works as well as today's newest 20mm f/2.8 AF-D; it's just bigger!
17 September 2010, Friday
NEW: Nikon Flash Comparison, including the newest SB-700.
After two days of feverish writing, I finally have my pages complete for the:
NEW: Nikon D7000.
NEW: Nikon SB-700 Flash.
NEW: Nikon 35mm f/1.4G AF-S.
NEW: Nikon 200mm f/2 VR II.
which have been shells under construction for the past 48 hours.
NEW: Still More Nikon Rebates. More deals.
16 September 2010, Thursday
Great News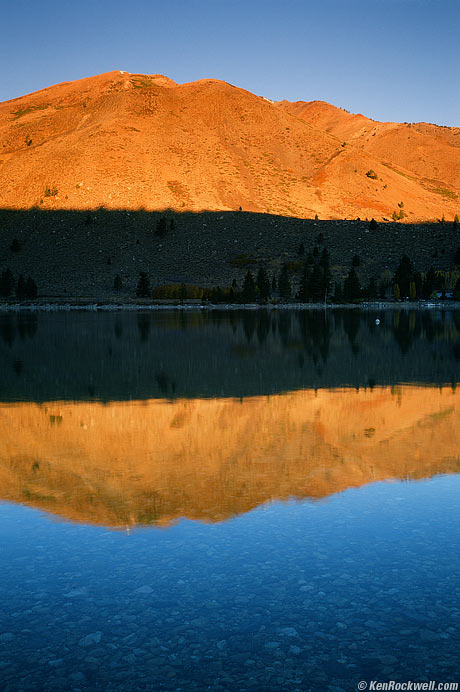 Twin Lakes at Dawn, during last year's trip.
We just got a couple of openings on our Eastern Sierra Fall Photo Tour, which runs 21-24 October 2010, Thursday-Sunday.
This, like The Yosemite Tour, usually sells-out months ahead of time. Not only is it one of the most photogenic areas on earth, it's during fall color.
About half the attendees are repeats, another reason it's so hard to get in.
This is a tour, where we make loads of great photos along with whatever personal instruction you'd like. We're not sitting around in a motel just talking about it. It's too nice out to want to blab about color profiles all day, but if that's what you want to hear, we're happy to give you all the technical and creative help you want, too.
Hasselblad's workshop in the same area also sold out fast, for over $2,000 more per person, with no named instructors!
In any case, we'd love to have you, so call or email Dave Wyman at (323) 377-7565 in Los Angeles for more information and to register.
See you there!
15 September 2010, Wednesday
Nikon D7000.
NEW: Nikon D7000.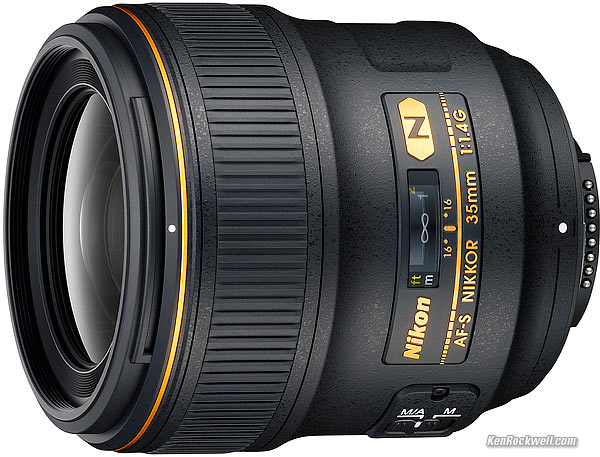 Nikon 35mm f/1.4 AF-S.
NEW: Nikon 35mm f/1.4G AF-S. First update in 40 years!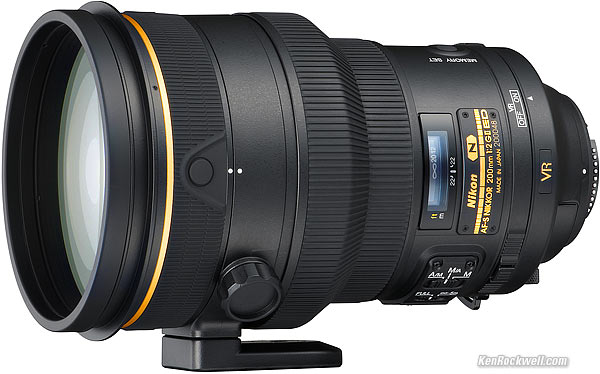 Nikon 200mm f/2 VR II.
NEW: Nikon 200mm f/2 VR II.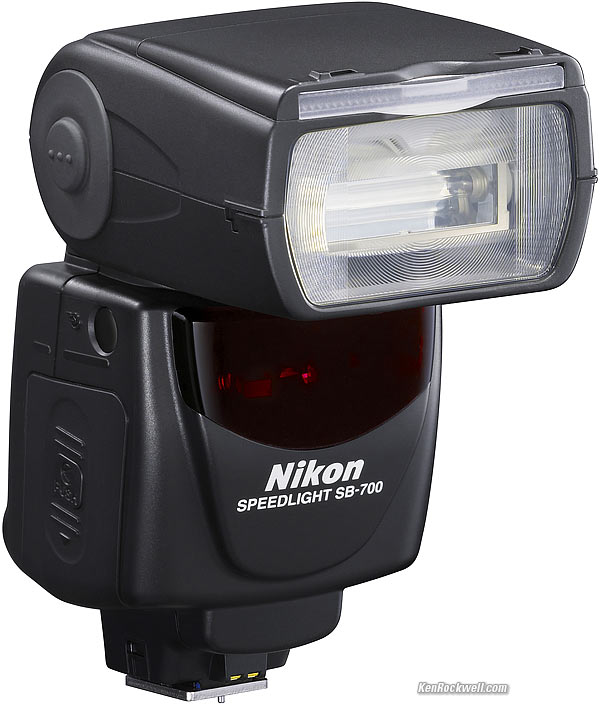 NEW: Nikon SB-700 Flash.
New: Canon Rebates.
DEAL: (4) AA Eneloop at Adorama for $10.49, delivered.
KODAK PORTRA 400 Film
Kodak introduced this new 400 color negative film in 5-roll packs of 135-36, 120 and 220 rolls, and 4x5 film comes in 10-sheet boxes.
Here's one photographer's shots with it.
14 September 2010, Tuesday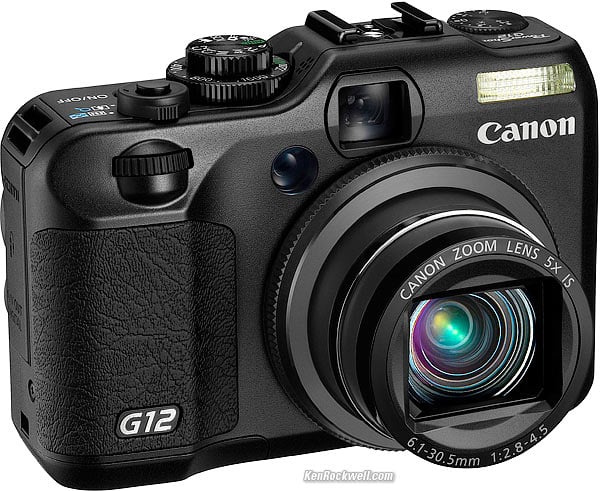 Canon G12.
NEW: Canon G12.
Same as the G11 with the same new features as the S95 I already own, just in a bigger box with a smaller LCD and a much slower lens, for $100 more — but the G12 adds a front control dial, just as the S90 and S95 have had for over a year. Yay?
Well, big yay for the new control dial for those for whom only a G series will do.
VueScan works!
I wanted to see if I could get my Minolta Multi Pro scanner to work on an Intel Mac. I had no luck with Minolta's flaky software, even though Epson's software for my 1640SU scanner from 1999 worked swell in Photoshop CS4, opening in Rosetta.
I then realized that I had a VueScan license from back in 2002.
My pal, Apple expert Skip Bardin, told me back in 1999 that there was a guy who did nothing but develop one program that did everything that could be done for scanning, and if you paid for it once, you got free upgrades for eternity.
Well, lo and behold, over eight years later, I went to the VueScan website, downloaded the latest version, entered my ancient serial number, and bingo!, my Multi Pro is scanting away on my Intel Mac.
Whoo hoo!
Today I see there are two tiers, pro and standard. Back in the old days, there was only one version, and thankfully my old serial number gets me the pro version. The pro version give us free lifetime upgrades, while the standard is only good for a year.
Unless you expect to die in less than a year (in which case I can think of better things to do than scan film), I've just proven that it really pays to go for the Pro version, with lifetime updates.
Actually, not planning to die any time soon, I still have much better things to do than scan film, which is why I have NCPS scan it all, and my Minolta scanner hasn't been dug out since about 2005.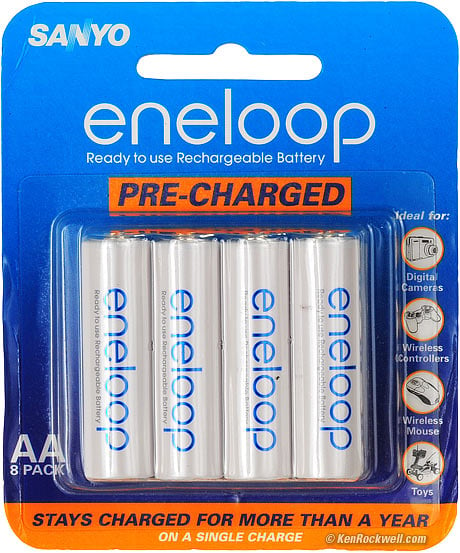 Sanyo Eneloop, 8-pack AA size.
NEW: Sanyo Eneloop Batteries Review.
Sanyo's Eneloop AA cells are AWESOME.
Updated: I got my Canon S95 on Thursday, and added a performance section to my Canon S95 Review. I'll be adding to it as the weeks roll on.
Updated: I added some crappy sample images to my page on the new Apple iPod Touch.
Updated: Nikon 28-105mm Review.
A swell lens for FX and 35mm, selling today for less than half what it did when new.
10 September 2010, Friday
NEW VIDEO: How to Burn and Dodge in Photoshop.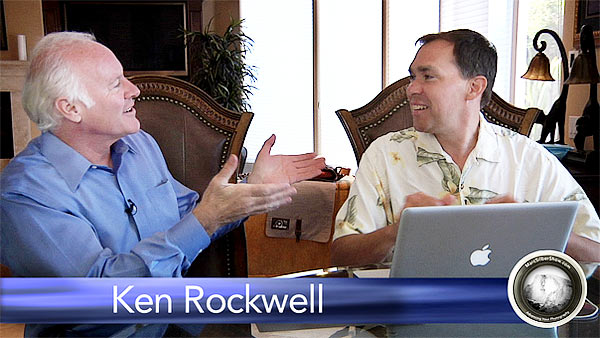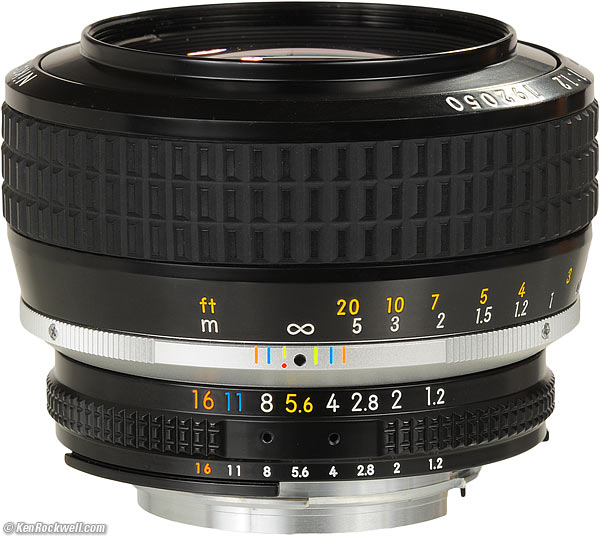 Nikon Noct-NIKKOR 58mm f/1.2 (1977-1997).
NEW: Nikon Noct-NIKKOR 58mm f/1.2 Review.
Yes, I've had a page there for years, but I finally got to borrow one from OC Camera to review for real.
09 September 2010:
California's 160th Anniversary
NEW: Nikon 50mm f/1.2 Coma. See it!
NEW: Nikon High-Speed 50mm Lens Sharpness Comparison.
Which f/1.4 or f/1.2 lens is sharpest for normal subjects at large apertures?
Nikon NIKKOR-H•C 5cm (50mm) f/2 (1946-1962).
NEW: Nikon NIKKOR-H•C 5cm (50mm) f/2 Review.
Faster and sharper and less expensive than yesterday's Coolpix P7000, and two years from now, will still be just as relevant as it is today.
08 September 2010, Wednesday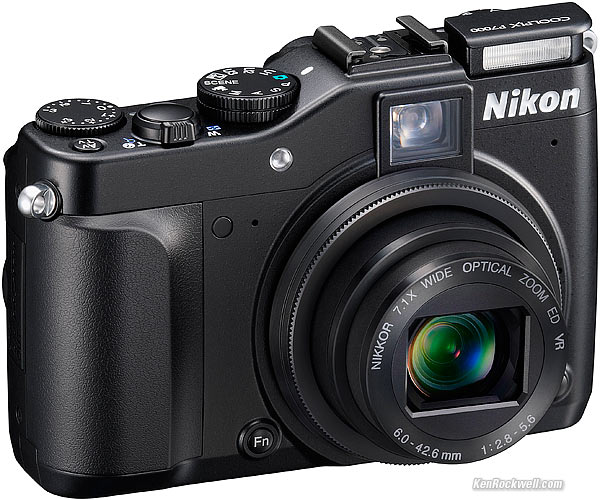 Nikon Coolpix P7000.
NEW: Nikon Coolpix P7000. Nikon's first copy of 2009's Canon G11.
07 September 2010, Tuesday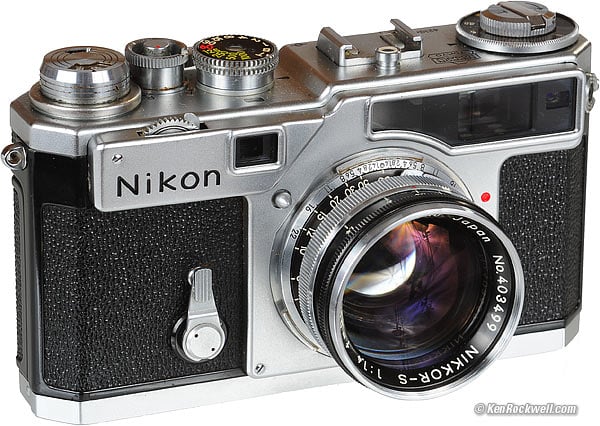 Nikon SP and NIKKOR-S 5cm f/1.4.
NEW: Nikon SP Review. Nikon's first professional camera.
NEW: Nikon SP User's Guide.
Since my Nikon D3100 hasn't arrived yet, I figured it was high time to review some more relevant professional Nikon equipment.
04 September 2010, Saturday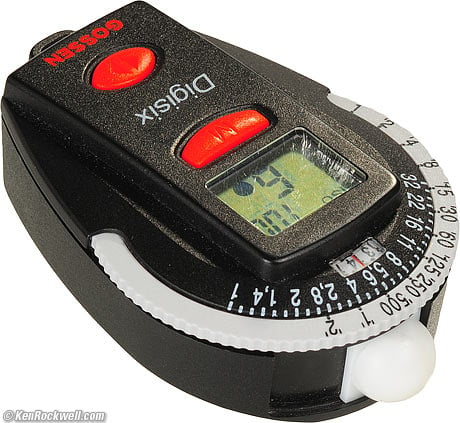 Gossen Digisix, twice actual size.
NEW: Gossen Digisix Review.
SCAM VIRUS WARNING
I received an almost-legitimate-looking email asking me to update my Adobe PDF Reader software.
Being suspicious of everything that comes over email, I noticed that the website to which I was supposed to be directed was "official-adobe" .com. Sounds official, but not the way Adobe would do things. The signatures at the bottom of the email looked official, except that they weren't quite the right street address.
First of all, Adobe doesn't send emails for software updates; these happen inside the software.
Second, I researched the provenance of "official-adobe," and find it has nothing to do with Adobe.
No, I didn't visit official-adobe; G-d only knows what would happen if I did. The dumbest thing I could have done was to download and install their "update," which of course would be something catastrophic.
This scam is so clever that it even ropes in the slower Mac users. We Mac users know never to enter our system passwords to install any software updates for which we didn't ask. This scam is a clever ruse, but not as clever as the "free Anna Kournikova.jpg" scam, to get Mac users to try to install the wrong things on our machines.
Macs are immune to problems, but people aren't. Nothing installs on a Mac unless you give the OK with your password, but if you're tricked into thinking something bad is actually good, and then give the OK to install it, you're screwed!
The way the news media tried to scare Mac users about virii were "moron" virii where users were silly enough to have tried to use "free" copies of things like Photoshop, which were of course bogus versions loaded with virii.
If you didn't get an update or software from a legitimate source, presume that it's loaded with problems.
Heck, if you're on Windows, you're never safe: a reader wrote that when he plugged a $29 kid's webcam into his windows box that it tried to load spyware, which he only caught because he had previously installed software which watched for it.
I got lucky: most fake emails look exactly like they are legitimate, with perfect "Adobe.com" addresses with the exact fonts and artwork, looking exactly as if Adobe, eBay or whoever really did send them. That's why I never click on any links in email. What look exactly like friend requests or notes from my bank or Adobe rarely are: they simply take you to websites that look exactly like the real thing, and when you enter your password on the fake-but-real-looking site, you're screwed!
Graphics are trivial for any scammer to copy. Even easier for any scammer is to make email links read "adobe.com," but actually take you to "Jack's spyware warehouse" instead.
Never click on any link you get over email, and never try to use any illegitimate software, and you'll be fine.
03 September 2010, Friday
Konica RF Gear for Sale
Scott has a full set of Konica Hexar RF and lenses for sale.
Scott is the guy who was good enough to loan me all this to review back in March.
NEW: Advanced HDTV Jobs at Dolby
Dolby just happens to have three very interesting, very advanced and very unusual design engineering positions just open.
Dolby needs two very senior-level engineers, one in Silicon Valley (Santa Clara) and one in Hollywood (Burbank) to develop the next generation of HDTV & 3D video and audio coding, processing and related algorithms, software, firmware and hardware.
Here are the descriptions and applications:
The third position is for an optical engineer designing an advanced video monitor system for use in Hollywood-level studios to replace the CRT monitors we used to use. Plasma and LCD just don't cut it. Here are the details for the optics job in San Francisco.
These look like FUN, at least for design engineers wanting to build tomorrow.
02 September 2010, Thursday
NEW: $50 off ScanCafe photo scanning
$50 off your first regular scanning order for slides, negatives, or paper photos. Add discount code ROCKWELL50 when ordering. This expires 30 September 2010.
I have NCPS do my scanning as each roll is developed, but for those of you who'd like to mail away a big box, ScanCafe is offering you, my esteemed readers, a $50-off offer.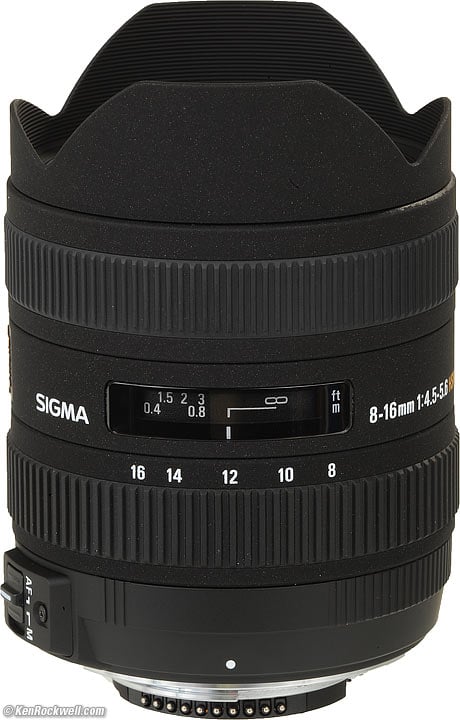 Sigma 8-16mm.
NEW: Sigma 8-16mm.
The world's widest lens for mini-format DSLRs, with great optics but questionable electromechanics.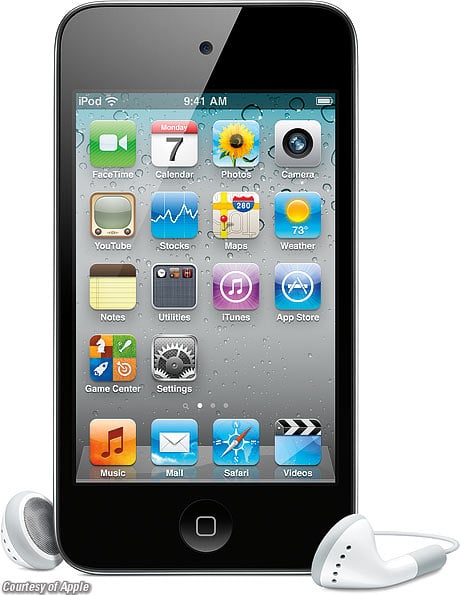 Apple iPod Touch, with two cameras.
NEW: Apple iPod Touch, now with two cameras, starting at $229!
Canon S95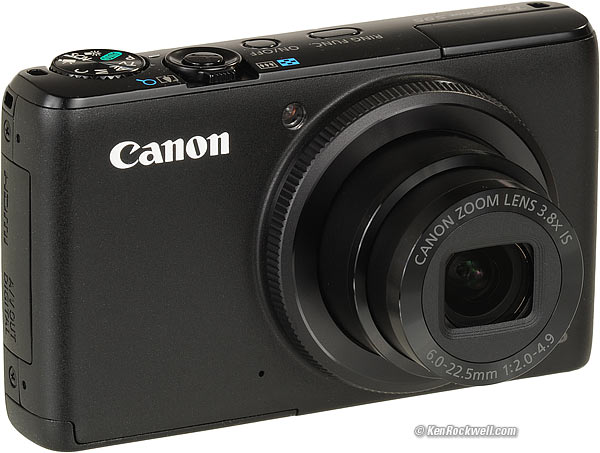 Canon S95.
The Canon S95 is in-stock at Adorama and at Amazon. Mine is on its way to me, and I hear that there is a new SUPER-Vivid mode.
Heh heh, this is going to be one heck of a new camera!
01 September 2010, Wednesday
DUH: You folks are too easy on me. After I wrote my Canon 5D Mark II User's Guide, I somehow forgot to include my personal preferences for the C1, C2 and C3 positions.
I'm glad someone eventually asked me for these!
Photoshop Actions
For those of you who use computers, a reader writes that this action to make triptychs and this action to make gallery wraps are found extremely helpful by people who do such things
NEW: Nikon is offering fat instant rebates (no mailing required) when you get these combinations of popular lenses and cameras:
NEW: $400 off a Nikon D300s and 14-24mm: $3,299.95
NEW: $400 off a Nikon D700 and 14-24mm: $4,299.95
NEW: $1,100 off a Nikon D300s and 14-24mm, 24-70mm and 70-200mm VR II: $6,068.85 (add to cart to see this lower price).
And the best deal of all, Nikon's Master Collection for just under $7,000:
NEW: $1,100 off a Nikon D700 and 14-24mm, 24-70mm and 70-200mm VR II: $6,966.90 (add to cart to see this lower price).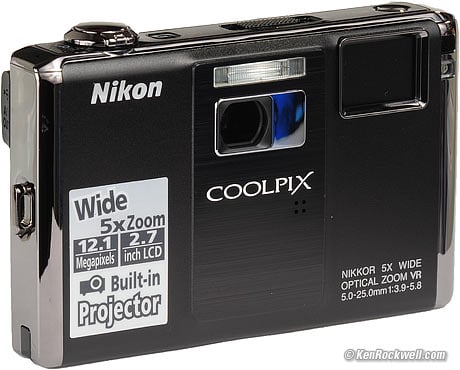 Nikon S1000PJ, with built-in projector: $208.
NEW: Nikon S1000PJ projector camera for $208, delivered (add to cart to see this lower price).
Not to be outdone, Canon is offering much the same thing: instant rebates if you buy a body and a lens:
NEW: Canon package rebates with the 1D Mark IV
NEW: Canon package rebates with the 7D
NEW: Canon package rebates with the 5D Mark II
And, for you audio buffs:
NEW: Olympus WS500M stereo field audio recorder, pink, $49.95
What Was New in:
Help me help you
I support my growing family through this website, as crazy as it might seem.
If you find this as helpful as a book you might have had to buy or a workshop you may have had to take, feel free to help me continue helping everyone.
If you've gotten your gear through one of my links or helped otherwise, you're family. It's great people like you who allow me to keep adding to this site full-time. Thanks!
If you haven't helped yet, please do, and consider helping me with a gift of $5.00.
The biggest help is when you use any of these links to Adorama, Amazon, B&H, eBay, Ritz, Calumet and J&R when you get anything, regardless of the country in which you live. It costs you nothing, and is this site's, and thus my family's, biggest source of support. eBay is always a gamble, but all the other places always have the best prices and service, which is why I've used them since before this website existed. I recommend them all personally.
Thanks for reading!
Ken
Home Donate New Search Gallery How-To Books Links Workshops About Contact