Home Donate Search Gallery How-To Books Links Workshops About Contact
July 2010's Updates
all © 2010 KenRockwell.com. All rights reserved.

DEALS: (subject to availability)
NEW: Refurbished Canon 5D Mark II for $2,199.95.
Canon 18-135mm IS for $349.95 at Adorama (in plain white box).
Fuji Z33WP Waterproof 10MP Camera for $99.95.
Refurbished Nikon D5000 kit at Adorama for $519.95.
Nikon 55-200mm VR refurbished lenses on sale for a meager $149.95. It's also a deal new for $225 at Amazon and Adorama.
Canon S90 for $350 at Amazon and Adorama.
Nikon D3X for $7,400 at Amazon and Adorama.
Popular Films (select "Sort by Top Rated" for the best results)
Adobe Student & Teacher discounts
Refurbished Nikon D3000 at Adorama for $374.95.
Nikon 50mm f/1.4 at Adorama and at Amazon for $440.
31 July 2010, Saturday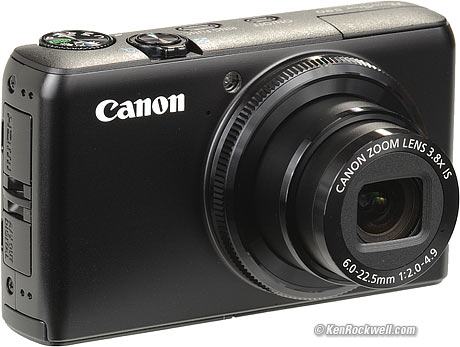 Canon S90.
NEW: Canon S90 User's Guide.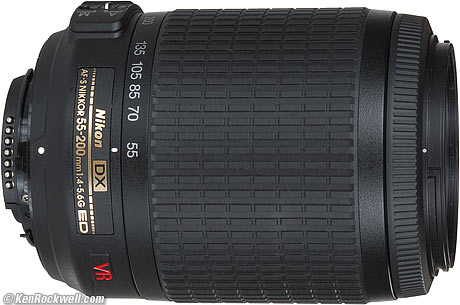 Nikon 55-200mm VR.
NEW: I added examples of falloff to my Nikon 55-200mm VR Review.
NEWS: Interview with Matthew Adams on the Garage-Sale Plates, including evidence photos!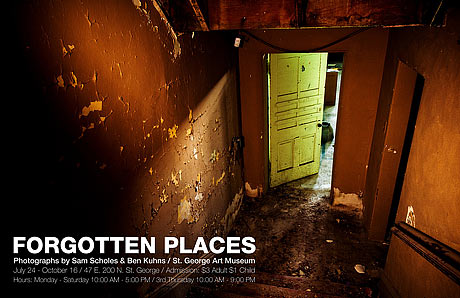 Forgotten Places. legible.
NEWS: If in St. George, Utah (near Zion National Park), be sure to pop in and see the Sam Scholes "Forgotten Places" exhibit at the St. George Art Museum. More information.
30 July 2010, Friday
DEAL: Nikon 70-300mm VR (reconditioned) for $399.95 at Adorama.
29 July 2010, Thursday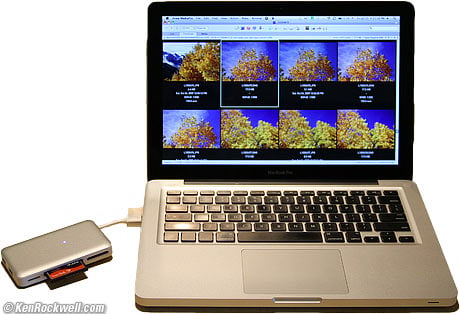 Moshi Cardette Ultra and 13" MacBook Pro.
NEW: Moshi Cardette Ultra Card Reader Review.
28 July 2010, Wednesday
NEWS: Ansel Adams Family's Comments on the Garage-Sale Plates: the Real Story.
Not only that, but the great part is that we now know the Blogspot blog for the Ansel Adams Gallery, so we all can stay up to date on what's going on in real photography.
While we're on the topic of The Master, I'm amused that the city-slickers who drummed-up yesterday's garage-sale story also got everyone to believe their pulled-out-of-thin-air $200 million "value." To whom?
As we all know, The Master's work is his prints, not his negatives. Even if those plates were His, they mean little unless printed by His hand. The printing, meaning burning, dodging, cropping and more, are everything. As we all know, the negative is merely the chart (musical score), but the actual performance is a completely different and more complex entity, without which, there is no photograph.
This brings me to what I've mentioned before: why worry about negatives of dubious origin, when you can buy real, hand-made, optically-printed gelatin-silver prints made directly from real, original Ansel Adams negatives, printed by his assistant directly under instructions from The Master Himself, for less than you could pay for some ink-jet knock-off at an art fair?
For decades, the Ansel Adams Gallery has sold these Yosemite Special Edition Photographs for next to nothing.
This print series was launched personally by Ansel Adams in 1958. Today, world-renowned photographic artist Alan Ross hand-prints each Special Edition Photograph from Ansel's original negative on gelatin silver fiber paper. Alan Ross, also a master printer, began working side-by-side with Adams as his photographic assistant in 1974; he's been the exclusive printer of this series since 1975, each of which are printed directly to Ansel Adams' personal specifications.
I own a few of these Special Edition Photographs. As real, hand-made prints, they are masterpieces which inspire me every day. I have two of them outside my bedroom, and I enjoy them each morning as I head out. I get a creative blast each and every day seeing these. The two my wife just happened to put there are the Jeffrey Pine, Sentinel Dome and Yosemite Valley, Winter.
If all you've ever seen are inkjet (giclée, Iris, Epson, HP, etc.) prints, or photos online, you'll be astounded when you get to see just how fantastic these original works of art look — and we know they're genuinely printed from Ansel's original negatives to His specifications, not something found in a garage sale.
See? I just saved you $199,999,775. Not bad for a Wednesday, and these prints come matted: just add a frame and glass.
27 July 2010, Tuesday
NEWS: Guy with Old Garage-Sale Negatives Gets CNN to Tell Everyone They Are from Ansel Adams.
This is the great thing about news media: the more crazy the story you can spin, the more people will want to read it. Truth is not particularly relevant (NPR) in news media; entertainment value is.
26 July 2010, Monday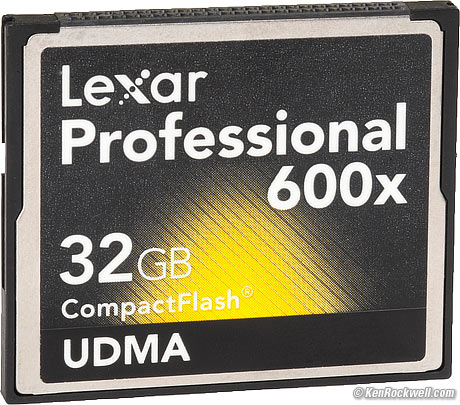 Lexar 600x 32GB.
NEW: Lexar 32GB 600x CF Card Review.
24 July 2010, Saturday
Canon 7D Update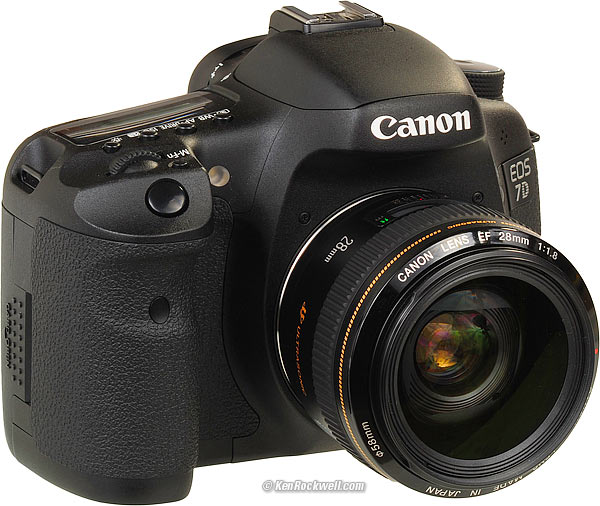 Canon 7D and Canon 28mm f/1.8.
I've been shooting with a Canon 7D for a few days now, and it's a huge ergonomic improvement over the 5D Mark II and the 50D because the Canon 7D finally fixes the severely defective power switch of the older cameras. The 7D no longer turns off by itself, and never turns off the rear dial all by itself, either, when carried around your shoulder.
The 7D also has the best-yet auto brightness control for its LCD, way better than the unusable auto brightness control of the 5D Mark II.
Not good about the 7D is that it does wrong what Nikon finally got right after all these years: the 7D's AF area indicators step all over your finder image. The 7D has a very cluttered finder: all its 19 AF areas show as big, ugly black rectangles as activated, crapping-up the finder so bad that it's hard seeing through these big, black rectangles to see your subject or facial expressions.
I prefer the AF system, controls and AF displays of Canon's classic 9-zone system, but I prefer the overall ergonomics of the 7D.
I wouldn't touch a Canon 50D today because it's got the same defective power and rear-dial control switch as the Canon 10D of 2003. The Canon 7D is the first all-new camera in this class from Canon in a long time.
Personally I prefer full-frame, and unless you need 8FPS for sports, I'd suggest springing for the 5D Mark II if you can.
If you really need speed for sports on an under-$5,000 budget, maybe check out a used professional 1D, but otherwise, if you've been looking at getting a 7D, go for it! The 7D is a huge step forward from Canon.
For those of you who've been asking what I think of the 7D, I think it's awesome. The only gotcha are those annoying black rectangles all over the finder.
The pictures from the 7D look great. They have the usual awesome colors I love, and the 7D seems to be another step forward in noise reduction, with images that look natural and not cartoon-like. It looks as if the 7D inherited some of the algorithms from the S90, which also does a fantastic job of making images look great at any ISO from a small sensor.
DEAL: Fuji Z33WP Waterproof 10MP Camera for $99.95.
22 July 2010, Thursday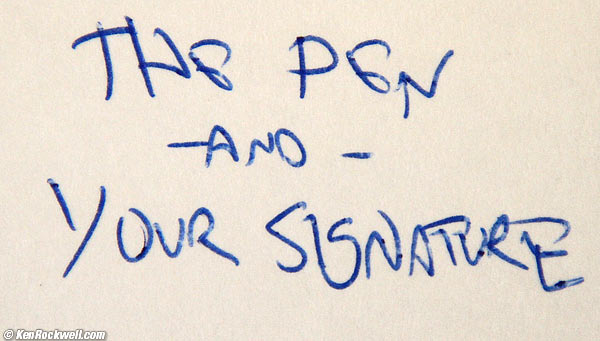 NEW: The Pen and Your Signature.
If I hand you my pen, will you have my signature?
18 July 2010, Sunday
NEW WORKSHOPS and TOURS
Definitions:
Workshop: Mostly technical instruction. Mostly indoors, with some shooting in the field.
Photo Tour: Mostly shooting in the field, with whatever one-on-one instruction you'd like. Maybe a tech session or two after all the shooting, if anyone isn't completely exhausted, but otherwise, mostly all outdoors shooting.
Frans Lanting Workshops
Frans Lanting Workshops.
For technical workshops, I've added Frans Lanting's workshops to my list of top-notch workshops. I won't be on these; Frans Lanting, the master's master, will be.
Jim Cline Photo Tours
Another friend, Jim Cline, leads tours all over Latin America.
He's been doing them for years, and he has everything extremely well planned.
16 July 2010, Friday
NEW: I added Chris Morrison under Artists on my Links page.
Chris' stuff is awesome! I wish I could do what he does. Much of his work is shot on Velvia 50 in a Linhof 617, and scanned on an Imacon Flextight 848.
NEW: Added insight to my Nikon F5 User's Guide about Nikon Photo Secretary software.
DEAL: Refurbished Nikon D5000 kit at Adorama for $529.95.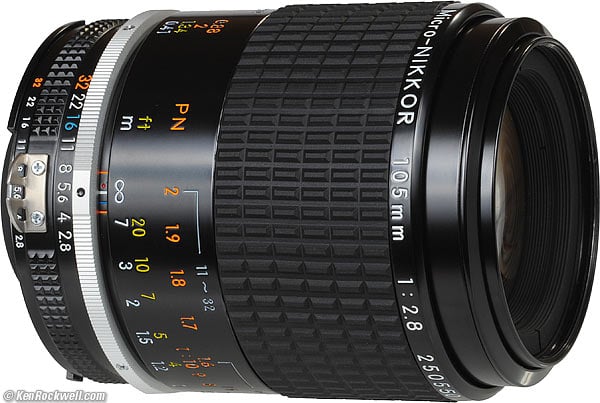 Nikon 105mm f/2.8 AI-s Micro-NIKKOR.
NEW: Nikon 105mm f/2.8 AI-s Review.
This is the newer, faster brother of the 105mm f/4 reviewed yesterday.
The 105mm f/4 was sold for 13 years (1970-1983), and this f/2.8 version is still being sold new, after 27 years.
15 July 2010, Thursday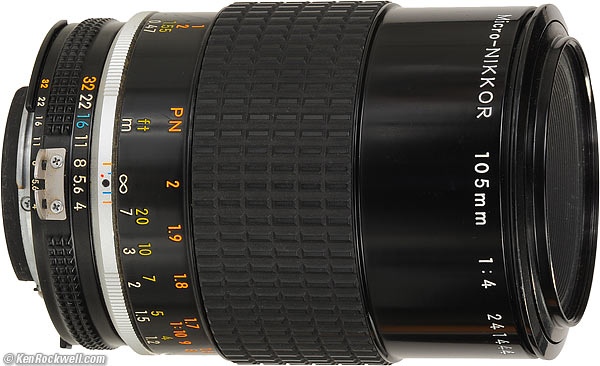 Nikon 105mm f/4 Micro-NIKKOR.
NEW: Nikon 105mm f/4 Review.
For one-tenth the price of the newest Canon or Nikon 105mm lenses, this classic NIKKOR lens does pretty much the same thing or better for about $125 used.
Le Quatorze Juillet, Mercredi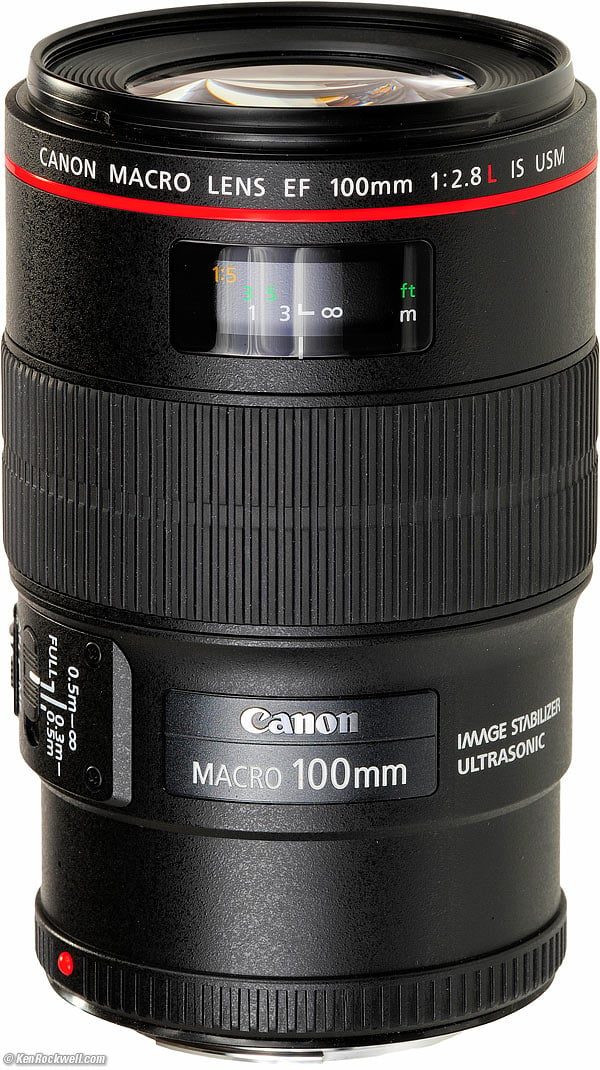 Canon 100mm f/2.8L IS Macro.
NEW: Canon 100mm f/2.8 L IS Macro Review.
12 July 2010, Monday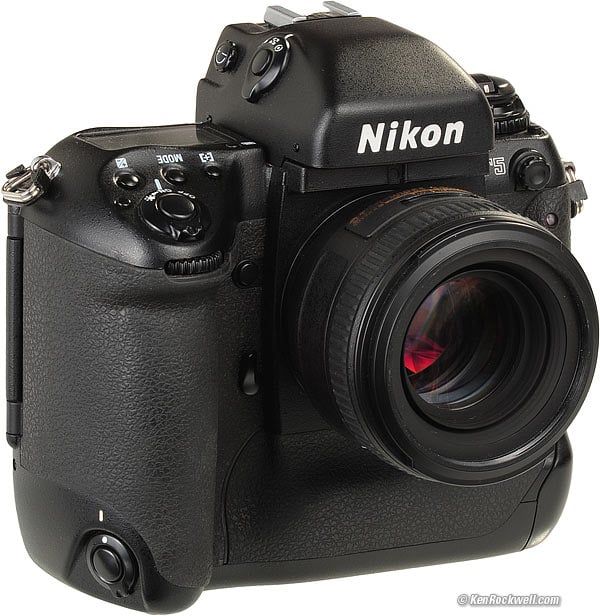 Nikon F5 and 50mm f/1.4 AF-S.
NEW: Nikon F5 Review.
NEW: Nikon F5 User's Guide.
10 July 2010, Tesla's Birthday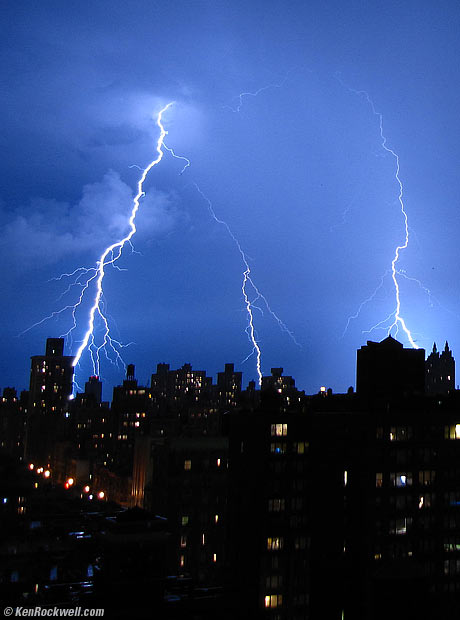 The Wrath of Tesla: New York City.
NEW: The Wrath of Tesla: Photos from New York City.
I finally published my photos from my long trip to New York last August. I've got 13 pages of pictures from a two-week long trip.
On this trip I was haunted by the spirit of inventor Nikola Tesla, the man who invented AC power, radio and wireless communications.
Tesla lived and worked in New York, and mostly in New York City.
This Saturday, July 10th. we celebrate Tesla's 154th birthday.
If Tesla isn't enough to get you interested, I also show my insider tours of Adorama and B&H. Whoo hoo!
I photographed for two weeks with nothing more than a Canon SD960 IS pocket camera, on which I captured this lightning snap.
08 July 2010, Thursday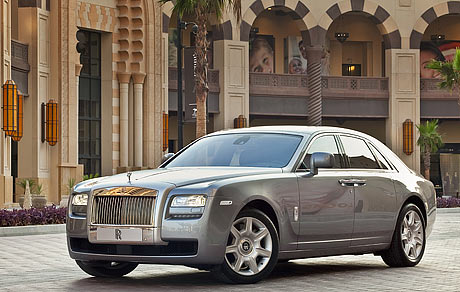 The Rolls-Royce Ghost at The Pearl, Doha, Qatar.
NEW: Business is Booming.
Business is so good that Rolls-Royce can't make cars fast enough for all the people waiting to buy them, for cash.
If your business isn't doing as well, I offer some suggestions encouragement to get your piece of the pie.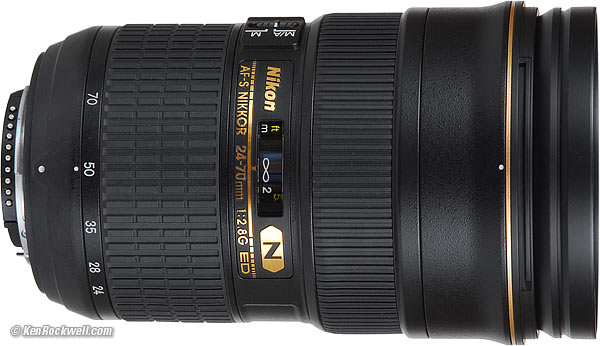 Nikon 24-70mm f/2.8 AF-S.
NEW: I added falloff examples to my Nikon 24-70mm Review.
07 July 2010, Wednesday
One-Day Scan Sale: Good only until11:59PM California time tonight, Scan Cafe is offering $150 in free scanning if you buy a $150 card from them. In other words, they'll double a $150 card to $300.
Ending: Canon Lens Rebates end this Saturday. Look out: they don't accept orders after Friday afternoon!
NEW: Photos From Point Reyes.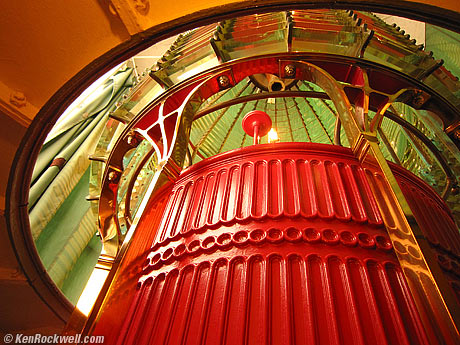 Point Reyes Lighthouse.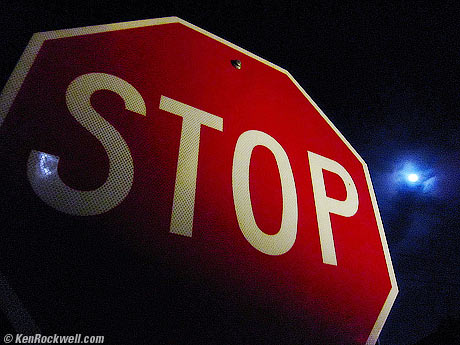 Stop Sign in Moonlight.
These are my snaps from last year's Point Reyes Workshop.
I shot most of it, including the moonlit snap above, with a hand-held Canon SD980 point-and-shoot.
Dave and I are planning to do it again at the end of August, 2010. Watch my Workshops page for more information.
06 July 2010, Tuesday
Composition versus Framing
Composition is the organization of elements within a frame that leads to the strongest, clearest, cleanest, simplest, most well-balanced and therefore best picture. The best composition is the strongest way of seeing a subject.
Framing is what you do by zooming in and out, by moving the camera up and down and left and right, and by rotating it to any angle, including vertical and horizontal.
Framing has almost nothing to do with composition, but sadly, few photographers realize this. Framing can't do much of anything to change the relationships between objects.
Framing is easy. One usually can frame a picture after it's shot by cropping.
Composition is very difficult. Composition is what makes or doesn't make a picture. Composition is the organization of elements in the picture in relation to the other elements.
The only way to change and optimize the organization of elements within an image is to change your point-of-view by moving your camera to different locations.
Composition requires moving the position of the camera in order to move around the elements in your image. Want a bigger rock in your foreground? Move closer with a wider lens. Want a bigger mountain in the background? Step back and zoom in. Want to move two objects to get a better juxtaposition? Move in relation to them.
Want to find the best composition? You need to move your position, not merely the direction in which you point your camera, or merely zoom in or out.
You have to move the position of your camera in four dimensions: moving left and right, moving in and out, moving up and down, and being there at the right time.
Once you get to the best position in four dimensions, then, and only then, do you get to worry about framing, which is simply zooming and pointing the camera.
Therefore, never confuse framing with composition To get the picture that gets the oohs and ahhs, you have to climb on top of things, climb under things, roll around on the ground, move in front of things, and move all over in for dimensions. Simply pointing the camera in different directions or with different lenses is the best way to make the worst pictures.
Nikon 24-70mm f/2.8 AF-S
Someone thought I wasn't too hot on this lens.
The Nikon 24-70mm f/2.8 AF-S is an AWESOME lens. It's optical performance is out-of-this-world, and a far cry better than Canon's 24-70mm f/2.8 L. This Nikon lens is sharp everywhere, at every setting, every time.
The reason I'm not hot on it is not because of its performance, which is stellar and unexcelled by any other zoom.
I'm not hot on it because it's too big and heavy, and worse, it makes people lazy so they stand in one spot and think they are composing by zooming, whereas in fact they are merely framing. To compose, you must walk around and find the best angle.
The best angle is what makes a picture, and the best angle is almost never the first angle you see as you get out of the car or come upon a subject.
Thus the 50mm f/1.8 AF-D lens, which I prefer and use far more often, sells for less than 1/12th the price ($125 versus $1,700+), is more than twice as sensitive to light and has even better optics, takes better pictures not because of its optics, but precisely because it forces us to walk around and find the better picture.
Rockwell: DSLRs now Mature
35mm SLRs peaked in the late 1980s and early 1990s. Everything since then has simply been piling-on fluff features in order to sell more 35mm SLRs to gadget-hounds.
Digital SLRs are now mature as of 2010. That's why Nikon hasn't introduced even one new DSLR at any time this decade.
There will always be more cameras coming, even if in kidding below I noticed that it seems like Nikon has given up.
By being declared "mature," this means that DSLRs are as good as they are going to get. Sure, there will always be incremental improvements, but along with each small actual improvement will come many more needless features which merely clutter operation.
Ten years ago, when Nikon started to ship the world's first practical DSLR in volume, the Nikon D1, it was primitive. Resolution was barely enough to get a decent 8x10" print. Custom functions were just numbers, so you needed to carry a conversion card to figure them out. The D1's sensor was only a fraction of the correct size. Highlights looked awful because they clipped at about zone VI 1/2. The D1's huge battery only lasted a couple of hundred shots — on a good day — so you had to pack several.
With Nikon's D3s, D700 and Canon's 5D Mark II, we have mature products. They do exactly what we need them to and there are only small ways to improve them, and those small ways aren't technical, but merely ergonomic.
After a product type peaks, manufacturers spend most of their time inventing fluff, which if anything, gets in the way of what we really need.
When 35mm SLRs peaked around 1990, camera makers then invented useless custom functions and fluff features to add to otherwise perfect cameras in order to keep selling them to us.
With 35mm rangefinder cameras, the LEICA M3 of 1954 reigns today as the world's best 35mm rangefinder camera ever. All LEICA has done these past 56 years to keep us buying new cameras is to pile on fluff features that get in the way, while saving themselves money by making the core features, like the viewfinder and rangefinder, more cheaply.
With DSLRs, the fluff features that herald their maturity are things like video, live view, HDR and GPS. These things have little to nothing to do with photography, and are only added to sell more cameras to more people.
So when I kid about Nikon getting out of the DSLR market, I'm kidding. It's actually good that they haven't spammed out more cameras lately, since what we have is so good, and I fear that the garbage features being crammed into the newest cameras not yet made public will get in the way of how good their cameras are today.
NEW: I just added low-light suggestions to my Recommendations in my Nikon Ultra-Wide FX Zoom Comparison.
I also added the new Nikon 24mm f/1.4 and 16-35mm VR to the Nikon FX Dream Team.
Nikon is pretty much out of the DSLR game, having introduced their last DSLR back in the last decade.
This decade Nikon has chosen to spend its time introducing newer lenses, and the Nikon 24mm f/1.4 and 16-35mm VR just happen to be the best lenses of their kind ever made. Maybe Nikon will have some new DSLRs, but so far, Nikon has introduced no new DSLRs this entire decade.
The Nikon 24mm f/1.4 is, and will probably always be, hard to get because of its extreme performance and therefore high price, however the fantastic 16-35mm VR has actually dropped $100 in price since its introduction this March.
Seeing how the dollar is falling against the yen, price rises on Japanese products are just a matter of time, so I wouldn't dawdle if you want to upgrade yourself to the 16-35mm VR.
Someone asked why I'm no longer that hot on the old 14-24mm, since I was so hot on it when it came out.
The 14-24mm was state-of-the-art — in the previous decade. The 14-24mm of 2007 is a great lens, but too big and heavy for me to want to carry all day, it has a limited zoom range, and it can't use the filters I need to use, like grads. It's more of a toy than a tool; pro journalists like my pal Karl Grobl won't use it because they can't protect the front element with a filter, and any crud on the huge front element will be in focus on their images (Karl chose the 17-35mm f/2.8 AF-S instead, and as I write this, he's off in Darfur all by himself shooting all sorts of nasty stuff for a few months.)
The new 16-35mm, Nikon's first lens of this decade, is a little sharper than the 14-24mm (but not much), and most importantly, is smaller, lighter, takes filers, and adds VR for superior results in the dim light where I often shoot it. VR more than makes up for the one stop lost optically, and the f/4 aperture gives deeper depth-of-field than f/2.8, for even sharper real-world images than from a non-VR f/2.8 lens for still subjects.
The 16-35mm VR is remarkable. I love mine; it's today's state-of-the art in ultrawide SLR lenses, and the only ultrawide you need for FX or film.
01 July 2010, Thursday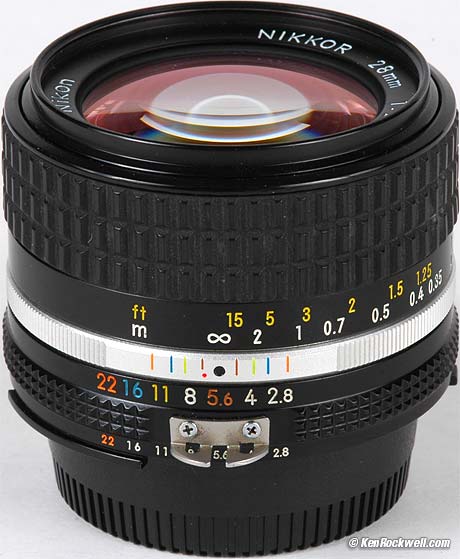 Nikon 28mm f/2.8 AI-s.
Old is Still NEW: Nikon 28mm f/2.8 AI-s Review.
I was talking to someone at B&H Photo-Video, and hadn't realized that the Nikon 28mm f/2.8 AI-s was still such a big seller.
This is still Nikon's highest-performance 28mm lens of all time, Nikon still makes them, and you can still buy them brand-new, in-stock at B&H Photo Video. Unlike many lenses, these are solid metal.
Faster lenses are faster, while this lens still has better optics at f/2.8 and smaller.
What Was New in:
Help me help you
I support my growing family through this website, as crazy as it might seem.
If you find this as helpful as a book you might have had to buy or a workshop you may have had to take, feel free to help me continue helping everyone.
If you've gotten your gear through one of my links or helped otherwise, you're family. It's great people like you who allow me to keep adding to this site full-time. Thanks!
If you haven't helped yet, please do, and consider helping me with a gift of $5.00.
The biggest help is to use these links to Adorama, Amazon, Calumet, Ritz, J&R and when you get your goodies. It costs you nothing and is a huge help to me. eBay is always a gamble, but all the other places have the best prices and service, which is why I've used them since before this website existed. I recommend them all personally.
Thanks for reading!
Ken
Home Donate New Search Gallery How-To Books Links Workshops About Contact