Home Donate New Search Gallery How-To Books Links Workshops About Contact
Canon SD980
The End of the SLR?
24mm ~ 120mm 5x IS Zoom
2.5" (effective) Touch LCD, 12MP, 720p.
© 2009 KenRockwell.com. All rights reserved.
Intro Specs Performance Recommendations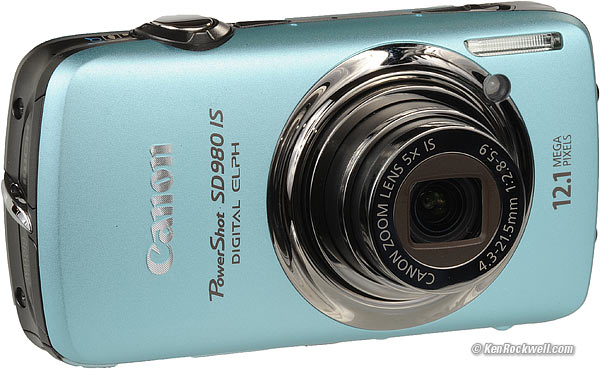 Canon SD980 IS (IXUS 200 IS), blue, bigger than life. enlarge more. I'd get it at Amazon in silver, gold, blue or purple. It helps me keep adding to this site when you get yours through these links, thanks! Ken.
September 2009 More Canon Reviews
NEW: Canon SD980 IS (silver, refurbished) for $149.95. (August 2010).
Canon SD980 Sample Images, Point Reyes, 2009. The SD980 replaces DSLRs for landscapes.
Introduction top
Intro Specs Performance Recommendations
The Canon SD980 has an incrediuble 24 - 120mm (equivalent) zoom, and it works great! Not only does it cover a huge range, it's sharp, has relatively low distortion, and even has image stabilization. The colors and images I get out of the SD980 amaze me. I wish everything worked this well!
The SD980 is also small. It's well made with a metal exterior.
Its weaknesses are its small LCD screen and poorer one-dimensional gray, white and yellow user interface. Other models, like the older SD880 and newer S90, have much larger LCDs and Canon's superior two-dimensional red, white and black control interface, but they are bigger and heavier.
I would whine more about the user interface, but when I saw the results I got from it, I shut up. The results are simply amazing.
The SD980 was the only digital camera I brought on a workshop to Point Reyes in August and September 2009, and I never missed having another digital camera. In fact, while not great for enlargements, the digital zoom even let me snap this heron from about 100 feet (30m) away: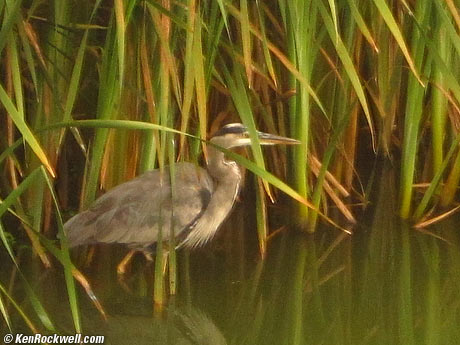 Great Blue Heron, Abbotts Lagoon, Point Reyes California.
6:18PM, 01 September 2009. 120mm equivalent with 4x digital zoom = 480mm equivalent. Low light had Auto ISO set ISO 400 at f/5.9, and with IS, all my shots were sharp even at 1/100 second. I used the manual white balance to keep it from turning too blue in the fog. This snap above is exactly as it came out of the camera, resized to fit here.
Of course this image doesn't look as good enlarged as the shots my friends got with their Canon 5D Mark IIs and 100-400mm L IS lenses, but I can see the iris in the eye of the heron, and I am sure glad I didn't have to lug all that SLR gear with me.
I'm real glad I didn't lug all that SLR gear with me. With the SD980 IS in my pocket, there wasn't anything I couldn't shoot, even hand-held under moonlight. These pocket cameras are getting so good that for many of us, they spell the end of the SLR.
Of course if you look too closely at the original files at 100% on your computer, the SD980 has the same quality as every other pocket camera due to its tiny sensor: grain and smudging from noise reduction that is trying to reduce the grain, even in daylight, but so what: no one else but me seems to notice. I don't worry about this; I prefer to enjoy myself out shooting and not carry too much stuff.
Specifications top
Intro Specs Performance Recommendations
Lens
4.3 ~ 21.5mm, f/2.8 ~ 5.9.
Similar to a 24-120mm lens on a 35mm film or full-frame camera.
Close focus: 1.6 ft (0.5m) at wide setting and only 2.9 ft (0.9m) at tele.
In macro mode: as close as 2" (5cm) at the wide setting. Not so hot at tele.
Optical Viewfinder
None, use the LCD.
Sensor
12MP.
1/2.3" CCD.
File Types
JPG for stills and MOV for video.
Image Sizes
4,000 x 3,000 pixels native.
4,000 x 2,248 (cropped wide), also reduced sizes of:
3,264 x 2,448 (8MP, M1),
2,592 x 1,944 (5MP, M2),
1,600 x 1,200 (2MP, M3),
640 x 480 (S).
Video
1,280 x 720 @ 30 fps
640 x 480 @30 fps
320 x 240 @ 30 fps.
Clip length: up to 4GB, or 10 minutes, in HD 720p. Up to 4GB or 60 minutes in 640 or 320.
ISO
Auto, 80, 100, 200, 400, 800 and 1,600.
ISO 3,200 in a trick scene mode, which looks pretty bad.
LCD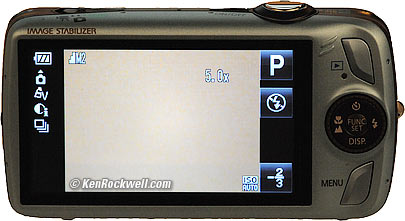 Rear, Canon SD980 IS, about actual size on a typical 106DPI monitor.
16:9 chopped, 2.5" effective picture diagonal for most pictures.
3" diagonal overall.
230,000 dots.
Memory
SD and SDHC.
Outputs
USB 2, mini B jack.
Mini HDMI.
Analog NTSC or PAL.
Mono analog sound.
Environmental
32º F ~ 104º F (0º ~ 40º C).
10 ~ 90% RH.
Size
3.85 x 2.12 x 0.87 inches.
/97.9 x 54.1 x 22.1 millimeters.
Weight
Measured: 5.350 oz. oz. (151.6g), complete with battery and SD card.
Specified: 4.59 oz. (130g), stripped without battery or card.
Battery (included)
NB-6L rechargeable Li-ion.
3.7V, 940mAh.
Charger (included)
CB-2LY.
100~240VAC, 50/60 cps input for world travel; just bring passive plug adapters.
Gray plastic.
It's tiny, about the same size as the camera but much lighter, and has a fold-out plug.
Introduced
19 August 2009.
Price, USA
$250, July 2010.
$270, March 2010.
$300, December 2009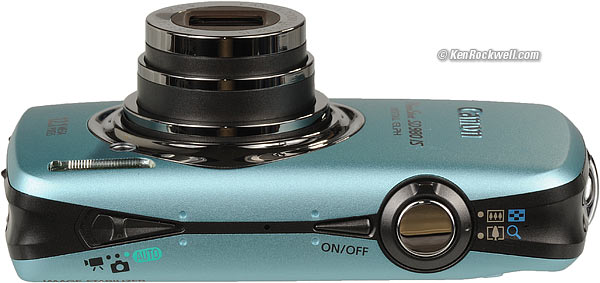 Top, SD980. bigger.
Performance top
Intro Specs Performance Recommendations
All the images I'll show are exactly what I got out of the Canon SD980. Except for sizing and branding as "© KenRockwell.com," they are what I got right out of the camera. Of course to get these same results you have to know what you're doing, and it does show a little of what you can do with a tiny camera.
Abalone Inn, Inverness, California, 02 September 2009, 7:47AM. 21.5mm maximum zoom (120mm equivalent), f/5.9 (wide-open) at 1/125, Auto ISO cleverly chose ISO 125 to give a short enough exposure time for the long zoom. original © file.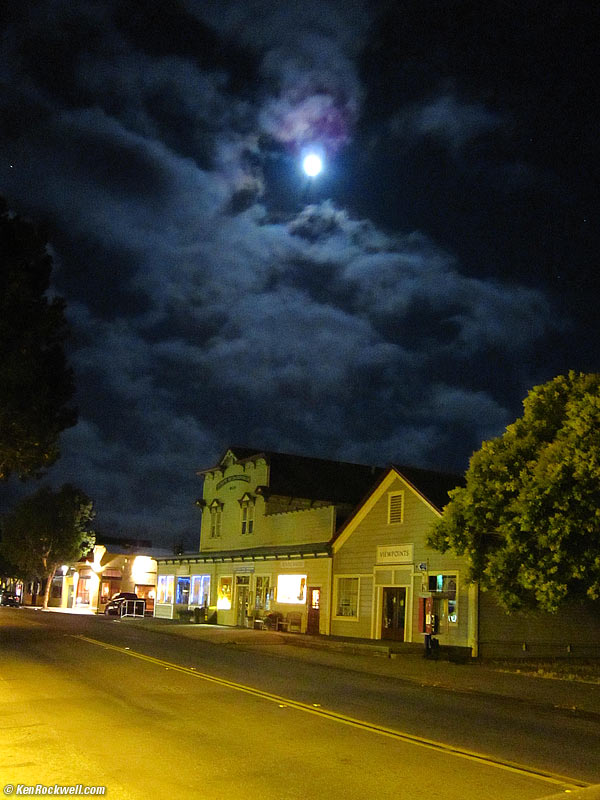 Point Reyes Station, 31 August 2009, 9:42PM. Hand-held, rested against a running car, 6.6mm zoom (37mm equivalent), 1 second at f/3.5, auto WB, Auto ISO. fuzzy, grainy original file, hand-held at ISO 800.
If you know what you're doing, you can shoot just about anything with a little camera like this. The only thing it can't do well is shoot moving things like kids, sports and action, but if your subject holds still, you're good to go so long as you brace it on something for longer exposures.
In this case, I set the continuous shooting mode (the bearded rectangle) so the SD980 IS kept shooting for as long as I held down the shutter release. I picked the sharpest shot from the ones I took.
Hint: I didn't need it here, but if I had a tripod (fat chance), the long exposure times, out to 15 seconds, are in a different place than usual for Canon. They are now hidden as a scene mode, selected by hitting P on the touch screen and finding the aptly named LONG SHUTTER scene mode.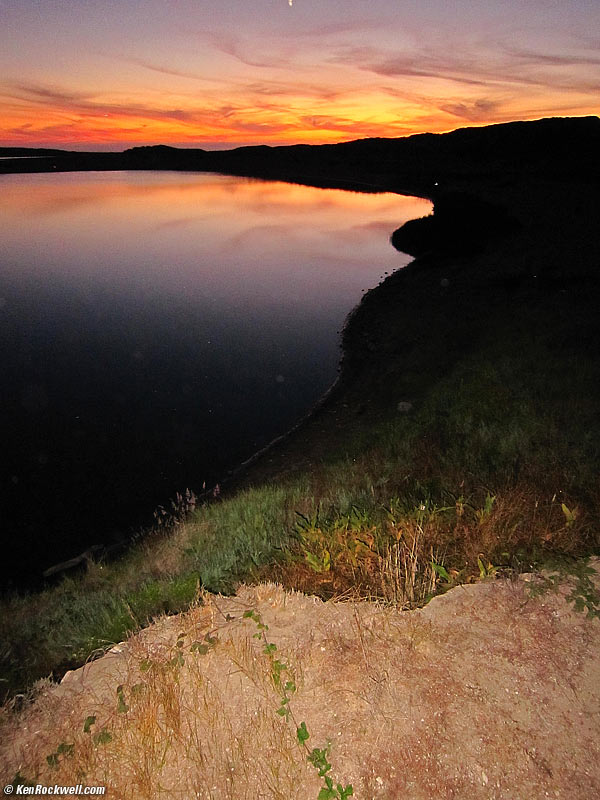 Abbott Lagoon, Point Reyes, California, 01 September 2009, 8:01PM. Hand-held, 1/60 at f/2.8, 4.3mm (24mm equivalent), Auto ISO, I popped on the flash to hit the foreground. fuzzy, grainy original © file at ISO 500.
Point Reyes Light, California. Vivid setting, cloudy WB, 4.3mm wide (24mm equivalent), f/2.8 at 1/30, Auto ISO chose ISO 80. bigger.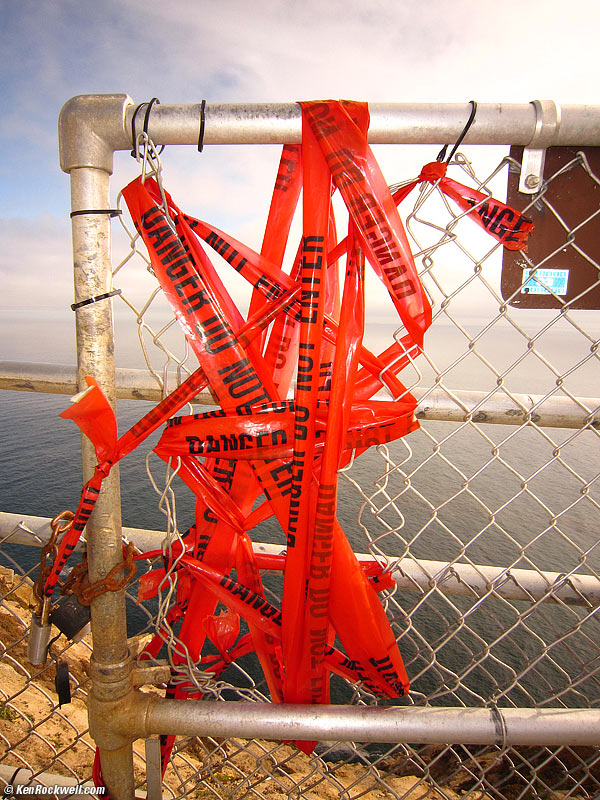 Red Tape, Point Reyes Light, California. I popped the flash to highlight the red tape.
Rollers, Point Reyes Light, California.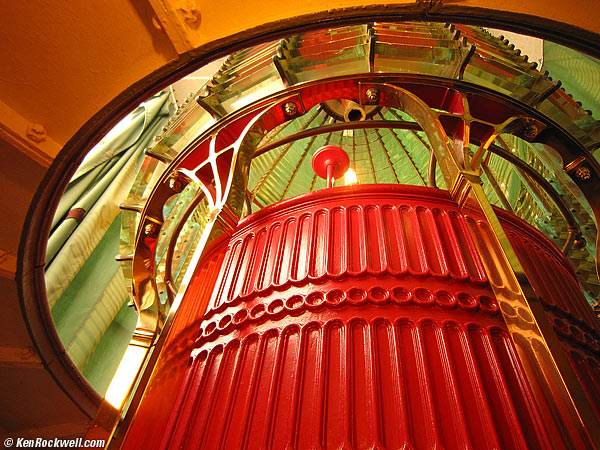 Point Reyes Light, California. bigger.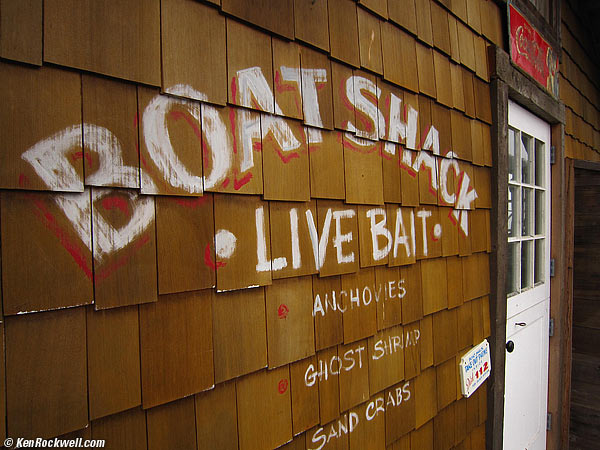 Boat Shack, Nick's Tomales Bay, California. Widest 4.3mm (24mm equivalent) setting.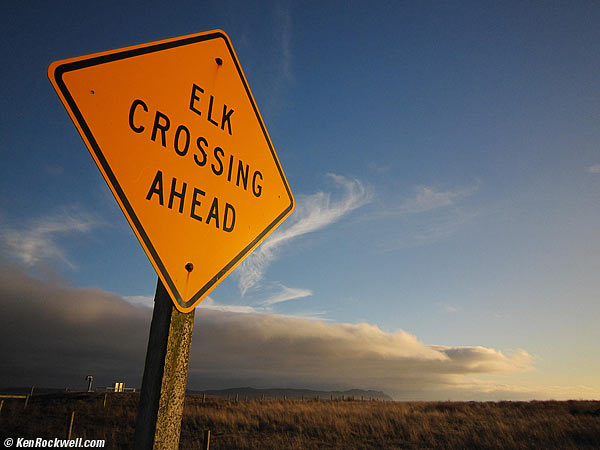 Widest 4.3mm (24mm equivalent) setting.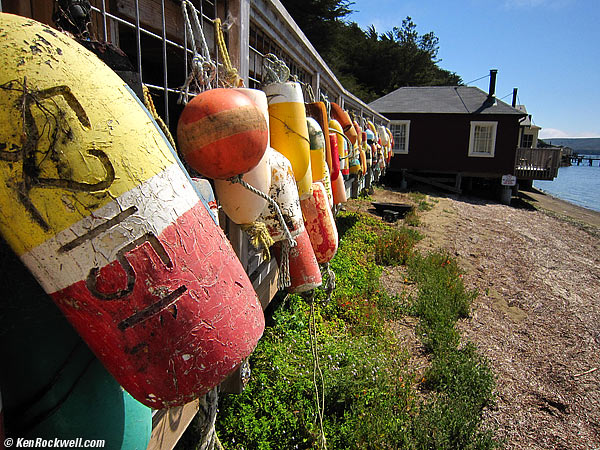 Tomales Bay, California. Widest 4.3mm (24mm equivalent) setting. bigger.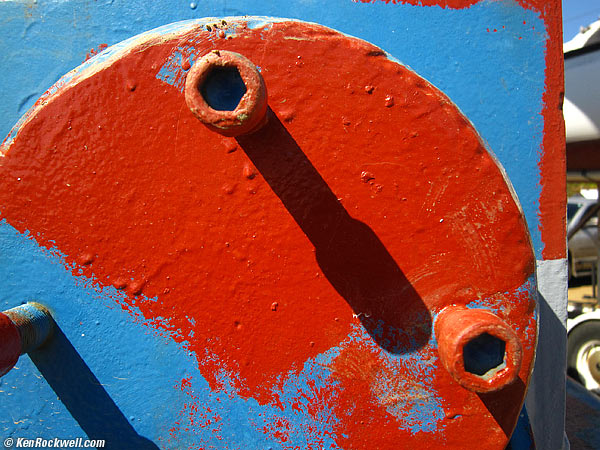 Red and Blue, Marshall, California.
Enough said? I shot all these in only a couple of days.
The Canon SD980 is sharp and colorful. Its only limitation is your ability to set it correctly for white balance and exposure compensation as needed.
Like most Canon cameras, I set it at -2/3 in daylight, and 0 exposure compensation indoors for starters.
If you can't get great shots of still subjects with the SD980, it's not the camera's fault.
High ISOs
The Canon SD980 is better than earlier compacts.
I find it's great at ISO 400 when I need it!
Auto ISO is so smart that it adjusts both for lens focal length setting and whether or not IS is ON. (IS only goes off if you turn it off deliberately.)
There in only one auto ISO setting, but it's better than both of the two settings put together that were on earlier cameras.
Lens
The 5x wide zoom is fantastic.
It gives the widest angle I've ever used in a compact, and it goes out as long as any lens I've used on a compact, and it's sharp and has little distortion.
I wish this lens was on everything Canon made.
It is complex: there are two intermediate tubes as well as the end optics that move in and out independently on separate cams as zoomed.
The front surface of the front element seems to have a wickedly aspheric surface. I'll bet you Canon has a few patents pending on this clever lens design.
Lens Distortion
If you worry about straight lines, the SD980 is pretty good.
Canon plays an internal trick and automatically corrects the lens distortion at the wide end. How do we know, since this is a trade secret? Easy: when shooting a sunset with a sun so bright that it caused vertical bloom (smear), I was perplexed at hot the vertical smear was curved at the wide setting. Then I realized that the automatic correction was bending the image before it was displayed or recorded, and the only hint of that is that the bloom was also bent!
There is still some distortion left at the widest setting, which goes away at the longer settings.
If you need this for precise work, use +3 at the wide end in Photoshop's Lens Distortion tool, and nothing at the long end.
Lens Sharpness
The lens is plenty sharp for a 12MP camera, as you probably can see at some of the original files offered above. Remember that these decent shots above will be limited by depth-of-field more than lens sharpness if you're looking at 100%.
Macro Mode
Macro mode often has to be set, since in normal mode the SD980 won't focus closer than a couple of feet. This is a small price to pay for the huge zoom range and super-sharp lens.
You'll see a yellow bar along the zoom bar on the LCD which shows you the range over which the macro setting won't work, which is the tele range.
Light Falloff
Quite nicely, I think I see some darkening in the corners at the widest setting.
I like this because it helps exaggerate the very wide angle and draw the viewer's eye into the image and keep it there.
Flash
The lens is so wide that you can get a little bit of a shadow in the corner at the widest setting. If this is a problem, as it was on the Abbott Lagoon photo, simply shoot the picture with the camera rotated 180 degrees!
Ergonomics
Since the lens is so wide, I wish that the Canon SD980 zoomed to a middle focal length every time I turned it on.
As it is, it always wakes up at the super-wide setting, so I often have to zoom it in, or get images with a tiny subject in the middle.
The SD980 feels nice in my pocket all day and night.
Controls
The power switch is a tiny button that's sometimes hard to find and press.
The SD980's biggest flaw is Canon's newer control system that skips a few important control buttons and uses a semi-sucky one-dimensional control interface when you hit the FUNC button to adjust the SD980.
I never got used to it.
For instance, to set the exposure compensation (lightness or darkness of the photo), you have to press FUNC, click down two to +/-, click right, then click up or down to set, and click FUNC a couple of more times. Worse, you have to click up for darker and down for lighter! If you mess up anything in this complex series of clicks, you just missed your photo.
Other larger Canons like the older SD880 and newer S90 have more buttons and a much smarter menu system to make it much easier to take pictures.
The better-controlled Canons always return you to where you last left their menu system. That means on other cameras if you last adjusted WB, that when you hit FUNC again, you're still able to adjust the WB directly. Not with the SD980: the next time you hit FUNC, you're back at controlling the shooting mode (your choice of Program, portrait, etc.) and have to navigate back to what you wanted, which for me is usually exposure compensation.
I found I often had to hit the MACRO mode to focus close. On other Canons, I only had to hit that to get closer than a few inches, but on the SD980, I seemed to need to hit it to get closer than about a foot.
The top slide switch to select Movies, Shoot and full AUTO is more plasticy and tougher to see and set than other Canons.
LCD, Touch Screen and Playback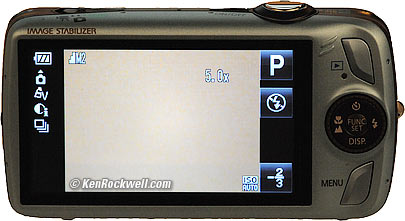 Tiny SD980 LCD with typical image, about actual size.
The SD980's biggest problem is its tiny 2.5" (effective) LCD. Not only is it small, the black waste bands on the sides make it tough to see where your picture ends and the dark bands start when composing darker images. See also The Curse of the Shrinking LCD.
The LCD is of lower resolution than other LCDs, so you often can see the individual dots.
Like most compacts, you never can get everything off the screen to compose. The tough controls on the right never go away until you half-press the shutter, and when you do half-press the shutter, shooting data appears on the bottom of the screen.
The touch screen consists of a piece of plastic laid over the screen. It is not anti-reflection coated, and thus usually has a bright reflection on it as well as on the LCD.
Thus the SD980 has the worst LCD put on a Canon for quite a while. It's coarse and low-contrast. It's good enough for shooting, and if anything forces you to make stronger images, but it's not impressive for showing images.
If you're used to the great response from an iPod Touch or iPhone, the Canon SD980's touch screen sucks. You have to press it hard, and it's not very responsive. When you drag things around, they get jumpy, and don't move smoothly like an Apple.
The LCD has great color, and shows the same colors regardless of the viewing angle. It gets dimmer when seen from the sides, but the colors and contrasts aren't changed so we get accurate viewing at any angle.
There is no diagonal scroll on playback, common for these kinds of cameras, but wait! You can drag the image around with your finger! It works, but nowhere near as well as it does on an iPhone. It's balky and jerky on the SD980.
You can touch it to zoom or scroll on playback, but there is no two finger zoom. If you've never used an iPod touch you may love this, but if you've used the far superior iPhone, the SD980 won't impress you.
You can touch screen to slide to the next images, but it's jittery and jumpy, not smooth like an iPod.
When shooting, only the right side is responsive to touch. The left side menus ignore you. AWB is not displayed on left while shooting; WB setting is only shown if its something other than AWB.
On playback, the SD980 allows setting the rotation flag even for a full 180º rotation. This is helpful when shooting with the camera upside-down, for instance, when bracing it under an overhang shooting in low light. Other Canons like the SD880 haven 't been able to do this, they just go 90º left or right.
On review and often in playback, hitting FUNC often goes straight to delete, not the last setting I wanted like rotate.
An improvement over earlier cameras, in the review mode that pops up the image right after you snap it, just hit DISP to change among the various display modes. There no longer is the need to hit FUNC first. You still need to hit FUNC to zoom, and hit PLAY to go to other images.
Data
New folder creation just got smarter: each one is labeled with month and date, for instance, August 28th is labeled as 0828.
For me, this is a huge time saver.
Battery Life
Battery life is great. I was never able to run it down in a day after hundreds of shots.
Mechanics
Most of the SD980's exterior covers and two rear buttons are metal.
The rear control dial is plastic.
There are little tits on the bottom and side for setting the SD980 on a table for level horizontal or vertical shots.
Recommendations top
Intro Specs Performance Recommendations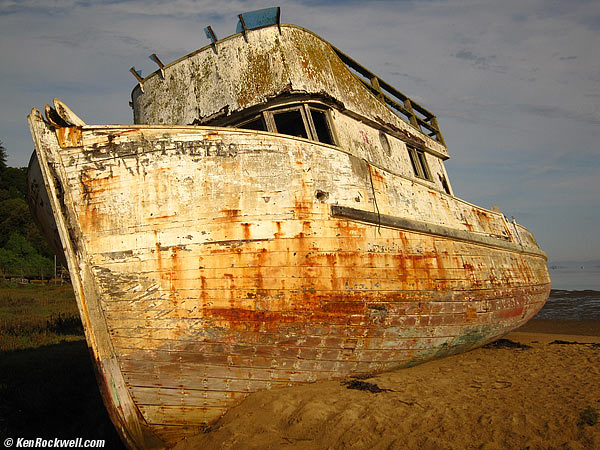 Boat, Inverness California. Cloudy WB, f/4.5 at 1/1,250, Auto ISO 80, 9.0mm (50mm equivalent). original file.
The SD980 is a fantastic choice for high-quality images in a tiny package.
I dislike how it handles compare to other Canons and I dislike the touch screen, but seeing the images I got out of it, the SD980 is my top recommendation just short of the Canon S90 for any serious photographer. Heck, this SD980 has a wider lens than the S90, so for many, the SD980 is the new King of Compacts.
For sports, kids and action, you need a real SLR like a Nikon D40 or Digital Rebel T1i, but for anything that holds still, the SD980 is a fantastic choice to replace an SLR system.
More Information: Canon USA's product page.
Help me help you top
I support my growing family through this website, as crazy as it might seem.
If you find this as helpful as a book you might have had to buy or a workshop you may have had to take, feel free to help me continue helping everyone.
If you've gotten your gear through one of my links or helped otherwise, you're family. It's great people like you who allow me to keep adding to this site full-time. Thanks!
If you haven't helped yet, please do, and consider helping me with a gift of $5.00.
The biggest help is to use these links to Adorama, Amazon, Calumet, Ritz and J&R when you get your goodies. It costs you nothing and is a huge help. These places have the best prices and service, which is why I've used them since before this website existed. I recommend them all personally.
Thanks for reading!
Ken
Home Donate New Search Gallery How-To Books Links Workshops About Contact