Home Donate Search Gallery Reviews How-To Books Links Workshops About Contact
January 2011's Updates
< < Back to Today's News Hot Deals
all © 2011 KenRockwell.com. All rights reserved.

Nikon Canon LEICA More Reviews random Ryan Katie
Recommended Cameras How to Take Better Pictures
29 January 1931, My Dad's 80 Birthday
Whoo hoo! Happy Birthday, Ron Rockwell!
My dad, a direct descendant of Nikola Tesla, is 80 years old today.
28 January 2011, Friday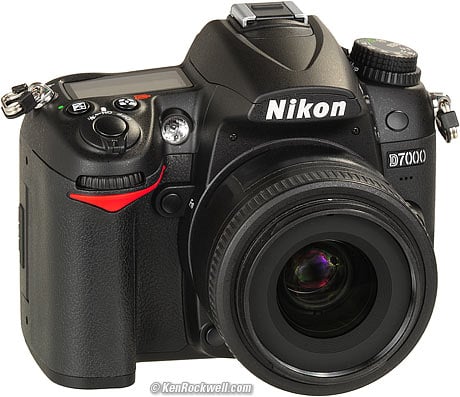 Nikon D7000 and 35/1.8 DX.
NEW: Nikon D7000 Autofocus Settings Guide.
Even though my D7000 User's Guide is still being written, I just competed my Guide to the Nikon D7000 Autofocus System.
As these cameras get better, this gets easier. For the first time of any Nikon, the D7000 works best at its default settings right out of the factory, most of the time. I rarely need to twiddle the AF system away from its default settings.
27 January 2011, Thursday
Required Reading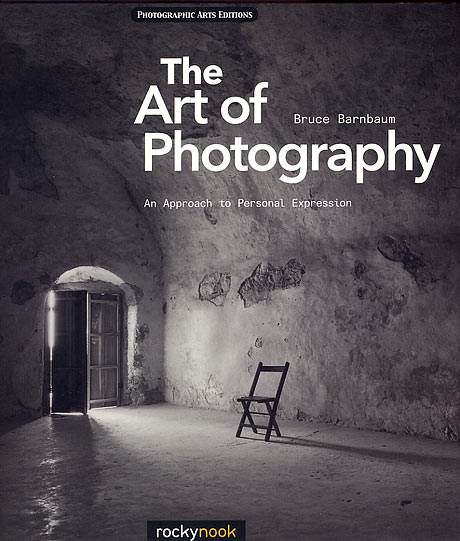 Bruce Barnbaum: "The Art of Photography."
Bruce Barnbaum's The Art of Photography is the best book I've read in over 40 years of reading about photography.
Bruce Barnbaum goes further and deeper into explaining the intangibles that make a great photograph than anyone else ever has.
If you want to learn how to create powerful photographs instead of just snapping away and hoping something turns out later in your computer, this is the one book that you must read.
I try to explain what makes a great photograph on this website, while Bruce Barnbaum goes far deeper and into far more levels on the critical topics that define a magnificent photograph.
The Art of Photography does more to explain composition and seeing than all of the other books I've tried to suggest on my Books page, combined.
This book is for people with visual imagination. If you're a scientist or engineer looking for some fast 1-dimensional formulae that will let you pop out great photos without having to stop and think long and hard about your subject and your message, you won't understand this book. This isn't a book about rules and exposure. It's a brilliant book that finally explains everything that goes into making a serious photograph — and why rules are "...mindless things that raise you quickly to a level of acceptable mediocrity, then prevent you from progressing further."
If you are willing to expend the mental effort required to create great photographs, this is the book that explains what matters and about what you need to be thinking to create extraordinary images.
I've been shooting and learning for many decades. This is the first book which lays it all out clearly and completely. If at first you don't understand this book, keep reading it until you do, because The Art of Photography is the book that says what needs to be understood in order to create meaningful, deliberate, interesting photographs.
I'm astounded at how Bruce Barnbaum is able to write about all photographic and artistic styles in this book, not just his own. I find this book helpful to everyone, not just people interested in Bruce Barnbaum's particular style, which is fine photography. He later gets into even more technical detail about his own techniques, however it's his first hundred pages about enthusiasm, communication, composition, visualization, light and color that alone make this large duotone masterpiece a bargain, even at three times the price.
The Art of Photography is a very serious book for people deeply interested in creating exciting photographs. It's not the best book for your coffee table or for people only casually interested in pretty pictures. It is the best book for people willing to invest the time and effort demanded to create brilliant photographs.
New eBook
Check out Wayne Radford's Portrait Tips and Techniques eBook.
I have a copy. It's a wonderfully illustrated 127 page PDF written by a veteran professional portrait shooter. It goes into all sorts of detail on how to look at a face and set up a flattering pose, as well as how to make the best use of ambient light.
I'm not a portrait shooter, and to me, it reads like most of the portrait lectures I'd attended, but with better illustrations. Wayne's portrait work is excellent.
If you're in the market for eBooks, check it out.
26 January 2011, Wednesday
Velvia 100 Success
When an experiment gives a useful result, it's a success
My Velvia 100 shots, in an attempt to find a vivid film which didn't turn my kids' faces bright red, were awful! I had to tweak the images severely to make them look as they did; the original film and scans were much worse. (the exposures are horrible because I tried to give the Contax G2 one last shot at fill-flash, which its manuals claim it does, and as you can see, it doesn't.)
The experiment is a success, since it showed me not to bother with RVP 100 for combined family and travel shots.
My RVP100 shots, made with my usual A2 filter, were horribly too red/magenta. Anything a little magenta or pink pegged and turned wild red/magenta, and worse, most of the image had a bizarre red/magenta cast. The kid's faces were too red, so screw it, Velvia 100 is back out of the bag again.
Velvia RVP 50 is the film for most of what I shoot, but I'll try Astia 100F and Provia and whatever to see if I can find something for general use.
Velvia RVP 50 is also the sharpest film, period. Not only does its high contrast emphasize sharpness, its MTF curve also has about 50% gain around 10 l/mm to enhance sharpness even more.
Of course I prefer the look of my D7000 files for people shots (just look at the night-and-day difference at Ryan's page), but sometimes I'm packing only a 35mm camera when the kids are around.
If I'd wise up and only shoot my D7000, I'd have it made. I set my colors and etc. for people shots under U2, and keep the wild colors settings under U1, so I can get the best of both looks with the flick of a knob. With film, I'd have to carry two bodies with different films (Astia for people, Velvia for things) to get the same results.
25 January 2011, Tuesday
Frans Lanting
In addition to his other workshops, living master Frans Lanting is offering a new "Light on the Bay" workshop, Wednesday-Sunday 27 April - 01 May 2011.
Check it out; it's not often you can take a workshop with a master who's still actively cranking out real work for National Geographic.
Edward Weston
Oh my gosh: classical photographic master Edward Weston said one of the things I've been trying to knock through people's heads for years back in this 1967 photography encyclopedia:
"...few photographers ever master their medium. Instead they allow the medium to master them and go on an endless squirrel cage chase from new lens to new paper to new developer to new gadget, never staying with one piece of equipment long enough to learn its full capacities, becoming lost in a maze of technical information that is of little or no use since they don't know what to do with it."
Does that sound like you? Edward Weston proposes a cure in his next paragraph:
"...the task can be made immeasurably easier by selecting the simplest possible equipment and procedures and staying with them. Learning to see in terms of the field of one lens, the scale of one film and one paper, will accomplish a good deal more than gathering a smattering of knowledge about several sets of tools."
The worst thing done by people who are not masters is try to use more than one lens at a time. There were too many confusing variables for most people to grasp lucidly back in in the 1950s and 1960s, long before zoom lenses or color film became common. Today, not only do we have way too many lenses and doo-dads, we have added innumerable new variables to distract our attention even from shot to shot. I doubt that few people today will ever be able to rise above today's sea of noise to accomplish good photos, except by random chance.
This fits right into what I was shooting all weekend and most of last week. I ran into a reader, and I showed him the Contax G2 around my neck. He said "you're shooting film?," to which I replied "duh." Likewise, I only bothered to carry one 45mm lens. The one variable I introduced was to try Fuji Velvia 100 again, which I don't like compared to the awesome Velvia 50 for my serious work. For photos with my kids, I thought that Velvia 100 might be a great compromise for keeping my kids' faces from turning too red, while amping-up all the other colors. The Contax G2 is a hoot to shoot; it just goes, weighs nothing, and has optics at least as good as LEICA.
Heck, I've been shooting almost nothing but my 35mm f/1.8 DX on my D7000 ever since I got it back in November. Buying more lenses makes money for camera companies, but only serves to confuse people trying to learn to take better pictures.
Some people think I'm an OK photographer, but in my own mind, I'm only beginning. I'm always trying to learn and see things more clearly, and I always get better precisely because I keep an open mind and know that I know nothing. I'm not a master, so I do my best to keep it simple and carry as little as possible.
24 January 2011, Monday
Is it 100 Megapixels yet?
Well, almost.
A few hours ago, Phase One announced the world's highest-performance digital cameras in resolutions up to 80 megapixels.
The Phase One IQ180, IQ160 and IQ140 digital camera backs are 80, 60 and 40 megapixels. The native resolution of the IQ180 is 10,328 x 7,760 pixels
The sensor sizes are very close to real medium-format, with 40 x 54mm sensors in the IQ180 and IQ140 backs, but only 33 x 44mm in the IQ160. (Real medium format is 56 x 56mm, with the smaller 645 format only 42 x 56mm and the larger 6x7 format at 56 x 72mm.)
These backs also have 3.2" high-resolution LCDs (1.2MP and 290 DPI) for seeing what you're doing in-camera.
The IQ180 is expected by May 2011. The IQ160 and IQ140 are expected by June 2011.
Thank goodness that all these sensors are in the professional 4:3 aspect ratio, and not the retarded (meaning dated, not cognitively diminished) 3:2 aspect ratio of 35mm-based cameras. The professional 4:3 ratio lets us use much more of the sensor for a larger percentage of our images, while with the too-long-and-skinny 3:2 aspect ratio makes us have to crop the empty sides or tops-and-bottoms more often.
The prices start at only $21,990 (16,990 Euros) for the IQ140, and go up slightly from there.
These are the standard in professional digital backs used in modern professional photography. Unlike Canon and Nikon, these Phase One backs are just backs: you still need a camera and lenses with which to use them.
These backs come in versions to fit the Phase One 645DF/AF Mamiya 645DF/ AFDIII, Hasselblad H1 and H2, Hasselblad 555ELD, 553ELX, 503CW and 501CM, Mamiya RZ67 Pro II,
Mamiya RB67, and of course, my favorite Contax 645AF system.
I'd rather shoot no-batteries-or-computer-required Velvia 50 in my Contax 645 AF than dick around with a digital back whose images still won't look as good for my needs, but I'm a careful worker not limited by someone else's commercial production schedule. Obviously, someone keeps shelling out as much as new Mercedes for these things, so they must know something I don't, or maybe I'm not willing to sacrifice image quality for the immediate convenience of digital. Hey, we never used Polaroid proofs for final results, but for some applications, digital has come far enough for commercial use. (The Contax 645 isn't reviewed here yet because I'm having too much fun shooting it!)
Rockwell Effect
I doubt that I caused this, but the price of the Sennheiser HD800 headphones I reviewed the other week just jumped up $100.
Thank Goodness We're Not Audiophiles
If we were, we'd all be running out to buy these $165 power outlets to replace the perfectly good ones in our walls, just to charge our batteries and to run our computers, expecting this to improve the "depth" and "cadence" of our digital photos. Whew!
For those of you who are audiophiles, I just found an awesome website for a store out in Minnesota next to which a friend from my radio years used to live. My friend moved, but he was always astounded that such a huge audio resource was so close to him. The store's still there, and apparently Needle Doctor is the world's largest source of turntables, cartridges, needles, styli, DJ and stereo gear for people who like to play records, and cheerfully ships it out worldwide from their excellent website.
RIP Jack LaLanne
Jack LaLanne finally threw in the towel one last time yesterday afternoon at his home in Morro Bay, California. He was a very tough 96 years old.
Jack is an inspiration to all of us. He'd do things at twice my age that most us could never do at any age.
21 January 2011, Friday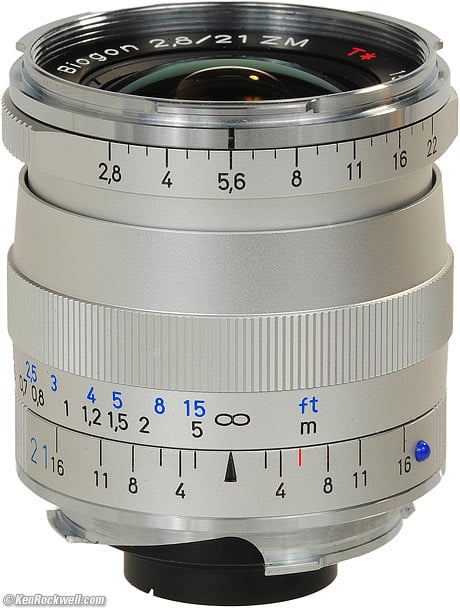 Zeiss 21mm f/2.8 ZM.
NEW: Zeiss 21mm f/2.8 ZM Review.
Every bit as good as the LEICA ELMARIT-M 21mm f/2.8 ASPH, for less than one-third the price. Works great on the LEICA M9.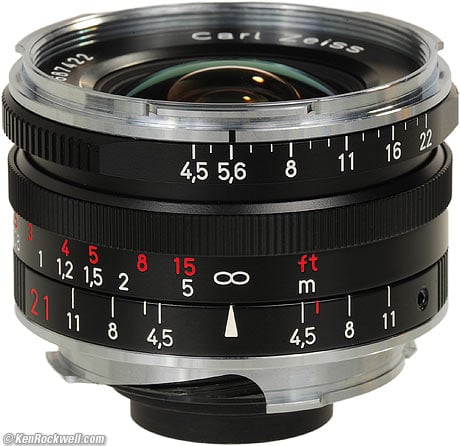 Zeiss 21mm f/4.5 ZM.
NEW: Zeiss 21mm f/4.5 ZM Review.
Even sharper than the LEICA ELMARIT-M 21mm f/2.8 ASPH, for one-quarter the price. The sensor of the LEICA M9 isn't compatible with this lens,use the f/2.8 above if you're on the M9.
Yes, for most us us who only shoot Nikon or Canon, loads of people are asking me for these reviews of rangefinder equipment. Not to fret, I have three Tokina f/2.8 FX zooms I've been trying to write up, which work great, and sell used for around $300 each.
19 January 2011, Wednesday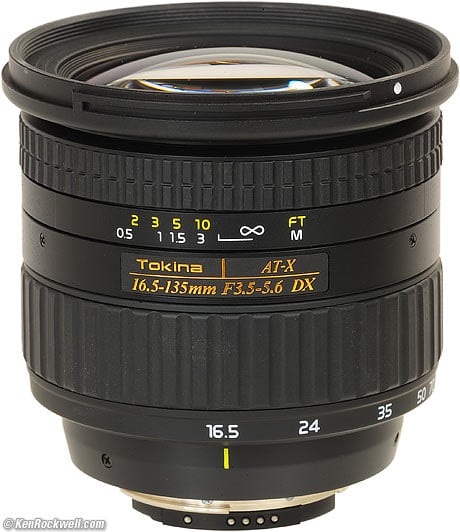 Tokina 16.5-135mm.
NEW: Tokina 16.5-135mm DX Review.
This DX lens would have changed the world if this were 1999, but today, it's the worst DX lens I've used.
Even funnier is that the far superior Canon 18-135mm IS adds IS, for the same price as this Tokina!
The Nikon 18-200mm VR is twice the lens optically, adds VR and instant manual-focus override, and costs only $200 more.
I'd pass on this Tokina loser and stick with Nikon and Canon. If you want a good Tokina lens, go for the 11-16mm or 100mm Macro.
18 January 2011, Tuesday
NEW: Steve Jobs and the Commercial News Media.
17 January 2011, Monday
Observed: I'm on 1X.com's front page.
14 January 2011, Friday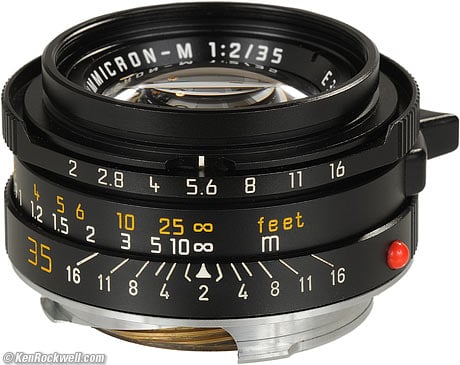 1990 LEICA SUMMICRON 35mm f/2.
NEU: LEICA SUMMICRON 35mm Sharpness Comparison.
Back in December, I was able to borrow samples representing every LEICA 35mm SUMMICRON ever made, and did the world's first legitimate comparison among them all.
Here are the sharpness comparisons. I'll get to the the distortion, color rendition, bokeh and other analyses soon.
13 January 2011, Thursday
NEW: SlickPic Photo Sharing Site.
Check it out. SlickPic is supposed to be extra-easy to use and good looking.
I haven't used these sorts of sites ever since the 1990s when I upgraded to making my own website to share photos, but I do know that I don't love any of the other sites out there yet because they are too darn klunky, slow-moving and ugly. If you are looking for a photo site, check out the new SlickPic.
And oh my golly, on that site there is a photo of me (and my developmentally disabled brother) — with a tripod in broad daylight! How can this be?
That gallery is by another participant on our Central Coast Tour last June, which is why I'm there, but why on God's great Earth am I using a tripod with my D3 in broad daylight, at ordinary tripod-height?
After an hour or two of reflection, I had a suspicion that maybe this was me setting up for our group shot. Looking at the two shots, the location and lighting were completely different. Hmm. Now what?
Then I noticed that the shot of me was logged by date and time. I checked the time of the group shot, and Bingo!, it is me setting-up to shoot with the self-timer. (Oddly, our clocks were off by exactly an hour; at least one of us was in the wrong time zone or had daylight time off or on.)
Whew! I use tripods in dim light with film, but never with digital in anything but complete darkness.
These two very different shots teach a very important lesson.
The only thing that's different between these two shots is the direction in which they are snapped. They are otherwise shot in the same place at the same time.
The shot of me taking the shot shows me in direct sun, yet the snap I made of the group is in glorious backlight.
Most group shots look crummy. People set up and shoot with the sun shining in people's faces. They look about as inviting as the shot of me. I have to giggle; you could take one of those $2,500 vanity workshops, and those people will take shots in crummy frontal light.
Not that my offhand "hey, let's make a group snap before we go on" snapshot is brilliant, but even as a snapshot it captures what I intended: the glorious brilliance of the dawn breaking over the dew-covered field. Shooting into the light is also how I got the plant to glow.
The only difference between the flat, dull snap of me and the warm look of the group was my deliberate set-up to shoot into the sun, which wasn't very pleasant for me, having to look into the blinding sun.
I quite deliberately shot into the sun to capture the glorious luminance of the cool dawn. That's also why I had a flash on my camera: to put light on our faces. You'll also see the slightly orange gel over my flash, so my fill light matched the brilliant orange glow of the rising sun. Without the gel over the flash, the fill light would have been a ghastly blue.
This is also a concrete example of why camera choice is completely irrelevant. You could use a $65,000 Phase One system, set up with the sun at your back as most non-fulltime-pros would, and get an awful shot.
You could use the $65,000 Phase One to shoot into the sun as I did, and if you forget the $7 gel filter over your flash, everyone will look too blue.
I could have made my shot with anything, even a disposable camera, and it would have retained the same glow. With a Quicksnap, all I'd do is hold my $7 gel filter over the built-in flash, and I'd get the same thing. Heck, I'd probably get a better result with the single-element plastic lens of the disposable, since I got a lot of flare shooting right into the sun with my zoom.
When you shell out $7 for a 1/2 CTO, you get a huge sheet. I used less than a penny's worth of my sheet cut to fit my flash.
Imagination and two-thirds of a cent of gel filter makes a better snap than a $65,000 camera, or a 100,000 times difference in price. Imagination is priceless.
(I'm not poking fun of the shot of me; it was snapped from inside the group as I set up. I'm ecstatic of having these two completely different shots to show just how critical point-of-view is to making a photo.)
12 January 2011, Wednesday
FREE: Apple iTunes Free Single of the Week.
(Ritz had the D7000 body in stock today, and pretty much sold out by 9PM New York time. I hope you got yours.)
11 January 2011, Tuesday
Updated: LEICA Lens Names.
In keeping with the really exciting articles I've written so far this year (sorry, I'm just getting organized for 2011), I've rewritten LEICA Lens Names to make sense out of LEICA's funny lens names like Tickle-me-Elmo (TELE-ELMAR).
10 January 2011, Monday
B&W Film Grain
Gearing up for Route 66, I looked at last year's master scans of my 35mm shots to see which were cleaner: Kodak T-Max 100 or Ilford PAN F+ 50.
T-Max 100 is a little bit smoother than the slower PanF+. They are almost the same, but TMAX 100 is always the winner if I can see any difference. Ditto for sharpness.
Thus, TMAX 100 wins. ISO 100 is super-fast for 1950s-style shooting, and Kodak's brilliant tabular grains win over conventional films, giving the same or better quality at a full stop faster than Ilford.
When shooting hand-held with an orange filter, you lose two stops, making ASA 100 film into ASA 25 film, and Ilford effectively ASA 12. IN full sunlight last year, I was shooting at 1/30 at f/8 with PanF, so I came to appreciate what a pain it was to shoot well in the 1950s without a tripod, which is whence we get the tripod myth (that tripods are needed even in daylight for sharp pictures).
(TMY 400, an ultra-speed film for available-light night shooting of action, has grain as big as golf balls.)
Update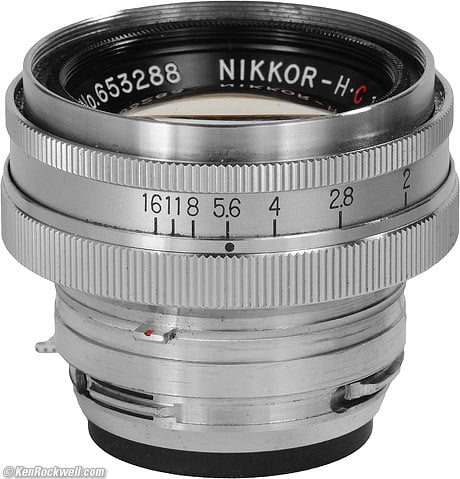 Nikon NIKKOR-H•C 5cm f/2.
I added a report on the conical hood of the Nikon NIKKOR-H•C 5cm f/2 to its review. I also have a photo of this hood under its specifications, and show live examples under finder blockage.
Wow! Boring, but certainly more interesting than writing about software.
08 January 2011, Saturday
NEW: Free Ken Rockwell App!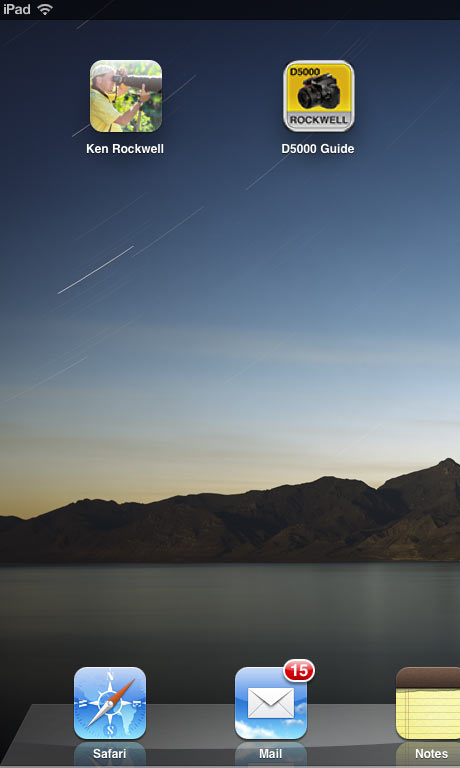 Since not everyone understood how to get this website's free app, I wrote an explicit page with instructions on how to get the mobile version of this site with just one tap from your home screen.
The D5000 Guide is a different app and still costs, since the four guys who spent a month translating it to an app need to eat, too.
Yes, I'm working on the D7000 App, which ought to become available for several platforms.
NEW: LEICA Filters.
One of the most exciting articles I've written all year, this page is a tabulation of model numbers for LEICA's filters over the years.
07 January 2011, Friday
Apple Aperture 3
Now that it's down to $80 in the Mac Apps store, and because I've seen some great images from the LEICA M9's DNG as processed through Aperture 3, I downloaded a trial.
My copy can't read my M9 DNGs! I updated to the latest version, and no dice. Aperture 3.1.1 can read my DNGs from the earliest M9 firmware in 2009, but not today with M9 firmware 1.138.
Photoshop CS5 ACR reads all these just fine, but neither Aperture 3.1.1 nor my iPad can read the LEICA M9's DNGs, which are supposed to be universal. Ha!
I know you people are smarter than I am at this "computer" stuff, so what am I doing wrong? (Of course the bigger answer is "shooting raw." This compatibility baloney always haunts raw shooters, which is just one of innumerable reasons I prefer JPG. It's just that I'd love to figure out how to get a good picture out of the M9. As we say in real estate when trying to sell an awful house, the M9 "has great potential.")
This baloney reminds me of most of the new garbage coming out of CES. It's not photography; it's a waste of our time and creative juices.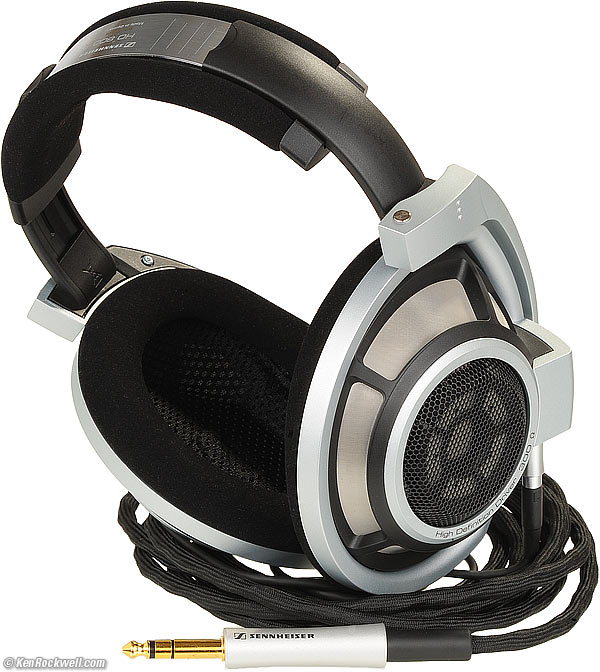 Sennheiser HD 800.
NEW: Sennheiser HD 800 Review.
No, it's not a camera, but it is what I got for Christmas, so you get a review for free.
NEWS: More reasons to buy and sell used via eBay or Adorama, and never to buy or sell via Craigslist.
06 January 2011, Thursday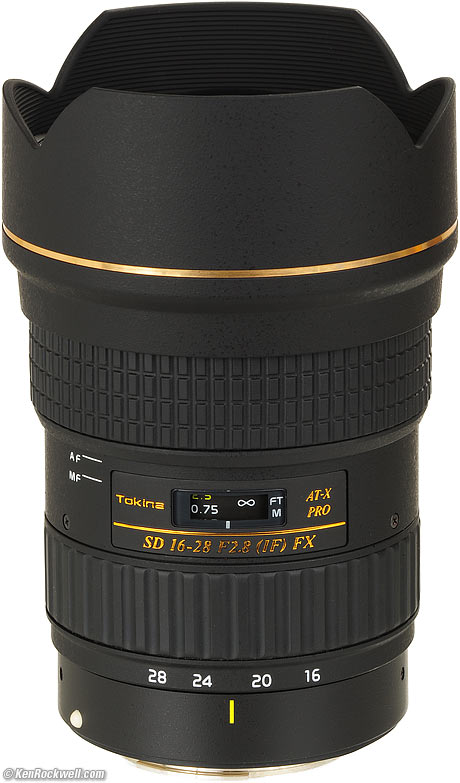 Tokina 16-28mm f/2.8.
NEW: Tokina 16-28mm, updated to include Canon.
I got a Canon version of this lens, ran it through its paces, and updated my review with photos and comparisons to the Canon's 16-35mm f/2.8 L II as shot on the Canon 5D Mark II.
NEW from Sony at CES
Short video report on Sony's latest from CES.
This shares my sentiments on most new electronics. Most of this stuff gets introduced long before anyone bothers to take the time to make its functions actually usable.
This is why I so love the iPad that Santa brought me. It just works!
For those of you outside the USA, the Onion News Network is one of the USA's larger television networks.
Let's face it: I am a rocket scientist (I've developed parts of naval weapons systems that control rockets), and I'll be darned if I'm going to spend seven hours reading the poorly written manuals trying to figure these things out. The Sony blu-ray player I got last year still won't play half my new Blu-Ray discs; do you think I have the time to waste downloading new firmware into a DVD player that Sony should have shipped working properly in the first place? NO.
Worse, all these things now can talk to each other via the internet, and while you and I are trying to figure these things out, the XBox 360s are going to band together with your DVRs and take over the world, a la Terminator. The end is near, in a way we never considered back in 1984.
This isn't a rant from me at Sony, who occasionally does spit out a world-changing product like the PCM-F1 in 1981 or the A55; it's a rant against electronics and camera companies who throw in more features purely to sell more products without ever taking the time, as does Apple, to ensure that these features are actually usable and discoverable.
03 January 2011, Monday
Back to Work!
We get a new governor today here in California, and there are free hot dogs and chips for all in Sacramento!
RSS
I have no idea what is RSS or how to deal with it.
Not everyone loves my RSS feed, which is an automated something or other written for me, so if anyone has any idea how to make it better, feel free to share.
Mark your Calendars
A newer event, the Oklahoma Full-Auto Shoot, is alive and well, along with numerous other events in the Republic of Texas, like the classic Helotes, Texas Shoot.
Don't feel like traveling with your own Class III equipment? They are available for rental at the Oklahoma meet.
01 January 2011, New Year's Day
Happy New Year!
Last year's New Year's Resolutions, which were to spend more time trying to explain how to take better pictures and less time counting pixels, still holds true.
The good news is that I was able to do a lot of that back in 2010, and hope to do a whole lot more in 2011. The biggest thing holding me back is that y'all keep asking me to write about whatever camera-of-the-week is exciting this week, which is easy and fun to do, but distracts me from writing about photography. Cameras have very little to do with photography. Photography is all about vision, not about cameras.
HAPPY NEW YEAR!!
Ken and family.
What Was New in:
Help me help you
I support my growing family through this website, as crazy as it might seem.
If you find this as helpful as a book you might have had to buy or a workshop you may have had to take, feel free to help me continue helping everyone.
If you've gotten your gear through one of my links or helped otherwise, you're family. It's great people like you who allow me to keep adding to this site full-time. Thanks!
If you haven't helped yet, please do, and consider helping me with a gift of $5.00.
The biggest help is when you use any of these links to Adorama, Amazon, B&H, eBay, Ritz, Calumet and J&R when you get anything, regardless of the country in which you live. It costs you nothing, and is this site's, and thus my family's, biggest source of support. eBay is always a gamble, but all the other places always have the best prices and service, which is why I've used them since before this website existed. I recommend them all personally.
Thanks for reading!
Ken
Home Donate New Search Gallery How-To Books Links Workshops About Contact