Home Donate Search Gallery Reviews How-To Books Links Workshops About Contact

November 2012's Updates
< < Back to Today's News
RSS: daily (continuous live updates) Hot Deals
all © 2012 KenRockwell.com. All rights reserved.

Nikon: D800 D600 Canon: 5D Mk III 6D Fuji LEICA All random Ryan Katie
Recommended Cameras How to Take Better Pictures
Twitter Facebook Video Tutorials
Amazon's Gold Box Deals-of-the-Day
B&H's Previous-Model Apple Clearance
30 November 2012, Friday
Shipping: Nikon 70-200 f/4 VR
Adorama just got their Nikon 70-200/4 VRs, and they have a couple in stock for immediate shipment, too — even if it says out of stock. (unless they sell these out, too!)
Mine's on the way, too. I expect it to be as good optically as the 70-200/2.8 VR II, for half the price and half the weight.
Nikon 70-200/4 VR review, so far.
Shipping: Canon EOS M
Adorama's also shipping the Canon EOS-M kit with the two lenses. (the version I ordered).
The adapter to use it with regular EOS lenses complete with autofocus is still on backorder.
Canon EOS-M review, so far.
29 November 2012, Thursday
Welcome the Canon 6D
The Canon 6D (body or kit) ought to start shipping this week from Adorama.
Unlike with Nikon, the 6D kit is a good deal because you get the great $1,150 24-105L for only $600 additional. With the Nikon D600, Nikon's kit adds the plastic Chinese 24-85 VR for $400 additional, which is only barely about what it's worth. (Nikon sells the 24-85 VR for more, but it's a rip-off at $600, unlike the professional Canon 24-105L.)
As soon as I get my 6D I'll let you know all about it. I expect it's 95% of the 5D Mark III, although I doubt it will become my main camera because I need both card slots of the 5D Mk III for live backup.
The Incredible Shrinking Brain
Watching the new DVD we got of The Jetsons with my kids this morning, I realized again how sad it is how most people's imaginations have shrank so much in the past 40 years as Western society continues its collapse.
In 1962 when the Jetsons came out, we all thought in intergalactic terms. Sending kids to collect rocks on the moon for a kindergarten day trip wasn't given a second thought; it was obviously the future apparent. In 1950's Twilight Zone and 1960's Star Trek, each made reference in different episodes to our having colonized most of the universe specifically in 1997.
All three of these series were broadcast years before Man did make first contact outside of Earth. Man didn't arrive on the moon until 1969.
Today, its sad how too many people can't imagine past the 4" screen of their smart phone. People's imaginations stop at forwarding dumb cat videos.
The medium doesn't matter. We watched those series on monochrome CRTs, and today we watch on 65" Plasmas or 4" smart phones. What matters is the message. In the 1950s and 1960s even the stupider people knew there was no such thing as "impossible," as proved forever on 20 July 1969, while today as the stupider people represent a larger and larger percentage of the population, more and more to them becomes impossible.
Our only limit is our own imaginations. Don't waste it; imagination is the only thing that leads to great photos. Small imaginations lead to small things. Great accomplishments only come from big, crazy ideas. Don't just spam your Facebook friends about dreaming, dream big yourself.
People think I'm nuts because I think too big and too far. If people don't think you or your ideas are nuts, you might not go as far as if they were crazy.
28 November 2012, Wednesday
Fuji X-Pro1 Sale
The Fuji X-Pro1 is down to $1,399.
World's Brightest Flashlight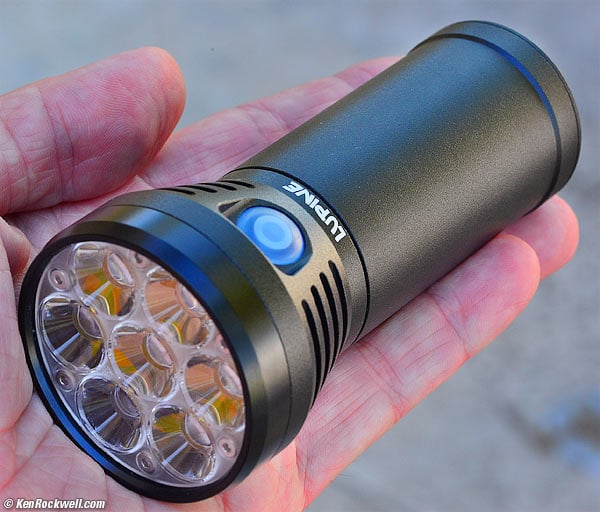 Lupine Betty TL-S (2,600 Lumens, 8.9 oz./252g including battery, about $750 with batteries and charger).
NEW: Lupine Betty TL-S Review.
The world's brightest flashlight, made in Germany of course.
27 November 2012, Tuesday
Free iPhone/iPod/iPad EXIF app
This free new app makes it easy to read not just the date and time, but everything else from the EXIF data for any of the photos in your iDevice.
The best 35mm camera becomes the most expensive
An old LEICA M3 just sold at auction for a couple of million dollars.
Rich people can be so superstitious. They paid this for a regular old 1955 LEICA M3, which is only worth about $1,000 — but since the auction house represented this particular sample as having been touched by an old journalist, rich people think that the camera has been infused with magic powers making it worth much more.
The M3D was simply an M3 engraved "M3D" as a special marketing poof for David Douglas Duncan, a poster-boy in his day good for adding value in advertising copy. Get it? D.D.D. = 3D, hah hah. The Nikon rangefinder collectors, all three of them today, are still swooning over the fact that DDD slummed it with some Nikon rangefinder gear for a short time in Korea before he upgraded to the LEICA.
The one that sold lacked the LEICAMETER, not used except for color work, and had the collapsible SUMMICRON 50mm.
These aren't difficult to fake; loads of collectible LEICAs are fakes. Anyone armed with one of Laney's guides, some parts and a mill ought to be able to pull it off.
What something is worth is defined as what you can get for it. People's homes don't sell because they ask too much, not because the market is slow. (Call Joan Reynolds in Southern California if you want your house sold or need one) Cameras are worth millions if someone else believes in the magic juju and is willing to pay for it. Rich folks can be superstitious, and to genuine rich folks (I'm not talking about anyone who works), a couple of million is nothing.
26 November 2012, Monday
Amazon's Gold Box Deal-of-the-Day
B&H's Previous-Model Apple Clearance
OLED HDTVs are here!
CRTs have always been Hollywood's reference for precise color for color-correcting motion picture digital intermediates for making theatrical movies, mastering DVDs as well as digital cinema.
LCD, LED-lit LCD and plasma monitors have driven Hollywood up the wall since the colors don't match from one to another - even after calibrations. Every production needs to go to multiple facilities for various steps in the production process, and when the monitor colors don't match, everything stops.
Hollywood would still be using only CRTs for precise monitoring, except that Sony stopped making CRTs a few years ago because Sony wasn't making enough money on them.
OLED screens are arrays of zillions of red, green and blue OLEDs that are viewed directly. What are called LED TVs today aren't — they just use white LEDs to backlight a regular LCD panel (LCDs are usually lit by fluorescent tubes).
OLEDs were the promise, but didn't take off a few years ago. They were too darn expensive, but boy are they worlds better than the other non-CRT technologies. I was the first one to pick up on it at CES a few years ago: OLED monitors aren't about brighter displays (they are brighter) or bolder colors (they have that too) — they are about accurate and repeatable colors that don't vary with viewing angle, as well as black blacks unseen on LCD, LED and plasma monitors, and most critically, accurate dark colors.
I won't get into it here (see my 2008 HDTV rant), but all the non-CRT technologies except OLED lack the ability to control their light outputs at low levels with the precision required for pro work. Our eyes see logarithmically, so 12- or 14- or however many linear bits has never been enough — and while the processors have this many bits or more, the panels have never had the Z-axis precision to show it.
I saw all this in the 9" monitor Sony was showing, and selling for $2,500. That's how expensive it was, but boy, seeing fantastic (not merely good) color and blacks for the first time on anything other than a CRT had me jumping up and down. The Sony guys were complimented that I saw it; CES isn't attended by pro motion picture users (CES is for electronics stores), so I was the first person who noticed the real reason for OLED: exact (not merely bright) color and black blacks.
Well, lo and behold, Sony now sells 25" and 17" professional OLED HDTV monitors.
The 25" BVM-E250 sells for $23,400 at B&H, and the 17" BVM-E170 sells for $15,300.
You can get the 25" BVM-F250 for $12,600, and the 17" BVM-F170 for only $10,350.
Heck, the 25" PVM-2541 is only $5,490, and the 17" PVM-1741 is only $3,690. (No, I don't know the differences between the three series. It's usually calibration and consistency, as well as what inputs and outputs they have.)
These are cheap for pro monitors; when I was in Hollywood every day ten years ago staring at HD monitors in telecine, the 32" HD CRT BVMs sold for about $30,000 each! I don't have much respect for Sony in still imaging, but Sony has been a leader in electronic motion imaging for at least fifty years, and for monitors, has been THE standard in Hollywood for decades in CRTs.
These are for pro monitoring, which we do at a desktop in a dark room. They aren't for viewing from across a room.
While I doubt you'll all go get these pro monitors, what is encouraging is that in a few years I hope OLEDs make it everywhere.
Now if my dingbat former colleagues could just figure out how to get the pictures to fit the screen. I warned everyone that this would happen back in the 1980s when SMPTE pulled the idea of 16:9 out of nowhere.
Great Headphones on special
Amazon has the Focal Spirit One headphones on special for $199-$209.
24 November 2012, Friday
D600 Dust
My Nikon D600 is AOK. My sensor is clean.
I wouldn't worry about it. These things happen for every new camera: one guy of many sees some dirt on his, and the Internet spreads it like wildfire.
The good news is that when you deal with a decent company like Nikon, LEICA, Canon, Apple, or whoever, if there ever is a real problem, they'll fix it.
See My New Product Reliability article for more. People spread these things all over, and they greatly multiply themselves over the Internet.
My D600 is fine, and if it weren't, Nikon would fix it under warranty.
Just get over it. It doesn't bother me, but I'm astounded at how many impressionable people have gotten all terrified of this not because they've ever seen the problem, but because they read it somewhere as posted by someone they've never met.
I do know a guy personally who claims that his D600 had some dirt, and Nikon fixed it for him. Big deal.
Want to know which camera really has a dirt problem? My D3; it has no built-in cleaner and it's filthy after five years of heavy use. My D600 is super clean.
The only D600 flaw I've found is a minor programming omission where Nikon forgot to program the D600 to revert back to A (aperture-priority) exposure mode if it's set to any other auto mode with a manual-focus ("non-CPU") lens mounted. Almost all other Nikons are smart enough to do this automatically, but in my case, I had to pick up the phone and call (800) NIKON-UX for free live help where they reminded me of this.
If you don't set the A or M exposure mode with manual lenses on your D600, the camera won't work and will flash an "F - -" instead of shifting to A mode and just shooting as does the D800 and other Nikons. I was expecting it to work in my U1 and U2 modes, which I have set to P (Professional, née Program) exposure mode — oops!
While I prefer my Canon 5D Mark III over any other DSLR, my D600 is the best DSLR Nikon has ever made.
Canon 40mm f/2.8 sale: $149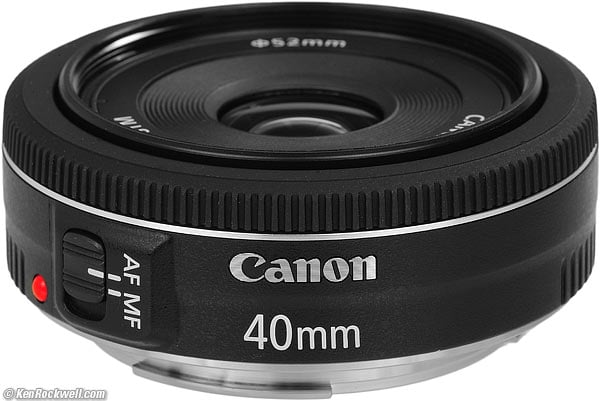 Canon EF 40mm f/2.8 STM (52mm filter thread, 1'/0.3m close-focus, 4.4 oz./124g).
Adorama and Amazon both have the Canon 40/2.8 STM on sale for $149.
Canon 40/2.8 review; it's a great lens - tougher than the 50/1.8 and sharper at f/2.8. Put either the 40 or the 50 on your 5D Mk III and it's all you'd ever need.
Canon S100 Sale: $249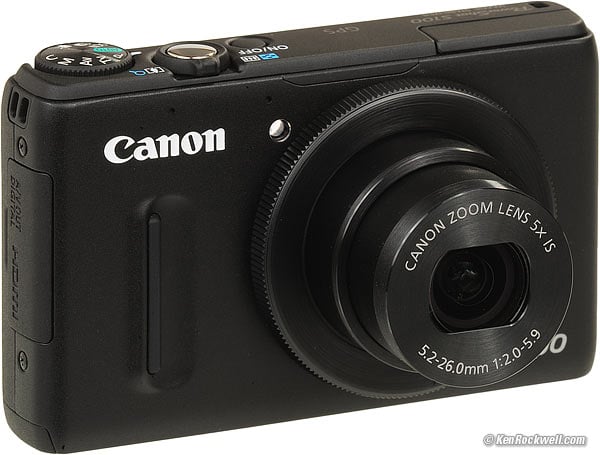 Canon S100: The World's Best Compact Camera.
Yesterday's $229 deal is gone, but Amazon has the Canon S100 on sale again today for $249.
I used the S100 last year on Route 66 in New Mexico with outstanding results — I just haven't gotten to publishing them yet.
23 November 2012, Friday
Canon S100 Sale: $229!
Amazon has the Canon S100 on a today-only sale for $229. Get them while you can! Last I looked, they were still $429.
22 November 2012, Thanksgiving Day
Happy Thanksgiving!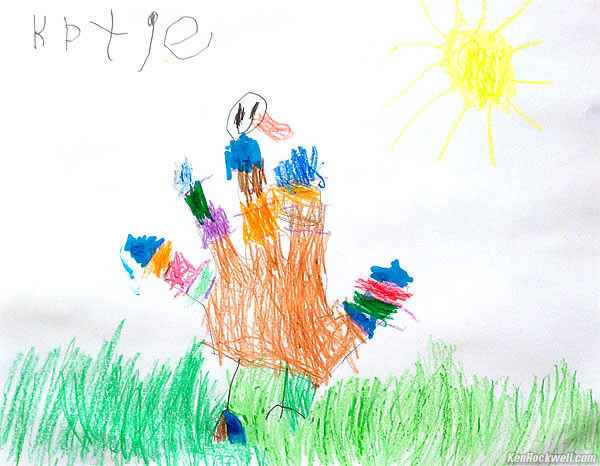 Katie's Turkey. The kids just started drawing all by themselves Tuesday morning, and this is what Katie created in mixed media. (iPhone 5, f/2.4 at 1/120 at ISO 100.) bigger.
21 November 2012, Wednesday
Nikon D600 Sale!
The Nikon D600 is now only $1,997, good through about Saturday.
I bought my D600 at Adorama, B&H also has it on sale, and both offer a 2% reward along with it.
Nikon 55mm f/1.2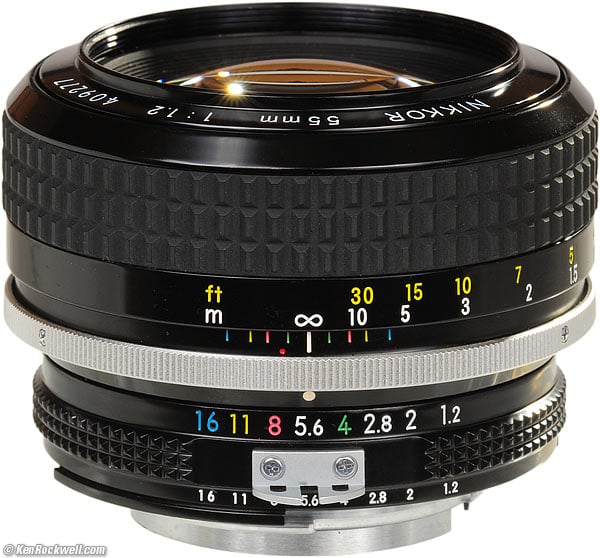 Nikon 55mm f/1.2 (1965-1978, 52mm filters, 14.5 oz./410g, 1.63'/0.5m close focus, about $300 used). enlarge.
I'm reviewing the Nikon 55mm f/1.2 right now on my D800E.
It's as expected: sharp even at f/1.2 in the center, but very low contrast at f/1.2 due to the spherical aberration. It gets its contrast back by f/2, and the corners on FX continue to improve as you stop down to f/8.
Look for my review soon.
Free Extended Warranties and 20GB Cloud Storage
Adorama just announced their VIP Program. Their VIP Program, for a whopping $7.95 a year, adds a free year to the warranties of anything you buy — even refurbished — and includes 20GB of free cloud storage.
20 November 2012, Tuesday
Happy Thanksgiving!
It's sad how retail stores got out the garland back in August, diluting the Christmas season.
Right after Halloween, everyone slid past giving thanks and directly into Christmas. When my wife went out to get Thanksgiving decorations, her usual sources (dollar stores) had skipped Thanksgiving completely. What's up with this? Is no one thankful anymore for the nearly limitless bounty we have? No one at retail, anyway.
I'm one of those people always thankful for everything.
Since all the online places are letting their day-after-Thanksgiving sales go public early, here are my favorites:
Amazon's Gold Box Deal-of-the-Day
B&H's Previous-Model Apple Clearance
Y'all know how I appreciate the better selection, better service, and a whole lot less pollution and bother that online shopping offers.
In the old days, I used to make a list of the things I needed to buy so I could order them when I got into my office. I made this list on my iPod Touch with the Notes app, as I make all my notes for camera reviews while in the field. Duh! Last week it dawned on me that I could just order from my iPod as easily as making a note about it. In the garage and I needed a battery charger? Ordered. Schreader valve caps for our cars and bikes? Done. If I had bought valve caps at retail, they'd be crappy made-in-China knockoffs for $6.99 for a set of four, and the ones I bought were genuine made-in-France Schreader-brand caps with rubber seals for under 12¢ each, delivered.
It's even easier to do returns online than at retail. I ordered the wrong thing from Amazon (I accidentally ordered conditioner — whatever that is — instead of shampoo), and to return it, I simply printed out a label. I stuck it on the box, and handed it to UPS who's here almost every day. Even if I had to drive it to my local UPS store, the UPS store is a lot closer than having to drive to a store — and I never had to drive to get it in the first place.
19 November 2012, Monday
100% Finders
People ask me if it's worth it to buy a camera with a 100%-coverage versus a 97% or 95%-coverage finder.
My answer is always "NO!"
100% finders don't mean anything. I never notice any difference when shooting with a 95% finder versus a 100% finder. This finder baloney is simply a way camera makers "segment the market" as they call it, or simply is a way to get richer people to spend more on cameras than they really need to.
Want to know a sad secret? The LEICA M9-P's finder offers only 85% to 93% coverage at infinity, varying with your choice of lens! It's awful, and people pay seven grand for the M9-P. I wish my M9 had a finder as good as 95% coverage!
So, when you compare DSLRs with 95% versus 100% coverage, ignore it.
iPhone 5
It's been two weeks that I've been shooting nothing but the iPhone 5 as my only camera.
I miss my DSLR — I miss the weight, I miss the menus, I miss the clumsy lenses, I miss having to select AF areas, I miss the small LCDs, I miss having constantly to jack it around just to snap people or to snap landscapes, and I miss how sore my neck and back used to be from hauling it around my neck all day.
If you haven't tried the iPhone 5, do. It's marvelous. It's simple because it's already set to make great photos. Unlike DSLRs and compacts and mirrorless that try to make you feel stupid with all the bad ways they let you set them, the iPhone is already set to make great photos. With the iPhone 5, there is so much less getting in the way of a great picture.
The iPhone forces you to shoot, and not piddle with settings, because there are none, except if you want to tap an area for focus, and it's only a click and swipe to do HDR or brilliant panoramas — that look great. The iPhone 5's HDR does a better job than any DSLR I've used at retaining highlight colors, and the 25 megapixel panoramas look great, and are easier to do than with any other camera.
The iPhone makes great shots so simple that it really makes all the foreign camera designs (Nikon, LEICA, Canon, Pentax, Sony blah blah blah) look totally retarded. Retarded means delayed; the old-fashioned camera makers still lack the intelligence or confidence to set their cameras up properly, and instead just dump a load of menu BS on us and expect us to figure it out. The iPhone 5 already has itself programmed to make great photos so we can just go shoot, while the old-line camera makers throw all this baloney on us in the hope that we'll blame crappy pictures on ourselves, instead of the lack of vision of the camera makers to just make the cameras go. (OK, pictures are always from the photographer, and getting the camera to do what I want is so much faster on the iPhone 5.)
The iPhone 5 just goes. It's absolutely brilliant. It's sharp, and the colors are gorgeous right out of the camera without any fiddling. People look great in almost any light, and landscapes and nature look brilliant.
I'm probably the only one shooting the iPhone straight, as opposed to mucking up the images with a hundred different cross-processing apps. Try the iPhone 5 straight, and you'll be impressed.
Most people will make better shots on an iPhone 5 because it forces you to just shoot; to concentrate on your subject and your shot instead of swapping lenses, fiddling with menus, or changing cards.
Today, Henri Cartier-Bresson would be shooting the iPhone, not a LEICA. The LEICA was the small, inconspicuous camera of its day. Henri Cartier-Bresson needed to blend in and not be seen, exactly as affords the iPhone today— and they share the same fixed angle-of view lens favored by Cartier-Bresson. Like the LEICA, the iPhone shoots instantly, never with a delay, so the decisive moment is never missed while a DSLR's mirror flips up or a mirrorless camera refreshes.
Why some people will spend $1,350 on a NEX camera and kit lens when you can get an unlocked (no 2-year-contract) iPhone with it's great f/2.4 lens for half the price to shoot as your dedicated camera (and a whole lot more) is because most people don't change. They keep doing the same things for years, even if there are better ways.
While my iPhone 3GS camera isn't that great and my previous generation iPod Touch camera is pretty crummy (although I still get great photos from it), the iPhone 5 camera is ready for prime-time, with better-looking images than I can pull from lower-tier cameras like Sony because the iPhone 5 colors and exposures are better.
It's all the same
My wife just asked for about a dozen snaps of Katie to use for a collage about Katie for school.
I printed them for her, and she glued them to the poster. They were shot with everything from my iPhone 3GS to my D800E to my Canon 5D Mark III with 24-70/2.8 L II.
Know what?
When they're all together on the poster, they all look the same!
As an artist, I make all my cameras give me the images I demand. That's why I whine when some cameras make it tougher than others, but ultimately even if images might look slightly different at a ridiculous 100% on a monitor, all the pictures look the same when printed.
15 November 2012, Thursday
Sony's Ad Agency
I'm told this is from Sony's PR dept promoting their NEX cameras as part of a FUD campaign.
Presuming that I've inoculated you against BS, I think it's hilarious because it's so true. This is why I'm constantly preaching that less is more, and the more knobs, cameras and lenses you've got, the fewer good photos you'll take.
This said, the NEX cameras are worse than DSLRs because they have just as many controls, just harder to get to and without any total-camera-state recalls as have some Nikon and most Canon DSLRs, meaning NEX has less to carry, but more to get in the way of a good photo.
World's best camera? I'm still working with it, but for over a week, all I've been shooting with is an iPhone 5. It's brilliant: sharp, colorful shots in any light, and it handles faster and better than any DSLR or compact (sample iPhone 5 image file - 4 MB). All this, and better color rendition than the NEX I reviewed last week. Hah!
When you guys ask for more stupid features that no one can figure out because DSLR makers don't do their homework to make it all understandable, this is what you get. Go iPhone!
Remember, these cute videos aren't; they are the result of probably about a million dollars in corporate ad money used to create and publish them to manipulate our thoughts and purchase preferences. I presume Sony, a non-player in the DSLR market, is doing what they can with FUD to try to push more people into NEX, which as mirrorless cameras go, is an OK player in that market space.
Hey - if you want a DSLR, do as I do: use a small one, like the D40 or the D3100, and the 35/1.8 or kit lens and built-in flash, and you're done, at half the price of NEX.
Now Shipping
The Sexy One is now shipping in black and in silver.
The Fuji XF1 is shipping, too, also in black.
"Shipping" means they're starting to ship; I doubt they're sitting on the shelf yet. As always, you have to order and be patient in order to get the hot stuff.
2% Rewards
Adorama is now offering 2% rewards on all DSLRs and most lenses from Canon, Nikon and Sony.
13 November 2012, Diwali
NEW: Dirac HD Player review.
World's Best Headphones — FREE!
UPDATE: Sony NEX-6 now shipping.
NEW: Adorama' Pre-Black Friday Deals.
11 and 12 November 2012, Veterans Days
Thanks!
We all thank the brave ones, without whose service we'd all not be having quite so a nice day today.
Thank you!
09 November 2012, Friday
Nikon D5100 Deals
Adorama's got refurbished Nikon D5100s, both as a kit with 18-55mm VR for just $429 and body-only for a mere $379.
If I needed one of these, you'd better believe I'd be snatching up these refurbs instead of waiting for the same thing — the D5200 — for probably twice the price, once Nikon USA cleans-out stock on the D5100.
Sigma 35mm f/1.4 Full-Frame
Sigma's got a new 35mm f/1.4 lens that works on all formats, which sells for the same $900 in Nikon, Canon, Minolta Maxxum, Sony, Sigma and Pentax mounts.
If you want a deal, email my friend Jacob at Adorama who can get you an even better price.
No, I haven't reviewed this lens yet - it's not yet shipping.
No Words!
"No Words" by 1X.
Oh my golly, my copy of No Words just arrived from Sweden.
It's an incredible book of page-after-page of mind-bendingly exciting photos - and one by me.
No Words - my snap on the left.
Not only are the photos extraordinary (juried from probably tens of thousands), but so is the printing. It's all printed using some sort of stochastic process in Europe that prints without halftone dots, the advantages being smooth, continuous tones and superb sharpness all at once. The colors and tones are simply stunning.
I hope you all get the chance to see this book somehow; it's loaded with inspiration into what a photo ought to be.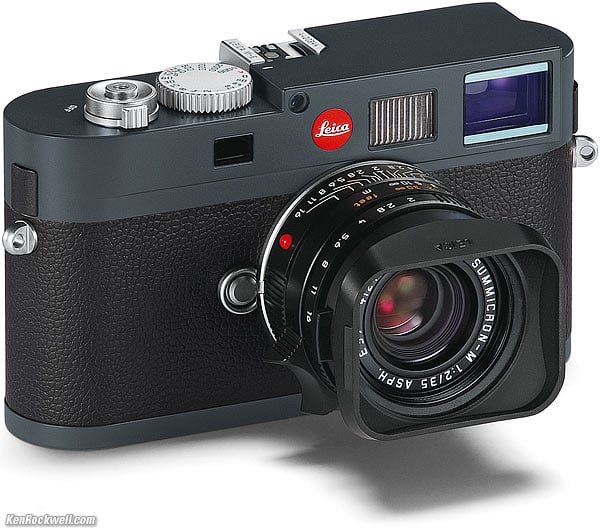 LEICA M-E mit SUMMICRON-M 35mm f/2 ASPH.
NEW: LEICA M-E.
The LEICA M9 for just $5,500.
08 November 2012, Thursday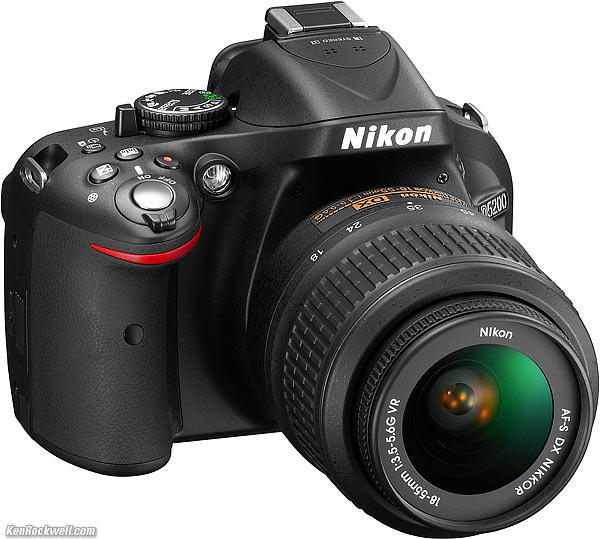 Nikon D5200 and 18-55mm VR.
NEW: Nikon D5200.
Essentially the same as the D5100, with the image sensor from the D3200 the AF sensor from the D7000.
Yawn; it's so boring that Nikon USA hasn't been bothered to add it to their site yet.
07 November 2012, The Day After
Photo Contest
Dan Ballard is putting on a "Human Element in Nature" photo contest. He's got some sponsors and is giving away about $4,000 in prizes. Deadline is January 31st 2013. Here is the link to the contest with all of the info.
Details. Live it up!
The Whitest candidate won
I know how much you guys love it when I talk about anything other than cameras, but my cousin Christopher (who's shortened his name for show biz) shares his research into why the guy who won the US election for president was the Whitest guy running.
Of course my brother the American history PhD bemoans the fact that few Americans realized just how many guys were running — it was a lot more than just two.
Oh well, back to work.
Crazy Weather
Here in NY, we've got 50 knot winds and it's snowing.
Fuji X100
In case everyone forgot, the Fuji X100 is still not only my favorite over the Fuji X-Pro1 and Sexy One because my X100 has exactly the lens I need, dual finders and built-in flash which none of the other Fujis offer in one camera, the X100 is still better than any DSLR for carrying around and just snapping anything my kids do in any light. The X100 consistently gives better real-world results under tough ambient light than any DSLR does.
Heck, just look what's been shot of Ryan these past few days by mom with the X100 on full-auto. It's returning these results under all sorts of low-light, mixed-light, back-light and whatever all by itself.
06 November 2012, Election Day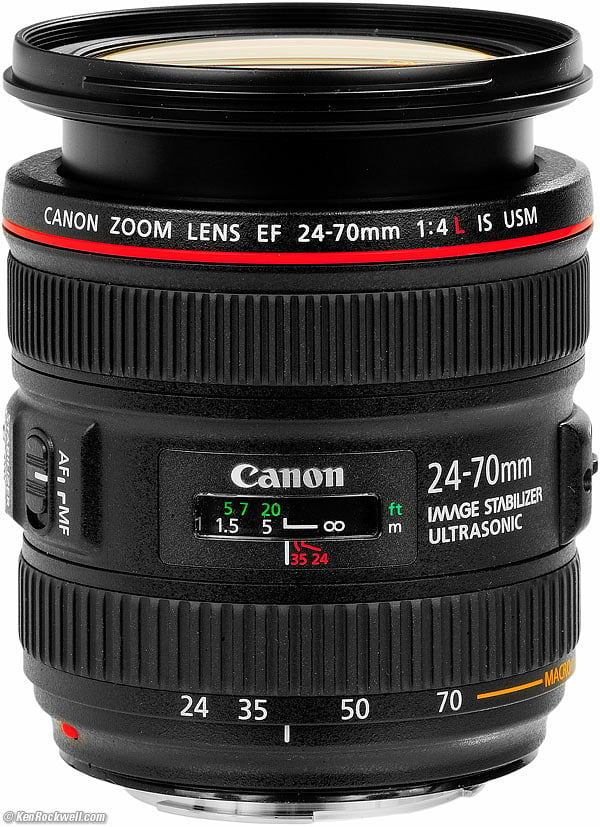 Canon 24-70mm f/4 L IS.
NEW: Canon 24-70mm f/4 IS L.
77mm filters, 21 oz./600g.
A smaller, lighter version of the extraordinary 24-70/2.8 L II, adding IS in exchange for faster speed.
It's a little shorter and lighter than the 24-105/4 IS as well.
NEW: Canon 35mm f/2 IS.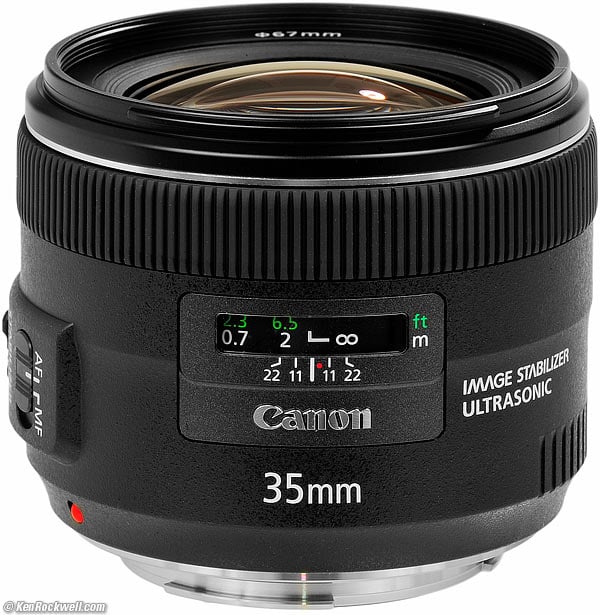 Canon EF 35mm f/2 IS.
Adds IS and instant manual focus override to the existing EF 35mm f/2 ($310), and almost triples the price to $850.
Personally, take a good look at the EF 35mm f/1.4 L, which because it's been in the catalog so long, sells for a bargain price of not much more than this new 35/2 IS (only $1,330).
NEW: Canon EOS M with 22/2 and 18-55mm.
This kit includes both existing EF-M lenses, with one essentially thrown in for free with the kit.
05 November 2012, Monday
Prescience (seeing the future)
I'm gifted in seeing the future as clearly as many people see today. When it comes to most things, all you have to do is look for trends, and look a little further ahead. It's easy if you know how to look for the real, broad fundamentals instead of getting sidetracked on details.
Even I impress myself sometimes. Back in 2010 I spoke about how DSLRs had matured, and how from 2010-on most "improvements" would be mostly fluff invented to sell more cameras, as opposed to significant improvements to fundamental photo performance.
You can read what I said, and I'm impressed at how over two years ago I saw today perfectly. Specifically, the D700 replacement, the D800, not only has no significant improvements over the D700 (12MP is already more than enough), even my jaundiced eye didn't foresee the degradation in still photo performance (color problems and removal of the exterior AF controls) traded instead for junk features (video, HDR, BS etc.) added to sell more cameras to the innocent.
Likewise in Canon, the 5D Mark III offers nothing jaw-dropping over the Mark II, just a lot of little things. To me who shoots it every day the little things all add up to a lot, but there are no really giant fundamental innovations between the two as there used to be back in the early 2000s. What was huge 10 years ago were how each new camera offered meaningful resolution improvement (2.7MP to 6MP, for instance) and more importantly, better auto white balance performance, significantly better color rendition, significant differences in how we could adjust the colors to taste, batteries that lasted more than a few hundred shots, freedom from highlight overload and big-enough LCDs that we could see in the daytime. Those were all very important.
Now that the important items are fixed, it's mostly fluff from now on.
As I always say, it's never the camera. Buy a new one if you want, but don't go telling your wife that I made you do it. Actually, I really like that article, but as I tell everyone who asks, NO, you never need a new camera. Learn to use what you have if you don't like the pictures you're getting.
Reset your cameras' clocks!
Even the 35mm Nikon F6 has a clock for logging its EXIF data.
Be sure to reset all your cameras, since I sure know I usually forget, and it's not until January that I realize that all my EXIF data is an hour off!
Why Film
Here's another great article from another pro about why photographers prefer film.
About that little affair with Canon
A reader asked if I'd gotten over that foolishness about Canon, especially now that the Nikon D600 is so good.
Uh, no.
If anything, what was just an affair is now a very serious full-time out-in-the-open thing. Heck, I even shoot Canon around my wife, and she's OK with it.
While my D600 is the best DSLR ever to have come from Nikon, my 5D Mark III is the best DSLR to have come from anyone, ever, period.
You have to read me carefully; the D600 is the best there is from Nikon, while the 5D Mk III is the world's best DSLR, period. I'm looking forward to the 6D I ordered, but with only one card slot, Canon cleverly made sure that those of us who absolutely, positively need our files will have to pony-up for the 5D Mark III.
All the 2012 Nikon DSLRs (D4, D800, D800E and D600) have serious color problems, if you're as serious about your color as I am. This too-green auto white balance error and screwy LCD color aren't acceptable. Nikon could fix it in firmware, but why should they bother when they can fix it instead in their next round of cameras, and get us all to buy new Nikons for their improved color rendition? The D700 and D3 have better color for this reason than today's cameras. Nikon had to take away something today to give us a reason to buy more tomorrow.
I've moved up to Canon, which doesn't have the color problems of Nikon's D4, D800, D800E and D600. If I was sponsored by or married to Nikon, the D600 is it, but I'm only married to my wife, not a camera. Sorry if I'm not a factory pimp like you see in ads always pimping the same brand, but as a guy who does all this for a living, I use whatever's best for me. Canon wins this year — sorry.
Who cares? Cameras have nothing to do with anything. The only thing that matters is your imagination. People who talk much about cameras rarely make good photos.
State of New York (S.O.N.Y.)
Good news: the power at my house came on Saturday night. We're lucky, loads of others are still without power, meaning without heat, without light, without Internet, without TV, without hot food, and without fresh food for a lack of refrigeration. If you have real phone company phones, ours have worked the whole time, but if you cheaped out with cable-company or Internet phones, you've been out of touch for a week. (The telco has its own separate power, and everything is powered centrally, so it keeps working. With Internet, power is needed all along the path and at your house, so you're out of luck. Ditto for cordless phones, they die without local power; I use real phones with a wire on them and they keep working.)
There are plenty of solar chargers out there for our iPods and for 12V batteries. At home, I have one of those portable 12V car jumper/compressors I always keep charged. Get one like this, and it has a big 12V battery, and it has 110V and 12V and USB outlets to run and charge everything, as well as jump your car or inflate the tires.
We're still running the generators at the studio. Like most major broadcast operations, we keep a couple of weeks of fuel in our tanks, and today we figure we may as well run plenty of it so we can replace it with new fuel. This way we'll also be insulated from spikes or glitches or whatever as the rest of Manhattan gets lit back up.
Gasoline is still a bear to buy.
Here's the best presentation of photos I've seen yet.
We very often visit my wife's family in California. The funny sad thing I hear from out there, and for which I heard an ad read by the state's governor on KDB, my favorite radio station I get via the internet in NYC, is another typical proposition where a government asks for more money for something important, and promises not to waste it all this time.
California has a proposition 30 on the ballot, which raises everyone's sales tax on everything (for Californians), and raises income taxes for the people who pay most of the income taxes by 33%! It raises income tax rates by "only 3" percentage points, but since the top California state income tax rate is about 9%, that means a 33% raise from 9% to 12%.
Anyway, it's sad apparently that they've roped teachers into pimping this Prop. 30 thing, claiming that all California's problems go away if Californians just give their government more money.
If the government hasn't spent all the money they've gotten already properly, like on schools instead of spending it on a 100 billion dollar railroad no one is going to use, why should anyone think anything will be any different if they get more money?
Why are government such bad spenders? Simple: we all spend our own money more carefully than we spend other people's money. Claim otherwise in some coffee shop near your college, but in reality when it comes down to opening our own pockets, we are always a lot more careful with our own money than when we're spending someone else's or our company's money for them. When it's our money, it's personal, and if not, it's not. Let's face it if you're at work right now: wouldn't you just jump at it if you could get the company to spend $1,000 and get you a better computer and an iPad, too? Of course you would; I would, and that's simply human nature and why government spending our money for us never works as well as doing it ourselves.
Therefore when we vote, the answer to every tax increase or "bond" measure is NO. Bonds are just a government borrowing money, for which we taxpayers have to pay eventually. Bonds mean increased taxes, so the correct vote is always NO, especially if it's for what matters, like schools, cops and firemen and roads. Why? Simple: cops, firemen, roads and schools are what matter most — so if they're so important, why hasn't the government put our money there in the first place instead of wasting it elsewhere, or on itself with fancy buildings? For example, California's capitol building, was built for the pleasure of lawmakers at the expense of the people. Shouldn't that money have been used instead to build nicer firehouses where our firemen actually live, and get newer cop cars and tools for our cops who need and actually use them? Why does government build itself palaces while our military fights for us overseas in tents? It's getting as bad as with it was back in the days of kings and queens. See the documentary "Mirror, Mirror" to see how one regime used tax money to throw itself parties, while jacking the peasants around with stories of all the deeper (fake) perils against which it was protecting them, and for which it needed more taxes. Nothing's changed, it's always been like this — that's why we founded America when the British were jacking us with taxes and kept it for themselves.
Government always parades what taxes are supposed to be for: cops, firemen, schools and real things like roads when it wants more money, and the answer we should give is always a strong NO, not until that government spends the far larger amount of money it already gets where most of it should be going in the first place: cops, firemen, education and whatever I might be forgetting right now like roads and sewage, instead of "investing" our billions into solar energy companies owned by friends of lawmakers, who then go out of business or move them to China.
Don't ask for more money if you've already wasted what I've given you on fluff. This is universal, just that California's attempt is so predictable. I wonder if Californians will fall for it? Its sad how people fall for these things, and then blame government when all the money completely disappears even though "strict accountability" is always claimed. The money always vanishes, and the problems remain.
Just say no. That's what we always do for bond measures and proposed tax increases. Heck, well-run states like Nevada, Alaska, Florida, New Hampshire, South Dakota, Tennessee, Wyoming, Texas and Washington have NO state income taxes, and they do just fine. And hey, here in NY and back in CA, our cops, firemen and schools and water and sewers are all handled at the city, not state, level anyway. State government isn't particularly relevant, except to itself.
03 November 2012, Saturday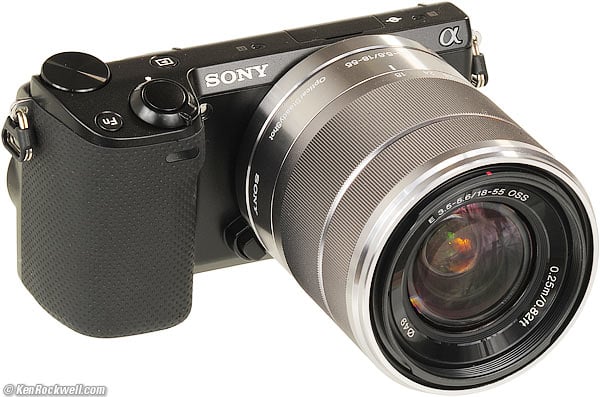 Sony NEX-5R.
NEW: Sony NEX-5R Review.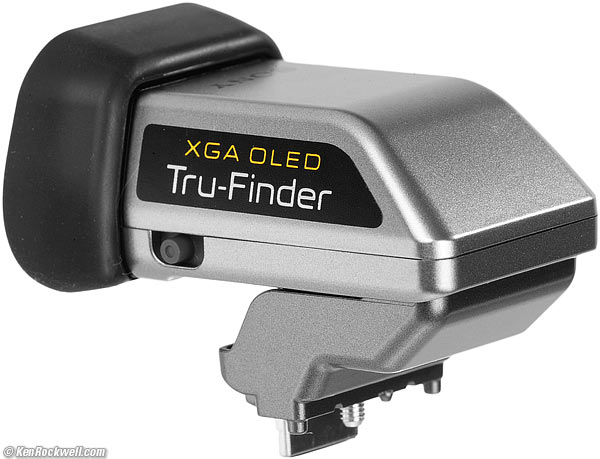 Sony FDA-EV1S Viewfinder.
NEW: Sony FDA-EV1S Viewfinder Review.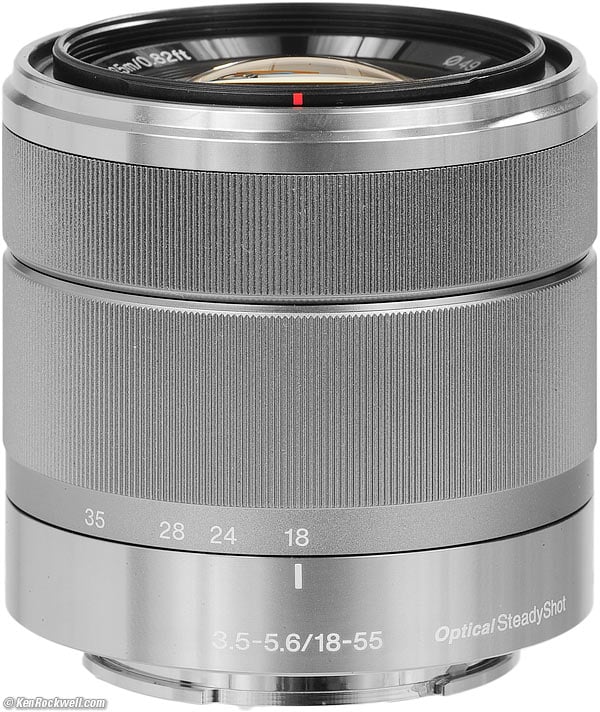 Sony 18-55mm OSS for NEX E-Mount.
NEW: Sony 18-55mm OSS Review.
UPDATED: I added sections on weather sealing, offshore manufacturing and lens correction to my Canon vs Nikon page.
As usual, there are loads of differences between Canon and Nikon, and which is best depends on what you're trying to do.
02 November 2012, Friday
Africa at $2,000 off!
Just for you folks, Marc Muench has offered $2,000 off the last available spot on his 2013 African Photo Safari.
This $2,000-off deal is only available until November 12th, 2012.
ScanCafe Deal still running
ScanCafe's 21% discount deal for new customers is now valid through the end of the year.
Use code ROCKWELLUSA. Not valid in combination with any other offer, or with value kits, or gift cards, or gift boxes, or photo restoration. Expires December 31, 2012, and is valid only for new customers.
ScanCafe also has added a USA Express option for even faster photo scanning turn-around, and now also scans movie film and transfers video. See it all at their site.
Free Charging Station
For everyone in NYC, Adorama's set up a free charging station in front of their store on 18th between 5th & 6th.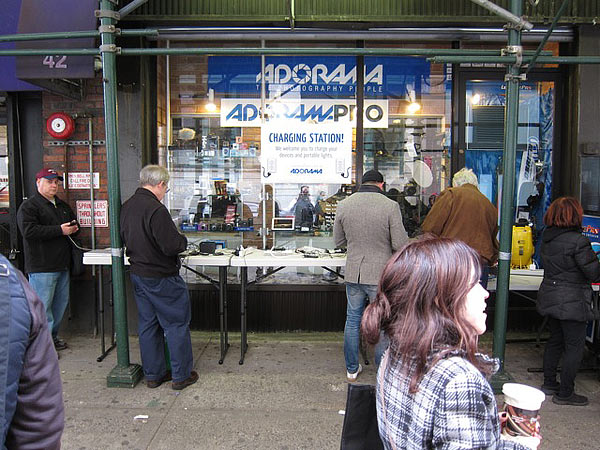 The scene this morning.
For those of you not in New York, much of The City and most of Long Island (my two haunts) are still without power, and may be without power until next week.
Since Adorama's back up and running, they put a charging station out front so everyone can come charge up their phones and iPads and etc. to stay in touch, since many of us have no access to power. In fact, that's why a lot of normal people went through heck yesterday and today as many businesses started to open: just to be able to get into work and get back online for the first time in several days to see if the rest of the world is still out there.
36 MP Dildoplant Images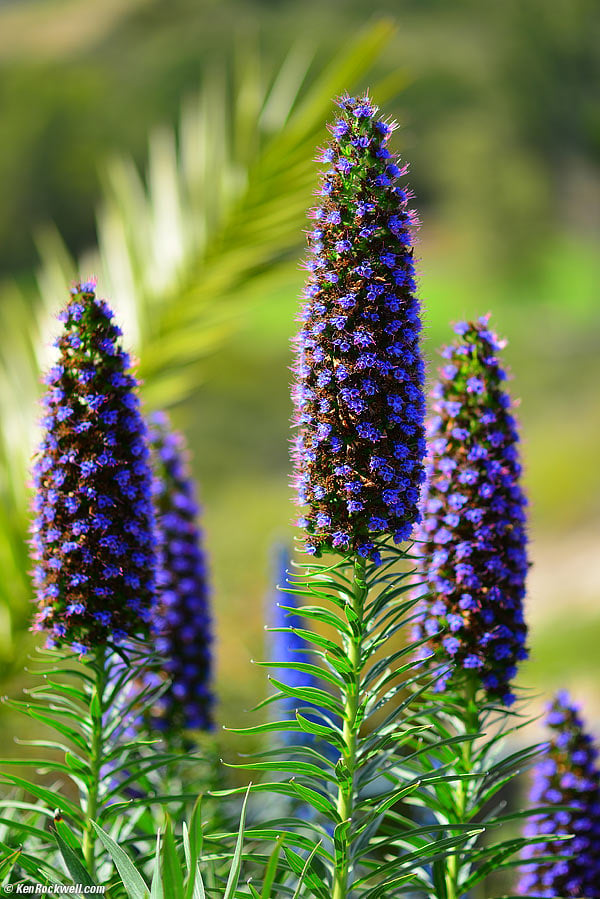 Dildoplant. 85mm f/1.8 G, Nikon D800, f/1.8 at 1/1,600, ISO 100, VIVID +3 Saturation, Sharpening set to 6. LARGE BASIC Optimum Quality JPG file (losslessly rotated in iView 3.1.3).
An eagle-eyed reader caught a blooper on my part: the links from the two images at different apertures of the Dildoplant at the Vertical Bokeh section of my Nikon D800 Review both pointed to the same f/6.3 image.
They are now fixed so each points to the correct full-size image. Now for the first time you can see the Dildoplant at f/1.8 in 36 MP glory from the D800. I also fixed this at my Nikon 85mm f/1.8 G Review, which has the same images as they were shot with the new 85/1.8G.
Olympus Clean-Out
Adorama is blowing out all their Olympus EP3 kits, and just announced a $100 instant rebate.
Kits with 1 lens are now $599, and kits with 2 lenses are now $699. Some of these kits add a memory card and a spare battery for only $10 more. Get them while you can!
01 November 2012, Thursday
All Safe!
NYC icons Adorama and B&H are just fine. Their stores and warehouses are up and working, and nothing was damaged. Whoo hoo!
The media showed the flooding in the lower-elevation parts of Manhattan; these guys are on higher ground.
Forgotten Photoshop
My prophecy has come true: no one knows how to use Photoshop anymore. Everyone has taken the easy way out and uses Aperture and other simpler programs, and has forgotten how to use layers and how to cut and paste and composite images together.
This became shockingly clear when I got a call to do a job which involved compositing several sets of group portraits taken at different times into one final image. Apparently every other commercial photographer the client called wouldn't even touch it.
The others didn't want this job not because of concerns over how to get everything to match perfectly, but simply because none of the others had any idea anymore how to cut and paste parts of images together.
Sad; back in the late 1990s, "digital photography" was defined as taking people's heads and putting them in odd places, while today's software can't handle that.
Oh well; I know most of you still know how to do it, while apparently most commercial and pro photographers have given this up. Too bad; we've been printing from negatives doing this since the 1800s!
What Was New in:
Help me help you
I support my growing family through this website, as crazy as it might seem.
If you find this as helpful as a book you might have had to buy or a workshop you may have had to take, feel free to help me continue helping everyone.
If you've gotten your gear through one of my links or helped otherwise, you're family. It's great people like you who allow me to keep adding to this site full-time. Thanks!
If you haven't helped yet, please do, and consider helping me with a gift of $5.00.
The biggest help is when you use any of these links when you get anything, regardless of the country in which you live. It costs you nothing, and is this site's, and thus my family's, biggest source of support. eBay is always a gamble, but all the other places always have the best prices and service, which is why I've used them since before this website existed. I recommend them all personally.
Thanks for reading!
Ken
Home Donate New Search Gallery How-To Books Links Workshops About Contact