Home Donate New Search Gallery Reviews How-To Books Links Workshops About Contact
Fuji X-Pro1
Optical & electronic finder, 16MP,
1.5x sensor, XF lens mount, 3" LCD.
© 2014 KenRockwell.com. This page best with Corporate S regular and bold activated.
Intro Specs Performance Compared Usage Recommendations More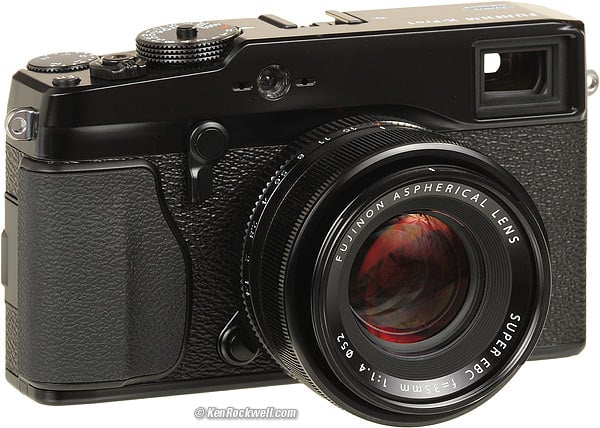 Fujifilm X-Pro1 (15.7 oz./444g with battery and card, about $1,700) and XF 35mm f/1.4 (6.6 oz./186g; 22.2 oz./630g l'ensemble). enlarge. This free website's biggest source of support is when you use these links, especially these directly to it at Adorama, at Amazon, or at eBay (see How to Win at eBay) when you get anything, regardless of the country in which you live. Thanks for helping me help you! Ken.
May 2014 Fuji Reviews Fuji Lenses LEICA Reviews All Reviews
Fuji X-Pro1 Sample Images 20 April 2012
2012 DSLR Comparison 18 April 2012
High-ISO Sample Images from the Nikon D1, D3 (D700), D4, D800, D7000 and Canon 5D, 5D Mark II, 5D Mark III and Fuji X-Pro1 and X100 06 April 2012
Introduction top
Intro Specs Performance Compared Usage Recommendations More
The Fuji X-Pro1 is an amazing one-of-a-kind camera. It has image quality and lenses more like my LEICA M9 than any DSLR, and it's smaller and lighter than any DSLR — or LEICA. The X-Pro1 does what the LEICA M9 does well, even better than the M9 does it!
The X-Pro1 has a 1.5x half-frame (DX) 1.5:1 aspect-ratio sensor and interchangeable lenses.
The X-Pro 1 is lighter and quieter than the LEICA M9 (I own both). The X-Pro1 allows you to shoot faster, be more discrete and attract less attention. The X-Pro1 brings back stunning technical quality from a compact, precise, all-metal camera with a minimum of fuss. When you learn it, the X-Pro1 is simpler and faster to shoot than the M9. Hallelujah!
The X-Pro1 is far better made than Fuji's previous plastic professional medium format cameras, and the Fuji lenses are as good as the Zeiss lenses for the Contax G2 and LEICA's lenses.
The X-Pro1 is made as well or better than the LEICA M9. The all-metal X-Pro1's markings are engraved more deeply and the buttons work and feel much better. The X-Pro1's tripod socket, not that you'd ever use it, is part of the camera body, not just an afterthought attached to the removable thin metal bottom plate of the M9. Of course the through-the-lens viewing and dual-mode electronic and and optical finder of the Fuji has yet to be duplicated by any other manufacturer.
Shooting in JPG, the X-Pro1's colors are far better than the LEICA M9, and images are far sharper as well. (The M9 makes lousy JPGs, but Aperture can't read X-Pro1 raw files. Read in Aperture, M9 DNGs can look a bit better than X-Pro1 JPGs.)
Fuji's optics are superior, offering SUMMICRON image quality with SUMMILUX speed, something even LEICA can't do.
The X-Pro1 is the world's best-sounding digital camera; its shutter is smooth, quiet, precise and sweet. It sounds just like the Contax G2. The Fuji and Contax each make the LEICA M9 sound like a broken Polaroid SX-70 by comparison. The X-Pro1 is the Second Coming of the Contax G2. Hooray! (The stepper motor for the lens' diaphragm sometimes may be heard clicking as it runs.)
Real shooters shoot LEICAs because of their simplicity, small size and fantastic optics, and the X-Pro1 does all this even better. The X-Pro1 is ergonomically superior to LEICA, the optics are at least as good, for a fraction of the price.
The X-Pro1 is what you get when you take the image and lens quality of the LEICA M9, put it in the ergonomically superior Contax G2, and then add the world's only combination optical and electronic finder from the X100. The X-Pro1 is also worlds better at high ISOs than the LEICA M9.
The X-Pro1 is probably the best camera ever introduced for actual photographers, as opposed to computer hobbyists or vidiots, in years. The Nikon D800 and Canon 5D Mark III are simply more of the same old thing, while the X-Pro1 is uniquely excellent.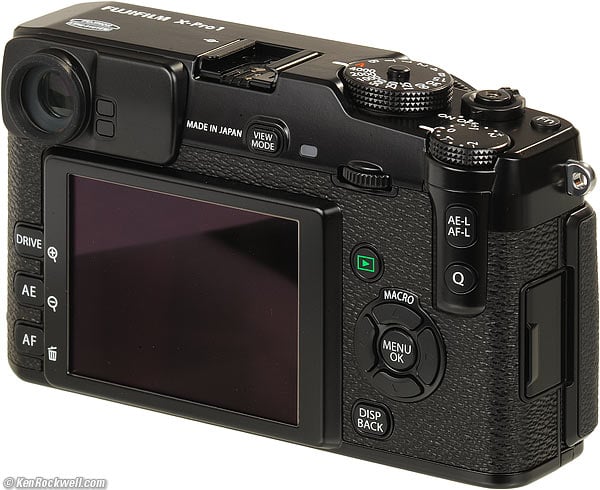 Back, Fujifilm X-Pro1. enlarge.
The Fuji X-Pro1 is a real camera, made of metal, not plastic, for photographers.
The X-Pro1 has shutter and aperture dials. Nikon and Canon don't any more.
The X-Pro1 has a real exposure compensation dial. LEICA, Nikon and Canon don't any more.
The X-Pro1 has a real AF-S, AF-C and MF focus mode lever. Nikon and Canon don't any more.
The X-Pro1 has real exposure mode switches. Nikon and Canon don't any more. Better yet, the Fuji, just like Contax, changes its exposure mode by turning the shutter and/or aperture rings to A when you want them to set themselves. Set both to A for Professional (formerly Program) exposure mode. Done.
The X-Pro1 makes movies too. The X-Pro1 has a built-in focus assist loupe, while DSLRs still need those idiotic Zacuto rigs.
The Fuji X-Pro1 has built-in stereo mic, while the DSLRs only record mono unless you buy and schlep a pair of clumsy stereo microphones.
Fuji has made cameras for Hasselblad, and sold under the Hasselblad name, like the X-Pan. Neither Nikon nor Canon has ever been good enough.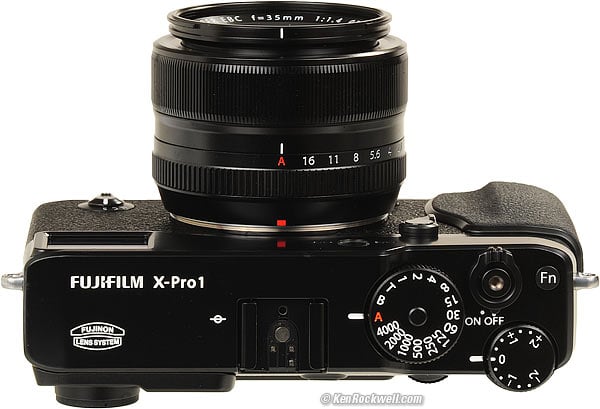 Top, Fujifilm X-Pro1 and 35mm f/1.4. enlarge.
For people photos, the colors from the X-Pro1 are superior to other brands of digital camera. Just like older Fuji DSLRs and the Fuji X100 favored by wedding and portrait shooters, the X-Pro1's color and contrast is optimized for fantastic people photos. The M9 can't do this; its color rendition is sloppy.
Like the M9, the X-Pro1's files will usually need some computer tweaking for stunning results for nature and landscape shots. Oddly, both the LEICA and FUJI usually wind up with weird-looking shadows when you start jacking up the contrast and colors, while Nikon and Canon DSLRs deliver superior nature and landscape shots. Nikon and Canon's nature and landscape shots offer wild colors that still look natural, while pushing the Fujis and LEICAs start to look artificial.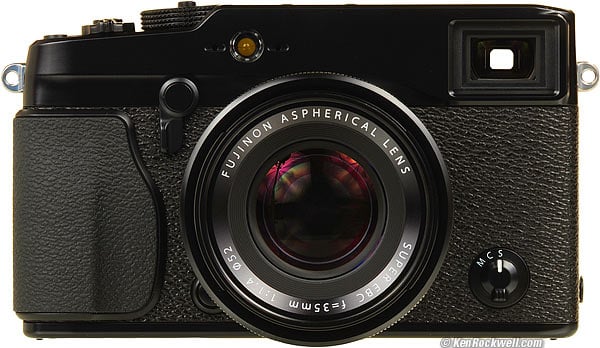 Fujifilm X-Pro1. enlarge.
It drives me nuts shooting a DSLR or M9 when I can't see my image pop up instantly in the finder after I've shot it — as I do with my X-Pro1. Yes, there are plenty of plastic consumer Micro 4/3 cameras with LCD finders, but they are not professional grade, as is the Fuji. Photographers don't do menus; forget the NEX-7 and its feeble plastic brethren that feel more cell phones than cameras, with their overpriced plastic zoom lenses and slow fixed lenses. I need a camera with real dials like the X-Pro1 and fast lenses, not a plastic computer.
While moving frame lines can suggest the area covered, no LEICA or other optical finder can compensate for the several-inch difference in perspective seen by the finder as compared to the lens. In other words, with LEICA, we never really know what's going to be in our photo, while the X-Pro1's TTL 100% electronic finder shows us the exact image before we shoot it.
The all-metal X-Pro1 is so far ahead of everything else that I'm going to need some new superlatives. Too bad its color rendition isn't that much better than the M9, but the X-Pro1 has far more accurate focus than the M9.
The only camera similar to the X-Pro1 is the Fuji X100, which is similar and smaller, but with a fixed 23mm f/2 ASPH (equivalent to a 35mm f/2 ASPH lens), with slower autofocus, but even quieter operation.
The X-Pro1's firmware is similar to the X100's: quirky at first, but once you get used to it, gets out of the way and just shoots.
AF and overall speed is twice as fast as the X100, and the magic sensor, which plays tricks to eliminate color moiré problems so it can dispense with the anti-aliasing filter, are astoundingly sharp — sharper pixel-to-pixel than anything from a DSLR and about the same — maybe better than the LEICA M9.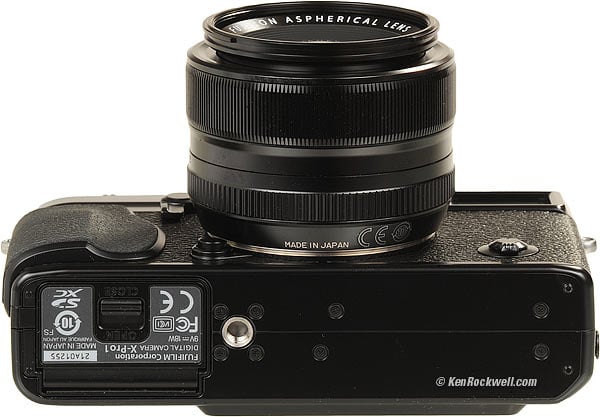 Bottom, Fujifilm X-Pro1 and 35mm f/1.4. enlarge.
XF 14mm f/2.8 XF 18mm f/2 XF 35mm f/1.4 XF 60mm f/2.4 Macro
Stainless steel camera lens mount.
Unique "Fuji X" mount.
Electronic aperture.
Electronic focus.
Metal lens focus rings, but they don't do much. Manual focus is done by pressing the AEL/AFL button, which lets the X-Pro1 focus once and lock.
Can use LEICA and other brands of lenses with a Lens Adapter, but don't use anything other than the Fuji XF lenses in the range from 18-60mm.
The X-Pro1 is missing the excellent built-in flash of the X100. This means for the people photos for which the X-Pro1's color rendition is best suited, you'll have to lug one of Fuji's shoe-mounted flashes.
There's no RGB histogram.
Specifications (more details) top
Intro Specs Performance Compared Usage Recommendations More
Sensor
23.6 mm x 15.6 mm DX.
1.5:1 aspect ratio.
16 MP.
4,896 x 3,264 pixels native.
Ultrasonic cleaner.
ISO
ISO 200 ~ ISO 6,400.
Push modes to ISO 12,800 and ISO 25,600.
Pull mode to ISO 100.
AUTO ISO to 400, 800, 1,600 or 3,200.
AUTO ISO sets the slowest shutter speed at 1/(equivalent focal length), or 1/50 second with the normal 35mm f/1.4 lens.
Image Sizes
Automatic internally-stitched panorama: L (16.6 MP): 7,680 x 2,160 and M (7 MP) 5,120 x 1,440.
L: (3:2, 16 MP) 4,896 x 3,264, (16:9) 4,896 x 2,760, (1:1) 3,264 x 3,264.
M: (3:2, 8 MP) 3,456 x 2,304, (16:9) 3,456 x 1,944, (1:1) 2,304 x 2,304.
S: (3:2, 4 MP) 2,496 x 1,664, (16:9) 2,496 x 1,408, (1:1) 1,664 x 1,664.
Finders
Optical viewfinder
Reverse Galilean with electronic graticules.
Small 0.6x and 0.37x magnifications.
90% coverage, probably less.
Electronic viewfinder
0.47"
1,440,000-dots color LCD.
100% coverage.
Eye sensor.
14 mm eye point.
Rear LCD
3.0" RGBW (Red-Green-Blue-White) LCD monitor.
1,230,000 dots.
100% coverage.
Video
1,920 x 1,080 @ 24p.
1,280 x 720 @ 24p.
Built-in s-t-e-r-e-o microphone system
Maximum take length: 29 minutes.
No external audio input or manual level controls.
Electronic Level
Visible on the rear LCD and optical and electronic finders.
Reads only in full degrees.
Autofocus
TTL off-the-sensor autofocus for zero AF error.
One AF area at a time, but you can move that area all over the frame.
Light Meter
TTL.
256-zone matrix, spot or average.
Flash
No built-in flash.
Dedicated hot shoe.
PC sync terminal under black cap on eyepiece side of camera.
Shutter
6 FPS (fast) and 3 FPS (slow), but no AF or exposure changes.
1/8,000 ~ 1/4 second in PROGRAM and Aperture-Priority modes.
To 30 seconds in Manual mode.
To one hour in Bulb mode.
Remote: Any standard screw-in cable release.
File Formats
Photos
JPEG
RAF raw.
RAF+JPEG
Video
.MOV files.
Storage
SD, SDHC or SDXC (UHS-1) slot.
Power
Battery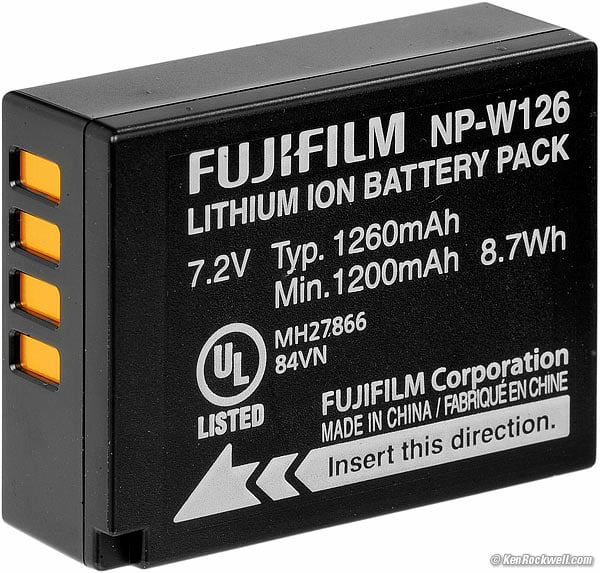 Fuji NP W128 Battery.
NP-W126 Li-Ion battery (same as X-E1 and X-T1).
Rated about 300 shots.
Charger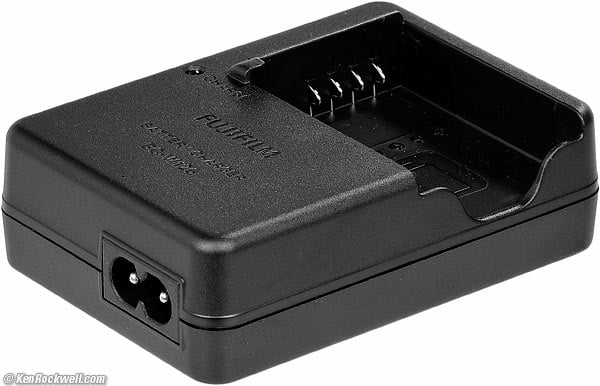 Fuji BC-W126 Charger.
BC-W126 (same as X-E1 and X-T1).
Corded, uses common "∞" shaped plug end.
100~240V, 50-60 Hz.
Made in China by JET.
Rated 13~21 VA input, 8.4VDC 0.6A output.
Quality
Made in Japan.
Environmental
32 ~ 104°F (0 ~ 40°C).
10 ~ 80% RH, no condensation.
Size
5.5 x 3.2 x 1.7 inches WHD.
139.5 x 81.8 x 42.5 millimeters WHD.
Minimum depth: 1.3 inches (34.1 mm).
Weight
15.672 oz. (444.3g), actual measured with battery and card.
Rated 15.9 oz. (450g) with battery and card.
Rated 14.1 oz. (400g) stripped naked.
22.235 oz. (630.4g), actual measured with XF 35mm f/1.4, battery and card.
Includes
Fujifilm X-PRO1 Digital Camera Body.
Li-Ion Battery NP-W126.
Battery Charger BC-W126.
Shoulder Strap.
USB Cable.
Body Cap.
Metal Strap Clip.
Protective Cover.
Clip Attaching Tool.
CD-ROM (Viewer software, RAW File Converter etc.).
Owners Manual.
Fuji Warranty.
Announced
February 2012, at CES 2012.
Shipping Since
The first X-Pro1s arrived in photographers hands at the end of March 2012.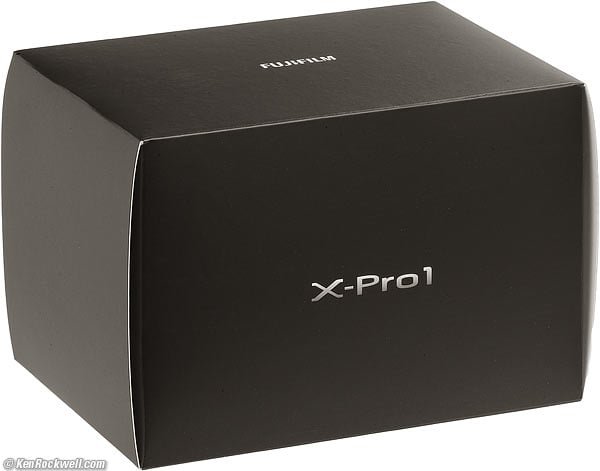 Box, Fujifilm X-Pro1.
Fuji does a great job on the boxes, better than LEICA. Inside the simple black box are two smaller boxes, each with a magnetic closure. One holds the camera, and the other holds all the chozzerai.
The body's box cradles it in nice, soft black foam inserts.
Prices, USA top
February ~ April 2012
X-Pro1 Body: $1,700.
18mm f/2: $600.
60mm f/2.4: $650.
Performance top
Intro Specs Performance Compared Usage Recommendations More
Overall Sharpness Cropping Low-Light Auto WB
Film Simulation Focus Macro Exposure Panoramas
Finders LCD Ergonomics Silent Mode Auto ISO
Technical Image Quality Mechanics Playback Data Battery & Power
Overall performance top
Just look at the pictures. The X-Pro1 is awesome, but what the photos can't tell you is how great the Fujifilm X-Pro1 handles. The X-Pro1 makes it fast and easy to shoot quietly with one hand, so you can shoot without disturbing your subjects, who won't disturb you.
The X-Pro1 one is so light and fast-handling that you'll enjoy carrying it all day, every day, which leads to great photos in places or at times you otherwise wouldn't have brought a real camera.
Sharpness performance top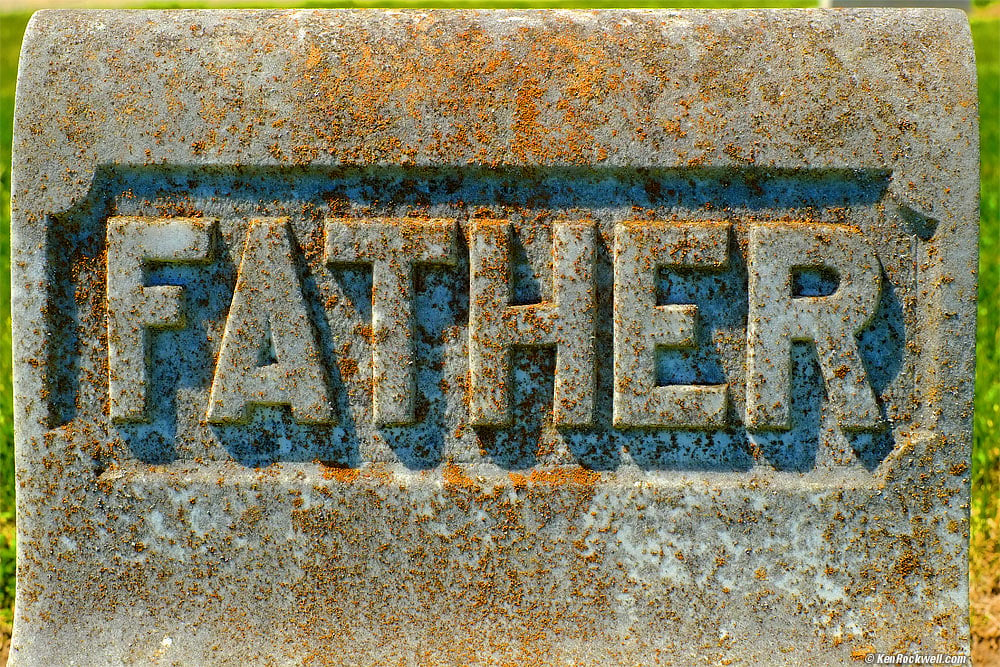 Guadalupe. XF 35mm f/1.4 at f/6.4 at 1/400 at AUTO ISO 200. original hand-held © file.
The lack of an anti-alias filter allows these JPGs direct from the X-Pro1 to be super sharp, skipping any need for raw files.
At huge enlargements the clean X-Pro1's noise reduction is working a little harder than the noisy LEICA M9's, so more fine texture is left in M9 raw images, while there is some slight texture reduction along with the noise reduction in the X-Pro1's JPG files. As you can see, the edges are unaffected and remain super-sharp, also completely devoid of the color fringes that plague optics of lesser cameras: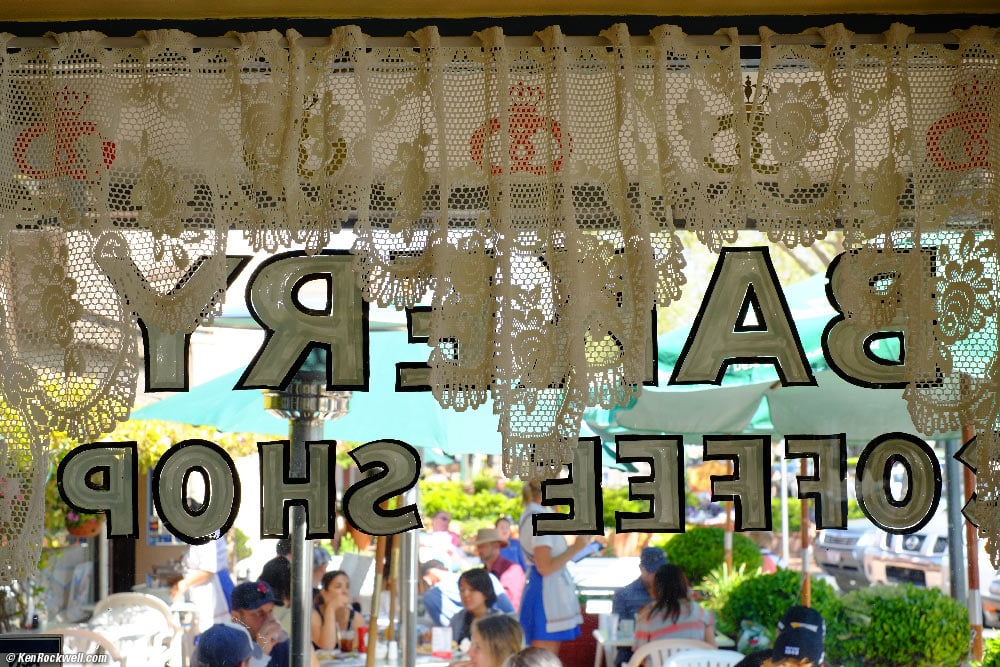 Solvang. XF 35mm f/1.4 at f/5.6 at 1/150 at AUTO ISO 400. original hand-held © file.
Cropping performance top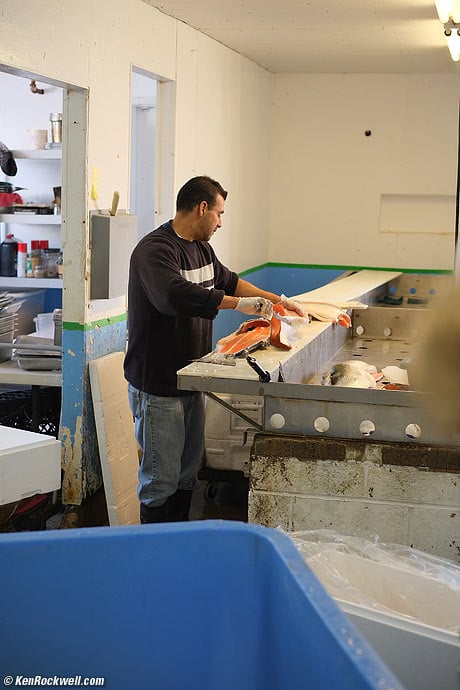 Fisherman preparing salmon - 20 feet away. (XF 35/1.4, f/2.2 at 1/150, ISO 800.)
Too far away? No worries; it's so sharp, you can crop for whatever you need: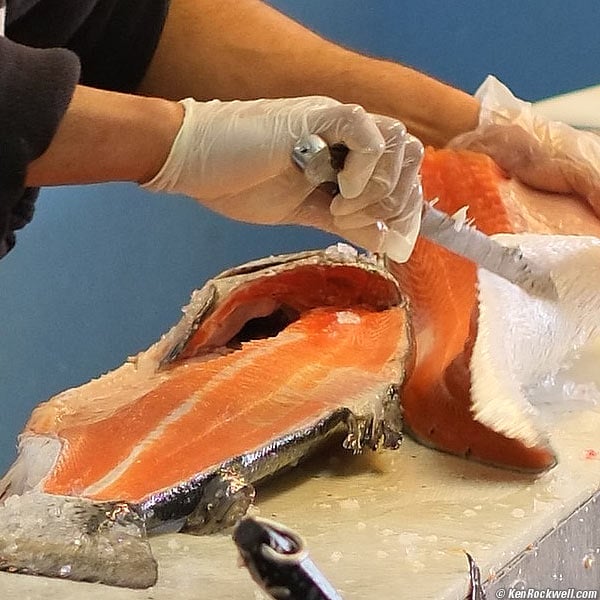 Cropped from above JPG (400mm equivalent).
Cropped as I did here with the 35mm lens, I get the equivalent of a 400mm f/1.4 lens. Not bad!
Forget ever needing to change lenses, or needing anything longer than the XF 60mm. Cropped like this, the XF 60mm will be a 750mm f/2.4 equivalent!
Low Light, Hand-Held performance top
See also High-ISO Sample Images from the Nikon D1, D3 (D700), D4, D800, D7000 and Canon 5D, 5D Mark II, 5D Mark III and Fuji X-Pro1 and X100.
With a fast f/1.4 normal lens and ISOs to 25,600, there's nothing that requires a tripod.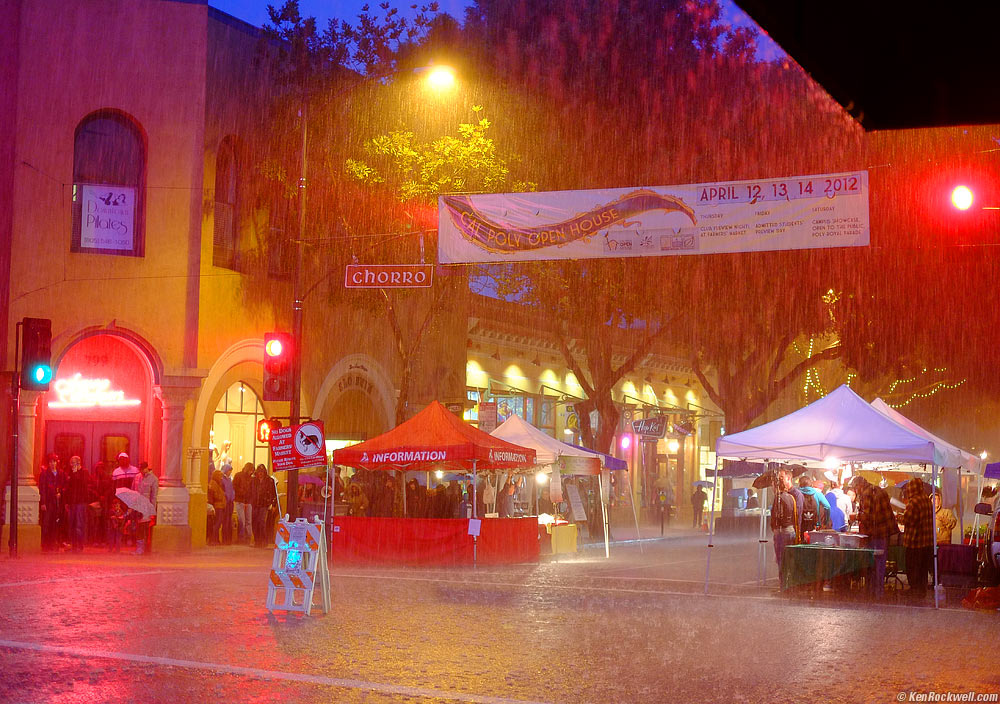 AUTO ISO 1,250: Chorro of Hail, 12 April 2012. X-Pro1, f/1.4 at 1/52. original hand-held © file.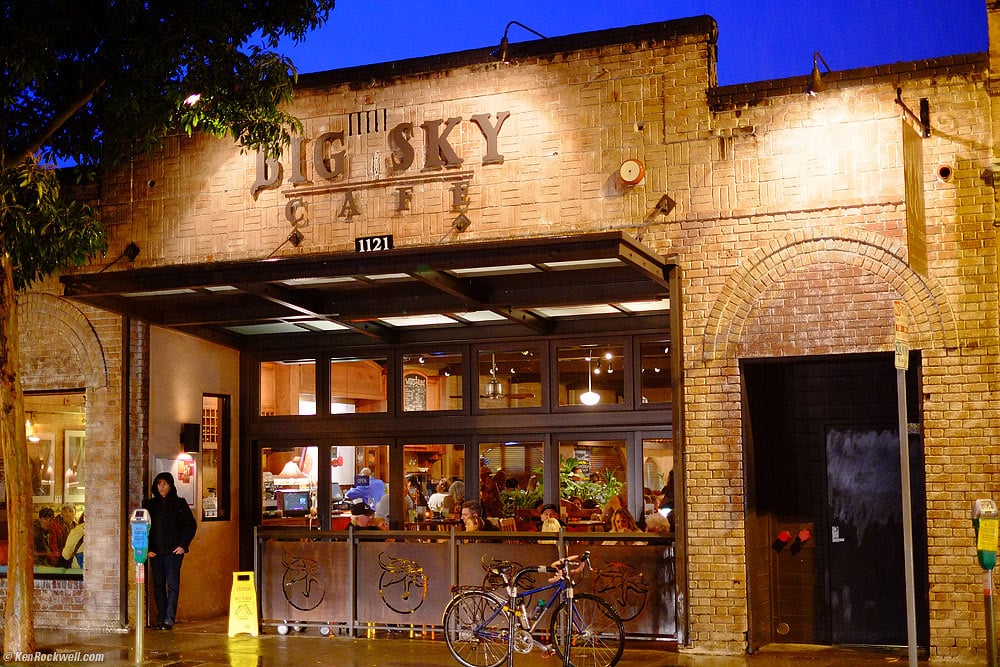 AUTO ISO 2,500. XF 35mm f/1.4 at f/1.4 at 1/52 at AUTO ISO 2,500. original hand-held © file.
Note how the highlights are retained, as well as the shadows, even at this crazy-high ISO. ISO 2,500 is clean from the X-Pro1, while the M9 has golfball-sized grain at ISO 2,500.
Auto White Balance performance top
The previous night shots and others were all made in AUTO WB.
It looks great even under awful fluorescent lights: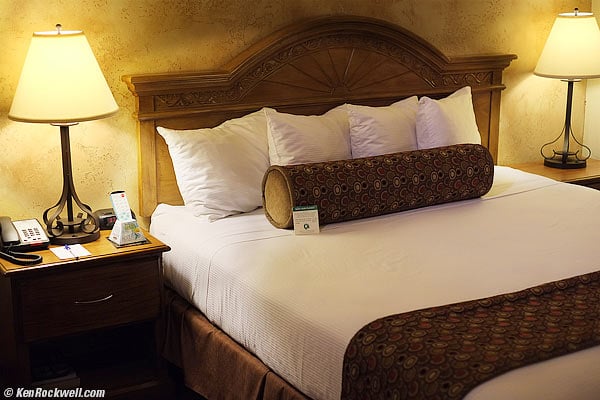 Excellent Auto White Balance - even under crappy fluorescent lights! (XF 35/1.4, f/2.2 at 1/125, ISO 800.)
Other cameras like my Canon 5D Mark III made this image look sickly green-yellow as photos usually do under fluorescent light, while the X-Pro1 sails right through left on AUTO WHITE BALANCE.
Film Simulation Modes performance top
The STANDARD mode is great for people photos.
The VIVID/VELVIA mode is a crock. Yes, it's more vivid, but it does a very sloppy job, simply crushing the blacks to get more contrast instead of doing it well, as do Canon and Nikon.
The JPGs, even set to VIVID and COLOR +2, are less saturated than what I get from Canon and Nikon set too high as I always do.
Since the VIVID mode crushes blacks, there's no way to fix JPGs if you underexpose, or hope to bring anything out of the shadows.
You can set the Shadow Tone to -1 or -2 in the VIVID mode, which helps, but then looks too soft otherwise.
For people and natural and skin tones, the Fuji digital cameras have always been fantastic, but for vivid landscapes, sloppy.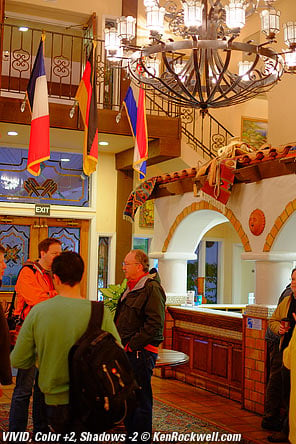 It seems like Fuji simply gave a summer intern the task of scanning some test slides, and then modeled their systems to duplicate the crappy scans. The problem is that these scans were never done correctly, and for years Fuji's Film Simulation modes have been useless, except maybe for special effects because all they are doing is emulating bad scans, not the vivid beauty of real Velvia.
Focus performance top
Autofocus is about twice as fast as the X100. It's super-fast.
Autofocus is always dead-on, since it reads directly from the image sensor. There are never any of the mechanically-induced focus shifts that plague rangefinder cameras like LEICA, or spherical-aberration induced optical focus shifts that vex SLRs. The X-Pro1 is not a rangefinder camera and is not a DSLR, and its focus is always dead-on.
Since AF reads images directly from the sensor, it isn't confused by repeating patterns like car grilles, fences and fabric, which confuse rangefinder cameras and AF SLRs.
The white-LED AF illuminator works fine.
AF slows in the pitch black without the illuminator, so wait for it.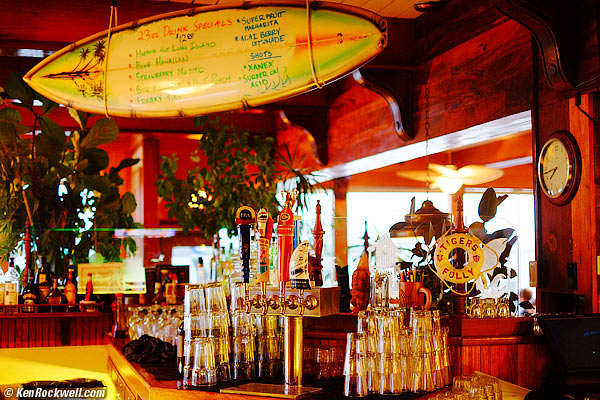 Nautical Bar, 14 April 2012. XF 35/1.4, f/1.4 at 1/52, ISO 1,250, autofocus in top of taps. original © file.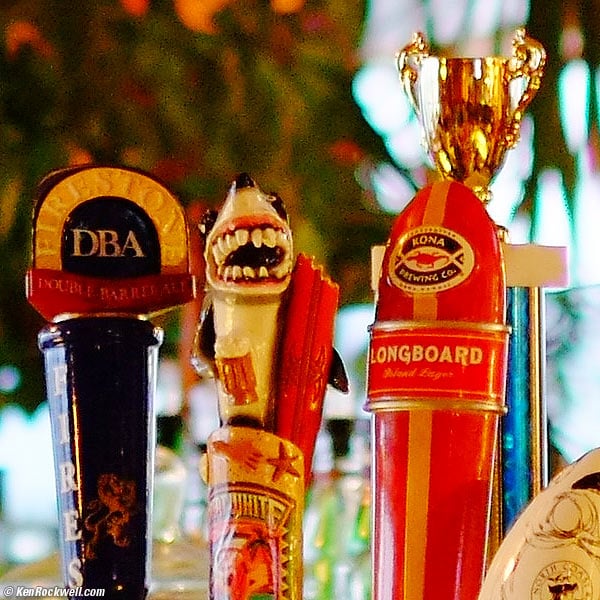 Crop from above image at 50 x 33" (1.5 x 1 meter or 100% pixel-to-pixel). XF 35/1.4, f/1.4 at 1/52, ISO 1,250, autofocus in top of taps. original © file.
AF is fast and exact, and covers a broad range right up to macro. I can't focus my LEICA this fast, much less this precisely, repeatably and accurately in low light.
Unlike LEICA cameras, the X-Pro1's closed-loop focus system focuses directly from the sensor's electronic image, so it completely eliminates all sources of mechanical error that plague LEICAs.
With the X-Pro1, there are never focus errors, unless you've made a mistake, and the X-Pro1 is far faster than LEICA's manual focus.
AF works in any light. The X-Pro1 is so sensitive that the image in the electronic finder is brighter and clearer than my own vision in dark conditions! AF will get slower if it's super dark, but it will still nail perfect focus.
AF-S top
The single-focus-and-lock mode (AF-S) works great for still shots.
It focuses quickly, and locks.
You can move the AF sensor all around in any of the finders.
AF-C top
The continuous focus mode (AF-C) for moving subjects, is crummy. The X-Pro1 can't respond quickly enough to track anything. This mode only focuses on the very center of the image, making it useless even if it could track action.
In the AF-C mode, the X-Pro1 stops focusing with half press of shutter, so it's useless.
Manual Focus top
Manual focus works swell, so long as you don't try to use the manual focus ring. The manual focus rings don't work: they respond slowly and with long delays, so forget about them.
To focus manually, press the AFL-AEL button once to grab and lock a spot focus far faster than manual rangefinders.
There is no instant manual focus override.
The X-Pro1 chooses its own aperture during manual focus, not your manually set one.
More at my similar X100 User's guide.
Macro performance top
Macro mode simply unlocks the closer focus ranges; it still focuses to infinity.
The Macro focus mode always uses the EVF to eliminate parallax. If you're using the optical finder, it reverts to the EVF.
In macro mode, focus can take a long time to rack in and out.
Macro mode stays engaged, even when power off.
Exposure performance top
I've never gotten better exposures than I get from the X-Pro1.
I get perfect exposures under just about every lighting condition from daylight to moonlight.
The only conditions that sometimes give a little underexposure are strong backlight, but that's more a matter of opinion.
I almost never have to use any exposure compensation. Bravo!
Swung Panorama Mode performance top

San Luis Obispo, 14 April 2012. bigger. huge original © file. (XF 35/1.4, f/11 at 1/240, ISO 200.)

Without taking my eye from the finder I can select the Panorama mode, hold the shutter, slowly hand-hold pan the X-Pro1, and in a moment, a very high resolution (7,680 x 2,160 pixel) file is created.

Forget software and stitching; my X-Pro1 does this all by itself. With one hand-held sweep, the X-Pro1 composites all the images into a huge JPG image.

Forget tripods and pan heads, the X-Pro1 aligns the images automatically when hand-held.

Point the X-Pro1 up or down by a constant amount during the pan and it magically corrects! If you wiggle, no problem: the X-Pro1 automatically fixes it all.

The X-Pro1's huge dynamic range is a huge help taming the huge variations in lighting encountered in panoramas.

Finders performance top

The X-Pro1's viewfinder system is the world's first combined optical and electronic hybrid finder on an interchangeable-lens camera. (The fixed-lens Fuji X100 is the first.) This unique viewfinder system sets the X-Pro1 in a class by itself. If LEICA could do this, it would bring LEICA 60 years ahead of where it is today.

The X-Pro1's eye control selects the rear LCD or viewfinder automatically.

The front lever switches between optical (OVF) and electronic (EVF) viewfinders.

The Exposure Compensation scale, on the left of both the OVF and LCD, blocks the view. The compensation scale gets in the way of seeing your composition and does a poor job of warning you if you have it set away from zero, so it's best to use the Custom Display options and uncheck it. Once we do this, it goes away so we can compose well, but there's no warning if you have it set other than the picture being too dark or light.

Optical Finder (OVF) top

The optical finder switches instantly to electronic mode for instant playback of what was just shot, if you so desire. As soon as you've shot an image, the playback pops up in about 1/12 second (80 ms).

The optical finder is too cautious; you'll see immediately on playback that you get quite a bit more around the sides. This beats the LEICA M9's sloppy finder, the results of which you can't see until you take the camera from your eye and look at the M9's back.

The graticule is superimposed from an LCD, which varies its brightness to suit conditions. It sometimes takes a second for the graticule to hit the correct brightness.

The frame lines compensate for both distance and magnification.

Since the graticule is generated electronically, you have your selection of adding histograms, exposure data, artificial horizons and all the other baloney to your taste.

The optical finder is brilliant in daylight, far beyond any electronic finder.

Electronic Viewfinder (EVF) top

The EVF has a very high-resolution LCD with sharp optics. Unlike Sony's sequential-color EVFs, the X-Pro1's EVF image is stable no matter how fast you move your eye, and never shows any residual color fringes.

One can operate the entire menu system, playback and zoom, through the electronic finder. One never needs to look at the back of a camera in public, and the EVF lets one work in dark theaters without disturbing others.

The live image in the EVF is delayed by about 1/12 second (80 ms) from reality. It's much faster with your finger on the trigger.

The EVF works at taking aperture, giving always-on depth-of-field preview.

The EVF works swell for close up lenses, polarizers, grads, fisheye converters and anything else you can attach. Too bad LEICA can't do this; it would eliminate the need for external finders for ultrawide lenses and the VISOFLEX for long lenses.

When it gets dark, the EVF is brighter than reality making it easy to see, focus and compose in any light. It's like night vision, but in color!

Slow shutter speeds are reflected in the EVF; you'll see the motion blur, or lack thereof, as you change settings. You can't do that in a LEICA!

Non-Adjustable Diopter top

The finder images are fixed at a non-standard -2 Diopters (approximately) and provide NO ADJUSTMENT. For normal vision, you'll have to buy a hard-to-find screw-in diopter to fix it. At least the clear cover eyepiece you'll not use, unless your prescription is -1 Diopter, is multicoated.

You'll be OK if you can focus your eyes closely.

Good news: it takes Nikon screw-in eyepiece accessories, the same as the Nikon FE and FM and FM3A, so a 1980s-1990s Nikon diopter ought to fix it.

Therefore, the electronic finder is usually out-of-focus unless you are nearsighted. The LCD appears somewhat closer than the virtual optical image, so with the optical finder, the electronic graticules aren't as sharp as they ought to be when you focus your eye on the subjects.

LCD performance top

The rear 3" LCD is sharp, and is well color-matched to the images as seen on a calibrated monitor.

Like every camera in 2012, I had no problem seeing it in daylight. The X-Pro1's LCD is more accurate than the colors on Nikon D800 and D4's LCD, hah!

Ergonomics performance top

Ergonomics are half the reason I love my X-Pro1. It's small, light, and handles like a dream. It sounds smooth and quiet, and the grip works and feels very good.

It's so light that you'll forget you have it on if you're wearing heavy jackets. For a concealed carry, just wear your jacket over it, and it goes away.

It s easy to shoot, set menus and play using just one hand.

It sounds and feels great; you have to try it to appreciate it.

It's easy to set the Fuji X-Pro1 purely by feel. The exposure modes are easy to set without looking. If either shutter or aperture is set to A, that value is controlled automatically based on the other. If both are set to A, both are set automatically, giving the professional, or "Program," exposure mode.

Once learned in a few days, the X-Pro1 handles faster than a DSLR because of direct shutter, aperture, compensation and focus and exposure mode dials.

It's easy to set even manually-set custom white balances without taking the camera away from your eye! The manually-set white-card setting is the first option below auto. It's much easier than any Canon DSLR.

There is a status LED on the top rear, and it's always blinking in your eye at night. Cover it with electrical tape.

It takes two hands to move the AF zone: the left hand to hold down the AF button, and the right hand to hold the camera and fiddle with the selector switches. In exchange for this, the AF zone moves all over the frame, not just the central region as with DSLRs.

There's a new QUICK INFO button ("Q") to give us a quick report of what's going on. We also can set these from this screen.

The OVF/EVF selector lever on the front is upside-down. It is more difficult to move it than the lever on the X100.

The AF and DRIVE buttons are under the eyepiece, which are inconvenient!

The SD card is too close to the door hinge, making the card hard to remove.

It's easy to flick the lens' aperture rings with a finger tip.

It's more difficult to move the shutter dial. There is too little of the dial exposed to fingers between shutter and left top deck, and you have to unlock it to move it away from A.

There is no compensation dial lock at zero, nor any deeper detent at zero.

Once you've locked autofocus, the Fn button doesn't work. If you use the AF Lock button, forget about using the Fn button.

It's easy to hit the Fn button while shooting with one hand, but difficult to hit the up and down buttons to make selections once you've hit Fn.

See also Playback, which has its own set of quirks.

Silent Mode performance top

The Silent Mode isn't any quieter; all it does is turn off the speaker and the AF illuminator.

Auto ISO performance top

Auto ISO uses 1/(equivalent focal length) as its slowest shutter speed.

When Auto DR is ON, Auto DR bumps up the indicated ISO if needed to prevent the highlights from overloading.

It's perfectly normal to see ISO 800 come up in daylight. It's not because it's dark, it's because the highlights are so harsh that the ISO 800 setting is needed to retain the highlights.

Nikon and Canon do the same things with the effective ISO when their dynamic-range optimization systems are enabled, but their software is designed not to scare anyone and conceal the fact that they've also bumped-up their effective ISOs.

Don't worry if you see ISO 400 and ISO 800 popping up with Auto DR and Auto ISO enabled in broad daylight; it means the system is working.

Technical Image Quality performance top

See also my Fuji X-Pro1 Sample Images.

Auto Dynamic Range top

Auto DR works great. I leave it on all the time. It kicks-in automatically only as needed, and always makes photos look better.

Auto DR knows the dynamic range of the image from the sensor, and alters exposure and region-by-region sensitivity to optimize every part of the image.

It really works, works well, and is completely automatic.

Highlight Rendition top

Highlights are astounding with AUTO DR active. Highlights simply can't blow out. If you're shooting for black-and-white, this gives a great film-look.

The X-Pro1 has an uncanny ability to control any highlight, even looking directly into the sun. Instead of a big white circle as we get from DSLRs, extreme highlights always look natural, presuming you activate this feature.

Even with positive exposure compensation, the image may be way too light, but the highlights have a scanned filmlike histogram and almost never actually clip (bunch up at the far right point of the histogram).

The highlight rendition of the X-Pro1 is better than DSLRs, gracefully and naturally rendering difficult highlights.

The Fuji X-Pro1 quietly packs every image-processing trick Fuji learned in making DSLRs into a compact body, instead of another me-too DSLR.

The X-Pro1 does everything the Fuji S5 Pro DSLR did, and more, with triple the resolution.

Aliasing (moiré) top

The X-Pro1's lens is so sharp that window screens can excite aliases. Aliases look like colored bands of interference.

Mechanics performance top

Most of the X-Pro1 is all metal. The X-Pro1 is decently made to my high standards, and extremely well made by today's loose standards.

The top and bottom covers are magnesium alloy — the LEICA M9 is just brass. Some marking are engraved, while others are just painted.

Dials, front rings and levers are all metal. All dials are engraved — just like the LEICA M9.

The lens barrels are metal — just like LEICA. The lens identity rings are deeply engraved aluminum.

Rear dials and buttons are plastic with painted markings — just like LEICA.

The bottom battery door and its latch are plastic — just like LEICA.

The USB and HDMI connectors are behind a hinged door with what seem like metal pivots, much better than the crappy plastic flap of the LEICA M9's USB cover.

Playback performance top

The Play button is now correctly on the right side so it can be hit with your shooting hand for one-handed operation.

Playback is optimized to look extra sharp on screen.

The rear 4-way controller only works 4-ways; one cannot scroll the playback zoom or the AF selection diagonally. Playback scroll around the image is slow. LEICA is much better at this.

While scrolling around in an image is slow, swapping to other images is faster and sharper than Nikon, Canon, or LEICA. Hold the button, and it zips through hundreds of images in seconds, even with a cheap drugstore SD card.

The (+) and (-) zoom buttons are still improperly located under the eyepiece.

The zoomed image properly fills the screen from any of the other screens.

Maximum zoom isn't very much.

There is no RGB histogram, but since the X-Pro1 has no problem with saturated highlights blowing out, this isn't needed. Hooray!

Data performance top

As of April 2012, the X-Pro1's raw files are unopenable, typical for all new cameras as software makers only get information the same day they're released.

Image files are set to 72 DPI, which only matters if you 're a web designer and this can save you a couple of clicks as you add text over the images, which I do.

The USB connector is tiny.

Formatting

Once formatted, cards are left as "Untitled." They should be titled "FUJXPRO1."

File Sizes

LARGE NORMAL JPG files have a median size of 2.7 MB, with typical files as small as 1.8 MB and as large as 6.1 MB.

Battery and Power performance top

Camera

The battery meter is primitive. It only indicates full, partly dead, almost dead, and completely dead.

The gauge seems like a simple voltmeter. It's loose, meaning that it reads higher after the battery gets to rest a bit.

The camera works fine if the battery door is left open. This suggests that it will keep shooting if the plastic battery door breaks off.

Battery

The X-Pro1 is only rated for 300 shots per charge, which seems about right.

You'll probably need at least one spare battery.

Charger

The charger is small and lightweight, but needs a separate cord. It has no folding plug.

Compared top

Intro Specs Performance Compared Usage Recommendations More

NEW: 2014 Comparisons at my X-T1 Review.

See my 2012 DSLR Comparison as well as all of the previous sections of this review.

Fuji X-Pro1 compared to Fuji X-E1.

Fuji is changing the game, making cameras for photographers while Canon and Nikon are too busy chasing vidiots and computer hobbyists. Given a few more years Fuji might send Nikon and Canon back to where LEICA is today: a fond memory for most of us, but no longer relevant.

Usage top

Intro Specs Performance Compared Usage Recommendations More

Power

The charger light is defective; GREEN means charging, and it turns off when done. When you come back and see no light, there's no way to tell if it's actually charged, or if the power plug got pulled out, or if there was another error.

The battery slides into the camera in several ways, only one of which actually works. Learn where the arrow goes and heed it.

Carry top

Use the LEICA strap. It attaches easily, and works great.

Forget carrying or changing lenses. Pick one, and use it all day.

Image top

You must activate AUTO ISO in order for AUTO DYNAMIC RANGE to work. I always use both of these.

AUTO ISO is found only at the very bottom of the ISO choices; it's not in a menu.

Focus top

I only use the center AF point, and AF-S as set on the front AF mode switch. Easy.

If I need focus lock or manual focus, I set M on the front AF mode switch, and tap the AEL AFL button once. It will focus and lock. You don't need to hold it; tap it just once and the X-Pro1 does the rest.

To check manual focus, push-in the rear dial to zoom-in.

Shoot top

The X-Pro1's eye control selects the rear LCD or viewfinder automatically. This works quite well, however I had one weird occasion where the sun was shining on my face and it confused the auto-select feature. Putting my thumb over the sensor fixed this.

Set the exposure mode by turning the shutter and/or aperture rings to or from A. At A, they set themselves. Set both to A for Professional (formerly Program) exposure mode, or each to a setting for manual control. Easy.

To set third stops for aperture, just set them on the dial.

To set third stops for shutter speed, set them with the rear left and right control buttons.

Professional exposure mode only goes as long as 1/4 second. For longer exposures, set them on the shutter dial. You can set the 1s position to as long as 1.5s using the third-stop clicks of the rear right control button. For exposures longer than 1.5 seconds, use the T position, which goes to 30 seconds, still with automatic aperture control if you prefer.

S mode to 2s; click L and R for thirds and to 30s

If you use the Fn button to recall Custom Settings and use these Custom Settings to recall Film Simulations, your WB selection is saved with each, but not its preset (global) WB fine-tuning.

Using your Fn button to select among various Film Simulation modes lets you change the color rendition from frame to frame, for instance, for people (STANDARD) versus things (VIVID).

The X-Pro1 always wakes in Custom Setting 1, so if you turn your camera off between shots, know that it will wake in the first setting, not necessarily where you left it.

The MACRO and ADVANCE (Single shot, movie, Panoramic, etc.) modes also stay set even when power is turned off.

To get rid of the useless exposure compensation bar-graph blocking the left of the finder, use the "custom display" options and turn everything OFF, including exposure compensation. You'll have no warning if you set a compensation, but the poorly designed bar graph indication didn't make it any more obvious.

Tape over the rear LED. All it does is flash in your eye at night.

The Silent Mode merely is an easy way to turn off all the speakers and lights with one button. Just hold the DISP BACK button a few seconds. Actual operation isn't any quieter, unless you forgot to turn off the fake shutter sounds.

It's wildly apparent how vivid are vivid settings when shooting the optical finder with image review enabled. You see the direct optical view, and then the bumped-up captured photo a moment later.

Using Off-Brand Lenses top

Set "Shoot without lens" if using Lens Adapters.

Otherwise the X-Pro1 works great, except won't will ignore you when you press the shutter button the rest of the way down!

Play top

You have to hit PLAY to zoom in on a just-shot image.

To swap to other images while zoomed, flick the rear control dial.

Forget rotated vertical playback. The firmware is defective and always crops the image, even if zoomed. You must go into the menus and deactivate ROTATE PB to fill the playback screen for vertical shots.

Recommendations top

Intro Specs Performance Compared Usage Recommendations More

The X-Pro1 is half the price of a Canon 5D Mark III or Nikon D800, so if you already have a 5D Mark II or D700, you might want to step all the way up to the X-Pro1 for half the price of the 5D Mark III or D800, each of which are mostly the same as the older models, while there is nothing like the X-Pro1. Even the LEICA M9 handles like a pig with it's all-manual focusing and no way to see what you've really got in your image until after you look at the rear LCD, compared to the X-Pro1.

The X-Pro1 is an excellent camera for people photos and for people who want a lightweight camera that performs as well or better than DSLRs. Its color rendition for people is superb, but isn't as good as Nikon or Canon for nature and landscape snaps. The X-Pro1 has far better color then the LEICA M9.

Is this the end of LEICA? Of course not; the LEICA is immortal. People don't by LEICAs for photography, they buy them because they want them. LEICAMEN own LEICAs because they are LEICAMEN, not necessarily because they want a camera with which to make photos.

Even though the X-Pro1 is a much better camera with better optics and better images and ergonomics than my LEICA M9, LEICA, like film, is not going away. LEICA is immortal. Other, better cameras come and go, while LEICA survives. Contax made a better 35mm camera, as preferred by Ansel Adams, but Contax went out of business in the 1950s, while LEICA survives. Contax was resurrected in the 1990s, making the far superior Contax G-series, and again went out of business in 2006, while LEICA survives.

If you've found the significant time and expense I've incurred to research and share all this information, this free website's biggest source of support is when you use these links, especially these directly to it at Adorama, at Amazon, or at eBay (see How to Win at eBay) when you get anything, regardless of the country in which you live. Thanks for helping me help you! Ken.

Lenses top

DO NOT USE ANY OTHER LENSES, ESPECIALLY LEICA, IN THE RANGE FROM 18mm ~ 60mm.

You can't get better than Fuji's lenses, and other lenses, even awesome LEICA lenses, won't autofocus or open and close their diaphragms for you as you shoot and focus.

With other lenses, manual focus might not be that much of a problem, but you'll have to open and close the aperture by hand every time you want to focus or shoot or focus. Forget other lenses except for the 12mm Voigtländer for ultrawide, or longer lenses from LEICA. LEICA's 35mm f/1.4 ASPH FAG isn't better than Fuji's 35mm f/1.4.

Before you go hog-wild and buy all three lenses, ask yourself why are you buying the X-Pro1 in the first place? Isn't it to simplify things? Hold off and get just the 35/1.4 (50mm equivalent), and you'll probably never miss the other lenses — or any shots while you were off changing lenses. We expect Fuji to come up with more lenses, so chill-out and maybe in a few months there will be some other lens you want even more, like a 14mm f/2.8 (21mm equivalent) and 23mm f/1.2 (35mm equivalent).

Then again, the best thing about the X-Pro1 is how well it works for carrying everywhere and shooting with one lens. For that, the Fuji X100 works just as well. The X100 isn't quite as fast, but it's what I carry everywhere for family photos.

More Information top

Fuji X-Pro1 XF 18mm f/2 XF 35mm f/1.4 XF 60mm f/2.4 Macro

Fujifilm's Fuji X-Pro1 Owner's Manual

Ken Rockwell's Fuji X100 User's Guide (very similar camera)

Fujifilm's Fuji X-Pro1 Promotional website

Fujifilm's X-Pro1 glossy brochure

Help me help you top

I support my growing family through this website, as crazy as it might seem.

The biggest help is when you use any of these links to Adorama, Amazon, eBay, B&H, Ritz, Calumet, J&R and ScanCafe when you get anything, regardless of the country in which you live. It costs you nothing, and is this site's, and thus my family's, biggest source of support. These places have the best prices and service, which is why I've used them since before this website existed. I recommend them all personally.

If you find this page as helpful as a book you might have had to buy or a workshop you may have had to take, feel free to help me continue helping everyone.

If you've gotten your gear through one of my links or helped otherwise, you're family. It's great people like you who allow me to keep adding to this site full-time. Thanks!

If you haven't helped yet, please do, and consider helping me with a gift of $5.00.

As this page is copyrighted and formally registered, it is unlawful to make copies, especially in the form of printouts for personal use. If you wish to make a printout for personal use, you are granted one-time permission only if you PayPal me $5.00 per printout or part thereof. Thank you!

Thanks for reading!

Mr. & Mrs. Ken Rockwell, Ryan and Katie.

Home Donate New Search Gallery Reviews How-To Books Links Workshops About Contact