Home Donate Search Gallery Reviews How-To Books Links Workshops About Contact
August 2011's News Hot Deals
RSS: daily (continuous live updates)
all © 2011 KenRockwell.com. All rights reserved.

Nikon Canon X100 LEICA More Reviews random Ryan Katie
Recommended Cameras How to Take Better Pictures
NEW: Nikon D7000 User's Guide Nikon D5100 User's Guide
29 August 2011, Monday
Monterey
I just got back from helping lead a great workshop this weekend. Photos coming!
Lightstand Deal just for you!
Adorama sent me a coupon code, just for you guys, for a 7.5 foot folding chrome light stand for just $18.95!
Use coupon code S0825011, because otherwise everyone else has to pay nearly $28. Good through Sept 10th.
Epson Pro 4900 deal
I also found the Epson Stylus Pro 4900 17" printer at Adorama for $1,069, with free shipping, brand new.
I'm told it usually goes for $2,995.
To get it for $1,069, you have to add it to your cart first.
25 August 2011, Thursday
Apple
I could write something today, but I already have written about what happens when a brilliant man starts something, and then what happens when that brilliant individual leaves an organization he founded and the pipeline empties.
For instance, modern electrical power distribution and generation, invented by Tesla, is still today where it was when Tesla died in 1942. Sure, we have computers to control it today, but the system is still the way Tesla left it. Tesla was insane, and no one has been crazier since to invent anything better than copper carriage of high-voltage 3-phase 60 Hz power.
There are a lot of brilliant people at Apple, and they've told me that Steve's flair for crazy innovation is ingrained throughout the entire company, so not to worry. My fear is when Apple starts getting run to make a safe profit each quarter instead of gambling — and winning — on crazy things that only people with the imaginative freedom of children can. Only this sort of craziness results in game-changing, world-changing things that we all (except for me) take for granted. No big company ever creates anything really new; only crazy men working alone do. Jobs is extraordinary in his ability to retain and realize his crazy visions with a large company around him.
I really doubt that the insides of whatever Mac Pro I buy in 2021 will still be beautiful — even though no one knows it except for its designers.
Crazy is good. As Einstein said, "Any idea that isn't completely absurd probably won't go very far."
If not for Apple and Jobs commercially realizing the mouse, the point-and-click computer interface, the iPod, the iPhone, the iPad and everything else that others copy 6 months later and most people take for granted, that 50 years from now, all we may have are iPhones, iPads and computers that still do the same things, but loaded with so many sales-improving garbage features like our cameras today that no one will be able to figure them out.
Without Apple and Jobs, you'd be staring at a blinking orange CA43$:> line-prompt cursor on black screen, and no one would be able to figure out the 543,922,489 possible command-line prompts. No big company would ever have the hair to try out unproven, totally crazy things.
New Olympus PEN E-PM1
Olympus says the new Olympus PEN E-PM1 is the smallest, lightest, and the most portable Olympus PEN. Look for it in September at $499.99.

This Olympus "PEN Mini" comes in purple, pink, brown or white for the ladies, and silver or black for the men.
It's got the same 1080i video as the PEN E-P3 and PEN E-PL3.
Great new tripod set, complete, for $35
I hate carrying a tripod, so I'm always looking for something lighter. The professional Gitzo 1228 carbon fibre I bought back in 1995 is great, but by the time I add a pro head, it's still more than I ever want to carry.
I just got a Dolica AX620B100 tripod, which sells for $35 at Adorama or at Amazon, and comes complete with a ball head, quick-release, padded legs, and a padded case with an inside pocket and padded shoulder strap.
For $35, it's amazing. It also includes a precise ball head with quick-release plate, and the whole tripod and head actually weighs only 2.92 lbs (1,323g), as measured by me. Many tripods lie about their weights, so this is the real deal. No, it's not as sturdy as a $500 Gitzo, but it's a lot sturdier than a plastic tripod that would sell for the same price, and tripods don't need to be sturdy anyway; you're not supposed to be trying to wiggle the camera while shooting!
The legs lock at three angles, and each has a screw foot for a spike or rubber tip.
There is what looks like a stainless steel hook on the bottom to hang your jacket or case. The column reverses, but even better, there is a second 3/8" screw at the bottom, so you can reverse the column, or just screw the head onto the bottom instead.
The ball head and quick-release is smooth and easy to adjust with one control.
Not only is there a bubble level on the top of the legs by the center column, there is a second bubble level at the camera mount on top of the ball head, and a tiny magnetic compass next to the center column at the top of the legs!
For $35 I was expecting plastic, but the reason I'm so stoked and telling you all about it is that it's all metal. The only plastic are the flip-latches and the center-column lock. Heck, the center column lock on my $500 Gitzo is also plastic, and the Dolica's is more comfortable to use! The quick-release plates, ball head, ball head locks, leg pivots and leg-angle locks and everything are all metal. No, it's not as sturdy as my big 1228 Gitzo for using 15 pound lenses, but for actual shooting, it's more than sturdy enough, and far better than plastic tripods.
For $35, I got a great tripod for less than a plastic department-store toy!
Man, I paid $500 for my Gitzo 16 years ago, and I didn't get a head, I didn't get a case, didn't get levels, didn't get pre-installed leg pads, and I didn't get much of anything other than legs. I love my Gitzo in my studio, but what good is it if it's too heavy to take with me? No, I'm not going to start looking foolish with a tripod and DSLR in broad daylight, but for my real cameras and use at night, I'd much rather carry my new $35 wonder than my big Gitzo.
Tripods don't take pictures, people do. It doesn't have to be solid when you try to jiggle it; it only has to be solid enough to hold your camera. I can throw this Dolica in its case and into my trunk, and it will always be there, unlike my big Gitzo that still has no case and stays home.
I'd rather pay $35 for a just a tripod, instead of $150 for the same $35 tripod from a name-brand with $115 worth of advertising behind it. When you see ads or sponsorships, it's you and I who have to pay for all those ads.
24 August 2011, Wednesday
Updated
I added a sample to the Bokeh section of my Nikon 50mm f/1.4 G review. Sorry about the choice of model; I'm not exactly on big budget for these.
New Nikons
Today's announcement from Nikon is point-and-shoots.
Maybe tomorrow for a new FX DSLR, maybe next month, maybe never — 2008 was Nikon's last FX DSLR.
Hey, Nikon has done better than new DSLRs with all the killer FX lenses they've introduced the past year or two, which is far more valuable than a new FX SLR. If you don't have your 28-300mm VR yet, get one now, because whenever the new Nikon FX DSLR comes out, the 28-300 VR will be backordered for years.
The 28-300mm VR is the must-have lens for FX — and at $940 today from stock, won't be waiting for you whenever Nikon FX is fashionable again. Heck, it's only $920 at Amazon, shipping for free with 2-day delivery with Amazon Prime. I still need to share what I shot with my 28-300 in Yosemite last year.
Here's what's new today, mostly in Nikon's words:
10 Megapixels.
3.0," 921,000-dot tilting LCD.
7.1x Wide Angle Optical Zoom.
HD movies.
Full manual controls with control dials for creative control.
Available in September 2011 for $499.95 in Black.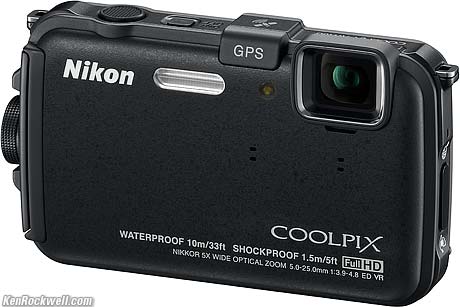 Coolpix AW100. bigger.
Nikon's first rugged point-and-shoot camera — waterproof, freeze proof and shockproof — an answer to Canon's excellent D10 that was launched last decade.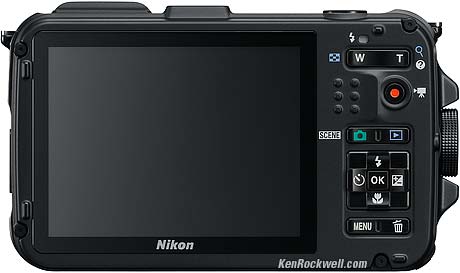 Coolpix AW100. bigger.
16 Megapixel backside illuminated CMOS sensor. Nikon uses the acronym "BSI" sensor. You gotta love Nikon's acronyms, almost as good as CBS TV's "See BS" acronym for Columbia Broadcasting System. Even without the BS acronym, "backside illuminator" is a hoot. I sure hope it doesn't use fire, like BrownFlame.com. Sorry; with a 4-year old, this is scholarly discussion around here.
1080P video.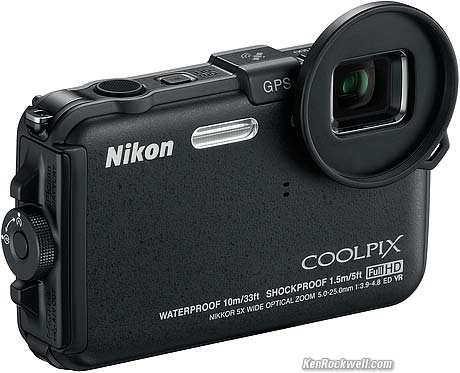 Coolpix AW100 with lens-attachment gizmo. bigger.
GPS-tagger and internal map display; allows photos to be shown on the map.
Available in September 2011 for $379.95 in Black, Blue and Orange.


20 lumen built-in projector, "40% brighter," but Nikon doesn't say 40% brighter than what. Honestly, though, I was astonded at how well the projector in the first S1000PJ worked; it actually projected all by itself on battery power, and I expected nothing.
Built-in projector works with an iPhone, iPad or iPod touch as well as a computer to allow users to project images and movies stored on these devices or from online.
14 Megapixels.
5x Optical Zoom
720p movies with stereo sound.
3.0-inch LCD.
Available in September 2011 for $429.95 in Black and Pink.


16 Megapixels.
3.0" 921,000-dot LCD.
14x Optical Zoom.
Very sleek, compact body.
1080p movies, one-touch operation, optical zoom, stereo sound and the ability to capture still images during recording.
High-speed continuous shooting which can capture five shots at up to six frames-per-second — in other words, less than one second of burst capability.
Available in September 2011 for $329.95 in Black, Red, and Silver.
16 Megapixels
10x Optical Zoom.
A super slim body (approximately 1-inch depth, which isn't any thinner than anything else, but thin for such a long zoom).
720p movies.
Small 2.7-inch LCD.
Available in September 2011 for $229.95 in Red, Pink, Silver, Blue and Black.
3.5-inch, bright, 820,000-dot OLED touch screen.
16-megapixel BSI CMOS sensor.
5x Optical Zoom.
1080p video with stereo sound.
Available in September 2011 for $299.95 in Red, Black, Purple and Gold
23 August 2011, Tuesday
Big Week in Japan
I hear new Nikons are on the way tomorrow, Wednesday, maybe Canons, too.
World's Best Oaxaca/Dia de los Muertos Tour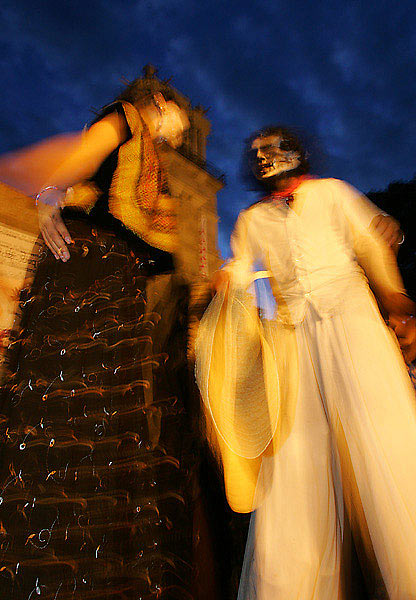 Some people get all dressed up!
My pal Jim "Jaime" Cline has been shooting all over México and Latin America decades before it became chic for people on luxury tours. Jim's tours are so good he's got loads of repeat attendees - on the same tour each year!
Jim after a hard day trip leading
More about Jim's tour. (I won't be going; I'll be trick or treating at our new place on Long Island with the kids — Yay!)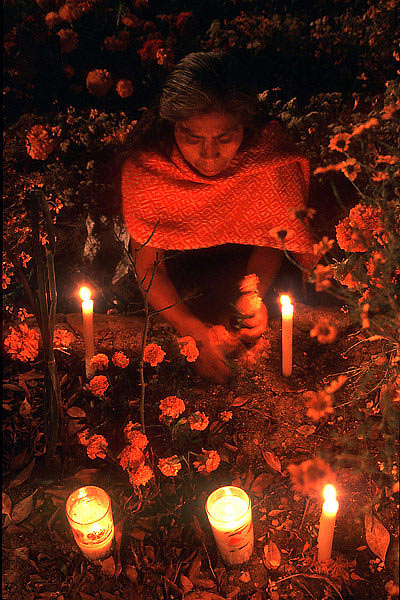 Jim's Mom — not really.
Testimonials - as if Jim needed any.
The tour runs 28 October - 05 November 2011 and is always sold out each year. The only reason I mention it is that I just saw Jim over lunch and he mentioned that he just had an unfortunate triple cancellation, and therefore some spots open on this usually long-sold-out-in-advance tour. Tell Jim I sent you — maybe there's a free taco in it for you or me.
22 August 2011, Monday
Big Week in Japan
This is Japan's Big Week; the week in which the new cameras and lenses for the fall are announced.
Expect big announcements Tuesday and Thursday from Nikon, Canon and everyone.
This isn't a secret; the last full week of August has always been when Japan announces what we all will have on our Christmas lists for Santa.
Nikon
Nikon's new FX camera is now a couple of years late.
Do you realize that Nikon has had nothing new in FX cameras since 2008? Yip, summer 2008 is when the D3X and D700 came out. The DX D90 came out at the same time, and we all know the D90 is as old as dirt. (The D3s, same thing as the D3, came out in 2009, also ancient digital history.)
Whenever, and if ever, Nikon ever has a new FX camera, it's going to be a game-changer, and as it plays out every year, the stupider people will wait to go touch one at a "store," by which time no one will be able to buy whatever's totally hot.
People will be wondering how I got mine first, which is simply because I'll order it the moment that Adorama adds it to their site the same day it's announced. That's my big secret!
See How to Get It for how to get whatever's new and hot without having to wait months more, or pay scalped prices to those who know How to Get It.
You can see my list of all Nikon DSLRs, with their announce dates and prices, at Nikon DSLR History. This makes it very easy to predict the next great thing; this all happens on schedule. This list is also segregated at DX Cameras and at FX Cameras.
Canon
The Canon 5D came out six years ago today in 2005.
The Canon 5D Mk II came out three years ago in 2008.
The Canon 5D Mk III could come out this week. We don't need a 5D Mk III, heck, even the oldest 5D still has better image quality than a brand-new Nikon D3 or D700, and you can buy a used 5D for only $1,000.
D5100 Good News
I just noticed that the Nikon D5100 is down to $675, or $764 with lens.
It was $800 ($900 with lens) when it came out in May. Yipee!
Great Magazines
Popular Photography
I was whining last month about how far Popular Photography had fallen. It was nothing but screen shots of computer software and the occasional camera review, but nothing about photography.
I've been laughing that for the past ten years of DSLRs that print magazines were still wasting their time trying to cover new cameras, but that digital cameras come out so fast that honestly, they are often obsolete long before magazines hit the stands.
Pop Photo listened to me, and the September 2011 issue is totally new. Pop Photo was bought by Bonnier Corporation some months ago, and it looks like things have turned exactly where I wanted them to go. Yes, icon Herbert Keppler is still on the masthead, in memoriam. God bless Herbert Keppler! He was the one guy in the age of print who kept everyone honest, and since his passing, I've never again seen honest mentions of embarrassing facts like Zeiss lenses actually being made by Cosina.
September's issue is one of the best general photo magazines I've seen. It's loaded with numerous articles about how to take great pictures, and a few camera reviews. There is not a single computer screen shot.
Hallelujah!
Of course my favorite section is the flashback to the Great Era: the 1950s. Elvis. LEICA. 300SL. 12AX7s and 6AU6s at every drug store.
Notice that the September 1951 Pop Photo cover portrait shot of a girl was made with a 180mm lens at 1/10 of a second (one-tenth) on Kodachrome, in daylight. This is where the "use a tripod for sharp pictures" myth originated. In the good old days, you needed a tripod, since broad-daylight exposures were a tenth of a second. No tripod, no picture, or you had to shoot wide-open and get nothing in focus.
Tripods went out the window a few decades ago for small-format daylight shooting, but so many shooters still live the myth. Turkeys.
I'm sure you noticed that they snapped back in 2010 from "fifty years ago" to sixty years ago and renamed the section "Time Exposure." The 1950s is all that matters; things started to go downhill in the 1960s, and with Mankind's crowning achievement of flying to the moon and back on 20 July 1969, it's all been downhill ever since. Personally, my new dark-ages calendar started its year one at 1969.
Today is year 42 of the new dark ages where ignorance, sloth and immoral activity are condoned and celebrated. We're heading into a new dark age, and I got to watch it all unfold live. Wonderful.
Today, people are forgetting crafts, arts, skills and trades faster than we're learning them, so as time goes on, these will all be forgotten as modern man wastes his brain cells on facebook instead of reading real books and playing with real hobbies. Computers were invented for porn and music, and that's it. For crying out loud, all of Man's greatest discoveries have come from men like Bell and Benz puttering around in their garages, not from posting useless information at flikr. If Fleming was playing with his mobile device instead of noticing something weird in a Petri dish back in 1928, we'd all still be dying from the simplest infections.
Arizona Highways
Arizona Highways has always been the best place to see the greatest nature and landscape photography as it happens, and from history.
The new September photo issue is an eye-popper. The cover is by Jay Dusard who has a portfolio within, and the insides are bursting with everything, even with great shots from the 1930s by Laura Gilpin, and yes, they are all two-page spreads and super-sharp because they were shot on timeless film, not irretrievable digits.
Ansel Adams isn't merely mentioned in the masthead in memoriam, he lives in many mentions throughout the magazine as he worked with half the people whose living works are presented within.
A Reader Writes
Exactly as I've said before, a kind reader shared this with me:
Dear Ken,

I've been reading your articles for many years, and this one really hit home: Why We Love Film.
On a recent trip to NYC, my wife used a Nikon N80, while I used a Panasonic digital camera.

At the end of each day, my wife could put away her used film, grab some new film for the next day, and relax and take a nap.
However, at the end of each day, I would have to recharge my digital camera, spend an hour or two copying, backing up, and emailing pictures. The one night that I didn't recharge my camera, the battery died the next day while shooting. I also had a memory card failure while shooting. Fortunately I had an extra card with me.

After our trip, my wife took her film to the lab. The next day we had prints, negatives, and CD's.

However, I have spent several hours over the course of about a week going through each picture, adjusting levels, cropping, deleting, etc. I then discovered that I misplaced some pictures that were on the bad memory card (I had recovered the pictures, but left them on a relative's hard drive in NYC, and forgot to bring them home.). So I still haven't gotten prints made...

Next time we travel, I'll take your advice and take a film camera.

Thanks for all the great advice!
You gotta love the Japanese
Few of us shoot anything other than Japanese or made-in-China cameras.
The Japanese love cameras and photography, and know photography means film. Digital is simply how they get the money out of America to pay for they good stuff they keep for themselves.
This site, TokyoCameraStyle.com, has now been around three years. It's a guy who takes pictures of all the cameras around the necks of people he meets walking around Japan. The latest entries are just of the people show arrived at his latest gallery show. Hmm: real photos, real film, real printed pictures, real in-person gallery show.
Digital? Online boredom, no show, nothing to add to your artist's resume, nothing but living at home in mom's basement staring at a screen (like me now).
Internal Lens Dust Anyone?
Specks of dust inside a lens do nothing to pictures. The effect on contrast is invisible, unless it's completely clogged.
Dust is good for buyers, since it means a discount, and the lenses of course work just as well. I LOVE used lenses with dust specks, because I love a deal.
Zooms are supposed to get dust in them. From where do you think the air comes to fill up the lens as they are zoomed in and out — outer space?
$250,000 TV zoom lenses have air filters to combat this, but not our cheap $2,500 70-200 zooms. They will get specs of dust inside. No big deal: use the dust to get yourself a discount.
See also The Flashlight Test.
20 August 2011, Saturday
NEW: Zeiss 50mm f/2 Makro-Planar Review.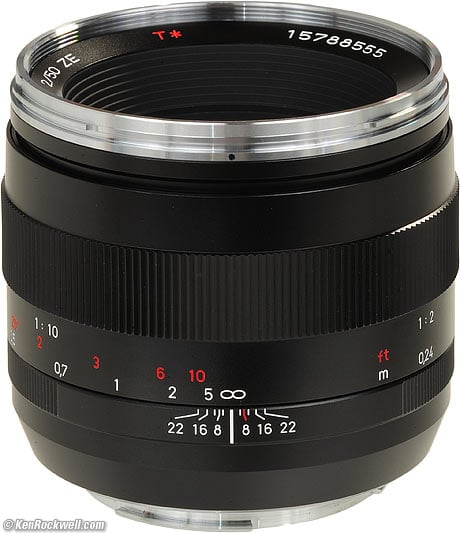 Zeiss 50mm f/2 Makro-Planar für Canon.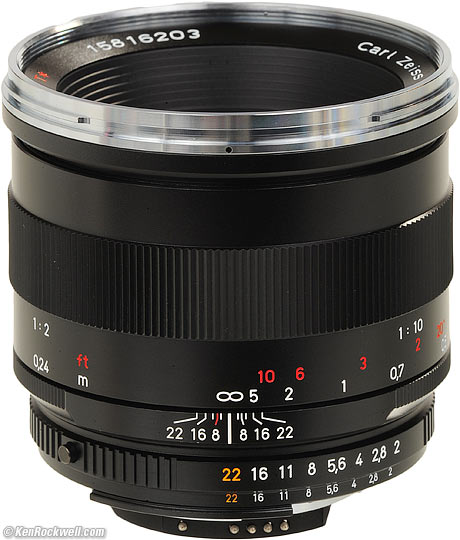 Zeiss 50mm f/2 für Nikon. Comes for Pentax, too.
A big, expensive manual-focus Zeiss lens with better mechanics, but about the same optics as most of Nikon and Canon's short macro lenses.
Nikon's classic 55mm f/2.8 AI-s is still my favorite manual-focus short macro lens, and still available brand-new, but heck, the Zeiss is twice as fast (and twice as heavy and three times as expensive) and adds a CPU for more exposure automation.
19 August 2011, Friday
Nikon 17-55mm DX vs. 16-35mm VR
Readers have asked that since the 16-35mm VR is the world's sharpest ultrawide zoom, if it's a better choice for DX cameras than the 17-55mm DX.
NO!
For DX, the 17-55mm f/2.8 is much better. Why is the 17-55/2.8 a better choice for DX if the 16-35mm VR is the world's sharpest ultrawide zoom?
One must read my words precisely. The 16-35 really is the world's sharpest ultrawide zoom, but as you need to know, "ultrawide" and "zoom" are each weasel words that exclude other lenses from the comparison. If you remove the word "ultrawide," the world's sharpest zoom is the Canon 70-200mm f/4 L IS. If you remove "zoom" but leave in "ultrawide," the world's sharpest ultrawide lens for 24x36mm format is the LEICA ELMARIT-M 21mm f/2.8 ASPH. If you remove the word "zoom" and "ultrawide" the LEICA APO-SUMMICRON-M 90mm f/2 ASPH is the world's sharpest 24x 36mm format lens. Of course large-format (4x5") lenses are even sharper. As everyone in marketing, but few members of the public know, weasel words are everything. The worst is when car companies claim a car is the best "in its class," and never bother to tell you that they defined their own class which only includes cars worse than theirs.
In this case, the 17-55mm is not an ultrawide, and it's as sharp as the 16-35mm on DX cameras. Sharpness isn't the issue here. Ultrawide zooms are the most difficult lenses to make, and therefore they are softer in the corners than any other photographic lens.
The Nikon 16-35 VR is the world's best ultrawide zoom, far better than the older-generation Canon 17-40mm f/4 L and Canon 16-35mm f/2.8 L II I also own — when used as ultrawide lenses on full-frame.
When used on DX, these expensive full-frame ultrawides simply become midrange zooms. On DX, we need to compare these to other DX midrange zooms. When we compare full-frame ultrawides to DX midrange lenses, the full-frame ultrawides are much bigger, heavier and more expensive because they have to cover a larger format, and they have more restricted zoom ranges. They aren't any sharper, in fact, they probably are less sharp than the dedicated DX lenses.
I never, ever suggest using full-frame wide lenses on DX cameras. This is why Nikon invented DX lenses: for better optical, size, weight and price performance on the smaller formats.
18 August 2011, Thursday
NEW: Nikon 17-55mm f/2.8 DX Review.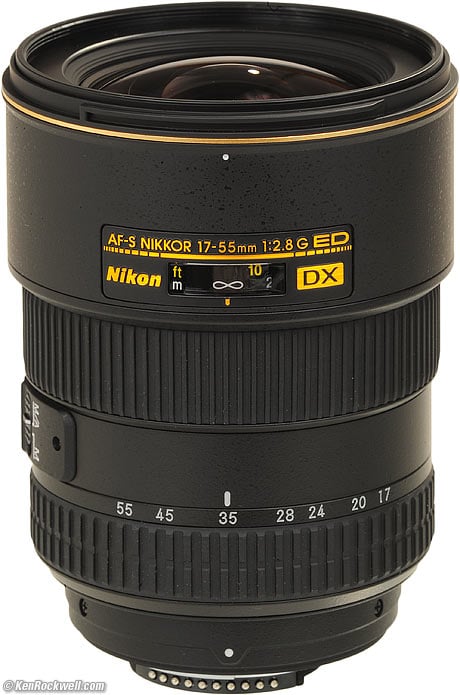 Nikon 17-55mm f/2.8 DX.
Too good to be appreciated when introduced in 2003 since DSLRs had no more than 6 MP, this is an awesome lens today if you need a fast professional midrange zoom for DX, like for your D7000.
17 August 2011, Wednesday
The Fuji X100 Still Rules
I made some indoor shots on my D7000 as I'm retesting for a new era the Nikon 17-55mm. Shots on my D7000 at ISO 3,200 look so noisy compared to the Fuji X100 at ISO 3,200. Hah!
NEW: Nikon 105mm f/2 DC Review.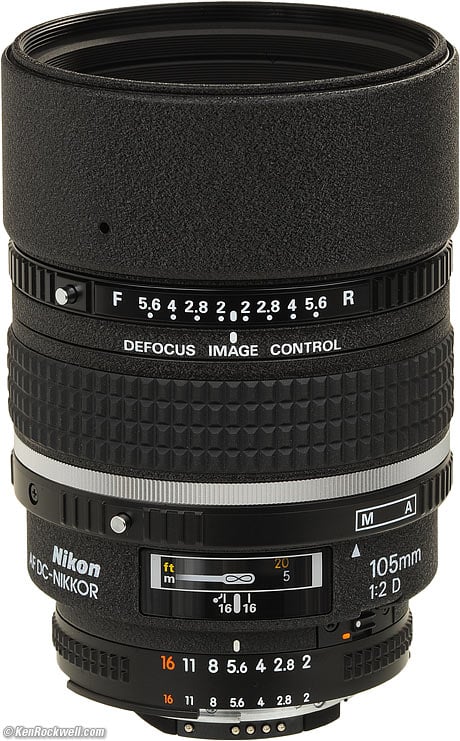 Nikon 105mm f/2 DC.
World's best 105mm lens.
Pentax K1000
The only reason I haven't yet reviewed this classic of all classics, the Pentax K1000, is that the beaters I've been given have all had meters that need adjustment.
I see a Pentax K1000 on eBay claiming it's new. Go get it! (see How to Win on eBay). Whoops - already sold a few hours after I mentioned it for $320, a steal!
It's a bargain compared to what I kid that they'll be selling for — used — in a few years.
Laugh all you want, but they're not making these any more, and while the Nikon F6 is the best SLR of all time and is still sold new today, all the only other simple 35mm cameras made today are garbage. The F6 is so in-demand that it's rarely in-stock new, even at $2,500, which is likely because all the other cheap SLRs that used to be well-made by Cosina are now made crappily by mystery factories in God-knows-where.
The F6 is an awesome camera. I love my FE, F2AS and FA, and the F6 is better than them all. It even gives me automated exposure and color matrix metering with my old manual-focus lenses, even the ancient ones I've AI-converted.
Updated: 55mm f/3.5 Micro-NIKKOR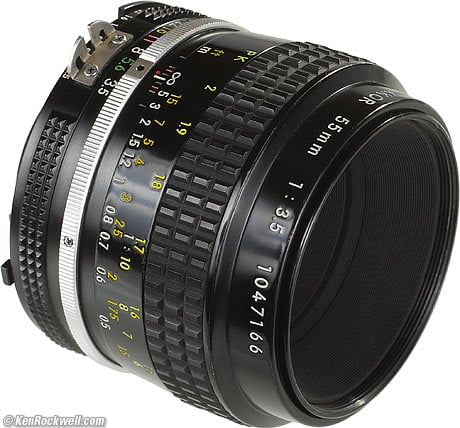 Nikon 55mm f/3.5
I just updated some of the historical information in my Nikon 55mm f/3.5 Micro-NIKKOR Review.
The f/3.5 is a bargain at about $100 used, but more importantly, let's not forget that Nikon's current 55mm f/2.8 Micro-NIKKOR is the sharpest lens Nikon has ever made, and you can buy it brand-new, in-stock for $420. The current 55mm f/2.8 is so sharp it's often used in laboratory equipment and machine vision applications.
15 August 2011, Monday
Digital Rot gets worse!
I wrote Digital Rot three years ago in 2008.
Digital rot is where a perfectly good camera becomes worthless precisely because it's digital, and if the now obsolete digital guts weren't there, that it would still be a useful and valuable camera.
Well, as time goes one, I'm more and more correct.
In 2008, a used Nikon D1H was worth about $75, and a well-worn Nikon F5 was worth a few hundred dollars. They are the same camera, the only difference being that the D1H has digital guts and sold new for $5,000, and the F5, which just has a hole for film, sold for $1,500 new.
Today, a friend just gave me a like-new Nikon D1 from 1999. This original Nikon D1 came just before the D1H (2003), and is the new digital version of the Nikon F5 (1997). All three are the same camera, save for a hole for film or digital guts in the place of the hole.
Today, a Nikon D1 is worth so little that my friend was going to throw it out, and gave it to me out of charity.
Let's see the box score:
| | | | | |
| --- | --- | --- | --- | --- |
| | New, 2000 | Used, 2008 | Used, but like new, 2011 | 2015 |
| Nikon D1 | $5,000 | $50 | 50¢ | 5¢ |
| | $1,500 | $300 | | $2,750? |
35mm cameras are now going back up in value, since very few of them are being made, and more and more serious new photographers are discovering the timeless power — and exclusivity — of 35mm film.
11 August 2011, Thursday
NEW: Should You Upgrade?
A new answer to the age-old question.
10 August 2011, Wednesday
New Nikon F5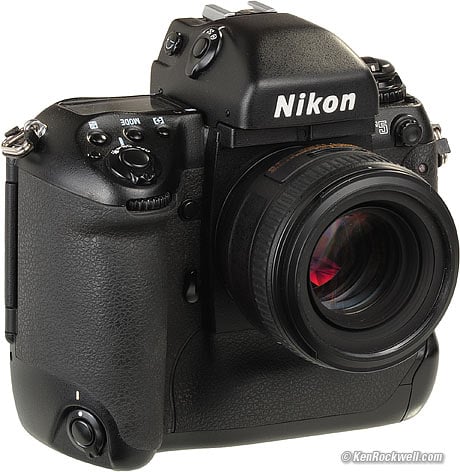 My Nikon F5.
I see a Nikon F5 on eBay claiming it's new. Go get it! (see How to Win on eBay).
Remember the Canon A-1 that sold in a few hours last week for $600?
You people thought I was kidding a couple of years ago when I predicted that in a decade, as more and more photographers discover film, and few if any quality 35mm cameras are being made new, that supply and demand will push even Pentax K1000s to over $1,000 each.
09 August 2011, Tuesday
NEW: Voigtländer 75mm f/1.8 Review.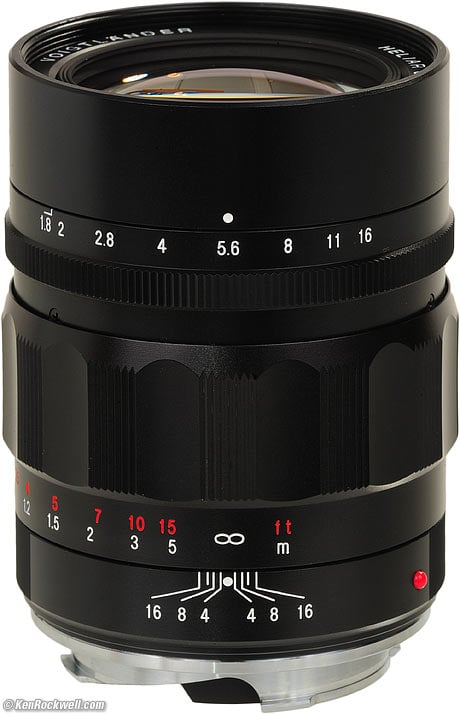 Voigtländer 75mm f/1.8 für LEICA M.
A swell lens, but why?
08 August 2011, Monday
Fuji IR-UV DSLR Deal
Adorama has the Fuji IS Pro bodies for only $999.95.
The Fuji IS Pro is a specialized DSLRs that see from infrared through ultraviolet, roughly 1,000 - 380 nm.
Nikon 17-35/2.8 or 16-35/4 VR?
A reader asks which is better, since they sell for about the same price used.
The answer's simple:
The 17-35mm f/2.8 is tougher for pros, and a stop faster for action in low light.
The 16-35mm f/4 VR is better optically for nature and landscape, but made of plastic and slower. VR only helps for subjects that don't move.
20% off Think Tank Sets
The 20% off sale applies to any Modular or Skin set component, as well as to the complete sets themselves.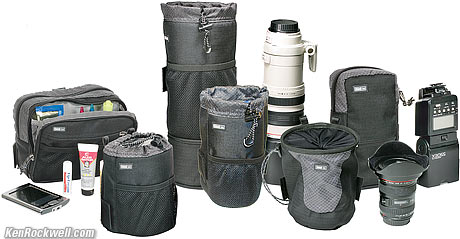 The other Modular Set components for sale individually are the Belly Dancer Harness, All the Other Stuff, Bum Bag, LARGE Lens Drop In, Lens Changer 75 Pop Down, Lens Changer 25, Lens Changer 35, Lens Changer 50, Lens Drop In, Lightning Fast, Modular Pouch, RU Thirsty, Speed Changer, Chimp Cage, Trim Changer, and Whip It Out.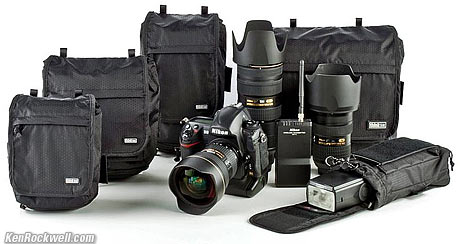 The other Skin Set components for sale individually are the Skin 50, Skin 75 Pop Down, Skin Chimp Cage, Skin Double Wide, and Skin Strobe.
See also Think Tank's site. You guys also get to choose a special free gift with each order for being friends of mine. Yay!
06 August 2011, Saturday
New Canon A-1 for sale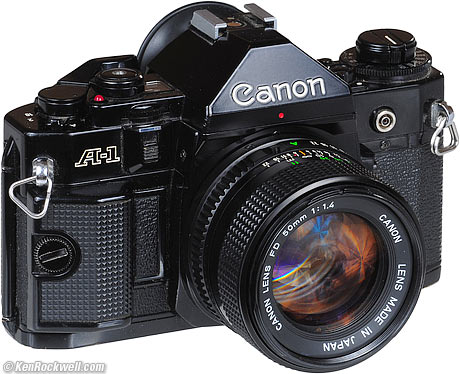 Canon A-1 and FD 50mm f/1.4.
I see a brand-new Canon A-1 for sale on eBay. They don't make them like this anymore!
The Canon A-1 is a camera for people who actually take pictures, unlike some expensive digital cameras today that can't even save the contents of their own memory cards. To what is this world coming?
I don't have a full review yet of the A-1, but do have it on my Canon FD Comparison Table. The photo here is of a different A-1 of course. enlarge.
Copy $3.99 ML-L3 infrared remote: a winner!
I ordered a copy of the Nikon ML-L3 remote control over eBay for only $3.99, including free shipping.
It arrived, and works great. It even comes in a box styled just like Nikon's.
The same thing is on Amazon for a whopping $2.74.
At just $14, the Nikon ML-L3 remote control is one of Nikon's best buys (along with the 50mm f/1.8 AF-D, one of their best lenses at any price and also their least expensive at only $125), but if $14 is too rich for your blood, the copy Nikon ML-L3 works great. It even can bounce off walls to control my D7000.
I bought my first ML-L3 back in 2004 for my D70, and it works with all of Nikon's best new cameras like the D5100 and D7000. The more expensive cameras don't work with it; with the D3 you have to buy a $150 adapter!
05 August 2011, Friday
NEW: Tokina 28-70mm f/2.8 Review.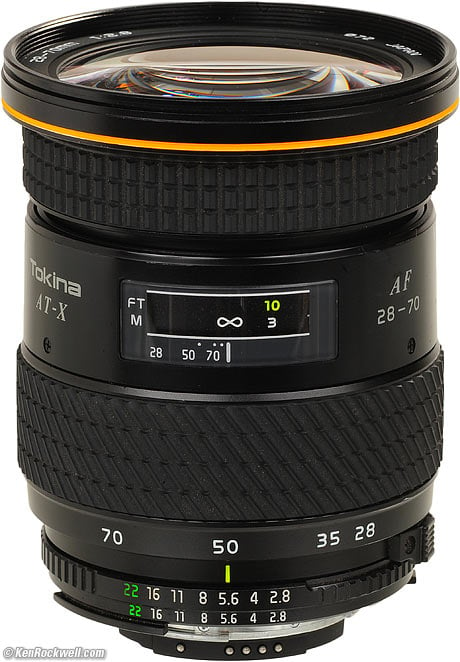 Tokina 28-70mm f/2.8 AT-X AF FX.
An FX f/2.8 zoom as small and light as slower lenses from Nikon, and better-built, too, for about $300.
New FX cameras in 3 weeks?
I've given up on waiting for new FX cameras from Nikon. The newest FX camera, the D3X, came out back in 2008!
If Nikon is still in this game, and I'm sure they are, the next FX camera is going to be a doosey, and if they're going to announce one, it will be in three weeks on the 24th of August — or maybe not.
04 August 2011, Thursday
NEW: Nikon 135mm f/2 AI-s Review.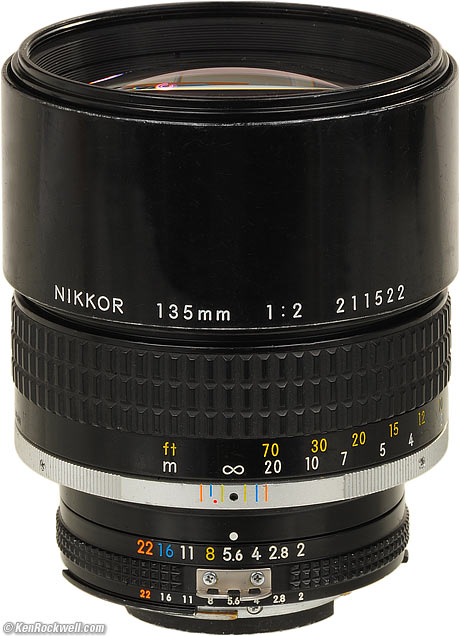 Just as fantastic for portraits as the $1,400 135mm f/2 DC, for $1,000 less, if you know how to focus.
PHOTO BOOK SALE: $8.99 at Adorama, and they are real dark-exposed, chemically-processed photos bound on Swiss-made bindery equipment.
NEW: 21% off at ScanCafe for new customers:
Use code
ROCKWELL21AUG11

Valid for new customers only for photo, slide, negative, and video scanning. Not valid with any other offer, or with value kits, gift cards, gift boxes or for photo restoration. Expires August 31, 2011.
Say it Yourself
If you have something to say that matters, put it up on your own website. All it took me to learn how to do this site was one free community college class in Dreamweaver back in 1999.
Posting on forums is a waste of your time.
Full-time pro photographer Gil Lavi wrote me about how unhappy he was that each of his two new LEICA M9s were defective by design and corrupted his image files. That's right: in the middle of an important paying portrait shoot, his M9 cheerfully said that it was recording, but when trying to download the files, the files were empty!
Whoops! Actually being able to use the images isn't important to the LEICAMAN, but I can see how it occasionally could be important to someone who actually works for a living.
Gil had been posting his problem on a forum looking for a solution, and guess what? His comments were edited (removed). How about that?
In case you hadn't noticed, forums are for-profit businesses, and if your comments aren't good for business, they are removed. Even if a forum's content seems chummy, the forum itself exists to make the forum owner a profit. Even better than people posting for free, forum owners make windfalls as others volunteer to moderate for free. Coming from broadcasting myself, it's always astounding what otherwise reasonable people will do in exchange for a tiny bit of fame.
Posting on forums might be fun, but the disadvantages are:
1.) You're working for someone else for free. See all the ads on forums? You're writing the content for someone else's site, and they're collecting the profits.
Look at the click-license you signed when registering: buried in there is a clause that grants those forum sites full eternal rights to whatever you write. That's why they require you register. By owning your content forever, forum owners repackage and sell your content again and again. That's why you'll often see the same threads duplicated in their entirety in different places. The site owner is reselling all the content you wrote for him, and he thanks you for that.
To a site owner, your posts are now his business assets. He thanks for your 500 posts!
2.) Not only do you no longer own your posts, if the posts are bad for business, they are removed. Forums aren't democracies or real public forums; online forums are private operations that let you create publicly displayed online content for the profit of the forum owner. If you get out of line, you're taken offline.
3.) Forum posts are mostly anonymous, and therefore worthless except to the forum owner. Forum posts don't make the news because you can't attribute a news article to "snapper22" as you could to an actual person.
When Gil posted his observations on a forum, they were deleted forever as being irrelevant, but when he shared these on his own site, Popular Photography Magazine (USA) and Amateur Photographer Magazine (UK) took notice.
I reported file corruption problems on my M9 back in 2009 in the Frame Buffer and On-Board Computer sections of my LEICA M9 review. For me, I only use the cards recommended by LEICA, which is the SanDisk 4 GB Ultra II. The M9 is a primitive digital camera, so fast cards do nothing for it. Another reader shares that larger cards, like 32GB, slow down his Fuji X100. I don't know why people use such huge cards; 4 GB is a ton of storage.
As I covered two years ago, M9 isn't for heavy spray-and-pray digital shooters, for people who have to work for a living, or for people who depend on their images. The M9 is an experience for the well-off, not a fluent, bug-free camera like a Nikon or Canon. If the image matters, I shoot a LEICA M3, Canon or Nikon. I love my LEICA M9 above all other digital cameras for travel, nature and landscape shots, but I shoot a 5D Mark II or D3 if I need a camera that won't choke when shot heavily.
The moral is always to share your views on your own site if you have something to say, to adhere to manufacturers very limited listings of approved memory cards, and never to waste time posting anything on someone else's site. That's why I have no forums here to waste your time.
People think my site has a lot of content, but I'll bet that other people have added even more content to other people's forums and no one has ever noticed. This site seems big and I get noticed only because everything I've added over the years is still here on a site that I own. Be sure you're at your own .com domain name, and never a fractional domain like facebook.com/kenrockwell or sites.google.com/site/kenrockwellcom/.
Hint: you can register your domain name now, and simply forward it for free to your flickr gallery or whatever until you launch your own site. Never give anyone the flickr or other link; give everyone the .com address.
When I registered KenRockwell.com in the 1990s, it pointed to my Yahoo gallery until I learned how to make my own site. Today, I have a lot of domain names, like MontecitoWorkshops.com, that simply point other places until I return to California and hopefully Santa Barbara.
Yes, the LEICA M9 is the world's best digital camera, but that doesn't mean it's the best for everything or for everyone. Mine works like nothing else on earth; my 5D Mk II has more pixels, but Canon's wide-angle lenses aren't as good as LEICA's, so my M9 images are better — and the M9 weighs so much less.
03 August 2011, Wednesday
LEICA M9 Upgrades
If you have one of the old LEICA M9s as I do, LEICA will gladly update it to an M9-P for a negligible convenience fee.
For $1,300, LEICA will change the LCD cover to sapphire and change the covering to Vulcanite or smooth MP-style fake leather.
For $2,000, LEICA will do that, and swap the top and bottom covers to the newer ones, in your choice of silver or black.
To have this done, ring LEICA at (800) 222-0118 extension 9930 to make your reservation.
LEICA throws in an additional 1-year warranty extension, free, with these services.
If you're in Southern California, you can drop off your camera at OC Camera in Mission Viejo, (949) 347-1276.
No, I'm not having mine changed, but I'm sure most of you rich guys will.
02 August 2011, Tuesday
World's Best B&W Film: Fuji Velvia 50
On what digital camera was the cover of this month's Outdoor Photographer shot?
August is their black-and-white issue, and they spend months culling the world for the absolutely most eye-popping black-and-white image to grace their cover. It can be from any century, any artist, any subject and any camera, so long as it's absolutely the very best image that will catch eyes and make people want to see more of what's inside about B&W photography.
What image, what format and what camera produced the boldest, sharpest, most brilliant image ever made? Was it 4x5" TMAX? An 8x10" glass plate? A 120 Tri-X negative from the 1960s? An edgy 35mm pushed-to-ISO 3,200 negative?
This year's cover, like most Outdoor Photographer covers, was shot on Fuji Velvia 50, and converted to B&W. (see page 14.)
How about that? As always, Fuji Velvia 50 is the world's first choice when the image matters — even if its converted to black-and-white!
01 August 2011, Monday
Fuji Velvia 50 back in-stock in 8x10, 4x5, 120 and 35mm
Fuji Velvia 50 is back in-stock at Adorama and at B&H. Enjoy!
The problem has been hoarders (like me) who have a freezer full of a lifetime's supply, and then we never buy any more, even though we shoot it heavily.
When we heavy users stop buying, it sends Fuji the wrong message that no one needs it any more.
Even if you have a freezer full, we need to keep buying it so Fuji keeps making it.
Observed: Shooting Black
I'm impressed: the August issue of Pop Photo has a great article for a change. It's an article on how to shoot black objects, and add detail while keeping them looking black.
It looks simple, until you realize it's talking about the lighting involved in making a black-and-chrome dashboard just look normal. You realize the difficulty involved, and that if you don't consider all of what needs to be involved, that your image isn't going to look anywhere near as good as the sample does.
It's a great article because it stresses the only important part of the photo, which is lighting. The camera is irrelevant.
Sure, the guy used a D3 and 24-70mm, but the important part is that he used about a dozen lights, and three different exposures composited together for chrome/mid/blacks. It could have been shot on a Canon S95 just the same.
After it was shot, he also composited 14 exposures, each lit differently for each piece of chrome, which is critical to getting each piece to look right. Lighting chrome is a bear!
It's a great article because it talks about what to do and why to get the shot, and isn't like most other articles that only talk about how to do things, but not the more important part of why. Likewise, there isn't a single screen-shot.
It's the first article in a long time that's not silently sponsored by some camera or software company, preaching that good photos only come from buying more cameras or needless software. This article is all about what matters: the man, his vision and his lighting, not about a camera, lens or software.
Jockeying cameras or software is easy; the hard part is knowing what you want to do with them in the first place.
Too many people spend all their time worrying about the gear and technique, and never the only things that really matter, which is what are you trying to do and why? Only after you've answered those questions may you even begin to start thinking about gear or technique, and guess what: if you've done your homework defining what you're trying to do and why, the equipment and technique choices become obvious — or irrelevant.
NEW: KenRockwell.mobi.
KenRockwell.com and all of this site has always been mobile-compatible, and for those who insist, you can get here using KenRockwell.mobi as well. It's all the same site, and all mobile-compatible.
For my family, RyanRockwell.com and KatieRockwell.com are now up and running.
I had a real cow naming them Ryan and Katie when they were born, because we couldn't get the .com URLs. Now they've got their own real domain names, yay!
What Was New in:
Help me help you
I support my growing family through this website, as crazy as it might seem.
If you find this as helpful as a book you might have had to buy or a workshop you may have had to take, feel free to help me continue helping everyone.
If you've gotten your gear through one of my links or helped otherwise, you're family. It's great people like you who allow me to keep adding to this site full-time. Thanks!
If you haven't helped yet, please do, and consider helping me with a gift of $5.00.
The biggest help is when you use any of these links to Adorama, Amazon, B&H, eBay, Ritz, Calumet and J&R when you get anything, regardless of the country in which you live. It costs you nothing, and is this site's, and thus my family's, biggest source of support. eBay is always a gamble, but all the other places always have the best prices and service, which is why I've used them since before this website existed. I recommend them all personally.
Thanks for reading!
Ken
Home Donate New Search Gallery How-To Books Links Workshops About Contact