Home Donate Search Gallery Reviews How-To Books Links Workshops About Contact
July 2011's Updates Hot Deals
all © 2011 KenRockwell.com. All rights reserved.

Nikon Canon X100 LEICA More Reviews random Ryan Katie
Recommended Cameras How to Take Better Pictures
NEW PHOTO TOUR: Monterey and the Central California Coast, 26-28 August 2011. See you there!
NEW: Plain-English Nikon D7000 User's Guide.
NEW: Plain-English Nikon D5100 User's Guide.
28 July 2011, Thursday
NEWS: New Canon 5D Mk 2 Firmware
Version 2.09: Here you go! This was from a month ago, but I hadn't noticed it until now.
Canon 5D Mk 2 Review and Canon 5D Mk 2 Users Guide.
NEW: Stax SR-007 MK2 Omega II Review.
Stax SR-007 MK2 Omega II.
Hey, sorry about the audio reviews, but when you realize that my background is from a very musical family, and then rich people offer to loan me their $2,400 headphones for a few days, you know I'm going to say YES! This website started by me posting the results of my experiments fueled by my curiosity about everything.
I especially realized I needed to share what I learn about audio gear as there just isn't any good information out there today. All the good audio writers got real jobs back in the late 1980s when home video replaced recorded music as the dominant form of home entertainment, leaving the world with nothing but meaningless, off-topic chatter instead. Heck, even articles in print labeled "reviews" run on for pages of useless information about anything and everything except the actual subject of the review: how do these headphones sound?
27 July 2011, Wednesday
NEWS: New Olympus Cameras
Olympus PEN E-PL3: interchangeable lens PEN Micro Four Thirds camera. Available in September at $699.99. Press release. A tiny FL-LM1 flash comes bundled as an attachment with the new PEN E-PL3 kit.

VF-3 Electronic Viewfinder: Attaches to Olympus PEN models with an accessory port, as well as the Olympus XZ-1. $179.99. Press Release.

SP-810UZ: Point-and-shoot with a 36x f/2.9-5.7 extra-wide optical zoom (24-864mm equiv). Press Release.
DEAL: Nikon S70 kit for $139.99
When introduced at $400, I hated the Nikon S70.
Today on close-out at $139.99, including leather case, 2 GB card and 2-year extended warranty, hey, if it floats your boat, go for it! Adorama also has deals on them today, even refurbished for $85!
26 July 2011, Tuesday
Fuji Velvia in all sizes in Japan
While we Gaijin here in America have to take whatever formats Fuji USA feels like importing, the Japanese keep the good stuff for themselves.
Apparently you can walk into stores in Japan and get all the new Pentax spotmeters and Fuji Velvia 50 in any size you want. Heck, you can even get it at Amazon Japan.
We need an entrepreneur to start importing this great stuff for we cognoscenti here in America, otherwise, I'm moving to Japan. Those guys LOVE photography.
Nikon D7000 Body-only In-Stock at Amazon.
These sell-out fast, so hop on it.
Black CONTAX 21mm f/2.8 BIOGON
I found one for sale on eBay for use the CONTAX G1 and CONTAX G2. These are the best 21mm lenses I've ever used, presuming you're enjoying the CONTAX G series of 35mm cameras. Here are the specs for the 21mm.
NEW BOOK SUGGESTION: Chasing the Light
Chasing the Light by Ibarionex Perello is one of the very, very few books that talks about what actually matters in making great photos, instead of just being another book filled with computer screen shots.
Chasing the Light is filled with great photos, and not a single computer screen-grab. Much more importantly, it talks about the broad issues critical to creating great photos, and stresses that your camera just doesn't matter.
Bruce Barnbaum's "The Art of Photography" is mandatory reading. If you've mastered it, then by all means, Chasing the Light is well worth a read. ("The Art of Photography" is so much better than every other photo book that it's scary; it's the best photo book ever written. When its previous edition sold out, it sold used for hundreds of dollars, so for under $25 at Amazon for either of these, don't whine to me if you don't get one while you can.)
People send me a lot of books to review, and most of them are awful. I'm astounded at how much effort people put into mindless book after book of the same screen shots showing how to do panoramic stitching or HDR, and are loaded with crappy photos of their dogs or the woods outside their house. Yawn.
I guess that stuff sells, but honestly, everyone must read "The Art of Photography," and if you want to read more, Chasing the Light, Creative Nature & Outdoor Photography, Galen Rowell's Inner Game of Outdoor Photography and The Best Camera are all well worth your time. Chasing the Light is new, while the rest of these and more have been at my Books page for years.
American Magazines are mostly camera-company-sponsored rubbish today. I've subscribed to Modern Photography since 1973, and they were bought-out by Popular Photography a decade or two ago, and I still subscribe out of habit, but I'm an old-timer who can't resist the $9 a year (they give the magazine away so they can charge more for the ads).
One good magazine is the new German (but in English) C't Digital Photography Magazine. I was reading it again this weekend, and realized that they had only about three small ads in the entire magazine, and no ads from any camera or lens or software companies. The entire C't Digital Photography Magazine is articles, not ads. Sure, it's more expensive than Pop Photo, but that's because you're paying for content, not camera companies. The content is written in our interest, not in the interest of the advertisers. For instance, C't Digital Photography Magazine has reviews of old manual-focus SLR lenses as used on DSLRs, just as I do!
25 July 2011, Monday
Geiger Counters back in stock
The SPER 8400007 radiation detector used for the official California Radiation Levels report is back in stock at Amazon.
Deals on More 14x40 Stabilized Binoculars
Ritz' clearance center (a.k.a. Wolf) has two more open-box pairs of Nikon 14x40 StabilEyes here and here. They are the same as the Fujinon 14x40 I got from Santa in 2006.
I've bought from this place before over eBay, and was very happy.
See How to Win at eBay. Many bid, but only one wins. Make that winner you.
Adobe Photoshop & You Experience: San Francisco
Adobe says "Step into the infinite world of digital imaging. Drop by the Photoshop & You experience, open for two weeks in San Francisco, to explore new ways to be creative with your photos. unlock and unleash your own limitless imaginative power!"
It runs from now through August 6th at 550 Sutter Street.
While I'm here, you can get your software directly from Adobe's own online store, and these purchases not only are deals for you; your purchases there also help support this site.
Adobe Student & Teacher deep discounts
24 July 2011, Sunday
Winners helping Winners!
Thanks to our help, we got Declan to the world championships, and he made it through all the heats to sixth-place worldwide. That's pretty good for a kid for whom this is his first trip to the international competition.
A zillion thanks to all of you for your help. Whoo hoo! We won!
23 July 2011, Saturday
Thank You!
Together, we got Skip and Declan to Akron, Ohio, where they are about to race at 11:30 AM local time. YAY!!!
Declan is in car R724 and will be racing his first round in Heat 111.
You can watch the race LIVE at http://aarace.com/aaraceweek/
Look in the lower right corner of the page for the stream.
For Android, you can get this application to watch:
http://www.aaracetracker.com/GetMobileApp.html
and maybe there are more ways to watch at
http://www.aaracetracker.com/AARaceTracker_desktop/
Declan will race between the following times, all Eastern Standard Time:
1st Round 11:25-11:45 Lane 1. If he wins then
2nd Round 1:45 - 1:55 Lane 3. If he wins then
3rd Round 2:55 - 3:00 Lane 2. If he wins then guaranteed Top 9 and will Trophy.
4th Round 3:40- 3:45 For 7-9th Place. If he wins then I don't know what lane for the rest.
5th Round 4:20 - 4:25 For 4-6th Place.
6th Round 4:45 - 5:00 For CHAMPIONSHIP!
THANK YOU!!!! His hand-made donations page hasn't updated the last-minute generosity that poured in that just pushed him to their goal at the last minute; they obviously were busy packing and shipping and traveling to Ohio.
This means everything to a kid, and together, we made it happen. As an adult, Declan would never be able to go back and live this, if it weren't for us making it happen today.
THANK YOU!!! As I mentioned, Skip is the guy who first helped me figure out how to make this website back in 1999. Without Skip, for all we know, I might have never figured it out and KenRockwell.com might have never done anything more than point to my Yahoo! gallery as it did for the first few months.
22 July 2011, Friday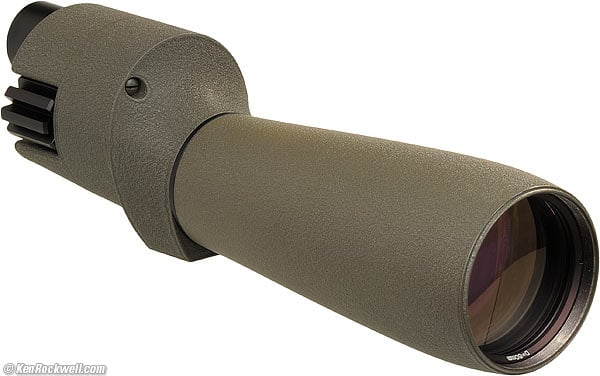 Bushnell Spacemaster II.
NEW: Bushnell Spacemaster II Review.
21 July 2011, Thursday
Declan needs our help
Declan made the newspaper again as he continues to struggle to raise the funds required to get to Akron Ohio to race in the 74th World Champion Soap Box Derby.
If you can help, they'd really appreciate it. I helped, can't you? They need our support. Thank you!
Nikon 13mm: World's Widest Pro lens.
For the first time in three years, I see what looks like an individual seller offering a Nikon 13mm f/5.6 for sale at eBay (see How to Win at eBay).
Here's my review of the 13mm f/5.6. Enjoy!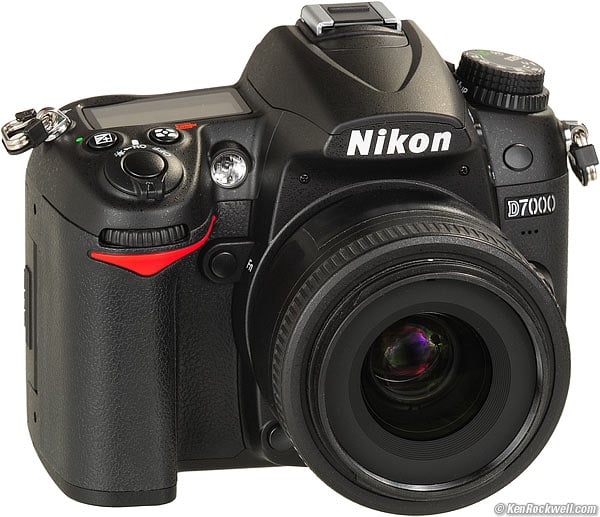 Nikon D7000 and 35mm f/1.8 DX.
NEW: Plain-English Nikon D7000 User's Guide.
20 July 2011, Wednesday
Workshop this Sunday in San Diego
Come see Michael Regla at MoPA, 10AM - 2PM at MoPA in Balboa Park, sponsored in part by my photo club.
He'll be teaching how to light well without using a lot of gear, especially using off-camera strobes for polished commercial results.
Michael teaches a more extensive course on the this topic at UCSD Extension. The first part of the class will be indoors, viewing slides, discussing lighting situations and equipment. The second half will be working with a live model and seeing all the techniques in action.
(My next workshop is 26-28 August, Monterey and the Central California Coast.)
14 x 40 stabilized binoculars
I have the Fujinon 14 x 40 Techno-Stabi, which to my amazement, not only stabilize when hand-held, actually work when hand-held in small fixed-wing aircraft like Cessnas.
I found a demo model of the Nikon-branded version for sale at eBay (see How to Win at eBay). This could wind up being a great deal for someone.
The Techno-Stabi are still a great deal to buy new. Today they still sell for only $1,149, which is the same price as back in 2006, and the dollar is worth only about half today of what it was worth versus the Yen in 2006. They are a very specialized item and hard to find in stock. They are very special because their stabilization actually allow us to use all that magnification, unlike the best binoculars from LEICA, which can't see anywhere near as much detail as the stabilzed binoculars due to natural hand tremor — and LEICA's new binoculars cost double the new Fujinons!
Toy Cameras — YAY!
That clearance center selling the Fujinon 14 x 40 Techno-Stabi and the Pentax 1º Digital Spot Meter is moving all the leftovers from closed Ritz retail stores (RitzCamera.com is a completely different operation).
That clearance center's eBay operation is a good operation; as I write this, my kids are LOVING the toy cameras I just received from them - for a whopping dollar a set, complete with software, camera cases, pens, glue sticks, notebooks, software and stickers!
We got SIX complete sets of digital cameras for six dollars. I gave two to my kids, and have four more left over for me — and if I don't like them, I still have a 7-day return policy. Who hoo!
Nikon ML-L3 infrared remote for $3.99
At just $14, the Nikon ML-L3 remote control is one of Nikon's best buys (along with the 50mm f/1.8 AF-D, one of their best lenses at any price and also their least expensive at only $125).
I bought my ML-L3 back in 2004 for my D70, and it works with all of Nikon's best new cameras like the D5100 and D7000. (The more expensive cameras don't work with it; with the D3 you have to buy a $150 adapter!)
I found an Oriental knock-off for sale on eBay for only $3.99, including free shipping. I just ordered one for myself; for $3.99 total, how can I go wrong?
Another reader found the same thing on Amazon for a whopping $2.74.
19 July 2011, Tuesday
The Return of the Pentax 1º Digital Spotmeter
I found what looks like another unused one for sale at eBay (see How to Win at eBay). Pentax doesn't make these any more.
I haven't gotten to review mine yet, however I love my Pentax Digital Spot Meter for use with my 4x5" cameras. This is the model of light meter that Ansel Adams used, preferring it over the earlier analog 1º spot meter because this digital model is smaller, lighter and has no delicate mechanical meter movement. Mine is so tough that it's been run over by a truck, and it still works just fine!
18 July 2011, Monday
NEW: Bokeh of the Samyang 35mm f/1.4.
I forgot to include this in last week's review; it's there now. It's better than almost every other 35/1.4, and notably much better than any of the LEICA SUMMILUX. How about that?
DEAL: Olympus PEN E-PL1 Digital Camera with 14-150mm Micro Four Thirds Lens, 12 Megapixels, 2.7" LCD Display, Black: $699 (usually $899)
16 July 2011, Saturday
Nikon D5100 and 35mm f/1.8 DX.
NEW: Plain-English Nikon D5100 User's Guide.
NEW: Nikon D5100 AF Settings Guide.
Now that the D5100 is out of the way, look for the D7000 guide in about a week.
Give me a month and these will all be available as iPad and iPhone apps, too.
Yay!
15 July 2011, Friday
Crazy Days at LEICA
I must be reading today's press release on April 1st, but LEICA claims to have announced three new lens adapters to allow lesser-brand lenses to work on the LEICA S2.
Why anyone would want to soil an S2 with off-brand lenses is beyond me. Not even Nikon or Canon has ever made adapters for lesser brand lenses to be used on their cameras.
Obviously the S2 is a professional camera, and LEICA realizes that pro shooters are guys who need to get a job done with the right tools, not prissy collectors who keep their LEICA collections quarantined in germ-free rooms.
The whole point of LEICA isn't about their cameras; it's always been about their superior lenses, so I'll put this announcement in the "Lensbabies für LEICA" folder: LEICA is letting us do this purely for effect, or possibly if there's a fisheye or other silly thing from Hasselblad or Pentax or Mamiya we might want to play with on an S2. On a serious note, LEICA mentions that shift lenses work, although I'll wait to see how the S2's sensor handles that. Even SLR viewfinders have a tough time with shifted lenses.
Specifically, here are the three adapters:
| | | |
| --- | --- | --- |
| LEICA S-Adapter | Size | Weight |
| S-Adapter V (für Hasselblad) | H=30.2 mm (1.2 in); W=81 mm (3.2 in) | 138.75 g (4.9 oz) |
| S-Adapter M645 (für Mamiya 645) | H=15.5 mm (.61 in); W=78 mm (3.1 in) | 93.5 g (3.3 oz) |
| S-Adapter P67 (für Pentax 67) | H=37 mm (1.5 in); W=90 mm (3.5 in) | 222.5 g (7.8 oz) |
Available: August, 2011.
14 July 1789, La Fête Nationale
Promo video showing lenses being manufactured.
Not French, but next-door anyway.
Sorry about the music; they should have used Bach, Brahms, Beethoven or even Wagner.
13 July 2011, Wednesday
Crazy Photos: Reader Dawndra asked me what I think. Check out her site and let her know what you think!
Price Drop: Nikon 50mm f/1.4 AF-D at Adorama for $350. In fact, I'd get the identical gray-market version for just $329.95! It had been up to $380 last month.
Price Drop: Nikon 50mm f/1.8 AF-D at Adorama for $125. It was $140 last month. This is one of Nikon's very best lenses ever, almost for free.
DEAL: Refurbished Nikon 18-55mm VR for $99.95 at Adorama.
Skip and Declan make the newspaper!
My best friend Skip's technical wizardry helped me start this site back in 1999. His son has an opportunity to race at the Soap Box Derby Nationals this summer, if you can help. I did, can you? They need our support. Thanks!
12 July 2011, Tuesday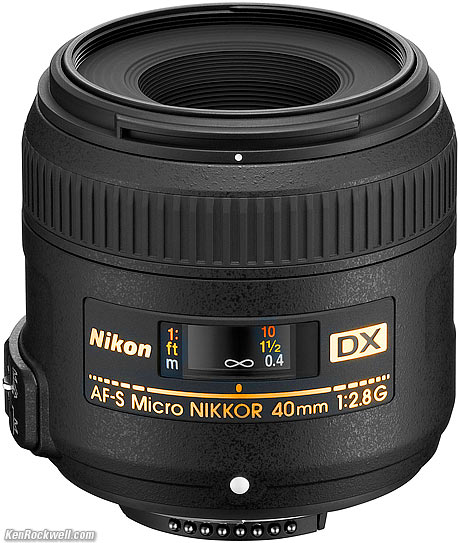 Nikon 40mm f/2.8 DX Micro-NIKKOR.
NEW: Nikon 40mm f/2.8 Micro-NIKKOR Review.
A great normal lens if you also need to get close, but not the best for serious full-time macro use.
UPDATE: I updated my Fuji X100 User's Guide for firmware version 1.10.
THANK YOU
Many thanks to Sergeant First Class Leroy A. Petry, Medal of Honor recipient. As I write this, our President is awarding this very rare medal to a great American who distinguished himself by risking his life far above and beyond the call of duty. Shot through both his legs and then hit by a grenade, his day was only getting worse.
A second grenade rolled to within a few feet of him and the other men with him, and instead of worrying about himself and his own family back at home, Sergeant First Class Petry ran towards the grenade, grabbed it, and threw it back at our enemies, losing his own arm in the process, but saving the lives of the others around him. details and graphics.
If it wasn't for guys like this, we'd all probably not be enjoying a nice day right now here at home. A million thanks to all you folks out there "just doing your jobs" keeping the rest of us safe.
11 July 2011, Monday
Nikon 35/1.8 In stock at Ritz, complete with free shipping, and they pay any sales tax for you!
More about why Hollywood still shoots hundreds of thousands of feet of film every day. Digital is catching on in Hollywood, but only for immediate cost savings, not for picture quality or for archivability. Even the digital shoots today are still archived on B&W separation negatives.
NEW: The Best Digital Camera for under $50.
A reader asked, so here you go.
For instance, today you can get the Nikon S560 for just $49.95 or a Nikon L19 for just $44.95.
Fuji X100 Rules
Holy Cow! The Fuji X100 continues to impress me.
For instance, none of my other Nikons, LEICAs or Canons can do what it does so effortlessly and automatically for exposure and fill-flash control.
Have a look at these snaps from the weekend, and look at how well fill-flash balanced with ambient light, and know that the X100 did all this fully automatically with exactly the same settings as I used all day!
What makes the X100 so extraordinary is the fact that it made these photos without having to reset or adjust anything — it did this all by itself.
Sure, I can get the same results on a Nikon, Canon or LEICA, but I'd have to play with the flash and exposure compensations to get there, and by then, Ryan would have been gone. In other words, I wouldn't have gotten these results from another camera, because the moment would have been gone.
The X100 so rules for family photos! Your wife just said it's OK for you to order one. What's even weirder is that Fuji isn't paying me to say this, and I had to buy my own X100 at full price from Adorama just like the rest of us. I just love my X100. How to get yours.
Daily Deals (more deals):
Olympus PEN E-PL1 Digital Camera with 14-150mm Micro Four Thirds Lens, 12 Megapixels, 2.7" LCD Display, Black: $799 (usually $899)
Olympus PEN E-PL2 Digital Camera - Black with 14-42mm II Black Lens: $499.95, usually $599.95. (same thing in silver , in white and the same thing in red.)
Hensel Porty Premium 1200 Watt Second Battery Operated, Radio Slave Power Pack: $1,799.95, usually $2,482.
10 July 1856, Tesla's Birthday
Today is the 155th birthday of Nikola Tesla, the inventor of radio, wireless communications, practical AC power, the Tesla Polyphase system (that's why power lines come in threes), and about a zillion other things most people take for granted, but without which we'd still all be living disconnected. We'd still be reading newspapers by gaslight to get the latest news!
Without AC power, not only would modern power distribution be nonexistent, we wouldn't even have plug-in-the-wall electronics, since without transformers, we wouldn't be able to step-down power line voltages to working voltages inside our TVs, stereos and computers. With Edison's old DC system, we'd still need a power station on every block, and all we'd be able to power with it would be light bulbs and some simple motors. That would be it! (DC-DC converters are only a recent invention, and they work by converting DC to AC anyway.)
Without radio, we'd have no cell phones, no GPS, no smart phones, no TV, no wireless Internet, and not much of anything.
Tesla was also my grandfather, and why TeslaPolyphase.com points to my home page.
See also my Wrath of Tesla Gallery.
09 July 2011, Saturday
NEW PHOTO TOUR: Monterey and the Central California Coast.
I'll see you there next month!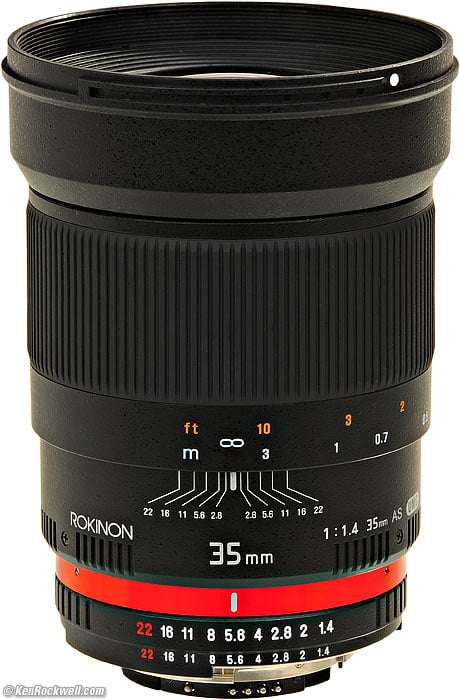 Samyang 35mm f/1.4 AI-P.
NEW: Samyang 35mm f/1.4 Review.
AHA! Even slightly sharper at f/1.4 than the $1,650 Nikon 35mm f/1.4 G AF-S!
08 July 2011, Friday
PRAISE: Even though all of Nikon's Ni-MH batteries for the D1 series were defective by design, I just realized that every single one of my Nikon Li-Ion batteries for every one of my DSLRs is still working like new.
My 2004 Nikon D70 still works perfectly, and as I was shooting my D3 in the studio today, realized that even though I have over 55,000 shots on it with the same battery since I got it in November 2007, almost four years later, it still works like new. The battery health gauge still reads #2 out of four, so it's probably going to last me to 100,000 shots in another 4 years.
Good job Nikon!
This is another reason to skip 3rd-party knock-offs: most of the third-party batteries people have given me are already dead.
07 July 2011, Thursday
OBSERVED: I found a new Nikon FA for sale on eBay, if you need one. Here's my review of the FA, and here's How to Win at eBay.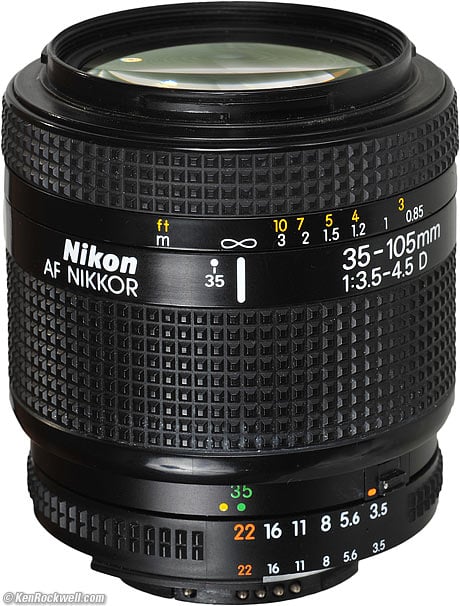 Nikon 35-105mm f/3.5-4.5 AF-D.
NEW: Nikon 35-105mm f/3.5-4.5 AF-D Review.
A perfectly swell, handy and lightweight lens for all FX and 35mm Nikons.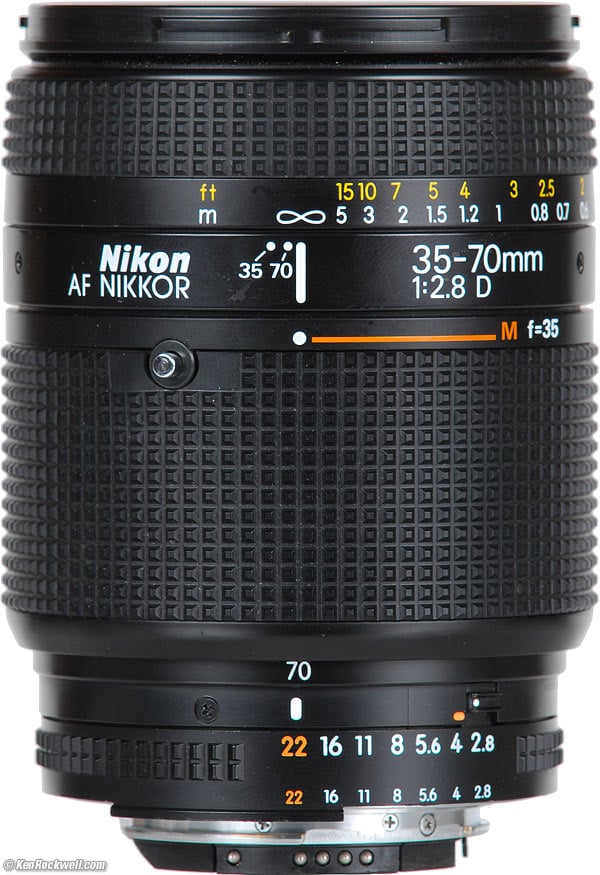 Nikon 35-70mm f/2.8 AF-D.
UPDATED: Nikon 35-70mm f/2.8 AF-D Review.
Nikon's best professional normal zoom of the 1990s, and a screaming bargain today. It's just as sharp as the 24-70/2.8 AF-S, for one-fifth the price.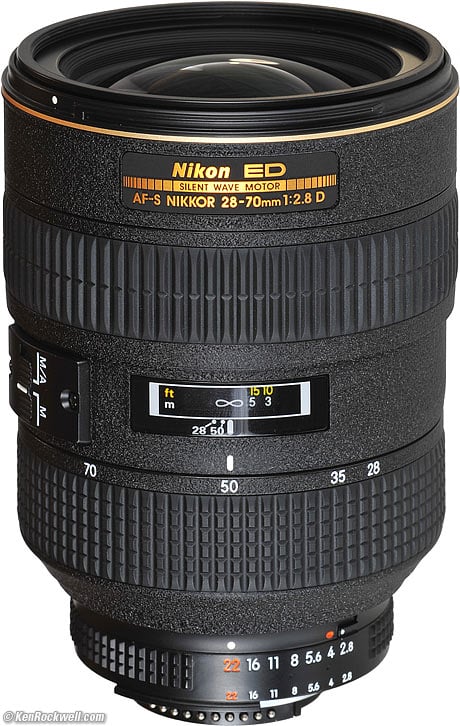 Nikon 28-70mm f/2.8 AF-S.
UPDATED: Nikon 28-70mm f/2.8 AF-S Review.
Nikon's best professional normal zoom from 1999-2007, spectacular optically, tougher and also just as sharp as the 24-70/2.8 AF-S.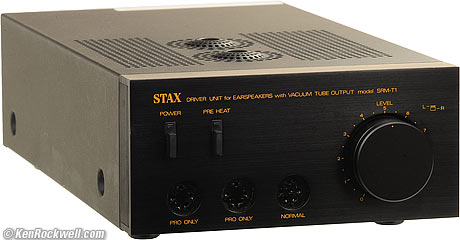 Stax SRM-T1.
NEW: Stax SRM-T1 Amplifier Review.
06 July 2011, Wednesday
For Sale: I found a rare Nikon 50cm (500mm) f/5 lens for sale here at eBay (see How to Win at eBay).
It works on the NIkon SP, but only if you have the reflex attachment. I see the seller also has an F adapter, but I forget if that's enough to use this on SLRs (see Rotoloni's book for more). Yes, this is a fast 500mm ultra-tele for a rangefinder camera. Warning: this seller has extremely poor feedback; see how to interpret feedback.
FOUND: A reader found a link to the long-lost free Polaroid dust and scratch filter.
IN-STOCK: Voigtländer 25mm f/0.95 for Micro 4/3 is in-stock at Adorama.
NEWS: Olympus E-P3 PEN is orderable at Ritz. (not in stock yet.)
NEWS: The Fuji X100 now orderable at B&H. It's not in stock yet, but at least you can order it, which is more than you can do anyplace other than at eBay. Ordering it now is the only real way to get it. No one else is accepting online orders, so I presume B&H is expecting a huge load of them any day now. Good luck!
Update: I moved this link to Current California Radiation Levels to the bottom of my Reviews page.
Even while paranoid intellectuals think that the reason I'm only updating it about once a month now is due to some dark conspiracy, in this case, it's simply because sunny California hasn't seen any real radiation problem from anything. The only reason one day seems to measure differently from another is because of minute-to-minute variation in what is a random occurrence.
In fact, the highest levels of radiation are measured at granite countertops in luxury homes. The outdoor levels are just fine.
I pulled the Radiation Levels link from my main pages because it's taking too much space. I'll still be updating the page.
National Wildlife Federation's Photo Contest!
Some winners from the 2010 contest.
We still have time to enter the National Wildlife Federation's 2011 Photo Contest!
It's open for entries until 14 July 2011 and prizes go to $5,000, cash. Details.
04 July 1776, Independence Day
OLD: How to Photograph Fireworks.
03 July 2011, Sunday
NEWS: Paul Kip Grimm's book on Helping Your Child Succeed.
Paul's one of us and reads this site.
He sent me his book on How to Help Your Student Succeed in School, and I thought it was pretty good.
Paul's book stresses what I keep telling everyone, which is to pay attention to your studies (I graduated with honors in Electronic Engineering without ever studying for a test because I paid attention in class and did the assignments in the first place,) and most importantly, Paul, with over 30 years of experience as an educator, stresses the importance of communication among the instructors, students and parents.
As I tell everyone, communication skills are the most important life skills in every discipline: photography, engineering, school, sales, and life itself.
I don't usually read self-help books except when people like Paul are kind enough to share them with me, but when I saw that his ratings on Amazon were about 100% 5-star, I figured it's a winner.
If you've got kids, enjoy!
NEWS: C't Digital Photography Magazine.
I was also sent a copy of this great new magazine.
It's lavishly PRINTED IN GERMANY on thick coated matte paper, loaded with numerous exposées on every sort of technical thing you folks find interesting.
The most recent issue has articles on everything from performance of M42 screw-mount lenses as used on DSLRs to all the crazy software tweaks that excite you guys.
As far as I can tell, it's only available directly from its publisher at the link above. It's in English, published and printed in Germany, and represented in the USA by Rocky Nook.
The magazine doesn't really have anything about photography itself, just zillions of articles about the techniques and equipment associated with photography.
If you want to learn about photography itself and how to make better pictures, Bruce Barnbaum's "The Art of Photography" is the best book ever written. For well under $30, I consider The Art of Photography as required reading if you're interested enough to read this website and have a genuine desire to take great pictures, as opposed to just buying up all the gear you can.
If you want to read all about lenses, flash technique, pan stitching, Linux photo tools, macro, graphic tablets, Lightroom, and even get a free DVD crammed with eBooks on macro shooting, Photoshop workshop videos, plug-ins and more, C't Digital Photography Magazine is for you.
01 July 2011, Friday
NEWS: Store your Digital Images on Fuji Velvia 50!
I kid you not: reader Scott sent me a roll of Fuji Velvia 50 converted to digital, and it really works. He's also converted several other kinds of film to digital. Amazing!
NEW: White Balance Presets for DNG files from the LEICA M9 for use in in Apple Aperture. I knew you needed this.
FOR SALE: New Canon A-1 SLR!
You don't see these every day. A reader wrote me that he has this for sale on eBay.
It sold in a day. Except for LEICA, they don't make them like this anymore.
NEW ARTIST LINK: Jim Maxwell.
Jim's work explores a subject that's captivated artists for as long as there's been art: beautiful women. The Internet is a big place and only the most meaningless art appeals to everyone, so be careful if you don't appreciate art's most popular subject.
Jim reads this site, and said thanks for all the advice!
Jim's site has some of the best photos of natural beauty I've seen in a long time. People send me way too many boring pictures of Yosemite Valley in broad daylight, cats, lens flare, brick walls and weeds in empty fields. Thanks, Jim, for sharing! Photography is about showing beauty, not looking at test charts.
I think his site is Flash, so it might not play on mobile, but the good news is that it automatically rotates shots so I can keep it up as a screen-maker in my office.
Jim's masterful use of lighting and color, and the sheer volume of his work, impressed me enough to share it here. I couldn't do what Jim does.
NEWS: Olympus E-P3, lenses and flash announced
Olympus says the new E-P3 is a classic, all-metal design and has the world's fastest autofocus with a 614,000 pixel OLED touch screen.
Adorama already has these available to order. Remember, if you think you might want any of these, order them now.
New Cameras
OLYMPUS E-P3 (black) w/14-42mm $899.99
OLYMPUS E-P3 (silver) w/14-42mm $899.99
OLYMPUS E-P3 (silver) w/17mm f/2.8 $899.99
OLYMPUS E-P3 (white) w/14-42mm $899.99
OLYMPUS E-P3 (white) w/17mm f/2.8 $899.99
New Flash
OLYMPUS FL-300R wireless flash $169.99
New Lenses

OLYMPUS 12MM f/2 for EP series $799.99
OLYMPUS 45MM f/1.8 for EP series $399.99
Did you catch those? These are the equivalent of a 24mm f/2 and and a 90mm f/1.8, very necessary lenses that no one else makes for these little cameras. Maitani lives!
NEWS: New LEICA gear orderable
LEICA M9-P (silver): $7,995.
LEICA M9-P (black): $7,995.
LEICA 21mm f/3.4 ASPH: a bargain at $2,995.
The discontinued 21/2.8 ASPH used to sell for over $4,000, and used a weird filter size (55mm). This new lens is only a half-stop slower and takes a much more standard 46mm filter.
NEWS: New Fuji and Sigma gear in-stock
Fuji IS Pro (Nikon-mount ultraviolet & infrared DSLR): $999.95.
Sigma 120-300mm f/2.8 (for Nikon): $3,199.
Sigma SD-1: $6,899.
NEWS: New Pentax Q Cameras orderable
Adorama already has these available to order. Remember, if you think you might want these, order them now.
The Pentax Q is a finderless point-and-shoot with a tiny sensor (1/2.3;" a bit smaller than a Canon S-95) with interchangeable lenses. The crop factor of the Q system is 5.55!
PENTAX Q w/47mm f/1.4 (eq.), black: $799.95
PENTAX Q w/47mm f/1.4 (eq.), white: $799.95

PENTAX 17mm f/5.6 (eq.) fisheye for Q system: $129.95

PENTAX 28-85/2.8-4.5 (eq.) for Q system: $299.95

PENTAX 100mm f/8 (eq.) toy lens for Q system: $79.95

PENTAX 35mm f/7.1 (eq.) toy lens for Q system: $79.95

PENTAX O-VF1 optical finder for 47mm (eq.) lens: $249.95
What Was New in:
Help me help you
I support my growing family through this website, as crazy as it might seem.
If you find this as helpful as a book you might have had to buy or a workshop you may have had to take, feel free to help me continue helping everyone.
If you've gotten your gear through one of my links or helped otherwise, you're family. It's great people like you who allow me to keep adding to this site full-time. Thanks!
If you haven't helped yet, please do, and consider helping me with a gift of $5.00.
The biggest help is when you use any of these links to Adorama, Amazon, B&H, eBay, Ritz, Calumet and J&R when you get anything, regardless of the country in which you live. It costs you nothing, and is this site's, and thus my family's, biggest source of support. eBay is always a gamble, but all the other places always have the best prices and service, which is why I've used them since before this website existed. I recommend them all personally.
Thanks for reading!
Ken
Home Donate New Search Gallery How-To Books Links Workshops About Contact