Home Donate New Search Gallery Reviews How-To Books Links Workshops About Contact
LEICA TRINOVID 10 x 40
122m/1000m (7.0º, 580g, 1963-1975)
© 2014 KenRockwell.com. All rights reserved.
Intro Specs Performance Compared Recommendations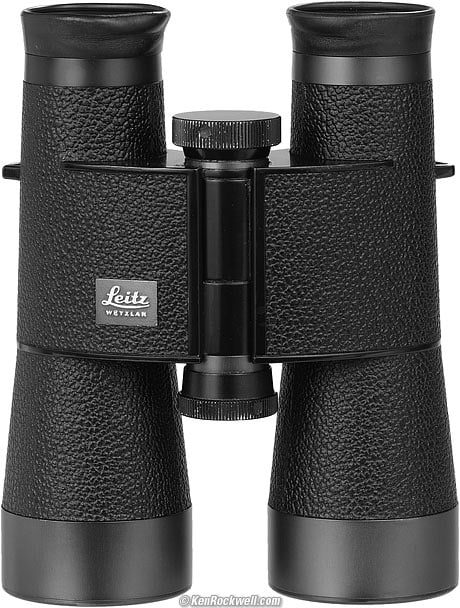 LEICA Leitz TRINOVID 10 x 40 (580g / 20.5 oz., about $500 used). Vergrößern. enlarge. I got mine at this link directly to them at eBay (see How to Win at eBay).
This free website's biggest source of support is when you use those or any of these links to approved sources when you get anything, regardless of the country in which you live — but I receive nothing for my efforts if you take a chance and buy elsewhere. I get no government hand-outs and run no pledge drives to support my research, so please always use any of these links to approved sources for the best prices, service and selection whenever you get anything. Thanks for helping me help you! Ken.
January 2014 TRINOVID Reviews LEICA LEICA Lenses All Reviews
Introduction top
Intro Specs Performance Compared Recommendations
This Leitz TRINOVID 10 x 40 are much smaller and lighter than today's binoculars, and have a wider field of view.
These TRINOVIDs are smaller, lighter and have a wider field than anything similar today, be it the best from LEICA, Zeiss or Swarovski, or rabble from Nikon, Canon, Bushnell, Tasco or Carson.
These first TRINOVIDs are simply astounding. They offer a premium level of performance and a slightly larger image with only 2/3 the size and weight of today's top binoculars, for about one-quarter the price — if you can find them.
The field of view isn't a misprint or a fudge. I've tested these, and their 122m /1000m field is accurate. I've also compared the sharpness, and these landmark TRINOVIDs are as sharp over their wider field as the newest TRINOVID BNs.
Leica accomplished this performance by using an exotic, unique and expensive Uppendahl prism system. Leica stopped using this Uppendahl system in favor of the cheaper-to-manufacture roof prisms used today.
Sadly, roof and porro prisms just can't compare. The Uppendahl prism system gives a longer optical path with less size and weight, which seems to be responsible for the smaller size, lighter weight and wider field of these original TRINOVIDs.
I've been playing with a set for this past week, and I love them. They are a joy to peer through for long periods of time.
The Leitz TRINOVID 10 x 40 are super-sharp, and what really says volumes about the quality is that this 45-year-old pair is still better collimated than most new binoculars! You can hold these a foot away from your face, and your two eyes still see the same thing. Try that with any other 45-year-old pair of binoculars (or any new pair of cheaper binoculars), and it won't happen.
Because these are so small and light, they get taken out and used, instead of left at home. Binoculars, like cameras and Americans, have gotten too big and fat as the years progress.
These TRINOVIDs were designed to be taken by the LEICAMAN and fit into his vest pocket. They offer full-sized performance with compact size and weight. There is nothing available today that compares.
Nothing moves externally when you adjust the focus. Everything outside remains fixed, and sealed to the elements. No dust, spray or moisture can enter due to all the seals. The TRINOVID are airtight. There are silicon disks that help keep everything out.
No, they are not intended to be dropped into water, but they should stand more rain or splashing than anyone who can afford them would stand themselves. They are designed to withstand a lot more than Leitz ever claimed. Today's premium binoculars are rated for submersion, but let's get real: binoculars are useless for SCUBA because of limited visibility underwater, and none of them will work with a face mask.
TRINOVID Bloodline top
These were introduced fifty years ago in 1963, however, Leitz has been making binoculars since 1907. When Leitz introduced these new TRINOVIDs, they had more years of experience in making first-rate binoculars than either Nikon or Canon has today in making SLRs.
Leitz knew binoculars a lot better in 1963 than Canon or Nikon know SLRs and SLR lenses today. This 45-year old sample is highly advanced. These are still more technically advanced than most less expensive binoculars today!
When introduced, the TRINOVIDs were so named because they incorporated three significant innovations:
1.) Superior weather sealing
2.) Internal focusing, and
3.) Concentric dioptometric adjustment.
Leitz introduced 6 x 24 and 8 x 32 versions along with these 10 x 40s. They all seem to use the same prism and eyepiece body, differing mainly in their screwed-in objective tubes.
These 10 x 40 and the 8 x 32 were very popular, both being made until 1975.
The 6 x 24 weren't popular, and discontinued two years later in 1965.
Usage top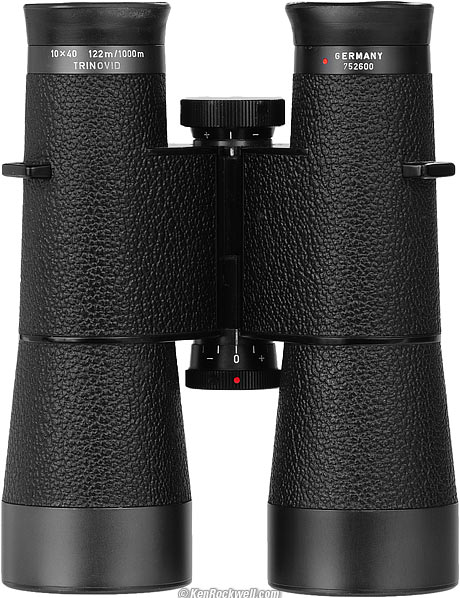 Bottom view, Leitz TRINOVID 10 x 40. Vergrößern.
The top knob is the center focus adjustment. The bottom knob is the diopter adjustment.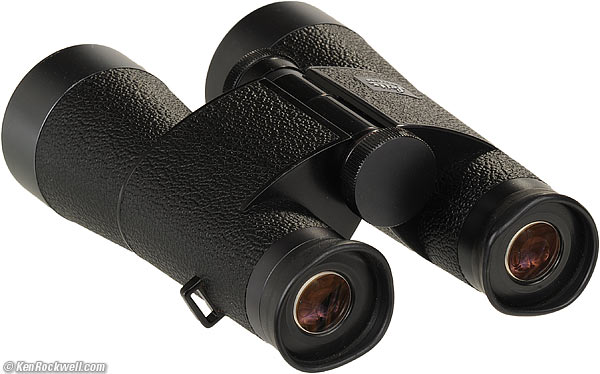 Rear view, Leitz TRINOVID 10 x 40. Vergrößern.
LEICA LEITZ TRINOVID 10 x 40. Vergrößern.
Male Birders top
Male birders, as opposed to birdwatchers, are more interested in their scopes and binoculars than the birds. It's the same as comparing audiophiles to music lovers: the audiophiles are more interested in their record players than the music.
Binoculars have the same problem that cameras do: there are some people who spend all day talking about them on the internet to the same fanatical level that audiophiles go on about their record players, but these people never take them out and use them. If they do, it's leaving them on a windowsill.
For these guys, sure, go spend $2,500 on the latest. The latest binoculars are more vivid, have bigger focus knobs, better eye relief, closer focusing, wasserdicht to 100 meters, drop-proof to 15 meters, but also weigh two pounds and have a smaller field of view.
My whining here is that modern binoculars are too darn heavy for what little extra they do for serious field work. It's no fun, and makes no sense to carry two more pounds around my neck when I can get 99% of the the same image quality — over 110% of the field — from these small, lightweight TRINOVIDs.
For people who can leave their binoculars on a windowsill or desk all day, they can take advantage of the latest, but for use outside, I'd rather carry these and enjoy the view.
The only things I see when comparing to the newest $2,000 binoculars is that the newest have a little more contrast, especially in the shadows. Then again, this pair hasn't been cleaned in 45 years. New $2,000 binocular do have a somewhat more vivid, but not sharper, image.
I found that these old TRINOVIDs have less chromatic aberration than the newest LEICA TRINOVID 8 x 42 BN, and are as sharp in the center and sides.
The superb performance of these ancient TRINOVIDs make it obvious that most of the advances that binocular makers dream up, like P 40 phase coatings and nitrogen fillings, are just marginally useful baloney to try to get male birders to trade in their perfectly good old products every five years.
I prefer these old TRINOVIDs for use in the field. The newest versions weigh too much. If I can leave a set on my desk or on the floor of my truck, it might be nice to use a pair of the latest high-end binoculars that weigh two pounds, but if I'm carrying them around my neck all day, these are the way to go if you can borrow a set.
Specifications with commentary top
Intro Specs Performance Compared Recommendations
Magnification
10x
Objective Lens Diameter
40mm.
Exit Pupil
4mm.
Twilight Factor
20.0.
Relative Brightness (geometric light value)
16.0.
Eye Relief
Not a lot, but plenty for normal use.
This is something at which the newest high-end binoculars are better, but is it worth carrying an extra half-pound around your neck?
Field of View
122 meters at 1,000 meters.
366 yards at 1,000 yards.
7.0º.
Close Focus
About 7.5 meters (25 feet), measured.
If you need to get closer, then why are you using binoculars? Closer focus distances are a sham.
Leitz Part Numbers
40 211 and 40 212.
Weight
580.5g (20.480 oz.), measured.
Included genuine-leather strap: 22.9g (0.810 oz.), measured.
(I prefer the strap liberated from a Think Tank Hydrophobia, which weighs 55.85g or 1.970 oz.)
Ensemble with original Leitz strap: 603.5g (21.290 oz.).
Specified: 550g (19.4 oz.).
Performance top
Intro Specs Performance Compared Recommendations
Ergonomics and View
It is always a pleasure to use the TRINOVID 10 x 40 for hours at a time, and to carry them all day. I've spent a week peering through them, and I keep wanting to use them even more.
I feel quite lucky to borrow them, and don't look forward to having to go back to newer, heavier binoculars. Even though newer high-end binoculars might have slightly better optical quality with a smaller field, the light weight and small size of these TRINOVID 10 x 40 more than make me want to grab them first.
These LEICA TRINOVID 10x40 do everything that high-end binoculars should do; the other things like close-focus distance are rarely relevant. These TRINOVID give a huge, bright, sharp and well collimated image.
They are brilliant in daylight. When I first borrowed them, I looked across the street, and nearly blinded myself looking at a neighbor's white house.
They feel great. They aren't a big blob of rubber. They are metal enrobed in fake leather, just like a fine classic camera.
These are for the field, not sitting on a desk. Since they are all metal, you have to be very careful before plopping them down on a glass desk. If you want a pair for a desk job, get something newer, but if you want to take them out and use them, get a pair of these classic TRINOVIDs.
The diopter adjustment is unlocked, unlike newer TRINOVIDs. If you knock it, it will move.
There is no slop in the focus or diopter adjustment, even after 45 years.
Blackout top
There sometimes is a little blackout if you turn your eyes look at the edge of the field. It goes away if you wiggle your eyes a bit.
You always get a big, sharp beautiful image.
Brightness top
People who talk about binoculars all day are always freaking out about brightness. Brightness is really just the light transmission, coupled with the exit pupil.
I can't see that these are any different than the newest premium binoculars as far as brightness. As a comparison, let's look through both and see what we can see, as compared to a LEICA 8 x 42 BN. Roll your mouse over to compare: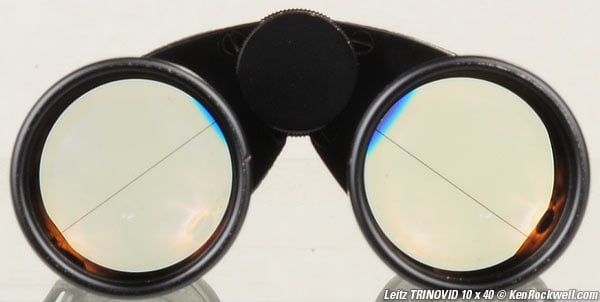 TRINOVID transmission comparison: 10 x 40 versus 8 x 42 BN. (mouseover)
Each transmits at least 90% of all light. I don't see any significant difference. In photography, the smallest significant exposure difference is about a half of a stop, which would be the difference between 70% and 100% transmission.
The lines seen in the 10 x 40 TRINOVIDs are the special Uppendahl prism arrangement. These lines aren't visible in the image seen through the eyepieces, nor do they cause any smears on points of light.
The color fringes seen are artifacts caused by me making these photos from only 3 meters (10 feet) away, and thus seeing through the corners of each of the narrower fields of view of these higher-powered 10x40s. I'm not looking through their centers.
The fact that each is fully illuminated shows us that both of them aren't cheating and using cheap prisms, as happens with drug-store binoculars. In both these cases, were getting the full brightness of the entire objective lens.
Chromatic Aberration top
Compared directly with the newest TRINOVD 8 x 42 BN, these classic 10 x 40 have a little less secondary (green-magenta) color fringing.
Collimation top
More importantly, the set I borrowed was perfectly collimated, a very serious sign of an extremely well made pair of binoculars. This means that the left and right side images line up perfectly, so you can use them for hours without getting a headache.
Too many overpriced binoculars have crummy collimation, but every LEICA I've tried has been right-on.
Distortion top
These LEICA TRINOVID 10 x 40 have the usual pincushion distortion, pitched by Leica as a feature to make more pleasant the view as you pan across the woods.
If you're looking at rectangular things, you may notice it, but why would you use these for watching TV? I only notice it if I'm looking at office buildings with a lot of floors and parallel lines.
When panning, everything looks swell.
Sharpness top
As covered above, they are super-sharp, as sharp as modern high-end binoculars.
Side sharpness is as good as the LEICA 8 x 42 BN (2002-2006) against which I compared them directly. Both of these Leica binoculars appear softer on the sides because of curvature of field; change the focus a little and the sides get about as sharp as the center.
The field curves in the same way with both of these: objects a little closer to you are sharper at the sides.
Compared top
Intro Specs Performance Compared Recommendations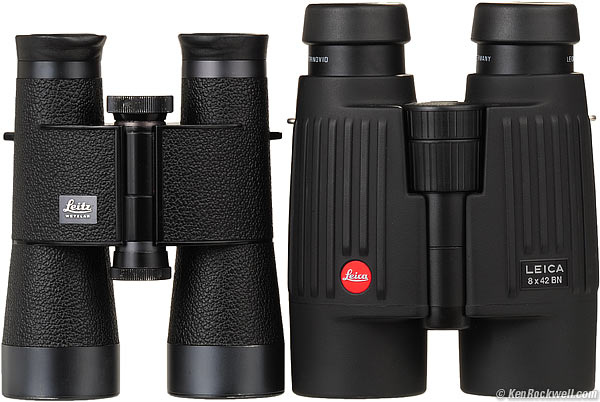 Leitz TRINOVID 10 x 40 and LEICA TRINOVID 8 x 42 BN. Vergrößern.
Goodness. Look how much larger the modern (2002-2006) 8x TRINOVIDs are compared to these 10x TRINOVIDs, each with the same class of objective size. These 8 x 42 BN weigh 911.3g (32.145 oz.), versus the 580g of the original 10 x 40 TRINOVIDs (actual measured weights). The 10 x 42 BN are rated as the same size and weight as these 8 x 42; I didn't have one of those on loan. The rated weights are 550g vs 890g.
I can't find anything at any price with anywhere near the wide field or with the light weight of these original TRINOVID 10 x 40s.
I can't find anything at any price with the wide field of these TRINOVIDs.
I can't find anything at any price in this 40mm klasse with the same light weight. Even the Pentax 10 x 36 DCF NV weighs 10% more, and covers only 78% of the field (less than 62% of the area).
The only way to find a lighter pair is to drop down to 25mm objectives, which is a much lower klasse of travel binocular. These 1960s TRINOVIDs were designed as the travel binocular for the LEICAMAN who will not accept reduced performance or lessened light-gathering ability in a small binocular.
Here's a table of what I found browsing at Adorama.
While the merit factors are meaningful when comparing binoculars of similar quality, it has less meaning when comparing binoculars of different quality since it ignores optical performance.
* Merit Factor = (Magnification x FOV x Objective Diameter) / Weight in Grams.
** Used.
Recommendations top
Intro Specs Performance Compared Recommendations
I love these things. For the first time in years, I discovered an eagle's nest in a tree a quarter mile (400 meters) away from my window. I tracked an eagle who was carrying a big branch.
These superb classics show us the difference between basic quality, and the piles of meaningless marketing features that have been piled on binoculars these past 50 years.
Yes, newer binoculars have numerous little features, like closer focusing, locking diopter adjustments and more eye relief, but all these little things just don't add up to making up for the extra weight and lost field-of-view. These 45-year-old binoculars are just as sharp, remember, Leitz knew more about what they were doing back then than Nikon or Canon knows about SLRs today, and Leitz spared no expense when it came to quality.
If I have to carry them with me, I want one of these old TRINOVIDs, not today's overweight desk ornaments.
Why can't anyone make something this good today? Were the Uppendahl prisms really so much more expensive that no one wants to make them today in a competitive market? I suspect manufacturers realized that they can get a lot more money for features that cost a lot less to produce, like rubber coating, instead of spending a lot of money on relatively invisible exotica like innovative prism designs.
If they sit on a desk all day, the newest high-end optics offer more shadow contrast and slightly more vivid images, but I don't see that as enough of a benefit to justify carrying around heavier modern binoculars. Binoculars with similar specifications today can weigh 50% more, and are much bigger!
If you lack steady hands, the lighter weight may wiggle more than pigglier newer binoculars. For image stabilization, press these firmly against the bones of your skull, above your eyes.
The newest $2,500 binoculars have closer focus, more contrast and more eye relief, but even if price is no object, are those things really worth carrying twice as much weight and a smaller field of view? I'll take these old, premium TRINOVIDs out in the field any day over the newest pigs.
Availability
These aren't common, but you can easily find them at this link to eBay. They turn up every other week or so.
I have not played with the somewhat newer and more common 10 x 40 B (1974-1990), with only a 110 meters field of view. They are rated almost as light (590g), and probably winners, too.
This set is 45 years old, and the eyecups work great, even if they look silly. I'm sure Leica still stocks replacements
This pair is lucky; it's vividly clean inside even after 45 years.
If you buy a set, it is very likely that they may be a bit foggy inside from lubricants boiling off and redepositing on the glass. if so, I'd send them to Leica specialist Gus Lazzari who is very familiar with servicing them.
Help me help you top
I support my growing family through this website, as crazy as it might seem.
The biggest help is when you use any of these links when you get anything, regardless of the country in which you live. It costs you nothing, and is this site's, and thus my family's, biggest source of support. These places have the best prices and service, which is why I've used them since before this website existed. I recommend them all personally.
If you find this page as helpful as a book you might have had to buy or a workshop you may have had to take, feel free to help me continue helping everyone.
If you've gotten your gear through one of my links or helped otherwise, you're family. It's great people like you who allow me to keep adding to this site full-time. Thanks!
If you haven't helped yet, please do, and consider helping me with a gift of $5.00.
As this page is copyrighted and formally registered, it is unlawful to make copies, especially in the form of printouts for personal use. If you wish to make a printout for personal use, you are granted one-time permission only if you PayPal me $5.00 per printout or part thereof. Thank you!
Thanks for reading!
Mr. & Mrs. Ken Rockwell, Ryan and Katie.
Home Donate New Search Gallery Reviews How-To Books Links Workshops About Contact