Home Donate New Search Gallery How-To Books Links Workshops About Contact
Why Your Wife Wants You to Get an Expensive New Camera
© 2009 KenRockwell.com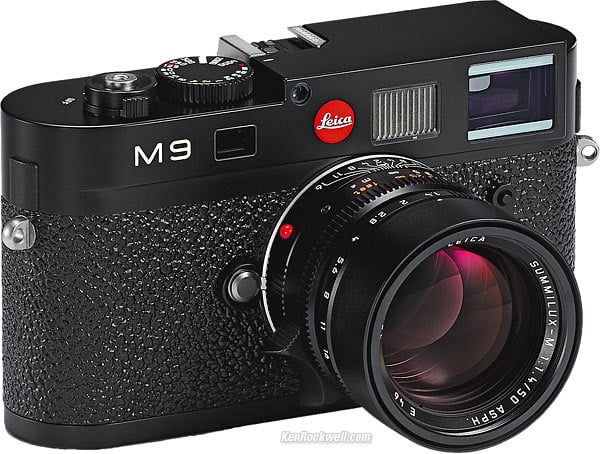 The incomparable LEICA M9, a mere $7,000. Your wife says get one. It helps me keep adding to this site when you use these links to Adorama, Amazon, B&H, Calumet, Ritz, J&R and eBay to get your goodies. Thanks! Ken. Here's a commentary about this article.
September 2009
Introduction
Women are usually absolutely clueless as to why we men need power tools, V12 engines, large-calibre handguns or a pair of 18" subwoofers.
Likewise they have no clue to why we need exotic cameras when a compact would do.
(Ladies: I said "usually." My mom's a pilot and knows why people need to put the balls to the wall. Women who read this site are exceptional and know and care about this. I write this because most women have no clue about important things like man's fascination with fire and explosives.)
I'm still grappling with how to explain the rest of our needs to women, but it's easy to show the ladies why you and I need a new camera or lens. Of course I don't think you need a new camera, but if you want one, here's the easy way to show your wife.
Remember 10 years ago when men all needed big screen TVs and the women said no way? Today that these screens are flat, and retailers have discovered that men are often told to throw away the old TV and get a big flat screen because it looks better when turned off!
We're going to appeal to women's needs the same way with cameras. Try this and you'll have your wife demanding you go out and get the $7,000 LEICA M9 and lenses of your choice as fast as you can.
WHY YOUR WOMAN WANTS YOU TO HAVE AN EXPENSIVE CAMERA
Actually she doesn't. She doesn't know the difference between a 9/16" open-end wrench and your camera, but she does care deeply about getting great memories of her kids.
I don't know anything about women, but from what little I do know, women LOVE kids and family. That, and shopping, are about it. This is the key to our camera kingdom.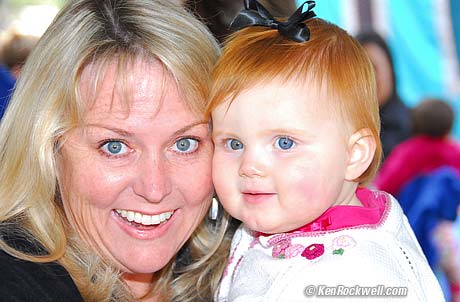 A Lady and a Baby
I had already hit the DELETE button once on my D200 when my wife caught me before the second push. She saw this shot and loves it. This shot is blotto overexposed. The wife thought it was cute, so I saved it. She now has it printed and sitting in a frame in my kitchen. Even though it's overexposed (bad photographer), note the balance between the faces and the background. Only a camera set for fill flash can do this. (You can do it on compacts, but I won't tell your wife if you won't.)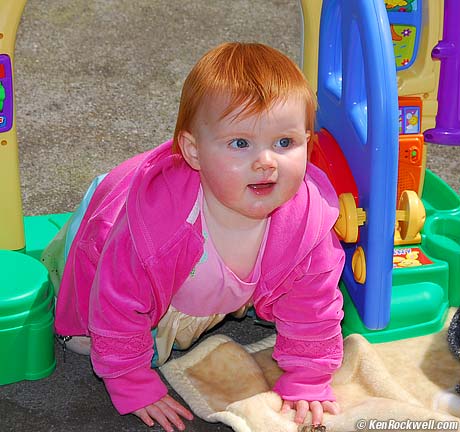 A Cute Baby
Women LOVE this stuff! Without the perfect flash fill of my D200 this photo would have been awful - the baby would have been a black shadow.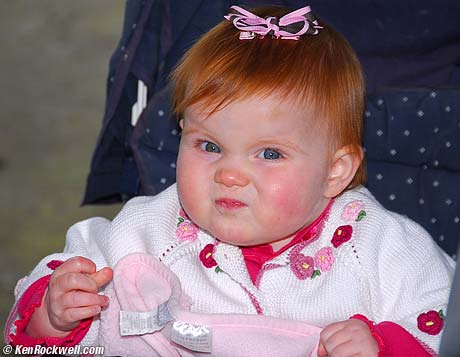 A Baby Showing Some Sort of Emotion
Compacts don't move fast enough to capture all of a baby's expressions. SLRs work so fast you can capture your baby's every facial expression. Your wife would not want to miss capturing any of your baby's babyhood. You'd be in trouble if you didn't buy that new SLR.
You need a new camera to take fantastic photos of kids and her (not your) family. You need a new huge lens to take photos of those kids playing sports. You need a fast lens for photographing their indoor sports, concerts and plays.
Yes, a compact camera will make flat, flash snapshots of people posing at parties. Whoopie-do.
I don't have any kids (back when I first wrote this article), so I have no example shots of indoor sports or plays. For most indoor distant shots you want a fast f/2.8 zoom, like the 80-200mm AF-D or 70-200mm VR.
Have a kid on the surfing team? GREAT!! Your wife just asked you to get a 600mm f/4 AF-S II. It's only $9,000 at NYC discount prices.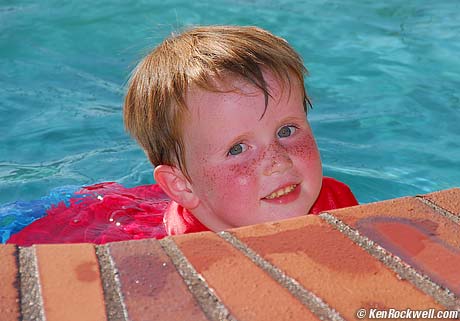 A Cute Kid in a Pool
This shot of course uses fill flash so we can see the kid instead of a shadow. Your wife wants simple. Did I mention that all these shots were made in the full auto mode of my D200? I even put focus in the "hand your camera to a stranger" mode. I get these sharp photos, great lighting and great colors in the total idiot mode with flash.
Here are some more examples of shots made without setting anything. The D200 even chooses the focus area automatically when setting the AF Area Mode Switch to the big rectangle.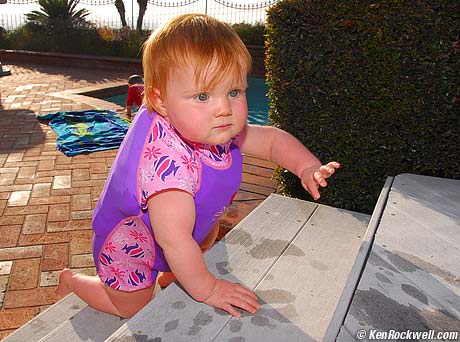 A Baby in a Wetsuit Climbing up Patio Stairs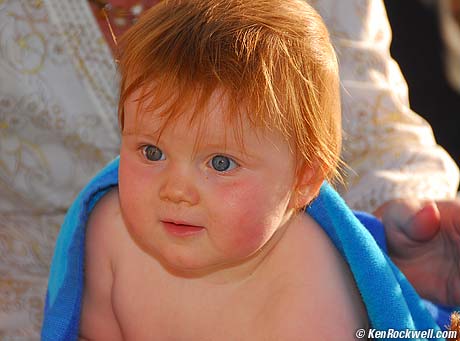 Another Happy Baby
All these shots have had no twiddling in Photoshop. We took these files to Costco and printed them straight from the camera files. The mom was overjoyed. I couldn't have gotten these with my compact. I had to work fast and not be bothered with settings. I also use my Nikon 18-200mm lens, which allowed all the close wide shots and long head shots without missing a beat changing lenses.
Your wife needs you to go buy a nice camera. These shots were all easy to do with a basic lens.
Want tight headshots?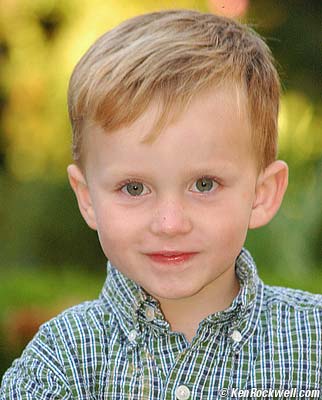 A Little Kid

You'll want a longer lens for these tight shots. Today I use my 18-200mm. I made this snap in 2004 with my 70-210mm, my D70 and the built-in flash. I wasn't paying attention: I put it on auto and shot away to give me something to do while the women chit-chatted. If you're on a budget, any used 70-210mm works great, and so does an inexpensive 70-300G.

WHAT WOMEN WANT

.

.

.

.

.

.

.

(I have no idea more than any of you. I just thought it would make a nice heading.)

HOW TO SELL YOUR WIFE (ON A NEW CAMERA)

Want domestic tranquility? Want a happy wife?

She wants great photos of her kids and family.

Don't ask her to buy a camera. She could care less about equipment. Women hate gear.

Tell her you're getting the family what it needs to create priceless memories which, presuming you backup properly, will last forever. She wouldn't want you to let these memories slip away unphotographed. You want digital because the memories can be copied and safeguarded elsewhere in case of fire, and in case of fire you can grab your spare hard drive and take everything with you in one small drive.

Also, unlike that plasma set she just sent you to get, photo gear can be resold when you're done with it. I've always sold my exotic lenses for more than I paid for them, since I used to buy them used to begin with. I bought all my fisheye lenses new, and always sold them for more than I paid for them before the rest of the world discovered NYC discount stores like Adorama, which usually have this crazy stuff in stock at discount.

As I mentioned in what makes a successful pro photographer, getting your wife to give you a $5,000 budget to go camera shopping is all about your sales skills and not at all about technology. Pay attention to what your wife wants. Don't waste her time with technology or details.

If she'll give you $5,000 to get a plasma TV for her to watch Dr. Phil, she'll jump at the chance give you $8,000 to get great shots of her kids.

Women love to shop. Your woman might research price for you. If not, they have no idea what serious photo gear costs. If you think it's doing the right thing, tell her the camera costs $145,000 and get yourself an SL600 while you're out shopping, too.

MY WIFE

I get off easy. My wife somehow thinks this is my business. In an unlikely stroke of luck, she had a blast of percipience and told me that since it's my business that I know best so I have carte blanche to get whatever I think makes sense. God bless her!

Of course as I write this I'm burning kiddy CDs from a party last night for everyone.

Get the right gear and kid photography is childs' play.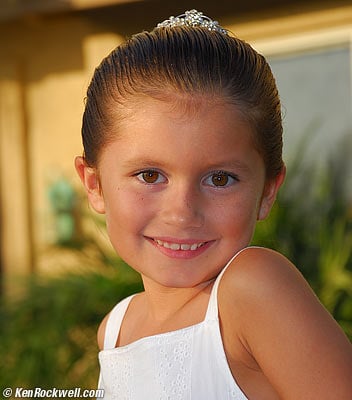 Wife's Friend's Kid
I made this shot last night as the ladies were gussying up for some party. The kid and I spent not more than about 60 seconds in the back yard. This was with my D200 and the new 18-135mm lens and the built-in flash of the D200. I left everything on my usual automatic defaults and shot away. Honestly, I was in the middle of comparing exposures between the D80 and D200 and this kid walks out and wants to be a model. This is as it came from the camera - no need to tweak exposures or color.
WHAT YOU REALLY NEED
A compact camera can make almost all of the shots I've shown, but it's very hard to get them spontaneously. Compacts can't zoom in far enough for perfect headshots or work fast enough to catch everything.
You want a digital SLR. Even the cheapest, like a Nikon D50 and 18-55mm lens, is great. Add the 70-300G for headshots, closeups and outdoor daytime sports.
Have more cash? I love my Nikon 18-200mm lens, which replaces the two mentioned above. It's perfect for everything and focuses even faster for outdoor sports. Its aperture isn't ideal for indoor sports and plays.
I don't have any kids, so I have no example shots of indoor sports or plays. For most indoor distant shots you want a fast f/2.8 zoom, like the 80-200mm AF-D or 70-200mm f/2.8 VR.
Have a kid on the surfing team? GREAT!! Your wife just asked you to go get a 600mm f/4 AF-S II. It's only $9,000 at NYC discount prices.
Help me help you top
If this just helped you get approval for more gear, feel free to help me continue helping everyone. The only way I get approval to do this site is because of the cash I bring in so my woman can go shopping with it.
If you've gotten your gear through one of my links or helped otherwise, you're family. It's great people like you who allow me to keep adding to this site full-time. Thanks!
If you haven't helped yet, please do, and consider helping me with a gift of $5.00.
The biggest help is to use these links to Adorama, Amazon, Calumet, Ritz and J&R when you get your goodies. It costs you nothing and is a huge help. These places have the best prices and service, which is why I've used them since before this website existed. I recommend them all personally.
Thanks for reading!
Ken
Home Donate New Search Gallery How-To Books Links Workshops About Contact