Home Donate Search Gallery Reviews How-To Books Links Workshops About Contact

June 2012's News Hot Deals
RSS: daily (continuous live updates)
all © 2012 KenRockwell.com. All rights reserved.

Nikon: D800 Canon: 5D Mk III Fuji LEICA More random Ryan Katie
Recommended Cameras How to Take Better Pictures
Twitter Facebook Video Tutorials
30 June 2012, Saturday
Nikon D800E
I've been shooting mine for over a week now, all on the same battery charge!
Hints: set White Balance shift to A3 1M, the M, magenta shift, being the key to greatly improving the color rendition away from yellow-green. Set this as MENU > SHOOTING > White balance > Auto > Auto1 > (click right) > A3 M1 > OK.
I've also now set my HIGH ISO NR to HIGH, to reduce the high ISO noise. It's still plenty sharp, and less noisy.
Since the files are too big anyway, I now use the default JPG compression setting as SIZE PRIORITY instead of OPTIMIZE Quality, all BASIC JPG of course.
I've been using my 28/1.8G and classic 35-105 AF-D (1990s) all week, too.
29 June 2012, Friday
Nikon Complies!
Reading Wednesday's uncovering of a lack of distortion correction for the newest Nikkor lenses, Nikon released the newest data to us piecemeal.
Now if we could get someone to improve the D800 code to make tapping the unused ( + ), ( - ) or ( OK ) buttons while in shooting mode able to recall previously saved complete camera states, we'd have a great camera.
Cropping
A reader asks if cropping in Photoshop CS6 gives results any different than using in-camera cropping.
Nope; technically, same thing.
I do it in-camera so they play in-camera cropped and I have to wrangle less data, while waiting to do it later gives you more cropping options.
DX Cropping
On that note, setting an FX camera to a DX crop to use DX lenses is stupid. DX lenses work OK on an FX camera in a pinch, but using a DX camera is a much better idea for DX than using an FX camera.
Specifically, the D7000 is a magnificent camera, and for DX use, far, far faster and better-handing than using a D800, D800E or any other FX camera in its DX mode.
I use the DX mode in my FX cameras with FX lenses as a fast digital zoom, which is extremely handy used with fixed lenses.
Nikon added the DX crop as a clever ploy to get more people to "upgrade" to FX cameras, giving them a false hope that they won't need to buy FX lenses and can use the DX lenses they already have. This little ploy is used to try to keep Nikon DX shooters from upgrading to Canon when they want to go FX, and it works. Nikon DX shooters think it's cheaper to get a Nikon FX, since their DX lenses will work, instead of going Canon and having to buy new full-frame lenses.
Here's where it doesn't work: DX lenses on FX cameras wastes more than half the FX camera's resolution, and forces you to peep through a tiny central cut-out in the finder. It makes pictures, but as you can afford FX lenses later, Nikon knows you'll buy them; and we do. I got screwed the same way "upgrading" to autofocus 35mm cameras and thinking my manual-focus lenses would be all I'd want, instead of looking at Canon back in the 1990s.
So, if you're shooting DX, no big deal; the D7000 is the best camera for DX ever made, far better than the D4 or D800 for shooting DX.
If you want to go FX, know that you will wind up buying all new FX lenses. Of course a great thing about Nikon is that almost al their lenses since 1977 work great on their FX cameras, and for just a few hundred dollars if you don't need AF, you can get great FX lenses — just don't ever think that the buying game ever will stop at just an FX body if all you have are DX lenses.
Nikon Deals
Nikon 1 J1 Mirrorless Digital Camera with Nikon 1 10-30mm VR Zoom Lens - White - Bundle - with Apple 16GB New iPad with Wi-Fi White, Apple MC531ZM/A iPad Camera Connection Kit, USB Interface
Price for the camera $649.95 - $150 instant rebate =499.95
Apple 16 Gb New Ipad with Wifi $499-$150 instant rebate =349
Reg $1,176.90 Total after instant rebate $848.95

Nikon 1 V1 Mirrorless 10.1 Megapixels Digital Camera with Nikkor 10-30mm VR Zoom Lens, Black - Bundle - with Apple 16GB New iPad with Wi-Fi Black, Apple MC531ZM/A iPad Camera Connection Kit, USB Interface
Price for the camera 899.95 - $150 instant rebate = $749.95
Apple 16GB New iPad With Wifi $499.00 -$100 instant rebate = $399.00
Reg =$1,426.90 Total after instant rebate = $1,198.95

Canon Deals
5D Mark III with Canon 24-105L IS, Canon 50mm f/1.4 USM , SanDisk 32GB ExtremePRO SDHC Memory Card, Canon Deluxe Photo Backpack 200EG - Red Giant Adorama Production Bundle for PC/Mac a $599.00 Retail Value
Coupon Price $4,399 Use coupon code S6549875
5D Mark III with 2 Canon Lenses, Canon 600EX-RT Flash, Canon Backpack, Tiffen Filter Kit, Canon Pixma Pro9000 Mk II Printer and More...

$500 rebate on the printer brings the total price to $6,699.95.
27 June 2012, Wednesday
Nikon Secret Uncovered
The DISTORTION CORRECTION option is grayed-out on my D800E with my brand-new Nikon 28mm f/1.8G, but works perfectly with my 20-year-old 35-105mm AF-D.
Huh?
This uncovers a mystery: Nikon obviously has lens coefficients stored in the camera's firmware, and doesn't include new lenses until they're announced and Nikon revises the firmware.
This keeps you guys who decompile the firmware from discovering what new lenses are on the way since they're not in the firmware, but also means that new lenses won't be supported for in-camera distortion correction until the next firmware revision is distributed and we load it into our cameras.
This also confirms that Nikons really do have all the data for all their lenses in each camera. Cool.
This is better than Canon, who expects us to download lens profiles the hard way, while Nikon, duh, has enough memory in our cameras to store all the coefficients we'll ever need. I had to wonder about Canon; gigabytes are just about free today.
27 June 2012, Wednesday
11 x 14" Print Deal
Adorama's having a sale on 11 x 14" prints: only $2.00 each. Deal ends Thursday night, 28 June at 10:59 PM NYC time.
NEW: Canon 5D Mark III vs. Nikon D800.
Just my rant from Friday on its own page, to be expanded.
Owning the D800E makes me appreciate how great a camera is the D700. If you're a tripod-hugger who prints exclusively at 6-feet (2 meters) wide all the time, sure, get a D800E, otherwise, you may as well get a D700 or D7000 while you can, and pocket the extra dough.
When people ask me why go to the expense of FX from DX, I agree! 90% of it is simply to get a larger viewfinder. The pictures are the same.
Canon 5D Mark III Deal
One of the folks at Adorama was on the train into work reading Friday's rant about how and why I prefer my 5D Mark III to my D800, and decided to see if he could wrangle a deal just for you folks on it.
Lo and behold, he recreated last week's one-day-only deal below. It's a coupon code good for $100 off a kit with camera and lens, along with a high-end SD card and a bunch of other goodies; for less than the camera and lens alone:
Canon 5D Mark III and 24-105L IS and free SanDisk 32GB ExtremePRO SDHC Card, free Canon Deluxe Photo Backpack 200EG and free Red Giant Adorama Production Bundle for PC/Mac ($599.00 Retail Value), all for the same price as just the body and lens. Reg $5,021.95, on sale $4,399, use coupon code S6549875 on checkout to get it for $4,299.
Enjoy!
26 June 2012, Tuesday
Is slow good, or is slow bad?
A perplexed reader wonders why I complain that the Nikon D800 puts more time and effort between us and our photos, and then say it's good that the LEICA M3 (or Pentax K1000) makes it take more time between us and our photos?
Simple: on a real camera like a LEICA or Canon AE-1 Program, there are only three controls at most: shutter, aperture, and focus. On a real camera, we set no more than these three, and we're free to spend the rest of our time seeing the photo.
On consumer electronics products like the D800, we now have 845 different options and menu items, which provide a total of over 5,439,486,960,532 different combinations of settings — of which only one is correct.
It takes a lot longer to set-up a D800 for each new shot, and all that time is spent worrying about our camera, staring at its menu LCD, instead of thinking about our picture. On my Nikon F3, I can set everything with my eye on my subject. In fact, I can set shutter, aperture and even focus by feel on my F3 with my eyes closed! (experience shows us that each position of the manual focus ring corresponds to the same distance, so it becomes easy to predict and preset focus even before a subject gets there. DSLRs can't do that; only people can.)
With a real camera, it takes much less time to set it, and those three settings are all at least somewhat related to the final image.
Setting just three manual settings (shutter, aperture and focus) are good, compared to the easy stupor into which we can fall with a totally automatic camera like the Nikon F6.
It's horrible when marketing departments have loaded appliances that parade as "cameras" with so many junk features that few of us can master them well enough to take a picture.
Yes, I'm working on my D800 guide, but it's Nikon's fault that we need something like that. Our iPhones can do a thousand times more than a camera, but Apple designs its products properly, so we don't need any guide to how to use an iPhone. It is to Nikon's dishonor that we need a sea of books, videos, guides and apps just to show people how to jockey a camera, which is entirely different from knowing what makes a good picture. If camera makers designed cameras properly today, we could spend our time learning the universal truths of making good pictures, instead of always being one step behind fluency with our camera — and then we get a new DSLR as soon as we finally learn the last one!
Most people consider the 1950s LEICA IIIf a bit slow to operate, but its instruction manual only needed 20 pages, after which it suggests you practice until you can operate all of its features blindfolded! The IIIf is slow, but still much faster to set for a new photo than a D800 or similar DSLR.
Therefore, it's good when a camera like a Minolta SR-T-102 makes us stop and think about our picture, and horrible when we have to stop and use both hands to monkey around just trying to find the same menu item again that we just set 5 minutes ago!
Today's hot cameras compared
Reading my big mail stack, I have the print versions of Pop Photo for June and July 2012 where they tested the D800, D4 and 5D Mark III.
I didn't bother to read the reviews (I already bought these cameras months ago, so do I care?), but did notice something interesting that mirrors my own growing experience with these cameras: Pop Photo found that the D4 is cleaner in practice at high ISOs than the D800, but the D3S is cleaner than the D4 at normal ISOs!
Crazier still, but agreeing entirely with my own real-world experience, is that the 5D Mark III is better than D800, and better than the D4 at high ISOs. To keep their advertiser Nikon happy I presume, they didn't run the D4 test in the same issue as the 5D Mark III, but since I had them both in my lap at the same time, saw that the D800 had "moderate" noise at ISO 3,200, the D4 made it to ISO 6,400 at "moderately low" noise, while the 5D Mark III made it to ISO 25,600 at the same "moderate" noise level!
At ISO 25,600, at which I shoot my 5D Mark III with action in the dark with a slow zoom, the 5D Mark III is rated as having "moderate" noise, while both the D4 and D800 are rated as UNACCEPTABLE even down at ISO 12,800. Hmm — and the 5D Mark III feels and handles and works so much better.
23 June 2012, Saturday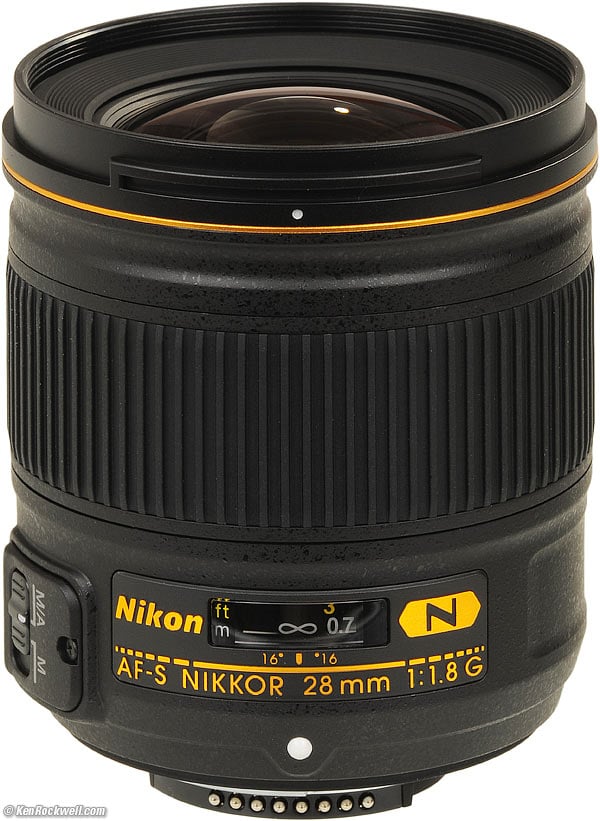 Nikon 28mm f/1.8 G. bigger.
Nikon 28mm f/1.8G: Mine just arrived. Optically it's good on the D800E at 36 MP, but what really impresses me is how small and light it is: just 11.455 oz./324.7g as measured, and it handles like a dream: one big fat focus ring that works fast, instant manual-focus override, and autofocus is just about immediate.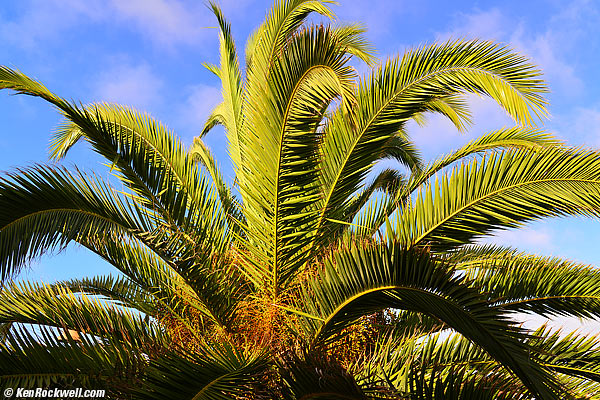 Palm, shot on D800E, f/8 at 1/250. 36MP camera-original JPG.
Look out, very little is actually in perfect focus. Palm trees are round!
It's made in China and takes a 67mm filter. Metal mount, all plastic otherwise, 7-blade rounded diaphragm, rear focus, no ghosts.
It's a fast, sharp little lens that will drop-in anywhere. While most of us will be using them on D800s, it works on every digital SLR as well as most AF 35mm Nikons made in the past 20 years. It has only minor distortion as well.
Look for a review and comparisons to the 28/2.8D, 24/1.4G, 28/1.4D and 24-70mm as soon as I get some more time shooting it; it's only been here an hour so far.
National Wildlife Federation's Photo Contest!
Some winners from the 2010 contest.
We still have time to enter the National Wildlife Federation's 2012 Photo Contest!
It's open for entries until 16 July 2012 and prizes go to $5,000, cash. Details.
22 June 2012, Friday
Canon 5D Mark III vs. Nikon D800
21 June 2012, Thursday
Hot Headphone Tip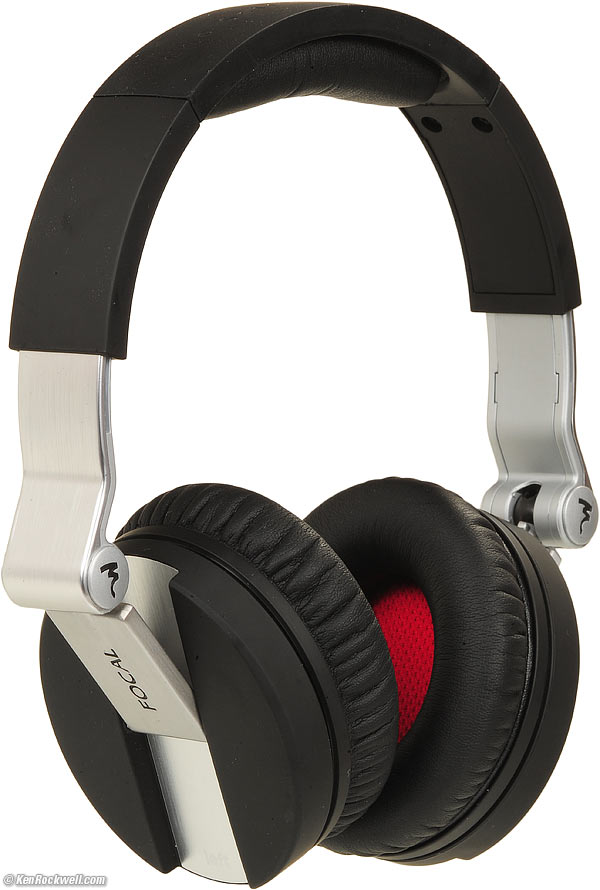 I just got a pair of Focal Spirit One headphones in for review, and in the first few minutes I've had them, they are huge winners.
They sound almost as good as the $1,000 Ultrasone Edition 8, for only $280. Actually, their tonal balance is suspiciously similar to the Stax Omega II (somewhat withdrawn), but without the transparency.
Better than the Edition 8 or Stax, the Focal Spirit One fold for travel.
My favorite day-to-day headphones up until yesterday were the Audio-Technica ATH-M50 because they fold flat against my iPod in my bag, and also sound about the same as the Edition 8, just a bit brighter.
The ATH-M50 are the most popular recording studio headphone because they are tough, sound pretty darn good, fold and twist around for one-eared use, and are inexpensive enough to beat up.
These new 32 Ω Focal are much smoother than the ATH-M50, without the slight upper-midrange-treble boost, and have the same delicious deep-bass boost of the ATH-M50 and Edition 8. All three of these headphones have very high sensitivity perfect for iPods and iPods.
The Edition 8 sound best, but don't fold and have only a molded plastic plug. The ATH-M50 are brighter if you like sparkly highs, while the Focal are much smoother than the ATH-M50, without the boosted highs.
Except for not using real leather, the Focal Spirit One are made better than the Edition 8; the Spirit One have cloth cables and metal plugs.
Here's the real kicker for portable use: the Spirit One adds full three-button iPod/iPhone remote controls and a microphone on the cable, as well as 1/4" and airplane adapters, and a semi-hard carry case.
I suspect they'll be a top recommendation for closed-headphone sound quality regardless of price, and they fold for travel! Which is best depends on personal preference for voicing, but if you need a corded iPod remote, these Spirit One are the best I've heard. You won't be able to tell from the photos I still need to shoot of them, but they feel as well made as any top headphone from Beyer, Ultrasone or Sennheiser, usually for less money.
This is just a hint for some of you on your way out to vacation, as they are new and a bit hard to get. I suspect when I actually publish a full review soon, that they'll be even harder to get (the Rockwell Effect).
If price matters or you want brighter highs, get the Audio-Technica ATH-M50, but for smoother sound better for symphonic works, as well as better build quality, remote control and a mic, the Focal Spirit One are better than expected.
20 June 2012, Wednesday
D800 Firmware Defect Uncovered!
I'm the first to document a serious firmware defect for serious shooters. It renders my in-finder bar graph useless, because my D800 and D800E bar graphs read zero, even if I've set ±0.3 stops compensation!
HDR and video and 36 MP is all fluff, while real shooters need to know if and what compensation we have set at all times.
A firmware defect renders the in-finder bar graph useless for me because it causes the bar graph to read in half stops if the exposure control increments are set to full stops (CSM b2), even if exposure-compensation increments are left in third-stops (CSM b3)!
Set this way, the bar graph reads zero even with compensation set to ±0.3 stops! It's critical to see if and where compensation is set, so this bungle is a real defect for real shooters.
Sure, I could leave CSM b2 at third stops, but that doesn't count: I set my exposure in full stops so I get there with fewer clicks.
This is a major flaw for me. HDR and video and 36 MP are just fluff added to sell more cameras to the mass-market, but as a guy who shoots every day, seeing my exposure compensation or lack thereof in the finder is important, and why my D800 usually stays home and I prefer to shoot my Canon 5D Mark III instead. Sorry, Nikon.
Photoact Cancelled.

Oh well, while you folks signed up, the rest of the world wasn't as perceptive, so PhotoAct 2012, which was to have been the weekend of 24-25 August 2012 in Santa Barbara, has been cancelled. Not enough other people signed up.
While we know they had the greatest names in photography scheduled to speak in the most beautiful spot on earth, since these names aren't pimped by big-camera company marketing budgets, only those of us actually in-the-know recognized them. Likewise, not everyone knows about Santa Barbara, being more of a designation for the super-rich connoisseur, much like Monaco. Thus registrations weren't strong enough to make the whole thing feasible.
Rats; this was going to one a heck of an event.
Not to worry, I'm sure something else will appear at a later date. I hope it's in Santa Barbara, but we'll see.
Next Outings
My next outings are my two favorite back-to-back fall outings: the Eastern Sierra, which follows right after the Yosemite trip.
These two trips are taught by Dave Wyman and I, however two different organizations are doing the registration.
If you're coming out for one, definitely join us for both. Photos from last year.
Register for The Eastern Sierra by calling or eMailing Dave Wyman at (323) 377-7565.
Register for the Yosemite trip with The Yosemite Conservancy.
17 June 2012, Father's Day
Canon Practicals
While everyone normal uses the 24-105 IS or 24-70/2.8 with their 5D Mark IIIs, I prefer to go light when I'm with my family.
I just got back from being out with the family for Fathers Day, with my 5D Mark III and Canon EF 28-105mm USM II and 220EX flash.
The 5D Mark III is so popular that I see even normal people taking them out everywhere, like the restaurant for brunch.
What's odd is how everyone takes their 5D Mark IIIs out for family photos, and takes too heavy a lens (almost always the 24-105 IS or 24-70/2.8), and forgets the flash.
While the D800 and other amateur Nikons all have built-in flashes, we Canon shooters don't have it so good, since Canon failed to include a built-in flash on any of the 5D series
Therefore, if taking your camera out for people snaps, you need to bring an external flash. My favorite is my old 220EX; the newest 270EX II isn't as good.
Likewise, my plastic barreled 28-105mm USM does the same thing as the $1,000 L lenses, but weighs only half as much!
Bringing a flash and a lightweight lens still weighs less than hauling an L lens with no flash, and with flash, my people photos are so much better than those without fill light.
Just a suggestion; and a used 28-105mm and 220EX together cost about one-fifth of a new L lens!
LEICA Finds!
5PM NYC Time update: Now that I'm back from brunch, these below are so hot that two of them sold the moment I mentioned them this morning. Only the 35mm is still available, which is odd, because that's the most exotic and hard-find and useful item, at least for you LEICA screw-mount shooters, and in the best condition.
My friends at OC Camera have a few unusual items for sale.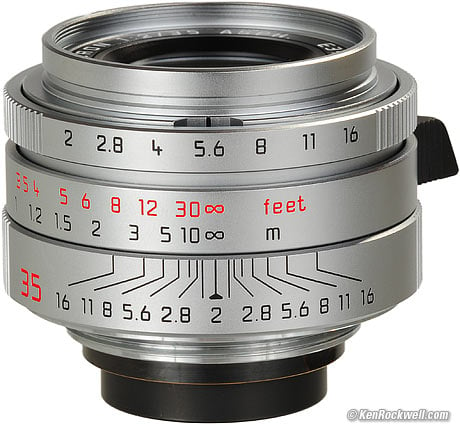 LEICA 35/2 SUMMICRON ASPH, M39 SCREW-MOUNT.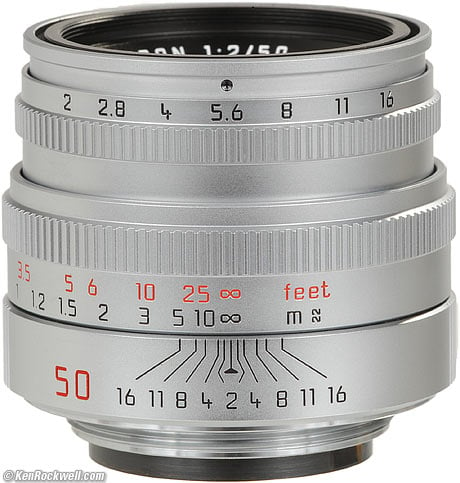 LEICA 50/2 SUMMICRON, M39 SCREW-MOUNT.
First, they have two of the very rare modern-day LEICA screw-mount lenses for sale.
The secret to why these are so valuable is three-fold:
1.) Of course they are highly collectible, having been only sold in Japan around 1999.
2.) To shooters, these are extremely valuable because they are today's highest-performance 35mm ASPH and 50mm SUMMICRON lenses, with an M39 screw-mount for use on LEICA's screw mount cameras. If you're shooting a IIIf, these are the sharpest lenses ever made for it. it was quite a stroke of luck for screw-mount shooters that LEICA decided it was time to make two of their most useful modern lenses available for it again — but sold them only in Japan.
These lenses are solid chromed brass; not the weaker black anodized aluminum of most of today's LEICA lenses.
3.) The third reason they are so valuable is that with a simple adapter ring, they are 100% compatible with all the M-Mount cameras today (as well as with micro 4/3 and any of the other trash cameras). They are no sharper lenses available today for the M9, M9-monochrom and anything else, since these are today's newest optical designs available today.
Here is the LEICA SUMMICRON 35mm f/2 ASPH M39 for sale and LEICA 50mm SUMMICRON f/2 50mm M39 for sale, and here is my LEICA 50mm SUMMICRON review and LEICA 35mm f/2 ASPH review.
NOBLEX Find!
OC Camera also just got in an original sample of the Noblex PRO 06/150 panoramic camera in for sale.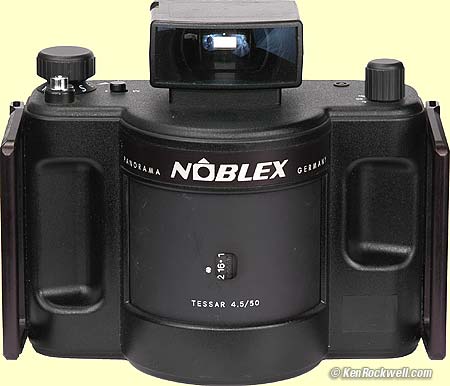 NOBLEX PRO 06/150.
I know the original owner who's having OC Camera sell it for him. He had the camera's designer upgrade the handles to the larger ones that accept a strap, and just had the camera overhauled with new parts. It's even still got the original drum protector with it. It shoots six 50 x 120mm images on 120 film.
Most importantly among Noblex, this sample has the genuine TESSAR 50mm lens, not the less-expensive "Noblar" lenses of later models.
Here's my review of this Noblex.
15 June 2012, Friday
Canon T3 Deal: CANON T3 mega-set with 18-55mm IS, 75-300mm, 50mm a printer and more: $599 after instant rebate!
It includes the Canon T3 DSLR with EF-S 18-55mm f/3.5-5.6 IS Lens , Canon Pixma Pro9000 Mark II Inkjet Photo Printer, Canon EF 75-300mm f/4.0-5.6 III AF Lens, Canon EF 50mm f/1.8 II Lens, 8GB SDHC Card, Camera Bag, D&S Explorer Tripod, FREE Red Giant Adorama Production software Bundle.
Regularly $1,840.85, special $599.99.
Canon 17-55mm f/2.8 IS Deal: CANON EF-S 17-55 f/2.8 IS USM with Tiffen filter kit, cap-keeper and cleaning kit: $1,099!
Canon 17-55mm Review. Hint: all these accessories are free; the lens usually sells for this same price bare, and the included thin wide-angle 77mm filter kit sells for $273 all by itself!!!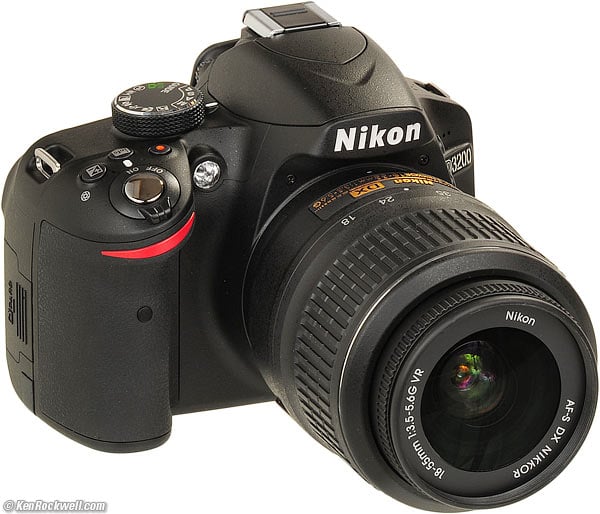 Nikon D3200 and 18-55mm VR.
NEW: Nikon D3200 Review.
While I've had a page up there, today it's loaded with performance details.
NEW: Nikon D3200 Users Guide.
14 June 2012, Thursday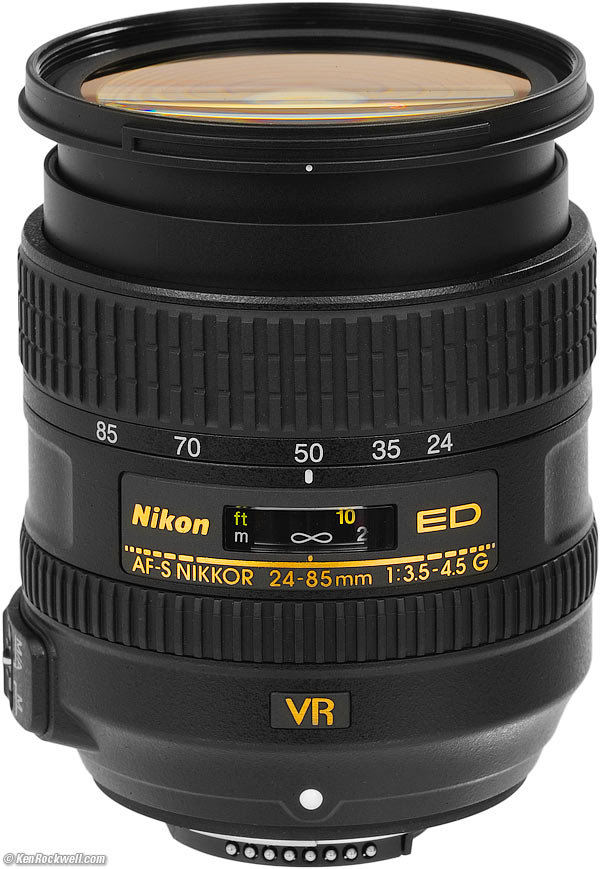 Nikon 24-85mm VR.
NEW: Nikon 24-85mm VR.
A VR remake of the secret 24-85mm AF-S.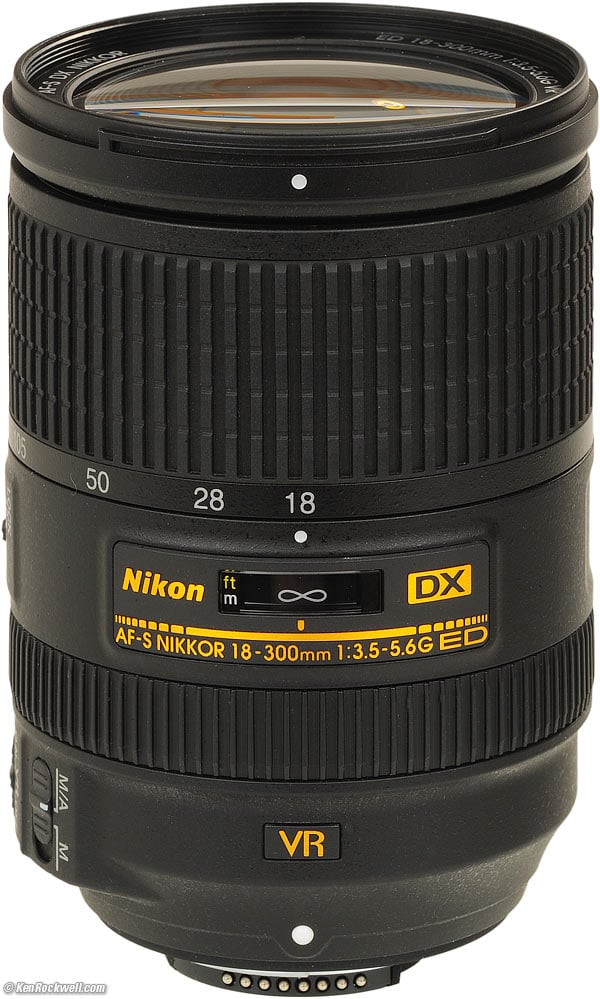 Nikon 18-300mm DX VR.
NEW: Nikon 18-300mm DX VR.
A longer-reaching version of the classic 18-200mm VR.
13 June 2012, Wednesday
Nikon D3X Deal: $7,099!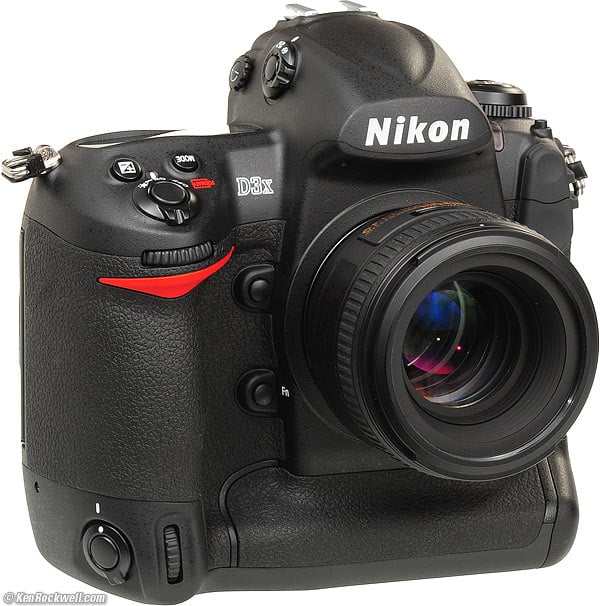 Nikon D3X and 50/1.4G.
I've always loved the Nikon D3X, just not its $8,000 price. Heck, that's why I upgraded to the LEICA M9 for just $6,999 instead, back in 2009.
Well, finally, I managed to get just Adorama to lower the price — but only for you folks — down to $7,099 if you use coupon code S7748524 on checkout. (without the special coupon code for you folks, it's still $7,999 for everyone else, or $7,400 at Amazon.)
This hot special doesn't start until about 2:30 PM New York City time today.
If you do get a D3X, you'll also see a special Adobe Lightroom bundle deal if you want to take advantage of it.
The D3X is superior to the D4 for careful work because the D3X has more resolution, and superior external AF controls. The D4 is faster, but the D3X is tougher, higher-resolution and has a superior LCD, and unlike the D800; the D3X is in-stock.
The D3S is gone; half my pro friends bought the last up as the D4 was announced because they, as I, prefer the real external AF controls of the D3 series. We still have the D3X, and as far as I know it may still be in production, because the D3X is still Nikon's highest-image-performance professional camera. The D800 is purely a hobby camera, albeit it with a lot of pixels, but still feels like plastic next to a D3. Heck, even the D4 feels plasticy next to a D3, just like the F4 feels plasticy next to an F3.
Nikon D3200
I shot with my Nikon D3200 all weekend, and love it! It's got better ergonomics, better color rendition and a better LCD than my D800E.
Of course the D5100 sells for a little less than the D3200, and the D3100 is the same thing, for a lot less, so yes, the D3200 is a great camera, but the older Nikon DSLRs that sell for less are just about as good, too.
Oregon Photo Homage
I wasn't in Oregon this weekend shooting on Dave's Tour because my kids preferred I stayed home with them.
No worries, the folks on Dave Wyman's trip created a Ken Rockwell Homage page.
Whoo hoo!
See you in Santa Barbara in August and Yosemite and the Eastern Sierra in October, kids permitting. I've greatly cut back my public appearances because my kids prefer I stay home with them.
More workshops.
Is it time to go mirrorless yet?
I was looking through 10-year-old images that I had scanned with my cheap Minolta Multi-Pro, and discovered this one: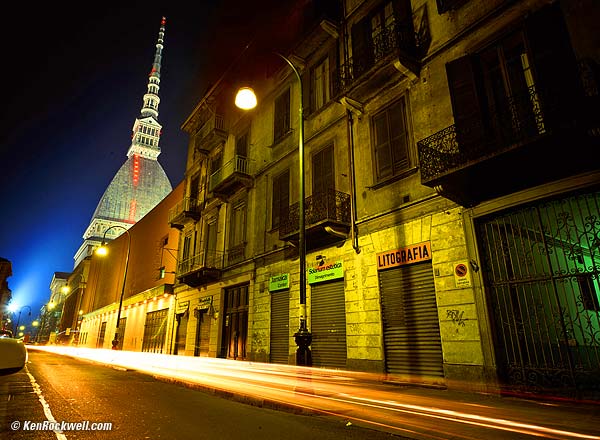 Torino, Italy, October 2003. (10,000 x 8,000 pixels)
Here's a snap I made with my Mamiya 7 and 43mm lens on Fuji Velvia about ten years ago. Look at this reduced-size version of the scan, and it still looks sharper than what I can pull of a D800E.
This reduced-size version is only 10,000 x 8,000 pixels (80 megapixels) and greatly JPG compressed so you can see it over the internet. My original scan is 150 MP and devoid of the artifacts in the file I share here, and includes even more image area that I cropped-off.
No HDR, no long-exposure NR for this many-minute-long exposure required to get the sea of light along the bottom, no battery chargers, no oddball dedicated electronic cable release mumbo-jumbo and no BS: just plenty of time to think and shoot.
Today if I really wanted a great-looking scan, I can send my film out to be drum-scanned to retain the shadow detail that's on the film, but hidden here because I only used a consumer scanner. Likewise, DSLRs don't make exposures longer than 30 seconds unless I do gymnastics with external remote releases and noise reduction.
Sure, micro 4/3 and other "mirrorless" cameras are fun for playing around if your pictures don't really matter that much, but for serious work, you know what I prefer.
Sony DSC-RX100
Orderable now, the new Sony DSC-RX-100 is a $650 point-and-shoot with a small 2.7x sensor, 10.4-37.1mm f/1.8-4.9 zoom and a 3" OLED screen.
This sensor is much smaller than micro 4/3 or a DSLR, but bigger than most point-and-shoots.
Sony is deceptive when claiming a "1 inch" sensor. Its image area is only 8.8 x 13.2 millimeters (0.34" x 0.52"), so where is the FTC when you need them to stop this baloney?
It's probably a great point-and-shoot, but Sony is being deliberately deceptive by representing anything about its sensor as being "one inch." The "one inch" baloney comes from the 1940s when television engineers specified image pick-up tubes by the outside diameters of the much, much larger vacuum tubes which held the much, much smaller imagers. There aren't any tubes in the DSC-RX100.
If the DSC-RX100 has a one-inch sensor, then I'm 18 feet tall.
Deals
Lexar 128GB SD card, Class 10 133x, for only $99.99.
More in stock at the $369 price: Canon G12 for only $369.99, with free shipping! (was $500). Canon G12 Review.
Canon EOS Rebel T4i Digital SLR Camera,(Body only) - Bundle - with 32GB SD Memory Card, Camera Bag, Spare LP-E8 Lithium-Ion Rehargeable Battery, Cleaning Kit, Screen Protector, FREE: Red Giant Adorama Production Bundle for PC/Mac ($599 retail software): Reg $1,567.75, special $899.94.00 with free shipping!

Canon EOS Rebel T4i Digital SLR Camera Kit with Canon EF-S 18-55mm f/3.5-5.6 IS II Lens - Bundle - with 32GB SD Memory Card, Camera Bag, Spare LP-E8 Lithium-Ion Rehargeable Battery, Cleaning Kit, Screen Protector, FREE: Red Giant Adorama Production Bundle for PC/Mac ($599 software retail vailue): Reg $1,656.67, Special $998.02.
08 June 2012, Friday
Canon Rebel T4i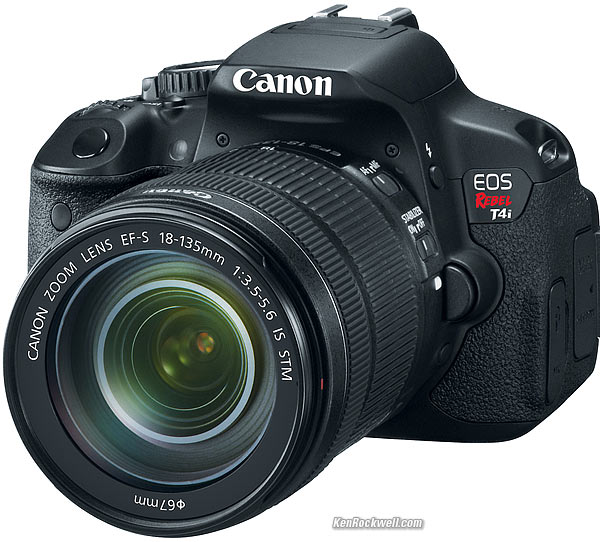 NEW: Canon Rebel T4i.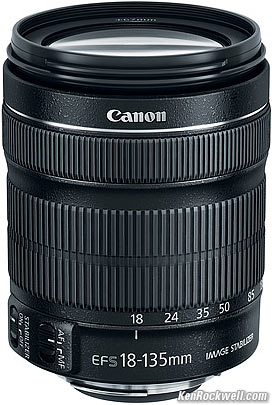 Canon 18-135mm STM.
NEW: Canon 18-135mm STM.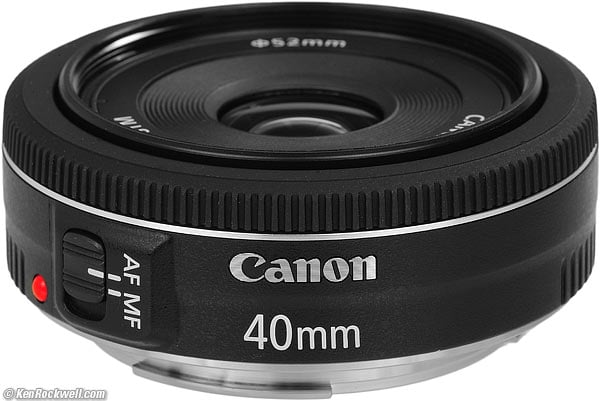 Canon 40mm STM.
NEW: Canon 40mm STM.
The new Rebel T4i has a new AF system claiming continuous autofocus while recording video, as well as a touch-screen.
Two new STM lenses use Canon's new Stepping Motor Technology, which claim smooth and silent focus, and when used with Canon's the Movie Servo AF feature of the T4i, claiming quiet continuous AF while recording video. We've heard that one before, so we'll see.
The T4i is also the world's first DSLR with built-in stereo. Wow, I've been predicting this for years, the Japanese were simply holding this feature back deliberately. My Casio EX-V7 did this, complete with silent 7x optical zoom, back in 2007. (Stereo jacks don't count if the camera lacks a stereo microphone, which is the case with the mono D800 and 5D Mark III.)
Canon Rebel T4I Body only: $849.
Canon Rebel T4I with 18-55mm IS II: $949.
Canon Rebel T4I with 18-135mm IS STM: $1,199.
Canon EF 40mm f/2.8 STM: $199.
Nikon F2S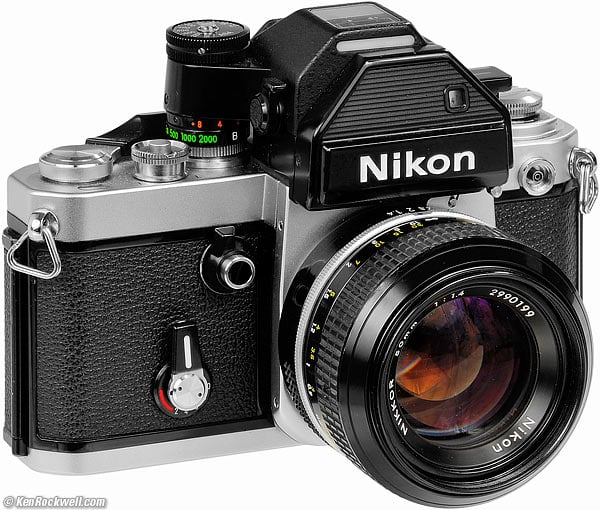 Nikon F2S and NIKKOR 50mm f/1.4.
While I'm busy playing with the D3200, I also had to start creating a review page for the Nikon F2S so that when I share the snaps I made with it the other month, I have a place to which to link when I mentioned what camera I used. When you make a website, you have to create everything in reverse.
All of the long line of Nikon F2s are magnificent cameras. This F2S was the world's top professional 35mm SLR of the mid 1970s. It's best for use with Nikon F lenses (before the AI lenses of 1977), while the newer Nikon F2AS is best for use with AI and newer lenses.
07 June 2012, Thursday
Nikon D3200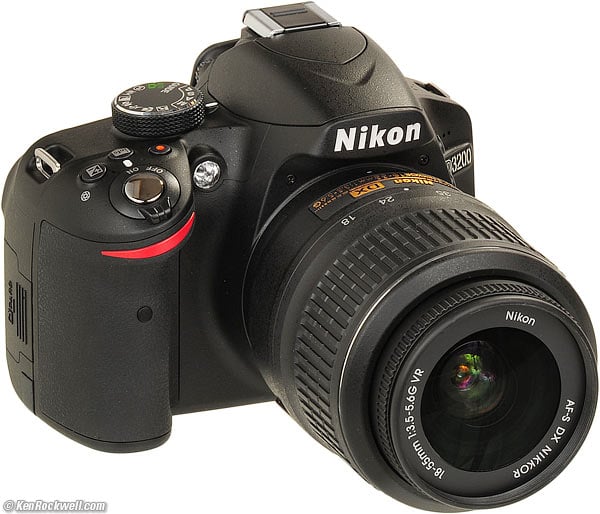 Nikon D3200.
I've had my Nikon D3200 for a day, and love it.
It's a tiny little thing that works great.
Technical performance is superb, and it's so small it almost looks like a toy compared to a D800.
It's also quieter than a D800, a consequence of being smaller and much, much lighter.
As expected, there are more things buried in menus than with the D800, but guess again: since the D800 has mostly regressed to putting most things in menus as well, and that the D3200 only seems to have about one-third as many things in its menus at all, the D3200 in some ways handles faster than the D800, and the frame rates are about the same.
The biggest thing missing from the D3200 is rapid ability to change autofocus settings. While the D800 has a button and knobs to spin the AF system, to go from using all AF sensors (AUTO) to using just one AF sensor (a common swap for me) requires menus in the D3200.

Benchmark DAC1 HDR.
NEW: Benchmark DAC1 HDR Review.
World's most accurate headphone amplifier, as well as a fantastic DAC and preamp that fits on your desk — or controls your system with its included remote control.
06 June 2012, Wednesday
Photo Book Deals
Here's a deal on real photo books, not just the cheap ones that from online print servers.
These photo books (click on PHOTO BOOKS) are made on real dark-processed photo paper, and bound in a Swiss-made machine. They use special Fuji Crystal Archive paper that's on a special half-thick backing so that when they are glued together to make book pages with images on both sides, that they are the correct thickness.
Adorama's having a sale on these in two sizes.
Use coupon code PXBKKR10 this will give you a 14-page 8x8" book for only $9.99 each (regularly $23.95), and coupon code PXBKKR10L will give you a 8x8" leather cover 14-page book for only $30.00 (regularly $66.00).
Nikon D3200
My D3200 arrived yesterday, so I'm playing with it and will let you know.
05 June 2012, Tuesday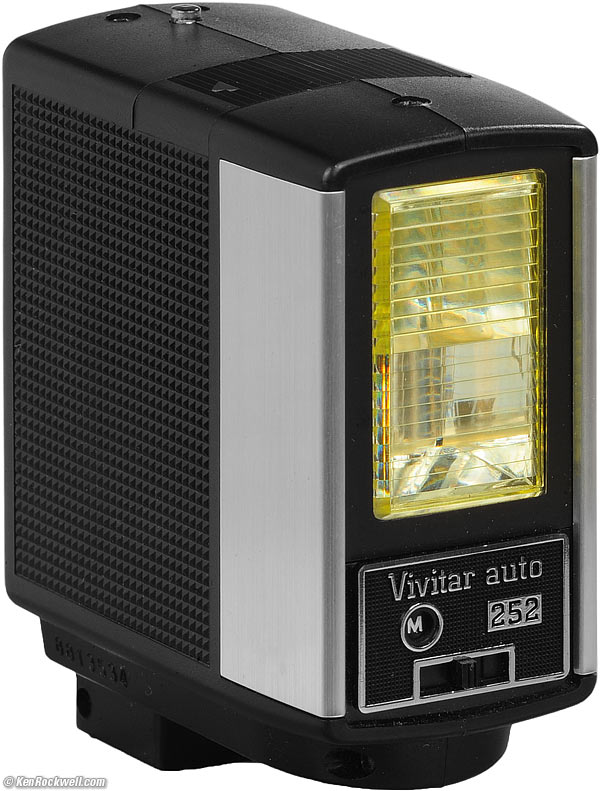 Vivitar 252 Flash.
NEW: Vivitar 252 Review.
Deals
Vanguard Nivelo 204 Black 4-Section Tripod with Pan Head- Maximum Height: 39 3/8inch, Maximum Load: 4.4lbs.
Reg 79.99 spec 59.99

Olympus Tough TG-320 Digital Camera Kit - Blue - with 8GB SD Memory Card , Camera Case, Table Top Tripod
reg 177.95 Spec 131.00 Expires 6/16

Olympus Tough TG-320 Digital Camera Kit - Red - with 8GB SD Memory Card , Camera Case, Table Top Tripod
Reg 177.95 Spec 131.00 Expires 6/16

Olympus E-PM1 12.3MP Digital Camera, White, with M.Zuiko MSC ED m14-42mm f3.5/5.6 II R Silver Lens & Olympus M. Zuiko Digital ED 40-150mm f4.0-5.6 "R" Zoom Lens - Silver
reg 699 - 200 instant rebate = 499. Expires 6/16

Lexar 128GB Echo MX Backup USB Drive, Upto 30MB/s Read and 17MB/s Write.
reg 109.95 spec 82.49.
04 June 2012, Monday
Canon Photography in the Parks Program
Canon is offering free photography workshops in some of America's greatest national parks this summer.
I attended one in Yellowstone in 2009.
The Canon Photography in the Parks Program provides free equipment loans and professional photography instruction as part of a guided walking photo tour. Following the tour, Canon brings printers so you can print your images for free, and take home a CD with them. Everyone is welcome.
New this year are video workshop sessions. Visitors can experience and learn about shooting video by using a Canon VIXIA camcorder or EOS digital SLR camera and participating in a hands-on videography demonstration with experts.
In addition, Canon is sponsoring the new National Geographic iPhone application, National Parks by National Geographic. Available as a free download from Apple's App Store, the app provides users with park information and photo galleries, travel tips from National Geographic editors, and information about park events – including the Canon Photography in the Parks Program. The app also features photo tips to help users capture beautiful photography throughout their summer travels.
Here's the schedule:
Grand Canyon: May 31 – June 20
Zion: June 24 – July 9
Yosemite: July 13 – July 17
Yellowstone: July 23 – July 31
Grand Teton: August 1 – August 2
Rocky Mountain: August 5 – August 11
Acadia: August 18 – August 29
Canon also sponsored the new National Geographic National Parks App. It's a free app loaded with park information, photo galleries, travel tips from National Geographic editors, and information about park events – including this free Canon Photography in the Parks Program! The app also has photo tips, whoo hoo!
Sony A55 deal
Adobe News: Free Updates
Adobe just announced Lightroom 4.1, a free update for Lightroom 4 users, no big deal.
Much more interesting is Camera Raw 7.1, a free update for Photoshop CS6 and Lightroom 4, which adds RAW ability for files from these cameras:
• Canon EOS 1D X
• Canon EOS 5D Mark III
• Canon EOS 60Da
• Canon PowerShot G1 X
• Fuji FinePix F505EXR
• Fuji FinePix F605EXR
• Fuji FinePix F770EXR
• Fuji FinePix F775EXR
• Fuji FinePix HS30EXR
• Fuji FinePix HS33EXR
• Fuji X-Pro1
• Leica M9 Monochrom (DNG)
• Leica X2 (DNG)
• Nikon D4
• Nikon D800
• Nikon D800E
• Olympus OM-D E-M5
• Panasonic Lumix DMC-GF5
• Pentax K-01
• RICOH LENS A16 24-85mm F3.5-5.5
• Samsung NX20
• Samsung NX210
• Samsung NX1000
• Sony Alpha NEX-VG20
• Sony SLT-A57
• Sony Alpha NEX-F3
What Was New in:
Help me help you
I support my growing family through this website, as crazy as it might seem.
If you find this as helpful as a book you might have had to buy or a workshop you may have had to take, feel free to help me continue helping everyone.
If you've gotten your gear through one of my links or helped otherwise, you're family. It's great people like you who allow me to keep adding to this site full-time. Thanks!
If you haven't helped yet, please do, and consider helping me with a gift of $5.00.
The biggest help is when you use any of these links to Adorama, Amazon, B&H, eBay, Ritz, Calumet and J&R when you get anything, regardless of the country in which you live. It costs you nothing, and is this site's, and thus my family's, biggest source of support. eBay is always a gamble, but all the other places always have the best prices and service, which is why I've used them since before this website existed. I recommend them all personally.
Thanks for reading!
Ken
Home Donate New Search Gallery How-To Books Links Workshops About Contact