Home Donate Search Gallery Reviews How-To Books Links Workshops About Contact

July 2012's Updates Hot Deals
RSS: daily (continuous live updates)
all © 2012 KenRockwell.com. All rights reserved.

Nikon: D800 Canon: 5D Mk III Fuji LEICA More random Ryan Katie
Recommended Cameras How to Take Better Pictures
Twitter Facebook Video Tutorials
NEW: Nikon D800 and D800E User's Guide.
NEW: How to Set the Nikon D800 & D800E AF System.
This Weekend: Southern California Photo Weekend: August 11 & 12!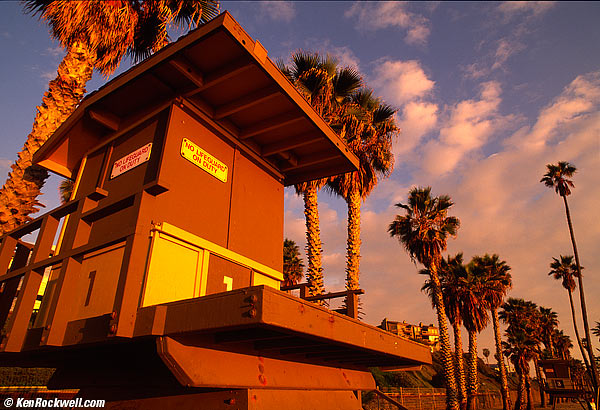 San Clemente (Nikon F100, Velvia, Nikon 20mm f/2.8 AF, Hoya 85C filter). bigger.
Great news: Dave Wyman and I are leading a photo weekend this Saturday and Sunday, August 11 and 12.
Come spend a vacation weekend, and bring the family. Your spouse and kids can go have fun in the sun while we go explore the best Southern California has to offer. Unlike most of our photo outings, you don't have to go alone on this one, since we'll be dead smack in the middle of where half the world dreams all year of vacationing. We'll be someplace the rest of the family will love, so they can come with you and go do their own thing (like Disneyland) while we go shoot each day.
Specifically, we'll be halfway between San Diego and Los Angeles in southern Orange County and northern San Diego County. This gives us the best access to the state's most scenic locations, and it's easy to get to from LAX or SAN, or just fly straight into John Wayne Airport (SNA) in Orange County.
We'll be at or close to the beach, so it should be very pleasant.
More information. To register or for questions, Dave's at (323) 377-7565 or davewyman@imountainman.com.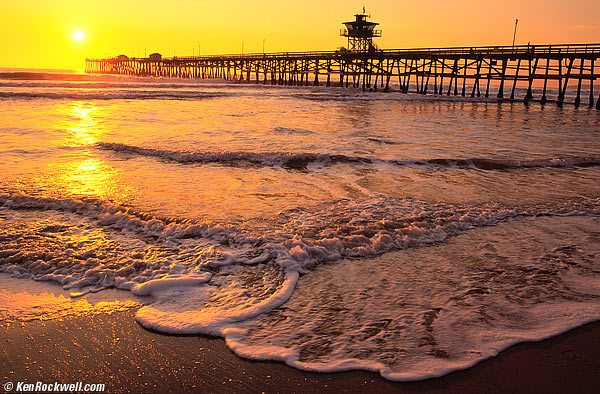 Wave, San Clemente Pier (a "downhill" surfing beach, note horizon). (Nikon F100, Velvia, Nikon 20mm f/2.8 AF, Hoya 85C filter). bigger.
See the natural-looking disc of the sun and sky? That's one of the many reasons I love film. Digital goes haywire, making the sun's disc blot out half the sky, and leave weird rings all over, while film just looks as it should.
Rumors in the UK are that some sizes of Velvia 50 aren't going to be imported there anymore, but duh, the sun never comes out in the UK so who shoots Velvia in England? You can get any size of Velvia you want in Japan, and if you are in the UK, no problem; you can still by all you want in any size today and freeze a 20-year supply of Velvia. Even if the rumors are true and even if the apply to the whole universe, Velvia is still made in 35 an 120, so what's the question?
31 July 2012, Tuesday
Canon T4i
The Canon T4i is now shipping.
Canon T4i review, the first DSLR that might actually autofocus during movies.
Here's a deal on a bundle with the Canon T4i, a New iPad and a connector cable: Regularly $1,474.99, special at $ 1,375.00 + Free Shipping!
Tripod Deals
Hakuba Verispod II Monopod/Tripod with MagMount Ball Head, Supports Up to 9lbs: Reg $89.99, Special $39.99.
Dolica ZX Series 60" Professional Carbon-Fibre Tripod with Balanced Ball Head, Load Capacity 17 lbs: Reg $199.99, now $124.95.
I'm getting one of the Dolica Carbon-Fibres for myself! I love my $36.50 Dolica AX620B100 so much, I can't wait to see how nice a pro model from them for triple the price is.


I got myself so excited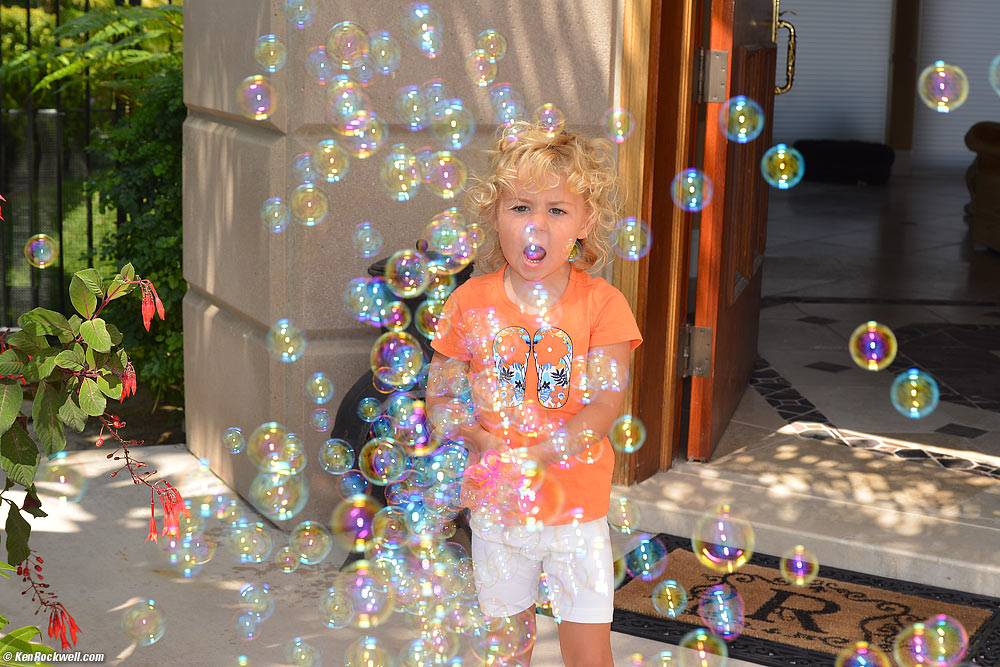 Yeeaaahh! (Nikon D800E, SB-400 flash, Nikon 5.8cm (58mm) f/1.4 from 1961 (see lens bigger), f/8 at 1/125 at Auto ISO 200, Matrix meter, STANDARD Picture Control at +1 Saturation, 6 Sharpening, Auto White Balance adjusted to A3 M1.) more and bigger and more here.
Hee hee, after I got myself all excited below, I couldn't resist taking out my 1961 58/1.4 and making some snaps of Katie and of Ryan. Looks sharp and colorful enough, eh? The D800E is astounding in its ability to pull sharp images out of all my lenses, even those over 50 years old!
I remember 28 years ago in 1984 when I switched to Nikon from Minolta. Back then in my youthful know-it-all exuberance, I wouldn't have so much as touched any of the crappy old obsolete AI lenses, because Nikon's newest alphabet soup was AI-s for the "cool" lenses of the day. Anything older was obviously crap, so I wouldn't touch them. I knew it all.
Today, if you're paying attention, all of Nikon's lenses have been fine since the rangefinder days of the 1940s. Nikon merely does what any soap or soda company does to sell the same old thing each new year, and adds letters and "features," but they all do the same thing. I won't touch anything from Tamron or Sigma of any age, but anything Nikon has ever made can make great photos.
30 July 2012, Monday
Whew!
Back to business today. It's so nice having my 5D Mark III back in my hands after working the huge 1D X and clunkier D800E so much last week.
The 5D Mark III just feels so much smoother in my hands compared to my clunky D800E or the gargantuan 1D X.
The funny thing about Canon and Nikon today are how the D800 is really the same thing as the D4 in a smaller package, and how the 5D Mark III is the same thing as the 1D X in a smaller package.
The software running each version of Nikon or Canon is the same. Each handles the same with the same options in the same places as the other model. In these cases, Nikon and Canon each developed the same firmware at the same time for their top two models to save themselves development cost, with almost no difference between their pro model (D4 or 1D X) and their top amateur model (D800 or D4).
The only reason to buy the D4 or 1D X is of you need the speed or durability and want to pay $7,000 and lug the thing around. If not, the $3,300 camera in each brand does the same thing, with a little more resolution thrown in for free, compared to the larger model. Unlike the past, they are the same cameras within each brand.
Consumers win, but pros lose. The only things the pro cameras offer today over the top amateur models is durability and speed, but the same image quality and AF systems, and maybe one extra handy CFN button someplace. Except for the D4's superior LED-based finder screen and the 5D Mark III's poorest ability to track items across the frame, they're all pretty similar. Pick your favorite, but no longer do the pro models (D4 and 1D X) have the best technical image quality: the consumer models (D800E and 5D Mark III) do — but only by a very slight margin.
I greatly prefer my 5D Mark III of all these four; It's the one I grab out of my studio safe most often for personal use, but hey, we're all different. In my hands, my 5D Mark III just feels better, and I prefer its real-world image quality (mostly color rendition) to my D800E.
You know my favorite lens for the 5D Mark III for snapping my kids? The 1990s Canon EF 28-105mm USM, which sells used for about $100, because it's small, light, sharp, has a 7-, not 8-, bladed diaphragm, focuses instantly and close, zooms with one fingertip, and has a perfect focal length range. In fact, yesterday at the park, this combination was the first I've used fast enough to track focus of my kid on a swing at close range! That's much tougher than tracking a 300 MPH race car 300 feet away, because the focus ring has to move so much more as a kid goes from 2 feet to 20 feet and back again.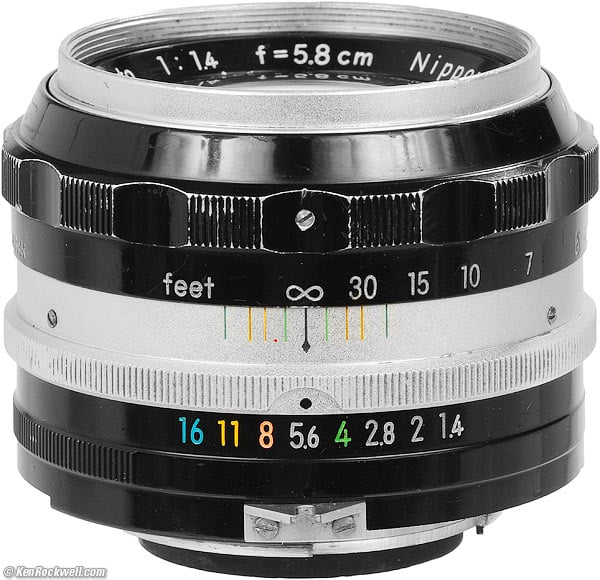 Nikon 5.8cm (58mm) f/1.4 from 1961. bigger.
Personally, I mostly use my D800E when I want to shoot real, all-metal manual-focus NIKKOR lenses out of my collection. I have a 5.8cm (58mm) f/1.4 someone gave me here. It was made in 1961 and after AI conversion, works swell on my D800E. Canon trashed all their FD lenses back in 1987, while lenses like this first 5.8cm f/1.4, Nikon's first fast normal lens for their new Nikon F single-lens-reflex miniature camera of 1959, are still available in the D800's Non-CPU Lens menu. Bravo, Nikon!
29 July 2012, Sunday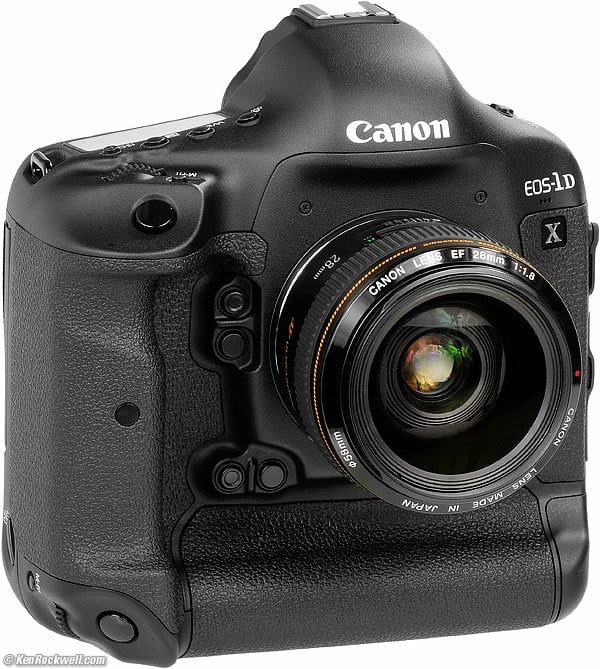 NEW: Canon 1D X Hands-on Review.
Little did I realize it, but this it the first complete professional review out there. How about that?
I gave up waiting for my 1D X to show up last year; I didn't think it would ever arrive, so it surprised me when it showed up.
28 July 2012, Saturday
NEW: Hear the Canon 1D X run at 11.5FPS (690 RPM).
The Canon 1D X is only rated 12 FPS in manual focus and at 1/1,000 or faster and at maximum aperture and below ISO 25,600. Shoot at any other condition, and it slows. When I tested with an f/1.8 lens at f/2.2, it slowed to about 11.5 FPS (it has to wait for the blades to flap around), and at f/5.6, where the blades really have to move, it only clocked 8.5 FPS, in manual focus at ISO 100 at 1/1,000 manual shutter speed.
Slower shutter speeds, higher ISOs or autofocus (especially any mode that has to think) slow it down.
It is rated at 14 FPS if you let it lock-up the mirror and lock everything. If you do this, of course the finder goes blank. Where's the pellicle when you need it? (in the Sony A55!)
D800 Lens Tip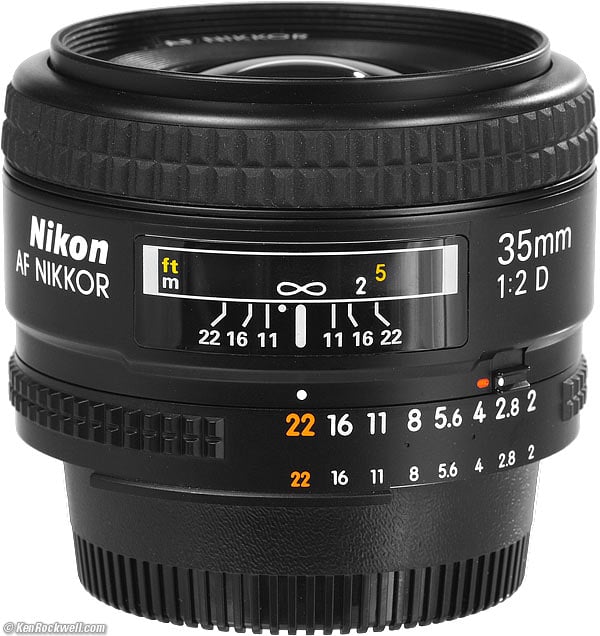 Nikon 35mm f/2 AF-D.
I shot my consumer Nikon NIKKOR 35mm f/2 AF-D last weekend on my D800E, and it works great.
It's inexpensive ($360 brand-new), well made (mine is from Japan and I think they all still are), super small and light (200 g/7 oz.), focuses super-close (10 inches or 0.25m), has a 7-blade straight-bladed diaphragm for great sunstars, and is super-sharp at 36 MP when stopped down, and it's super fast — f/2 — so nothing is too dark.
You know first; I still need to add all my D800 & D800E data to its review. Used properly, the 35/2D is now certified for the D800 and D800E.
Sure, the semi-pro 35/1.4G is sharper at f/2 in the corners, but who cares unless you want to blow $1,650 and lug it around? (I prefer my original, all-metal and fully professional 35/1.4 AI-s over the new plastic 35/1.4G, and you can get the pro manual-focus AI-s lens brand-new for only $830.)
The 35mm f/2 AF-D is better optically than the 35/1.4 AI-s, while the 35/1.4G is best of all; but only visible at larger apertures where nothing is in focus anyway.
The 35mm f/2 AF-D is the smallest and lightest, and what I'm most likely to take with me, period. As the teachers at The Nikon School so honestly pointed out ten years ago, faster lenses just go faster for the rare occasions you run out of light with film. They don't take pictures any sharper or better under 99% of the conditions most people shoot. For 99% of photos, buying exotic f/1.4 lenses just costs more and gives you more to carry.
NEW: Canon 5D Mark III versus 1D X Resolution and High ISO Comparison & Sample Images.
My 1D X is here. It's a speed-demon for pros. Image quality is about the same as the 5D Mark III; you get the 1D X if you need speed and durability and weather sealing, not ultimate image quality.
Full 1D X review coming, mostly planned on seeing how well the AF system works. I've just shown that hyper ISOs are great, about as good as the 5D Mark III depending on how you slice it.
Marketwatch
Updating prices in my 2012 DSLR Comparison, the original Canon 5D is down to about only $700 used, and makes extraordinary images. Get one if you're still dreaming about full-frame.
Likewise, the 5D Mark II has dropped to under $2,100, a steal.
The Fuji X100 is now only $999.00 and the Canon G1X is only $709.
Bad news is the Nikon D700 has risen $100 to $2,300 as more and more people realize having real AF controls we need is worth a lot more than having 24 more MP that we don't need in the still unobtainable D800.
27 July 2012, Friday
Backups
Since someone asked, I use LaCie 3TB external drives, and do a Smart Update of my entire drive using SuperDuper each night. Since it's a Smart Update, it only takes 20 minutes, and my entire life's work of 2 TB is backed-up, bit-for-bit, and bootable direct from the drive. The first complete copy takes a few hours; the Smart Update only copies what's changed since yesterday's backup.
This means if Manhattan blows and I flee to Westchester with my hard drive, all I do is plug it into another Mac, and I can run from my backup exactly where I left off.
If I lose or damage my original hard drive, no problem: I boot from the backup, and since SuperDuper was backed-up to the backup, I simply use it to copy my entire bootable hard drive to the new computer or drive, and I'm good. Everything: every photo, every file, and every program and every setting is exactly as I left it.
I have a few partitions on my 3TB drive, so all my computers are on the same drive, too. One hard drive in my backpack and I'm on my mountain bike fleeing to higher ground with my entire family's life work safe. My main Mac has a 2TB drive, so my main Mac and the wife's iMac and my two laptops all fit on their own partitions on the 3TB drive.
This is why I shoot responsibly as far as files sizes go. I come from broadcasting, where data are dollars. When you book satellite transponder time, or do much of anything, you pay by bits or bandwidth, so everything you do is done with an eye to efficient use of data. We spend our bytes responsibly since we're paying for it.
Since I shoot responsibly in BASIC JPG for most things, all my photos and all my music recordings and all my kid's videos are all on one drive; the drive I have with me. If I shot RAW with 100 MB NEF files from my D800, I'd never fit everything on one drive, and I'd wind up losing half my work some time when I forget another drive someplace. Data is dollars, and coming from a background where we had to pay for that with our own money, I don't waste data. Even though memory cards are semiconductors and double in size every 18 months, hard drives are mechanical and magnetic. They don't grow very fast. In the ten years I've been buying hard drives, they've only gotten ten times bigger: 200 GB in 2002 to 2TB today. In 2002, I paid ten times more for my off-brand 256MB CF card than you pay for a SanDisk 32 GB card today. These bits all have to go somewhere, so I certainly never fill even my small cards today as I shoot.
I've also got all my film scans on my one hard drive, like this shot from exactly 50 years ago: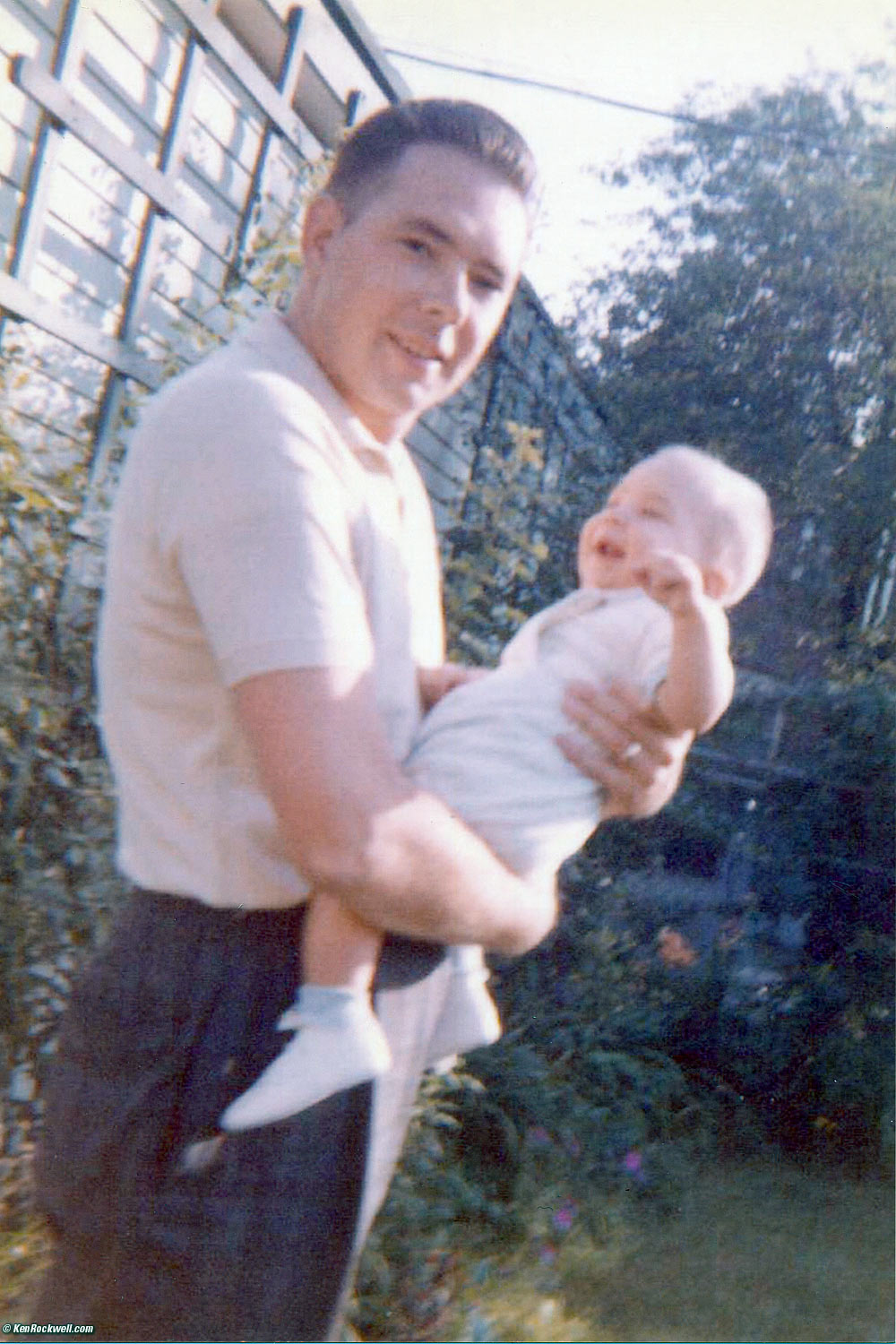 Ken's dad Ronnie and baby Kenny Rockwell at Nanny's house: 28 July 1962. bigger. (Nanny is the name we use for our grandma, who had been Henry Steinway's personal secretary for the past 20 years at the time.)
If you're not on Mac, get on Mac. Ten years ago I used Norton Ghost to do the same thing on windows. It didn't used to be smart enough to do smart backups, so it always took 3 hours to do a complete copy each time.
In all these cases, the backup is an exact duplicate from which I can read and copy without needing any "restore" software, and if I want to copy it all back to another drive still in bootable state, the software to do that is already on it. By "bootable," this means that I can run another computer directly from my backup copy, with all my programs, passwords, preferences and files all exactly installed as I always have them.
Use a few drives and alternate between them. Think like nature, and be sure to leave these drives in different countries so one hit won't take them all out. You can't leave them all at home, since if your house craters, you'll lose your backups as well.
As your data gets bigger and you use newer, bigger drives, save the old ones. The only chink in this backup plan is that it backs up what I have. If I delete half my photos by mistake, my backups will reflect that. By saving old drives I can go back, and if I had the time, backing up photos to plastic (DVD or CD) will make them last.
No, I don't use Apple's time machine, but I do look at my trash can carefully before emptying it.
26 July 2012, Thursday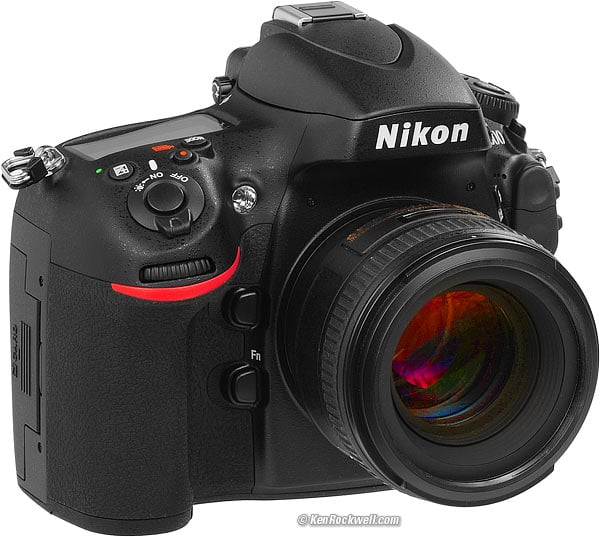 Nikon D800 and 50/1.4G.
NEW: Nikon D800 and D800E User's Guide.
NEW: How to Set the Nikon D800 & D800E AF System.
Ta da!
25 July 2012, Wednesday
Big Little D800 Improvements
Now that I've gone through the D800 and D800E with a fine-toothed comb, some innovations I really like are:
New Mirror-Lockup Mode eliminates the need for a cable release. The old exposure delay at only 400mS was pretty useless; now we can delay 1, 2 or 3 seconds after one-press mirror lockup before the shutter fires automatically.
Auto ISO has automatic slowest-speed setting based on lens focal length, and lets us offset this as much as two stops (but the camera is still clueless to whether or not IS is on).
Missing in the D800 is the AF-A focus mode of most other cameras like the D7000. AF-A automatically selects AF-S or AF-C depending on what the subject does.
Case Deals
Adorama has their own brand of cases similar to Pelican, for less.
Tokina Deals
Tokina 11-16mm f/2.8 DX for Nikon: Reg $699, Special $599 + Free Shipping!
Tokina 11-16mm f/2.8 DX for Canon: Reg $699, Sale $599 + Free Shipping!

Tokina 11-16mm f/2.8 DX for Sony: Reg $699, Sale $599 + Free Shipping!
Do you print?
My full-time pro friends and I are always waiting to see what fluff freaks-out the casual users every time a new camera comes out. We have a betting pool on how long it takes the first guy in his mom's basement online to discover that a pixel is dead or that an AF sensor is aligned a few microns off on his camera, or that just as often, how casual users get freaked out by "discovering" some flaw that is simply the limitation of today's state-of-the-art. These limitations have always been here, just that online experts haven't seen them before, and get all flustered when they see something they hadn't seen before — especially as resolutions get stupid.
Full-time pros and artists know the always-present limitations of our gear, and simply work around them. We know no camera is perfect (except the LEICA M3, Contax G2, Mamiya 6, Linhof Technika and Contax 645), so we just do what we gotta do to get the results we need. No big deal. It's like driving: if there's a pothole, you drive around it; only a total nerd stops his car and gets out and stares at the pothole for hours, screaming "Conspiracy" instead of just driving to where he needs to go. (My D800E's left-side AF sensors are fine, by the way — but I'll get out the Nerd-O-Scope for you.)
I've had an article explaining the foolishness of worrying about this New Camera Bug baloney since 2008. This never changes; people freaked-out about the only real problem we've ever had, which was the Canon A2E's mode dial falling off in the 1990s. When that happened to you, you were stuck in one mode until you had the knob replaced.
Back to the printing part. It dawned on me this morning that I can't recall the last time any non-pro showed me an actual print. Pros refer to real shooters as "shooters," as opposed to the droves of online experts who don't actually shoot, but when we say someone's a "shooter," we mean that they shoot, print, matte, frame, sometimes glaze, wire & hang complete exhibits, and have shows with very carefully focused lighting on their pieces to show them as they intend. That's a shooter as opposed to people with software backgrounds who have websites for their photo hobby.
Here's the deal: these people who lose sleep over black pixels or disjointed AF sensors never actually print and show their work. If they did, they'd realize how any of this baloney goes away when printed. Now all you IT guys are saying "But, yes, if I print at 72 inches wide...," but these folks never actually print at any size.
When you hang shows or just print, the things we can see today at 100% on our screens just goes away. Even with 6 MP cameras, the JPG artifacts I could show people on-screen vanished in 12 x 18" prints, and with the stupid resolutions of today's cameras, these artifacts get even smaller, since every macroblock is smaller in the print.
Know what happens when you do print big? Lindsay at Nikon showed me a 40 x 60" print at a trade show and it looked awesome. It was shot on a 6MP D50. Pro motorsports shooter Richard at NCPS has an awesome 40 x 60" print from a 6MP D40 on display. At one of the other trade shows several years ago, Canon had various 8-foot-wide prints on display, as proudly printed on Canon's own commercial printers. They were exquisite, even seen up close. They were shot on whatever 18 MP full-frame Canon was hot back then. Eight feet (2.5 meters) wide, and looked awesome up close, with less resolution than Canon's cameras today.
Dudes, your walls aren't big enough to ever to print big enough to see any of what some non-pros are whining about.
The moral of this story? Blow off work today and go shoot. To paraphrase the ancients, "Don't worry; shoot." You have no idea how good your work can look printed far larger than you'd imagine possible. Want big prints? NCPS can do just about anything.
Real Nikon Lenses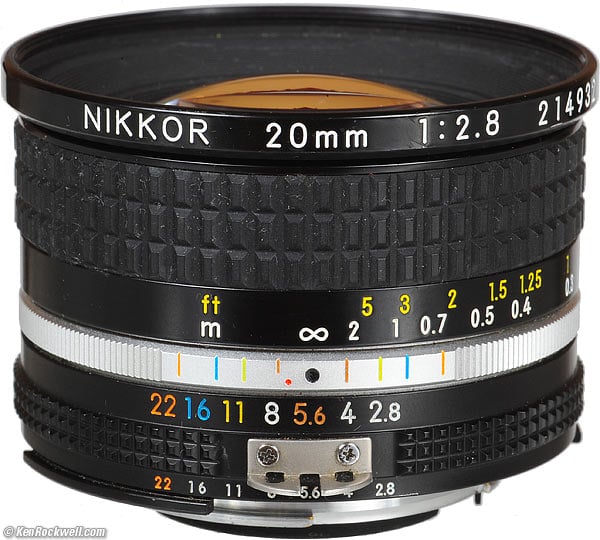 NIKKOR 20mm f/2.8 AI-s. buy new.
I enjoyed shooting my real Nikon 50mm f/1.4 AI on my D800E last weekend. You easily can buy the current AI-s version brand-spanking new!
I need to mention that in spite of all my whining about expensive but disposable plastic zooms coming out of China, Nikon still makes its immortal manual-focus lenses, and you can buy all you want brand-new at B&H — from stock! Sure, you also can get used ones at eBay (that's where most of the 50 million Nikon has already made can be found), but if you demand quality that you'll be able to pass down to your grand-kids, Nikon still cranks it out.
Good taste costs less: a made-in-Japan (as far as I know) 50mm f/1.4 AI-s costs only $399.95 brand-new, while the plastic Chinese 50/1.4 costs $450!
Nikon's manual-focus lenses will probably never require service. I have samples over 50 years old that work great, which is much better than LEICA's lenses that go foggy after 30 years. I've always bought my new AI-s lenses as gray-market.
Want Nikon's toughest, most compact 35mm f/1.4 ever? You can still get them brand-new.
All these manual-focus lenses work magnificently on the D800E and every other FX camera and most DX cameras; you just code the data once into your Non-CPU Lens menu (guide under construction).
Nikon's professional lenses (that means the AI-s, not the disposable ones with the "10 in circles" expiration dates on them) feel so much better than the plastic baloney so many folks accept today.
Today, with Nikon's durability at an all-time low, pick up one of these immortal classics, and you'll be shocked if you haven't ever had a real Nikon lens in your hands. Even their aperture rings are solid engraved metal! They have no plastic anywhere on them, not even a plastic dot as LEICA lenses do. Nikon's manual-focus lenses are what put LEICA out of the photography business in the 1960s; check out the selection.
Want a fast f/1.2 lens? That's only available from Nikon as a professional AI-s lens (50/1.2 review); Nikon makes no autofocus lenses at f/1.2.
This is the real reason I love my D800E: so I can shoot all my real Nikon lenses on it. I can't shoot my FD lenses on my 5D Mark III; Canon trashed the whole "timeless" FD line in 1987 and many shooters still hold that against Canon,
24 July 2012, Tuesday
Backup Card Suggestions
As I write my D800 and D800E guides, I'm suggesting using a big, cheap 32 GB SanDisk card for $24 for your second slot, and using a CF card as your main card.
You'll never need the files on the backup until one day you hit DELETE by accident, or lose an entire main card or download, and then you'll remember that AHA! It's on my backup card!
For a few extra dollars, this 32 GB SanDisk card is faster, and so is this 100x 32 GB Lexar card. You don't need a fast backup card; hopefully you'll never need to read it. Just format it whenever it gets full, and leave it in there to catch everything you shoot.
Nikon D3200 Guide
My online Nikon D3200 Guide is very simple and to-the-point.
If you'd like a real printed book, the best i've seen so far is Simon Stafford's D3200 Guide.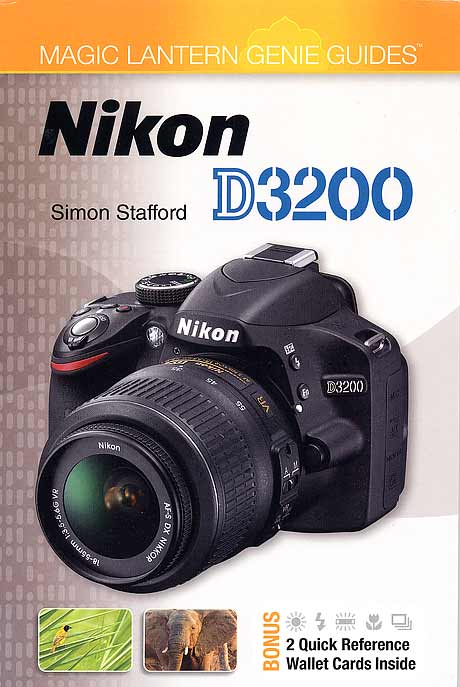 It's a smallish book perfect to take in your bag loaded with precise specifics about how to use the D3200. It's also got a few punch-out plasticised cards to keep in your wallet. It's much better than most of the guides I've seen which are more generic picture-taking guides with a picture of just one camera on the cover.
If you want to know everything there is to know about the D3200, here you go.
Nikon D800 Guide
My D800 guide hopefully will be done this week, if I can keep my hands off my new Canon 1Dx and the kids don't come over to give me too many hugs as I write.
Canon 1Dx
My Canon 1DX (18 MP full-frame, 12 FPS, 3.2" LCD, ISO to 51,200 to 204,800) just arrived.
I'm charging its battery before I do anything.
Good news: while the charger is from China, even the battery is from Japan.
This is Canon's only professional DSLR, their ultimate œuvre in EOS, and they've chosen to put everything they can into this one model, instead of making us choose between speed or quality as Nikon does with multiple models like the D3X or amateur D800 for resolution, or the D4 for speed. Sad thing with Nikon is that the D4 isn't for speed either; they took the AF controls off the camera and replaced them for video instead. The D4 is more of an overgrown amateur camera than a pro camera like the overpriced D3X.
Oh well, as Nikon gets itself lost in the woods foraging for profits anyway they can, Canon is going in exactly the right direction. Remember my big list of what's wrong with the original Canon 5D? Canon fixed all the ones that matter today in the 5D Mark III, while Nikon has done little or nothing to improve on my 2007 complaints about the D3, and in fact, has gotten worse in newer models by removing the AF controls. This is why I'm so much more positive about Canon today than I was 5 years ago when the D3 came out.
I'm so glad I'm 100% reader-supported; if I got checks from Nikon or Canon I'd be stuck when the tides changes and it was time to move on to a better system. That's why I always say what's on my mind; I'd be in deep water if I had to suck-up.
Only for you folks who are actually going to buy a 1Dx, what specific points should I investigate for you? Let me know, thanks!
23 July 2012, Monday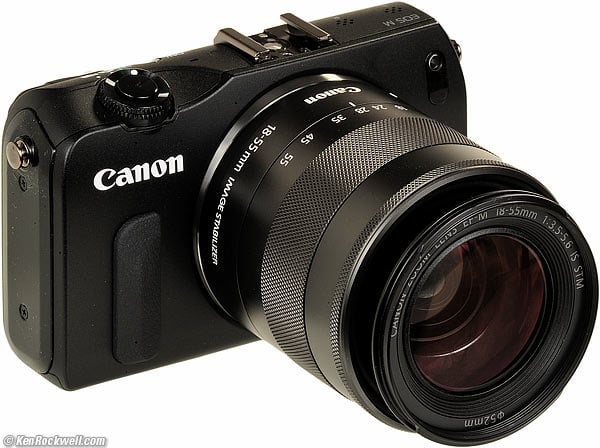 Canon EOS M and 18-55mm IS STM.
NEW: Canon EOS M: The world's first serious mirrorless camera.
Expect close-out sales on the Nikon 1 any day now.
The EOS M uses the usual 1.6x Canon sensor and has an adapter to make full use of all our other EOS lenses like the 10-22mm ultrawide, while the Nikon 1 used a very tiny sensor and never had any really wide lenses available for it.
22 July 2012, Sunday
Nikon D3100 Super-Specials!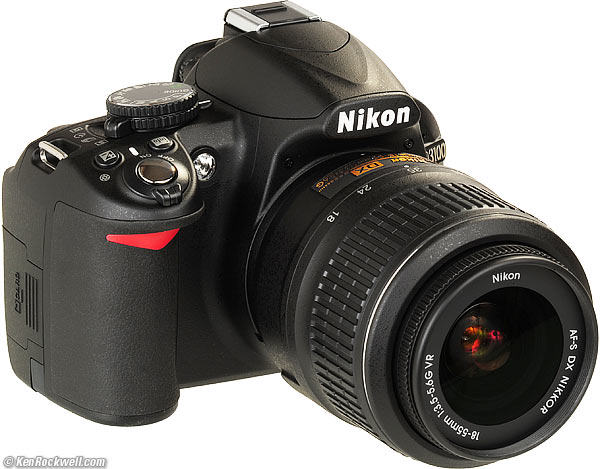 Nikon D3100 and 18-55 VR.
These are the best deals in history for the D3100, a fantastic DSLR from Nikon. You can pay more for the D3200 just because it's newer, but it's no better than the D3100 (24MP is meaningless in DX unless you're running $3,000 lenses and making 10-foot-wide prints). Nikon hit a sweet spot with the D3100, so if you want a fantastic DSLR for everything without having to pay for much, here's your chance.
The only significant difference between this D3100 and the new D3200 is that the rear LCD has more pixels, so on-camera playback is a bit smoother, but for a couple of hundred dollars, my money is on the D3100.
Nikon D3100 with 18-55mm VR: Reg $646.95, Special $496.95.

Nikon D3100, 18-55mm VR, 32 GB Card, Camera Bag: Reg $646.95, Special $496.95 (same price as without the card and bag!).

Nikon D3100, 18-55mm VR, 32 GB Card, Lens Cleaning Kit, Nikon Camera Bag w/DVD: Reg $716.95, Special $566.95.
Hint: I've been telling my normal friends who want a great camera to get the D3100 now while they still can, since it's the same thing as the D3200, for a close-out price.
In fact, I'm tempted to put one in my closet for someone for Christmas. It's a superb DSLR, and they don't get any less expensive than this.
Did you catch the IQ test?
The second deal is the same price as the first, and adds a 32 GB card and a case.
The third deal is about the same as the second deal, with a lens cleaning kit, for an extra seventy bucks. My cash is on the middle deal.
We did it!
We were successful, we raised enough to help my best friend Skip Bardin's two sons make it to the National Soap Box Derby Competition!
I'll get pictures as soon as there are some to be seen.
Thank you!
20 July 2012, Friday
Deal: Canon 5D Mk III Master's Set
Canon 5D Mark III, CANON 70-200/2.8L IS II, CANON 50/1.4, CANON 600EX-RT Flash, CANON PRO 9000 Mk II printer:
Reg $7,949.00 Special $6,399, Additional $400 Mail In Rebate for printer: Final Price $ 5,999.00

Here is the savings breakdown:
600EX-RT: $599
Pro9000/II: $339
-------------------------------------
Regular price: $7,105.00
Master's Package price: $5,999.00
Master's Package Savings: $1,106.00
Not bad for a Friday.
19 July 2012, Thursday
NEW: Nikon 28-70mm AF-D Review.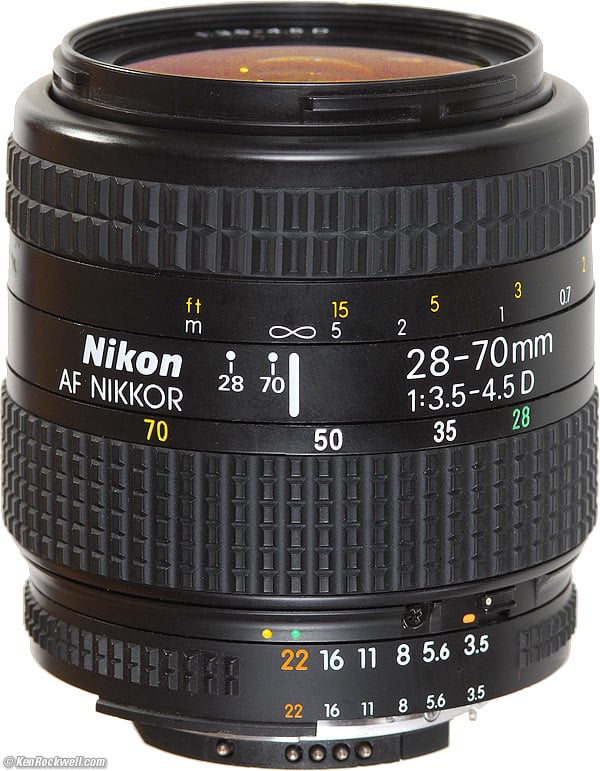 Nikon 28-70 FX: D800E CERTIFIED.
One of my favorite FX lenses, selling for under $100, and it works fine on my D800E. I've had a review up since 1999 for use on my F100, and I just updated it for the 36 MP FX D800.
Want inexpensive FX lenses? Nikon has made over 50 million of them out there used!
OLD: How to Make Photos that Stand Out.
OLD: How to Make Great Photographs.
OLD: All About Exposure.
I ran across these as I'm editing my Nikon D800 Users Guide (still unpublished)
18 July 2012, Wednesday
NEW: Nikon D600.
Speculation. Don't read until August 21st.
Exploding Nikon Batteries
See if you got one of the recalled EN-EL15 batteries as shipped with the D7000, D800 and D600. Look for the first letter in the long code on the bottom of the rear label. Got an E or F? Bingo! Call Nikon at (800) NIKON-US (645-6687) from 8 AM through midnight New York time Monday through Friday, and claim a free new battery. Whoo hoo!
Think Tank Sling-O-Matic Test Drive Program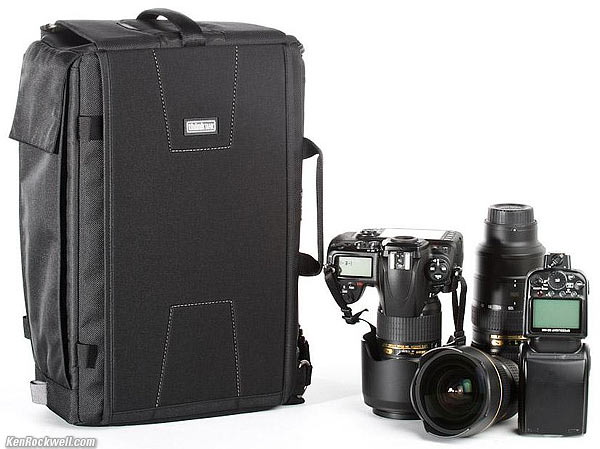 Think Tank Sling-O-Matic. bigger.
Starting today and running through the end of August, we can try one of Think Tank's Sling-O-Matic sling bags for free for 30 days.
(Of course with this special offer, the other special offer of free stuff with your order doesn't apply — unless you order some other goodies, too.)
The Sling-O-Matic series are the first sling camera bags that automatically switch back and forth to either shoulder and still keeps gear access upright! They come in three sizes.
Have fun!
17 July 2012, Tuesday
NEW: Nikon 800mm f/5.6 VR.
Nikon 800/5.6 VR on a D4.
Nikon's "me too" copy of Canon's existing 800mm f/5.6 L IS. My pal Steve Cirone has owned one of the Canon 800s for quite a while; Steve is among the nation's top bird photographers.
If you really want to shoot with an 800mm lens, Steve runs photo tours in San Diego where he'll pick you up from the airport, drive you around, and let you shoot his 800mm as part of the tour! Sure beats buying and hauling your own.
NEW: Canon 20mm f/2.8 USM Review.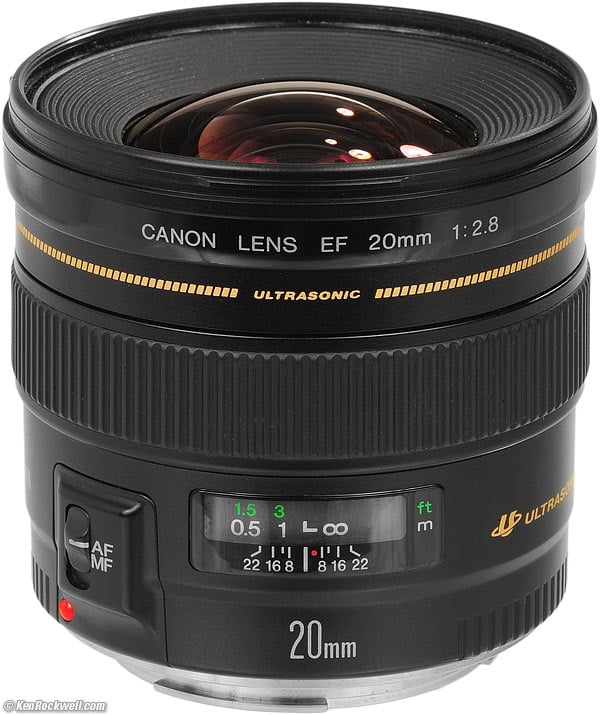 Canon EF 20mm f/2.8 USM 5D Mk III CERTIFIED.
The Canon 20mm is a great lens for real ultrawide shooting on the 5D Mk III or any other 35mm EOS or full-frame digital camera, and it's smaller and less expensive than anything else similar from Canon today.
It's also its twentieth anniversary. It's that good.
18-200mm at 300mm
No one asked, but I just added what you get on a D7000 if you shoot the 18-200 VR at 200mm and crop it for 300mm, compared to the 18-300 and 28-300mm lenses, to my Nikon 18-200 vs 18-300 vs 28-300 comparison.
16 July 2012, Monday
NEW: Nikon 24-85mm VR Review.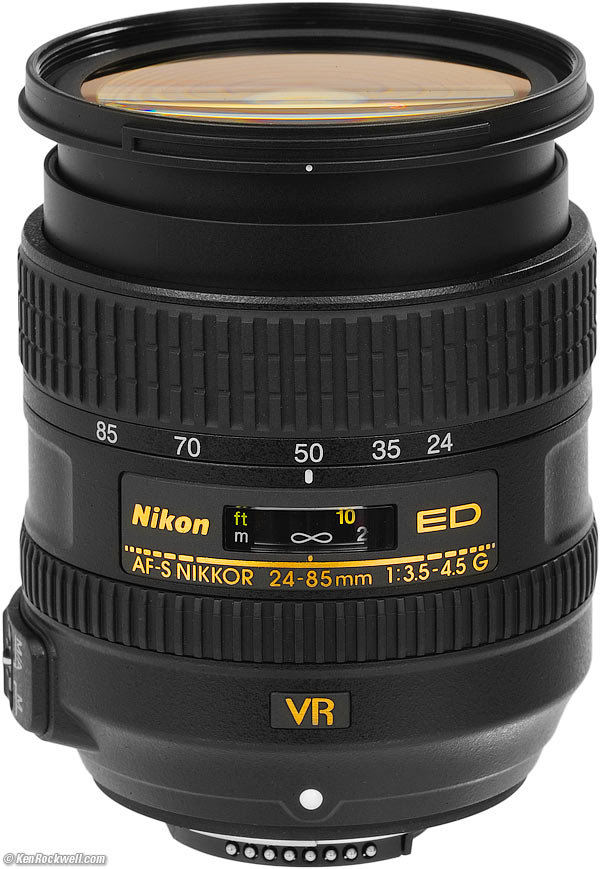 Nikon 24-85mm VR: D800E CERTIFIED.
A great, small, sharp and useful lens.
What to do with a dozen rolls of 12-exposure film?
A Facebook fan asked what do do with a pile of short rolls of film.
A fun idea is to find a bunch of kids, snap pictures of each on his own roll (or let them snap their friends), and then give the roll to their moms so the kids can take them to get developed and see the process and pictures come out.
You can get film developed everywhere. Costco does (my local Costco even is APS certified), and so do most chain drug stores. Look and you'll find 1-hour film developing everywhere; you just have to ask.
Wow!
My kids LOVE seeing film come in and out of cameras. It is real, live magic.
Last day: National Wildlife Federation's Contest!
Some winners from the 2010 contest.
The last day to enter the National Wildlife Federation's 2012 Photo Contest is today.
Prizes go to $5,000 each, cash. Details.
15 July 2012, Sunday
8x10" for 5-year-olds.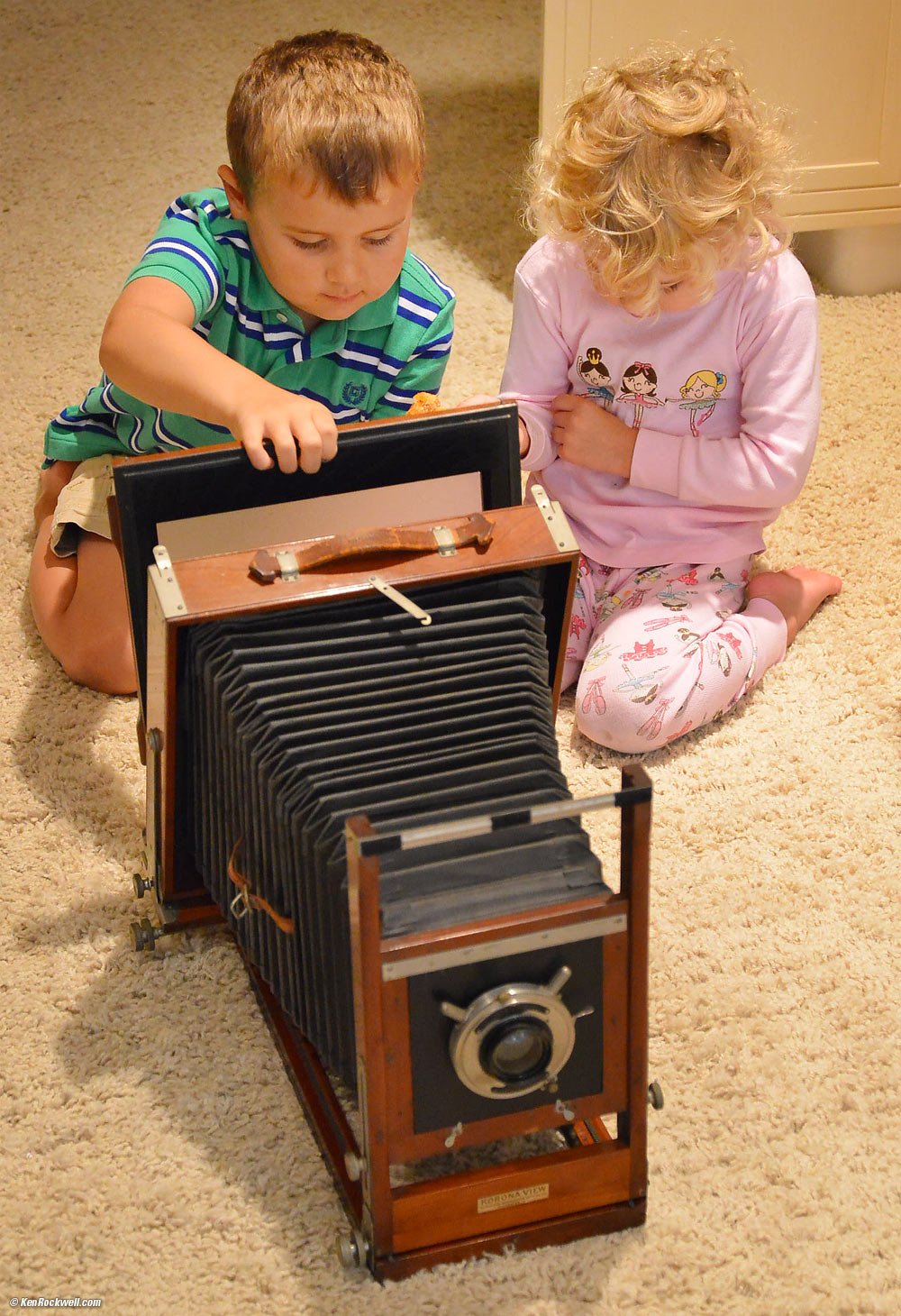 Ryan shows Katie how to attach the ground-glass back to the ø 8x10" camera. (Nikon D800E, Nikon 24-85mm VR at 56mm, program auto gave f/4.2 at 1/125 at Auto ISO 5,600, Matrix meter, STANDARD Picture Control at +1 Saturation, 6 Sharpening, Auto White Balance adjusted to A3 M1.) Bigger.
Many thanks to my friend Jerry Johnson for the old camera! This oldie still delivers over 2 gigapixels per shot.
Nikon 24-85 VR
Now that I shot all day yesterday with my new 24-85 VR, I'm really digging it. It's small, light, its VR works great, and it's super-sharp on my D800E.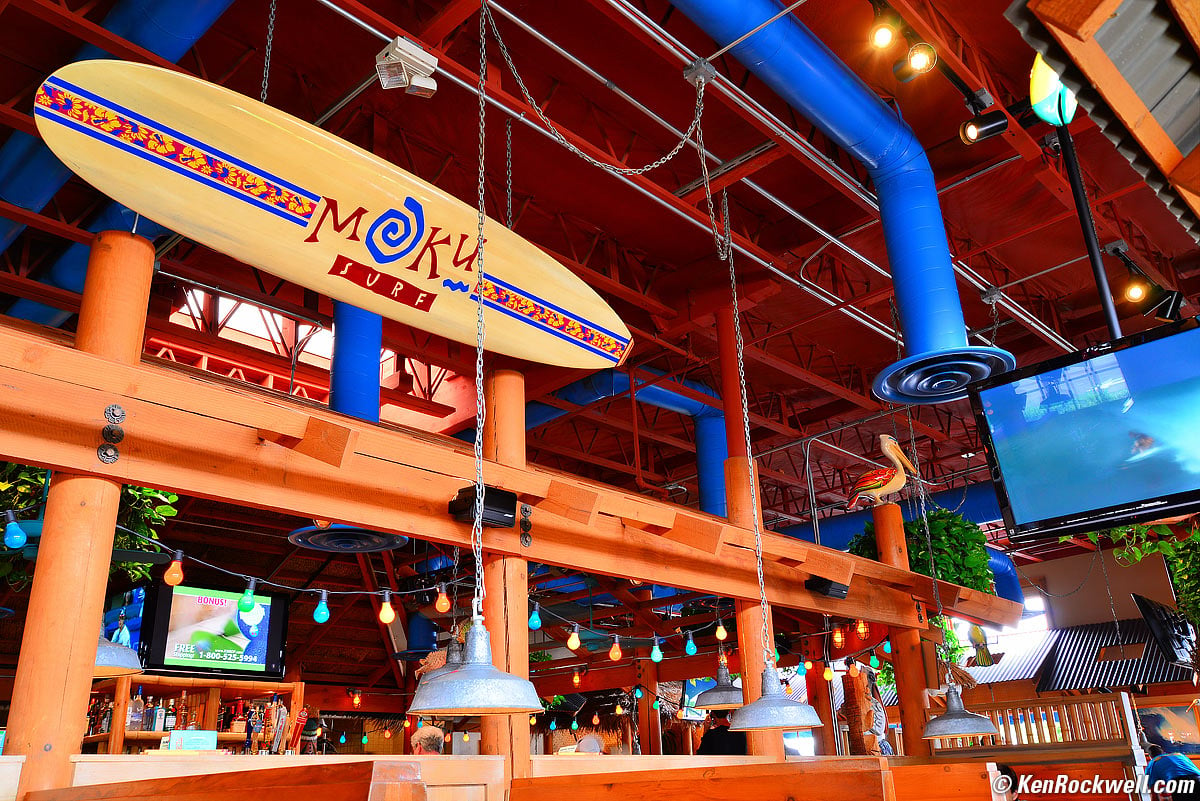 The Bird Place: D800E at ISO 200, 24-85 VR at 31mm, f/8 at 1/4 second, hand held! original © file.
Wow! Not bad for a quarter of a second, hand held. VR lets me shoot at very long speeds, while at low ISOs for sharpness and cleanliness, and stopped down to f/8 to get more in focus. When you look at the original © file, realize that what's not sharp is simply not in perfect focus. Especially with the insane resolution of the D800E, examined at 100%, depth of field is much less than when looked at at normal size.
I should clarify from last week's Grumpy Day where I explained I wouldn't buy one. Before I had shot it, I wasn't going to pay $600 for a made-in-China VR version of the made-in-Japan original 24-85G I already own.
Now that I've seen what VR can do for me, I'm tempted, especially for use on my F6 where I'm always at ISO 50.
If I didn't already own my original 24-85G, and if I didn't have a moral problem in encouraging the free world to relocate all our manufacturing to behind the red curtain forever just to save a few bucks today (this reminds me of Esau exchanging his life's inheritance to get a bowl of soup), I'd be all over telling everyone to get the new 24-85 VR. It is a brilliant lens.
I may still bite the bullet and keep it. It's that good. It's been ten years since Nikon last introduced a mid-priced, compact midrange zoom for FX — and that was the original 24-85G.
If you want a great lens at a great price today, the new 24-85 VR is possibly your lens, even if it might not be mine. Remember, I already have a few lenses, including my original 24-85G and 28-300 VR. For not that much more, the 28-300 VR does even more than the 24-85 VR, it's just much bigger.
Nikon D800E LCD
More good news is that it seems like my D800E's LCD has finally lost its yellow cast. I'll presume this was due to me getting one fresh off the line, and the adhesives still curing, much as how California's white license plates are yellow for a little before they're put out in the sun a few days, and some people had problems at first with new iPads.
My LCD seems back to normal, but the pictures aren't. I still shoot everything with my auto white balance set one unit magenta, otherwise, the results are a little too green. This made the LCD's initial color shift look even worse. The LCD was more yellow than my calibrated monitor, and the images were too green. Yuck.
Not that I've been shooting mine for just over two months, the LCD seems AOK, and I fixed the green with one unit of magenta. Of course my 5D Mark III was perfect out of the box, and I don't have to shift its white balance, except that I shift all my cameras a few clicks towards amber for personal taste.
California Radiation Levels
I just had my UCSD professor friend take another reading; California Radiation Levels are normal as always.
I love a good conspiracy theory, but out in La Jolla, nothing's changed since I started monitoring this over a year ago. The strongest radiation levels are indoors on top of what used to be my granite counter tops.
What little variation you see from 15 - 30 CPM is just random variation in the one minute my friend has to waste each day on this foolishness. If he wanted to wait around for ten minutes, he'd get much more uninform readings from day to day.
14 July 2012, Le Quatorze Juillet
Nikon 24-85 VR
Good news: my 24-85 VR that I just got from Adorama is optically superb. It has boatloads of easy-to-correct distortion just like its predecessor the original 24-85 AF-S G and the two-year-old 24-120 f/4 VR, and all three are as sharp as each other.
Therefore, if you don't need the longer tele end, the newest 24-85 VR replaces the 24-120 f/4 VR for less than half the price. That's the advantage of Chinese manufacture.
If you don't need VR; here's the other Rockwell secret: Nikon's original 24-85 AF-S G is also just as sharp as this new VR version when compared on my D800E, and sells used for half the price, or less than one-quarter the price of the 24-120 VR — and offers the same sharpness, less size and weight, the same build quality, the same focus ring and instant manual-focus override and the same full compatibility with even Nikon's cheapest digitals.
All three use ED glass and thus have earned the right to wear the gold band, although Nikon plays a little trompe-l'œil by removing the gold band from the less expensive lenses to make you think they are less excellent optically so you'll pay more for the 24-120 f/4 VR. I call that "trompe le portefeuille;" fool the wallet.
Full 24-85 VR review obviously under construction.
13 July 2012, Friday the Thirteenth
Update
I added a short comparison to the 70-300 VR in my Nikon Superzoom Comparison.
NEW: Nikon 18-300 VR Review.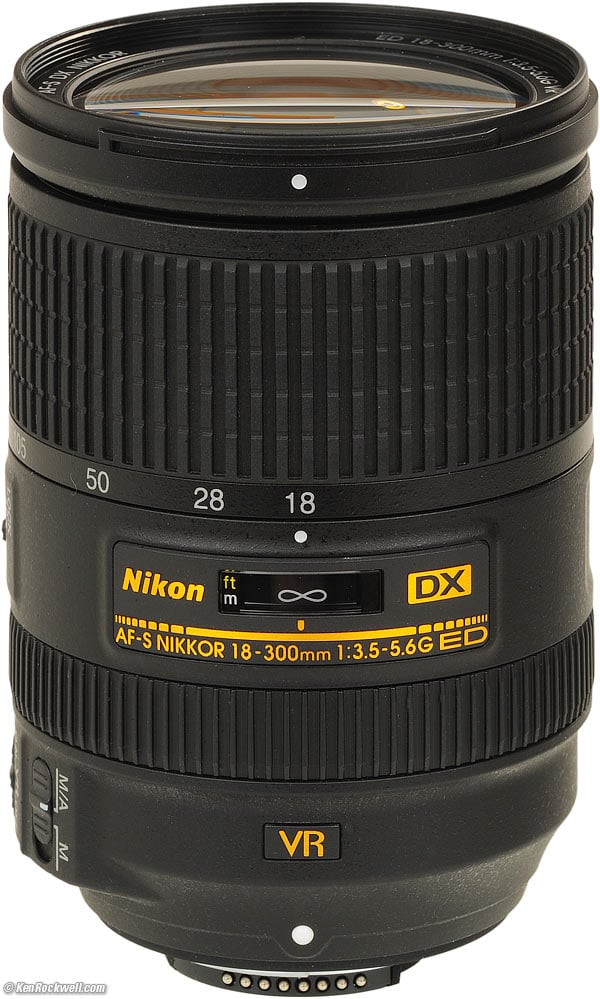 Nikon 18-300mm DX VR.
My full review. Verdict: big, but good!
Soap Box Dreams
You can help my best friend Skip Bardin's two sons make it to the National Soap Box Derby Competition in which he has run the right to compete.
Last year, you folks helped San Diego's best make it to sixth place in the world! This year, can you help again?
Maybe they'll make first, but they need our help to get their car and family shipped to Akron, Ohio and back. Skip is the friend who helped me get this site on the air for the first time in 1999.Thank you!
11 July 2012, Grumpy Day
NEW: Nikon 18-200 vs. 28-300 vs. 18-300 Comparison.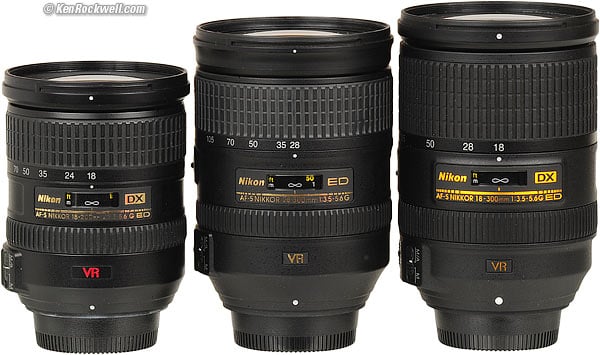 Nikon 18-200 VR DX, 28-300 VR and 18-300 VR DX. bigger.
They're about the same optically. Look long enough and carefully enough, and there is more variation shot-to-shot with the sam lens than there is from model to model.
Pick based on your format, and if you really need 300mm on DX.
Full 18-300 review coming soon.
Deals
Canon 5D Mark II for $2,079, brand-new. If price matters, the Mark II is 90% of the Mark III, for only 59% of the price. 5D Mk II review.
Tokina 17-35mm f/4.0 AT-X Pro FX Lens for Nikon for $599 after instant rebate. Tokina 17-35 f/4 review.
Tin Whiskers
Aha! A reader sent me some NASA documentation about how severe is the problem with tin whiskers. The part about whiskers starts around page 41.
Tin whiskers are what mysteriously grow out of electronic parts that don't have enough lead in them to stop the problem. When these grow, they start shorting out circuits and causing all sorts of intermittent and permanent weird problems.
Solder is the soft white metal that holds all the parts together on circuit boards. Military and space electronics require at least 3% lead in their solder for precisely this reason. Normal solder is 40% lead, but optional RoHS proposals (that's the little "10" in circles on Nikon lenses and other products) demand no lead.
Consumer products makers love the RoHS/no lead standards, because these whiskers ensure that consumer electronics made without lead will all die in about ten years, so no one will get away with using old products, and have to keep buying new ones.
10 years is a perfect target life: it's long enough that no one blames the makers for deliberately building this in, and long enough that the maker has no warranty or good will problems. "Hey, it was ten years old, what do you expect?" Hey, I have plenty of thirty-year old and older audio and video products working here just perfectly, thank you.
If we all have to replace everything after 10 years, that's a lot of TVs sold. I have a two Visio TVs, a crappy brand, that died on me at 1 year and four years.
Reading the NASA paper, it may be a lot less than 10 years. All AF lenses work with electronics; they have been loaded with circuit boards and microprocessors and memory since the 1980s. Lose a circuit, and even a lens becomes useless.
No one ever died when their lens died, but the news media, sponsored by car ads, certainly doesn't want anyone learning what caused the Toyota unintended acceleration (UA) problems. Toyotas, like most modern cars, are drive-by-wire. Your gas pedal is nothing more than an input to a computer. Cars haven't had gas pedals connected to throttle valves since the 1980s. Toyotas use a variable resistor to encode gas pedal position, and feed that to the computer that does some math, and then controls the fuel injection and air induction systems itself for optimum efficiency.
The unintended accelerations were caused when a tin whisker in the throttle pedal encoder shorted it to make it seem as if the pedal was pushed all the way down!
See page 16, fourth paragraph: "Destructive physical analysis of this pedal assembly found tin whiskers, one of which had formed the resistive partial short circuit between the pedal signal outputs. A second tin whisker of similar length was also found in this pedal assembly that had not caused an electrical short. If a resistive short between the potentiometer accelerator pedal signal outputs exists, the system may be vulnerable to a specific second fault condition that could theoretically lead to UA."
I didn't read the whole report, but you might want to. You can use your browser to highlight "whisker." This isn't just me venting, it's NASA and NHTSA, the National Highway and Traffic Safety Administration.
So what does this all mean? Use real solder, and the problems go away. Buy RoHS products or use lead-free solder or products in your designs, and people die — far more than from any tiny amount of lead used in electronics products. Car batteries still have a zillion times more lead in them than we're discussing in solder.
This RoHS baloney is a clever plan by electronics makers to render all electronics products as disposable. RoHS was invented in China, obviously to ensure a steady demand for new electronics products, and adopted in Europe. The rest of the world is still free from this baloney, although many of the products we buy have these problems. Lead-free tin solder is crap.
I compliment car makers. Japanese cameras are run by computers, and due to sloppy design make themselves more difficult to use than a computer. Everything in a car, from the lights and beepers and gauges to the engines, brakes and transmissions are controlled by computers, and the levers, pedals and buttons are only inputs to those computers, but at least car makers make all this look the same from the driver's point of view as any other car from decades ago.
Camera makers ought to take this cue and make cameras that just go, instead of throwing up reams of code between us and making the camera take a picture.
If women knew just how unsafe these tin whiskers were making their cars, we'd have a riot on our hands. The media has done a great job of keeping this quiet. Looking at who pays for media (look at the ads), and now I know why this has been kept so quiet.
Here's NASA's page with a lot more about these whiskers.
Here's another NASA report on documented failures.
XQD?
Lexar just announced plans for XQD cards for the third quarter of 2012. That's all they said; no prices or capacities.
If or when XQD cards and readers ever become common, the Nikon D4 will be obsolete.
Remember Elcaset and SACD and Blu-Ray and memory stick? All were "better" than cassette or CD or DVD or SD cards, but not better enough. Sony invented all these, as they did the XQD card, so we'll see.
I hope XQD goes away.
Nikon 24-85 VR
Mine just arrived. Sadly, it's made in Red China. Oh well. Freedom isn't free; looks like we need to pay at least $800 to get a Nikon lens made in the free world today.
We have better choices: most of Canon's cameras and lenses are made in Japan, and even their cheapest stuff is usually from Taiwan, or get a used Nikon 24-85mm G for about $300. The original 24-85mm G was made in Japan and later Thailand — never a Communist country.
Vote with your dollars
I have a problem with paying good money for things made by non-Chinese companies relocating factories to China. I know that as soon as enough of the world's manufacturing capacity is inside Chinese borders, that as China fortifies its military, Bingo!, one day China nationalizes it all (takes it over), and we're enslaved to China.
China's clever in subsidizing labor long-term so that Western and Japanese business that only look a few years in the future have "no choice" but to move all manufacturing to China. Ignoring the potential for nationalization, all the makers of the free world are moving all production capacity to a Communist country. China is brilliant by taking such a long-term view and working on this for the past couple of decades. When China nationalizes production, the West and Japan won't know what hit us.
What can we do? Whining and petitions do nothing. Companies and stockholders want profits today, and the only way they get them is by using subsidized (nearly free) Chinese labor. Businesspeople are there to make money, not play little violins.
The only thing we can do is simply not buy things made where we don't want them to be made. Things made in China are of great, often better, quality, but by buying them, the people selling them make money, and the buyers are saying "Yes, I choose to support the expansion of Communism." Not me.
If we all don't buy them, then Nikon will think twice. As I showed in my Chinese Nikon 28mm f/1.8 review, we have loads of 28mm choices made in the free world. Canon makes most of its stuff in Japan.
So long as I have choices, you won't see me buying the $700 Chinese 28/1.8 (I prefer my 28/1.4D or 24/1.4G) or $600 24-85 VR (I'll keep my original 24-85G). For people who want great performance at a great price, these Chinese newcomers are some of Nikon's greatest lenses ever, but if you're a paranoid like me with too big an imagination, I don't like supporting the expansion of Communism, and having all the world's manufacturing capacity behind a very thick Red wall. If I have a reasonable choice, I'll choose something made in a free country.
The only thing that works in business is money. Vote with your dollars. We can't whine; we have to show them the money. When Nikon wanted $8,000 for the D3X, I bought LEICA instead. Only money talks here, while petitions, complaints and whining do nothing. (Still wish I had a D3X!)
I love China and its people, and Chinese-made products are among the best in the world. There are no consumer products made as brilliantly as my iPod and iPad.
I hate what Communism does to all people. The only people who benefit under Communism and Socialism are party members, who live like kings off the work of the people. Go visit some of these countries, meet the people and party members, and compare notes.
In this case, I fear a Communist government is sponsoring something very bad for the future of all people.
10 July 1856, Tesla's Birthday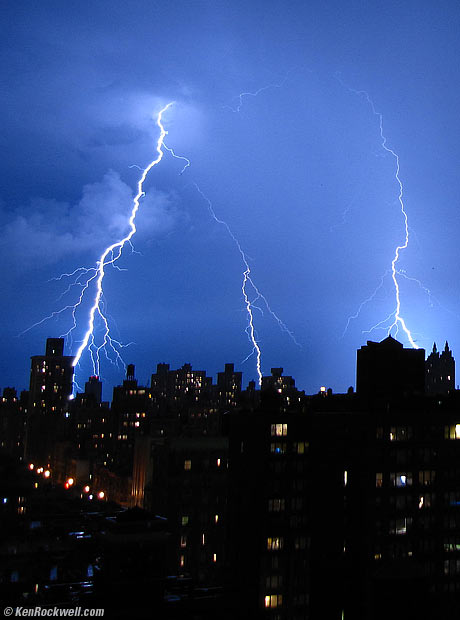 Tesla over New York City.
Nikola Tesla, inventor of practical AC power, radio, wireless devices, neon light, the fluorescent light and most of everything about which little boys are curious, was born today in 1856. He was a U S citizen and a New Yorker, living in the heart of New York City most of his life.
I was curiously haunted by the ghost of Tesla in New York City in August of 2009.
NEW: How I made this fireworks shot.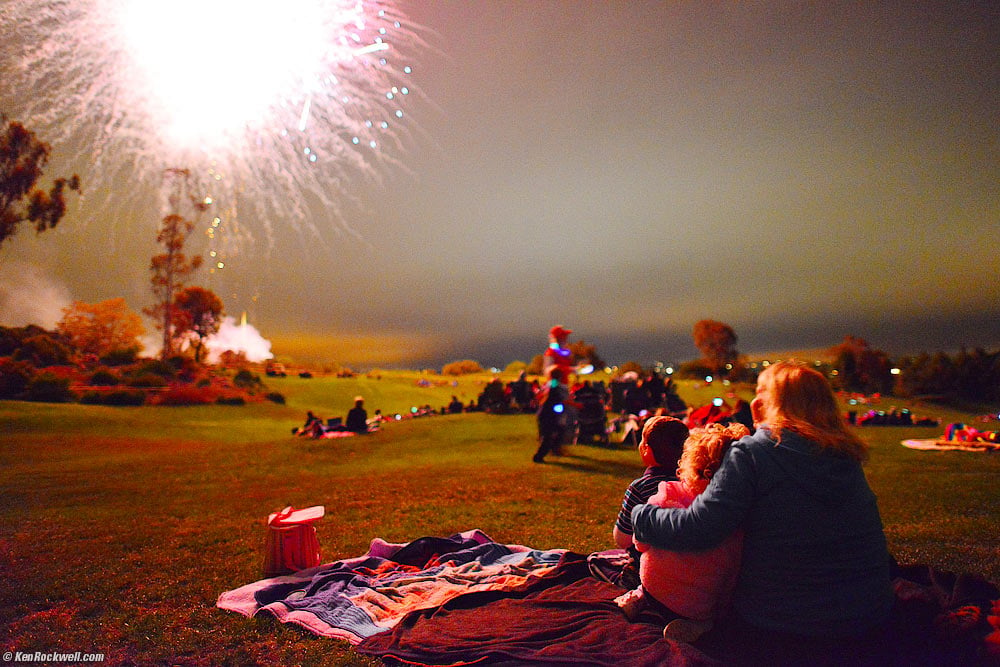 Fireworks!!!
Many asked, so here you go.
NEW: Adobe Photoshop CS6 Review.
D800 Monitor Cover
I leave my plastic cover in the box for eventual donation to charity. I operate naked: no cover on my LCD. As far as I can tell, the camera's LCD is glass, and doesn't scratch.
Remember, the D800 isn't like a real camera or an Apple computer; the D800 is disposable like a windows PC. Don't pussy-foot around it as if you're going to worry about how its LCD looks in 5 years. We use it for 18-24 months, and then drop it in the box at Goodwill. A DSLR is a consumable.
The D800 isn't like an F2AS, good for more than a lifetime of great photos. I've been using my F2AS for more than 25 years, and it still works like the day I got it, and has never required any service. That's a real Nikon. My Nikon SP did require a cleaning after 50 years so I could sight through its finder, but I got it after its owner had passed away — and its shutter still has never needed any service! My SP lasted its prior owner his lifetime, as my F2AS will last mine, and go to Ryan on my passing.
07 July 2012, Saturday
28mm f/1.8G Comparisons
Since you folks all wanted to know more specific details about how your favorite lens stacks up to the new Chinese contender, I added specific details to the Comparison section of my Nikon 28 f1.8 G Review.
Nikon 18-300mm VR DX
My Nikon 18-300mm VR DX just arrived, and it works fine. I suspect the 18-200 still makes more sense, simply cropping once and a while to get 300mm equivalent instead of carrying a heavier lens all day, but we'll see.
If you have yours, know that in this hot weather, heat shimmer eliminates any hope of sharpness once you get more than 20 feet away at 300mm!
Edward Weston Book
I just got my copy of the limited-edition "Edward Weston: One Hundred Twenty-Five Photographs."
It's a big, fancy printed-in-Italy art book with 125 of Weston's works reproduced actual (contact-print) size.
It's got a gold-fabric slip-case, and mine came in a nice dedicated outer cardboard shipping box, shipped inside another box.
It's a big, expensive book, and if you're an Edward Weston fan, it's a gotta-have book.
It's big, simple and beautiful. It's all about the art, with very little to get in the way. The images are printed one to a sheet, and only one image visible at a time. When open, the images are on the right page, and the descriptions are on the left page. If you prefer to leave this work displayed open, it looks much more than just another busy art book: it looks like its own work of art!
This masterpeice is offered in an edition of only 2,000, so it's not cheap — nor is Weston's work.
06 July 2012, Friday
D800 Users Guide
Yes, I'm working on the online and app versions of this, but honestly, it's mostly the same as the D3 or D700. Very little has changed even if the names and locations of menu items move a little.
The real ticket is I snap people at Picture Control STANDARD, 6 sharp, +1 Saturation, and things at VIVID with 6 sharp and +3 Saturation.
I shoot Auto1 WB, with A3 M1 trim, and my colors no longer have that nasty yellow cast to them.
I shoot in JPG SMALL BASIC to keep things reasonable. Even in SMALL, I get super-sharp 9 MP files. I might bump up to MEDIUM or LARGE if I'm running a test, but not for real photography. 9 MP is enough for anything.
Yippee!
D800 Firmware Update
I put in firmware B1.01, and see no color differences. Be careful, there is different firmware for the D800 versus the D800E. Don't try to put D800 firmware in your D800E. I shoot the D800E.
I installed the L 1.006 lens distortion update, and now the D800E can correct the 28/1.8's minor distortion.
What's bad is that Nikon firmware has gone form bad to worse.
In the bad old days, one download updated the A and B and everything. One download, one expansion of the compressed package, pop it on the memory card, pop in camera, done.
Now Nikon has done its best to give us a hard time by making the B 1.01 and L 1.006 updates two entirely separate processes, and they each work differently!
The B 1.01 worked the usual way. Fine.
The lens L 1.006 is horrible. First, you download a 2 MB file, just to extract a 5 MB program file you now must install and run on your computer. Nikon's software is awful; I won't run it, even if they gave me free CaptureNX, which I got with my D800E (I think).
The worst of all is that Nikon now requires I load this crap software on my computer in order to run one of their botched programs just to create the .BIN file I need to put on my card!
The download is 2 MB. The extracted program is 5 MB to install. When you figure this out and run it (after you've signed legally binding click licenses), all you get is a 57 kiloByte file!
When you've now installed software on your computer that obligated you to a contract and required your administrator password to install, after you run this garbage, all it creates is a 57 kilobyte file.
All this BS that potentially will bung-up my computer as previous versions of Nikon software have done, just to get a 57 kB file. This is probably why Japan has yet to put a man on the Moon. This brings dishonor on all of Japan. Please just give us the 57 kB file, and make it work as part of one update? Jeeze, some of us have pictures to make.
This is why I prefer real Nikons and rarely update firmware. If someone can't get the firmware right the first time, what makes you think they will the second time? Not me. This software baloney is fun for most of you guys since you're computer pros, but I'm not. I have pictures to make. Canon is so much better at writing software that works.
Printing Deal
Adorama's lab is offering Aluminized Metal Prints at 40% off. Use Code pxmetal40 on check-out.
Canon Deals

Canon T4i (Body only) with 32GB SD Memory Card, Camera Bag, Spare LP-E8 Lithium-Ion Rechargeable Battery, Cleaning Kit, Screen Protector, Red Giant Adorama Production Bundle for PC/Mac ($599.00 Retail Value)
Reg $949.95, Special $849.00


Canon 5D Mark III with Canon 24-105L IS Lens, Canon 50mm f/1.4 USM, SanDisk 32GB ExtremePRO SDHC Memory Card, Canon Deluxe Photo Backpack 200EG - Red Giant Adorama Production Bundle for PC/Mac (a $599.00 Retail Value)
Reg $5,390.95, Coupon Price $4,349.00 Use Coupon Code S6549875.
05 July 2012, Thursday
NEW: Nikon 28mm f/1.8 G Review.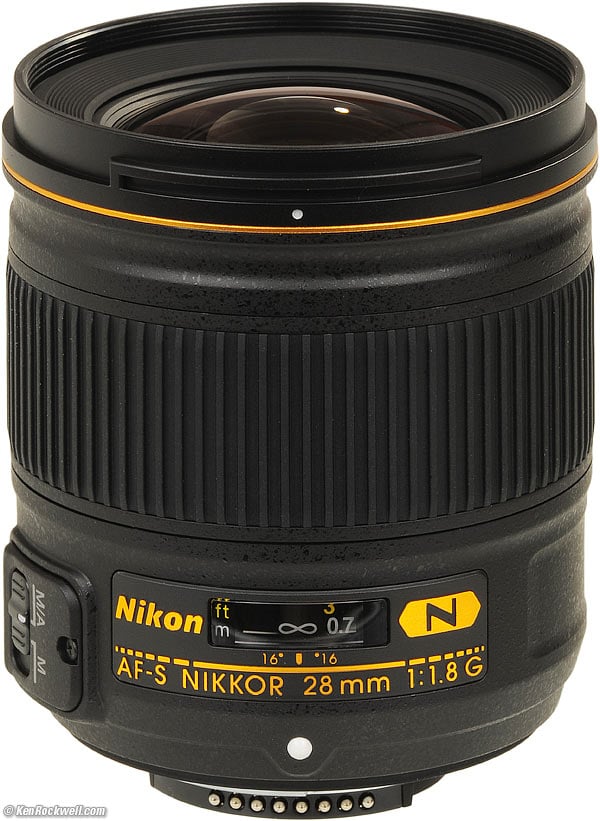 Nikon 28mm f/1.8G.
Superb optics in a plastic barrel with metal mount.
04 July 1776, Independence Day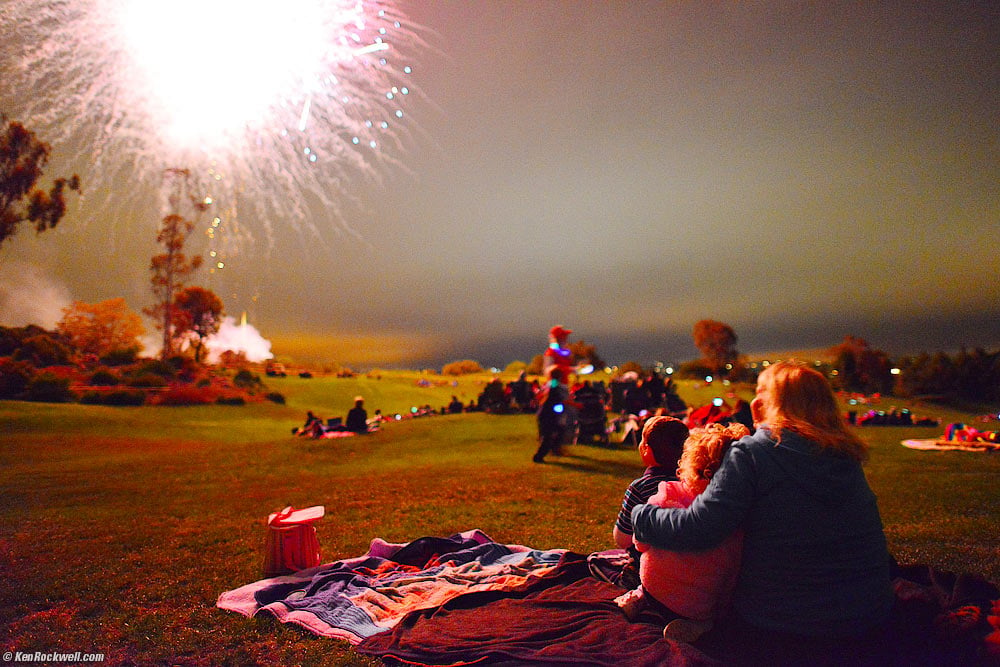 Fireworks!!! (Nikon D800E, Nikon 24mm f/1.4 G, program auto gave f/1.4 at 1/30 at Auto ISO 6,400, Matrix meter, autofocused on Ryan then set to MANUAL focus to hold, VIVID Picture Control at +3 Saturation, A3 M1 AWB.) bigger.
This is one reason to need hyper ISOs and fast lenses: photographing the unphotographable by available light.
While the camera chose ISO 6,400, I pushed it a stop or two in Photoshop CS6.
OLD: How to Photograph Fireworks.
American Products
If you'd like to read about American-made gear, read about the Woo Audio WA6-SE or Benchmark DAC1 HDR, both made in New York, or the Apogee Duet 2, made in California.
If you'd like some American photo products I use the UpStrap, as well as Kodak's TMX-100, the world's best film for photography (sample images). TMX100 works in more kinds of camera than any memory card. Fuji Velvia is my favorite color film, but "color" isn't photography. Photography is black-and-white; anything else is derivative.
Scanning Deal
Only for you readers and only for new customers: 21% off ScanCafe photo, slide, negative, and video scanning!
Use code ROCKWELL21. Not valid in combination with any other offer, or with value kits, or gift cards, or gift boxes, or photo restoration. Expires August 31, 2012, and is valid only for new customers.
Monitors
Someone asked why I never talk about picture monitors. Simple: I've been using two calibrated Apple 30" Cinema displays since about 2006; they stay the same even when I replaced my Quad G5 with a hex-core 3.33 GHz Mac Pro in 2010 so I could run CS5.
Apple's 30" monitors are the biggest, best and best-looking monitors ever made, so until Apple makes a bigger one, I'll be using these until I hit the grave.
I won't use non-Apple brands because they look ugly on my desk (art demands art), and today, Apple only makes smaller monitors. I do this for a living, so I use every pixel I can get. Honestly, I'd prefer 2,560 x 2,560 square monitors if anyone's making them; I need tall as well as wide, so when Apple cut off 160 vertical pixels in the 27" monitor, I've got no interest.
I calibrated with my Spyder once, and the monitors are stable enough that I never get any different readings if I calibrate again. With CRTs we needed to calibrate now and then, but with LCDs, I calibrate on purchase, and I'm good. I'd use this spyder if I had to buy a new one today; the cheapest one is all we need since we're calibrating only to standard points.
I set NATIVE white point, and since the Apple monitors are good enough out of the box to hit close to 6500º K on their own, all is good. Using cheaper LCD monitors with sloppy white points and trying to force them to 6500º K is not pretty. Don't try to recalibrate a white point on an LCD, although it works great on additive displays like CRTs or OLEDs.
Luckily, Apple's stuff is so good that all my iPods and iPads look great right out of the box.
Workshop 03-05 August 2012: City of Angles: Photojournalism in Los Angeles.
Dave Wyman and Ted Soqui are leading this one.
Ted's a real journalist who knows how to uncover and get into newsworthy situations, and get out with great photos. He's not just some newspaper employee spoon-fed easy photo ops; Ted will show you how he sniffs out the real news and gets himself inside on his own. That's how Ted's bagged the cover of TIME and other magazines.
I won't be there, but if you are, you'll learn a lot from real pros who know how to get in and get the shots that matter.
Tell them I sent you!
NEW: Junghans Stopwatch Review.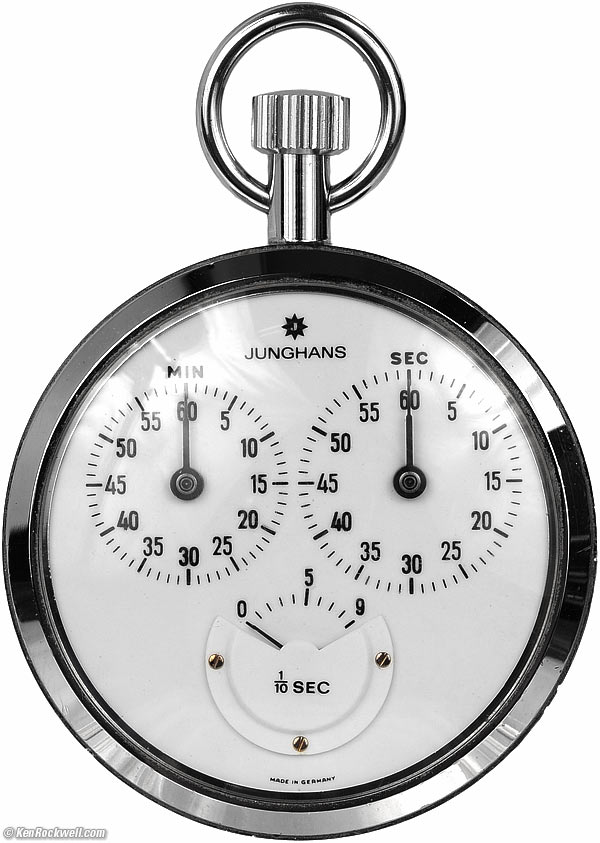 Junghans 1/10-second stopwatch.
I got one of these to replace my numerous crappy quartz timers with something simple, precise, accurate and to-the-point.
When I need to measure something like download or flash recycle time, I don't want something that demands 4 clicks to open, or which I can't read clearly. I need to reach into my desk, and pull out something that always just works.
02 July 2012, Monday
Nikon 28-200mm G on D800
The Nikon 28-200 3.5-5.6G works GREAT! The distortion correction fixes the main complaint about this lens, which was circus-mirror distortion. Check the Correct Lens Distortion option in the D800E, and Bingo!, tiny, close-focusing do-everything lens, cheap.
NEW: Sony TA-N77ES Review.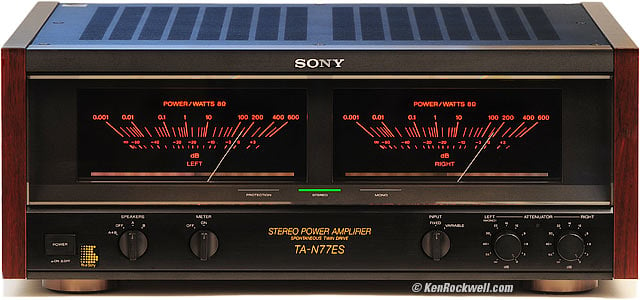 Sony TA-N77ES.
People ask for Sony reviews, so here's a review of something Sony does well: audio equipment.
What Was New in:
Help me help you
I support my growing family through this website, as crazy as it might seem.
If you find this as helpful as a book you might have had to buy or a workshop you may have had to take, feel free to help me continue helping everyone.
If you've gotten your gear through one of my links or helped otherwise, you're family. It's great people like you who allow me to keep adding to this site full-time. Thanks!
If you haven't helped yet, please do, and consider helping me with a gift of $5.00.
The biggest help is when you use any of these links when you get anything, regardless of the country in which you live. It costs you nothing, and is this site's, and thus my family's, biggest source of support. eBay is always a gamble, but all the other places always have the best prices and service, which is why I've used them since before this website existed. I recommend them all personally.
Thanks for reading!
Ken
Home Donate New Search Gallery How-To Books Links Workshops About Contact