Home Donate New Search Gallery How-To Books Links Workshops About Contact
New York: The Wrath of Tesla
09-20 August 2009
09 10 11 12 13 14 15 16 17 18 19a 19b 20 August 2009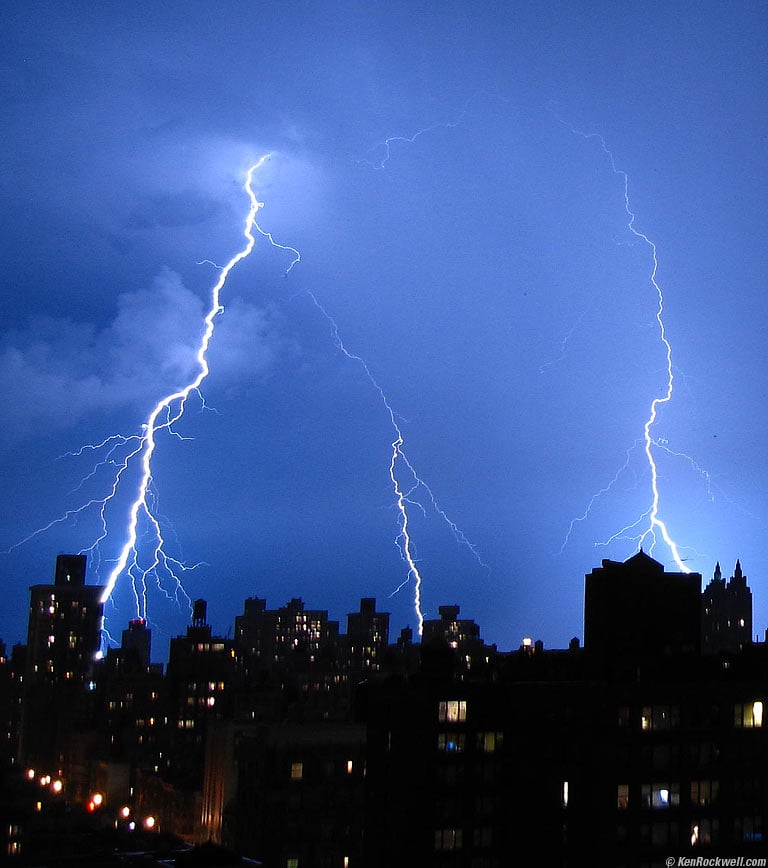 The Wrath of Tesla over Manhattan, 18 August, 2009.
These are snaps from my Summer 2009 trip to New York for numerous appointments. I was lucky: it was comfortable all summer, mostly because it rained a lot. I got there for the only two sweltering weeks there were. Oh well. It was as hot as Hell the whole time I visited.
I brought no camera other than a small Canon SD960 IS pocket camera. Most of these images are exactly as they came out of the camera as JPGs. I adjusted the white balance and exposure compensation as I shot to get these results. All were shot in the VIVID mode (press FUNC, click down to OFF, click right to VIVID) and -2/3 stop exposure compensation.
I set the camera to its P exposure mode, not Auto. I set flash to OFF, unless I force it ON for use as fill-flash in daylight.
A key to many of my photos is that I never use flash indoors, or at night, so that the light looks natural. I often force it ON in sunlight to lighten the shadows. Most people do the opposite: using flash indoors looks nasty with washed-out faces, and not using it outdoors often results in unrecognizably dark subjects in shadow. Knowing when to use, and when not to use, flash is the key to most of these photos.
09 August 2009, Sunday
Today I flew from Yellowstone National Park to New York City.
I didn't snap anything publishable.
09 10 11 12 13 14 15 16 17 18 19a 19b 20 August 2009
Today I oriented myself to the time change.
We took mom out to Port Jefferson for lunch.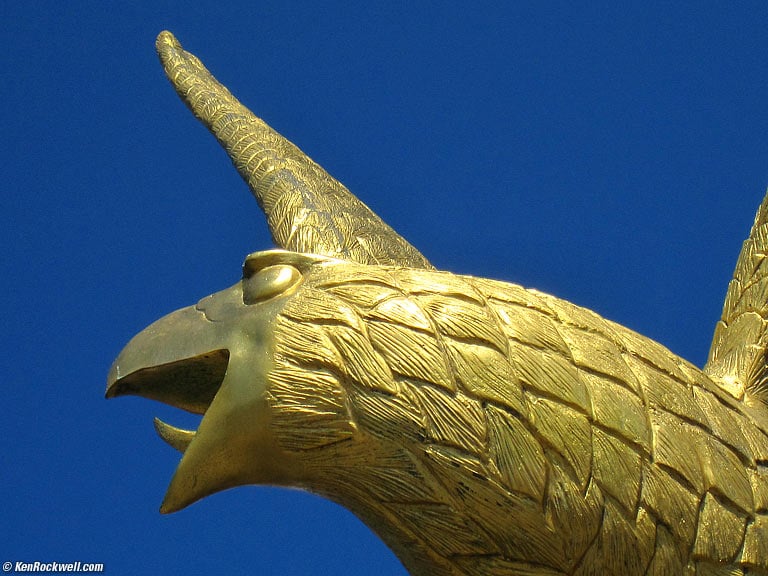 Bird, Port Jefferson, New York, 3:02 PM.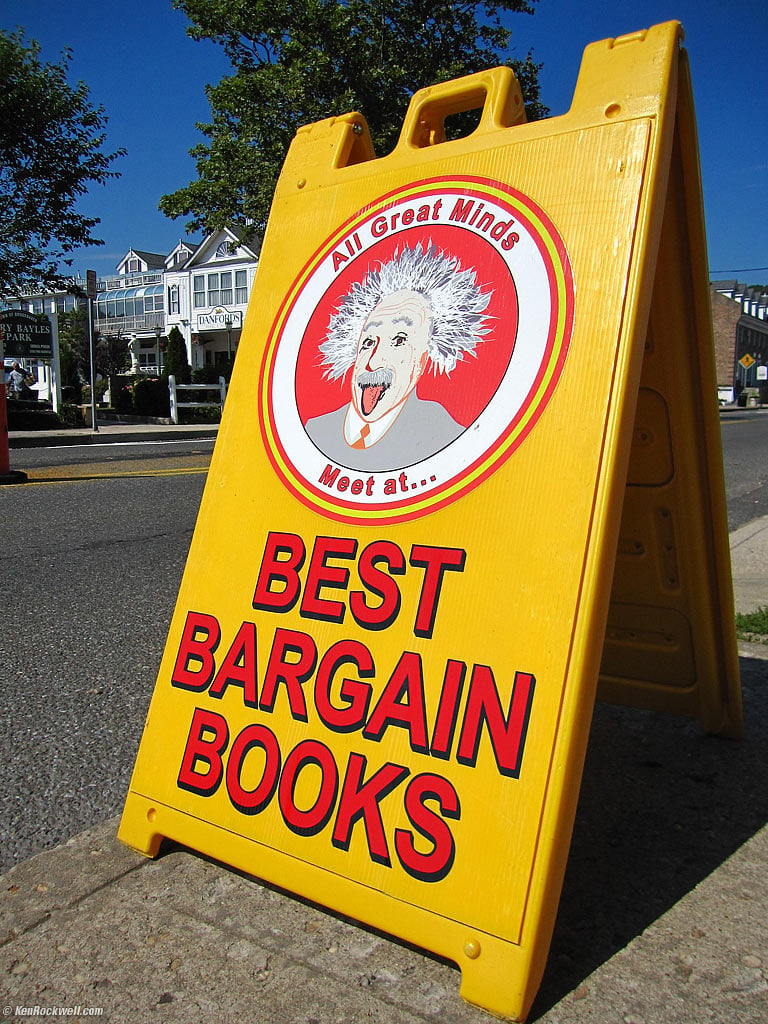 Best Bargain Books, Port Jefferson, New York, 3:36 PM.
My dad always extolled the heroic works of Nikola Tesla, the inventor of radio and wireless communications, modern AC electric power, and just about everything technical we take for granted today. Tesla wasn't a showman as was Thomas Edison, so few people outside the world of electric power generation, transmission, motors and electronics have ever heard of him.
Tesla will haunt us for the next couple of weeks that I will chronicle in these pages. It's spooky how many places he will turn up these next two weeks.
To put Mr. Tesla in perspective, a unit of magnetic field, the Tesla, is named for him. Your speaker magnets and the magnets used in medical imaging are measured in these units. Magnetic field is also measured in Gauss, but a Gauss is only 1/10,000 of a Tesla. Gauss is the mathematician who invented the Gaussian distribution, for whom Gaussian blur is named, and who invented the optical design on which the double-Gauss design of which the design of almost every 50mm lens is based today. One Tesla is equal to 10,000 Gauss, and yes, Mr. Tesla is a heavyweight in the world of electricity and communications
Little did I realize it, but a little research showed us that Tesla built a laboratory on Long Island, called Wardenclyffe. It was active from 1901-1917, and while its high-voltage tower was scrapped for steel in World War II, the rest of the labs remain!
We stopped by on the way home.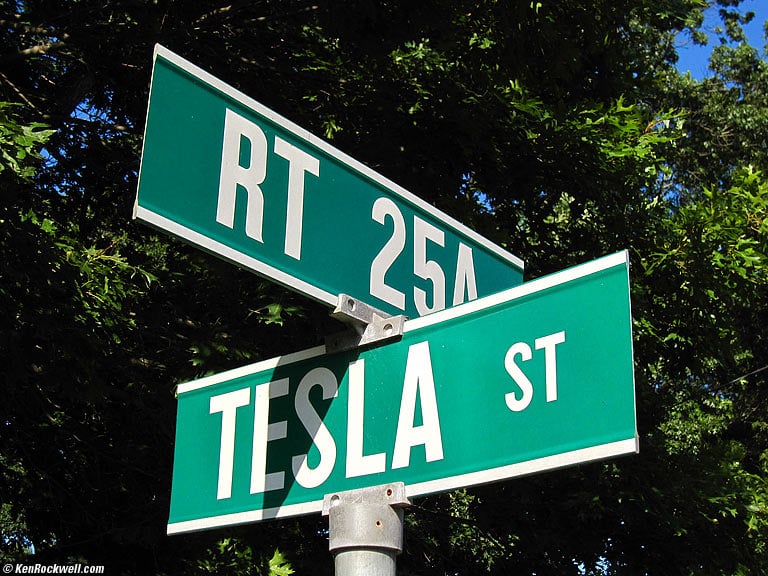 Tesla Street, Shoreham, New York, 4:49 PM.
Gracious, even the street is named after him. I lived on Long Island all my life, and it was right under our noses!
Let's show respect and shoot this accordingly.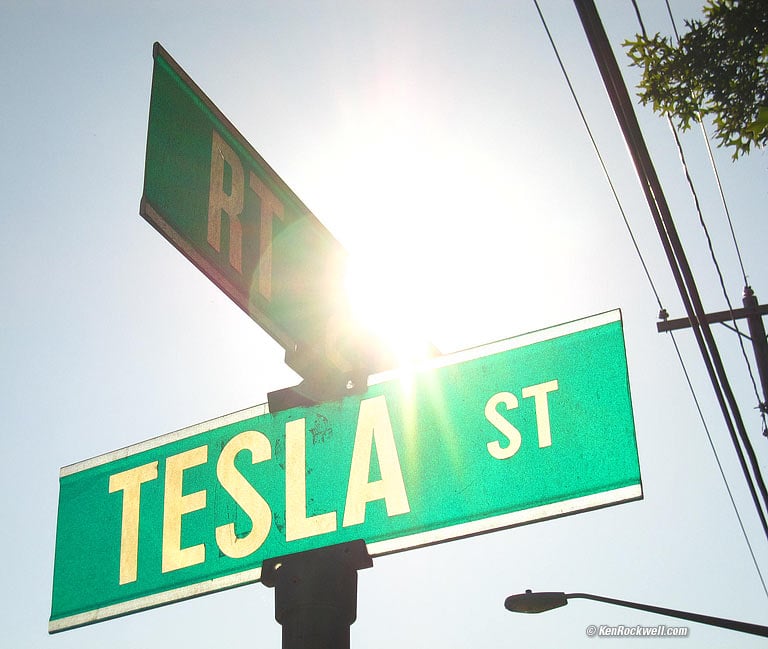 Tesla Street, Shoreham, New York, 4:50 PM.
Fill-flash lit the reflective sign.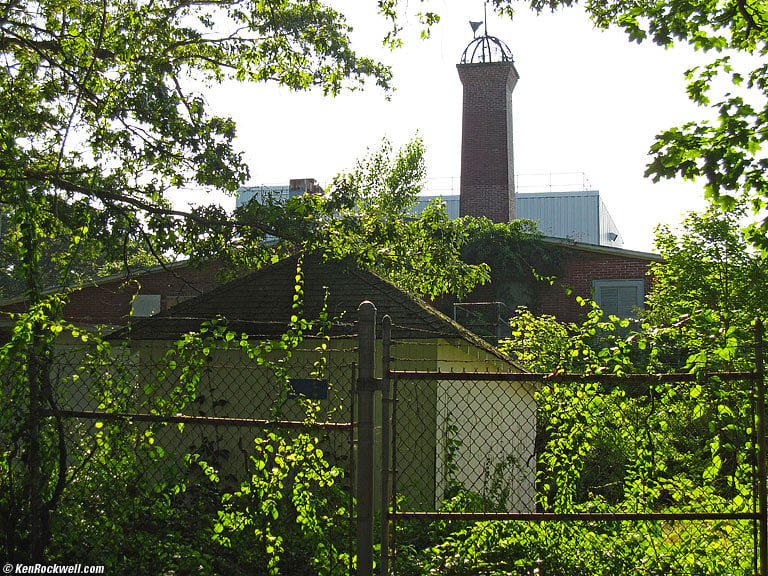 Tesla's Shoreham Laboratory, Long Island, New York, 5:10 PM.
After visiting Tesla's mysterious, locked-up lab, we headed home.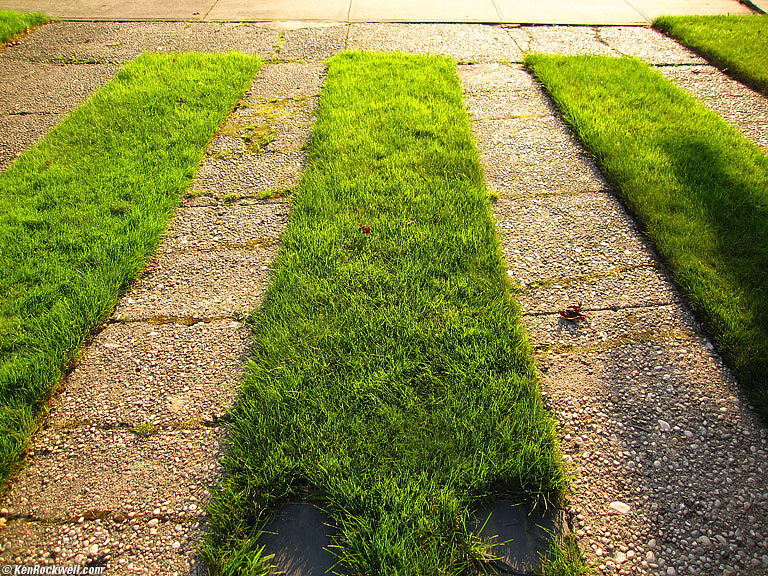 Driveway in Last Light, Long Island, New York, 6:29 PM.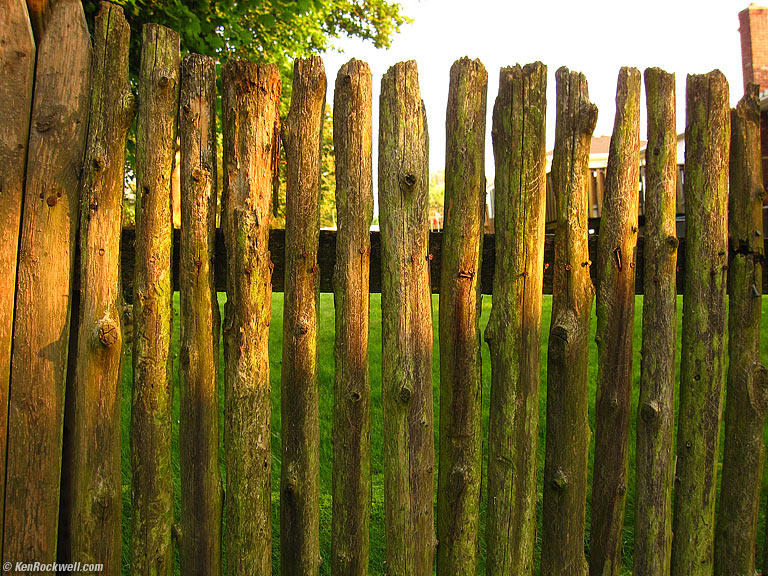 Fence in Last Light, Long Island, New York, 6:46 PM.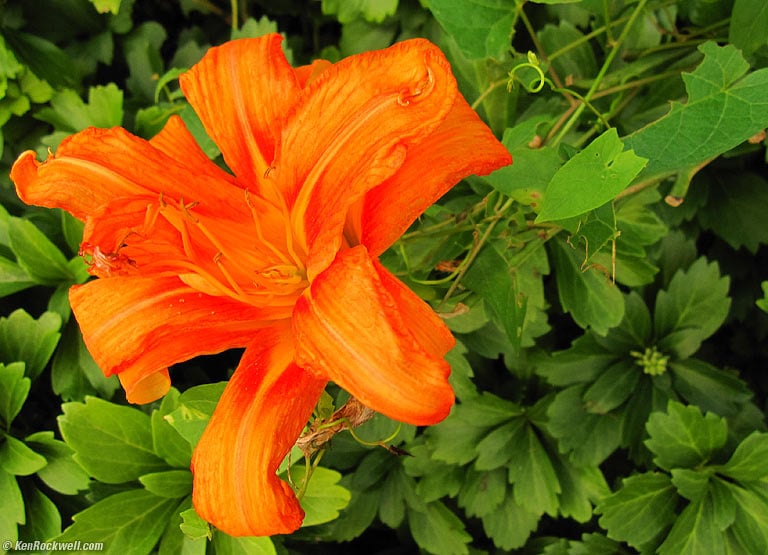 Flower, Long Island, New York, 6:53 PM.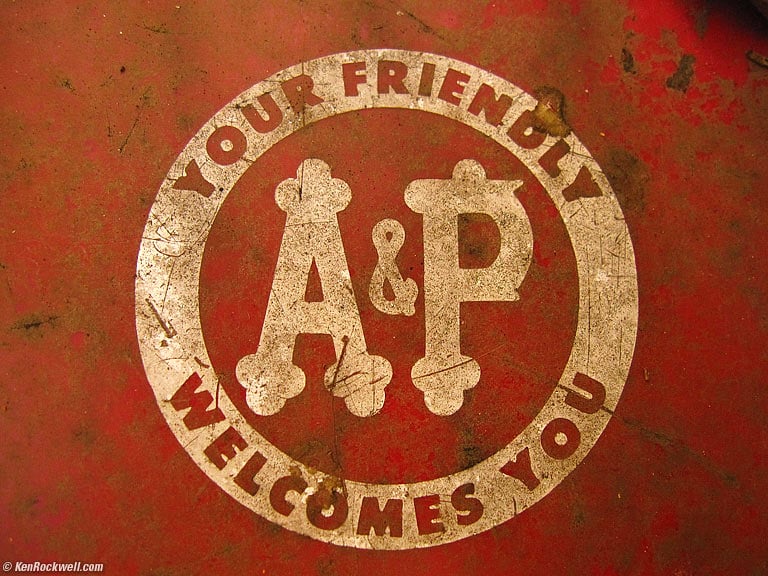 A&P Shopping Cart, Long Island, New York, 6:55 PM.
09 10 11 12 13 14 15 16 17 18 19a 19b 20 August 2009
Home Donate New Search Gallery How-To Books Links Workshops About Contact