Home Donate New Search Gallery How-To Books Links Workshops About Contact
Adorama, New York City
12 August 2009, Wednesday
09 10 11 12 13 14 15 16 17 18 19a 19b 20 August 2009
Photographed entirely with a Canon SD960 IS pocket camera.
Today was an important business day, hee hee. I visited Adorama!
I didn't take a lot of pictures. Instead, I managed to get a tour of Adorama's huge warehouse. Yes, they have a big store in Manhattan, but Adorama has a huge warehouse about ten times as big out in an industrial area in New Jersey. It's out there because it's in the center of the transportation hub for shipments by land, sea and air.
This is the warehouse out of which all our gear ships. UPS backs 53-foot trailers to Adorama's loading dock, and Adorama fills it with their outgoing shipments all day. As they fill during the day, UPS brings over new empty trailers and takes the full ones away for shipping.
What's unusual about Adorama is that their warehouse works until about 8PM every night (except Friday). UPS then comes over and picks up the last trailer to get it all into the system that same day.
If you place an order by 6 PM New York (Eastern) time, it still gets shipped out the same day.
If you pay for overnight shipping, yes, order it by 6PM that night, and it shows up the next morning!
Even for regular and free shipping, Adorama's working late every night (except Friday) gets us our stuff a day earlier than from other operations.
Once back from the warehouse tour, I poked around Adorama's photo lab, where I found some interesting things.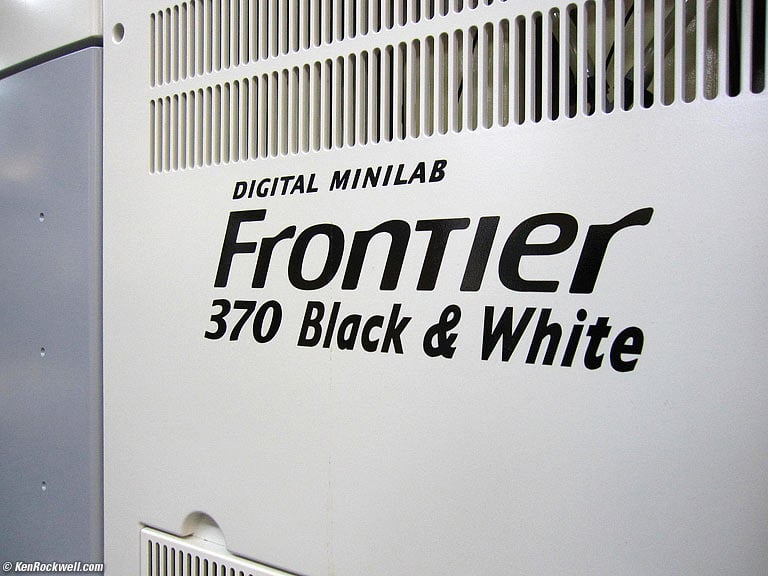 Frontier 370 Black & White Printer, Adorama, New York, 4:10 PM.
Adorama even has one of the special Fuji dedicated B&W printers that prints on dedicated black-and-white RC paper!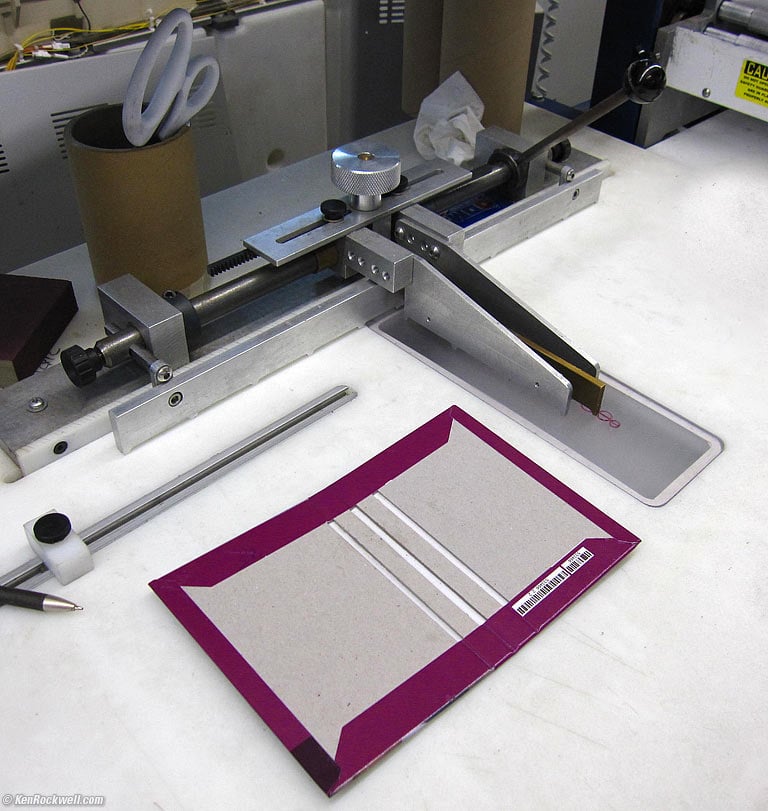 Cover Binder, Adorama, New York, 4:38 PM.
Adorama makes real Photo Books, meaning that they are books with real photos in them, not simply cheap computer prints bound together. Look at this hardcover: this isn't some whimpy softcover photo book being assembled. These are made by hand.
For its books, Adorama uses real Fuji lightless, chemically-processed-in-the-dark paper that uses paper only half as thick as regular photo paper.
It then uses a very special Swiss-made machine that binds together the backs of opposing pages, so that we get what looks like printing on both sides of normal paper.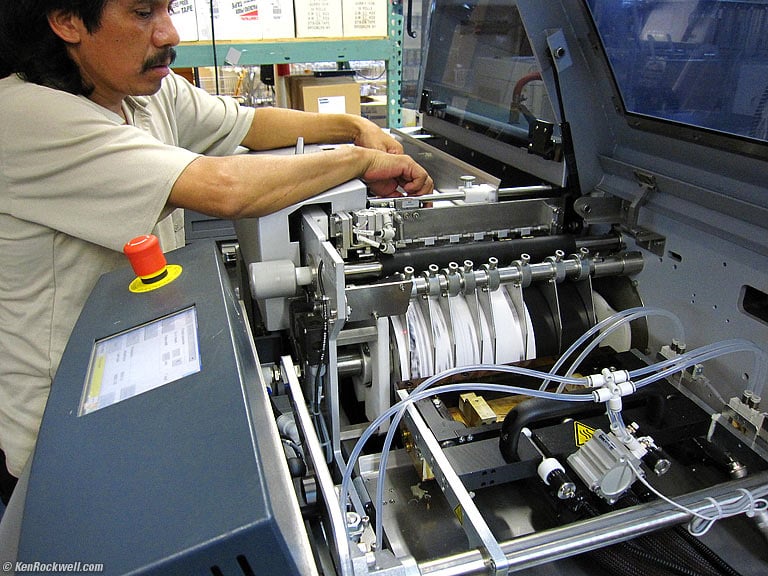 Swiss-made Binder Machine, Adorama, New York, 4:39 PM.
Beside great-looking real photographs, not merely crappy computer prints in these books, the special machine binds the pages in such a away that every spread is a centerfold!
Yes, when you open any page, it opens flat so you can see the entire sheet, with nothing lost in the gutter between opposing pages. With Adorama's photo books, every page is a centerfold! I know of no other method that does this; not even National Geographic Magazine. Your portfolio will look fantastic if you lay out your pages to take advantage of this.
After dinner and my day-long visit to Adorama, I checked into the New Yorker Hotel for the night.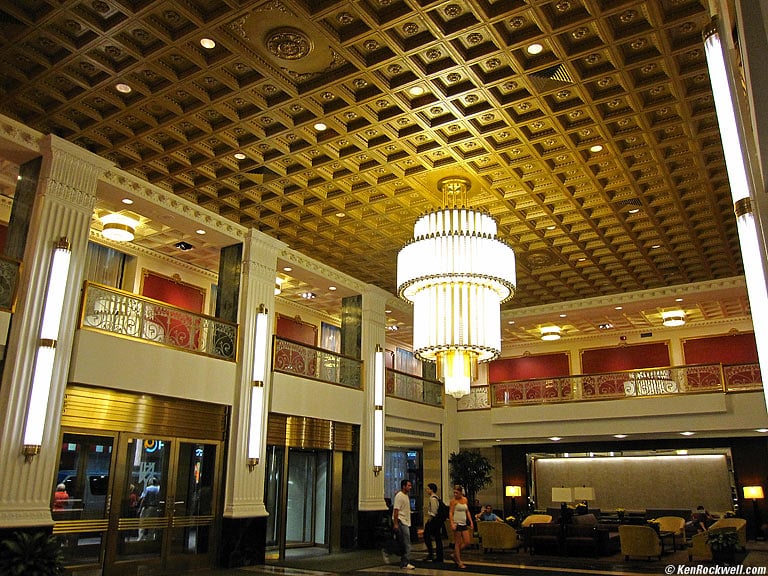 Lobby, New Yorker Hotel, New York, 8:08 PM.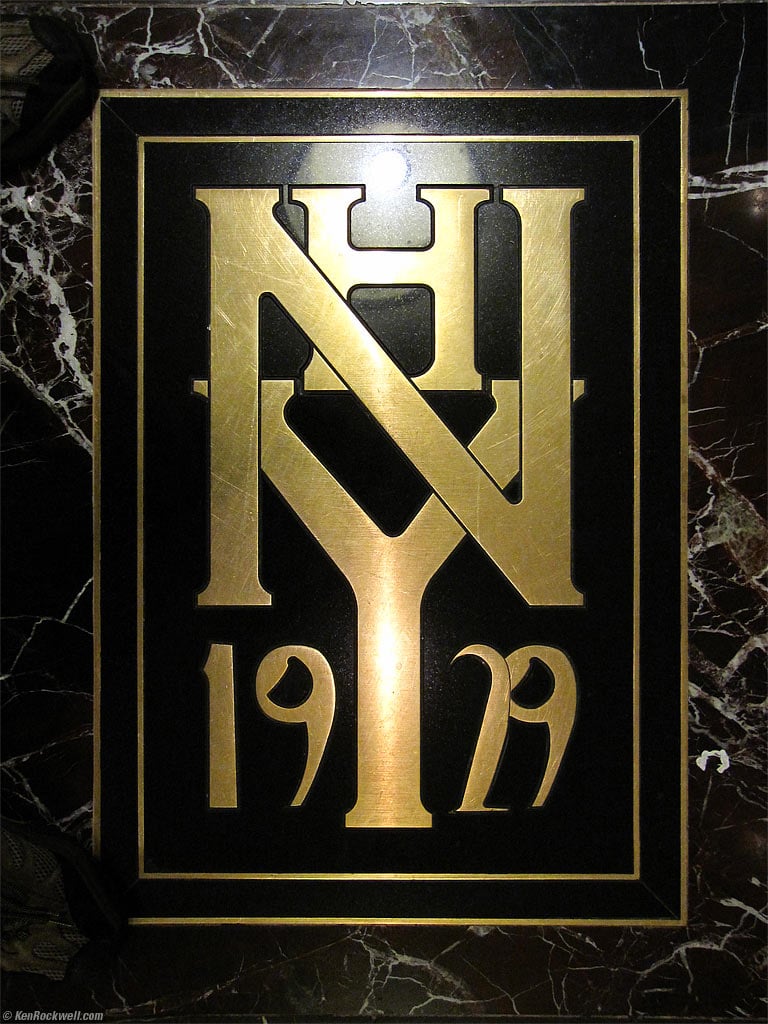 New Yorker Hotel, New York, 8:09 PM.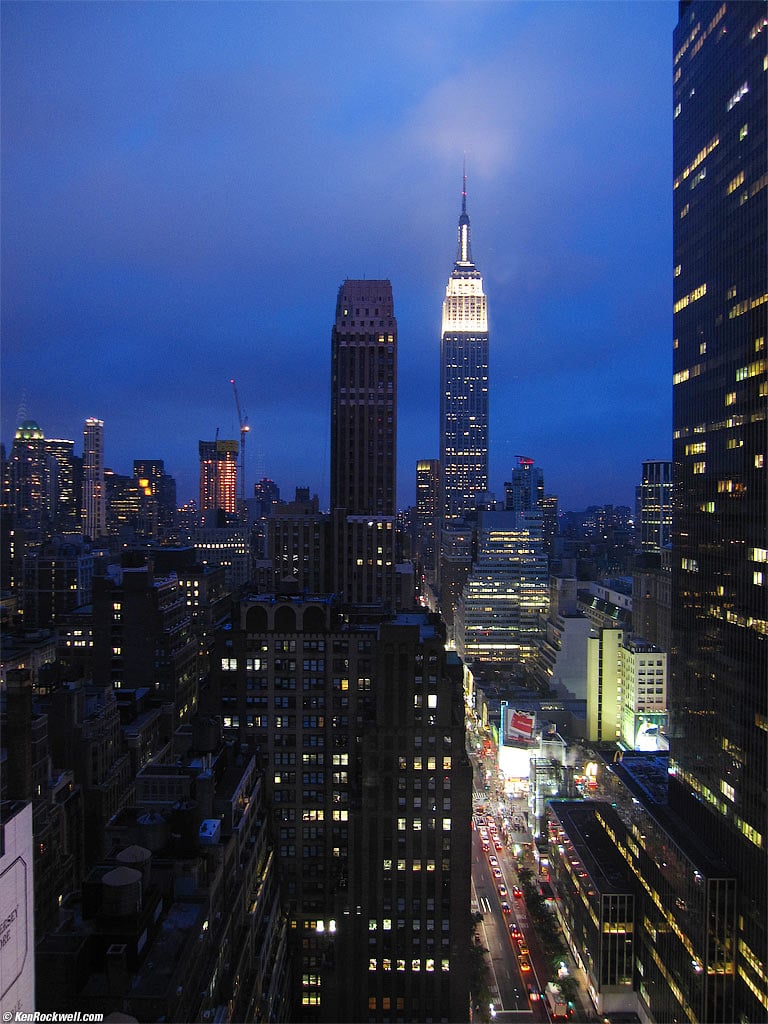 The Empire State Building as seen from the New Yorker Hotel, 8:15 PM.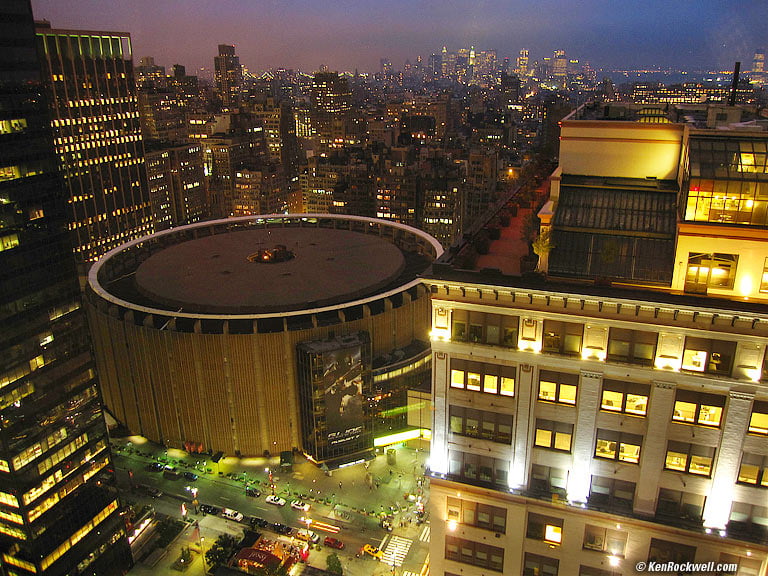 Madison Square Garden as seen from the New Yorker Hotel, 8:22 PM.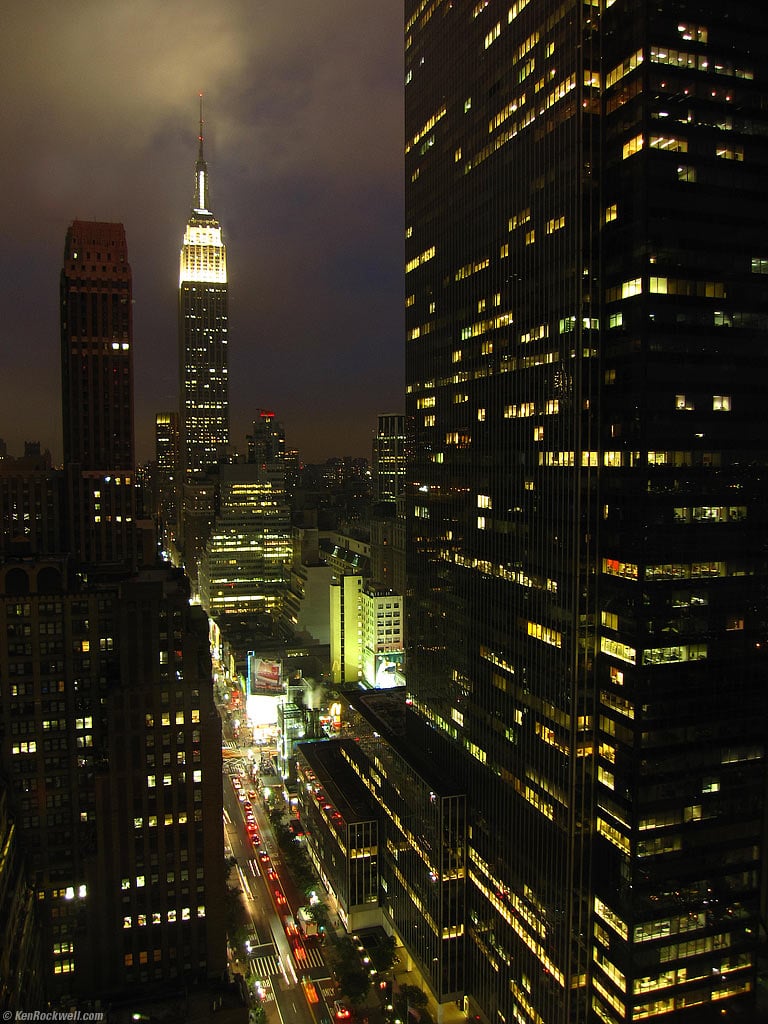 The Empire State Building as seen from the New Yorker Hotel, 8:25 PM.
Nice views out the window, eh?
Like everything on this trip, these were all shot with a hand-held Canon SD960 IS pocket camera. I braced it against the window for these shots.
I loved this place, and it was good that I did, because they guy who made the reservations for me took some heat from his superiors for putting Rockwell in a crummy hotel. Huh? I LOVED it! Everyone was happy.
09 10 11 12 13 14 15 16 17 18 19a 19b 20 August 2009
Home Donate New Search Gallery How-To Books Links Workshops About Contact