Video
1,280 x 720 @ 30 fps
640 x 480 @30 fps
320 x 240 @ 30 fps.
Clip length: up to 4GB, or 30 minutes. in HD or 60 minutes in 640 or 320.
ISO
Auto, 80, 100, 200, 400, 800 and 1,600.
ISO 3,200 in a trick scene mode (looks awful).
LCD
Rear, Canon SD960 IS. bigger.
16:9 chopped, 2.29" effective picture diagonal for most pictures.
2.8" diagonal overall.
230,000 dots.
Memory
SD and SDHC.
Outputs
USB 2.
Mini HDMI.
NTSC or PAL and mono sound.
Environmental
32º F ~ 104º F (0º ~ 40º C).
10 ~ 90% RH.
Size
3.85 x 2.12 x 0.87 inches.
/97.9 x 54.1 x 22.1 millimeters.
Weight
Measured: 5.735 oz. (162.6g), complete with battery and SD card. This is 0.580 oz. (16.4g) less than the SD880 with its battery and card.
Specified: 5.11 oz. (145g), stripped without battery or card.
Battery (included)
NB-4L.
3.7V, 760mAh Li-ion.
Charger (included)
CB-2LV G.
It's tiny, about the same size as the camera but much lighter, and has a fold-out plug.
Introduced
February 2009.
Price
$230, March 2010.
$250, Decemebr 2009.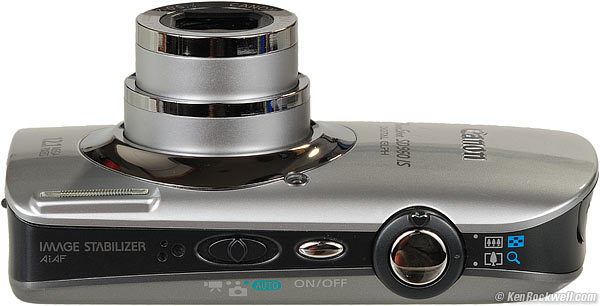 Top, SD960. bigger.
Performance top
Intro Specs Performance Usage Recommendations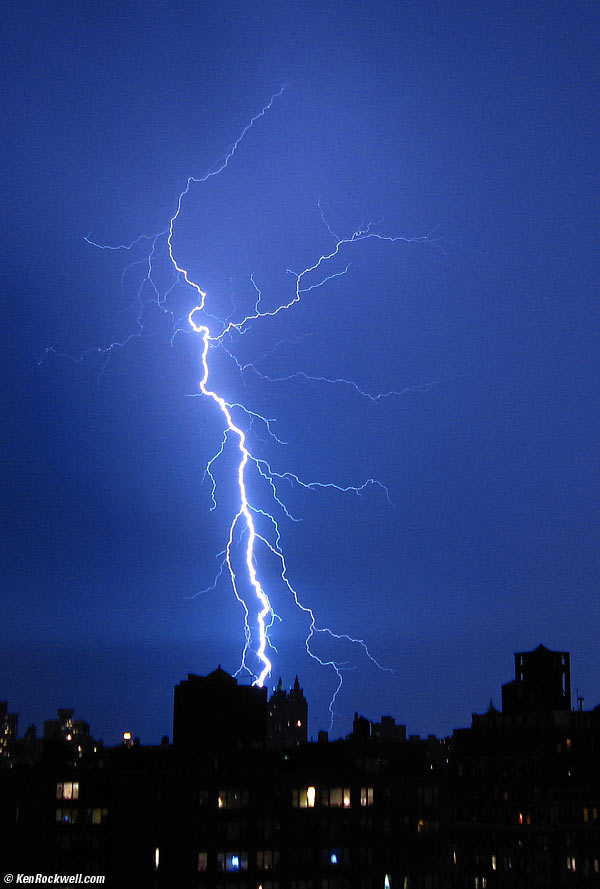 Canon doesn't call these Powershots for nothing! bigger.
If you know what you're doing, you can shoot just about anything with a little camera like this. The only thing it can't do well is shoot moving things like kids, sports and action, but if your subject holds still, you're good to go.
In this case, I set the continuous shooting mode (the bearded rectangle) so the SD960 IS kept shooting for as long as I held down the shutter release. I set the ISO manually to ISO 80 so that, at the SD960's maximum 1 second exposure time, the lightning would be correctly exposed and that the foreground would stay dark (normally the ISO would ramp up to make the foreground much lighter, but that would blow-out the unexpected lightning). Auto WB, the default, automatically adjusted itself for the orange tungsten lighting, so when the lightning hits, it looks blue as I wanted it.
These were easy to set: I adjusted the ISO by looking at the LCD as I shot earlier test photos.
This was a storm in Manhattan on the night of 18 August 2009, so all I had to do was brace the SD960 on the ledge of my hotel and let it keep shooting. As the lighting hit, so long as the shutter was open at the time, I got a lot of good shots.
Technical Image Quality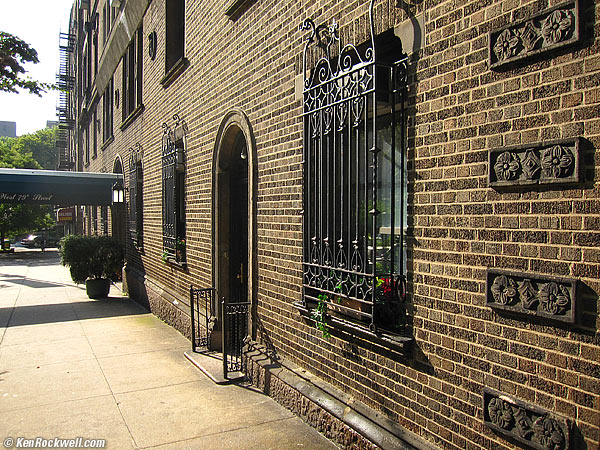 You want sharp? You got it! bigger. (West 79th Street, NYC.)
You want color? Hose, Old Bethpage, New York.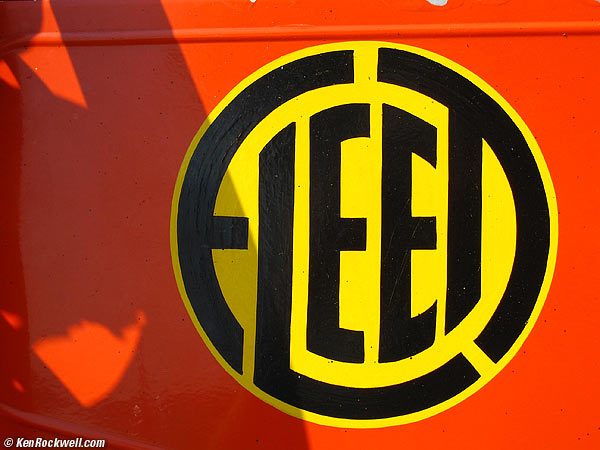 Aircraft, Bayport Aerodrome, New York.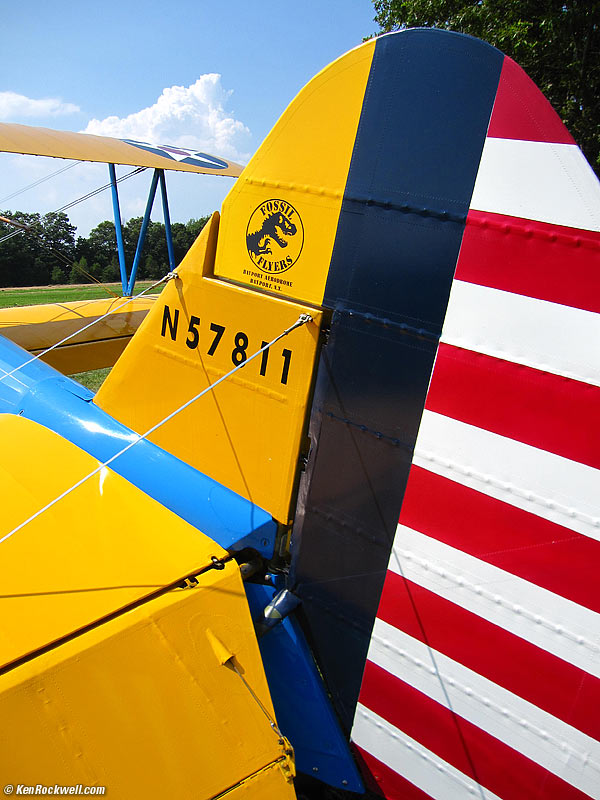 Aircraft, Bayport Aerodrome, New York.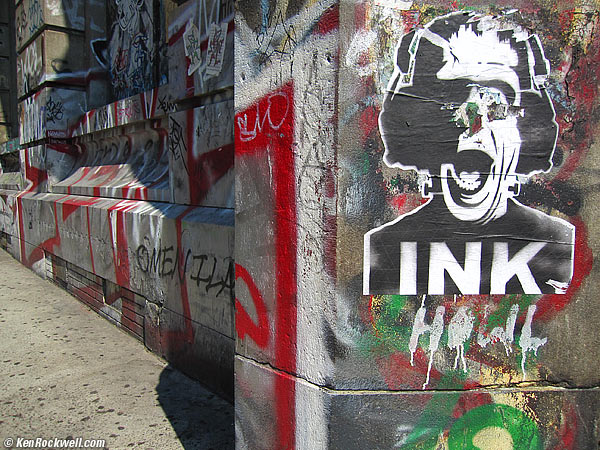 The Bowery, New York City. bigger.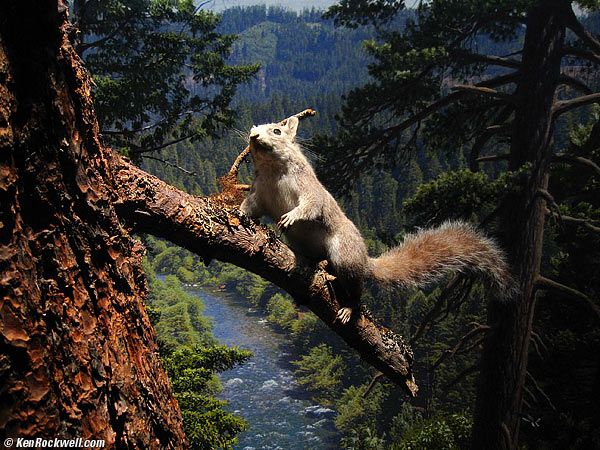 Sharp, outdoor action shot from death-defying locations? bigger. Actually, not. This is a stuffed squirrel at the American Museum of Natural History.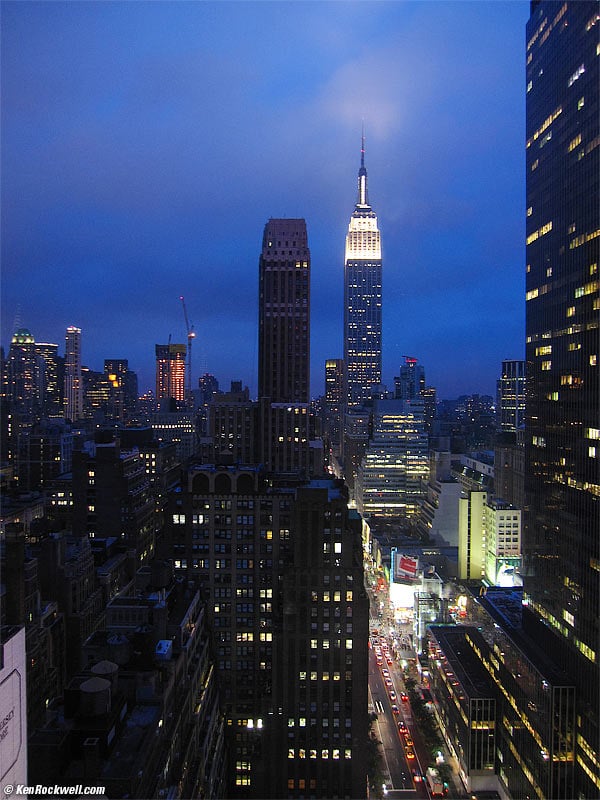 Low Light Performance? How about the Empire State Building as seen from the New Yorker Hotel, New York City. bigger. Manually-set ISO 80, IS turned off, braced on a window sill with no tripod, 0.6 seconds at f/2.8, 5mm, auto WB.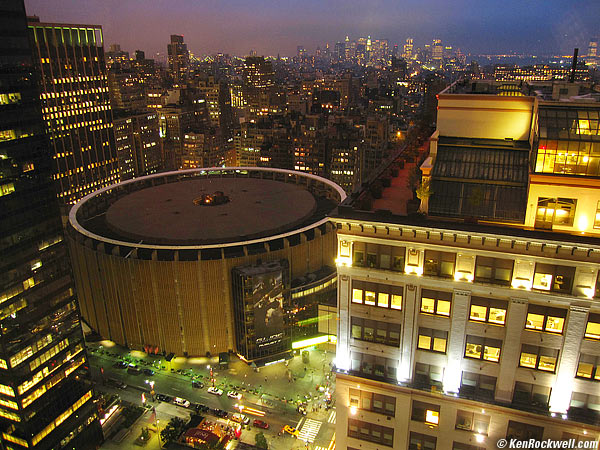 Madison Square Garden, New York City. bigger. Manually set to ISO 80, IS off, braced on a window sill with no tripod, 1 second at f/2.8, 5mm, cloudy WB, hand-held.
The technical quality of the SD960's images is typical for compact cameras: sharp, but much noisier than SLRs at the same ISO.
The SD960 uses plenty of noise reduction, so it's not so much the noise which is the issue, but the smearing-over of finer textures by the NR. This is typical for all compact (non-SLR) cameras. It's obvious when comparing to film at large print sizes, and invisible online.
The SD960's lens is very sharp, as expected. You can use all 12MP, and if set down to 5MP as I usually shoot it, much sharper than cameras which are native at 5MP.
The 5-20mm lens has very little distortion. It is much better than most other compact camera zooms.
The images from the SD960 are as good as the SD880 and the G10. Yes, as good as the G10. The G10 is just heavier; when I compared it directly to the SD880, the SD880 was at least as good as the G10, and the SD960 is at least as good as the SD880.
The continuous frame rate is slow, rated only 0.8 FPS. Other cameras have gone faster, close to 2 FPS. Don't get too excited; all compact cameras shoot this way with the same focus and exposure for each frame.
Ergonomics
Controls
The SD960's biggest flaw is Canon's newer control system that skips a few important control buttons and uses a crummy one-dimensional control interface when you hit the FUNC button to adjust the SD960.
I never got used to it.
For instance, to set the exposure compensation (lightness or darkness of the photo), you have to press FUNC, click down two to +/-, click right, then click up or down to set, and click FUNC a couple of more times. Worse, you have to click up for darker and down for lighter! If you mess up anything in this complex series of clicks, you just missed your photo.
Other larger Canons like the older SD880 and newer S90 have more buttons and a much smarter menu system to make it much easier to take pictures.
Not only is the SD960's menu system clumsier than other Canons, even though Canon's specs claim the SD960 has shutter speeds as long as 15 seconds and flash exposure lock just like the cheapest A470, I was never able to find these features in the SD960.
The better-controlled Canons always return you to where you last left their menu system. That means on other cameras if you last adjusted WB, that when you hit FUNC again, you're still able to adjust the WB directly. Not with the SD960: the next time you hit FUNC, you're back at controlling the shooting mode (your choice of Program, portrait, etc.) and have to navigate back to what you wanted, which for me is usually exposure compensation.
The rear round dial is a scroll dial. It is made of metal. There are no marks for its other functions, which vary with shooting or playback. Instead, their functions flash on the LCD. You can control display mode, flash mode, self timer, and focus mode with them while shooting.
I found I often had to hit the MACRO mode to focus close. On other Canons, I only had to hit that to get closer than a few inches, but on the SD960, I seemed to need to hit it to get closer than about a foot.
Funny Sounds
When you leave the funny sounds turned on (I don't), the shutter sound is clever enough that it makes separate sounds when the shutter opens, and then again when it closes during long exposures, just like an SLR.
LCD and Playback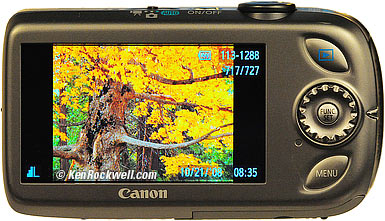 Tiny SD960 LCD with typical image, about actual size. bigger.
The SD960's smallest problem is its tiny 2.3" (effective) LCD. Not only is it small, the black waste bands on the sides make it tough to see where your picture ends and the dark bands start when composing darker images. See also The Curse of the Shrinking LCD.
The LCD has great color, and shows the same colors regardless of the viewing angle. It gets dimmer when seen from the sides, but the colors and contrasts aren't changed so we get accurate viewing at any angle.
There is no diagonal scroll on playback, common for these kinds of cameras.
On playback, the SD960 allows setting the rotation flag even for a full 180º rotation. This is helpful when shooting with the camera upside-down, for instance, when bracing it under an overhang shooting in low light. Other Canons like the SD880 haven 't been able to do this, they just go 90º left or right.
On review and often in playback, hitting FUNC often goes straight to delete, not the last setting I wanted like rotate.
Battery Life
Battery life is great.
Twice I got 700 shots before the battery meter read 2/3.
The battery meter is poor. When the battery starts becoming drained, I'll see 2/3, then very quickly get the flashing orange [ v] low battery symbol. If I turn the camera off, a few minutes later I may see full, followed quickly by the flashing low warning.
Therefore, when you see 2/3, it's time to pay attention and recharge when you can. Even if you can't, I never actually ran the battery down all the way. It kept on shooting for maybe 50 shots with the flashing warning before I got to charging it. It never died on me.
Mechanics
Most of the SD960's exterior covers and buttons are metal, including the rear control dial.
There are little tits on the bottom and side for setting the SD960 on a table for level horizontal or vertical shots.
Recommendations top
Intro Specs Performance Usage Recommendations
The SD960 is a great choice for high-quality images in a tiny package.
I prefer the no-longer available and slightly bigger SD880 for its larger LCD and better handing, and will most likely prefer the even bigger and even better handing new S90, however the technical image quality of any of these is in the same league as the G9, G10 and G11, too. The differences are all in how well it handles, not technical quality within a class of camera.
For sports, kids and action, you need a real SLR like a Nikon D40 or Digital Rebel T1i.
The newer SD980 IS adds a wider lens (24mm vs, 28mm equivalent) but still has the smaller LCD of this SD960 IS. The newer SD980 also has a touch screen, whose utility I'm still waiting to test.
I may whine about the balky handling and tiny LCD of the SD960 IS, however I had no problems making great images with this as my only camera for over a week of travel 3,000 miles away from home, and you'll never hear me complain about its lighter weight!
You can't go wrong with Canon Powershots (their name for these little cameras). If you like this one, fantastic. If you want a different LCD or lens or whatever, they are all great.
More Information: Canon USA's product page.
Help me help you top
I support my growing family through this website, as crazy as it might seem.
If you find this as helpful as a book you might have had to buy or a workshop you may have had to take, feel free to help me continue helping everyone.
If you've gotten your gear through one of my links or helped otherwise, you're family. It's great people like you who allow me to keep adding to this site full-time. Thanks!
If you haven't helped yet, please do, and consider helping me with a gift of $5.00.
The biggest help is to use these links to Adorama, Amazon, Calumet, Ritz and J&R when you get your goodies. It costs you nothing and is a huge help. These places have the best prices and service, which is why I've used them since before this website existed. I recommend them all personally.
Thanks for reading!
Ken
Home Donate New Search Gallery How-To Books Links Workshops About Contact