Home Donate New Search Gallery Reviews How-To Books Links Workshops About Contact
Canon Rebel T4i (EOS 650D)
World's first touch screen DSLR, 18MP, 5 FPS, 1.6x sensor, stereo HD
© 2012 KenRockwell.com. All rights reserved.
Intro Specs Performance Usage Recommendations More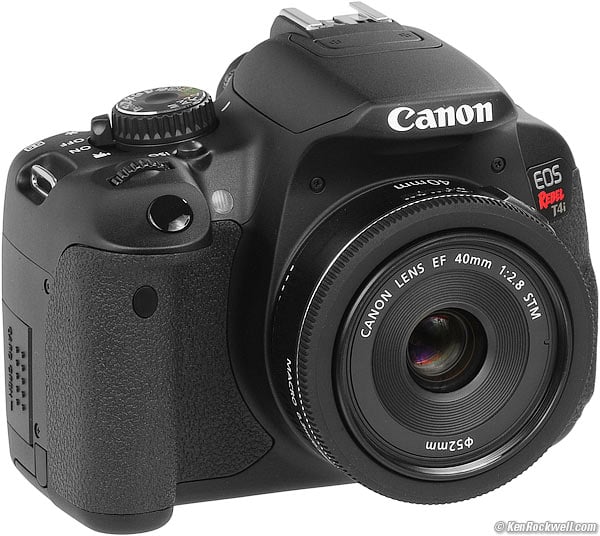 Canon Rebel T4i (20.8 oz./589 g with card and battery) and Canon EF 40mm f/2.8 STM. enlarge.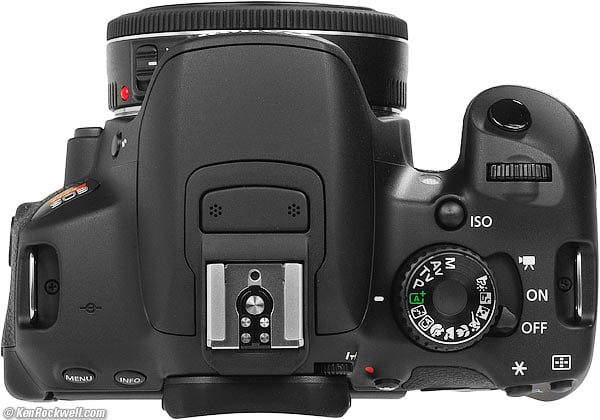 Top, Canon EOS Digital Rebel T4i. enlarge.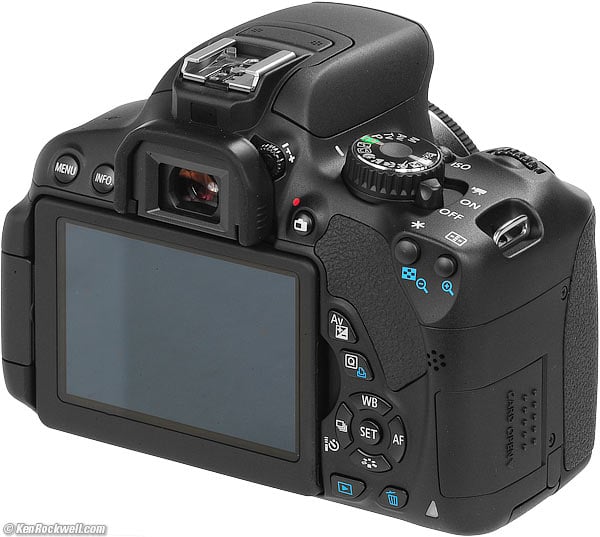 Backside, Canon EOS Digital Rebel T4i. enlarge.
Canon Rebel T4I Body only: $849.
Canon Rebel T4I with 18-55mm IS II: $949.
Canon Rebel T4I with 18-135mm IS STM: $1,199.
Canon EF 40mm f/2.8 STM: $199.
You also can get the T4i at Amazon and at J&R.
Deal: Canon T4i with Canon 18-55mm IS II, 32GB Card, Camera Bag, Spare LP-E8 Battery, Cleaning Kit, Screen Protector, Red Giant Adorama Production Bundle for PC/Mac ($599 software retail value): Reg $1,656.67, Special $849 with free shipping!
NEW: Canon T4i Deal: $659 with case and 16GB Lexar card. To get it:
1.) click here to go to Adorama's T4i page
2.) Click the "Buy Together and Save" link towards the top of the page between the photo of the camera and the price.
3.) A new window opens with more stuff you can click to add to the order, some of which is FREE.
4.) Click the button next to the free things.
5.) Click the big ADD TO CART button.
This free website's biggest source of support is when you use those or any of these links when you get anything, regardless of the country in which you live.
Thank you!
Ken.
October 2013 More Canon Reviews Canon Lenses All Reviews
NEWS: Canon has recalled some T4i for a bizarre potential for an allergic reaction to the chemical used in its grip. The recall only affects a few serial numbers; the one I bought from Adorama is is fine.
Introduction top
Intro Specs Performance Usage Recommendations
The Canon Digital Rebel T4i is the world's first SLR with a touch screen, and the touch screen works very, very well both for making settings and for controlling playback. The T4i is the best of Canon's low-end plastic "Rebel" DSLRs.
The Digital Rebel T4i is called the Kiss X6i in Japan and the EOS 650D outside the Americas. They are all exactly the same camera and this review applies to all of them. Never, ever forget the "D" (digital) if you mean this Digital Rebel, because the EOS 650 is a completely different camera. The EOS 650 is Canon's very first autofocus 35mm EOS camera from 1987!
The Canon T4i is the world's first DSLR with built-in stereo microphones for real stereo sound without needing an external microphone.
The T4i claims a new hocus-pocus hybrid image sensor for good autofocus while shooting movies, and it is the best DSLR I've used for movies, but it still focuses nowhere near as well as a real camcorder.
The T4i doesn't hunt wildly or get lost like most other DSLRs trying to focus video, but the T4i is still very slow to get focus before rolling video. If you let it focus before you start rolling, each scene it does pretty well at tracking slower motion, but it takes a while to get focused in the first place.
The T4i still has to hunt for video focus while rolling, but much more subtly than other DSLRs, and once locked, tends to stay in focus unless something moves too much. It actually works pretty well, but if you're looking for flaws, the T4i AF system still has a long way to go compared to any real camcorder.
The T4i's video AF is much smoother and less confused than other DSLRs, and with the EF-s 18-135mm STM lens, focusing isn't heard in the sound. Other lenses, like the EF 40mm f/2.8 STM, are not completely silent, but quieter than most other Canon lenses while focusing.
DSLRs have awful video autofocus precisely because of their larger sensors. Larger sensors require moving lenses much further to bring them into focus, and their shallower depths-of-field demand even more precise focus to avoid visible softness. These two factors, both exponentially related to the differences in sensor size, will keep DSLRs focusing more slowly than real camcorders, point-and-shoot cameras and cell phones for quite a few more years to come. This said, the video looks great so long as you're patient and the subjects don't move too far too fast.
For still photos, which are my primary focus, this Rebel T4i isn't much different from my Rebel XTi from 2006. Both cameras focus as quickly for still shots with the hot new 18-135mm STM lens or other lenses, and each has the same 9-point autofocus system. While Canon's PR may gush about tiny changes between them, I can't see any as far as autofocus is concerned for photos. Both have an eye-controlled rear LCD and pretty much have the same controls and capabilities for photos.
If you're considering the T4i (or EOS 650D or Kiss X6i), it's the best Digital Rebel Canon's ever made. So long as you realize that video in it is still far from perfect, the video looks great, as does the fantastic LCD and its touch screen. For still images it's fantastic, with super-duper fast autofocus and great-looking pictures, but if you already own another Digital Rebel, I would spend my money on more lenses instead of this simply newer model of the same thing.
Touch Screen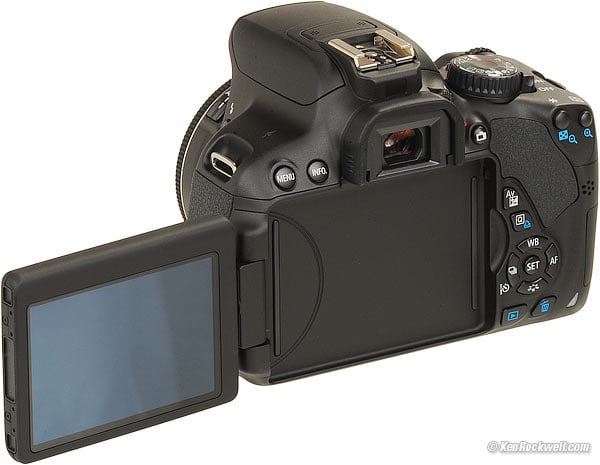 Canon Rebel T4i with touch screen flipped. enlarge.
The touch screen is amazing. I thought it was just fluff, until I tried it. It's a real capacitive touch screen that just works like an iPad, and not the crappy screens you have to press, like my wife's crappy LG phone.
You can set just about everything from the screen, or use the buttons and dials just like every other Rebel.
Especially impressive is how playback zoom and scroll can be done just like on an iPad. It's a zillion times faster and easier to move around a zoomed image by moving a finger than by using the old mechanical controls of every other digital camera.
I sure hope that the 5D Mark IV, expected in 2015, has a touch screen. Now any camera that expects me to jockey buttons to move and zoom my images feels foolish by comparison.
The touch screen is a huge improvement for playback, but not that big a deal for shooting. Sadly, the T4i still locks-out playback until you hit the PLAY button before you can take advantage of the touch screen for playback.
Here's a sample 25MB video clip, made with the 18-135mm STM at 640x480@29.97p. It looks very good, when it's in focus.
Here's another 19MB file of Ryan defying death with the same settings, and at these speeds, it still tracks just fine. It took a while for Ryan to wait for me to get focus reasonably locked before I started to roll, but once locked and rolling, it worked fine.
In all fairness, while other DSLRs are nearly useless for making video with autofocus of things that move (the whole point of video), the video and autofocus of the T4i is pretty useful. It will catch my kids doing most things other than running around in circles.
With the 18-135mm STM, there is no sound from the lens while it focuses, whoo hoo, but most other lenses, including the 40mm f/2.8 STM will make sound while focusing that you may hear in the camera's sound track, depending on ambient noise level.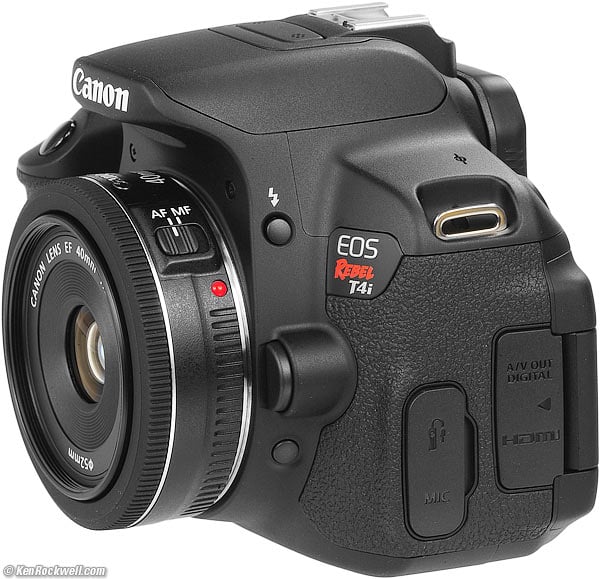 Side, Canon EOS Digital Rebel T4i. enlarge.
Specifications top
Intro Specs Performance Usage Recommendations More
Sensor
18MP CMOS.
5,184 x 3,456 pixels native.
Sensor cleaner.
1.6x crop factor (22.3 x 14.9 mm; 26.8mm diagonal).
3:2 aspect ratio (Barnack's folly).
4.3 µm pitch, square pixels.
sRGB or Adobe RGB.
White Balance ±9 units amber/blue and ±9 units green/magenta.
Image sizes
LARGE and RAW: 5,184 x 3,456 pixels (18MP).
MEDIUM: 3,456 x 2,304 pixels (8 MP).
SMALL 1: 2,592 x 1,728 pixels (4.5 MP).
SMALL 2: 1,920 x 1,280 pixels (2.5 MP).
SMALL 3: 720 x 480 pixels (350 kP).
ISO
ISO 100 ~ 12,800 (stupid mode for ISO 25,600).
AUTO ISO selects ISO 100 ~ 6,400.
For video, ISO 100 ~ 6,400 (ISO 12,800 in a stupid mode).
Lens Compatibility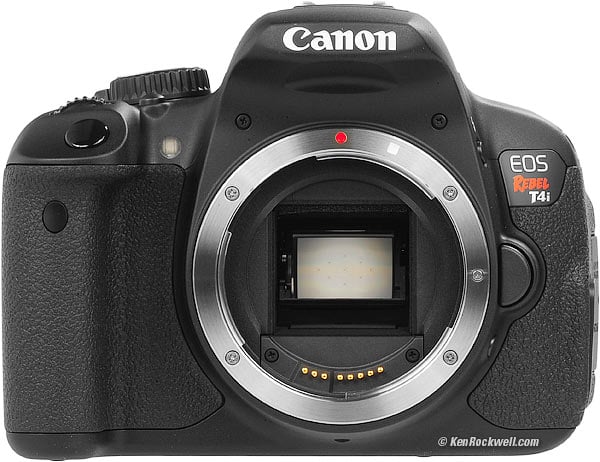 Front, Canon EOS Digital Rebel T4i. enlarge.
All Canon EF lenses (made since 1987).
Also AOK with all EF-S lenses (made since 2002).
Autofocus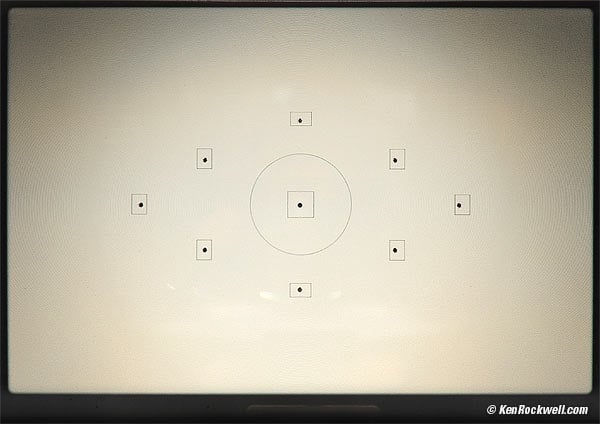 Actual photo, camera OFF.
9 AF areas, Canon's usual diamond arrangement.
The tiny black dots light in red when active.
All are cross-type at f/5.6; center is extra precise diagonal cross at f/2.8.
LV -0.5 ~ 18.
TTL-CT-SIR AF-dedicated CMOS sensor, the same technology Canon's used for years.
In Live View, you can assign focus to an object with the touch-screen.
Magic hybrid phase-detection CMOS sensor in Live View, which doesn't do anything that spectacular.
No built-in AF illuminator, but will work by trying to fire the flash in incredibly annoying random bursts to try to focus in the dark, if you let it. Also works with the super-annoying intermittent white flashes of the 270EX II, 320EX, and 270EX speedlites.
ONE SHOT, AI FOCUS and AI SERVO modes.
Finder
95% coverage.
0.48x magnification with standard 28mm lens (0.85x magnification with 50mm telephoto lens).
23.8º apparent angle.
19mm eye relief.
-3 ~ +1 diopter adjustable.
Fixed focusing screen.
Depth-of-field preview button.
For video and for still shots.
Various kinds of autofocus, including facial recognition for video.
5x or 10x magnification for manual focus.
Similar meter modes and ranges to the regular SLR viewfinder.
Two grid options.
No silent shooting option.
Light Meter
63-Zone Evaluative, Center-Weighted, 9% Center and 4% Spot modes.
Range: LV 1 ~ 20 with f/1.4 lens.
Flash
1/200 flash sync.
Flash exposure lock.
Flash exposure compensation ±2 stops in third or half stops.
No PC (Prontor-Compur) terminal.
Built-in flash
ISO 100 GN 13 meters, 43 feet.
3 second recycling.
Rated to cover to 17mm on 1.6x camera (28mm equiv. on full-frame).
Hot Shoe Flash
E-TTL II control.
Wireless Flash Control
The T4i's built-in flash can control other flashes wirelessly.
Shutter
1/200 flash sync.
1/4,000 ~ 30 seconds.
10s or 2s self-timer.
75ms shutter delay if awake, 150ms if asleep (excluding AF).
Remote control
RC-6, RC-1, and RC-5.
Burst Depth
22-30 LARGE JPG depending on card speed.
6 Raw.
3 Raw + JPG.
Fluff
Handheld Night Scene mode, HDR Backlight Control mode and a 4-Shot Noise Reduction mode take multiple pictures, and combine them in-camera to help capture a wider dynamic range and reduce noise.
Video Snapshot (works poorly).
Scene Intelligent Auto.
Photo File Formats
JPG.
CR2 raw.
Raw + JPG.
Video
.MOV file holding H.264 video with Stereo Linear PCM audio.
Shoots only via Live View.
Frame Rates
1920 x 1080 at 29.97p, 23.976p or 25p.
1280 x 720 at 59.94p or 50p.
640 x 480 at 29.97p or 25p.
Data Rates
1920 x 1080: 330 MB/min.
1280 x 720: 330 MB/min.
640 x 480: 82.5 MB/min.
Maximum Shot Lengths
1920 x 1080 @ 29.97, 25 or 23.976: 22 minutes.
1280 x 720 @ 60 or 50: 22 minutes.
640 x 480 at 29.97 or 25: 92 minutes.
Audio
Built-in S - T - E - R - E - O microphones.
Stereo mic input jack.
Stereo linear PCM, recorded only with video.
LCD
3" TFT color LCD with capacitive touch-screen.
1,040,000 dots.
170º viewing angle.
Auto or manual brightness control.
Anti-smudge coating.
No anti-reflection coating.
Data Storage
One slot: SD, SDHC or SDXC.
UHS-I and Eye-Fi OK.
Data Communication
USB 2.0.
Mini HDMI.
Analog PAL or NTSC video and stereo audio.
Power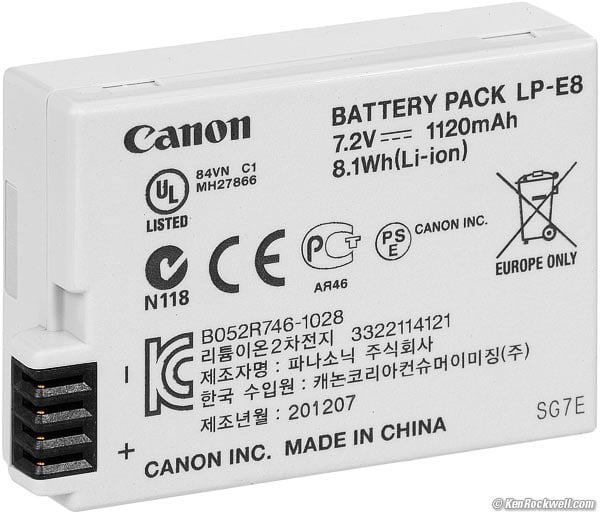 The LP-8E battery is the same as used in the T2i and T3i.
The camera has only a primitive four-level readout of battery charge.
The camera also has an internal rechargeable cell for the clock which runs for up to 3 months with no other battery installed.
Rated Shots
550 shots, or only 440 with flash.
(With Live View, only 200 shots, or 180 with flash.)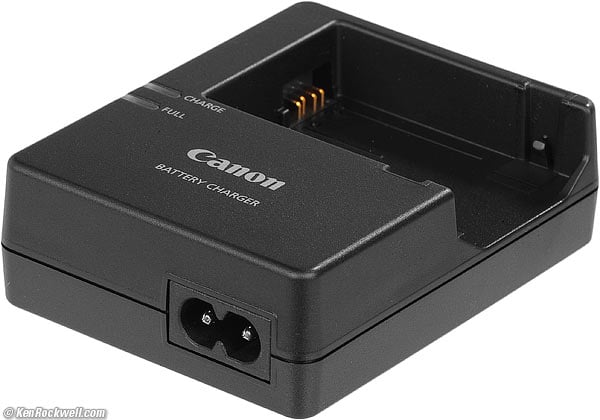 In the USA, I got the LC-E8E charger shown here, which requires a cord.
Other countries get the LC-E8, which has a folding plug instead, which I prefer.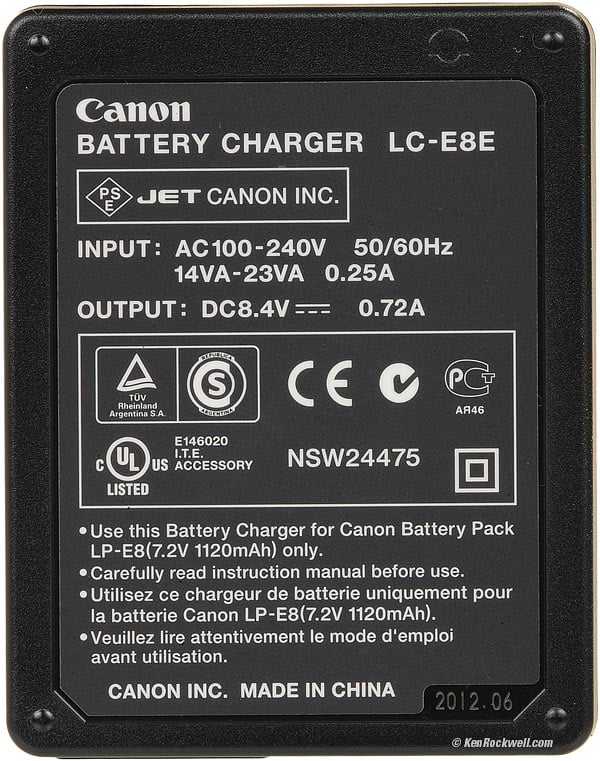 Bottom of Canon LC-E8E Charger.
Optional
AC Adapter Kit ACK-E8.
BG-E8 grip, which holds two LP-E8 batteries or 6 AA cells.
Quality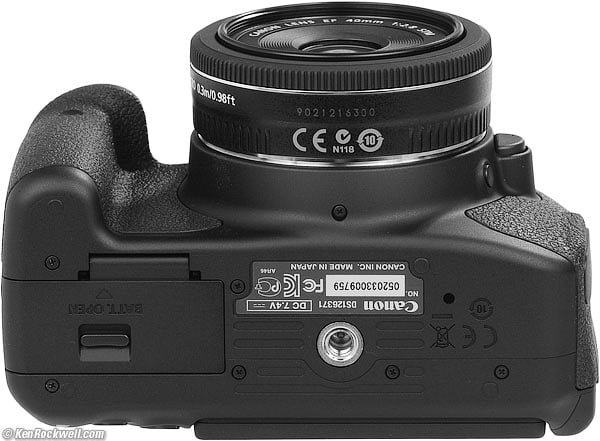 Bottom, Canon Rebel T4i and 40/2.8 STM. enlarge.
Camera MADE IN JAPAN, mostly of plastic.
Battery and charger MADE IN CHINA.
Environmental
32º ~ 104°F.
0º ~ 40°C.
85% RH or less.
Size, HWD
3.9 x 5.2 x 3.1 inches.
99.8 x 133.1 x 78.8 millimeters.
Weight
20.775 oz. (588.9 g) with card and battery, actual measured.
Rated 20.3 oz. (575 g) with card and battery.
Rated 18.3 oz. (520 g), stripped.
Included
EOS Rebel T4i Body
(possibly a lens depending on kit. Mine came with the 18-135mm STM wrapped in bubble wrap and put in the box with everything else. My lens came with real front and rear caps, so as soon as you mate it with your T4i, you already have a spare rear lens cap and body cap.)
Eyecup Ef
Battery Pack LP-E8
Battery Charger LC-E8E
Camera Body Cap RF3
Wide Strap EW-100DBIV
USB Cable IFC-130U
EOS Digital Solution Disk
Software Instruction Manual CD version 25.2.
Two real, printed instruction manuals: one in British Racing Green (English), and one in Andalusian Peach (Spanish).
Optional Accessories
AC Adapter Kit ACK-E8.
BG-E8 grip, which holds two LP-E8 batteries or 6 AA cells.
Announced
08 June 2012
Promised
End of June 2012.
Shipping Since
About the end of June, 2012.
Price, USA
October 2013: $659, body-only.
August 2012:
$1,199 T4i with 18-135mm IS STM.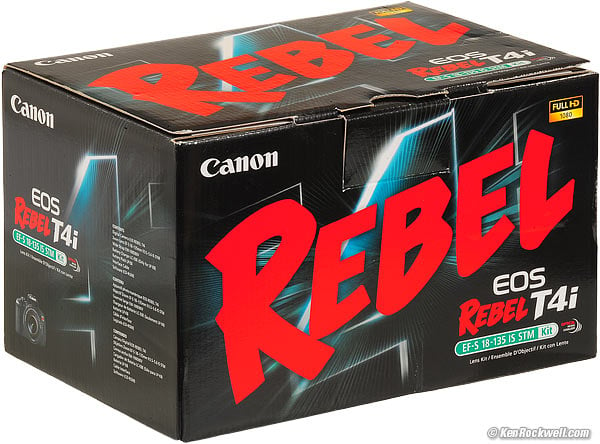 Box, Canon EOS Digital Rebel T4i.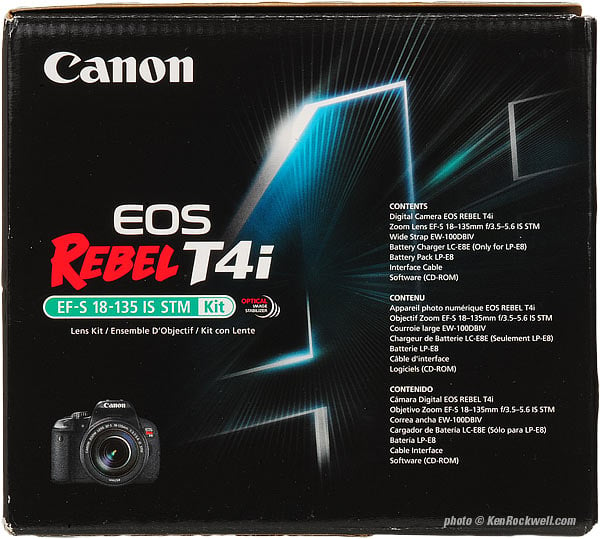 Box, Canon EOS Digital Rebel T4i.
Performance top
Intro Specs Performance Usage Recommendations More
As I've covered at the introduction, the Canon T4i is a step ahead in DSLR video, and the same thing as before for regular photography.
All the Rebels are plastic cameras (with metal lens mounts, tripod sockets and strap lugs) that can take extraordinary photos, but which lack the complete set of outer controls that let experts make adjustments more quickly than with the Rebels. The Rebels lack controls like the big rear wheel on most better Canon cameras. This said, normal folks who buy Rebels usually have no idea what all the buttons do anyway, so just as well. The Rebels are much smaller and lighter than Canon's other SLRs, which makes them better because you're more likely to take your Rebel with you.
Autofocus
AF is the usual 9 points we've seen from Canon since forever.
It works as well as ever for still photos, no news here.
For photos, it almost always finds the subject and gets perfect focus almost instantly.
Canon's claimed magic image-sensor phase detection AF for live view isn't all that great, and even if it was, it only works towards the very center of the image, not out in the frame where you really need it.
The marketing fluff about the magic phase-detection CMOS sensor is just that. It's better for video as covered at the introduction, but still leaves a lot to be desired for video. The image sensor-based AF is nowhere near as good as the viewfinder's real AF. (Regular photo AF with the regular viewfinder uses a dedicated set of AF sensors that work much better than anything the image sensor can do in Live View.
I found the AF worked as well — or not — regardless of what lens was used. The best, fastest and quietest lens for video is the EF-s 18-135mm STM.
The EF 40mm f/2.8 STM is smooth and reasonably quiet — but not silent — and focuses slowly.
Viewfinder
The finder is the usual small, cheap pentamirror finder of the Rebel cameras. Using a glass prism like the bigger cameras would give a bigger finder image, but add weight.
The thin LCD segments that indicate exposure and ISO are less legible than larger cameras like the 5D Mark III because there is less space (kerning) between each of the digits. It's not easy to see the difference between ISO 100 and ISO 1000.
Ergonomics
As covered at the introduction, the touch screen works great! Just about everything is controllable from it, and if you don't like it, all the usual controls are there so you can ignore the screen altogether. Playback control is exceptionally good.
The eye-control LCD works fine; it extinguishes when you hold the camera to your eye.
With no rear dial and fewer buttons, the T4i handles nowhere near as nicely as the 5D Mark III. The problem with the T4i having too few buttons for skilled users is that the same button does different things at different times, even in playback.
The tiny camera has a bony-feeling little tiny grip, but it's comfortable enough.
The T4i is much quieter than the larger EOS cameras. it has no quiet mode; it doesn't need one. The 5D Mark III is normally louder, but in its quiet mode, the 5D Mark III is quieter than the T4i.
Image Quality
As expected, all the Picture Styles are the same as other Canons, including the 2006 Rebel XTi. When set my favorite settings, I get the same great looks I expect.
With 18 MP, the T4i has at least twice as many pixels as anyone would ever need for anything.
Automatic lateral chromatic aberration correction, presuming you have a proper lens profile loaded, doesn't correct everything. With the 18-135mm STM, there will still be some color fringes left, even with correction enabled.
Again needing a lens profile, there is also corner light falloff correction.
Auto ISO
Auto ISO is set simply by selecting the "A" option in the ISO selections.
You can do this with your eye on the finder by pressing the ISO button, or from the "Q" touchscreen ISO settings.
The only available modification to the AUTO ISO settings is the maximum ISO, settable at 6,400 (default) or in full stops down to ISO 400.
AUTO ISO uses a minimum shutter speed of about 1/(focal length x 1.6). There are no other options. This is great for still subjects, but faster than I'd like for use with IS and slower than I'd like for action and people shots.
High ISOs
High ISO performance is great for any reasonable use.
Here's a typical snap at ISO 640: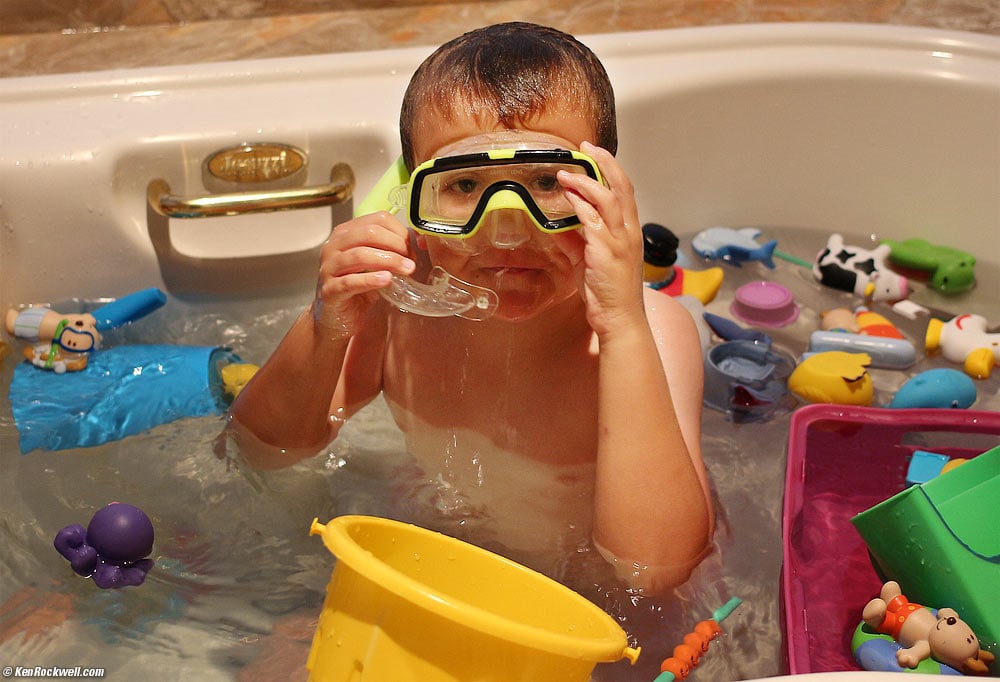 Scuba Bath, 16 August 2012. (Canon T4i, Canon 40mm f/2.8 STM, f/2.8 at 1/60, AUTO ISO 640, 6 sharpening, Auto A4 WB, 75W Halogen reflector flood in ceiling for lighting,.) © Camera-original 750 kB SMALL 1 NORMAL JPG.
Notice the the great Auto White Balance here under tungsten lights at home. Too often these shots turn out too orange.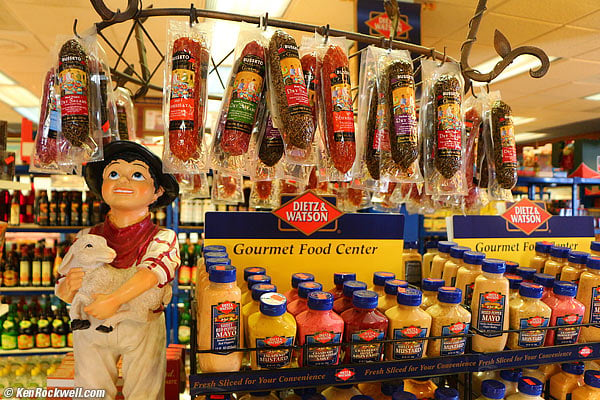 Best of the Wursts. (Canon T4i, Canon EF-s 18-135mm STM at 18mm, f/3.5 at 1/30 hand-held, AUTO ISO 1,000, Auto A4 WB, 6 sharpening, +3 saturation.) © Camera-original 4MB LARGE NORMAL JPG.
Note that only the Green Peppercorn and Black Pepper salamis are in focus, while everything else melts away.
Even at ISOs in the thousands, I doubt that any normal person like my wife would ever notice any noise.
The T4i is pretty much state-of-the-art for 1.6x sensor cameras. If you need better, you need a full-frame camera. I'm going to save you endless pages of similar comparison images; high ISO performance doesn't vary much between cameras with the same sized sensor, but does vary greatly with sensor size.
Exposure
Exposure isn't always as accurate as higher-end Canon cameras like the 5D Mark III. It's fairly often and random that I'll need ±0.7 stops of exposure compensation.
Flash Exposure
Most of my fill-flash shots with the built-in flash are overexposed; I have to dial-in negative exposure compensation.
Too bad; my 5D Mark III is usually right on, and I have no idea why the T4i would be worse. Usually when a brand of camera has the ability to do it in one camera, the less expensive cameras do it as well, too.
Flash Control
The menus offer ample adjustments of both the internal and external flash. This is the Flash Control option at the bottom of the first red menu.
The T4i's built-in flash can control other flashes wirelessly.
Playback
The touch screen is awesome, but it's still locked out until you press the PLAY button.
The eternal curse of Canon, even though it's now easy to scroll around a zoomed image, it still takes time for the T4i to redraw the details of the image. For a moment after you move each image, it's blurry until the camera can catch up. This has been a a core incompetency of Canon ever since their first DSLRs ten years ago.
While you can scroll in any direction with your finger on the screen, there is no diagonal scrolling with the directional buttons.
Odder still is that there is a slight, but perceptible (and therefore annoying to the skilled user), delay when pressing the INFO button to swap among displays.
Data
Whoo hoo, there is now a direct-from-the-menus copyright data input.
In other words, you no longer need a computer to program the T4i to record your personal contact information into the EXIF data for every file.
Movies
As covered at the introduction, movies look great, even at the lowest 640x480 resolution, but autofocus still isn't anywhere near as good as my 7-year-old Panasonic camcorder.
Stills During Video
Forget the "Video Still Shot" feature; it freezes the video for a second while it stops and snaps and records the still image!
Again, my old camcorder is much better at this, grabbing stills silently as the video records smoothly. I have no idea why Canon dares to claim this kludge as a feature; if my video stops for a second, it's awful!
Usage top
Intro Specs Performance Usage Recommendations More
Colors
Personally, I set my Picture Styles to STANDARD for all shots.
I increase the Sharpening to 6 for everything.
I increase saturation to 3 or 4 for nature and landscape shots, and leave it at 0 or 1 for family and people pictures.
Lenses
I prefer the 18-135 STM for everything, or maybe the 28/1.8 or 50/1.8 for low light. The 40 STM is tiny, but doesn't focus that fast or as quietly as the 18-135 STM and it's only f/2.8 and twice as expensive as the 50/1.8, so someone please remind me again why I would want the 40 STM?
Wireless Flash Control
This is set at MENU > (first red menu) > Flash Control > Built-in Flash settings > Built-in flash.
I never use this.
See also
Canon's T4i Users Manual (28MB PDF).
Canon's T4i Quick Start Guide (2 MB PDF).
Recommendations top
Intro Specs Performance Usage Recommendations More
The Canon Digital Rebel T4i (a.k.a. EOS 650D and Kiss X6i elsewhere) is a great camera. It is a superb camera for still photos, and makes fantastic-looking video. Its autofocus is marvelous for still images and action, and while the best DSLR yet for video autofocus, still not where we want it for video autofocus.
If you already have a Digital Rebel, this is just the same thing all over again for still images, and improved for video use.
If think you want a T4i, get it, so long as you're not expecting instant video autofocus. Everything else is marvelous, and if you have some patience, will get stunning S - T - E - R - E - O video from it, if you have the patience to allow it to focus first.
I suggest getting the kit with the 18-135mm STM as I did. It doesn't cost much more than the other versions, and the 18-135mm STM is magnificently silent and fast in its autofocus. It also covers every focal length a reasonable person would want; when I went to Hawaii in 2010, the older 18-135mm IS was all I needed for everything shot with my Canon 7D.
There's no need for the 40mm STM lens if you get the 18-135mm STM. I only put the 40mm on the T4i to make better photos on this page so you could see the camera instead of just a big lens, but I don't suggest the 40mm if you're getting the 18-135mm STM.
Get this fancy Rebel if video is important to you and you don't want to carry a real camcorder. Personally, I don't shoot DSLR video; I shoot video with my iPod Touch which is always in perfect focus — and is always ready in my pocket.
If all you want are great photos, you don't need to shell out for this T4i, the fanciest Rebel. Any of the less expensive Rebels will make photos just as good, and honestly, since I already own a Rebel XTi, I got this new Rebel because it's much nicer and has a touch screen for playback; I don't actually need this new Rebel. See Is It Worth It.
If you've found all the time, effort and expense I put into researching and sharing all this, this free website's biggest source of support is when you use these links, especially these links directly to it:
Canon Rebel T4I Body only: $849.
Canon Rebel T4I with 18-55mm IS II: $949.
Canon Rebel T4I with 18-135mm IS STM: $1,199.
Canon EF 40mm f/2.8 STM: $199.
Also at Amazon.
Thanks!
Ken and family.
More Information top
Intro Specs Performance Usage Recommendations More
Canon's T4i Users Manual (28MB PDF).
Canon's T4i Quick Start Guide (2 MB PDF).
Help me help you top
I support my growing family through this website, as crazy as it might seem.
The biggest help is when you use any of these links when you get anything, regardless of the country in which you live. It costs you nothing, and is this site's, and thus my family's, biggest source of support. These places have the best prices and service, which is why I've used them since before this website existed. I recommend them all personally.
If you find this page as helpful as a book you might have had to buy or a workshop you may have had to take, feel free to help me continue helping everyone.
If you've gotten your gear through one of my links or helped otherwise, you're family. It's great people like you who allow me to keep adding to this site full-time. Thanks!
If you haven't helped yet, please do, and consider helping me with a gift of $5.00.
As this page is copyrighted and formally registered, it is unlawful to make copies, especially in the form of printouts for personal use. If you wish to make a printout for personal use, you are granted one-time permission only if you PayPal me $5.00 per printout or part thereof. Thank you!
Thanks for reading!
Mr. & Mrs. Ken Rockwell, Ryan and Katie.
Home Donate New Search Gallery Reviews How-To Books Links Workshops About Contact