Home Donate New Search Gallery Reviews How-To Books Links Workshops About Contact
Canon SL1
18MP, 4 FPS, 1080HD, 3" touch screen
© KenRockwell.com. All rights reserved.
Intro Specs Performance Recommendations More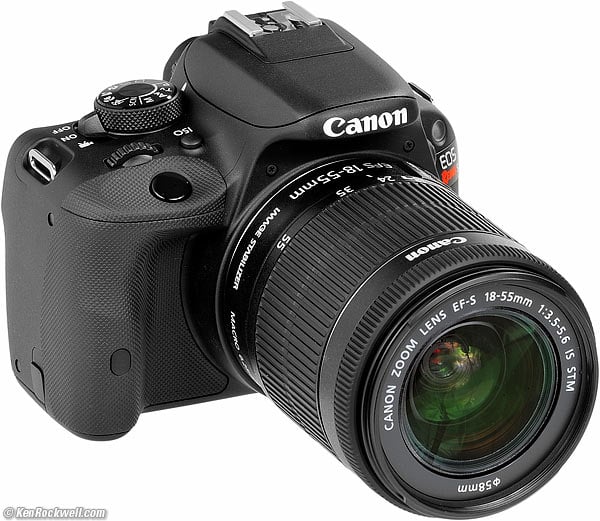 Canon SL1 (1.6x sensor, 14.2 oz./403g with battery and card, $399) and Canon EF-s 18-55mm IS STM. enlarge. My biggest source of support is when you use any of these links, especially this link to the SL1 body at Adorama, or to the kit with the new 18-55 STM (as shown) at Adorama, or the body at Amazon or the kit at Amazon, when you get anything, regardless of the country in which you live. It helps me keep adding new reviews when you get yours through these links — but I receive nothing for my efforts if you buy elsewhere, so please use these approved sources for the best prices, selection and service. Thanks for your support! Ken.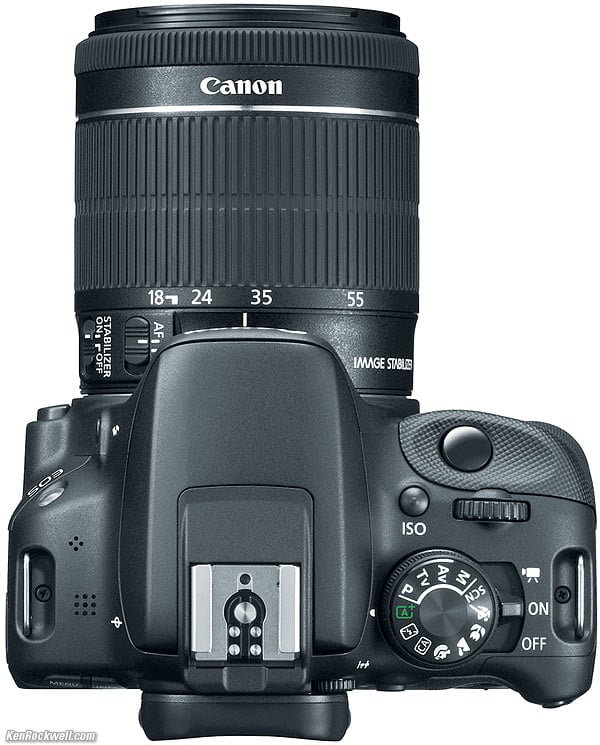 Top, Canon SL1 and Canon EF-s 18-55mm IS STM.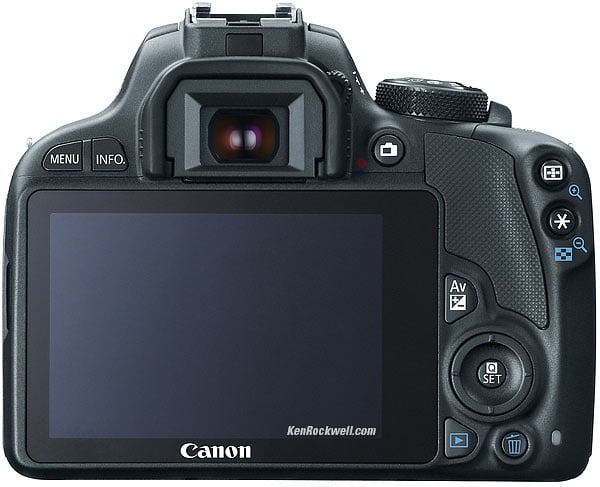 Back, Canon SL1 and Canon EF-s 18-55mm IS STM.
June 2015 More Canon Reviews Canon Lenses All Reviews
Canon 5D Mk III/24-70 II vs. SL1/18-55 STM Resolution and High ISO Comparison 10 September 2013
June 2015 DEAL:
Here's a huge deal on a huge kit that includes:
Canon SL1, the world's lightest DSLR and 18-55mm f/3.5-5.6 IS STM Lens (Regular $499)
Canon EF 75-300mm F/4-5.6 III Autofocus Telephoto Zoom Lens (Regular $199)
Canon EF 50mm f/1.8 II Standard AutoFocus Lens (Regular $125)
Canon PIXMA PRO-100 Professional Photo Inkjet Printer (Regular $298)
Canon SG-201 Photo Paper Plus Semi-Gloss, 13x19", 50 Sheets (Regular $38)
• Lowepro Nova Sport 17L AW Shoulder Bag, Slate Gray (Regular $59)
Your price is just $549 after $250 mail-in rebate — and you can resell the printer for more cash. Whoo hoo!
I tell my fiends to get the SL1, and not an expensive, lower-performance mirrorless, when they want a light camera to take on vacation.
This deal comes in black and comes in WHITE!
Sample Image Files (more throughout the review)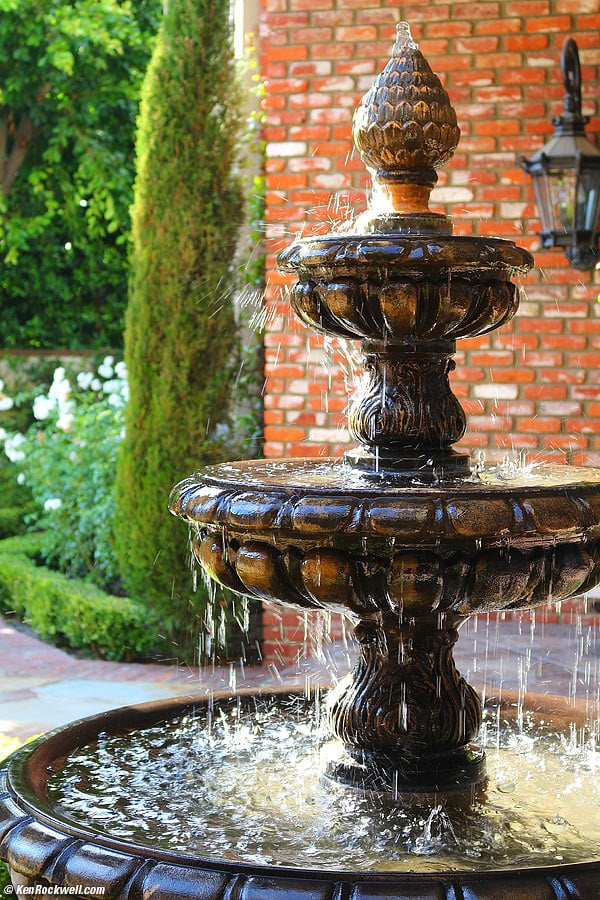 Fountain at the Ranch. Note that only the front is actually in focus. (Canon SL1 and Canon 18-55mm STM at 43mm, Program and Auto ISO modes set f/5 at 1/60 at ISO 160, 6 sharpening, +1 saturation, no flash.) Camera-original LARGE BASIC JPG file.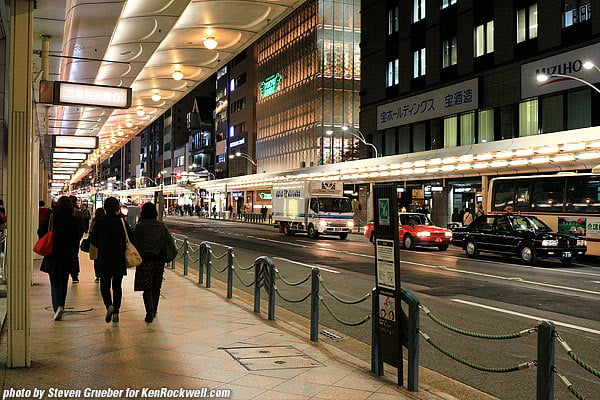 Kyoto, Japan, 20 November 2014. Canon SL1, 24mm f/2.8 IS, f/4 at 1/30 at ISO 1,000, Perfectly Clear V2. Camera-original JPG.
Introduction top
Intro Specs Performance Recommendations More
The Canon Digital Rebel SL1 is the smallest and lightest DSLR ever, and it has exactly the same resolution as Canon's top professional $6,800 Canon 1D X, 5,184 x 3,456 pixels. The SL1's images are as good as Canon's best, and the SL1 is also Canon's least expensive DSLR, so what more do you need to know?
As the world's smallest DSLR, even the small kit lens dwarfs the body. A great lens for the SL1 is the equally tiny 40mm f/2.8.
The Canon SL1 is a superb DSLR technically, and includes a built-in flash sorely lacking on the far more expensive Canon 1D X and 5D Mark III. Therefore in most daylight real-world conditions, the little SL1 will give better results than the expensive cameras if you don't also bring along a flash for daylight fill.
The SL1 does the same automatic lens corrections as the Canon 1D X and 5D Mark III. You have to load data into the camera for some lenses, while it already has the data loaded for many other lenses.
This new SL1 seems to use the same image sensor and processors as the larger T4i and T5i cameras, in a smaller and less expensive package, but with an even slightly larger view in the viewfinder (the SL1's finder has a slightly larger apparent angle).
This is called the Canon Digital Rebel SL1 in the USA, the Kiss X7 in Japan, and the EOS-100D in the rest of the world.
What's also new is the Canon EF-s 18-55mm IS STM lens with which it can be kitted, which adds the STM motor to the existing 18-55mm IS II, for better and more silent autofocus while rolling video.
The only reasons to pay more for other Canon DSLRs are:
1.) The tiny SL1 doesn't have as many buttons and dials as the larger cameras. While the SL1 has largely the same features, for those of us who actually use all these features, SL1 often requires a lot more button pushes to set in menus what we could set by turning a knob on a larger camera.
2.) Video has slow autofocus, slow ability to adapt exposure as you point the camera in different directions, and it's noisy in low light. If family videos are your thing, the Canon 70D is much better. Then again, an iPhone 5 is better than either!
3.) For professional sports and action shooting, the Canon 1D X runs much faster than any other Canon DSLR.
4.) If you're a pro who abuses his cameras, shoots in pouring rain, gets sloshed by waves and mud, the Canon 1D X is much better sealed against this nonsense.
Otherwise, regular autofocus, resolution and picture quality is the same, so unless you really are an expert at setting cameras, the SL1 does it all for a lot less money, and with a lot less weight to carry around.
Good
Full-featured DSLR in a tiny package.
Technical performance competitive with Canon's best.
Even has a depth-of-field preview button and shoots video!
Eternal battery life.
Great-looking LCD screen which is also very responsive to touch.
Tiny, inexpensive and a great-performer — what more could you possibly want?
Bad or Missing
Nothing really; these are petty whining just to fill space below:
No rear control dial.
No GPS or Wi-Fi, thank goodness.
No diagonal scroll on playback using the push buttons; use the touch screen instead.
No auto-brightness LCD.
No second card slot.
Live view won't cancel automatically as your eye is brought to the finder.
Like most Canon DSLRs, lock-out playback controls when the image is previewed; you have to hit the PLAY button before you can zoom or swap to other images.
Specifications top
Intro Specs Performance Recommendations More
Sensor
18MP CMOS.
5,184 x 3,456 pixels native.
Sensor cleaner.
1.6x crop factor (22.3 x 14.9 mm; 26.8mm diagonal).
3:2 aspect ratio (Barnack's folly).
4.3 µm pitch, square pixels.
14-bit A/D conversion
sRGB or Adobe RGB.
White Balance ±9 units amber/blue and ±9 units green/magenta.
Multi Shot Noise Reduction option provides outstanding noise reduction while preserving precious detail at high ISO speeds.
Image sizes
LARGE and RAW: 5,184 x 3,456 pixels (18MP) — exactly the same as the $6,800 Canon 1D X!
MEDIUM: 3,456 x 2,304 pixels (8 MP).
SMALL 1: 2,592 x 1,728 pixels (4.5 MP); 2,304 x 1,728 if captured while shooting 640x480 video.
SMALL 2: 1,920 x 1,280 pixels (2.5 MP).
SMALL 3: 720 x 480 pixels (350 kP).
ISO
ISO 100 ~ 12,800 (a stupid mode can get you to ISO 25,600).
AUTO ISO selects ISO 100 ~ 6,400.
For video, ISO 100 ~ 6,400 (ISO 12,800 in a stupid mode).
Frame Rate
4 FPS.
Lens Compatibility
All Canon EF lenses (made since 1987).
Also AOK with all EF-S lenses (made since 2002).
Autofocus
9-point AF system (including a high-precision dual-cross f/2.8 center point).
Hybrid CMOS AF II increases autofocus speed when shooting photos and Movies in Live view.
The tiny black dots light in red when active.
All are cross-type at f/5.6; center is extra precise diagonal cross at f/2.8.
LV -0.5 ~ 18.
TTL-CT-SIR AF-dedicated CMOS sensor, the same technology Canon's used for years.
In Live View, you can assign focus to an object with the touch-screen.
Magic hybrid phase-detection CMOS sensor in Live View, which doesn't do anything that spectacular.
No built-in AF illuminator, but will work by trying to fire the flash in incredibly annoying random bursts to try to focus in the dark, if you let it. Also works with the super-annoying intermittent white flashes of the 270EX II, 320EX, and 270EX speedlites.
ONE SHOT, AI FOCUS and AI SERVO modes.
Finder
95% coverage.
0.50x magnification with standard 28mm lens (0.87x magnification with 50mm telephoto lens).
24.5º apparent angle.
19mm eye relief.
-3 ~ +1 diopter adjustable.
Fixed focusing screen.
Depth-of-field preview button.
For video and for still shots.
Various kinds of autofocus, including facial recognition for video.
5x or 10x magnification for manual focus.
Similar meter modes and ranges to the regular SLR viewfinder.
Two grid options.
No silent shooting option.
Light Meter
63-Zone Evaluative, Center-Weighted, 9% Center and 4% Spot modes.
Range: LV 1 ~ 20 with f/1.4 lens.
Flash
1/200 flash sync.
Flash exposure lock.
Flash exposure compensation ±2 stops in third or half stops.
No PC (Prontor-Compur) terminal.
Built-in flash
ISO 100 GN 13 meters, 43 feet.
3 second recycling.
Rated to cover to 17mm on 1.6x camera (28mm equiv. on full-frame).
Hot Shoe Flash
E-TTL II control.
Wireless Flash Control
The SL1's built-in flash can control other flashes wirelessly.
Shutter
Rated 1/200 flash sync. I tried it with an external manual flash unit (a Braun 2000/28 BVC), and it was fine up to 1/320.
1/4,000 ~ 30 seconds.
10s or 2s self-timer.
75ms shutter delay if awake, 150ms if asleep (excluding AF).
Remote control
RC-6, RC-1, and RC-5.
Burst Depth
22-30 LARGE JPG depending on card speed.
6 Raw.
3 Raw + JPG.
Fluff
Handheld Night Scene mode, HDR Backlight Control mode and a 4-Shot Noise Reduction mode take multiple pictures, and combine them in-camera to help capture a wider dynamic range and reduce noise.
Video Snapshot (works poorly).
Scene Intelligent Auto.
Photo File Formats
JPG.
CR2 raw.
Raw + JPG.
Video
.MOV file holding H.264 video with Stereo Linear PCM audio.
Shoots only via Live View.
"EOS Full HD Movie mode with Movie Servo AF" claimed for continuous focus tracking of moving subjects.
Manual exposure control.
built-in monaural microphone, manual audio level adjustment, and Video Snapshot with editing for expanded movie shooting options.
Frame Rates
1920 x 1080 at 29.97p, 23.976p or 25p.
1280 x 720 at 59.94p or 50p.
640 x 480 at 29.97p or 25p.
Data Rates
1920 x 1080: 330 MB/min.
1280 x 720: 330 MB/min.
640 x 480: 82.5 MB/min.
Maximum Shot Lengths
1920 x 1080 @ 29.97, 25 or 23.976: 22 minutes.
1280 x 720 @ 60 or 50: 22 minutes.
640 x 480 at 29.97 or 25: 92 minutes.
Audio
Built-in mono microphone.
Stereo mic input jack.
Stereo linear PCM, recorded only with video.
LCD
3" TFT color LCD with capacitive touch-screen.
1,040,000 dots.
170º viewing angle.
Auto or manual brightness control.
Anti-smudge coating.
No anti-reflection coating.
Data Storage
One slot: SD, SDHC or SDXC.
UHS-I and Eye-Fi OK.
Data Communication
USB 2.0.
Mini HDMI.
Analog PAL or NTSC video and stereo audio.
Power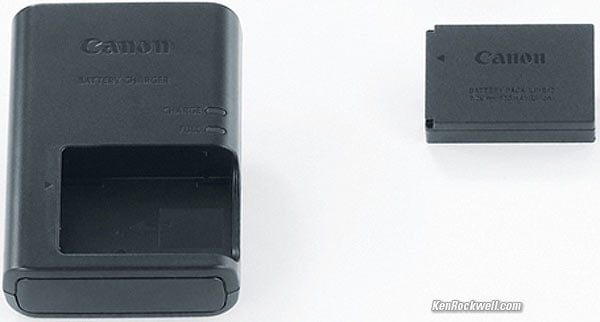 New tiny LC-E12 charger and LP-E12 battery.
Rated Shots
480 shots, or only 380 with flash.
(With Live View, only 180 shots, or 150 with flash.)
Actual shots: after 850 shots including some video, I finally got to the first partly-full battery indication.
Environmental
32º ~ 104°F.
0º ~ 40°C.
85% RH or less.
Size, HWD
The SL1 is about 25% smaller and lighter than the T4i.

3.57 x 4.6 x 2.74 inches.
90.7 x 116.8 x 69.6 millimeters.
Weight
14.245 oz. (403.9g), actual measured with card and battery, which is less than the rated 14.38 oz. (408 g), stripped.
Included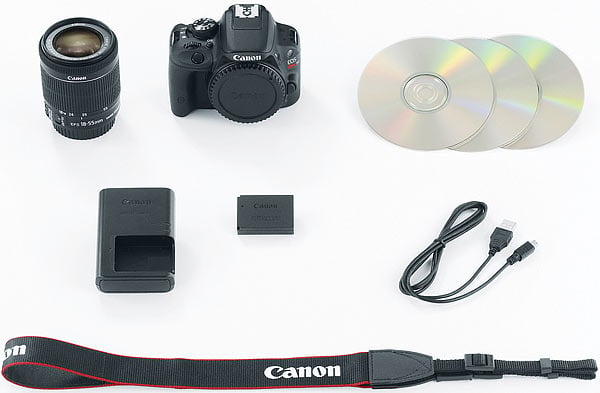 Canon SL1 kit with lens.
(possibly an 18-55mm STM lens with a kit.)
EOS SL1 Body
Eyecup Ef
Battery Pack LP-E12
Battery Charger LC-E12
Camera Body Cap RF3
Wide Strap EW-300D
USB Cable IFC-130U
EOS Digital Solution Disk
Software Instruction Manual CD.
Two real, printed instruction manuals: one in British Racing Green (English), and one in Andalusian Peach (Spanish).
Quality
Camera (and kit lens) made in Taiwan.
Battery made in China.
Announced
21 March 2013.
Promised for
April 2013.
Price, USA
June 2015:
April 2013 — October 2014:
September 2013:
March 2013:
Performance top
Intro Specs Performance Recommendations More
NEW: Canon 5D Mk III/24-70 II vs. SL1/18-55 STM Resolution and High ISO Comparison 10 September 2013
Overall
The SL1 is a very high-performance camera in a tiny package. Especially if you're not an expert photographer who needs to change every setting for every shot, there are very few reasons why anyone would want a more expensive camera than the Canon SL1.
Autofocus
Autofocus uses Canon's proven 9-point system. It focuses fast, and is fast and easy to set. I like it as much as the complicated systems that don't do any more on my more expensive Canons.
While more expensive cameras try to fool the innocent with a zillion more AF points, the reality is that the 9 AF areas of the SL1 cover a larger percentage of the image than the zillions of sensors crammed into a smaller area of the more expensive cameras, and the 9 sensors of the SL1 always work, while often people with more exotic cameras get them set into some screwy mode where the camera refuses to take the picture.
Personally, the SL1'as AF is wonderful as far as I'm concerned, for regular pictures. (No DSLR has great AF for video.)
Manual Focus
Manual focus works even better than on the more exotic cameras: as you focus, any of the 9 AF dots will blink on-screen the instant they are in focus. (The more expensive cameras only can focus on one area at a time, and require you look down for a dot below the image to see when it's in focus!)
With the Canon EF-s 18-55mm IS STM, manual focus is electronic, and works quite well. With the STM lenses, you have to hold the shutter halfway as you turn the ring in order for it to respond.
Finder
The finder is a little smaller than on larger cameras, and is sharp and clear with loads of data.
The finder is fine.
Shutter
Shutter pull oddly has a slight click as you press it all the way home to fire. Most Japanese cameras, like the 5D Mark III, EOS-1V and Nikons have a smooth pull, while the SL1 and this 70D have a click at the end of their travel. I don't like this click; digital LEICAs do this and I doubt it helps image sharpness at slow speeds.
Recoil is very minor, it will be easy to get sharp shots hand-held at longer shutter speeds.
Noise and Silent Modes
The shutter is quieter than the 5D Mark III in its usual mode, but not as quiet as the 5D Mark III in its "silent" mode. The SL1 is always fairly quiet compared to a 1D X.
The SL1's Silent mode isn't much quieter than its usual mode. For some reason, the silent mode of the 5D Mark III is much quieter than anything else.
Weirder still is that the SL1's silent modes work only if you're in manual or ONE-SHOT AF modes. Otherwise, they are grayed-out if you try to select them from the Quick Control screen (press the [Q] SET button to get to that screen).
Ergonomics
Amazingly, the SL1 is a plasticy toy-sized camera, and its grip feels fine in my big American hands. Often other Japanese cameras feel foolishly small, but the design of the SL1 is so clever that it feels fine, especially for shooting with one hand.
The touch screen works well, like an iPhone.
If you tap INFO once, you'll see a bunch of data, including the current time-of-day, displayed with seconds.
There is eye control for info screen; if it's displayed and you hold the SL1 to your eye, it turns off — unlike Nikon DSLRs.
The depth-of-field preview button is on the wrong side. You have to hit it with your left hand, so you can't use it while shooting with one hand.
Meter and Exposure
Exposure is good, the same as other Canon DSLRs.
Often I need to dial-in -2/3 stop in contrasty light to keep from losing my highlights.
Auto White Balance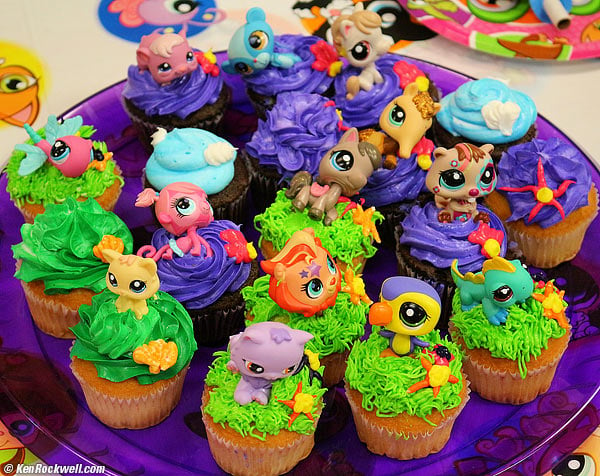 ISO 1,600: Cupcakes, 07 September 2013 — under nasty fluorescent light! Canon SL1 and Canon 18-55mm STM at 49mm, Program and Auto ISO modes set f/5.6 at 1/60 at ISO 1,600, 6 sharpening, +1 saturation, no flash. Camera-original SMALL NORMAL JPG file.
Auto white balance is quite good, maybe better than other DSLRs. I never had to set it manually, even under shade or under crappy artificial light.
Color Rendition
As expected, color rendition is superb. It matches my other Canon DSLRs when set the same way.
Sharpness
Sharpness is superb; the same as every other Canon DSLR regardless of size or format.
Here's a shot of a gate made with the kit lens. Sharp enough for you?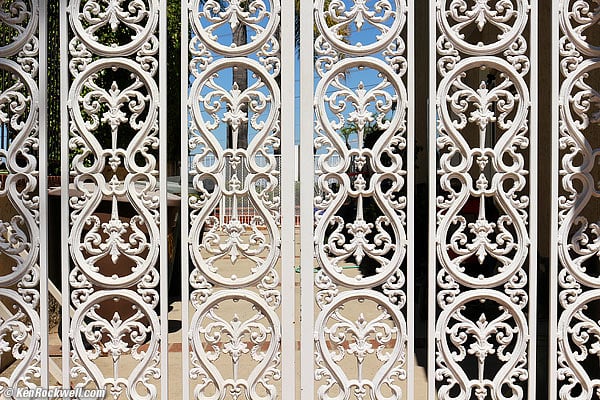 The White Gate of Unnecessary Sharpness. Canon SL1 and Canon 18-55mm STM at 34mm, Program and Auto ISO modes set f/11 at 1/400 at ISO 100, 6 sharpening, +1 saturation, no flash. Camera-original SMALL NORMAL JPG file.
Auto ISO
Auto ISO works well - except that the only adjustment is the maximum ISO. There is no way to select the slowest shutter speed; the SL1 does its own thing.
Therefore it's fine for nature and landscape photos, but for action where I need a 1/125 minimum, I have to swap to Tv mode and fix 1/125.
High ISO Performance
High ISO performance is as expected for this format of DSLR: more than good enough for any reasonable use.
At hyper ISOs it gets like film: softer and grainier, and a whole lot better than TRI-X ever will be!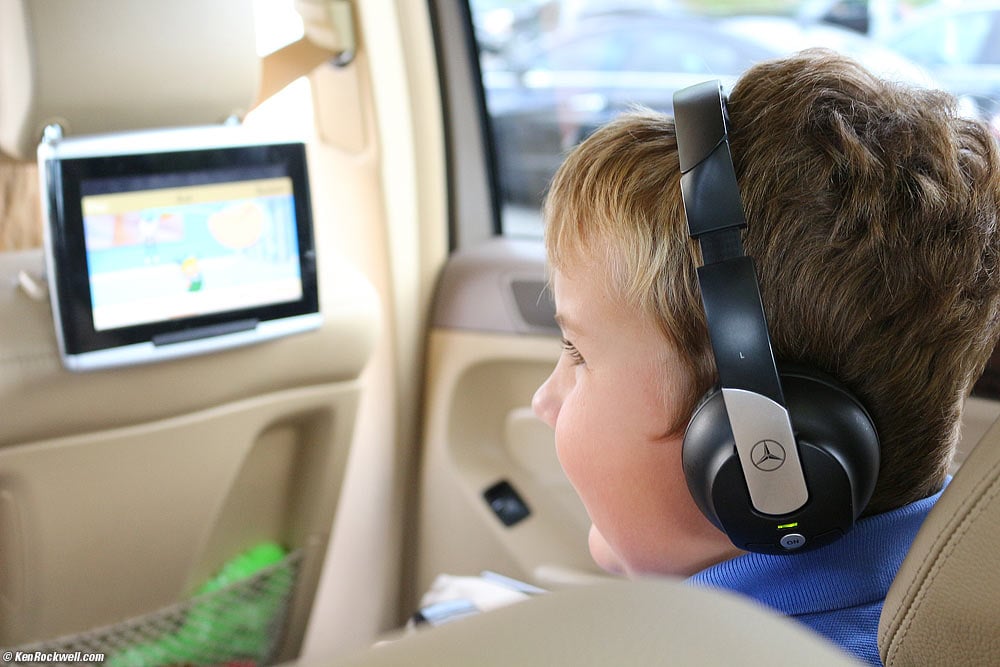 ISO 1,000: Ryan thinks the car is his personal movie theater, 07 September 2013. Canon SL1 and Canon 18-55mm STM at 32mm, Program and Auto ISO modes set f/4.5 at 1/50 at ISO 1,000, 6 sharpening, +1 saturation, no flash. bigger.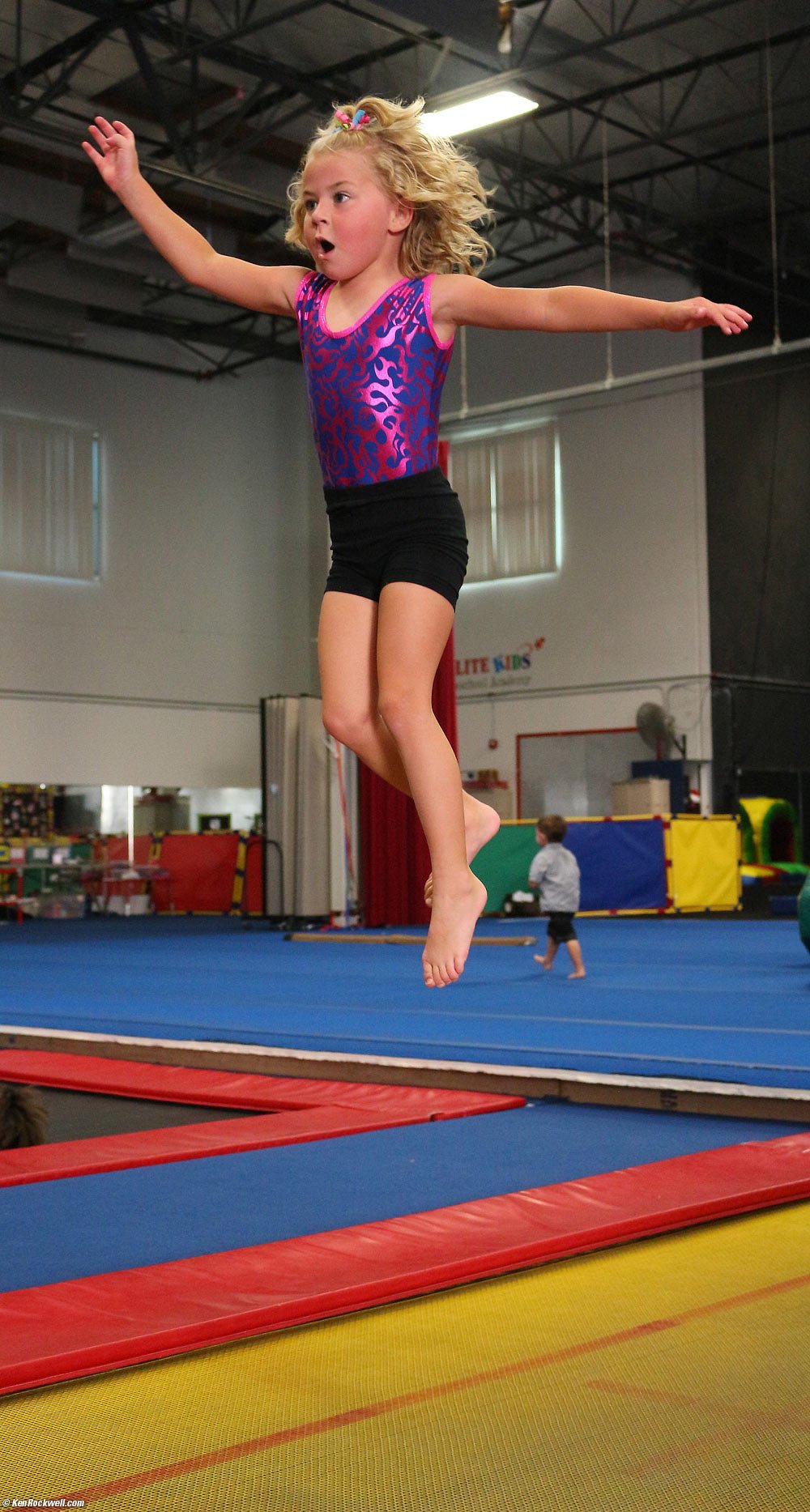 Katie flies, 07 September 2013. (cropped from Canon SL1 and Canon 18-55mm STM at 30mm, Tv and Auto ISO modes set f/5.6 at 1/125 at ISO 2,000, 6 sharpening, +1 saturation, no flash.) bigger.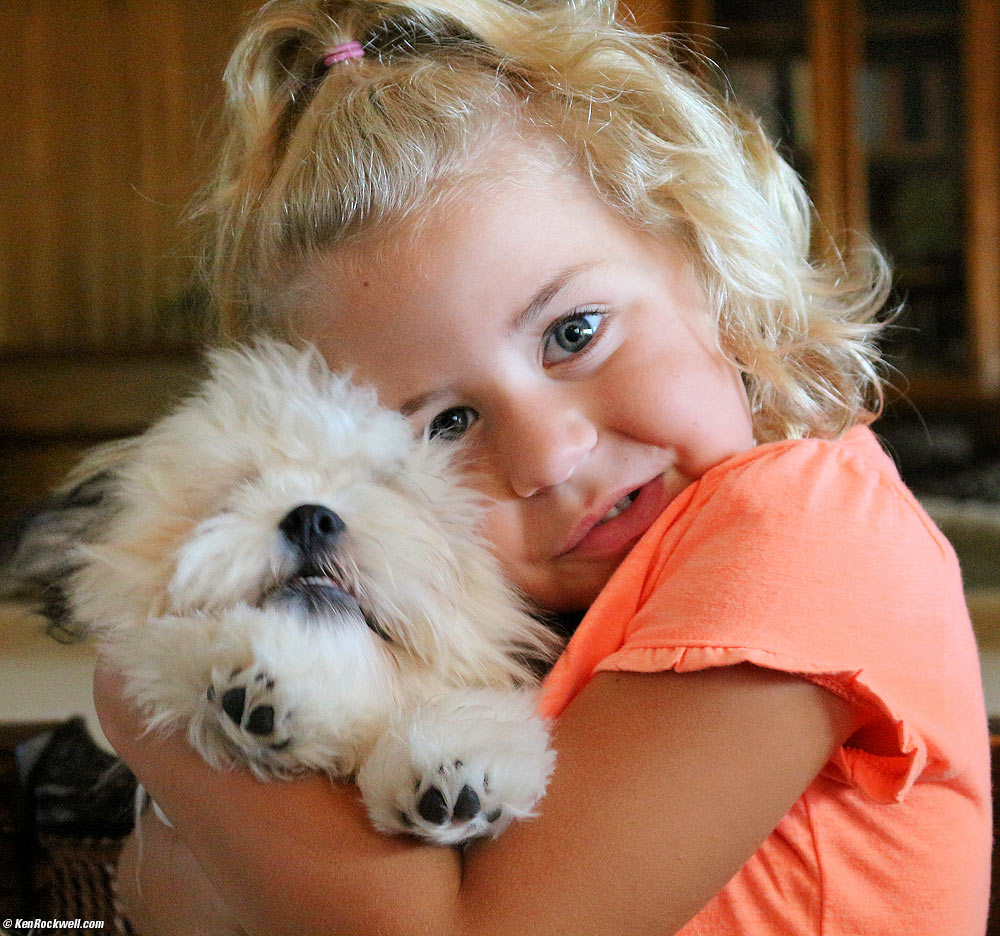 ISO 3,200: Katie and Sasha. Cropped from Canon SL1 and Canon 18-55mm STM at 44mm, Program and Auto ISO modes set f/5.6 at 1/60, 6 sharpening, +1 saturation, no flash. bigger.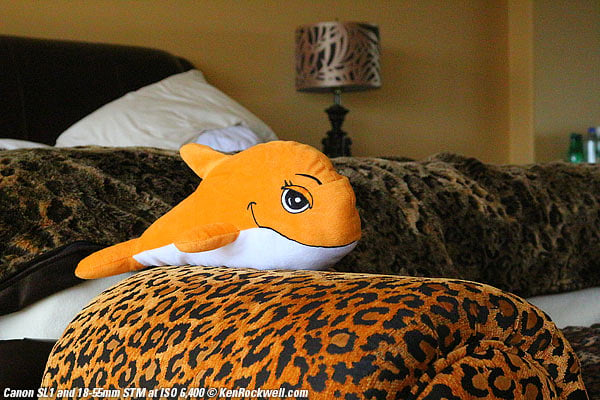 ISO 6,400, complete image.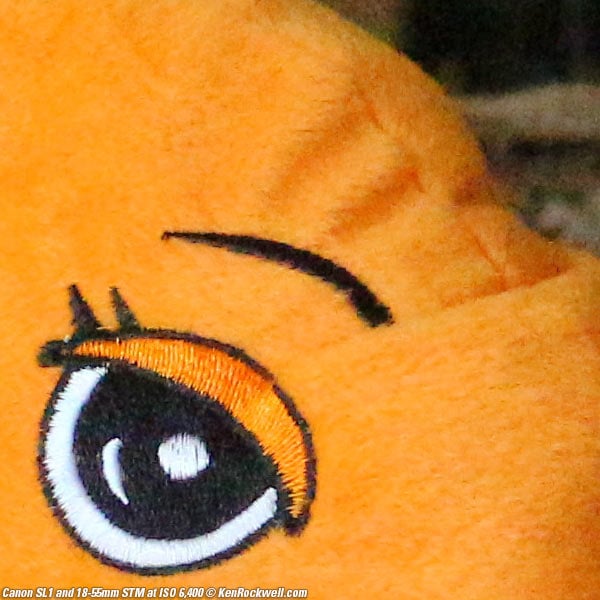 Crop from above image at 100%. If the entire image was printed at this same high magnification, it would be 52 x 35" (4.3 x 3 feet or 1.3 x 0.9 meters)!
ISO 6,400 looks good enough so that normal people won't complain.
Yes, full-frame cameras are a bit better, but ISO 6,400 is more than enough to shoot just about anything in any light worth shooting — and the SL1 can be set even higher if you need it.
Mechanics
The SL1 is well made in Taiwan, mostly of plastic, except for the metal lens mount, tripod socket and hot shoe.
Video
Video has only a mono microphone, not stereo as the better video DSLRs like the 70D have.
Video doesn't autofocus very well. Even when it gets focus, it often will hunt around.
When the camera is pointed from light to dark, it doesn't respond very quickly to correct exposure.
In dim light, there is a lot of noise in the dark sections.
Here are two direct-from-camera samples, each shot in 640x480 with the Canon 18-55mm STM. I could have shot at higher resolution, but it would take forever to download. Focus and noise problems will be even more visible in higher resolution.
Ryan, Katie and Dada ride the slide at Scooter's Jungle, 08 September 2013.
Ryan and Katie ride the slide, 08 September 2013.
The Canon 70D or an iPhone is much better for real-world family video shooting.
For instance, the iPhone 5 easily makes still shots while rolling video with silent taps to its screen (and it focuses better), but the SL1 freezes its video for a moment if you try to make a still shot while rolling!
Audio
The built-in mic is mono only. It works almost as well as the mic in the iPhone 5.
Data
No surprises, data is recorded the same as other Canon DSLRs.
Cards are titled as EOS_DIGITAL, but should be titled as "CANON SL1."
Wi-Fi
None.
GPS
None, thank goodness.
Top LCD
None, thank goodness.
Top LCDs were leftovers from 35mm SLRs.
Rear LCD
The rear LCD is brilliant. It's sharp, clear and accurate.
The touch screen also works very well.
There is no automatic brightness control.
Playback
Playback is fine, with the usual Curse of Canon locking-out review images from zooming or swapping with other images until after you press play. That's right: it's so retarded that if you press the zoom (+) button during image review, the screen goes black to spite you!
To scroll diagonally, use the touch screen. You only can scroll in two axes using the rear buttons.
Once you hit Play, it works well. You can swap between images when zoomed.
Battery and Power
The SL1 uses a different, smaller battery than the larger DSLRs.
It runs forever. I've made 912 shots on it so far, including some videos, and the first bar has just disappeared from the battery icon. Not bad for a camera rated for only 450 shots per charge!
Recommendations top
Intro Specs Performance Recommendations More
There is nothing bad about this little camera. I look at video as a joke feature (no DSLR does it well), and everything else works great.
I own and use my 5D Mark III every day, and depend on the 5D Mk III's C1, C2 and C3 memory modes to let me reset my camera instantly for my preferred settings for either family shots (C2), or for sports (C3) or for nature and landscape (C1), and on the SL1 I'm driven crazy by having to reset half the camera for each kind of shot — but the people who buy the SL1 usually don't know how or why to make these settings anyway and just use the little icons on the top dial. (more at How I set and use the C1, C2 and C3 settings on my 5D Mk III and My preferred C1, C2 and C3 settings.)
If you think you'd like this camera, you're going to LOVE it. Especially over buying a mirrorless camera, the SL1 works much faster at everything and has wonderful technical performance. The only things of value missing in the SL1 are advanced controls that save advanced shooters time to set — but there simply wasn't enough room to fit these on the outside of the SL1! You can make all the same settings, but it usually takes a few more menu clicks.
Color Settings
Personally, I set my Picture Styles to STANDARD for all shots.
I increase the Sharpening to 6 for everything.
I increase saturation to 3 or 4 for nature and landscape shots, and leave it at 0 or 1 for family and people pictures.
Lenses
The Canon EF-s 18-55mm IS STM is wonderful, and comes cheap as part of a kit. I'd get it.
The bigger 18-135 STM is great for everything, but for kid sports, you'll want the 55-250mm anyway, in which case you may as well stick with the 18-55 for daily use.
If you've found all the time, effort and expense I put into researching and sharing all this, this free website's biggest source of support is when you use any of these links, especially this link to the SL1 body at Adorama, or to the kit with the new 18-55 STM (as shown) at Adorama, when you get anything, regardless of the country in which you live. It helps me keep reviewing these lenses when you get yours through these links — but I receive nothing for my efforts if you buy elsewhere.
Thanks for your support!
Ken and family.
More Information top
Intro Specs Performance Recommendations More
Help me help you top
I support my growing family through this website, as crazy as it might seem.
The biggest help is when you use any of these links when you get anything, regardless of the country in which you live. It costs you nothing, and is this site's, and thus my family's, biggest source of support. These places have the best prices and service, which is why I've used them since before this website existed. I recommend them all personally.
If you find this page as helpful as a book you might have had to buy or a workshop you may have had to take, feel free to help me continue helping everyone.
If you've gotten your gear through one of my links or helped otherwise, you're family. It's great people like you who allow me to keep adding to this site full-time. Thanks!
If you haven't helped yet, please do, and consider helping me with a gift of $5.00.
As this page is copyrighted and formally registered, it is unlawful to make copies, especially in the form of printouts for personal use. If you wish to make a printout for personal use, you are granted one-time permission only if you PayPal me $5.00 per printout or part thereof. Thank you!
Thanks for reading!
Mr. & Mrs. Ken Rockwell, Ryan and Katie.
Home Donate New Search Gallery Reviews How-To Books Links Workshops About Contact