Home Donate Search Gallery Reviews How-To Books Links Workshops About Contact

August 2013's News Hot Deals
RSS: daily (continuous live updates)
all © 2013 KenRockwell.com. All rights reserved.

Nikon: D800 D600 D7100 Canon: 5D Mk III 6D Fuji LEICA All Ryan Katie
Recommended Cameras How to Take Better Pictures random
Twitter Facebook Video Tutorials
31 August 2013, Saturday
Canon 70D
My Canon 70D just arrived. Watch this space for more as it develops.
Great news is it takes the same battery as my 5D Mark III, so I popped in my already-charged battery and I was ready to rock!
Weekend Deals
Sony Alpha NEX-5R with Sony 18-55mm OSS: Reg $748.00 Price in Cart $439.00 with Free shipping and 4% Adorama Rewards.
Zacuto Z-Find-Pro 2.5 Optical Viewfinder: Reg Price $375.25 Coupon Price $225.25 Coupon code: S091520131 + Free Shipping Expires 09/15/2013.
G-Technology 1.5TB G-Raid Mini Portable High-Performance Dual-Drive Storage System: Was $349.00; Coupon Price $99.00 + Free Shipping. Coupon code: S091520131 Expires 09/15/2013
30 August 2013, Friday
Photojournalism Tour
Dave Wyman and Ted Soqui are running a Photojournalism Tour of Los Angeles Friday-Sunday, 13-15 September 2013.
They will also have Marissa Roth, part of a Los Angeles Times team of photographers who won a Pulitzer Prize for coverage of the 1992 L.A. riots, as a special guest.
Details and registration. (I won't be there)
NEW: Bose OE Headphones Review.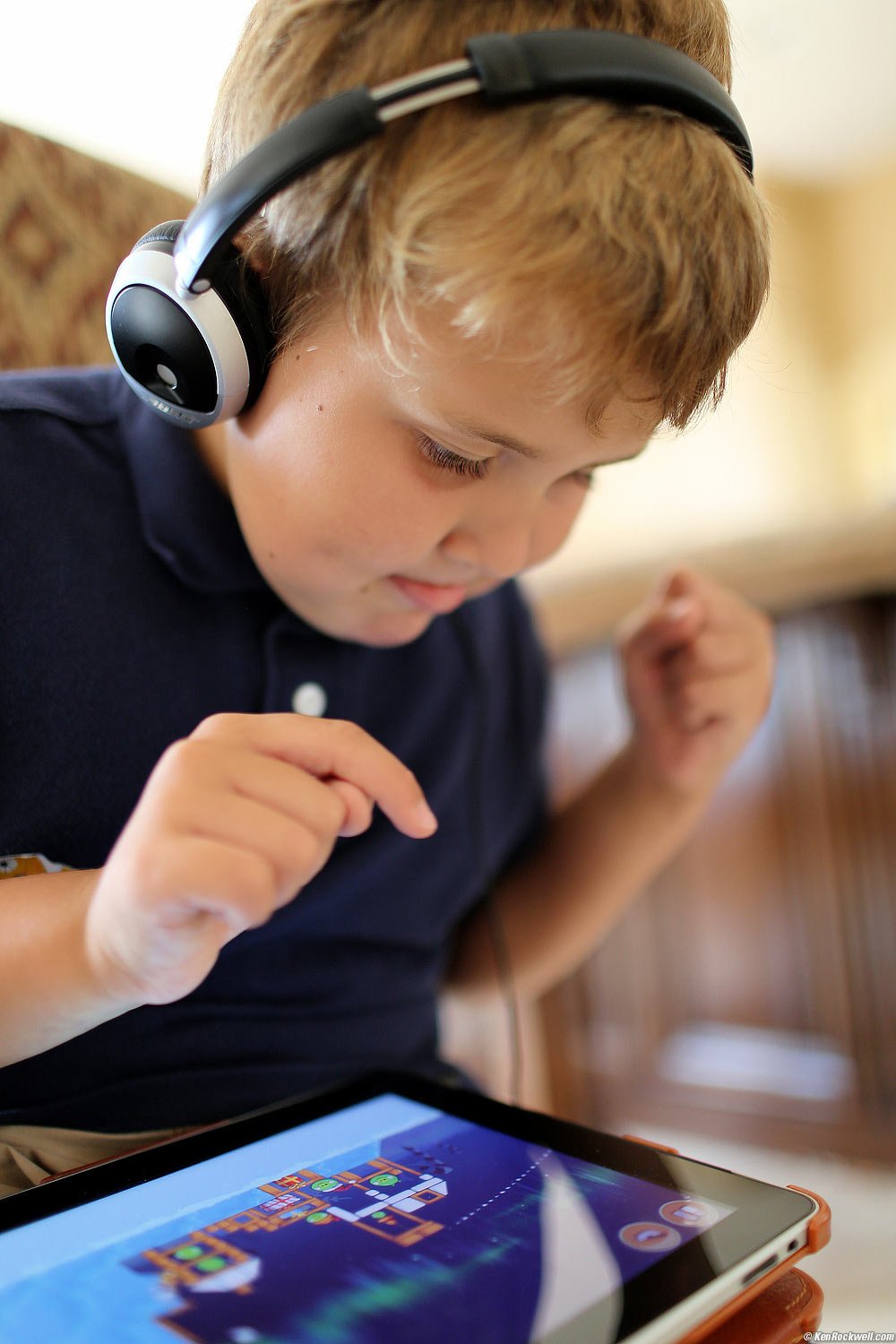 Ryan enjoys Angry Birds on Dad's iPad with Bose OE headphones. (Canon 5D Mark III, Canon 35mm f/1.4 L, Program and Auto ISO chose f/1.6 at 1/125 at ISO 320, Auto White Balance, A4 trim, small normal JPG, 6 sharpening, no flash, Athentech Perfectly Clear plug-in.)
Sorry, music-haters; I just got back from two months of vacation and used these as I traveled around, so you get a headphone review — for free!
My Canon 70D ought to be here later today, and I'm way backed up with two months of reviews and tutorials to belt out soon.
Today's the first day I've held a DSLR since June (see Ryan and Katie). All I've been shooting is my X100S, iPhone 5 and Olympus 35 SP all summer for fun. I never missed my DSLRs, and I sure didn't miss carrying all that weight!
29 August 2013, Thursday
Nikon 6mm f/2.8 220º Fisheye
Someone has a Nikon 6mm f/2.8 for sale on eBay.
The 6mm is Nikon's most useless lens. Only about 1,000 were made from 1972 through 1998. It's useless because it only makes a circle in the middle of your rectangular frame, and objects inside that circle are too tiny to be of any use anyway. It's impossible to fill the circular image with anything, since not even the sky occupies 220º. Objects are small, ensuring a weak photograph.
It makes the same kind of image as the almost-as-useless 8mm fisheye, but at 6mm, makes objects even smaller.
The 6mm f/2.8 was always expensive, but not ridiculously so. For example, it sold for $3,699 at B&H in 1988, when the 13mm f/5.6 sold for $6,995.
No one shoots with the 6mm today; it's a toy for collectors. As the joke goes among photographers: "What's the best way to take a picture with the Nikon 6mm? Sell it and buy a 105mm lens instead, and use the rest of the money to hire some models and fly to the Bahamas!"
What's it worth? Not $100,000, that's for sure. Make that guy an offer and you'll get it for what it is worth. Make an offer and get it now while you can; the instant the seller accepts someone else's reasonable offer, it's gone. If you're serious, you have to move on it now.
New Think Tank Sling/Waist bags
Think tank has a new line of TurnStyle bags, which work both as an over-the-shoulder backpack and as a waist pack. Check them out.
Also, everything you order from Think Tank ships free!
Deal Ends Saturday
When you order one of these backpacks, click and have the Camera Support Kit added for free to your order.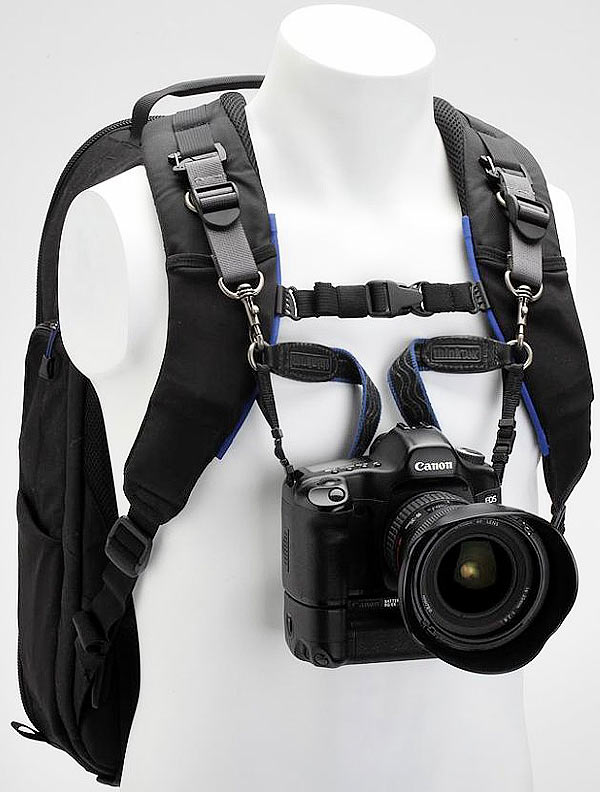 Think Tank Camera Support Kit. bigger.
The Camera Support Kit is the Camera Strap V2.0 and a Camera Support Strap (a kit worth $44.50), which shifts the weight of your camera from your neck to the backpack's frame, taking the weight off your neck and shoulders. This kit lets you attach one or two cameras to a backpack strap or a harness.
I don't use any of this myself; I use my Fuji X100S and an iPhone 5 and I'm good, but most of you guys seem to want to haul everything with you.
Also, everything you order from Think Tank ships free!
28 August 2013, Wednesday
One-Hour Sale
Good only until 2:30 PM NYC time (I'm only passing this along, I don't make the times):
Sony Alpha NEX-5R Camera Kit with Sony 18-55mm F3.5-5.6 OSS Lens, and also in silver: reg Price $748.00, one-hour sale price $489.00.
22 August 2013, Thursday
New from Canon
Canon EF-S 55-250mm f/4-5.6 IS STM: $349.99.
Canon Lens Hood ET-63: $29.00.
Canon PowerShot SX510 HS Digital Camera:12 MP, 30x Optical Zoom, 1080p, Optical Image Stabilizer, WiFi: $249.00.
Canon PowerShot SX170 IS Digital Camera, also in red: $179.99
Canon PowerShot S120: 12 MP, 5x Optical Zoom, 1080p, WiFi: $449.00.
Canon PowerShot G16: 12 MP, 5x Optical Zoom, 1080p, WiFi: $549.99.
21 August 2013, Wednesday
The best costs less
Visiting my mom, the battery in her 2006-era MacBook needed replacement for mechanical reasons, even though it still worked great after all these years. (Oddly, a website from which I needed to print wasn't working on her new junk HP laptop, so we pulled out her old MacBook and it worked perfectly.)
I won't shop retail, but since the Apple store was closer than trying to figure out which battery to order online, I popped over. We didn't even bother to turn off the MacBook properly, and just popped out the damaged battery while the MacBook was sleeping. I was immediately shown the correct battery sitting over on the shelf.
A few minutes later I had my new battery. I walked out to the parking lot and popped it in to be sure it fit.
Heck, I expected for the MacBook to have to boot up, but no!
I popped the battery into the empty hole in the bottom of the MacBook, flipped it over and lifted its cover, and it already showed mom's usual desktop with a progress bar, and in just a second or two it came back up right where it was - without even needing a battery all that time! It's running OS 10.4.11 from about 2007.
Wow, mom's ancient MacBook with no battery at all wakes from sleep ten times faster than a brand-new KIRAbook plugged into the wall!
Goodness, a bottom-model six-year-old laptop, and it's still working so much better than a top-end top-brand $2,000 high-resolution photo-optimized windows laptop — whose screen isn't even as good, as accurate, as bright or as uniform as my first-generation iPad.
The moral of this story is that the best always costs less — long term. Sure, mom's MacBook still runs circles around a new $2,000 windows laptop, but too many people only think of price, not cost over time.
You always can buy junk laptops for less than Apple. They don't run as well when new, and after a year or two they get buggy, slow down, and need replacement. Of course Apple laptops cost more — because they are worth it — and over time, they cost less because they outlast several cheap laptops.
When I dig through the local electronics garbage bin, it's loaded with windows PCs a couple of years old - but almost never with any Apple computers of any age.
Mom's 6-year old MacBook still runs like new, as does my 9-year-old bottom-of-the-line 12" MacBook. Sure, each cost us about $1,000 at the time, but if I had bought a "less expensive" junk laptop (or even a more expensive windows laptop) back then, unless I was a computer technician myself, it would have been replaced several times over, at a greater cost than just buying a real MacBook. Heck, if I was a PC wizard who knows how to keep a windows PC running, it still would have cost me more in time trying to maintain a Windows computer than just buying an Apple that just goes.
As always, the moral is always to get the best where it matters. You don't need the fancy version; we always get the cheapest version of the best brand to get the basic quality, and it costs us far less over time.
This applies in everything. My newest car is a 12-year-old Mercedes that cost me less used many years ago than millions of others pay for new Taurus and Camrys, and my used Mercedes runs better and costs no more to maintain than a normal car. It saves me money.
While digital cameras are disposable, lenses are a long-term investment. Paying more to get the best always pays off, even if you don't earn your living with your photos. Heck, when you buy really top-end lenses, they usually go up in resale value over the years and decades, and long-term, make you money!
Oh yes — mom's tangerine iBook from about 1999 is also still working perfectly. Its battery ought to be replaced too, but we just haven't bothered yet.
When you're buying something that you'll use over time, quality is always more important than price. Too many people can't think more than a year ahead, so they're always years behind.
20 August 2013, Tuesday
Canon 70D
I just got back from a special visit to Canon's new USA headquarters, and got my hands on a pre-production Canon 70D.
Its big pitch is "Dual Pixel AF," and in actual use, it really does allow smooth autofocus without hunting while rolling video.
The most important thing along with smooth AF is that you simply tap the live-view LCD to pull focus from one subject to the next. Tap a face and it focuses there, and tap another face (or the object of a conversation) and it focuses there. Once something gets tapped, it does its best to track it in and out, up and down and left and right as it moves around.
Technically, I finally saw some diagrams that show the big deal about what's clumsily called "Dual Pixel." Canon really does have a sensor with some depth in the sensor wells so that it can detect focus directly from the optical 3D image for live "phase-detection" AF, as opposed to having to analyze the image from the sensor for "contrast" AF.
I didn't get much time with it, and from what I could see, it does have smooth video AF under reasonably sane conditions. I didn't get to try it during complete craziness, like a kid's birthday party, but from what I did see, even if it can't focus on everything instantly, it ought to be the state of the art in DSLR video AF today. DSLRs have much larger sensors than camcorders or iPhones, so they have to move much bigger optics inside much bigger lenses much further to change focus. The 70D's video AF does track moving objects, and like all AF systems, it has its limits as to just how close you can get how fast before it loses lock. Camcorders and iPhones have their limits. The 70D should be a big hit for shooting video.
Canon's New Customer Service Center
Also at Canon's new USA headquarters in Melville, Long Island, NY is a new customer service center. They are new and their hours will vary as they get established, but they're open from about 9 AM - 4 PM now and you can walk in and get help with any of your Canon goodies.
They'll send your products out for service, or take all the time you like to answer your questions about how to use your camera.
They are on the southwest side of the Rt 110 exit from the 495 on Walt Whitman road. The funny part is that they are only a half-mile south of Nikon USA's building on the same street on the other side of the 495!
19 August 2013, Monday
Zoom lenses for the Fuji X100S
Readers are always asking how I handle having "only" one fixed lens on my Fuji X100S.
Well, fixed lenses take better pictures than zooms, and I simply walk around to get the framing I need. Zoom lenses are mostly a crutch for selling to people who don't know how to zoom with their feet — and I use the fast f/2 speed of the Fujinon ASPH lens every day.
Even if you can't zoom with your feet, no problem. The X100S has so much sharpness and resolution that it's trivial to crop the image to the equivalent of a 105mm lens and still have more than enough resolution for anything.
If you want wide, no problem again: I use the swept panorama mode for 21 Megapixel 180º images with less distortion and therefore more resolution than my Nikon 16mm fisheye on my D800E! Nikon's 16mm AF fisheye isn't that sharp; the old 16mm f/3.5 manual focus is actually a bit sharper, but not by that much.
Another Lesson from a Master's Picture
You never can learn anything of great substance from the Internet. Sure, you can recall unlimited figures and shallow numeric specifications, but to learn about anything in depth, you have to be there. Numbers mean nothing. In-person experience is everything.
I feel like I'm FARTing in a hurricane trying to make my points online about how resolution and bit depth mean absolutely nothing to photographers. The only thing that really matters is how the pictures look, which requires experience and seeing pictures of real things. Reviewing specifications online or looking at test charts tells us nothing of value about how well a camera works or how good a picture looks.
I just finished seeing a great picture, Trouble with the Curve, starring and produced by a master, Clint Eastwood. This picture makes my point far better than I ever will. See it if you can.
Specifications have nothing to do with what's important, and what's important isn't specified because it's too subtle and too abstract for consumers to understand. For instance, TV makers now have all the stupider people flustered with refresh ratings measured in Hz, while TV, DVD and Blu-Ray pictures have never exceeded 60Hz. The only reason for "100 Hz" TVs was in the 1990s because 50 fields-per-second PAL European tube CRTs TVs used to have visible flicker due to the 25 Hz frame rate that double-scanning 100 Hz engines eliminated. Plasma and OLED and LED and LCD TVs are completely different and have never had a problem with flicker anyway. Same thing for 4K: Blu-Ray and HDTV stops at 1080p; there is no 4K programming available to the consumer and it's not visibly better for actual shows than HD done right anyway. It's just that when marketing to boys and men, one needs a single number, like megapixels or watts per channel, to give them a ruler.
Subtle nuances are often the most important thing, and you only can see those if you're there, and have the experience to understand them.
17 August 2013, Saturday
DEALS: Canon 50mm f/1.2 L: $1,299 (reg. $1,499): Use Coupon Code S123456789 during check out for price, Free Shipping and 2% rewards.
CANON 5D Mk III with 24-105L: $4,099.
Canon 5D Mark III with Canon 24-105L and Samsung Series 7 Windows Tablet: $4,399.
(more on the Samsung Series 7 XE700T1C ATIV Smart PC Pro 700T Slate Tablet, reg. $998 before rebates.)
Canon SX50 HS 12MP, 50x Optical Zoom, 24-1200mm eq. stereo HD: Reg. $429, Sale $329. Use Coupon Code S123456789 for price and includes free shipping and free Canon calculator.
Canon SX280 HS 12.1MP, 20x Optical Zoom, 3.0" LCD in black or in red: reg. $329, hit the "Buy together and save" option to add a magic free calculator and the price drops to $259!
Asus MeMO Pad 7" Android 4.1 Tablet Computer, VIA WM8950 1GHz, 1GB DDR3 RAM, 16GB Flash, 1MP HD Sensor Camera, Gray: reg $119.99, sale $99.99, expires 08/20/2013. (not sure how you get the lower price.)
16 August 2013, Friday
DEAL: Nikon D600 Digital Cinema Deal.
It includes a whole bunch of DSLR video acessories like a 3x viewfinder loupe, clapboard, wireless adapter, 32GB card, zoom lever ring and pro mic essentially for free along with the price of the camera and lenses.
DEAL: Refurbished Nikon D600 for $1,589!
12 August 2013, Monday
NEW: Easy Money.
eBay has a new easy-selling section.
I just was about to throw away an old Nokia N95 phone that I never could figure out so I never used it, and looking up what people paid for them over eBay out of curiosity, I clicked the Sell One Like This link, and it was so simple.
My buyer paid me less than 24 hours after I listed it, opting for the buy-it-now option. Whoo hoo!
I owe you a How to Shoot Photos for eBay article. Tips: I used my Fuji X100S because of its great macro mode, showed every possible view of my item, and selected the best 12 shots since we get 12 shots free in the listing (use them all!). I cropped each as tight as I could so the item would be as big as possible, and resized each with the longest dimension at 1,600 pixels, since that seems to be eBay's default.
I put those 12 JPGs in a folder, and it was trivial to point to them in the process of listing my item. I didn't even bother going in my studio, I just held the item in my hand. Tip: unless you're a professional hand model, only hold items in white gloves for photos.
See also How to Win at eBay (mostly for buying), and my one short page on How to Sell on eBay.
OLD: So Hating my Fuji X100S.
Look at the awful shots I get, just pointing and shooting my X100S about 10 minutes after the sun went down at my usual default settings (Program, Auto ISO, flash ON, auto White Balance, auto Dynamic Range):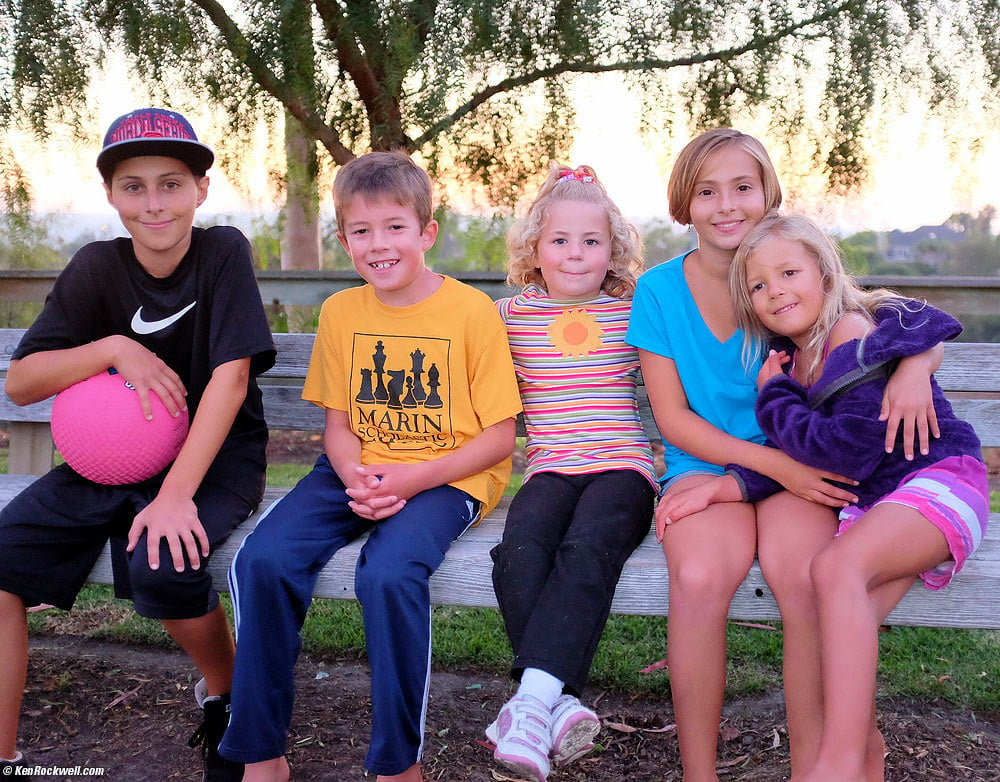 Katie at the park with her new friends. Fuji X100S, SMALL NORMAL JPG, f/2 at 1/125, flash ON, Athentech Perfectly Clear plug-in. bigger or Full-resolution small JPG © file.
I also added another sample of a fabric shot at the bottom of my Fuji X100S Macro Performance section, and a shot of the bizarre way I attach filters at my Fuji X100S Accessories section.
Oh yeah — this shot is made after sundown; my X100S automatically grabbed ISO 5,000. Pretty decent, eh?
OLD: So Hating my iPhone 5, too.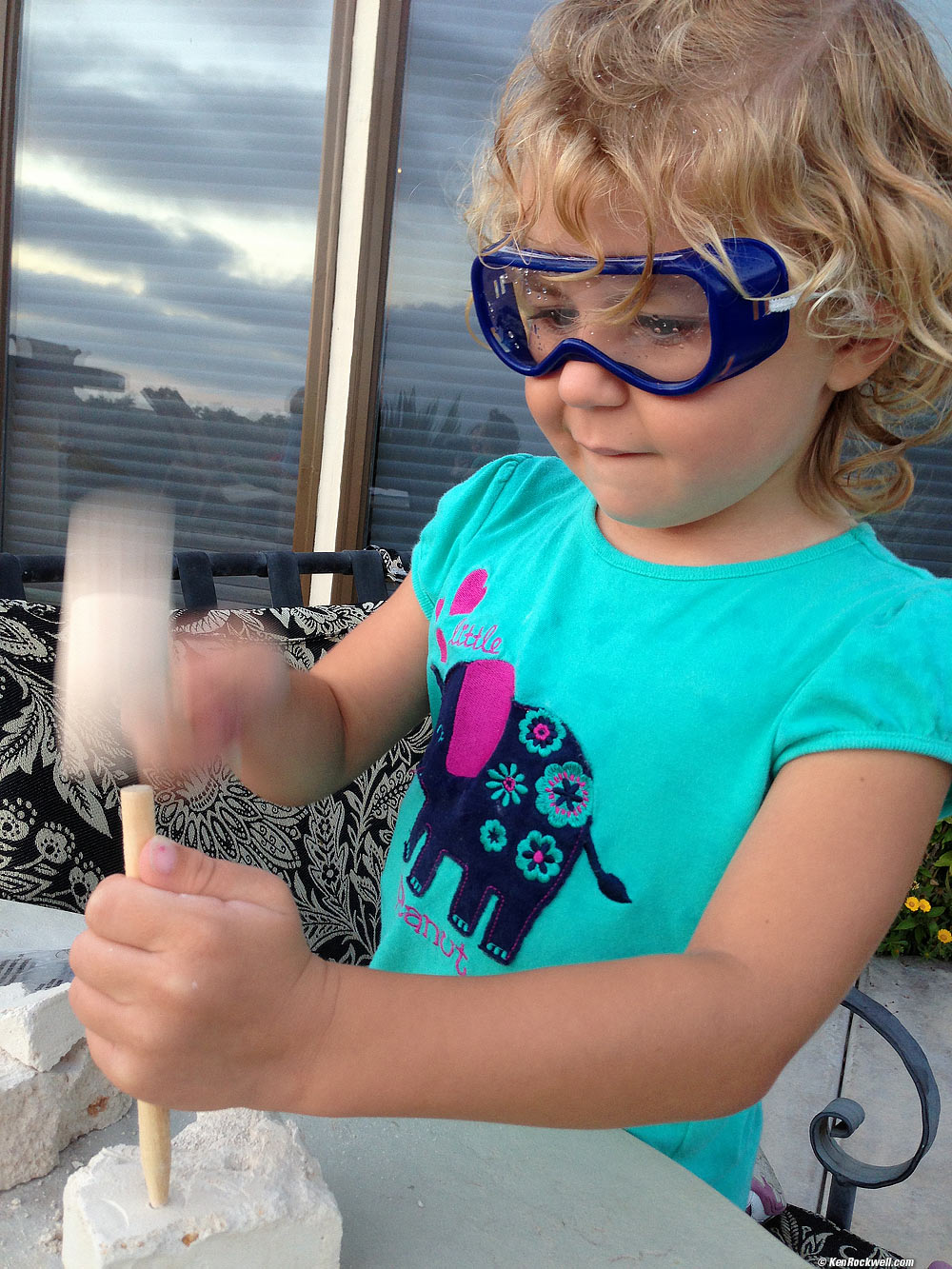 Katie chips away at her Smithsonian Rock and Gem Dig. (iPhone 5, f/2.4 at 1/30 at ISO 50, Athentech Perfectly Clear plug-in.) bigger.
The trick to the iPhone is that it takes the picture the instant you remove your finger from the button (thanks Curtis)!
Hey, it's summertime — no time to be lugging around my DSLR while the kids are off having fun. I do have a Canon SL1 here for review, and the tiny thing works great, but you'll have to wait a little bit for me to get to writing it all down.
09 August 2013, Friday
NEW: How to Shoot Film.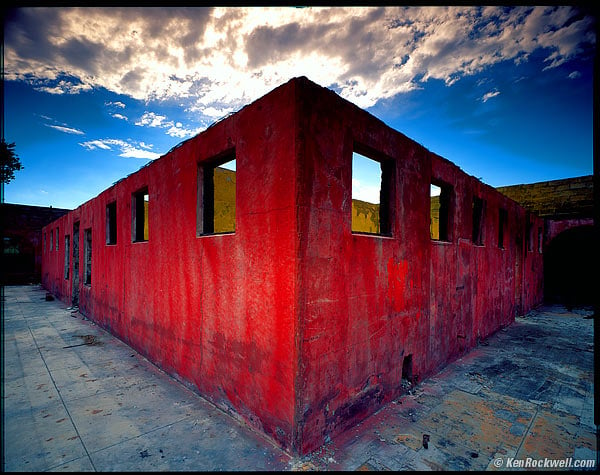 Ruin, San Diego County, 28 July, 1996 shot on 4x5" Fuji Velvia 50. bigger. tech details.
Finally, a useful article for a change.
I have to laugh. When I started this site in 1999, film was all we shot. No practical DSLR had ever shipped, that wouldn't be until Christmas of 1999 for the Nikon D1. "Digital" photography meant scanning your slides.
This was never some "digital camera" website created by some greasy hacker. This site was created to show my work, and share whatever tips I happened to write down for the benefit of other serious photographic artists — but mostly so I could find them again myself.
This entire site has always been about shooting film, so it makes me giggle that this site's been around long enough that there are kids today who've never even taken a real photograph.
All the digital camera stuff is in response to your requests, and therefore as film's popularity continues to explode, I finally wrote How to Shoot Film for those who've asked.
Enjoy!
08 August 2013, Thursday
Free Shipping from Think Tank
Think Tank tells me that they now are going to offer all of you free shipping on on anything you order, no minimum.
Whoo hoo!
Junk Brands?
Some people asked why I'm so hot on the new Tokina 12-28mm if I'm so down on junk brands.
Tokina is not a junk brand. Tokina is part of Hoya, the world's largest maker of optical glass. No one will go on record for obvious reasons, but my sources tell me you'll find some Hoya glass in lenses made by every top-tier (LEICA, Canon, etc.) maker. This is obvious; if you're a lens designer, Hoya makes types and grades of glass you can't get elsewhere.
Decades ago Nikon and Minolta used to brag about how they made all their own glass in their own factories, but they haven't claimed that for a long time because they buy plenty of glass — maybe all of it for all I know — from elsewhere today. They never talk about this today, so we can surmise what we like.
Hoya makes the world's best filters. The Hoya HD2 series stays cleaner than other filters so I rarely have to clean them, and they resist breakage and use thinner, tougher glass to save space. No one else does all of this at any price. I've seen claims of "hardened coatings" by others, but what matters is hardened glass for toughness. In the past, Hoya HMC filters were my favorite; they had top-notch performance at low prices. What do you expect from the world's largest supplier of optical glass?
Tokina's lenses perform well, and are built tougher than other third-party lenses. I have never considered them junk, even if they are third-party. Heck, for the past 12 years or so, they are often built better than camera-brand lenses! I remember in 1999 when I bought my first sample of Nikon 80-200/2.8 AF-S and it has polishing marks on some internal elements. So did a couple of other samples, so I had to hand-pick one that was OK. I looked at Tokina's 80-200/2.8, and it had none of that problem, and was also built out of all metal while the hot-rod Nikon used plenty of plastic.
Lesson learned from buying Nikon back in 1999: my 80-200 AF-S is still worth more used than I paid new. Always buy the best lenses you can.
And even if you prefer to shoot with a junk brand, so what? I shoot with junk cameras, too. Any crappy lens can make fantastic pictures; your equipment never matters. Since I do this for a living, the cost of my equipment doesn't matter to me; I need the best.
In the case of the Tokina 12-28mm I just reviewed, it performs superbly, and it feels more sturdily built than either of Nikon's or Canon's newest DX ultrawides, and the Tokina is made in Japan, not offshored to China like Nikon's 10-24mm. Who's a junk brand now?
Fuji X100 and X100S Accessories
My Hoya HD2 UV 49mm filter for my Fuji X100S is fantastic. Not only have I had no problem with ghosts, it really doesn't get dirty. Even if I put my thumb on it, no fingerprints stick!
Not everyone wants to use an empty 49mm Tiffen filter as an adapter ring, so I took two for the team and bought one of the JJC Fuji X100S Filter Adapter (silver, $15) and one of the EZPhoto X100S Adapter (black, $9). Each is a filter adapter and a hood, and each is all metal. (Forget paying $80 for Fuji's equivalent LH-X100, I doubt it's any nicer than the $15 JJC.)
The $15 JJC Fuji X100S Filter Adapter is swell. It's well made, dull black on the inside and silver on the outside to sort of match the X100S (all these adapters work on both the X100 and the X100S). This adapter is well machined and works fine.
The $9 EZPhoto X100S Adapter feels like junk by comparison. While the $15 JJC Adapter comes in a nice box, the $9 EZPhoto Adapter comes in a plain white box, and is all black, not matching the camera. Worst, the EZPhoto Adapter feels rougher and grittier, especially when attaching either the filter adapter to the camera or the hood to the filter adapter.
Each works as well and is all metal and the same size and shape, but the hoods don't quite interchange between them. The filter adapters are useful for anyone lacking a spare empty 49mm filter ring, and each of the hoods bayonets the same way.
I'd not use the hood; it doesn't do much and just makes the camera longer. The hood does block the optical finder a bit, and also blocks the flash a bit, and since the lens has no problem with flare, I don't use the hood.
I use the JB Camera Designs Made-in-USA half case. It protects the camera and has holes for the battery, SD card and speaker. My JB case won't come off until I get another camera. (The $130 Fuji case may be nice, too.)
I use the genuine MADE IN GERMANY LEICA strap. It's perfect for cameras this size. I leave Fuji's strap in the box for resale time. Sure, the German LEICA strap costs more than $2, but you'll be using it long after you've forgotten about the X300 in 2018.
I'm still using the cheap no-name NP-95 batteries I bought over eBay 2 years ago. They only cost me a few dollars for a set of two with a crappy charger. I've never used the crappy AC/DC charger, and the batteries only have about 2/3 the capacity of the real Fuji NP-95, but so what: for $10 they work great, and have lasted two years with no degradation. I always carry a spare in my pocket; Fuji's battery meter is of little help.
I use no external flash. Why would I want to crap-up my camera with more junk I don't need? The built in flash is flawless.
I certainly use no WCL-X100 accessory lens. Why would I want to crap-up my brilliantly simple camera with more junk I don't need just to get the equivalent of a 28mm lens — which is essentially the same thing as the 35mm lens? Geeze, what are some people thinking? Worse, messing with and carrying that thing would make no sense and would block the optical finder.
I use no tripods. They went out with Kodachrome 200 back in 1986.
I use no screen protector. All they do is make the tiny LCD less clear, and you have to realize that digital cameras are disposable. In a year or two I'll trash my X100S in favor of an X150 or X200 or whatever, and my LCD isn't getting scratched anyway. Fuji uses good plastic.
So please resist the temptation to accessorize something beautiful like an X100 or an iPhone with garbage like it's some kid's DSLR. The beauty of these wonderful cameras are precisely their simplicity and not needing any other bupkis to get in the way of a great photo.
06 August 2013, Tuesday
NEW: Nikon 18-140mm DX VR.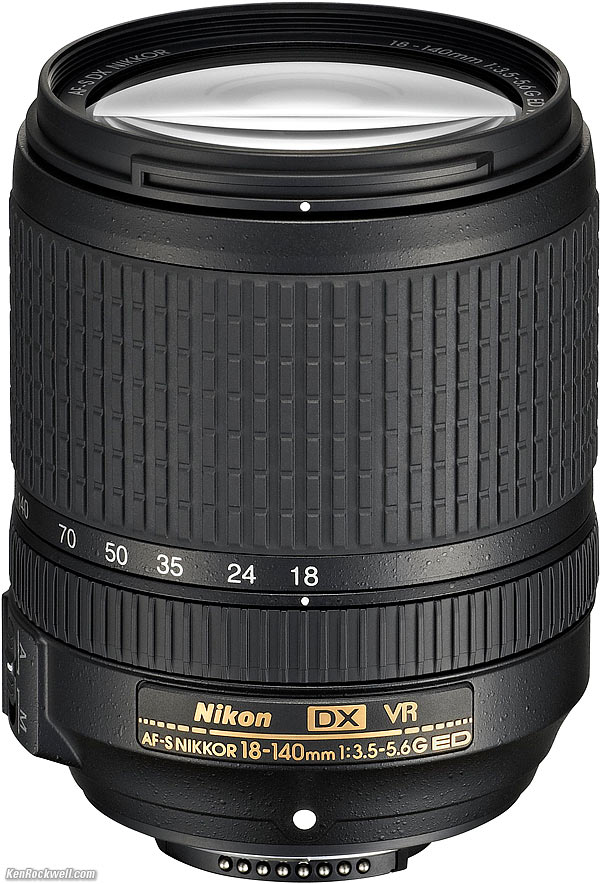 Nikon 18-140mm VR DX.
$596.95 and receive 2% rewards.
NEW: Nikon SB-300 flash.
$146.95.
NEW: Nikon Coolpix L620, also comes in red.
14x optical zoom, 18MP, 3" LCD, $246.95.
Yawn, a point-and-shoot. I'll keep my iPhone and X100S.
NEW: Tokina 12-28mm Full-Frame Sample Images.
You asked, so here you go: 36 megapixel images from the DX Tokina 12-28mm at 18mm and 28mm — on full-frame.
03 August 2013, Saturday
NEW: Tokina 12-28mm Review.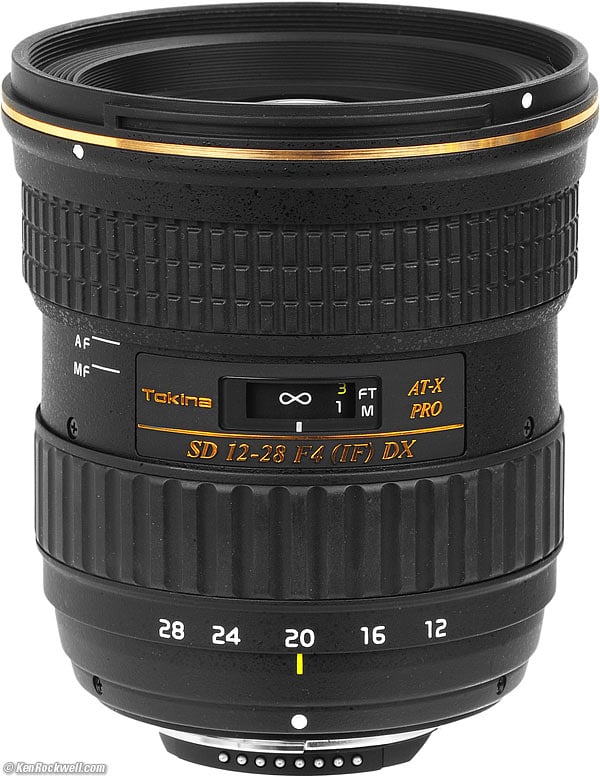 Tokina 12-28mm f/4 DX.
This Tokina 12-28mm is a complete winner. It's unsurpassed optically and built tougher than Nikon or Canon's DX ultrawides.
What Was New in:
Help me help you
I support my growing family through this website, as crazy as it might seem.
If you find this as helpful as a book you might have had to buy or a workshop you may have had to take, feel free to help me continue helping everyone.
If you've gotten your gear through one of my links or helped otherwise, you're family. It's great people like you who allow me to keep adding to this site full-time. Thanks!
If you haven't helped yet, please do, and consider helping me with a gift of $5.00.
The biggest help is when you use any of these links when you get anything, regardless of the country in which you live. It costs you nothing, and is this site's, and thus my family's, biggest source of support. eBay is always a gamble, but all the other places always have the best prices and service, which is why I've used them since before this website existed. I recommend them all personally.
Thanks for reading!
Ken
Home Donate New Search Gallery How-To Books Links Workshops About Contact