Home Donate Search Gallery Reviews How-To Books Links Workshops About Contact

January 2013's News Hot Deals
RSS: daily (continuous live updates)
all © 2012-2013 KenRockwell.com. All rights reserved.

Nikon: D800 D600 Canon: 5D Mk III 6D Fuji LEICA All random Ryan Katie
Recommended Cameras How to Take Better Pictures
Twitter Facebook Video Tutorials
29 January 2013, Tuesday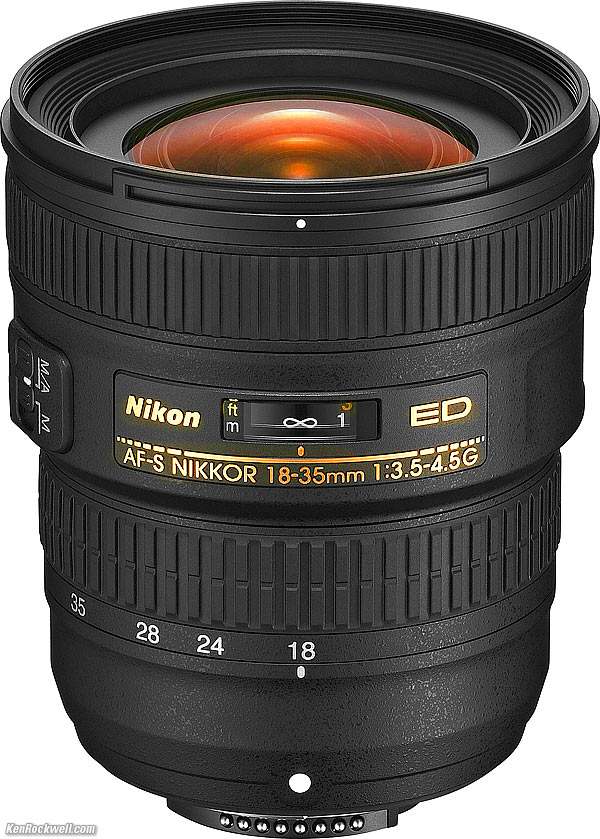 Nikon 18-35mm f/3.5-4.5 AF-S G.
NEW: Nikon 18-35mm G.
An update of the original 18-35mm AF-D.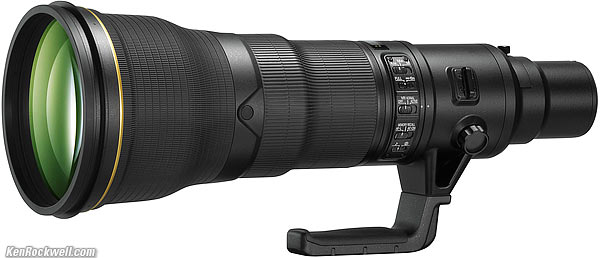 Nikon 800mm f/5.6E FL VR G.
NEW: Nikon 800mm f/5.6 FL.
I have to laugh; for the same $17,900 Nikon asks, you can get the real Canon 800mm lens and a professional Canon body to use with it — and the 1D X is much better than the D4.
Pros don't buy these lenses. Nikon and Canon's pro support programs loan them out for free at sporting events hoping TV viewers see more black or white to influence consumers. Therefore, don't take any of the prices that seriously. Nikon and Canon probably take a loss on the sale of each of these lenses, considering the small quantities sold. They are created mostly for bragging rights, like the unbeaten Nikon 13mm f/5.6.
NEW: iPhone 5 Audio Quality.
NEW: Apple iPod Touch 5G Audio Quality.
These are completely rewritten from last week's preview, the iPhone 5 and iPod Touch have great audio quality for serious music enjoyment.
Each of these items is just about perfect: what's on your CD is what comes out of the iDevice after iTunes encoding, even for ultra-high-end listening — if you know what you're doing. In fact, the iDevices are truer reproducers than most pro or audiophile gear!
25 January 2013, Friday
Canon 6D Deal: It's usually $2,100, but add it to your cart here and it's only $1,899!
AGAIN: Film Deals.
NEW: Nikon S3 Review.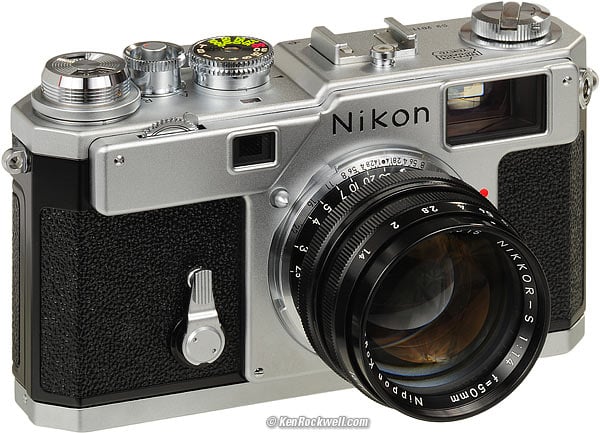 Nikon S3 and NIKKOR-S 50mm f/1.4 (Year 2000 Edition).
Here's a review of something Nikon does right: real cameras.
Unknown to most Americans, Nikon in 2000 and again in 2005 reintroduced two of its classic 1950s its rangefinder cameras, and made a limited run of them brand-spanking-new.
Not only did Nikon once again make rangefinder cameras, it made the new ones even better than the originals, while LEICA has never been able to replicate its 1950s cameras or their quality.
Today, the S3 is a screaming deal if you want to buy a new rangefinder camera, and proves that Nikon can do anything it sets out to do. The S3 with the fantastic lens below can be bought new for less than I paid for my plastic D600 body-only!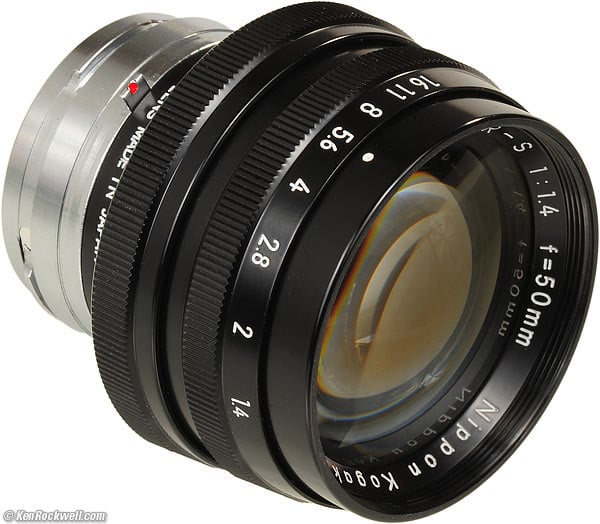 NIKKOR-S 50mm f/1.4 (Year 2000 Edition).
NEW: Nikon NIKKOR-S 50mm f/1.4 Review.
Nikon's best 50mm f/1.4 lens ever.
24 January 2013, Thursday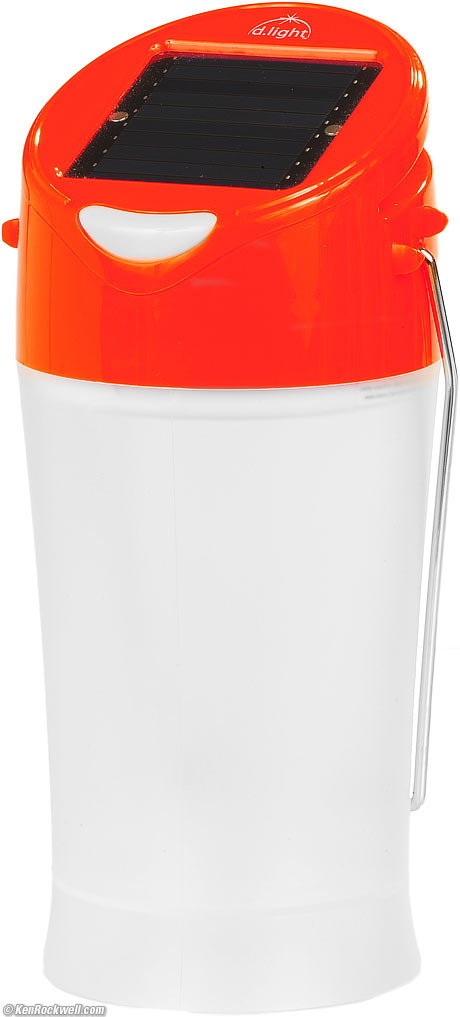 d.light S10.
NEW: d.light S10 Review.
This is a great little solar-charged lantern that will run for years with no need for batteries or electricity, and makes enough light to live by each night.
But what if the image sensor is so great?
Many technicians confuse arbitrarily measured "naked sensor performance" of a camera with that camera's ultimate image quality.
Image sensors alone have very little to do with final overall image quality, and nothing to do with ergonomics.
Sensors are measured in labs under controlled conditions: fixed standard lighting and fixed white balance settings. When we shoot, we shoot in real, variable light and usually with Auto White Balance. Raw sensor data means nothing under these conditions, where the camera's abilities, or disabilities in guessing correct white balance, will mean everything to the final image's color balance.
Likewise, raw sensor measurements mean nothing to photographers (although they fascinate technicians), since none of the camera's other image processing abilities, like noise reduction and contrast manipulation and color matrices and characteristic curves are taken into account.
Of course the only thing that really matters is the artist's vision, but even if we ignore that most important part, dweebs with zero artistic credentials measuring just one very small part of the image chain (the raw sensor) aren't helping us.
As I've said, minutiae like shadow noise or claimed "dynamic range" means nothing outside the vacuum of a lab; you have to take the camera out and have it shot by a virtuoso to get any useful data. The problem of course is that any technician, or pretend technician, can spew out a load of impressive-looking data, while the guys who know how to shoot are too busy shooting meaningful things to stop and piddle with camera reviews.
21 January 2013, Monday
Mini-Rockwell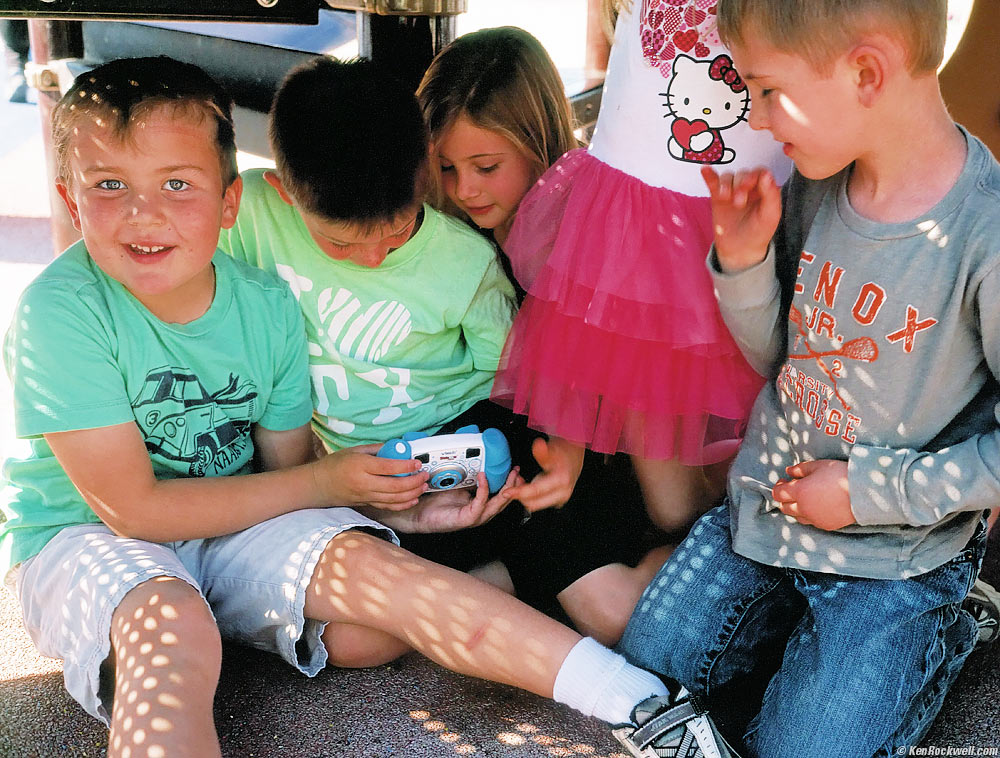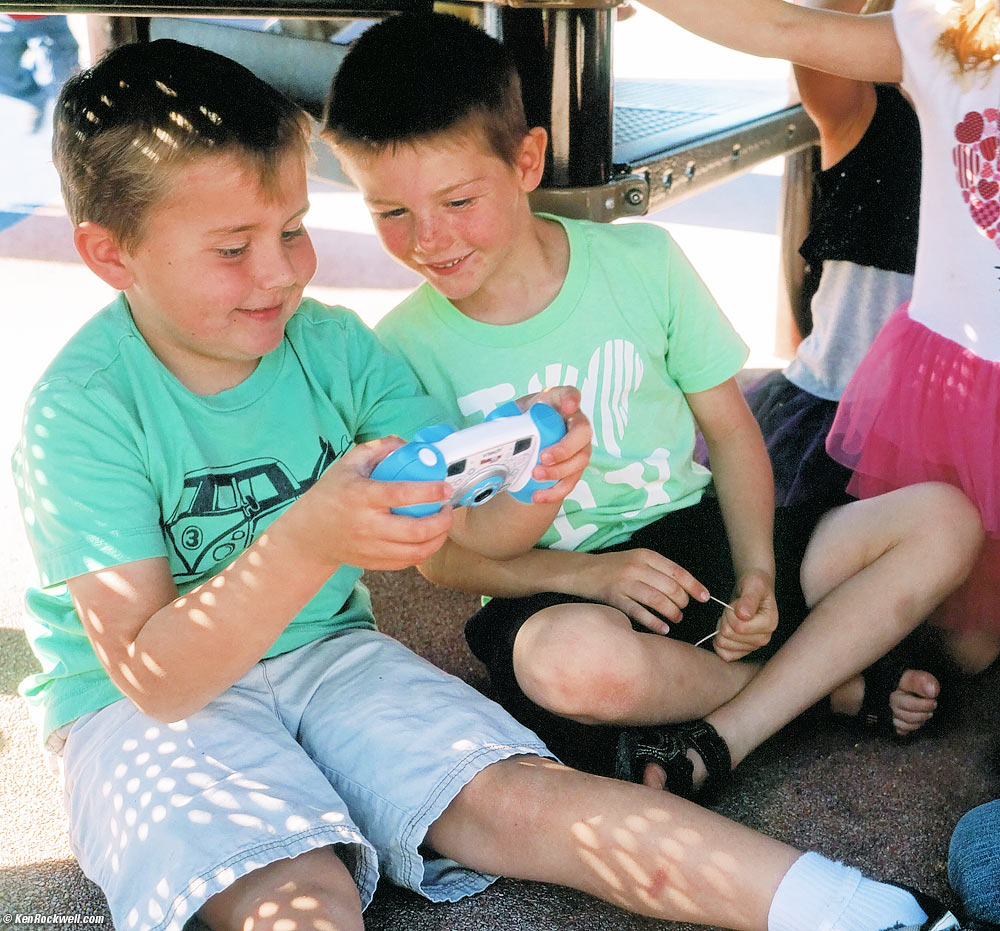 Ryan and his VTech 1227 at the park. (Nikon S3 - Year 2000 Edition, 1957 Nikon W-NIKKOR•C 3.5cm (35mm) f/1.8 with 43mm Hoya 81A, 1/60 at f/4 at 3.8 feet, Fuji Velvia 50, NCPS process and scan, Athentech Perfectly Clear plug-in, saturation reduction and tweaking in Photoshop CS6, second two shots cropped from horizontal images.) click to biggerize.
Ryan is such a mini-Rockwell, as my friends call him.
19 January 2013, Saturday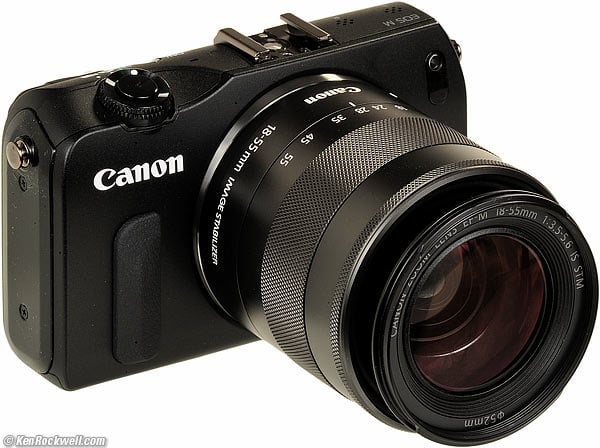 Canon EOS-M and EF-M 18-55mm IS STM.
NEW: Canon EOS-M Review.
False Messiah: well-made and fantastic images, but too slow.
What is it with mirrorless cameras? They usually have no real focus rings, and certainly no depth-of-field scales so people can calculate optimum apertures; and autofocus can be totally retarded all the way to before the 1980s!
Honest, I compared the AF speed and performance of the EOS-M directly to my 1987 35mm Canon EOS 650 and a 1980s EF 50mm f/1.8, and the 26-year-old EOS camera still has much better and faster autofocus. This is retrograde retardation; things were better 26 years ago. Oh - and the EOS 650 wakes up the instant you tap the shutter; you never have to keep turing it back on for each shot.
That, and the EOS-M has no viewfinder and no flash. What's with these newfangled mangled cameras? A Quicksnap has the features I really need, like built-in flash and a real finder and fast handing, lacking in cameras like these mirrorless fiascos. Why people sacrifice what we need, like focusing and being able to see what's in our picture, for trivia like 3D laser GPS video or whatever is beyond me. Guess it's because I'm an artist with work to produce rather than a technology consumer.
I like the EOS-M for travel and landscapes since the images look better than any other brand of similar camera, but forget it for trying to catch moving kids.
18 January 2013, Friday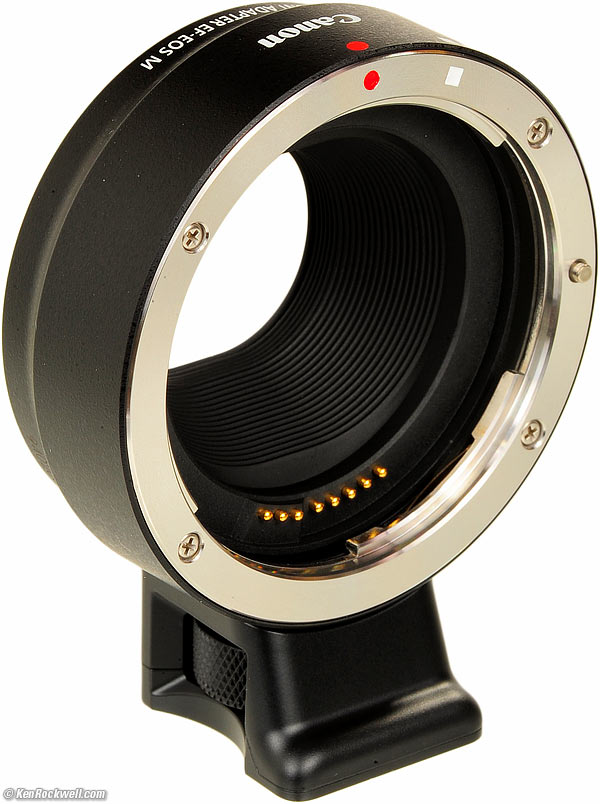 Canon EF EOS-M Mount Adapter.
NEW: Canon EF EOS-M Mount Adapter Review.
17 January 2013, Thursday
Canon EF-M 18-55mm IS STM.
NEW: Canon EF-M 18-55mm IS STM Review.
Canon's best 18-55mm yet, possibly the best on Earth.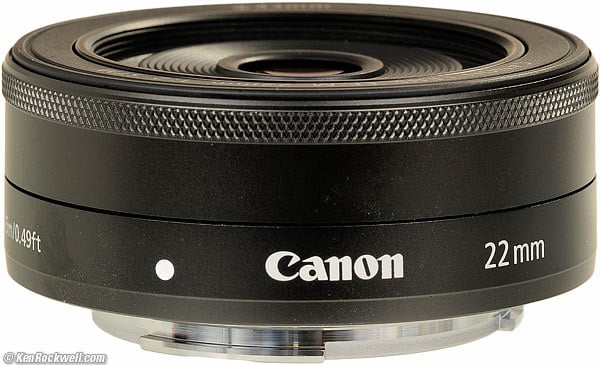 Canon EF-M 22mm f/2 STM.
NEW: Canon EF-M 22mm f/2 STM Review.
16 January 2013, Wednesday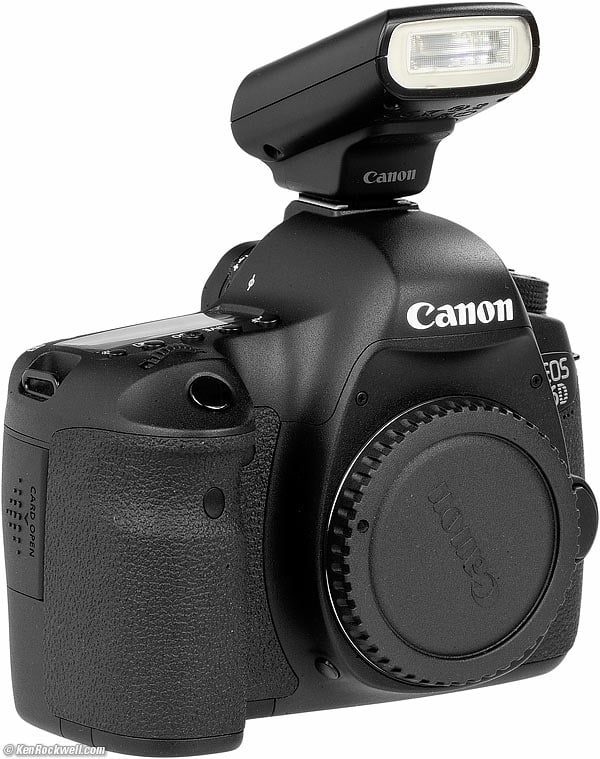 Canon 90EX sitting atop a 6D.
NEW: Canon 90EX Flash Review.
A zillion times better than nothing, but too slow for me.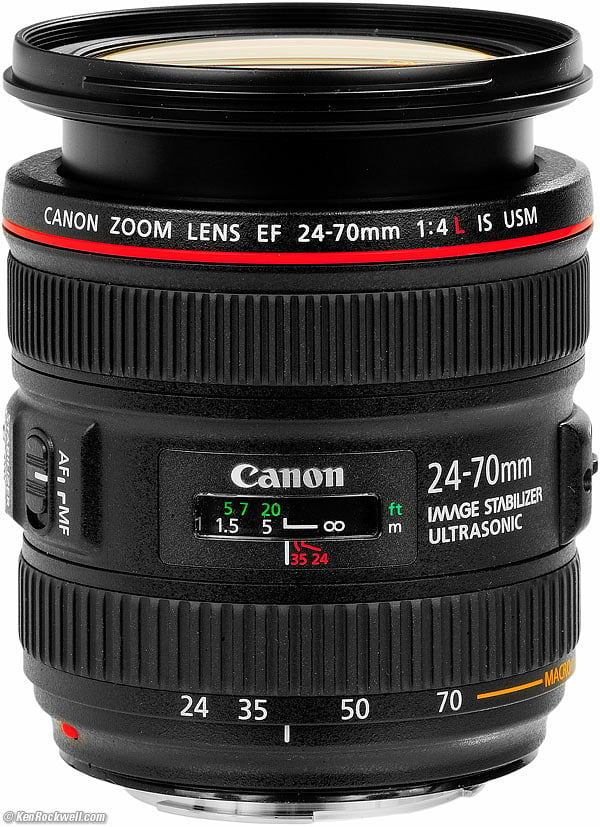 Canon 24-70/4 IS.
NEW: Canon 24-70mm f/4 L IS Review.
Possibly Canon's best midrange lens for many people, but is it worth $1,500?
15 January 2013, Tuesday
NEW: Artist or Technician?
Are you about your art, or just collecting more toys?
I realized this is why some people take comments on cameras personally.
Artists are all about our work; we couldn't care less what anyone thinks about our cameras, while technicians are only about their toys, and take their toys personally, as if their cameras were some part of their bodies.
Hot Tip: I just got a Woo Audio WA7 Firefly combination tube headphone amplifier and USB DAC, and it's awesome: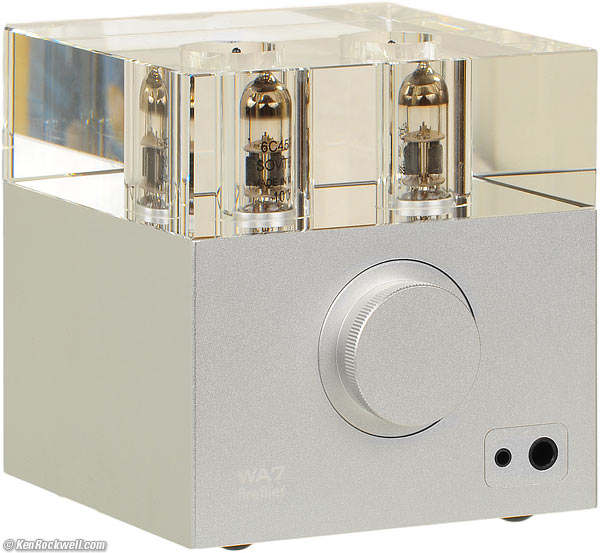 Woo WA7 Firefly. bigger.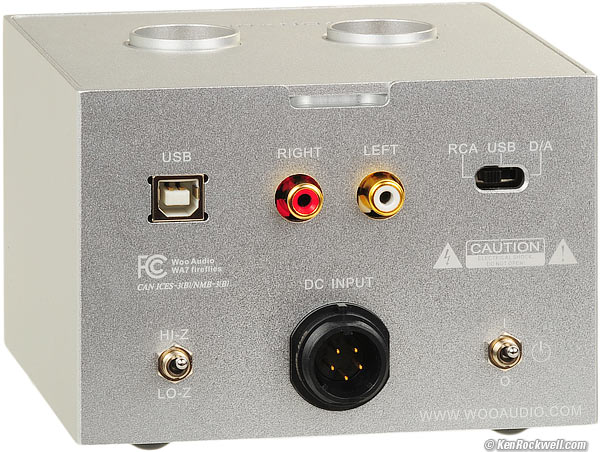 Rear, Woo WA7 Firefly, sans tubes. bigger.
I mention this as a "hot tip" since Woo has them on $799 pre-order price, so if you're waiting for reviews, this is a big thumbs-up, so get yours before the price goes back up to $999.
I prefer its sound, at least on initial listening, to the WA6-SE, and this little gem (a very heavy 5"/12 cm cube) is a work of art. The top tube protector is solid glass!
The amp is small, but so heavy that you don't need to hold it while inserting a 1/4" plug.
It's made better than anything, a far cry from much of the "audiophile" junk I see today as once-great brands no longer are. Even the power supply (not shown) is a custom all-metal job, not some wall-wart like a FAX machine.
The gain (volume) control is a work of art as well, cleanly changing gain with both channels tracking perfectly over a huge range, exactly as a professional rotary fader ought to. Why is it that Woo is about the only audio product today with a real volume control knob that tracks?
The WA7 is an ultra-premium product for a lot less money than a lot of the poorly designed plastic junk out there. It's a real all-tube amp; the entire audio path is through tubes, not transistors or ICs. (of course the digital path is ICs, but I don't use the USB input since I prefer to drive this from my all-tube 1/2" Ampex 350). The WA7 is a far cry from the crappy "hybrid" products out there that have a 12AX7 or two lit up only for show, while the audio is amplified with solid state parts instead. Woo is the real thing.
This Woo WA7 is a stable, quiet, brilliantly designed, fantastic-sounding (especially in the sub-bass compared to the WA6-SE), and an all around magnificent product. With the LCD-3, everything is smooth, detailed and natural. Bravo! (The LCD-3 is oddly more dependant on having a great amp than other headphones, and I've never heard them sound better than on the WA7.)
Full review coming, along with all the other photo gear here. I'm trying to finish my Canon 24-70 IS review today.
12 January 2013, Saturday
Why so down on Nikon?
A less perceptive reader was wondering why I seemed so down on Nikon all of a sudden. He wrote:
"Nikon must have really offended you in some way or fashion. Your very obvious sudden dislike for them and way too obvious sudden biased praise for Canon is almost childish, and makes one wonder if one can trust your product feed-back any longer."
Well, maybe it's because Nikon's three new FX cameras introduced throughout 2012 are so flawed, while Canon's 2012 line of three new full-frame cameras are so much better than ever. Canon leapfrogged Nikon, so duh, the facts change instantly and I'm duty bound to report them. Unlike commercial websites that get review samples from camera companies or get paid to advertise for camera companies, I buy my gear myself and say it like it is. That's why when something changes, I'm all over it immediately.
Thus my "sudden dislike."
Specifically, my D600, D4 and D800 make images with a slight green color bias to my eyes at their default settings (a dangerous first from Nikon), so I have to set M1 white balance shift, which is then usually too much. I just can't get reliably excellent color out of the newest breed of Nikons — I get better with the older D7000, which is why I shot my 2012 Christmas card photo on my D7000, not my newer FX cameras. (I still haven't bought a 430EX flash for my Canon, and my 220EX can't bounce.)
My work has always been all about color. Color is extremely important to me, and I'm very sensitive to it. Color rendition that seems "perfectly acceptable" to most people isn't good enough for me. For me, colors that are good enough for people for whom good enough is good enough, aren't good enough. As an artist, it has to be perfect. Look at my Gallery; this is what I shoot.
The other deal breaker for me is ergonomics. The new Canons all greatly improve on the previous years' models, while the new Nikons are mostly the same as they were back in 2007, and step even further back by removing both the AF mode and AF area mode selector switches and moving these functions back into the electronics. Geeze, every Nikon AF SLR and DSLR since the 1980s has offered all three AF-S, AF-C and M modes on a rotary switch, no menus needed — until the latest cameras. (The D7000 and D600 are OK here because they let us recall our preferences with U1 and U2 modes, while the D4 and D800 are unacceptable, removing these functions and having no instant way to recall them. Life waits for no one.)
I can shoot and play my latest Canons with one hand. I hold the camera in one hand, and I even can set ISO without taking my eye from the finder, all while my left hand does something else. Nikon's latest cameras demand my left hand for playback zoom and a lot of other shooting settings, so screw them when I can just shoot Canon instead. I've never been married to Nikon; they just were the best DSLR from 1999 though about 2007. Things were neck-and-neck since the original Canon 5D came out, and as of 2012, Canon's on top.
Another pro wrote me asking:
"I'm an old-style pro, who has shot Nikon with pride since 1974. Now, I'm in the market for a new body and all the quality control issues I've read about recently have me worried. The D7000 over exposure issue, the D800 auto focus issue, the D5100 dead shutter issue, the D600 oil spots issue. Nikon seldom admits mistakes and is never contrite; which is Asians saving face. Is it time to consider another brand? What's your take?"
To which I responded "I went Canon back in March. The 5D Mk III and now 6D and 1D X are worlds ahead of Nikon."
Things change, and for all I know in two more years when each maker introduces their next wave of full-frame cameras, things will change back. I use my iPhone 5 as my main camera, heck, who needs SLRs when I get better colors out of my iPhone 5 than I do from my D800?
I haven't had the time to look at the newest LEICA M, but it's the first LEICA that lets us view though-the-lens with all LEICA and LEICA M lenses. This is huge; for the first time since LEICA invented the full-frame 24 x 36mm format in 1918, we finally can compose while seeing what will really be in our image, and not have to depend on a surrogate viewfinder image seen through a different hole in the camera (VISOFLEX never worked with wide lenses where we need TTL viewing most, and the failed LEICA R was not a true LEICA as created by The Prophet.)
Not bad, and the LEICA M sells for the same as Nikon or Canon's top SLR, and has more resolution than either. Hah!
Things always change. Unlike people married to one maker or another, I say it as I feel it. Ford vs. Chevy, VW vs. BMW, who cares; I'll use whichever's best at the time.
These are my opinions; we all have different needs, so we all need or want different things. Half of you guys reading this are computer professionals and probably love shooting NEF with the 36MP D800; I'd rather have just three megapixels the right color than 36 MP all shifted a few points too green. Likewise, I have no second hand available for jacking around a D800 and its idiotic Menu Banks or to change playback magnification when I can do all this on my Canons with just my one shooting hand.
For Nikon, if you have a D700, stick with it: it's got better AF controls and better color than the D800, D4 or D600, at least as I shot them in Auto WB and JPG. If you want a new FX camera, consider a used D700 for about $1,400 if you know How to Win at eBay. If you're shooting DX, you're fine with the D7000 or any of the others.
All because Nikon's latest FX DSLRs are mostly steps backwards is no big deal; Nikon still makes tons of great stuff today like the world's best 35mm SLR, the Nikon F6, and loads of manual-focus lenses brand-new and world-leading lenses like the world's sharpest ultrawide zoom, the 16-35 VR and the built-like-a-tank 200mm AF-D micro. Heck, Nikon's re-issues of the Nikon SP and the Nikon S3 were incredible; made even better than the originals. That's something LEICA has never done — made a commemorative camera that was better than the original. Like everything in life, Nikon is capable of anything it can imagine; the problem is dreaming up the right things in the first place.
I shoot both every other day, so the difference is obvious to me. Canon handles well, while the newest Nikons are a pain. Also, Canon makes most of their gear domestically in Japan, while Nikon offshores most of it to Thailand or China. Who do you think is concerned about profits, and who do you think cares more about quality?
Your camera never matters, but the right camera does make it faster and easier to get the results an artist demands. An artist gets what he needs even if his camera is broken; it just takes longer.
11 January 2013, Friday
Canon 24-70mm f/4 L IS
I just got my Canon 24-70mm f/4 L IS, and it's great: super-sharp (as good as the spectacular 24-70/2.8 L II), and handles well.
Not everything's great with Canon: the 90EX and EOS-M are dogs (reviews coming).
The 90EX takes too long to recycle, and its AUTO POWER OFF is just that: it never wakes back up when you tap your shutter again — and it works only on AAA, not AA or CR123, cells!
The EOS-M makes spectacular images for nature, travel and landscape (far better color rendition than Sony, Fuji or other off-brands for anything other than people), but forget it for kids, sports or action; it's too darn slow. The EOS-M is extremely well made, but has slow focus and overall everything. Its control interface is unique, nothing really carries over from EOS SLR or Powershot cameras to make it a good second camera with either.
Back on track and just to keep rubbing it in, yes, the Canon 6D, 5D Mark III and 1D X are far better than Nikon's latest flawed FX offerings in the D600, D800 and D4, mostly due to ergonomic and color shift problems, either of which is a deal-breaker for me. People keep asking me, and no, I no longer suggest the latest Nikon FX cameras if you're starting from scratch; just go with Canon full-frame. If you're married to Nikon, the latest FX offerings are fine, but I prefer my Canons today.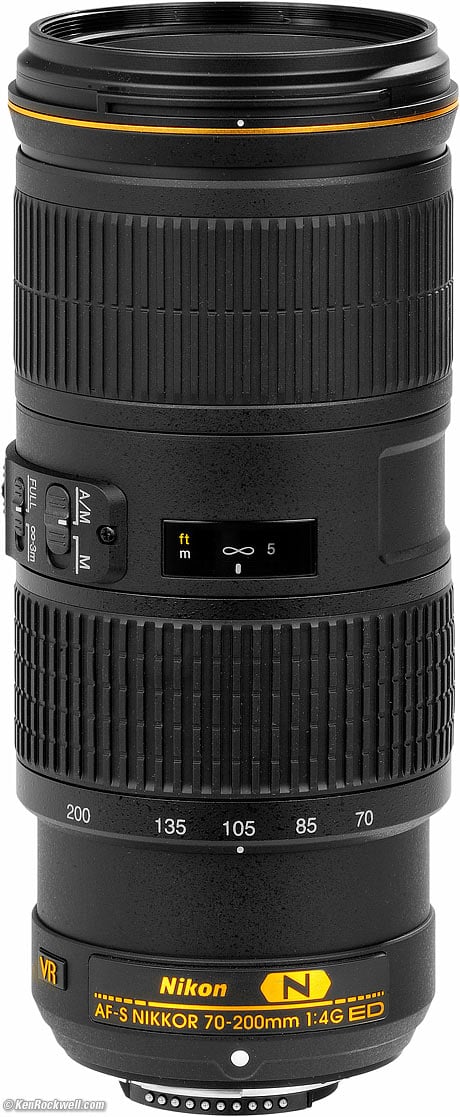 Nikon 70-200mm f/4 VR.
NEW: Nikon 70-200mm f/4 VR Review.
It works great! It's about time Nikon made some reasonable tele zooms for digital, instead of just the f/2.8 pigs from back before we had today's hyper ISOs.
10 January 2013, Thursday

240º of Panoramic Hard Light. (iPhone 5 Panorama mode, ISO 50, f/2.4 at 1/1,106.) Original © 18MB, 26 MP file.
The iPhone 5 is so much better than my old 150º Noblex for panoramas!
I shot this, as always, freehanded. One wipe and I'm done.
More iPhone 5 sample images.
NEW: Fuji X20 (also in silver).
12MP, zoom, small sensor (4x crop factor).
NEW: Samsung little cameras.
My money is going to an X100S. When I want smaller, it's the iPhone, or it's the X100S.
09 January 2013, Wednesday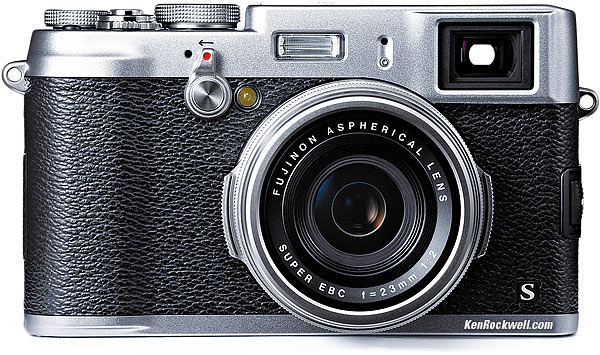 Fujifilm X100S.
NEW: Fuji X100S.
Using Nikon's model-numbering mantra, the X100S is the Same (S) thing as the Fuji X100, but with faster DSP and more pixels for both the image sensor and the electronic viewfinder.
Not bad for only $100 extra.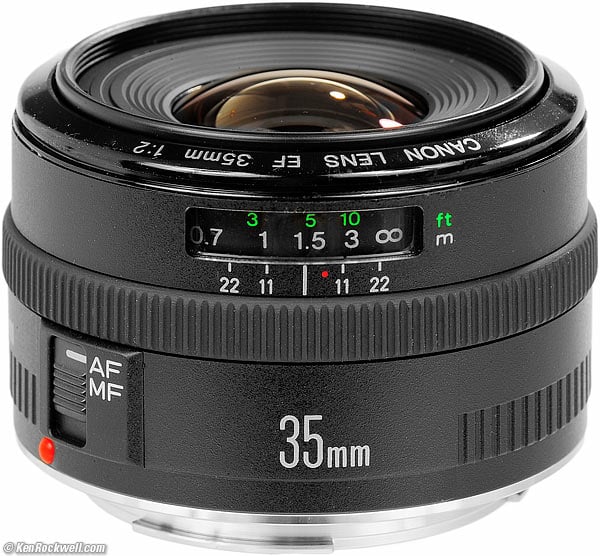 Canon EF 35mm f/2.
NEW: Canon 35mm f/2 Review.
Just as good optically as the 35mm f/2 IS, for a third the price.
08 January 2013, Tuesday
Yawn: Nikon D5200
Nikon USA announced the Nikon D5200 today, about which the rest of the world has known since last year.
I don't know why anyone would wait to pay $800 or $900 for a new D5200 when we can get the almost identical Nikon D5100 from stock either as a kit with the same 18-55mm VR for just $449 or body-only for a mere $419. The D5200 is for the few remaining ignoratii who shop retail instead of doing their research online.
07 January 2013, Monday
New Mexico Trip!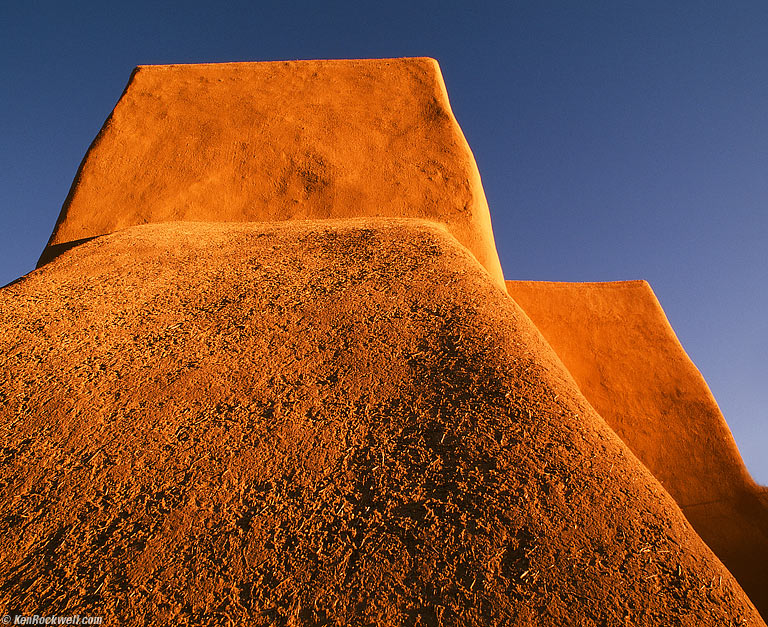 Rancho de Taos. (silver Nikon FA, Nikon 28mm f/2 AI-s, Fuji Velvia 50, NCPS process and scan, Program Auto, matrix metering, Nikon A12 filter.)
I don't think my family is going to let me go on this one, but I've been on Dave's New Mexico trips before and they're awesome.
The next trip is in two weeks, from 20~25 January 2013. Be there!
I will be on the Route 66 trip next month.
New Canon Powershots
Canon released a few new point-and-shoots today.
The most curious is the Powershot N, which is just the size of its touch screen.
05 January 2013, Saturday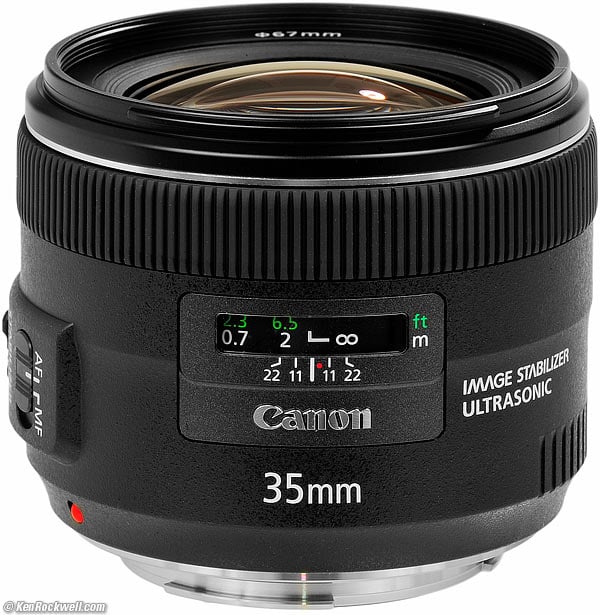 Canon 35mm f/2 IS.
NEW: Canon 35mm f/2 IS Review.
04 January 2013, Friday
Not dead yet
Heh heh, I was goofing off this past week — because I could!
Of course it now will take all week until I load all my photos and sort them.
Canon 24-70/4 L IS Shipping
Adorama's now shipping the 24-70/4 IS. They have enough to ship all their current orders, and have a few in stock, too (won't last long).
24-70 review - so far. Mine is coming soon, too.
Canon Deals
Canon 16-35mm f/2.8L II , reg. $1,499, add to cart to get it for $1,399 — with free shipping and 2% rewards!
Canon 16-35mm f/2.8L II Review.
Canon 50mm f/1.2L, reg. $1,439, add to cart to get it for $1,299 — with free shipping and 2% rewards!
Free NEX Lens
Get a free 16mm f/2.8 E-mount lens when you get any of these and use the "Buy Together and Save" button.
What Was New in:
Help me help you
I support my growing family through this website, as crazy as it might seem.
If you find this as helpful as a book you might have had to buy or a workshop you may have had to take, feel free to help me continue helping everyone.
If you've gotten your gear through one of my links or helped otherwise, you're family. It's great people like you who allow me to keep adding to this site full-time. Thanks!
If you haven't helped yet, please do, and consider helping me with a gift of $5.00.
The biggest help is when you use any of these links when you get anything, regardless of the country in which you live. It costs you nothing, and is this site's, and thus my family's, biggest source of support. eBay is always a gamble, but all the other places always have the best prices and service, which is why I've used them since before this website existed. I recommend them all personally.
Thanks for reading!
Ken
Home Donate New Search Gallery How-To Books Links Workshops About Contact