February 2016's News

Nikon: D5 D810 D500 D750 D610 D7200 Lenses Canon: 1DX2 5DS/R 5D Mk III 6D 7D II Lenses
Reviews: Fuji LEICA Contax Zeiss Sony Minolta Olympus Pentax
Recommended Cameras Best Cameras  Gifts How to Take Better Pictures random
Links: Adorama Amazon B&H Crutchfield eBay Video Tutorials Infrared Facebook Twitter
Adorama's Daily Deals Amazon's Deals-of-the-Day B&H Deal of the Day   Crutchfield's Sales
Phil Steele sale: 53% off Event Photography, 25% off Lightroom Made Easy, 15% off Photoshop Basics and 15% off Pro Portraits with Off-Camera Flash.
27 February 2016, Saturday
Weekend Report: Apogee Headphone DAC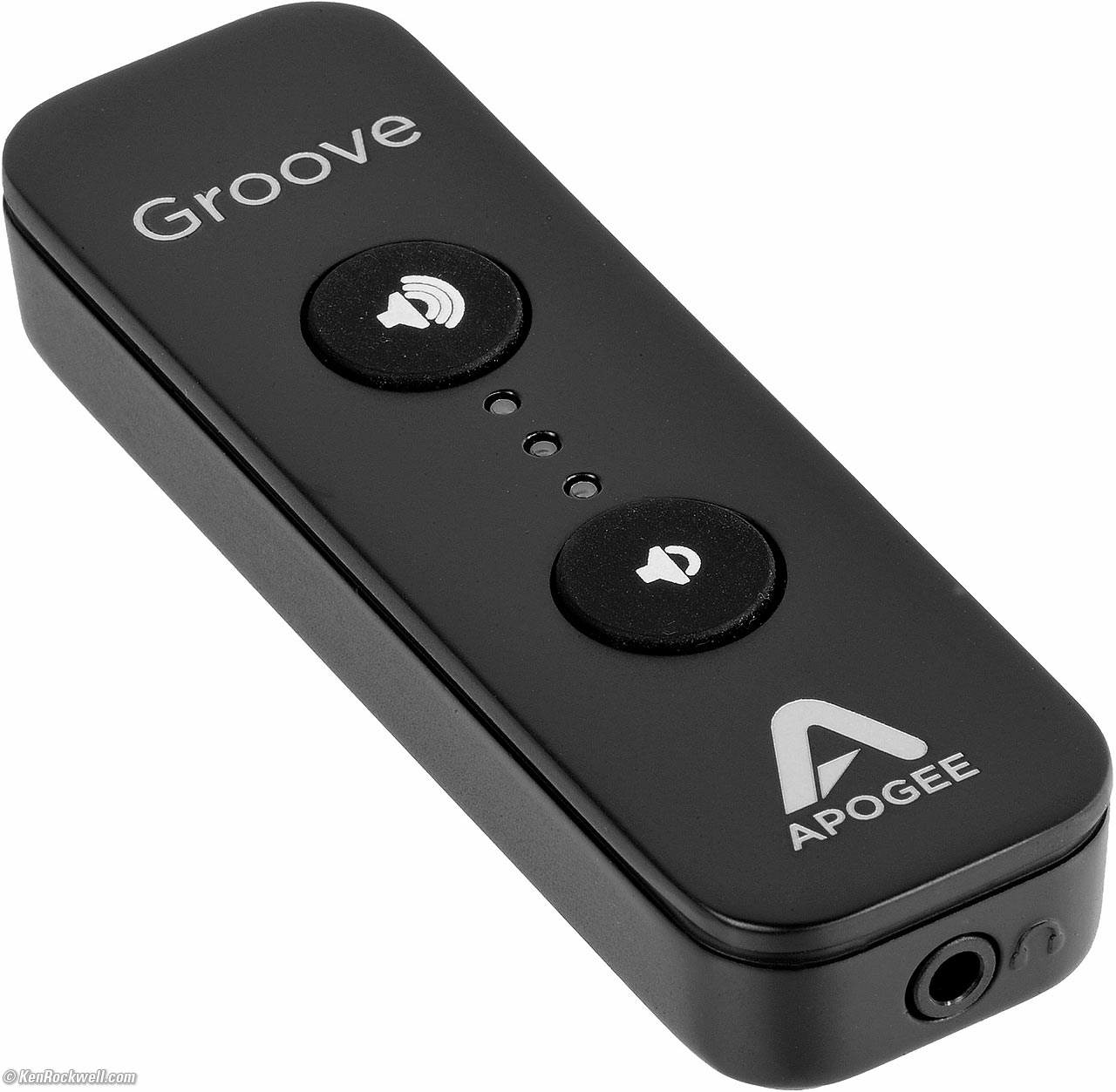 Apogee Groove.
A tiny, professional, portable, Made-in-USA product for the same price as the consumer junk. Bravo, Apogee!
26 February 2016, Friday
World's First Authorized Online McIntosh Dealer
Crutchfield, the world's leader in audio mail-order since at least the 1970s when they opened and we started using them, is now the world's first and only online authorized online dealer for McIntosh.
This is great news; the best audio brands like Made-in-USA McIntosh used to expect us to have to drive hundreds of miles to some old-fashioned retail dealer to buy something without having heard it in our own home or car first. Now we can order McIntosh the same way I've been ordering everything else, hurrah!
A few clicks and it's here. I can audition it in my home for 60 days, and in the unlikely event I hate it, back it goes.
So long, retail!
I love my McIntosh. I'm running a 1969 McIntosh MC 240 whose review I need to complete. I completely restored it myself (I'm very good with a soldering iron and a slide rule), although the only work it needed to bring it back into 100% factory laboratory specifications was replacing one 17¢ resistor and replacing the old American tubes with a new set of inexpensive Russian Tung-Sol tubes from TubeDepot (only about $200 total). I also rebuilt all the power supplies, although they were still working fine, but now I'll have another 50 years of worry-free enjoyment ahead of me.
It's the best-sounding amplifier I've ever heard; ever since I got it back to snuff last year I've had zero interest in writing other amplifier reviews. It makes everything sound so clean, clear, smooth, fluid, natural and detailed that I've had no interest in wasting time with anything else.
25 February 2016, Thursday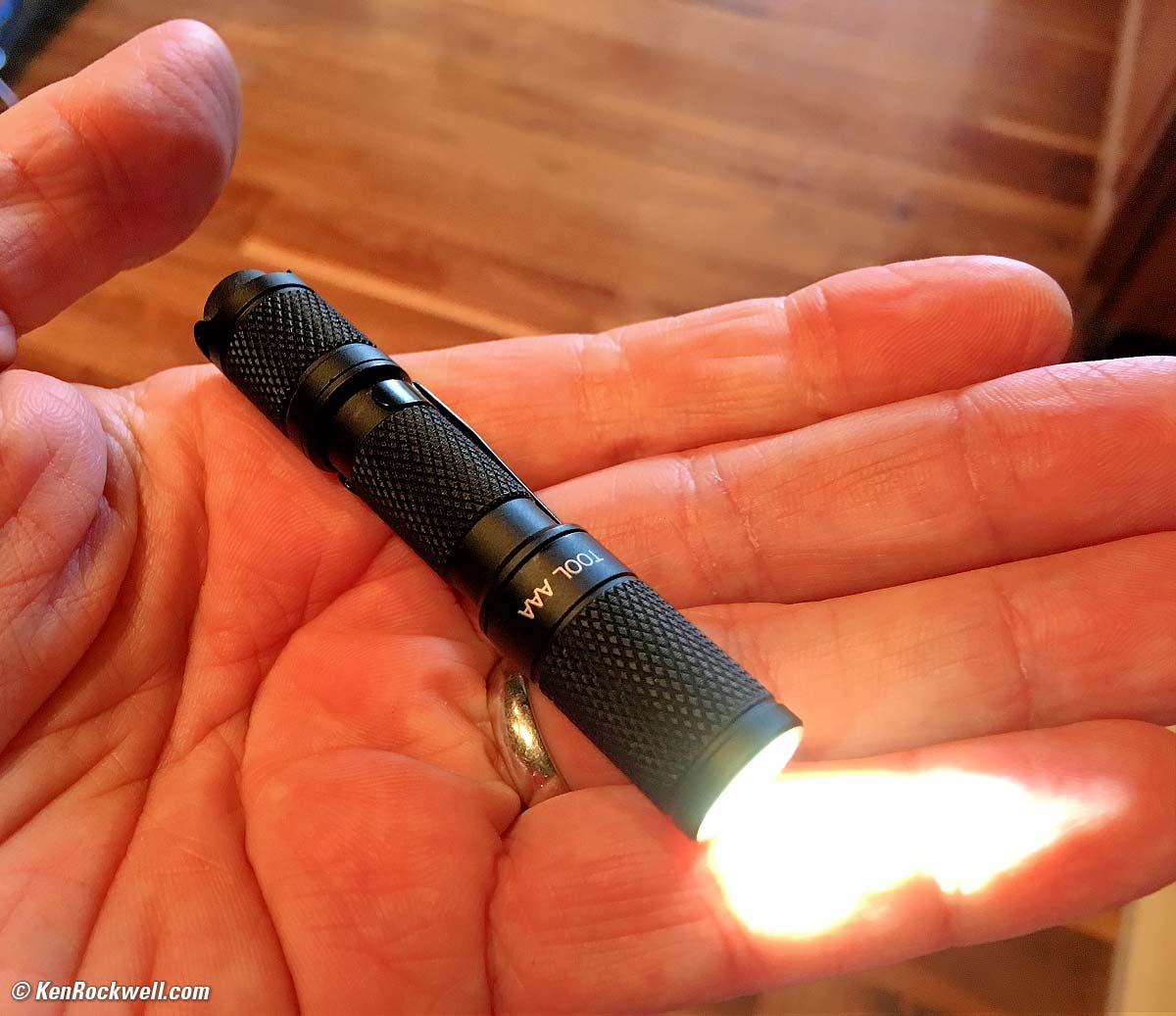 Lumintop Tool AAA.
A great little pocket or camera-bag light. It replaces the old Fenix E05 I had that stopped working, and the Tool AAA has much better performance for the same price.
24 February 2016, Wednesday
It's not a photograph until it's printed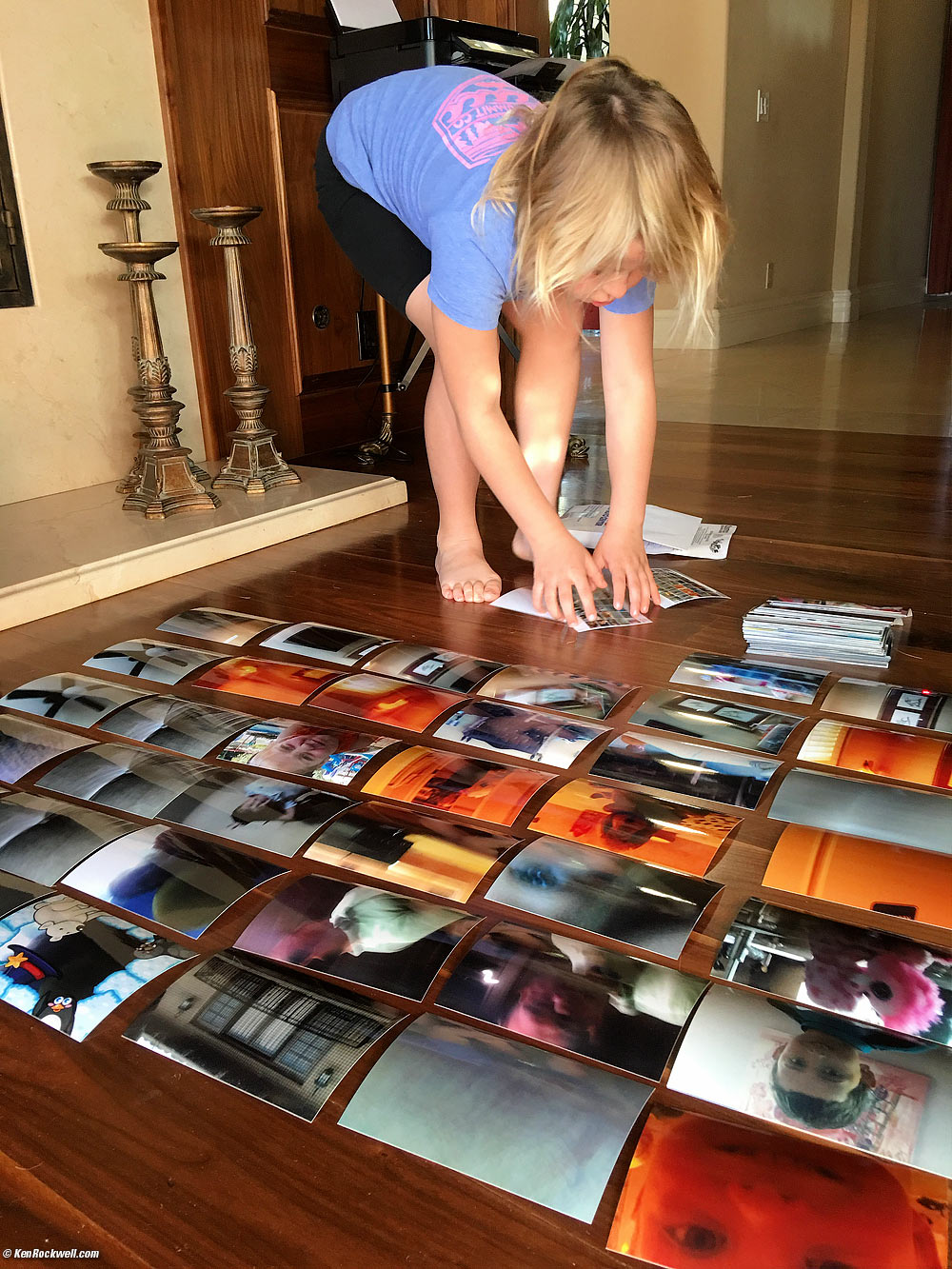 Katie and her pictures. (iPhone 6s Plus, Perfectly Clear v2.) bigger.
Files aren't photos; only photos are photos.
It's critical to print your pictures, and inexpensive, too.
Katie asked me to print every photo in her vTech 1227 camera, so I sent them all to Costco at 14¢ each. She got a huge pile of hundreds of photos, all meaningful to her, for about $20.
These photos are real photos, printed on Fuji Crystal Archive paper that should last longer than I will. Files are easily forgotten, errored, erased or become unreadable, but printed photos are forever when printed in B&W or on Crystal Archive.
What was interesting is how Katie emphasized that she wanted every image printed; not just what we might think are the "good" ones.
When she got them back, she amazed us at how she knew exactly what every photo was. What looked like a completely black image with one or two blurs on it was the fourth of July from 2 years ago, for instance.
New Panasonic Lens
Panasonic Lumix G 12~60mm Power OIS.
New Sigma Lenses
Sigma 30mm f/1.4 for Sony NEX APS-C and for micro 4/3.
Also extra-cost hood for 30mm f/1.4.
This is similar to a 50/1.4 on full-frame cameras.


Sigma 50-100mm f/1.8 for Nikon DX, for Canon EF-s and for Sigma.
Also extra-cost hood for 50-100mm and case for 50-100mm.
This is a fast moderate telephoto zoom for DX and APS-C DSLRs, equivalent to about a 75-150mm on full-frame. This huge expensive thing doesn't zoom very much, so I'd much rather put the smaller Nikon 85/1.8G or Canon 85/1.8 in my bag instead. Sigma only claims that at best this zoom might"rival" the prime 85mm lenses, so why bother?
New Sigma Canon or Sigma to Sony Converters
Sigma MC-11 Canon EOS to Sony E-mount converter.

Sigma MC-11 Sigma lens to Sony E-Mount converter.

How crazy is this? These converters let you mount either Canon EOS or Sigma lenses on Sony NEX E-mount cameras, full or cropped frame.
Gray Market Deals
Nikon D750 for $1,299, new (gray-market).
Nikon 50mm f/1.8G for $165, new (gray-market).
Canon 100-400mm L II IS for $1,870, new (gray-market).
Canon 70-200mm f/2.8 L II IS for $1,760, new (gray-market).
Canon 24-70mm f/2.8 L II for $1,610, new (gray-market).
These are gray-market, meaning they don't really come with a USA warranty, but they are brand spanking new and exactly the same product you'd get if you paid full prices elsewhere.
They come with eBay's money-back guarantee as well as a 30-day return, so consider these if you're a little adventurous and the significant savings are important. See also gray-market.
Fuji Deals
Fujifilm X-E2 & grip: $499 (Regular $788), also in silver.

Fujifilm X-E2 w/18-55mm f/2.8-4 & grip: $699 (Regular $1,188), also in silver.
23 February 1954: Patent of the Split-Image and Microprism
On this day in 1954, Lucien Jules Emile Andre Dodin of France was granted US Patent 2,669,916 for the split-image rangefinder, which is also used in microprism focusing aids. He had applied for this patent on 21 December 1948.
New Nikon Point & Shoot
Hot Rod DL Series, coming early Summer 2016
All three DL cameras have tiny "1 inch" sensors with 20MP, can run at 20 FPS for stills, also shoot 4K/30p video and slo-mo to 1,200 FPS
These are nifty cameras, but for whom? They all use tiny 3x crop-factor sensors so image quality will be inferior to any DSLR. Don't get excited by the fast lenses; when used with these tiny sensors, they will give inferior results to any entry-level DSLR like the D3300 or Canon SL1 with kit lens.
They seem well made and are marketed well, but I don't see the point when we can get cameras like the Fuji X100T or Sony a6000 with full-size DSLR sensors in equally tiny packages.
I always love it when someone tries to make a nice camera as these are, even if they aren't to my taste. We all want different things; for someone who wants a camera with lots of buttons in a small package, any of these are nifty — but be sure to buy the extra cost finder.
Nikon DL18-50 f/1.8-2.8, also at B&H
● Tiny "1 inch" sensor with actual 6.7~18.5mm lens (18~50mm equivalent).
● No viewfinder, but has a shoe for an optional extra-cost electronic viewfinder.
● Electronic perspective controls to correct converging lines.
● A real DSLR like the tiny Canon SL1 and weightless EF-s 10-18mm will make much better pictures for $150 less even before you buy the extra finder for the DL18-50, and the Canon combo has a sensor four times the size and a much wider lens.
Nikon DL24-85 f/1.8-2.8, also at B&H
● Tiny "1 inch" sensor with actual 8.8~31.3mm lens (24~85mm equivalent).
● 40.5mm filter thread.
● No viewfinder, but has a shoe for an optional extra-cost electronic viewfinder.
● Super Macro Mode.
● Tiny "1 inch" sensor with 8.8~185mm f/2.8~5.6 lens (24~500mm equivalent optical zoom).
● Built in EVF with OLED display and eye-sensor
Big-Zoom P&S
Nikon Coolpix B700, also at B&H.
● Tiny sensor, 20 MP, 60x 4.3~258mm optical zoom (24~1,600mm equivalent), 4k video, 3" tilting LCD.
Nikon Coolpix A900, also at B&H.
● Tiny sensor, 20 MP, 4.3-135mm optical zoom (24~840mm equivalent).
Nikon Coolpix B500; also in Red and in Silver; also at B&H.
● 16 MP, 3" swivel LCD, 1080 video, 40x optical zoom.
● Runs on four AA cells.
New Sony 4K Pro Camcorder
Sony PXW-Z150 4K solid-state camcorder.
21 February 2016, Sunday
Ricoh Theta S 360º Camera
I'm having a ball playing with my Ricoh Theta S. It makes 360º spherical panoramas easy.
To see these as interactive 360º panoramas, you will need to download the Ricoh Theta viewer app on your phone or computer. Then download any of the 360º  files I've provided, and then open them from inside the Ricoh Theta viewer app. Any of the resolutions work, of course with reduced resolution with the 1,200 and 2,400 pixel downloads.
What makes the Theta S so much fun isn't just the 360º panoramas, but the crazy things you can't do any other reasonably easy way for making crazy rectangular images like the screen grabs below. Even with a 6mm 220º Nikon fisheye you can't do this; the Ricoh sees a much wider angle and puts it directly into a format you can use.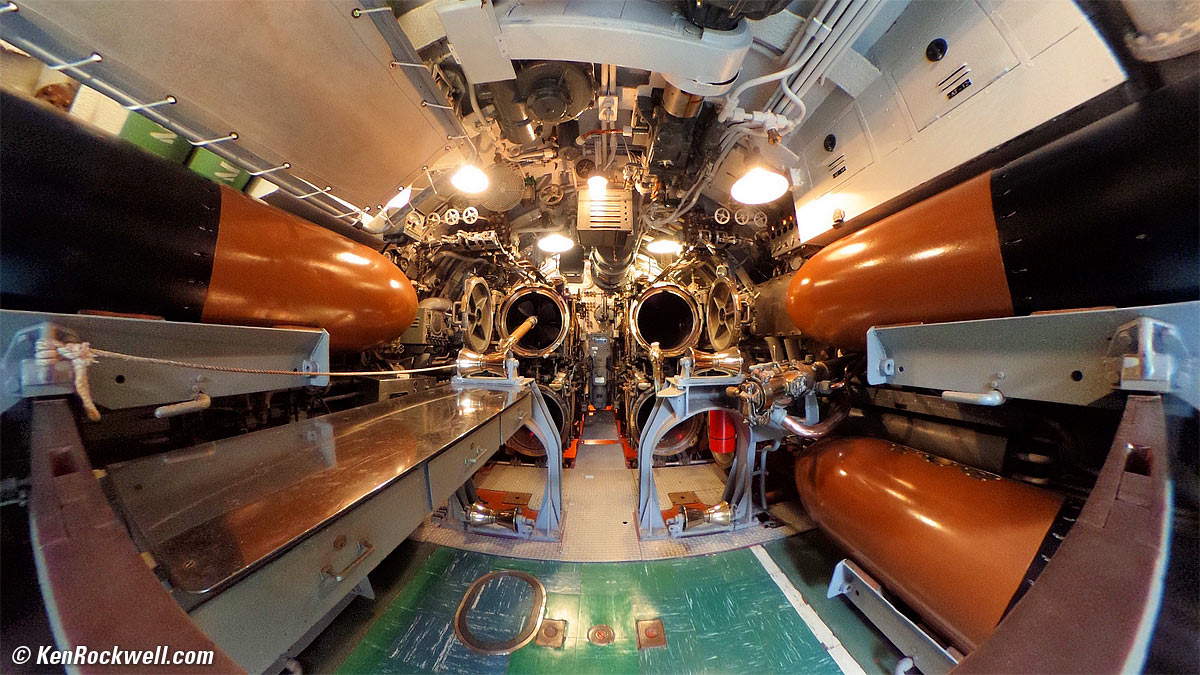 Torpedo Room. Screen grab from iPhone app. bigger.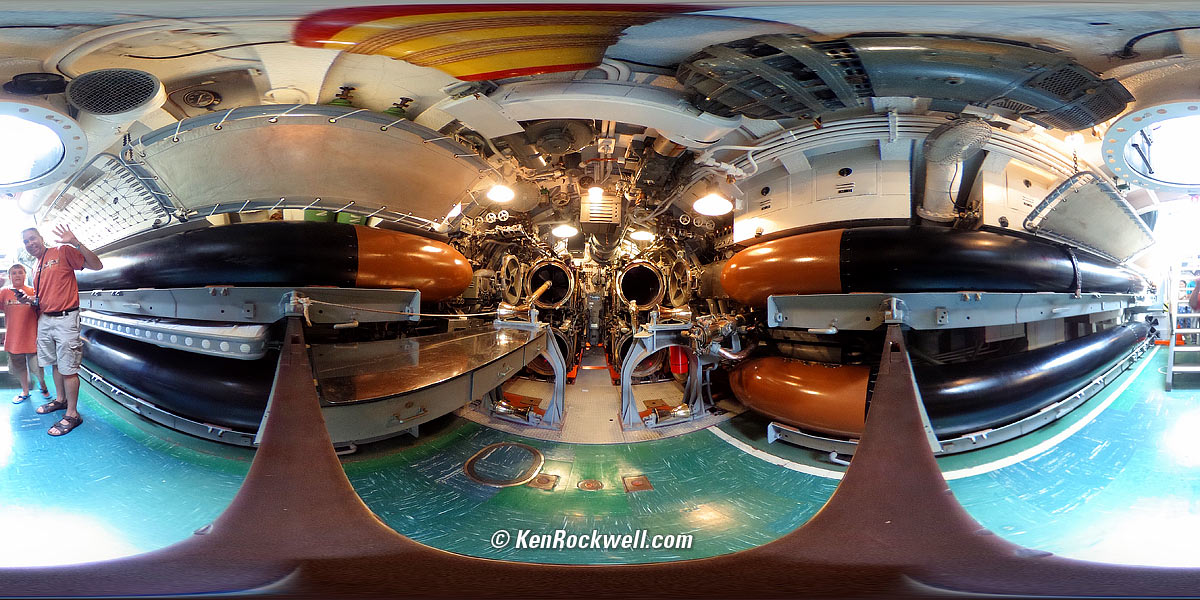 Same image; original 360º version. f/2 at 1/13 hand-held at ISO 100. 1,200 pixel 360º file, 2,400 pixel 360º file or original 360º image file to view in Ricoh Theta viewer app.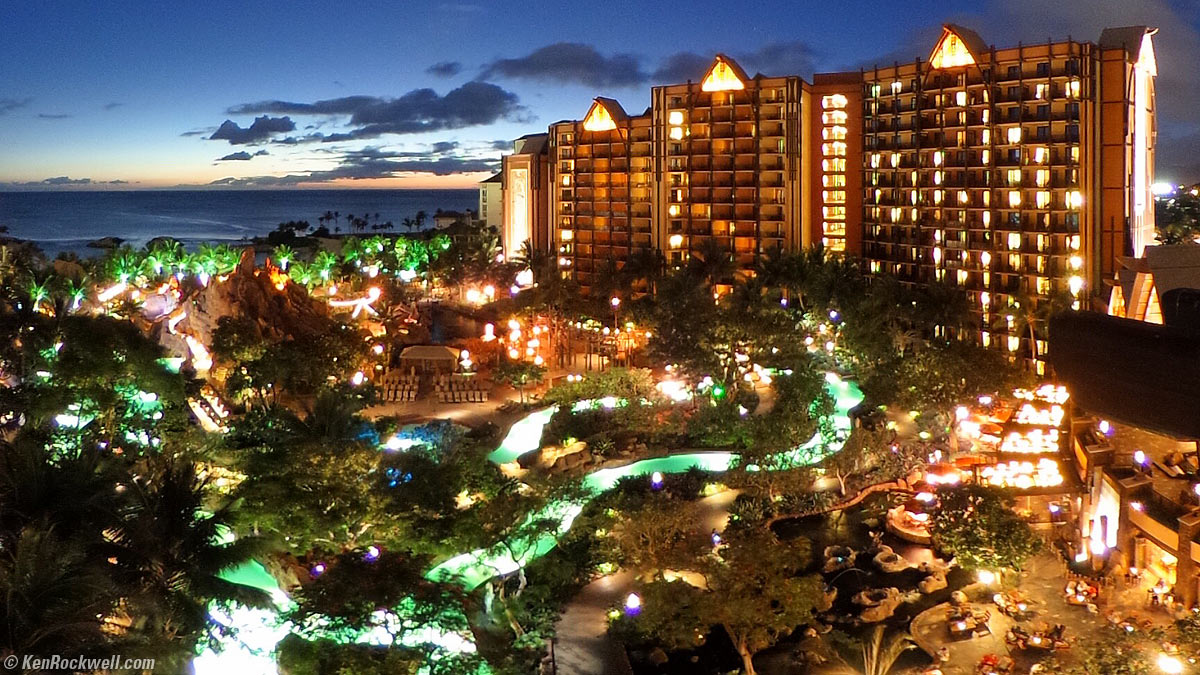 Screen grab from iPhone app. 15 seconds at f/2 at ISO 100. bigger screen grab, fast downloading 360º file or original 360º image file to view in Ricoh Theta viewer app.
This shot is made with the camera balanced on the hotel's balcony railing. Because the two "eyes" are about a half inch (1 cm) apart, it reduces the obstructive effects of the railing by making it seem a half inch thinner.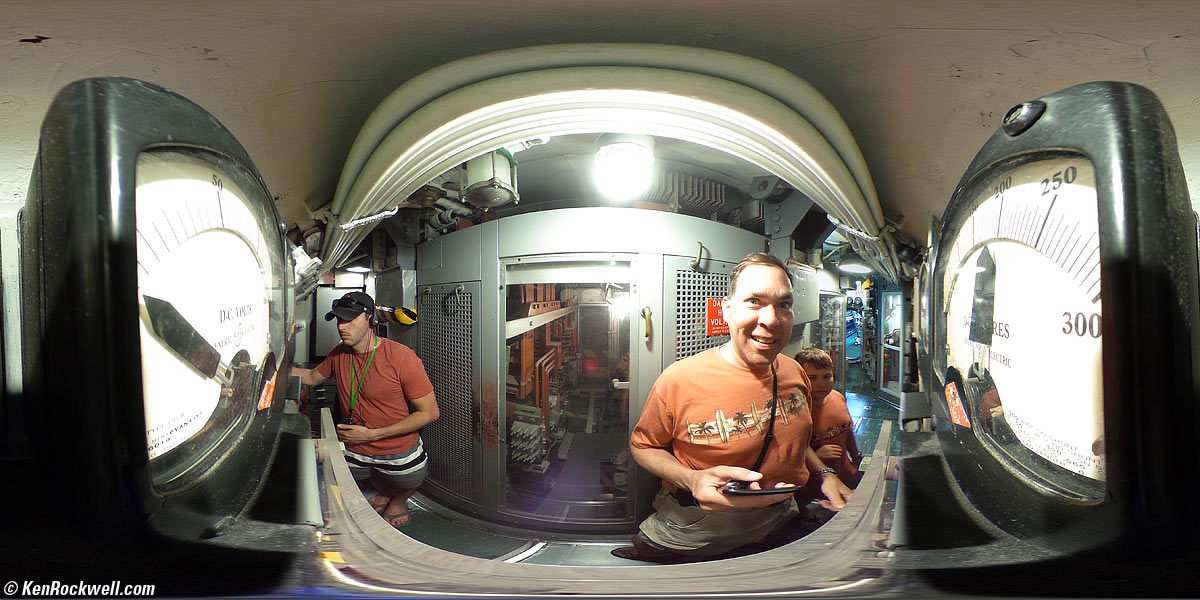 Flat 360º image from inside a submarine. f/2 at 1/15 at ISO 100. 1,200 pixel 360º file, 2,400 pixel 360º file or original 360º image file to view in Ricoh Theta viewer app.
This shot is nifty as I had the camera only an inch in front of the two meters.
Here's the example I posted last week, along with the original files so you can whiz around the 360º image.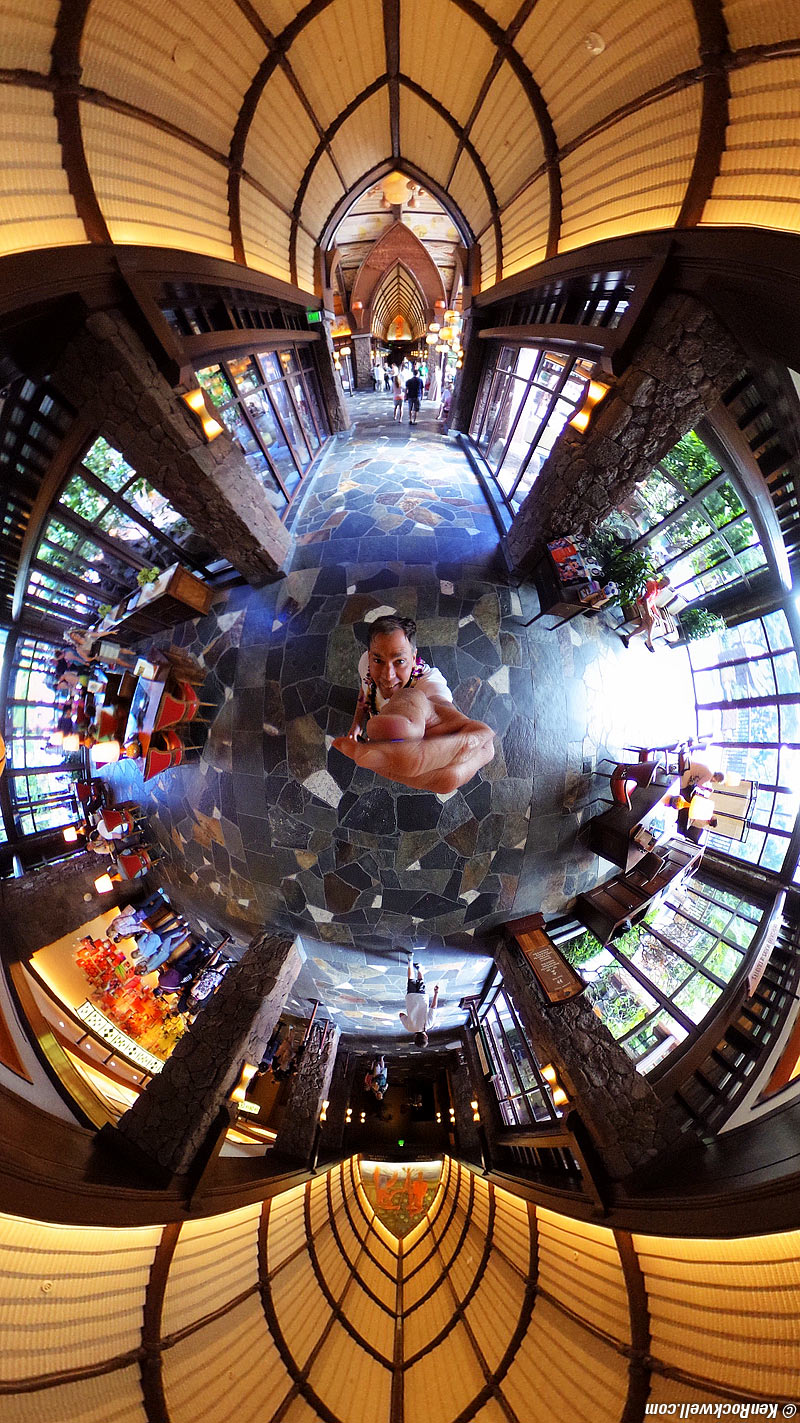 Screen grab from iPhone app. bigger screen grab, easy downloading 360º file or original image file to view in Ricoh Theta viewer app.
This isn't a mirror-image (I did rotate my copyright notice to keep the innocent guessing); it's simply snapped in the middle of a long pointed barrel vault and the bottom of this image is looking in another direction than the top.
19 February 2016, Friday
Pentax' first try at a full-frame DSLR.
It's got 36MP at a sluggish 4.4 FPS with sensor stabilization and two SD slots for $1,800.
I'd pass; a 6D or D750 are superior cameras and parts of superior systems, unless you're counting pixels — but if you're counting pixels, I seriously doubt your photos ever amount to anything. Everything below 50 MP falls into the same bin in my book, and ergonomics and system thoroughness mean far more than pixel count per dollar.
Not that I have anything against Pentax; they've played fourth fiddle behind Canon, LEICA and Nikon ever since the 1970s. I love my Pentax Spot Meters (and Ansel Adams also swore by his), but I can do without Pentax' primitive DSLRs unless I was some Aspergers case hoping to use my ancient manual-focus Pentax lenses. Pentax' manual focus lenses are also inferior to Nikon's AI and AI-s and Canon's FD lenses. God bless Pentax for trying and not giving up as Minolta and Contax did, but I fail to see who would buy it other than some feeble Aspergian hope to recycle old lenses from my K1000. (For those of you who don't have to care for as many on-the-spectrum people as I do on a daily basis, those with Asperger's have great difficulty handling change. Many outsiders may miss my point: those with this disorder find it an insurmountable obstacle to dump their old lenses and get new ones instead.)
It's crazy to hold onto your 1970s manual focus lenses and attempt to build a modern digital system around what you already have. Crummy modern plastic autofocus lenses are worlds better optically than the solid metal classics of the 1970s and 1980s.
The Pentax is a paper tiger. It looks great on paper to those with less experience as to what really matters in a camera, but I have yet to see a Pentax DSLR that handles as well as a Nikon or Canon. I doubt they will magically have a brand-new user interface that suddenly just works great. I've been shooting long and hard for over 40 years, and some things never change. The Pentax have been loaded with foolish parlour tricks, like pixel-shift resolution, and short on reality like a noisy in-camera AF motor, lack of VR and IS lenses (sensor shift is a lousy way to stabilize images), and a ugly menu fonts and layout.
What would have been much better is if Pentax made a Holy Grail: a Leica-M mount full-frame mirrorless body with the superior tonal and color rendition of a Nikon or Canon camera, the ergonomic brilliance of an iPhone, an excellent built-in flash and a fantastic EVF. The Sony A7 series has the industry's worst user interface, no flash and only so-so color rendition, and is not a native Leica mount. It's the closest thing, but still nowhere near what we need. The Grail would also have a rangefinder feeler to pop up focus aids as we focus our lenses manually, and would introduce a new series of integrated AF lenses sharing the Leica M mount. Now that would be cool! Even better if they retained the 43.27 mm sensor diagonal, but corrected the aspect ratio to the proper 4:3 or 4:5 ratio instead of the idiotic Barnack 3:2 ratio.
May as well go all the way to a 30.6 x 30.6mm square sensor with the same 43.27mm diagonal. It would have the largest sensor area of any sensor compatible with 24x36mm format lenses, and give us all the technical, artistic and ergonomic advantages we love on Hasselblad. The square lets us crop to any shape without having to rotate our camera for horizontal or vertical, and the square is usually the strongest compositional shape in the first place.
Hopefully you can see why I'm not excited by Pentax simply trying to get on the full frame bandwagon 14 years too late. Canon's been making full-frame DSLRs since 2002; I'd be much happier if Pentax actually did something original instead of just copying.
The Pentax camera company doesn't even exist anymore, having been sold to Ricoh years ago. Ricoh seems to reserve the innovative cameras for their own name and milks the hallowed Pentax name for desperate holder-oners to days gone by. The best things about Pentax always were their meters, binoculars, 645 and 6x7 cameras. Their 35mm offerings were always a step behind overall.
We'll see when I get my K-1; maybe it's epiphanal, but more likely it's just blah. Hopefully the K-1 will be a huge step forward, but I doubt it. I have a manual-focus Pentax SMC 15mm f/3.5 full-frame ultra-ultra wide lens to dust off to use on it.
NEW: Pentax 15-30mm f/2.8. New full-frame ultrawide.
NEW: Pentax 28-105mm f/3.5-5.6. New slow midrange zoom.
18 February 2016, Thursday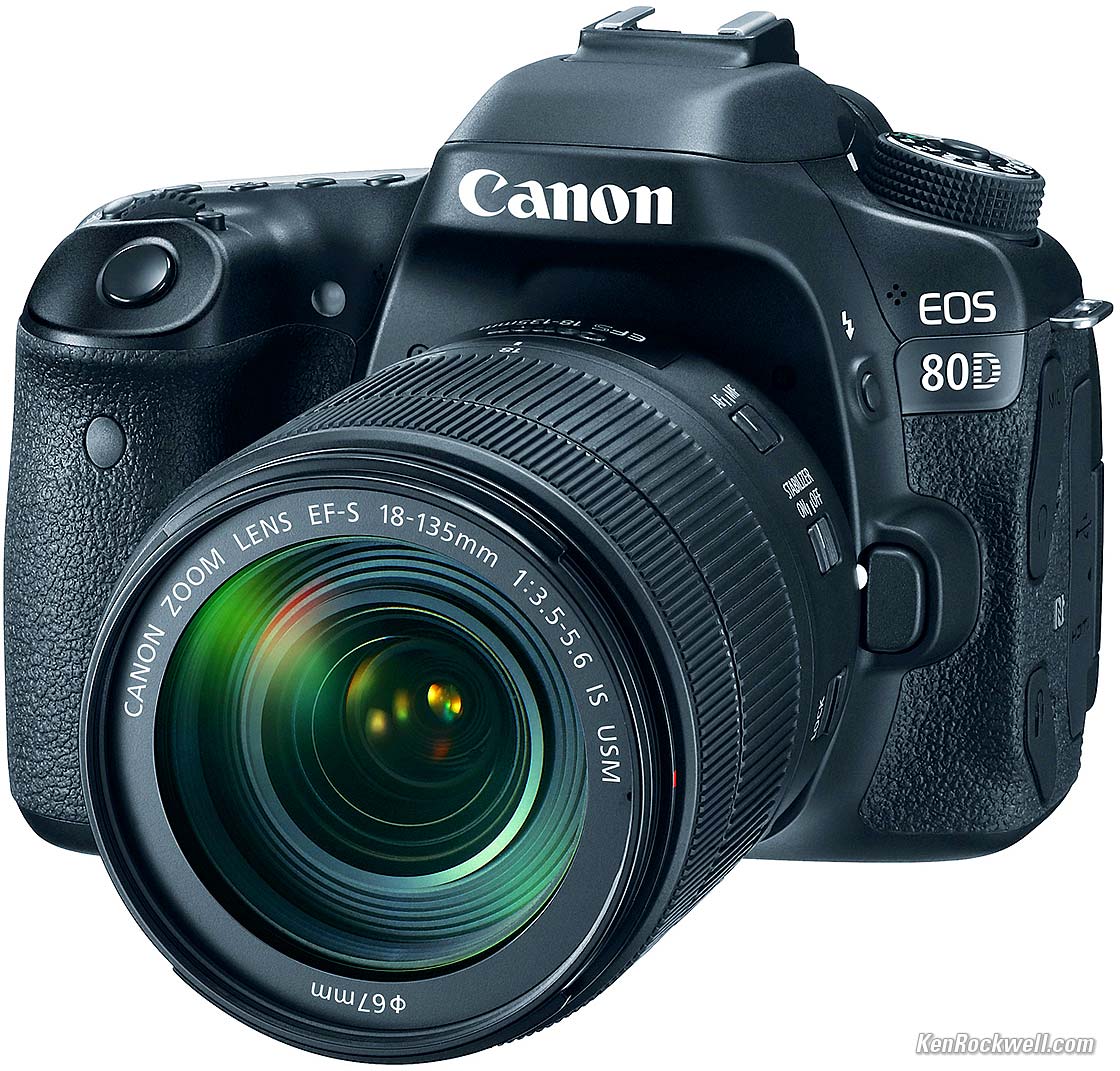 Canon 80D and new 18-135mm IS nano USM.
NEW: Canon 18-135mm IS nano USM.
NEW: EW-73D hood for new 18-135mm IS USM.
NEW: Canon Directional Microphone DM-E1.
NEW: Canon Power Zoom Adapter PZ-E1.
NEW: Canon AC Adapter AC-E6N.
NEW: Canon G7-X Mk II.
NEW: Canon WP-DC55 Waterproof Case for G7 X Mark II.
NEW: Canon PSC-5500 Deluxe Leather Case for G7-X Mark II.
NEW: Canon SX720 HS.
17 February 2016, Wednesday
Deals
DJI Phantom 3 w/ 4K UHD & Remote: $999 with free shipping (Was $1,259)
Wacom PTH451 Intuos Pro Pen and Touch Tablet: $199.95 (Regular $249.95) with free shipping and 5% back in Adorama Rewards.
Wacom PTH851 Intuos Pro Pen and Touch Tablet: $399.95 (Regular $499.95) with free shipping and 5% back in Adorama Rewards.
Lowepro Passport Messenger Shoulder Bag: $17.95 (Regular $39), with free shipping.
Tamrac 5422 Aria 2 Camera Bag: $16.95 (Regular $49), with free shipping.
Tamrac 3535 Express 5 Camera Bag: $14.95 (Regular $29), with free shipping.
16 February 2016, Tuesday
Ricoh Theta S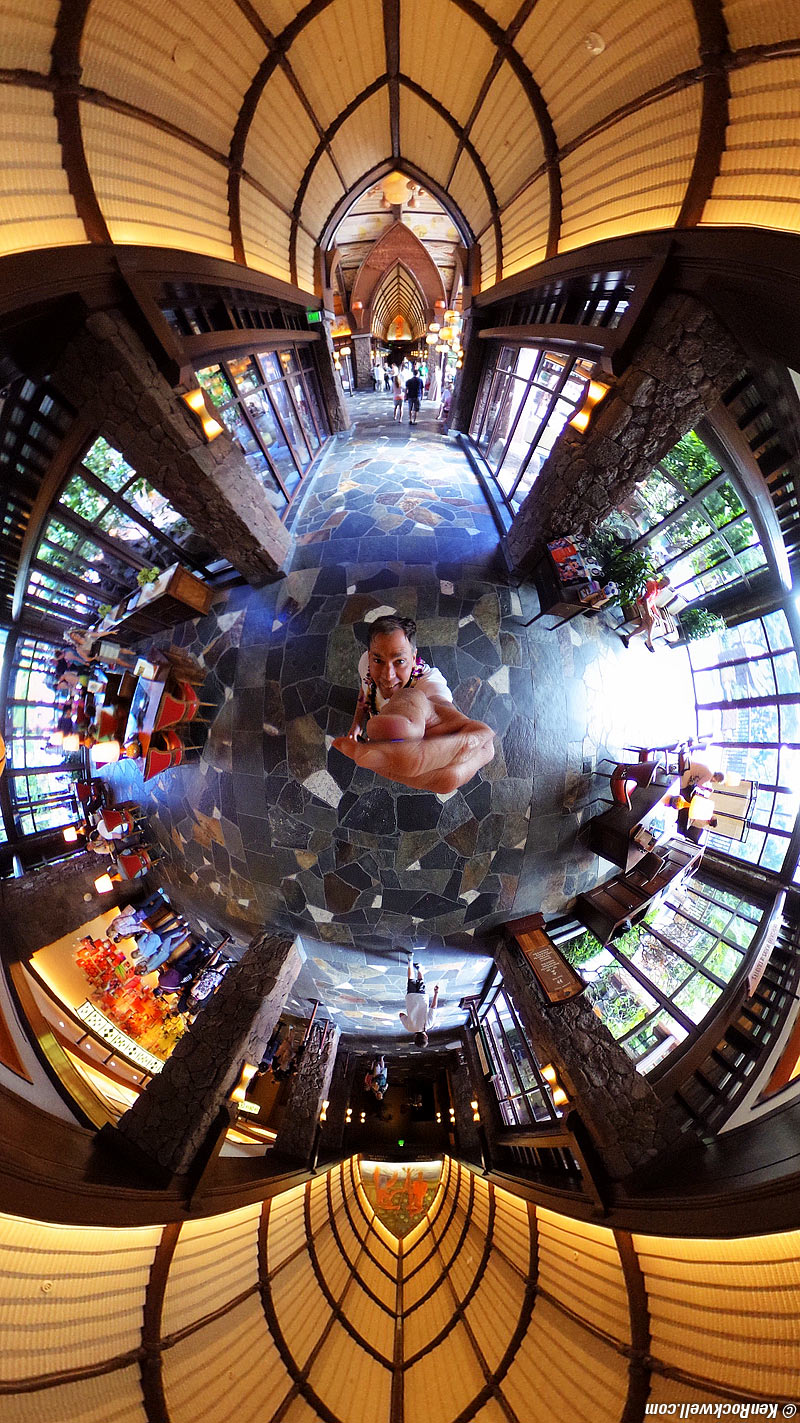 Sample Ricoh Theta S iPhone screen grab.
I'm having a blast playing with the krazy Ricoh Theta S. It's a 360º spherical camera that has two 190º fisheye-lens cameras back to back and does all the math to create these panoramas all by itself. You have to use special apps to be able to flick around the 360º images interactively, but this is the sort of nuttiness you can get with simple screen grabs.
This sample here isn't presented as an interactive 360º panorama; you'd need to download software or an app and my original file to do that.
None of this is a mirror-image (I rotated copyright notice to keep the innocent guessing); it's simply snapped in the middle of a long pointed barrel vault; the bottom of this image is looking in another direction than the top.
More to come.
12 February 2016, Friday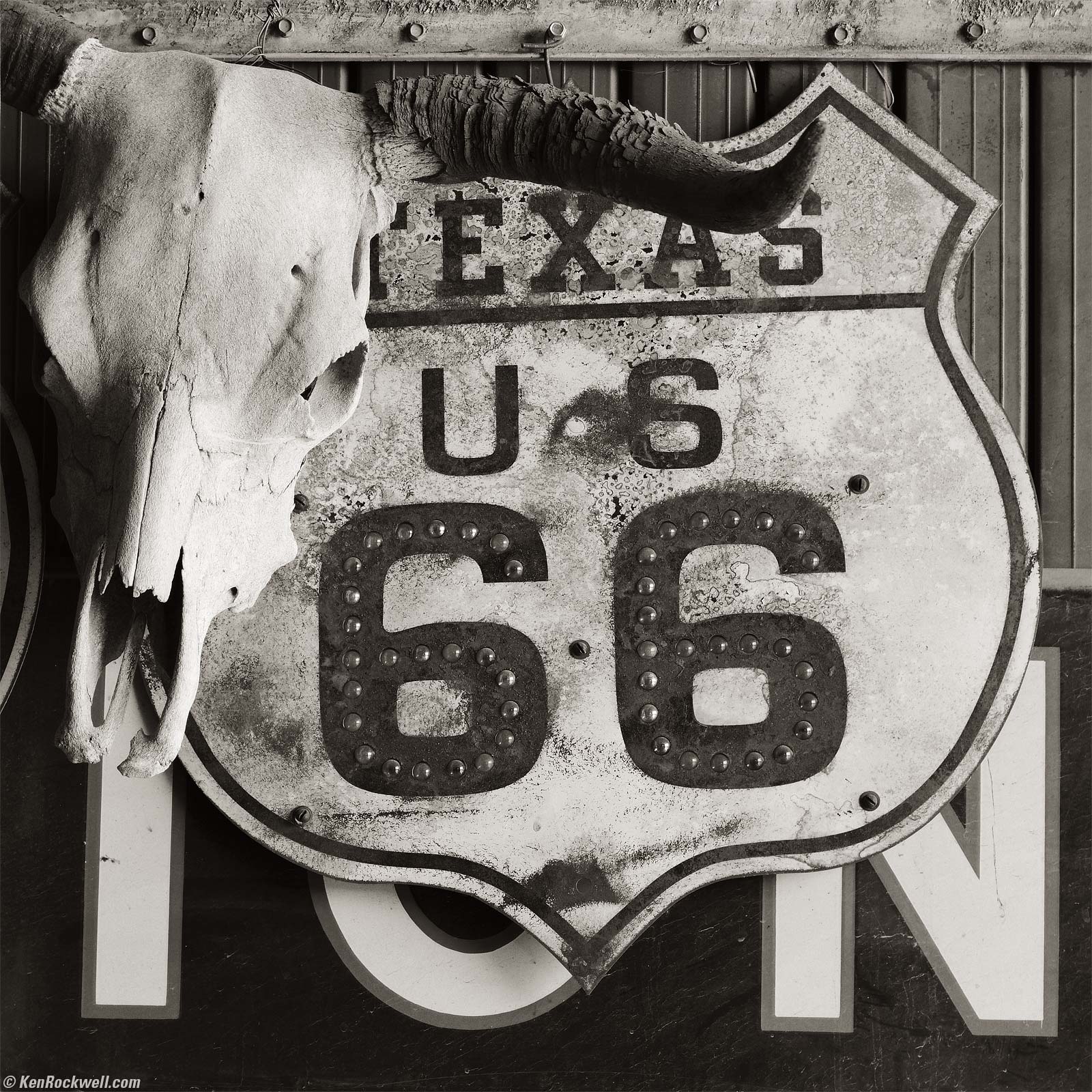 Texas Route 66 Sign with Skull, 4:14 P.M, 05 February 2016. 1987 Zeiss Sonnar T✻ 150mm f/4 CF, no filter, 7.2 foot focus distance, 1992 Hasselblad 503 CX with 1985 PME metered prism that says EV 8, Kodak T-Max 100 in 1993 A12 magazine, f/22 for 3 seconds to add ½ stop for reciprocity failure.
I'm impressed: I went through my first roll of 12 exposures, and I'll be publishing 7 out of those 12 images. That's a pretty good hit rate; with digital we can make 700 shots and wind up not having one decent image out of them all. With film, we have to concentrate, and voilà, better pictures.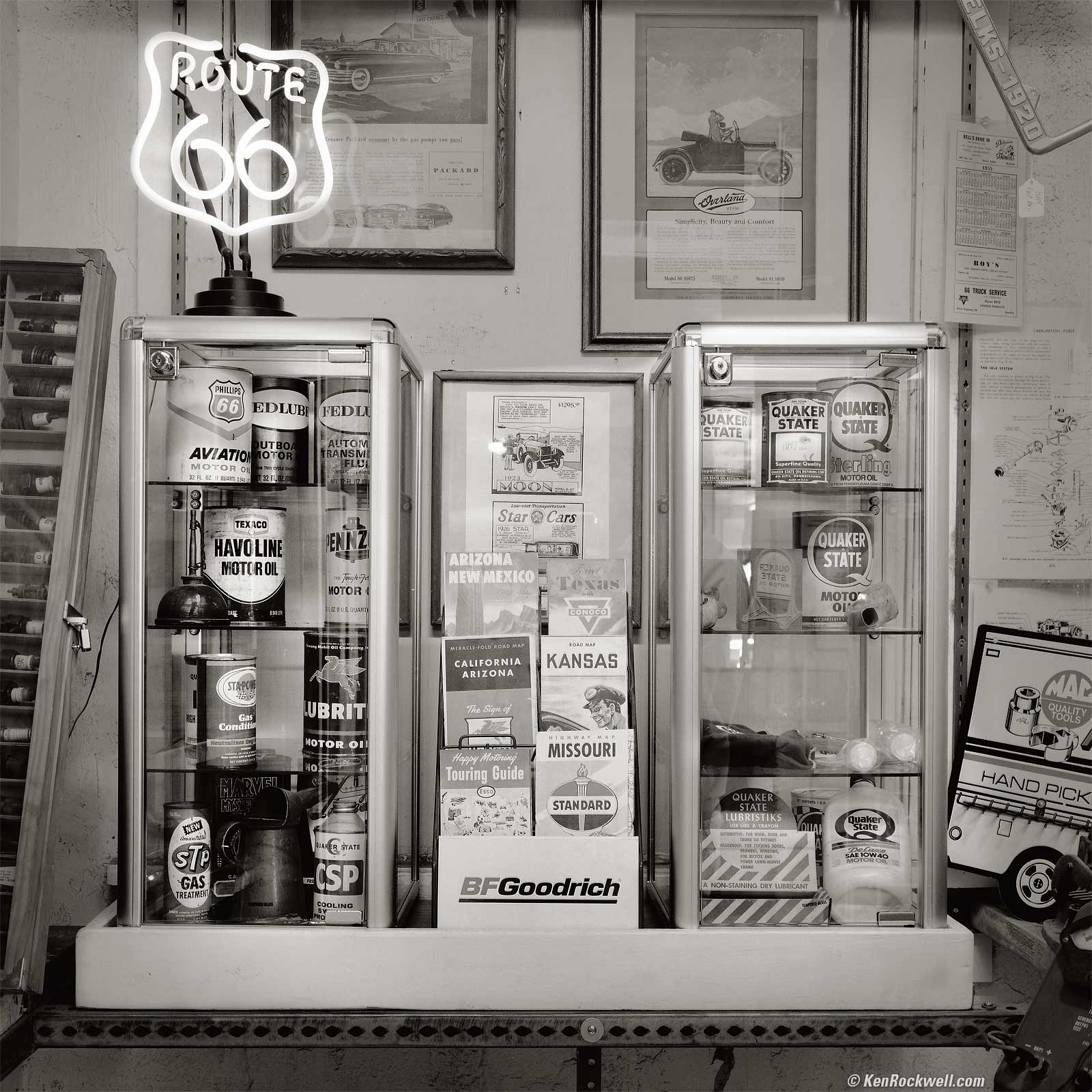 Oil Can & Map Display, Route 66 Museum, 2:51 P.M., 05 February 2016 1992 Hasselblad 503 CX with 1985 PME metered prism & 1993 A12 magazine, 1993 Zeiss Planar T✻ 80mm f/2.8 CF, no filter, Kodak T-Max 100, f/16 for 5 seconds. bigger.
The easy way to get perfect exposures on B&W.
Deal: $300 off MacBooks at B&H.
Deal, today only: DXO ONE for $200 off.
10 February 2016, Wednesday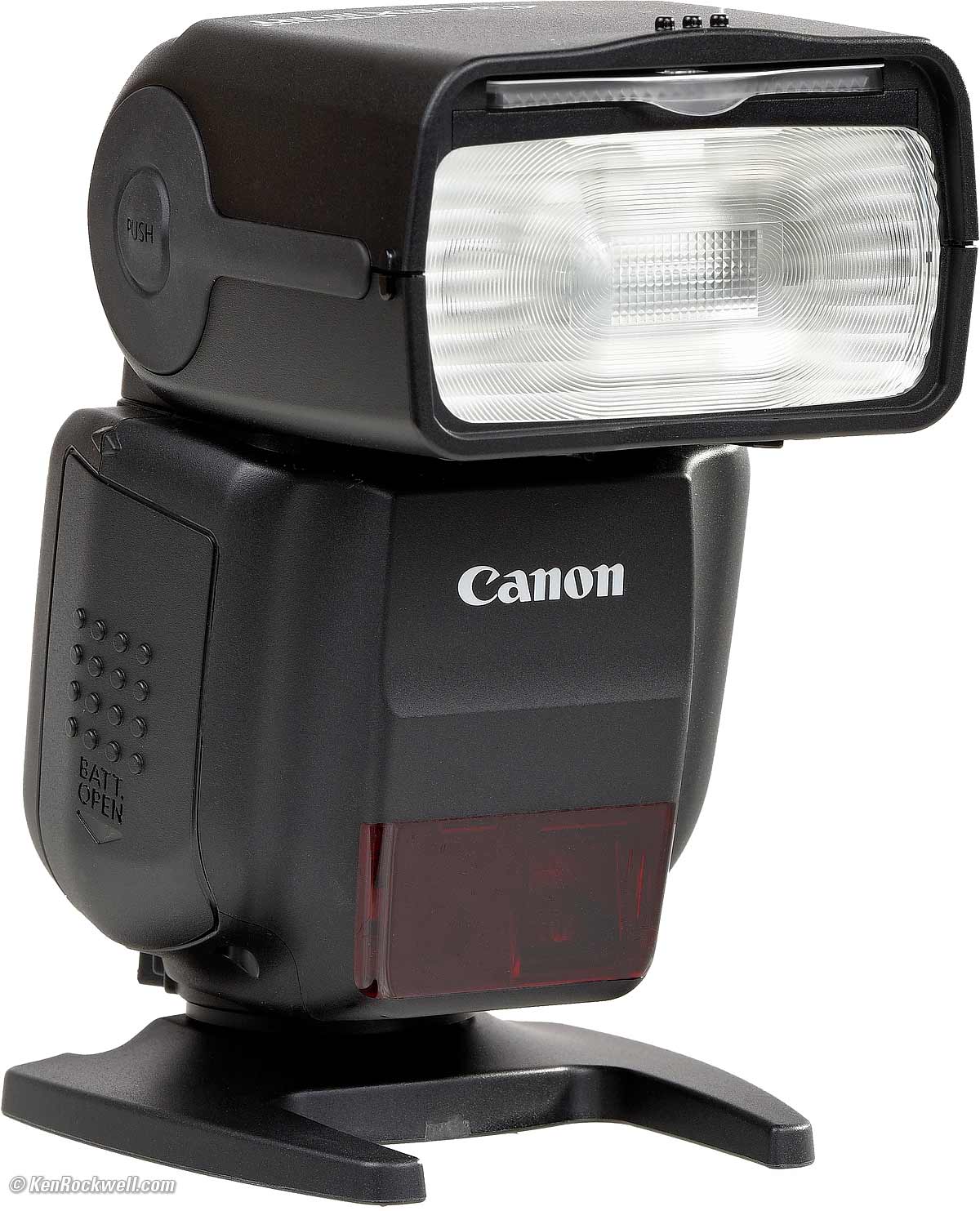 Canon 430EX III RT on included stand.
State-of-the-art midsize flash: loads of power, immediate recycling and radio and IR control.
New from Sony
You now can order these new Sony goodies:
Sony a6300 with 16-50mm



Sony FE 24-70mm f/2.8 GM (G Master) E-Mount NEX

Sony FE 85mm F1.4 GM (G Master) E-Mount NEX
05 February 2016, Friday
I've rewritten the entire page as of just now. If you read my drafts before, check it out again.
Deal: Canon T5i with 2 lenses & goodies: $449 after huge $350 rebate.
Bundle includes:
● Canon T5i
● Canon 18-55mm IS STM
● Canon 75-300mm III (not IS)
● Canon PIXMA PRO-100 Professional Photo Inkjet Printer
● Canon SG-201 Photo Paper Plus Semi-Gloss, 13x19", 50 Sheets
04 February 2016, Thursday
The Gray Market Returns: $1,000 off a 5DSR!
A reader just wrote that he really did get this brand-new Canon 5DS R for $1,000 off. It's the real deal: he got it in its original boxes and he is good to go, for almost $1,000 less than everywhere else!
I've been actively shopping for photo deals for over 40 years. Now that the US dollar is worth about 30% more than it has been since 1990, the gray market lets us get great deals the likes of which we haven't seen since the 1980s.
Gray market simply means that a store finds great deals overseas on brand-new cameras, and imports and sells them directly without paying middleman markups. They don't buy them from middlemen like Nikon USA or Canon USA; they get them directly from the manufacturers elsewhere and save us big dollars.
Back as a kid in the 1970s I'd read the olde-tyme "printed" photo magazines, and tried the ads in the back that offered crazy prices lower than my local store's dealer net prices.
I was shooting Minolta back in the 1970s and got both my new gray-market Rokkor lenses and Kodachrome direct from New York City's newly founded B&H and Adorama — I even bought gray-market made-in-France Kodachrome and it was great. It was still too fresh so it was too green, a big problem before Kodachrome professional sold correctly-aged Kodachrome. I shot Kodachrome professional, also gray market, when it came out, and hoghlights were still too green, but that's Kodachrome. I paid the same for gray market film and prepaid Kodak USA processing that I'd have to pay for the film alone at retail.
The dollar was worth about 300 yen in the early 1980s, so I ordered all my brand-new Nikon manual focus lenses direct from B&H and Adorama for less than these same lenses sold for used! No one believed I could do it, but it was the real deal. Instead of poring through classified ads in Newsday and Buy Lines for used Nikon lenses, I bought whatever I wanted brand new from the city for even less! Back then people shopped in old-fashioned stores that you actually had to drive to; there was no online, and people didn't trust magazine ads from places they'd never heard of. This is what I mean when I say I haven't shopped at retail since the 1970s; once I discovered Adorama and B&H there was no way I was going to waste my time traveling to a store when I could pick up the phone and get it for less.
I moved from New York to California in the late 1980s, and none of my friends believed that I could pick up a phone and give some guy out in New York my credit card number, and get anything other than scammed. I insisted, they saw the deals I got, and my friends warmed up to buying from Adorama and B&H back in the olden days when we still had "walk in" camera stores but no commercial internet. They were skeptical at first, and now for decades most photographers get all their gear from these guys. (This was long before Amazon.)
Most people have forgotten about these great deals or never got them back in the 1980s in the first place. The dollar has only been worth about 80 yen since about 1990. The dollar was at its lowest in 2010 and 2011, but took a huge jump to 120 back in November 2014 and has stayed there for the past year.
Because the dollar is worth about 50% more than it was two years ago, our Japanese cameras should cost us much less in dollars — but the USA middlemen haven't dropped the prices yet, hoping we won't go looking for gray market.
I've been warning the US branches of Nikon and Canon that they'd better do something since the gray market is going to become a very attractive option, and they've only slightly conceded on a few prices. The USA middlemen have been keeping their heads in the sand hoping no one notices and lets them keep US prices inflated.
The yen and dollar are always changing. That's why rebates come and go and change in value; it's how the US middlemen keep the catalog prices looking stable while letting them stay in business as their costs go all over the place.
Back in the 1980s all we had was the telephone and printed magazines. Today with eBay we can find anything from anywhere. eBay is loaded with iffy sellers, but read How to Win at eBay, and when you find a decent seller like 6ave selling gray market, it could be the 1980s all over again. They'll never come out and say gray market; they weasel around it and say something silly like "USA Seller" and "may have parallel warrantee" or whatever. The reader who got his 5DSR for a steal from them said that they also offered a full refund if he wasn't overjoyed with it.
Of course you have to realize I'm a New Yorker. We're known for our shrewdness, risk taking and financial exchange savvy. Heck, we're not only the center for the world's biggest camera stores and all the US middlemen for Nikon, Canon, Tamron, Sigma and others on Long Island, but also the world's financial center. We live this stuff. If you're more relaxed, you're always taking a gamble with gray market - but you have to be willing to lose to win.
By cutting out the middleman you're not entitled to the middleman's help on things like warranties. Good luck getting Nikon USA or Canon USA to fix a broken camera; you'll probably have to ship it to Japan or maybe the sellers offer some kind of warranty — but for $1,000 off, I'll take that chance. Presuming you can find a place to work on it, DSLR repairs usually only run about $300, even if you need a new sensor. LifePixel replaces scratched sensors for about $250. None of the gray market gear I bought in the 1980s has ever failed me.
Hey - the reader who got his 5DS R cheap just looked in his box: he got USA warranty cards!
Happy times are here again! Whoo hoo!
03 February 2016, Wednesday
Brand New from Sony
Full Frame
FE 24-70mm f/2.8 GM Lens

FE 70-200mm f/2.8 GM OSS Lens

FE 85mm f/1.4 GM Lens

FE 1.4x Teleconverter
Crop-sensor
Alpha a6300 (also comes as the kit with a6300 and 16-50mm)
02 February 2016, Tuesday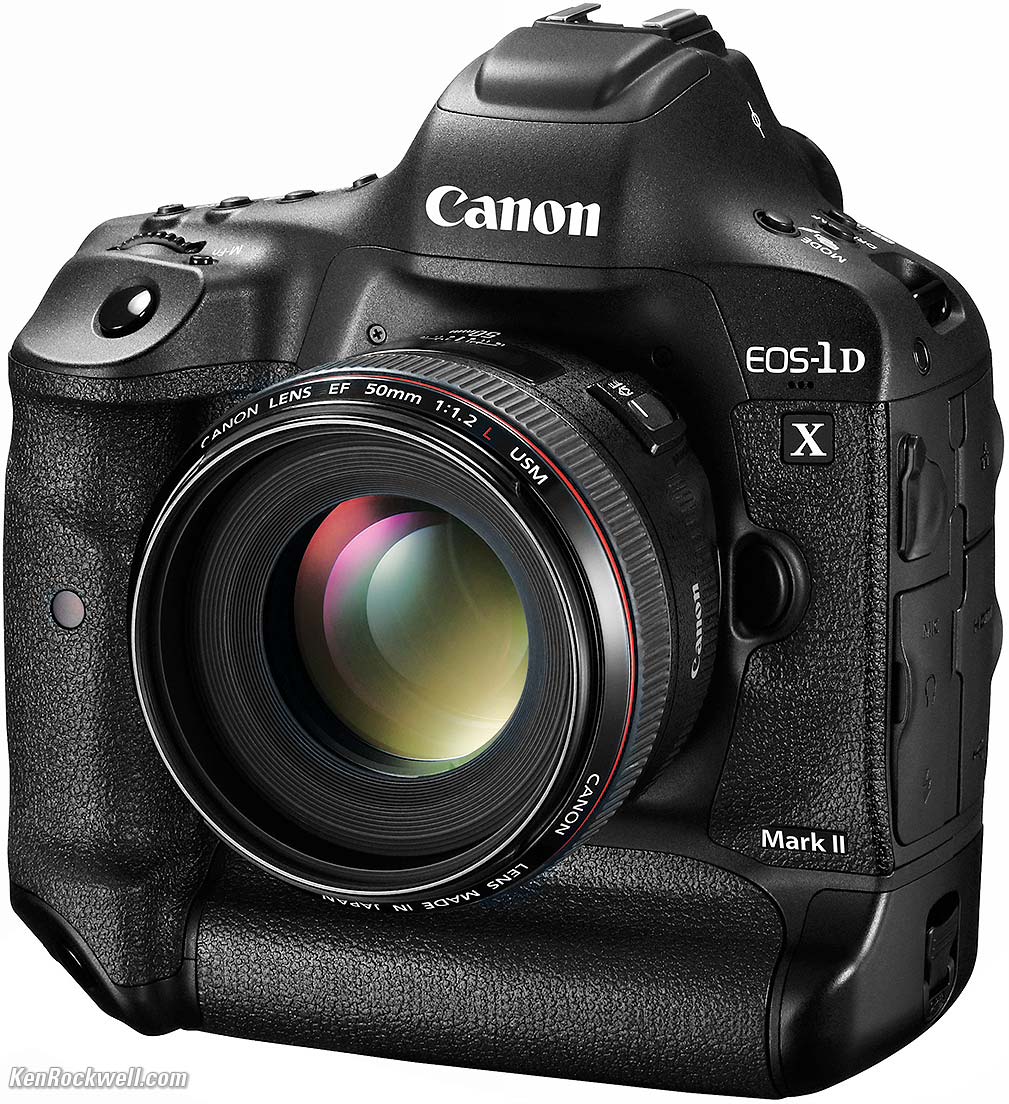 Canon 1DX Mk II and 50mm f/1.2 L.
20MP full-frame, 14 real FPS with full AF and AE tracking.
Updates coming live all day today; much more tonight.

EOS-1DX Mark II: $5,999, also at B&H and at Amazon.
EOS-1DX Mark II Premium Kit: $5,999, also at B&H and at Amazon.

EC-C6 focusing screen: $36.95, and $45 at Amazon.

LC-E19 dual battery charger: $399, also at B&H, but $540 at Amazon.

LP-E19 battery: $179.95, also at B&H for $169 and at Amazon.

WFT-E8A wireless file transmitter: $599.00, also at B&H for $589 and at Amazon.
AC-E19 AC adapter kit: $449, also at B&H for $399 and at Amazon for $700.
DR-E19 DC coupler for 1DX Mk II, $279.95, also at B&H for $249 and at Amazon for $350.

DR-E17 DC coupler: $49.95, also at Amazon for $60.
01 February 2016, Monday
Route 66 on Friday!
Our Route 66 photo trip starts this Friday.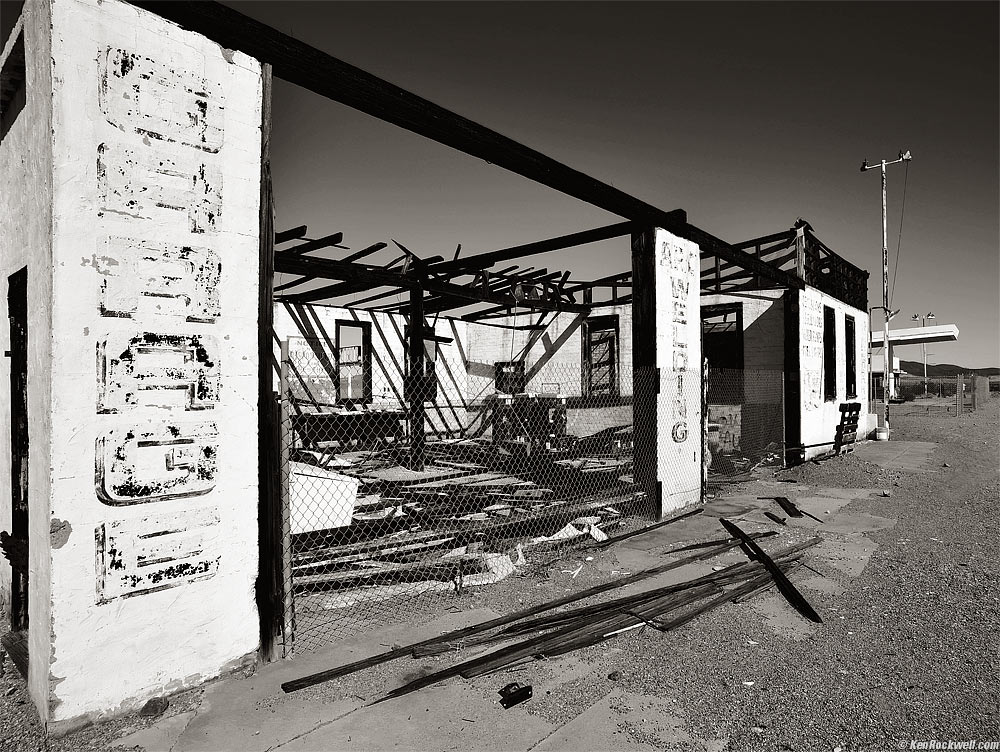 From last year's trip: Abandoned Route 66 Service Station. Nikon D810, Nikon 18mm f/4 NIKKOR AI, f/11 at 1/250 at Auto ISO 100, split-toned print.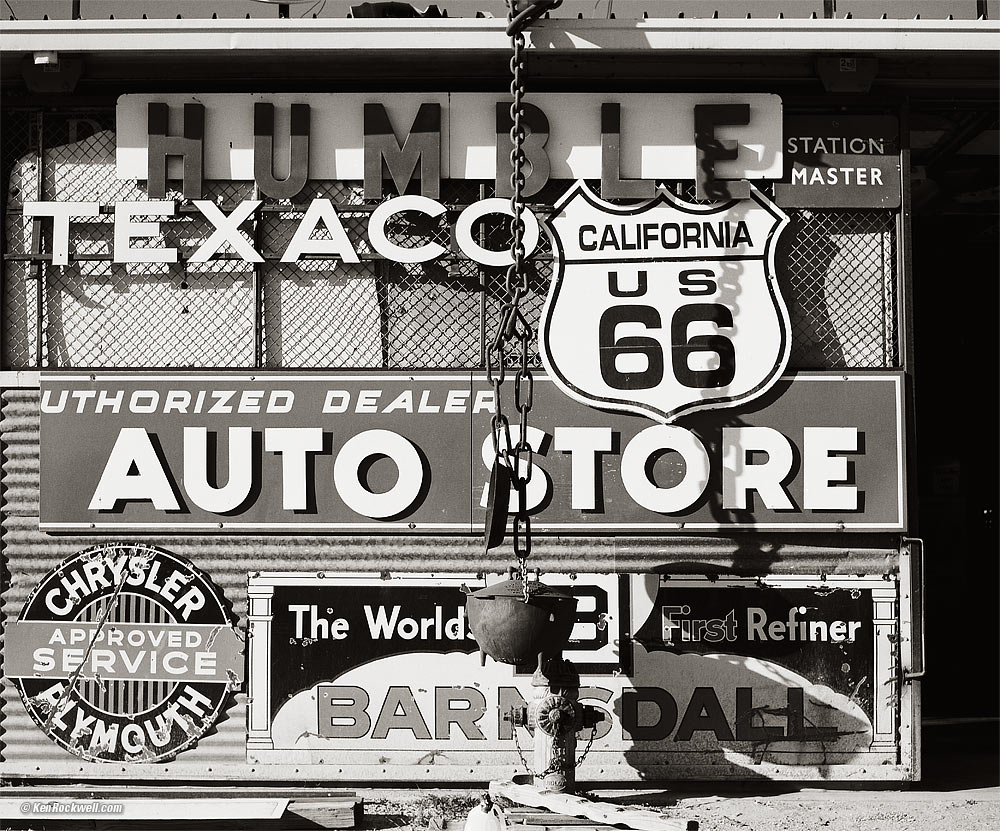 From last year's trip: Signs, Barstow. Made with a 1955 Agfa Super Isolette, Kodak T-MAX 100, orange filter, f/8 at 1/100 marked (really 1/60), split-toned print.
Dave Wyman and I are leading the tour. Dave's already posted a couple of biographies on some of this year's attendees. I also hear rumor that our resident astronomer, Richard Nolthenius, will be helping lead as well.
It will be a hoot. Feel free to join us. Call or eMail Dave Wyman at (323) 377-7565 in Los Angeles. Dave usually is out shooting, so he's rarely sitting by his phone or computer.
New Deals & Rebates
D750 & 24-120VR (Nikon catalog # 1549) $1,100 off: $2,296.95.

D810 Body (Nikon catalog # 1542) $500 off: $2,796.95
D810 & 24-120VR (Nikon catalog # 1556) $1,100 off: $3,296.95.
D810, 35/1.8, 50/1.8 & 85/1.8 Kit (Nikon catalog #13456) $500 off: $4,406.95.
Deals: Sony Lens Rebates.
Deal: Rokinon 50mm T1.5 Cine DS Lens for Nikon, for Canon and for micro 4/3: $379 (Reg. $414 - $549) with free shipping.
Deal: Panasonic DMC-G7 and Audio-Technica AT8024 Microphone: $597.99 (also includes $23.92 back in Adorama Rewards) with free shipping.
What Was New in:
Help me help you
I support my growing family through this website, as crazy as it might seem.
If you find this as helpful as a book you might have had to buy or a workshop you may have had to take, feel free to help me continue helping everyone.
If you've gotten your gear through one of my links or helped otherwise, you're family. It's great people like you who allow me to keep adding to this site full-time. Thanks!
If you haven't helped yet, please do, and consider helping me with a gift of $5.00.
The biggest help is when you use any of these links when you get anything, regardless of the country in which you live. It costs you nothing, and is this site's, and thus my family's, biggest source of support. eBay is always a gamble, but all the other places always have the best prices and service, which is why I've used them since before this website existed. I recommend them all personally.
Thanks for reading!
Ken